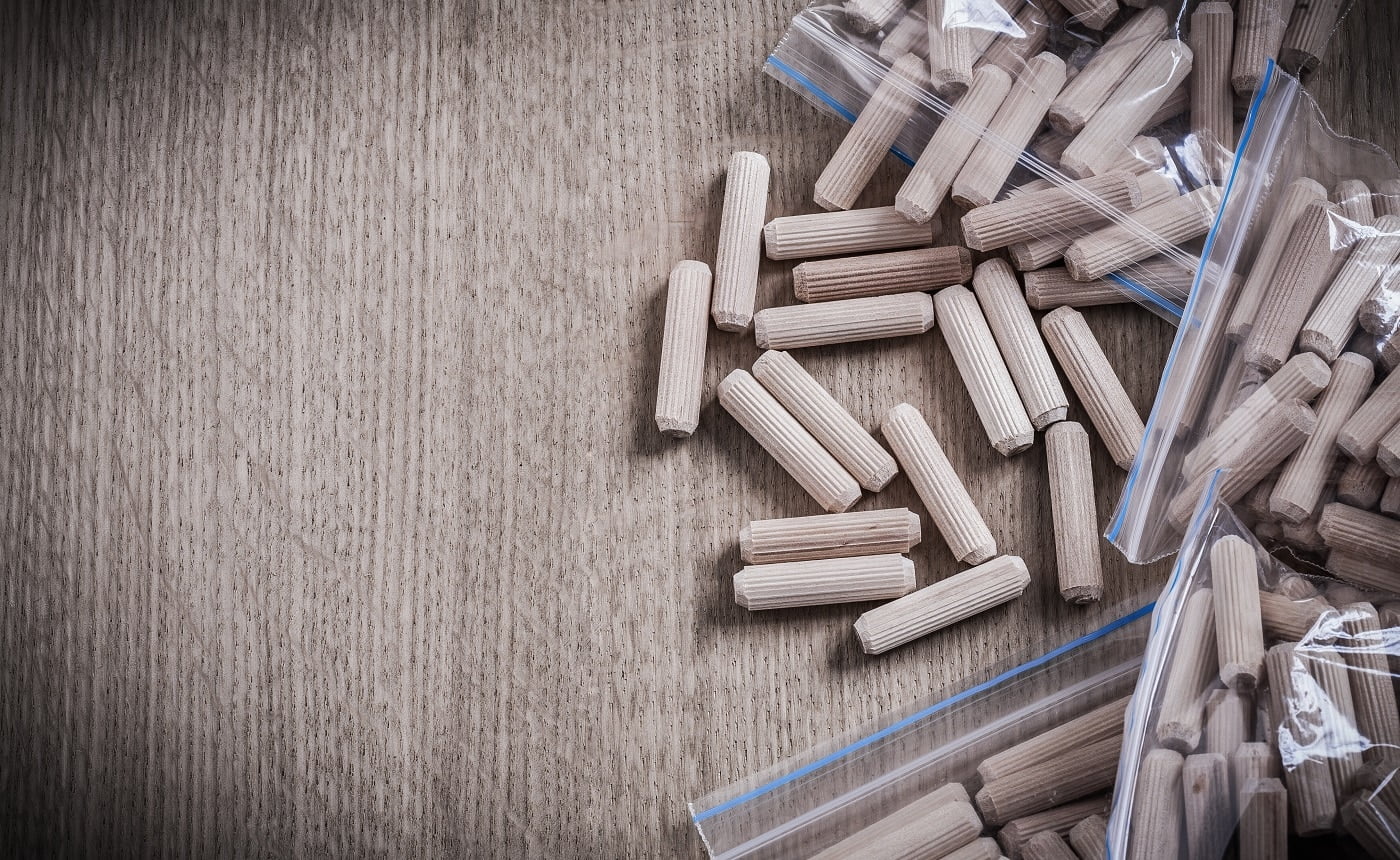 If you are into DIY woodworking projects, it's most likely that you can't think of working without nails and screws. 
But hang on; they are not always as sturdy and durable as you think, especially if you're using them to join wooden boards. A great alternative would be inserting dowels or small wood pieces into the boards to join them. Dowels are stronger and more durable than nails or screws. 
To create perfect dowel joints between boards, you just need to have a dowel jig at home. However, there are abundant options available, which makes choosing a suitable one confusing. 
However, we've made things easier for you by bringing forth this comprehensive guide with the 11 best options to consider. Each product has its pros and cons mentioned, which will help you make a wise decision. 
So, without further ado, let's get started!
Best Dowel Jigs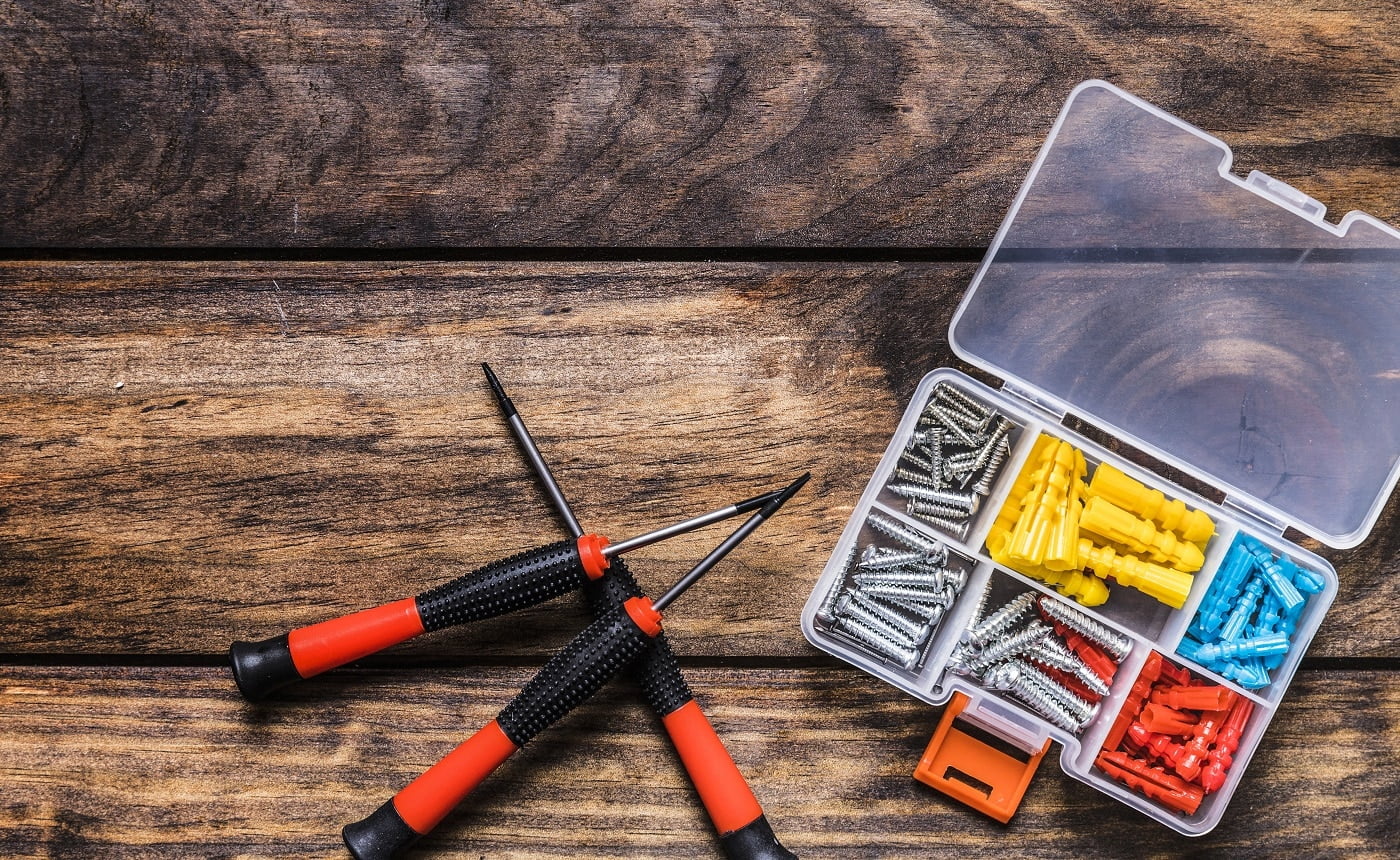 Woodworking projects will become much simpler if you have this complete dowel jig kit from Milescraft. It consists of all the tools that you need for making accurate and strong dowel joints. As such, you can build a variety of furniture from scratch using this versatile kit. It includes three different-sized drill bits and weighs 1.8 lbs.
Why Did We Like It?
Positioning the dowel holes perfectly is important when you're making dowel joints with wood pieces. With the Milescraft kit, that is completely taken care of, as it consists of Tenon or dowel centers for marking the location of the holes accurately. 
What's more, it includes hardwood pins that have chamfered ends for making the dowel joints. These pins enhance the endurance and strength of the joined surfaces. Notably, there are 3 different sizes of dowel pins suited for making different kinds of furniture. 
Three different brad point bits are also added to the kit to ensure that the holes are drilled correctly. Each drilling bit comes in a different size to increase the versatility of the tool, with the sizes being ¼, 5/16, and ⅜ inches. 
What Could've Been Better?
The only problem you might face with this tool kit is its clamping system, which can make it difficult to hold the tool in place. Hence, you may need attaching many more clamps for working comfortably. Otherwise, the jig may bounce over, thereby creating the hassle of positioning it properly once again. 
Pros
Helps mark the holes accurately

Enhances the strength of joined surfaces

Suited for making different furniture

Helps drill the holes correctly
Create professional-grade dowel joints effortlessly with this amazing tool kit from Wolfcraft. It comes with a slew of super-efficient features that work to provide the ultimate perfection to your projects. So, in all probability, you'll be highly impressed with this product.
Sale
Why Did We Like It?
We loved the durable cast aluminum construction of the dowel jig, which features 9 pre-aligned guides for drilling the holes effortlessly. As such, you can align and drill holes of professional standard with ease. 
Moreover, this does away with the need for marking and measuring the position of the holes altogether. The hole guides come with steel bushings that prolong the service life of this unit. 
Beyond that, the distinct clamp fixed onto it is another feature worth mentioning, as this lets you simultaneously drill the two boards that are to be joined. And you'll be glad to know that you can create all the 3 types of joints, viz., edge-to-surface, edge-to-corner, and edge-to-edge. 
Furthermore, the 5-year warranty that comes with the dowel jig makes you eligible for a replacement or refund during this period.
What Could've Been Better?
You might find the instruction manual included with the product to be a bit complicated. Some of the steps for setting it up are not clear, for which you'll need to refer to the internet. That said, we found this jig to be capable of delivering a smooth and durable performance. 
Pros
Easy to use

Can drill precisely aligned holes

Can create all three types of dowel joints

Lets you work on two boards simultaneously
Cons
Complicated instruction manual
Next, we've selected this popular model from Rockler, as it can yield impressive results for your woodworking projects. Rockler is a renowned brand, thanks to its efficient range of hardware and carpentry products. As for this model, we can assure you that it upholds the reputation of the brand quite well. 
Why Did We Like It?
First and foremost, you can drill holes of six different sizes using this dowel jig. With a maximum width-capacity of 2 inches, it lets you drill holes of 3/16, 5/16, 7/16, ¼, ⅜, and ½ inches. Very few models offer such a varied range of hole drilling options, so it's perfect for those who want greater versatility. 
Working securely without damaging the wood is also an important factor when it comes to any woodworking tool. But you don't need to worry about that as well, as the clamping screw of this product tightens the tool perfectly, while the aluminum sides hold it firmly.
Coming to its durability, we can vouch for that too, as it is made with a combination of solid steel and aluminum, making it sturdy and rust-resistant. That's not all; this jig is very easy to set up so that even beginners can use it comfortably. 
What Could've Been Better?
This product is considerably more expensive than other models available out there. As such, it won't be ideal for someone on the lookout for a budget-friendly dowel jig. However, the higher price is justified to some extent, considering the versatile utility that the product offers. 
Pros
Can drill holes of varying sizes

Is secure to work with

Doesn't damage the wood

Rust-resistant
Cons
More expensive than other products
To have an optimal dowel joint set-up for all your woodworking projects, this dowel jig kit will be enough. It is the ideal device to achieve ultra-precise dowel joints each time, owing to its set of effective features. It comes in three size variants, which include ½-inch, ½-inch, and ⅜-inch.
Why Did We Like It?
Coming with a M35 drilling bit tested for delivering precise results, this product lets you bore correct holes at an impressive speed. Its steel construction possesses immense strength and is highly resistant to scratches and heat. 
Apart from that, the tool makes determining the precise drilling position quite convenient. What does the trick is a centerline imprinted to align the jig to your workplace, along with 2 drill-guide lines. The latter is positioned below and above the centerline to easily pinpoint the place where you have to drill the holes. 
It has a durable integrated viewing plate constructed from hardened acrylic that contains the imprints of the centerline and drill-guide lines. Furthermore, you get to optimize a range of frame applications with this device. 
All in all, yielding perfect furniture dimensions is not very difficult with this tool at home. 
What Could've Been Better?
A portion of the jig is built of inferior quality plastic that may crack with regular use. The crack may start from the screws at the bottom, and the material near a few of the holes may even break with regular use. So, if durability is your primary lookout, this won't be the right product to go for. 
Pros
Can drill holes much faster

Allows for precise positioning of holes

Can optimize a range of frame applications

Sturdy steel bit
Cons
Plastic portion of the jig not durable
If you often have to create a variety of wood pin joints for your projects, look no further than this model from AUTOTOOLHOME. It lets you drill multiple and precise holes faster than the average products. From our experience, we can tell you that this product delivers a satisfying performance.
Why Did We Like It?
The 4 precise guide holes that come in this product make it a reliable tool preferred by carpenters and DIY enthusiasts across the country. That's because you can use it to join edge, miter, and butt joints easily. 
Note that the center holes are drilled to provide maximum accuracy for tasks like constructing wooden frames, repairing tables, and mortising. As for the boring sizes, they are devised as per SAE standard size, which are ¼-inch, ⅜-inch, 5/16-inch, 7/`6-inch, and ½-inch. Laser etching is applied to make the holes fit for accurate and quick use. 
What's more, the center block made of hardened steel provides great longevity and strength to the tool. Maintaining the product is also hassle-free as you just need to lightly oil and clean the center screw regularly to ensure smooth action. 
What Could've Been Better?
The only disadvantage of using this tool is that it isn't actually self-centering, as is mentioned in the product description. So, it must be pried into place to get it centered. In comparison, the Rockler Dowl-it product is equipped with self-centering features. 
Pros
Can join edge, miter, and butt joints

Provides maximum accuracy

Holes are fit for accurate and quick use

Strong and durable
Cons
Isn't actually self-centering
The Woodstock D4116 dowel jig is a compact and effective model that can help you accomplish various woodworking projects successfully. Unlike ordinary products, it maintains the integrity of wood pieces while providing accurately drilled holes. Thus, the furniture prepared looks perfect and possesses great functionality.
Why Did We Like It?
The best thing about this product is its ability to center itself automatically on irregular, round, or square shapes. Even some of the most efficient models lack this feature, which enhances its desirability to a great extent.
Plus, this dowel jig can comfortably handle stock with a thickness of up to 2 inches. This makes it highly useful for creating dowel joints for a range of furniture. Five drill-hole sizes are also provided to the users, making it more versatile than the average products. 
To facilitate accurate positioning, the product provides two durable steel bushings each for ¼-inch, 5/16-inch, and ⅜-inch holes. You can also drill identical and parallel holes without having to move the jig. 
What Could've Been Better?
This product can efficiently drill holes into the sides or edges of wooden boards. However, it is not so beneficial for boring holes on the face of the boards. To deal with this problem, you can make a 90° angle for better accuracy. 
Pros
Centers itself automatically

Can handle up to 2-inch thick stock

Facilitates accurate positioning of holes

Is more versatile than average products
Cons
Edges or side of wooden boards
Here's yet another product from AUTOTOOLHOME that we found worthy of including in our list. It gets the job done more quickly while maintaining absolute accuracy so that you get strong and durable dowel joints. Notably, it comes with a longer fence than some of its competitors and is built of high-impact plastic. 
Why Did We Like It?
Maintaining accurate alignment for all your woodworking projects is essential to derive the maximum utility out of the furniture. And this unit ensures it with the high-quality metal bushings that help in creating dowels that are perfectly positioned. 
The longer fence was another feature that caught our eye, as it made the tool easy to clamp. Also, the jig has a ruler that makes adjusting the fence depth quicker for perfect alignment of the dowel pins. 
Like some of our other recommendations, you can use this dowel jig for creating all the 3 types of dowel joints. 
Speaking of the material used, this tool is made from specialized high-impact plastic that is more durable than regular plastic. As such, it is much more sturdy and highly resistant to cracks.  
What Could've Been Better?
We felt that this unit is more suitable for softwood than the harder varieties. It is pretty challenging to drill holes into hardwood using this dowel jig, so you might have to screw on a frame to keep the holes in place. The drilled holes might also turn blunt with time, and in worse cases, the heat may melt the enclosure. 
Pros
Facilitates perfect positioning of joints

Easy to clamp

Aligns dowel pins perfectly

Sturdy and resistant to cracks
Cons
Not suitable for hardwood
The Wolfcraft 464104 is an ideal choice if you are looking for a budget-friendly solution to create accurate dowel joints. Getting the desired dimensions of wooden furniture becomes simpler with this tool, which comes with 3 dowel pin slots and can be used on boards with a thickness of up to 1¼ inches.
Sale
Why Did We Like It?
Centering the holes properly is a major challenge while using dowel jigs, but with this product, you can rest assured that the job will be done perfectly. This is achieved with the help of the 4 pins provided for proper centering, which can be utilized in 3 configurations. 
Furthermore, these configurations are based on the thickness of the board and the dowel size being used. 
It also features 3 sloths on the front for inserting the dowel pins of different sizes. This guide is highly beneficial for drilling the surface of the wood pieces. For positioning the hole on the surface accurately, you can use the fence to adjust the distance between the hole and the edge. 
What Could've Been Better?
Though this product uses high-impact plastic, the material is somewhat inferior to that used in our previous pick. It is molded in a very basic manner, which makes it more prone to cracking. Thus, it is not the ideal choice for those in search of more durable options. 
Pros
Centers the holes perfectly

Can drill surface holes efficiently

Enables accurate positioning

Helps achieve desired dimensions of furniture
Cons
Inferior plastic material
Going for this unit from DEF is a good option as it does the job quite well. The accuracy on offer can give tough competition to some high-end models out there. Coming with 5 hole-drilling slots, it weighs a mere 2.79 lbs.
Why Did We Like It?
What we liked the most about this product was the sturdy center block, which consists of industrial-grade bushings. It includes two bushings each for  ¼-inch, 5/16-inch, and ⅜-inch wide holes. This enables easy drilling of identical and parallel pairs of holes. 
As for the gripping system of this dowel jig, the superior-quality high-pressure clamp ensures that the tool stays in place firmly. It is also fairly versatile, thanks to the 5 hole-drilling slots provided for creating all the 3 different dowel joints. 
Wood stock with a thickness of up to 2 inches can be comfortably handled by this product. Additionally, we really liked its steel structure, as it is quite sturdy and highly resistant to rust. Long story short, you can get a long-lasting service out of it. 
What Could've Been Better?
We felt that the edge guides marked on the tool could be improved. While there are no markings for boards of common size, the metric marks are lighter compared to some other models. 
Pros
Enables drilling of identical and parallel holes

Can handle 2-inch thick wood stock

Sturdy and resistant to rust

Fairly versatile
Cons
Edge guide markings are lighter than other units
Another cost-effective model to go for is this one from N&A, which delivers precise results every time. It is built to last for the years to come and incorporates a range of high-quality features that take care of efficiency. You can use this self-centering unit on boards with a thickness of up to 1¼ inches.
Why Did We Like It?
The self-centering feature of this dowel jig is quite effective, ensuring precise alignment and maximum strength of the dowel joints. Its efficacy is enhanced by the adjustable fence, which allows you to alter the distance of the holes from the edge as per your needs. 
The package also includes metal bushings, which facilitate accurate positioning of the holes and help create accurately positioned dowels. We appreciate how the accuracy is maintained for all three types of dowel joints. Moreover, it works well on wood pieces with a thickness of up to 1¼ inches. 
Speaking of the resistance to wear and tear, this unit is made using superior-grade ABS-plastic material that possesses immense strength and hardness. So, it works quite smoothly without showing any major problems. 
What Could've Been Better?
The package doesn't come with any instructions or pictures, which makes it a bit difficult to set up. As such, you'll have to refer to the internet to form a clear idea about how to go about the installation. Some users have also reported receiving damaged packages upon delivery.
Pros
Makes dowel joints stronger

Maintains proper alignment

Allows for proper positioning of dowels

Smooth operation
Cons
No instructions or pictures included for set-up
We were also impressed by this durable steel dowel jig from DCT, which offers the desired longevity and ensures a sound performance. It is useful for a variety of applications, which has made it a popular choice among professional woodworkers. What's more, it comes with 5 drilling slots and can handle wood pieces with a thickness of up to 2 inches.
Why Did We Like It?
Straight off the bat, the 4 guide holes provided with the product helped us in drilling extremely accurately positioned holes. When used with the supplied metal bushings, these holes can join miter, edge, and butt joints with the desired perfection. 
We also liked the steel guide holes for centering, which are precisely built to deliver correct hole sizes. As such, these can be used for different purposes, including constructing frames, repairing tables, and mortising. 
Ease of use is another criteria where we felt the product ranked high. That's because none of the parts are loosely attached and hence won't fall off easily. Lastly, it comes with a beneficial 1-year warranty that makes you eligible for a replacement or refund in case you're not satisfied with the performance. 
What Could've Been Better?
We found the centerline to be less visible when the tool was attached to the stock. To deal with this problem, you can use a torch light to illuminate that part. But holding the torch with one hand becomes a hassle if you have to use the tool quite often. 
Pros
Can drill accurately positioned holes

Delivers the correct hole size

Easy to use

Comes with a 1-year warranty
Cons
Centerline less visible during use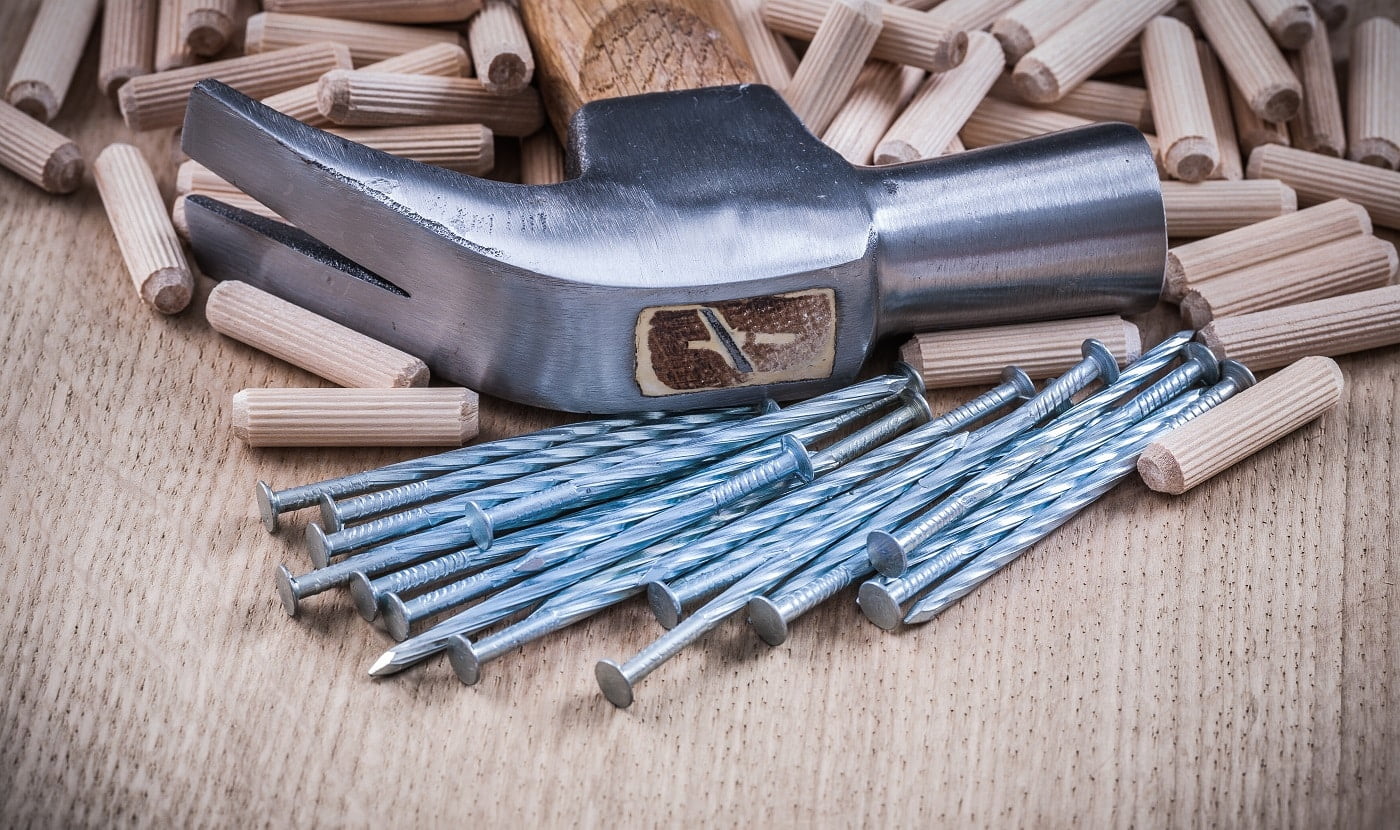 Dowel Jig Buying Guide
Your choice of woodworking tools does determine the efficacy of your projects to some extent. At the end of the day, your furniture should be functional and should look presentable. This makes it important to go for a tool that does the job well. 
So, considering some vital features common to all good-quality dowel jigs is a must, as is keeping in mind your specific needs. The following sections list some vital points that'll help you make an ideal choice. 
Thickness Of Wood
Not all dowel jigs can work on wood stock of the same thickness. As such, you need to keep in mind the average thickness of wood that you have to deal with. While some models are capable of handling 2⅜-inch thick wood, some others can work on wood with thickness of up to 1¼ inches. 
Also, if you require handling thicker wood pieces than normal, you'll have to go for more powerful jigs. Such models can work on wood pieces with a thickness of 6 inches or more. 
Bushings
Jigs that come with metal bushings allow you to change the spacing between the holes as per your needs. You can drill holes without having to rotate the template. However, such models are usually priced relatively higher than other dowel jigs. 
Also, greater the size of the bushings, the bigger will be the dowels that you can make out of them. Bushings are generally provided for holes of sizes 3/16, ⅜, ½, 5/16, and 7/16 inches. So, do consider the hole size that you will need and choose a model with the appropriate bushings accordingly. 
The Material
A dowel jig which is both corrosion-resistant and sturdy will be most suitable to ensure maximum longevity and durability. For example, jigs that are plated with aluminum are great options to go for since they offer the intrinsic strength and rust-proof property that you want. As for steel-plated jigs, they are generally priced higher but offer value for your money.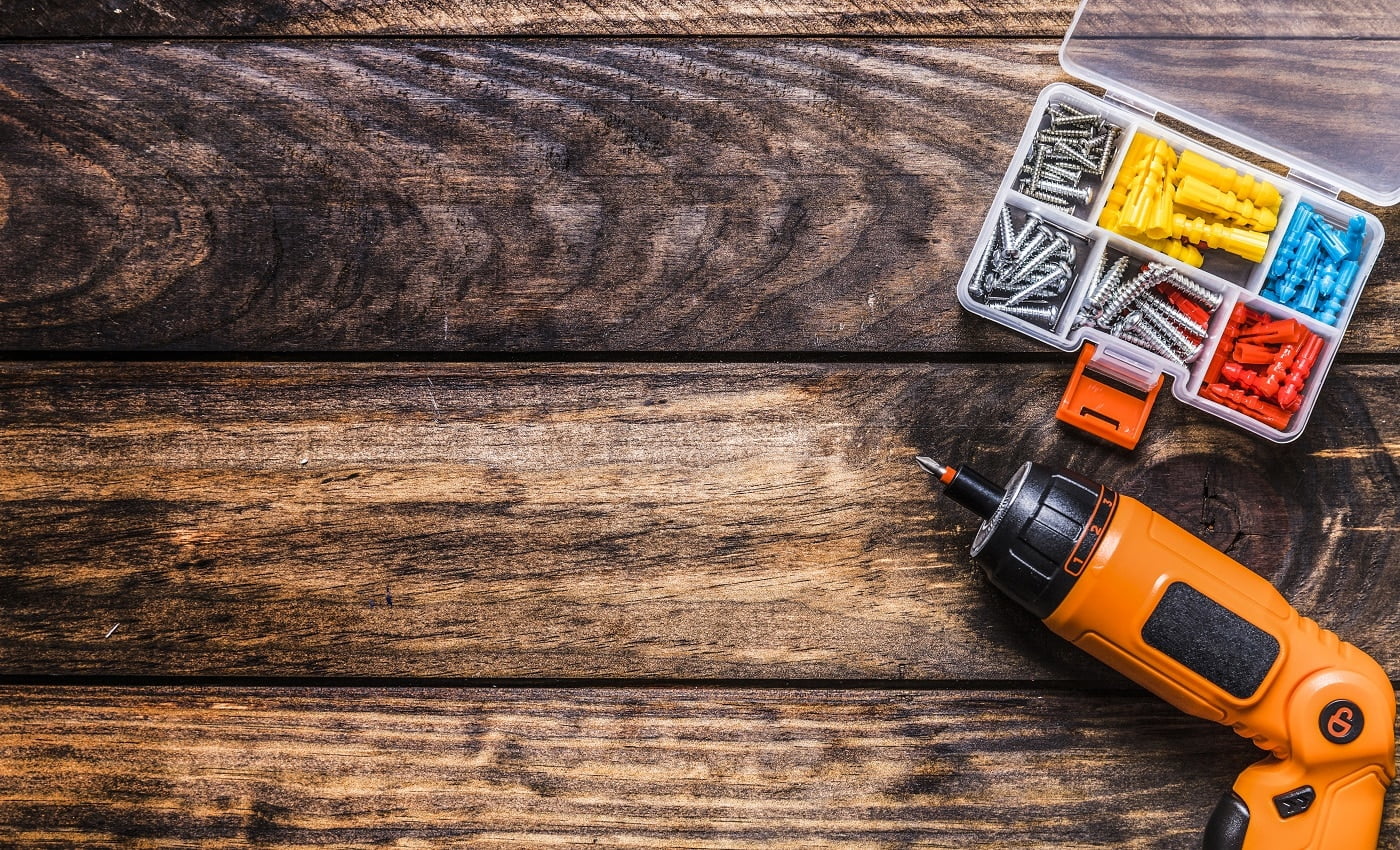 Verdict
That brings us to the end of the guide. We hope by now, you feel more confident in choosing the right dowel jig for your woodworking projects. 
But before we call it a day, here's a quick recap of our favorites from the list. The Milescraft 1309 Dowel Jig Kit is a budget-friendly option that would provide accurate results. 
However, if you don't mind going for a slightly more expensive unit to get the best results, the Wolfcraft 3751405 Dowel Jig Kit will be a good option. On the other hand, the Rockler Dowl-it 1000 offers great versatility, thanks to the availability of 6 drill-hole sizes. 
With that, we'll take your leave. Till next time, take care!
Related Articles
13 Best Cordless Oscillating Tools 
13 Best Screwdriver Sets on the Market Today
Top 13 Useful DIY Tools for Your Projects
13 Best Axes +  Buyer's Guide and Reviews
11 Best Tap And Die Set on the Market Today | Buyer's Guide
11 Best Torque Wrenches on the Market Today | Buyer's Guide
11 Best Multi Tools Reviewed | Buyer's Guide
11 Best Hammer Drills on the Market Today
13 Best Tile Saws Reviewed | Buyer's Guide
11 Best Wood Chisels to Enjoy Today | Buyer's Guide
13 Best Electric Hand Planers  Reviewed | Buyer's Guide
11 Best Sliding Compound Miter Saws
Kobalt vs. Husky vs. Craftsman | Husky Tools Reviews
9 Most Powerful Cordless Drills 
13 Best Drill Bits for Metal Right Now
Forstner Bit vs. Spade Bit [All You Need to Know & Winner]
19 Different Types Of Hand Planes & How To Use Them
9 Best Dowel Jigs Most Durable & Accurate]
11 Best Kreg Jig Pocket Hole Alternatives To Consider [Reviewed]