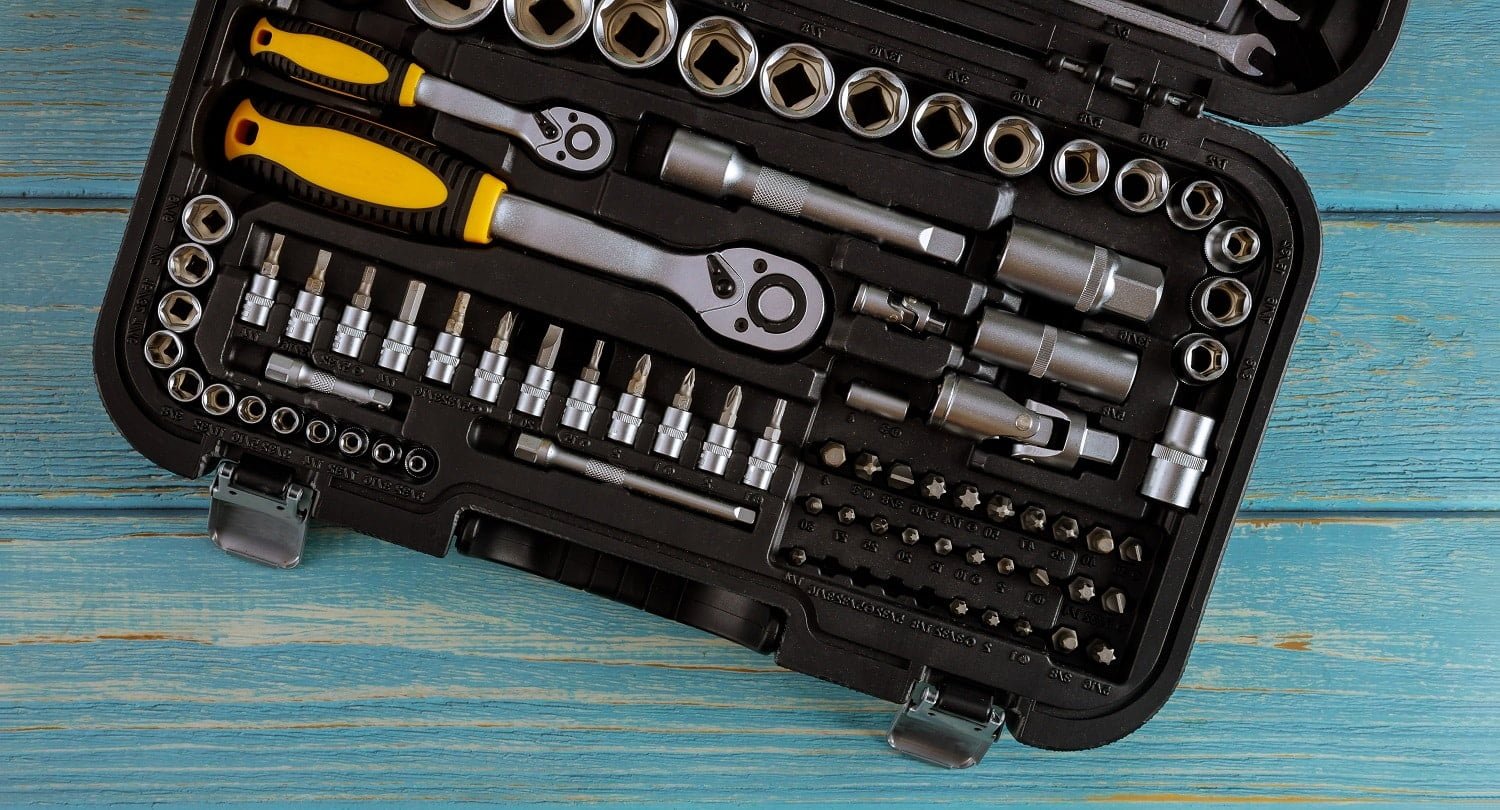 "Give us the tools, and we will finish the job."
Winston Churchill was likely not talking about Husky Tools when he said that, but it holds. You see, if you have a set of Husky tools at your disposal, finishing the job will become that much easier.
We have been fans of the Husky brand ever since we used its tools for the first time over a decade ago. And to this day, we have always used Husky tools without any significant complaints.
So, we decided to curate this guide and tell you why Husky is such an exceptional brand. We've carefully handpicked nine of the best Husky tools you will find out there. Some more information about the brand follows this.
Without further ado, here it goes…
 Best Husky Tools 
IMAGE
PRODUCT
DETAILS

Our Top Pick

Our Top Pick

H268MTS Mechanics Tool Set

A total of 268 pieces
Comes packed in a Husky case
Equal distribution of metric and SAE tools

VIEW LATEST PRICE →

47056 Wrench Set

Six pieces ratchet-action
Carrying case included
SAE measurements

VIEW LATEST PRICE →

Rolling Tool Tote Bag with Telescoping Handle

Heavy-duty telescoping handle
80-pound weight capacity
Trendy red and black color scheme

VIEW LATEST PRICE →

Stubby Wrench and Socket Set

23 Metric & 23 Standard American tools
Cushion grip handles
Carrying case included

VIEW LATEST PRICE →

1006 High-Leverage Pliers Set

Rubberized overmold
Heat-treated steel alloy
Plier heads equipped with robust teeth

VIEW LATEST PRICE →

14-in-1 Painter's Tool

Made of high-quality steel
Compact design

VIEW LATEST PRICE →

Mechanic Tools Automotive Professional Set

14-inch and 3/8-inch drive
Briefcase-style carrying case
Includes several sockets, ratchets, and hex keys

VIEW LATEST PRICE →

28CW002NC Wrench Set

Equal distribution of Metric and SAE tools
Stainless steel construction
Carrying case with labeled sections

VIEW LATEST PRICE →

Rolling Tool Tote With Bonus Bags

12 inside and 23 outside pockets
Zippered top
2106 cubic inch holding capacity

VIEW LATEST PRICE →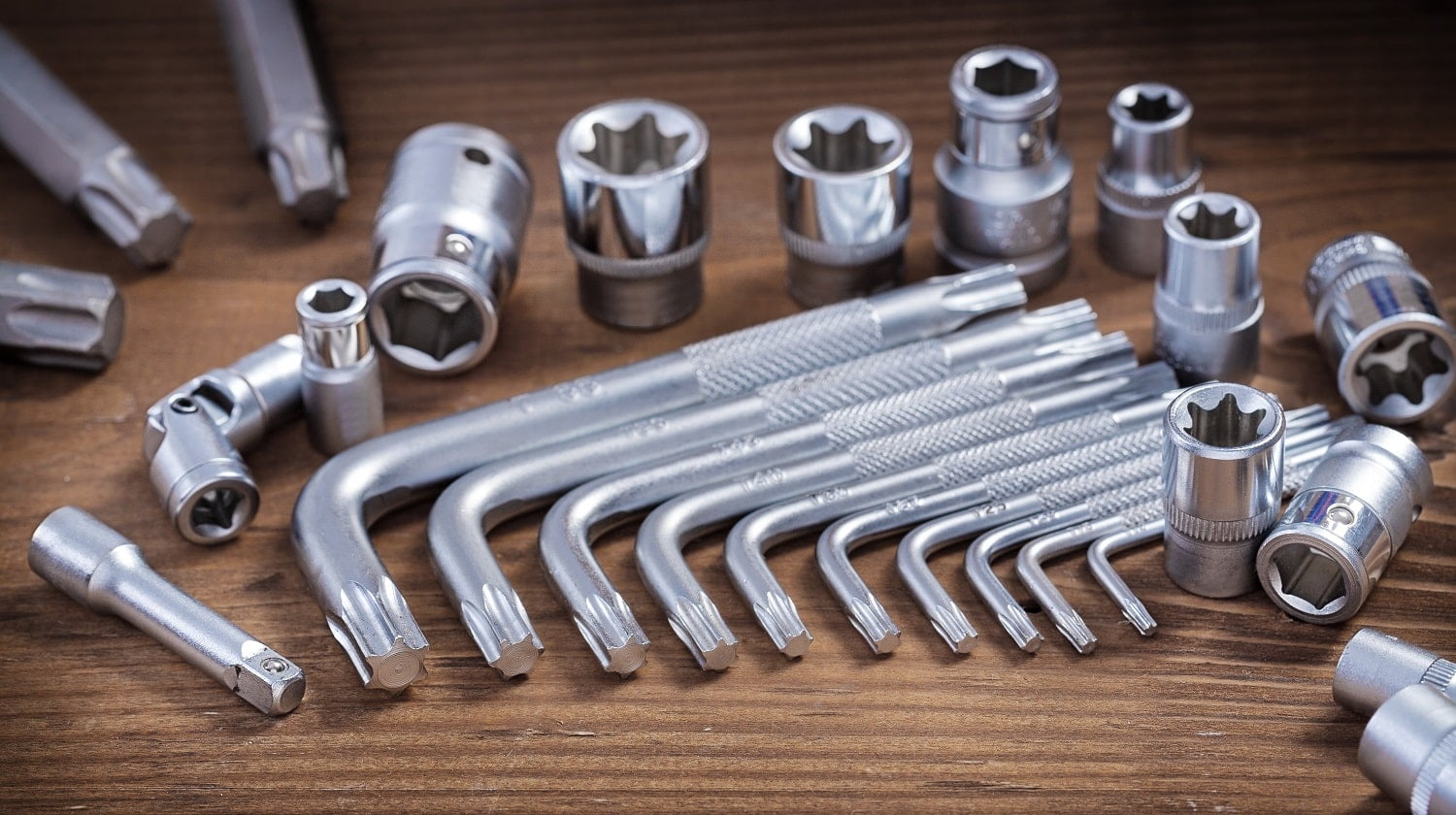 You will be pleased to know that we have used each of these products extensively to gain un unbiased understanding of their pros and cons. The recommendations have been ranked based on two factors primarily – value for money and ease of use.
So, let's get straight to the reviews now…
The numero uno spot on our list goes to one of the most comprehensive tool sets Husky has to offer – the H268MTS. This mechanics' tool set has a whopping 268 pieces and comes at a fairly reasonable price point – talk about getting the most bang for your buck!
Why Did We Like It?
Straight off the bat, we were highly impressed by the overall positive customer reviews for this tool set. When it was delivered at our doorstep, we knew exactly why our peers liked it so much. It undoubtedly is one of the most versatile and complete sets you can find out there today.
The set includes 168 sockets, 30 wrenches, 67 accessories, and 3 ratchets. Furthermore, there is an equal distribution of metric and SAE tools. Whether you measure in inches or millimeters, it has enough tools for you to get the job done.
We are always very pleased with a product that offers sheer value for money. So, it should be no surprise that this tool set took the coveted top spot on our list. It comes at an affordable price, and a lifetime warranty also backs it. Overall, it's safe to say that Husky hit the bull's eye with this set.
What Could've Been Better?
Although there is a lot to praise about this exceptional Husky tool set for mechanics, we found its case to be a bit of a problem. It is not as sturdy as we expected, and the drawers don't always latch close. So, it may not be best to carry all the tools around, and you may have to purchase a more durable case.
Pros
268 pieces for all kinds of tasks

Equal distribution of metric and SAE tools

Backed by a lifetime warranty

Affordable price
Cons
The case is not very durable
After a set of 268 pieces, this next one might seem like a very humble offering from Husky. But the 47056 is one of the best wrench sets we've tested yet. And let's face it; not everybody is looking to buy hundreds of tools in one go. So, we figured it would be good to give the second spot to the best, dedicated wrench set.
Why Did We Like It?
What can be so special about half-a-dozen wrenches, right? That's what we used to think about this handy tool before our friends suggested that we try the 47056 set from Husky. And ever since then, we have never underestimated the power of a well-built wrench.
This set from Husky is compatible with SAE measurements, and each wrench size is engraved on it. The sizes you get are 1/2″, 5/8″, 9/16″, 3/8″, 5/16″, and 7/16″.
Each of the six tools here is designed to ensure fast and smooth ratchet-action, so you won't have to lift it repeatedly. It may not seem like a big deal initially, but it helps save a lot of time when working on a comprehensive project. Moreover, the longer length of these wrenches ensures higher torque.
Like all other Husky tools, these wrenches are made in the USA from the finest materials to ensure long-lasting performance.
What Could've Been Better?
Even after using this set for over three months, we couldn't find any significant downside. The only gripe we have with it is that its carrying case is a tad bit flimsy. We can see some signs that suggest it might not last much longer, so Husky has some room for improvement there.
Pros
Longer length offers more torque

Made in the USA

Six standard SAE sizes

Fast and smooth ratchet-action
Cons
Carrying case could be sturdier
Taking the third spot on this list is a Husky product that doesn't strictly qualify as a tool; instead, it's more a means of carrying your tools from one place to another. The Rolling Tote Bag with Telescopic Handle is the best tool bag you will find on the market.
Sale
Why Did We Like It?
First and foremost, let's take a moment to appreciate the durability of this bag from Husky's reputed brand. Thanks to the 600 Denier water-resistant material that it's made from, you won't have to worry about replacing it anytime soon.
What makes it even better is its impressive capacity of 80 pounds. Honestly, given its compact size, we were not expecting that. After all, it measures only 14 inches long, 9 inches wide, and 13 inches high.
Husky left no stone unturned to make sure that users derive the most value from this bag. The thoughtful inclusion of a plate-reinforced telescoping handle allows you to stack additional baggage and lug it.
Moving on to its ergonomic design, you won't run out of space because it comes equipped with 13 storage pockets. Long story short, it can comfortably accommodate most of the standard tools you'd need to use.
What Could've Been Better?
Despite having an array of nifty features, we couldn't help but notice a flaw in this bag. The wheels on its base are tucked behind a bit of plastic molding, which won't allow you to roll it up stairs or rocky terrain. So, you'd have to carry it in those cases.
Pros
Backed by a 3-year limited warranty

Six internal and seven external storage pockets

Plate-reinforced telescoping handle

Made from water-resistant materials
Cons
Plastic molding behind the wheels
Now that the coveted top three spots on this list are taken care of, let's talk about another top-notch wrench and socket set. If the first two recommendations on this list were too much or too little for your liking, this one is in the middle ground with 46 pieces. Read on to know all the deets.
Sale
Why Did We Like It?
First things first, we were quite impressed with the positive customer reviews for this set. And when we got it and used it a couple of times, we knew why it was so popular among users. It is perfect for small repair jobs that keep cropping up in and around the house.
The set includes a screwdriver with 20 replaceable bits and a ratchet set with 22 replaceable sockets. That's not all; you also get one extra driving head. What's more? You get it all in a sturdy plastic carrying case, so you need not worry about losing any of the pieces.
Having said that, it's not just the number of pieces that's impressive. This set takes your convenience to a whole new level with its ratchet extending from 5 to 7 inches. If you want, you may even attach it to a pegboard using the mounting brackets on the handle.
What Could've Been Better?
Honestly, there's nothing wrong with this set when it comes to its performance. But we think it is somewhat overpriced for the utility it offers because it can only be used for very trivial day-to-day tasks that pop up once in a while. So, we would have preferred it to be a bit more affordable.
Pros
Equal distribution of SAE and metric units

Carrying case with molded sections for each piece

Dual drive ratchet and stubby adjustable wrench

Easy to hold handles
We are halfway through with our set of Husky tool recommendations, and it is time to introduce the 1006 3-piece high-leverage pliers set. You don't need to be an expert at using tools to know how useful a good set of pliers can be. And this set does not fail to impress, read on to know how…
Why Did We Like It?
Before we talk about anything else, we must tell you about the unparalleled durability of these pliers. Made from a heat-treated steel alloy, they can easily resist corrosion and impacts. Furthermore, thanks to the heat treatment, the cutting edges remain sharp for longer.
But that's not the only thing about its build that you will appreciate. The handles have a rubberized overmold that enables you to always keep a firm grip, even when you're working in slippery conditions. No wonder it comes with a lifetime warranty!
Now, coming to the three pliers – you get a 7-inch diagonal plier, an 8-inch long nose plier, and a 9-inch linesman plier. The diagonal plier is perfect for cutting thick-gauge wire. The long nose plier works well to grab, cut, twist, loop, or thread wires in tight spaces. And the linesman plier is ideal for crimping, pulling, and cutting wires through conduits.
What Could've Been Better?
Although these pliers work well, we would've liked them more if they were a tad less heavy. Don't get us wrong; it's not like you can't use them at all, but they take a toll on your forearms when you have to use them for a long time. But then again, that's not a dealbreaker.
Pros
Backed by a lifetime warranty

Made from heat-treated alloy steel

Rubberized overmold on handles

High-leverage design delivers more cutting power
The next recommendation we have for you is a lot different from everything you've seen on this list. Instead of having a set of multiple tools, how about getting one that can be used for several purposes. That's precisely what you get with this 14-in-1 painter's tool from Husky.
Husky 14-in-1 Painter's Tool
Gives you the functions of a painter's tool box in 1 design
Spreader, chisel scraper, paint can opener and a roller...
Why Did We Like It?
If you're a painter who is tired of carrying the toolbox for every job, Husky has the perfect solution for you with its 14-in-1 tool. What makes it even more impressive is its extremely affordable price range. Let's just say that you'll rarely find a better deal than this!
It works as a spreader, a chisel, a crack opener, a paint can opener, nail puller, hammer end, and bottle opener. And that's not all; it's also a concave scraper, a convex scraper, a roller cleaner, a ¼" nut wrench, a ⅜" nut wrench, an 8-10 slotted screw bit, and a Philips NO 2 bit.
Thanks to its heavy-duty steel construction, you need not worry about its longevity at all. But if you need reassurance, Husky backs this tool with its unmatched lifetime warranty.
What Could've Been Better?
Honestly, we have used it for over six months, and we didn't find any flaws. Perhaps the only thing that can be improved is its availability. Right now, it is available only in these states – Alaska, Guam, Hawaii, Puerto Rico, and the Virgin Islands.
Pros
Very affordable

Made of heavy-duty steel

Highly versatile

An impressive lifetime warranty backs it
Cons
Available only in five states
We're back with yet another comprehensive set of Husky tools – this time, we are talking about something that comprises 92 pieces. The Mechanic Tools Automatic Professional set includes nearly every tool that any mechanic would need for most of their tasks. And it comes for quite a reasonable price, considering everything it offers.
No products found.
Why Did We Like It?
Let's just say that this is one of the best sets for the vast majority of professional mechanics and home DIY-ers. You get 52 sockets, 2 ratchets, and 38 accessories, which will be more than enough to take care of most, if not all, of the tasks you may need to accomplish.
But it's not just the sheer number of pieces, rather the thoughtful inclusion of a wide variety of tools that makes this set stand out from the rest. For instance, you get 42 standard as well as 10 deep sockets. These sockets are divided into a total of 21 metric and 31 SAE variants for all your requirements.
Among the accessories, you get a ¼-inch drive magnetic bit driver, a ⅜-inch drive extension bar, 14 hex keys, 10 bits, and 12 nut setters. Long story short, we think it's highly unlikely that you won't be able to complete an everyday repair job with this set.
What Could've Been Better?
The only gripe we have with this set is that the latch of its carrying case seems to malfunction after a couple of months. One sharp jerk or drop opens the case and can send some of the tools flying out of it. That said, there's nothing wrong with the tools themselves.
Pros
Quick Release Button for easy removal of sockets from the ratchets

Full polished chrome finish

Large markings for easy readability

Optimal versatility

Backed by a lifetime warranty
Cons
Carrying case latch isn't strong enough
For the penultimate spot on this list of Husky tools, we have picked the 28CW002NC wrench set. You get all the standard wrenches in both Metric and SAE sizes. So, you can tackle all the tasks in your home or garage – from tightening a nut on your bike to doing repair work under the kitchen sink.
Why Did We Like It?
Husky rarely fails to impress when it comes to its tool sets, and this one is no exception. It is touted as an all-in-one set, and after using it extensively for over six months, we agree. You get 28 pieces in this set, including 14 Metric and 14 SAE sizes.
Furthermore, the stainless steel construction of each tool ensures unmatched longevity. Add to that the chrome finish, and you've got tools that are resistant to corrosion and can be cleaned easily. No wonder it is backed by the brand's popular lifetime warranty!
But that's not all; the 15-degree offset design gives you enhanced leverage when using these tools in tight spaces. So, you need not worry about getting into awkward positions or putting too much stress on your wrist to tackle seemingly tricky tasks.
Last but not least, we are fans of the labeled sections and mounting brackets on the carrying case. But the carrying case isn't perfect; read on to know more about that.
What Could've Been Better?
We like that the carrying case is divided into two separate sections for Metric and SAE tools. However, the design itself of the case needs improvement as we couldn't stop a couple of tools from falling out. It's not a dealbreaker, but something Husky should surely look into.
Pros
15-degree offset design provides better leverage

12-point box end

Chrome finish for corrosion-resistance

Backed by a lifetime warranty
Cons
Carrying case design needs improvement
We're down to the final product on this comprehensive list. Honestly, it didn't feel right to include just one tool bag, so we found another one for you. Unlike its counterpart, this rolling tote bag comes with a couple of bonus bags. So, if you own a comprehensive set like our topmost recommendation, this bag will be perfect for you.
Why Did We Like It?
If the rolling bag we included in the top three recommendations on this list wasn't enough to carry all the tools you have, this might do the trick. You essentially get three bags – an 18-inch length main bag with two bonus bags of 16-inch and 14-inch lengths.
Combining all three bags, you get a whopping 35 storage compartments – 12 inside and 23 outside pockets. So, it is safe to say that you won't have to leave any essential tool behind when you're traveling for a repair job.
Moving on to the bags themselves, they are made from a highly durable and water-resistant 600 denier material that will last for a long time to come. Also, the heavy-duty telescoping handle is sturdy enough for you to stack the bonus bags on top of the main bag and lug all three.
What Could've Been Better?
As good as this rolling tote bag combo is, it is not perfect. The three bags weigh over 40 pounds combined, and that's without any tools in them. And to make matters worse, the bottom bag (with the telescoping handle) has tiny wheels that won't be able to take all that weight on uneven terrain.
Pros
A 3-year limited warranty backs it

600 denier water-resistant material

Heavy-duty telescoping handle

Two bonus bags included
Cons
A tad heavy

Small wheels on the bottom bag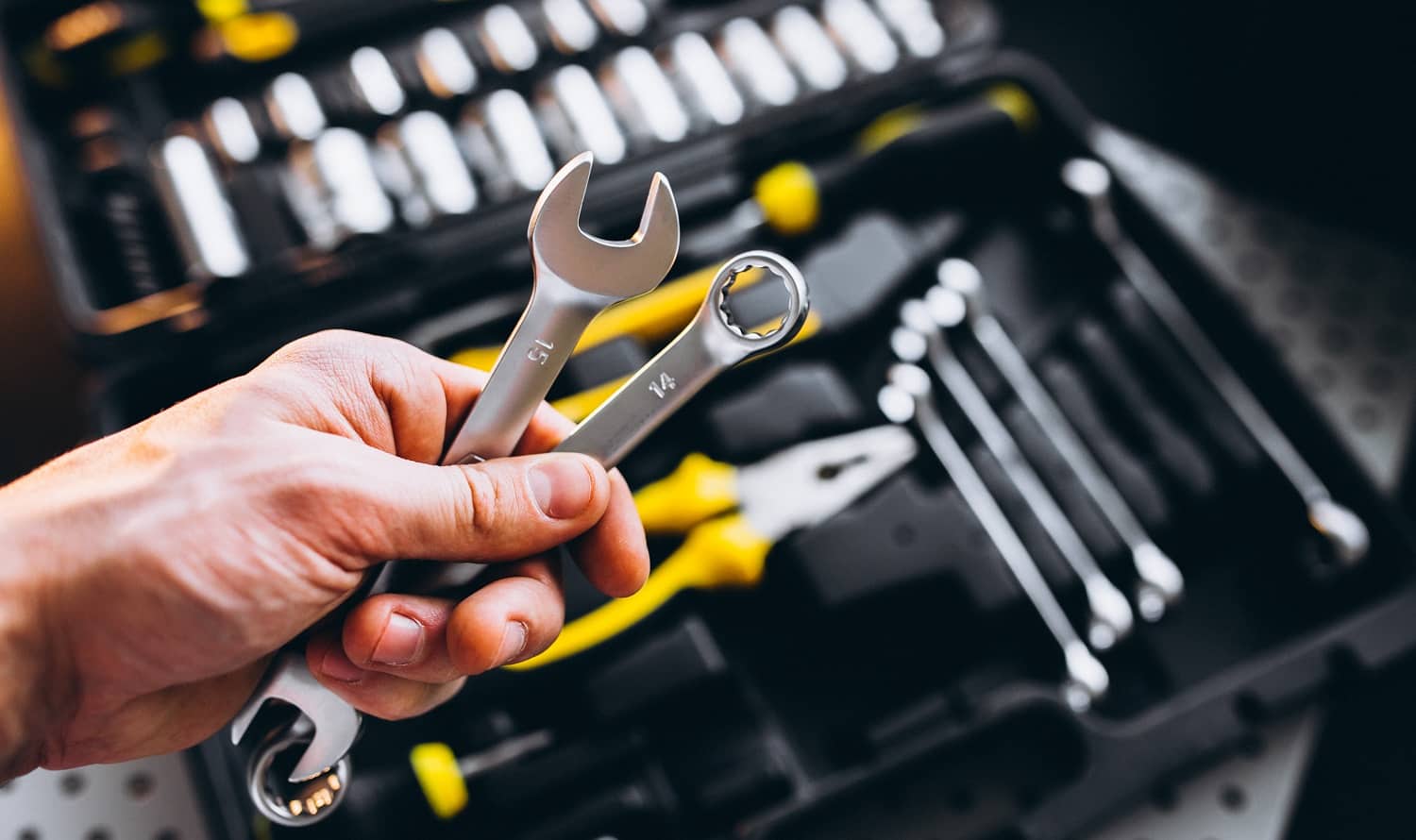 Everything You Need To Know About Husky Tools
Now that you know about 9 of the best tools Husky has to offer, let's take some time to understand what the brand is all about. With a history of nearly a hundred years, it should be no surprise that Husky has evolved into a household name in America.
The brand likes to claim that it is "the toughest name in tools!" From our all-star selection of products, it is safe to say that it backs up that claim quite well. Husky tools stand out from their competing brands by focusing on three things more than everything else – functional design, high quality, and durability.
What makes it even better is its commitment to continuous innovation and its unmatched lifetime warranty. So, if you put all of that together, you can see why Husky is a brand you can trust with your eyes closed.
But if you're still not convinced, how about we pit Husky against two other popular brands for a comparative analysis?
Husky Vs. Kobalt
First up, entering the ring is Kobalt – another brand with immense popularity. Kobalt is a sister concern of Lowes, while Home Depot owns husky.
Although Kobalt was launched in 1998, it has managed to make a strong name for itself in the power tools and hand tools industries. But of course, Husky has the upper hand, thanks to its experience.
Kobalt's idea was to allow Lowes to compete with large tools production companies like Sears and Home Depot. It seems like Kobalt is heading in the right direction, but Husky is a better, more reliable brand when it comes to tools.
Husky Vs. Craftsman
Kobalt's relative lack of experience led to its knockout, but the next contender is only three years shy of Husky's impressive history. Craftsman is as popular as Husky across American homes, so this promises to be a much more interesting comparison.
Looking at the range of products, it is impossible to say which of these two brands has the upper hand. They both deal with a wide range of power tools, hand tools, accessories, essentials, etc.
Moreover, in terms of warranty and brand value, you'll find that the vast majority of homeowners can't choose between the two brands. Long story short, Husky and Craftsman are head-to-head, and you won't regret getting a tool that bears the name of either of these two brands.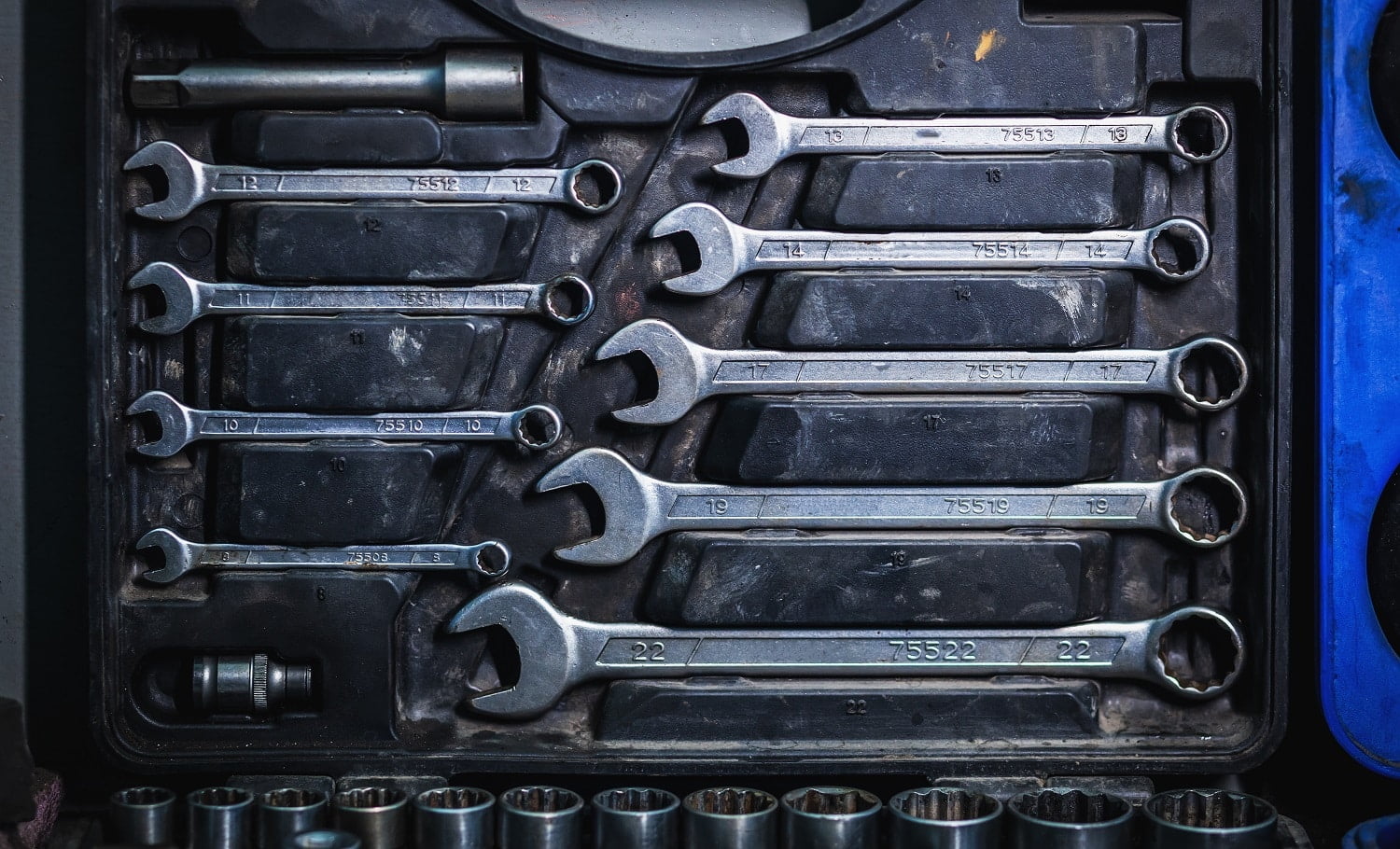 Verdict
That's all from us, folks!
For non-mechanics out there, having the perfect tool set handy may not seem like a big deal every day. It can be a major blessing in disguise when there is a sudden need for some repair work to be done.
And when it comes to professionals who earn their livelihood with the help of various tools, the perfect tool set is an absolute necessity. So, the importance of a good and reliable tool set cannot be overstated.
On that note, we hope that you found this guide helpful. And if you've never used a Husky tool before, you should give it a try. Based on our experience with the brand's products, we're confident that you won't be disappointed.
Let us know what you think about the Husky brand in the comments section below. We'll see you soon with more interesting guides.
Till next time!
Related Articles
21 Best Tool Bags Right Now to Consider
Tekton Tools Review | Craftsman vs Husky vs Tekton vs Gearwrench
5 Best Split Beam Torque Wrenches
10 Best Air Compressors For Impact Wrenches
11 Best Torque Wrenches on the Market Today
11 Best Precision Screwdriver Sets Right Now
11 Best Precision Screwdriver Sets For Enthusiasts