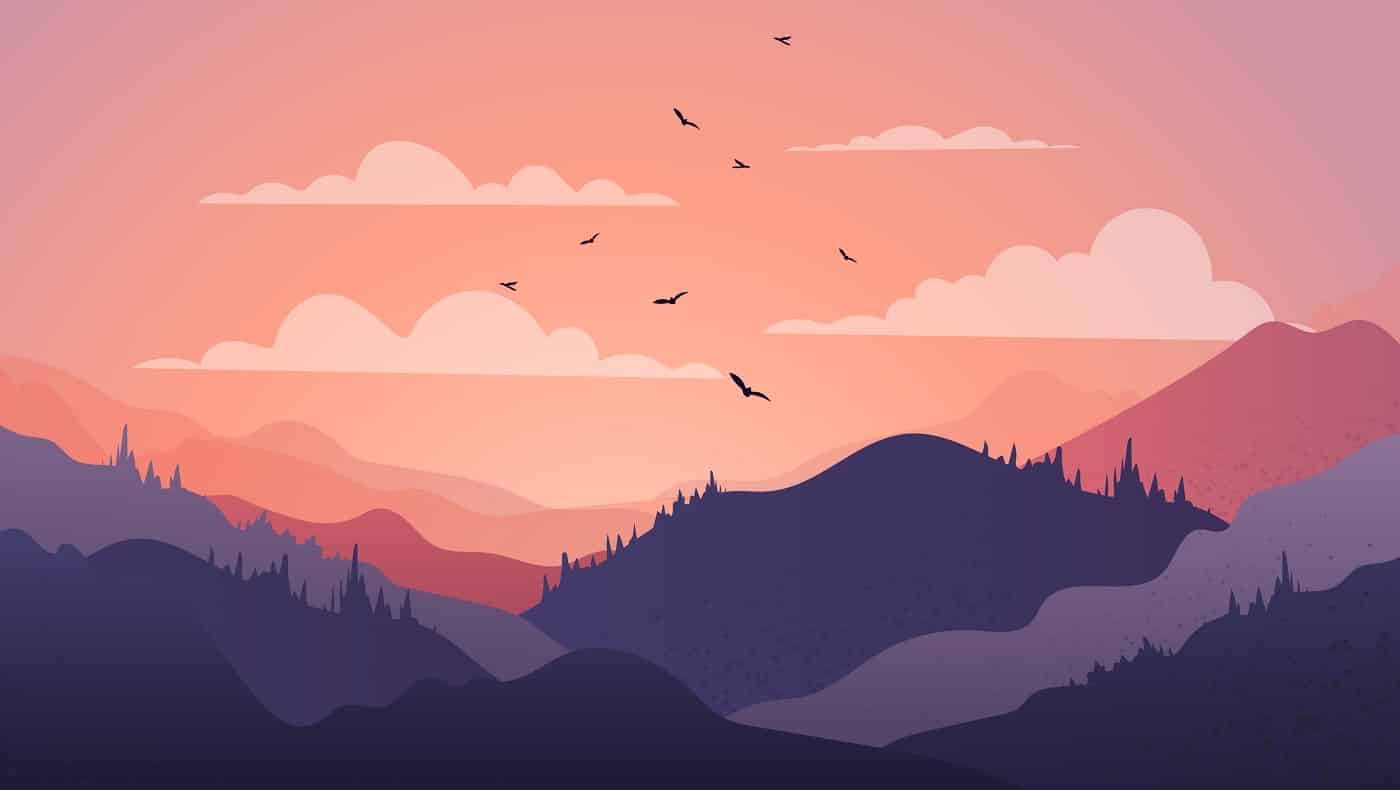 Do you feel your landscape can look much better than it currently does? Or is it that you want to design one for your new home?
Well, irrespective of that, you've come to the right place. We've compiled a list of some amazing and super-convenient software that can make your task smooth and easy. Ultimately, a visualized design will turn into a reality, so much so, that you'll be mesmerized at your own creation!
Well, doesn't that sound exciting? So, here's all you need to know about the 8 top-notch landscape design visualizer apps.
Best Landscape Design Software for Mac User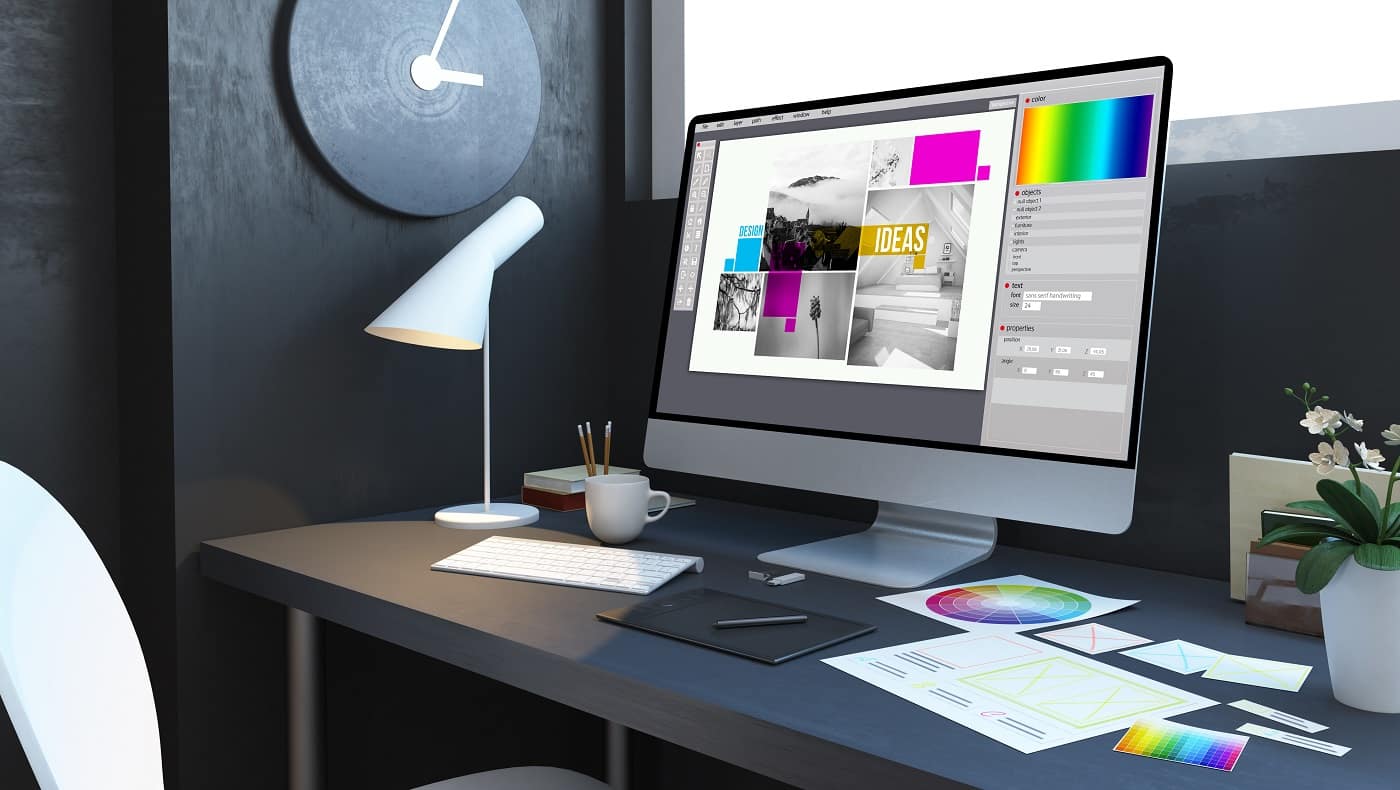 We consider this software to be one of the best landscape design tools out there today. You will be delighted to know that it works both online and offline on a variety of operating systems including Mac. Plus, this 2D yard planner is also quite easy to operate and is packed with a lot of interesting and useful features. So let's take a look at everything it has to offer.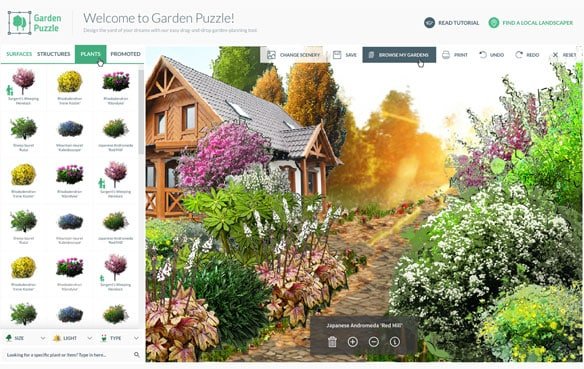 Why Did We Like It?
The feature that we loved the most about this software was that it allowed us to use a real photo for our house or garden. This way, we could design our landscape in a way that would be exactly suitable for our home. Also, we could fiddle around with existing design elements besides adding new ones to the plan.
But if you don't have a photo, you may also upload a sample photo from the library available in the software. Then on, you just have to use plants based on filters such as climate zone, species, light requirement, and size. Notably, you can choose from 800 choices of plants, and after making the choice, just drag it around till you fit it in the right place.
Furthermore, this software also has an online version, which is suitable for users who don't want to download any data on their device. And it is available at quite an affordable subscription rate for anybody willing to utilize it effectively.
What Could've Been Better?
A disappointing aspect of this software was that it had no redo option. Thus, if you undo a change in your plan, but change your mind just the next moment, there is no way you can redo that.
So, you need to be extra careful about this when you're handling the software. There is no one who doesn't love the redo function on Word or Google Docs, so we expected this would be found here too.
Pros
Uses real photos

Easy to operate

Offers 800 choices of plants

Affordable subscription rate
Cons
Doesn't have a redo option
If you are looking for a very simple software for just redesigning your landscape, this one will be a great choice. That said, it is more intuitive than many other design tools available out there. Note that you can work with this software in 2D mode and opt for a paid subscription in order to access all its features.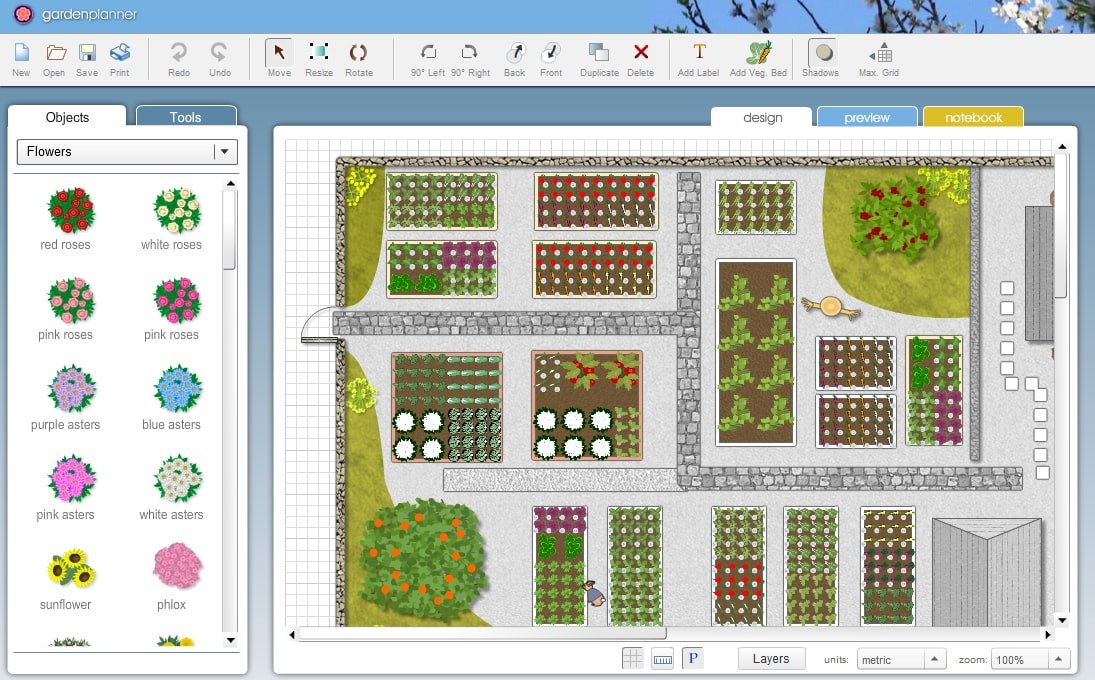 Why Did We Like It?
First and foremost, this software will be really useful if you are looking to make a basic sketch of your garden before making it a reality. The design elements and plants available to users are generic, but its simplicity of use sets it apart from many other software available currently. So, even if you are new to using a landscape design software, it will be quite easy for you to navigate through it.
Besides, you have the drag and drop option to put the elements in the places where you need them to be. And you also get to see a view of the plan from above, so as to get an impression of the design as a whole.
Plus, you just need to pay for the desktop version of the software once for getting full access to all its features. Other than that, there are no subscription renewal fees or in-app purchases needed. Additionally, all future updates to the software are also available for free.
What Could've Been Better?
Although this software lets you conveniently draw a basic sketch of your garden, it doesn't have 3D planning capability. So, you won't get a virtual pictorial representation that seems like you're actually walking through the garden. This is a drawback for those homeowners who have larger landscapes to design, as they would need a 3D representation to make sure that their design is perfect.
Pros
Simple to navigate and use

Provides aerial view of plan

Cost-effective

Drag and drop enables fast planning
What we have next is this powerful desktop landscape design software from TurboFloorPlan. It is meant for helping home enthusiasts design their landscapes most successfully. Also, the software is designed in such a way that you can learn to operate it quite fast.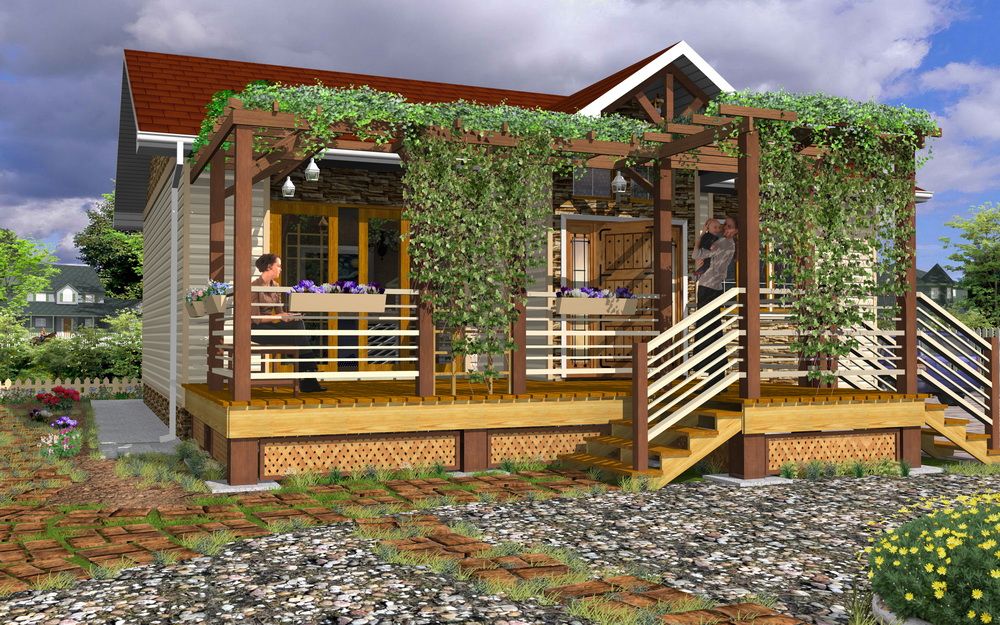 Why Did We Like It?
We loved the way the software automatically followed the shape and contours of the house as we drew the design. So, ultimately you can get the landscape designed in just the style that suits the structure of your home. Plus, there are some templates that help you to start making the design.
Further, it offers to users a vast range of materials, which includes pavers, flower gardens, paths, and mulch. You also get to choose from a great collection of plants, and in case it's not available in the directory, you can even import it. Additionally, it lets you zone the plants together and then move them collectively across the plan.
Besides,you may import backgrounds or photos, simulate how the plants will appear in the recent future, and also construct retaining walls in the design. Lastly, an intelligent Topo Designer is also available to users that lets them add real-world topography.
What Could've Been Better?
Despite all its amazing features, we found a flaw which we would like to point out. The Mac version of this landscape design software seems ported straight from the Windows version. That's because the interface feels and looks like Windows-based and includes lesser updates than the other version.
Pros
Follows the shape and contours of your house

Offers a vast range of materials

Lets you zone plants together

Allows you to add real topography
Cons
Dated interface is Windows-inspired
We've included this one in our list since it's among the best free software for landscaping that you'll ever find. Notably, it was previously owned by Google but was later acquired by Primble in 2012. You will get quite an impressive range of features and tools in this software which offers both 2D and 3D modelling.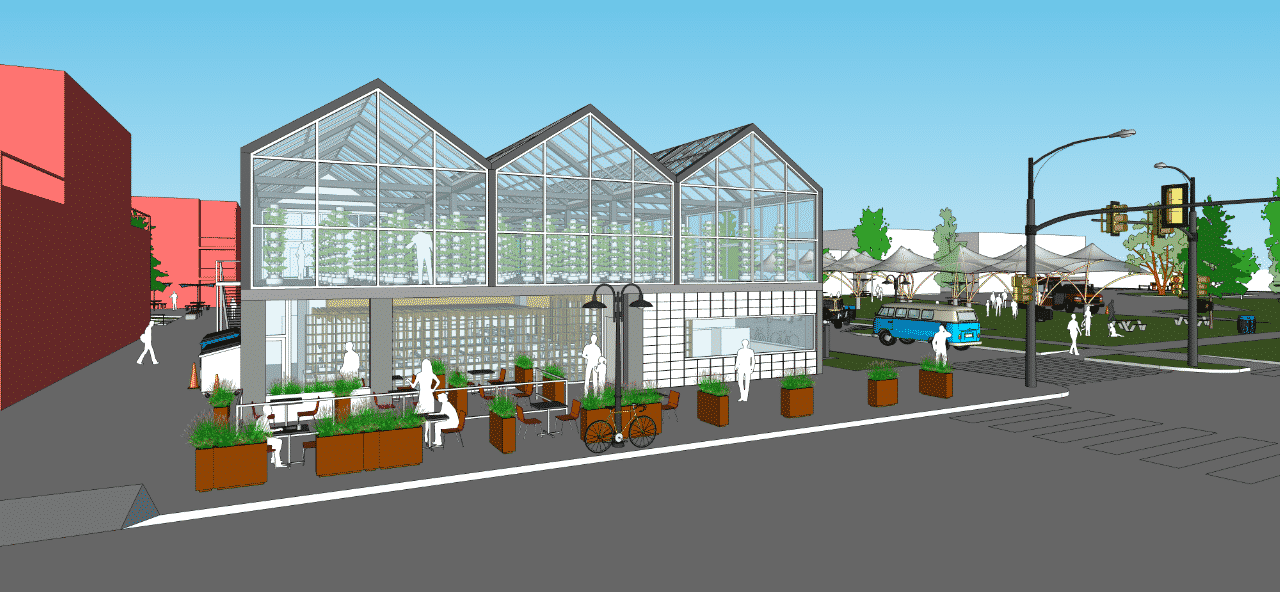 Why Did We Like It?
At the start, let us tell you that the user interface of this software is really simple, so that both a beginner and pro can handle it equally well. You will find that the toolbars appear discreetly on the left and right hand side of the screen. While the "instructor" and other few panels are found on the right, the drawing and navigational tools are placed on the left.
As for sample designs, though this software offers no templates, it allows you to use sample models downloaded from 3dwarehouse. This is a platform brought by SketchUp itself which offers 3D sample models of landscapes designed by other users. Plus, you also get a "push and pull" feature which lets you manipulate and drag designs in several ways.
Additionally, your camera can be moved around the 3D design prepared, so that you can check the progress and can view the model as a whole. Note that there are predefined camera angles and you can choose the length of the transition between the angles by yourself.
What Could've Been Better?
Although the software is available for free for your personal use, subscriptions to the professional-grade application is expensive. Note that the free version doesn't have sufficient export options for your creations, so you will need the pro version for those. That said, apart from this, both the versions have nearly the same features.
Pros
Interface very simple to use

Lets you freely manipulate and drag designs

Camera can be moved around the 3D plan

Allows use of models designed by other people
Cons
Paid subscription is expensive
For those who are in search of a software which can help in making a combination of landscape and home design, this is one to go for. The makers of this design tool have tried to ensure that landscape designing becomes an enjoyable, visually striking, and easy process. You can get this software in two versions, namely, Pro and Standard, though the Standard version is a pretty basic one.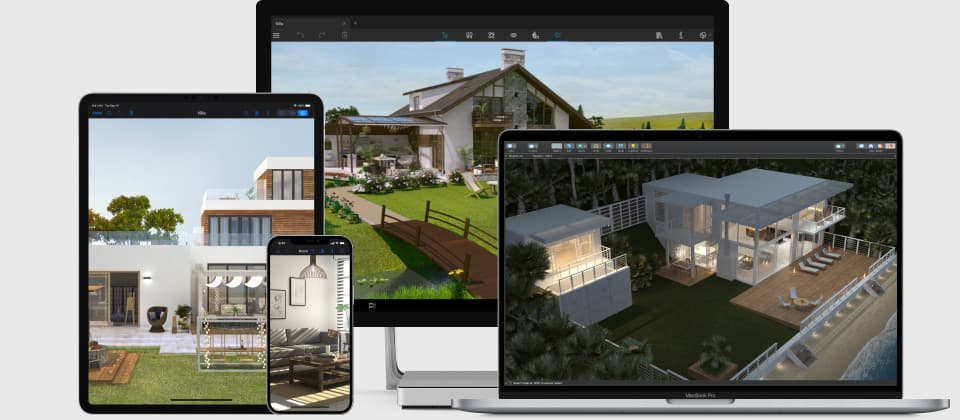 Why Did We Like It?
First of all, you will be glad to know that this software lets you design both 2D and 3D models of landscapes. And you can simply switch between both the formats any time you like. So, there is no need to wait around to view a close-up of your designs.
Moving on to the design elements and tools, you can select objects and furniture from among the thousands of options available in SketchUp's 3dwarehouse. The Pro version of the software also lets you import SketchUp models and edit them as you like.
Another notable feature of this software is its increased attention to detail, due to which it provides you with more than 300 choices of exterior objects. And in case you don't find an object in the library, it can be easily imported in Wavefront.Obj format.
Moreover, it is also equipped for saving all creations to iCloud and utilizing the benefits of 64-bit architecture in the most current versions of MacBook Pros.
What Could've Been Better?
We felt that the walkthrough mode in Live Home 3D could be improved, though a range of beneficial features are offered by the software. The mode is not easy to control as it takes more effort to get the angle right in order to view the model from all sides. Also, you may hit a few snags while designing more complicated structures.
Pros
Easily switch between 2D to 3D modelling

Vast range of exterior objects

Efficient 3D rendering

Creations can be saved in iCloud
Cons
Walkthrough mode not easy to control
Our next pick for you is SmartDraw, which is a very easy-to-use professional-grade software. In fact, it ranks among the best software in terms of speed, flexibility, and ease of use. Note that this software can be used to make 2D landscape designs.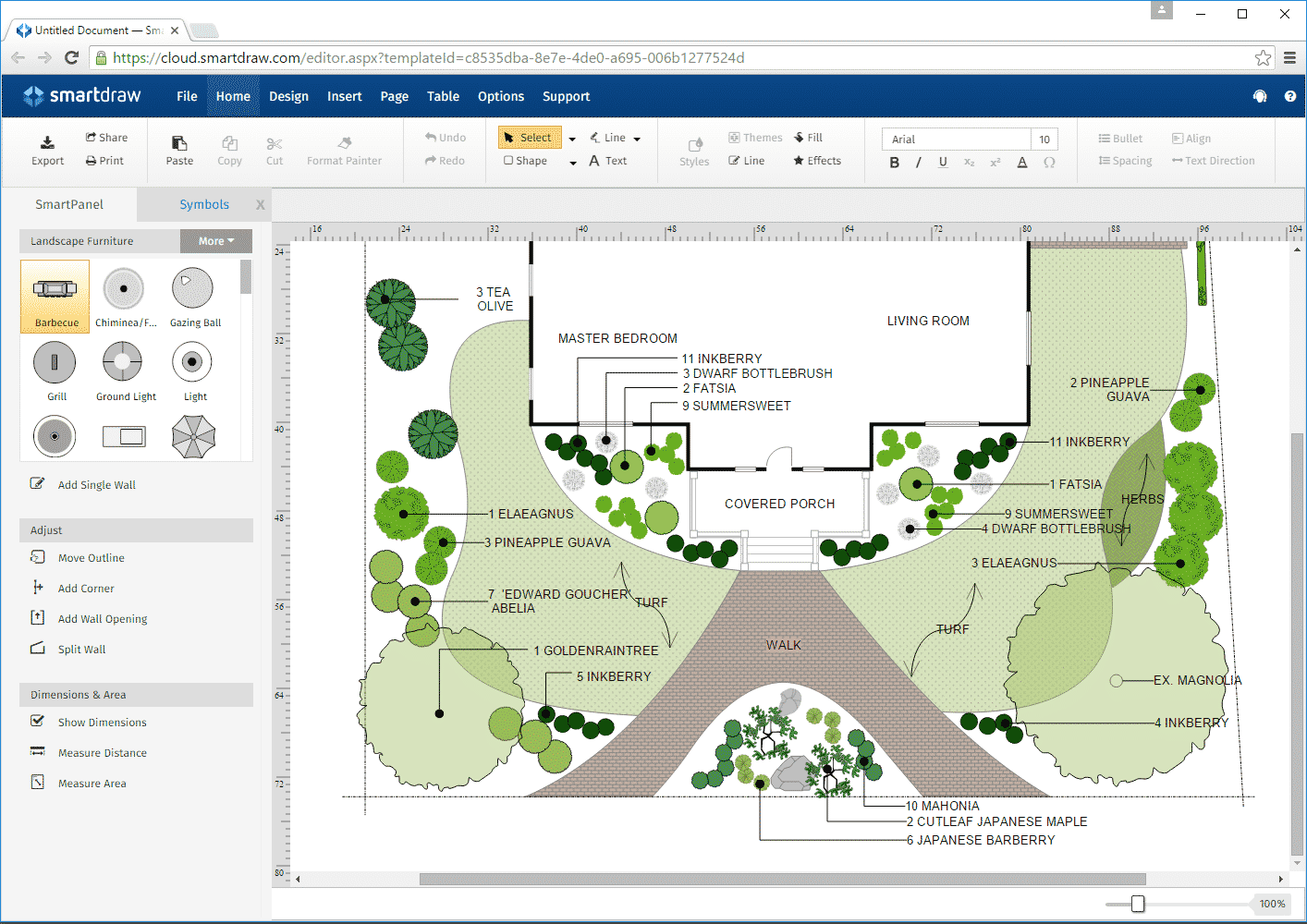 Why Did We Like It?
You will definitely like the extensive landscape symbol library of this software, which has thousands of shapes and symbols ready-made for all kinds of landscapes. Also, it lets you drag and drop various kinds of flowers, grasses, sprinkler systems, shrubs and groundcover. And you can even apply realistic textures and brick patterns to your landscape design.
On top of this, you are also provided with the best possible choice of templates in any landscape software. These include layouts for planning decks, gardens, pools, floors, and patios, that give you ample inspiration for designing your landscape.
Finally, once you're done making the blueprint of your design, it can be exported to nearly all major formats such as PDF, JPEG, Office, PNG and SPG. You may also print it in any size you want.
What Could've Been Better?
This one is another expensive option on our list, though its functionality and features do work to deliver you the finest possible landscape design. Note that you can try the software for free to judge whether it would suit you. So, we would suggest you try it once before you decide to go for it.
Pros
Thousands of objects and flora

Offers best choice of templates

Very easy to use

Convenient drag and drop interface
If you are specifically looking for a 3D landscape design software, this one will be an ideal choice. This software has been loved by many DIY home design enthusiasts who have used it to create the home of their dreams. Note that it can be used for designing both the home interiors and exteriors.
Why Did We Like It?
The best thing about this software is that it has specific tools for terrain planning. These can account for the contours and elevations and can also be used to show setback requirements to neighbors or professional designers.
Besides, you also have the benefit of importing photos of your yard or property to enable more realistic designing. Plus, it offers a huge collection of as many as 3,600 plants along with their detailed botanical information which includes Hardiness Zone maps. With all these tools, it can help immensely in bringing your garden patios and decks to life.
Also, the software provides quite powerful and vivid 3D walkthroughs and a fairly vast range of both internal and external objects. As such, it can be used to create extensive house plans containing even minute details of the design.
What Could've Been Better?
The only aspect that we felt could've been improved in the software was its ease of learning. We found the navigation and the placement and use of the tools a bit complicated. So, it might take as long as a month for someone who is new to landscape designing to learn even the basics of the software.
Pros
Accounts for contours and elevations

Offers a huge collection of plants

Lets you import photos of your yard or property

Provides powerful walkthroughs
Cons
Is a bit complicated to learn
Another popular and powerful landscape design application is Punch Landscape Design. With this software, you can create a variety of designs in the form of 3D, 2D view aerial shots. It features the latest trends in landscape design, which can help you turn your backyard into a beautiful mini outdoor lounge.
Why Did We Like It?
We begin by discussing the navigation and ease of operating this software, which, in our opinion, was its best feature. That's because it installs quite fast and you can start working on your landscape design almost instantly.
Notably, the interface of this software is very easy to navigate and can also be customized according to the users preferences. Also, the search option lets you find the tools that you want in just a few seconds. What's more, it comes with a set of keyboard shortcuts which is really beneficial once you are used to it.
Besides, this application offers you both the option of using existing templates or designing a project from scratch. Plus, an ongoing shopping list feature is available, which is useful for keeping track of all that you need for the project.
An impressive feature of punch landscape design sofware is QuickStart, that lets you render the topography by entering the coordinates of your lot. Thus, you can plan your design based on the unique property line.
What Could've Been Better?
Although we have no complaints about the efficiency of this software, as it suits all kinds of landscaping needs. The only drawback that we found was the unavailability of a drag and drop option for the 3D version of the software. This makes the operation in the 2D mode relatively less easier.
Pros
Easy-to-navigate interface

Search option finds tools almost instantly

Comes with unique ongoing chopping list feature

Lets you render the landscape topography easily
Cons
Drag and drop option not available for 2D models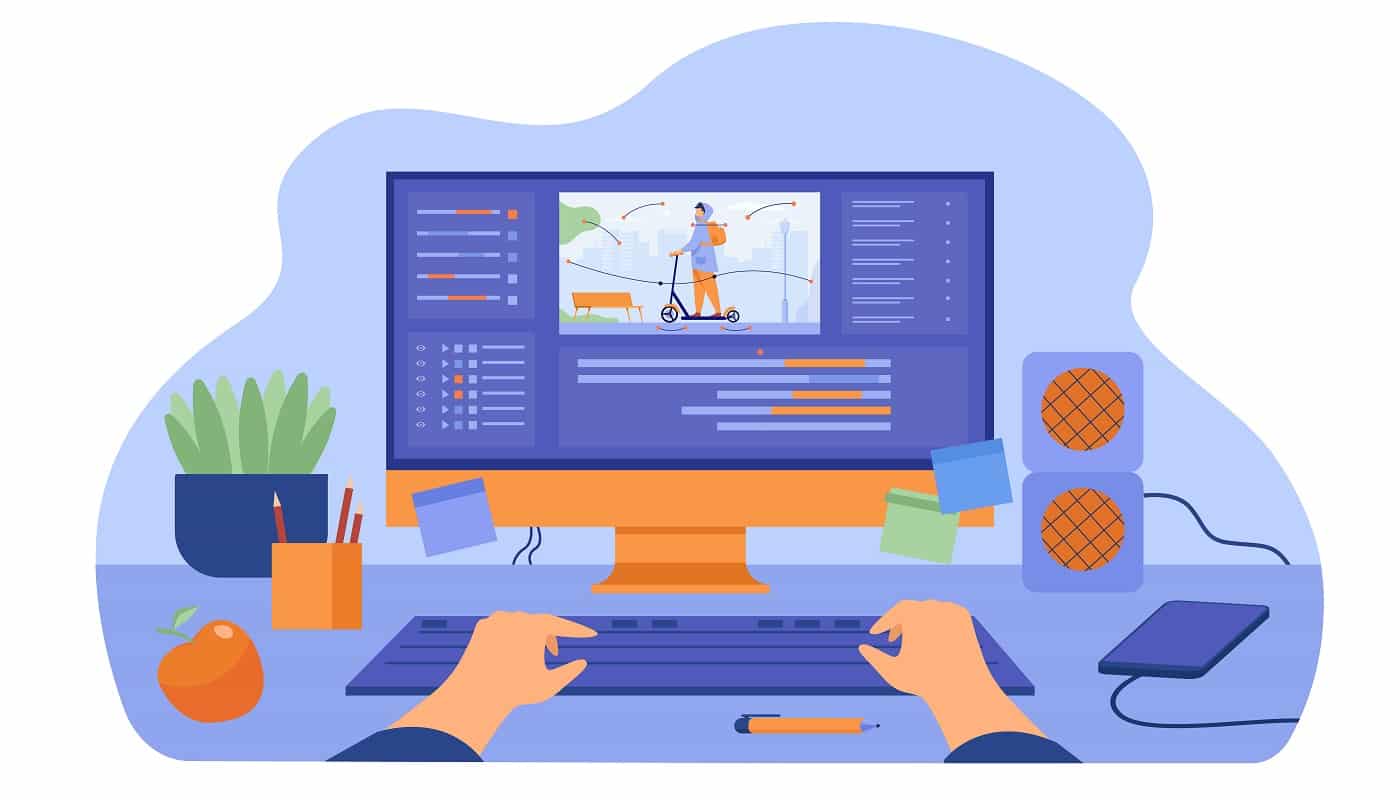 Landscape Design Software FAQ
Why should landscaping software be used?
Most of the homeowners prefer designing their own home landscape to hiring an architect for the purpose. So, they require making a rough sketch representing that idea. That is the basic step in order to turn the desired look of the garden or the backyard into a reality.
Landscape software provides you with templates and all necessary tools you need for the purpose. So, the problem of not having anything to refer to while making a design is solved. And the process is a lot more accurate and easy to follow than just a sketch on paper.
Which landscaping software should I go for?
Any of our recommended options can be chosen, since all of them will be greatly useful for you. Note that if you're not too tech-savvy, a software which offers templates to begin your design will be suitable. This way, the first few important steps in designing the plan will be easier.
Is there a free landscaping software?
Yes, most of the software out there is available in both free and paid versions. In our list, we've included many such options, but some might offer limited functionality if availed for free.
 So, you have to keep in mind any special preferences and check whether the free version gives you that particular benefit. We've also included efficient yet affordable options, so you can use any of those by paying a minimal subscription fee.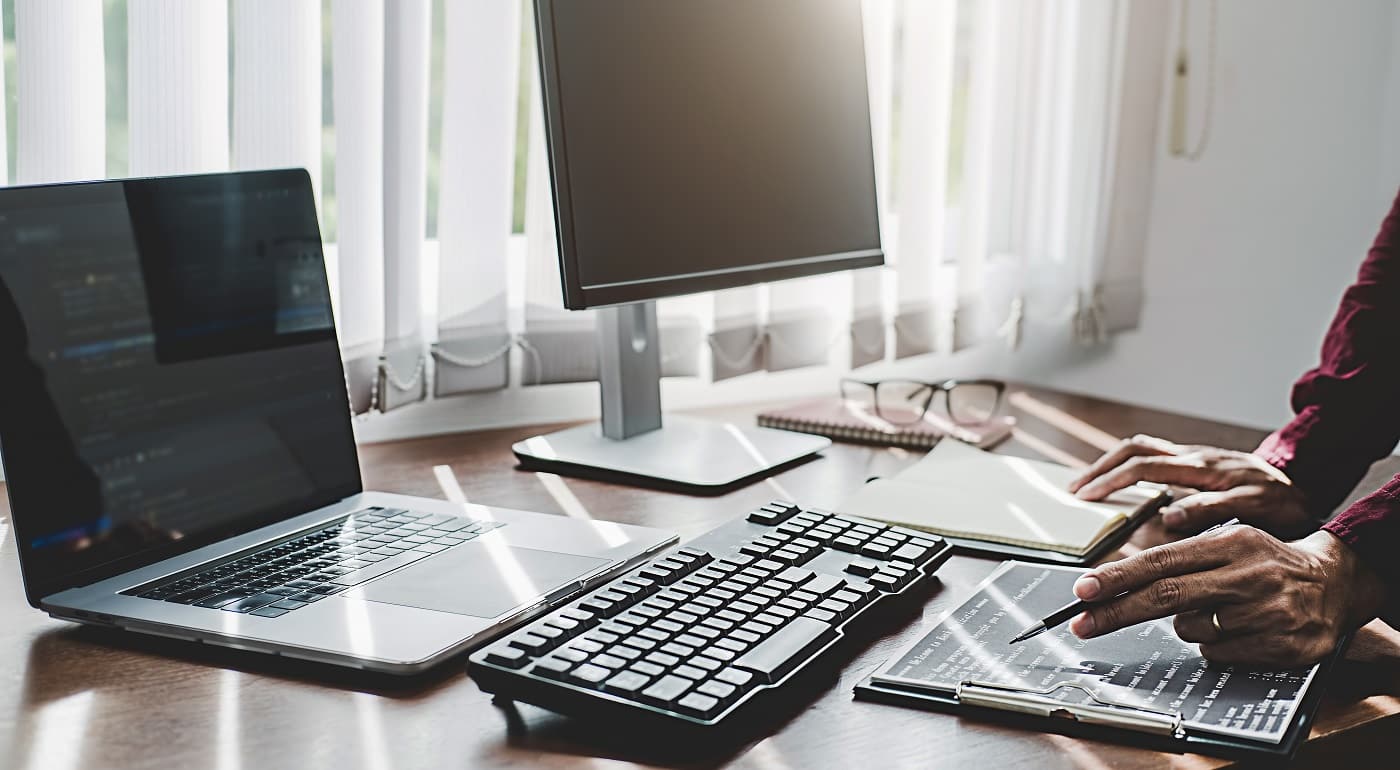 Final Words
That's all we have for you!
We hope you will be able to find an ideal landscape design software to make your long-cherished dream a reality. Before signing off, we would like to share two pro tips with you for making a wise decision.
Firstly, when it comes to DIY landscape design, it is essential to consider the design resources offered in the software, plus the ease of use.
Also, you should note whether the software offers a 3D version, since it helps in making your design more effective. That's because you can visualize the design better, and improve upon any part that you're not satisfied with.
With that, we take our leave. Till we meet again!
Related Articles
17 Best Landscaping Design Software [Free & Paid]
13 Best Free Online Closet Design Software
17 Best Fence Design Software Options Today
11 Best Shed Design Software Options
6 Best Home Theater Design Software Options
6 Best Tiny Home Design Software Options Today
4 of the Best Software For Architectural Walkthroughs
Top 9 Best Rendering Software for Architects This Year
10 Wall Art Visualizer Apps to See What Your Wall Art
17 Best Bathroom Design Tool Options Today
13 Home Builder Software Programs for Managing Construction Projects
13 Free Virtual House Paint Visualizer Software
12 Best Free Home Exterior Visualizer Software Options
7 Best Container Home Design Software Options
13 Best Garage Design Software Options
9 Best Landscape Design Software For Mac User