If you're looking for a compound miter saw, chances are you've already tried the standard chop saws and miter saws.
Even if they include superb features, they still can't give you that freedom of movement and the different flexible operations that come with a sliding compound miter saw. This is why the latter becomes a compelling addition to your workspace. 
But we all know how difficult it is to choose a sliding compound miter saw that matches your needs. Merely going for high-end models may not serve your purpose, since you might be looking for something totally different.
So, we reviewed loads of such powerful machines and came up with these amazing 11 miter saws that are versatile, durable, and also serve your budget. We have made this list keeping in mind the various kinds of people who use miter saws.
Thus, without any further delay, let's get straight into the nitty-gritty.
Best Sliding Compound Miter Saws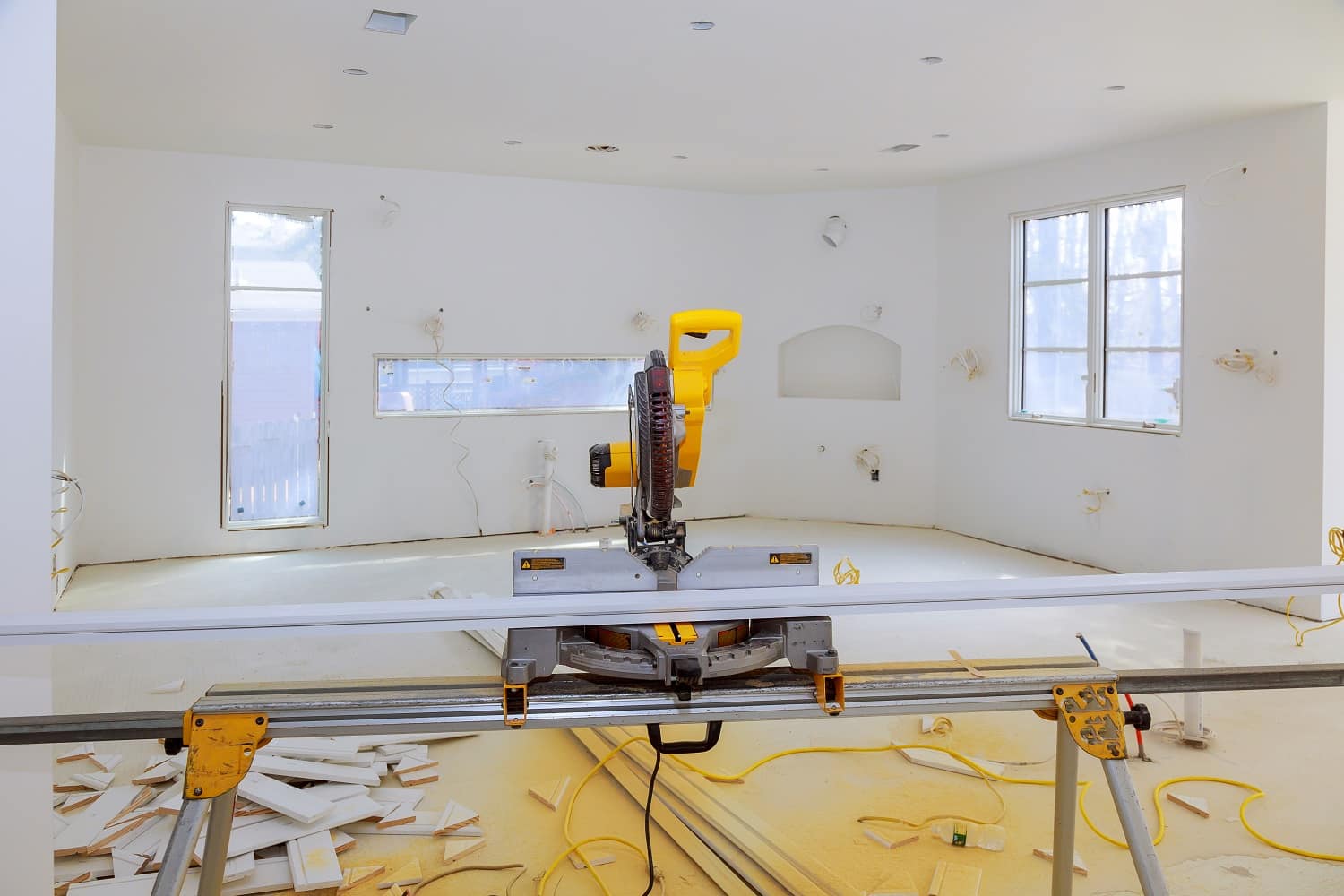 Dewalt is a 'trust-it-by-its-name' kind of brand, and rightfully so! Its products are a combination of durability, innovation, and some incredible multi-functional features, giving it the catbird's seat in the world of construction and power tools. This 12-inch sliding compound miter saw only adds to their long line of such amazingly trustworthy products.
Experience
The DWS780 is one of the best miter saws that are currently dominating the market for reasons more than one. First, its groundbreaking innovation comprises an integrated XPS cross-cut positioning system that provides smooth adjustment-free cuts. 
Now, you may ask- how does it work? Well, the XPS system projects LED light on both sides of the blade, forming a crisp shadow on the workpiece. The shadow determines the position where your saw will place itself, saving you a whole lot of time than the other miter saws whose exact manual positioning was such a hassle!
Two essential conditions that are fundamental for a tool's success are its power and durability, and this tool excels in both. This miter saw easily lasts through a day of extensive work such as home remodeling as it comes with a powerful 15 amp motor that dishes out a massive 3,800 RPM.
Talking about its durability, it's built with high-grade stainless steel material and an adjustable steel miter detent plate. This combination can withstand the daily rigors of construction seamlessly, while also ensuring top-notch accuracy with the 10 positive stops on the miter plate.
And thanks to its exclusive back fence design, this product allows you to cut 2 x 16 pieces and 2 x 12 pieces of lumber at 90 and 45 degrees to further enhance convenience and precision. However, we were pretty upset with the slide as it felt sticky and not so well-built. It isn't smooth and makes a loud noise apart from getting stuck randomly while loading the workpieces.
Pros
Portable

Easy-to-use

Durable build

Own dust collection system

Precision cutting
Cons
Doesn't have adjustable bearings

Slider gets stuck
Makita is another reliable brand in the world of power tools that always aims to deliver the best results in the least span of time. The LS1018 is just shy of 2 inches from the Dewalt model in terms of blade diameter but ranks very high among professionals as well as casual DIY'ers. So, let's see how this product fares considering all its features.
Sale
Experience
To begin with, the LS1018 comes with an impressive 13-amp motor that can deliver massive cutting speeds of about 4,300 RPM, allowing it to cut through any surface very easily. And as high speeds come with random quivering and vibration of the workpiece, the stable 4-rail steel sliding system makes it sit tight on the plate.
We also like how this model focuses on accuracy, and it seems you simply can't go wrong with this miter saw! There are 6 linear ball bearings, a see-through blade guard, as well as a super-precise laser, all of which combine to help you ascertain where's the cutting point of the miter. Furthermore, for enhanced safety and flexibility of measurements, there's also a one-touch miter lock that helps to make even finer adjustments.
Before moving on to its other cutting-edge features, we'd like to talk about its portability factor. Trust us, Makita has managed to pack all these awesome features into one of the most lightweight miter saws available out there. It weighs a mere 43 pounds, making it so easy to carry around, in comparison to other medium-end saws.
And coming to its cutting capacity, for miter cuts, the angle range is about 47 degrees, and for bevel cuts, it's about 45 degrees to the left and right. What it means is that you don't have to flip the workpiece while making an angle cut on its opposite side. In essence, the saw will flip itself with this angular tilt while the workpiece stays in place.
However, such an all-rounder miter saw comes at quite a high price. So, it could've helped if Makita had increased the warranty period of this model.
Pros
Extremely lightweight

Easy to use

No flipping for bevel cuts

6 linear ball bearings for added accuracy
If the Dewalt 12-inch saw was a tool dedicated to professionals, the DW715 is a fantastic bridge product coming at a lower price. We claim this to be a bridge product because it isn't an extremely high-end model, but it serves some of the professional cutting pretty well. On the other hand, this is an amazing product for casual DIY'ers and those who are just starting in the construction industry. Let's head to its features right away!
Experience
The first feature that spells convenience is its lightweight structure, making it perfect for shoving it in your personal workspace, as it comes down to a mere 42 pounds. It easily fits in any garage or shed, and if you worry about its performance owing to its small size, we'd suggest you not to.
That's because the DW715 comes with a precise 12-inch carbide blade, which is powered by a 15-amp motor and reaches a maximum speed of up to 4000 RPM. This combination is as smooth as it gets and works pretty great on almost all surfaces, and cuts, frames, molds them according to your needs.
And Dewalt hasn't paid any less attention to the accuracy of cutting in this miter saw. The adjustable stainless steel miter detent plate comes with 14 positive stops that ensure the workpiece is cut at the exact points you want.  
We were pretty excited about this saw as it can cut perfect pieces of crown molding of up to 5.25 inches and nested molding of 6.5 inches with ease. We've noticed that most miter saws get stuck while making the complex angular turns required for these moldings, which the DW715 performs with great vigor.
However, during the making of bevel cuts, the machine lags a bit and always leaves you wanting for more. While the cross-cutting capacity for lumber is 2×8, it's only able to make positive stops to the right of the workpiece up to a mere 3 degrees. The left angular movement is pretty good at 48 degrees.
Pros
Lightweight

Very accurate

Good cross-cutting capacity

Tall sliding fences
Cons
Added dust bag is small

Bevel cuts aren't that great
Hitachi is one of the most reliable brands in the world of construction and power tools delivering quality, accuracy, and excellent consumer support. And with most of their products, innovation is right next to your doorstep, bringing along extreme convenience and ease of use. The C10FCH2 is one such model that comes with top-notch features and rightfully belongs to the long legacy of some great Hitachi products.
Experience
This trailblazing model is most noticeable from the very first appearance due to its compact size and lightweight. While we review construction tools, lightweight is one of our worthy checkpoints because even a bulky machine with some awesome features wouldn't prove that useful in the long run. The C10FCH2 does away with all that as it weighs only 26.3 pounds, even lower than the DW715 we just reviewed.
Coming to its features, it's a 10-inch single bevel miter saw that runs in a 15-amp motor, and that's powerful enough for most cutting jobs. Talking about cutting, Hitachi packs reliable performance and precise engineering to push its cutting accuracy the most. They have included a new Laser Marker system, which comes as an upgrade you gotta separately purchase, making your cuts even more precise.
Moreover, all the features of the product spell convenience. The model has a sturdy stainless steel table that holds your workpiece. And the horizontal handle is a departure from the usual models, giving you a more secure hold while you make intricate cuts with the saws.
And talking about cutting, we were pretty excited to see that this model features a miter angle range of up to 52 degrees and a bevel angle range of 45 degrees. These combine with the laser marker and the adjustable stops to give you a top-notch cut every time with zero errors.
While everything else works pretty great with this saw, its dust collection system could have been a lot better. Also, as it is a small miter saw, it comes with a limited capacity to make bevel cuts. But please note that this isn't a comment on the accuracy of the cuts that it can make as they're accurate most of the time.
Pros
Lightweight

Compact

Very easy-to-use

Great value for money
Cons
Limited bevel and miter angles

Not suited for professional work
Black+Decker is also one of those companies that have made a distinct place of its own with some awesome construction tools. Another reason for the company to be a favorite among the professionals and DIY'ers alike is its vast range of products that fit every kind of job. The M1850BD is a medium-end model not fit for large-scale industrial work, but amateurs would be delighted to have a slice of this. Let's check out why.
Experience
We'd like to mention it again that this product is most suited for the average DIY'ers who have some hands-on experience with power tools. That being said, it comes at a very reasonable price considering the features it comes with. As you start using the miter saw, you'll gradually get comfortable with it for its easy-to-use operations.
Moving on to the features, it comes with a 9-amp ball bearing motor, which is rarely included in a miter saw of this price range. And despite the lower price, Black+Decker hasn't gone light on the cutting accuracy of this product. Along with a powerful motor, its 9 positive stops allow you to stop for precision cuts whenever you wish to.
But talking about its cutting capacity, it ranks pretty low compared to the high-end models that we talked about before. It can cut a maximum of 2×4 at 90 degrees and a 3×4 at 45 degrees, which we agree isn't that great, but hobbyists and DIY'ers rarely need higher cutting capacities in their workspace.
Moreover, the nine stops at the regular cutting angles are combined with a wide miter range of 45 degrees, both left and right, to give you perfect outputs with all your intricate trimming, crafting, and framing projects.
And finally, the model features a die-cast aluminum construction to cut down on the extra weight and a sturdy table of its own. Also, it comes with a 2-year limited warranty.
Pros
9-amp ball bearing motor

Great accuracy

Extremely lightweight

Perfect for amateurs

2-year warranty
Cons
Not a professional device

Low cutting capacity
No power tool list is complete without including a product of Bosch. It's hard to miss the legacy of this company when we're talking about miter saws as they have been coming out with some compelling, easy-to-use models for long. The GCM12SD isn't an exception, and like their other products, this also comes with some insane features to suit a host of applications.
Sale
Experience
We were pretty excited to have a hands-on experience with this model and were instantly impressed by its patented axial glide system. This is one of the USPs of the miter saw that makes way for wider cross-cuts with precise alignment, without compromising on the compactness of the product. Cutting with this unique glide system was a sheer pleasure as it will save you 12 inches of valuable workspace.
Another feature that sets this product apart is its expanded cutting capacity in all respects. It comes with a 14-inch horizontal capacity, a nominal capacity of 6.5 inches, a vertical capacity of 6.5 inches against the fence, and again a 6.5-inch crown capacity. It's important to mention that the combination of these cutting capacities and the axial glide system makes way for more personalized control over the saw and extreme cutting precision.
And if you want to know about its core performance, it boasts of a 15-amp motor with a massive 3,800 RPM, that will easily last you an entire day. This brings us to the convenience quotient of the model, which we found to be pretty great as well. There are two aspects to this.
First, the saw comes with easy adjustments like an easy-to-read uniform bevel and stainless steel miter scales to make precision stops. Furthermore, the High-precision square lock fixes the fence at 90 degrees, and its quick-release seamlessly locks/unlocks the fence for extra support.
The only aspect we were upset about is its blade isn't as sturdy compared to the rest of the miter saw. This is a serious downside as it's one of the crucial pieces of a miter saw, and Bosch should really pay heed to the blades of this otherwise versatile model.
Pros
Unique axial glide system

Versatile cuts

Very adjustable

Remarkable precision

Ease of use
Cons
The cutting blade isn't quite strong

Corded
The C12RSH2 is an upgrade over Hitachi's cult classic C12RSH that had a huge loyal fan club of woodworkers. The classic came out in 2006, and after two years, it was discontinued. Hitachi re-released it with some cool addons for both bevel and miter settings and an even more compact slide system. If you are looking for top-notch accuracy, this product is worth a try.
Experience
Let's talk about the compact sliding system first. While most regular miter saws have rails fixed to the saw and the motor, the C12RSH2 comes with fixed rails attached to a bearing assembly that moves along with the blade guard. This combination helps the rails slide, enabling you to have the saw completely backed up against the wall and still use most of the sliding action. This helps with far more efficient utilization of your workspace.
We also noticed that the different cross-cutting capacities of the saw are pretty good, considering the price range of the miter. The 12-inch saw can make smooth 90-degree cross-cuts of 12.25inch width, whereas, for 45-degree cross-cuts, the width is around 8.5 inches.
And talking about bevel cuts, the dual-bevel system allows 45-degree turns in both directions, which is pretty good for the price. Also, the miter adjustment angles are really flexible as it tilts up to 57 degrees in the right and 45 degrees to the left. Due to the addition of the 12 degrees on the right, you can flip to the other side of the saw and make the perfect cut.
We also found that the saw comes with a laser marker that can help you make a precise cut every time. And to add to the convenience factor, the sturdy metal base fixes the workpiece right on the table, allowing minimum slippage.
However, we faced problems while getting the blade into the throat plate at the full-bevel tilt. Other than that, everything seems to work perfectly with this saw!
Pros
Compact sliding system

Deep cross cuts

Laser marker

Sturdy metal base

Vertical handle with elastomer grip
Cons
Heavy

Slide system gets stuck at times
When it comes to some impressive high-end miter saws, the Festool Kapex KS 120 definitely takes you for a spin! This 10-inch sliding miter saw comes with some trailblazing features such as dual lasers, micro-adjustable bevel angles, and so much more. Once you try out this amazing miter saw, your benchmarks will be higher than ever before!
No products found.
Experience
From its very first appearance, this miter saw has an air of incredible technology and a perfect mix of safety, convenience, speed, and power. Its 1600 W motor comes with 6 variable speeds from 1400 to 3400 RPM, increasing the versatility of the model.
There are many aspects and functional parts that combine in this model for accurate setup. First, it has a unique dual-laser marker situated on both sides of the blade to ensure their shadows fall on the exact cutting area of the workpiece.
Also, what adds to its accuracy is the stainless-steel miter scale with easy-to-read angles up to 50 degrees on the left and 60 degrees on the right. The etched scale makes perfect measurements that are accurate down to fractions of a degree. And once everything's set up, the extremely aggressive miter lock holds the scale tightly to prevent even the slightest movement.
It seems, Festool has packed everything it could in this model as it scores equally on all grounds. Coming to convenience, the KS 120 comes with positive detents from 0 to – 45 degrees, and an amazingly vast range of free movements ranging from – 45 degrees to +47 degrees. Setting your saw to the precise bevel angle becomes a cakewalk with the control knob, which also prevents its linear shift.
Moreover, a versatile cutting blade, a unique rail-forward design, and robust construction combine to make this miter saw an excellent investment, as it will complete any cutting task with unparalleled perfection.
However, all these features make this an expensive model, and a much-desired one in the arena of construction. Other than this, the KS 120 gave us only remarkable performance and nothing else!
Pros
Extreme accuracy

Unique rail-forward design

Sturdy build

Sheer convenience with easy movements

Smooth lock-in facility
Dewalt doesn't ever disappoint. And the DWS780 proves this statement all the more. If there's some heavy-duty cutting that needs to be done, there are fewer substitutes of this model currently on the market. Like the KS 120 from Festool, this also comes with state-of-the-art technology and cutting edge smoothness.
Experience
Like the Festool KS 120, the DWS780 also pulls up a massive show of strength with a motor of 1650 W that can make rotations up to 3800 per minute. The variable speed technology adds versatility to the equation, making it suitable to work on all kinds of surfaces other than wood, such as plastic, steel, etc.
Moreover, the cutting capacity of the saw is pretty great. It comes with the patented XPS crosscut positioning, which takes accuracy to the next level. It also allows a maximum cut depth and width of 4.3 inches and 12 inches, respectively. Also, the back fence design of this model is a significant departure from the rest of the models, cutting 2 x 16 inches lumber at 90 degrees and 2 x 12 inches at 45 degrees.
The cutting capacity of the saw is further sharpened by the adjustable stainless steel miter detent plate with accurately measured 10 positive stops.
The product, high-end as it is, pays equal attention to convenience. It allows swift bevel movements from 0 to 49 degrees, with the positive stops starting at 0, then hitting at 22.5 degrees, 33.9 degrees, 45 degrees, and ending at 49 degrees in both left and right directions.
Moving on to the additional features, its rugged guards, fences, stainless steel detent plate, an efficient dust collection system, a vertical material clamp, and a 12-inch carbide blade, all add to the ingenious engineering of Dewalt.
However, there's one tiny aspect that acts as a downslide. For more delicate cuts, it takes a blade that has more teeth. And despite being a versatile model, we believe that the blade on it could actually do great with some more teeth.
Pros
An efficient dust collection system

Swift bevel movements

Great accuracy

Variable speed technology

Compact
Any list of construction and power tools is incomplete without even a single product from Craftsman. Specialized in building products for a wide range of people, we chose the 21237 10-inch miter saw that's an absolutely excellent bridge product. Its extensive collection of tools, an adjustable miter cut, and an extreme focus on precision makes it worthy of most medium-end jobs.
No products found.
Experience
To begin with, it's a very lightweight device, and therefore, extremely portable, coming at a weight of a mere 46 pounds. This model matches in design and functionality with the Makita LS1018, and as we proceeded with the review, we found that the versatility of the Craftsman model trumps that of the LS1018.
Coming to its features, the 21237 model comes with a 15-amp motor delivering high torque and great speed of 4,800 RPM, irrespective of the blade you put in. This combination of speed and torque allows the miter saw to cut through both soft and hardwood, increasing the versatility of the product.
And talking about accuracy, there are two aspects of the machine that ensure top-notch cutting precision. The patented LaserTrac technology allows accurate workpiece alignment, while the 0 – 50 degree long range of miter cuts come with common positive stops to deliver the most precise cut piece.
Coming to convenience and support, its wall-hugging design takes over 40% less space than the standard miter saws on the market. This compactness is one of the major USPs of the product apart from the support it can extend for longer workpieces. For a rapid succession of repetitive cuts on longer workpieces, the device sports built-in, retractable aluminum wings with adjustable stop plates. Thus, convenience is packed to the very core!
However, we have found certain aspects of this miter saw that need urgent improvement. For instance, the LaserTrac light is too weak to work properly in daylight. Moreover, the dust bag it comes with is also not worth the salt because it's unable to collect the finer dust particles.
Pros
Miter cut range is long

Space-saving design

Great speed

Retractable aluminum wings

Lightweight
Cons
Laser light is weak

Dust collection system is inefficient
We couldn't resist including this little unit in our list of the best compound miter saws. It owes a distinct place of its own for reasons more than one. First, it belongs to the long legacy of exceptional Hitachi products, and second, it has some awesome features that take cutting to the next level.
Experience
We'd like to start with an interesting trivia about this product that we came across. Many people are apprehensive about taking this saw home looking at its small size. But once we tried it out, we immediately termed it as one of the most compact miter saws we've ever come across.
It comes with a 9.2 amp motor, which is way below the standard 15-amp motor miter saws we discussed here. But as the saw has an 8.5-inch blade, it doesn't take much to pull it up to a massive 5,500 RPM, and the motor that comes with the model is robust enough.
Moving on to its cutting features, the model sports thumb-actuated stops at the most common miter angles, such as 15, 22.5, 31.6, and 45 degrees both on the left and right. Moreover, the miter cut range to the left and right are 45 degrees and 57 degrees respectively, giving you a wide range of blade angle to comfortably work on. So, making the bevel cuts from any direction of your choice is a cakewalk with this miter saw!
However, we found many people complaining about the stock blade to be weak and needs to be replaced to take out the full potential of the miter saw.
Pros
Accurate cuts

Easy to use

Very portable

Powerful motor

Bevel cuts are especially easy
Cons
The stock blade needs replacement

Not a dual-bevel model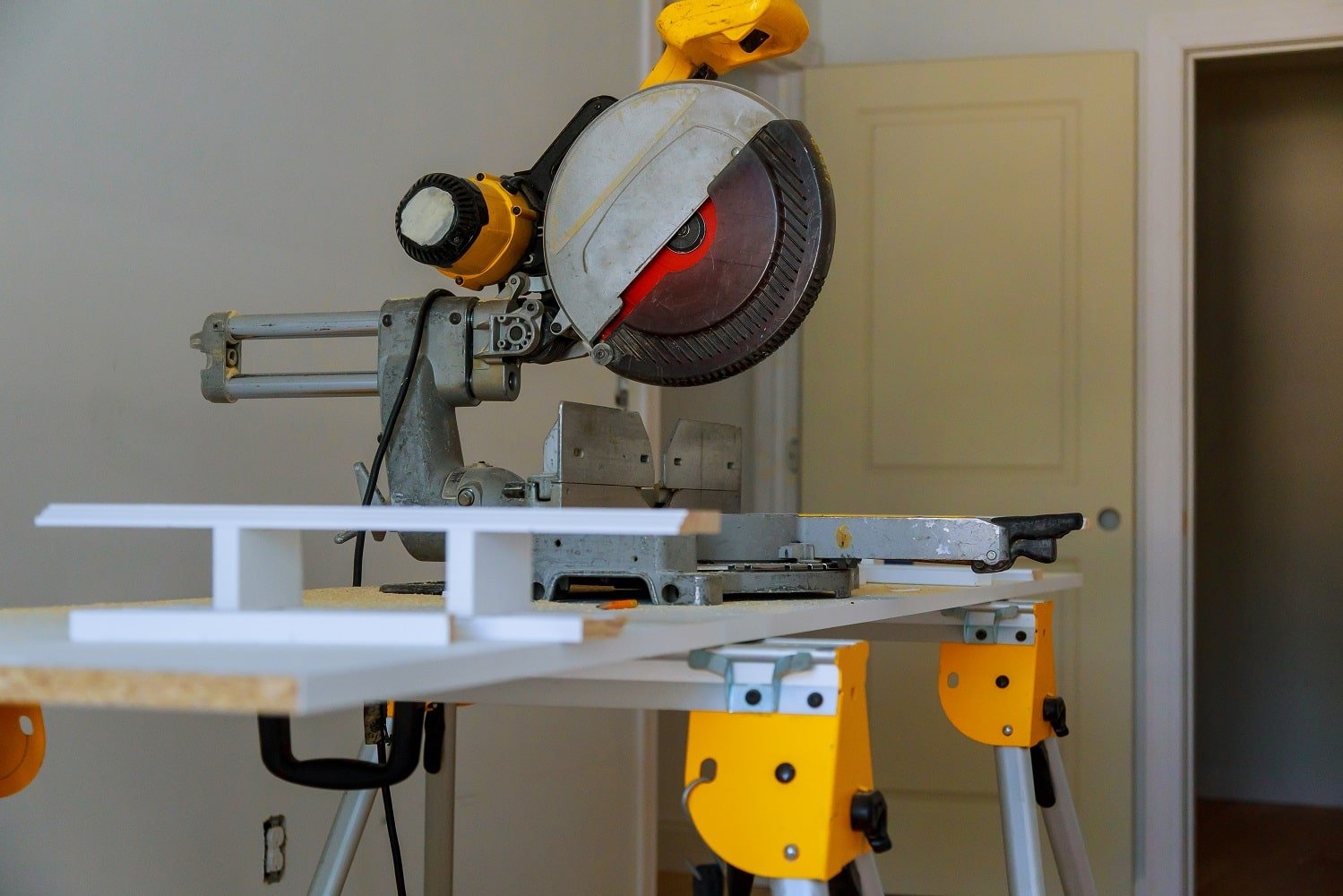 Sliding Miter Saw Buyer's Guide
Now that we have covered some of the amazing compound miter saws, we believe you wouldn't have a difficult time choosing one that would suit your needs perfectly. But what if you couldn't find what you were looking for? Although we've made the list keeping in mind all kinds of people and their requirements, if you need something, even more, it's necessary to keep in mind some crucial points that people usually miss.
Remember, out there in the market, you're on your own to choose the best products filtering through all the fancy advertisements. For such times, this guide will be immensely helpful. Take a look.
What to look for when choosing a miter saw?
Well, this is an important question that many fail to answer as there are many elements to look after carefully. We will discuss them one by one.
Blades
This is one of the most important aspects of a miter saw, and the blades usually come in 3 different sizes of 8, 10, and 12 inches. The optimum size of 10 inches is most readily available on the market, but a smaller size also means a lesser number of teeth on the saw. Thus, going for the 12-inch blade is the ideal choice, but the 10-inch one will also serve you pretty well!
Another essential point to note about blades is the different kinds of materials they can cut. Some are multipurpose blades, while others are multi-materials, depending on the build material of the blade itself. High-quality stainless steel blades can easily cut through wood, aluminum, or mild steel.  
Miter
Miter angles are also an important checkbox to tick while going for compound saws. While most miter saws are generally preset to 45 degrees either on the right or the left, you have to flip the workpiece to make an angular cut on the opposite side.
The other types of miter saws allow movements of 45 degrees and more on both sides of the saw, relieving you of the pain of flipping workpieces every time for some fine cuts. In essence, such saws flip themselves because it can cut from both sides, while the workpiece remains in its place.
But, these models of added flexibility come at a higher price than the ones that allow angular cuts on a single side. So, if you're on a shoe-string budget, try to find a miter saw that allows a broad angular range of over 50 degrees on one side.
Bevel
Don't miss out on checking this particular aspect as, without it, your compound miter saw is never complete. Well, as you must be knowing, a bevel cut is an angular cut across the workpiece and is of utmost necessity for complex jobs of crown molding and furniture building.
There are two kinds of bevels in the various miter saws, a single bevel that turns only to a single direction, and a dual bevel that goes to both the directions. The fundamental difference between the two boils down to accuracy.
With a single bevel, you gotta tilt the workpiece a bit, depending on the angle you want your cut. The double bevel miter saws have a significant advantage over the single angles, because they can tilt both to the left and the right, and doesn't require the cut piece to be turned manually.
Not only does it decrease your pressure, but it also increases the accuracy of the cut.
Laser marker
Well, this is important because the new laser marker technology leaves you with zero chances of error. We've mentioned many models that come with patented laser technology of their own, focusing on top-notch accuracy.
Additional features
These are the little details you need to cater to, which make your miter saw a wholesome toolkit in your workspace. Things such as wrenches, an efficient dust collection system, a stand for moving the saw around in your workspace, and so on, are necessary tools that add to the efficiency of your workspace.
Most of these tools come with specific models of miter saws, and you gotta choose from one of these models if what you're looking at is building a comprehensive workspace.
Final words
By now, you must be familiar with all the awesome models as well as their 'need-to-improve' kind of features. Not all the features of a seemingly perfect model are equally good, and you have to improvise and keep adapting with the changing technologies of the times.
A miter saw is one of the most vital tools for your workspace, and you shouldn't go easy on its specs. Always think of your choices first, irrespective of what the ads say, and ask yourself, "Do I really need this?" followed by, "What do I need it for?"
These are two spectacular questions that never fail to bring out the truth. 
Other than that, all the 11 miter saws mentioned in the list are of top-notch quality, and we are quite confident you will get the right one for you soon enough. Good luck, and stay tuned!
Related Article
13 Best Tile Saws  Reviewed | Buyer's Guide
11 Best Oscillating Tools Right Now | Buyer's Guide and Reviews
13 Best Screwdriver Sets on the Market Today
Top 13 Useful DIY Tools for Your Projects
11 Best Hammer Drills on the Market Today
11 Best Tap And Die Set on the Market Today | Buyer's Guide
11 Best Torque Wrenches on the Market Today | Buyer's Guide
11 Best Angle Grinders on the Market Today
13 Best Chainsaws for the Money | Reviews & Guide
13 Best Cordless Oscillating Tools 
13 Best Saw Horses on the Market Today
13 Best Axes | Buyer's Guide and Reviews
Different Types of Saws & How to Use Them 
Tekton Tools Review | Craftsman vs Husky vs Tekton vs Gearwrench
11 Best Bow Saw | Reviews + Buyer's Guide
11 Best Table Saw [Reviewed & Buyer's Guide]
7 Best Cabinet Table Saws [Reviewed & Buyer's Guide]
9 Best Band Saw [Reviews & Buyer's Guide]
7 Best 12-inch Miter Saw Reviews [Buyer's Guide]
13 Best Contractor Table Saws [Reviews & Buyer's Guide]
Best 20″ Chainsaw [Reviewed & Buyer's Guide]
11 Best Chainsaw for Milling Lumber | Buyer's Guide
5 Best Stihl Chainsaws [Reviewed & Buyer's Guide]
11 Best Table Saw Fences [Reviewed & Buyer's Guide]
DeWalt DW735X Planer Review [Should You?]
Bosch 4100-10 Jobsite Table Saw [Reviewed]
Hack Saw Vs Bow Saw [All You Need to Know] [Explained]
How To Sharpen A Bow Saw And Bow Saw Maintenance
19 Different Types Of Hand Planes & How To Use Them
6 Sabre Saw Vs. Jigsaw [All You Need to Know]
11 Best Kreg Jig Pocket Hole Alternatives To Consider [Reviewed]