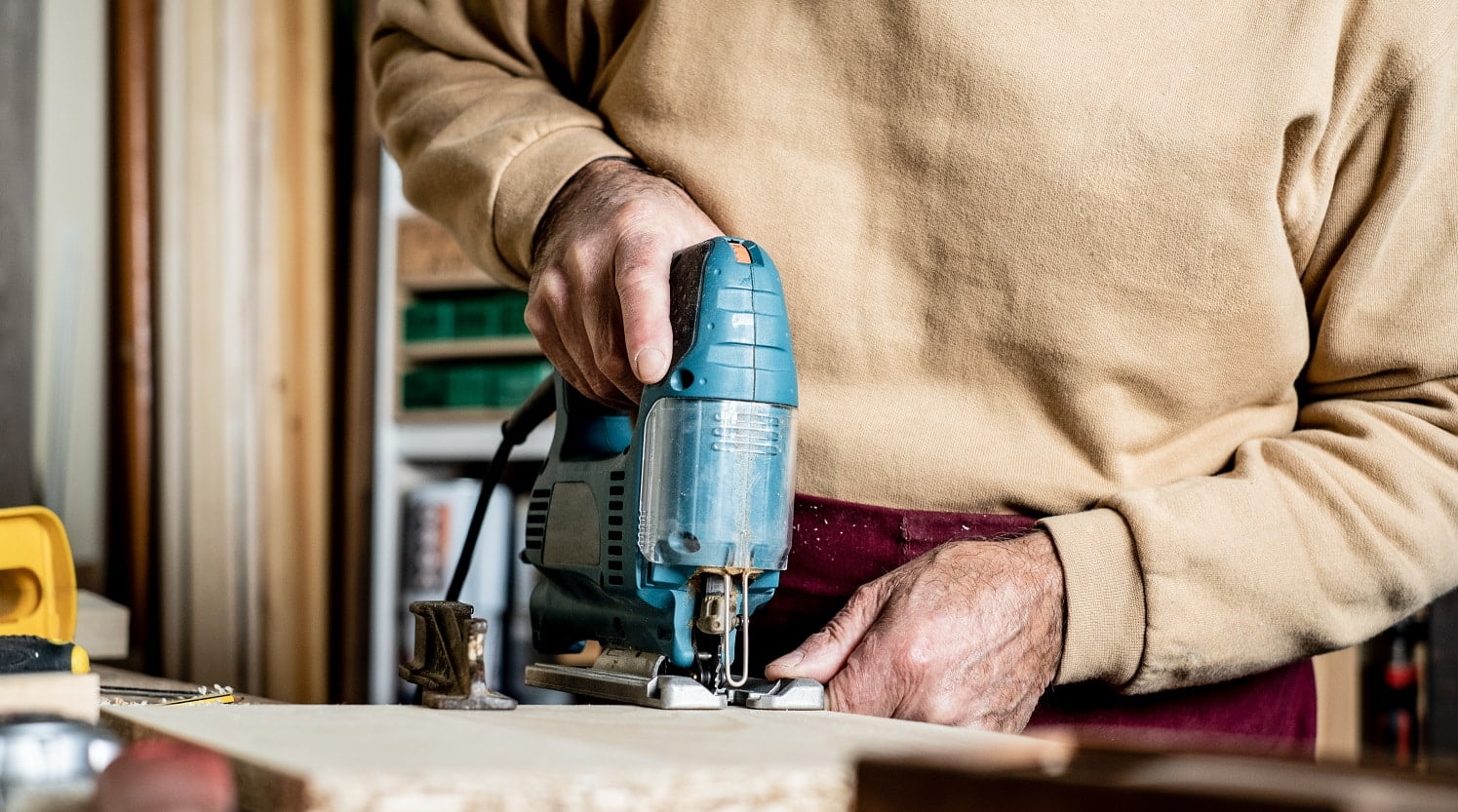 When it comes to getting a good woodworking workshop going, jigsaws are an amazing power tool to have. Their reliable cutting mechanism, coupled with their ease of use and precision, make them a DIYer's favorite companion when carving wood.
Jigsaw's have gotten pretty popular off-late, so much so, that there are an immense variety of them on the market today. So, picking the one that can fit your needs the best can actually be harder than it seems.
From orbital models to reciprocating, from corded designs to cordless one, there are a lot of features one needs to keep in mind before making the purchase.
And so if you're suffering from a similar jigsaw choosing dilemma like so many other DIYers out there, then we have just the right list and guide for you. The jigsaws that we have reviewed today, are not just incredibly popular but are some of our absolute favorites as well.
And we're confident that one among them will be able to fit your needs perfectly.
Best Jigsaws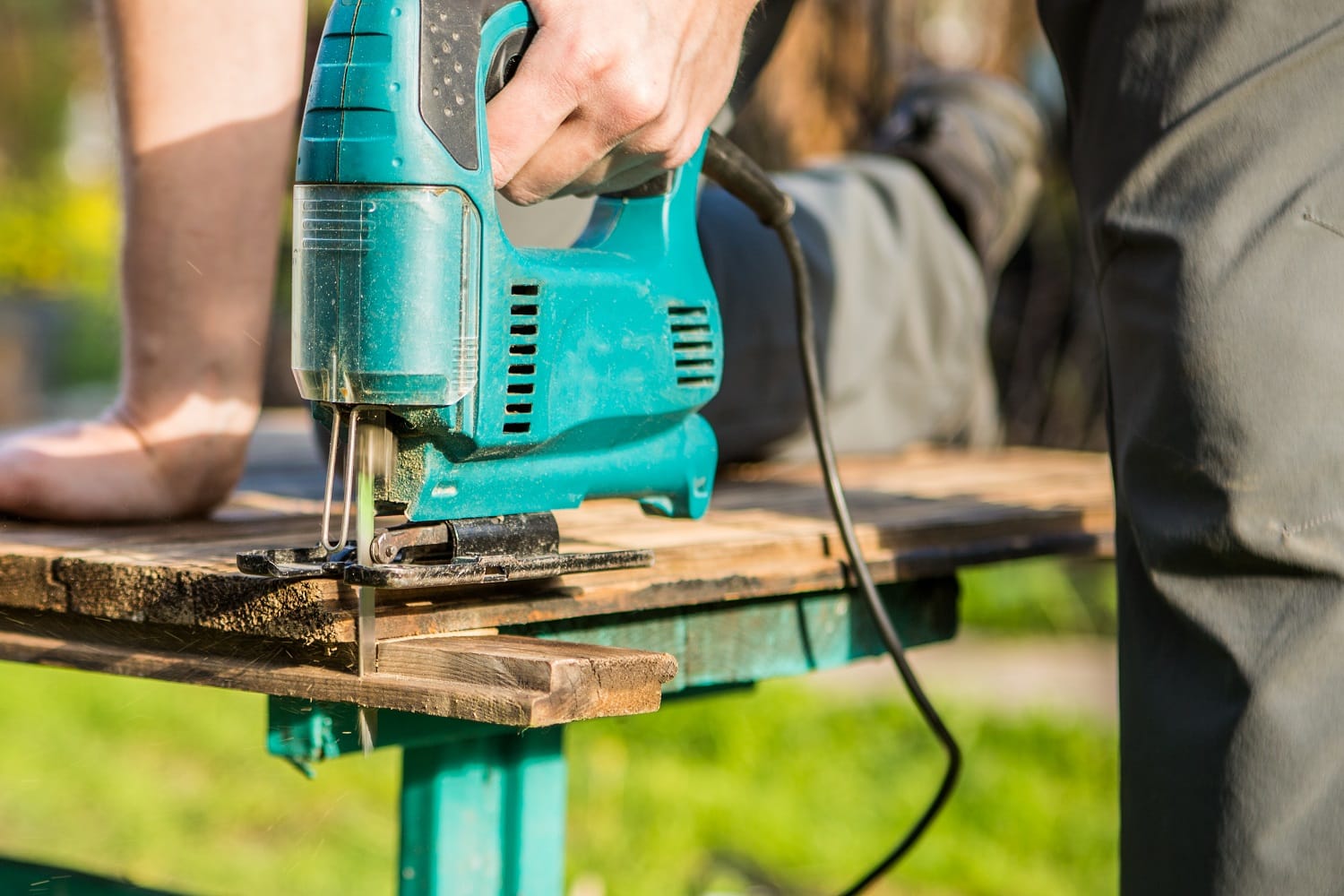 If you're looking for a Jigsaw for domestic woodworking projects, then the BDEJS300C from Black and Decker is going to be our pick for the day. This light and easy to use model provides incredible value for money and has been dominating the market for some time now.
Sale
Experience
When trying out the BDEJS300C for ourselves, what stood out the most was the design and build quality. For a jigsaw that comes at a price which the BDEJS300C does, it's indeed quite rare to get a product which is as durable and as functional as this.
It's one of the best cordless models today and comes with a variety of features which makes it quite user-friendly and a great pick for beginner woodworkers. It also provides variable speeds of up to 3000, along with a 45-degree bevel and a wire guard sightline channel for improved accuracy and control.
However, though fun and easy to use, the BDEJS300C will disappoint when it comes to stroke lengths. The 4.5 AMP motor, might be able to take up smaller, more domestic woodworking projects perfectly, but will fail during heavy-duty use, making its stroke lengths feel like limited.
Pros
One of the best value for money corded jigsaw models

Comes with variable speeds of up to 3000 RPM

Easy to use, and is certainly a great pick, for beginner woodworkers
Cons
Power is quite limited for heavy-duty work and can make the strokes feel limited
In the home power tool industry, Dewalt is known for making some of the most versatile models in the market. And their latest cordless DCS331 Jigsaw is an incredible woodworking tool with a lot of customizable options, that is bound to make any user happy.
Sale
Experience
What we love the most about the DCS331 is its keyless blade clamp. It makes changing the blades incredibly easy and is one feature which we do not find in a lot of cordless jigsaw models at that price range.
Moreover, for a cordless model, the Dewalt DCS331 is incredibly powerful. Cordless jigsaws, unlike the corded ones, are not exactly known for taking on heavy-duty projects, but the DCS331 is one of the very few exceptions to this fact.
Because of the adjustable bevel settings of 0, 15, 30 and 45 degrees, bevel cutting at angles is made significantly easier and precise.
However, all of these amazing features come at a rather high budget. The DCS331 is not the cheapest jigsaw on our list today, and this is precisely the reason why it's not as easily accessible by the average domestic woodworker.
Pros
Comes with a keyless blade clamp which makes blade changing very easy

One of the most powerful woodworking cordless jigsaws in the market

Adjustable bevel settings for improved precision and ease of use
Cons
Quite expensive and out of reach for most domestic and average buyers
For the more adept and professional woodworking enthusiasts, Bosch has a jigsaw model in the form of the JS470E that is sure to make their job a whole lot easier. The device is incredibly tough, powerful and can make quick work of the toughest of woodworking jobs.
Sale
Experience
The Bosch JS470E is all about balancing power and control. We just adore how it's capable of generating a torque that can make the blades go through wood, aluminium and even mild steel in a matter of seconds.
The precise control settings will help the user keep the jigsaw steady and stable, and get accurate strokes when required. It helps professionals get those complicated as well as intricate woodworking jobs done on time; while the cordless design allows for easier access to the hard to reach spaces.
Moreover, the models come with a lot of amazing accessories, each of which is just fantastic. From a non-marring plastic overshoe to an anti-splinter insert as well as a bevel wrench, the JS470E is sure to give you a great start right out of the box.
However, be wary of the weight. The JS470E is one of the heavier jigsaws out there and is why we will not be recommending it for newer users.

Pros
Incredibly powerful jigsaw model that makes the toughest woodworking projects look easy

Provides easier control because of the precise speed settings

Comes with a fantastic range of accessories
Cons
Is quite heavy, and we will not be recommending it for newer users
If you're looking for a jigsaw model that provides one of the best cutting depths, then Bosch has got you covered with their fantastic JS120BN. Along with having a maximum depth reach of 2¾-inches, the JS120BN is also very light, easy to use, and is versatile enough to meet a variety of job descriptions.
Experience
User comfort and beginner-friendly are the two best ways with which we can define the Bosch JS120BN. It is designed with a barrel grip that has a reduced diameter and helps users have a much easier time when holding on to the controls while keeping the hand from fatiguing.
The Bosch JS120BN will help you do a lot of different jobs which not a lot of other standard jigsaw models would. This model is highly versatile in terms of its use and allowed us to complete a lot of woodworking projects which required using the tool in an overhead position.
However, there is one issue that we do have with this jigsaw, and that's with the battery life. The light and small body is not capable of holding a battery large enough that can work for extended periods. Hence, it has a short run time, and you will need to charge it frequently.
Pros
Lightweight body is easy to grip and control

Ergonomic grip and reduced barrel diameter prevent the user's arms from fatiguing

Allows for overhead use which is quite unique for a jigsaw in that price range
Cons
Below-average battery capacity will need frequent charging
The Smart Select from Black and Decker is one of the most reliable woodworking jigsaw models on the market today. It's capable of doing a little bit of everything; from cutting metal to carving wood and plastic, there is a lot one can do with this tool
Sale
Experience
One of the most attractive features that the Smart Select brings to the table is the automatic setting adjustment tool. The dial, also known as the Smart Select Dial, comes with a seven programmed orbital setting, that can automatically set the speed of the tool to meet the job at hand.
This feature is what precisely makes this model from Black and Decker such a must-have for beginner woodworkers who're still not familiar with the use of jigsaws.
Another feature that really comes in handy for newer users is the Accu-bevel lever. It changes the bevel for the woodworker quickly, easily and accurately.
But, there was one thing that we noticed about the Smart Select which a lot of woodworkers might find to be quite inconvenient. This model is not as good at doing straight lines as it is with curves and making intricate patterns.
Pros
One of the most reliable jigsaw models on our list today

Smart Select dial makes the jigsaw a must-have for beginner woodworkers

Accu-bevel lever makes cutting at curves and angles extremely easy
Cons
Doesn't make straight lines as well as it makes curves
The Makita XVJ03Z is going to be our jigsaw of choice if you're in search of a woodworking tool that can be used on a variety of materials. As the device comes with three orbital settings, the woodworker will be able to use it for a lot of different jobs may it be professional or domestic.
Experience
The Makita XVJ03Z will let you complete your project in any condition. With the built-in LED lights, the device makes it significantly easier to work in low light conditions while the heavy-duty base, keeps it durable and able to take up the toughest of woodworking projects.
We found the battery life of the Makita XVJ03Z to be highly dependable as well. It lasts for a very long time without having to need a charge, and when it does need to juice up again, it charges very quickly and gets back into the action in no time at all.
However, for this specific Makita model, the battery, as well as the charger, is not provided with the pack. You will have to purchase it separately, which can be quite a disappointment for many customers, but not a deal-breaker by any means.
Pros
Comes with LED lights built in to the jigsaw, for better visibility in low light settings

Heavy-duty base keeps the device durable and long-lasting

Battery lasts a very long time and even charges up very fast
Cons
Battery and charger need to be bought separately
The Porter-Cable PCE345 is going to be another beginner-friendly woodworking jigsaw model on our list today. It comes with a lot of reliable functionality and power, that can help it do most of the amateur jobs with ease. The PCE345 is pretty well balanced from all sides and is a highly portable model to take along with you.
Experience
The Porter-Cable PCE345 offers users a lot of comfort and precision that makes it user-friendly and easy to use. The front of the model, along with the handle, is covered in a comfortable 'rubber over-mould grip' that will help you to hold on the jigsaw better and improve on the overall stroke accuracy.
For the price that the PCE345 comes it, a lot of reviewers have rated it to be quite a budget-friendly and value for money product. And we would like to recommend it for those users who generally tend to do small to mid woodworking projects.
However, we did occasionally encounter some alignment issues when cutting at curved angles, which made the strokes uneven. But that rarely occurs, and the superior control and precision of the tool more than make up for it.

Pros
Comes with a lot of reliable power and functionality for the price

Superior grip helps the user to improve on the overall accuracy of the cuts

Perfect jigsaw model for tackling small to mid-sized projects
Cons
There can be occasional alignment issues
The Hitachi CJ18DGLP4 is an incredibly portable jigsaw model. If you generally tend to travel a lot with your woodworking kit, then the CJ18DGLP4 from Hitachi is bound to come in handy. It comes with a convenient on-board storage that can hold up to six different blades which you can carry along with you without many problems.
Experience
What stands out the most about Hitachi CJ18DGLP4 from the rest of the jigsaw models on the list, is its affordability and portability. It has a durable yet lightweight design, along with a fantastic on-board blade storage slot that allows for easier carrying and portability of the device.
The elegantly designed body houses reliable power as well, and you will be able to do a lot of small jobs around the house, as well as some light to medium woodworking projects. Its precision is also quite good and comes with an ergonomic grip to make woodworking with it a very comfortable experience.
However, the working of the jigsaw is limited to smaller woodworking projects alone. It's power, though reliable, is not enough to go through thick wood and materials like plastic and metal.
Pros
Has a durable yet portable design, that you can carry around

Convenient blade storage slot and easy to replace blade tool

Budget-friendly model which is easy to use and control
Cons
Not powerful enough to take on harder woodworking projects
The Wen 3602 Jigsaw can help you go through any type of material effortlessly. As it comes with fantastic orbital selection knob, any woodworker will be able to adjust the blade to the material that they're working on. It also bevels quite easily to 45-degrees and comes with a lock-on button that will help you to work for extended periods without fatiguing your arms.
Sale
Experience
Apart from the various material compatibility, the easy blade change mechanism of the device is perhaps one of its best features. It helps the user to quickly and easily switch from one blade to another and eliminate any time loss that can occur as a result.
The changing process is quite smooth as well, and along with the orbital settings, the Wen 3602 will be able to work with not just wood, but plastic and metal as well. Though its lack of power may not make it such a great pick for professionals, but for smaller work around the house, it's tough to beat.
In terms of the flaws, we noticed that the baseplate of the Wen 3602 can be quite hard to adjust, and may fall short of expectations when used on harder, thicker wood.
Pros
Easy blade switch mechanism, which significantly reduces the time

Orbital settings of the jigsaw will allow you to use it for a variety of materials

Lock-on button will help to significantly reduce the fatigue on the user
Cons
The baseplate is quite difficult to adjust
The Skil 4495-02 jigsaw is one of the more easier to control woodworking tools in the market today. It comes with a fantastic ergonomic handle, which soaks up the cutting vibrations at the source and doesn't let the user's hands fatigue out too soon.
Experience
What we loved the most about the Skil 4495-02 is the unique laser guide and the foot stabilizer, which allows the woodworker to have absolute control over the tool. Its build is quite light as well, with great portable features along with a durable body which protects the jigsaw from accidental damage while on the road.
In terms of the price, the Skil 4495-02 is pretty budget-friendly and readily accessible to not just professional woodworkers but amateurs as well. The reliable power and ease of use make it a great option for newer users who want to get into the hobby of carving wood.
However, the Skil 4495-02 falls short of expectations when it comes to cutting wood or even plastic materials vertically. The lightweight design supports lightweight blades, and because of this, the tool is not capable of providing perfect vertical cuts, even though the laser guide and footplate provides superior control and precision.

Pros
A great jigsaw model for those who want to get into the woodworking hobby

Lightweight build and design are also very durable and damage-resistant

Unique footplate design improves the overall precision of the tool
Cons
Is not capable of making perfect vertical cuts every time
If you're looking for a basic yet reliable jigsaw model for your next woodworking project, then this budget-friendly tool from Milwaukee might just be the perfect investment. And though it might not be the most durable jigsaw out there today, it gets the job done rather well, irrespective of the material that you're using it on.
Experience
The Milwaukee 2645-20 might primarily be known as a very basic model for beginners, but it's known to cater to a lot of minor professional projects as well.
The main reason behind its success and popularity lies with the unique 5 position orbital cutting that it provides its users. This feature makes it effortless for woodworkers to get precise cutting angles on a variety of materials, like wood, plastic, as well as thin metal sheets.
The weight of the Milwaukee 2645-20 is quite hefty, but it's ergonomically designed, and you will not have much problems wielding it during any of your woodworking projects.
However, much like with the Makita XVJ03Z, the charger and the battery is not provided with the pack, and you will have to buy them separately. The battery life is also pretty average, and you may have to charge it frequently if you're planning to work for longer hours.
Pros
A pretty basic yet reliable woodworking jigsaw for beginners

Comes with a unique 5 position orbital cutting that can cut through a variety of materials

Ergonomic design, which doesn't fatigue the hands too soon
Cons
Battery and charger are not provided with the pack
Perhaps, out of all the jigsaws that we have listed for you today, the P523 from Ryobi One+ is the most aesthetically pleasing. Its light green color scheme, as well as the unique yet ergonomic body design, makes it very attractive for woodworkers across the world.
Experience
Aesthetics is not the only thing that the design of the P523 excels in. It's built-in such a way that it can help you work on your woodworking project for an extended period of time and not have to worry about the tool overheating and breaking down.
The reason behind the P523's long-lasting nature lies with the dust blower that has been incorporated into its design. This feature doesn't allow dust to settle onto the engine of the machine and prevents it from overheating after just a few minutes of use.
It's pretty powerful as well, for a cordless model, and can be effectively used for minor professional jobs without much problems.
But, much like some of the models on the list, the Ryobi One+ P523 too doesn't come with a battery and neither a charger with the pack. Getting them separately might inconvenience many.

Pros
One of the most aesthetically pleasing jigsaw models on the list

Has a built-in dust blower which prevents overheating

Power is reliable enough to do minor professional woodworking jobs
Cons
The pack doesn't include a battery or charger
The Tacklife jigsaw models are one of the cheapest home-based power tools in the market today. But, just because they come at a very competitive price, doesn't mean that they lack in functionality and power in any way. This specific model comes packed with features, which is just amazing for the price that the jigsaw actually comes in.
No products found.
Experience
It was quite surprising for us, when we saw that the Tacklife jigsaw has a built-in dust remover, a laser guide, LED lights as well as a protective guard, considering the price that it came in.
For a budget jigsaw, it does support a lot of features which can easily rival some of the high-end models which professionals generally tend to go for. It's small, lightweight and portable, and supports an extra-long power cable so that you can work away from a power source and have easy access to all the hard to reach spots.
However, the budget-friendly and the competitive price of the tool comes at the cost of its overall build quality. Even though the Tacklife comes with a protective casing, it's built is not as durable as we would have liked it to be.
Pros
One of the most budget-friendly jigsaw models on the market

Comes packed with features that can rival any high-end model

Lightweight design, with great portability
Cons
The build quality is not so great, and not as durable as we would like it to be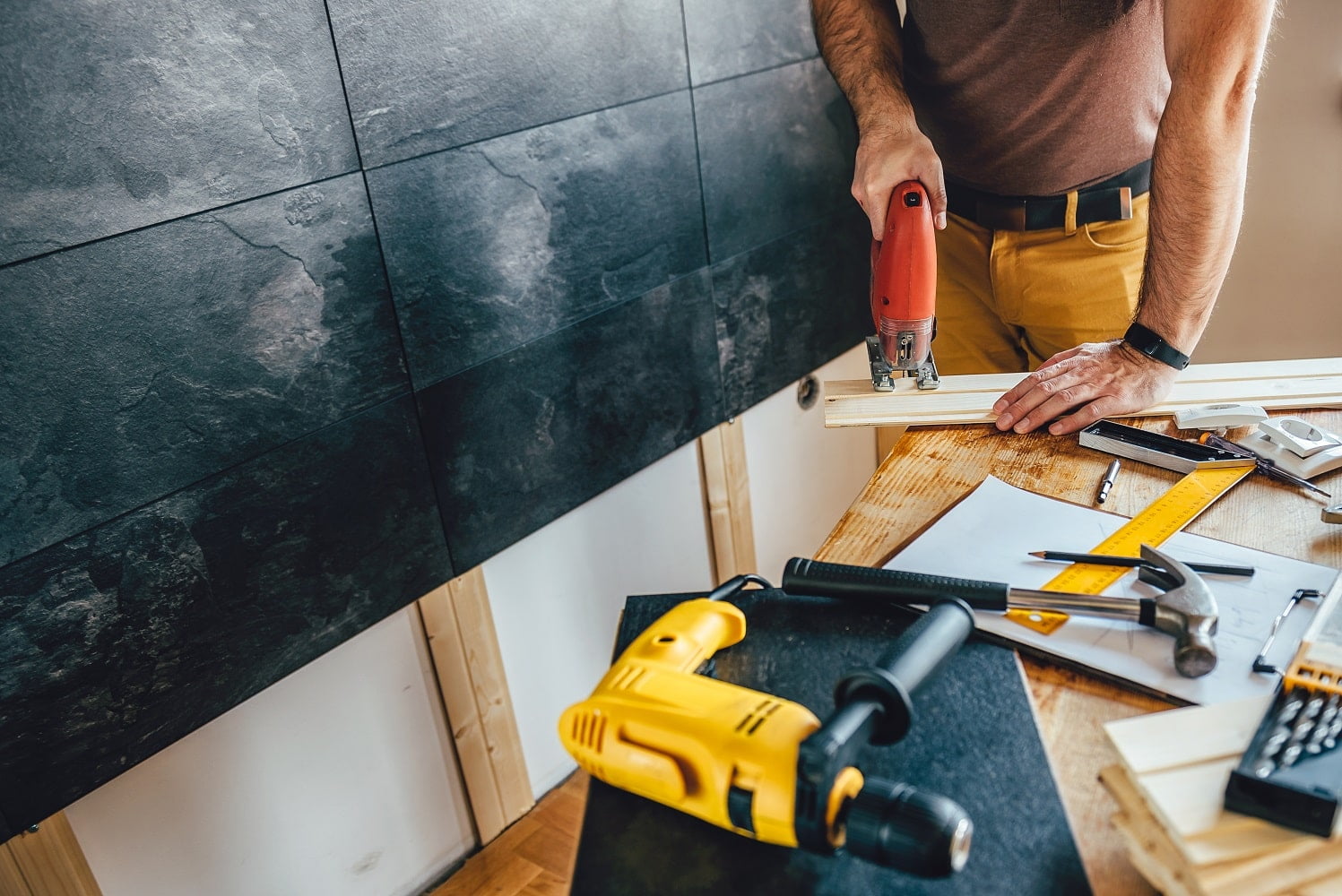 Jigsaw Buyer's Guide
Before investing in the jigsaw that you really fancy, it's important to go over its various features and to see if it's the right fit for you or not.
It's often very difficult to pick a model which can fit your needs perfectly, but in our guide, we will help you with picking the one that suits you the best.
Types of Jigsaws
For those unaware, woodworking jigsaws come in two basic types of corded and cordless.
1. The Corded Jigsaws
The corded jigsaws are just amazing when it comes to providing the user with amazing wood cutting power.
It goes through the thickest of wood effortlessly, and its woodworking potential is far greater than that of the cordless one.
You will also not have to constantly worry about the batteries running out, and you can go on working for as long as the job requires.
However, it terms of portability the corded ones are not all that good, as you will constantly be in need of a power outlet. It can inhibit your movement by a lot, or even pose a safety risk as a result.
2. The Cordless Jigsaws
One of the best benefits that the cordless jigsaws bring with it is the portability.
As you're not tied to a cord, you can very easily take the device wherever you want, thereby making it the perfect choice for those jobs which require a lot of mobility.
On the downside, cordless jigsaws don't boast much power and are best suited for minor woodworking jobs.
The battery is a drawback as well, as it at times makes the device heavier and you will constantly have to worry about exhausting the battery before the job is finished.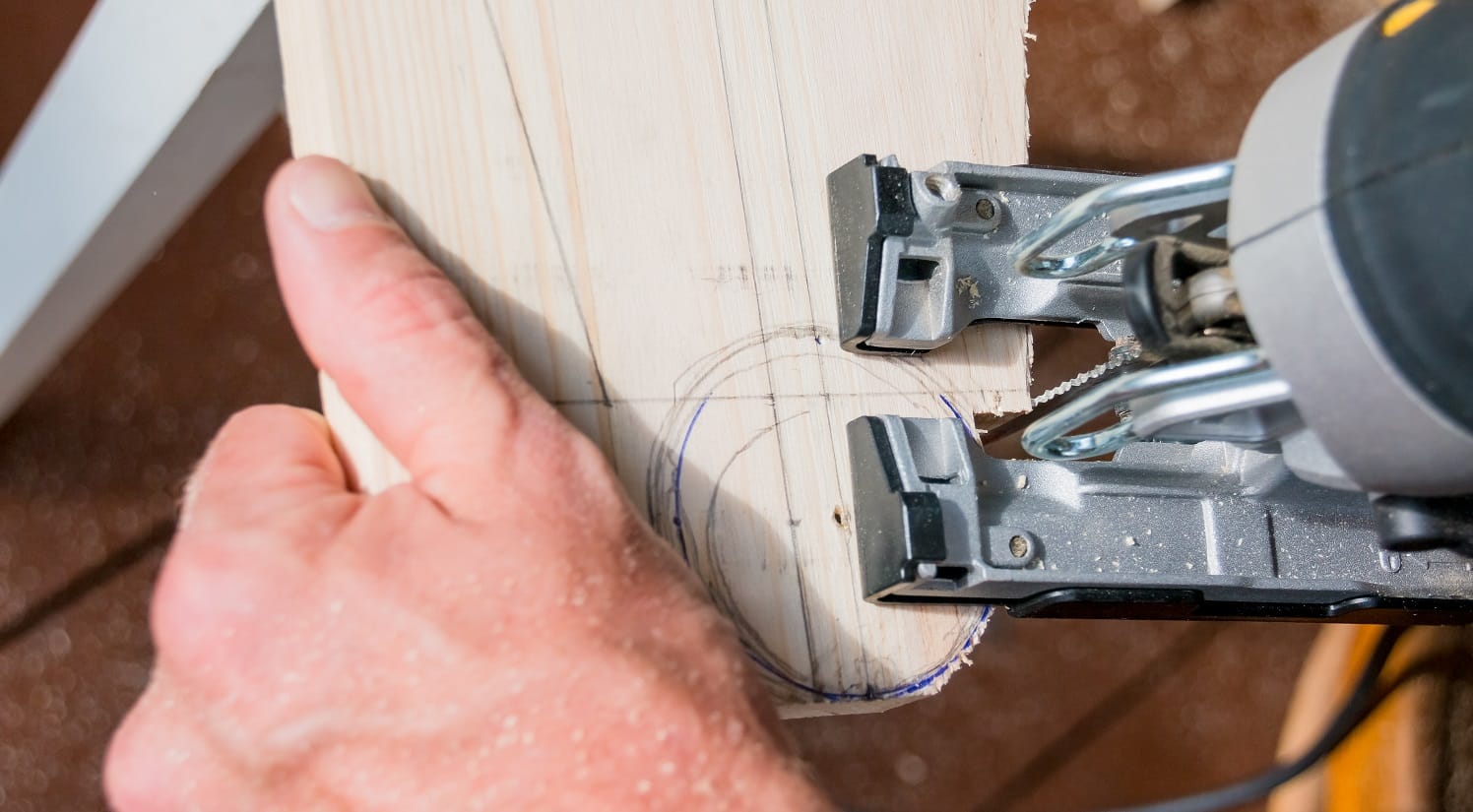 Straight Reciprocating or Orbital Blades
Picking between these two will depend more on your personal preferences than anything else.
A straight reciprocating saw blade moves in both directions of up and down and back and forth.
They are incredibly precise and are the best choice for detailed works and woodworking thick blocks as they are powerful enough to plough through any material.
Orbital jigsaws, on the other hand, are much more aggressive but not as precise. They are a lot faster as well and is great for hard materials and clear sawdust and woodchips as you keep working.
Some features to look out for:
After you are sure of the blade and the type of jigsaw you want, here are some features which you should look out for:
A Variable Speed Adjustment
Variable speed settings allow the jigsaw to adapt to the job at hand and help it to cut different materials.
Wooden blocks which are thicker or materials which are harder will require the blades to work at a much slower speed than for soft materials.
So if your work requires you to work on a variety of different projects, then it better to go for a model which as a lot of speed settings.
Adjustable Angle Settings
Not many jigsaws will allow you to cut at a slant., so you will need a model which bevels. Many models will allow you to do a 45-degree slant bevel cut, but some specialized ones will help you achieve 15, 30 and 45 as well.
A Quick Blade Change
Jigsaws which allow you to change the blade easily will help you to have a lot of customizable options.
Jigsaws with a quick blade change will let you remove the blade with just a push of a button so that you do not have to wait for the blade to cool down every time.
Final Thoughts
The modern day jigsaw is a woodworker's best friend, and is a device that can allow users to get the hardest of carving projects done in a matter of hours. They come in a lot of shapes, sizes and with a variety of features, because of which, we hope that our guide today was able to help you out with your decision.
Till next time!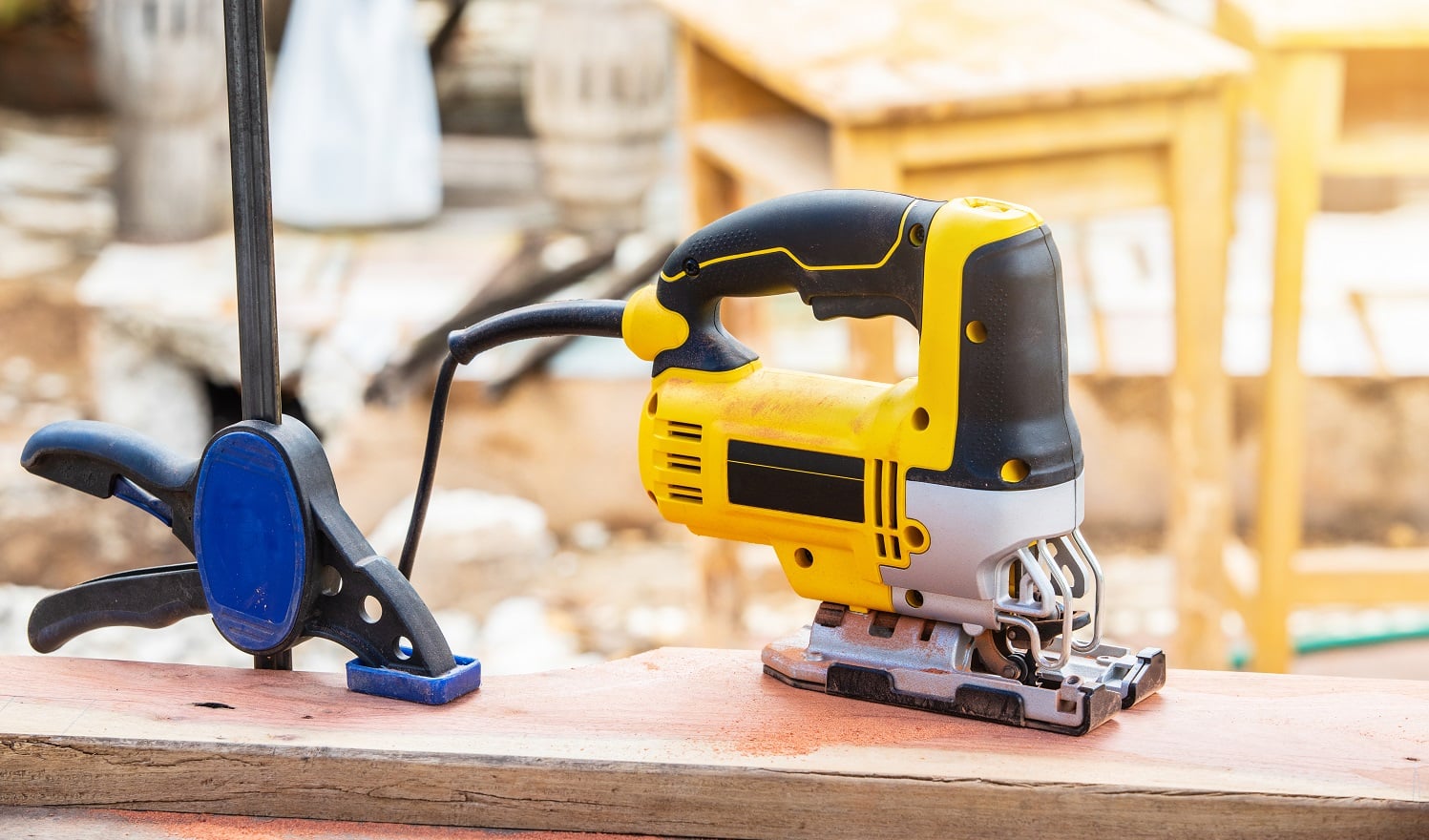 Related Articles
13 Best Cordless Oscillating Tools 
13 Best Screwdriver Sets on the Market Today
13 Best Wood Routers for Professionals & Amateurs Alike
Simply the Best Stained Glass Ring Saws 
49 FREE DIY Router Table Plans For an Epic Home Workshop
11 Best Hammer Drills on the Market Today
11 Best Multi Tools Reviewed | Buyer's Guide
11 Best Angle Grinders on the Market Today
13 Best Chainsaws for the Money | Reviews & Guide
13 Best Tile Saws  Reviewed | Buyer's Guide
13 Best Axes  | Buyer's Guide and Reviews
11 Best Sliding Compound Miter Saws
Different Types of Saws & How to Use Them 
11 Best Budget Bandsaw Reviews 
Tekton Tools Review | Craftsman vs Husky vs Tekton vs Gearwrench
11 Best Bow Saw | Reviews + Buyer's Guide
11 Best Table Saw [Reviewed & Buyer's Guide]
7 Best Cabinet Table Saws [Reviewed & Buyer's Guide]
7 Best 12-inch Miter Saw Reviews [Buyer's Guide]
11 Best Chainsaw for Milling Lumber | Buyer's Guide
19 Different Types Of Hand Planes & How To Use Them
6 Sabre Saw Vs. Jigsaw [All You Need to Know]