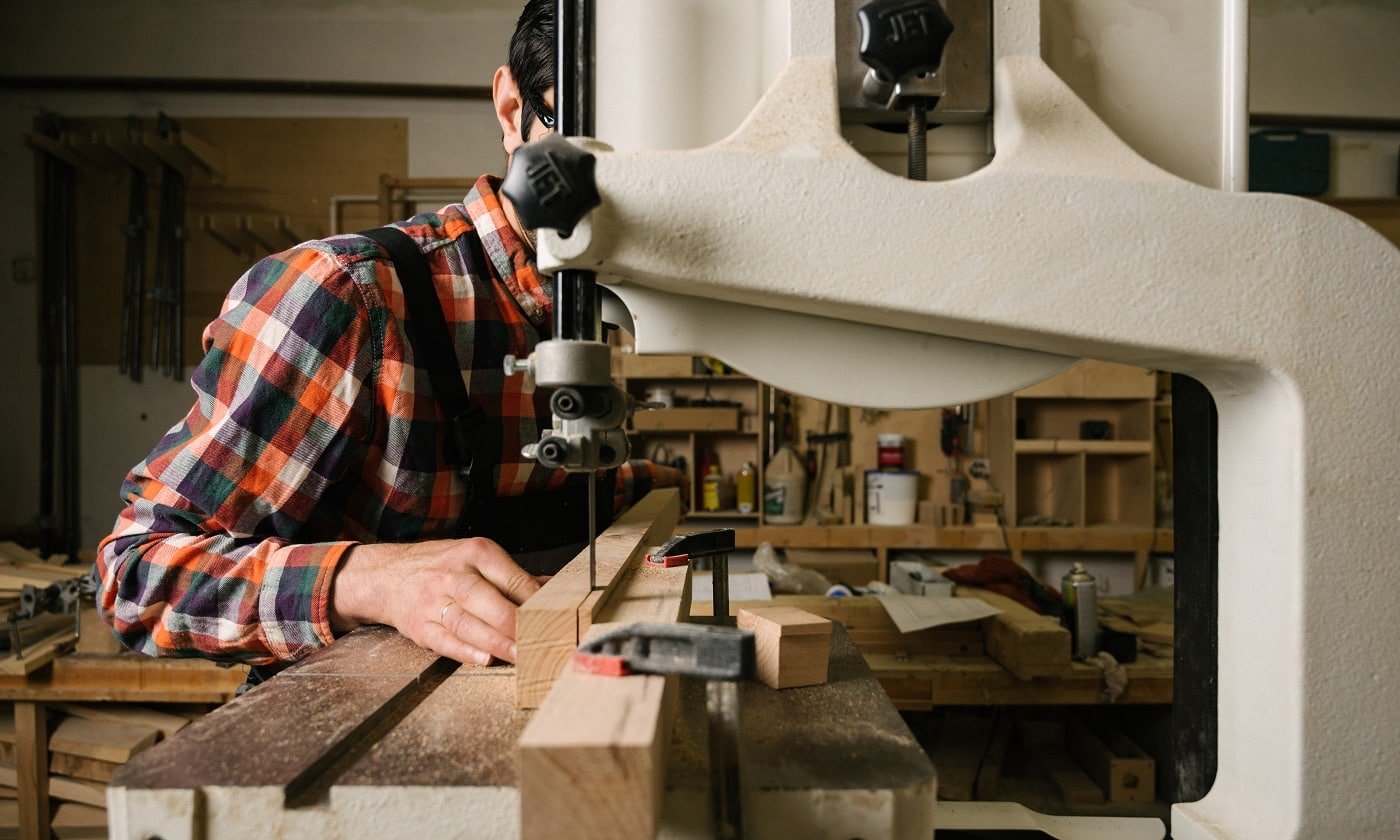 There is a great sense of satisfaction in building furniture and taking on home projects. But do you have the right tools for it? 
This is where you'll need a band saw, which is a versatile tool that will cut through wood and metal too. You can cut in a straight or a curved line, or even create irregular shapes. 
A good saw will go a long way in making the work process more manageable. Also, they will be offering you complete control over the process of ripping and cutting for the best performance. 
Now it can be challenging to pick one from the hundreds of options available. To make the job easier, we have reviewed the top 9 band saws of 2022. The pros and cons have also been jotted down for your benefit. 
So, without further ado, dive in! 
Top Band Saws Of 2023
IMAGE
PRODUCT
DETAILS

Our Top Pick

Our Top Pick

WEN 9-Inch Benchtop Band Saw

2.8 amp motor 
Blade speed of 2,460 feet per minute
Cuts up to 3 ⅝ inches 

VIEW LATEST PRICE →

Rikon 10" Deluxe Bandsaw

Blade speed of 1,720 rpm
12.75 x 35.5 x 18.25 inches in size
½ HP motor

VIEW LATEST PRICE →

POWERTEC 9-Inch Benchtop

½ HP 2.5 amp motor
Blade speed of 1725 rpm

VIEW LATEST PRICE →

JET Closed Stand Bandsaw (708115K)

Graphite-impregnated polymer blade
Dimensions of 19 x 26 x 68 inches
Powerful 1 HP motor

VIEW LATEST PRICE →

Delta Steel Frame Band Saw

Dimensions of 45 x 18 x 21 inches
Sturdy steel frame design

VIEW LATEST PRICE →

PROXXON MICRO Band Saw MBS/E

Dimensions of 20.47 x 13.78 x 9.84 inches
Die-cast strong aluminum housing 

VIEW LATEST PRICE →

Ryobi BS904G

Dimensions of 31 x 18 x 11 inches
Blade tracking window 

VIEW LATEST PRICE →

Grizzly Industrial Extreme Series Resaw Bandsaw

Blade speed of 1,725 rpm
1 HP motor

VIEW LATEST PRICE →

Studio Pro Precision 2000

Quiet ⅛ hp motor
Dimensions of 20 ½ x 12 x 10 inches

VIEW LATEST PRICE →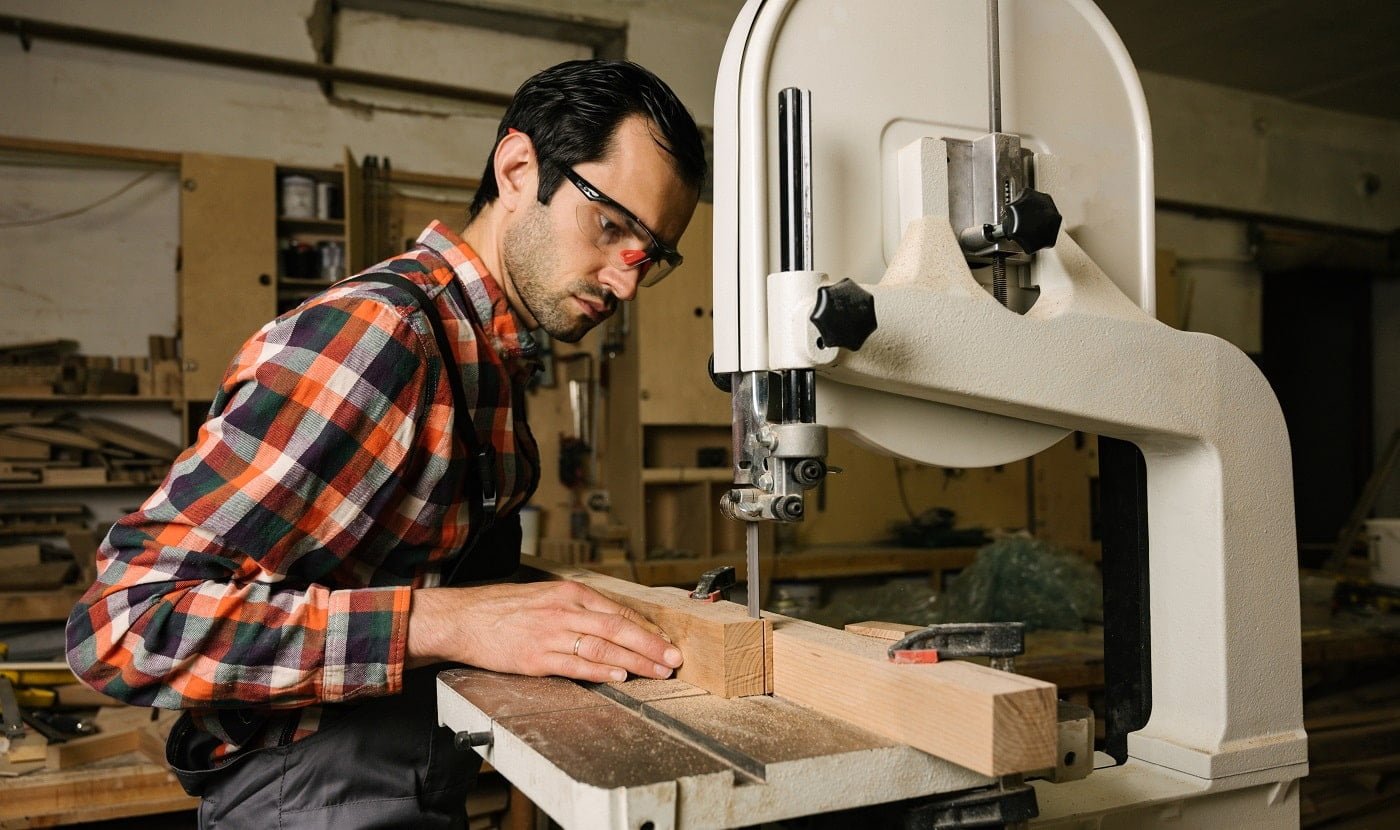 One of our top suggestions which ranks high in efficiency and reliability is the WEN 3939T 9-Inch Benchtop Band Saw. Not only will it help you cut precisely without any errors, but hobbyists can also use it with ease. You need not be a professional to get used to this tool. 
Why Did We Like It?
This unit ranks high in performance and power. It aims to cut straight and comes with an adjustable blade guard for protection. So, you can easily create deep cuts and work with wide objects, thanks to this. At the same time, a handle will help you hold the machine in place, while a dust port will collect the released dust. 
Along with it is a 2.8 amp motor, which will make the process simpler and more reliable. It is accompanied by a blade speed of 2,460 feet per minute, and you will be getting smooth cuts at all times. The tough blade is ⅜ inches wide, and that will help you make precise cuts. 
What's more, you get a tablespace of 12 * 12 inches, which is beveled up to 45 degrees. This makes it easier to work with medium-sized objects and sheets that can be placed on the surface. 
What Could've Been Better?
The only downside to this product is that you will feel vibrations on the surface. That will not hinder work in general, but you might have to carefully place the object on top and hold on to it. Because vibrations can cause things to move out of place, this is essential. 
Pros
Long blade of 62 inches

Comes with a dust port

Backed by a 2-year warranty

Large 12 x 12 inches work table
Cons
Produces a lot of vibrations
If you are looking for a gadget with 2 blade speeds to choose between, the Rikon 10-3061 10″ Deluxe Bandsaw will give you exactly that. It has different speeds for slower and faster work, and this helped us work with better precision. Read on to know about the other important features. 
Why Did We Like It?
Rikon is a well-known name when it comes to woodwork and is dedicated to providing you with a premium-quality experience. The band saw is perfect for small to medium-sized projects and comes with a space-saving design. If you have a small garage, this one will fit right in. Also, a ½ HP motor will help maintain the speed of 1,720 rpm. 
Next, it features a tilting table surface that makes angled cuts so much easier. You can tilt it from 0 to 45 degrees, and that will make it easier to work with different materials. Furthermore, the table size is 13 ¾ * 12 ½ inches, which will allow you to keep medium-sized objects on it. 
Moving on, it has an improved dust port that is tilted at an angle of 10 degrees. This will let it catch dust easily and will keep the area clean. 
What Could've Been Better?
When we first ordered this product, we got a completely damaged item, which was very disappointing. However, after contacting customer care, they replaced the product, and the second one proved to be good. So, we will not be holding this against the brand. 
Pros
5/16″ x 70 1/2″ 6 TPI sturdy blade

Cast iron table can be tilted from 0 – 45 degrees

Quick-release blade tension lever

Viewing window

Dust port for reduced mess
Cons
Inefficient shipping methods
Up next is a great entry-level product that will help you with lightweight work in your workshop or garage. The POWERTEC BS900 9-Inch Benchtop features sturdy components and is known for its durability and increased efficiency. We also loved the patented blade and the quick adjustment features.
Why Did We Like It?
This is a tool specially used for woodworking, and it assures precise and accurate cuts while at it. It can cut regular and irregular shapes, which are 3 ⅝ inches deep and 9 inches wide. We have also used this for ripping lumber and for cutting thin sheets. 
Furthermore, this is equipped with a ½ HP 2.5 amp motor, which can take care of small to medium-sized projects. If you are a hobbyist looking to work with wood, then this will be a great fit. 
Moving on to the blade, this has a patented blade guard adjustment feature, which promotes easy replacement, and you get a blade tracking window along with it. This will keep your blades safe and will prevent any errors in cutting. 
Adding to it is the efficient rack and pinion system, which can be adjusted and tilted up to 45 degrees for better performance. 
What Could've Been Better?
We found that this product was not suitable for large scale jobs. It is a compact gadget, and hence it can take care of small to medium-sized projects. But if you are a professional looking for a gadget to use almost every day, then this might not be your cup of tea. 
Pros
Delivers precise error-free cuts

Equipped with 2″ dust port

Table can be tilted up to 45 degrees

Can cut 3 ⅝ inches deep & 9 inches wide
Moving on, we have the JET JWBS-14CS Closed Stand Bandsaw (708115K), which boasts powerful features and a classic design. If you are a serious DIY enthusiast and work on wood a lot, this will help you with a range of projects. Designed for heavy-duty use, we were delighted to add this to our workshop. 
Why Did We Like It?
A major problem with band saws is that they tend to vibrate a lot, and that could lead to errors in the process. To avoid this problem, the brand has designed a cast iron frame and perfectly balanced wheels for smooth operation. The body is strong and reliable and will provide accurate results. 
Furthermore, this one sports a very user-friendly design that makes it powerful as well as reliable. You will get a 4 inches dust port that will keep the area clean and free from mess. A clean place free from debris will allow you to work better with increased visibility. 
Also, it has a table size of 15 * 15 inches, which will provide ample space to work on larger pieces of wood. 
To top it all, the unit has friction-reducing blades that ensure durability. You will be getting a graphite-impregnated polymer blade, which will help you work quickly and will stay cooler even after continuous working for long hours. 
What Could've Been Better?
This product will work wonderfully well after you have set it up, but the setup process is lengthy. We took 5 hours to do it because of the guides under the table that took time to be put in place. In case you face difficulties, call up customer care, and they will help you through. 
Pros
Table size of 15 * 15 inches

Reduced vibration

Can cut bigger wood pieces

4 inches dust port included
Up next is a product with 2 different speeds that will let you work with wood and metal. It is time to introduce the Delta 28-400 Steel Frame Band Saw, which is known to be a machine you can depend on. It pays careful attention to precision and quality and will ensure that you have a good experience. 
Why Did We Like It?
First of all, let us discuss the standout feature, which is the presence of a 1 HP motor with 2 speeds. You can shift between 3340 rpm and 1620 rpm depending on the kind of material that you are working with. A higher speed will allow you to cut non-ferrous metal in an easier way. 
On the other hand, you will also be getting a 2-speed pulley along with a tensioning system. This is set on 9 spoke wheels, which are rubber coated for durability and better movement. The wheels allow perfect blade tracking, and you can work without any issues.
Furthermore, you get a 15 ¾ * 18 ⅞ inches table, which is made out of cast iron. This provides ample ground to work on different types of materials.
What Could've Been Better?
The only downside here is that the blade guides have no micrometer adjustments present on them. This makes it difficult to reach the lower guides, but then we will not be holding this against the brilliant features of this product. 
Pros
2-speeds for wood and metal cutting

2-speed pulley system

Rubber coated 9 spoke wheels

Oversized cast iron table
Cons
Presence of no micrometer adjustments
If you are looking for a micro-sized tool that will take care of all your small woodworking jobs, then the PROXXON 37172 MICRO Band Saw MBS/E is perfect. It is equipped with a powerful motor and is one of the most affordable choices to make. 
Why Did We Like It?
To begin with, this sports a high-quality motor which will work well and not produce loud sounds. It has a belt-drive, which ensures prolonged and quiet working, and you can work with family members sleeping in the next room. 
Moreover, this comes with a chart that acts as a guide for all the recommended speeds that you need for different kinds of materials. The speeds are electrically controlled, and you will be able to cut very accurately with this. We were surprised with the kind of finish that this small unit could achieve. 
Also, the body of this unit is made of die-cast aluminum, and that is what provides sturdiness to the entire product. It is resistant to wear and tear, and you will not see marks on it.
What Could've Been Better?
This is a very lightweight product and weighs only 17 pounds. Hence we will suggest that you bolt it down before using it. This will prevent it from moving out of place during the work process. There are 2 holes provided for this purpose, and now that you know it, this should not be a problem. 
Pros
Produces minimal vibration

Slim and compact device

Chart provided for speed selection
Sale
Now that we are moving towards the end of the list, it is time to introduce a very cost-effective option that offers a hoard of features. The Ryobi BS904G does a reasonably great job with wood and has an efficient rack and pinion support system to complement it.
Why Did We Like It?
This is yet another product that does not produce any vibrations. Hence the work process is quieter and is not disturbed. Powered by a 2.5 amp motor, this is perfect for all kinds of woodworking. 
Secondly, like most of its peers, this one is also equipped with a dust port. The port is large enough to capture most of the debris, providing you with better visibility. 
Moreover, the product comes with a blade tensioning system, which allows for more precise cuts. You will be getting a blade tracking window, which allows for more accuracy as you can view the movement clearly. 
To top it all, the assembly and installation process is simple, and you will not need any additional help with it. A detailed manual is provided to help you through the process. 
What Could've Been Better?
We faced some difficulties with cutting in a straight line when it came to metal blocks. The cutter seemed to be angled and would keep moving. But we would totally recommend this for any kind of woodwork that needs to be dealt with. 
Pros
Has a built-in dust collection port

Comes with reduced vibrations

Perfect for woodworking

Sturdy aluminum body
Cons
Difficulty in cutting metal accurately
Next, we have a very popular product that comes with a set of great features. The Grizzly Industrial G0555XH – 14″ 1-3/4 HP Bandsaw comes with computer-balanced wheels and sturdy blades for error-free performance. We also loved the bells and whistles that it offers. 
Why Did We Like It?
This product has a rack and pinion guide post adjustment, especially for the top blade guides. It will ensure smooth functioning and will help in cutting well. 
What's more, you get a table with dimensions of 14″ x 14″ x 1 ½" that will provide you with a wide working surface. It can also be tilted up to 45 degrees to the right and 10 degrees to the left to help you make angled cuts easily. 
Also, we were very impressed with the customer service. We had some issues with the shipping process, but they sent a replacement immediately within 2 days. The prompt and friendly service is what makes Grizzly an exceptional brand. 
What Could've Been Better?
We have no complaints about this product and its functioning, but the price is on the higher side. It is expensive and might be difficult for the average homeowner to afford. But if you can spend a little more then this is going to be a great deal. 
Pros
Cast-iron wheels for better movement

T-shaped fence design

4 inches dust port

Rack-and-pinion guide for upper blades
If you are looking for something to cut small tiles, then the Studio Pro Precision 2000 will work out well. It is perfect for any kind of domestic project that you take on and can cut glass too. We were able to work with dry and wet objects thanks to this. 
Why Did We Like It?
We will begin with the 2 blades that this product features. There is a Studio Pro wood blade that works very well for dry cuts, and then there is a diamond blade too. This works with wet cuts and for making intricate details. 
Moreover, it is made of rust-free aluminum, which stays protected and keeps moisture away. The frame, as well as the walls inside, are made of this material to make it more durable. 
Adding to it, there is a blade guide arm that adjusts very easily and can cut different materials of varying thickness. You will be able to work on metal and wood at the same time thanks to this. 
What Could've Been Better?
The installation process is not easy, and it can take a lot of time to assemble the parts. The instructions are not very clearly given, and you might not understand them if you are a novice. We will suggest looking up Youtube videos for more guidance on assembling the unit. 
Pros
Lightweight and sturdy device

Made of rust-free aluminum

Can cut intricate details

Equipped with 2 blades
Cons
Installation process is difficult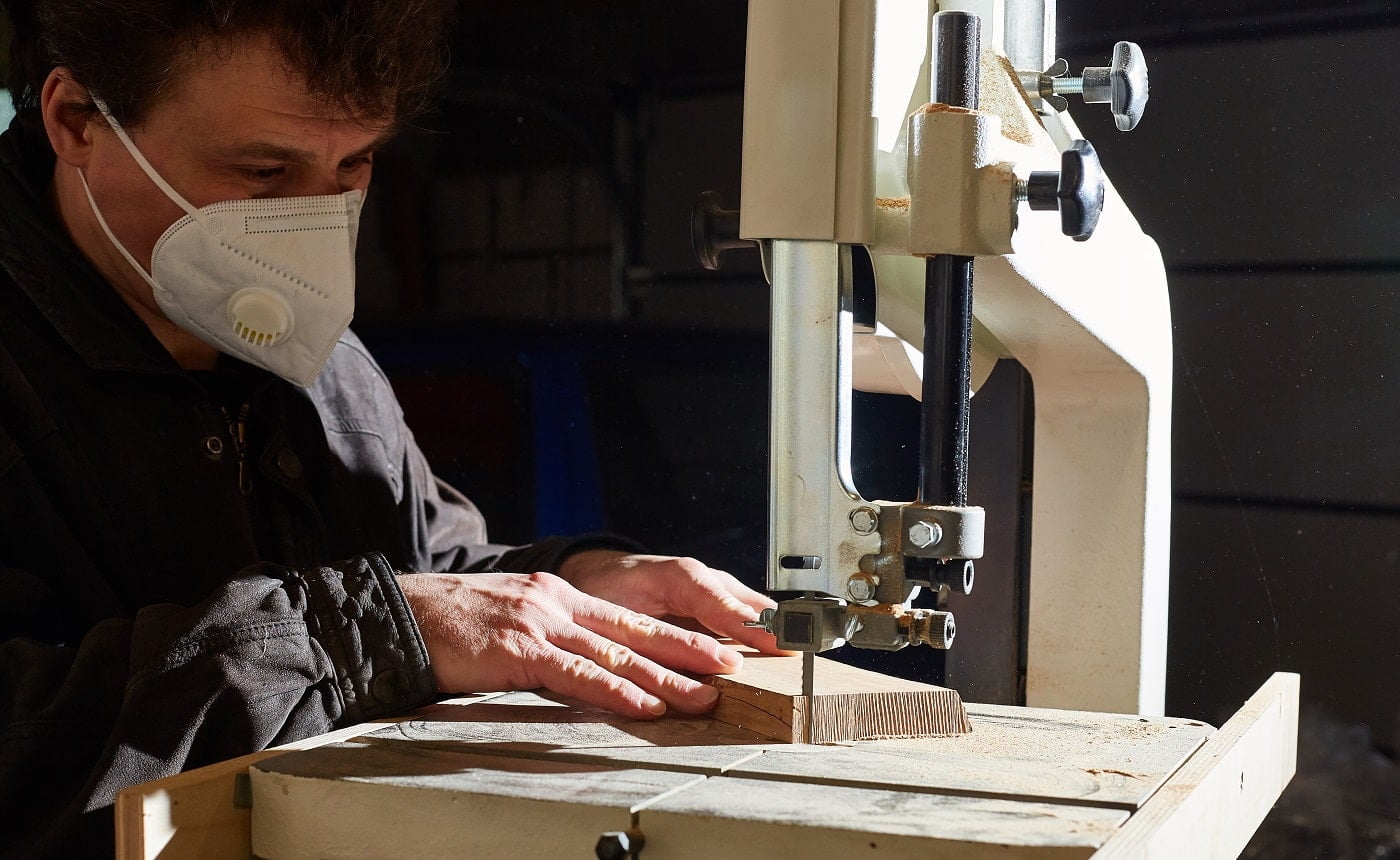 Band Saw Buyer's Guide
Before you make your choice, there are a few more things to consider. You will have to check the weight, power of blades, blade speed, and the kind of materials that a machine can deal with. These are important factors that will determine if it is the right fit for you. Read on to know all about them. 
Motor Speed
The motor speed will determine how well a blade can cut through the different materials. Sometimes you will need a higher speed to cut through materials quickly and at angles. But if you want different shapes, a lesser speed will work better. 
Now some products come with 2 blade speeds, and you can shift between them while some come with one. Note down your needs and then select the one that fits the best. 
Materials Used
The material used for making a unit's body has to be very sturdy to ensure that the vibrations do not damage it. When the blade works at high speed, it generates vibrations. A strong cast iron frame will protect the body from getting damaged while at it. 
We will suggest that you check the kind of materials used for the body and then proceed to purchase. 
Dust Port
This might seem like a small consideration in the beginning, but dust ports are an essential part if you are going to work indoors. These will pull the excess dust and debris in the air while you are cutting sheets and then store it. 
But if you are going to work outdoors, then this is not very needed. So, make a note of your requirements before buying. 
Sound
There are some machines that make a lot of sound due to excess vibration. These can be unnerving at certain times and can disturb anybody in the next room or in the same space. Now, these may be more powerful machines and can be suited for professional use on construction sites.
But if you are a hobbyist or DIY enthusiast working in a garage or house, you might not need such a high-powered device. Then you can opt for one with lower sound levels, and that will fit in your garage better.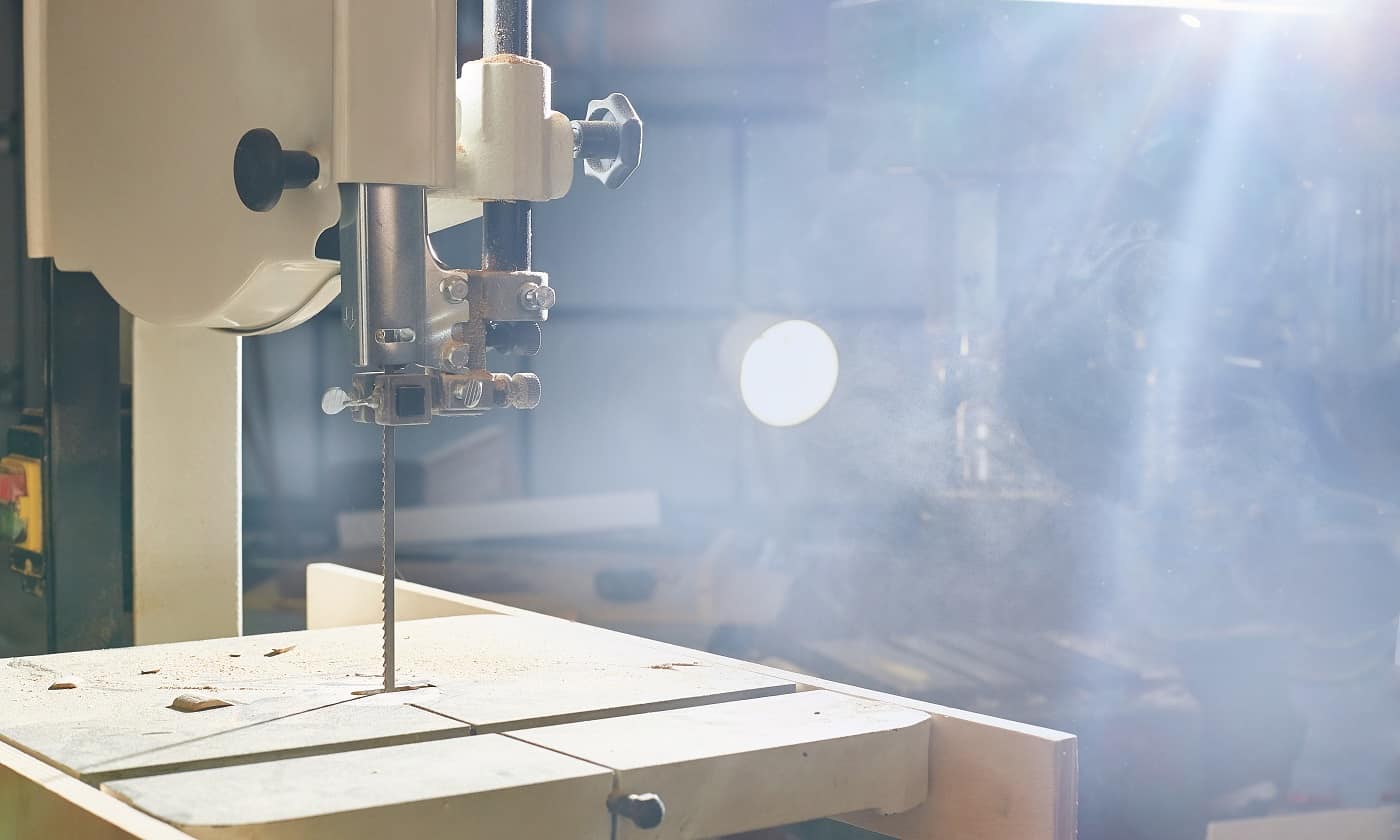 Band Saw Verdict
A good band saw will be able to make your life a lot easier, but you have to read the description carefully before proceeding. Add it to your set of tools, and you'll take on any project with ease. 
Now that we are at the end of the article, it is time to tell you about our favorites. The WEN 9-Inch Benchtop Band Saw is our personal favorite and ranks high on reliability and efficiency. 
On the other hand, if you want a choice to shift between 2 blades, then the Rikon 10″ Deluxe Bandsaw will suit you well. But if a lightweight product is on your mind, the POWERTEC 9-Inch Benchtop will work well for small jobs. 
On that note, we will bid you adieu. Let us know if you have any more doubts in the comment section below. 
Happy shopping! 
Related Articles
13 Best Screwdriver Sets on the Market
Simply the Best Stained Glass Ring Saws
49 FREE DIY Router Table Plans For an Epic Home Workshop
13 Best Chainsaws for the Money
11 Best Sliding Compound Miter Saws
Different Types of Saws & How to Use Them
9 Best Hybrid Table Saws Under $1000
11 Best Budget Bandsaw Reviews
11 Best Dry Cut Metal Chop Saw
11 Best Chainsaw for Milling Lumber
Bosch 4100-10 Jobsite Table Saw
9 Best Compact Circular Saws Of 2023
How To Sharpen A Bow Saw And Bow Saw Maintenance