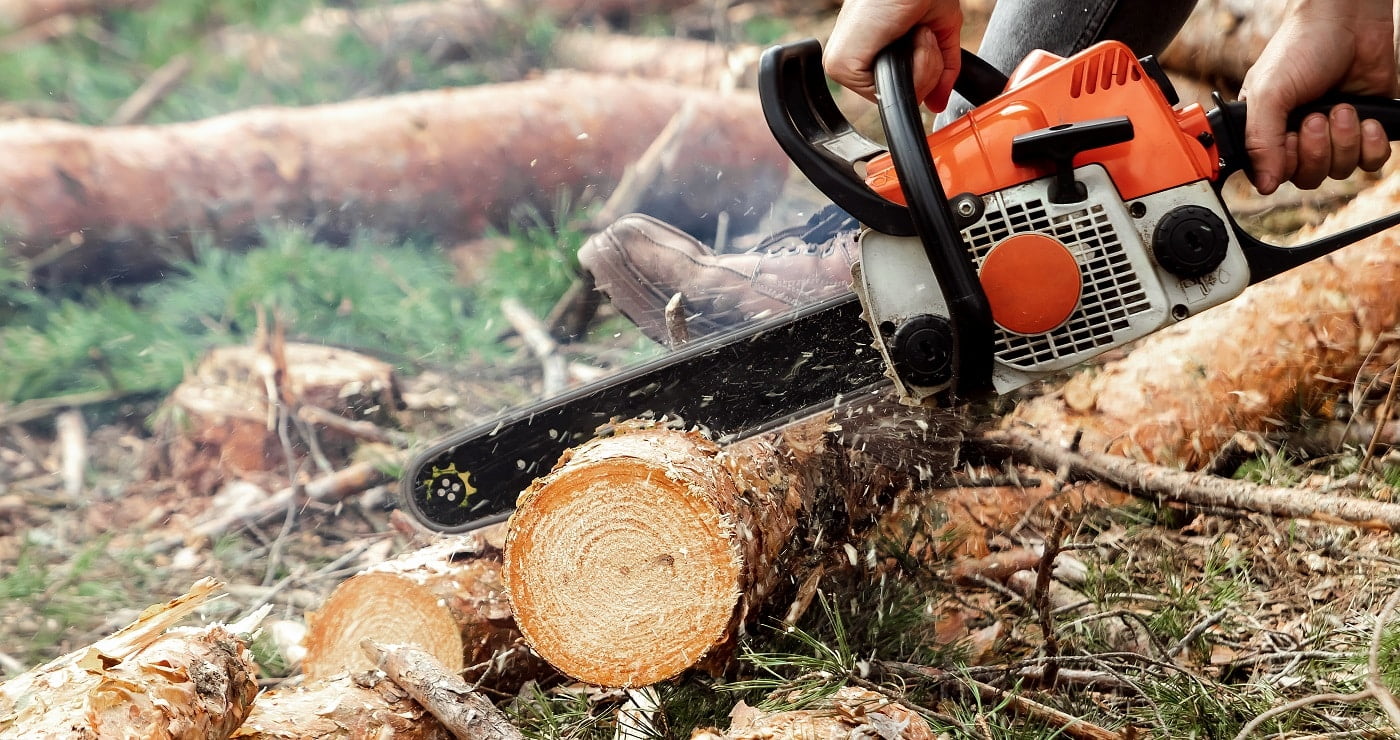 Today we're looking at one of our favorite tools from the world of heavy-machinery – the chainsaw. 
But not just any random unit; we'll be discussing the nitty-gritty of the 20-inch gas-powered models. You might be wondering what difference does it make and why should it be chosen over other standard units? To address your queries, we've narrowed down eight top products that are all the rage right now. 
A closer look at the functions will reveal how, despite being gas-powered, these chainsaws help in cutting without harming the environment. Furthermore, thanks to the latest design and features, fuel consumption and emissions are considerably reduced without any adverse effects on performance. 
You'll be able to make fast yet precise cuts, giving the 20-inch chainsaw an added edge over other tools. So, grab your gloves and goggles, start the engine, and let's dive into our reviews. 
8 Best 20″ Chainsaw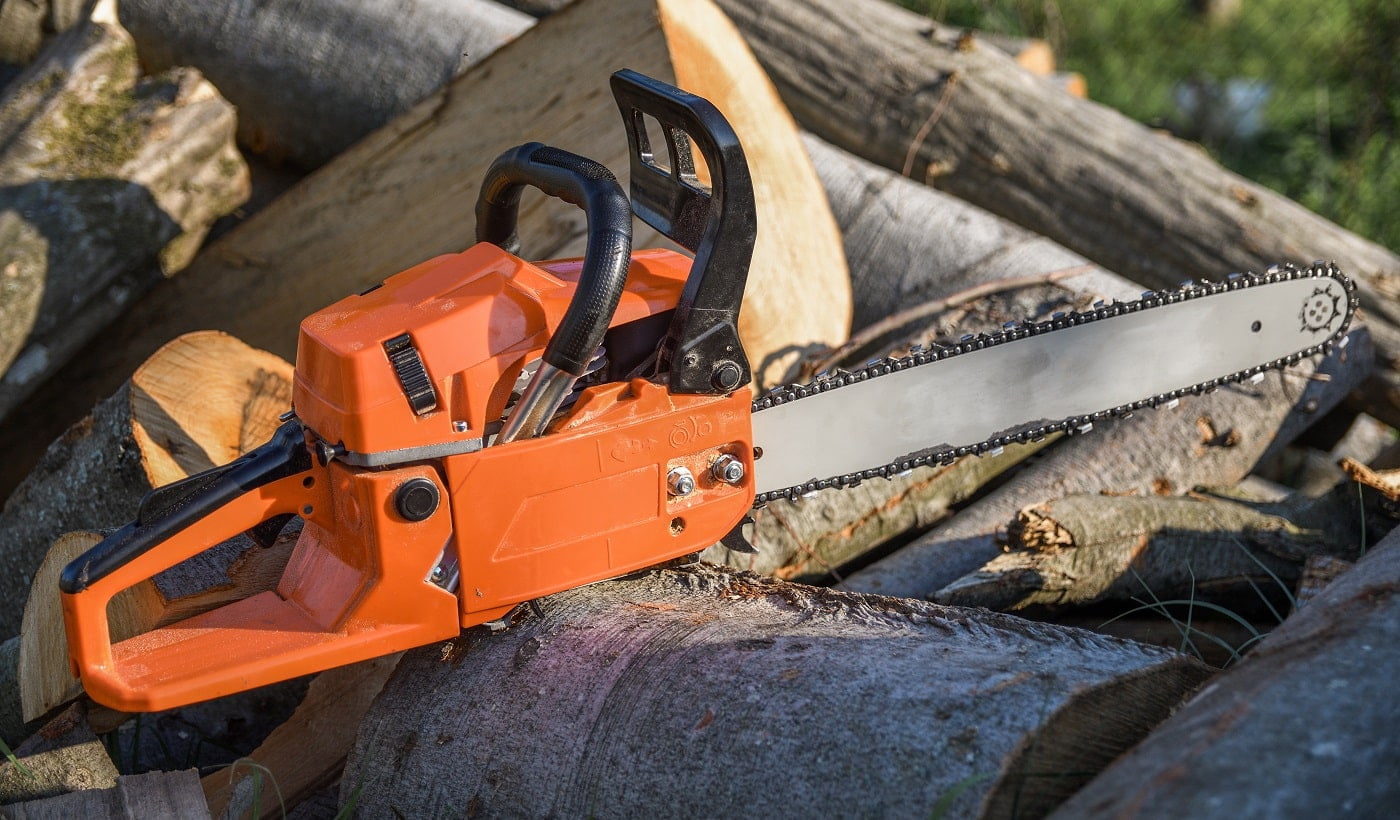 One of the well-known brands when it comes to heavy-duty machinery is Husqvarna; more so when we're talking about chainsaws. This Husqvarna Chainsaw has taken the market by storm, and a look at its features reveals why. No surprise, it's on most people's shopping list.
No products found.
Why Did We Like It? 
What are the things you look for while purchasing a chainsaw? Power, precision, and robustness would be at the top of the list, and that's why this model doesn't disappoint. It delivers a maximum speed of 9000RPM, made possible by the automatic chain oiler providing a smooth experience. 
Now, let's focus on the robust construction, delivering a capacity of 60.3cc and supported by a 2-cycle engine. The engine powers the 20-inch saw, but there's no need to worry as the inertia activated chain-brake ensures safe operation. 
Moreover, it's effortless to use, thanks to the side-mounted chain tensioning system, which prevents interruptions. You can swiftly adjust the chain while the x-torque reduces emissions and fuel consumption, making it environment-friendly. 
Finally, we must talk about the efficient air-filtration system, ensuring you encounter no issues to keep the machine clean. It enables you to quickly replace the filter when needed, saving your valuable time.
What Could've Been Better?
If you're looking for a lightweight model, then this isn't the right unit for you. A common complaint among users is that the chainsaw is quite bulky, meaning the extra weight might throw you off balance. Also, the installation procedure could've been easier; Husqvarna should've detailed the steps in a simple manner. 
Pros
2-cycle engine

Side-mounted chain tensioning system

Quick-release air filter

Low-fuel consumption

Reduces emissions
Cons
Tricky installation

Heavy
Next up is the SALEM Chainsaw, and there's a reason it has quickly shot up the charts to rank among the top units. But to know what makes it stand out, you need to read the following section. We assure you won't be disappointed as it provides much-needed reliability during tasks. 
No products found.
Why Did We Like It? 
One of the features that make a chainsaw stand out is power, and this model produces 8500RPM, thanks to the 62cc 3.4HP engine. But power is nothing without the other functions to back it up, which is seen with regard to the unit's 20-inch bar and low kickback chain. 
You can use it to cut firewood or fell trees, highlighting its remarkable efficiency in most tasks. In that regard, the automatic oiling system proves useful in extending the lifespan of the chainsaw and offering a smooth experience. Plus, with the ergonomic design, long working hours will be more comfortable as it reduces fatigue. 
What's more, it has a balanced feel, making it highly maneuverable, allowing you to work from different angles for the best results. However, the significant addition comes in terms of safety, with the quick-stop chain-break protecting against untoward incidents.
What Could've Been Better?
You'll need time getting used to the chain-brake mechanism, but this isn't a significant issue and becomes better with practice. Apart from that, the instructions are a little difficult to follow for first-time users, so it may take a while for you to get optimum results. 
Pros
Low-kickback chain

Ergonomic design

Balanced feel

Precision output

Versatile
Cons
Incomplete instructions

Needs time to adjust
How can we formulate a list of chainsaws without adding the Poulan Chainsaw to it? We might have piqued your interest, and trust us when we say this model has most bases covered. It delivers a complete performance and can endure severe conditions while producing terrific output.
Why Did We Like It? 
Let's start by discussing the engine, which is where all the cool stuff takes place. It comes with OxyPower engine technology, delivering more power in your tasks but not at the cost of harming the environment. The designers have ensured that emissions are lowered by 70% and fuel consumption by 20%. 
Along with that, it's also easier to start the engine, although it features a pull-start mechanism. However, the significant improvement is that you'll need 30% less effort to start the chainsaw, reducing user fatigue while keeping the machine in top shape. In that regard, the choke/stop control proves useful, permitting faster starts and protecting against engine flooding. 
Furthermore, the integrated combi tool present in the rear handle makes it convenient to maintain the chainsaw in top condition. There's also a purge bulb, highlighting the user-friendliness of the model. 
What Could've Been Better?
Since it has several quality functions, you must conduct regular maintenance to maintain the components in top shape. We've seen that the bolts may come undone due to everyday use, leading to problems with chain tension. Besides, like some other models, it's tough to start the unit. 
Pros
Lowers emissions by 70%

Reduces fatigue by 30%

Fuel consumption is decreased by 20%

Easy pull-start mechanism

Environment-friendly
Cons
Difficult to start

Regular maintenance
The ECHO 59.8cc Chainsaw may not inspire confidence, but you know what they say – never judge a chainsaw based on its appearance. Okay, no one says that, but we guarantee that it packs a punch, justified by the many positive responses it has received from buyers. You'll like all that it offers.
Why Did We Like It? 
There are several factors to consider when deciding what distinguishes one chainsaw from another. For this model, it would have to be its user-friendliness, thanks to the anti-vibration handle, among other things. You get more stability on challenging tasks, thereby adding to the precision performance users are desperately after. 
Other than that, this gas-powered model weighs only 0.01 ounces, making it suitable for prolonged use. It reduces user-fatigue made possible by the ergonomic design, which has the added benefit of keeping you safe. Plus, the auto chain oiler maintains the components in quality condition for a smooth experience. 
What else do we need to cover? Oh! Power from the engine drives the 20-inch saw, allowing you to make fast cuts, which is incredibly convenient. Similarly, the 21.8 oz tank proves useful and makes sure that you don't run out of fuel in the middle of work. 
What Could've Been Better?
You must know that while the safety guard is a significant addition, it's made up of plastic. Many users have expressed their desire for the guard to be made of metal. Moreover, it gets quite cumbersome to start the unit once you switch it off, which is an inconvenience. 
Pros
59.8cc engine

Capacity of 21.8 oz.

20-inch saw

Stable performance

Precision output
Cons
Challenging to start

Plastic guard
We're at the halfway point of our list, but there are a few quality products we're yet to review. Our next recommendation for you is the COOCHER Chainsaw, and it has left a mark on users with its abundance of power complemented by versatility. No wonder buyers are queuing up to bring this model home.
No products found.
Why Did We Like It? 
Even a passing glance at this product will reel you in, thanks to the many quality functions. Most important among them is the multi-purpose bar, measuring 20 inches and delivering a cutting diameter ranging from 27 inches to 33 inches. It's well supported by the 2-cycle 62cc engine, providing the necessary power for numerous tasks. 
The engine produces 8500RMP for fast cuts but also reduces fuel consumption by 20%. Similarly, the low kickback chain proves useful, permitting you to make stable cuts, further aided by the superior air-filtration system. Also, the automatic chain oiler ensures you won't experience interruptions while enhancing longevity. 
Another significant improvement is seen with regards to the ergonomic design, comprising a slip-free handle for a comfortable experience. You get a more balanced feel along with excellent maneuverability to operate the machine from various angles. 
Finally, resistance is reduced by half, making it easier to start the chainsaw. 
What Could've Been Better?
There are certain things you need to be aware of, which we'll highlight here. Firstly, it doesn't start quickly, and you need to spend considerable effort to get the engine running. Other than that, it's essential to carry out regular maintenance because it tends to leak if the cap becomes loose.
Pros
Fantastic air-filtration system

Ergonomic design

Slip-free handle

Low kickback chain

Lowers fuel consumption by 20%
Cons
It takes time to start

Tends to leak
When we think of the best chainsaws, it's difficult not to consider what DEREAL has up its sleeve. You get a perfect balance of functions, reflecting on the incredible output at work. There are numerous aspects to like about it which we'll discuss in the next section. 
No products found.
Why Did We Like It? 
Although there are several appreciable features of this product, the attention to safety and reliability takes the cake. We're swooning over the dual throttle switches, which prevents accidental-start and requires you to press both of them together to get the engine running. Besides, the superior brake baffle allows emergency braking to keep your hands safe throughout the operation. 
It features the latest 2-cycle engine, having several benefits. You get an abundance of power, efficiency, and a long-lifespan, ensuring it delivers a complete performance in most situations. Also, fuel consumption is reduced by 10% without compromising on precision whatsoever. 
Likewise, with the automatic oil lubrication mechanism, the chain will remain well-oiled for a seamless experience. You won't encounter interruptions at work while wear-and-tear of individual components is reduced for much-needed longevity. As a result, it's a low-maintenance chainsaw that doesn't require much effort to operate, meaning it's suitable for professionals and first-timers alike. 
What Could've Been Better?
As mentioned, it has substantial energy, so you need to be patient since it takes time adjusting to the model. It isn't a significant issue and gets better with practice; therefore, you need to be patient. People who haven't used something like this earlier should read the instructions carefully to understand the functions better. 
Pros
Reduces fuel consumption by 10%

Safe

Prevents accidental starting

Emergency braking

Long lifespan
Cons
It takes time getting used to it
The ECHO 50.2cc Chainsaw offers nothing flashy or eye-catching, but we promise it has the necessary functions to top rival products. The designers have made some exciting upgrades, which has created quite an impression on potential buyers, leading to substantial buzz in the market. You'll surely get your money's worth.
No products found.
Why Did We Like It? 
This chainsaw has kept things simple and doesn't offer anything extravagant. But that's what has earned it a spot on our list, with designers focusing on features like the automatic oiling mechanism and anti-vibration handle. The exceptional handle does more than provide comfort as it delivers stable cuts, reducing time, and increasing efficiency. 
Similarly, you won't face interruptions as the automatic oiling mechanism keeps the chain lubricated. So, wear-and-tear is reduced, thereby improving performance and increasing lifespan. It doesn't require much maintenance and all you need to do is fill up the 16.9 oz capacity tank for the desired output. 
Coming to the engine, it's a 2-stroke model delivering enough power to complete the toughest of tasks quickly. But that doesn't mean it compromises with precision for which the lightweight nature proves useful. You can easily maneuver and experiment from different angles without feeling fatigued.
What Could've Been Better?
One of the things that may displease buyers is the price. Considering the range of functions on offer, we understand why the designers felt they had to increase the cost. The flip side is that many users would be looking at other models, being hesitant about the purchase. 
Pros
2-stroke model

Reduces wear-and-tear

Keeps chain lubricated

Ergonomic handle

Durable
The HUYOSEN Chainsaw has everything you could wish for, endearing it to users, while it cements its place among the top products. One look isn't enough to appreciate the quality functions, so we invite you to view the details from up-close. It promises to be an exciting addition to your tool shed.
No products found.
Why Did We Like It? 
What should we talk about first? Let's start with the high-performing 3.6HP engine ably supported by a 20-inch bar and chain. It can cut through sturdy branches and ice cubes with ease, thanks to the low kickback function, producing 8500RPM. And you get all these features at an affordable price, making it highly convenient. 
Plus, wear-and-tear with the remarkable air-filtration system is considerably reduced to keep the components in top-shape. There's no need to worry about jamming, and due to its exceptional sturdiness, the chainsaw will last a long time. Besides, the inclusion of ergonomic handles makes long working hours more manageable. 
Finally, we need to touch upon two more aspects. Firstly, the automatic oiling system keeps the chain lubricated to deliver smooth performance; secondly, the safety switch provides the necessary protection. It prevents accidental starting while the anti-vibration handle ensures stability as you make the cuts. 
What Could've Been Better?
Although the instructions cover most aspects, they don't mention how to start the unit, which is a let-down. Therefore, you might have problems starting it, but this isn't a major issue, so there's no need to worry. Other than that, the spool can't be replaced because the cover is riveted on. 
Pros
Affordable

Air-filtration system

Safety switch

Automatic oil lubrication system

Anti-vibration handle
Cons
You can't replace the spool

Challenging to start it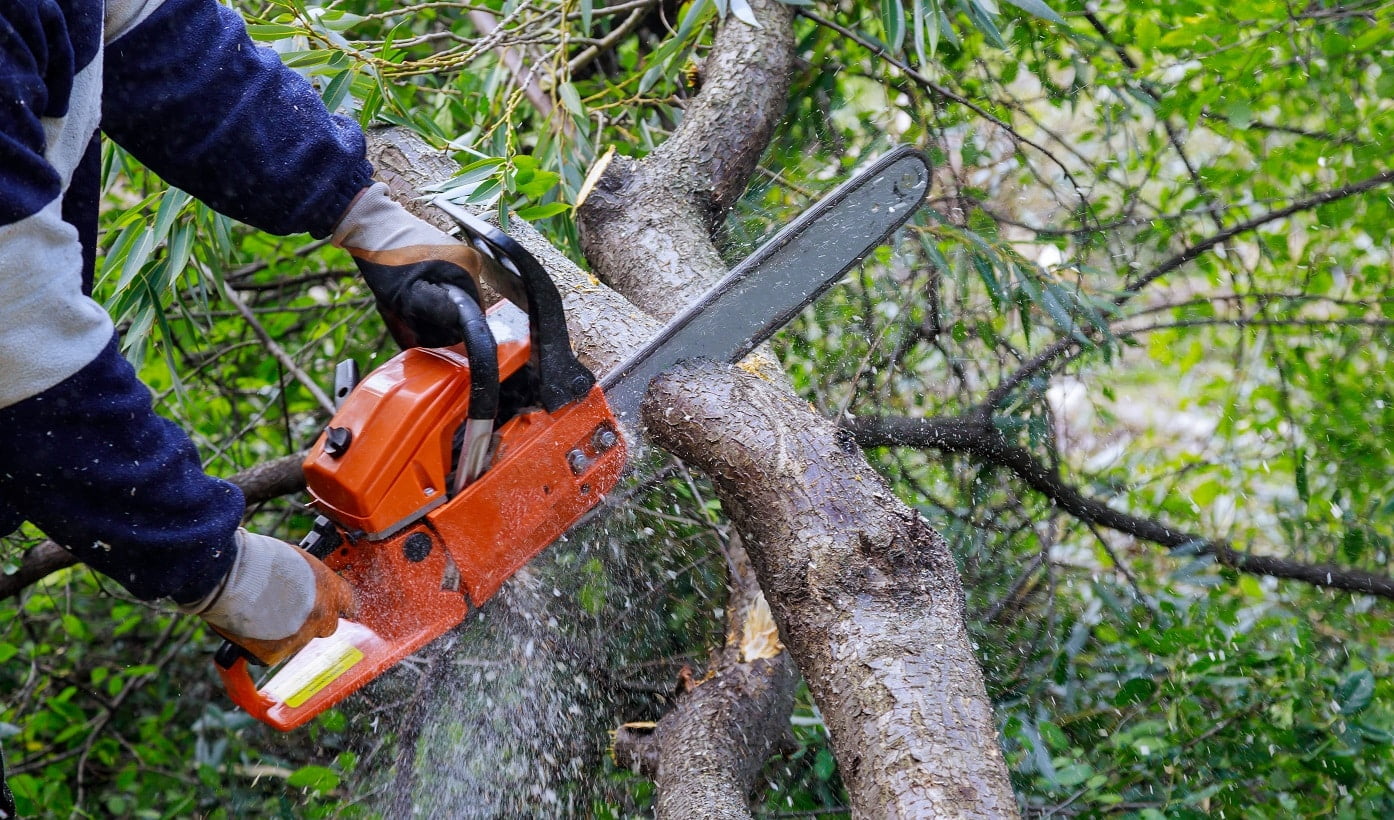 20″ Chainsaw Buyer's Guide
Now, it's time to focus on the buyers guide section, where we'll be talking about the essential aspects of the 20-inch chainsaw. There are minute details that you need to bear in mind before making the purchase. 
So, we've listed the most important features below in point-form, making it easier for you to understand. 
Power
As a chainsaw, it'll have to cut through sturdy materials quickly, and for that, the engine needs to be sufficiently robust. The number of RPMs should be high, and it should allow you to cut through various objects swiftly. 
But there must also be a way for you to control the power for the best results. 
Safety
One of the primary considerations for users is whether the chainsaw has the relevant safety features. When you're using heavy-duty machinery, you can't afford to take chances. Designers need to include safety switches and emergency braking mechanisms, ensuring users remain safe at all times. 
Price
Finally, the chainsaw should be priced within reasonable limits irrespective of the number of functions it has. If the cost is too high, it could lead to several buyers missing out, and many people would look for other options. Therefore, the key is to achieve a balance between features and cost to appeal to a broader audience.
Verdict
We're down to our final section, where we'll be giving you some additional pointers to pick the right unit. 
Hopefully, you've been convinced about the performance and efficiency of a 20-inch chainsaw, but if you're not, there's no need to worry. We've decided to highlight our favorite products from different categories to help you make an informed decision. 
Husqvarna Chainsaw delivers the best overall performance, while SALEM Chainsaw is incredibly powerful. Apart from that, the Poulan Chainsaw has focused on eco-friendliness while providing the perfect balance of functions. 
If you still find it challenging to pick the right unit, ask yourself, what are the tasks for which you need a chainsaw? Depending on the answer, eliminate the irrelevant models to focus on the ones that matter. 
That's all for now, but we'll be back to review other exciting products. Till then, stay safe, and happy sawing. Bye!
Related Articles
13 Best Screwdriver Sets on the Market Today
13 Best Wood Routers for Professionals & Amateurs Alike
Simply the Best Stained Glass Ring Saws Reviewed
49 FREE DIY Router Table Plans For an Epic Home Workshop
11 Best Angle Grinders on the Market Today
13 Best Chainsaws for the Money Reviews & Guide
13 Best Tile Saws Reviewed | Buyer's Guide
11 Best Sliding Compound Miter Saws
Different Types of Saws & How to Use Them  
9 Best Hybrid Table Saws Under $1000
11 Best Budget Bandsaw Reviews 
11 Best Dry Cut Metal Chop Saw
11 Best Table Saw [Reviewed & Buyer's Guide]
7 Best Cabinet Table Saws [Reviewed & Buyer's Guide]
9 Best Band Saw [Reviews & Buyer's Guide]
7 Best 12-inch Miter Saw Reviews [Buyer's Guide]
13 Best Contractor Table Saws [Reviews & Buyer's Guide]
11 Best Chainsaw for Milling Lumber | Buyer's Guide
5 Best Stihl Chainsaws [Reviewed & Buyer's Guide]
11 Best Table Saw Fences [Reviewed & Buyer's Guide]
DeWalt DW735X Planer Review [Should You?]
Bosch 4100-10 Jobsite Table Saw [Reviewed]
Hack Saw Vs Bow Saw [All You Need to Know] [Explained]
9 Best Compact Circular Saws Of 2022 [Reviewed & Buyer's Guide]
How To Sharpen A Bow Saw And Bow Saw Maintenance
6 Sabre Saw Vs. Jigsaw [All You Need to Know]
Radial Arm Saw vs Miter Saw [Differences & Winner]