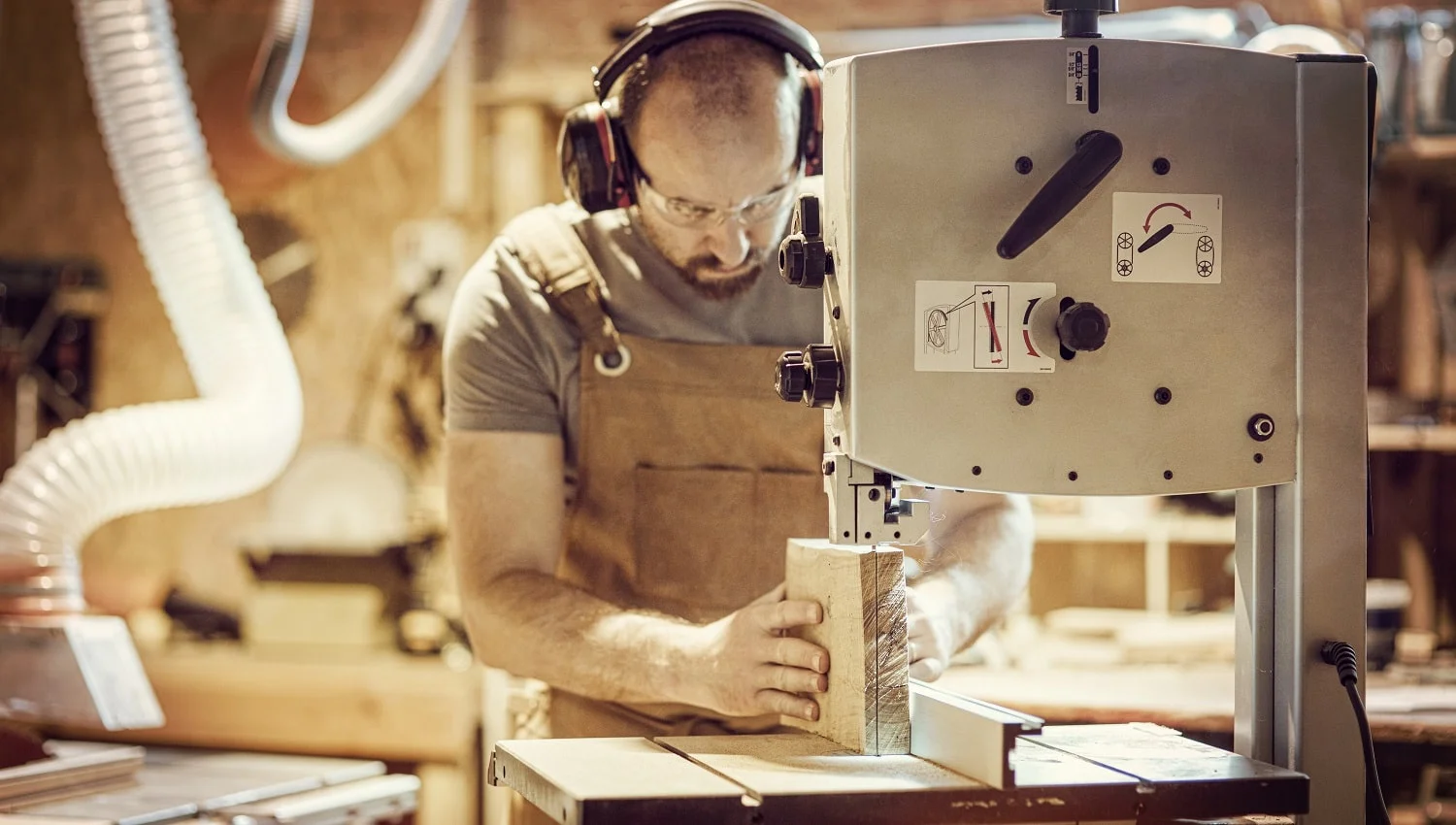 Let's face it; if you're a DIY-er worth your salt, then your workshop just can't do without a good quality bandsaw.
As durable as a table saw and more versatile, a bandsaw is a must-have cutting tool in the arsenal of any workman (or woman). However, these tend to be pretty expensive instruments and require significant investment and careful choice.
That's why, to make sure you choose wisely, today we have for you a comprehensive guide of the best budget bandsaws right now. Once you go through the following, you'll have no doubts regarding which one to buy.
Also, to make the task even more comfortable, we've gone ahead and included a detailed buyers' guide that can further help you in your decision-making.
So, let's not dally any longer and cut to the chase.
Best Budget Bandsaw Review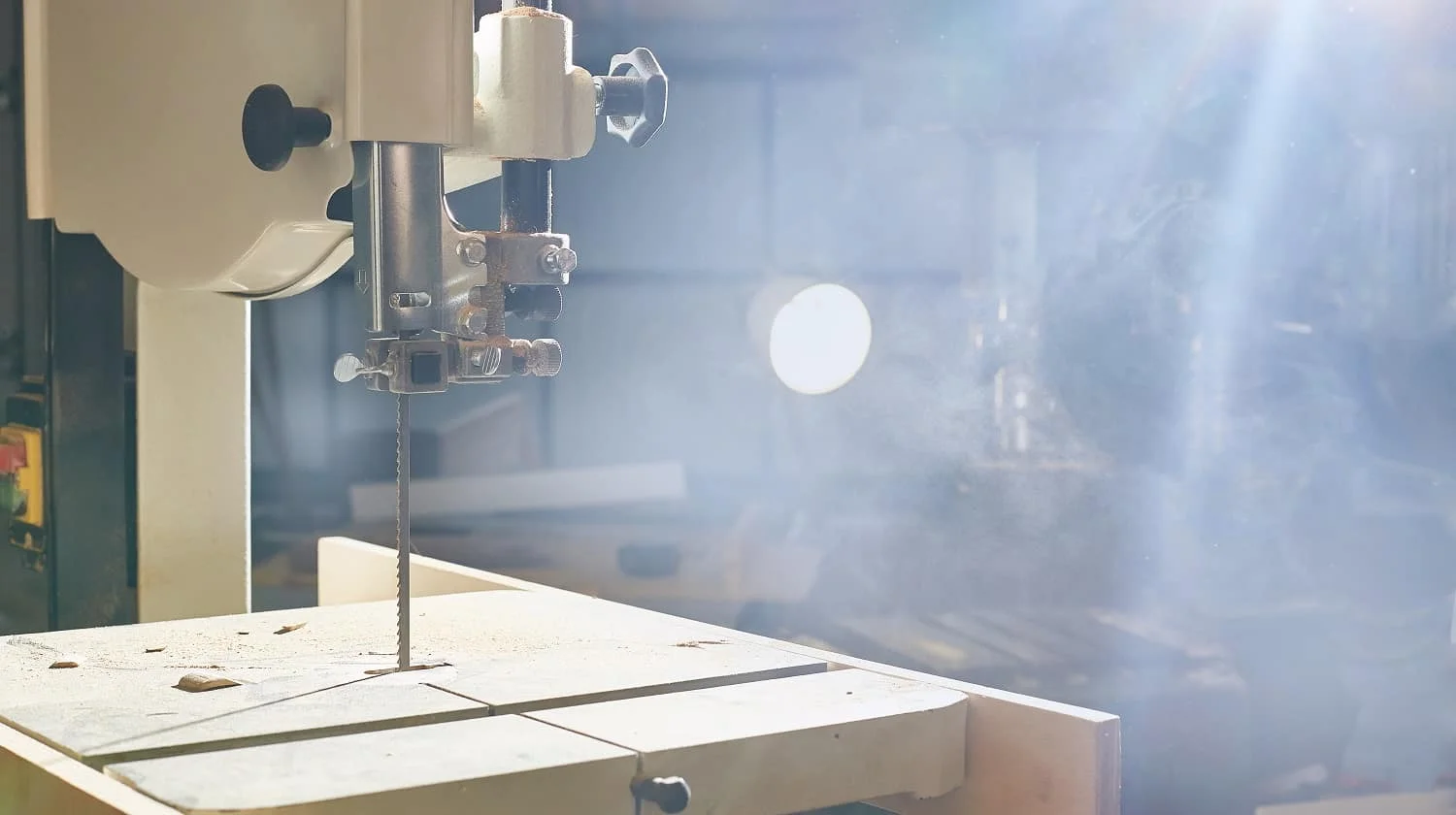 Quiet, powerful, and accurate, the Grizzly Industrial G0555XH Bandsaw is a marvel of modern engineering. Whether it's a crosscut you require or hardwoods you need cut, this saw gets the job done, and fast. It can even help you get scroll cuts, circles, and curves when needed. Overall, this is a device that gives you the most bang for your buck.
Sale
Why Did We Like It?
There's a reason Grizzly is one of the preferred brands for woodworkers everywhere. The cast-iron frame and heavy-duty stands make it the perfect addition to any DIY-er or professional's arsenal.
We were impressed by the high-quality blade guides, which minimize the chances of blade deflection. Using the guides, both straight cuts, as well as pattern cutting, becomes a pretty simple task.
Add to that the powerful motor and extra-tall upper frame, and you've got a device that can resaw cuts up to 12 inches thick. And this without the need to spend extra on an expensive riser kit. 
We must also mention the large, precision-made cast-iron table and rack-and-pinion guidepost. These are additions that aren't easily found in bandsaws at the same price range. Plus, the heavy-duty stand and computer-balanced cast iron wheels also work to eliminate vibrations.
What Could've Been Better?
If you ask us, the only thing that can be improved in this product is the price, which is a bit high. Granted, it's got a large number of useful features, but still, a lower price point would have made the product available to a larger customer base.
Pros
High blade speed of 3000 FPM

Maximum cutting height of 12-inches

Quick-release blade tensioning

Removable saw fence
Next, we got our hands on the 3962 Bandsaw from WEN, another renowned manufacturer of power tools. Slightly smaller in size and a little less powerful than the Grizzly, this is an affordable option that comes with all the essential accessories to help fast-track your woodworking projects.
Why Did We Like It?
When assessing the quality of a bandsaw, the first thing that we prefer to look at is the motor design. This device comes with a 3.5A motor and a 9-¾ inch throat, which allows it to quickly slice through wood and make cuts that are up to 6 inches deep.
The variable-sized blades allow for powerful and, at the same time, complex cuts, making this a tool for intricate woodworking. Based on the intricacy level you need, you can use the blades anywhere from ⅛ to ½ of an inch. 
We also like how this device comes with a 3-in-1 dust port that fits a variety of dust collection hoses. This makes cleaning it a hassle-free task and reduces the amount of time you spend on maintenance.
Another interesting aspect that we'd like to mention about this saw is the dual-speed operation. The blade can run at either 1520 or 2620 FPM, which means the user can adjust speeds according to the needs of the project at hand.
What Could've Been Better?
The tension adjustment knob is made of plastic and seems to be flimsy. We were afraid to tighten it much for fear of breaking it. Also, the tension spring doesn't have any calibrations and needs to be adjusted based on trial and error.
Pros
Easy assembly process

Comes with multiple accessories included

Ball-bearing based construction

Comes with a variety of blade sizes
Cons
Tension adjustment knob made of plastic

Tension spring doesn't have calibration markings
Offering features similar to larger bandsaws, the Rikon 10-305 offers quality service at an affordable price. Solid in design, durable in build quality, and versatile in performance, it's a device that any DIY enthusiast would love to get their hands on.
Sale
Why Did We Like It?
Straight off the bat, it was the solid steel construction of the device that attracted us. This model is a smaller version of the much-celebrated 10-345 and 10-325 models, and hence has a rich legacy behind it.
The frame of the saw is made of steel, making it much more durable than saws that use plastic frames. Plus, the extra-large cast-iron table provides a sturdy work surface. This is not something that you can find in just any other bandsaw. What's more, it also includes an easily removable rip fence. 
Coming to the motor, we think the 1/3HP motor provides sufficient power for cutting and shaping operations. We also like the micro-adjustable guidepost that can be manipulated at the turn of a handle.
Important to mention are the dust ports, large blade tension knobs, and safety paddle on/off switch. An ideal combination of portability and durability, this is a product that's well worth the price.
What Could've Been Better?
The only complaint we have with the saw is the default blade it comes with. This is a fragile option, and suitable only for very small jobs. We suggest you buy additional blades if you're hoping to get some serious work done.
Pros
Comes with a large cast-iron table

2-inches tall fence included

4-⅝ inch resaw capacity

Durable steel design
Cons
Default blade suitable for only lighter jobs
If you're a beginner at the use of bandsaws, then the Skil 3386-01 is just for you. Perfect for newbies who are just starting on their woodworking journey, this is a device that makes cuts, shapes wood, and creates designs flawlessly. Plus, it also comes with a massive warranty, so you get complete peace of mind.
Why Did We Like It?
The very first thing that catches your attention about this tool is its diminutive design. Highly affordable and easy to use, this is made especially for beginners to the woodworking field. This naturally means it's not as powerful as larger bandsaws.
But when it comes to portability, nothing comes close to this product. The 2.5A motor allows you to cut through softwood easily, and shape cutting is a breeze. This is possible because of the 6-TPI blade that it comes equipped with. 
Next, we like how the adjustable rack and pinion table makes quick angles and height changes. Plus, the dust port ensures that your working area remains free of dirt and sawdust.
Additionally, we must mention the EZ View Blade Tracking feature that allows you to easily align the blades. Plus, the rip fence and miter gauge make straight cuts and crosscuts simple to achieve. Overall, one of the better saws in the market for beginners.
What Could've Been Better?
The motor, which gets heated up quickly. This means you can't use this device continuously for long stretches without fear of the motor burning out. Plus, the blade guides are rather flimsy.
Pros
Lightweight and durable build

Dust port with a vacuum function

Suitable for complex cuts

Quiet operation
Cons
Motor gets heated easily

Blade guides are rather flimsy
For the fifth entry on our list, we have another quality product from Grizzly. The G0555 series from the brand is known for its superior cutting ability as well as state-of-the-art technology. With superior blades, heavy-duty cutting features and precision guides, this is a product that speaks for itself.
Why Did We Like It?
The very first thing that catches your eye is the deluxe, heavy-duty stand of this bandsaw. Made entirely from high-grade cast iron, the frame supports the saw and provides the required framework for getting the job done.
The one-horsepower motor provides quietly powerful operation and cuts through the hardest of woods with ease. As mentioned above, you can use this saw to get any kind of cut required, ranging from straight cuts to curves.
The blade length of the saw is 1 inch, and it also comes with a ⅜-inch blade. Plus, the package includes a T-shaped extruded aluminum fence and miter gauge.
The ball-bearing-based construction and blade guide further ensure that it performs its operation smoothly. Add to that the precise cast-iron table and computer-balanced aluminum wheels with urethane tires, and you've got a saw worth buying.
What Could've Been Better?
We could've given this device full marks, but for the lack of a table light. Without a table light built-in, you'll have to arrange for a separate light source for working in dark locations. Plus, at 195 pounds, this is a rather heavy product.
Pros
Extruded aluminum stand

Variable blade speeds

Sturdy T-shaped fence

Heavy-gauge steel construction
Cons
Doesn't have a table light

Rather heavy product
For those looking for an affordable benchtop bandsaw, the BS900 from POWERTEC can be a good pick. POWERTEC is an American brand that's committed to bringing the best innovations to the market. And this lightweight yet sturdy bandsaw proves that the company is true to their target.
Why Did We Like It?
First off, we were impressed with the equipment package that the product comes with. The combination of the bandsaw, miter gauge, and saw blade is genuinely an affordable mix at the price.
Perfect for delivering precision cuts, this tool allows the cutting of irregular shapes of up to 3-⅝ inches deep and 9 inches wide. What's more, we've also used the saw for cutting thin strips of lumber, and it performed well on that front too.
One of the most striking features of the tool is the patented blade guard adjustment system. This allows the blade of the saw to be replaced fast and easily. There's even a blade tracking window that makes the cutting operation more manageable, and a 2-inch dust port for keeping things nice and clean. 
And yes, we cannot fail to mention the table with a rack and pinion adjustment. This makes angular cutting an effortless task. Plus, the saw comes equipped with a miter gauge for enhanced cutting accuracy.
What Could've Been Better?
While this is indeed a good saw for lightweight jobs, we don't recommend using it in a heavy-duty industrial setting. This one is best suited for smaller home-based DIY projects that you can complete in your garage workshop.
Pros
Aluminum die-cast table

Comes equipped with a miter gauge

Quiet operation

Dust port for a clean workspace
Cons
Not suitable for heavy-duty jobs
Till now, we've solely focused on wood-cutting bandsaws, but this time we have one that cuts metal with ease. The 3975 from WEN is perfect for metal-cutting jobs and can tackle a large variety of metals. Plus, it's got a compact design that makes transportation and storage easy, and that's not all that we have to say about it.
Why Did We Like It?
We tried out this product with brass, copper, and even steel, and it cut through it all like butter. It can cut pipes up to 5 inches in diameter and rectangular materials up to 5×4-⅞ inches.
The secret to the versatility of this product lies in the variable blade speed. Depending on the metal that you're cutting, the speed can be adjusted from 125 to 260 FPM. What's more, the beveling blade allows the making of cuts between 0 to 60 degrees with ease.
Next, we come to the compact yet rugged design of the machine. This makes storage and transportation a simple task, meaning you can use it at the worksite and at home. Add to that the onboard vise, and you've got a firm grasp on your work, literally. 
We also like how the ball-bearing blade guides provide a long and reliable operational lifespan. Plus, the blade tension adjustment and tilt knobs make it superbly easy to make subtle tweaks from one job to the next. Overall, an excellent piece of machinery that you can add to your arsenal.
What Could've Been Better?
The only complaint we have with this product is the blade wheels, which we feel should have been designed better. The current design leads to the blades frequently popping off, thus interrupting the cutting process.
Pros
Two-years warranty

Easy to transport and store

Variable blade speeds

Long and reliable lifespan
Cons
Poorly designed blade wheels
Compact, powerful and durable to a fault, this metal cutting bandsaw from Klutch makes quick work of all-metal workpieces. From pipes to rectangular workpieces, this saw can take care of it all and have better ease and efficiency than most other bandsaws in the same price range.
Why Did We Like It?
The first aspect of this device that attracted us was the lightweight, compact, yet durable frame. The benchtop design ensures that it can be easily transported anywhere, and can be used in both domestic and industrial settings.
The motor on this unit is pretty powerful, and can easily cut through any metals you need to. Plus, the variable speed bi-metal blade can deliver speeds of 130 to 288 FPM, which makes cutting an effortless task.
Another aspect of this device that we must mention is the quick positioning vise that helps hold the workpiece in place. This ensures that the metal piece being worked upon doesn't shift while it's being cut. 
Finally, we were impressed to find that this saw also has an auto-shutoff feature. This goes to show that the manufacturers have laid particular emphasis on the safety of the user. Plus, the miter-cutting capability makes for more precise cuts.
What Could've Been Better?
Our biggest issue with the product is that the vise is placed too far away from the saw, which means it cannot be used to cut smaller lengths well. This might lead to a lot of waste when it comes to cutting small pieces.
Pros
Variable blade speeds

Precise miter-cutting ability

Powerful motor for smooth cutting

Safe operation
Cons
Can't handle very small pieces well
With the RK7453 model from ShopSeries, we once again come back to woodworking bandsaws. And with a 2.5A motor, this product is well-suited for most woodwork projects and DIY home workspaces. Plus, it's a compact device and is thus perfect for moving from one place to another.
Why Did We Like It?
It's the powerful motor of the device that attracted us to it in the first place, but the deeper we delved, the more we discovered. For example, we were surprised to find that this saw is perfect for resawing work, DIY projects, and even smaller commercial ventures.
It features a durable tungsten-carbide blade with a cutting depth of 3-⅛ inches and a throat depth of 9 inches. This makes the blade suitable for a wide range of cuts. Also, the adjustable die-cast aluminum table allows bevel cuts from 0 to 45 degrees. 
Also of note is the flexible, built-in work light that makes working in low-light situations a cinch. And if you're worried about accuracy, then don't be; the micro-adjustable rack and pinion blade guard take care of that matter.
The safety of the user is another aspect that this device pays special attention to. It has a keyed safety switch that prevents accidental starts and thus ensures operator safety. Add to that the two-year warranty, and you've got the perfect value for money.
What Could've Been Better?
Despite all its nifty features, it doesn't come with an instruction manual! This makes it very difficult to figure out how to operate the device initially. We hope the manufacturer will supply detailed instructions with the product in the future.
Pros
Die-cast aluminum table with bevel

2-year limited warranty

Flexible work light included

Micro-adjustable rack
Cons
Doesn't come with an instruction manual
The penultimate item on the list is the 10-inch bandsaw from Craftsman, and this is a durable and powerful product. Equipped with a ⅓ HP continuous-duty motor and durable cast iron table, this device makes woodwork a delightful task.
Why Did We Like It?
Durability is one of the primary reasons why we like this bandsaw. Made out of sturdy cast iron, the saw table offers a generous tilt from 0 to 45 degrees. This makes bevel cuts easy to handle.
What's more, the continuous-duty motor ensures that you can cut any wooden material with this device. It also has an ample cutting depth and throat depth at 90 degrees. This makes it a highly versatile bandsaw.
Regarding dust collection, this product comes with a built-in dust bag that ensures a clean work area. Plus, it also provides enhanced controlling features that make precise cutting operations extremely easy.
What Could've Been Better?
The saw does require a certain amount of initial assembly before you can begin to use it. This might be a nuisance for those who are expecting to use it straight out of the box. Also, it's a rather heavy device, which takes a lot away from the portability factor.
Pros
Continuous duty motor

Dust collection port

Precise cutting operation

Strong cast-iron table
Cons
Initial assembly required

Heavy product
For the last item on the list, we have for you the GBS900 Bandsaw from Genesis. And although this is the final item on the list, it's no less than the other offerings. In fact, with a powerful enough motor and quiet performance, this takes the cake in many categories.
Why Did We Like It?
If performance is something that you're looking for in a bandsaw, then look no further. The 2.2A induction motor that this device pack gives a smooth performance. Plus, it's utterly noiseless, which means you'll not need to strain your ears while working.
The durable yet compact design promises portability, and the cast-aluminum table provides tilts of up to 45 degrees. Add to that the rack and pinion table adjustment, and you've got complete control over all your projects. 
We like how the built-in dust port allows for clean workspaces. We must also mention the miter gauge and rip fence that makes straight and accurate cuts simple. It even comes with Allen wrenches included in the pack. Oh! And we almost forgot to mention the two-year warranty that the product comes with.
What Could've Been Better?
The initial breaking-in period takes some time to get used to, and the controls are a bit complicated to master at first. But once you've completed a few jobs, we reckon you won't have any further trouble with it.
Pros
Induction motor for smooth performance

Comes with a built-in dust port

Rack and pinion table adjustment

Includes miter gauge and rip fence
Cons
Initial learning curve a bit steep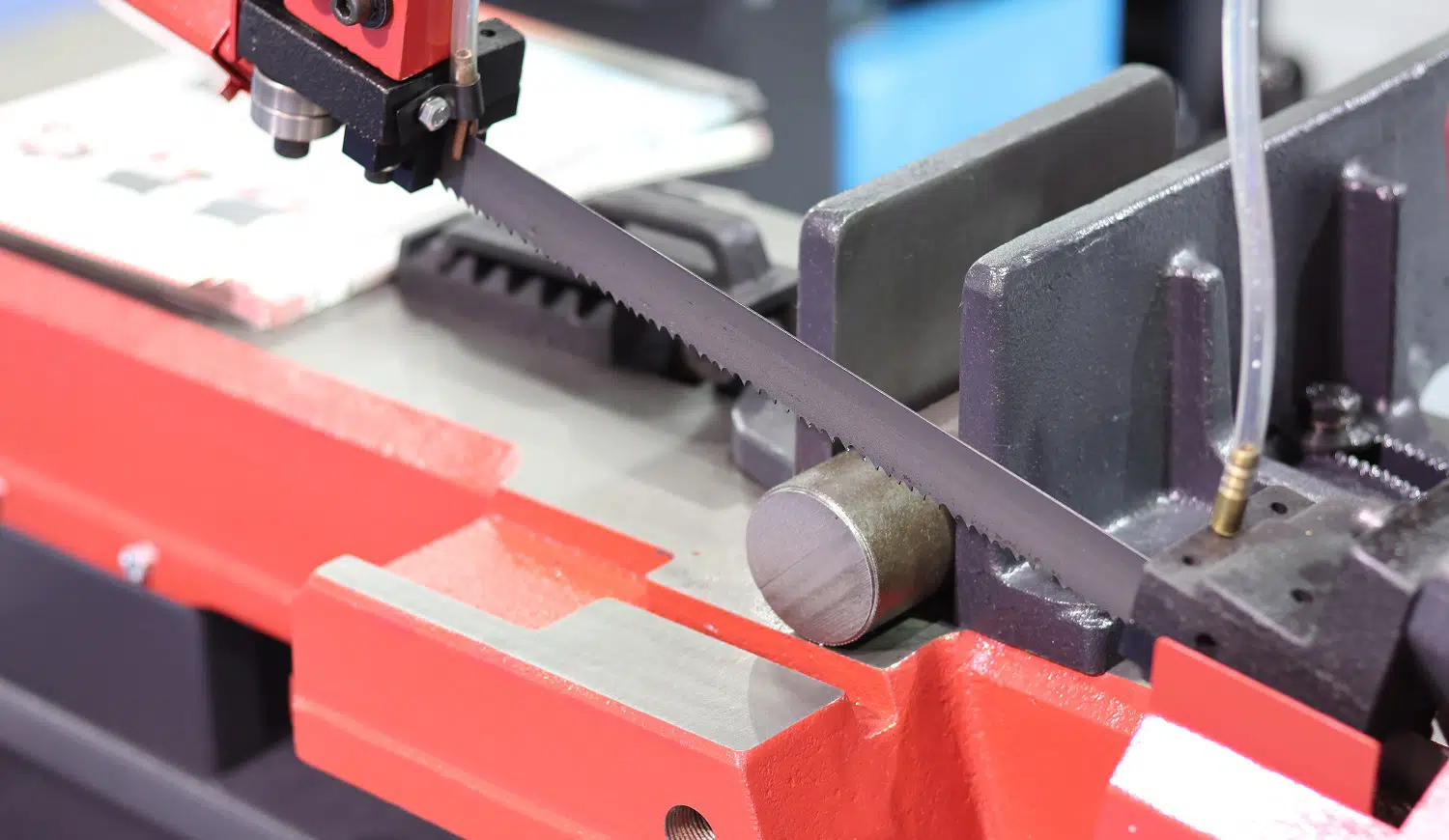 Budget Bandsaw Buyers' Guide
A bandsaw is a complex piece of machinery that has multiple parts. That's why, before you go about buying one, you need to consider the numerous factors that differentiate one bandsaw from another.
In this buying guide, we're going to let you know about some of the significant factors that you need to consider when making the purchase. Once you've got these facts down pat, you'll face no problem buying the best bandsaw.
Let's get going.
The Frame Type
The very first aspect to consider when buying a bandsaw is the frame, which must be stable and robust enough to support the internal components. A bandsaw with a weak structure cannot possibly serve you as well as one with a stronger built.
That's why, when getting a bandsaw, make sure you go for one with a steel or iron frame. This ensures that the product you're getting is durable and can last you for a long time to come.
The Wheel Weight
The weight of the blade wheel determines the precision and perfection with which the bandsaw blades work. In general, the more substantial the wheels, the higher the inertial effect, which is good for precision cutting.
Bandsaw wheels are mostly manufactured from either cast aluminum or iron. Both types have their advantages. While iron has a greater weight and provides more control, aluminum provides faster rotation speeds. The decision of which one to go with depends on what you prefer while working.
Teeth Pitch
The kind of cut that you get out of a bandsaw depends upon the density of the bandsaw teeth. Usually measured in teeth-per-inch, the saw blade's pitch determines whether you get a fine, coarse, or medium cut.
Usually, blades that cut faster leave coarser cuts; by the same reckoning, slower blades deliver a more elegant cut. The choice of which blade to go with depends on the material you're working with, and the kind of cut you need.
Accessories
Finally, no matter which brands you decide to go with, make sure the bandsaw has all the required accessories to get the job done. Adjustable rack and pinion tables, miter gauges, and rip fences are just some of the accessories to look out for.
Also, it's better if the saw you go with has a light included; this ensures visibility even in low-light conditions. And if you're looking to take the saw to work, then it's best to go with a lightweight and durable model.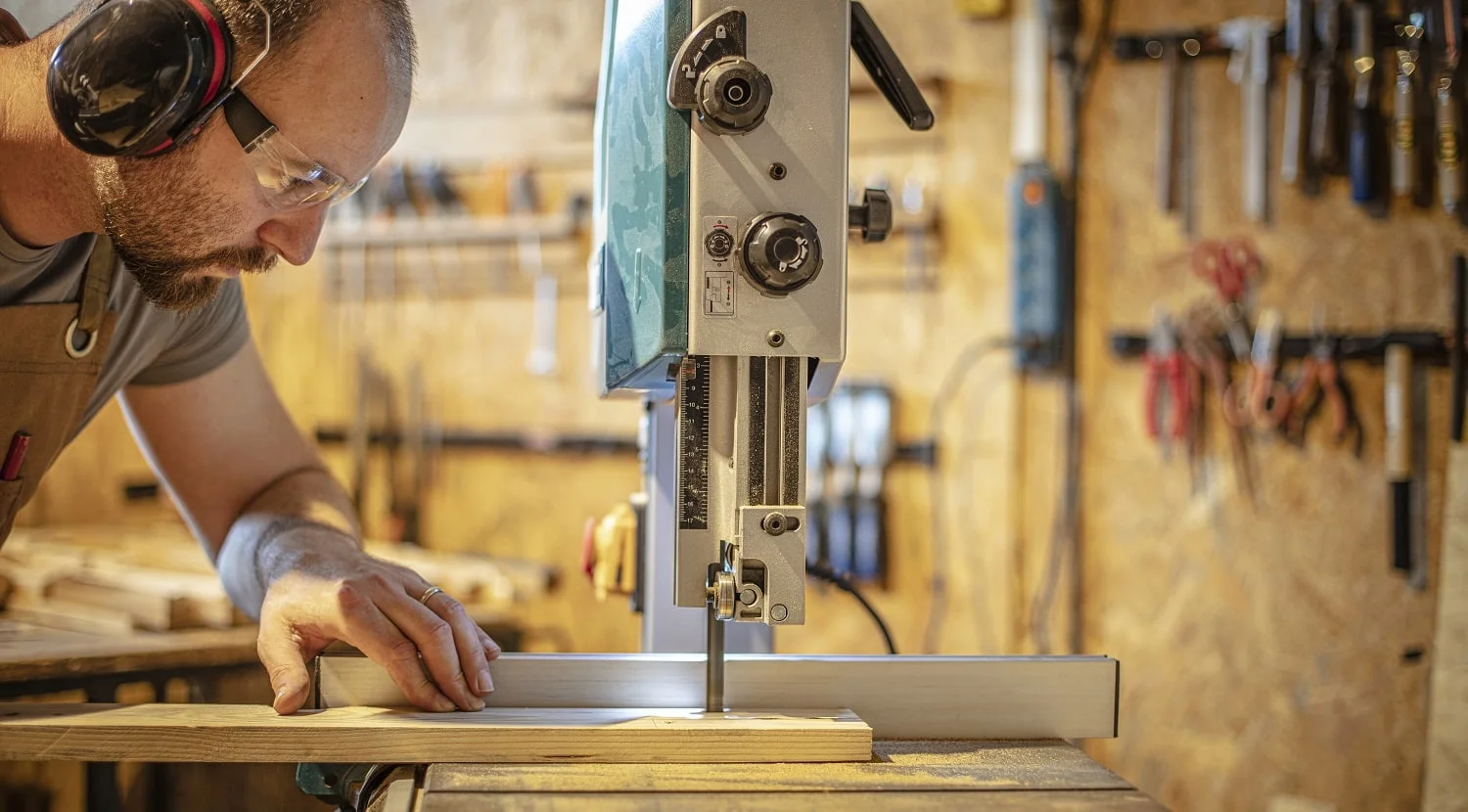 Verdict
A bandsaw is an essential instrument in the kit of a professional woodworker. Even if you're simply a DIY enthusiast, it's preferred that you have a bandsaw in the workshop. With the right bandsaw, you can get a lot done in a short time.
With that in mind, here are our favorites from the list. The overall winner is decidedly the Grizzly G0555, which though heavy, delivers the best performance.
If, however, you're satisfied with a bit less power, then the WEN 3962 and Rikon 10-305 can be better options at an affordable cost. And in case you're a beginner, then nothing beats the Skil 3386-01 model.
And on that note, we'll take our leave. Till next time!
Related Articles
13 Best Cordless Oscillating Tools
13 Best Screwdriver Sets on the Market Today
Simply the Best Stained Glass Ring Saws 
49 FREE DIY Router Table Plans For an Epic Home Workshop
10 Best Shop Vacs For Dust Collection
11 Best Hammer Drills on the Market Today
11 Best Tap And Die Set on the Market Today | Buyer's Guide
11 Best Torque Wrenches on the Market Today | Buyer's Guide
11 Best Multi-Tools Reviewed | Buyer's Guide
11 Best Angle Grinders on the Market Today
13 Best Chainsaws for the Money 
13 Best Tile SawsReviewed | Buyer's Guide
6 Best Chainsaw Brands to Consider
11 Best Sliding Compound Miter Saws
11 Best Belt Sanders Right Now
13 Best Stud Finders – Review & Buyer's Guide
13 Best Bench Grinders of Saws  
Different Types of Saws & How to Use Them 
13 Best Random Orbital Sanders
11 Best Dry Cut Metal Chop Saw
9 Best Benchtop Jointer for Woodworking
11 Best Table Saw [Reviewed & Buyer's Guide]
7 Best Cabinet Table Saws [Reviewed & Buyer's Guide]
9 Best Band Saw [Reviews & Buyer's Guide]
7 Best 12-inch Miter Saw Reviews [Buyer's Guide]
13 Best Contractor Table Saws [Reviews & Buyer's Guide]
Best 20″ Chainsaw [Reviewed & Buyer's Guide]
11 Best Chainsaw for Milling Lumber | Buyer's Guide
5 Best Stihl Chainsaws [Reviewed & Buyer's Guide]
11 Best Table Saw Fences [Reviewed & Buyer's Guide]
DeWalt DW735X Planer Review [Should You?]
Bosch 4100-10 Jobsite Table Saw [Reviewed]
Hack Saw Vs Bow Saw [All You Need to Know] [Explained]
9 Best Compact Circular Saws Of 2022 [Reviewed & Buyer's Guide]
How To Sharpen A Bow Saw And Bow Saw Maintenance
6 Sabre Saw Vs. Jigsaw [All You Need to Know]