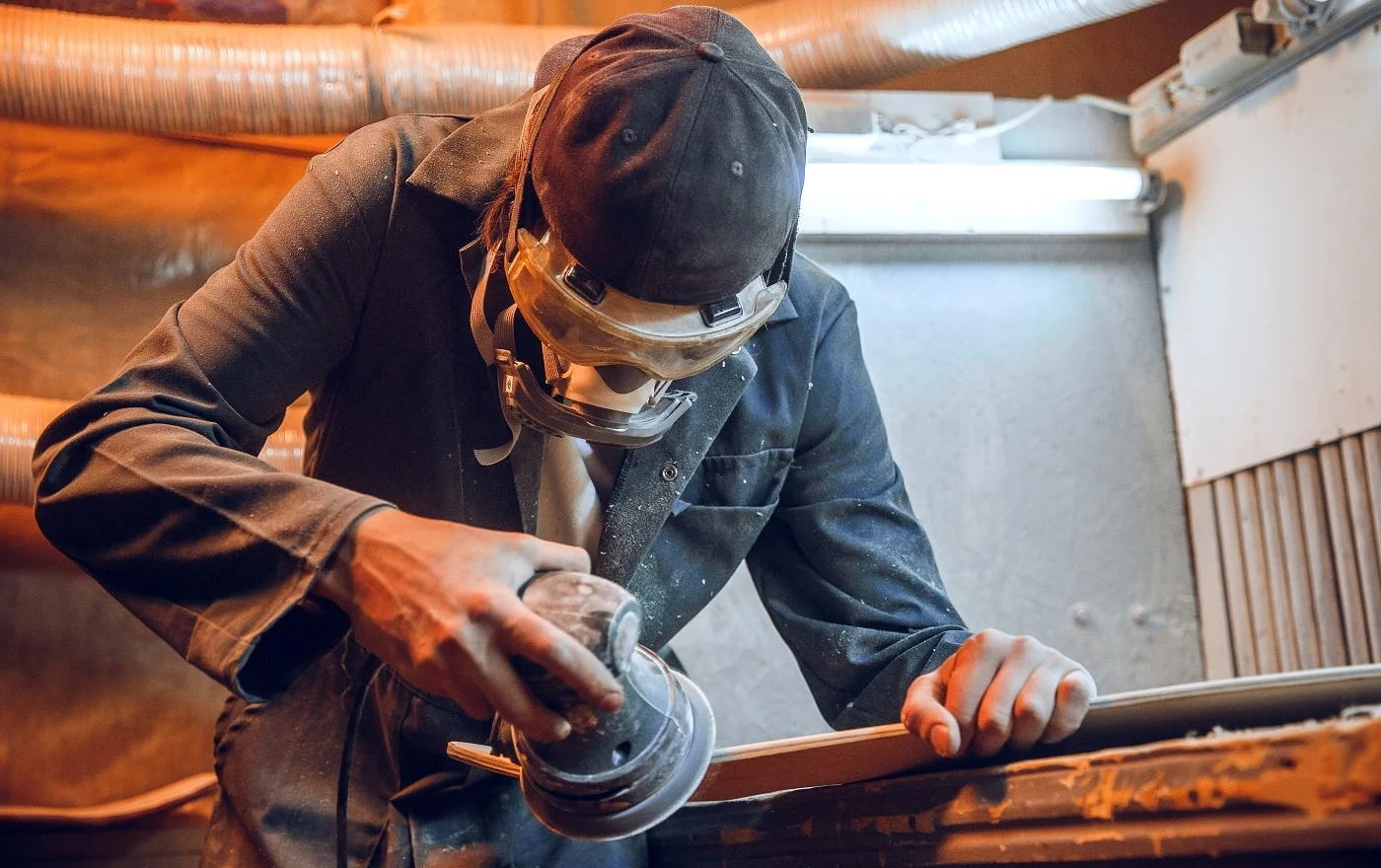 A woodworking project is incomplete without the right finishing touch. And a suitable palm sander will guide you through that.
It helps in saving more energy and time compared to a manual alternative. These devices are powered by electricity, and you will have a flawless surface to flaunt in the end.
Also, DIY-ers and woodworking enthusiasts will love them just because of the sheer benefits they offered. You can get a completely plain and professional-looking sanded surface within very little time.
Moving on, we have prepared this comprehensible and detailed guide with reviews of the top 12 palm sanders. Each of them are small and compact, and you can easily hold one of them in your hand and work.
Furthermore, a list of pros and cons has been added for your benefit. You will also find a buyer's guide at the end that will help you out.
So, what are you waiting for? Read on!
Top Palm Sanders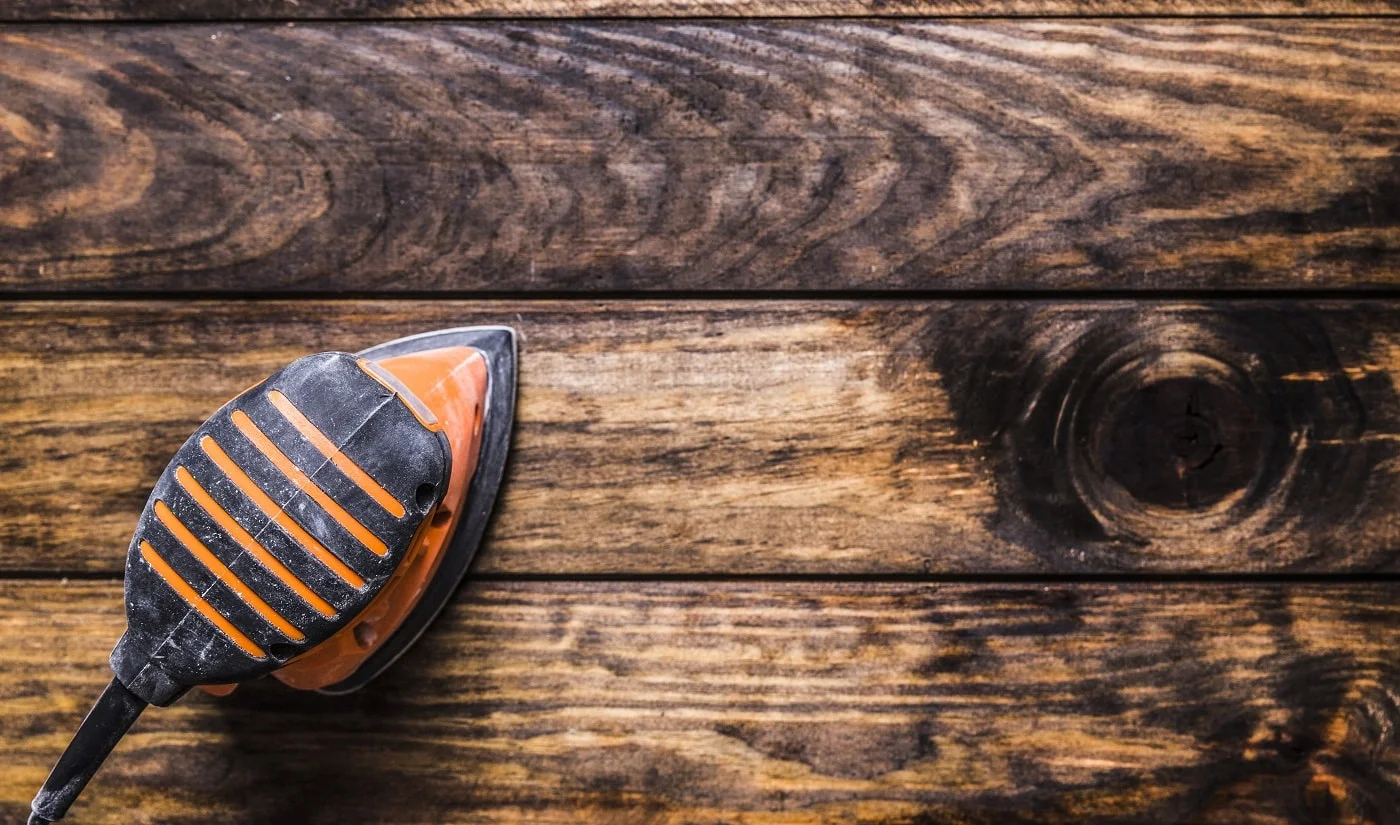 One of our top recommendations for consistent and flawless sanding is the DEWALT Palm Sander (DWE6411K). It boasts of a 2.3-amp motor which works at 14,000 OPM, ensuring that you get professional results. Read on to know more about the other features. 
Sale
Why Did We Like It?
First of all, this is a compact device that is 7 x 6 x 10 inches in size. It will fit in your hands easily, and you can cover large surfaces pretty fast, thanks to its efficiency. 
Also, it has a lower height when compared to some of its peers. This will help you look at the surface from up close, and it will ensure that precision is achieved. 
Not only that, it comes with a rubber dust boot and a locking dust-port system. The dust boot is a covering on the switches, and it prevents switches from getting dusty while you are working. Also, the locking dust-port system will ensure that the work process is not messy. It needs to be attached to a vacuum, and that will capture all the dust. 
Lastly, we were very happy with the reduced vibration. This prevented hand fatigue and ensured that we could work comfortably for a long time. 
What Could've Been Better?
While the dust-port system works very well, it needs a separate attachment on top that will then connect to the vacuum cleaner. This attachment is not provided, so you will have to purchase it separately, which will lead to an increase in overall costs. But now that you know about it, you can order it along with the product. 
Pros
Locking dust-port system

Works at 14,000 OPM

Rubber dust boot to protect switches

Lesser height for convenience
Cons
Separate attachment for vacuum required
Up next is a product known for its high performance and finger attachment. The BLACK+DECKER Mouse Detail Sander (BDEMS600) will help you reach even the most difficult spaces easily. You can get your job done quickly with this product in the house.
Sale
Why Did We Like It?
This product is 10.25 x 4.63 x 5.44 inches in size, and it fits tight and narrow spaces easily. You can use it for furniture with complicated or intricate designs. It only weighs 2.8 lbs, and hence you will not be facing any hand fatigue. 
Furthermore, it is powered by a 1.2-amp motor and works at 14,000 orbits per minute. This makes it a perfect choice for both DIY enthusiasts and professionals.
Also, the item comes with 3-position grip control that will let you move it with ease. We were very happy with the reduced vibration, and we had complete control over this. 
Lastly, the package comes with sheets of sandpaper, a finger attachment, and the tool itself. We were able to start using it as sandpaper was already provided in the pack. 
What Could've Been Better?
We were slightly disappointed with the dust attachment system as it did not work well. A lot of the dust kept falling onto the ground, so we would
 recommend keeping newspapers underneath. That should catch all the dust and prevent you from having to clean the entire surface. 
Pros
Fits tight spaces efficiently

3-position grip for better hold

Easy to use

Finger attachment included
Cons
Dust attachment malfunctions
Next up, we have another product from the house of Dewalt. The Random Orbit Sander (DWE6421K) weighs just 4 pounds and is a mid-sized product that will take care of your work and provide you with professional results. It comes in an attractive yellow and black color which represents the brand.
Sale
Why Did We Like It?
This one boasts a 3-amp motor and a spinning rate of 12,000 orbits per minute. It will ensure that the work gets done quickly. The sander is also 10.38 x 7.25 x 6.18 inches in size and has a shorter height. We were able to see the work surface better, thanks to this. 
Moving on, sanders, in general, are exposed to a lot of rough use, and hence delicate parts are always at risk. Dewalt has looked into this and ensured that all the critical areas are covered with a rubber mold. This will prevent any kind of damage due to force or external pressure. 
Plus, this features a separate counterweight design that ensures reduced vibration. You can work easily without any hand fatigue. 
Lastly, the sander comes with an improved dust port design with dust-sealed switches. This offers cleaner performance and makes the product more durable. 
What Could've Been Better?
We found that the power cord is pretty short, and you will not be able to take this sander too far away from the plug point. This might make it difficult to work on large surfaces. We will suggest that you keep an extension cord handy so that the work process is not hindered at any point in time. 
Pros
Short height for better viewing

Dust-sealed switch

One-handed locking dust bag

Rubber covering for delicate areas
If you want to avoid swirl marks on the furniture, then the Bosch ROS20VSC Palm Sander is going to be a great option. It has an integral pad dampening system which works perfectly well in preventing the swirl marks and leaving you with a clean top. You will love the bells and whistles that are offered.
Sale
Why Did We Like It?
The product comes with a HookTight hook-and-loop disc attachment system that works in ensuring that you can work with the disc well. It will ensure a firm grip on the disc, and this is paired with a microcellular backing pad. This pad will make sure that the top is smooth and the finish is perfect. We even found that the edges can be contoured well with this. 
Next, it has variable speed control that allows you to adjust the speed. You can toggle between 7,500 to 12,000 OPM, which will help you gain more control over the process. 
Along with it is a soft grip that will let you hold it easily. You can completely prevent all sorts of discomfort, thanks to this grip. 
Plus, the device comes with a micro filter system that catches even the tiniest of dust particles which are sized around ½ microns. 
What Could've Been Better?
If you are into making furniture professionally, then the dust collection port may pose a problem. It is small, and hence you will have to empty it multiple times. This can be time-consuming as you will have to stop the work process for cleaning up the dust port. 
Pros
Pad dampening system

Microfilter system

Variable speed control

Unique hook and loop disc attachment system
Cons
Small dust collection port
If you are looking for a product that will help in precise sanding and will ensure that tight corners are covered, the WEN 6301 is a great option. It offers an ergonomic grip and will ensure that your hands do not slip during the work process.
Why Did We Like It?
This comes with a 1-amp motor which spins at 13,500 OPM. It is accompanied by a 3.75 x 5.5 inches sanding pad which helps in assisting the dust to the dust holes. There is a fan attached which helps in the process, and we were able to have a mess-free experience. 
Next, the sander comes with an ergonomic grip which helps in perfecting the contours. It will fit easily into the palm of your hand, and there is ribbed rubber backing. This prevents the hand from slipping during the work process. 
Plus, it comes with a hook-and-loop base pad which makes removing sandpaper very easy. You can quickly change the paper in between the work process without any issues. 
Also, the compact size makes it easier to reach difficult corners. You can achieve complete precision with this. 
What Could've Been Better?
The only issue with the product is that it is very loud. Although it is small in size, this makes enough sound to disturb anybody sitting in the room. For this very reason, we were unable to use it at night or during odd hours. 
Pros
Pad with an angled tip

Dust collection port included

Velcro base pad

Spins at 13,500 OPM
Now that we are nearing the middle of this list, it is time to introduce the Makita BO4556 2 Amp Finishing Sander. It is smooth and comes with a 2 amp motor that spins at 14,000 OPM. We were satisfied with the fast and error-free experience. It is ideal for carpenters and woodworkers.
Why Did We Like It?
First of all, this one comes with large paper clamps that make it easier to attach sandpaper. We were efficiently able to install paper in the middle of the process without taking too long. 
Next, this is made for one-handed operation, and the on/off switch has been placed strategically. The switch is also coated with rubber to prevent it from getting damaged, and you can operate it easily. The rubber layer prevents dust from entering the switch and ensures better durability. 
Plus, this sports a through-the-pad dust collection system which helps in achieving a clean environment. The dust is pulled in and stored, and that prevents it from spreading all around the room. 
Moving on, we have to mention the rubberized grip, which will help you handle the device easily. The grip is also contoured to provide more control and space. 
What Could've Been Better?
The major issue with this product is that it vibrates a lot. We were slightly worried in the beginning, and we thought it might break, but that did not happen. This may not be suitable for those who have less physical strength. 
Pros
Rubberized palm grip design

Simple single-handed operation

Switches have rubber seals

Good dust collection system
Up next is a very efficient product that makes it easy to clean surfaces and finish sanding. The BLACK+DECKER Electric Sander (BDEQS300) will work excellently and will ensure a clean surface after you are done. You can use this on furniture as well as floors. 
Sale
Why Did We Like It?
To begin with, this one offers tri-layer filtration and will provide you with a clean sanded surface. It allows for a 270-degree flush sanding clearance, and we were honestly very happy with the results. We have been using this for our wooden floors too, and it works very well. 
Secondly, it comes with a soft grip that will help you work for long hours. This makes it suitable for professional use. Also, if you are renovating your house, this will help cover the entire area nicely. 
Plus, this is a very easy product to handle. Measuring 8.81 x 5.13 x 6.31 inches in size, it fits into narrow areas, and the 2-amp motor ensures flawless performance. 
It also has a paddle switch that will help you switch it on and off easily. The placement of the switch is such that you can easily access it during application.  
What Could've Been Better?
While it functioned well for us, we are unsure about how long it will last. The product is not made of very high quality materials so it may not be able to take on rough usage. If you are careful, then there is nothing to worry about. We would suggest using it with care, and that should help in making it last. 
Pros
Tri-layer filtration

Paddle switch for easy on/off

1,600 orbits per minute

Can fit tight spaces
Cons
Made of cheaper materials
We were looking for a product with a proper-sized dust bag when we came across the Craftsman Random Orbit Sander (CMEW231). It has a decent sized bag that will help in collecting the dust. We could look forward to a clean place, thanks to this efficient product. 
Sale
Why Did We Like It?
This is equipped with a 3-amp motor that allows the sander to spin at 12,000 orbits per minute. The motor gives it enough power to complete jobs quickly, and you can aim to work on large projects with ease. 
Also, since the size is 10.13 x 5.5 x 5.75 inches, you can easily fit it into narrow spaces. We were working on a bed with intricate designs on the sides, and this helped us sand it properly from all areas. 
Next, it has an onboard dust collection bag that will hold the dust and prevent it from flying around. This makes it perfect for indoor use as the dust does not spread around much. 
Adding on, the switches are protected from dust with a seal around them. The seal prevents any form of dirt or debris from entering the body and this, in turn, makes it more durable. 
What Could've Been Better?
We found that the dust port connects to only a 1 3/4th inch vacuum hose. You will not be able to connect it to any other hoses. So, first, measure the vacuum that you have in the house and only then go on to purchase. This way, you will not face any drawbacks, and you can then look forward to a smooth experience. 
Pros
Sealed switches to prevent damage

Onboard dust bag

Known to be durable

Lightweight at 3.5 pounds
Cons
Does not connect to every vacuum
Do you want to work on a lot of surfaces? The SKIL 7292-02 will help you do so without worrying about the dust. We were very happy with the dust collection port and the efficiency that it offered. This comes with a number of features that stand out, and you should read on to know about them.
Sale
Why Did We Like It?
The feature that stands out the most here is its transparent dust collection port. This ensures that you are always able to see how much dust has been collected. Empty it as soon as it is filled, and you can have a very clean space. 
Also, this is equipped with pressure control technology that keeps a watch on the amount of pressure applied. If you go overboard, then you will be receiving a warning. This worked out well, especially when we were working for long periods of time. 
Moving on, there is a built-in vacuum adapter that helps us collect dust. This will make it very easy to connect to a vacuum and pull all the dust. 
Plus, we loved the customer care service, and they were very helpful in dealing with our queries. We did not have to wait at all, and we got our queries answered within minutes. 
What Could've Been Better?
We found out that ¼ sized sheets of sandpaper do not fit well, and you will need one which is bigger by a few millimeters. This will help you align and work properly. Now generally, people use the standard ¼ sheet, and you will have to cut separately to ensure smooth functioning. 
Pros
Micro-filtration system

Pressure control technology included

Transparent dust collector

Built-in vacuum adapter
Cons
¼ sized sheet sandpaper does not fit
If you are looking for that perfect device for home decoration and gift-giving, then the TECCPO Mouse Detail-TAMS22P is a great choice. It is an excellent gift to give your loved ones if they are enthusiastic about woodwork. Plus, it comes with sandpaper, and you can begin working immediately.
Why Did We Like It?
We loved the narrow head design, which allowed us to work with difficult corners. The edge is made in such a way that you can use it in narrow corners, and you can work on edges, and all kinds of floor spaces too.
Further, to make work a lot easier, this one has a rubber handle that is easy and comfortable to hold. The product is lightweight and comes with a good grip. You will be able to work easily and for longer hours. The rubber is also very soft and will prevent any kind of hand fatigue. 
Adding on, this one comes with a reusable dust collection bag. A powerful copper motor powers a highly efficient fan, and that is connected to the dust bag. This fan ensures that the wood dust is collected inside this bag and the surrounding areas remain clean.  
What Could've Been Better?
The only downside to this item is that when you have to press its off button, the same hand cannot be used. This might prove to be slightly time-consuming in the beginning, but you will get used to it. So, we will not be holding it against the other brilliant features. 
Pros
12 pieces of sandpaper provided

Reusable dust collection bag

Narrow head

Rubber handle
Cons
Does not facilitate one-hand use
One of our final recommendations for clean and efficient sanding is the Genesis Corner GPS080. It is perfect for small projects, and you can keep it in the house for small needs. This is a great option for DIY enthusiasts who want to work on wood.
Why Did We Like It?
First of all, we will talk about the power, and it spins at 14,000 orbits per minute. This ensures that the process is fast and efficient. You can cover a large space in a small amount of time. 
We have also been using it for small projects like table stands, chair legs, cabinets, etc. Since it is 7 x 6 x 4.25 inches in size, we were easily able to navigate different surfaces. 
Next, we will move on to the convenience offered, and this is equipped with a hook and loop accessory fastening system. It is very easy to use, and you can quickly change the sandpaper that you are working with. And the best part is that you do not need to be pressing clips every time. 
Lastly, this is known to be a durable product. That is special because of the dust-protected on/off switch, which is sealed to prevent dust from entering.  
What Could've Been Better?
The only issue with this is that it starts rattling if you use it for a long while. There are increased vibrations which often make us worried, and we immediately stop the device. But to date, it has been working fine, and we have not faced any issues with its functionality. 
Pros
Speed of 14,000 orbits per minute

Sealed and protected on/off switch

Known to be versatile

Comes with 3 sandpapers
If you were looking for a portable product, then the Ryobi P440 One+ 1 will be an excellent option. It is small and weighs only 2.30 pounds. We gifted this to one of our friends, and it turned out to be an excellent gift. They are woodworking enthusiasts, and this helped them achieve professional results.
Why Did We Like It?
Made of high-carbon steel, this is a lightweight product that is known to be very durable. The steel ensures that there are no damage to the body even during rough use. 
Next, since this is a battery-powered device, you can move it around easily. There are no cords to restrict movement, and you should not be having a difficult time with it. You can also take it from one worksite to another easily. This is a great product to use outdoors where there are no plug points nearby. 
It also spins at 12,000 orbits per minute and can run for 40 minutes at a stretch. That should give you ample time to cover large surfaces or a number of surfaces at one time. 
Plus, when it comes to sandpaper, it boasts of a ¼ sheet design, and standard-sized sheets can easily be used. Attach them and switch on the machine for easy operation. 
What Could've Been Better?
We were a little bothered by the loud noise that it would emit. The sound will not be a problem if you are working outdoors, but inside the house, it can resonate. We will recommend not using it during odd hours, and then it would not pose any problems. Otherwise, there were no other issues with this. 
Pros
Runs at 12,000 orbits per minute

Easy to transport

Lightweight and durable

¼ sheet design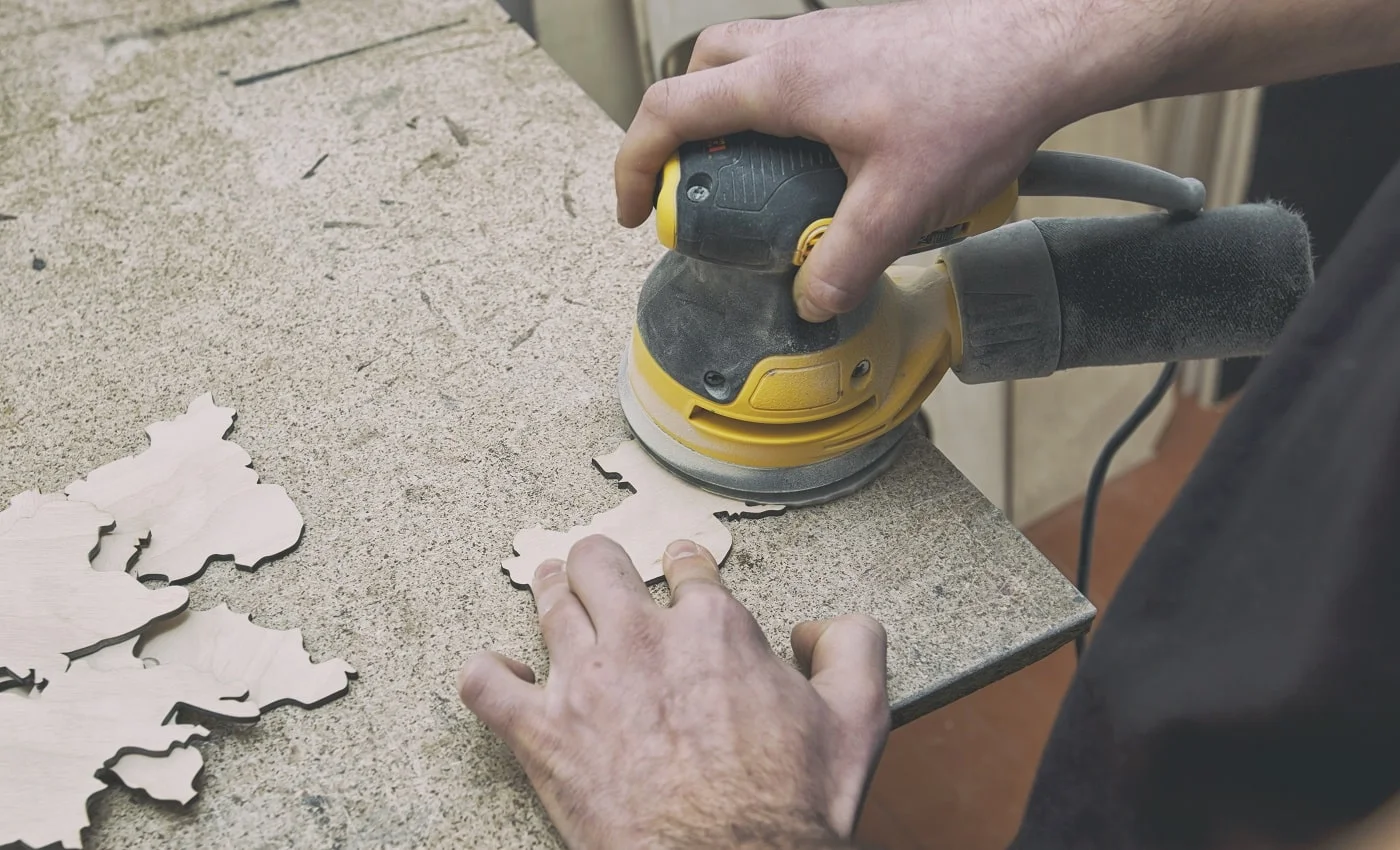 Palm Sander Buyer's Guide
A good sander should make your job way easier. Now that you have gone through the top 13 choices, you must already have a good idea about the features to consider. But there are some factors which will help you make a better choice. And we have listed them down for your benefit. Read on to know all about them. 
Dust Collection Port
Sanding can lead to a lot of dust being released into the air. Hence, we believe that a good dust collection port is mandatory as it will not only keep the area clean but will prevent you from inhaling it. Inhaling dust is extremely harmful to your system, and we will recommend wearing a dust mask while working. 
With the addition of dust ports that need to be connected to vacuums, you should be able to reduce the amount of dust and wood chips a lot. We will recommend keeping newspapers below the work table so that it is easier to clean up later. This is because even with dust ports, there will still be some dirt and debris that cannot be captured.
Grip 
The grip is an essential part of the product, and it has to be good for proper functioning. Now in most cases, the grip is made of rubber, and there are lines that prevent it from slipping out. The rubber protects your hand from extreme pressure and prevents hand fatigue at all times. 
Durability
Another very important consideration is the durability of the product. Now since there is a lot of dust that is released, it often gets into switches and delicate areas. This might lead to it malfunctioning or might stop functioning altogether. 
To prevent this, some of the devices have a rubber mold on them that covers all the important parts completely. The switches are then completely protected from damage and dust. 
Cord Length
Now, although there are battery-powered options in the market, corded ones are more popular. And the best part about them is that they are way lighter too. But you might face a problem with the length of the cord since these can be very short in some cases. 
A short cord would not allow you to work too far from the plug point, and you might face difficulties covering a large surface. 
We will recommend getting extension cords in such cases, and that should help you out. Check the description carefully to find out the length of a product's cord before purchasing, and you should not face any problems. 
Detecting Pressure
Now some products today come with a pressure-detecting mechanism that will help you detect the amount of pressure that is applied. With options that have this system, you will find a gauge on the side that will show you the amount of pressure applied. 
In case you go over the limit, there will be an indicator light or a vibration. This should warn you to reduce the pressure immediately. We found this to be a very beneficial factor, especially when working with delicate and highly intricate surfaces.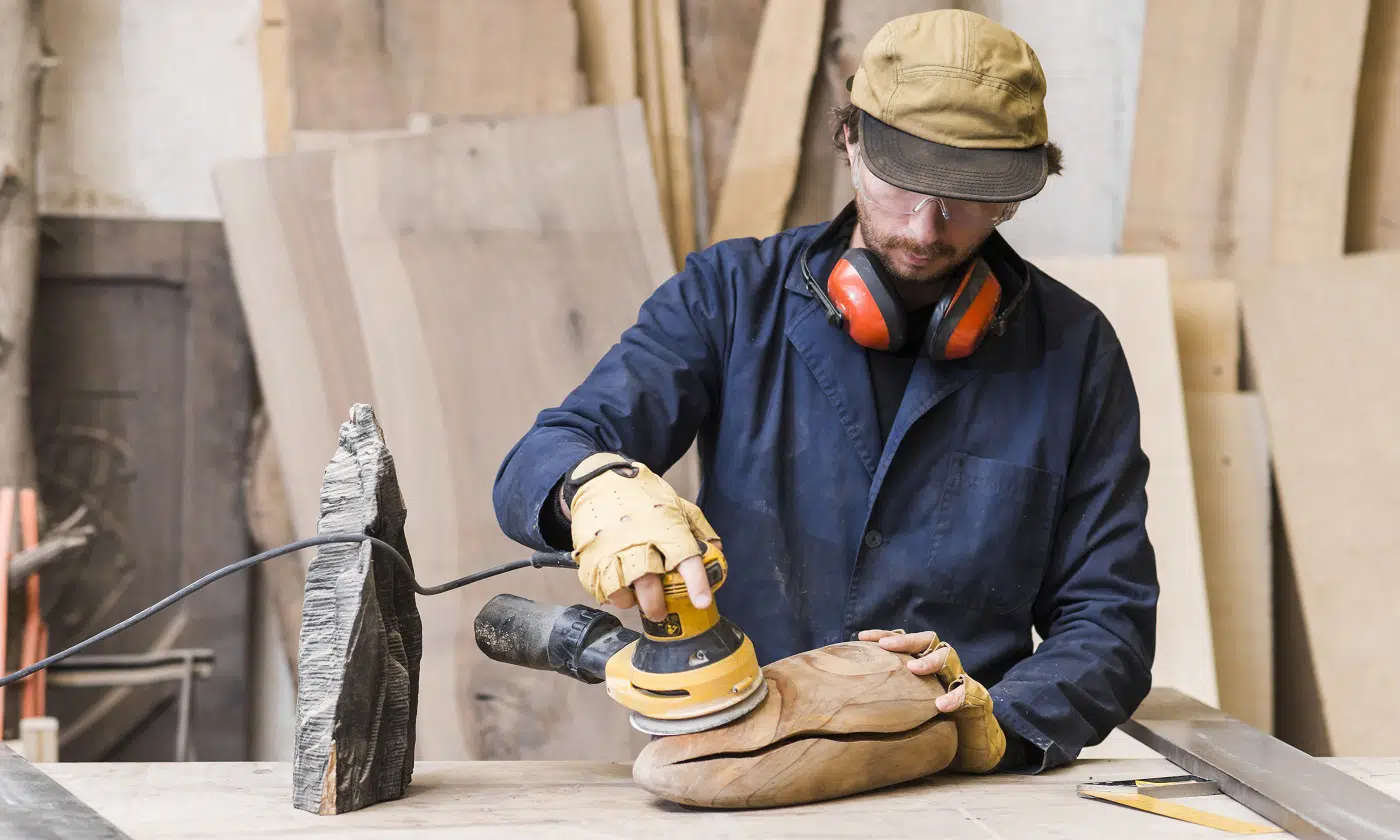 Verdict
We have finally come to the end of this guide, so we will let you take a moment to absorb the information. 
Remember that a good palm sander should not give you any kind of hand fatigue; instead, you should be able to enjoy the work experience. Also, wear a mask during the process to prevent anything sharp from getting into your eyes. 
Having said that, let's take a quick recap of our favorites. The DEWALT Palm Sander (DWE6411K) is our personal favorite for its flawless sanding experience. 
On the other hand, the BLACK+DECKER Mouse Detail Sander (BDEMS600) ranks high when it comes to smooth performance. And if you want to avoid swirl marks, the Bosch ROS20VSC Palm Sander is a brilliant choice.
With this, we will take your leave. Let us know about your favorite in the comment section below. 
Happy shopping! 
Related Articles
13 Best Cordless Oscillating Tools 
Simply the Best Stained Glass Ring Saws 
49 FREE DIY Router Table Plans For an Epic Home Workshop
10 Best Shop Vacs For Dust Collection 
11 Best Hammer Drills on the Market Today
11 Best Tap And Die Set on the Market Today | Buyer's Guide
13 Best Tile Saws Reviewed | Buyer's Guide
6 Best Chainsaw Brands to Consider 
11 Best Sliding Compound Miter Saws
Different Types of Saws & How to Use Them 
Table Saw Vs. Circular Saw [Differences & Winner]
Single Bevel Vs. Double Bevel Miter Saw  
11 Best Belt Sanders Right Now
13 Best Random Orbital Sanders