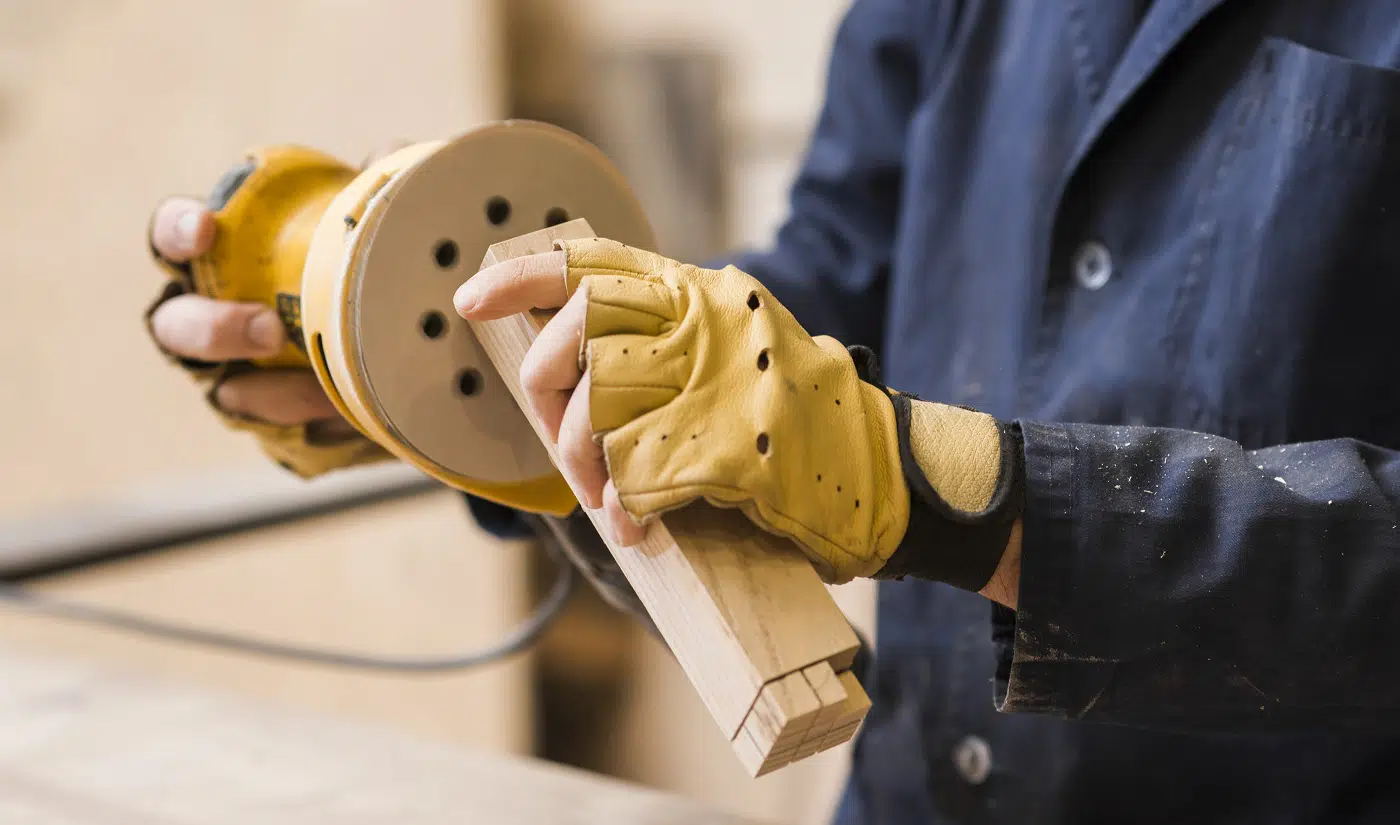 Every seasoned DIYer knows that hand sanding is a necessary evil.
Often, we find a gorgeous vintage coffee table at the flea market. But the dreaded task of sanding the piece down makes us wonder whether it is really worth the bargained price. 
At the same time, to forgo this step and move on to lacquering the piece is akin to ignoring the foundation of the work. And, of course, no good job has a shaky foundation. 
Fortunately, you now have large power tools to ease your pains. And yet, finishing by hand remains essential for achieving an even and skillful result. Even experienced home-improvement aficionados are uncomfortable with holding sandpaper while working. And let's not forget about the accompanying broken fingernails and finger fatigue! 
Lucky for you, we have brought together all the best hand sanders on the market that will make your hand-sanding experience more manageable and finger-friendly. Go ahead and pick one for your next restoration project.
Best Hand Sanders For Furniture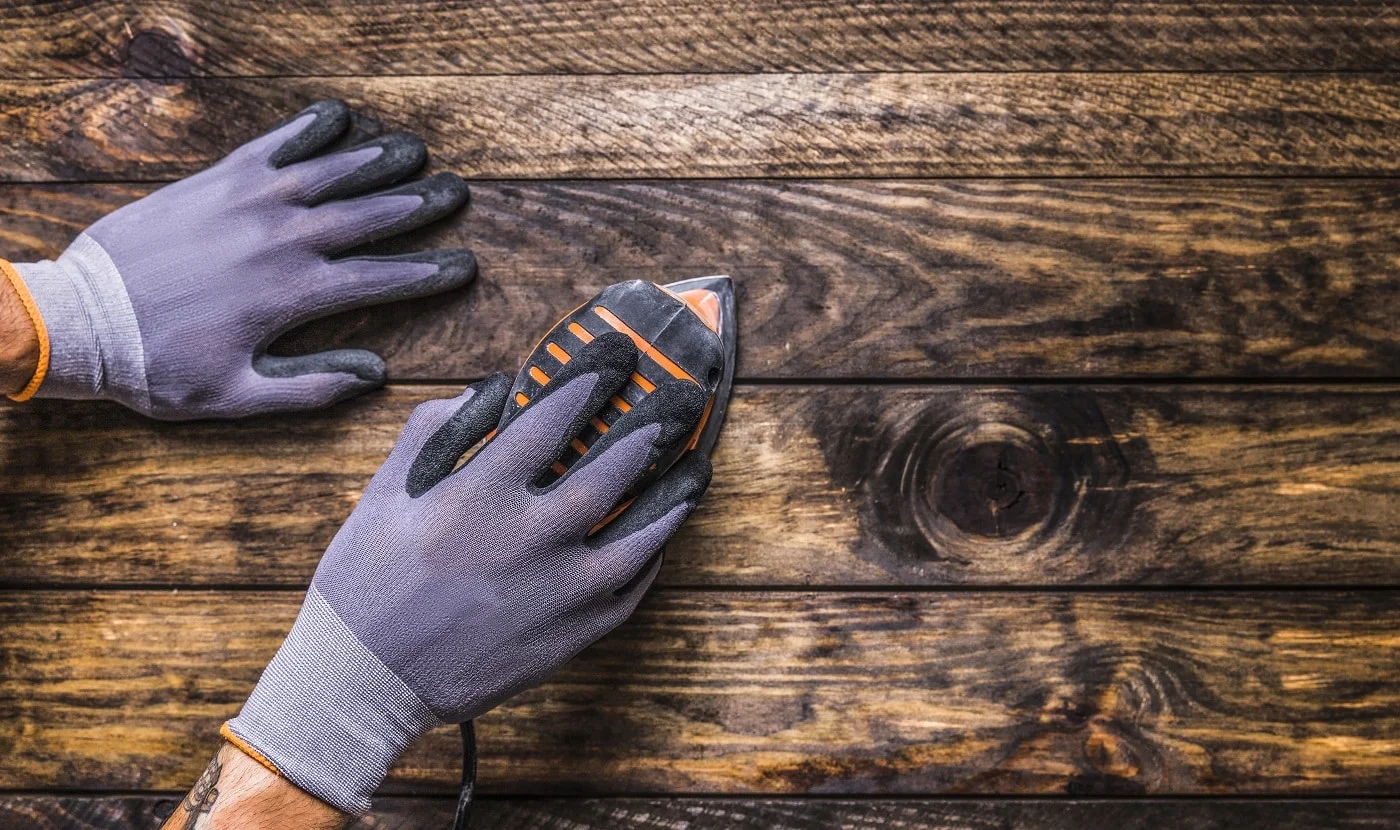 Black and Decker have been in the business for over 175 years. This advertently means that literal generations of Americans have trusted the products from this company for decades. However, this detail sander is a relatively newer model that provides all the features of a modern and innovative 21st-century hand sander.
Sale
Why Did We Like It?
Also famously known as B&D's "Mouse" Detail Sander; the name is fitting – and not just because it comes in a small size. In fact, the device also runs as quietly as a mouse.  
This lightweight hand sander is conveniently sized to do detailed sanding jobs. While it is compact, the strategic design helps it slide into crevices and harder-to-reach spots. Moreover, it comes with a finger attachment that can be adjusted to sand between fittings, such as chair splats and rails. 
Angular surfaces, such as shelf corners, are also no more out of the coverage area with the triangular-shaped base. Simply attach the sandpaper pads and start working on the surface. What's even better is the compact bin attached to the device. It will readily catch all the dust, which can directly be disposed of with minimal mess. 
What Could've Been Better?
Without a doubt, this hand sander works fast. In fact, it can finish a job in 10 minutes, which would've ideally taken about 5 hours to do with just sandpaper. Needless to say, to compensate for the power, the sandpaper has to be changed frequently.
Pros
Less noise

Compact and lightweight

Powerful and works fast

Attached dust-collecting bin
Shell out a couple of extra dollars and get this flagship hand sander from the US-based company Makita. Apart from providing the rigorous quality control that most off-brand sanders ignore, this product adds some nifty and unique features to the mix.
Why Did We Like It?
The high-quality design and attention to detail are perhaps what sets this hand sander apart. With that being said, this unit has two large finger-trigger switches that are convenient and easy to locate. 
But what really makes this an ergonomic tool is the front knob and pistol grip; you can choose to work with your hands in different positions to minimize strain. At the same time, this tool is lightweight and comfortable enough to be used with just one hand, and even for overhead jobs. 
What's more, low vibrations will ensure that you don't lose control even as you turn up the variable speed settings to a maximum of 12,000 OPM. Additionally, it has a quiet hum, making it almost noiseless. 
In fact, all the power is focused on sanding your work surface. And, of course, the sanding work itself produces superior results free of swirl marks – all thanks to the soft start and stop.  
What Could've Been Better?
The knob for changing the speed settings can be found at the top of the unit, which has the numerals 1-5 printed on it. Switching between these settings is easy since there are no detents, the knob turns itself between the settings with the slightest touch. This, along with the placement of the feature, makes it susceptible to accidental speed changes.
Pros
The package includes sturdy carrying case

Dust collecting system is a cut above the rest

Produces minimal noise

Ergonomic and lightweight
Cons
The speed setting feature has no detents
Having multiple options for your sanding needs is always welcome. With that in mind, the makers at DEWALT have designed this handy hand sander that offers various operating speeds. You can now set the motor speed from anywhere between 8000 to 12,000 OPM.
Sale
Why Did We Like It?
Nothing says technologically advanced like a cordless tool. And, indeed, this innovative hand sander from DEWALT runs on batteries. Use either 4.0Ah or 5.0Ah batteries to power this tool, and carry it anywhere to begin work. Needless to say, you won't be tripping over a long extension cord.
Another helpful feature is the variable-speed control that lets the user adjust the OPM depending on the surface at hand. And as any experienced woodworker knows, too much power can sometimes result in gouges and scratches. Clearly, this seems counterproductive for a sander. 
To top it all off, this hand sander is an ergonomic tool fitted with a rubber handle that provides comfort and grip. Hand fatigue and arm soreness won't be a problem even after hours of working with it.  
What Could've Been Better?
For ease of cleanup, this hand sander comes equipped with a slot that can fit dust collectors and some vacuum cleaners. Unfortunately, the dust collectors and connectors for vacuum hoses are sold separately. Similarly, even the replacement pads are not included in the package.
Pros
Compact and Lightweight

Cordless and runs on batteries

Ergonomic

Replaceable Velcro pad
Cons
Dust collectors and vacuum connecters not included
Nothing piques our interest like a company that provides free tidbits along with the actual product we ordered. This hand sander from Bosch delivers a whole sanding kit with every purchase. It's also an excellent product for those who have an aversion to dust and mess.
Sale
Why Did We Like It?
The brand Bosch believes that "comfort comes first." Unsurprisingly, this nifty hand sander is designed with a soft top that keeps hand fatigue and discomfort at bay. Furthermore, it provides multiple grip positions and produces low-vibrations that are easy to control.
Perhaps, what is most striking about this hand sander is its solution to an age-old problem faced by most power sanders – that is, swirl marks. With this product, expect to get a swirl-free smooth finish facilitated by its internal dampening system. Yes, this means that you don't have to sit and re-sand with your hand and some sandpaper. 
Moving on to the complimentary parts, you will also receive a dampening ring, a dust canister, a sanding disk, and a vacuum adapter – all rolled inside a carrying case. Lastly, the dust-control system also deserves an honorary mention. Its built-in microfilter traps fine dust as small as ½ microns in diameter and stores it in the canister that shows the dust level at all times. 
What Could've Been Better? 
Even though this product comes with a spectacular dust-collecting system, the amount of dust fills up the canister within just a few minutes. Moreover, since it traps even the finest of dust, cleanup has to take place outdoors. Needless to say, going outside to empty the bin after every few minutes is time-consuming.
Pros
Smooth finish

Low vibration

Dust and mess-free

Complimentary carrying case and kit

1-year warranty and service protection
Cons
Dust canister has to be emptied frequently

Slower setting has less power
Looking for a budget hand sander that has all the qualities of a top-notch product? Skil might just have what you need. Despite being priced at almost half the market cost of competitors, this fabulous find is equipped with everything you need for detailed sanding jobs.
Sale
Why Did We Like It?
Of course, the slashed prices can be credited to this product gathering up a cult following. However, even at a discount, this hand sander provides three additional attachments and an assorted pack of sandpaper. 
You will receive five pieces of 50, 60, and 80-grit sandpaper of differing sizes with this product. Needless to say, versatility will not be an issue, and you can easily use these to sand on surfaces – either small or large. In fact, the finger pad is a great addition that truly makes this hand sander what it claims to be – a detail sander. 
What's more, the hook and loop system ensures that switching between the sanding sheets is a piece of cake. This doubled with the low vibrations, making it easy to control the powerful tool. 
What Could've Been Better?
Although this hand sander comes cheap, to say the least, it provides a set of sandpapers that perfectly fit into the pads. However, these pads and complimentary sandpapers are not of universal size; users have to order customized sizes from the store. Alternatively, store-bought sandpaper can also be cut to fit; but this advertently leads to wastage.
Pros
Inexpensive

Able to reach corners and small areas

A complimentary set of sandpaper

4-in-1 hand sander

Low vibration
Cons
Pads are larger than the universal size

Dust collecting system can be better
A relatively new entry in the world of hand sanders, TECCPO is an emerging name in the US for all the right reasons. Even as a young company, their detail hand sander already has what it takes to become one of the leading products in the business.
Why Did We Like It?
Not just limited to sanding wooden furniture, this hand sander has a wide application. From sanding walls before painting to polishing metal knives, it does the jobs equally well. 
Moreover, it is lightweight and easy on your neck and shoulders. So, sanding over large spaces or high up on walls won't leave you in pain the next day. In fact, this tool can be held in one hand to sand with ease and the same amount of precision.
At the same time, dealing with small spaces and corners won't be an issue either. After all, the unit has a nice point – just like a pressing iron. What's more, the hook and loop velcro makes it much easier to switch between the sandpapers that come with the pack. Speaking of which, you will be provided with six coarse grit and six fine grit sandpapers to get you started.  
What Could've Been Better?
Be prepared to clean up the dust that comes with using this hand sander. Although the unit comes with a dust collecting system, the dust that it is expected to trap flies all around and lands on the workspace.
Pros
Made of high-quality materials

Complimentary set of sandpapers

Lightweight

Wide application
Cons
Dust filter does not trap dust well
The WEN 6301 model is a small but powerful palm sander that targets all the fine details and small corners of your work surfaces. To top it all off, the bargain price makes it an absolute steal.
Why Did We Like It?
Inexpensive doesn't mean it's junk – and WEN proves this with their palm sander. Weighing at about 2.5 lbs, this sander is lightweight and easy to use. Moreover, the compact size fits like a glove even if you have tiny hands.
At the same time, this sander boasts a robust 13,500 oscillations per minute despite being pocket-sized. Needless to say, it can reach into tight spaces and accomplish fine detailing work, especially with the pointed tip to boot. Interestingly, this product is shaped like an iron, which is starkly different from the traditional rectangular-shaped palm sanders.
What's even more striking about this miniature sander is that the makers managed to pack in other features, such as dust slots. If that doesn't suffice, use the additional port built to connect the unit to a vacuum cleaner.  
What Could've Been Better?
Perhaps, it is asking too much in this price range, but the dust pouch on this product could not trap much dust. However, this seems like a common issue with most budget finds. Additionally, the delicate angled tip started showing signs of wear after a few months of use. If not for this flaw, the product would've made WEN a winner!
Pros
Budget palm sander

Lightweight

Powerful

Reaches small gaps and tight corners
Cons
Dust slot doesn't trap any dust

Delicate angle tip
This hand sander from Meterk dons a sleek look in orange and black. One of the latest entrants to the hand sander game, this unit has quickly garnered great reviews from happy buyers. Interestingly, in terms of price, the product also falls in the lower range of our list.
No products found.
Why Did We Like It?
Any penny-pinching DIYer knows that budget electrical tools often suffer from overheating. Perhaps, the designers at Meterk had this in mind, and so they decided to install heat emission holes in the product. With that being said, heat dissipates effectively, and even after 6-12 hours of use, there is no sign of overheating. 
Perhaps, this lends a helping hand to the sander in proving that it is a durable machine, especially for its price point. In terms of the actual sanding work, this tool is a workhorse, despite its small size. In fact, only a few minutes will be enough to sand down the threshold of a door with this in hand.
What's more, the product comes with a set of sandpapers, which includes eight pieces of 80 grits and eight pieces of 180 grits. These are shaped to fit perfectly on the sander base that is equipped with a self-adhesive disc design. Swapping pads is a breeze with this feature.   
What Could've Been Better?
This product does not come with a dust bag. Perhaps attaching it to a vacuum via the dust collection port was intended to be the primary method to deal with dust. Even so, the port is not of a standard size, and some DIY solutions may be necessary to find a use for it.
Pros
Heat dissipates fast with emission holes

Cost-effective

Complimentary sandpaper set

Easy to swap sandpaper and pads

Useful for detailed sanding
Cons
No dust bag

Vacuum port is not of a standard size
Looking somber in all black, this product means strict business. Not only does it look rugged and tough in appearance, but this hand sander from GALAX PRO also plays the part. In other words, it is durable, robust, and reliable.
Why Did We Like It?
Considering how powerful this tool is, the variable speed setting is a great addition. With that being said, users can adjust the speed between 6000 and 13,000 RPM. 
The sanding pad itself is relatively large and has a diameter of 125 millimeters. Taking all this into account, it's safe to say that sanding down large surfaces made of rigid material, such as metal, won't be much of a hassle. 
What's more, with this product, you will get a set of 15 sanding discs that attach perfectly to the velcro pad. For added convenience, this set includes five different pieces, each of 80 grits, 100 grits, and 120 grits. 
Aside from the elbow grease involved, perhaps the most dreaded part of sanding is the cleanup involved. Thankfully, the dust collection system of this unit, unlike many others in this price range, works quite efficiently. The hand sander itself comes with a dust-proof switch and a dust collection bag that attaches easily to the port.  
What Could've Been Better?
Given the large-sized sanding pad, this palm sander is excellent for smoothening down large areas, such as floors and tables. At the same time, it cannot reach into corners or crevices, owing to its bulky build and the lack of any angled tip.
Pros
Variable speed settings up to 13,000 RPM

Large sanding pad

Set of 15 sanding discs included in every purchase

Dust collection is efficient
Cons
Not useful for detail sanding and corners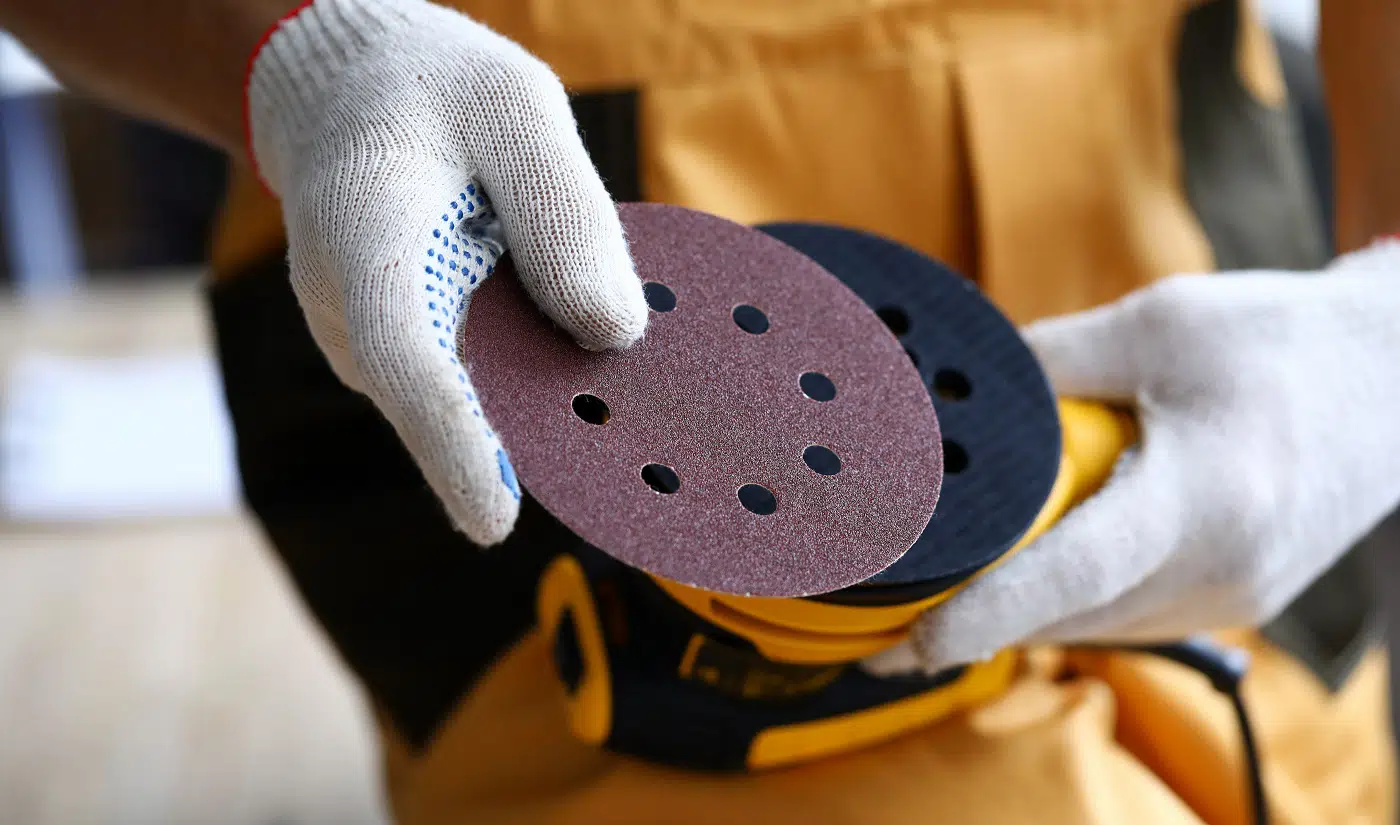 Hand Sanders for Furniture Buyers' Guide
Whether you have a heavy-duty or a medium-duty task at hand, there's a sander for every occasion. While ever-developing innovative hand sanders make home improvement more effortless, the dizzying plethora of options makes it harder to pick the right one. 
Ease into it and get started with these pointers in mind. 
Type Of Sander
To begin with, you need to pick the correct size and type of sander. Naturally, you would be better off with a belt sander for more extensive work surfaces, such as hardwood floors. For smaller surfaces, such as cabinets and other pieces of furniture, smaller electrical sanders will suffice. 
In this section, we will round up the types of medium-duty hand sanders that serve different purposes.
Also known as orbital sanders, these machines generally have square sanding pads that move around in circles – sometimes leaving behind swirl marks. On the other hand, these are powerful tools that are great for medium to high-duty work and larger surfaces, such as walls. 
Although it is a time-efficient hand sander, rotary sanders are not the best option for dealing with angular surfaces and tight corners. Also, owing to their relatively larger build, they are not ideal for detailed work. Usually, a fine job involves both bulkier powerful tools and smaller sanders that can get into nooks and corners.
Easily identifiable by their triangular sanding pads, detail sanders have pointed tips that may give it the shape of a pressing iron. This angular tip is a great feature for precision and accuracy when dealing with harder-to-reach areas, such as chair spindles and cabinet corners.
In addition, some detail sanders are equipped with separate finger attachments that are designed for even more nuanced work. These compact tools are also known as "mouse" and "corner" sanders.  
As the name suggests, palm sanders generally fit in the palm of your hand. These compact tools work well for delicate jobs over small areas.  
One of the most significant advantages of these miniature hand sanders is that it minimizes the chances of swirls to be formed on your work surface because it does not exert too much pressure. At the same time, elbow grease and the time taken to complete the job may increase. 
Cords Or Cordless
Some electrical hand sanders need to be connected to a power outlet to work, while others can work on batteries. 
When operating a corded hand sander, users may choose to connect it directly to the power source or add an extension cord to increase mobility. However, a corded electrical appliance offers the benefit of working indefinitely, provided there is a power source. 
On the other hand, cordless hand sanders minimize the risks of tripping over wires, especially in a messy workshop. Moreover, these portable hand sanders are a boon for those who wish to work in their yard or, perhaps, on a boat where a power source might not be readily available. 
Variable Speed Settings
Not every hand sander is equipped with the option to select the speed with which the tool works. Usually measured in OPM (oscillations or orbits per minute) and RPM (rotations per minute), the critical thing to remember is that the higher this number is, the more damage it does. 
While a higher speed might be needed for stubborn material and the initial stages of sanding, it may cause splintering if used over long periods.
Dust Collecting System
It comes as no surprise that shaving off layers of wood will produce dust. And it is no secret that painting or lacquering over specks of dust spells trouble. So, to combat the mess and discomfort that flying dust brings, some hand sanders will provide dust bags or a vacuum cleaner port. 
Verdict
Sanding down furniture before beginning work may not be a fun or refreshing job. However, electrical hand sanders at least make it easier on your wrists, neck, and elbows. 
With that being said, the Black and Decker BDEMS600 model is your best bet if you are looking for a budget hand sander that seemingly has it all. It is compact, powerful, and great for detailed work, and everyone will vouch for this old-timer brand's standard of excellence.
On the other hand, the Makita's BO5041K model will throw in a few useful additional features for a couple of extra bucks. All in all, it comes down to what type of furniture you are seeking to upcycle or preserve.
Either way, pick one of these handy hand sanders to give you a helping hand. Happy shopping!
Related Articles
19 Different Types of Mid-Century Modern Furniture
40 Of The Most Unusual and Bizarre Furniture Designs You Have Ever Seen
13 Best Cordless Oscillating Tools 
Simply the Best Stained Glass Ring Saws 
49 FREE DIY Router Table Plans For an Epic Home Workshop
10 Best Shop Vacs For Dust Collection 
11 Best Hammer Drills on the Market Today
11 Best Tap And Die Set on the Market Today | Buyer's Guide
13 Best Tile Saws Reviewed | Buyer's Guide
6 Best Chainsaw Brands to Consider 
11 Best Sliding Compound Miter Saws
Different Types of Saws & How to Use Them 
Table Saw Vs. Circular Saw [Differences & Winner]
Single Bevel Vs. Double Bevel Miter Saw  
11 Best Belt Sanders Right Now
13 Best Random Orbital Sanders