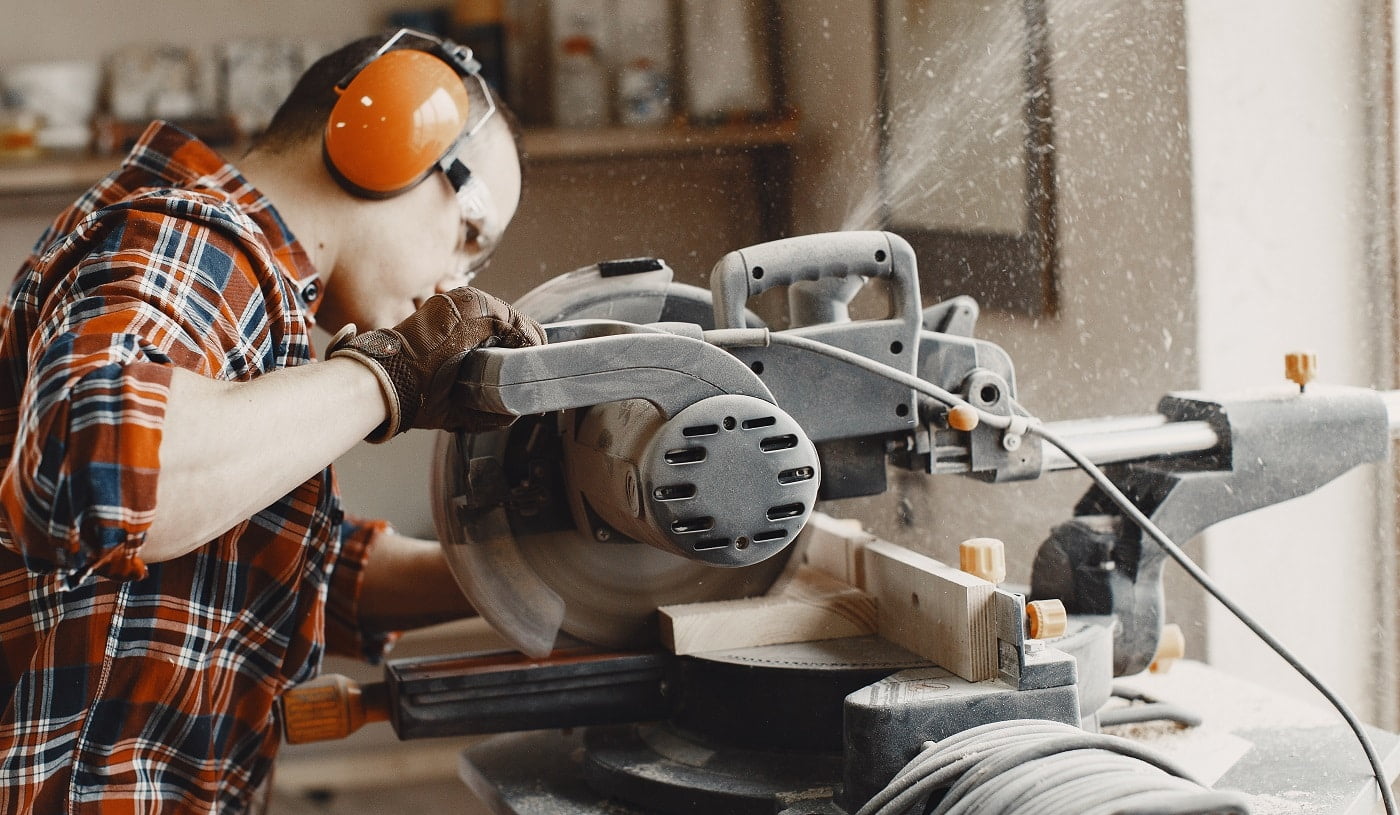 The right tool can make your life easier. Anyone into woodwork can vouch for how useful it can be to invest in a good miter saw. 
But there are so many blade types and sizes available. If you have to choose just one, which one would that be? Would you go for the smaller 7.5-inch blade or the enormous 20-inch one? Very large miter saws are not useful for regular use for either professionals or hobby carpenters. In fact, the most common blade sizes are 10-inches and 12-inches. 
But many of you might be wondering which one to settle for your wood cutting projects. We're going to help you clear the differences between the 10-inch and 12-inch saws, along with listing the best brands and models available for each size. Lastly, we will attempt to declare a clear winner between the two.
So, let's get started.
All About The 10-Inch Miter Saw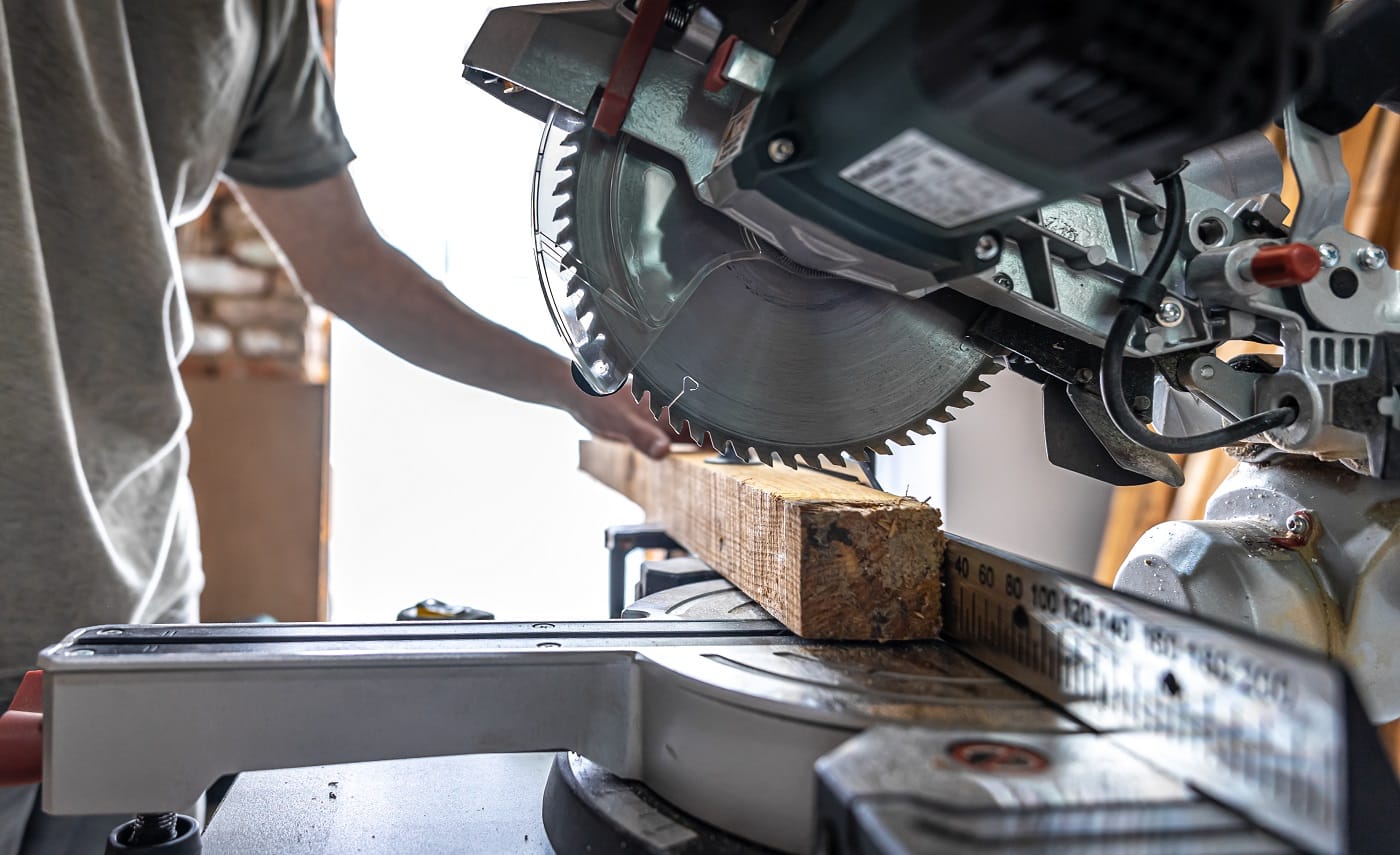 Most woodworkers have the 10-inch miter saw by default, and it is their first go-to option. This may be since it is pretty versatile and works on softwood and hardwood equally well. 
Many woodworking projects can't be completed without a miter saw and sometimes need to be carried to work locations. Try picking up your 10-inch miter saw to and from the truck or to your work table, and most likely, it won't be an issue. But the larger models are bulkier and quite heavy to lift, which could be a factor for the rising popularity of 10-inch saws.
A good blade quality makes it easier and smoother to connect with a wooden plank and get neat cuts. As for the 10-inch blade size, it is adequate for 3 to 4-inch thick blocks of wood. But anything larger than that, and you'll need to flip the wood over to get the job done.
Another thing to note about 10-inch miter saws is their ability to spin exceptionally fast. Although, the speed of the blade doesn't change the outcome, there are slight differences nonetheless. The advantage might not matter in cutting fine wood pieces, but they perform better on thicker wood to create deeper cuts. This also means that full spin speed is achieved much sooner than other larger blades. 
Advantages Of 10-Inch Miter Saws
When you buy any new machine, isn't it important to be able to find the replacement parts easily? Once you start using your new saw, it's great as long as it works well. But after the blade gets damaged, you need to search and fit the correct sized blade. Now, since 10-inch saws are more popular, their blades are more readily available on the market. 
To replace a 10-inch blade, you can find a bunch of styles that fit the machine at a reasonable price. Speaking of prices, the 10-inch blade is actually cheaper than its 12-inch counterpart. Here's how. 
Many times, 10-inch saws are compatible with table saw blades. This means you can use a spare table saw blade for the miter saw if you ever need to replace it. 
Also, if you go to the market to buy a replacement blade, the 10-inch will always be cheaper than 12-inch blades. Another advantage of the 10-inch miter saw is that cutting 12 inches of molding is possible with this saw if using a flat table with a bevel and sliding feature.
Best 10-Inch Miter Saws
When it comes to reliability, this 10-inch miter saw by the Makita brand is the real deal. The saw is quite durable and doesn't lose its efficiency over time. The LS1019L model is an updated version of the previous LS1019L model with a dual bevel slider. 
It has an exceptional vertical cutting capacity with a retractable guard system covering most of the blade to keep the user safe and injury-free.
If we talk about accuracy, this saw has a "Laser-guided system", making it easier to view the cutting line and form precise cuts every time. It also has a patented Four Steel Rail Sliding system which gives you four sliding fences that can be adjusted to proceed with bevel cuts.
Furthermore, the guard covering the blade is made of see-through synthetic material, which allows you to see every path the blade follows. This added feature tremendously increases visibility, making for a better user experience.
Not only that, this saw has dual front bevel scales which make precise and clear cuts easily. Finally, it comes with many add ons like a triangle rule, especially for miter saws, vertical vise, box wrench, extension wing, and a dust bag. 
Pros 
With this 10-inch saw, you end up getting much more than expected. It seemed like the makers kept a particular focus on visibility and accuracy to produce this high-quality product.
The dual front bevel scales help bring out clean cuts each time, and its powerful motor produces 3200 RPM with a 15 amp motor without motor load, making it a well-rounded saw in its category. Finally, the saw requires minimal calibration.
Cons 
There aren't any significant flaws to speak about, but some users felt the instructions could have been more straightforward and shown realistic images and sizes rather than arbitrary ones. 
The next model we want you to see is the C10FCG model by Hitachi, which comes at a pretty reasonable price. One of the reasons it can compete with other more expensive models is because of its simple design and versatile use for carpenters and woodworkers. 
The entire body weighs around 24 pounds, making it easy to carry to different locations for work. You can drop it in the truck and move it around workbenches pretty easily, making it a handy option for regular use. 
With this versatile saw, you can cross-cut all kinds of hardwoods for building furniture or floors, rails for cabinets, trim molding for finishers, and even baseboards. 
It's crucial to have a convenient angle lever, especially if you will use the saw every day. This model allows for a simple thumb adjustment lever that can quickly align the miter angle at varying degrees ranging between 0 to 52 degrees. Along with that, the bevel has a range of 0 to 45 degrees which is pretty basic for most 10-inch saws. 
Finally, if you check the back of the blade shroud, you'll find a port to connect a vacuum that can collect the dust produced when sawing the wood. 
Pros
One of the best things about this 10-inch saw is that it's lightweight enough to move around yet sturdy when placed on the workbench and does not shift while working.
To add to that, the C10FCG model comes with a 24 tooth saw blade, vice hold-down assembly, a blade change wrench, and a dust bag. Lastly, it is a budget-friendly option that delivers high-quality performance.
Cons
While we were impressed with this model, its clean and precise miter cuts, and the value for money it provided, it had its share of downsides. The first thing we'd like to mention is the laser, which, although accurate, was slightly dim. Secondly, the miter angle becomes a bit off sometimes and needs to be reset to get accurate cuts.
The final model for a 10-inch miter saw is the CM10GD model by Bosch. We wanted to feature this model as an example for a 10-inch miter saw because it's one of the best miter saws you can get in the 10-inch blade category. 
This brand produces some of the most powerful and competent saw options which use innovative systems that are constantly improving in design. It has the capacity to cut 12 inches horizontally and can manage up to 5 inches of wood cutting vertically. 
An interesting feature we'd like to highlight is its "Axial Glide System", which is a substitute for the regular rail system which most miter saws have. The Axial Glide feature makes the saw more compact and allows it to easily raise and lower the blade.
What's more, the dials, knobs, and even rulers are intuitive and easy to follow without looking. Also, the handle featuring dual triggers is ambidextrous, making it easier to use for left-handed individuals. 
Moreover, it has high-quality blades with a powerful 15 amp motor and a 4000 RPM, which allows you to slice any type of wood smoothly.
Pros
We liked that there was scope for customization with its 0 to 60-degree wide range for making adjustments. This gives any user the freedom to create custom cuttings. Another thing we liked was the inbuilt blade brake which is an essential safety feature for any manual saw.
Cons
One drawback for this model is its large size and bulkiness, which doesn't make it very travel-friendly. It weighs around 60 pounds which is significant compared to other models in the 10-inch blade category.
All About The 12-Inch Miter Saw 
Many might assume that a larger blade is automatically better than a smaller one. But it is not that easy to determine which kind of miter saw is superior. That being said, what 12-inch blades do have is more power than their smaller counterparts. 
Most of the 12-inch blades have a 15 amp motor which is powerful enough to slice through thick wood blocks. A regular 10-inch miter saw can cut across a 4×4 block of wood in two steps, whereas the exact size of the wood can be split apart in one go by a 12-inch miter saw. And since it is more powerful, chances are the job will get done sooner. 
If we are talking about general use or short work which can be finished quickly, then the size of the blade doesn't matter. But once you look deeper into complicated woodwork which requires heavy work, that's when you will notice the nuanced differences.
As you might be aware, we use TPI (teeth per inch) to determine how fine the cut was. 12-inch miter saws are found to have varied ratings like 24, 40, 60, 80. However, a similar variety cannot be found in the 10-inch ones, which usually have 40 TPI. 
Advantages Of 12-Inch Miter Saws 
The variation between a 10-inch miter saw and a 12-inch one might be small, but it makes a world of difference. The latter usually has a superior 15 amp motor, making it easier to cut harder or thicker types of wood. 
This powerful motor allows the saw to work for a longer duration with consistent precision. Increased power also affects the RPM, which makes cutting wood as effortless as slicing through butter. Moreover, there are many other benefits of larger blade size. For instance, a larger blade allows to make longer, vertical cuts in all types of wood.  
If we had to describe just one benefit of the 12-inch miter saw, it would be the robust and durable nature of the saw. This is a given once you think about it because these saws are designed for heavy-duty work.   
With this larger saw blade, you can cut a 4×6 block of wood in one go, which is impossible with a smaller blade. Also, if you often use plywood for building furniture or cabinets, the 12-inch miter saw would be better suited to this job because plywood is more rigid and comes in big sizes. 
Best 12-Inch Miter Saws 
The DWS 715 model is an updated version of the DWS779 by Dewalt. It is priced on the lower end for a 12-inch miter saw. If we talk about the cutting capacity, this 12-inch miter saw delivers a no-load speed of 4000 RPM, and the blade can bevel from 0 to 48 degrees to one direction, left.
Cutting hardwoods and baseboards is a cakewalk with this model, and the accuracy is worth noting. The steel miter table comes with 14 positive stops, which make it easy to cut hardwood. 
Compared to other 12-inch miter saws out there, this is one of the lightest there is. At 36 pounds, it is almost as light as a 10-inch miter saw. This makes it portable and easy to carry to construction job areas. 
Apart from being sturdy, the saw even looks expensive, like it is made of high-quality metal. And we have no doubt that it is excellent quality stuff because this brand Dewalt has been around for ages and has consistently delivered solid and durable products. 
Pros
The first thing we liked about this model was the lightweight. Most 12-inch miter saw options are bulky and require a lot of muscle to carry around, but this one was almost as light as a 10-inch miter saw. Secondly, the DWS 715 model is an excellent choice if you are looking for a budget-friendly product with all the regular benefits of a 12-inch miter saw.
Cons
Even though this miter saw is durable and cuts through hardwood, it falls slightly short when compared to other brands, which are much more powerful than this one. Also, it has lesser capacity than double bevel sliding miter saws. 
Similar to the Bosch 10-inch miter saw, this one also has an Axial Glide system that allows for wider cross-cuts and improved alignment, giving precise, smooth cuts. This system is somewhat unique to Bosch because most of the other models use the slide rail system. 
It is relatively compact, saving 12 inches of space from the workstation. However, it cannot be considered lightweight. The machine weighs 65 pounds which is pretty heavy for a typical setup. 
Also, it has 3800 RPM and can easily cut 4×10 inches of wood which is enormous. All of these features give the miter saw neat and easy cuts, which are much wider than the average cut. 
Apart from that, we have plenty of good things to say about the precision this device provides. It has square lock quick release fences which lock 90 degrees to the table and do not need any further adjustment. This significantly maintains the precision while cutting. 
To add to that, the upfront bevel controls include all the lock, levers, and range selectors. This helps you to adjust the bevel settings without reaching behind the saw. 
Pros
The Bosch GCM12SD 12-inch Miter Saw handle had a soft grip, was relatively easy to handle, and was ambidextrous. Since it has many positive stops for bevel and miter gauges, it is much easier to find an accurate right angle. 
Finally, it comes with a 30-day return guarantee so that in case of any damage, you can exchange it free of cost.
Cons
There were two drawbacks; the first was a lack of a laser guide to measure with precision. Secondly, this powerful 12-inch miter saw produces a lot of dust. This is because when the wood is cut with a very sharp blade and powerful device, it produces more dust than usual. 
First of all, this compound miter saw is relatively cost-effective. For the high-quality cuts it creates, its price and value for money are hard to beat. 
This miter saw has a robust 12-inch blade and decent sliding ability, which is required for efficiently cross-cutting wood. At 90 degrees, it can smoothly cut a 12.5-inch board, and at a 45-degree miter cut, it can manage to slice 8.5-inch wide plywood. 
Moreover, the HPT 12-Inch has fixed rails that can move forward with the blade guard. The blade and motor have an attached fixture that can slide on these rails. With this machine, you can back it up against the wall and still get complete sliding action which is practical for a small workbench or woodshop.
As far as weight is concerned, this model is one of the bulkier ones and weighs a solid 60 pounds. Although it might not be feasible to carry this around to job locations, you can prop them up for regular use if you have permanent woodworking benches. Even though it might not be portable, it is a versatile machine with a wide range of applications. 
As mentioned earlier, the compact sliding system allows for backing up against the wall, therefore, saving a lot of workspace along with sliding out fully.
Pros
We liked the dual bevels this model provided as it allows for more variation and customization while cutting. The laser guide speeds up the cutting process and helps with precision. Another helpful thing worth mentioning is the dust bag that comes with the saw. 
Cons
Even though the miter saw comes with a dust bag, it isn't of much use. Using only the bag makes no difference to the amount of dust that spreads on the worktable. You will have to attach a shop vac on the dust chute to catch the sawdust to deal with this issue.
10 Inch Vs. 12 Inch Miter Saw
Now that we have seen the advantages and examples of the best miter saws in both sizes, let's find out which one has the upper hand. 
Durability
When it comes to durability, 12-inch miter saws have an advantage over 10-inch ones. Since it has high amperage, it doesn't need to strain as much as the smaller 10-inch miter saw. This plays a role in preventing damage to the saw and blade in the long run. Also, 12-inch saws are generally made of robust metal because of the heavy-duty work required from them.
Power
Here again, you will find that 12-inch saws have mighty motors and have immense tooth speed due to the large blade size. They cut through wood smoothly, which not only makes clean cutting but also saves time. Without a doubt, its massive power is no match for 10-inch miter saws.
Cost
10-inch miter saws are generally cheaper than their 12-inch cousins. They are cheaper to buy on their own, and the same goes for replacement parts as well. Since they are widely available in all woodwork stores, it's not difficult to find a 10-inch miter saw for purchase. Even the cost of repair or sharpening is lower than 12-inch miter saws.
Versatility
While 10-inch saws have multiple uses, it is not free of limitations. You can cut up to 6 inches of wood, but anything larger will prove to be challenging. You'll have to tediously rotate the thick block of wood to get a clean cut. On the other hand, there are no such stresses when using a 12-inch miter saw.
Capacity
More extensive projects need a machine that can withstand long hours of work without rest. Also, a saw which can cut all sizes and densities of wood will be essential. This is when you can rely on a 12-inch miter saw to get the job done. It easily cuts into a 4×6 block of wood which helps to finish projects at a speedy pace.
Availability
10-inch blades are easier to find on the market than 12-inch ones, so you need not worry about replacing them. Carpentry stores always have different styles of blades for 10-inch models. Unfortunately, the same reassurance cannot be given for 12-inch saws.
Portability
10-inch miter saws are lightweight and convenient for traveling to work locations. Besides, they are compact machines that do not take up much space in the truck or workbench. 12-inch models, on the other hand, are much heavier and sturdier.
There are a few exceptional models in the 12-inch category, like Dewalt DWS 715 12-inch Miter Saw, which are lighter in weight. However, the majority of 12-inch miter saws are bulky.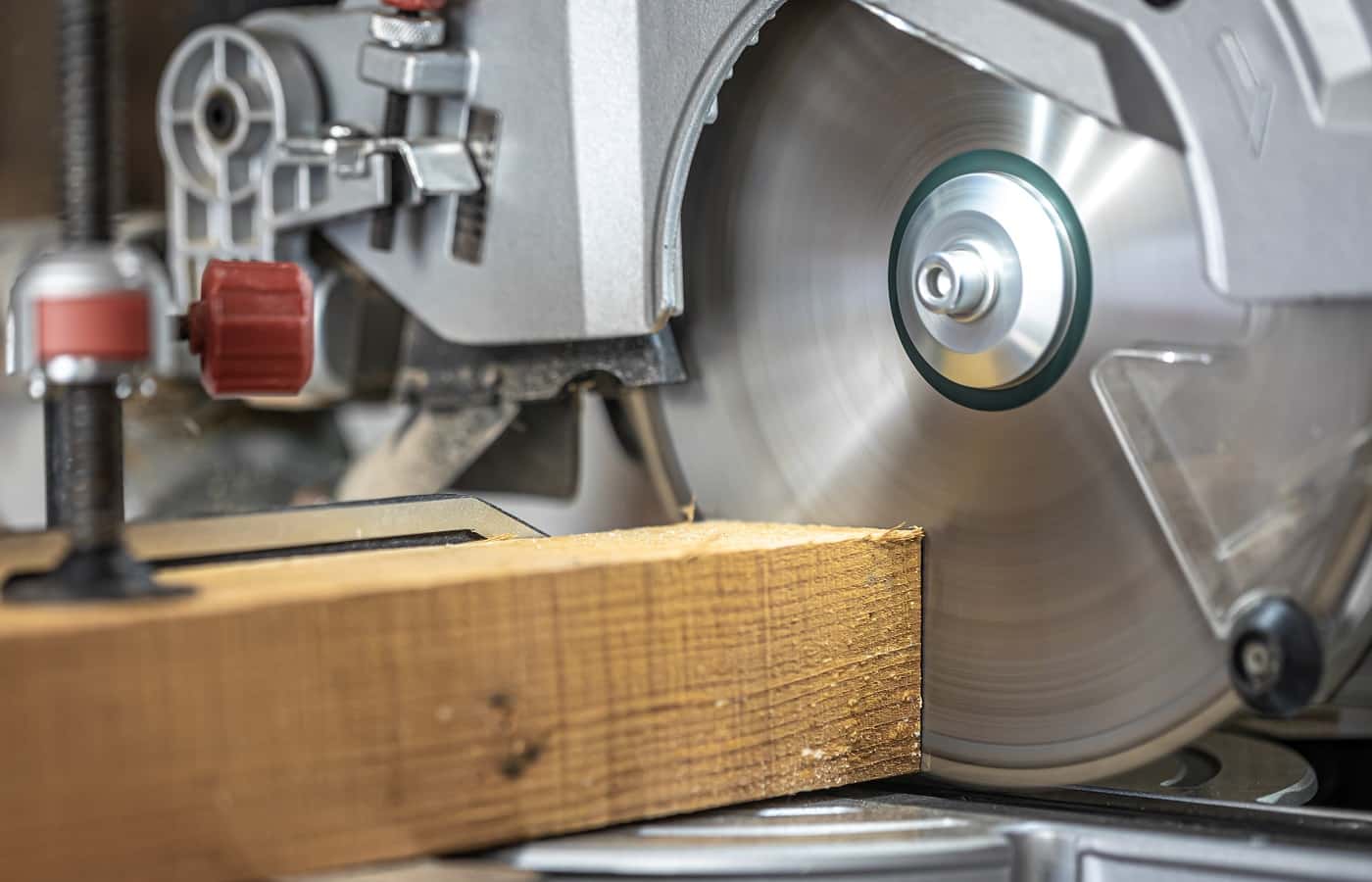 Is There A Clear Winner? 
After this comparison, we are convinced that 12-inch miter saws are clearly superior between the two. They bring speed and power into the work and are pretty easy to handle. 
Many of the cutting tasks which the 10-inch saws might struggle to complete are a breeze for the 12-inch model. If we had the budget to purchase only one miter saw, it would be one of the 12-inch ones.
That being said, if you are just starting out with woodwork as a hobby or want a lighter option to carry around, 10-inch miter saws aren't a bad option.
What do you think about our opinion? Let us know in the comments if you agree or not. 
So, that's all for today. See you next time!
Related Articles
Different Types of Saws & How to Use Them
Single Bevel Vs. Double Bevel Miter Saw  
11 Best Belt Sanders Right Now
13 Best Random Orbital Sanders