Storing shoes in a shoe rack is one of the most common practices many follow.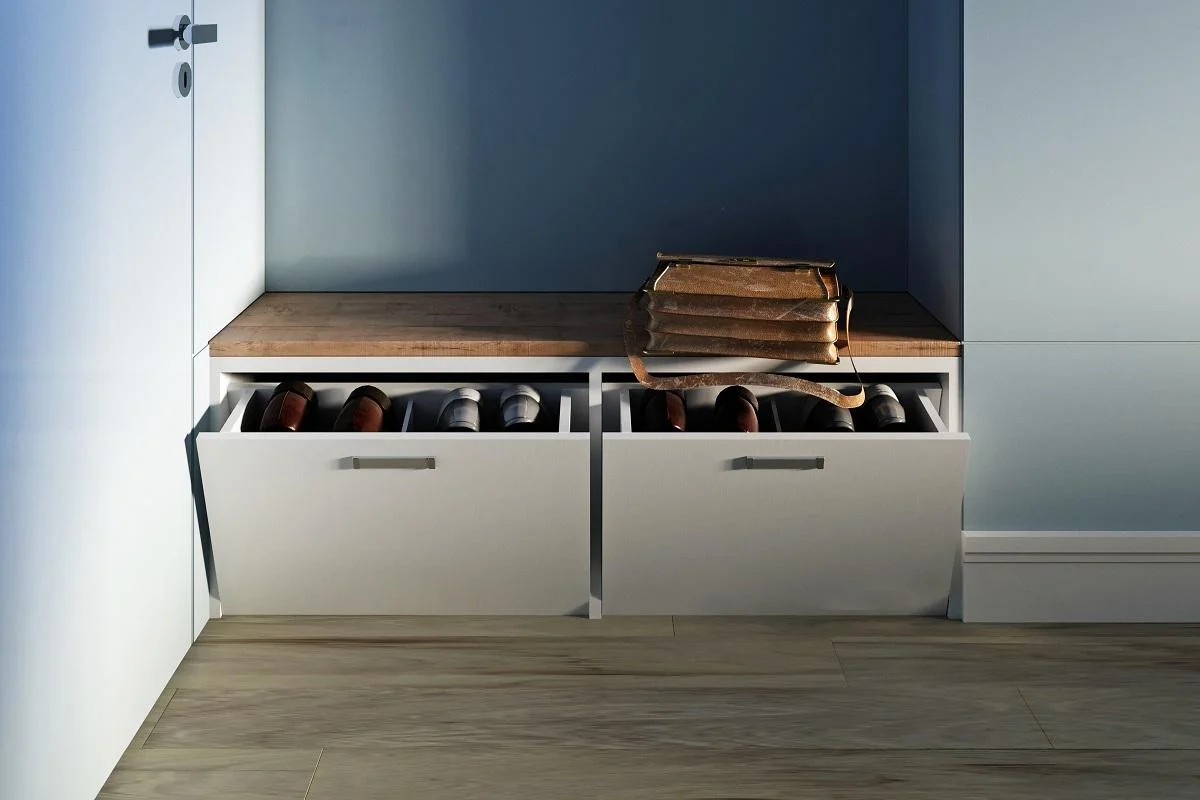 But what makes the shoe storage bench so versatile? This functional piece of furniture works both as a seat and convenient storage for your favorite footwear. And while they're most commonly found in garages or entryways, you can conveniently place one in your bedroom as well. 
Keeping your shoes organized ensures that your hallways or entryways don't look like a mess, and it is the perfect spot to protect and store shoes to maintain their quality. Besides, you wouldn't have to scramble to look for your shoes in a hurry. 
But there are various options on the market, so we wanted to help find the perfect storage bench for your needs. That's why we have reviewed the top 6 models in the following sections. So, let's begin! 
Best Shoe Rack Benches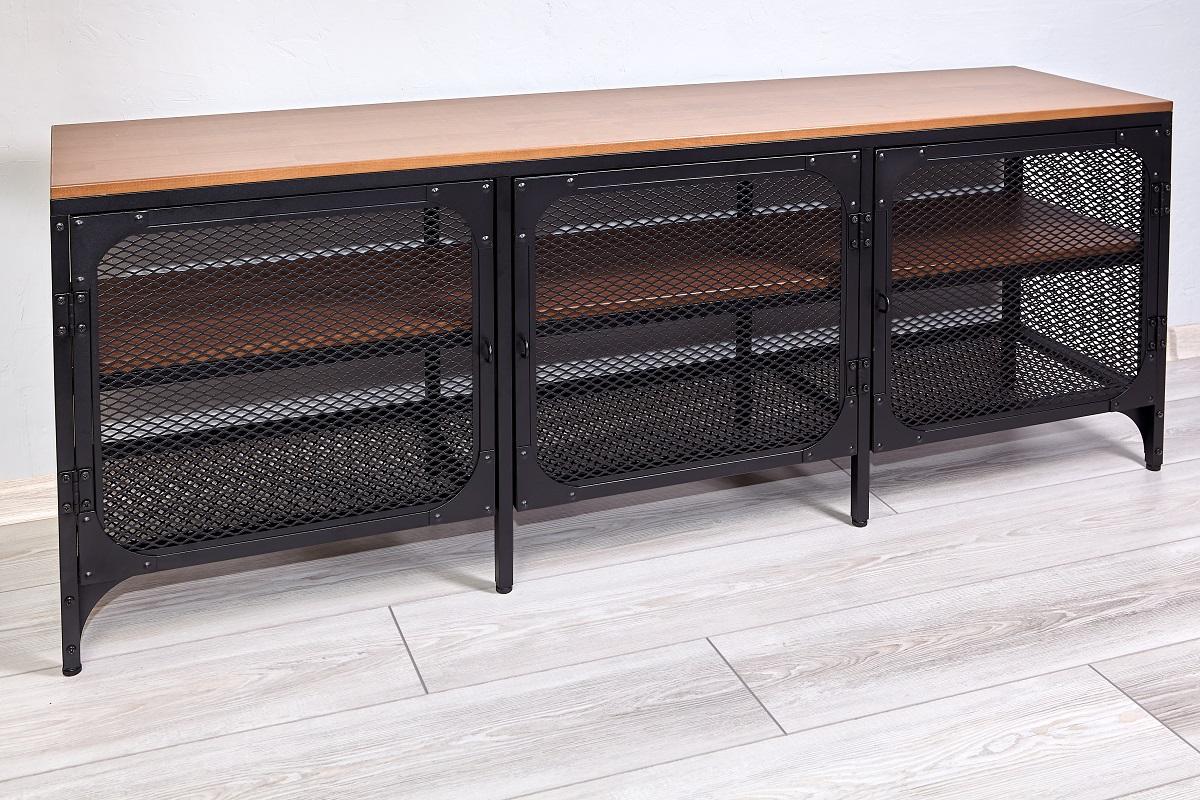 Sale
This natural bamboo shoe rack does a lot more than just store shoes. It can work as a versatile piece of furniture, perfect for any room in your living space. You can also use this 2-tier benchtop as a seat or to display items. 
Why Did We Like It?
If you're looking for something compact to occupy your narrow entryway, hallways, or doorways, then this can be the ideal storage bench. Measuring 70 x 28 x 45 cm, this shoe organizer can hold up shoes while accommodating items like your handbags, plants, and other accessories. 
You receive an accessory bag, instructions, and the contents to assemble your bamboo storage bench. And the installation is pretty easy, so it shouldn't take more than an hour if you follow the provided instructions correctly. 
The 100% natural bamboo plank comes with stripe patterns on it. This makes it more durable, as it maximizes the stability of the shoe rack. Moreover, it's designed to have smooth edges, and the sunken screws prevent snagging. This means you can place it anywhere in the house. 
What Could've Been Better?
It may be helpful to know that due to the size of the racks, we couldn't store more than 3-4 pairs of shoes. But then again, it's meant for storage in compact corners of the house. Other than that, there was a creaking sound every time we sat on it, although we didn't notice any cracks or damage.
Pros
Easy to assemble

Durable shoe rack

Multi-purpose storage bench

Ideal size for little space in your homes
Cons
Doesn't store more than 3 pairs of shoes
A functional piece of furniture is an essential part of small living spaces. And this coat rack with a bench top gives you the best of both worlds without taking up too much space. It's a 2-in-1 solution that gives your home a unique decorative look with adequate storage. 
Why Did We Like It?
This unit contains a shoe bench, shoe rack, hanging hooks in one, and an anti-tip kit to ensure a safe home. And to ensure installation doesn't take up too much of our time, the instructions are easy to follow, and the parts are numbered. 
The shoe storage bench top has a sturdy rustic brown shelf and a strong steel frame that makes it highly durable. Besides, each hook has a load capacity of 66 lbs, while the engineered wood shelf has a load capacity of 176 lbs. 
This is a practical piece of furniture to have in a small house, thanks to the dual utility on offer. And it can accommodate your shoes along with items like coats, scarves, and gym bags. The bench top comes in handy when you need to put on your accessories, especially in a hurry. 
What Could've Been Better?
Some of the areas to screw in on the bench were set a little too deep. And because of this, we couldn't tighten the bench, making it slightly unstable to sit on. Aside from that, a couple of metal parts had chipped portions of paint on them. 
Pros
Easy installation

Sturdy shelf

Strong steel frame

Has a hook load capacity of 66lbs
Cons
Bench maybe a little unstable
Sale
A shoe storage bench doesn't have to be the most extravagant accessory in your house. And while this bamboo shoe rack bench is a little on the minimalist side, its 2-in-1 design gives you the perfect blend of accessibility and style. 
Why Did We Like It?
Honestly, we weren't sure whether assembling this unit would be easy. But thankfully, the package came with all the required tools and parts to put it together, and the instructions are just as easy to follow. It took us a little under an hour, which is reasonably quick.
The 100% bamboo benchtop has a smooth finish, is sturdy, and is long-lasting. It is also water-resistant and can be wiped down with a damp cloth after every use. Hence, you can place this benchtop in your bathroom, patio, bedroom, entryway, and practically anywhere. 
When we found out this 3-tier shoe rack bench could hold up to 300 lbs easily, we were skeptical. But it has been able to hold the weight incredibly well. And there hasn't been any creaking either, which usually is the norm with bamboo products. 
What Could've Been Better?
The unit is pretty compact and slightly smaller than we had expected. While that isn't a big issue, it would've been nicer if the bottom rack was a bit higher because all we could fit were flip-flops under there.
Pros
Easy to install

Smooth finish and sturdy

Water-resistant

Multi-purpose use
Cons
A little smaller than expected
Finding the perfect shoe storage bench for a small space may not seem as easy, but this cubby shoe storage bench is the perfect combination of style and convenience. The structure and design add a touch of chic to your living space. And you get all of this at a great price! 
Why Did We Like It?
A shoe storage rack would often sport same-sized cubbies ideal for someone who owns flip-flops, sneakers, or flat sandals. But that wouldn't be able to store boots or high heels. With this shoe storage bench, not only do you have more space to store shoes, the shelves are adjustable. That means you can move them around to create extra storage for your shoes. 
This shoe storage rack is constructed of particleboard, making it sturdy enough to sit two adults. And the cushioned top elevates the comfort factor and offers great support. 
If you're looking for a functional, compact piece of furniture, then this shoe storage bench would make a great addition to your living space. You can display this in the entryway or your hallway and can store as many as 10 shoes in one go, regardless of the kind. 
What Could've Been Better?
The product looks and functions the way it's supposed to, but that's about it. The shelves have scratches on them and chip easily, even though it isn't adjusted as much. And they look and feel brittle too, almost like they might break at any point. 
Pros
Adjustable shelves

Sturdy

Compact – ideal for small spaces

Stores up to 10 shoes
Sale
This Rolanstar shoe rack bench gives your house a rich, rustic vibe. It may be a large-capacity shoe storage bench, but it works incredibly well for small spaces too. On top of that, the solid wood has a smooth finish, elevating the aesthetics even further. 
 Why Did We Like It?
One of the things we have to compromise with when it comes to small living spaces is getting a storage unit that either doesn't fit well enough or function enough. But this solid wood shoe rack bench serves both of these purposes. It is compact enough to fit small entryways or hallways but large enough to store your shoes comfortably. 
Since you might end up placing this in the corner of your entryway, it comes with 5 corner protectors. It's also accompanied by all the tools and instructions you'd need to assemble this shoe rack bench. 
Furthermore, this shoe rack bench is constructed of solid wood and has a durable metal frame. The wood is water-resistant, easy to clean, and has a smooth finish, giving your room the perfect rustic look while maximizing its stability on different types of floors. 
Why Didn't We Like It?
Even though this unit is easy to install, we struggled with it for a bit due to the screw holes being slightly smaller. While we did manage to get them pushed in, it wasn't deep enough, making the bench slightly unstable. 
Pros
Large capacity

Easy to install

Water-resistant build

Durable
Cons
Screw holes weren't big enough
Without a shoe rack, you tend to have a messier hallway or entryway because of your shoes. And it doesn't matter if they're scattered or placed neatly. But it will still feel messy. But with this 3-Tier bamboo shoe rack bench, you get to keep your shoes protected and the floors clean. 
Why Did We Like It?
If you're looking for a compact shoe rack bench that is aesthetically pleasing but does the job well, then this 3-tier bamboo shoe rack bench is the perfect product for you. It is made out of 100% natural bamboo, and is eco-friendly and water-resistant, making it the ideal product to use outside your bathroom, your bedroom, or the obvious place being the entryway. 
This shoe storage bench is perfectly functional and helps save space by offering 3 racks to store your shoes, sit on, or display your pictures, plants, toiletries, and more. You might even have enough space under the last rack to store your flip-flops easily. 
It is just as easy to assemble this simple shoe storage bench. You receive illustrated instructions, along with all the required parts and tools. And if you follow the instructions correctly, installation shouldn't take you more than a few minutes. 
Why Didn't We Like It?
Even after being handed the required tools to assemble this shoe rack with ease, there were still a few hardships. The wood had a few scratches on it, and some panels didn't even have screw holes on them. We had to push them a little harder to get the screws in, making the bench unstable. 
Pros
Compact yet large capacity

Multi-purpose use

Easy to install

Space-efficient design
Shoe Rack Bench Buying Guide
Shoe rack benches offer the dual function of storing your shoes while also allowing you to either display other items or use the top as a seat. And while this feels like it is reason enough to purchase a storage bench, there are various factors to consider before making that decision. So, we listed down a few for you.
    1. Storage Capacity
No two-shoe rack benches are the same. While some shoe racks can hold only 8 pairs of shoes, others can hold anywhere close to 20-30. The bigger racks would make sense if you had as many shoes or were a collector. But purchasing a big rack for 10 pairs of shoes isn't the most practical thing for you.
So, take your time and look into a shoe rack that's more practical and convenient based on the number of shoes you own.
    2. Shoe Rack Bench Material
Just like with their storage capacities, the materials used to construct them differ too. It ranges over a bunch of materials like wood, metal, fabrics, and more. If you're looking for a portable, durable shoe rack, then fabric shoe racks are the ideal product and come at a great price too.
However, they trap dust a lot easier compared to other materials, so you will spend a lot more time regularly cleaning these shoe racks up. Similarly, while you wouldn't have to clean as regularly with wood or metal-based shoe rack benches, they do happen to be on the pricey side. 
    3. Easy Installation
Many often opt to make DIY shoe racks due to them being cost-effective and creative. However, if they don't work out the way they should, then things can be frustrating. So, to avoid this from happening, it is essential to look for racks that are easy to assemble or construct. While you don't have to do it yourself, hiring someone else just adds up more to the cost.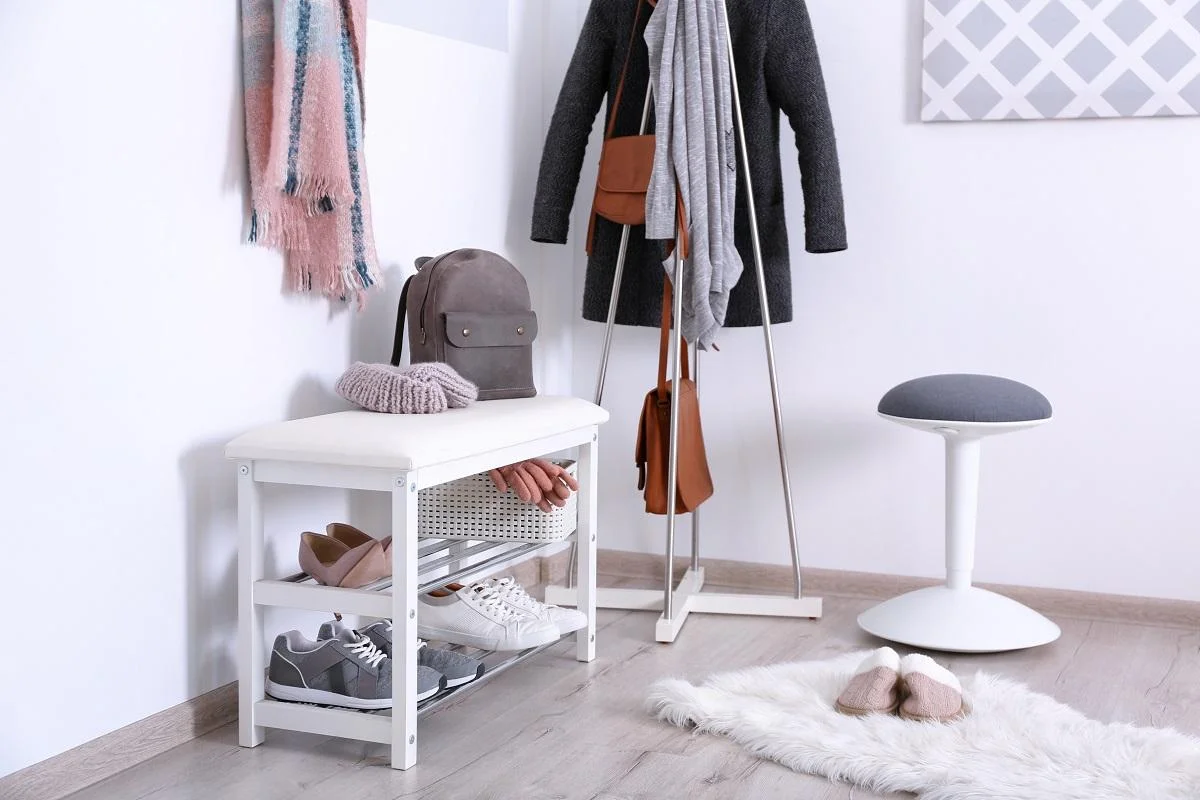 Best Shoe Rack Bench Final Words
It is essential to have functional furniture around your house, even if you DIY it! Along with being aesthetically pleasing, they should also conveniently do the task it was meant to do. Shoe rack benches are simplistic, 2-in-1 functional pieces of furniture that allow you to easily save space in your home.
And we have a few favorites that make a perfect shoe organizer based on the points we've made above. Our first choice would be SONGMICS sturdy shoe rack bench because of its multi-purpose uses. The coat rack bench from VASAGLE comes next due to the 2-in-1 function of a shoe and a coat rack. And lastly, the bamboo shoe rack bench from Homemaid because it is water-resistant and durable.
We're aware of the various options on the market depending on the few factors that we earlier mentioned. So, if you're looking for the ideal shoe storage bench, then we hope this list helps narrow it down for you. 
Until next time! 
Related Links

9 Best Plastic Storage Cabinets
10 Genius DIY Shoe Storage Ideas That Will Impress You
18 Smart Examples of Shoe Storage DIY Projects For Your Home
11 Best Under Cabinet Range Hood
13 Best Paint for Kitchen Cabinets
41 Beautifully Inspiring Laundry Room Cabinets Ideas