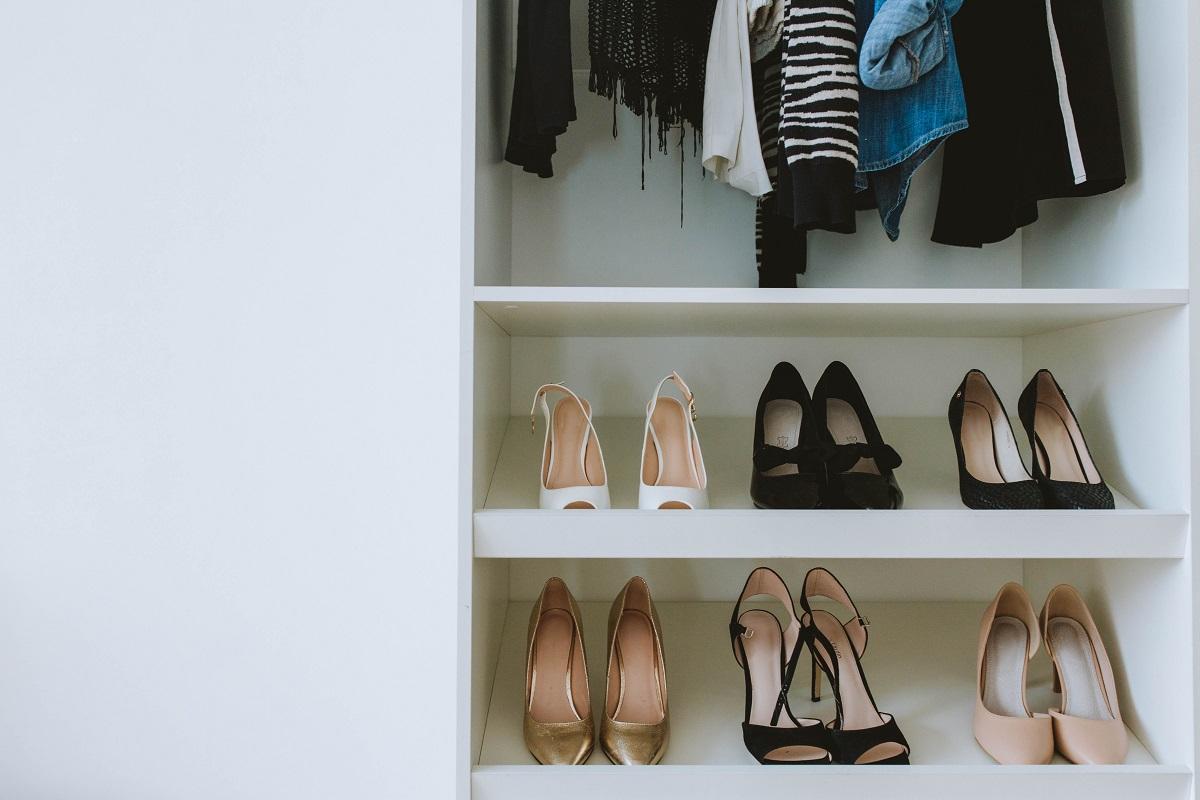 No one wants to deal with a pile of shoes every time they're looking for something to wear! 
Shoes aren't only a necessity, but they also always make the perfect accessories to pair with all of your outfits. And just like your clothing has an allotted space to be stored neatly, all of the shoes should have one too. 
Regardless of the occasion, we wear shoes more often than most of our clothes. So keeping them out in the open to collect dust or just leaving them scattered around isn't the best for your footwear.
Not only does this affect the quality of your shoes, but it also clutters the wardrobe or space in the house, making it look messy. Hence, we have curated a list of the best shoe cabinets that will come to your recuse.
Shoe Cabinet Ideas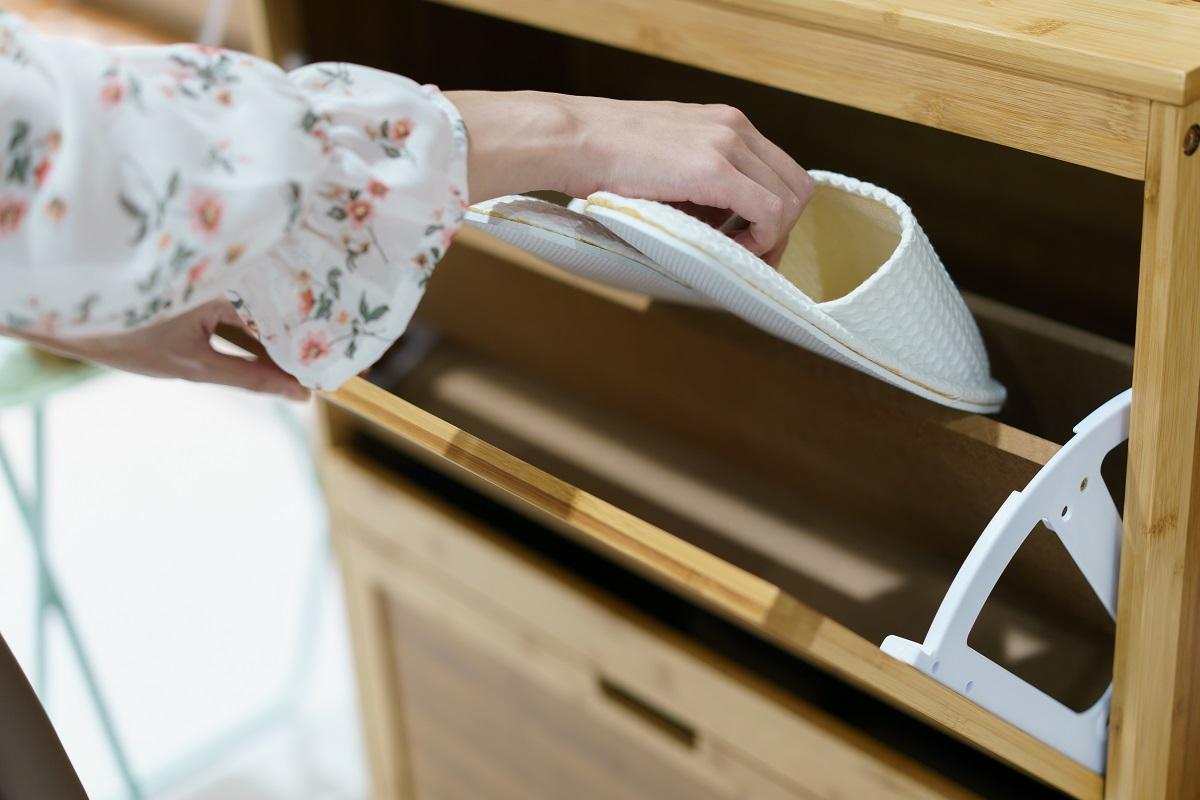 Small Fold-down Door Shoe Storage Cabinet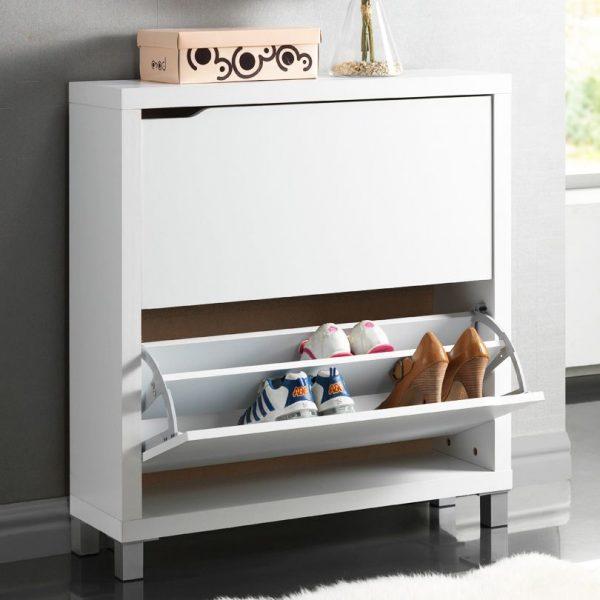 Shoe racks tend to make a small space look a lot more compact, which is why many opt for leaving their shoes out in the open. But why do that when you can instead look into a small chic fold-down doors shoe storage cabinet? 
It gives the cabinet an illusion of being slimmer and is perfect for narrow hallways and compact spaces. Hence, you can store footwear in style and wouldn't have to worry about a bulky structure taking up all your space.
Shoe Cabinet With Compartments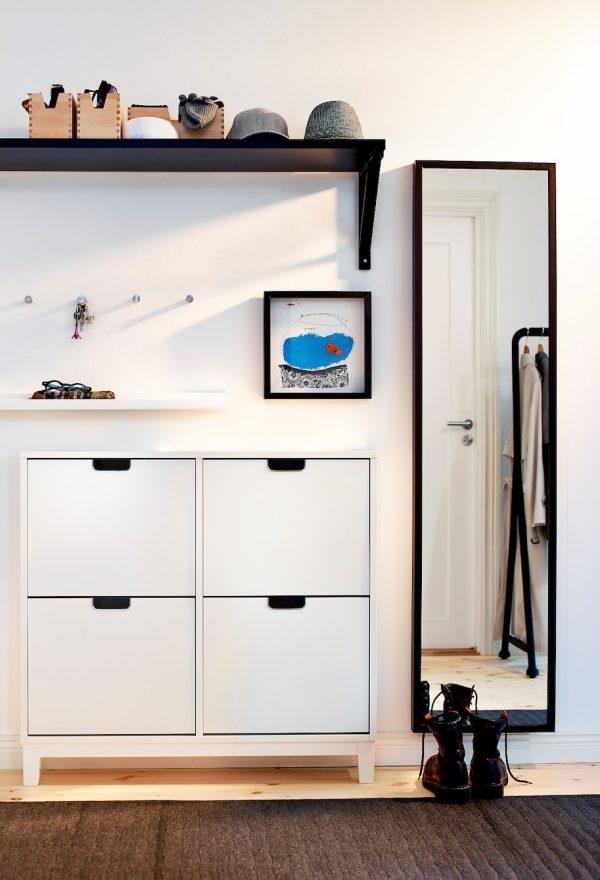 If you're looking for a cabinet that not only has enough room but also looks good storing all of your shoes, then something like this will be ideal. You can neatly store them, without taking any extra space. 
Additionally, you can customize it by using decals or paint over it. This way, it won't look like a shoe storage space per se and would blend with your furniture well. 
Wall Shoe Cabinet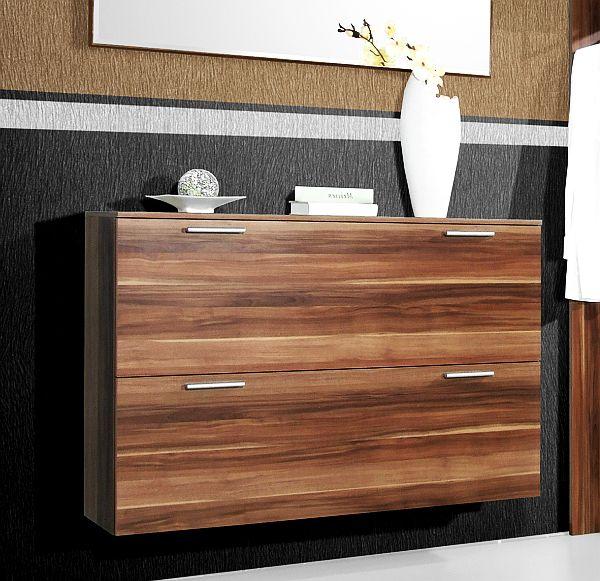 A lot of shoe cabinets tend to take up even more space in your houses and end up looking bulky and awkward. But what if you could mount it on a wall? Aside from providing enough space to store shoes, it will free more floor space to either occupy or leave it as is. 
Shoe Storage Shelf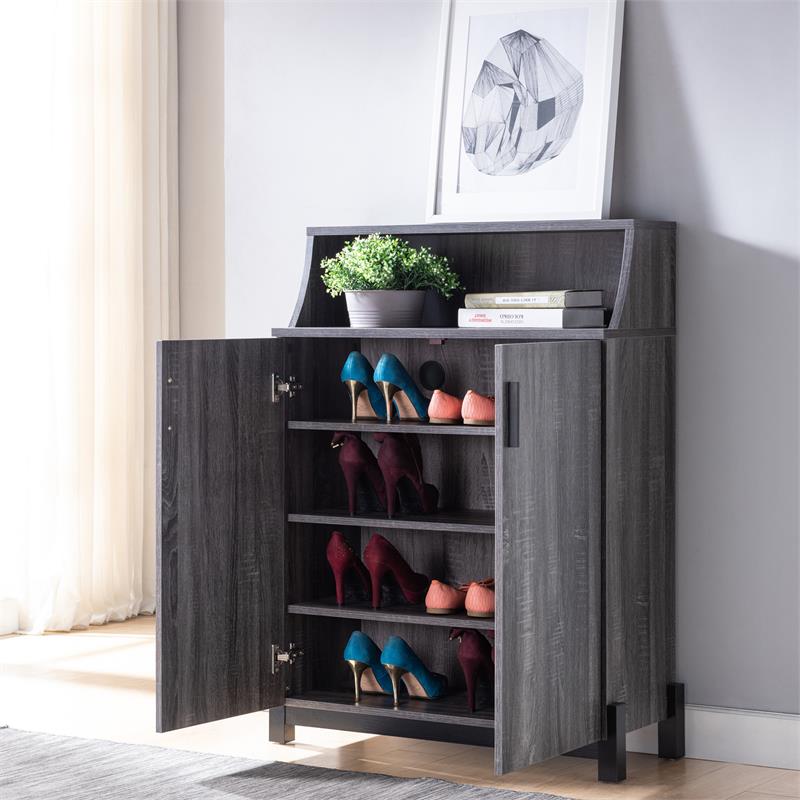 A shoe rack often doesn't do more than storing your shoe collection, which leaves many wary of investing in one. However, this shoe cabinet comes with a shelf space that allows you to store little knick-knacks – a plant, a bowl for keys, and more. It allows you to use up the extra space on shoe storage without having it look bland and empty. 
Shoe Cabinet With Drawers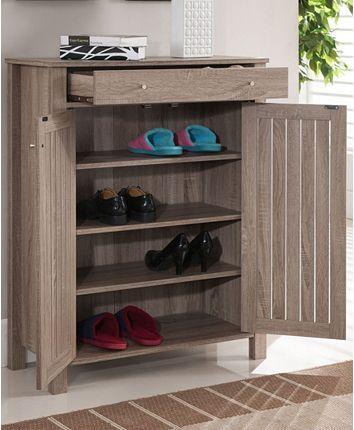 A shoe storage is a lot more than just the perfect place to store your shoes. What if there's some extra space to store the rest of your accessories? Storing sneakers and a pair of socks in the same space with this shoe cabinet makes it a lot more convenient. 
The drawers can hold anything from keys, socks, and other accessories to pair with your shoes, preventing panic and scrambling around to look for them if you're in a hurry. And the space-efficient design ensures that it makes the room look and feel a lot bigger. 
Shoe Storage Rack
It is always the hardest to accommodate large pieces of furniture like shoe cabinets in hallways, an entryway, or vertical spaces. They're either too wide or not tall enough. But with a shoe storage rack closet, your room receives a massive boost. 
Moreover, it can store more than just your shoes. For instance, converting it into a coat rack will make for the perfect accessory to keep in the hallway or entryway. 
Shoe Storage Cabinet And Accessory Organizer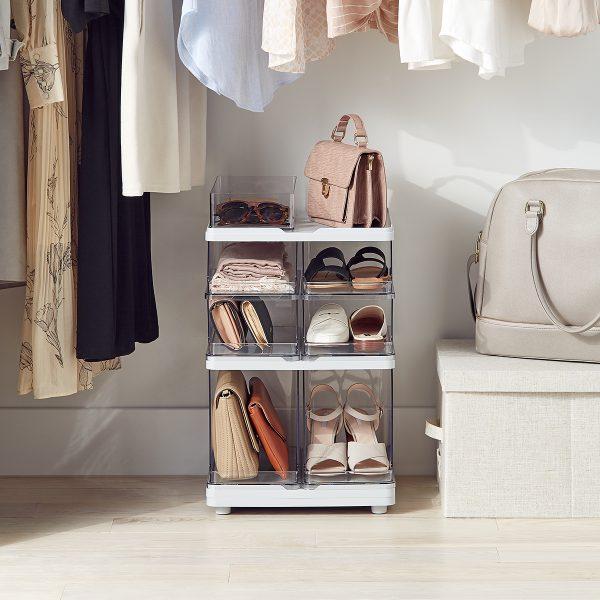 If you want to opt for something more accessible that can easily fit in the closet, then this shoe storage cabinet would be ideal. Regardless of whether you live in a small or spacious living space, optimizing and organizing your room will be easier with this shoe cabinet. You can even have some fun with it and match the aesthetic of your cabinet with the rest of the room.
Compact Shoe Closet With Cabinet Doors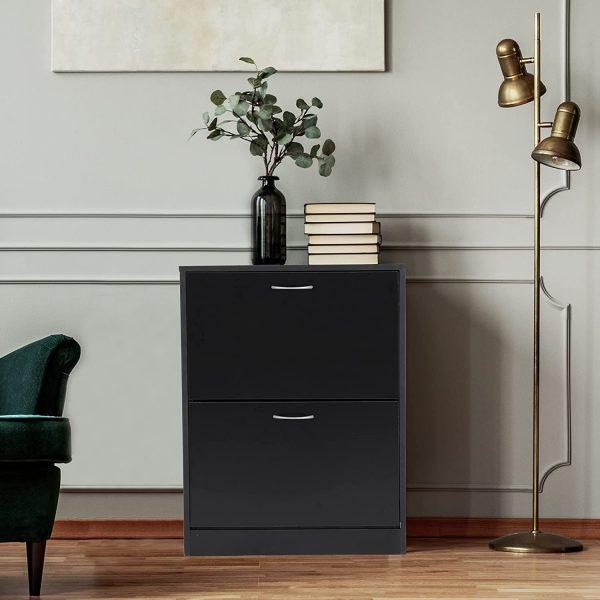 Shoe racks with cabinet doors tend to add a lot more to your living spaces aesthetically. They also help keep the materials of the shoes dust-proof, ensuring that they stay in pristine condition for prolonged periods. 
Besides, you can customize these shoe cabinets to match the rest of your furniture to avoid making it look too small or lived-in.
Shoe Storage Bench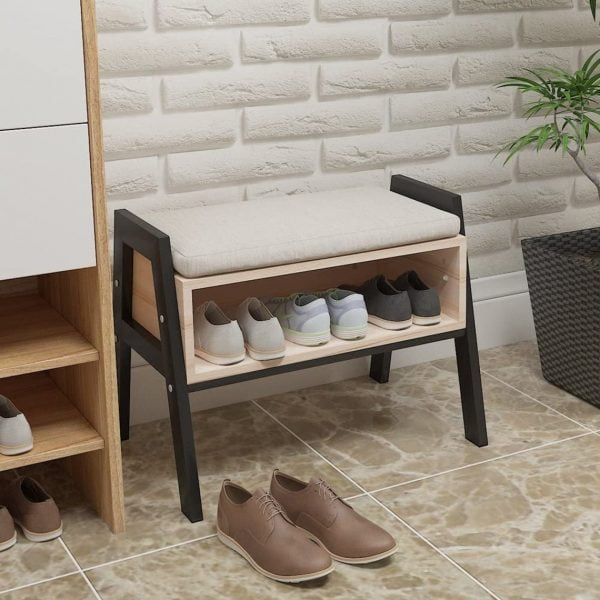 Shoe cabinets don't always have to be boring or stick out from the rest of the furniture. If you're looking for something that stores shoes while adding something to the interior, this product would be ideal for you.
This chic bench shoe cabinet features a large space to store shoes and keep them out of the way. It would be perfect for the entryway allowing your guests to use the bench whenever they visit. 
Shoe Storage Cabinet With Cubicles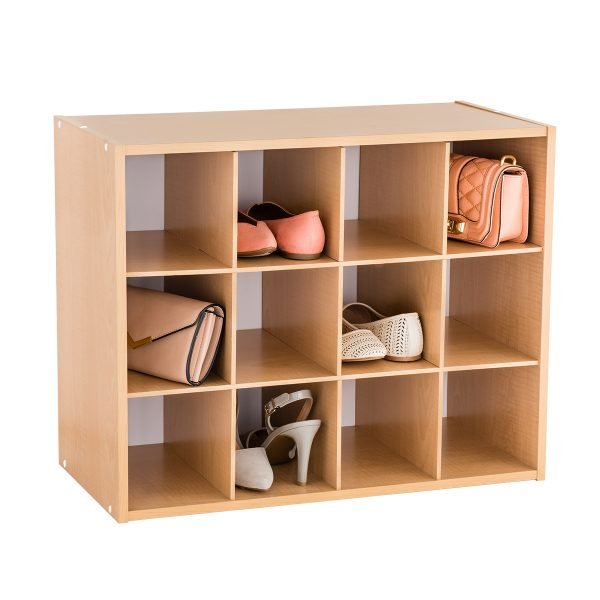 If you're looking for something simple yet versatile, this cabinet with cubicles would be perfect. It is easy to clean and would fit perfectly well in the entryways or hallways. Aside from being easy to clean, it can double up as a piece of furniture. 
It protects your shoes from dust and any other factors that could affect their quality. Plus, the air circulation on offer will prevent the formation of mold.
Narrow Shoe Rack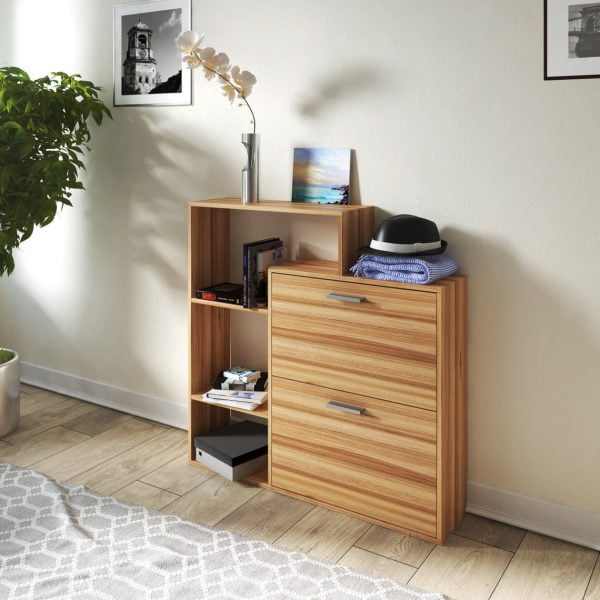 Shoe cabinets don't always have to be placed in the entryway. You can place them next to the closet in the bedroom to make mornings more convenient. However, no one wants a bulky storage cabinet taking up even more space in their sleeping quarters. It would make the room feel smaller. 
But a narrow shoe rack would be able to accommodate all your shoes without taking up too much space in the room. You can also make the best use of the open shelf on the left by storing miscellaneous accessories, while the shelves on the right store all the shoes. 
Rustic Shoe Racks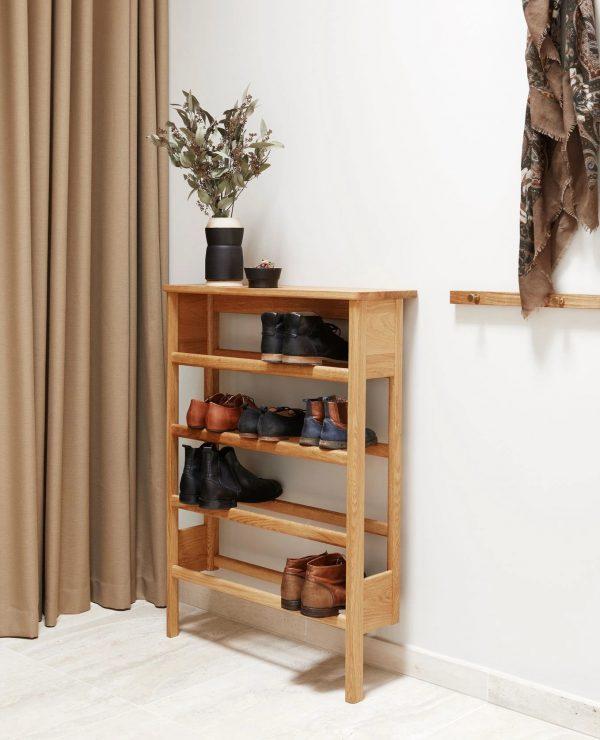 Shoe cabinets don't always have to be bulky, over the top, or have multiple compartments. Sometimes, simple A-Line shoe rack styles can do wonders, especially if you don't have a large shoe collection. This shoe storage is low maintenance but also adds a touch of rustic charm to your room. And all of this can be done without having to compromise on quality or space. 
Shoe Storage Cabinets With Doors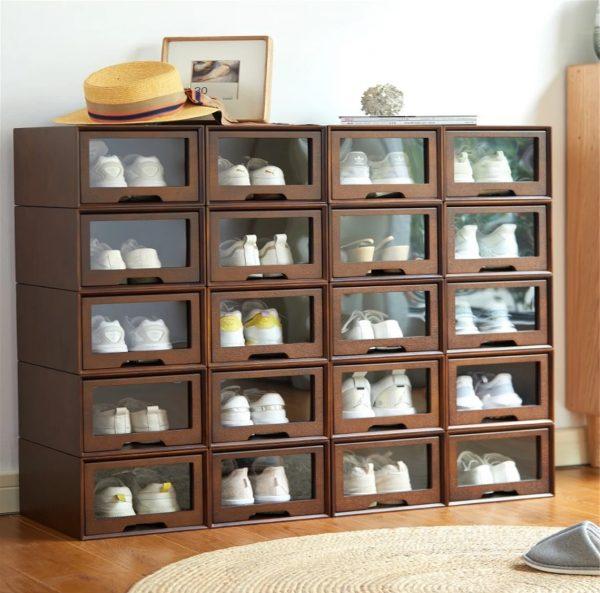 If you have a large shoe collection and have been collecting dust and boxes over the years, it's time for a change. This shoe storage with cabinet doors neatly stores your shoes and keeps them looking and feeling fresh. Easy, convenient, and neat. That is what you can expect with cabinets like this. 
Cane-Front Shoe Racks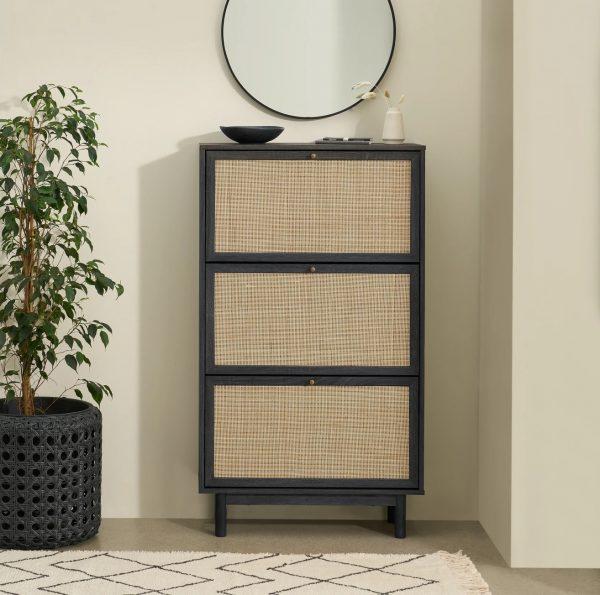 Most racks tend to be very simplistic, rustic and give your room a contemporary vibe. But it doesn't always have to be the same thing over and over. This shoe cabinet with a cane front is perfect for giving that vertical space in your home some much-needed sprucing up. 
The pull-down doors are easy to operate, and they can easily store shoes while oozing some retro charm. 
Why Should You Own A Shoe Cabinet?
It doesn't matter if you have 20 shoes or 4, but keeping them unorganized would invariably result in a messy doorway. 
Daily-wear shoes need proper air-circulation, while all of your shoes need to be kept away from dust and any other factors that would ruin their quality. And to further elaborate our point, we have listed a few more reasons you should own a shoe storage cabinet. 
       1. Keeping Your Shoes In Prime Condition
Certain shoes need to be stored in a specific way to ensure that they remain in good condition. 
Moreover, no one would want to leave their fancy dress shoes out in the open, especially when they're likely to step on them accidentally and damage them. Shoes go through a lot during the day, especially if you've got them wet. So, leaving them in a cluttered closet or a damp, cold corner can lead to odors and mold.
It may seem like getting a shoe closet would be an unnecessary expense, especially if you don't have as many shoes. But this one-time investment will ensure that regardless of how many pairs you have, they will still look and feel new. 
       2. You Know Where To Look 
Have you ever wanted to find a specific pair for an event, meeting, or just a casual meetup with friends? You might think having your shoes laid out would be convenient, but it isn't the best thing to do. 
If you live in a small space and are concerned about shoe cabinets taking up all of it, a shoe rack in the coat closet would be the perfect solution. Not only will it stay hidden away from your view, but it will also help neatly stack your shoes. As a result, you won't have to conduct raids all over the place when it's time to step out. 
     3. Your Floor Won't Look Like A Mess
A busy house can make it nearly impossible to keep your floors clean, and shoes tend to bring in more dirt from activities that involve mud and more. Besides, they make your carpets prone to dirt, which can be a health hazard for anyone that suffers from allergies. 
However, the right shoe cabinet will solve these problems and make your hallway or other spaces look less cramped up. This way, your shoes can avoid taking more space on the floor and will always be neatly stacked, regardless of how big the collection is. 
Things To Consider
While it may be convenient to let your sneakers, slippers, and heels pile up next to the front door, doing this will only further damage them. Piling your slippers up can make the straps give away a lot quicker. The heels could get damaged due to being stored incorrectly or have scuff marks due to another shoe being on or around it. 
Apart from this, there is dust, mold, and other factors that could affect the shelf life of your shoes. But by investing in a good, sturdy shoe cabinet, shoe rack, or more, avoiding this gets a lot easier. So, what's the difference?
A shoe rack is more open and convenient, while a shoe cabinet is a closed shelf that helps with keeping them dust-proof and more. Since picking the ideal shoe rack can be a difficult decision, seeing how there are so many options on the market, we've curated this concise list to help narrow down your choices.
How Much Space Do You Have?
There are various factors to consider before investing in a shoe storage cabinet for you. However, one of the most important criteria would be to check the dimensions and availability of the space you're looking to place it in. 
If you're looking to place it in the hallways or entryways, you'd most likely opt for a small, narrow shoe cabinet. However, if you're looking to place it in the bedroom, it could be compact or large and spacious with added features like drawers or shelves. 
This would partially depend on how many shoes you have as well. If it's a shoe collection consisting of sneakers, heels, flats, and more, opting for a small, compact shoe rack wouldn't be ideal. 
Lifestyle And Storage Requirement
Another essential factor would be the kind of shoes you own. If you often wear heels and boots, the shoe cabinet would need to have wider or larger racks, but if you're just a sneakers and flats person, getting away with a compact shoe storage cabinet is easier.
You also need to assess where to place the shoe rack as well. It needs to be accessible and shouldn't result in wasting as much time looking for the right pair. And if you're on a tight budget or just don't want to invest in a shoe cabinet, DIY is the way to go. By constructing an easy shoe rack using materials from around the house. 
Aesthetic And Functionality
Just because you're looking for a functional piece of furniture, it doesn't mean that the shoe cabinet shouldn't look as good as it functions. And look for something that not only accommodates the different types of shoes you own but should also save space and be high on functionality. 
So, if you have tall boots, opting for storage units with hooks or even a shoe storage cabinet with a bench would be preferable. If they double up as a bench and store all the shoes easily, they will fit in with the rest of the furniture.
Features And Styles
It is essential to consider your lifestyle, personal style, space availability, and more while looking for the ideal shoe rack. A smaller house would accommodate compact shoe storage cabinets with drawers that store shoes and the rest of the accessories. However, if you wear boots or sneakers, a shoe cabinet with a seat could be the best bet. 
Shoe cabinets are supposed to make it easy to store shoes while maintaining their quality. However, having a few features like drawers, glass doors, shelves, and more will add a little more charm to your living space.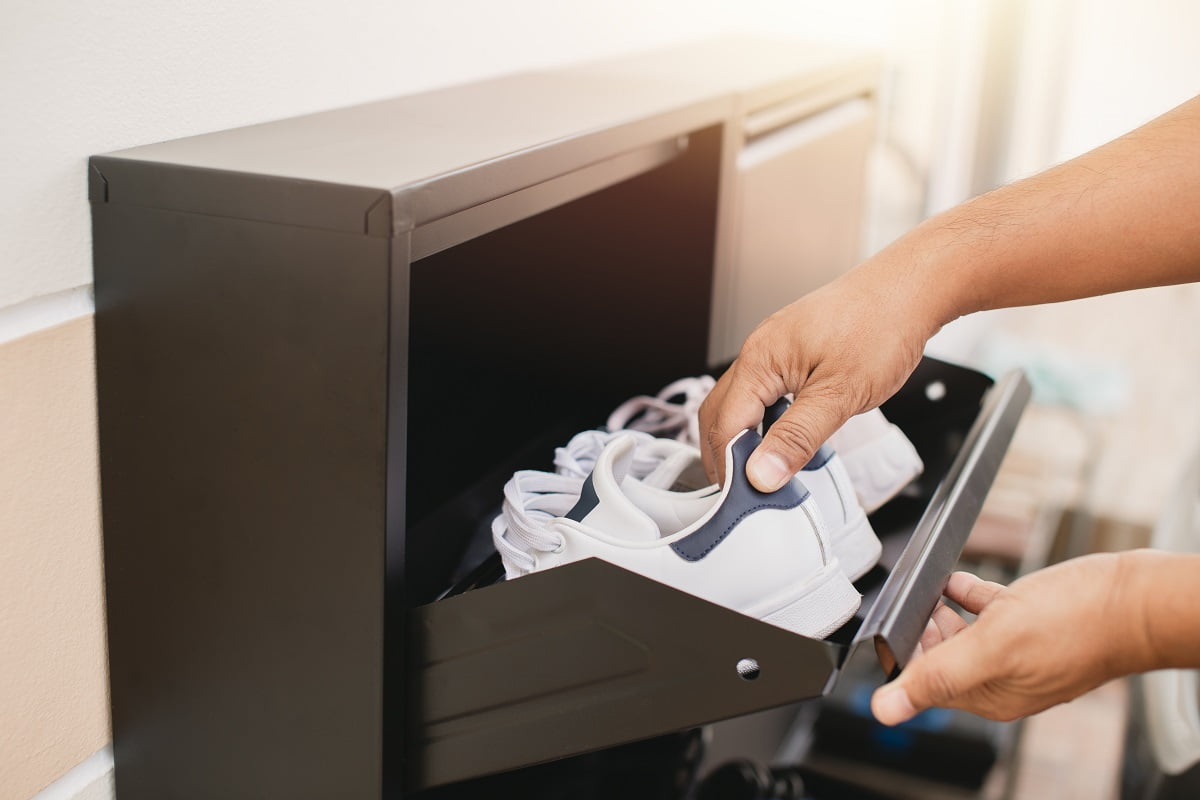 Final Words
Regardless of how many shoes you have, a shoe cabinet should help protect and display your footwear without having to worry about any damage. Adding an aesthetically pleasing shoe storage cabinet to your living space helps elevate the look of the room. 
But if you're someone that merely collects sneakers, heels, or boots, a shoe cabinet is the most convenient and safest way to showcase your entire collection. And all of this can be done without having to stack on boxes. It would, otherwise, only continue collecting dust without showing off any of your shoes. 
If you're looking to invest in a shoe cabinet, we hope this list narrows down the options, and helps find the best shoe cabinet for you!
Related Links
9 Best Plastic Storage Cabinets Right Now
10 Genius DIY Shoe Storage Ideas That Will Impress You
41 Beautifully Inspiring Laundry Room Cabinets Ideas to Consider
18 Smart Examples of Shoe Storage DIY Projects For Your Home
11 Best Under Cabinet Range Hood
13 Best Paint for Kitchen Cabinets This Year
How to Pack and Move Wardrobes, Armoires, and Cabinets Easily