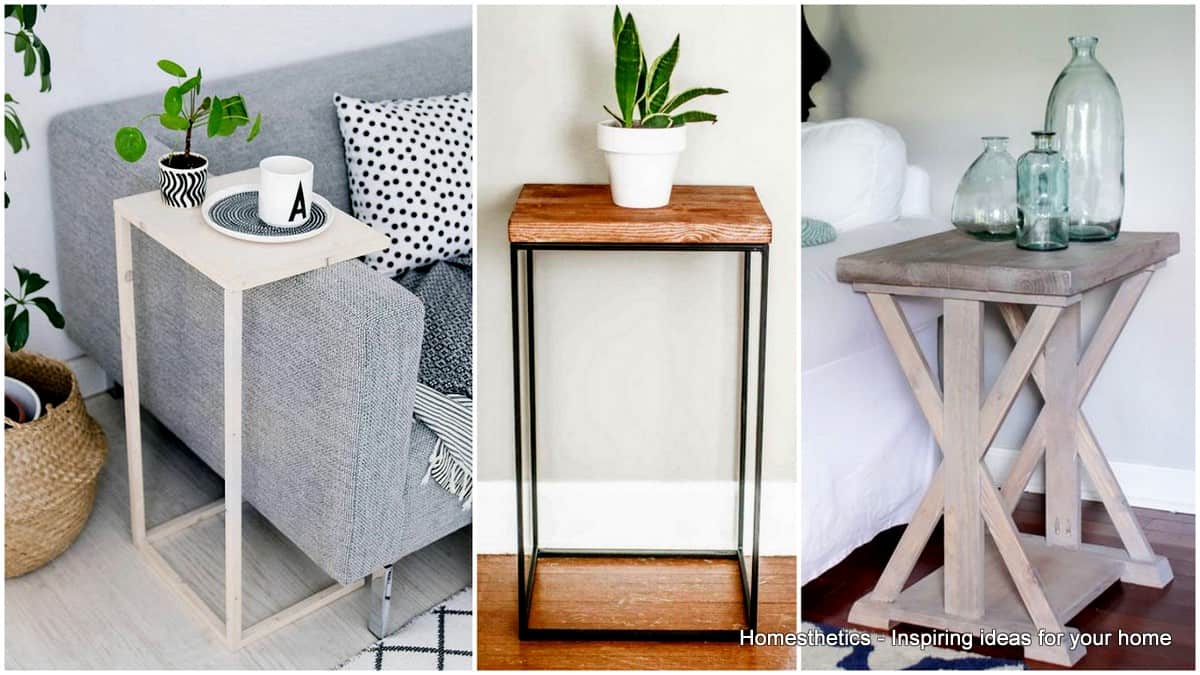 A house is not a home unless it has something different. Memories are the ones that make the biggest difference but having a few items made by ourselves and perhaps the loved ones can truly make a place special. Sofas, wardrobes or even dining tables require more work and knowledge but an end table can be easily put together with materials that might be at our immediate disposal. The expression "end table" comes from the 1850's in America and represents a small table that is placed beside a chair or at the end of a sofa. It's a project small enough so it doesn't take much time to design and create but big enough to make a difference, just like a chair, a lamp or a coffee table. Wood is perhaps the easiest material to work with but go ahead and be creative. See the potential in anything, add a little work and passion and you'll end up with a unique home. We hope the examples in this article will improve your imagination and challenge you to make your one of a kind end table.
Creative DIY End Tables
No wood beams or metal pipes hanging around? No problem. This model can be built with materials found at any construction store. Go ahead and play with the design. The satisfaction of spending some time working and then seeing it done is priceless.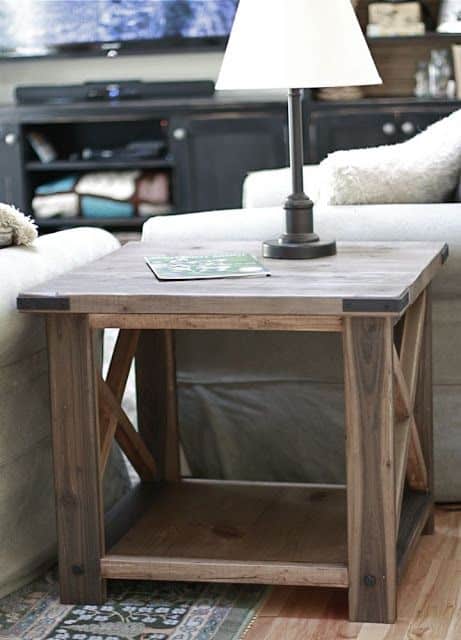 via ana-white.com
2.  turning wooden pallets into a diy end table 
This might be the easiest approach to building such an object. Wooden pallets are very common, easy to take apart, cut and reassemble in a variety of shapes that can suit any available space. Moreover, you can give them any look you want. Do you have a rather rustic living room? Then go ahead and use a wool-vinegar solution to give it an old look. Or perhaps you painted one of the walls turquoise. No easier task than buying some paint and a brush and having some fun while creating a beautiful diy end table.

3. nothing simpler than using whatever is at hand
Stacking two wooden boxes on top of each might not seem such an intriguing idea at first but the picture speaks for itself. By themselves, the boxes are no design pieces but they stand out near the blueish new couch and look very good with all the books stored inside. This is what imagination is all about. Seeing potential in any item. Perhaps you have some laying around and don't even know it.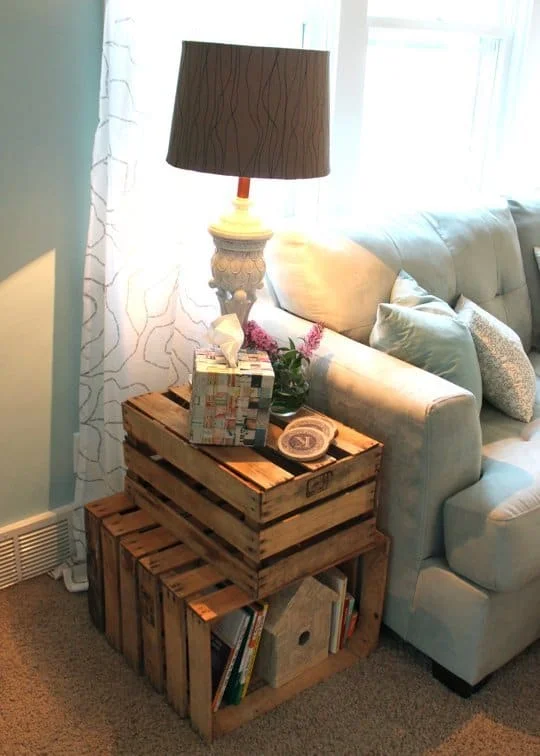 4. the beauty and adaptability of a diy end table project
Are you struggling to find a furniture piece that fits perfectly near your new couch? Then look no more and build one yourself. The principles and the materials used do not differ much and you'll definitely enjoy the building process.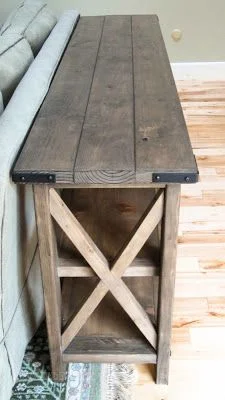 via thefriendlyhome.blogspot.com
5.combining wood with metal-fancy milk can end table
Who would have thought that you can turn a metal milk can into a table right?
Well, your guests will definitely be impressed and admire its one of a kind nature. Look around the house. What other apparently useless objects do you have? Think twice before throwing them away. Instead,  save, repair and paint them and you won't regret. I bet you won't find this in a regular store. Furthermore, this diy end table masterpieces can be used in a variety of spaces, both indoors and outdoors.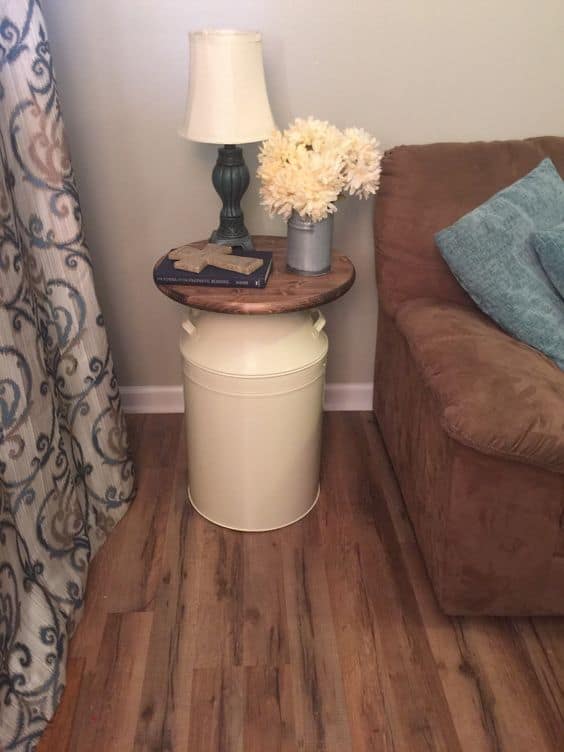 via etsy.com
Combine various items for increased practicality and looks. Figure out what your needs are and what is the most appropriate storage idea.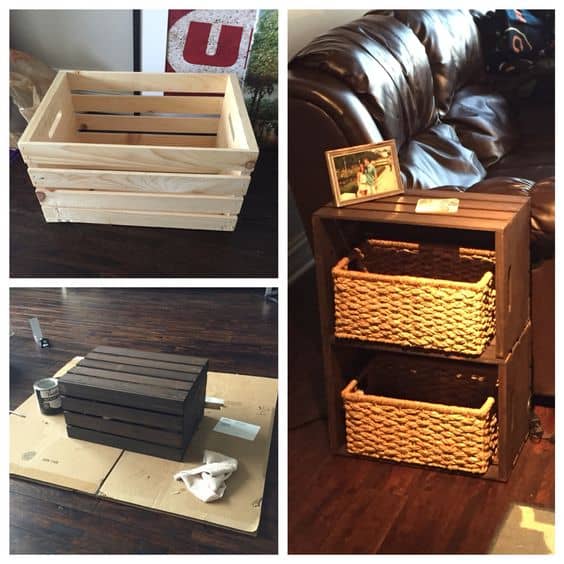 via thisbetterhome.com
7. creating a set of tables can be a great choice
Decorating your home with special furniture items is great but having a set of similar looking objects is even better, giving your living room a rather unitary appearance. Don't overdo it. Too many individual looking designs can be displeasing.

via instagram.com
8. gorgeous white diy end table
Don't know what image to go for? A clean looking white end table is something that no one can argue with. A simple design fits anywhere and is less stressful to accomplish.

via ana-white.com
9. a small wood diy end table fits perfectly near the new couch
Opt for contrasting or blending colors; a striking looking piece of furniture is usually meant to be an accent. The main color of the room should be chosen according to its size and lighting.

10. tailor to fit furnishings
If you want something made by you, custom-made for your home but do not know what it should be yet than think about what you need. It's the easiest way. Maybe it's a small table to put the remote or an end table with shelves that can store the books you read on the armchair.

via etsy.com
11. creating a diy end table with store-bought items
There is no need to build something complicate that takes hours. Go to the store and get creative. There are many objects that can be merged together to create something beautiful.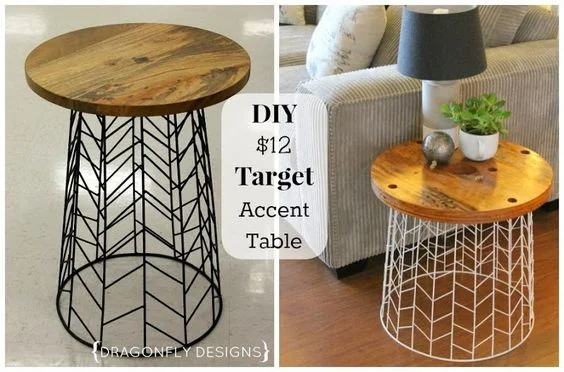 12. rustic wooden boxes nightstand
A wooden box by itself is bot much but add another one, paint them, and you'll be delighted with the result: diy end tables in a couple of hours.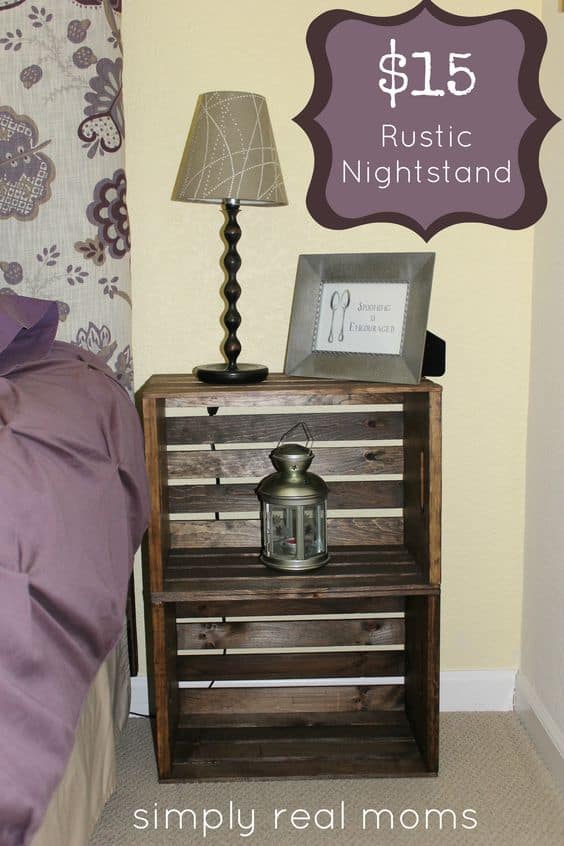 via simplyrealmoms.com
13. adding color makes all the difference
Size, shape and color. Those are the attributes that define an object. You only need to emphasize one of them to create something beautiful to look at.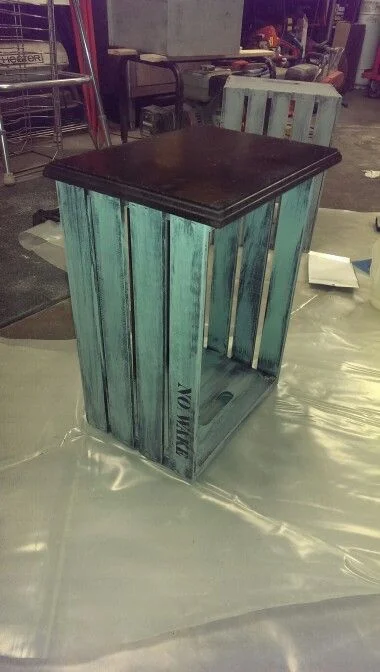 Source Unknown
14. patio diy wooden end table
Wood is very easy to work with. Cut the pieces in various shapes and sizes to create patterns on your diy end tables or coffee tables.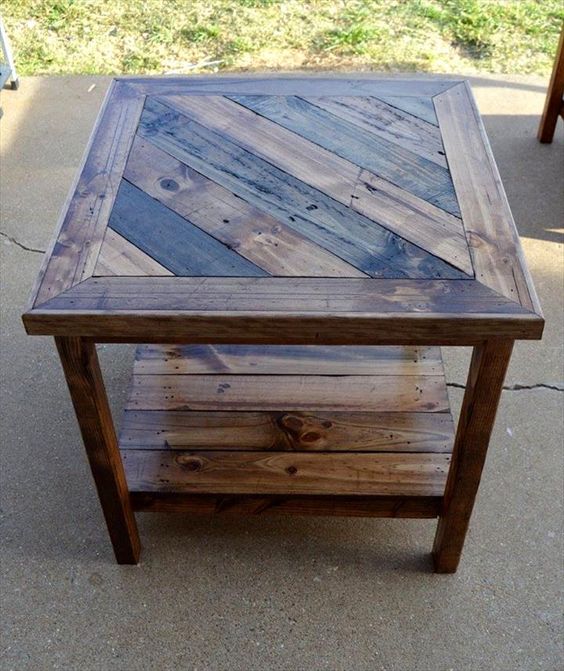 via tinycowboyworker.tumblr.com
15. fitting wheels to a diy end table 
It not only needs to be beautiful but useful as well. Small details can make a big difference in every day life.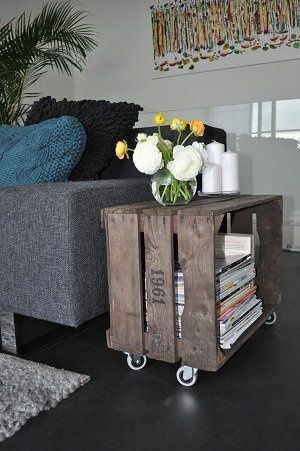 16. stylish looking wooden end table
With this diy nightstand or end table it's the shape that makes it look good. Not the size or the color. The beautiful craftsmanship makes it looks very tidy.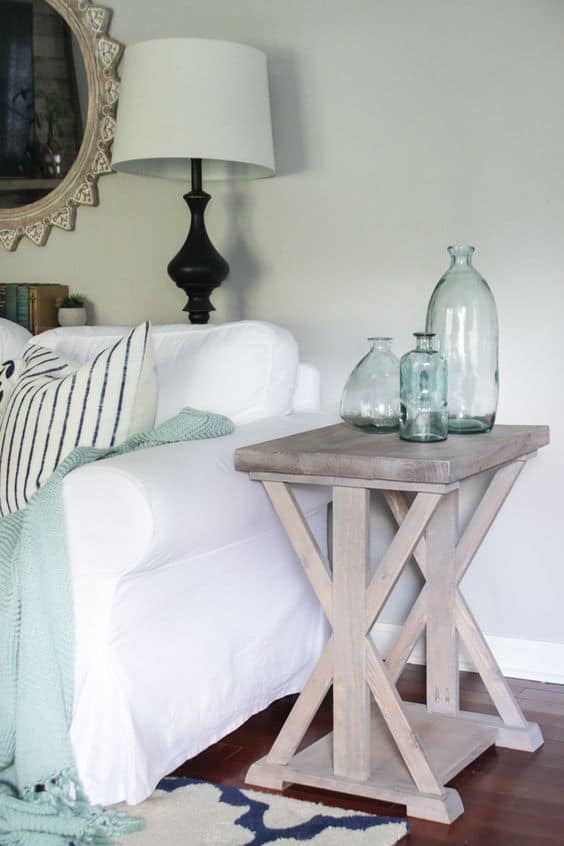 17. raw piece of wood turned into a furniture item
Combine this element with other rustic elements or, by contrast, with a new piece of furniture. Either way, you will impress. This simple but beautiful log can work as a diy nighstand or an end table in your living room.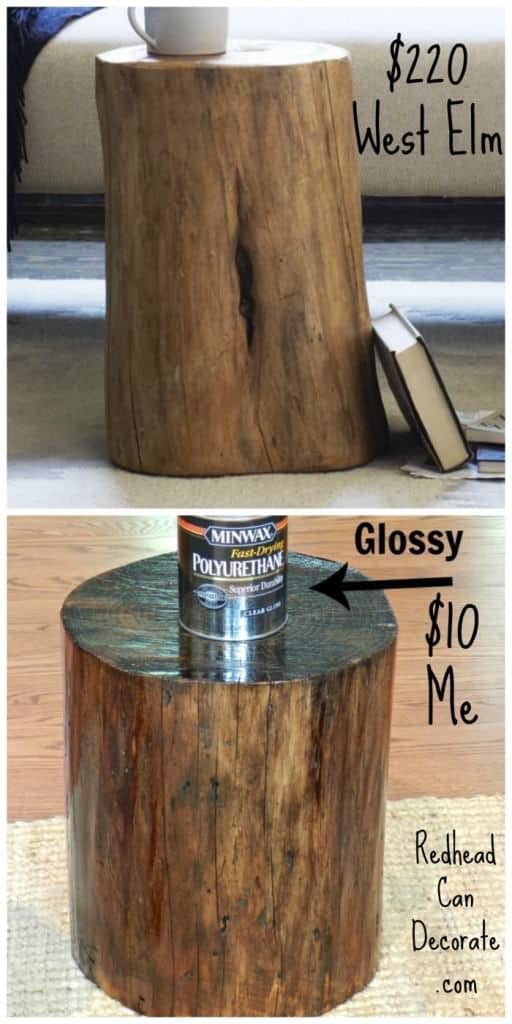 18. easy to build outdoors end table
This end table was made from an old crate or a wooden pallet. Leave it like this and it's perfect for your backyard or paint it and it will fit just as well inside.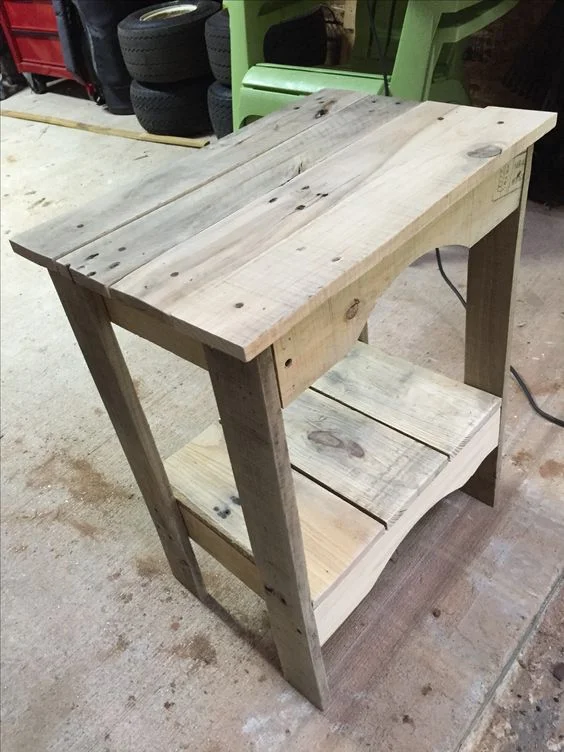 via covenantnetworksupport.com
19. playing with shapes and colors
Don't resume to a simple design. Find some inspiration and cue the music. The Japanese wood art is a very good place to begin, they take wood craftsmanship to a whole new level. Not sure what colors to use? Pastel pallets are always a safe bate.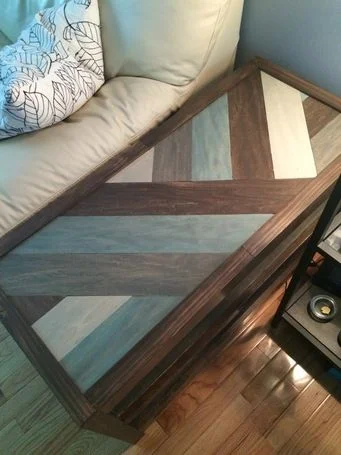 via ryobitools.com
20. creating the perfect fit for your new couch
Always think about the relation between the new object and the existing ones. A regular layout will only limit your imagination. Take a design and adapt it to your place.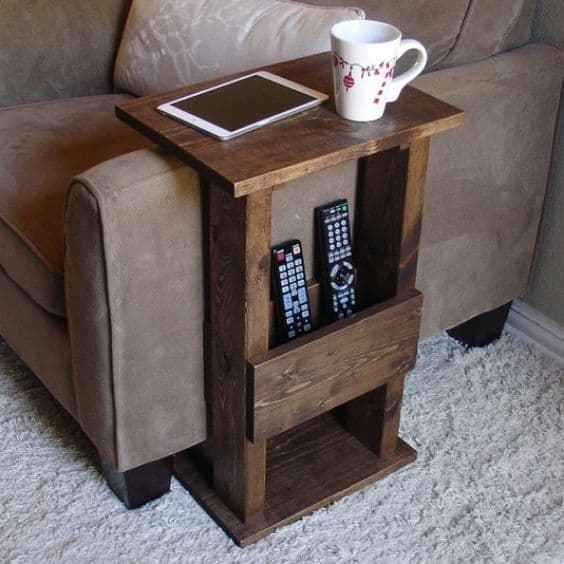 Source Unknown
21. fresh looking end table
This item is even more connected to the sofa. The small table top is supported by two thin legs and it simply looks great.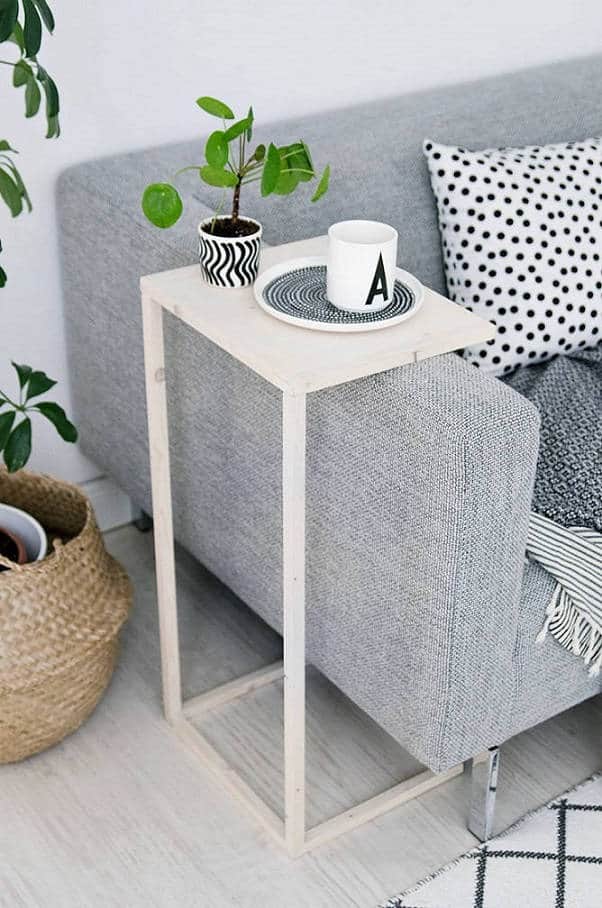 22. unique rope end table for your cozy living room
Wood and metal are not the only materials available. If it looks good and it is durable, it can be used. This rope end table is lovely and quite easy to make. The next step would be to create shapes or combining it with other materials.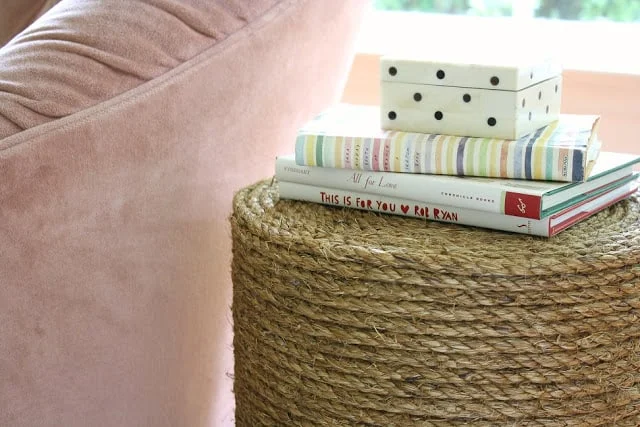 via meetmeinphiladelphia.blogspot.com
23. copper tubing colored end table
One or two colors are enough. You don't want to have a crowded room that is tiring to look at; too many materials and colors and you'll feel like in a general furniture store.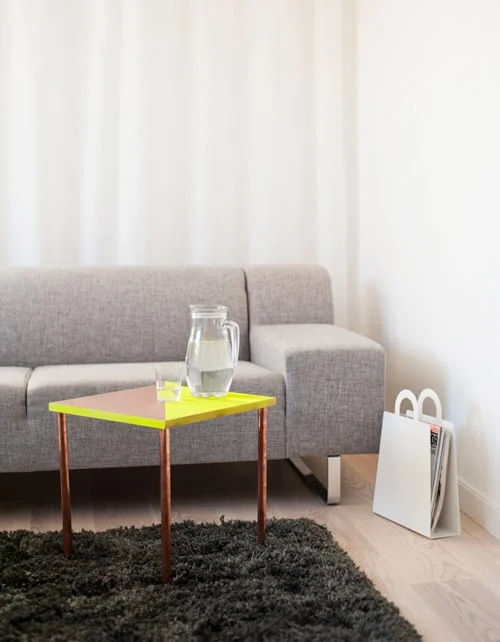 via designsponge.com
24. hairpin metal and wood stylish end table
The color pallet is just right, keeping the room clean and full of light. Hairpin legs on a beautiful savage wood table top might be all you need.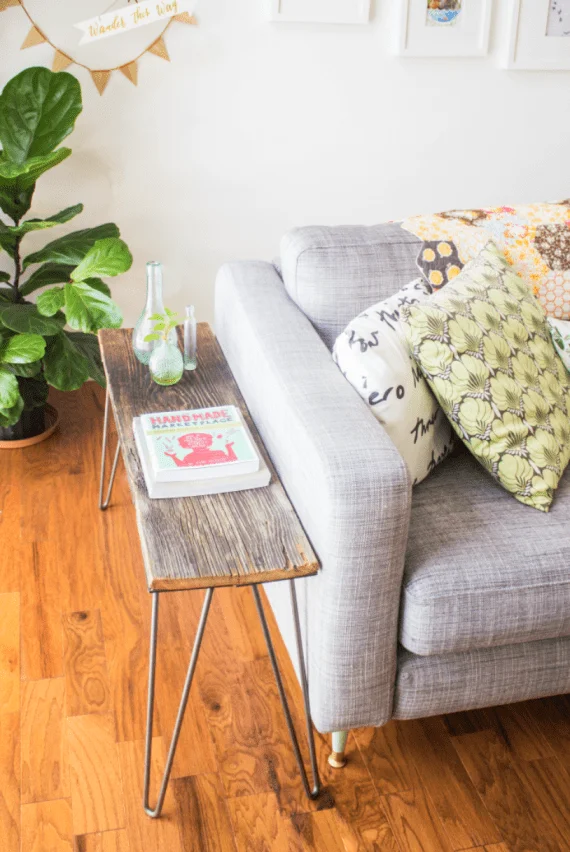 via goinghometoroost.com
25. clean looking wooden table for a neat living room
You can never fail by using a simple design. Add a little flavor by using contrasting colors, here the table top contrasts the table base elegantly in relation with the context.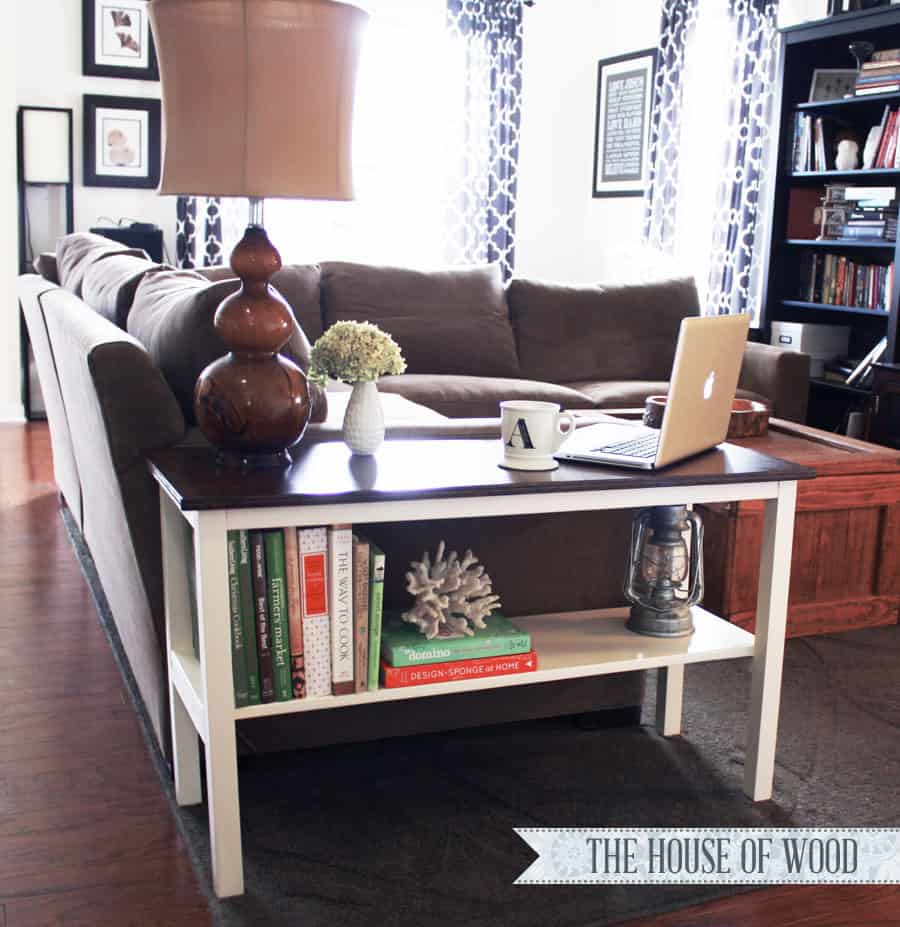 via jenwoodhouse.com
26. an industrial end table will definitely stand out
Depending on your skills and tools available, you can go for something that requires more work. Envision the end result before you start anything though, ensure that the project complements or contrasts your place in pleasant, beautiful way.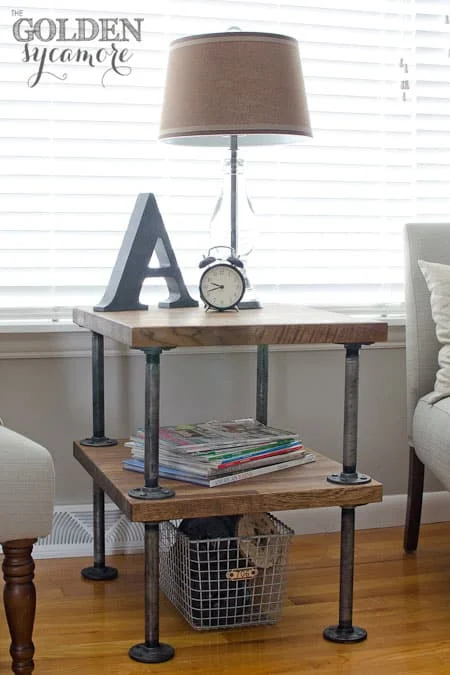 via thegoldensycamore.com
27. attractive log slice end table
Contrast can be achieved by employing not only colors but also shapes, sizes and textures. A beautiful slice of a wooden log receives the legs of an inexpensive ikea stool and magically becomes a legendary side table.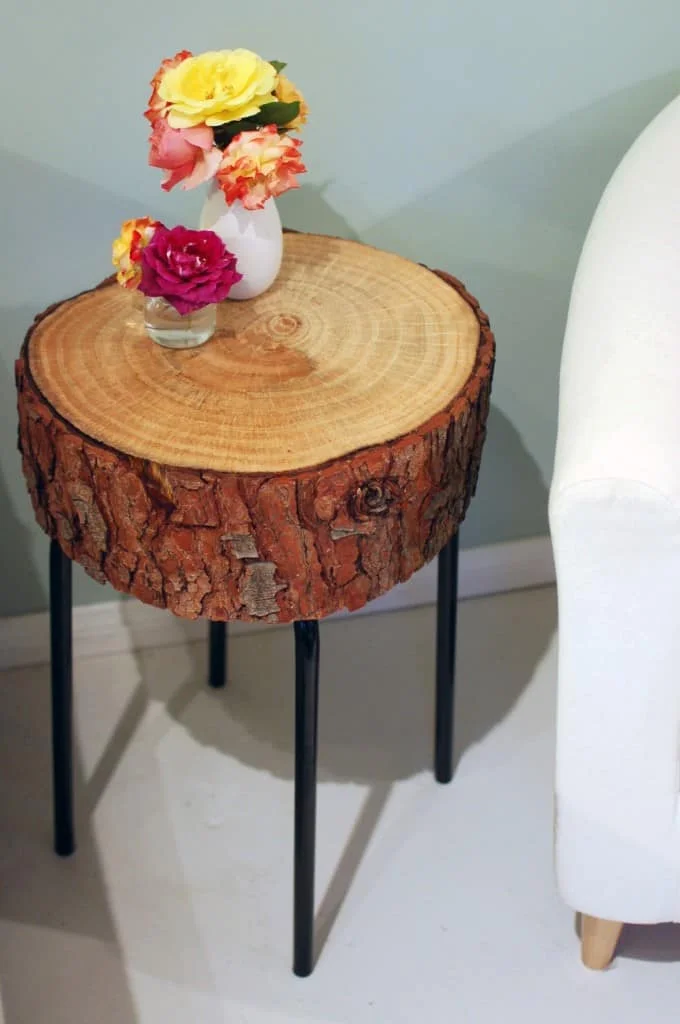 via seakettle.com
28. easy to assemble side table
The combination between metal and wood is always interesting. Here a piece of wood doubles as a warm table top while the table base supporting is industrial looking, heavy duty, a beautiful balance.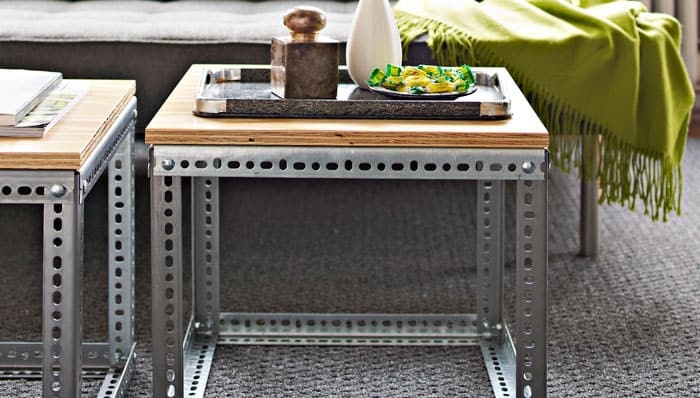 via lowes.com
29. turning a wooden crate into a home statement
Personalize your project in any way you want. Words add meaning to an object and can transmit the message you want.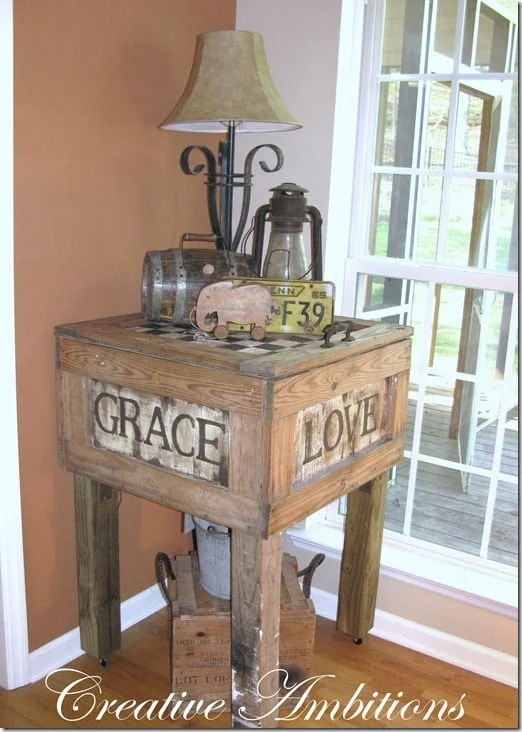 via creative-ambitions.blogspot.com
30. recycling a library card cabinet into a practical end table
A vintage look is very trendy nowadays. Use objects that have a history to add particularity to your home.
31. colorful small end table
Before choosing colors, try to imagine if they match. There are many websites that can help you choose the right set, it makes a big difference.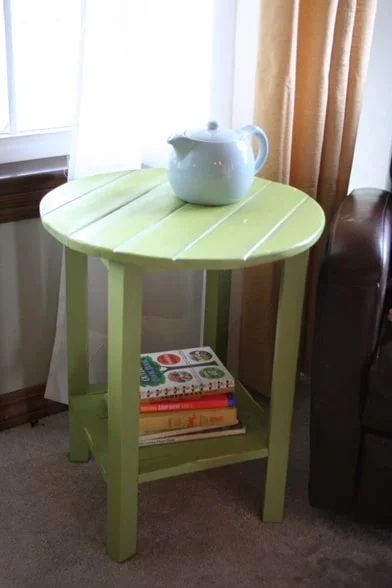 via amykayparnell.wordpress.com
32. acrylic side table with x shaped metal legs
This design is definitely exclusive. There are many ideas that can help you choose the right one for your place. Acrylic is a inexpensive material that looks like glass and manages to emphasize the feeling of space through transparency.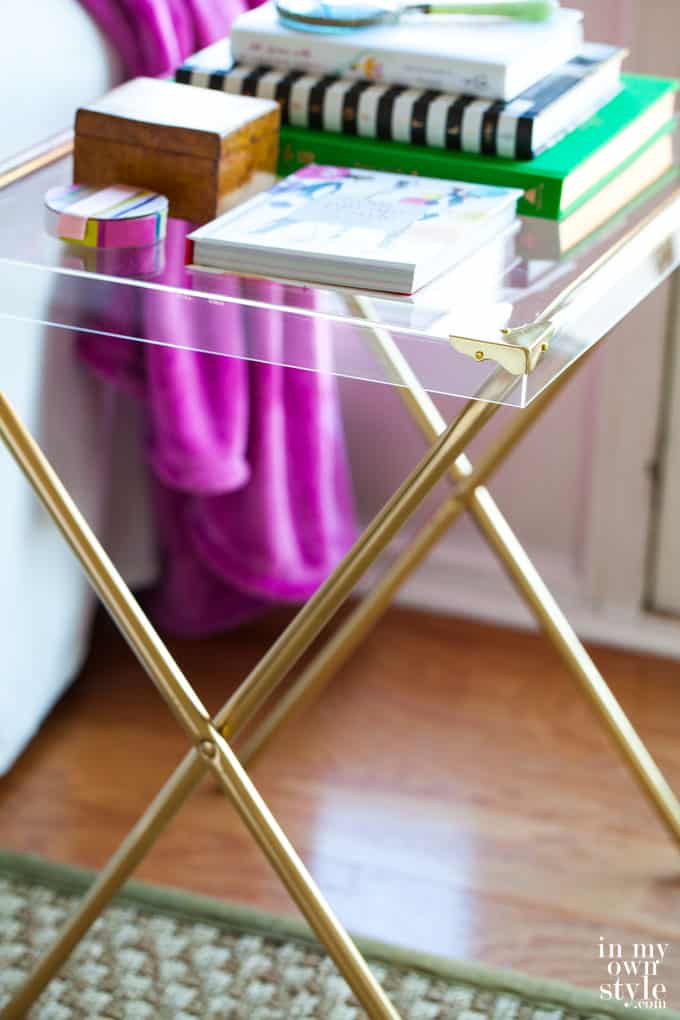 via inmyownstyle.com
33. using a wooden crate is the most effortless approach 
I like the way the materials emphasize each other while keeping the room fresh. The thin hairpin legs are easy to obtain, they look epic; a crate and hairpin legs you have the ultimate hairpin legs side-table design!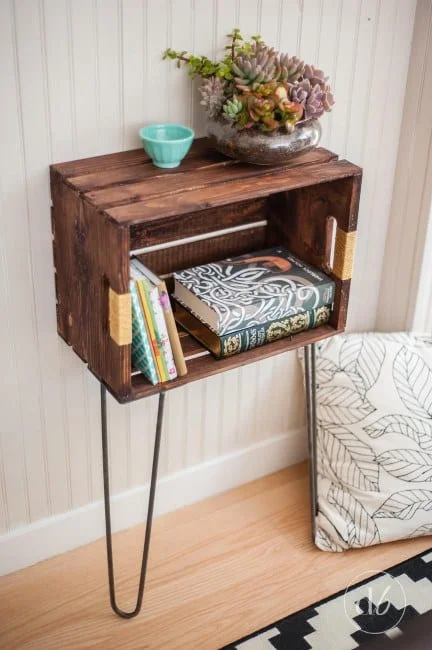 34. a special project – a himmeli copper pipe base for a geometric end table
This example is rather intriguing and easier to make than it looks. It was inspired by Himmeli, a Nordic technique used to make Christmas décor that has influenced many other designs over time. It's a beautiful project that will offer you a lot of satisfaction once it's done, it will impress any guest. It might not fit in a rustic room but place it near modern furniture and it will look amazing.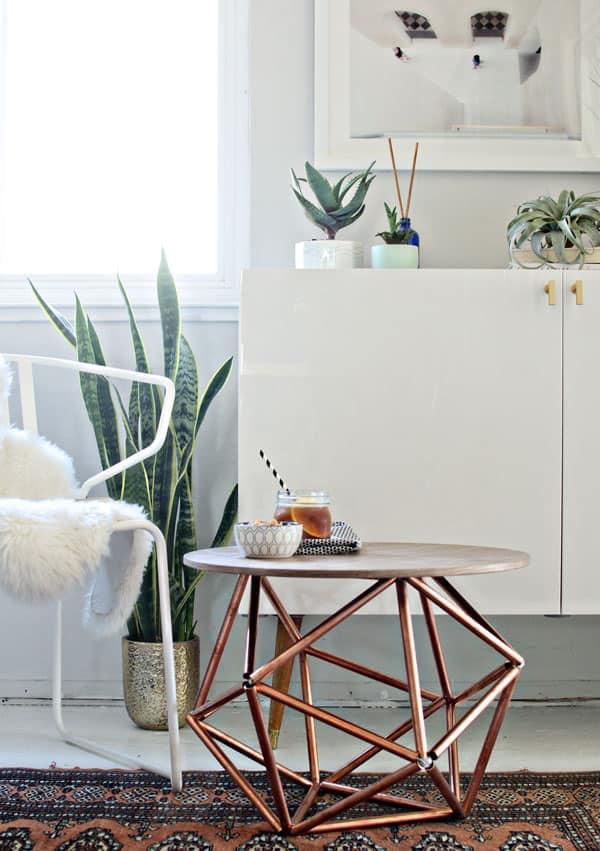 via homedepot.com
35. a chick presence – the diy wire bin end table
Unlike the Himmeli end table above, this design is made of two store bought items that manage to look appealing with less work involved. Working hard definitely pays off sometimes but take advantage of any opportunity.
36. thinking simple can result into lovely exclusive furniture items
This is the essence of an end table. No fancy copper tubes or intricate wood design. Just the basics. Something to rest a book on. It's not a simple design though. The creator did put some thought into it and carefully calculated the proportions to achieve something simple and beautiful at the same time.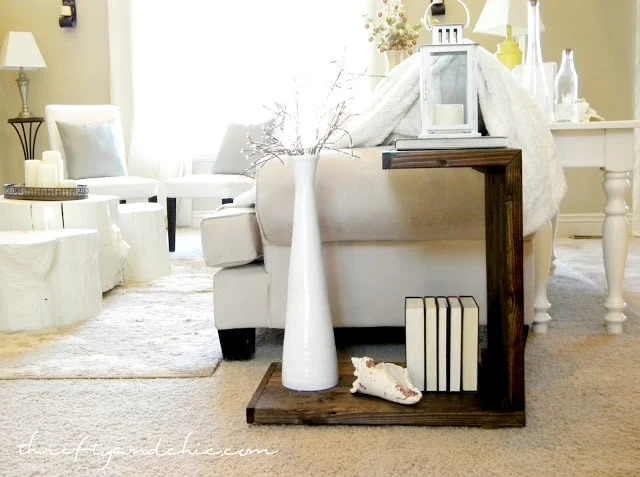 37. ikea hamper and wood table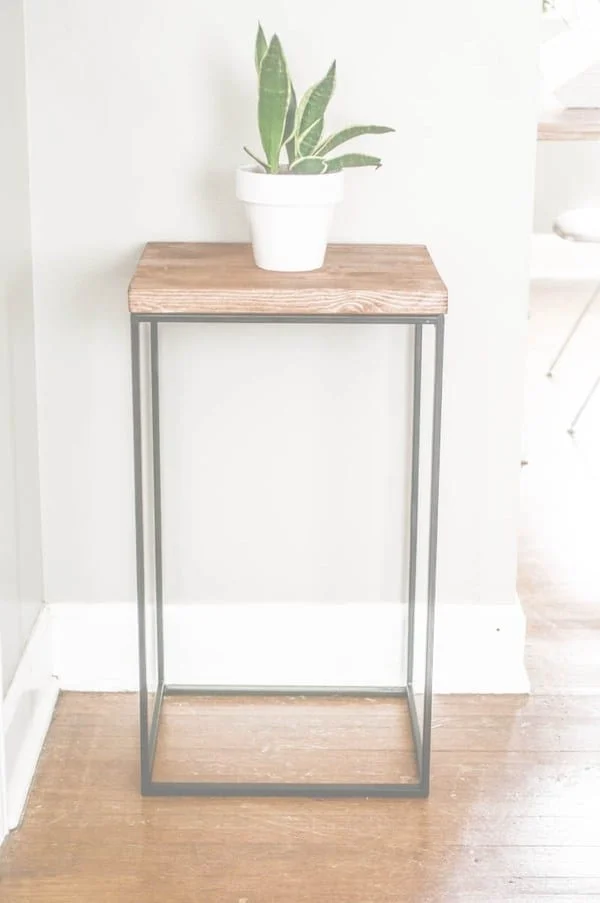 via manmadediy.com
38. trendy round wooden end table
I love the detailing on this small end table. The creator matched the base of each leg to the ones of the couch. The natural dark wood matches perfectly with the pastel pink.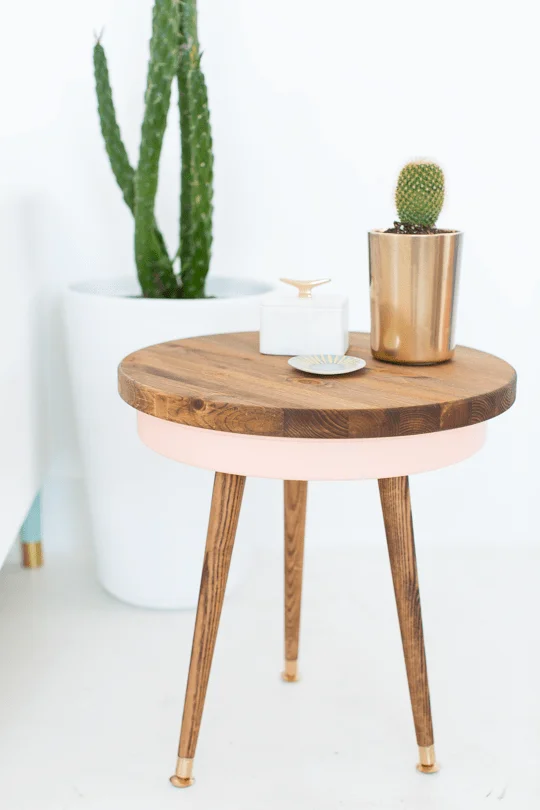 39. from a metal plant stand to a nifty end table
Before attempting to create a DIY end table from scratch, look for objects that you can use and are at your disposal.
40. use contrasting colors for attractive looks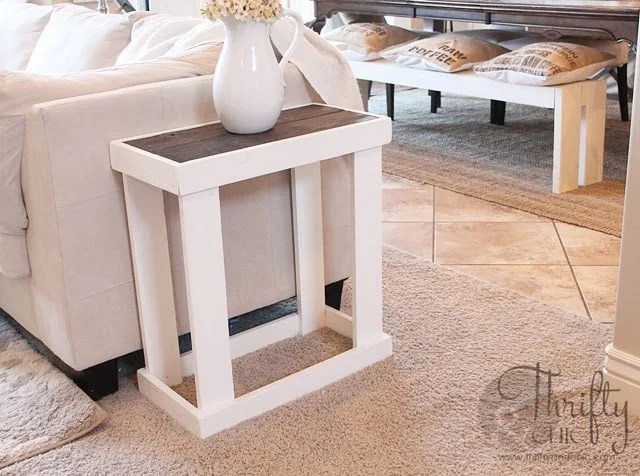 41. combining metal and leather is rather special
Looks good and sturdy. Might as well be used as a chair. Play with the leather pattern.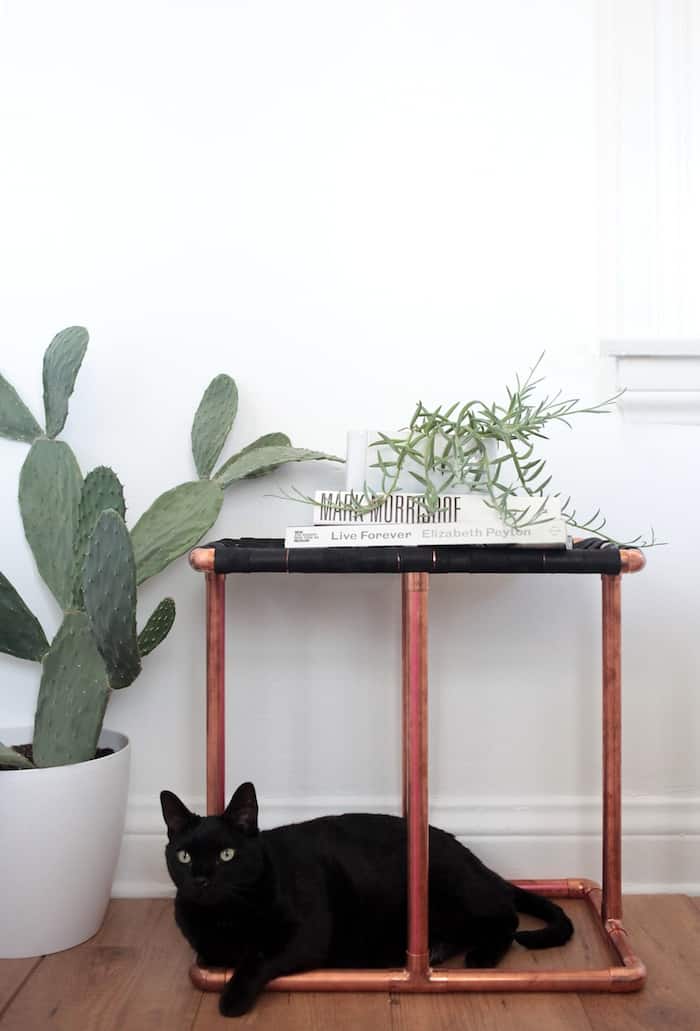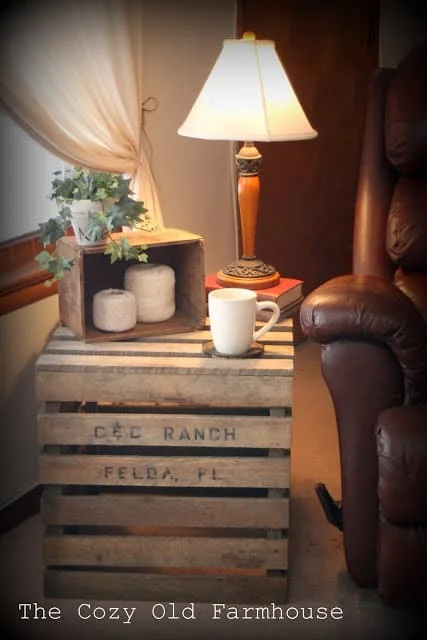 via thecozyoldfarmhouse.blogspot.com
What do you think about this particular DIY End Table gallery ? Would any of these be a good fit in your home? We would to hear your feedback in the comment section below.
Related Articles
27 Splendidly Comfortable Floor Level Sofas to Enjoy