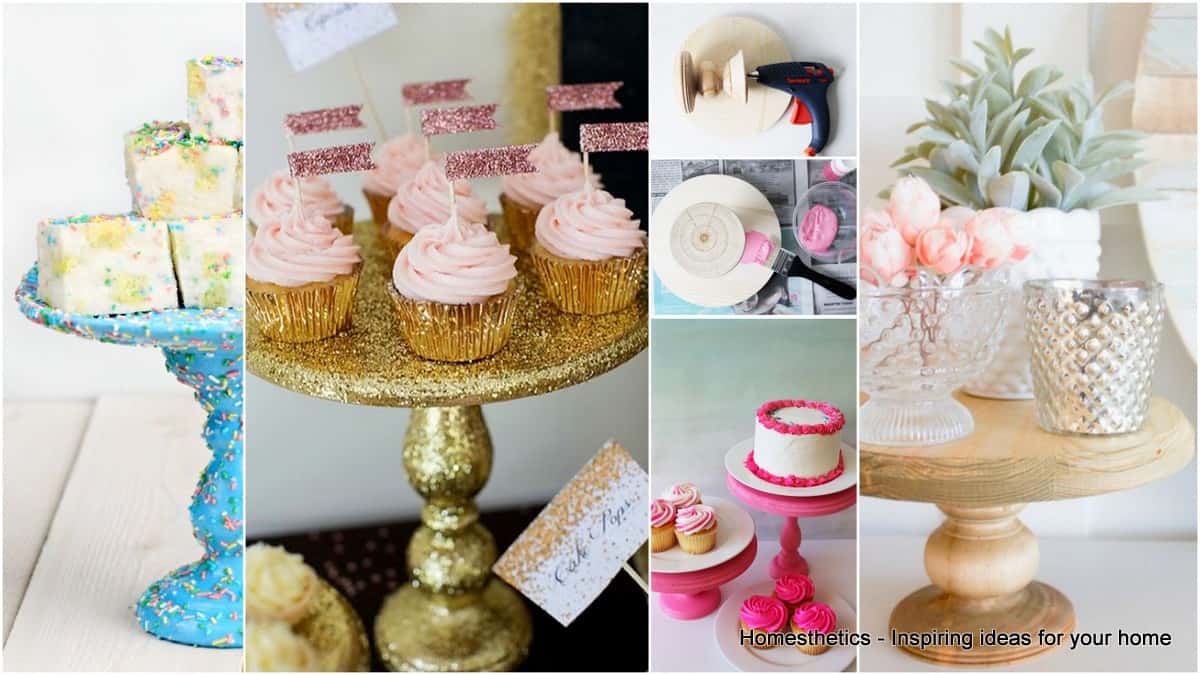 Cake stands and dessert stands are not a mandatory item in a party, in a celebration, they`re not something that we actually need in our home but they are elements that can come in handy for that one time, reason for which, diy enthusiasts have materialized extraordinary cool and inexpensive solutions to this problem, diy cake stands that you could use once only to disassemble afterwards, stands that require 1 dollar store elements and paint to surprize beyond belief or simply, nothing new at all, a clay pot from your yard or old china that you like and cherish.
The gallery below makes the argument of greatness in the name of the DIY community, cast a glance and surge inspiration for your next event.
57 Beautiful DIY Cake Stand Designs
1. one wine glass, pearls and plate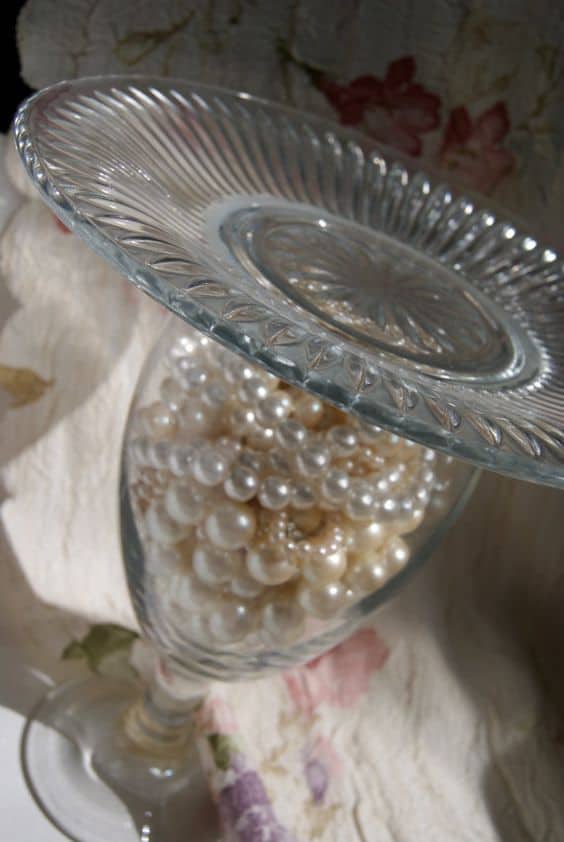 Simply fill a glass with pearls and stick it onto a transparent plate, the result is nothing short of glamorous.
via etsy.com
2. simple wood elements in baby blue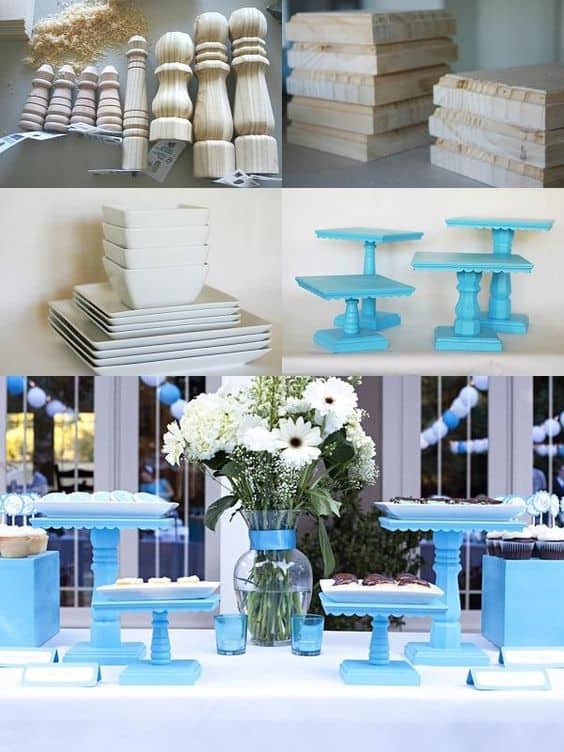 You local hardware store has everything you need to shape fashionable cake stands; alternatively you can salvage furniture legs and boards to shape something similar with smaller costs.
3. Glitter all the way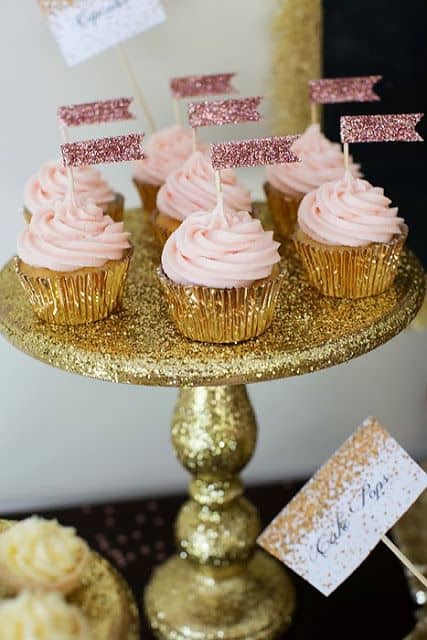 Let your event sparkle throughout, enjoy the shinny presence.
via littlebigco.blogspot.co.at
4. simple DIY cake Plates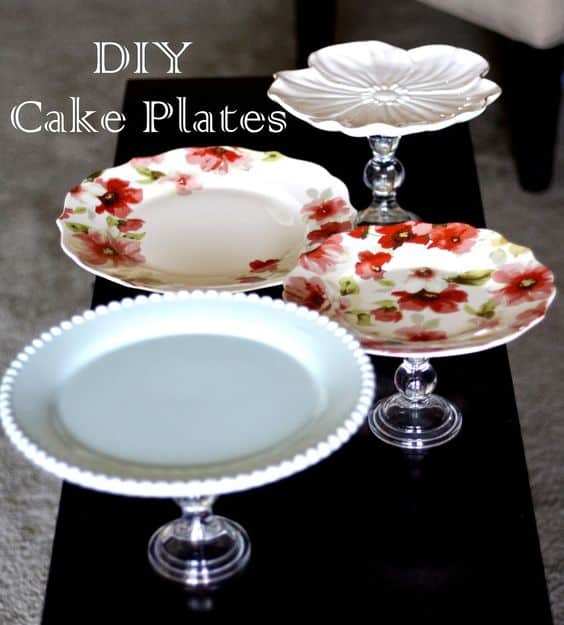 Plastic elements from the 1 dollar store can be put together to shape something colorful and diverse.
5. old china and glasses sprayed to life

We all have that one glass left from the set that will simply not break, the last one standing, there is always one last plate too. You can use these unique elements now to create your cake stand, simply stick them together and spray with the color of choice, the sculptural shapes above are beautiful, colorful, vivid.
6. rightfully salvage wood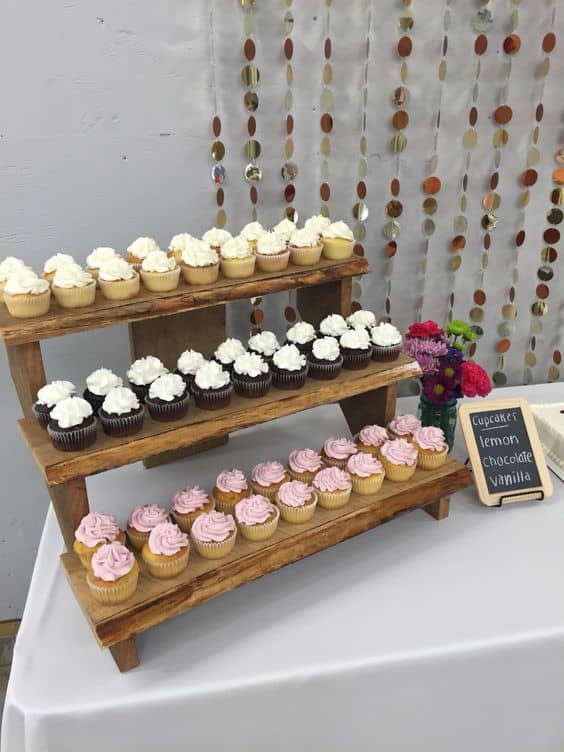 Here a small piece of an old wooden stair carries lemon, chocolate and vanilla cupcakes, brilliant, beautiful and tiered !
Source Unknown
7. Simple trays and candlesticks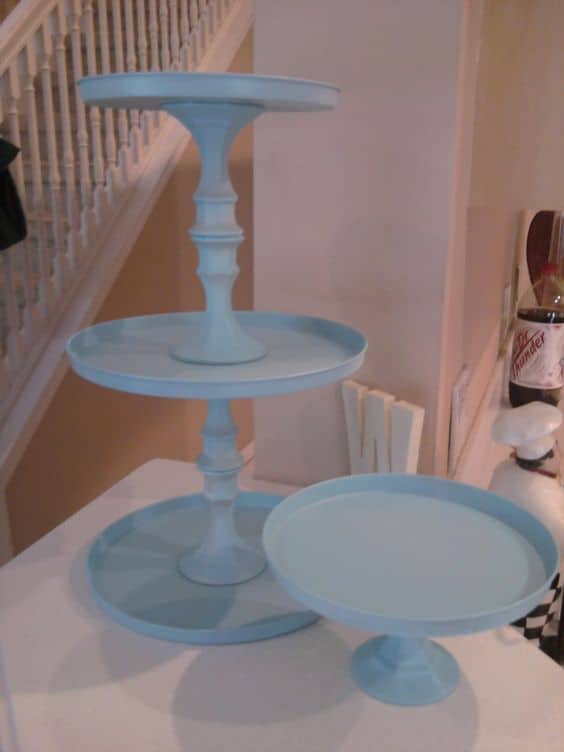 via aperfectlycrazylife.blogspot.com
8. old chandelier and plates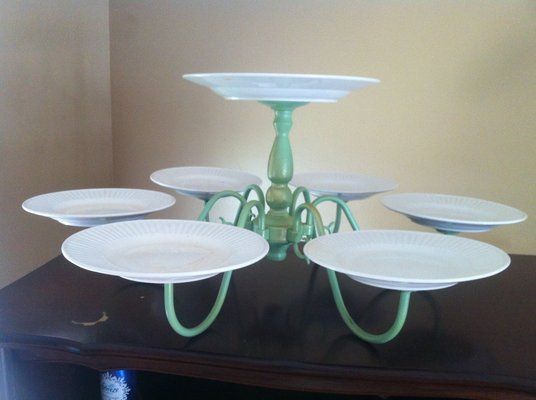 A solution for huge events that will certainly not be overlooked. Use color to set it apart furthermore.
via muchpics.com
9. 5 minute diy cake stand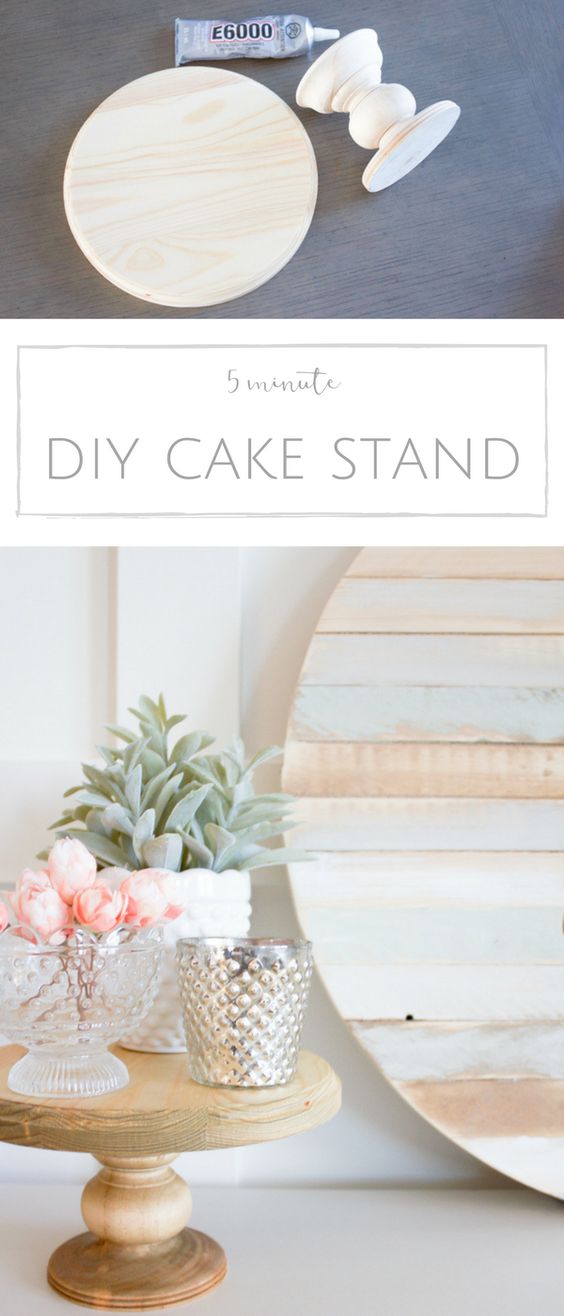 via makingitinthemountains.com
10. $1 store elements sprayed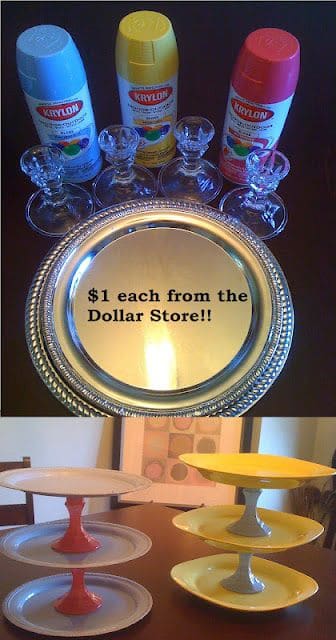 Super simple, insanely inexpensive way to serve sweets.
via sarahontheblog.blogspot.com
11. candlesticks and wood into cake stands

The right shade of pink is defined by your event but the one above sure is eye-candy.
via poppytalk.com
12. glitter all the way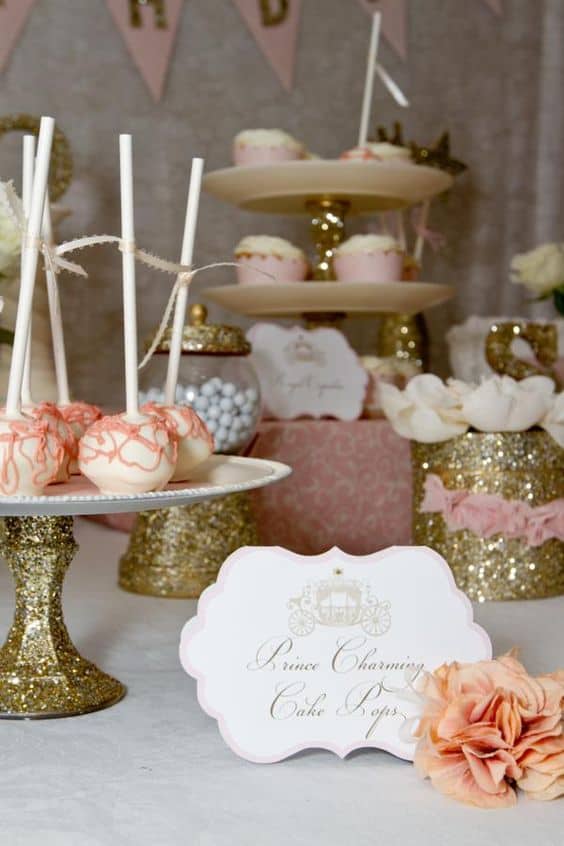 13. simple white meets color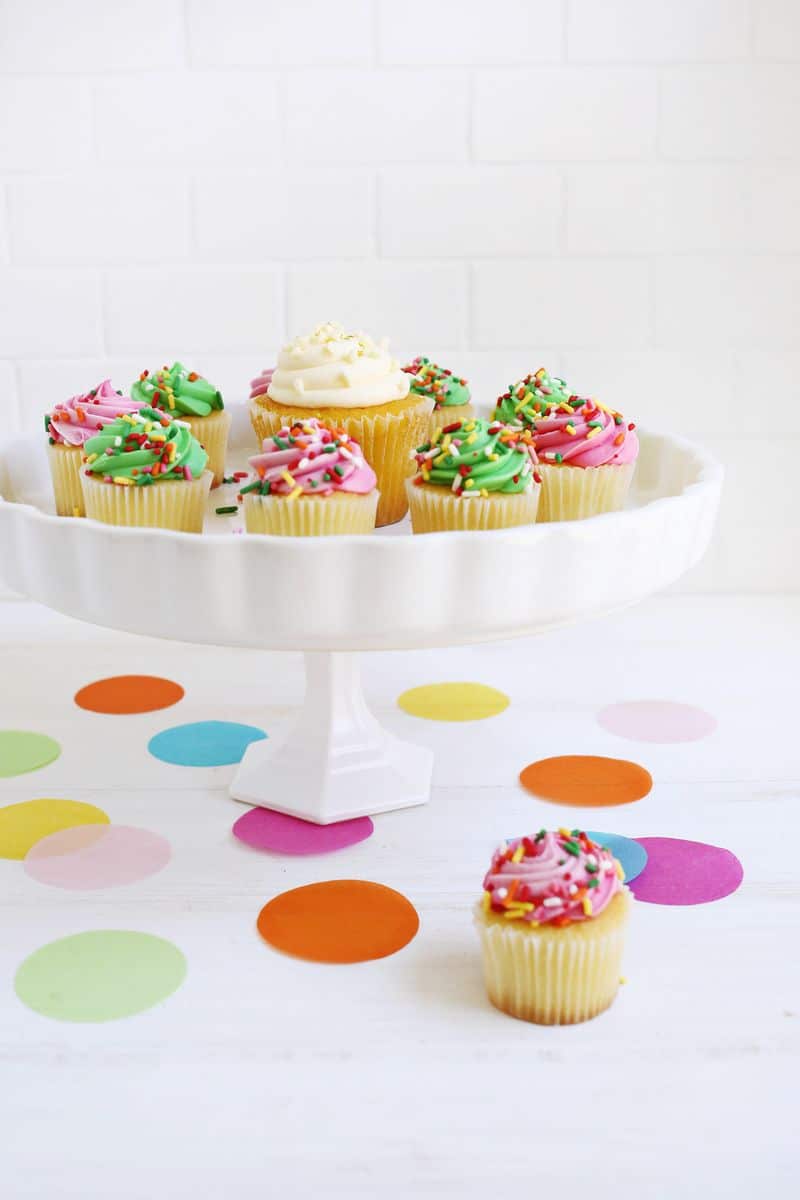 White and color, color all the way.
14. old china in an IMPECCABLE setting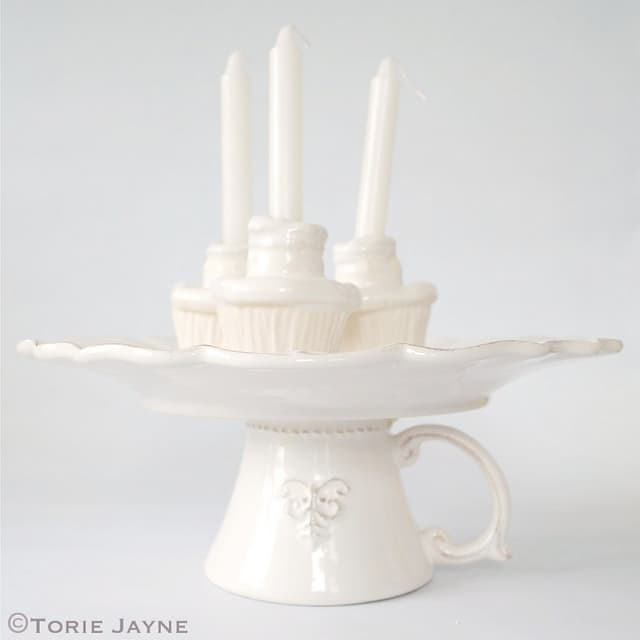 via toriejayne.com
15. little league supported by a candlestick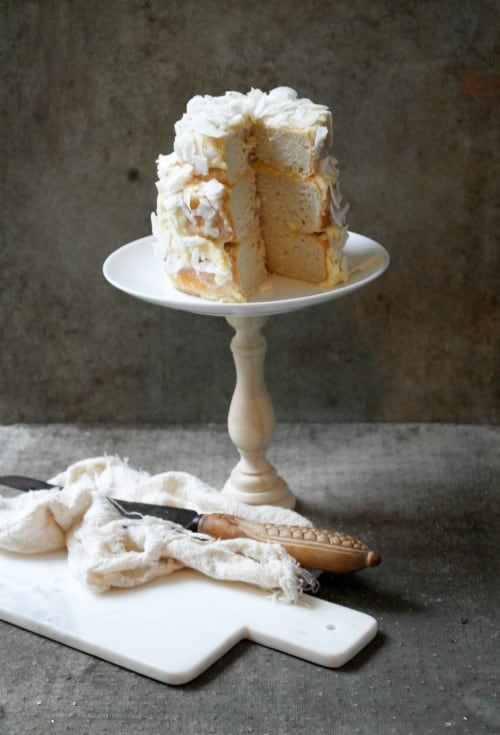 via designsponge.com
16. diy wood & copper cake stand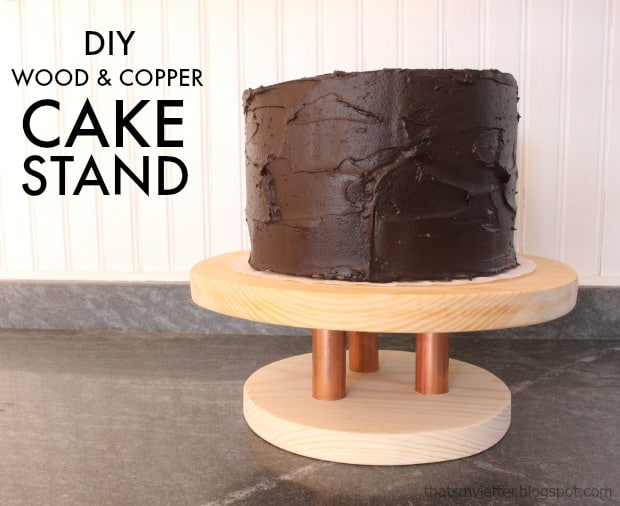 Simple and efficient. Feel free to play with the scale of the elements contained, here thinner copper tubes would have granted a more delicate,  sensible look.
17. slices of wood become cake stands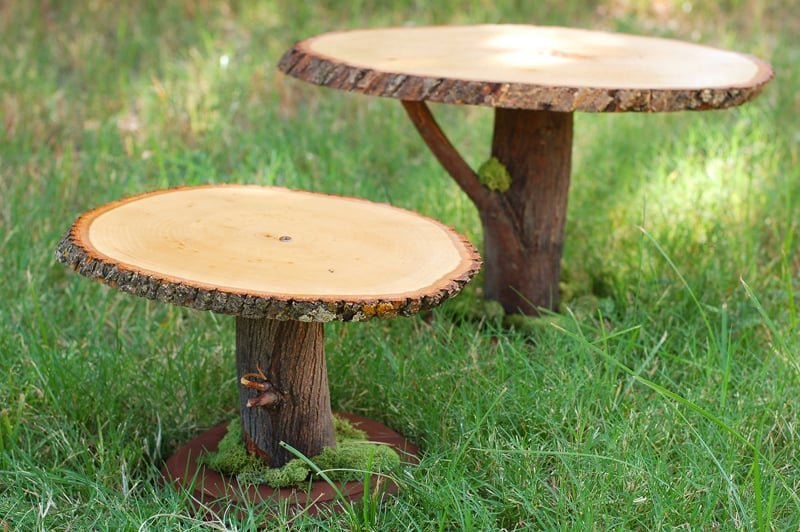 One log piece and one slice of wood and you have something unique in this world.
via tikkido.com
18. shabby white wearing colorful sweets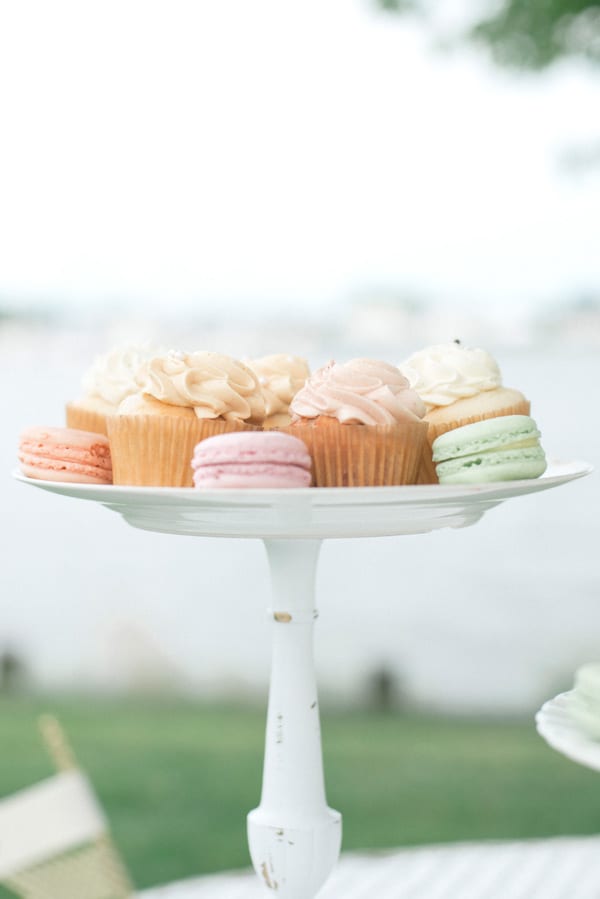 via baysidebride.com
19. flower pots upside down doubling as cake stands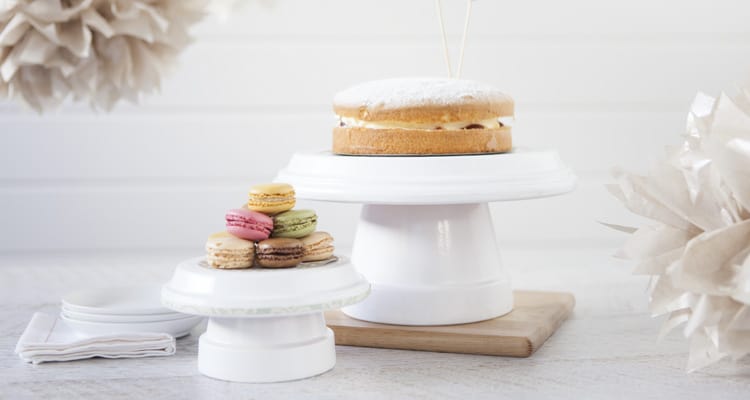 Stark white redefines clay pots into an airy setting as dessert stands.
via taradennis.com
20. tin boxes and transparent trays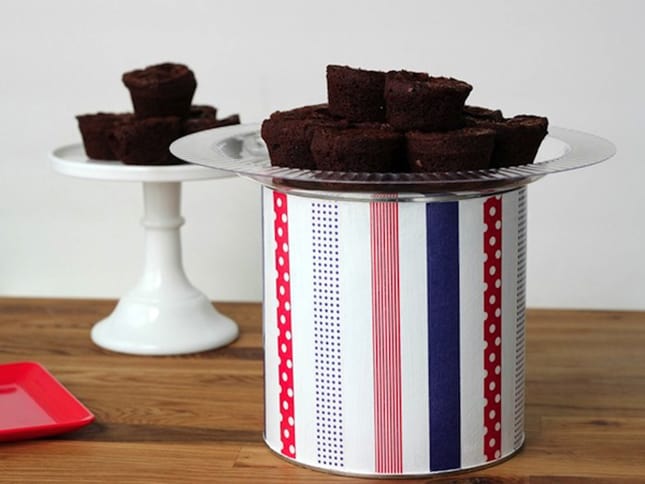 Tin boxes are always useful, carying trays with brownies is no big deal for this epic element.
21. cloche bells on wooden cake stands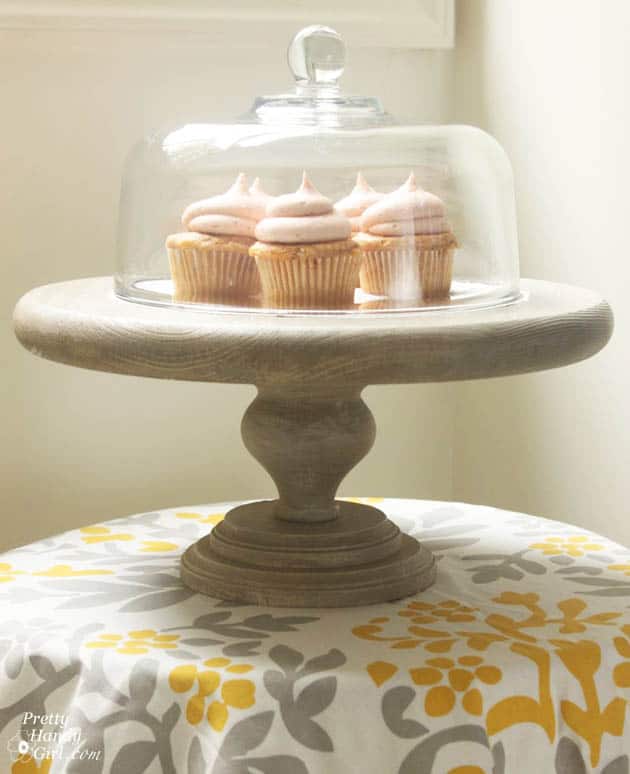 A complete and sculptural presence designed with simple elements from the local hobby shop, cast a glance at the complete tutorial in the link below.
22. sparkling glitter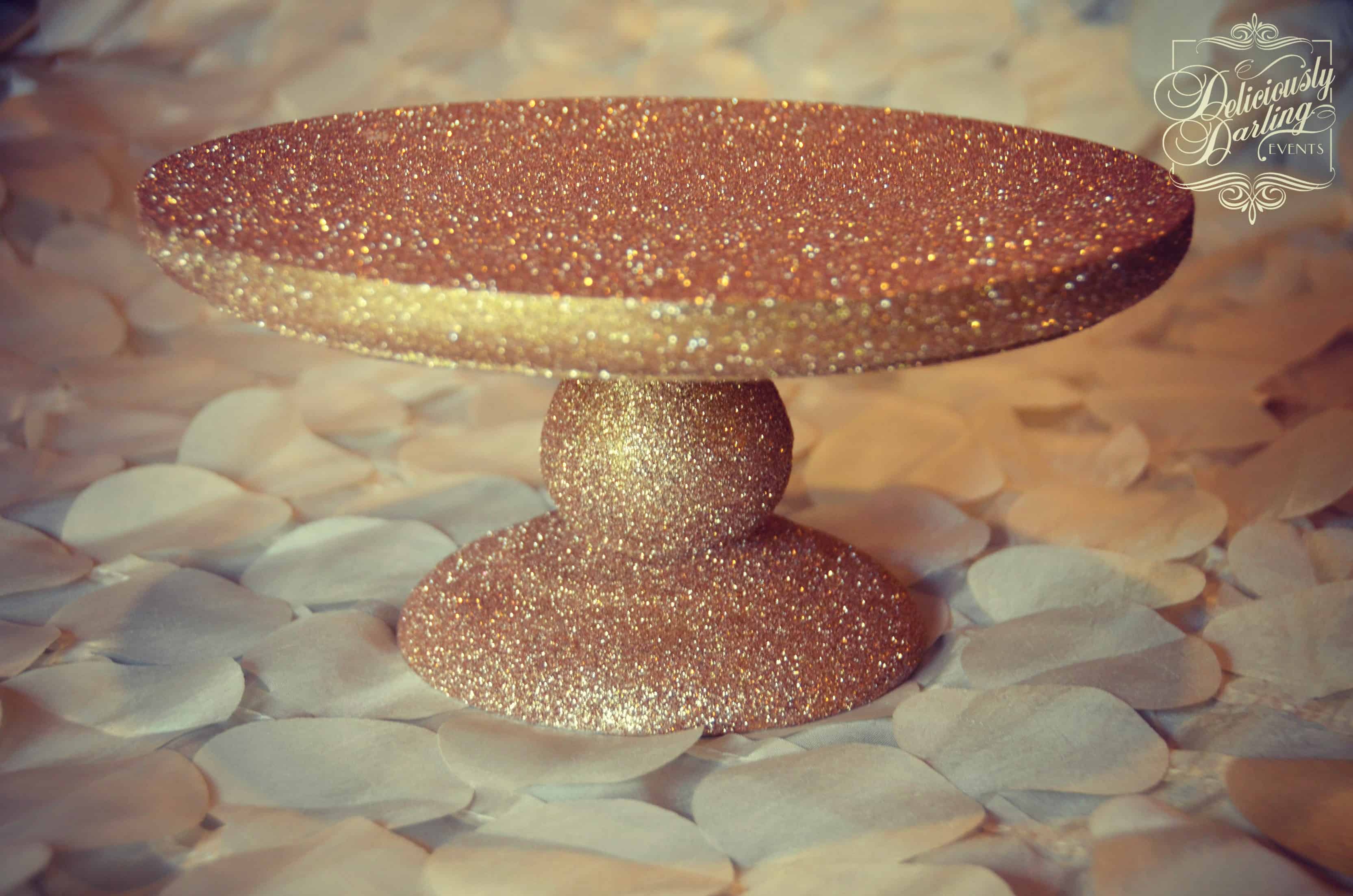 Glitter can change everything, are you using it right?
via deliciouslydarlingevents.com
23. ombre cake stand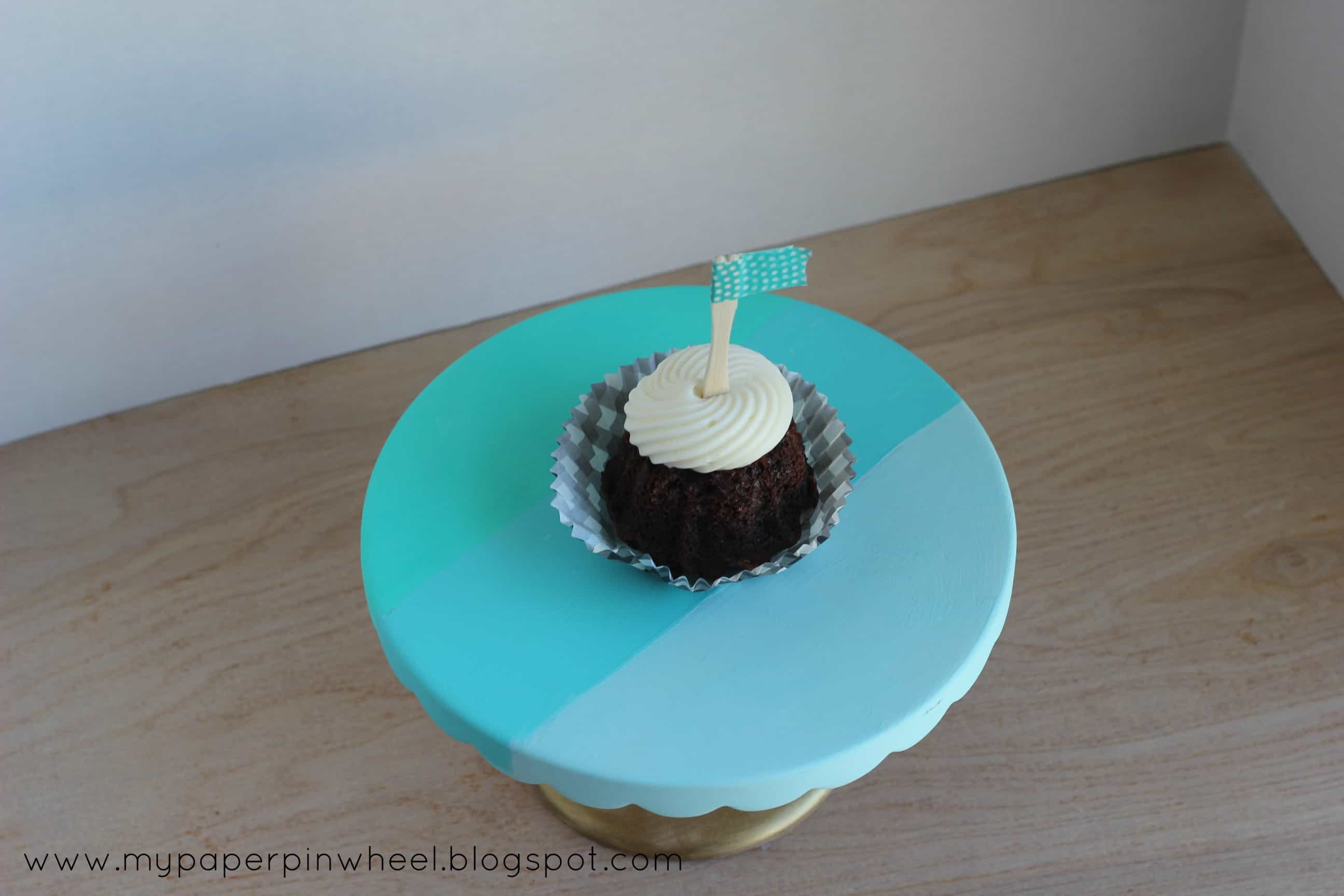 via mypaperpinwheel.com
24. simple plastic for sweet needs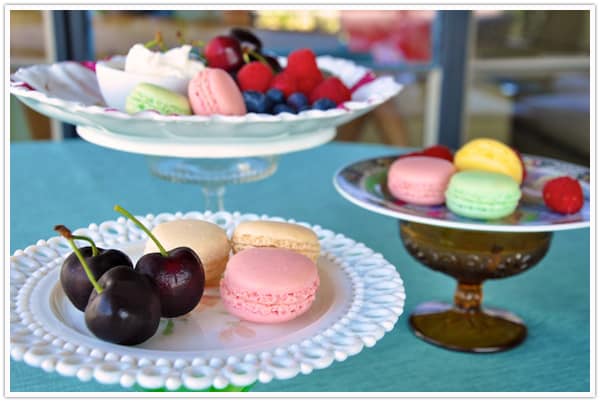 25. glass plate and glass form transparent cake stand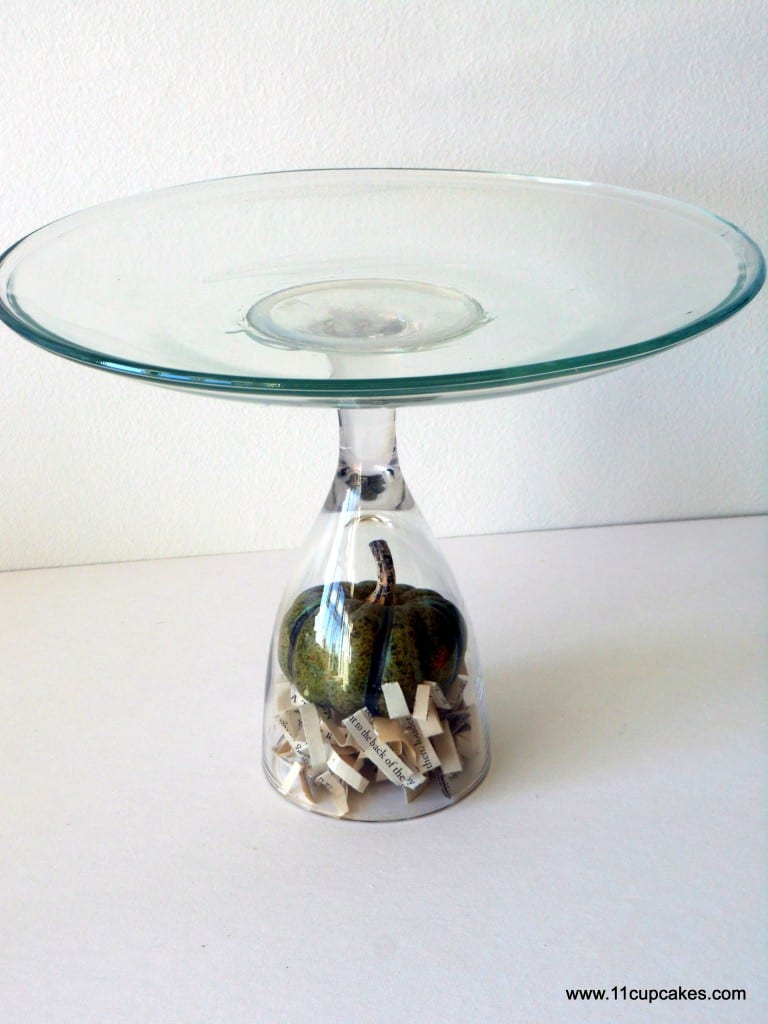 The glass on the bottom functions as a cloche bell, a pumpkin, a succulent or a toy might look in that position.
via 11cupcakes.com
26. diy cake stands in full color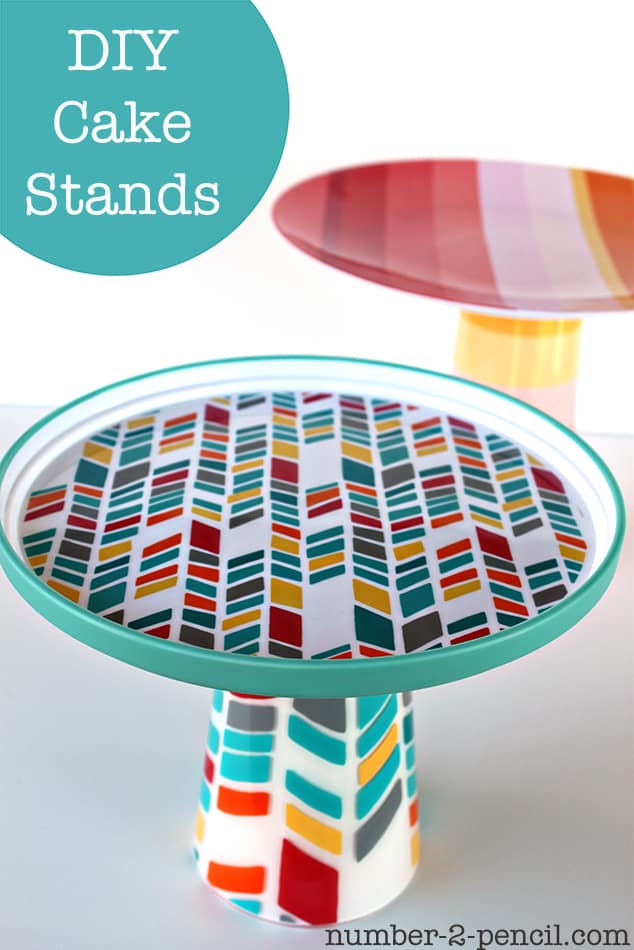 Parts of a set can function well in unexpected ways.
27. diy clay pot dessert stand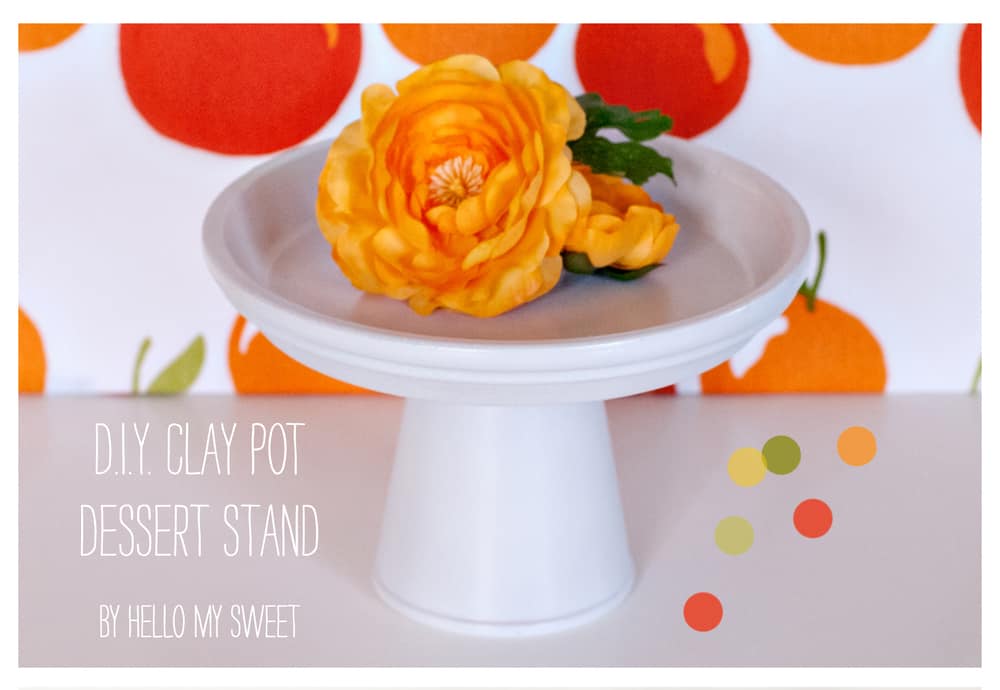 via hellomysweet.com
28. sweets on sweet diy cake stand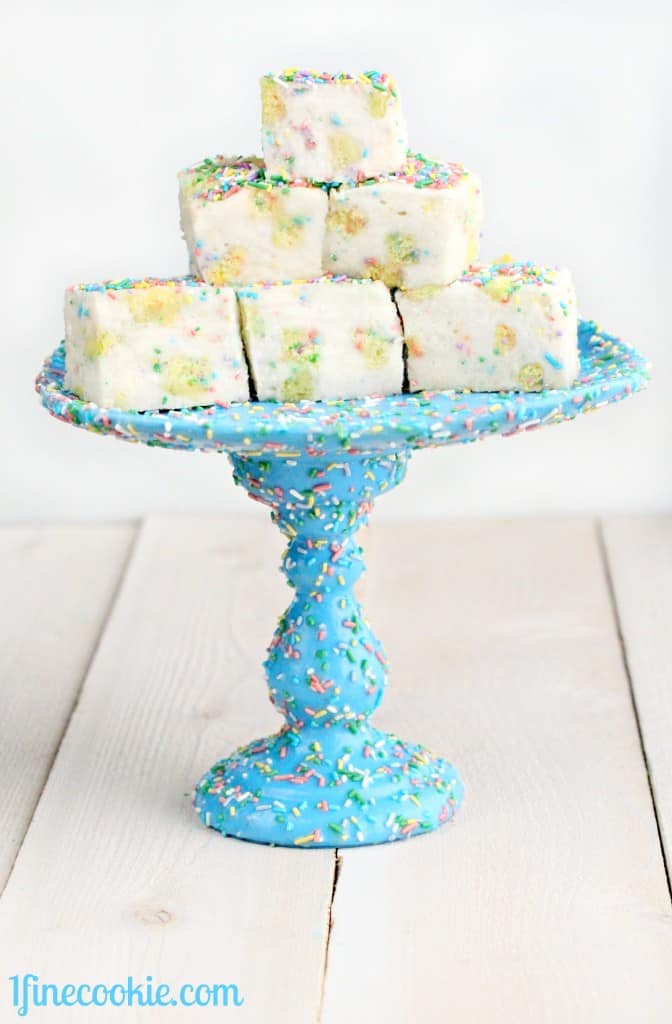 Sweets on sweets, joy on joy, nothing better.
via 1finecookie.com
29. chic and easy to do diy cake stand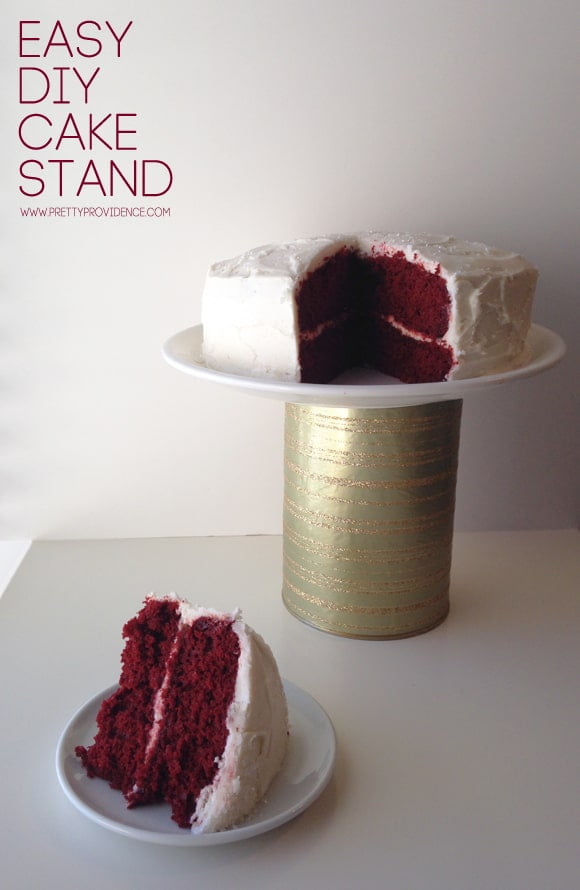 A golden-glittered piece of paper here wraps a tin can that hold a simple white plate, the design is simple but practical, graphic and inexpensive.
30. golden paint over diy dessert stand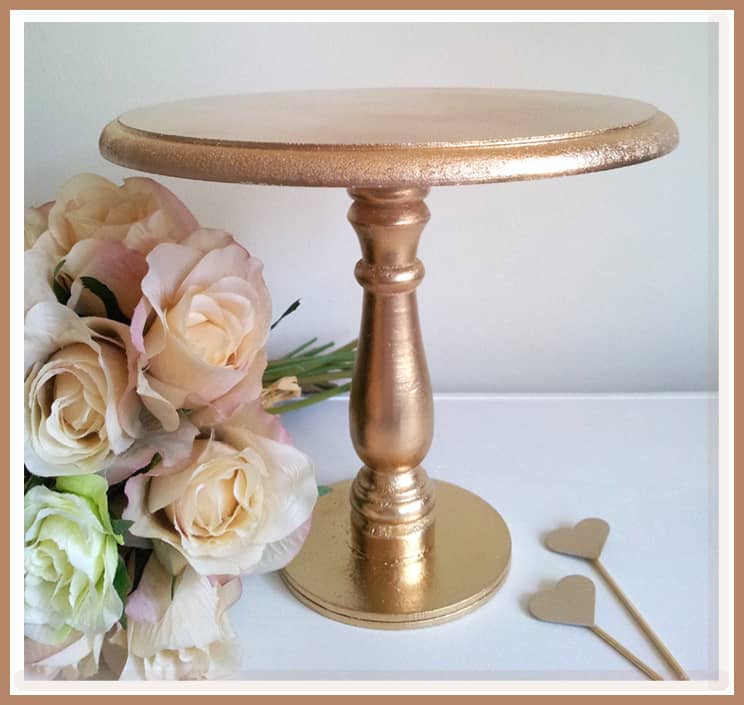 via sweetlychicevents.com
31.cake stand wears colorful pom poms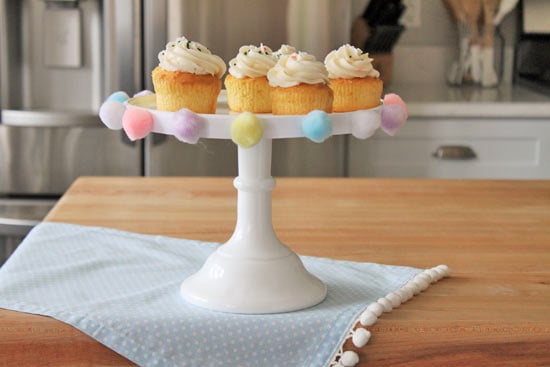 Pom poms are always a solution.
32. add jewelry accents to your dessert stand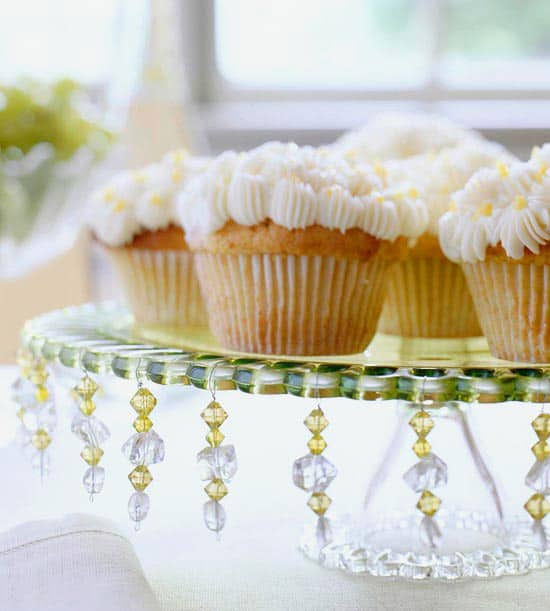 In certain parties, nothing is too much, notice how the plate on top gave the opportunity of overhanging an element here and the opportunity was taken to shape an extraordinary elegance.
via bhg.com
33. wild cat diy cake stands serving colorful sweets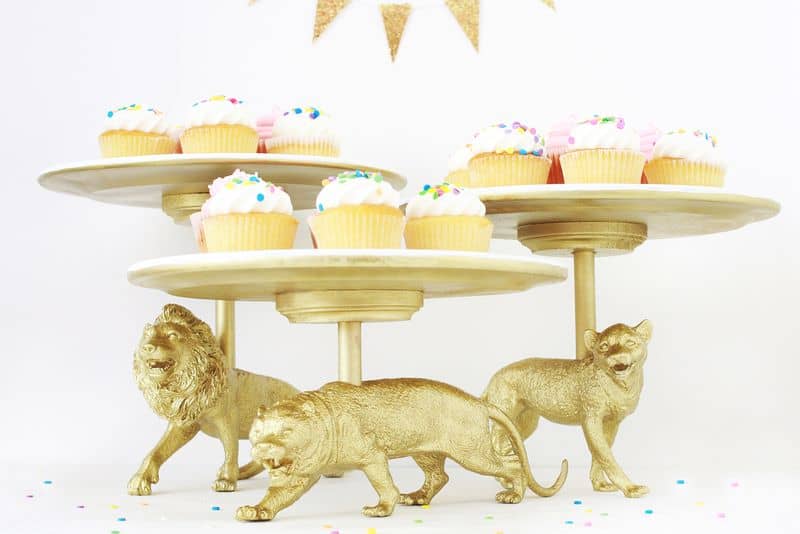 Extraordinary simple way to add a funny twist on a regular item, the awesome cats here can be replaced with various other toys that would fit the theme of your party.
34. diy concrete cake stand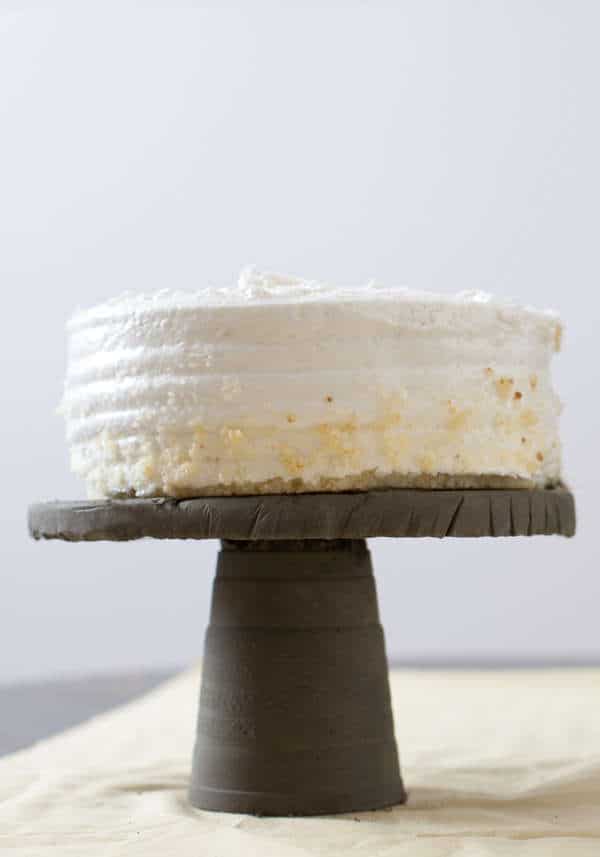 In the heavy weight category the concrete stand surely wins the big prize, its unique texture is definitely an option worth considering, keep in mind that white concrete or colored concrete are also excellent alternative to the regular color.
via trendhunter.com
35. pastel colors on diy candlesticks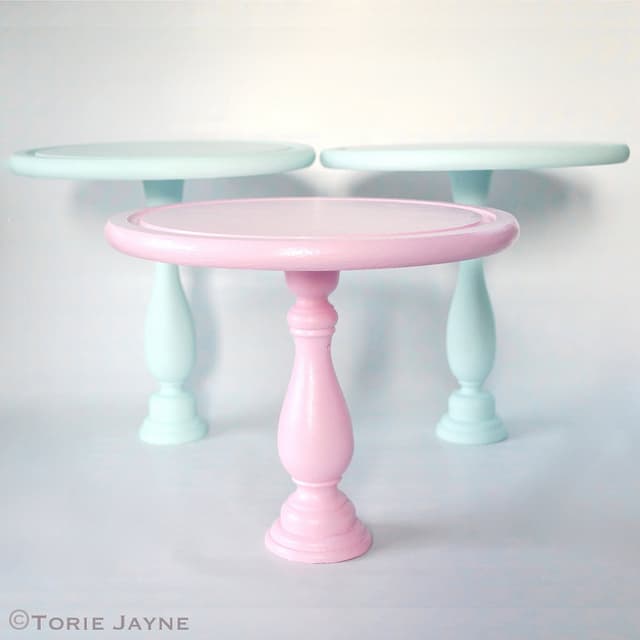 Choose the right color and the result will be timeless.
via toriejayne.com
36. pink diy dessert stand boosting lace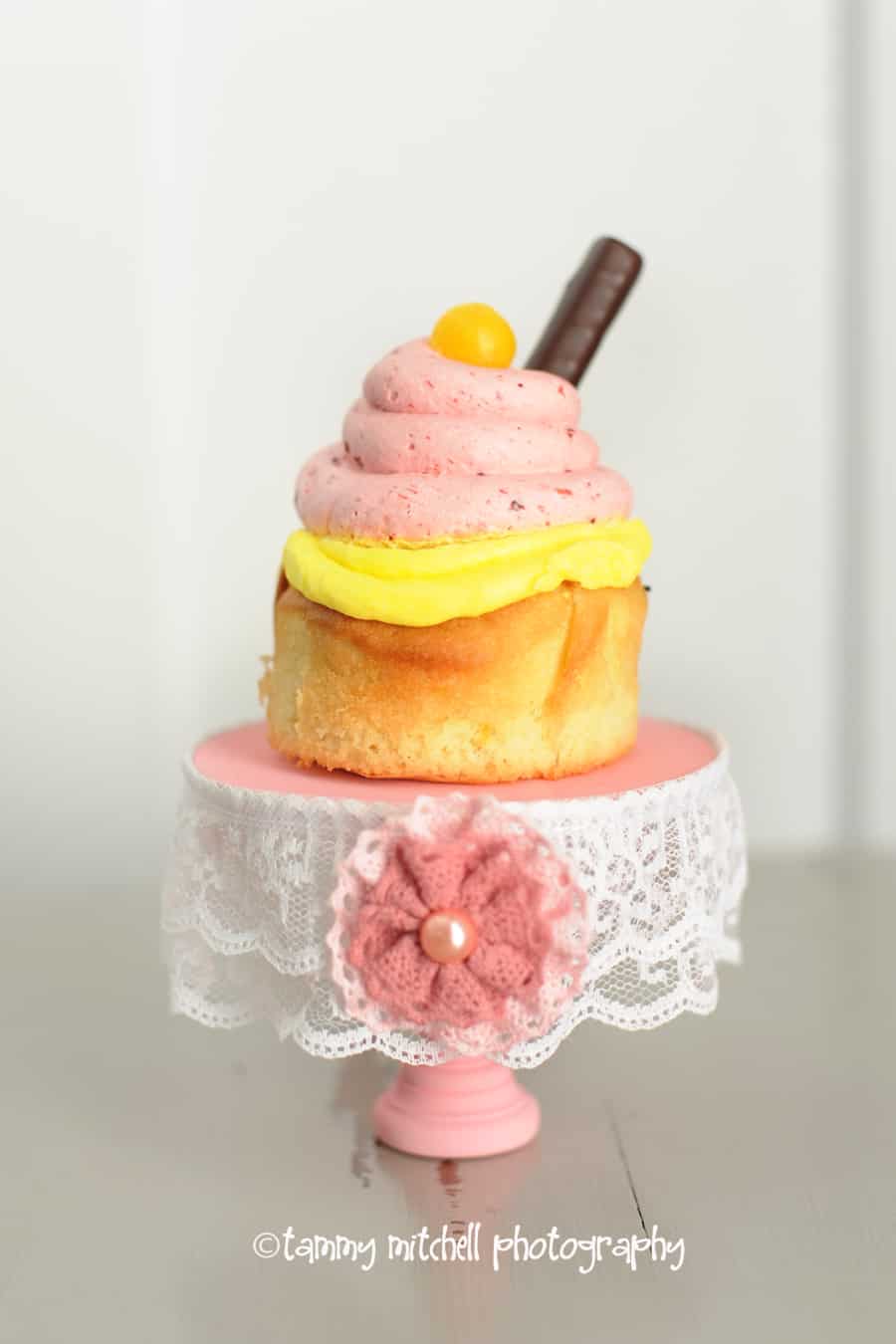 A superb choice for a baby shower, feel free to scale it and customize it to your advantage.
via tammymitchellphotography.com
37. two toned inexpensive dessert stand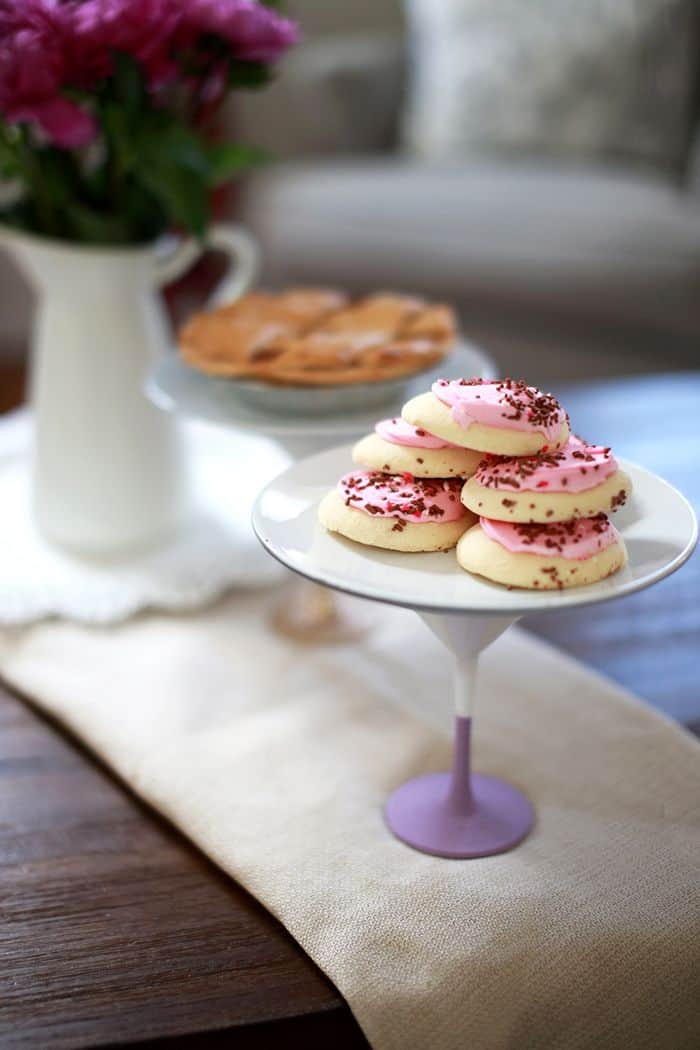 via tammymitchellphotography.com
38. tailor the right composition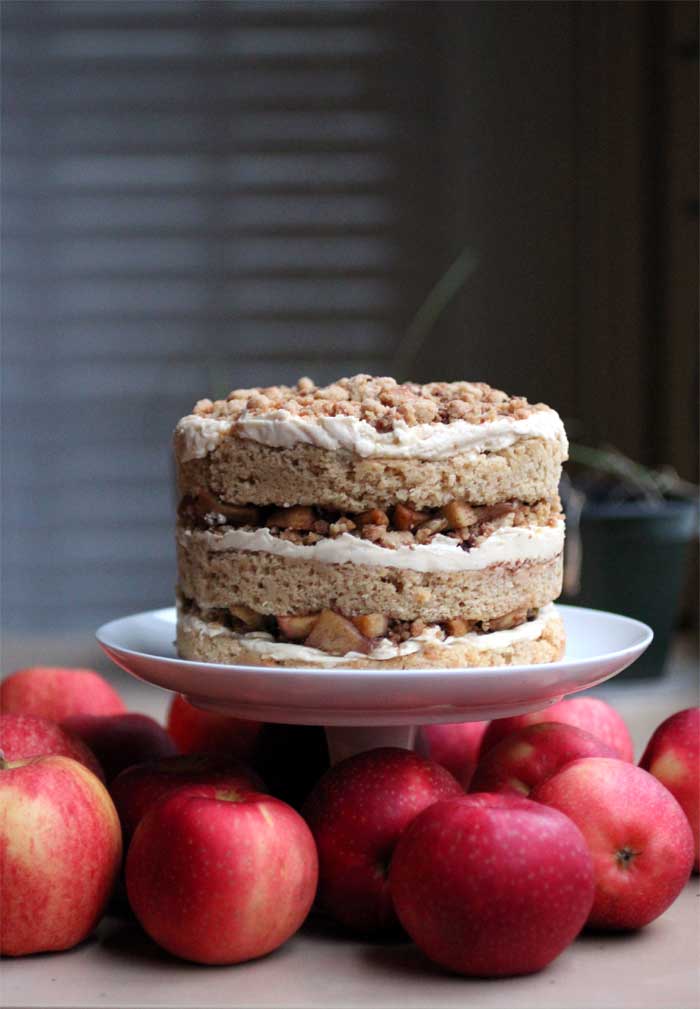 Apples here greatly contribute in the composition, in both shape and chromatic.
39. sugar, diamonds and pink are a recipe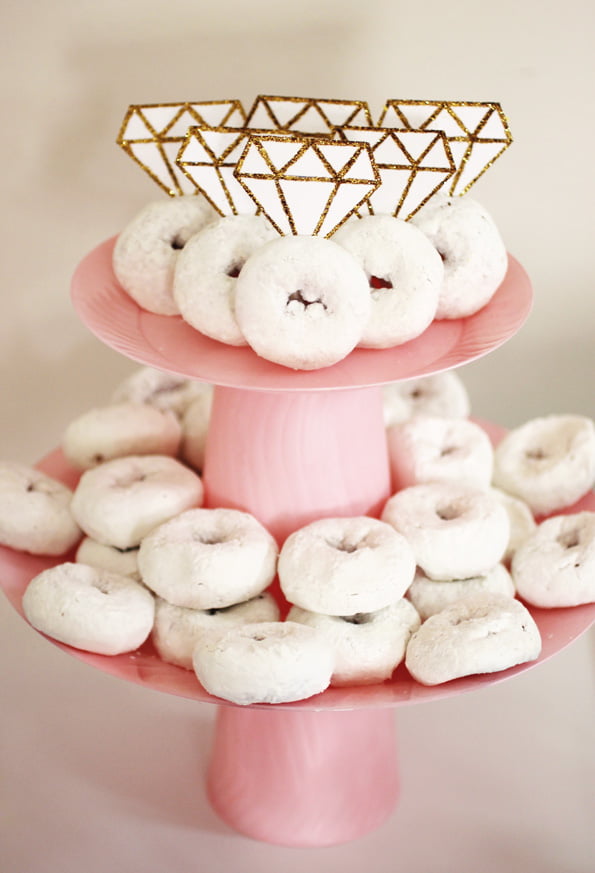 Tiered sweets in a luxuriant setup.
Source Unknown
40. WIRE-FRAME diy cake stand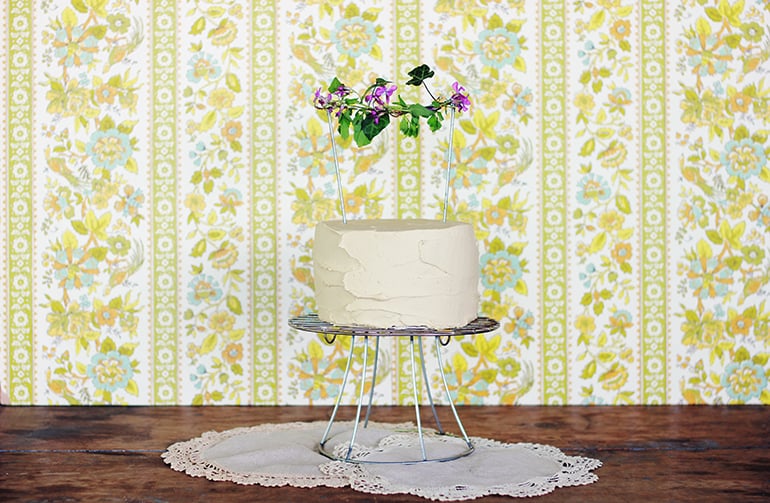 One old camping barbecue up on a diy pedestal can do a wonderful job, it can wear any color, it is transparent and simple to realize.
41. yellow sculptural organic dessert stand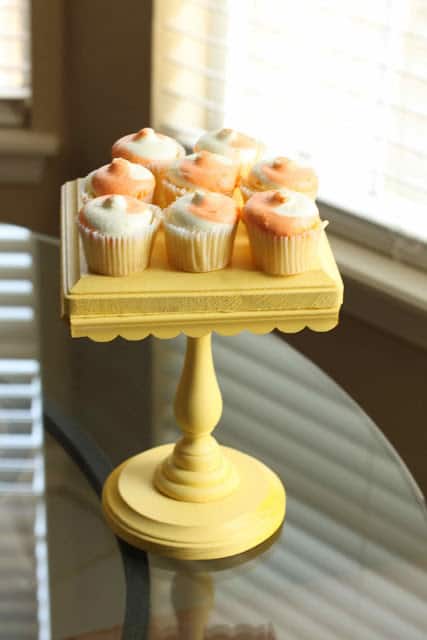 Yellow is a color that transforms all elements, regardless of nature.
Source Unknown
42. white and pink in a graphic display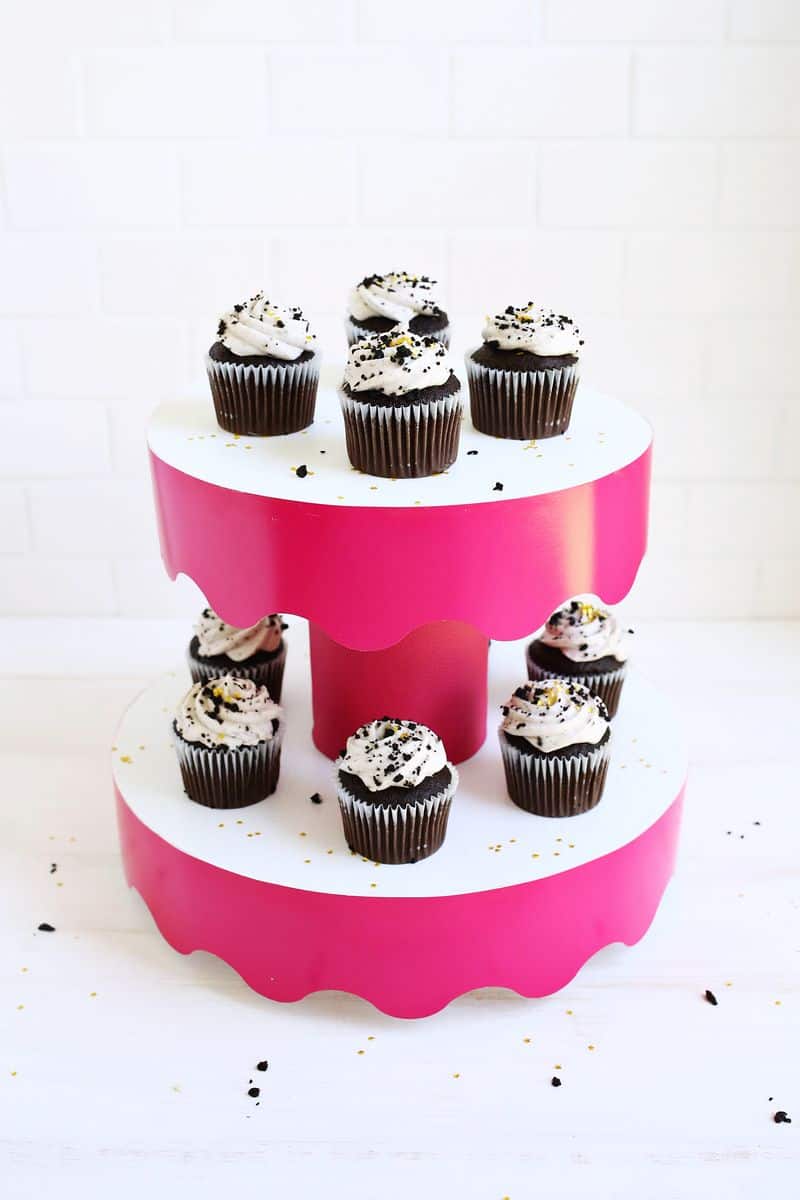 Any dessert stand can be enhanced with temporary elements, here made of colored paper.
43. red sugar stand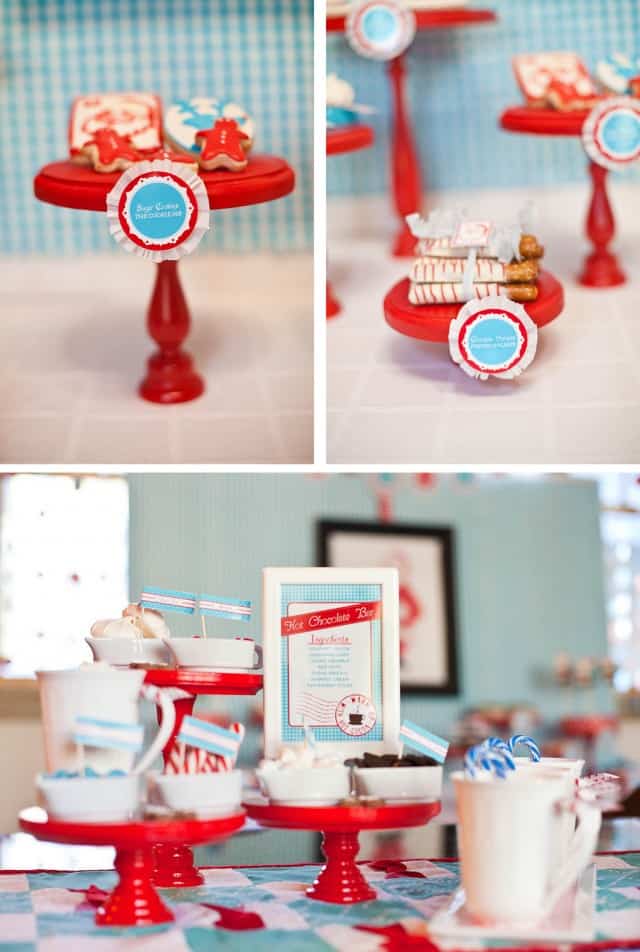 A bold color choice can revamp any element.
via andersruff.com
44. Marble top delight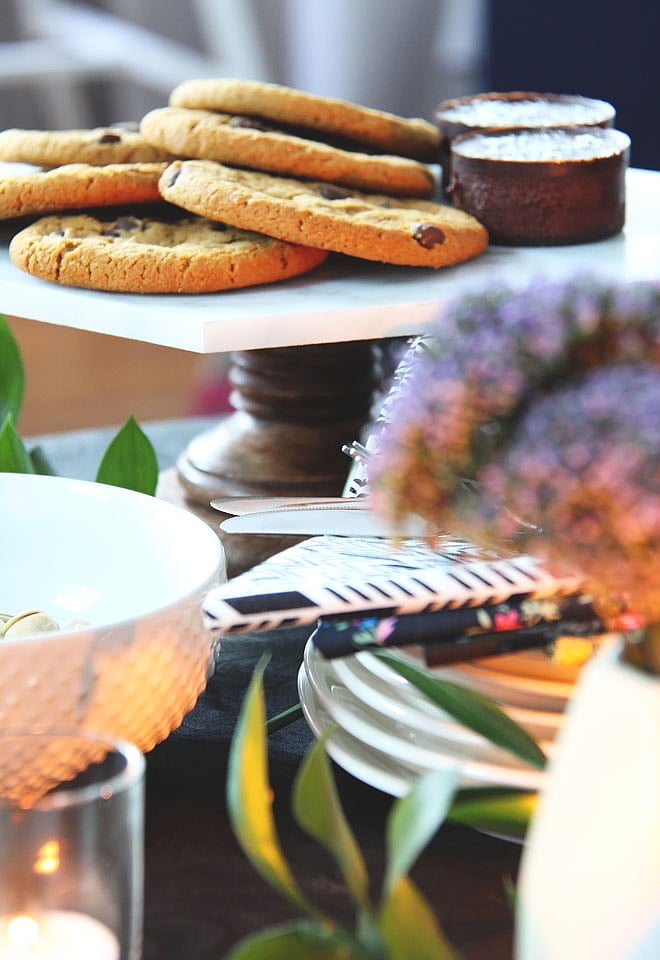 Marble is an exquisite choice that ought be challenged by an impressive decor.
via blog.plaidfox.com
45. striped black and white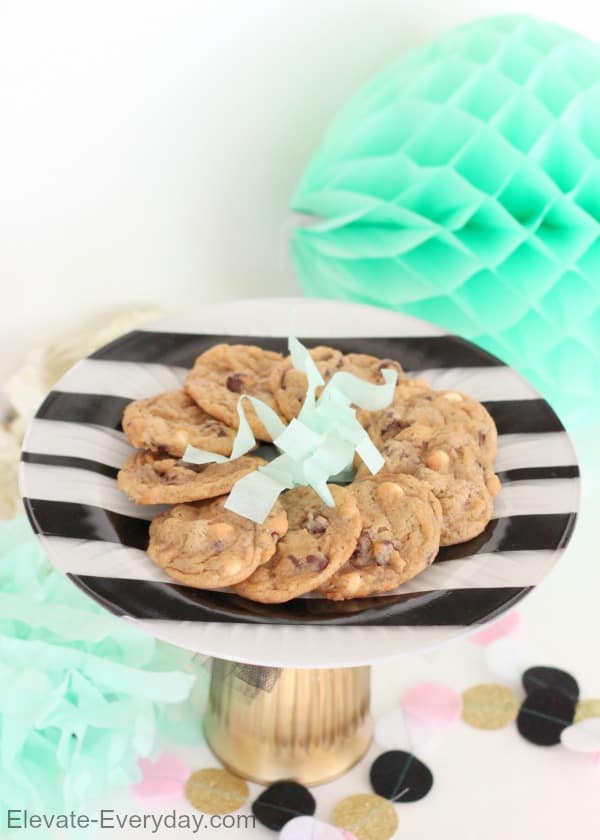 Inexpensive elements painted in a glamorous contrast of black, white and gold.
46. beautiful cake stand dome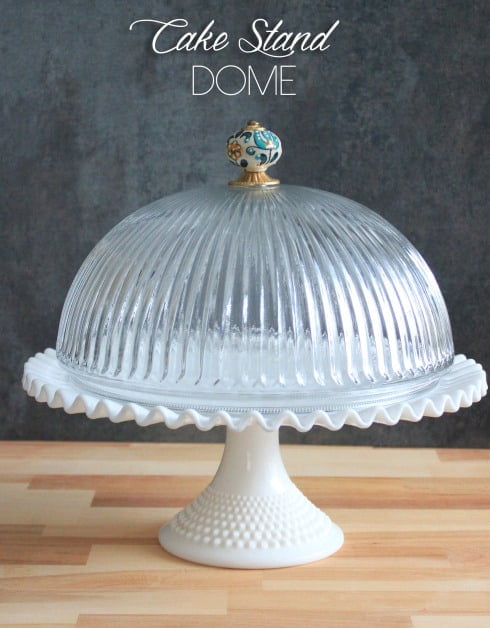 via bewhatwelove.com
47. metal shabby tray and wooden candlestick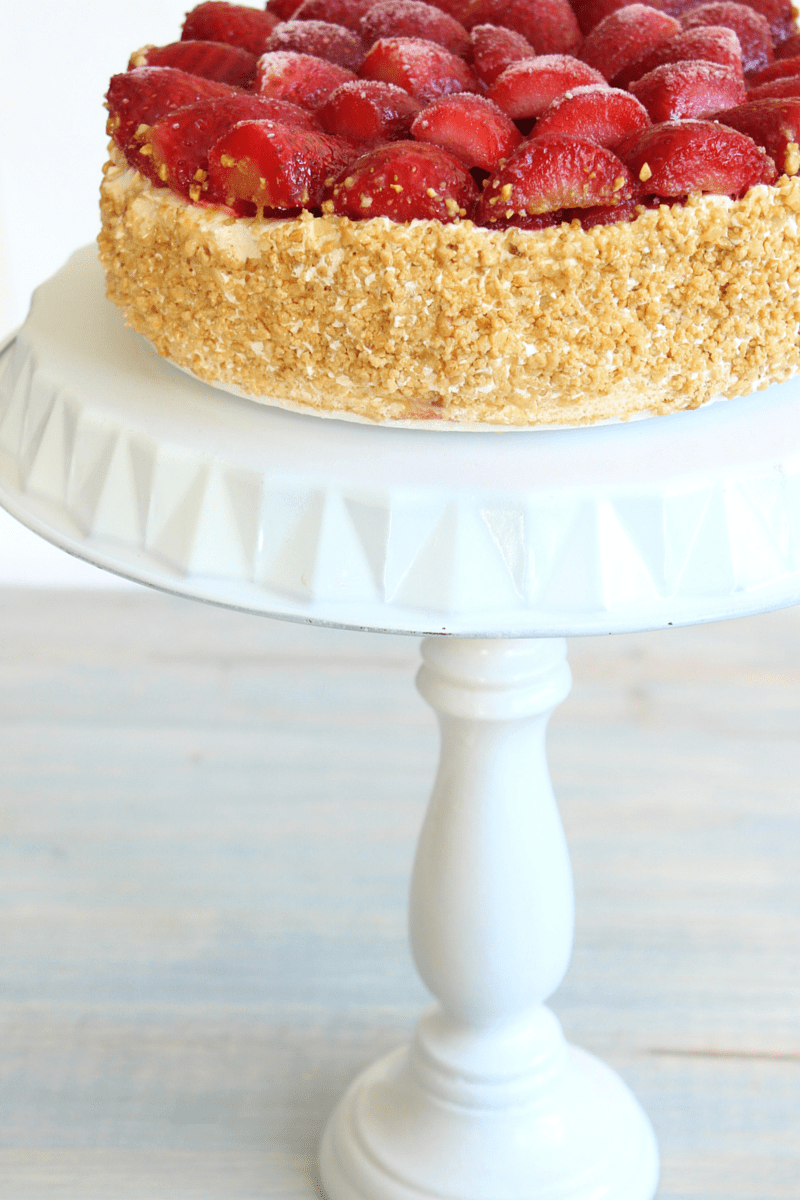 The different materiality between wood and metal brings forward an intriguing contrast, a remarkable balance.
48. one ceramic tray and one deep plate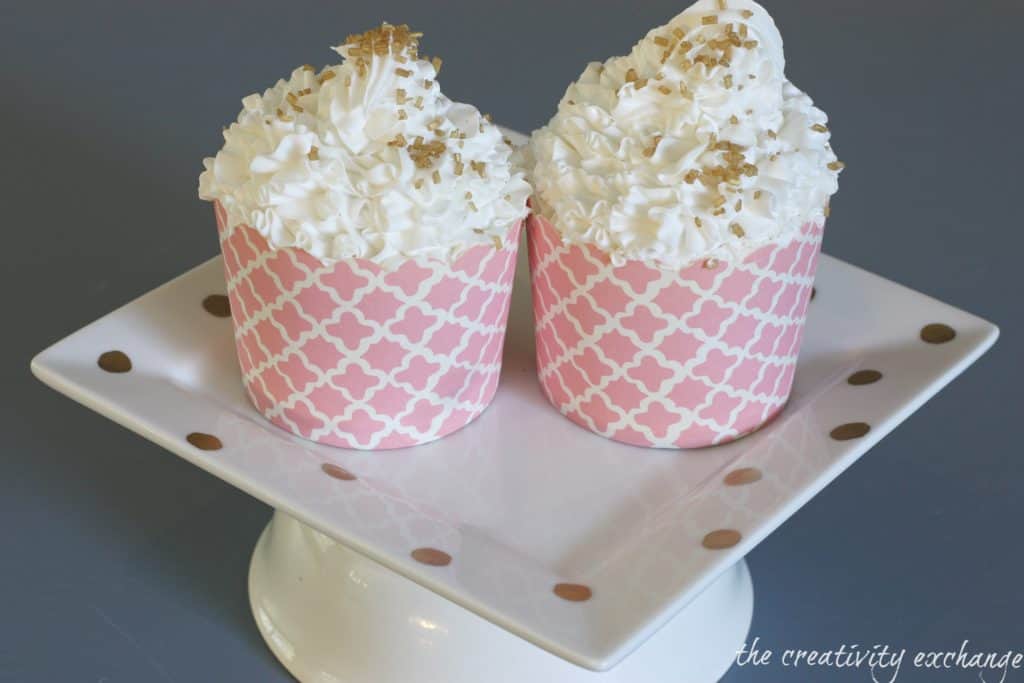 A reversible project that you can use at your event, it helps you shape something practical beautiful without sacrificing the components in the process.
49. two white playful volumes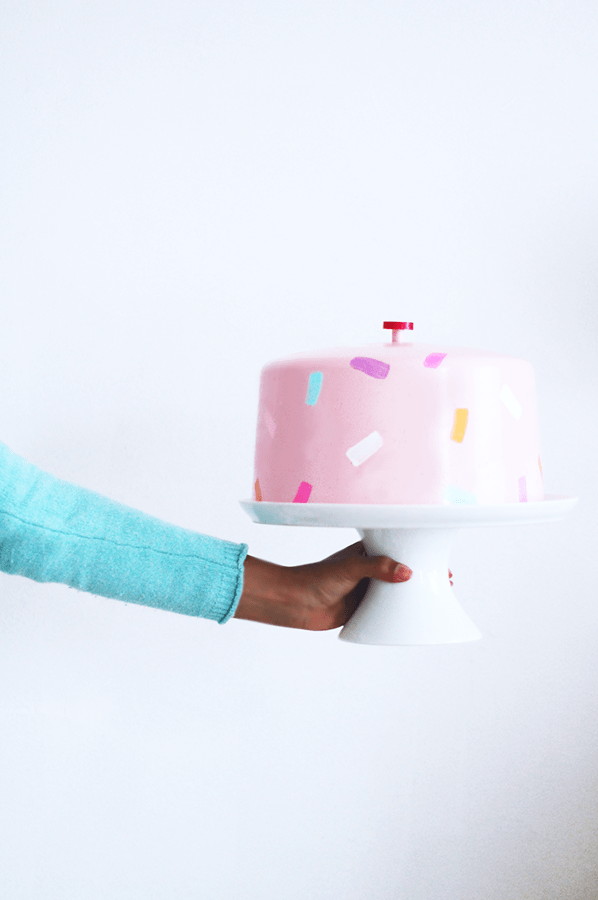 via thekipiblog.com
50. clay pot in a vivid color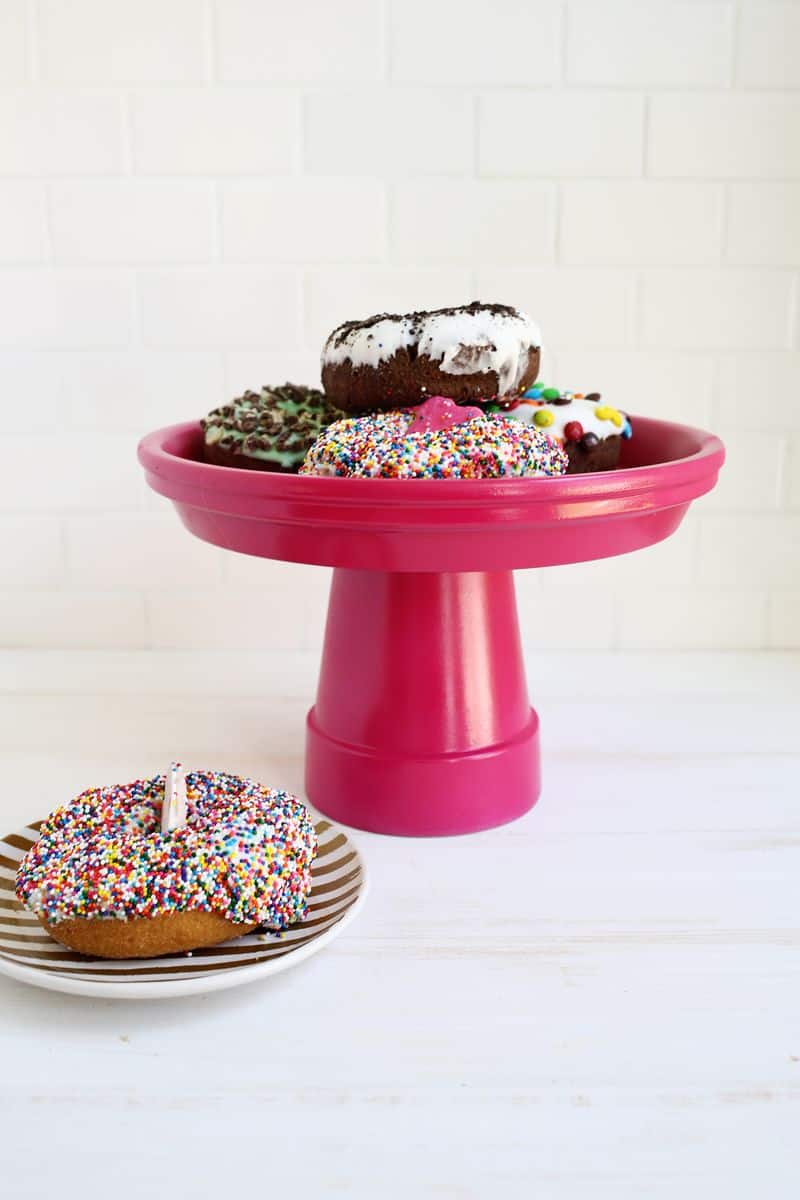 The tray pot of a bigger flower pot paired with a small one would work brilliantly, paint them the same color and use them in your events.
51. green glass sweet stand wearing sweets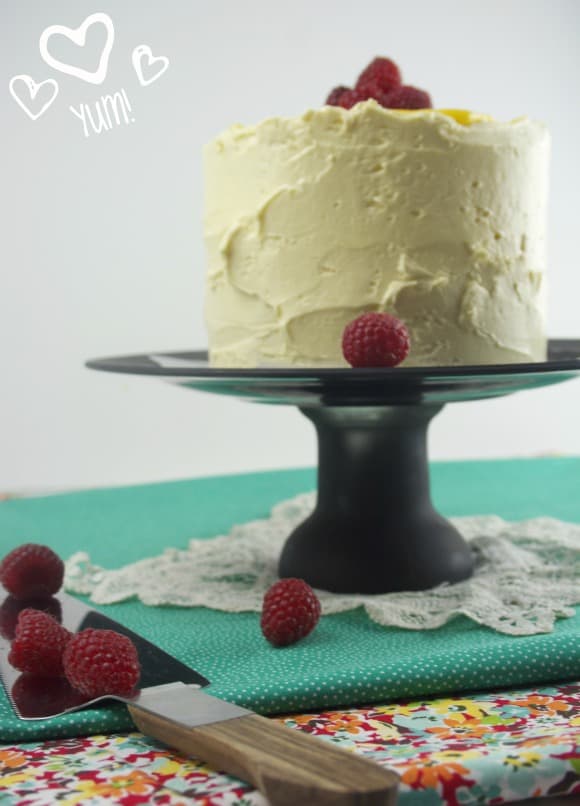 via theycallmefearsy.com
52. princess part receives color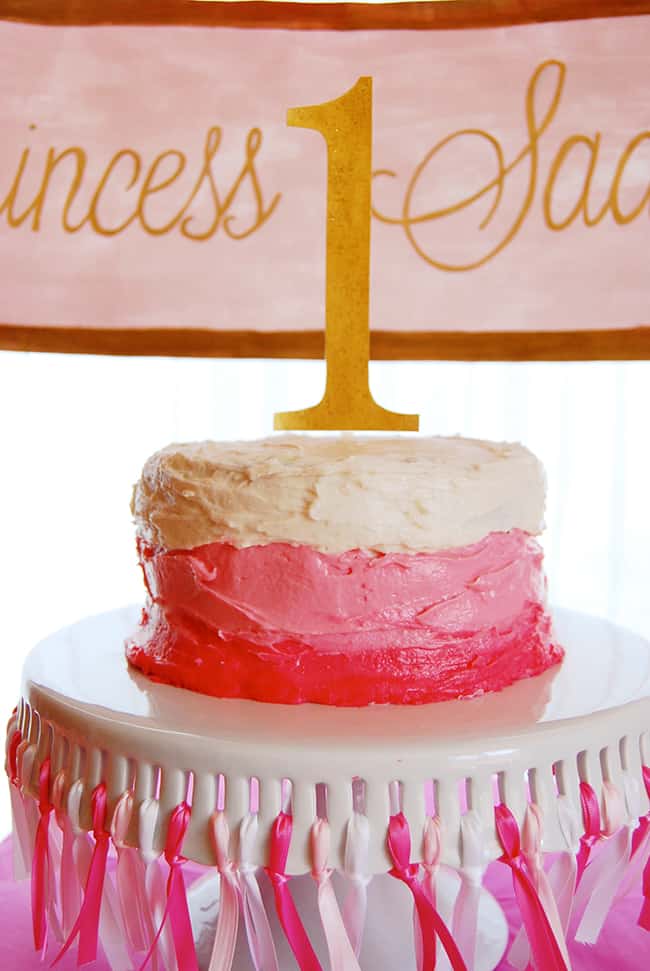 A simple element can receive small ribbons full of color rapidly thus reshaping the dessert stand temporary to fit your event.
53. polka dots are always an option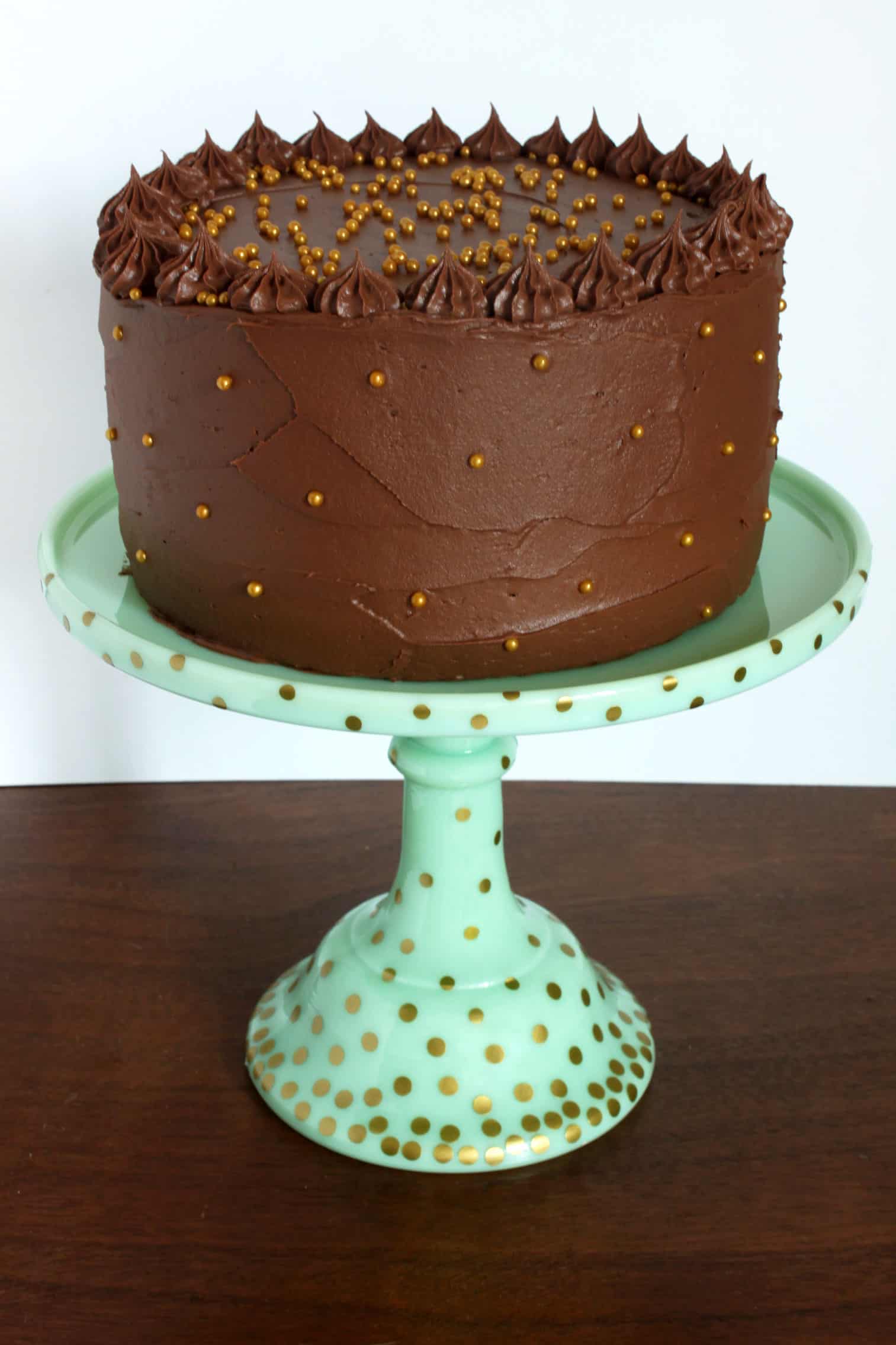 Any color can wear polka dots, they add something enticing and offer you the opportunity of shaping certain patterns freely, get playful !
via paintthegownred.com
54. china display of sweet skill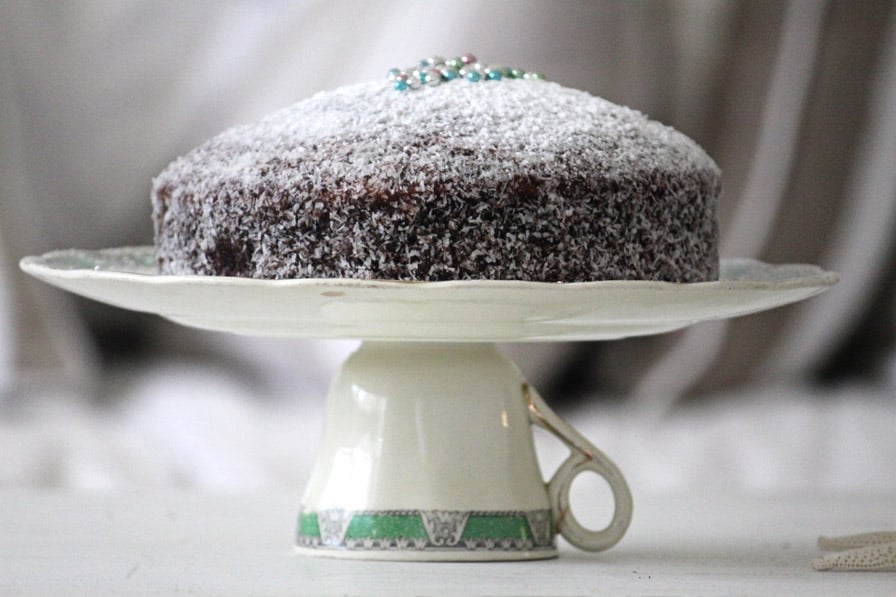 Everything has value, everything can be put to good use, the simple composition above is not short of extraordinary, chic, splendid.
via abeachcottage.com
55. playful sweets settings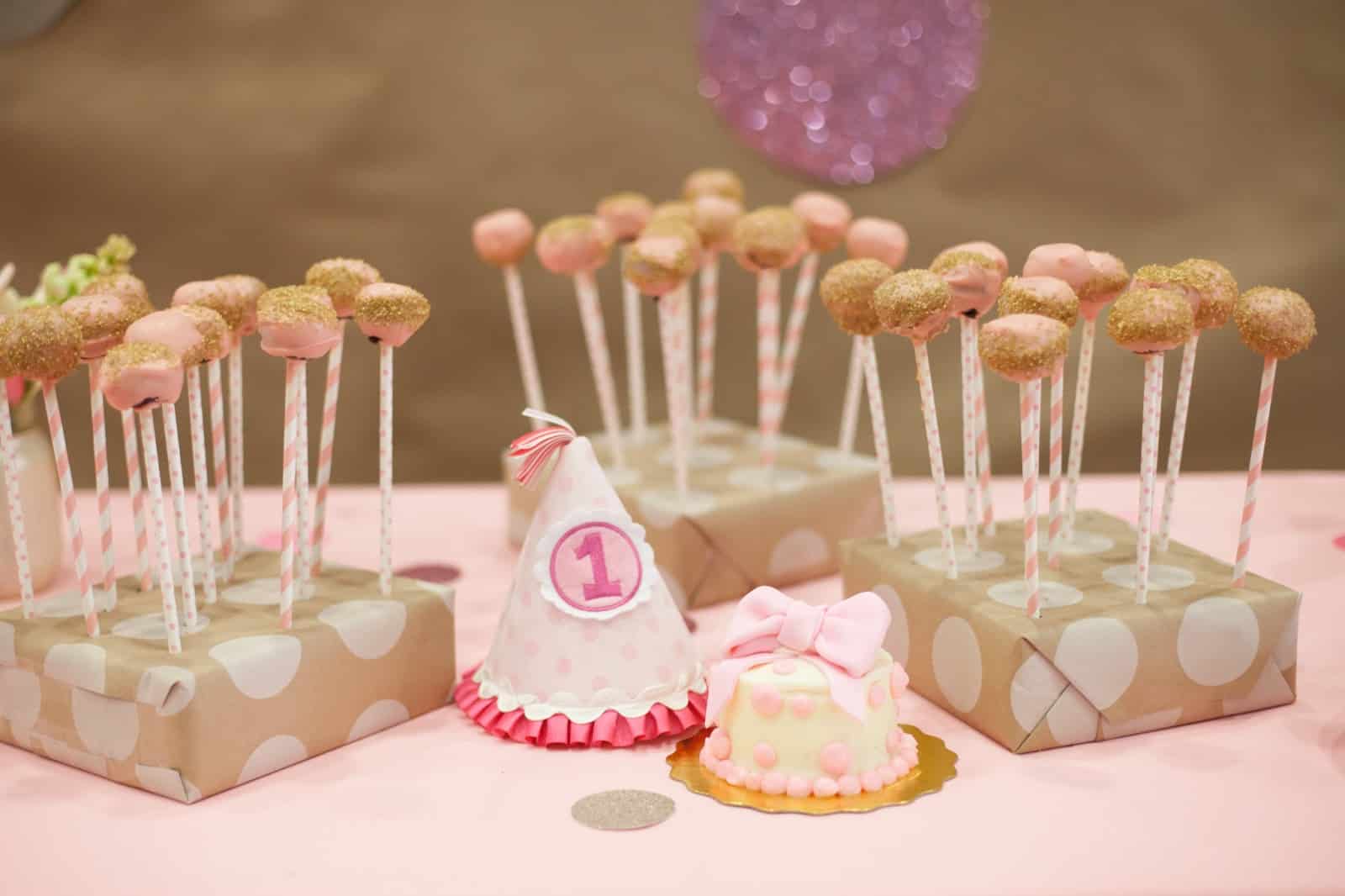 A party with the little ones will definitely appreciate sweets and arraigning them in a special setup will grant the party the status of a "memory", a lovely experience that the little ones will not easily forget.
via natyouraveragegirl.blogspot.com
56. playful diy cupcake stand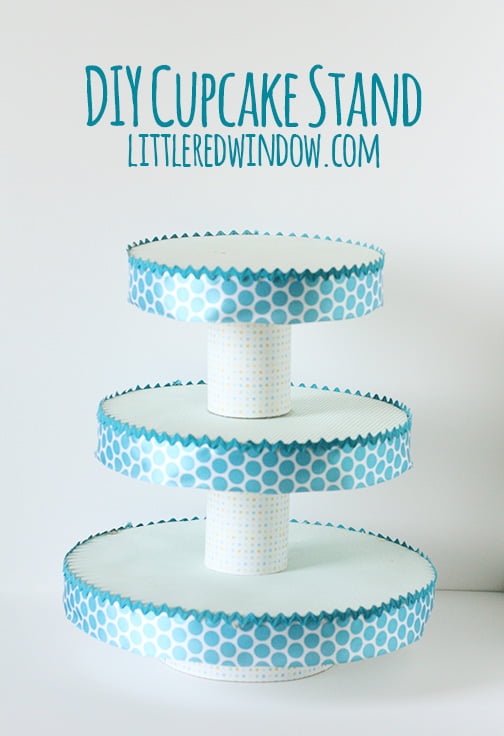 The pattern of choice can make or break the design, choose color, choose something vivid yet sensible.
57. MIRRORS and one DOLLAR candlesticks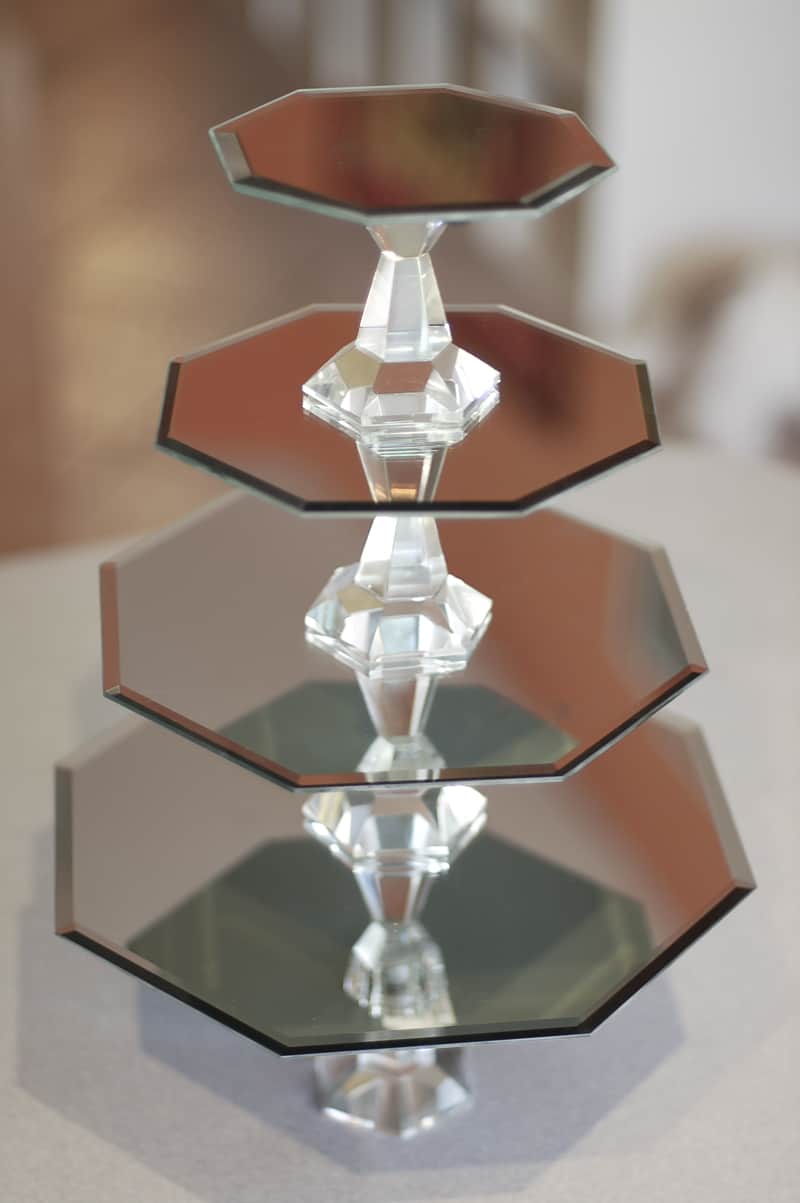 Mirrors will add that posh, luxuriant look over the sweets that you`ll gaze at, moreover, you get to enhance the sweets by mirroring them, empowering their color and appeal.
via tikkido.com
What do you think? How do you see the DIY Cake Stand Designs above and how do you usually introduce your desserts into the picture? We would love to hear from you !