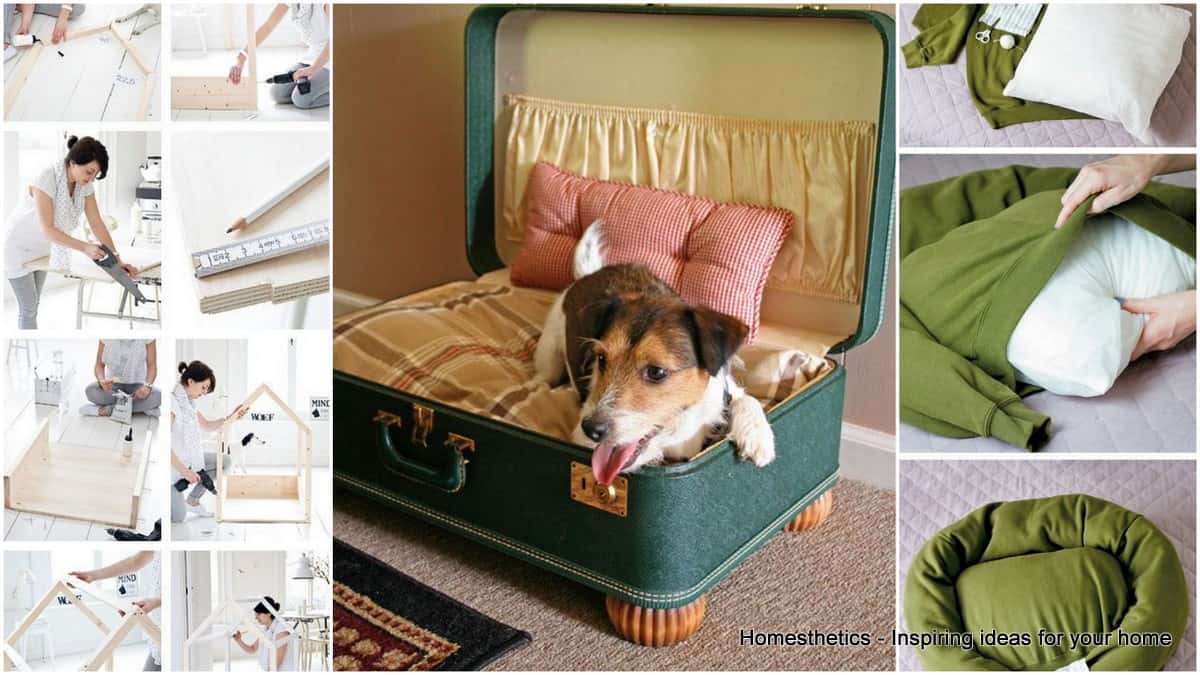 A furry friend is something else, he`s always there when we need him, he loves us no matter what. The simple sight of his wiggling tail makes us smile when we get home, they are joyful and excited to see us regardless of our day, their love is unconditioned.  Simply cast a glance at the little one below, awaiting his friend, gazing through his own petite window.
If you`ve found the dog bed ideas below interesting we invite you to check various other free woodworking plans, we have curated lists that will show you how to build a rabbit hutch, pole barn, small cabin, greenhouse, porch swing, fire pit, garage, cat tower, a rocket stove, tiny house, duck house, deer stand, bat house, diy tree house, cat tower, porch swing, farmhouse table, pole barn, rabbit hutch, a playhouse, a chicken coop, a coffee table or a gazebo.
DIY Dog Bed Ideas For Your Furry Friend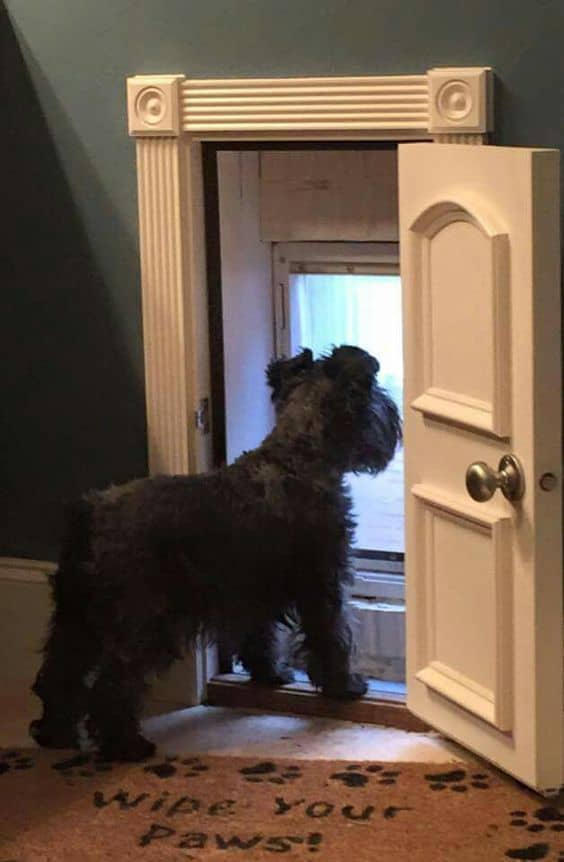 via facebook.com
It goes without saying that the feelings are mutual, in them we find a comfortable peace and balance that we hardly find in any other relationship, dog-love is epic, different. We invite you to cast glance at the following gallery, we have curated a selection of DIY dog bed ideas meant to invite one to pamper his furry ally in life.
1. Shabby chic crate dog bed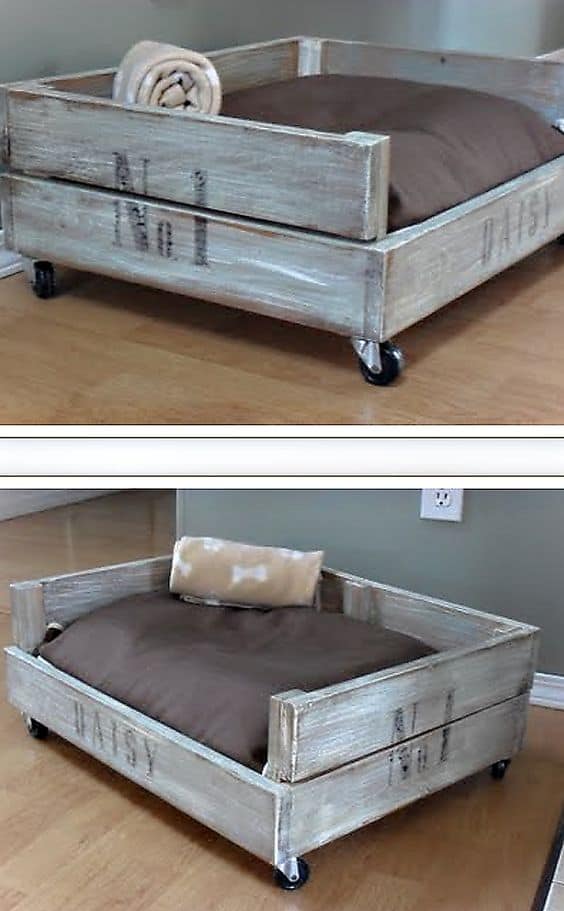 You can simply modify a wooden crate and paint it to fit your design needs, here a shabby chic finish has been applied over the crate wearing the name of the furry one along with his title, "No.1".
via home-frosting.blogspot.com
2. DIY dog house with sky terrace

Simply upgrade the dog house with a small ladder and a simple terrace. Get two-three treats on top so he can learn to use the ladder and he`ll be ready to enjoy the new feature shortly.
via livedan330.com
3. Use pillows to shape a puf-pouf dog bed

The process is rather simple yet the rewards are spectacular.
via lovepetsdiy.com
4. Re-purpose motorcycle tire dog bed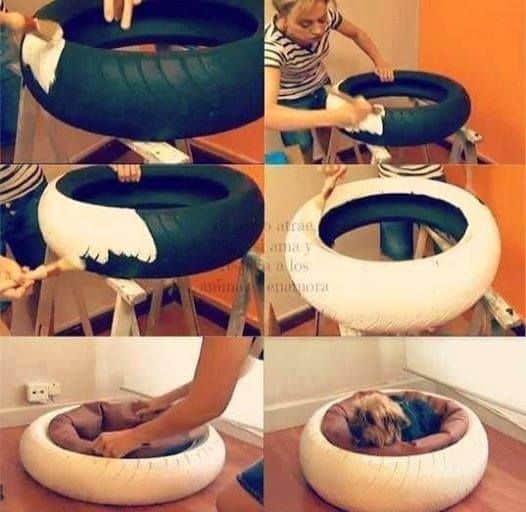 The smaller width of the tire looks far better than a regular car tire, simply paint it with the color of choice and create a small pillow to nestle in.
via lovethispic.com
5. Unique living doggie den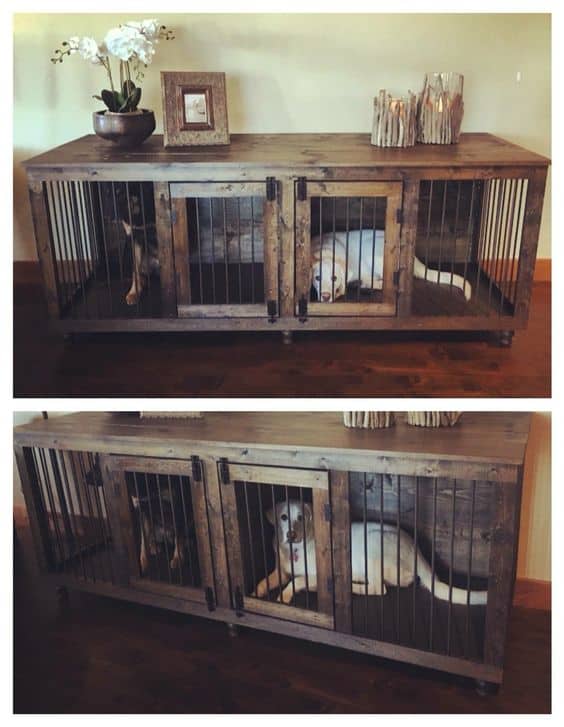 No doggy should ever need a den yet when for a couple of minutes we have to set a boundary between them and our guests they ought to stay safe, in a place that they actually like.
via bbkustomkennels.com
6. Dress up the dog crate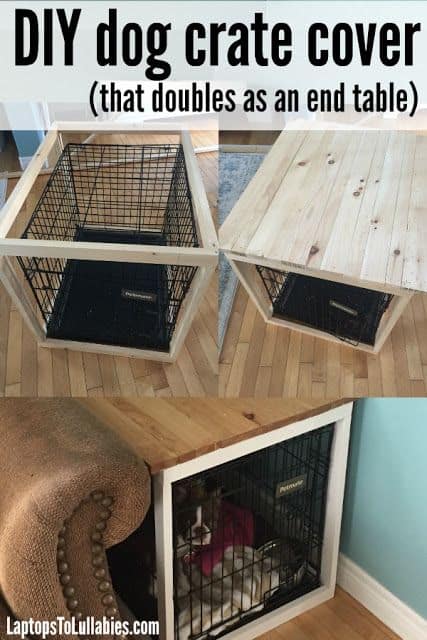 In small spaces dog crates sometimes double as dog beds, this helps them feel safer while traveling too. In this case you can create something interesting over the dog crate to emphasize practicality and comfort for you and your furry friend.
7. DIY minimalist dog bed 

The craft is shattering beautiful and while it might require a bit of patience and time to realize the result is definitely worth pursuing.
via joyzz.com
8. DIY sweatshirt pet bed

The craft is super simple, rapid and reversible and as a result hygienic and easy on maintenance.
via sniffdesign.com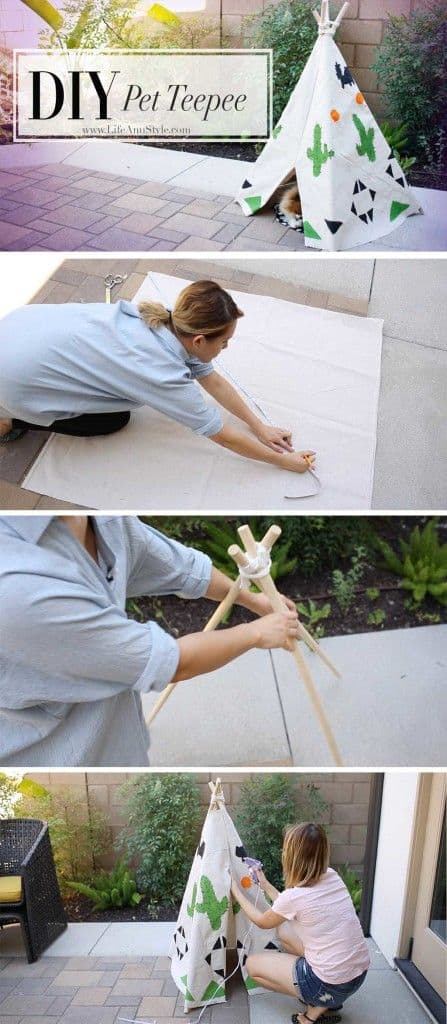 Playful and extraordinary graphic, the adorable tee-pee is a neat treat for the furry one.
via lifeannstyle.com
10. DIY rustic pallet dog bed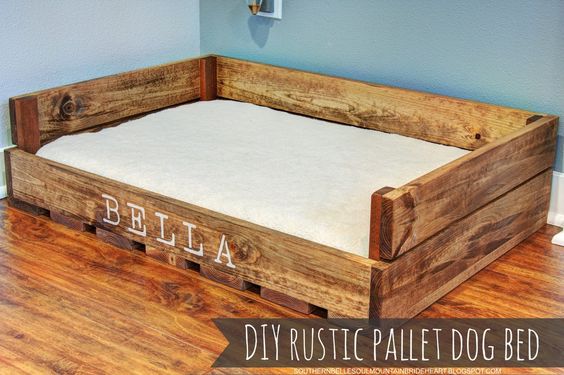 Use simple wood, perhaps salvaged pallet wood, and create an epic rustic dog bed, the name tag ought to be present as well.
via gottalovediy.com
11. Re-purpose furniture into a neat dog room
A vivid color and wallpaper can help, here the toys are also categorized and wall art has been featured.
via yourdogsuppliesstore.com
12. Craft a fluffy dog bed box

Sewing skills are required to make it happen but we all have that skillful friend eager to help, make a day of it !
via ezele.ru
13. Chevron diy dog bed mattress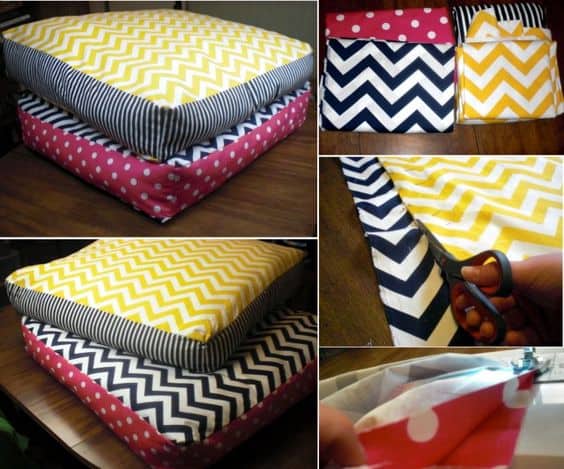 Textures and colors can change everything, notice how vivid the dog beds above look.
via thewhoot.com.au
14. Blanket and pillows diy dog bed
A neat treat that puts old pillows to good use.
via madebyhaley.com
15. DIY barrel dog beds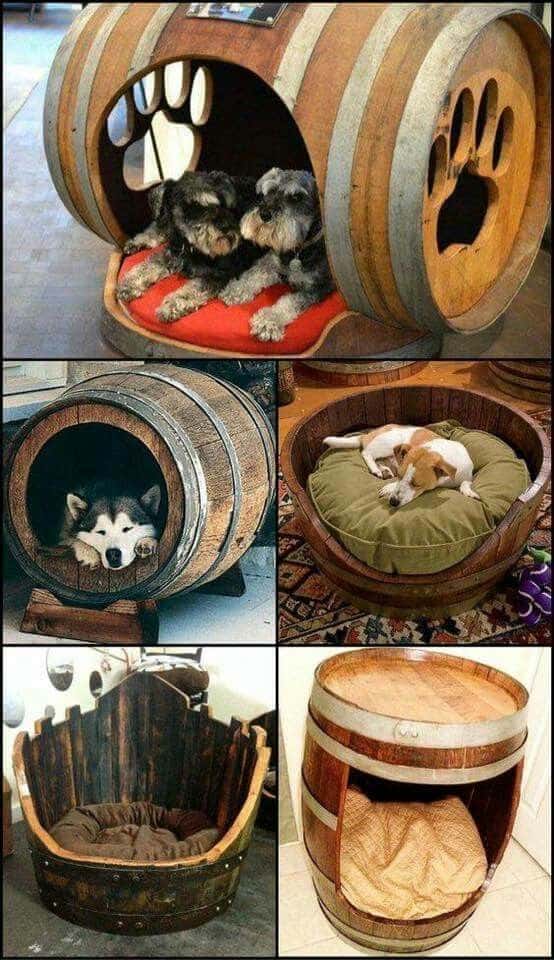 The opportunities are there, numerous shapes and sizes can be sculpted with the right barrel. Enjoy the process and the little one will definitely enjoy the result.
via theownerbuildernetwork.stfi.re
16. DIY twin dog beds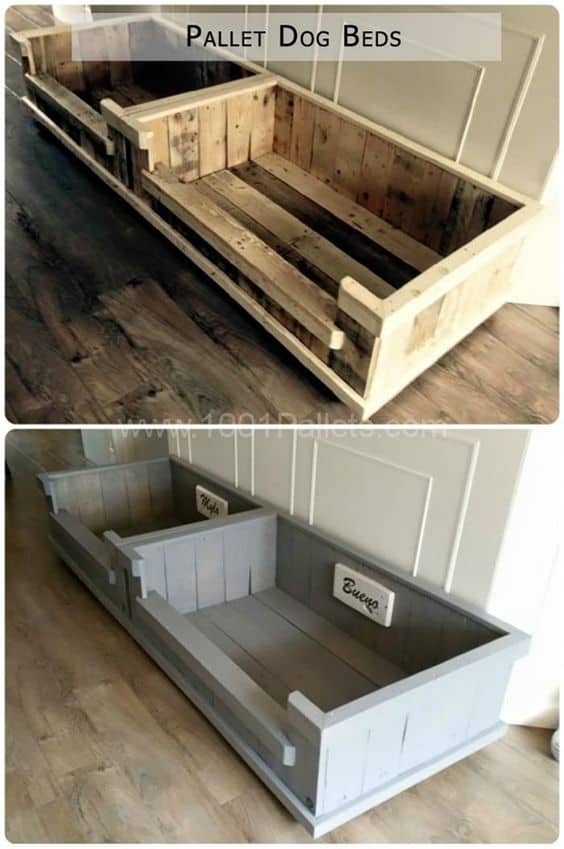 Use pallet wood to shape something really epic, you need patience and dedication but your result will definitely be appreciated by your furry team.
via fallinpets.com
17. Build an epic 4-poster dob bed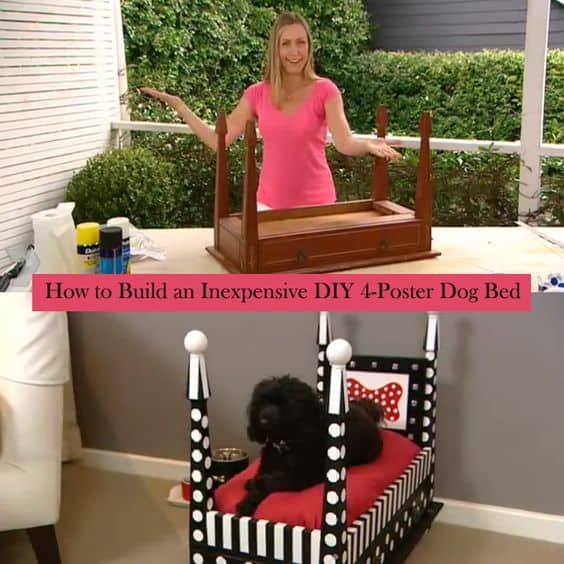 The process is simple, rapid and extraordinarily fun, the posh, creative look is surely worth pursuing.
via winkgo.com
18. DIY pocket dog bed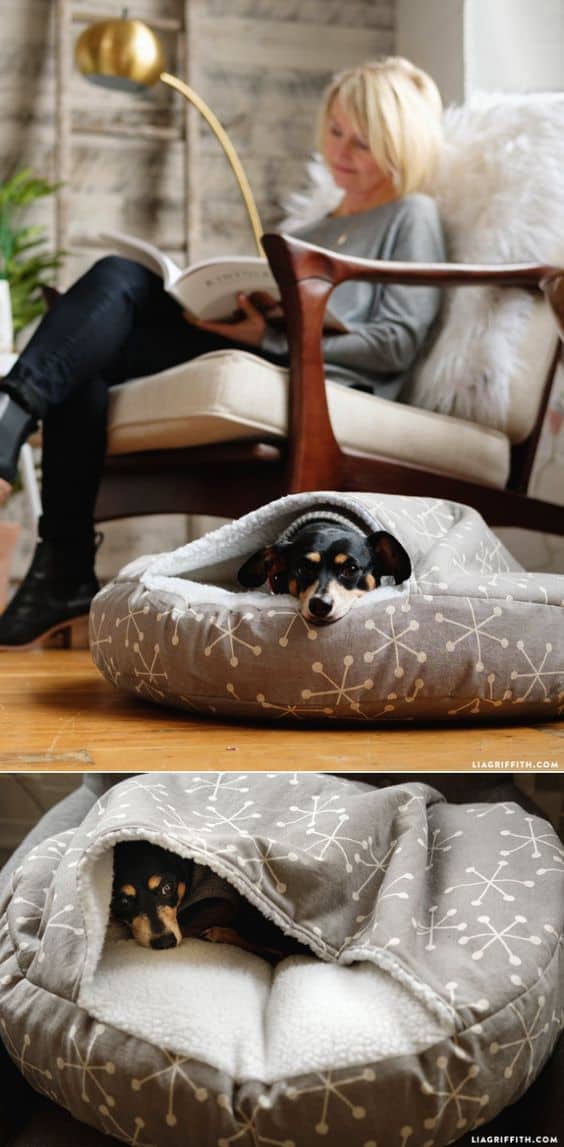 A pocket-like dog bed makes it more comfortable, snuggle-worthy.
via liagriffith.com
19. DIY travel bag dog bed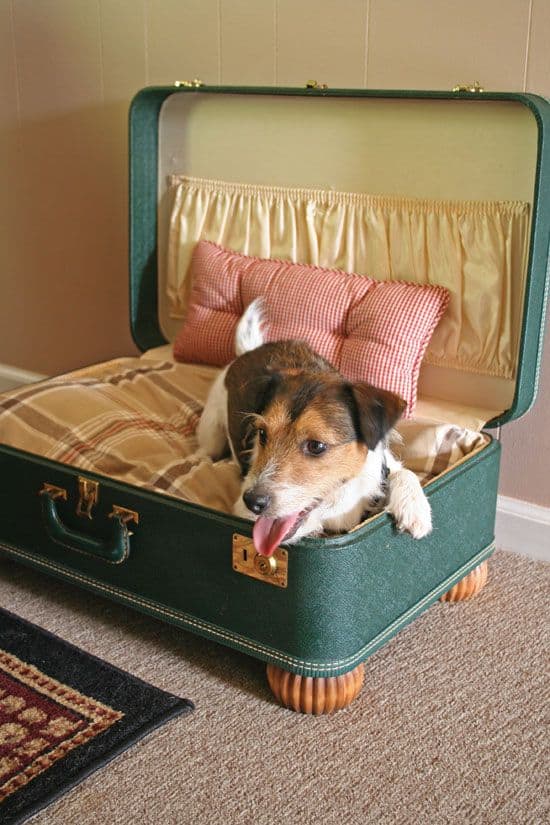 20. Wooden geometric dog bed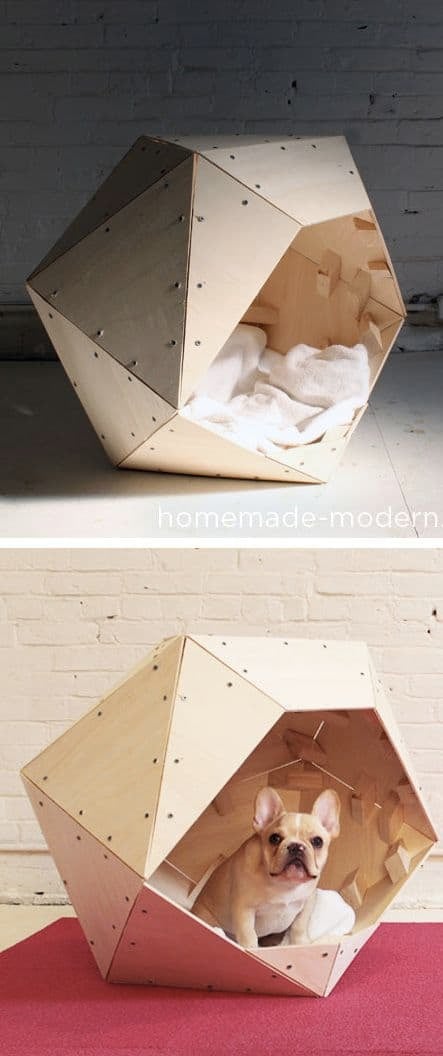 21. Transform a drawer into a glamorous dog bed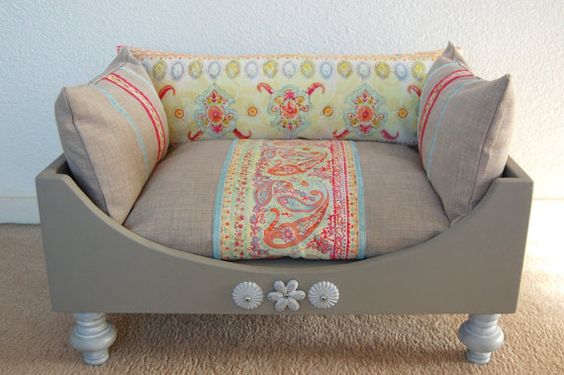 via etsy.com
22. Crib dog bed transformation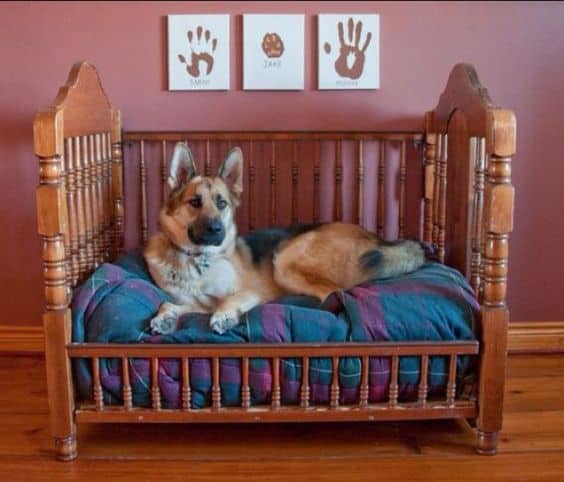 via sunnyskyz.com
23. Tailor a colorful large pillow

Use scraps to tailor a vivid bohemian dog pillow for your little furry one, they`ll love it.
24. Transform a nightstand into a dog bedroom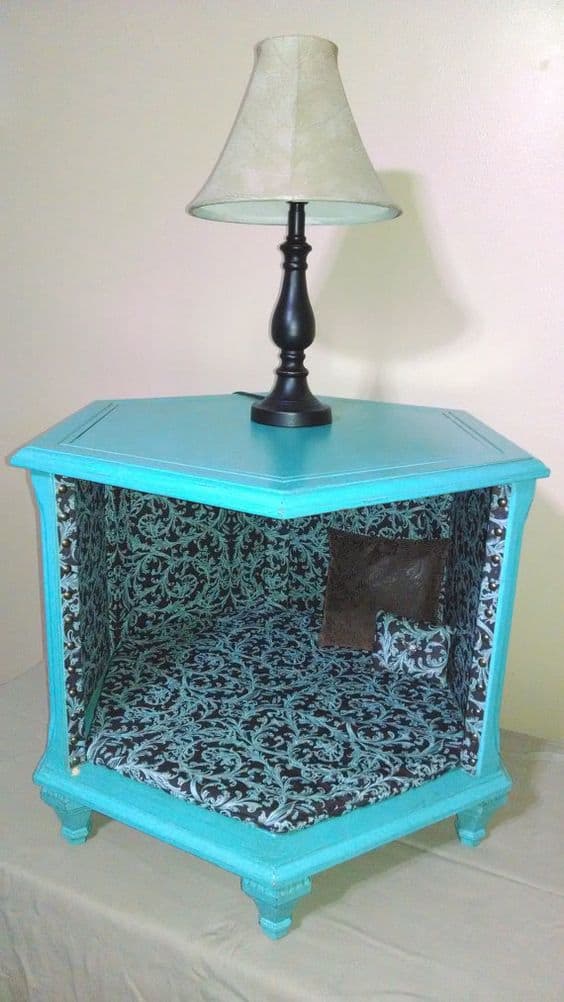 Your friend will be always there, in full comfort by your side.
via etsy.com
25. Side-table doubling as a nightstand and dog-room 
Super practical and graphic, enjoy the company of the little one.
Source Unknown
26. Tailor a dog bed with pallets
A full dug house with little to no costs, it has a porch too.
Source Unknown
27. Transform an old tv into  a dog suite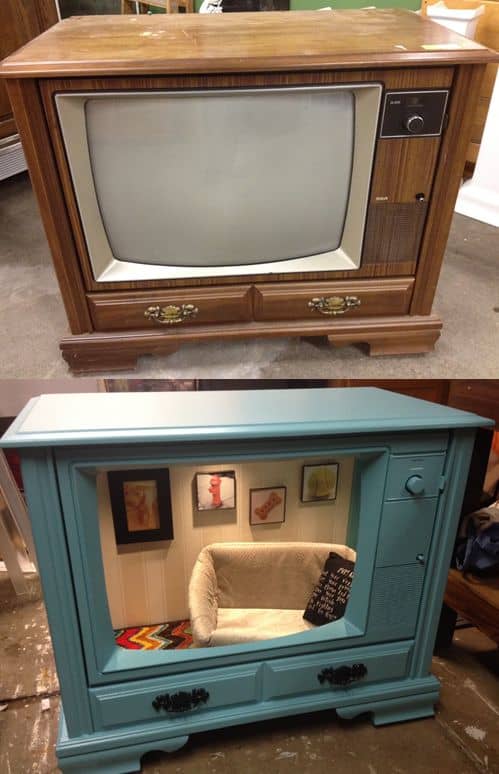 Full comfort in full style for the furry one.
via yourdogsuppliesstore.com
28. DIY knitted dog bed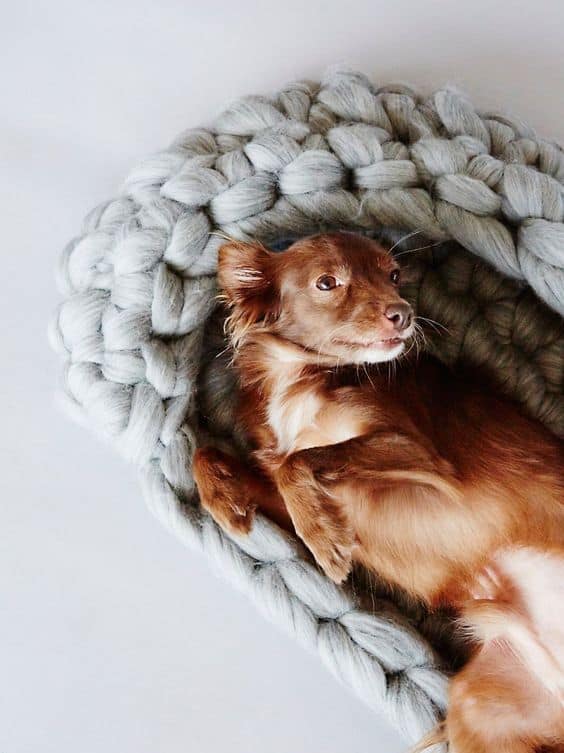 Few things in life look as comfortable as this knitted dog bed,what do you think?
via freepeople.com
29. Side-table becomes canopy dog bed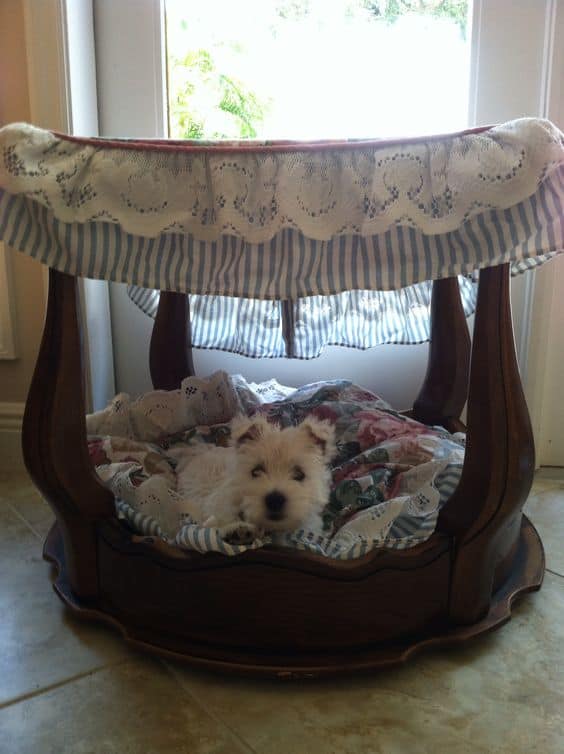 A posh bedding for a posh friend.
via dogsuppliesonline.us
To spoil a friend is a treat for both parties, spoiling your furry friend will enrich your experience with him, you will see them satisfied snuggled into the crafted bed, happily wiggling his tail. What do you think about the DIY dog bed ideas above? We would love to hear from you in the comment section below.
Related Articles
19 Adorable Free Cat Tower Plans For Your Furry Friend
13 Best Smart Self Cleaning Litter Box
6 Best Miele Vacuums For Cat, Dog, And Pet Hair [Reviewed]
The 4 Best Pet Proof Trash Cans That Actually Work
13 Best Canister Vacuums for Pet Hair
17 Epicly Unusual Dog Gifts for Your Furry Friend
5 Best Couches For Dogs To Consider Today
How to Stop Animals From Digging Holes in the Yard
32 Best Chicken Coop Kits for Sale  | Buyer's Guide
12 Best Ultrasonic Dog Repeller