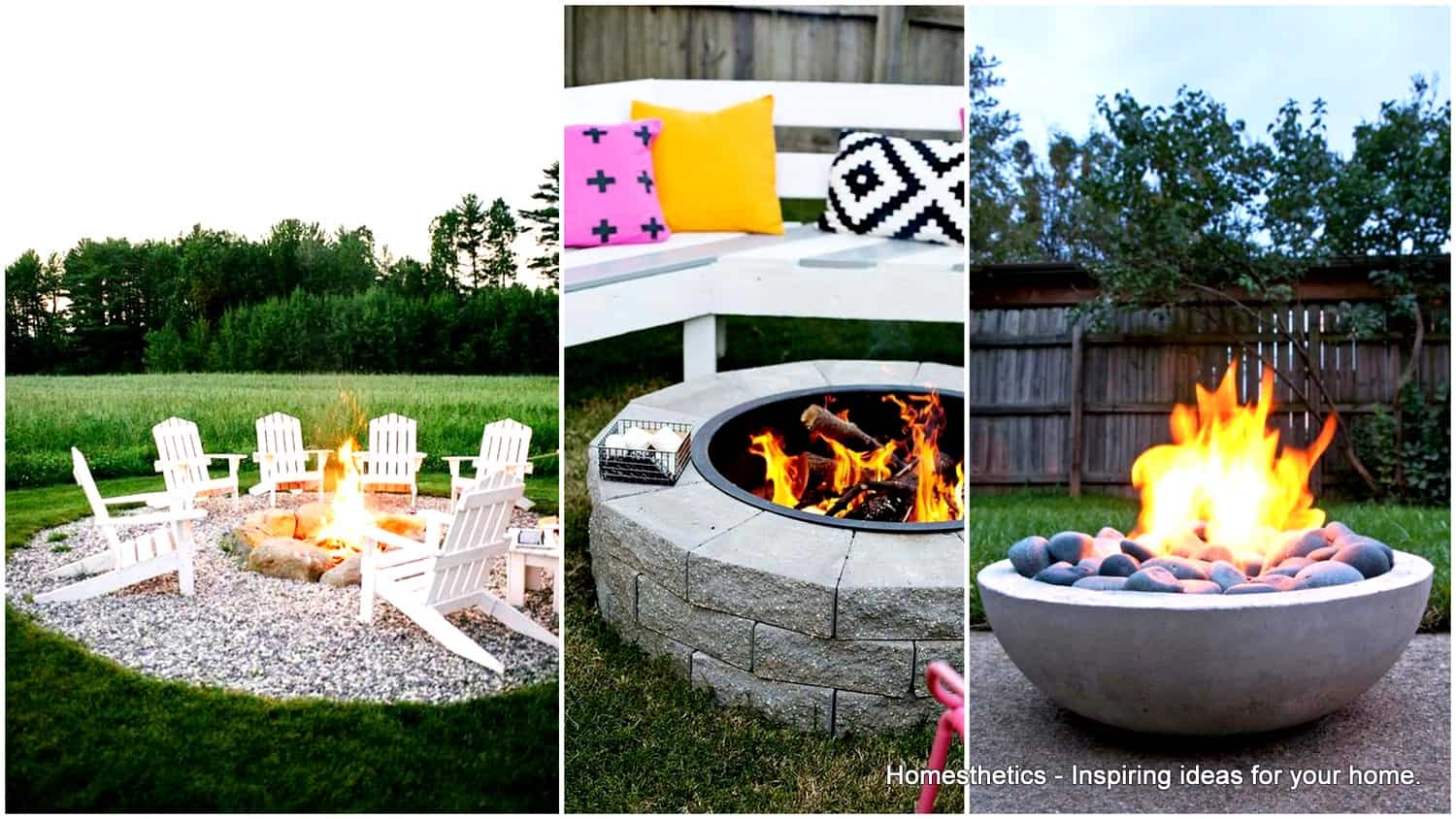 I love fire pits for how they look like, the warmth they provide, of how family and friends gather around it and have a good time. The absolute satisfaction that comes from kindling the fire and leaning back comfortably, watching the flame and falling into a sweet sleep is a feeling you cannot replicate.
So, making a fire pit on my own is something that feels like a rewarding experience and also something that saves on the expense. Thankfully, there is no one way of building a fire pit and the options will leave you spoilt for choice.
Most fire pits are pretty rudimentary in their design and very easy to make. Plus, the cost of making a fire pit is considerably cheaper than buying one. It also gives you the chance to decide just how big you want your pit to be or just how high or deep and made of what material. There is significant amount of space for experimentation and the outcome is satisfying. Without further ado, here are some easy, pretty and pocket-friendly DIY fire pits.
If you`ve found the fire pit plans below interesting we invite you to check various other free woodworking plans, we have curated lists that will show you how to build a garage, cat tower, a rocket stove, tiny house, duck house, deer stand, bat house, diy tree house, cat tower, porch swing, greenhouse, small cabin, farmhouse table, pole barn, rabbit hutch, diy dog bed, a playhouse, a chicken coop, a coffee table or a gazebo.
Related Articles
7 Best George Foreman Grill Models of 2022 Reviewed
Traeger Renegade Pro Review – Traeger Pellet Grills
Blackstone 28" Griddle Review – One of the Best Flat Top Grill Today
Saber R50SC1417 Gas Grill Review Under the Microscope
13 Best Copper Fire Pit to Enjoy This Fall
13 Best Firewoods to Enjoy in 2022
Brilliant DIY Fire Pit Plans & Ideas
1. The Simple Fire Pit
Some people like complex designs, while others like things simple. In firepits, you see extensive ideas suggested to you, but sometimes both the budget and the vision is not too elaborate. For this reason, building this very simple fire pit is a good idea. And though it looks simple, it has a rustic charm to it, while also resembling a well.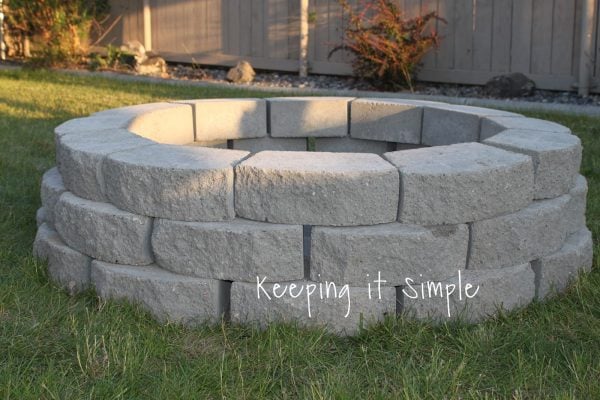 More details at keepingitsimplecrafts.com
2. The Quick Build Fire Pit
A simple yet effective design, this fire pit does not require any great expertise. It's like stacking Lego blocks in a circle and above one another. The gravelly texture adds to its appeal, while the finishing on the topside makes it look neat. It has a very wide neck space to light a big fire with enough room for a good chunk of firebrand to fit in.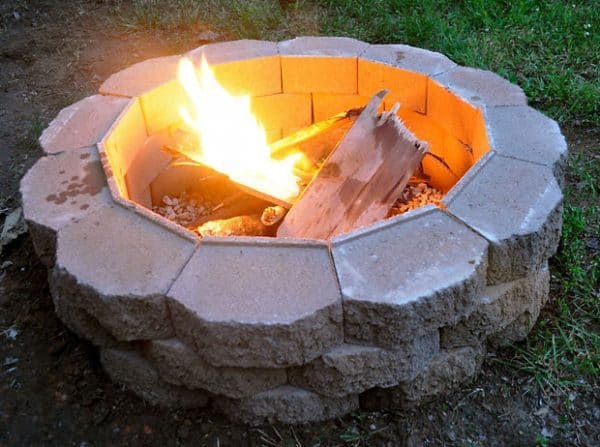 More details at thegardenglove.com
3. Carved Boulder Pit
I know this isn't something that you can do it on your own, but this purchase is quite something. Carved from a boulder, this fire pit looks very earthy and runs on gas, instead of firebrand. From a distance it does look like it is made out of wood and the texture adds to the illusion. The decorative moss completes the aesthetics of this fire pit. But, if you don't want to purchase it, what you could possibly do is build a firepit out of a boulder for yourself, and one that does require logs for burning.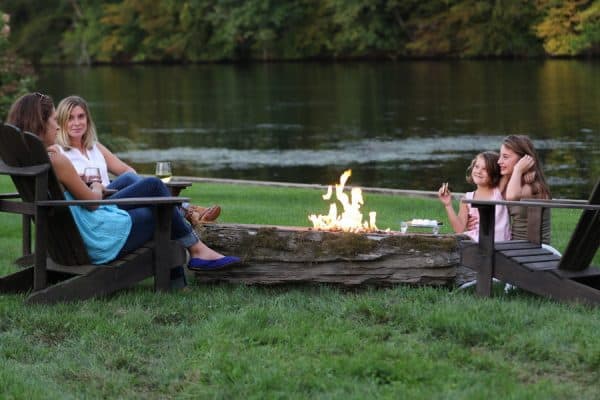 More details at stonefarmliving.com
4. The Rustic, Gravelly Pit of Fire
This is as simple as it gets. All you need is a bunch of large sized rocks. Huddle them up close and leave no space in between them, and you have a firepit ready for you to burn firebrand in and have a delightful outdoor party. Digging up a lovely circular patio for it completes the look and you're ready to toast marshmallows over the fire!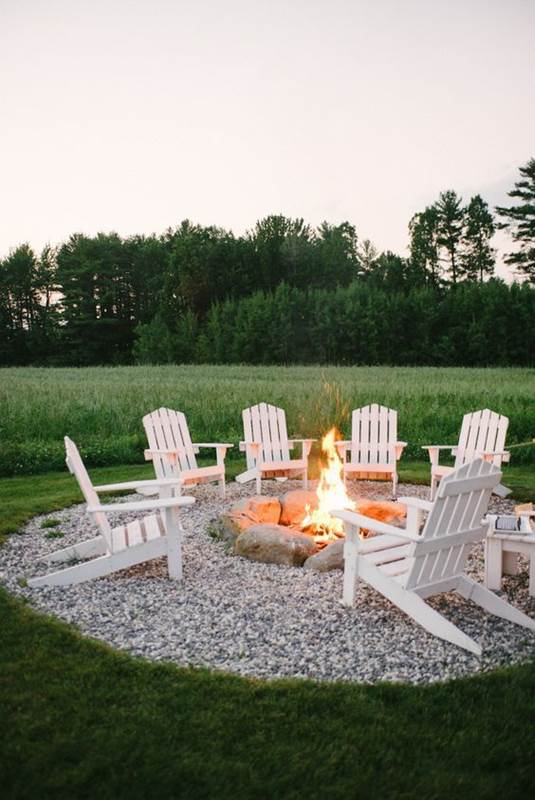 More details at  thecreativityexchange.com
5. The Neat Cinder Block Fire Pit
Though this particular fire pit looks very furnished, it is actually something that has been built using a bunch of very cheap materials and in no time at all. All you need are fire resistant cinder blocks, a couple of bags of lava rock and a bag of mortar to get the fire going. The inner lining of the fire pit wall has a lovely arrangement of bricks that makes it stand out from any angle, giving the appearance of an atrium or a stadium of sorts. There is also enough room to fit a barbeque grill in there, if you're in the mood for it. Light the fire and enjoy the cold evening with your warm fire pit.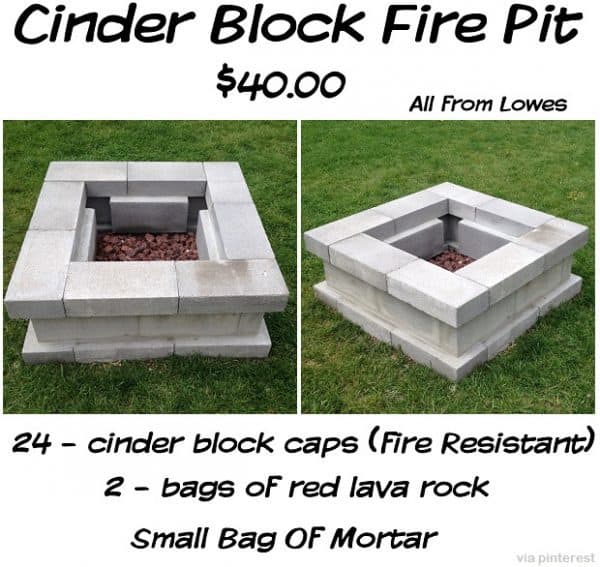 More details at  survivopedia.com
6. The Hole In The Ground Pit
This extremely cost effective and simple to make fire pit is quite literally a pit. Just get a couple of spades and a pair of helping hands and dig your own fire pit over the evening. Line it up with two sets of rocks and light it up to enjoy the warmth. With the vagueness of the design and the simplicity of it, you can always experiment with the shape and number of rocks and what kind of rock you want to use. You can add a few layers on top of the base one to bring more completeness to it or simplify it even more by having a single toned pattern. The options are at your fancy.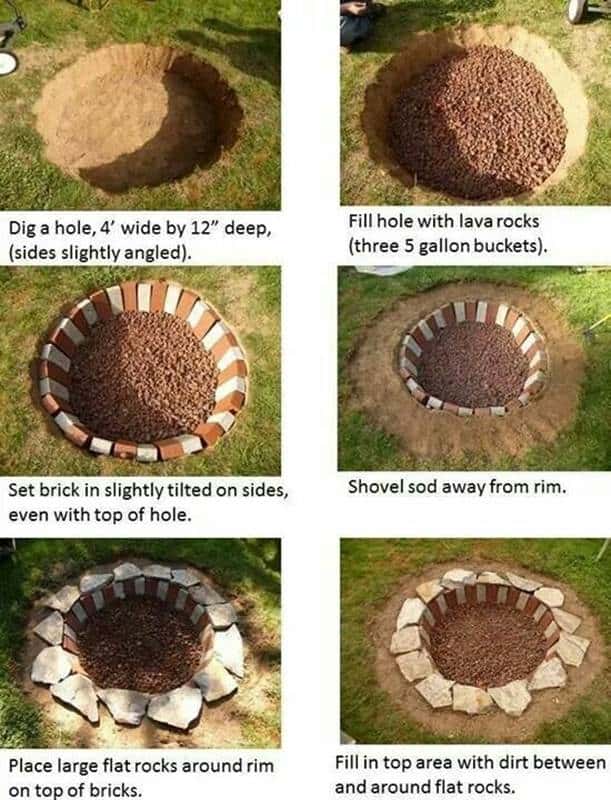 Source Unknown
7. The Homestead Series Fire PiT
There isn't much to a fire pit actually. So, when you get to making it, the designs that are available are usually similar and quite simple to replicate. This particular fire pit is one of those and it additionally eases your task by showing you a step by step process that is very easy to follow. Such guides are very handy as the visual companions for each step give you a clear idea of how the pit should look like and how the end product should be.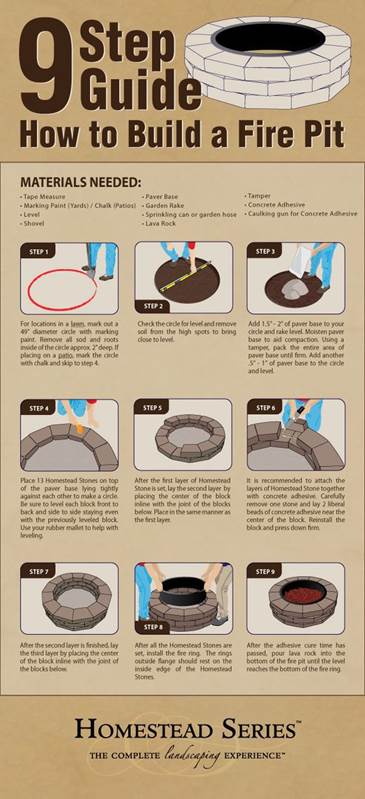 More details at pinterest.com
8. The Quick To Make Fire Pit
A basic stone and circular fire pit, it can be put together in under an hour and so it seems to be very simple to make too. It has a shorter neck than most standard fire pits, but has more space to light the fire. There doesn't seem to be any patio built around the fire pit, but if you feel the need to create one, it is all the better. Patios are always a safer option when you're building or installing any fire pit as the grass around is susceptible to catching fire. What it does provide is a great space for cackling fire and your family and friends to warm up to.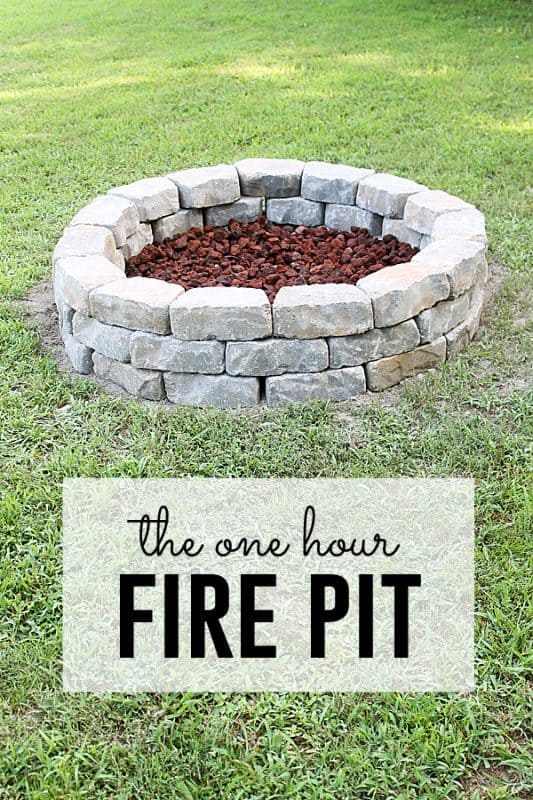 More details at theshabbycreekcottage.com
9. The Two-Step Dug-In Fire Pit
There are a couple of steps that you need to follow to build this fire pit. Though it is circular, it has a dug-in pit as a base which is lined with grey bricks. You can decide how deep you want the pit to be, but the depth provided in this how-to is more than adequate. Once you set that up, a metal ring is installed in it which is tall enough to protrude above the ground considerably. This fire ring gives extra security to the brick wall around it as repeated exposure to the bricks can affect their resolution. Finally, around this metal ring a stone pit is constructed for reinforcement. You can choose the color of the stone or even the type of it, based on your preferences. The same applies to the shape and placement of the stones.

10. Basic Fire Pit And Seating
In addition to building a very simple and standard fire pit, this design also includes a especially terraformed seating area in the midst of the garden. It looks lovely and easy to build and can be completed in a couple of days. I especially like how it has the shape of a teardrop and has a narrow pathway leading to it.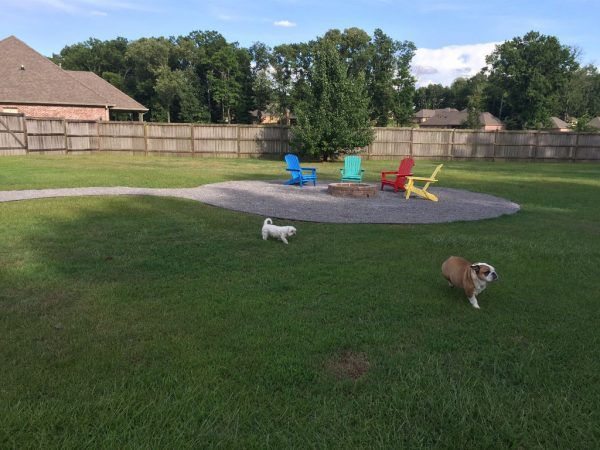 More details at instructables.com
11. The Tall Necked Fire Pit
This is a very cost-effective and time saving fire pit design which follows the standard circular fire pit scheme. It has a tall neck and deeper fire area, so a large fire would be well contained inside of it. I resembles a well and has a really dense wall. It lacks a metal fire ring, though it honestly doesn't need one. An interesting element that you can add to this pit is by coloring the outer area of the wall, either in multiple colors or just a single one, and/or paint something ancient on the bricks for that added charm.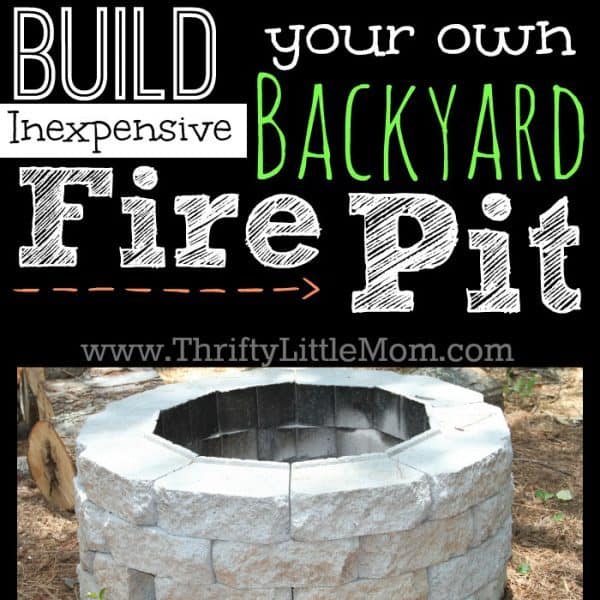 More details at thriftylittlemom.com
12. Concrete Bowl Fire Pit
A fire bowl instead of a traditional fire pit, this one resembles the fire bowls shown in period films and looks absolutely gorgeous. The stones that fill it only add to its aesthetic appeal and I would love to build one for myself. What's fun about a design like this is that you can decide to build a bowl of any size, as long as it is large enough to give you ample warmth, and the contents of the bowl can be retrofitted according to the size and your taste.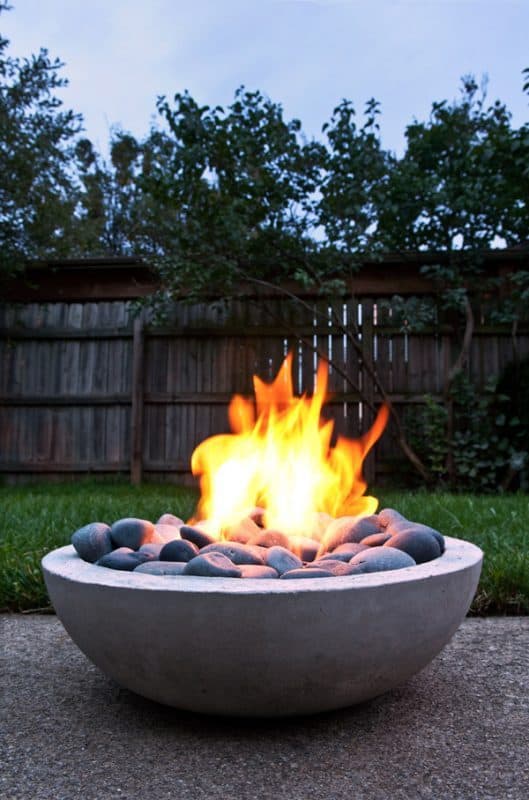 More details at manmadediy.com
13. The Fine Looking Fire Pit
This fire pit uses a fire ring as its center base but does not dig an actual pit to set it up. Then it covers the fire ring with stone to give it the standard circular shape but with a neat finish. Its wide neck and thick walls sort of remove the need to build a patio around it, but you can always go for it if you wish.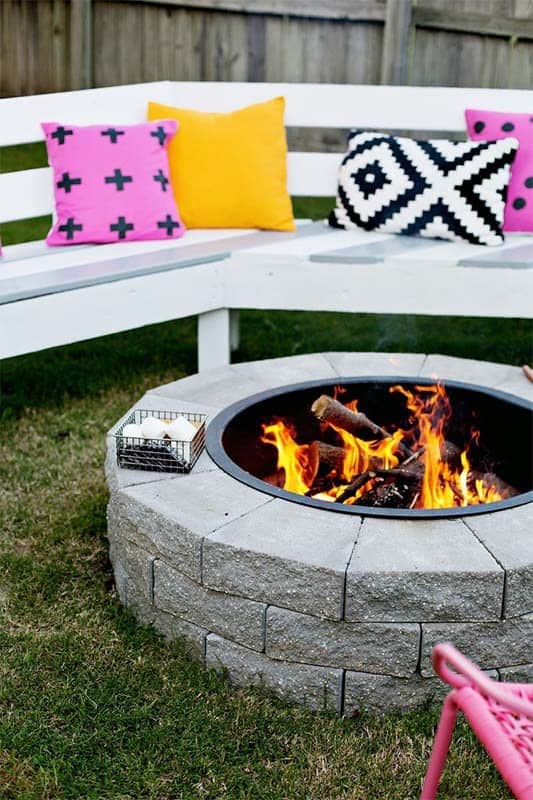 More details at beautifulmess.com
14. Bench And Ring Fire Pit
I love how this fire pit area looks. The actual fire pit itself is the simplest piece of this installation. The fire pit only has a single storey wall around it and that wall extends into a full circle to stand on. But, on the top side of the pit, the circle then expands into a gravel and stone semi-circular disc with a long, wooden bench on it.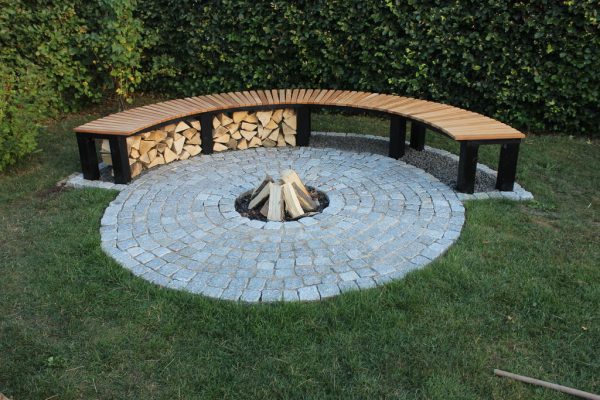 More details at instructables.com
15. The Square Fire Pit
Breaking from the monotony of circular fire pits, this particular fire pit has a high neck and deep pit area, filled with large pebbles and a metal bowl in the center for the pit. It is square shaped and is lined with variegated stone for a very neat finish. You can go for two variants here. Either you can opt for the traditional wood burning fire pit and just add firebrand to warm yourself or you can go for a little more elaborate and cost effective in the long run option of using gas. Even though gas does not have that appeal, synthetic logs can be installed to compensate for the lack of real ones.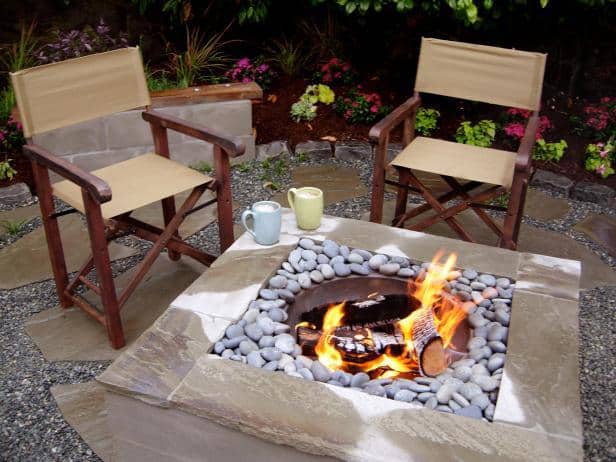 More details at diynetwork.com
16. The One Day Built Pit Designs
These fire pit designs are a little innovative and claim to help you make these pits within a day each. I like how these pits look and they seem to have a great enough space to light a big fire.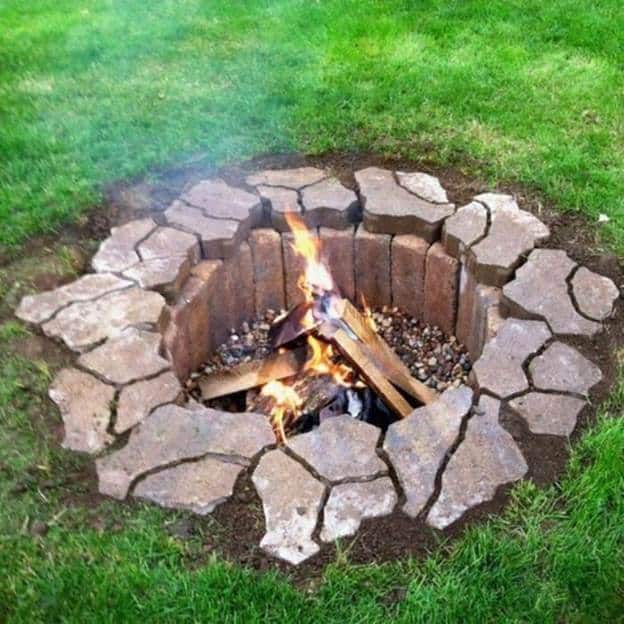 More details at redfin.com
17. The Stacked Fire Pit
I love this fire pit and seating design. The pit itself is made using stacked stones that give it a very magical appeal. It reminds me of desert stone formations and a lovely fire burning in its midst would make for a great picture. What's even lovelier about this design is the seating arrangement. Using tree trunks to create seats and benches, this fire pit area is enchanting to behold.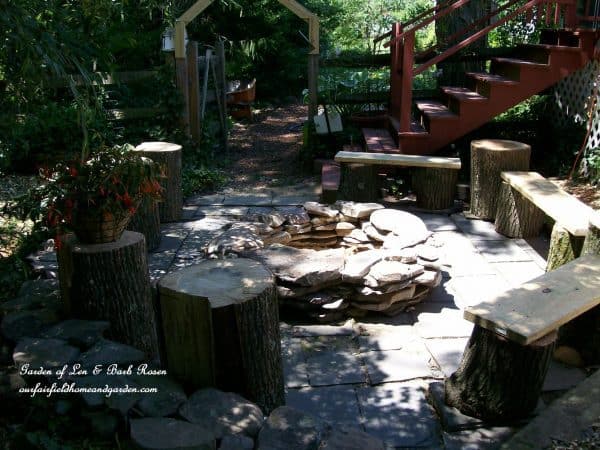 More details at hometalk.com
18. The Neat Pit
This is a very simple yet functional fire pit design. It is easy to make and inexpensive on the budget side. But, it does look lovely, even though it follows the same circular design as most fire pits.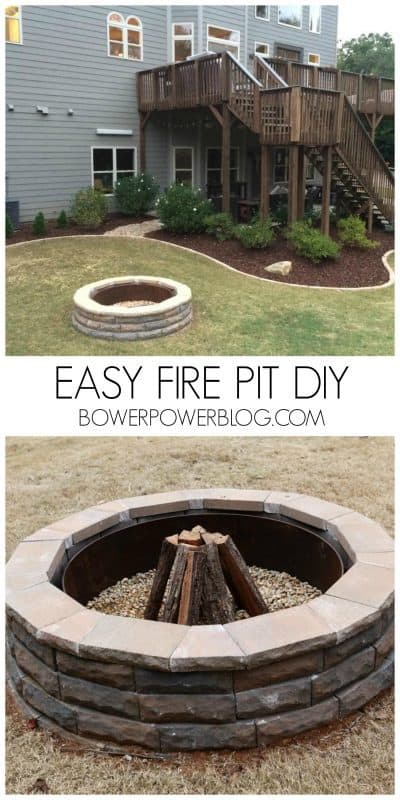 More details at bowerpowerblog.com
19. The Fireplace In Your Garden
Instead of making a fire pit, this DIY technique shows you how to make an outdoor fireplace that looks absolutely imposing, regal, rustic and charming. With an elaborate set up around it, this fireplace will surely charm any family, friend or acquaintance who looks at it.
More details at myuncommonsliceofsuburbia.com
20. The Metal Grill Fire PiT
This beautiful, circular fire pit wouldn't be a stand out of any sort if not for the metal grilled pan in the center of it. The pan helps the wood stay above the ground and impresses on the aesthetic side. It also gives you enough space to cook something over it properly.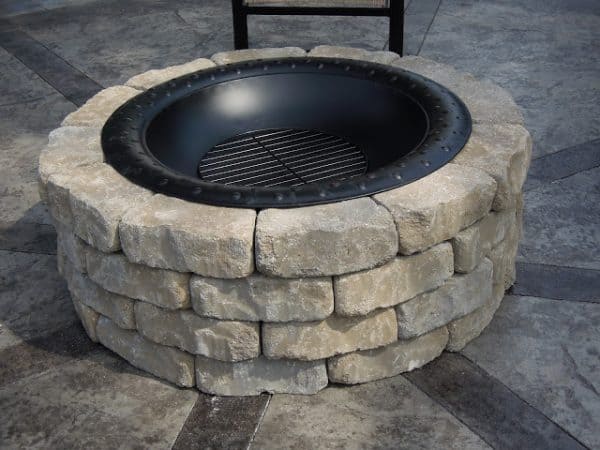 More details at hometalk.com
21. The DIY Small Fire Pit
Though this fire pit doesn't look it, it is entirely a DIY construct. It is small, it is chic and it resembles a kit assembled fire pit. The lid and fire ring and the fire bowl were not constructed, but rather purchased, but that still doesn't take away the DIY angle of the pit. Moreover, it is quite cheap to make.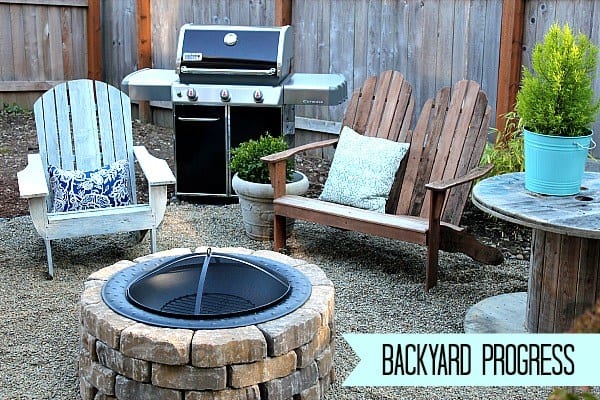 More details at theinspiredroom.net
22. The Easy Build Fire Pit
This is your standard, run of the mill circular fire pit. But, it comes with a set of detailed instructions, pictures included, which helps in setting it up quickly and for a very small cost.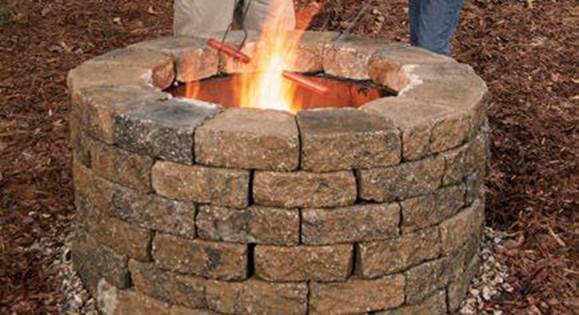 More details at instructables.com
23. The Into The Woods Fireplace
This outdoor fireplace design resembles something straight out of an archeological site. I like how it looks and the chimney is imposing. Rough and with not too many parts, this is a fireplace you might like to make.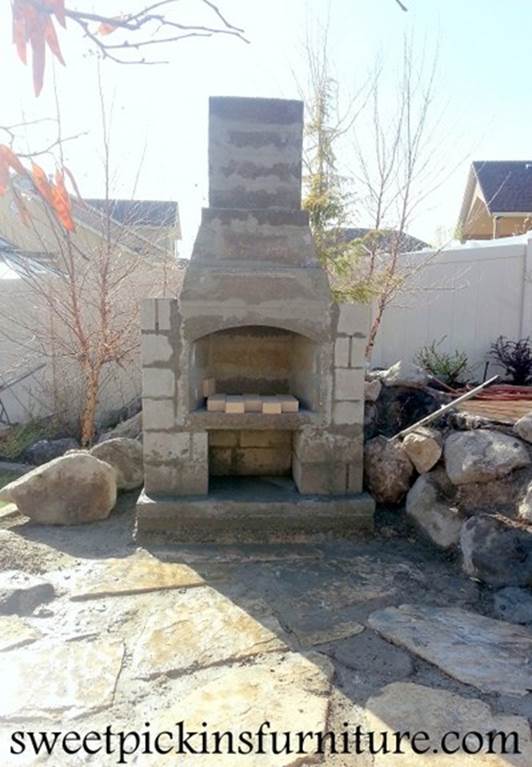 More details at sweetpickinsfurniture.com
24. The Low Necked Stacked Fire Pit
This fire pit has a very low neck yet a wider pit than most. You can add a few chairs around it, their designs entirely up to your selection, and have a warm and cozy fire pit area to have a good time with your friends.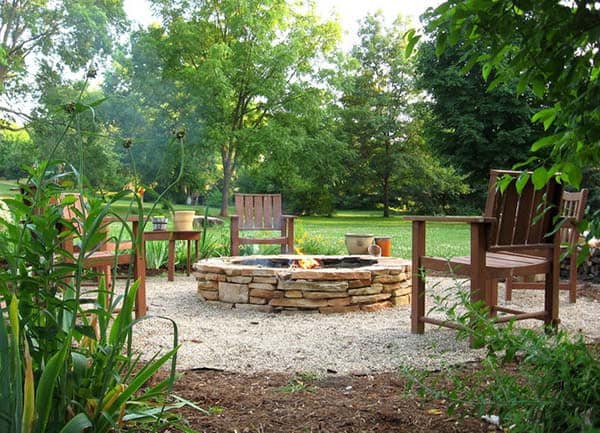 More details at houzz.com
25. The Handprint Fire Pit
What's really amazing about this fire pit is the little personal touch added to the center of it. Bringing a beautiful sense of family bonding to the construction and immortalizing it in concrete, the hands imprinted on it are a lovely gesture of unity. You too can add such heartwarming touches to your soul warming fire pit.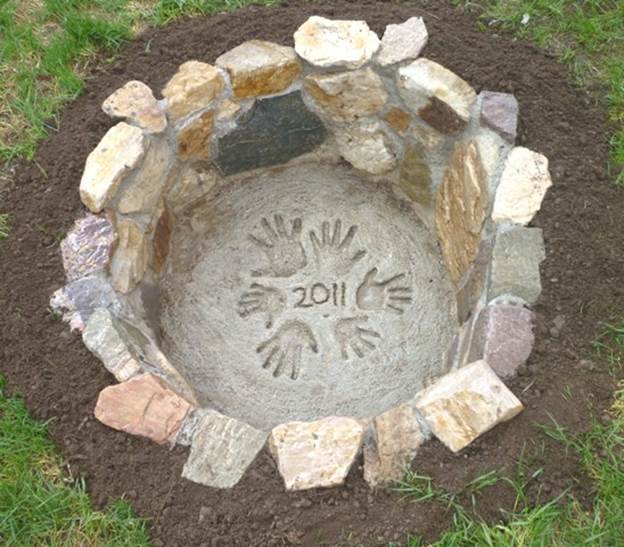 More details at sharpecreations.blogspot.ca
26. The Tree Ring Fire Pit
I like how this fire pit has a tooth like, flower like design element running in the outer ring of it. Using four separate slabs of concrete, this fire pit replicates tree rings, both on the outside and in the inner layers wherein, covered with rocks, concrete and metal.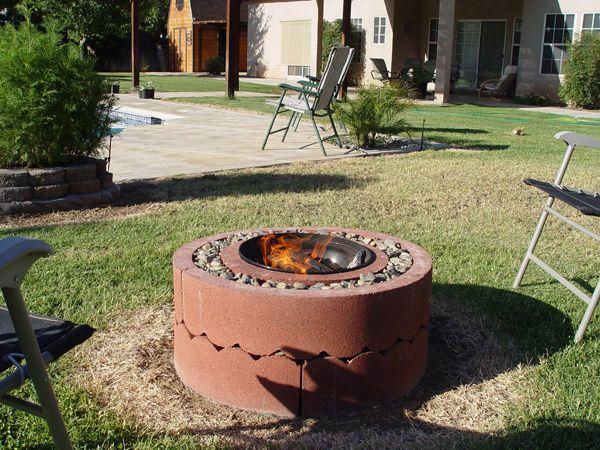 More details at instructables.com
27. The Big Boulder Fire Pit
Using large boulders and a very dishevelled and rough arrangement, this fire pit breaks the monotony of circular fire pits and brings a more organic feel to the set up.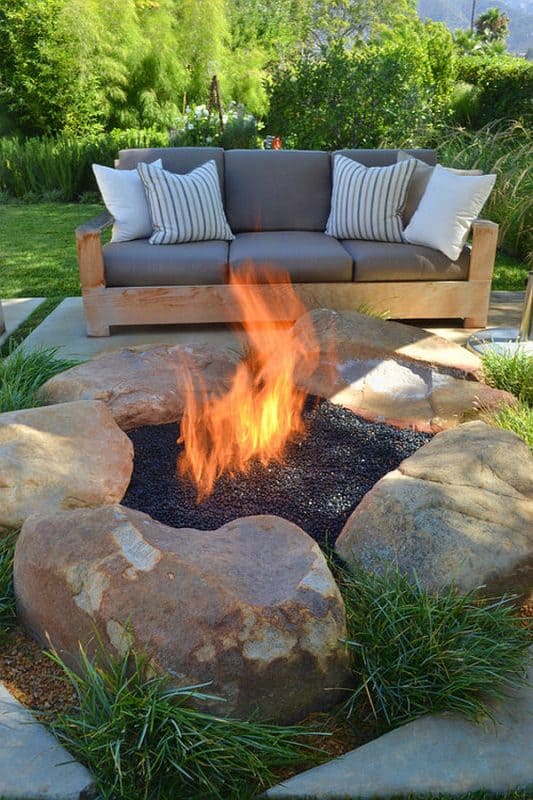 Source Unknown
28. The Old Mason's Fireplace
This really neat fireplace set up is very appealing. I like how the flooring around it is of wood and with criss cross designs. This fireplace is large enough to light a big fire and can warm a good number of people huddling around it.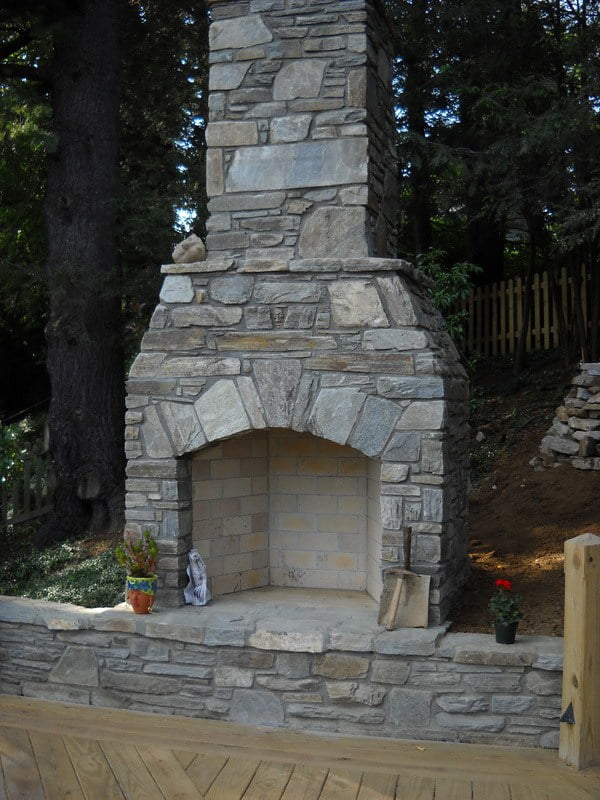 More details at livingstonemasons.com
29. The Tabletop Fire Pit
This cute little firepit is very easy to make. It has a metal fire ring in its center and has an undug surface. The rest of the pit is pretty standard.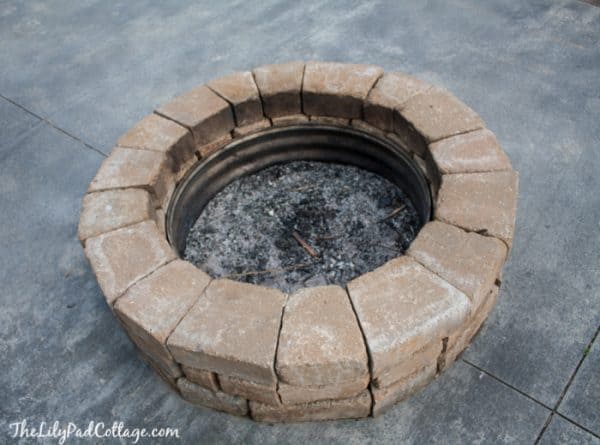 More details at thelilypadcottage.com
30. The Basic Fire Pit DIY
It is a lovely medium-height fire pit that you can make very easily. The instructions for this pit are very detailed though and are easy to follow. It wouldn't cost you much either.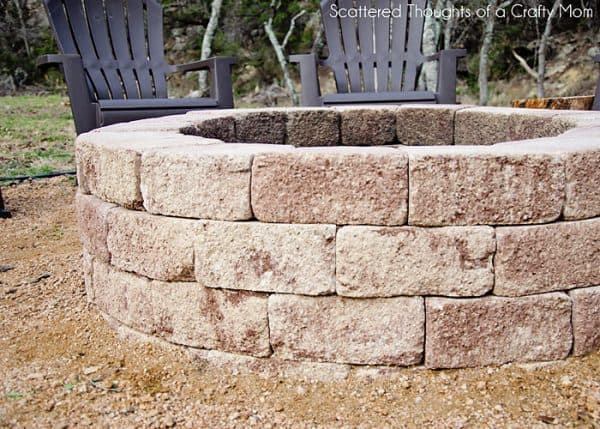 31. The Dollar Ten Fire Pit
This is a truly innovative DIY method to build your own fire pit. You can either remove the drum from an unused washing machine or go the junkyard and get a washing machine drum from there. Weld a few legs to it and voila! It is ready. Not only is it easy on the budget, but it looks amazing and is very portable.
More details at houseandfig.com
32. The Steel Walled Fire Pit
First, this fire pit isn't like other fire pits. It is square. Not circular. Plus, it doesn't use any typically earthy material to make it either. It only has four sheets of steel and stones filled in its center.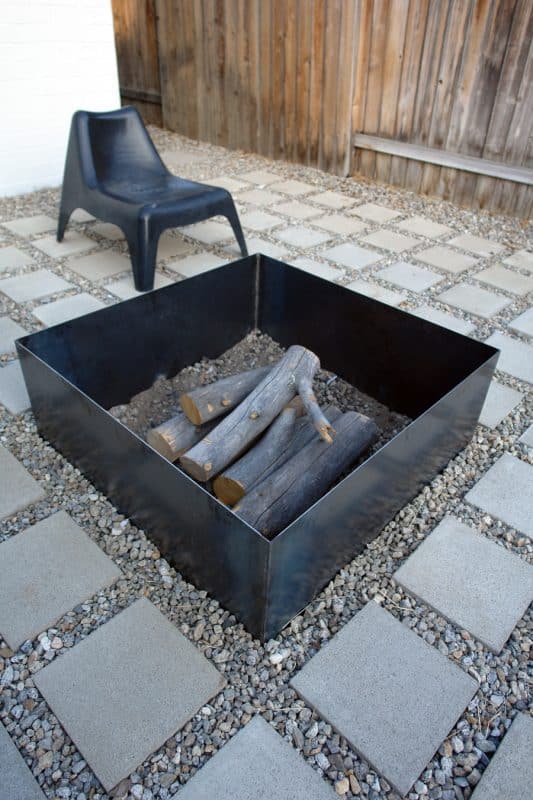 More details at the-brick-house.com
33. The Pet Pit
This is a tiny fire pit that can comfortably fit on a table. The great thing about a tabletop fire pit is that it can be carried anywhere and you don't need to huddle around to get its warmth. It is very personal and can be made for real cheap.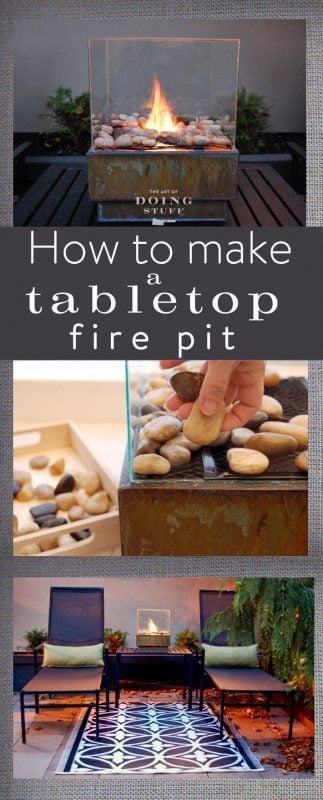 More details at theartofdoingstuff.com
34. The Backyard Patio Pit
This patio fire pit is very neatly set up. With a lovely set of chairs and a couple of barrel pots to decorate the area around the pit, this setting is great for a good evening time with family or friends. The pit itself is your standard circular shape, but you can replace it with any other design you deem fit.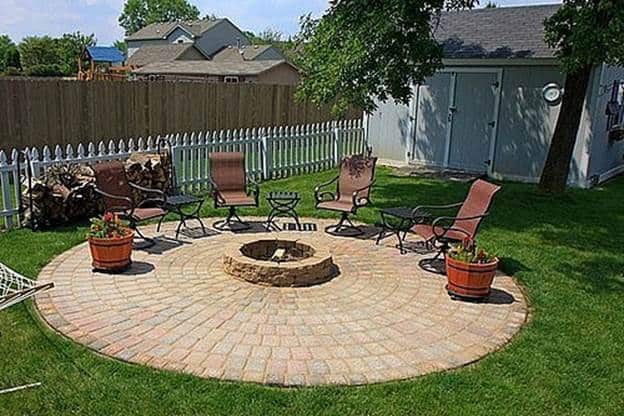 More details at countryfarm-lifestyles.com
35. The Upcycled Mall Trolley Fire Pit
Upcycling is fun. It is all about taking stuff that is not in use and putting it to use for some other thing. So, turning a shopping cart into a portable fire pit is an amazingly innovative and inexpensive idea. You can add logs to the bottom end of the cart and seal the upper area with a retractable lid.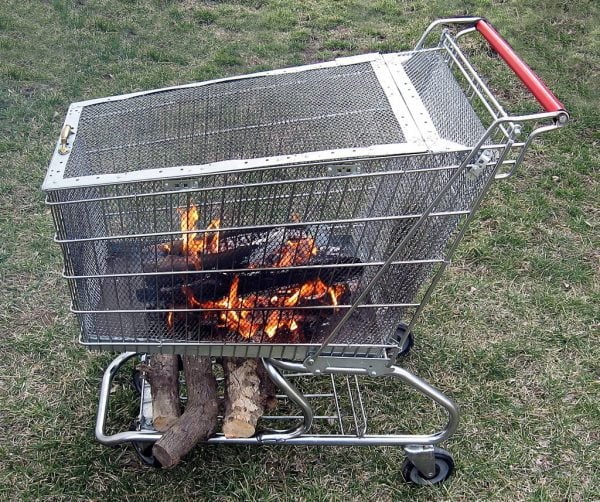 More details at instructables.com
36. The Square Brick Pit
A square fire pit isn't really a common sight, but when there is one, it is truly a delight. I like this particular fire pit and how its just the perfect size for you and your family or friends to warm up around it on a chilly night.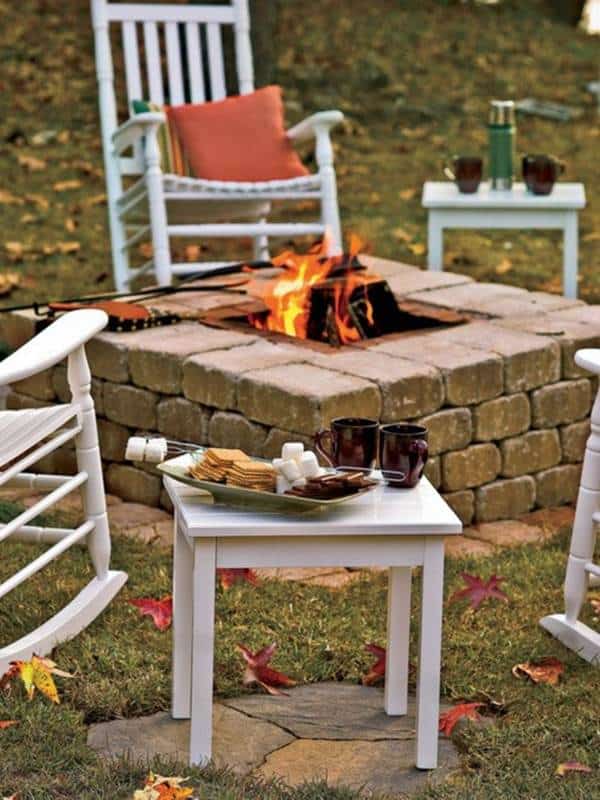 More details at magnoliamerryweather.tumblr.com
37. The Quaint Round Fire Pit
Even though the firepit design itself is pretty standard, in spite of being cute, the real deal here is the how-to process listed by the makers. They have detailed their method from the start and show you both the successes and failures in their attempts. This really helps you understand what to do and what not to.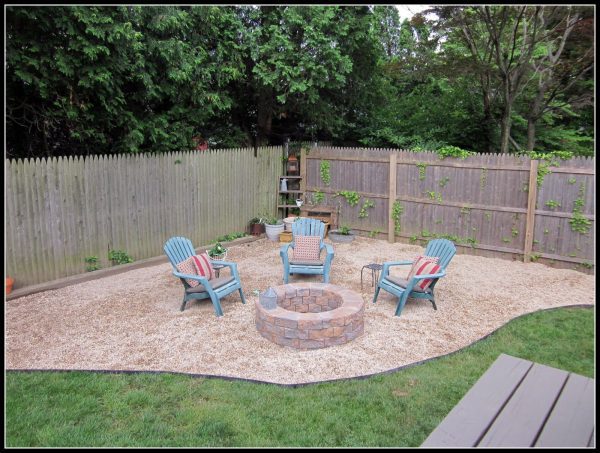 More details at homeroad.net
38. The How-To Patio
This DIY isn't about the fire pit. It is about the patio underneath. A patio is sort of a standard for any fire pit installation, given the fire hazard rogue sparks can create if they fall upon grass. So, even if you do end up buying a fire pit instead of making one on your own, you can ensure the safety of your home all on your own.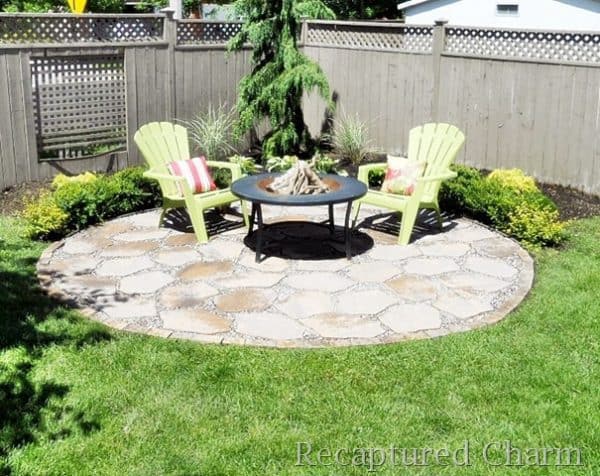 More details at recapturedcharm.com
39. The Tractor Pit
Upcycling is always rewarding. It is one of the most creatively resourceful things to do. So, if you have a tractor wheel that is of absolutely no good to you, then turn it into the metal fire ring for your fire pit and save on money.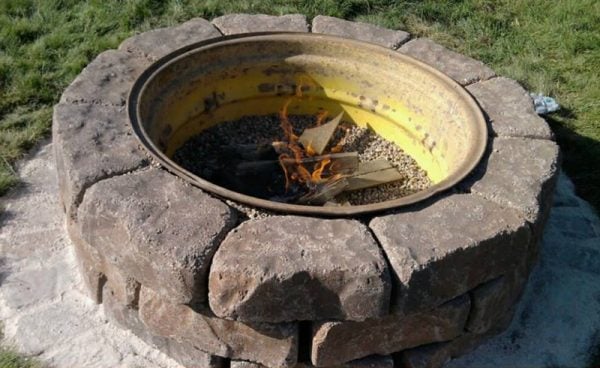 More details at handimania.com
40. The Runic Roman Fire Pit
This is absolutely my favorite fire pit DIY on this list. It reminds me of ancient Rome and has such an aesthetically pleasing symmetrical design. I can imagine myself seated around with my friends, with some delicious barbecue, and some lovely orchestral music on the jukebox, enjoying the perfection of this fire pit.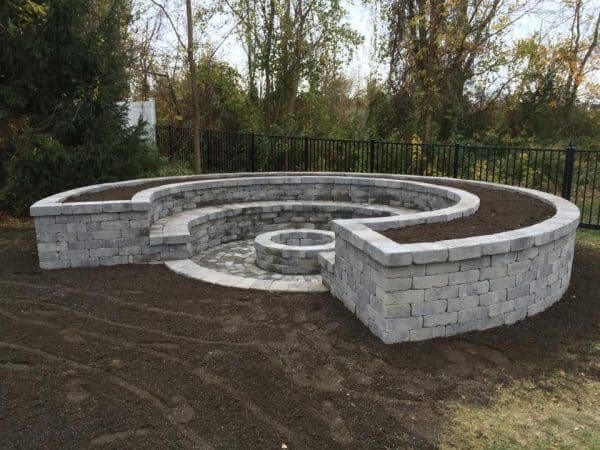 More details at facebook.com
41. The Pit Seating
What's a fire pit without the fire? What's the fire without people to warm? What are people to do without a seating area? And so, this post helps you with this one essential aspect of your fire pit installation by offering you plentiful ideas.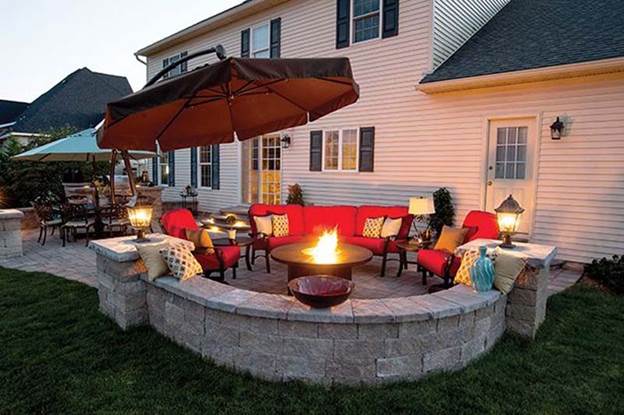 Source Unknown
42. The Budget Friendly Fire Pit
What I like about this fire pit is the arrangement of the stones. They are not arranged in the standard way and give an extra appeal to the exterior of the pit. As for the interior, the readymade pan ensures the burning wood doesn't touch the ground. And all this in just a hundred and twenty five dollars.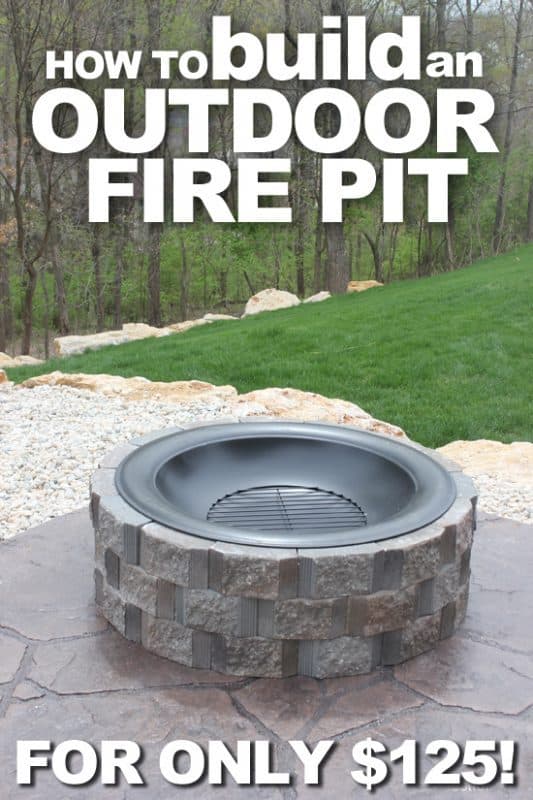 43. The Mosiac Pit
Who would've thought it? Mosaic pattern on a fire pit? Well, someone luckily did and now you can replicate it, with your own variations! It brings a bit more life and character to an otherwise standard fire pit design and something I'd really like to try.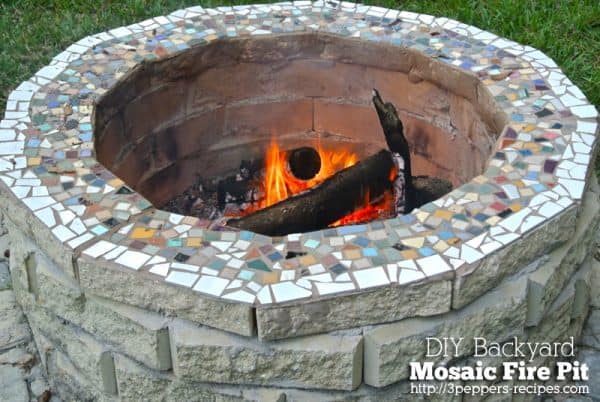 44. Capstone Fire Pit
A fire pit with the fire in it to stand out amongst its peers? This fire pit here definitely seems to be doing just that. Firstly, it's square. Secondly. It has a very lovely capstone. Thirdly, it has a really low neck when compared to most pits. Quite fantastic, I believe. The maker of this pit knows this and hence guides you through the building process in detail.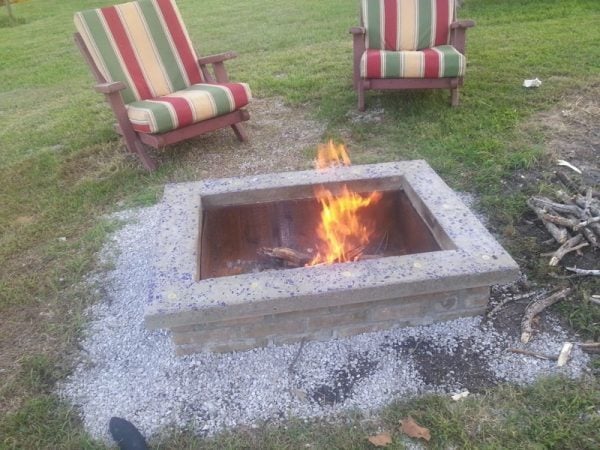 More details at project.theownerbuildernetwork.co
45. Koi Pond Pit
I don't think there is a need for a very detailed DIY manual for something like this. Taking a Koi pond and turning it into a fire pit is a brilliant idea and one that is very artistic to look at. With good observation, it can replicated quite easily.
You can add to the decor of this fire pit by carving stools from rocks and installing them around the pit.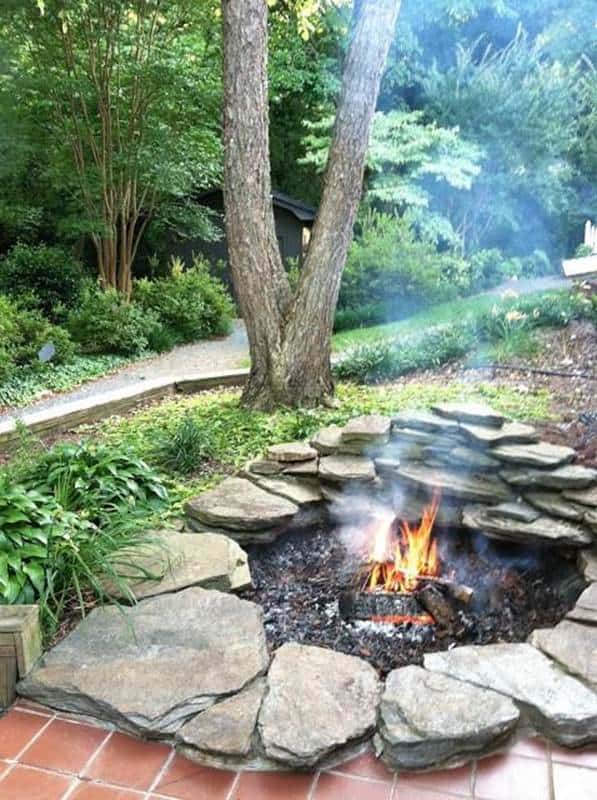 More details at lucyslampshade.blogspot.com
46. The Proper Fire Pit
I like how this particular fire pit is actually just a pit. It has no extension above the ground once it is dug up and established in a hole. Moreover, it is box shaped and not a circle, so that adds to the bonus points.

More details at mikekraus.blogspot.com
47. The Port-A-Pit
I travel a lot and I like fire pits a lot too. So, for someone like me a portable fire pit would be extremely convenient. I would like to carry it with me in my car on long drives and use it when out camping. It's fantastic and looks neat and is easy to build.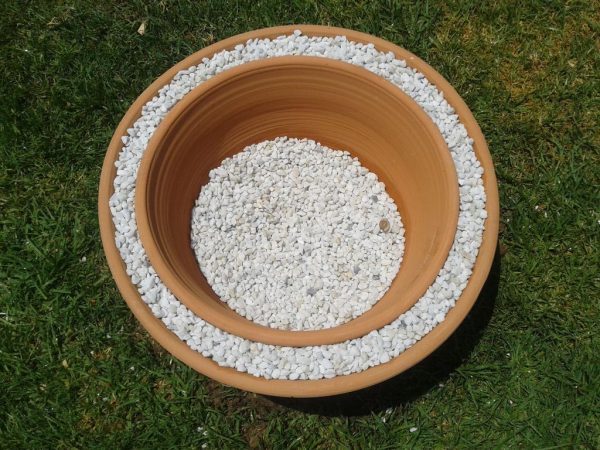 More details at bestfirepitideas.com
48. The Barrow Of Fire
Wheelbarrows are so simple yet so enchanting. They carry this amazing aura with them and there is something beautiful about turning a wheelbarrow into a fire pit. Setting it up in the middle of your garden and lighting a fire on a foggy morning is a sight anyone would cherish. It is extremely simple to set up as well.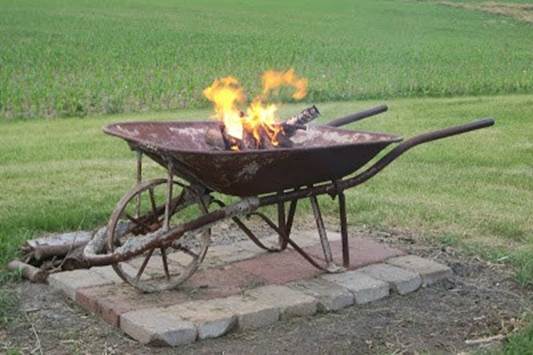 More details at misseffiesdiary.blogspot.com
49. The Pirate Ship Fire Pit
Using the same basic mechanics as a wheelbarrow fire pit, this exceptionally lovely and awe-inspiring ship shaped fire pit is the decorative piece that deserves all the attention. This is the only instance where a ship on fire is actually not a bad thing and the wood burning inside does not go to waste.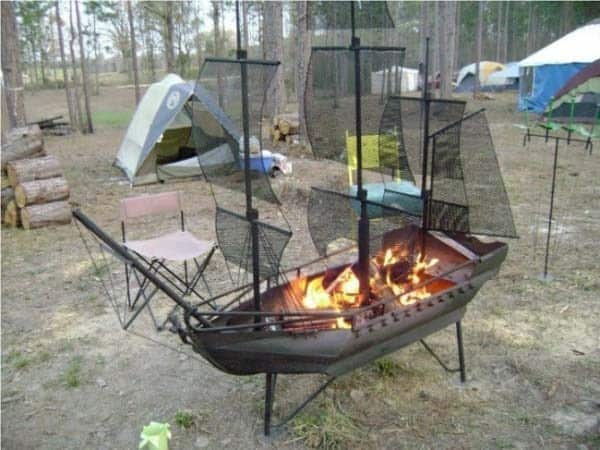 More details at goodshomedesign.com
50. Barrel On Fire
A barrel's usually filled up with beer, wine or…milk. But, a barrel does not provide warmth, unless, in an unfortunate circumstance it has been set on fire. In this case, it does have a flaming crown but one that does not drown it in fire. Rather, the s'mores are mild and warm enough for you to gather around in your living room and enjoy.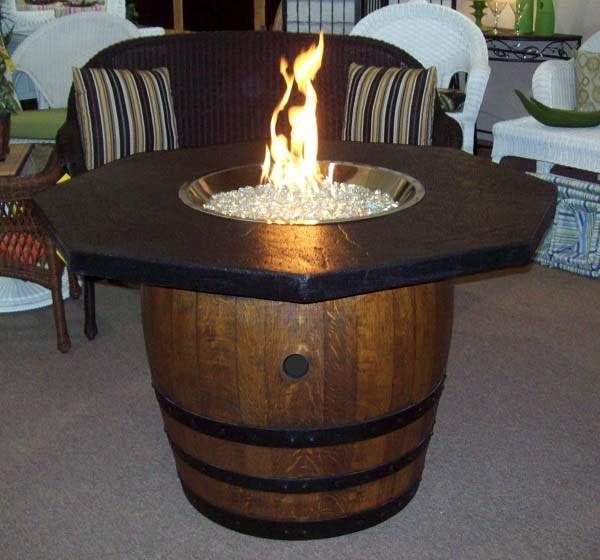 51. The Grand Pit Of Fire
This grandly titled pit is indeed pretty big. But, the stuff you'll need to make it is actually not much plus it can be made pretty quickly. I would love to set it up in my backyard for a great bonfire to revel in. Wouldn't you?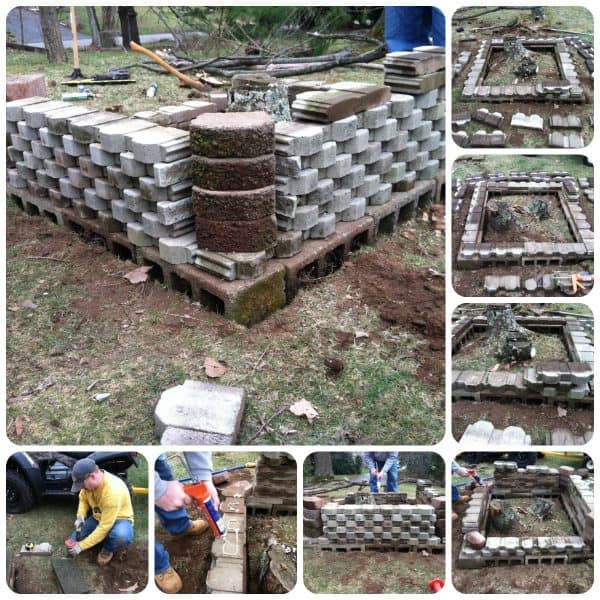 52. The Fire Flower Pot Pit
Turn a flower pot in a fire pit for a table top fire pit to warm you up quick during wintry evenings, for practically dirt cheap. S'mores work wonders for small places and in this case they replace flowers for a different kind of fragrance.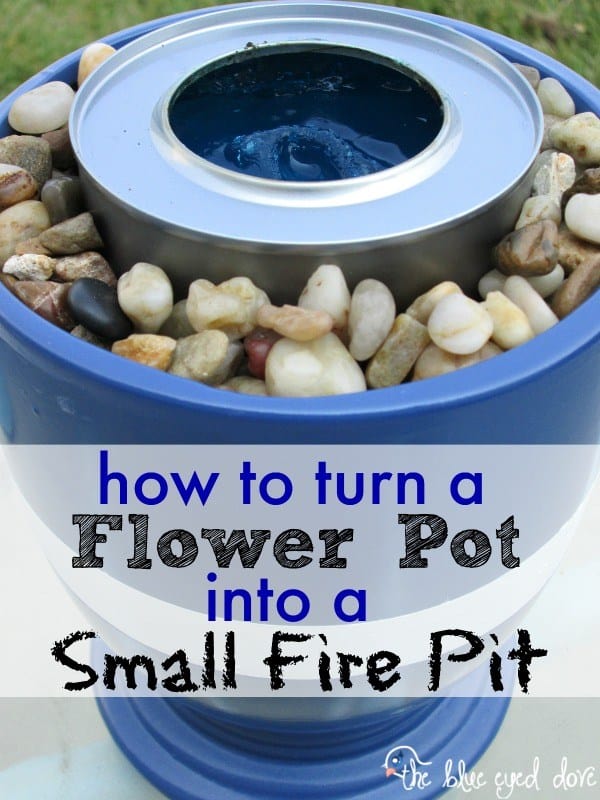 More details at theblueeyeddove.files.wordpress.com
53. Table Top DIY Fire Pit
This does require some pottery skills and a little more time than usual due to the nature of the craft. But, difficulty wise it isn't on the tough side, nor is it expensive to make. It is a lovely tabletop s'mores lit fire pit for you to decorate your centerpieces with.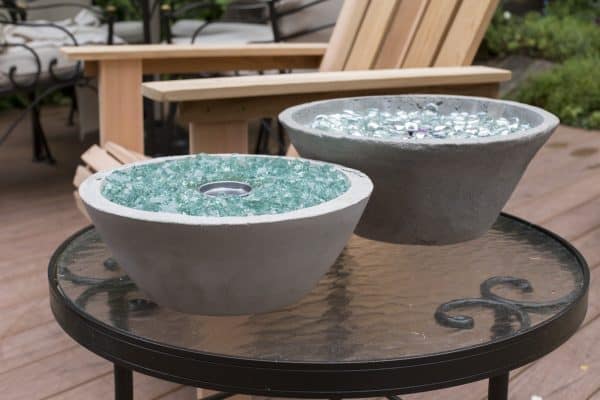 More details at diy.dunnlumber.com
54. A Pallet PiT
Pallets are very resourceful and easy to procure. They are also used for innumerable interior and exterior decor objects, especially in DIY techniques. So, it is highly unsurprising that a movable pallet DIY fire pit is a thing. It looks very unique, provides enough height and doesn't need to be lodged in one place in your garden. Anything portable is definitely of more long-term convenience than the alternative.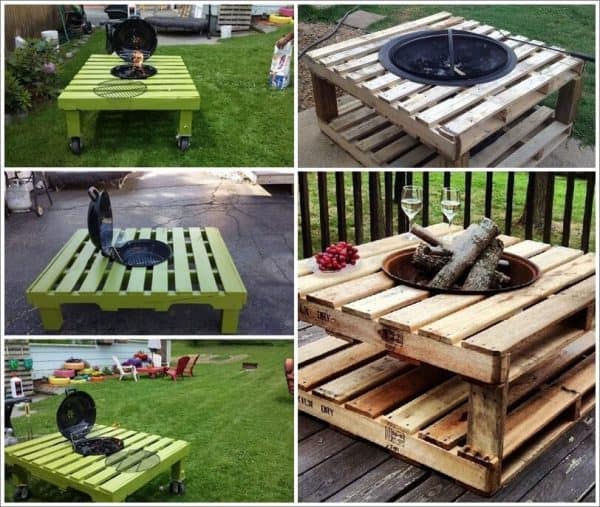 More details at amazinginteriordesign.com
55. The Vintage Port-A-Pot-Pit
I'm in love with the engravings on this fire pit drum. The pit itself is made by using a flower pot, a fire ring, a board and propane. Gas fire pits are seen in less favorable light when compared to their more traditional counterparts, but they are very convenient and easier to get going. Plus, why wouldn't you want to have a pit like this in your porch?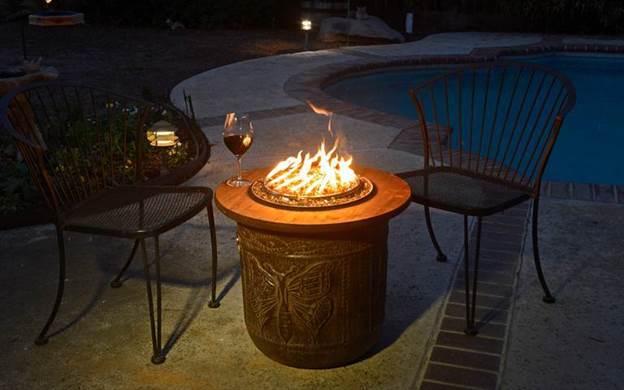 More details at fresnobee.com/
56. Concrete Board Fire Pit
Though this square fire pit appears to be made of wood, it is actually made out of slabs of concrete placed one above another. All you need to do is create a cast for the concrete and then cut it and replicate the process for as many slabs as you want.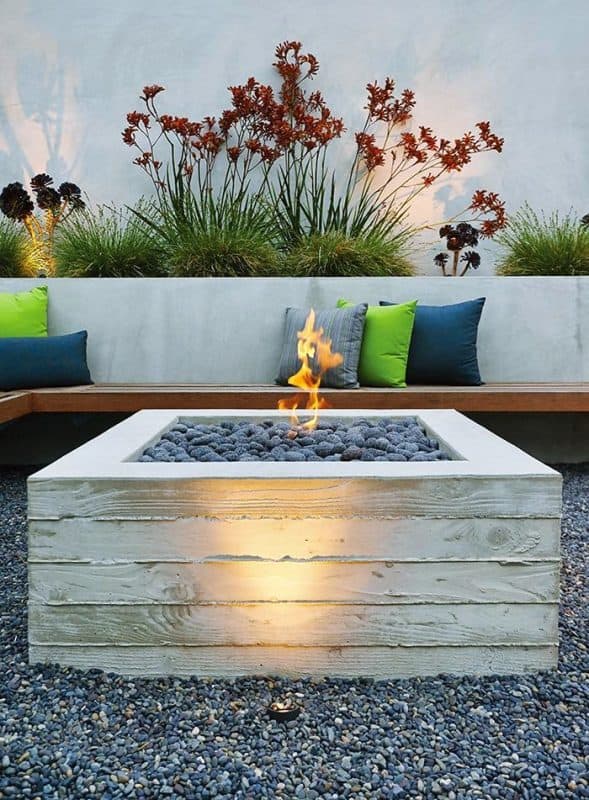 More details at backyardsclick.blogspot.com
57. Tree Stump Pit
Our final fire pit idea is just that, an idea. The post doesn't share in-depth details on how to create this yourself.
However, if you are someone that can see a picture and recreate it then you would probably be able to safely design this.
How to rekindle an old, dead tree's spirit in your backyard? By lighting a fire in its heart, quite literally. By installing a safety fire ring in a hollowed out tree stump, you can create a beautifully unique fire pit.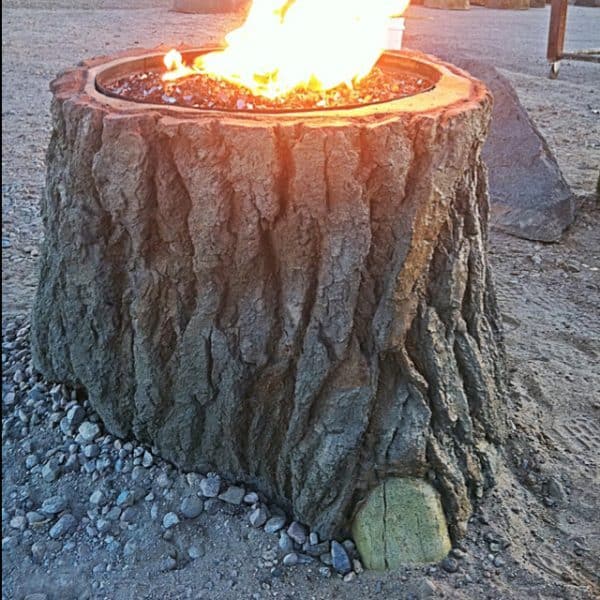 More details at pinterest.com
58. The Concrete Tub Fire Pit
This fire pit is a little unusual than most. It uses a very basic concrete slab design as a tub and fills it up with the required ingredients to light a spicy fire for your lovely gathering. Pretty simple in build and not time consuming either, it is stylish to look at and goes well with many sofa sets.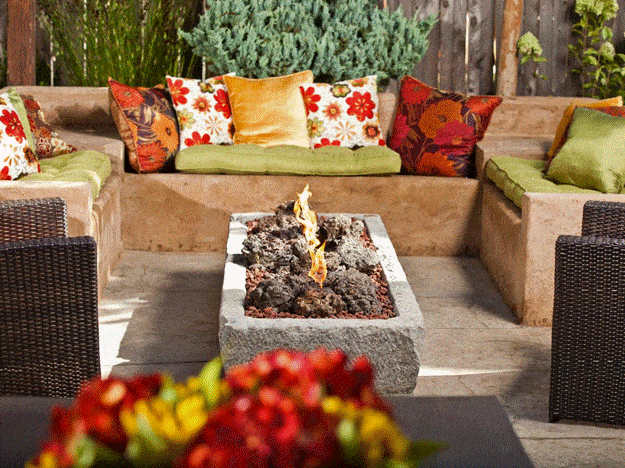 59. The Semi Oval Fire Pit
This semi-oval and very simple fire pit is a neat alternative to its bulkier cousins. On a cold fall evening, this fire pit is what you need to help you fall into a lovely sleep.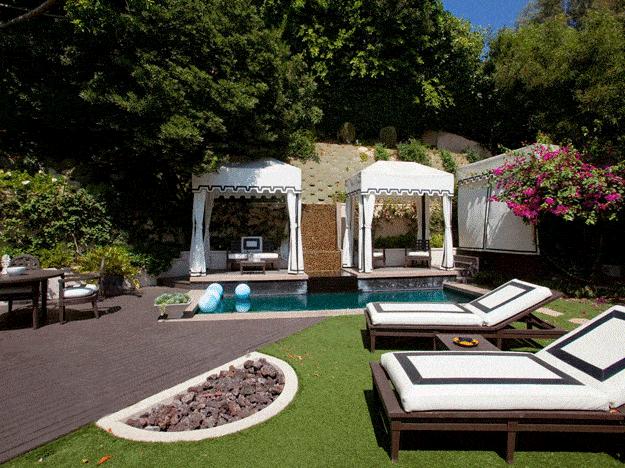 60. The Fancy Victorian Fire Pit
I like how the one iron grill on the top of this otherwise normal seeming fire pit makes it look such a prized possession, as if it is wearing a crown of fire. With a lovely decor around it and a garden to complement it with, you have a fantastic setting for your guests!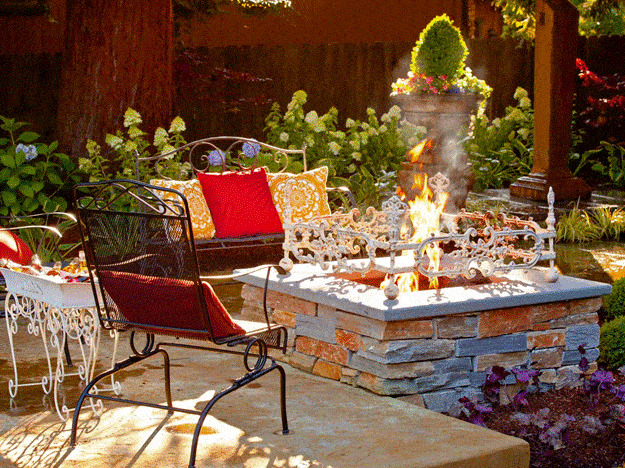 61. The UP-CYCLED Industrial Fire Pit
This fire pit, with lava rocks and an upscaled and recycled industrial steel tube, is really unique and stunning to look at. Sitting on a big block of concrete as if in some exotic art gallery, this fire pit is a show stealer and incredibly eco-friendly.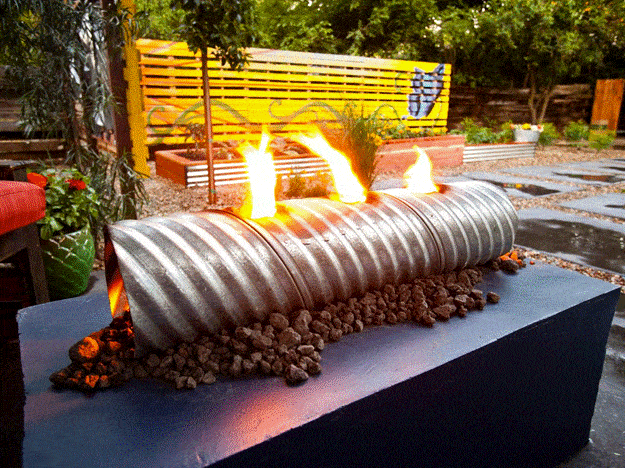 62. Simple Metal Bucket Fire Pit
There's really nothing much to it than to just look at this and…just do it. Take a metal bucket, fill it with lava rocks and light it for some exhibitionary evening around the fire and a good night ahead.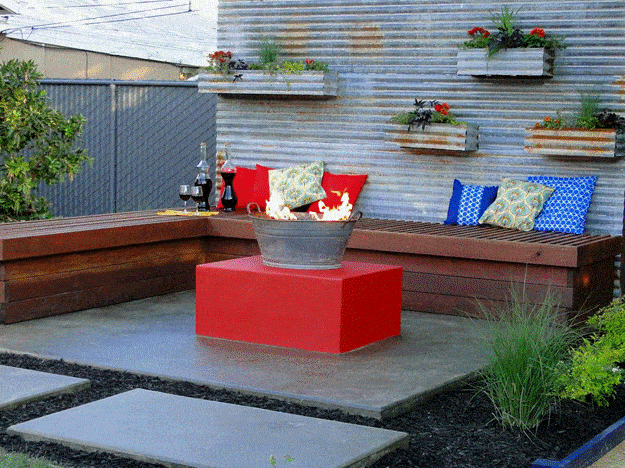 63. Lively Small Fire Pit
This low necked, wide-mouthed and simple fire pit might look unremarkable on paper but looks really good when built with some lovely furniture around it.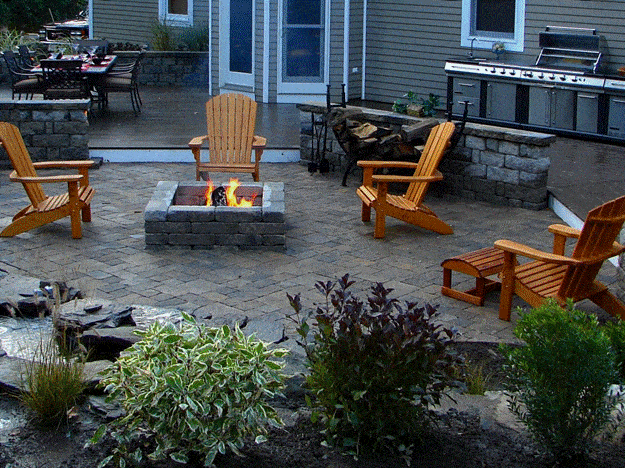 64. The Coliseum Styled Fire Pit
This fire pit gives a new twist to the usual circular shaped fire pit design, just with some creative arrangement of bricks. It resembles a coliseum on fire and can be quite eye catching as an installment.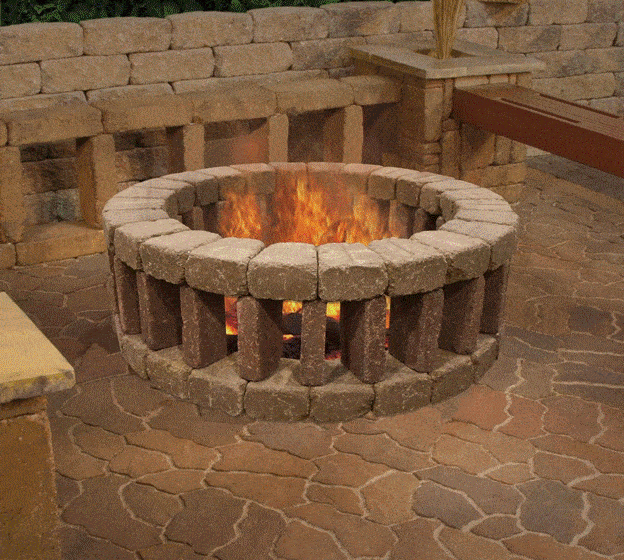 Source Unknown
65. Peacock Tail Fire Pit
This fire pit takes a completely different tangent for its design, discarding all the boxes, rectangles, circles and semicircles and going for a more flamboyant style, one resembling a peacock's tail inverted. I would like to give this design a shot. Moreover, there is room for customization here.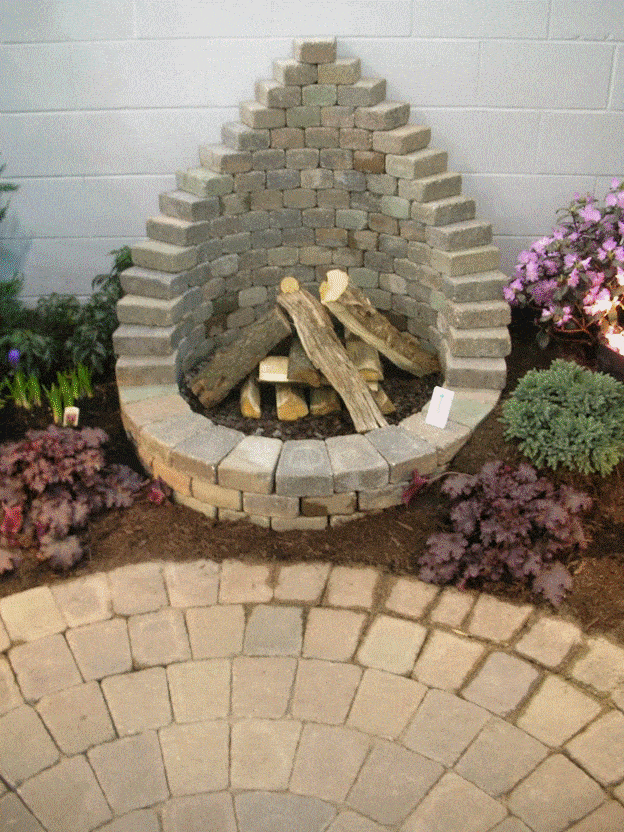 via Pinterest
66. Colorful Barbeque Fire Pit
This fire pit uses tiles with two shades of lavender in a very creative manner and we have a wonderfully assembled fire pit that also works perfectly as a barbeque grill. It has four layers for the outer base ring, and five layers for the inner ring. In the large space between both rings, gravel and pebbles are used as fillers. A barbeque grill rests in the very center of it, filled with lava rock, ready to be lit for a lip-smacking preparation. The height of the grill is tall enough for the sparks to be contained. There is also need for digging an actual pit.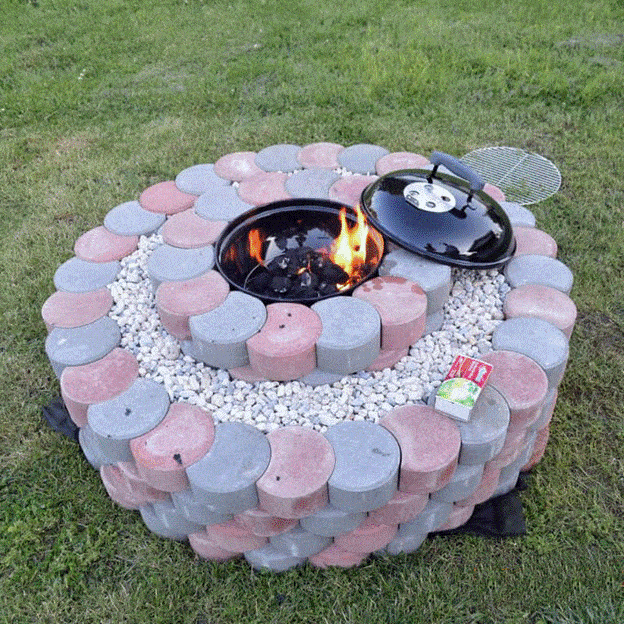 via Pinterest
67. Cinder Block Square Pit
A very simple design, but an effective one. This is extremely easy to make, absolutely cost saving and doesn't take too much time to set up. If you're looking to just assemble a fire pit on short notice, this is your best bet.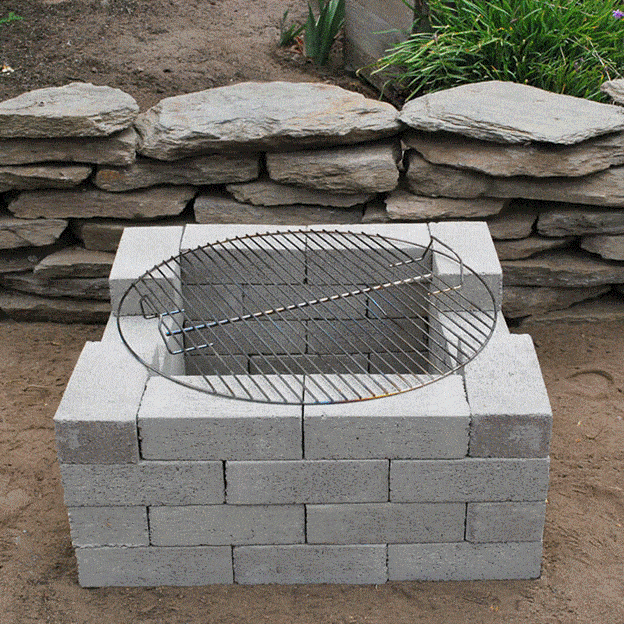 via Pinterest
So, which of these DIY fire pits did you ultimately decide to go with? Do you think you can create something entirely new on your own inspired by these lovely designs?
The DIY fire pit plans above await you !
Has this list lit a creative spark in you?
Do share your thoughts!