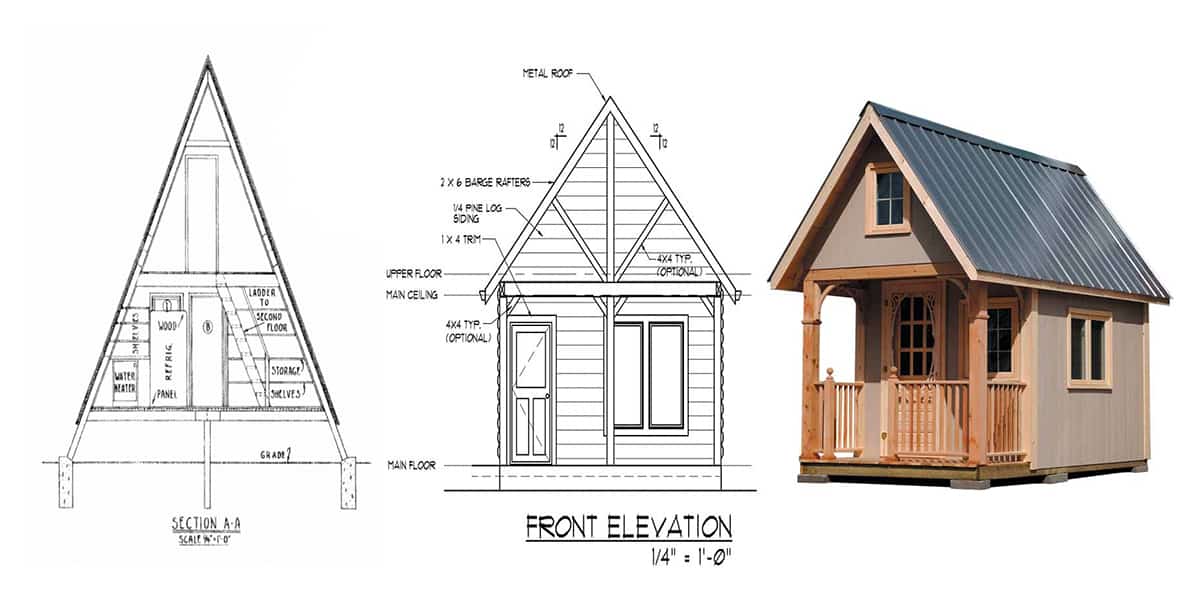 Having a cabin in the woods of your own is a dream many share, some casually, some very passionately and for reasons that vary. But, even if your reasons differ, not many end up building a cabin in the woods. Why? Because it is not always easy to leave the hustle and bustle of city life or even the quaint and comfortable reliance of a small town and retire in the gorgeous yet daunting woods permanently. The challenges are plenty. From water to electricity to food and other home appliance supplies; there is a whole lot to take into consideration.
But, if you're strong-willed and have a steely resolve to proceed and stay in the woods, then there is nothing in the world that can stop you, except of course the unavailability of land, something that is rarely the case. So, what to do when you finally make up your mind to head to the woods with all that you own? You look for two options. Either you purchase an already constructed cabin, or you make one on your own. The latter is definitely a cheaper alternative and also one that offers you several options for customization. There isn't a single type of cabin; in fact, there are so many varieties even in the standard lot, that you are bound to be spoilt for choice.
If you`ve found the small cabin plans below interesting we invite you to check various other free woodworking plans, we have curated lists that will show you how to build a greenhouse, porch swing, fire pit, garage, cat tower, a rocket stove, tiny house, duck house, deer stand, bat house, diy tree house, cat tower, porch swing, farmhouse table, pole barn, rabbit hutch, diy dog bed, a playhouse, a chicken coop, a coffee table or a gazebo.
Cheap Small Cabin Plans & Designs
Here are thirty-three small cabin plans for you to choose from. They range from homesteads to trailers to big and small and multi-storeyed cabins, each offering something that the other possibly couldn't, and each fitting the style and need of different individuals. Some people want to make this move with their families, and for such folks, there are cabins that can accommodate a small-sized family easily. And again, there are cabins that are so small, only one individual can live in them and with not too many things brought along.
Whatever the case, you won't be asking for more plans once you go through these. There are enough to catch your eye and leave you satisfied.
A Cabin For Small Families
This lovely wooden cabin is bigger than others on this list but is ideal for people who want to not only live alone but also for those who want to live as a nuclear family unit. It has enough space for a good sized wood stove and is the right size of cozy to feel right at home.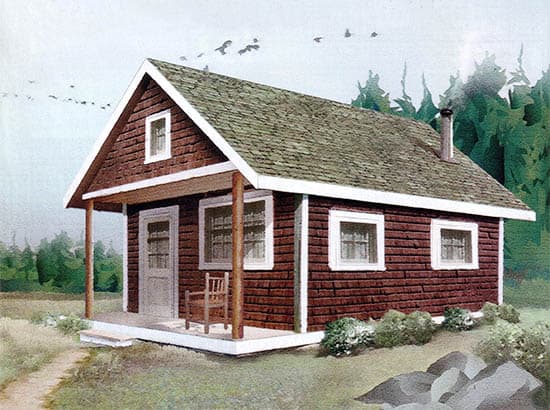 More details at motherearthnews.com 
The Norse Style Cabin
Sometimes the most precious things in life are those that do not cripple you with insurmountable debts. We would all fancy a huge suburban house with extensive facilities, but the housing market will not do many favors in that regard. The cost of a large and well-furnished home is just too high to afford, and in that case, a rustic and small cabin that you can make on your own feels very homely.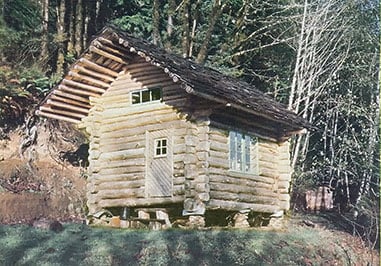 More details at motherearthnews.com 
The Perfect Beach Styled Cabin
I adore beach houses. They are so compatible with the view around and actually complement their surroundings, regardless of where they are made. They are often painted in an array of colors and add glamor to the landscape. So, making a beach house, styled cabin would be a refreshing departure from the standard cabin design. Moreover, with a beach house elevation, you can be safe from flooding issues.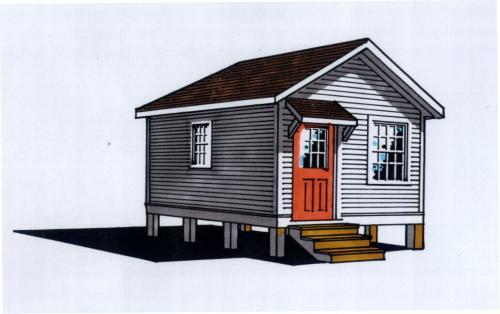 More details at smallshelters.com 
Classic A-Frame Cabin
I love A-frame cabins and their attics. A-frame cabin attics are just so comfy and make me feel warm and secure with a strong urge to fill the place with books and idle away day after day reading a great many stories. And even if you're planning to skip on the attic section, getting a vaulted ceiling creates a grand and spacious feel in the house.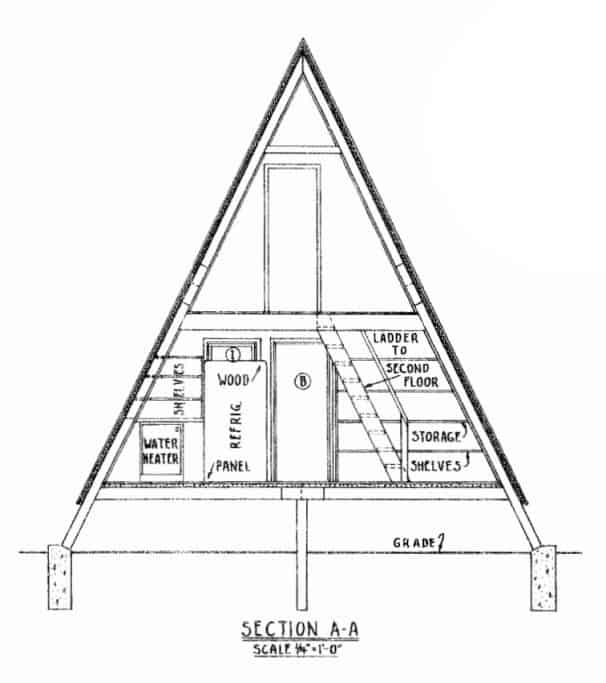 More details at lsuagcenter.com 
Future Renovation Cabin
There is always room for more even though sometimes we just don't know yet if we want more. But, what to do when you aren't aware if you'd require a larger space and go with a smaller sized cabin instead? Houses are mostly permanent in nature and expansion isn't always easy. Thankfully, this house small cabin plan has a detailed instruction manual that shows how you can actually add more space later on if the need arises.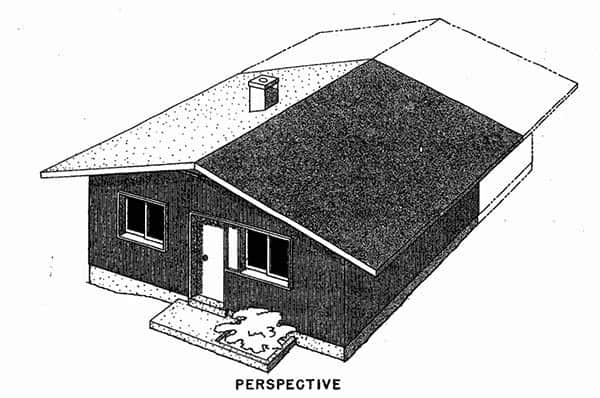 More details at  lsuagcenter.com 
Micro-Sized Cabin
A mini-cabin is pocket-friendly, cute and resource saving. This specific design not only has an attic space for creating a small room on the top, but it also has a good fireplace area and one large room. The warmth of a home has never felt more comforting than when living in a small cabin and this one is pretty high on the list of options.

More details at sheldondesigns.com 
The Sapphire Cabin
What a wonderful design to actualize. Its symmetry is perfect enough to impress director Wes Anderson, and the enormous porch space on both sides is great for lapping up the breeze. The fireplace brings warmth to this cottage in the winter and on cold nights, and the loft and bedroom provide enough space just to retire.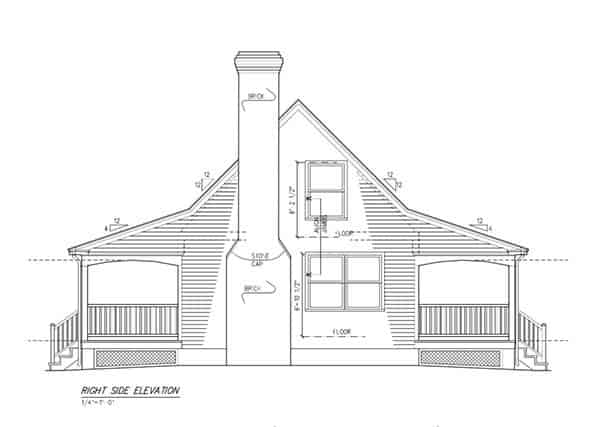 More details at sheldondesigns.com
The Adequate Space Cabin
There is more than enough space in this cabin for an average family to live in. It has two bedrooms, one dining room, one bathroom and a kitchen. Additionally, it has a living room which is big enough to accommodate many and two porches for recreation apart from adequate storage space.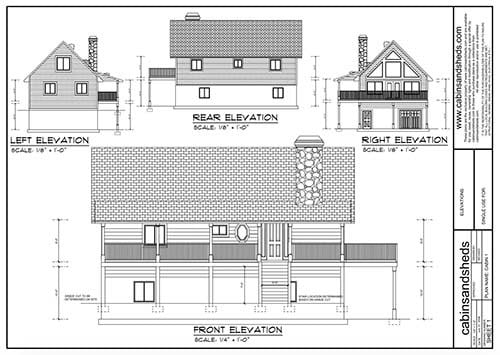 More details at ag.ndsu.edu
Aben's Average Sized Cabin
This small cabin has two bedrooms, one kitchen and one living room along with a lovely chimney. The wall and roof have detailed cross-sectioning, and the cabin comes with two porches.
More details at ag.ndsu.edu 
The Wes Anderson Cabin
A U-shaped cabin, this house has a porch that is surrounded and an enormous vaulted ceiling. The large living room gives way to three bedrooms, two bathrooms and one kitchen, all equally divided and spaced in perfect symmetry.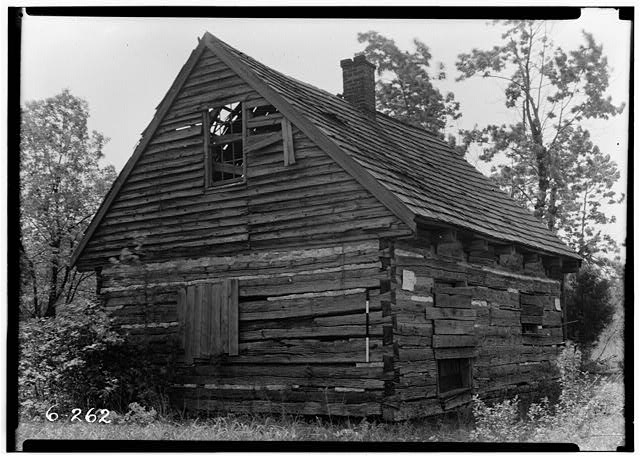 More details at ag.ndsu.edu 
The Single Occupant Cabin
This cabin is not small yet is not feasible for a family. It can only really house a couple or a single person due to its one-room restriction. It does have a lovely open fireplace to sit in front of and warm yourself with.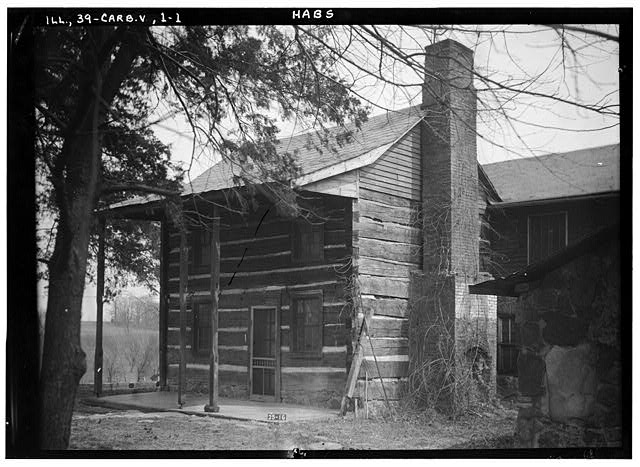 More details at loc.gov
The Hunter's Cabin
Perhaps you can use this cabin as a summer getaway place or if you're into hunting. Either way, it is small enough to be cozy yet not accommodate a lot of people. It has two floors and a very spacious area on the lower floor for both the bathroom and the kitchen. This is definitely one to fancy.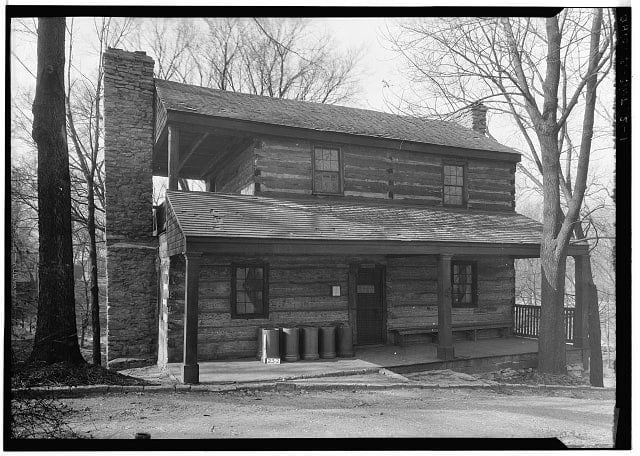 More details at loc.gov
The Spacious Cabin
This is a large cabin with two spacious bedrooms, a fantastic open fireplace, a kitchen and a living room. It is a great plan to implement for cabin making if the piece of land you're making your cabin on is sloped.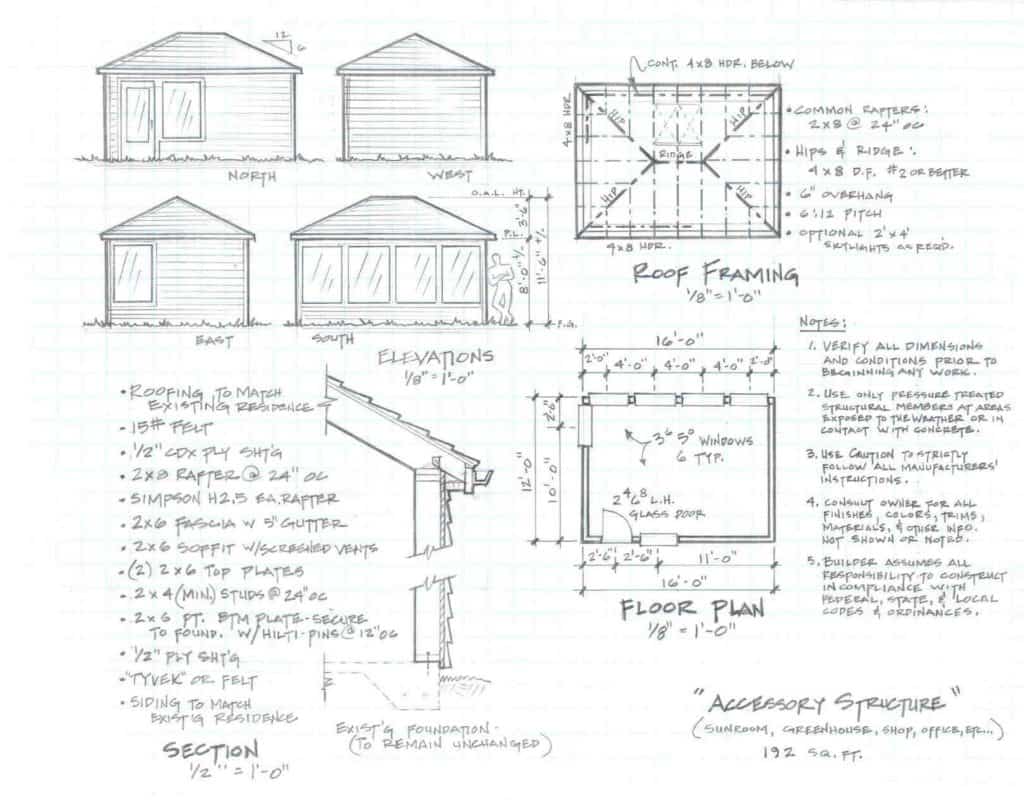 More details at loc.gov
The Tiny And Warm Cabin
This isn't big enough for more than one person, but can only house two occupants at max. It has big windows that face the sun in the noontime and hence keep the indoors well lit and just one small room for comfort and lazy days. I love cozy cabins hence, as they don't waste space and are perfectly warm.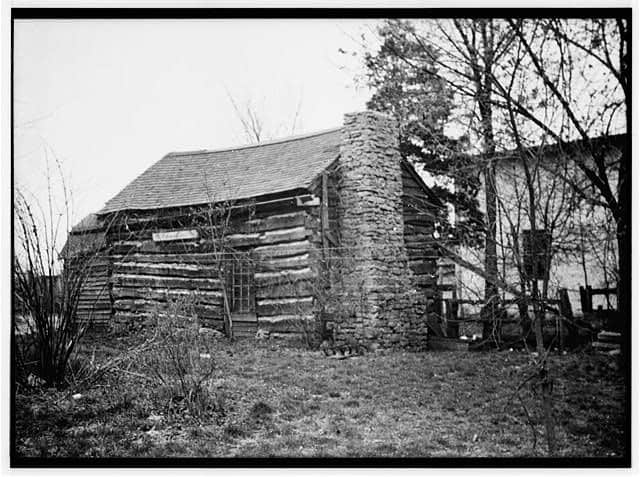 More details at thesurvivalistblog.net
The Log Wall Cabin
This adorable log home is double-storeyed and has a trap door entrance to the attic/secondary bedroom. It is too small to provide just about anything else but is cozy for a getaway and for a single person occupancy.

More details at loc.gov/pictures
The Holiday Cabin
Ah! The perfect cabin for your summertime getaway or winter, if that's your preference. It has a longer roof on both the front and the back, giving you more than adequate dual porch space. It also has a hot tub, which can be replaced with a sauna, and a kitchen, a bathroom, and an enormous room.
More details at sheldondesigns.com
The Space Conscious Cabin
A more compact and sharper looking cabin than most, it has a very subtle yet instantly noticeable style that is bound to impress. Not only is it appealing to one's aesthetic musings, but it also scores high marks on the functionality aspect. It has enough space not to make you feel like you're trapped yet not big enough to make you feel haunted by the extra space.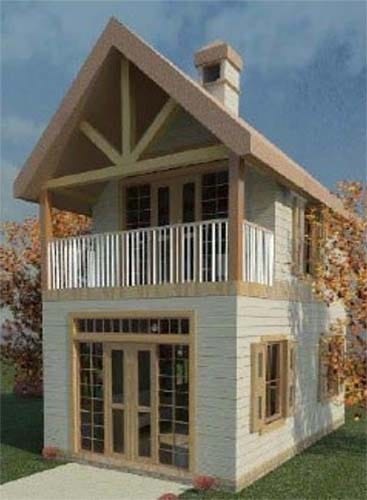 More details at lsuagcenter.com
The Lookout Cabin
A cabin that is so pretty, it is guaranteed to make visitors, people passing by and any onlooker wow out loud. It blends a very distinctly block design with both modern and older aesthetics to create something that really stands out. From the windows to the main entrance, the borders and the balcony, this tall yet small cabin is worthy of boast and pride.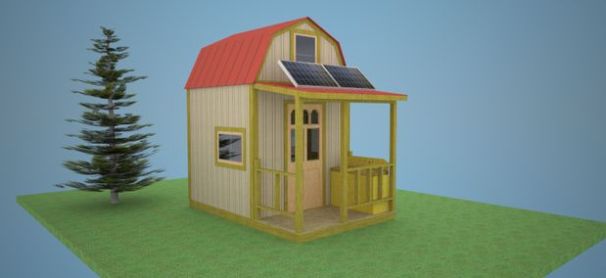 More details at todaysplans.com
The Off-Grid Cabin
Cabins are often representatives of self-sufficiency. They just signify a person's will to go against the norm of the society and the fortitude to forge a home that does not conform to established standards. And if your lovely looking cabin is powered directly by the sun with no dependency on a power grid, you are defining your ideals very soundly. It is also very eco-friendly.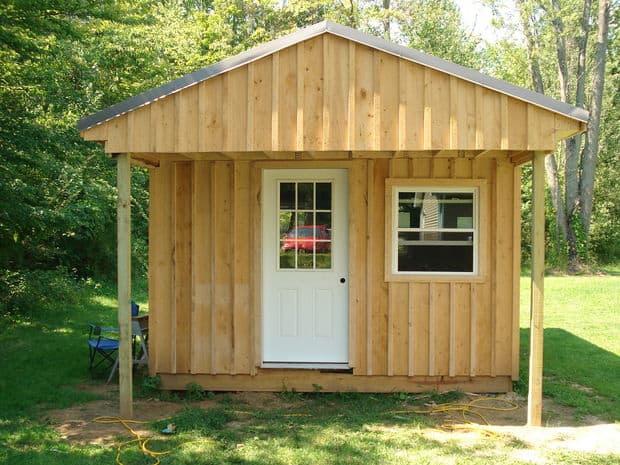 More details at instructables.com
The Budget Friendly Cabin
A small cabin with striated outer walls and simple yet welcoming color scheme is a lovely option to go with. Adding to this coziness is the covered entrance. It allows you space to sit during the rainy season or just to stand under without being drenched, and also cuts down the impact of the rain hitting your windows directly.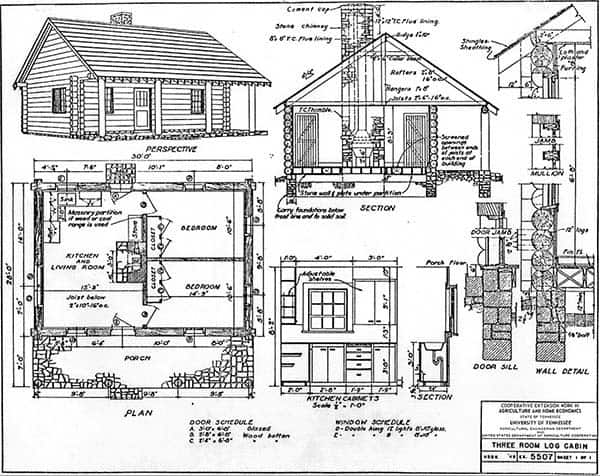 More details at instructables.com
Tennessee Cabin Plans
These free plans provided by the University of Tennessee are a blessing. They provide detailed blueprints and instructions for making cabins that fit your budget, style, and preference. Be it a cabin with multiple rooms or a gabled cabin; these plans are right for the task at hand.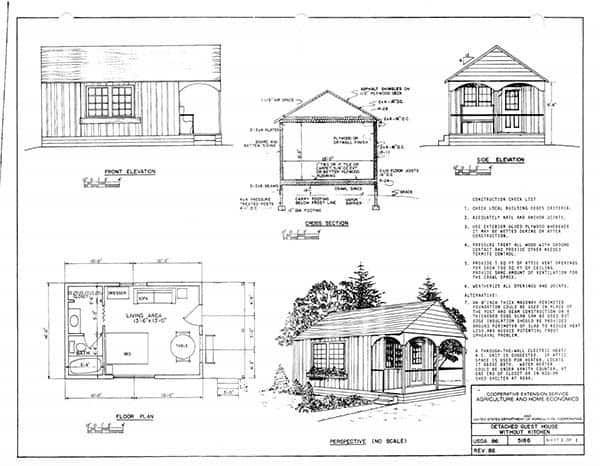 More details at bioengr.ag.utk.edu
North Dakota Cabin Plans
You wonder what Universities do apart from teaching, and this is one of the answers to your question. Universities were formed not just as means of making money off education, an idea that bloomed way later, but as stalwarts of knowledge and these lovely plans provided by North Dakota State University are surely of immense aid.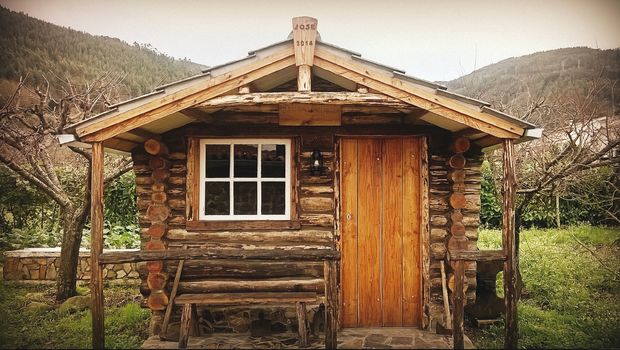 More details at ag.ndsu.edu
The Cosy Log Cabin
This is a log cabin that is made with a porch, a small wall in the backyard and has the charm and comfort you definitely desire. It isn't elaborate in its make yet its simplicity has its own unique allure. It isn't too difficult to make this cabin either.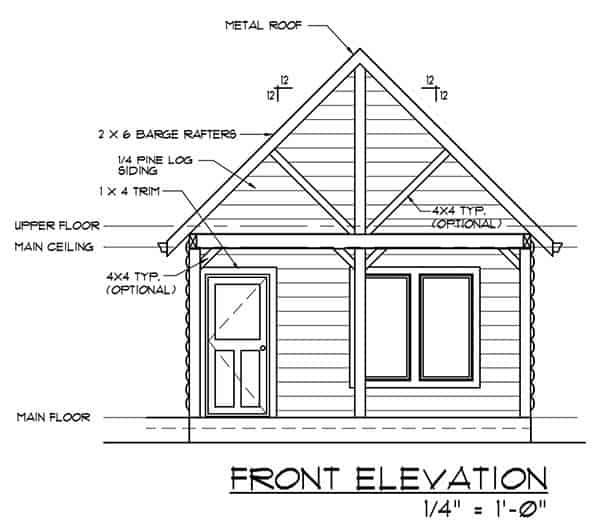 More details at instructables.com
The Compartmentalized Cabin
This is a really small cabin, barely 400 square feet yet it is immensely feasible for you. What I really like about this cabin is that it is tiny yet compartmentalized enough to give you the feel of a proper home, with more than one room. Compartmentalization is always helpful, after all.
More details at cabinplans123.com
The Perfect Cabin
This is a winner in my books. A cabin that has a basement and several bedrooms scream balance to me. It has a large front porch and a huge chimney and enough windows to keep the indoors airy and sun-kissed. I love a lot of sunlight and fresh air in my house. I tend to feel suffocated and depressed if there isn't enough cross-ventilation in my house. It is always healthy to have ample airflow. So, yes, this is a perfect cabin.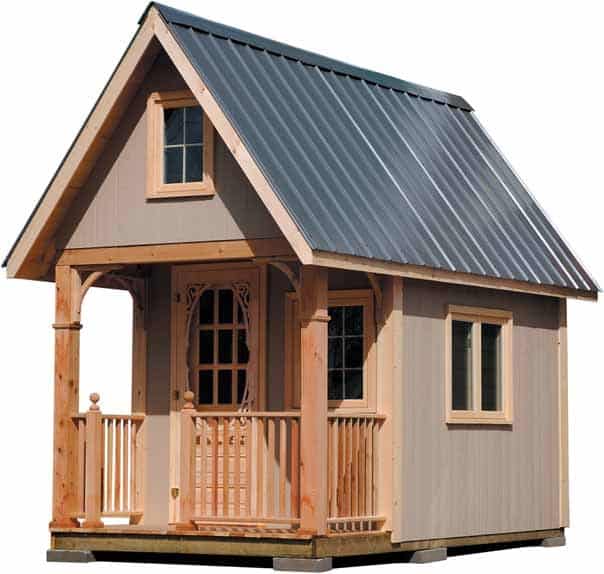 More details at todaysplans.net
The Vintage Small Cabin
What's better than a studio flat? A small and gorgeous cabin that has all the charm of a vintage house. This living space can be quite compact and is recommended for people who like to live a solitary life or want to have a getaway on the weekend or in the summer and winter breaks and don't want to build over a large space.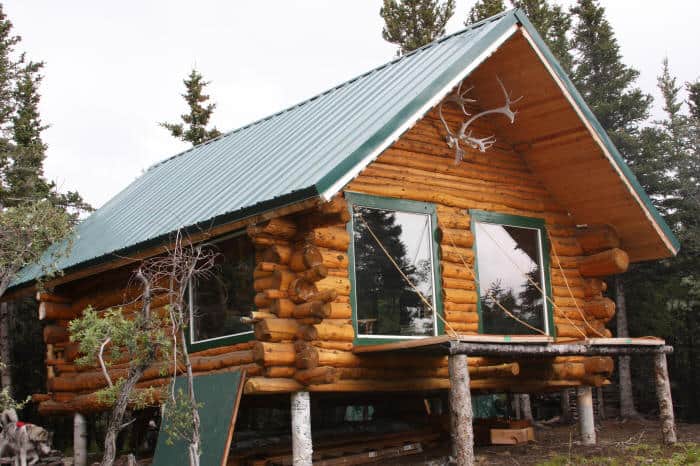 More details at theclassicarchives.com
The Round Log Cabin
Whenever I think of cabins, I think of a cabin made of long logs. It's just a very clichéd yet homely image that for good or bad has been embossed in my memory. And log cabins are classic. But, the best part about having your cabin made out of logs is that you won't need to do anything extra to protect yourself from the chill outside because rounded logs are fantastic insulators.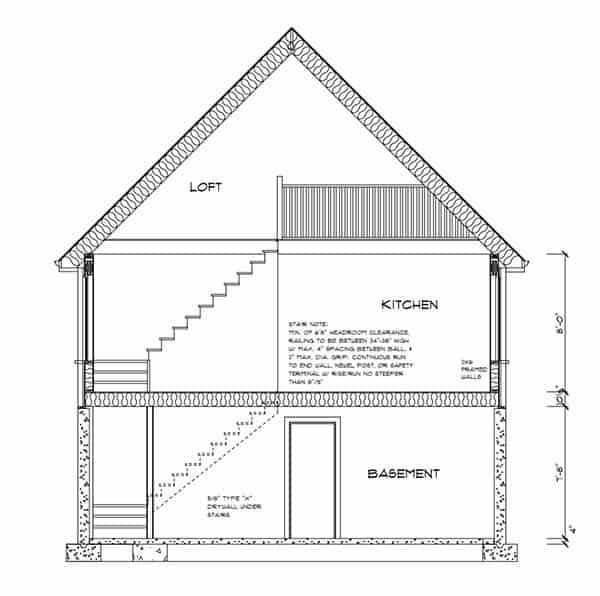 More details at alaskaantlerworks.com
The Basement Storage Cabin
What? An actual, full-sized basement in a cabin? Yes. This cabin with a basement is perfect for long-term winter storage, and provides ample protection from storms. It also adds to the space by having a loft for either storage or accommodation. And if you're in the mood for making some money, you can charge college grads that are looking to make a low budget horror film for making use of both your basement and the loft for spooks.
More details at todaysplans.net
The Gorgeous DIY Cabin
This gorgeous cabin is stilted and has one living room and one dining room, two bathrooms along with a porch and three big sized bedrooms. Moreover, you have a carport and a storage room. With the added benefits, opting for this cabin seems like a sure shot deal.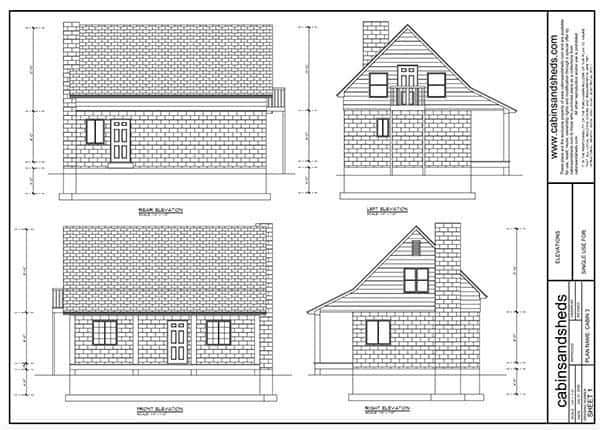 More details at lsuagcenter.com
The Cabin Homestead
This cabin has a distinctly pronounced A-frame structure, with enough upper room/attic space an entire family. What I love about it is how big the porch is and how it basically gives you the option of organizing a small lunch right there with a long table laid out for people to gorge away food from. Homesteading is a beautiful way of life. To grow your own food, and to make your own produce and be entirely self-sufficient is satisfying, even though taxing. It does make you appreciate the more invisible things in life and the processes of our daily supplies a little more.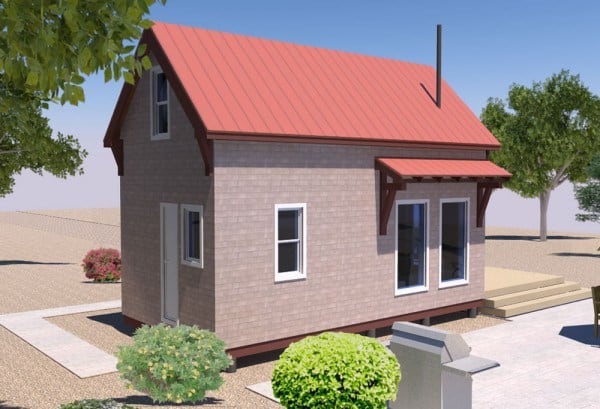 More details at motherearthnews.com
The Lovely Brick Cabin
A neatly finished brick house is a lovely house to make. It is modern enough to blend with the aesthetics of the day and has a connection to older times for the enthusiast. Continuing with its positively dual nature, this contemporary brick cabin is two-story even though it does not appear to be large enough at first glance.
More details at tinyhousedesign.com
The Cabin Duplex
I used to live in a duplex, and I miss it. Duplexes are not cramped up like apartments yet compartmentalized perfectly enough to provide ample privacy for its inhabitants. So, if you're looking to share the burden of maintenance and construction with someone who isn't immediately close to you or wants to set up some boundaries, then making a duplex cabin is perfect for you. This does reduce the cost of construction and also helps you reduce future costs, including paying EMIs for the purchased land, if you aren't buying it in a single installment.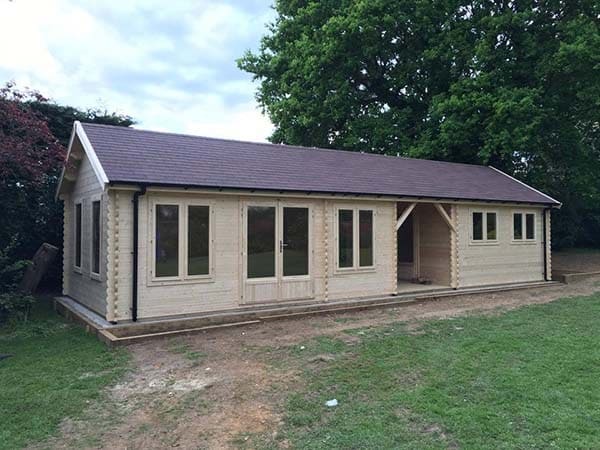 More details at logcabins.co.uk
Cabin In A Trailer
This is too small for an average family yet adequate for a couple or more people. It has two levels, one porch and a tiny balcony on the upper floor. It is small enough that you can build it on a wheel base so that you can carry it around like a trailer house. What a trailer house gives you is the added advantage of mobility. Sometimes, we tend to get bored of living in one place and here is where a trailer house rids us off our boredom. You can essentially take your home with you wherever you go.
You can wake up to the sunrise in a different place every day, every week, every month, every year, depending on how frequently you travel or like to be on the road. I personally love trailer cabins the most due to this very fact. I don't have to return to my house after a long journey. I can always be home on my journeys. Wouldn't you like to as well?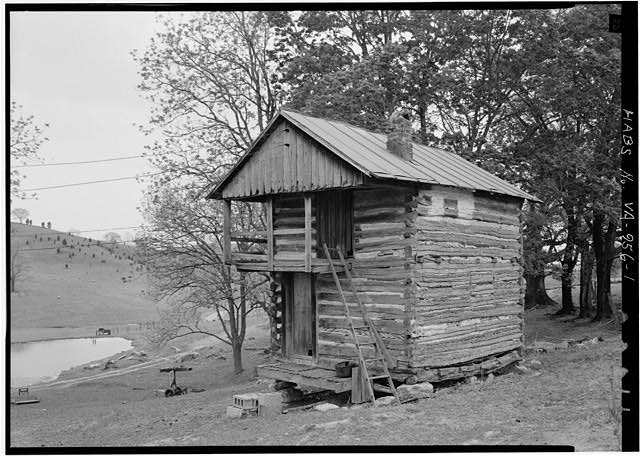 More details at loc.gov
These small cabin plans are pretty detailed, aren't they? You not only have written tutorials for building your dream cabin, but you are also aided with pictures for references, detailed blueprints, and step by step instructions. Some plans are a little complicated to understand while others are quite simple. But, all of them are accurate to scale and offer you a chance to build a beautiful cabin for yourself and for those you love, for half the cost of purchasing one that is ready-made.
Free Small Cabin Plans Conclusion
There are many purposes of a cabin and these small cabin plans cover all of them. From guest houses to vacation houses to hunting lodges and homesteads, all your reasons are pretty much taken into consideration. Moreover, you can always give these cabins your own spin by adding nifty personal touches here and there, whether it is in the painting or adding accents and decor or shifting a few things in the design.
Even though most cabins do not offer enough space for a lot of furniture, you can always add some that work great with the aesthetics of the cabin. Antique furniture always works better than modern one for cabins, but if you're someone who wants to give your cabin a splash of color and liven it up with vibrancy, you can make the cabins as unique as you want them to be.
These plans are there just for your guidance, but what you choose to do ultimately depends solely on you. So, get going with your dream plan to nestle in the woods, and share the plan you have decided to choose.
Related Articles
Top 10 Quietest 5000 Watt Generators For Home Use
11 Best Composting Toilet | Reviews & Guide
23 Awesome Free Deer Stand Plans You Can Start Right Now
38 Rustic Country Cabins With A Stone Fireplace For A Romantic Getaway