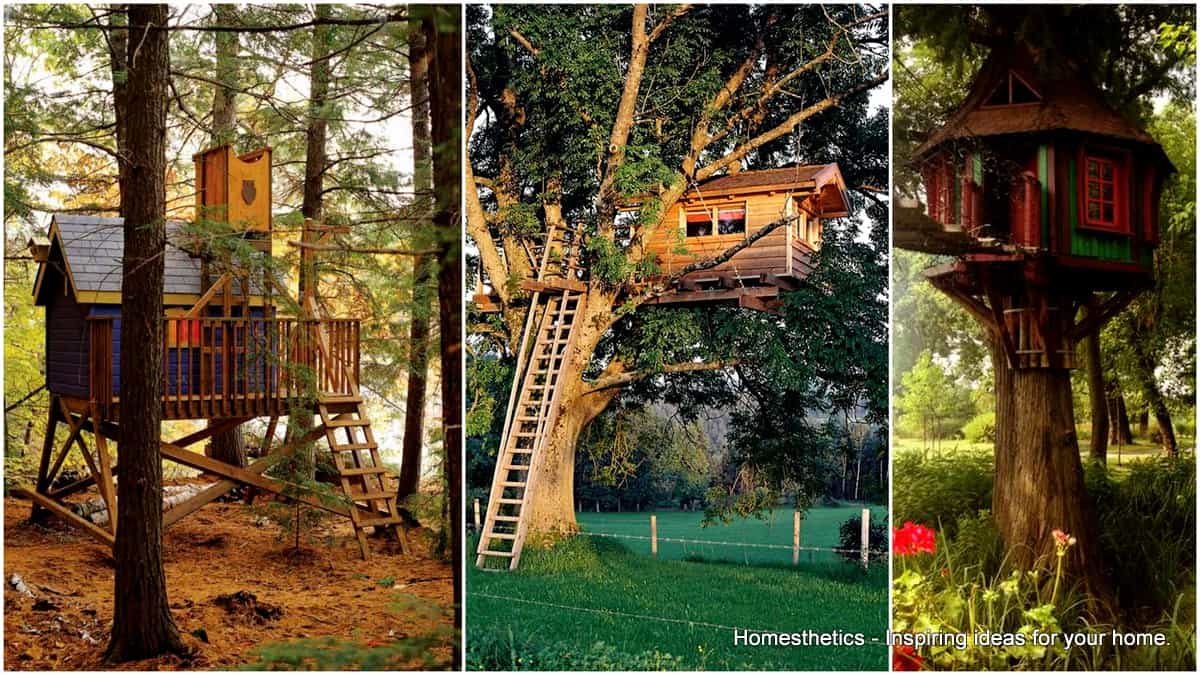 Have you ever dreamt of having a secret clubhouse in the trees, where you could hide and play with your friends? Are your kids insisting you to build one right there in your backyard because they want some adventure?
Tree houses have always been on the bucket list for all of us as kids, and even as adults. A safe place to lose oneself; be it leisure, relaxation or playtime.
A private space where children can have adventures of their own, from fairy tales and pirates, to forts and hide-and-go-seek. Teenagers always want a place to remove themselves from reality, so a tree house stacked with books is a great escape.
As for adults, well, you can enjoy a hot mug of coffee on a cold night. Or relax alone with a glass of wine after a stressful day at the office.
A tree house is a winner idea for anyone looking for solitude and escape. Check out these amazing Do-it-yourself ideas for your very own backyard tree house.
If you`ve found the tree house plans below interesting we invite you to check various other free woodworking plans, we have curated lists that will show you how to build a rocket stove, tiny house, duck house, deer stand, bat house, cat tower, garage, fire pit, porch swing, greenhouse, small cabin, farmhouse table, pole barn, rabbit hutch, diy dog bed, a playhouse, a chicken coop, a coffee table or a gazebo.
37 Best DIY Tree House Plans
The Simple Tree House
This very easy and simple tree house blends in perfectly with the surrounding trees. Hanging a tyre swing under the tree house can add more to the simplicity of it. You can even decorate the place as you wish; fairy lights, hanging lamps, hanging potted plants and so much more. Safety is recommended for kids as it is open from all sides. You may use foam pads on the ground to cushion your child's landing and reduce injuries.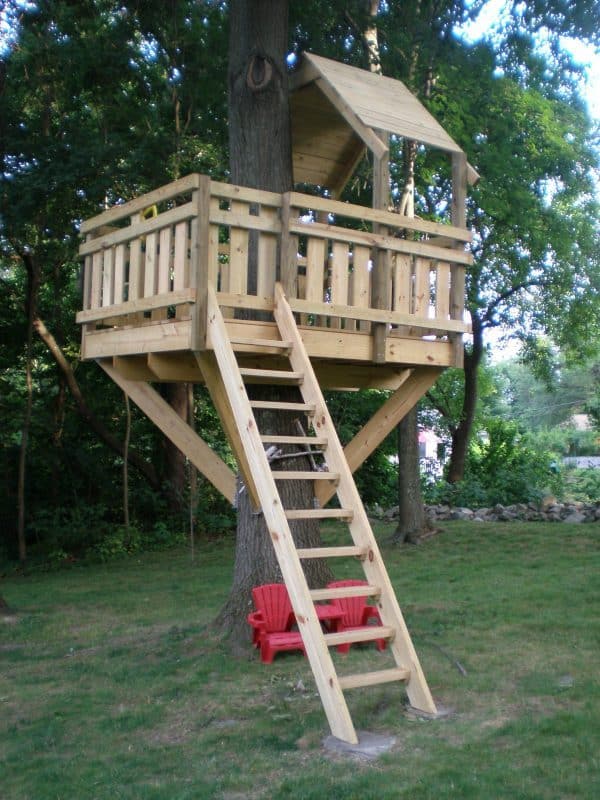 More details at villagecustomfurniture 
The Other Simple Tree House
If you want to learn the basics how-tos for a tree house, these plans are your friend. These plans have all the tips and tricks to help you make a simple tree house with a deck. However, this guide lacks the visual step-by-step tutorial of the techniques, so you might have to take a little more efforts into building a perfect tree house.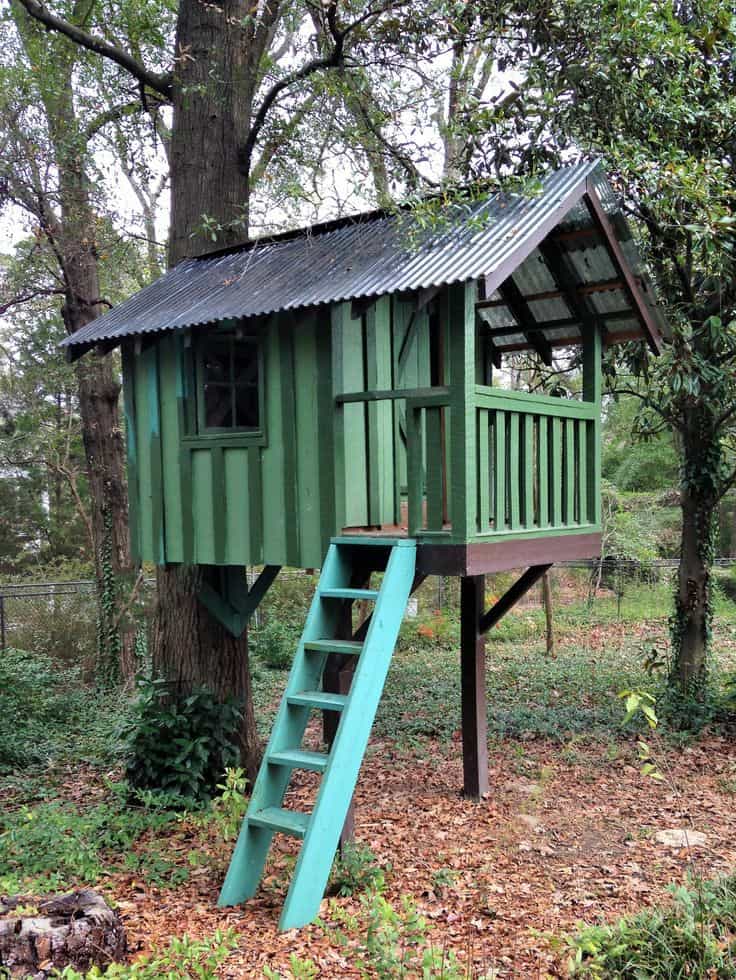 More details at books.google.com
Another Simple Tree House
Here we have another easy-to-understand instruction guide to build a simple tree house. This guide has tips to make your tree house stronger and more durable. Give your kids a tree house to enjoy through their childhood and their teenage years.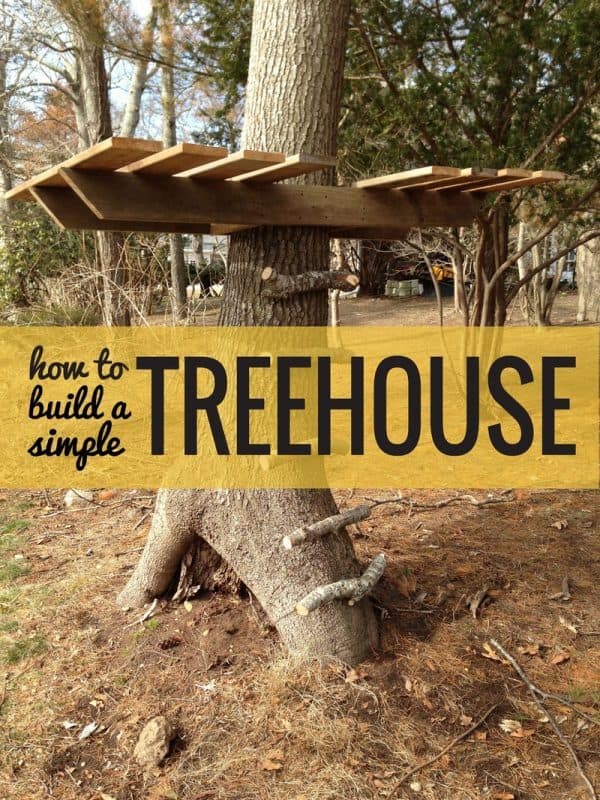 More details at apartmenttherapy.com
The Colorful Tree House
This tree house can be a small yet quaint place to hang out in the woods. It can be clubhouse for adults or a playhouse for kids. Adding a pop of color can make it stand out from the trees. Bright pastel colors can bring freshness to an otherwise monotonous tree house.
Give it a personal touch by painting brightly shaped geometric or abstract shapes. Alternatively, just let the kids have fun with paints and paintbrushes. Finger-painting and palm painting is a simple and fun activity, so let your children contribute to their play area.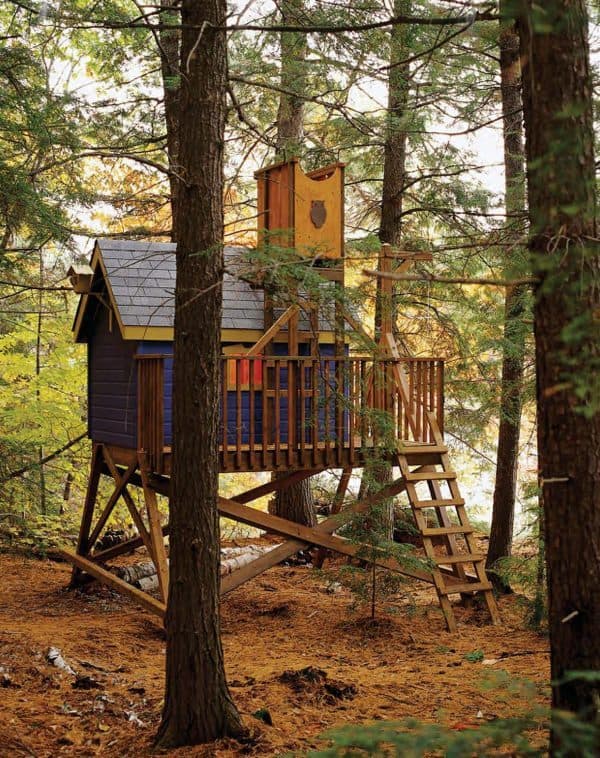 More details at theclassicarchives.com
The Tree Shack
This basic tree house has a simple lean-to roof and four walls. The room is small, so it's not appropriate for adults. The small seating space outside the room lets your kids sit around dangling their legs. It's high enough to have fun, but not so high to cause accidents.
You can cover up the monotonous look of the tree house by painting it with bright peppy colors. Adding mattresses and pillows inside can make it even more comfortable.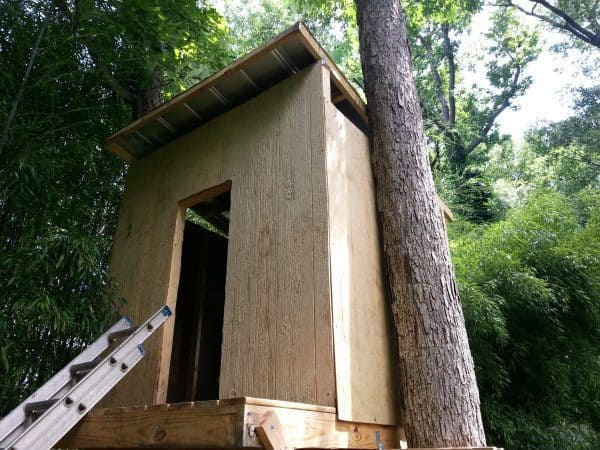 A Medium-sized Tree House
This tree house is not huge, but not small either. It's a perfect fun-sized tree house for your kids for outdoor playtime. It has a room and a small deck, with a sturdy roof. Storing toys and games won't be an issue. So if you're looking for a more economic tree house, you would love this. Introduce fairy lights to the tree house, both inside and outside, to give it a comfortable homely look. Using warm white lights can even be used for reading purposes.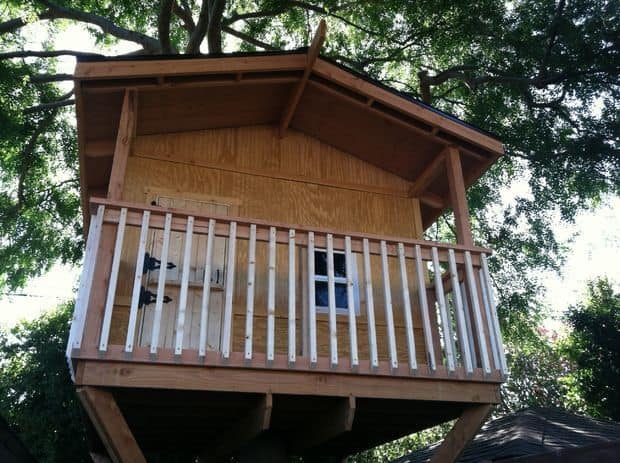 More details at instructables.com 
The Picket Fence Tree House
A minimalist approach to build a tree house from picket fences. Minimalist structures are the in-thing. Most modern design elements these days go for a very minimalist look. It basically utilizes a very concise and precise methodology for its design which even though simple, looks charming.
It may be covered from two, three or four sides as per your liking, along with a deck. It can be an open type of tree deck, and can be used by the kids to play around, or by an adult to just get away with a book and a mug of hot coffee.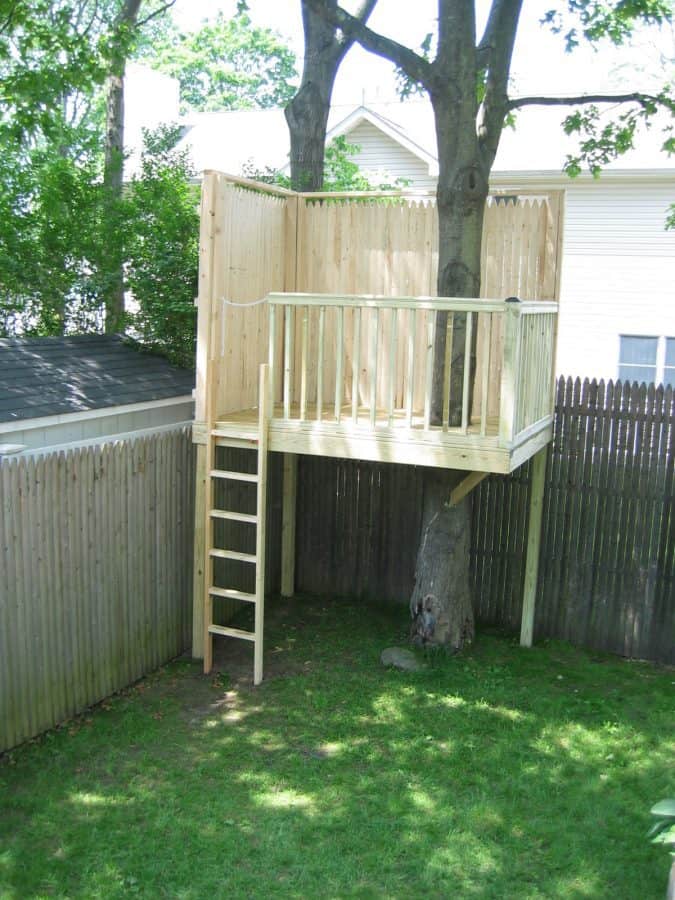 More details at treehousebuilding.wordpress.com 
The Uncovered Tree House
This tree house is similar to a tree deck, but smaller, mostly for children. It's a very basic construction project for carpentry beginners so if your kids have been insistent on having a tree house, you don't have to fret about detailed, fancy and time consuming efforts anymore. This simple tree house is quite achievable with these easy instructions. But, if you feel the simplicity is a little off putting to your artistic sensibilities, then you can add movable elements in the house, like fancy little furniture and decor that will make it stand out. Adding fairy lights and other light based decorations would bring life to the set up too.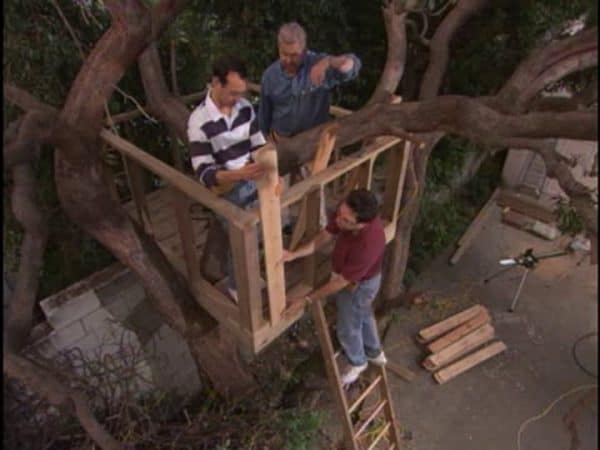 More details at ronhazelton.com
The A-Frame Tree House
If you wish to build a tree house for your kids similar to the one you had in your childhood, this is the pattern you're looking for. Bring back the trend of traditional tree houses with the A-Frame Tree House, equipped with a deck on one side, pulleys and ladders. I personally love A-frame designs.
Be it in chairs, swings, houses, vaulted ceilings or in a tree house. It brings a more imposing appearance while also calling back to olden times. This compact design can fit well into your backyard too.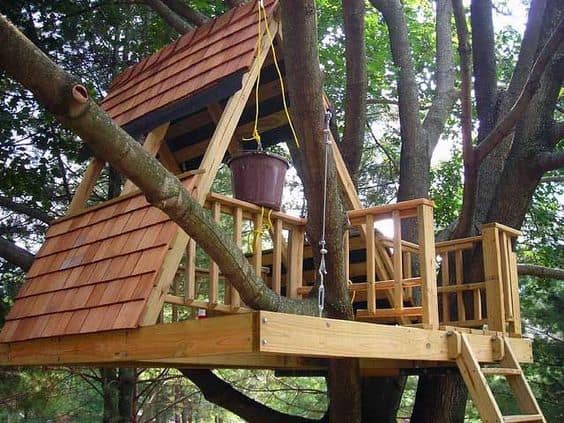 More details at outdoorlife.com 
The Treetop Hideaway
This idea is brilliant for a small or medium sized tree house serving as a hideaway for your kids. It follows the A-Frame construction technique with some open flaps from the side for sunlight and breeze. The rooftop is strong and sturdy, so the tree house is good for playing or napping. It's not covered entirely, so using it in harsh rains or snow is not recommended.

via Pinterest
More details at woodarchivist.com
The Detailed Tree House
Unlike the simple tree house guides from above, this guide has detailed instructions to building a good tree house. For your convenience, it also has visual aid for every step. You can associate tips and tricks from both guides and build an amazing tree house right in your backyard. Beginners might feel lost with the instructions, but it's easy to comprehend once you start catching up with the procedures.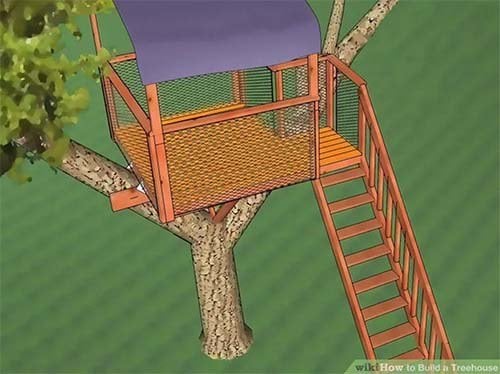 More details at wikihow.com
The Easy To Build Tree House
These plans are for a more elaborate tree house, for more experienced carpenters. The dimensions are quite accurately represented and easy to understand. The tree house consists of a deck with handrails and stair steps, so it's safe for your kids to play. It also comes with a swing and a slide, which adds to the charm.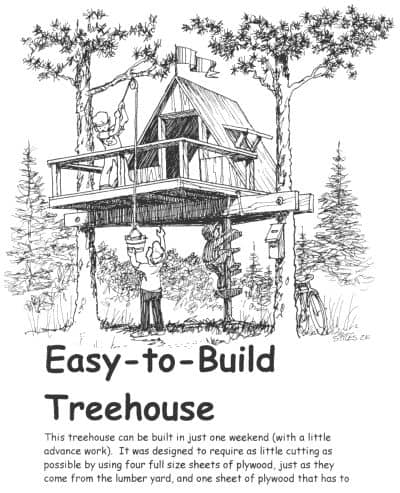 More details at buildeazy.com 
The Treeless Tree House
This very basic and step-by-step plan essentially eases your tree house building endeavor. This detailed diagrammatic illustration of a tree house with proper dimensions will make it simpler for you to construct. It is not as detail oriented as photographic visual aids from most instruction guides, but it's still helpful. It's a simple hoisted on a large primary beam with supporting beams on the side.
The Wood Sided Tree House
This traditional tree house design uses the tree as a main support. The actual room is built around the tree trunk with wooden planks and hoisted to the tree itself. It's a completely covered room with a deck, and has a small opening with a suspended ladder.
You can probably go with different ladder designs to make the entrance to your tree house look a little more special. Nailing a few fun boards to the trunk around the ladder will bring a peppy appeal. You can accessorize it with swings and toys for your kids.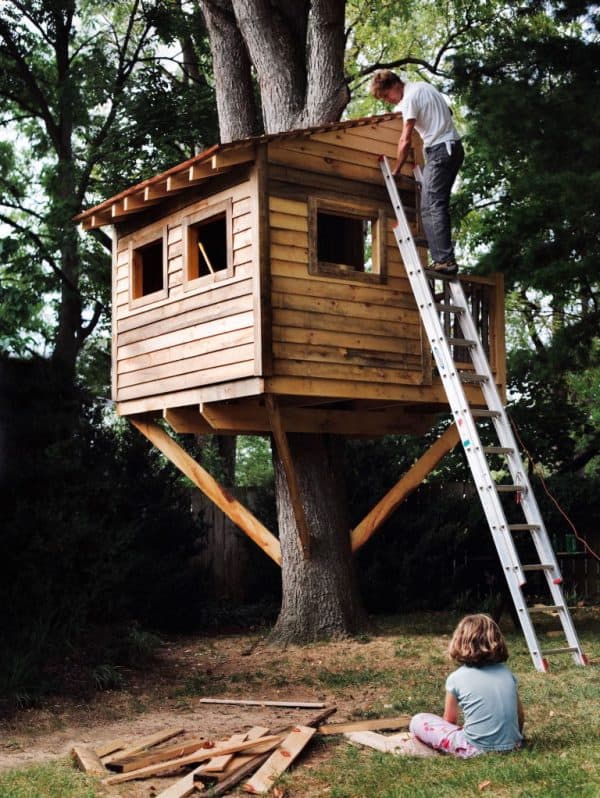 The Tree Deck
If you want a big spacious tree house in the woods, this idea is quite a catch. You can have a sturdy wooden deck installed between a cluster of trees, in a desired polygonal shape. This will not have a roof, so you cannot store your stuff out in the open. You can even put a rope ladder at the entrance, or modify it into a regular wooden one.
Kids and adults can relax in the tree deck under the lush natural canopy of trees. It's a great site for mini camp-outs, where you can put tents for the night and enjoy slumber parties. You may even hang a hammock and take a peaceful afternoon nap under the trees.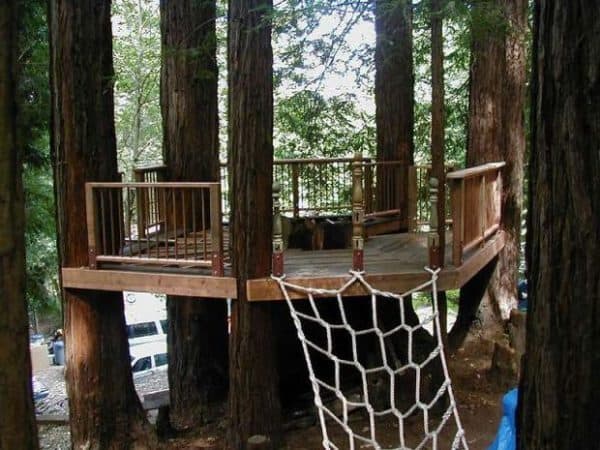 More details at instructables.com 
DIY Tree Deck
Another economic idea for a tree deck that you might be planning to build yourself. This deck uses the tree as a primary support, with beams to support the corners. Equipped with a strong ladder, but without a roof, this tree deck is an amazing place to hang out on summer afternoons or autumn evenings. Kids will love to play around on this spacious deck, while adults can hang out during small gatherings and parties.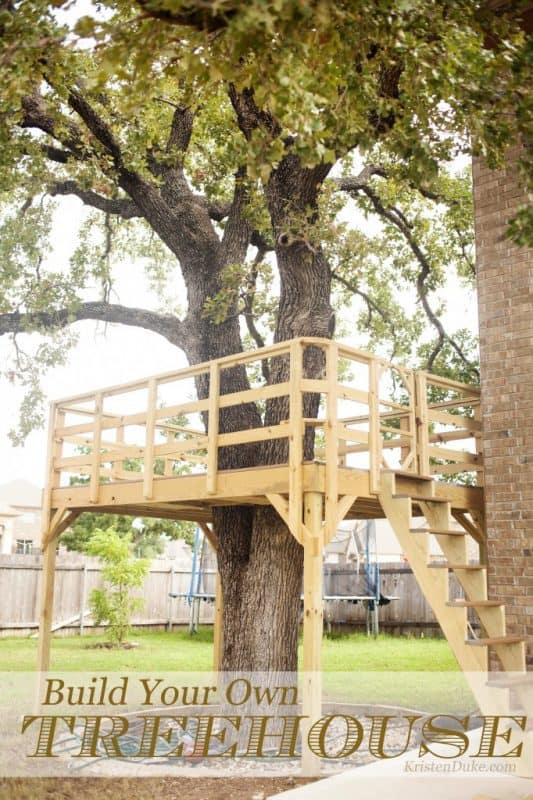 More details at kristendukephotography.com
The Tree House With A Deck
This tree house with a deck can grant you a view of the woods, from all sides. This hangout place is small but comfortable for kids and adults alike. With a deck, you can basically add a number of small decorative furniture pieces for that extra appeal and perhaps go for more rustic designs to complement the tree house. So add some adventure to your outdoor parties with this amazing tree house.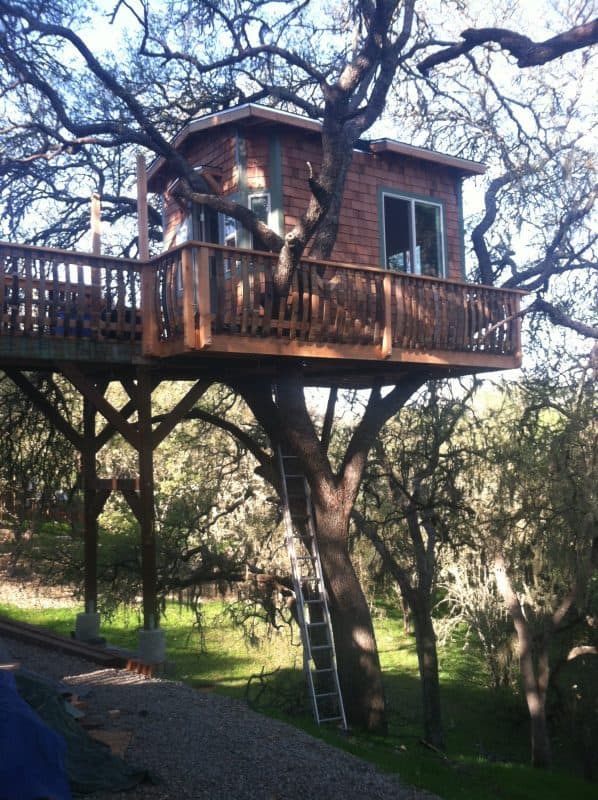 More details at m.imgur.com 
The Open Tree House
As the name suggests, this tree house is similar to a tree deck, but smaller and higher. It can be built using support of two or more trees, size varying accordingly. The frame for the tree house is a simple cubicle with a roof. The roof can be made using a wooden mesh, and it can be modified for shade with a tarp or some makeshift roofing material.
The walls can be covered with jute or straw lattice for partial privacy. It is perfect for mild sunbathing or having some time for yourself. Since it's an open tree house, it does not provide protection from harsh weather.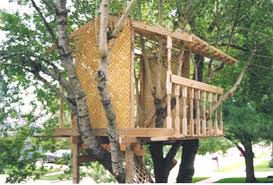 More details at eztreehouseplans.com
The Outdoor Tree House
You can build a tree house in the woods right next to your camping site and make your kids feels right at home. Give hiking and fishing a pass, and unwind in this very private woody tree house with your kids. You can cozy up with blankets and hot cocoa under starry skies and fresh air. Bring a stack of varied story books and novels for both kids and adults. A musical jukebox can add to the atmosphere. An adventure for sure!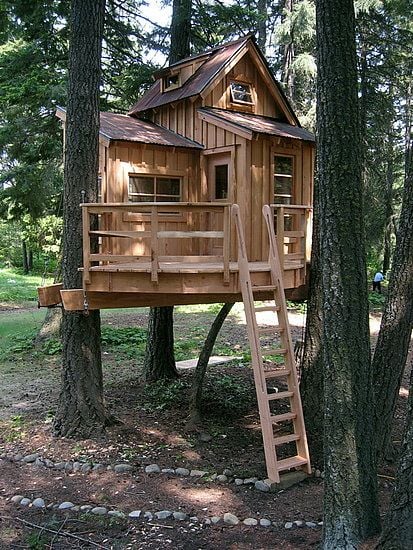 More details at yeadadshome.com 
The Cabin Style Tree House
Give your tree house a refreshing new look by building it like a mountain cabin. Everybody loves a cabin in the woods and this love usually starts pretty early. So, even if you didn't have the opportunity to experience a cabin in the woods feeling, your kids definitely can and perhaps you can with them.
You may build it at higher elevation and with large windows for plenty of sunlight. You may add a skylight for natural illumination. Let your children's playtime resemble the adventure of camping in a cabin in the woods.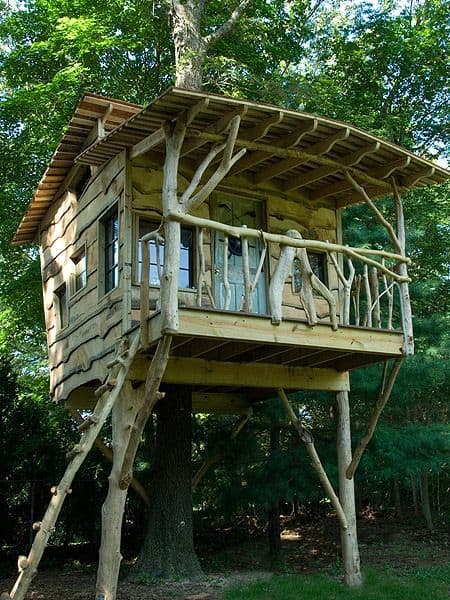 More details at imgur.com
The Tree Pod
This funny design for your tree house is one of a kind. It's a small, quaint place for the kids to play around in, or for the adults to sit back and relax. The Tree Pod is not very high from the ground and has curved edges to reduce injuries. However, it seems difficult for the Pod to withstand rough and hyperactivity. But, if you are careful and looking to be more laid back, then this tree pod design is perfect.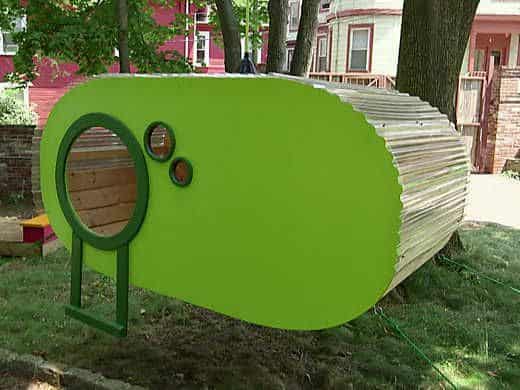 More details at diynetwork.com 
The Off-grid Tree House
If your kids prefer being away from the public when they play, you can build a tree house secluded from the public areas around your house. You can hide the tree house behind a lush branch of the tree to provide a natural cover. It's a place where your children can play or study in peace, without being disturbed. Safety and supervision by parents is recommended.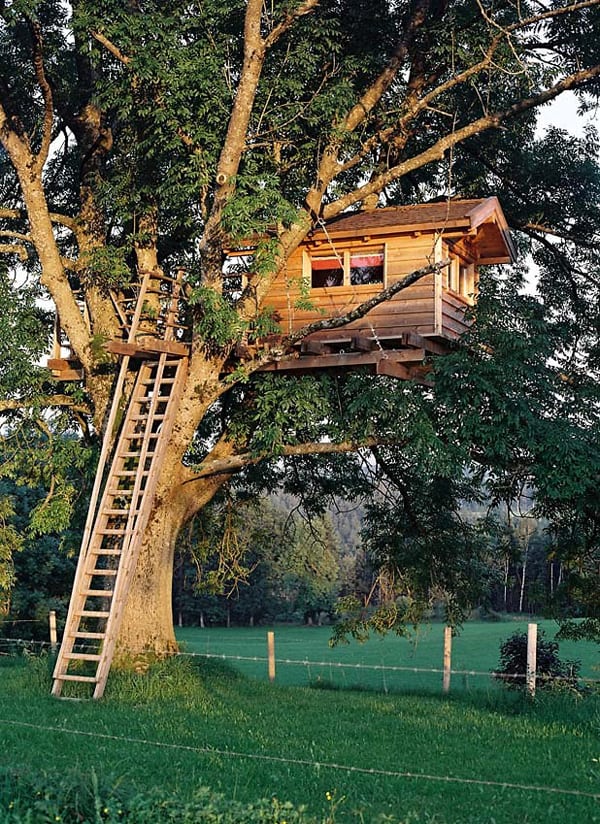 More details at youtube.com
The Backyard Hideaway
This is a fancy clubhouse your children can use as a play area. It is a simple tree house built on a deck, with a roof but without walls. The beams can be covered with curtains instead, giving it a very homely look. You can also add small chairs, toys, books and slides to this secret hideaway.
Perhaps, you can add some innovative decor to the interiors and create a more adventurous interior for kids to feel like they have escaped to some unique place. A little splash of colors on the inside and it will look straight out of a catalog.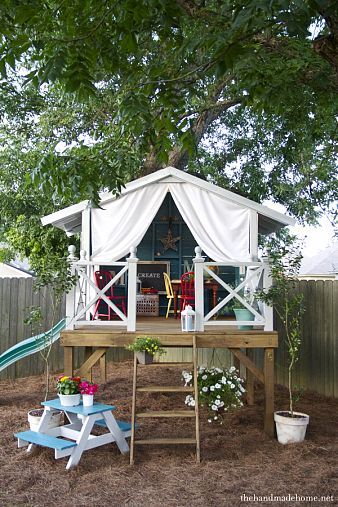 More details at thehandmadehome.net 
The Classic Garden Tree House
This basic garden clubhouse is an easy DIY product, which kids and adults can use. Built not very high from the ground, this house has three walls with curtains and a gable roof. You can decorate the place around the tree house with potted plants, flowers, vines and store toys and books inside. The best thing about this garden clubhouse is that you don't even need a tree to build it upon.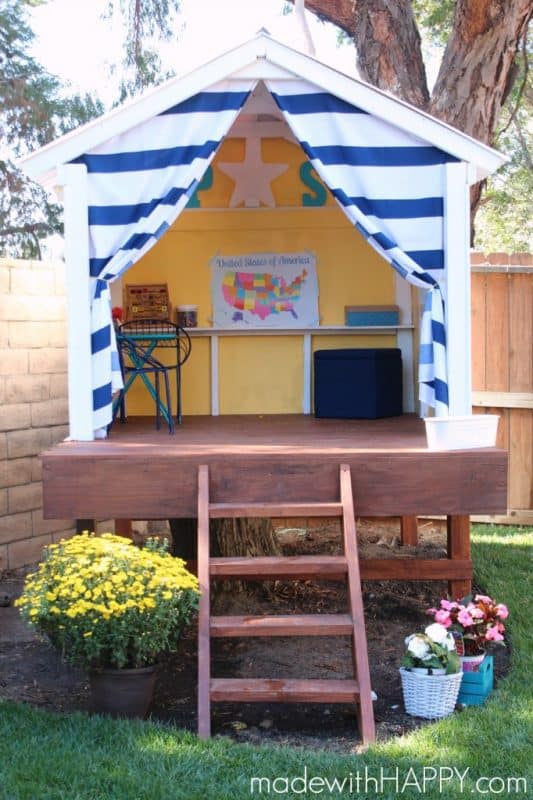 More details at madewithhappy.com
The Backyard Tree House
This simple DIY project is a small cubicle you can build in your backyard. Constructed at minimal height, this place is a perfect clubhouse for kids. It has a glass roof so kids can look at the raindrops without getting drenched. Adding fun colors to it can bring charm to your small and cozy cubicle. It's a good play area for children, suitable for all seasons.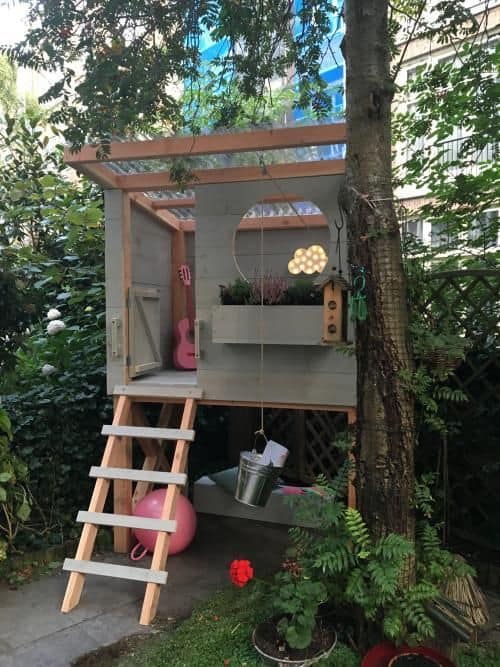 More details at eigenhuisentuin.nl 
The Minimalist Tree House
This minimalist approach to building a tree house is quite achievable. Simple in looks, yet charming and cozy. The windows are large enough to let in cool summer breeze and lots of sunlight. Making the tree house compact can add to its strength and make it durable for playing kids.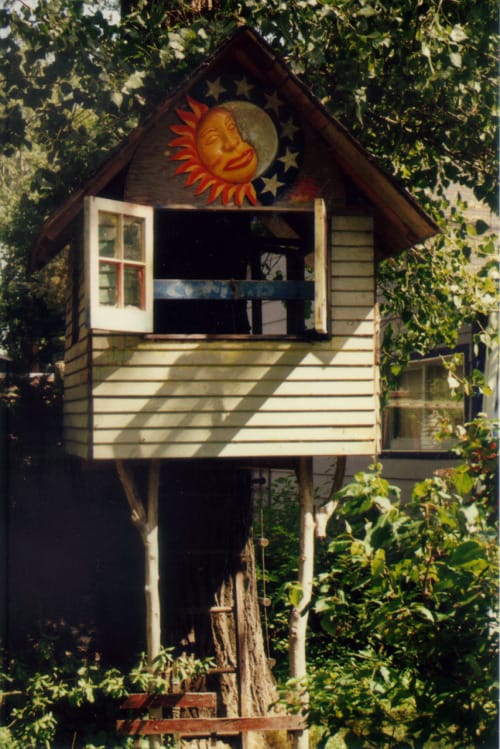 More details at hubpages.com 
The Tree Fort
Play forts are a favorite among kids of all ages. A perfect hideout for kids playing outdoors, this tree house has four walls and a hoisted tarp blending in with the trees. You can accessorize the tree house by attaching a pulley and a basket for charm and fun.
Painting the exterior with camouflage pattern, making holes on the sides and attaching water guns will make it exciting for the kids to play. And if you want a more of a Disney world theme for the house, you can paint sigils with your kids on linen or silk cloth, cut them into shapes of banners, attach wooden or steel rods to the banners to hang them, and hammer some nails in the tree house.
Include a few prop swords and shields and paper mache creatures, light it up with fancy lights, some heroic adventure music, and your kids have the perfect medieval fort house to play make believe in.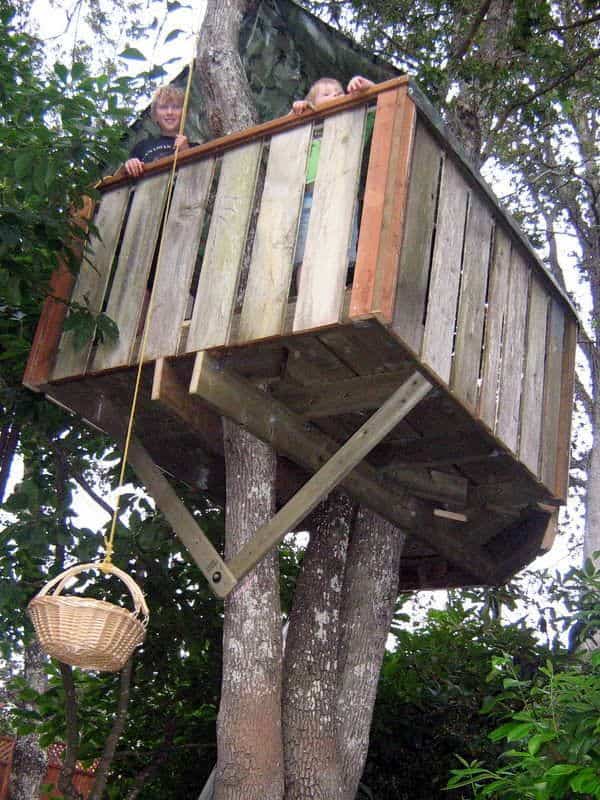 More details at instructables.com
The Pirate Tree House
Bring a feeling of sailing through the seven seas with this nifty tree house idea. The exterior decor and accessories imitating an old ship will bring out the inner pirate in you. You can easily shape the tree house in the form of a boat with some easy guidelines.
Vintage pirate accessories like lamps and hats are available in most stores. Decorating the interior with small ships, treasure chests full of toys and steering wheels will certainly add more to the theme. Construct a simple periscope or attach a telescope for some stargazing. Ahoy!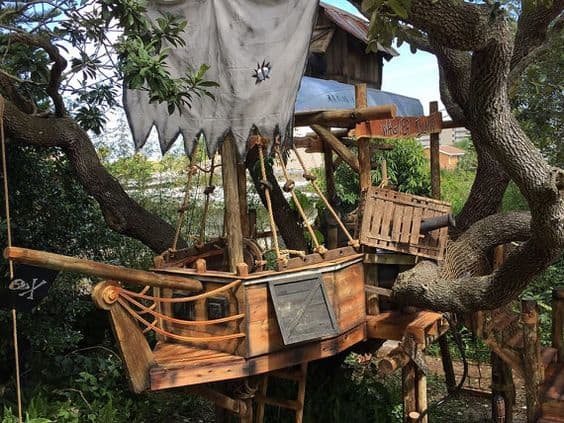 More details at instructables.com
The Fantasy Tree House
A thematic tree house, inspired by childhood stories like Winnie the Pooh, is something every child would love. This tree house is spacious and large, with tiny abstract windows, rope railings, extra landing and thatched roof. These additions add to the fantastical aesthetics and make it seem like a fairyland right there in your backyard.
Add a pulley or modify your ladder with a spiral staircase for extra charm. Include a small library of story books that go with the theme and some toys. The interior decor itself can be tweaked in accordance to a fantasy theme you or your kids are aiming for.
For example, if you have more than one sturdy tree in your backyard and an ample budget, you can construct a couple or more tree houses, and connect them with bridges in the style of Lothlorien from the Lord of the Rings. You can run a Star Wars theme for the kids with small stuffed ewoks on the branches. The possibilities are endless.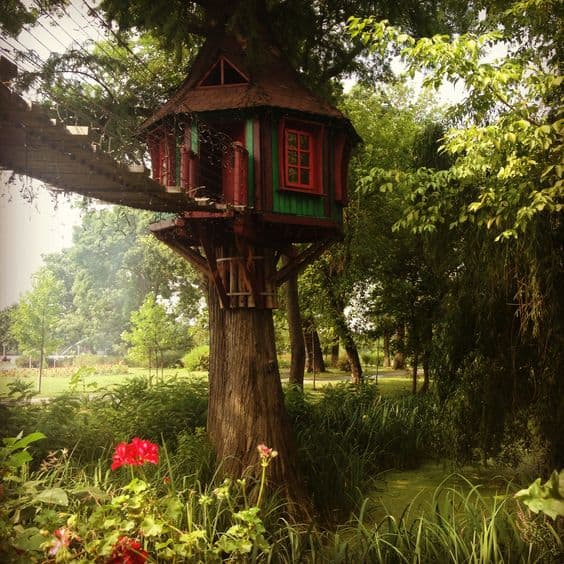 More details at hookedonhouses.net
The Exercise Tree House
How about an obstacle race to the tree house? Build a fun and challenging obstacle course for your kids by adding a rock-climbing wall, rope swings or rope ladders. Encourage your tiny ninjas to take this adventure in a stride. It also adds novelty to your tree house.
You can find the required accessories like old tires and ropes in your garage, so you can economize too. And if you want to add more fun elements, you can install some easy to make or print cartoon characters that are known for racing, like the Wily Coyote, Road Runner, Bugs Bunny and so on.
Feeding the imagination of your kids is always a good thing and blending it with exercise means, you accomplish two goals.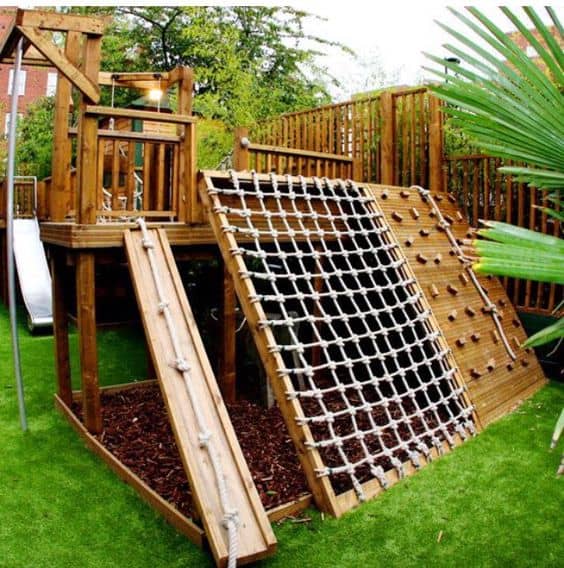 More details at wellnessmama.com
The Connected Tree House
It's a tree house straight out of fancy catalogs. The tree house in your backyard can be connected to your house by tunnel slides. Imagine climbing into the tunnel slides and slide into your home or trying the other way and climbing into the tree house. The two-storied spacious tree house can be an exciting getaway for kids playing outdoors. Building it in close proximity to your house can give you extra assurance about your kids' safety.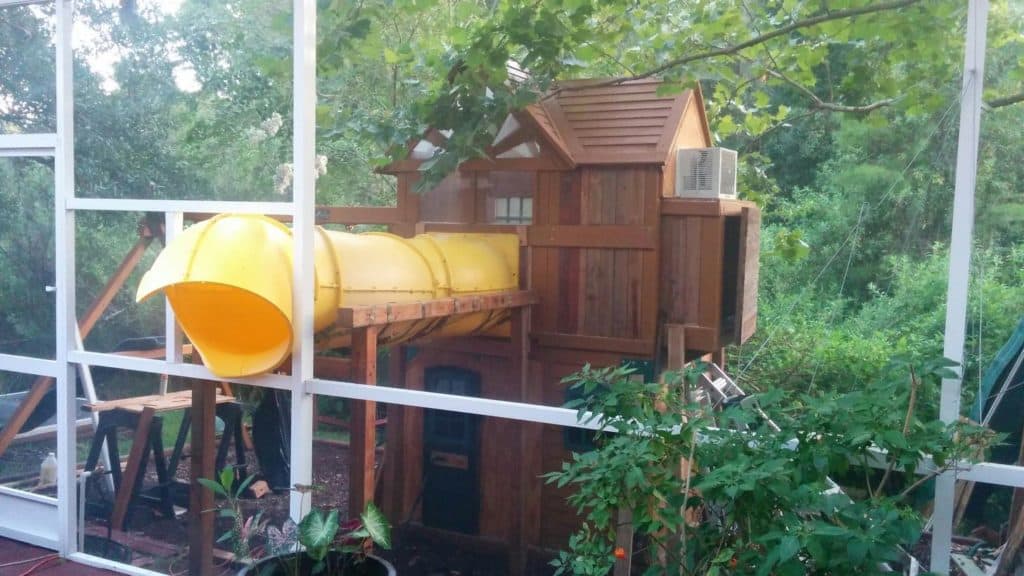 More details at m.imgur.com 
The Matching Tree House
As the name suggests, this tree house matches the exterior of an actual house. You can have the main tree house on the upper level and a garage on the ground. With added levels and slides, this luxurious tree house can be equally fun for both children and adults.
You can add a more homely feel to it by painting it in vibrant colors and adding decorative pieces and appliances. Covering it with curtains and laying pillows and mattresses will enhance the comfort of the tree house. A good afternoon nap or late night sleepovers are both definitely possible.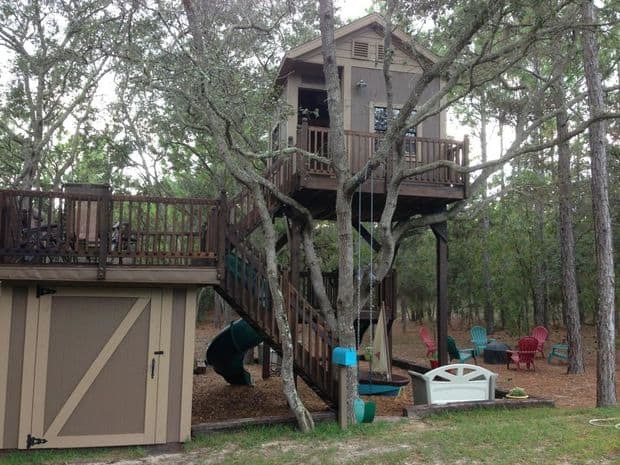 More details at instructables.com
The Four-sided Ladder Tree House
Add a bit of adventure to your otherwise ordinary tree house with this idea. If your tree house is high enough, you may want to modify the ladders into something more fun, with peppy design elements and decorative additions. This four-sided ladder is easy to build and attach to your tree house. All you need is wooden planks and strong ropes.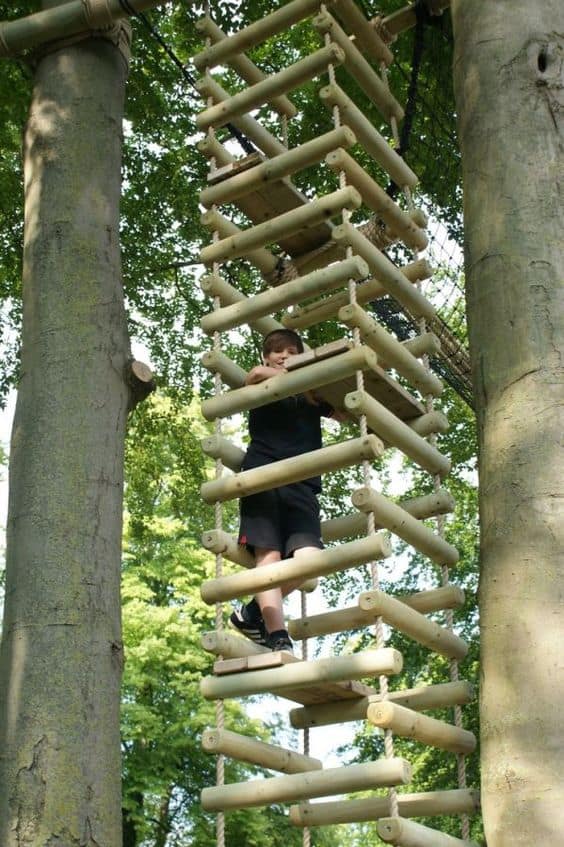 More details at treehouselife.co.uk 
The Spirit Nest
If you're interested in adding a natural element to your backyard tree house without making it look constructed, try this design. Made with curved branches of trees, without leaves of course, these sustainable human sized nests are durable and strong. The extra constructed base makes sure that the structure remains intact.
You can decorate the interiors of this beautiful spirit nest with fairy lights, synthetic flowers and vines, toy birds, and other earthy decorative pieces like lamps and scented candles, et cetera. Seems magical for an afternoon nap, doesn't it?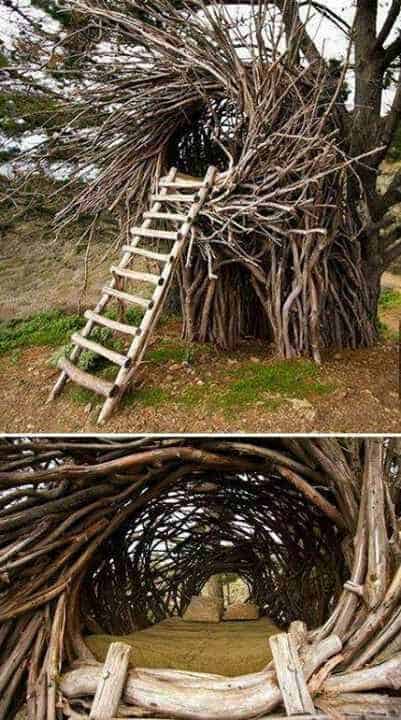 More details at inhabitat.com
The Modern Tree House
This is a great opportunity for you to try your hand at modern small-scale architecture that would mostly appeal to adults. If you don't want to build a traditional tree house and are interested in abstract building designs, you could make a tree house in this different way.
The best thing about this design is that you can go freestyle with wood, metal, fiberglass and glass. Abstract shapes and sizes, neutral colors and funky lights can be added too. This design needs more investment of time and money.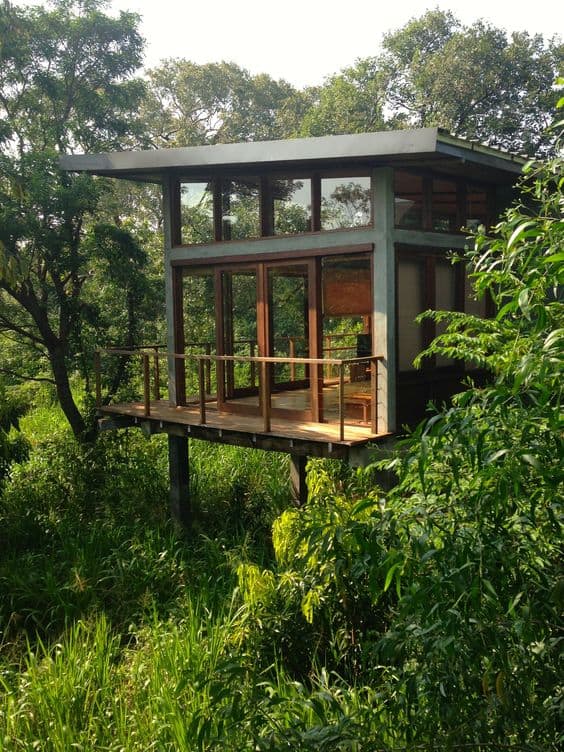 More details at dornob.com
The Cliff-side Tree House
It's one of the fancier, more luxurious models, and appropriate for adults. It is supposed to be suspended alongside a cliff on high stilts and beams. I have a family friend who owned a large mansion in the hills and he built a cliff-side tree house just like this one but with a bigger size.
Trust me, the feeling is amazing. To look out at the valley or a depression from the porch of a tree house like this is mesmerizing. What would be amazing is if you can have a walkway at the entrance to ease your access to the tree house, littered with lights on both sides and some vines growing on them.
Add glass windows, hammocks or bar stools to give it a posh homely feeling. You can also add railings for extra safety.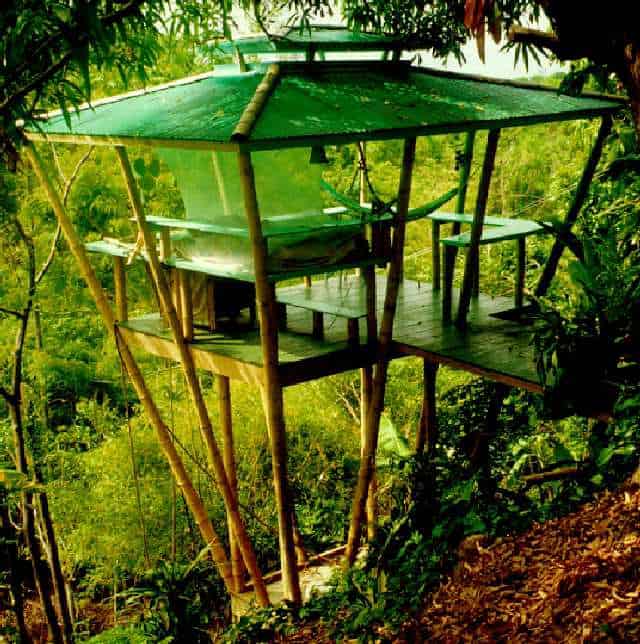 A Wooden Hut on Tree
This sophisticated design for a tree house is more suitable for adults. It's not weather proof; it's more of a makeshift hide-out for adults seeking relaxation. What you need to spare are some strong wooden planks and a big sheet of cloth, probably a bed sheet.
Arrange a lantern, some pillows, a warm cozy blanket and some books for a complete session of solitude.
More details at mokkasin.blogspot.in
Final Words
So, which of the tree house plans caught your eye the most? Do you think you can take a number of ideas and mix them to create something unique for you and your family? You don't always have to stick to the recommended designs.
You may make your tree houses self sustainable by adding solar panels to the roof. One panel can be enough to power lights in a single tree house. You can use up remainder of the wooden planks to make birdhouses just next to your kids' nests.
In the end, tree houses will always be interesting and trendy, no matter how far along we come in elaborate building designs. They have this innate sense of escapism that barely anything else can match.
It gives children and adults an extensive opportunity to try their hand at small-scale constructions and let imagination run wild. So, building a tree house is one of the most rewarding experiences and truly a worthy investment.
Do share the tree house plans you select and what you eventually end up building. It would be a delight to see your home perched upon a tree.
Related Articles
30 Portable Chicken Coop Plans You Can Easily Move
Barndominium 101 | Floor Plans, Pricing Guide & Pictures
57 DIY Chicken Coop Plans in Easy to Build Tutorials – 100% FREE
43 Free DIY Playhouse Plans That Children & Parents Alike Will Love
47 Free DIY Swing Set Plans for a Happy Playing Area in Your Backyard
49 FREE DIY Router Table Plans For an Epic Home Workshop
39 Spectacular Tree Logs Ideas for Cozy Households
43 DIY Duck Houses Plans and Duck Coop Plans to Build Now
57 DIY Bookshelf Plans and Ideas For Healthy Home Libraries
163 Free DIY Pole Barn Plans and Designs That You Can Build Easily
37 Free DIY Tiny House Plans for a Happy & Peaceful Life In Nature
27 Insanely Cool DIY Rocket Stove Plans for Cooking With Wood
39 FREE DIY Bat House Plans to Shelter the Natural Pest Control
19 Adorable Free Cat Tower Plans For Your Furry Friend
23 Awesome Free Deer Stand Plans You Can Start Right Now
13 Epic Free Rabbit Hutch Plans You Can Download & Build Today
101 Simple Free DIY Coffee Table Plans