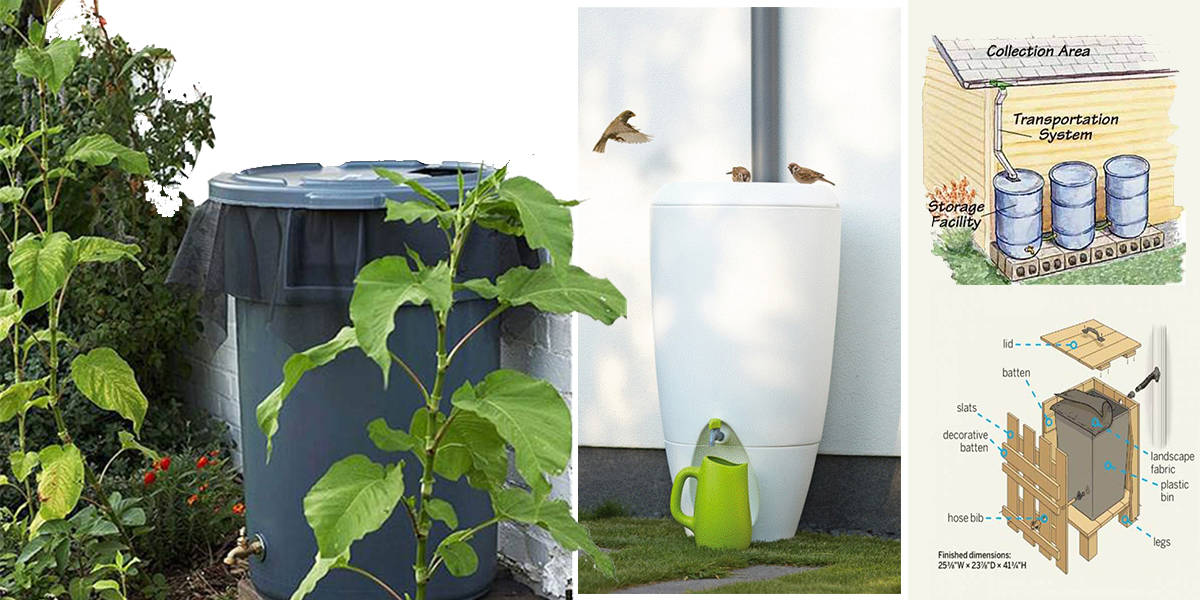 Rainwater harvesting is one of the most self-sufficient and environment friendly methods of using water. You are collecting water from the sky as it falls, all the while trying to utilize is as much as you can, and without a price tag looming on it. To put things into perspective, if an inch of rain falls on a thousand square feet space, you can harvest about six hundred gallons from it. Six hundred gallons is a real lot!
Some states in the U.S.A. do not allow rainwater harvesting, for reasons that are myriad and make little sense, but most states are perfectly happy with this practice. So, before you go on to making a rainwater harvesting system, do check the local laws for any regulations against this.
But, if you're in the clear and perhaps want to do it discreetly, these simple to make and easy to buy rainwater harvesting systems will do your job perfectly.
Simple Rain Barrel Installation
The rain barrel water harvesting system is quite easy. Through this do-it-yourself tutorial, you can make it in no time and start harvesting water in just four steps. Connecting a rain barrel system to the rainwater drainage pipes is an efficient way of collecting rainwater. What I also like about this tutorial is the reliance on visuals to explain the process, which is always a boon.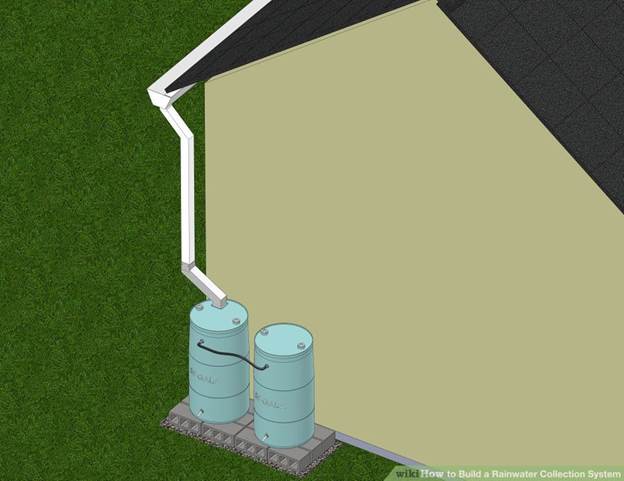 More details at wikihow.com
The Better Home DIY Rain Barrel
Making a rain barrel itself isn't a complicated process. All you require is a large trash can. Using a few tools you can repurpose it into a rain barrel and use it for gardening purposes if you like. Moreover, it is quite discreet and doesn't stand out, which is most welcome.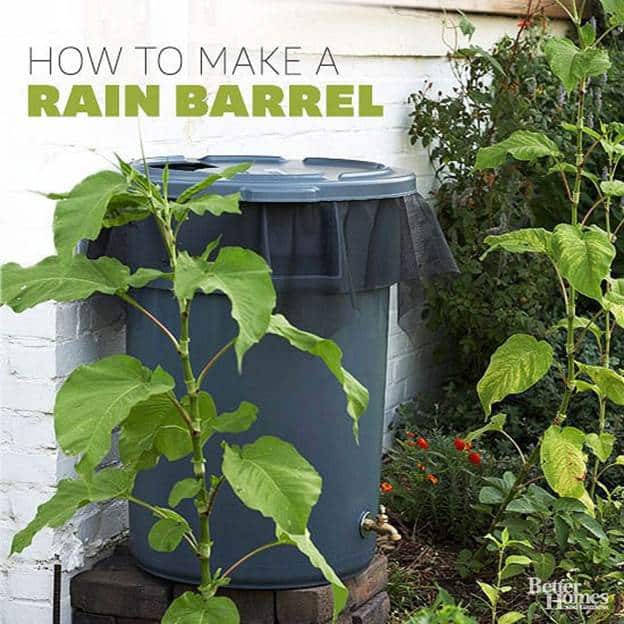 More details at bhg.com 
Barrel Made Out Of PVC
These giant water containers are robust and can be retrofitted as rain barrels very easily. They are large enough to not only feed the plants, but also any animals in your homestead. The added advantage of deciding to make this rain barrel system is the elaborate list of do's and don'ts that come with the tutorial.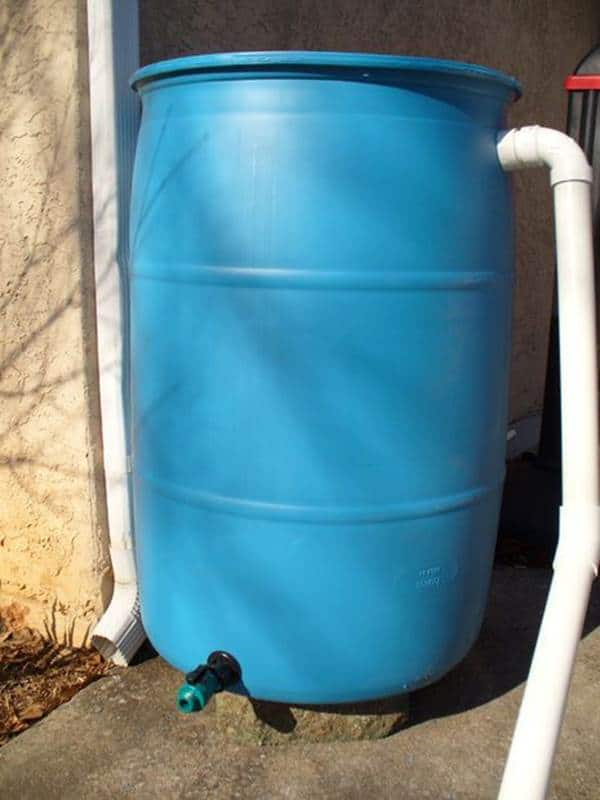 More details at instructables.com 
The HandyMan Barrel
This rain barrel system idea is a little elaborate and comes with a series of pipes to attach, but in actuality isn't all that difficult to make, or even costly. Just for a hundred dollars, you can have a rainwater harvesting system which will save on your future expenses. The number of gallons of water you are saving from buying or paying the bill for is huge. Plus, the tutorial is pretty detailed yet is easy to follow.
More details at familyhandyman.com
Simple Barrel
Using a rain barrel is a pretty simple rainwater harvesting system in the first place. With this rain barrel, that process becomes even simpler. Nothing too elaborate, this rain barrel can be created within a day and with very basic skills. It will be enough for small level irrigation.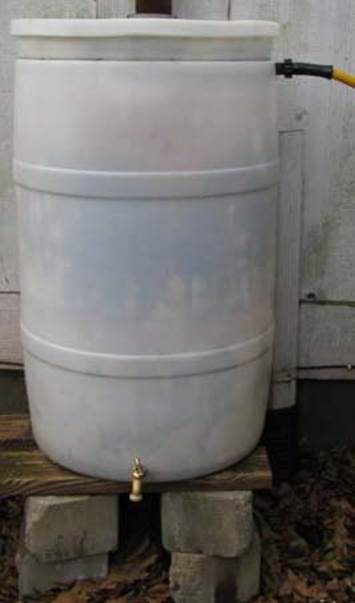 More details at aeconline.org 
Trashcan Barrel
Trash can rain barrels are the simplest to make and also the least expensive. They are sturdy and work as large enough water containers. Helping your budget is the tutorial which is pretty basic to follow.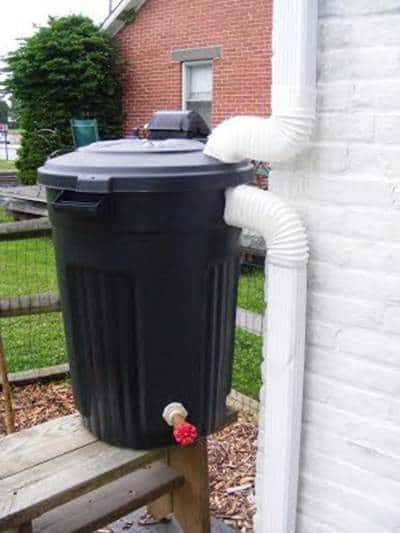 More details at sites.google.com
This rainwater harvesting system uses a proper water tank often seen in big housing. It isn't a typically used rain harvesting apparatus. But, it is an ideal setup for rain harvesting if you own a large irrigable land or a garden or if you keep livestock that requires constant water source. This can be most helpful as it helps in preserving rainwater for a much longer period of time.
This option requires a large place to set it up, such as a shed or barn. This also comes with a solar purification system to keep water from contamination as well. Though large, this could be very helpful and certainly worth a look if you have ample space for it.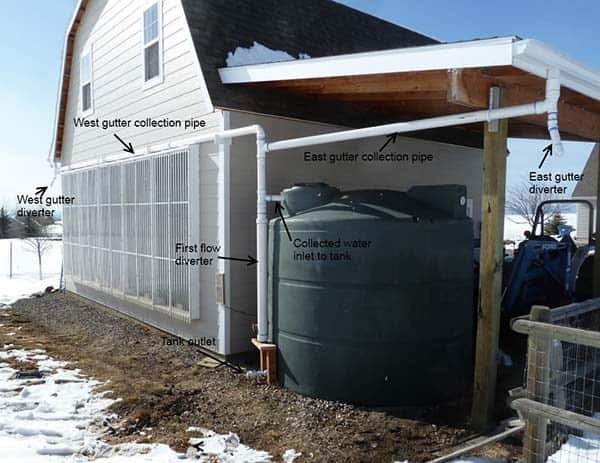 More details at builditsolar.com 
How-To Collect Rainwater
A little different from contemporary rainwater harvesting method, this system can help in preserving a rather swell quantity of rainwater. It provides the in's and out's of rain catchment and should be studied a little before its installation.
This system also warns you of any problems that it may encounter. It is easy to read and understand while installing this system.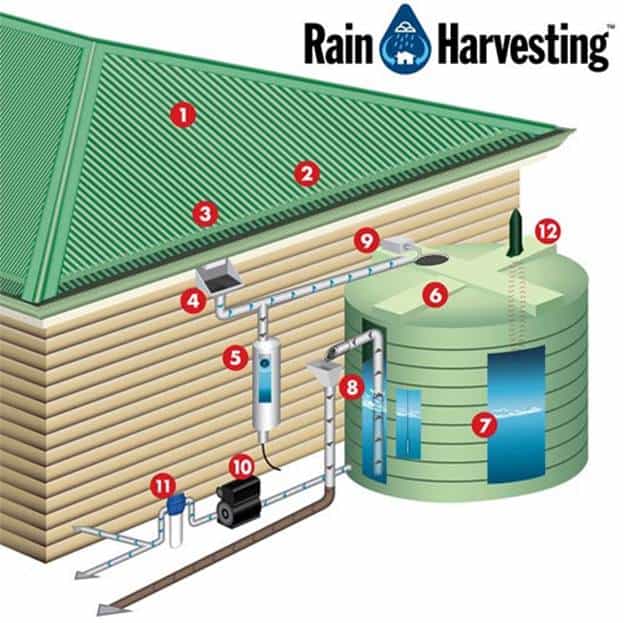 More details at watercache.com 
The Incredibly Cheap Rain Barrel
A very easy and affordable resource. Along with being functional, it is very easily available and for a low price. A rain barrel is much easy to handle and doesn't take much of space. It can be kept almost anywhere under the sky and is easier to maintain and check on.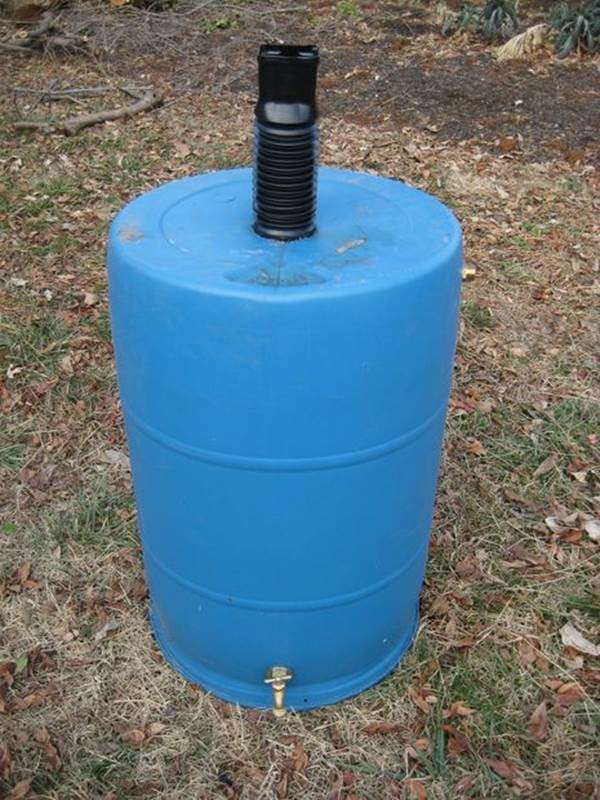 More details at instructables.com
The YoungHouseLove Barrel
This site provides you with detailed steps on how to make your own rainwater barrel. You can customise it in any manner you wish to, to make it look more beautiful and less boring. Though this does not provide you with a huge quantity, but it is very helpful when you want to water a few flower pot and/or vegetable patches.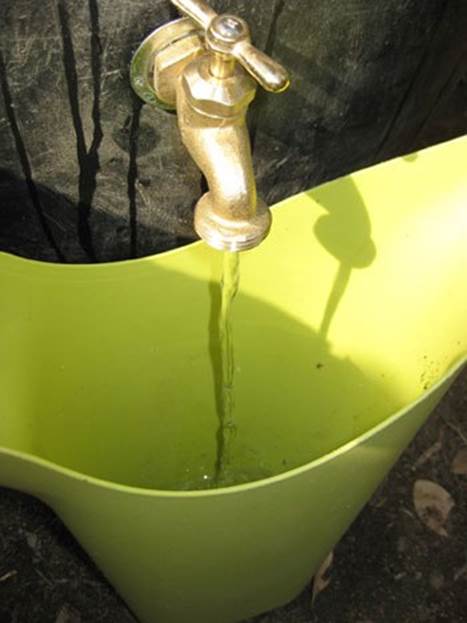 More details at younghouselove.com 
The Large Gallon Barrel
If you are looking for a bit larger harvesting system, you can consider this as an option. If you have a mid-sized livestock and a garden that is bigger than that, this system is perfect.
The below mentioned website provides you with a detailed explanation on how to construct this type of water harvesting system. Instruction pictures are well explained and easy to understand even for someone who is novice in this.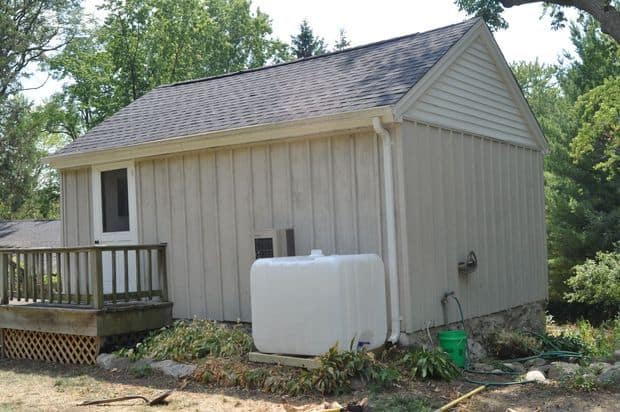 More details at instructables.com 
The Enormously Elaborate Rainwater Harvesting System
Yes, this seems like a tedious task and could look daunting as well. But, it is quite simple. You take 4 interlocked water tanks made of metal and make the system. The video is great at explaining and helping you out at finishing this task easily and fast.
More details at youtube.com 
The Simple To Make Rain Barrel
This one's quite handy a guide for learning not only how to harvest the rainwater, but how to make use of it. The rain barrels are easy to make once you follow the steps properly and in the end you are ready to harvest.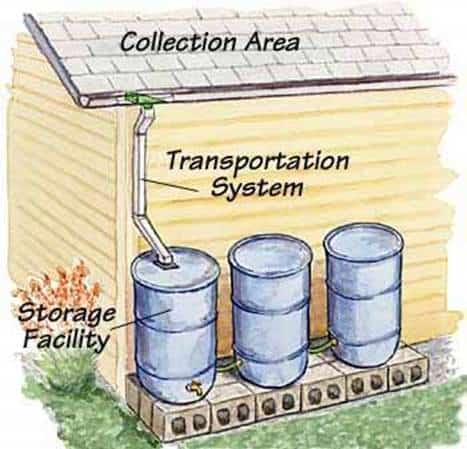 More details at gardengatemagazine.com
The Neat Can Barrel
A very unique and detailed tutorial that helps you make a rain harvesting barrels out of discarded trash cans. The coolest part it, the instructions are made in a manner that they don't get confusing after a few steps.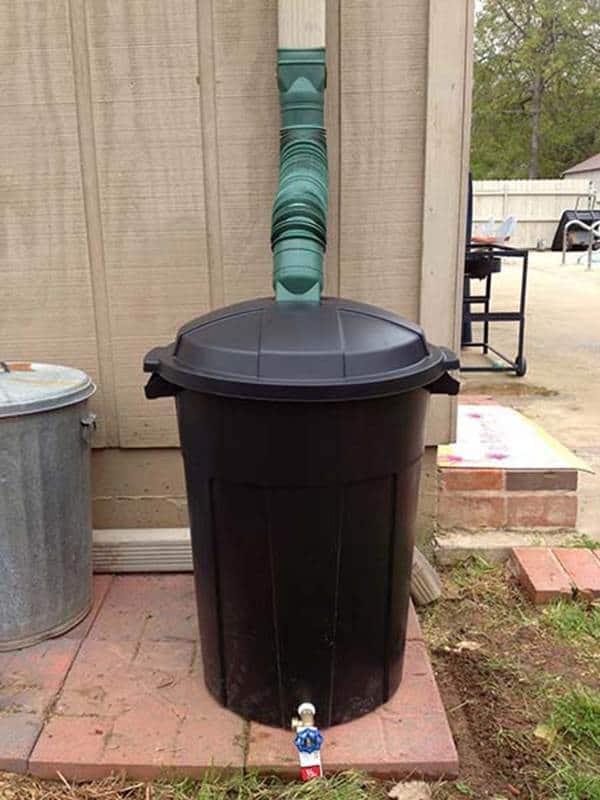 More details at 1craftylane.wordpress.com 
The Flower Pot Barrel
This rain barrel looks like a large flower pot and hence doesn't stand out as a sore in your surroundings. It is quite easy to make and set up and the instructions do most of the work for you.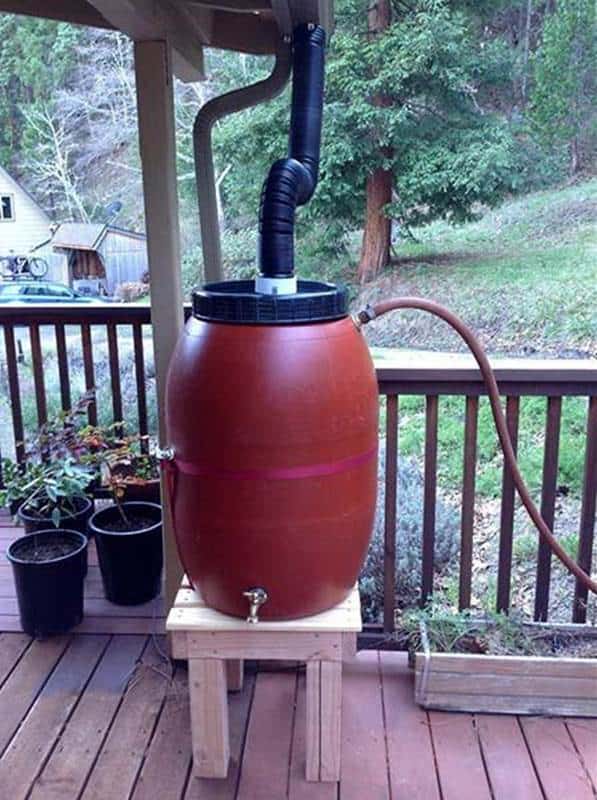 More details at growforagecookferment.com 
The Filtering Barrel
This trash can rain barrel steps up its game. Not only does it filters it water, it also helps prevent debris from contaminating the stored water in your system. This is great as it prevents clogs. The tutorial shows you a cost effective way to make this system.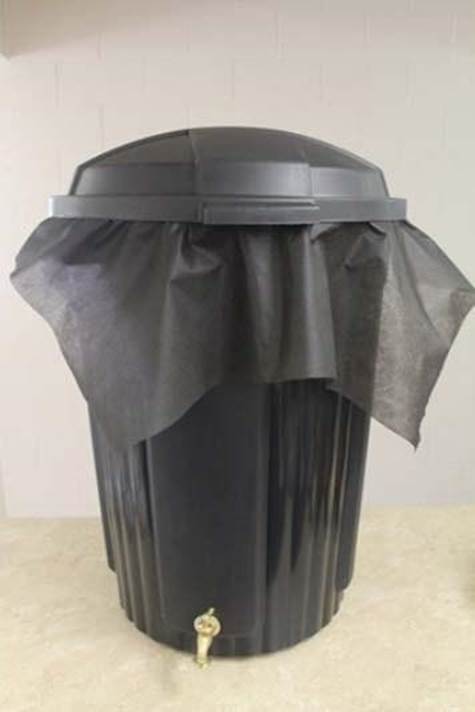 More details at web.extension.illinois.edu 
The Discreet Rain Barrel
This is quite discreet a system to set up, and something you definitely require if there are regulations that prevent you from harvesting. It is robust, well-walled and easy to make following the simple yet detailed tutorial.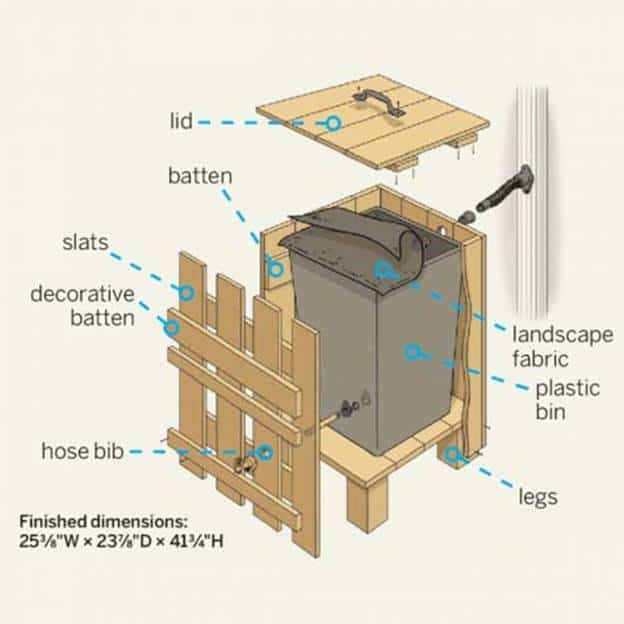 More details at thisoldhouse.com 
Tutorial For Rain Barrel Installation
Another video tutorial for visual builders, this rainwater harvesting system isn't decorative but it does its job efficiently. Its simplicity makes it easy to build it and set it up. Just follow the tutorials.
More details at youtube.com 
The Discreet Bladder Water Collection System
You can't really make this one on your own, but it does its job really well. Moreover, due to its unusual features, the bladder tank doesn't stand out and remains quite incognito from prying eyes. You can install this system in your basement or crawl space.
More details at irrigationstore.com.au
The Canopy Rain Barrel
It's a pretty looking and very simple rainwater harvesting system. It's funnel like structure on the top is designed to maximise water collection and help you collect as much water as possible. Setting up a few of these around your property ensures you have a whole lot of water to use.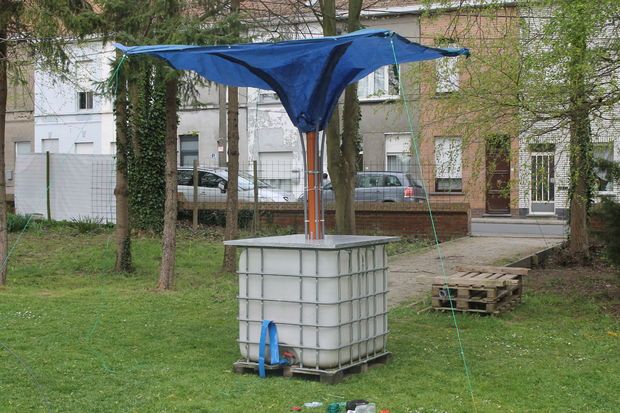 More details at instructables.com 
The Galvanized Rain Barrel
This rain barrel was created with a galvanized stock tank. It is robust and looks quite chic, blending in with the surroundings and holds enough quantity of water for you.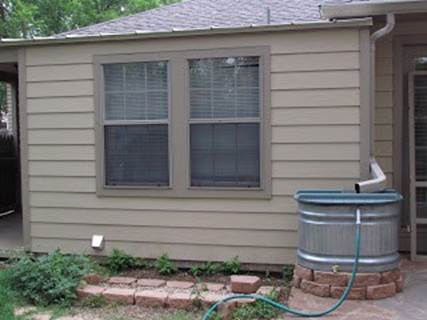 More details at thebikegarden.com
The Multi-Piped Rain Barrel
Though it isn't something you can really build on your own, and one that requires elaborate welding work, this rainwater harvesting system is efficient, space saving and great to look at. Perhaps, you can install it in your backyard and paint it too to make it look prettier?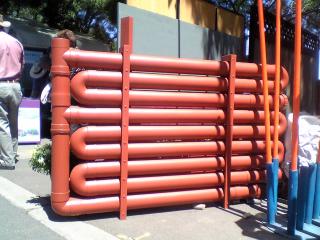 More details at tomw.net.au 
The Desert Friendly Underground Rain Barrel
This is not a beginner's level rainwater harvesting system. It is quite elaborate in its make and installation and is best suited for more arid climates. It is for underground installation, to keep the water cool and will help your homestead receive the water it requires, and water you need too. In places where water supply is scarce and rain doesn't last for long, such a system becomes more of a necessity.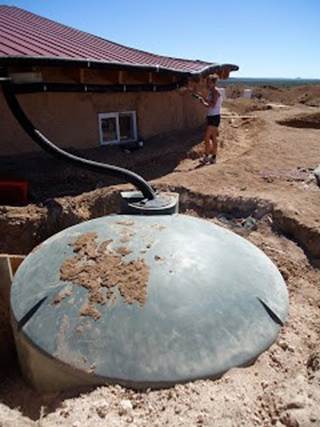 More details at alysearthbaghome.blogspot.com
24. The Plastic Barrel System
Using a plastic gallon barrel, a plastic adapted, a pipe thread and a hose thread, you can make this simple yet very effective rainwater harvesting system in no time.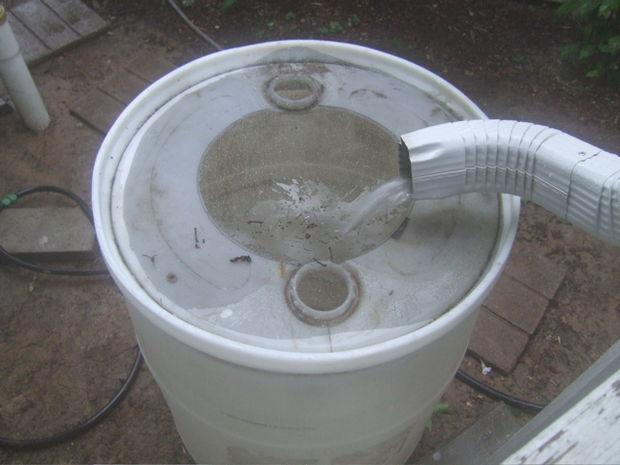 More details at instructables.com 
The Moveable Rain Barrel
This simple to make yet efficient rain barrel can be uninstalled and ported for your convenience. It is large enough to hold enough water and yet small enough to not be too visible.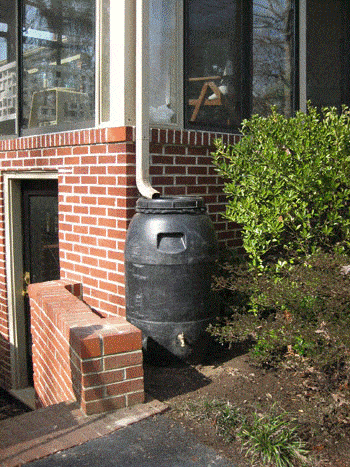 More details at younghouselove.com
State of the Art Filtering Rain Barrel
This is a fully readymade rain barrel that not only does the job of rainwater collecting but its state of the art filtering system filters and purifies the water for drinking. Moreover, it is beautiful to look at and very modern in its design.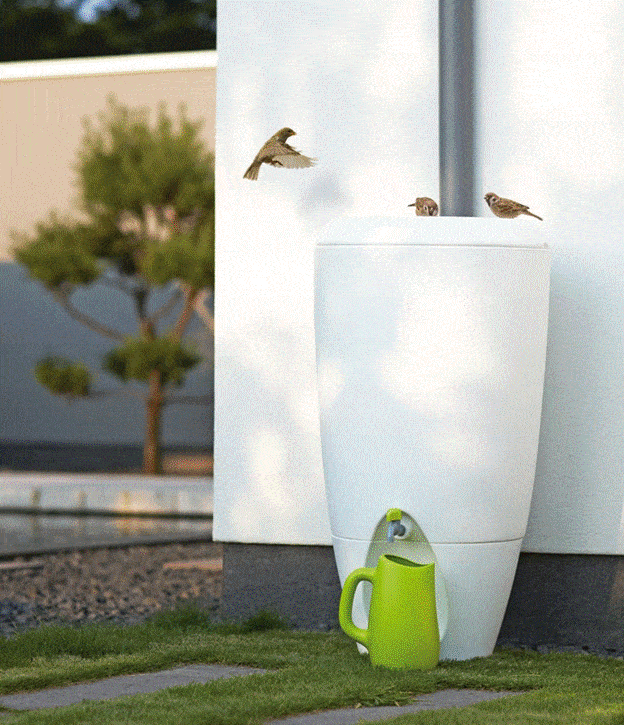 High-Rise Rain Barrel
It is installed at quite a tall height to increase the water collection. It is big enough to store water for weeks and yet small enough to install it in your backyard easily.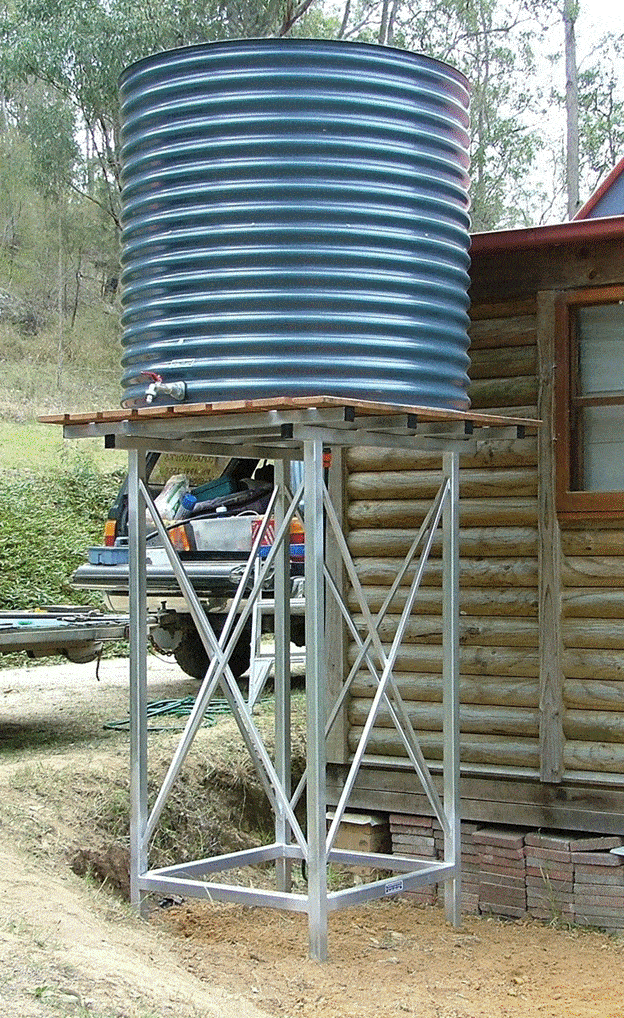 Two Can System
Using two new trash cans, this rainwater harvesting system helps collect more water at one go and this system can be replicated with more trash cans if you want to have more water.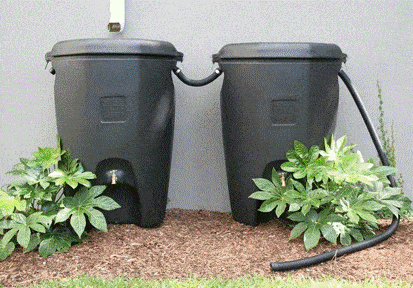 More details at Pinterest
Daisy Chain Rainwater Collection
This system of seven trash cans lined side by side and connected to each other does exactly what was suggested before. It makes sure you have a whole lot of water and maximises your water collection while it rains.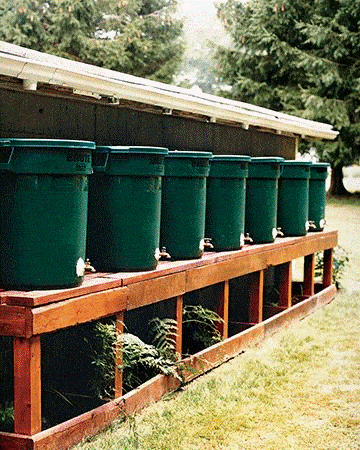 More details at Pinterest
Vertical Rain Barrel SysteM
In this installation, the rain barrels are stacked vertically instead of horizontally, with the spivot at the very bottom so that the water pressure is highest. It is efficient and space saving as you don't have to use a large horizontal space to keep multiple barrels.
More details at Pinterest
Dual Water Storage System
This system is for areas that receive a high amount of rainfall or very constant rainfall. With two large containers, collecting rainwater is easier and helps in long term storage of the water.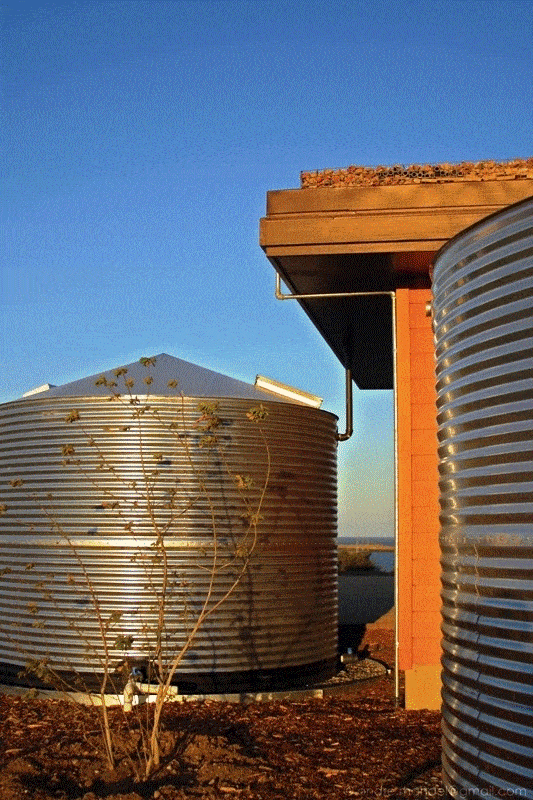 More details at Pinterest
Rock-faced Rain Barrel
Using a rock like facade to hide the rain barrel and make the system look more organic and one with its surrounding, this rainwater harvesting system is efficient and neat and great to look at.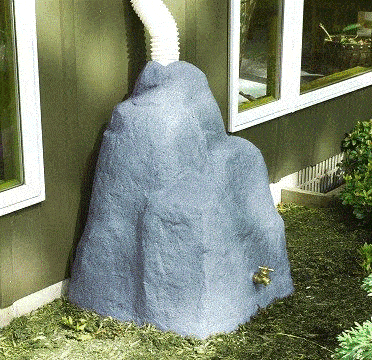 More details at Pinterest
Butterfly Roof System
With slanted roofs on two sides, water slides into the barrel, travelling through the ridges on the roof and streamlined into the center area for collection. This is very effective and collects water far more quickly than most systems.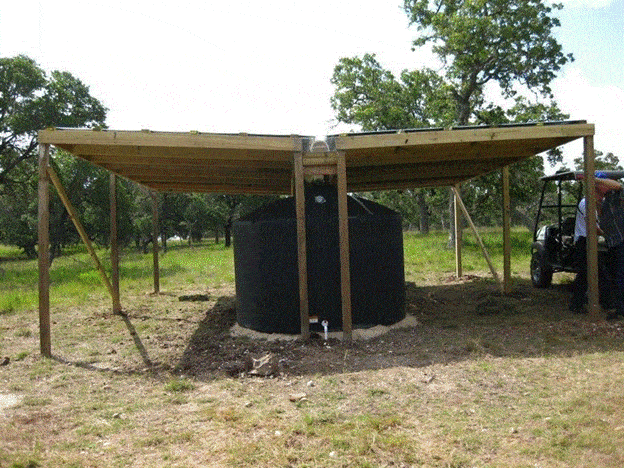 More details at Pinterest
Metal Container
This metal container looks fantastic and has no chance of getting a hole in it or leakage of any sort. It is big enough for storing a lot of water and isn't big on the budget side either.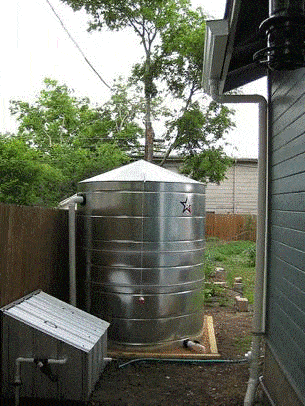 More details at Pinterest
Chic Barrel
This barrel is more about the look than any special functionality. It resembles a typical, medieval barrel and is beautiful to behold. So, if you're looking for decoration, this one might be the one you would want to go for.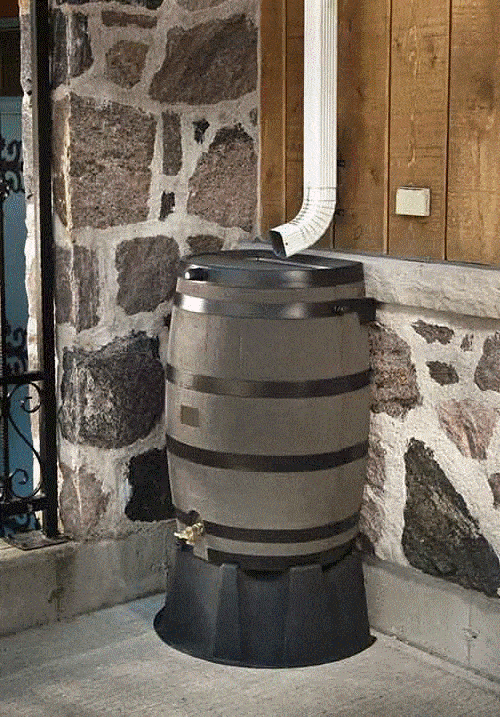 More details at Pinterest
The Rain Saucer
This rainwater harvesting system uses a typical water storing barrel but attaches two funnels on the top on either side of the barrel for maximum water collection. Neat and efficient and not taking too much space, this is a system you can build.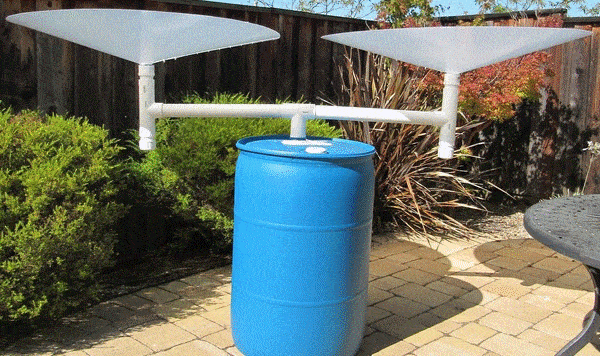 Source Unknown
Rain Garden
Building a rain garden system removes the requirement of installing a barrel, transferring the water and all the intermediate steps that consume both time and energy. This system directly irrigates the garden and is a gardener's delight.
 More details at Pinterest
Rainwater harvesting systems are generally inexpensive and with certain DIY projects they can actually be free of charge, a splendid thing about an immensely powerful resource.
If you have the option to grow and nurture nature thought the use of rainwater, if you`ve had the option to reduce costs and water consumption in your household, why would you not do it ?
What do you think about harvesting systems and collecting rainwater ? We would love to hear from you in the comment section below !
Related Articles
5 Best Barrel Sauna Kits Reviewed