Stepping into a hot sauna after a long tiring day sounds like an excellent treat to the body, the steam allows the muscles to relax as the body continues to detoxify from the toxic nutrients.
For hundreds of years, saunas have been used for its host of benefits and to top it all it helps you grab a good night sleep. What more?
Well, with an increase of blood flow in the body, your metabolism, the immune system, and skin also drastically starts to improve. But, you should remember that too much of anything is not good. So, don't stay in the sauna for several hours and ensure to re-hydrate yourself after every sauna session.
Now, we understand that it can be tiresome to search for the right barrel sauna kit, but it's nothing compared to the blissful experience of an excellent sauna session.
And to make things a little easier, we've reviewed some of the best barrel sauna kits that are available to help you make a better decision.
Best Barrel Sauna Kits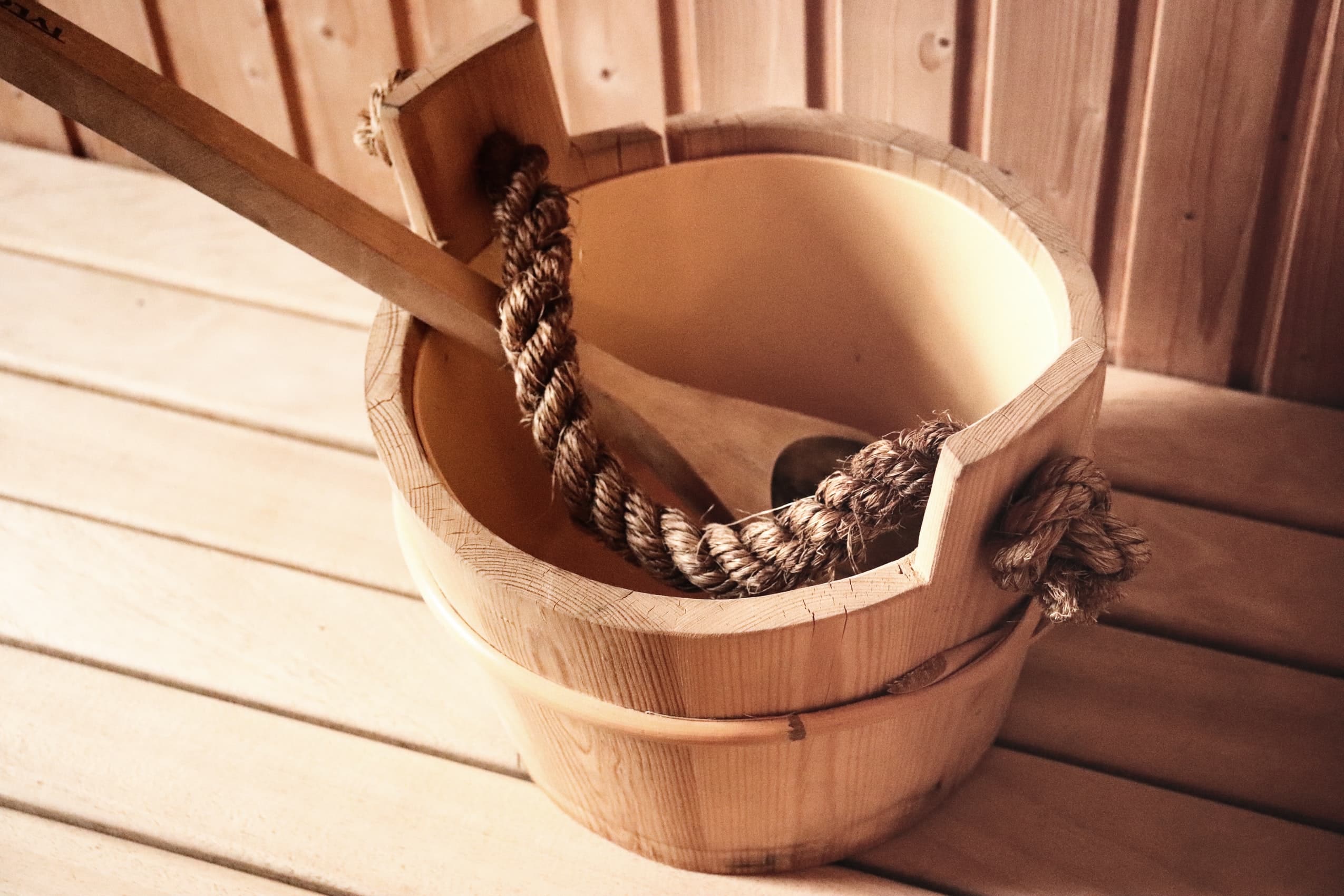 So, without further ado, let's get started!
It is constructed by using Finnish Pine from Finland of Grade-A level quality. If you are looking out for a sauna that is built to last you for years to come, then this sauna will be a perfect pick for you. It provides excellent durability, insulation, and heat retention as the pinewood selected for making this product is around 1-⅜ inches thick.
No products found.
The sauna is around 6-feet in length and 6-feet in depth, which makes it more comfortable for four individuals. For protecting your privacy, there is a tempered glass door that has also been tinted. And there are wooden backrests that help to provide you with better relaxation.
This sauna kit includes a bitumen shingle roof, hydrometer/ thermometer, cup holders, 6KW heater, lava rocks, sand timer, light rocks, robe hook, sand timer, among a few others. The benefit of using a sauna are numerous- it helps in the reduction of fatigue, better blood circulation, nourishes, and cleanse your skin and prevents any heart diseases.
A barrel sauna also consumes around 23% of less heat than the regular size of cabin style sauna. The circular design ensures that there is even distribution of height rather than the heat settling on the top.
It has two weather-resistant supports that will be protecting the wood underneath the barrel from moisture or the growth of molds and mildew. You can also order separately for a canvas cover to wrap the barrel sauna during harsh weather conditions.
This model by Almost Heaven Sauna is made in the USA, and it is easy to assemble this sauna kit. You need two people to get this piece arranged. It is spacious enough for four people to sit comfortably. It takes about half an hour for the temperature to reach 150 Fahrenheit, and within an hour it will be steamy and around 190-195 Fahrenheit.
The kit comes along with sauna stones and a 4.5KW heater. You can sprinkle some water on the sauna stones to get a burst of steam. To add humidity to the dry sauna, you can repeat this a few times throughout your sauna session. You need to take cooling breaks in between the steaming sessions to keep yourself hydrated.
Moreover, you also have the option to choose from rustic cedar, rustic fir, or clear cedar. They are all smooth, natural woods that are solid and insulating for an outside sauna. The tempered glass door and the quality stainless steel bands help to enhance the look of this sauna. You can put a clear coating on the redwood finish to flaunt the natural look of the wood.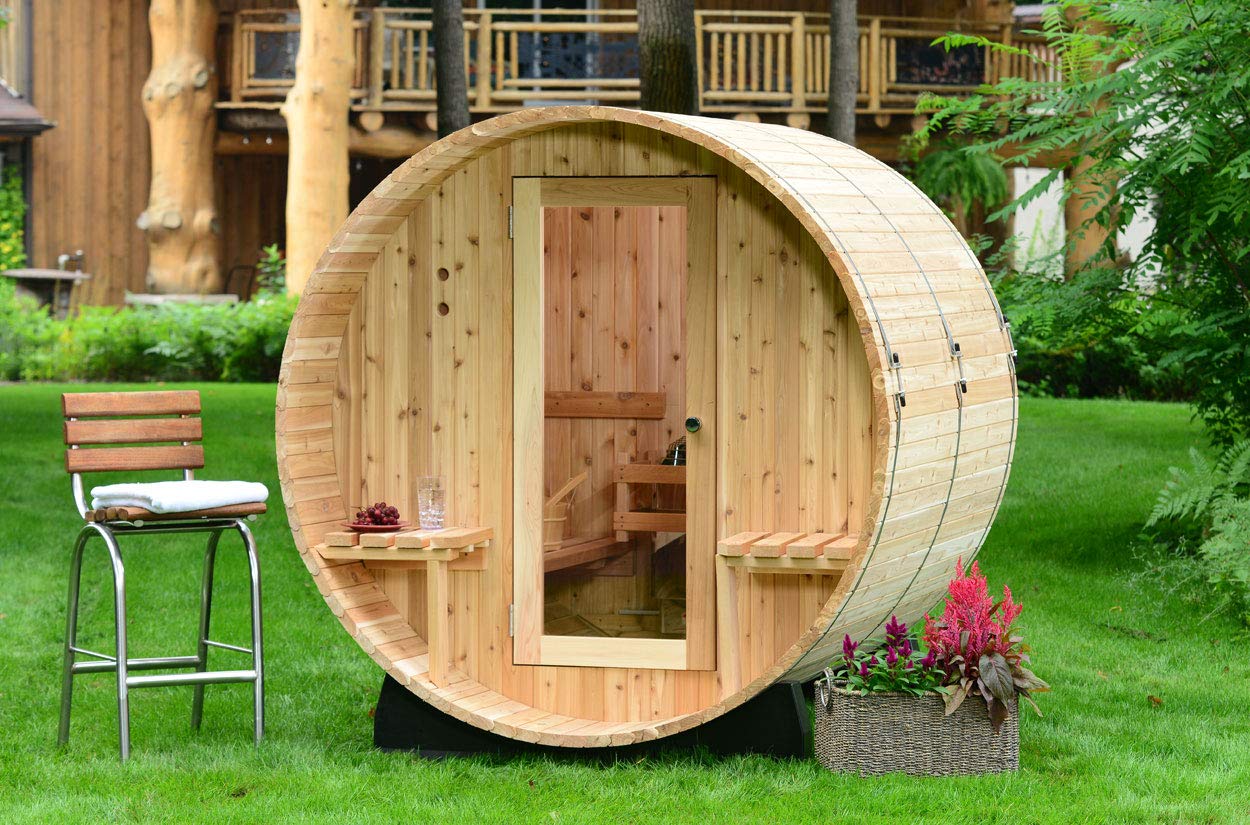 It is one of the most preferred barrel sauna kits as the seats are long enough for you to stretch out your legs fully and relax. The front wall section has been set back in this sauna, which makes it appear more prominent, while the functional porch gives this piece an attractive look.
The porch that has been created outside the sauna is a visually appealing and functional area. You can use this sitting area to keep your drinks or towels, or you can use it as a relaxing space for cooling off during your sauna sessions. To give a soft glow to your sauna, an LED light bar is also provided with this set.
Also, there is polymer support that helps to keep the undercarriage off the ground and by protecting the entire unit. It has been handcrafted to allow the wood to expand and contract according to the changing weather conditions, therefore, to form a tight seal. The Audra model is known for its efficiency and for ensuring an even distribution of heat.
The RDX 4-6 Persons Hemlock Wooden Barrel Sauna can be used for indoor and outdoor purposes, and it can comfortably fit around four individuals. It has been constructed with 1-⅜ inches thick Canadian Western Hemlock. This traditional sauna room can reach a stable and higher temperature without causing any radiation effects on your body like the infrared ones.
You also have two 70 inches of support cradles that helps to keep the barrel sauna away from the ground. It has a tinted and tempered glass door with self-closing hinges, for your privacy.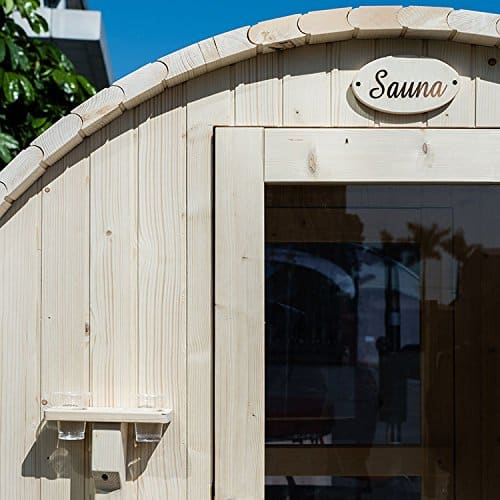 The kit also includes a Harvia sauna heater of 4.5W, sauna bucket, thermometer, anti-explosive lamp, sand timer and a box of sauna stones. You'll also get this product with a partial assembly that is already completed, which makes it easy for you to set-up by following the instruction manual.
It is  CE certified and has built-in vent holes, from preventing the sauna from getting too hot. Moreover, there are stainless steel hinges, fasteners, hinges, sturdy frame along with back/front walls that give this piece an appealing look.
This pleasing barrel shape is functional and stylish at the same time while providing you with room for eight individuals. It also comes with a front porch canopy, and it maximizes the space by placing opposing benches which run across the full chamber.
No products found.
If you want to stretch out, there is enough room for six people inside the barrel and two people outside. You can also cool down in the outside area and rest against the wall while enjoying the fresh air. The sauna is fit to be placed in the indoors and outdoors, like the front porch or the back deck. For retaining the heat in your sauna room, there are self-closing hinges, and for privacy, you have a tempered and tinted glass door.
The door is tinted to provide you with a relaxing, quiet environment, and it has been tempered to make the sauna remain undaunted by the temperature changes. You can use the bucket and ladle to sprinkle water over the hot stones to increase the humidity and for maximum relaxation and health benefits.
The two polymer support cradles are weather-resistant, and it helps to provide a solid foundation to the barrel and preserves the wood. It is effortless to assemble this entire product, and it will take you just a few hours to complete the set-up. The stainless steel parts ensure that it will not harm your sauna or rust, along with an electrical 9.0KW heater.
Also,  to comply with the safety guidelines, this barrel can heat for around 60 minutes at a stretch. But, if you want to heat the sauna for longer then 60 minutes, then you can just reset the timer. And for better protection of your barrel, you can buy a bitumen roofing separately for protecting your sauna from rain and UV damage.
This is an exceptionally designed model by Allwood, and it will be a great addition to your outdoor space or garden. It is around 90 inches in length, and the frame is also made of 1-⅝ inches of slow grown Nordic Spruce. There is enough space for six adults, and it also comes with two sets of fire starters.
There is a canopy for ensuring that the sauna is protected from the different weather elements. Moreover, the sauna takes about an hour to heat up to 195 Fahrenheit, while the cylinder shape provides an uninterrupted and natural flow of air with an even distribution of heat.
It also has 70- inch of support cradles that elevates the structure away from the ground, and a chimney that is made of stainless steel. You can rely on this product for its quality, which can withstand years of use.
If you're looking for an excellent sauna experience, then Allwood Barrel Sauna #300-WHP Wood Heater will meet your needs with ease. Also, the Nordic Spruce construction, fastener mechanism, and the stainless steel fittings will ensure that the quality of this product is maintained. The barrel is quite spacious, so you will be comfortable to use it even when the temperature is high.
Best Barrel Sauna Kits Buyer's Guide
1. What style barrel sauna?
The barrel sauna has its own set of variations with few stylization options- standard or canopy, and 6-feet or 7-feet diameter.
The standard barrel design provides you with more interior space than the canopy design. In the canopy barrel, the front round section is moved by either 1-feet or 2-feet for creating an exterior sitting area. It gives the sauna an inviting and appealing look.
2. What size?
Are you looking for something small and portable? Or are you looking for something large enough to host several people? You have to be sure about the size that each brand is offering.
Most of the indoor sauna models are 77 inches long on the inside and 80 inches long on the outside, so there's adequate headroom. The smallest barrel sauna is for two adults, while the largest one is for six adults.
3. What type of lumber?
The different barrel sauna kits are available in one of the four types of lumber:
Hemlock Fir
Clear Red Cedar
Rustic Red Cedar
Nordic Spruce
The Nordic Spruce and the Red Cedar are the best if you're placing your sauna in the outdoors due to their natural resistance to the weather elements.
4. What type of heater?
It is crucial to consider the type of heater when selecting a barrel sauna, and it also depends on where you're going to place the barrel. There are gas, infrared, electric, and wood-fired heaters. You should weigh out the pros and cons for each, and then pick the one that is suitable for your needs.
The most economical option for you is the gas heater, even though they might require some additional installation. However, the small electrical heaters will use a 120V outlet power source, and the larger ones will require 240V. Also, you will need a hardwire breaker and the help of an electrician to install the electric heater correctly.
Final words
If you take into account the size, location, cost, and energy that you need for heating up, then selecting the right barrel sauna kit will be a simple task. A barrel sauna has less cost of operation when compared to a sauna room, as it heats up quickly and it's also energy efficient.
Keep going down the path that will help to bring you closer to a great sauna experience every day.
Till next time!
Related Articles
37 Awesome DIY Rainwater Harvesting Systems You Can Actually Build