Do you ever wonder about indulging your children in outdoor activities? Are you exhausted seeing them play video games and watch television all day long? Now you can give your children their very own playhouse – a perfect incentive to get them playing under the sun, right there in your backyard.
A playhouse is a small clubhouse or a fun house in your backyard where kids can play, read and nap. With a playhouse near your house, you don't have to worry about losing sight of you children. So you can check the safety box too.
Building a little playhouse for your children and their friends to hang out and play in becomes easy, a tad easier than tree houses for sure. With the availability of raw materials and building tools at very economic rates, all you need is a little bit of motivation to start working on your backyard project with these free playhouse plans.
Free DIY Playhouse Plans
So gather your tools, let your imagination and instinct take charge, and you can have one of these beautiful playhouses, right there in your garden. Try these free DIY Playhouse Plans.
The Easy Indoor Playhouse
Let's start with this easy and basic free playhouse plan. It's a miniature simple looking shed, but you can modify it in a lot of ways. You can cut windows in any shapes, cover them with curtains, or attach flower boxes to them. Adding small shelves inside will store your child's favorite toys and games too. Since this has a wooden exterior, you can paint it in different colors. Hanging Christmas lights on the roof will make it look magical at night.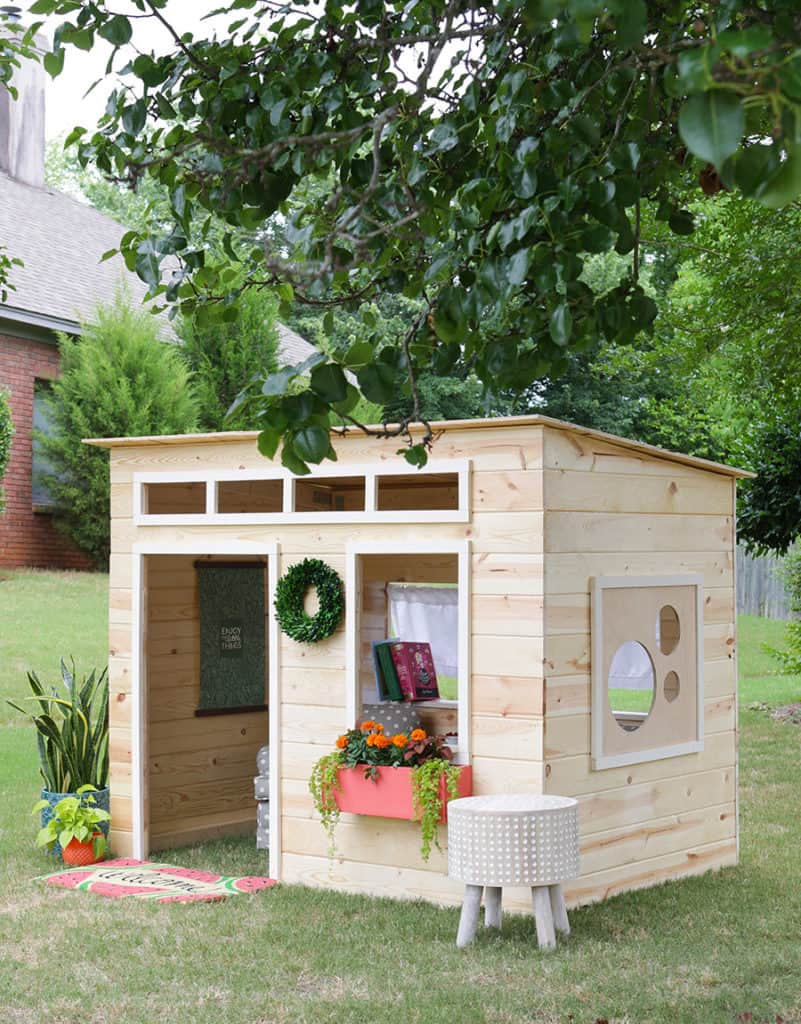 More details at jenwoodhouse.com
The Simple Wooden Playhouse
This playhouse is a really amazing project for low-budget and space-saving plan. It uses regular basic products for the build, so you'd hardly need to shop for raw material. Since this playhouse is small in size, it's quite appropriate for toddlers and preteen kids.
The roof, doors, and windows seem easy enough to build so that it won't take much of your time or efforts. The designer of this playhouse used a self-made 3D wall, which frankly gives a different look to the playhouse. Over all, this playhouse seems like a nice hang out place for small children.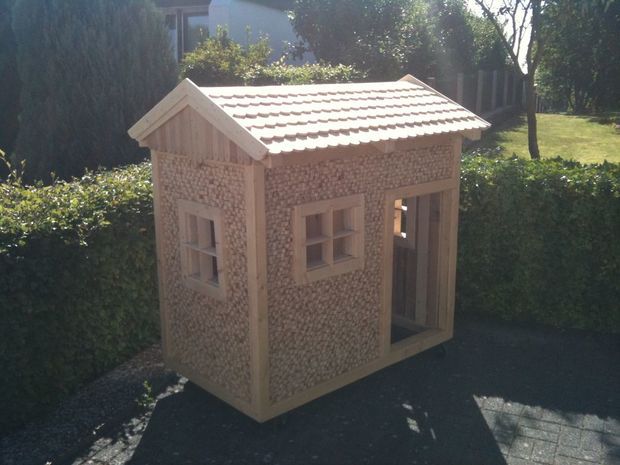 More details at instructables.com
The Simple Outdoor Playhouse
This is another simple playhouse that you can construct in your backyard. The instructions are very easy to follow, with a visual step-by-step aid for reference. It has a small play room with a porch out in the front. It uses a single roof slanting on the main room and then the porch.
I love the fact that they have used the framework of an actual house and miniaturized it for a playhouse. This is sure to make your kids smile.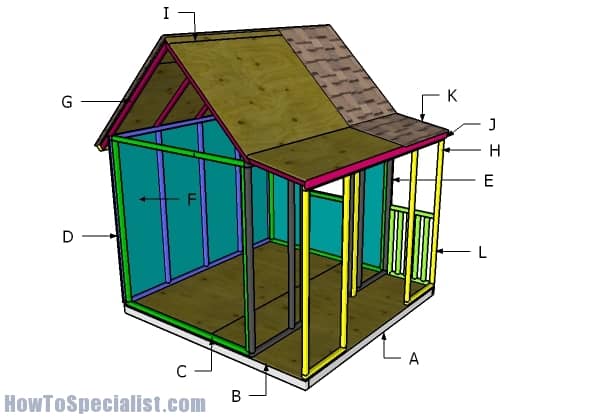 More details at howtospecialist.com
The Wendy House
A Wendy House is the above mentioned simple house with feminine touches. But worry not, this idea can be used as a playhouse for all kids. It has a small porch out front, with a small fence around it, and a slanting roof. You could decorate both the interior and exterior of the playhouse in a way your kids like.
Adding a small table and chair set on the porch will look adorable. Keeping small flower pots around the fence will make the house look cute, maybe the kids will be interested in tending their own small garden. You may even paint cartoon characters on the walls to add color to your little Wendy house.
More details at buildeazy.com
The Traditional Playhouse
If you're planning to build a traditional playhouse in your backyard, without all the thematic additions, these plans are what you've been searching for. It's a sort of miniature house with a fenced porch in the front. The windows are large to let in plenty of sunlight and breeze.
The homely décor seems quaint. It reminds me of the pretty houses from an English countryside. The pastel colors painted on the outside just adds to the freshness of the house. This playhouse just radiates happiness when you look at it.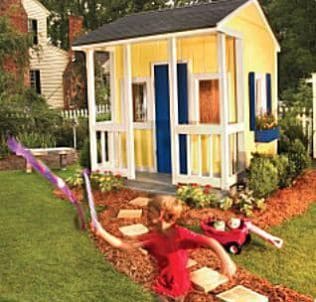 More details at todaysplans.net
The Shed Playhouse
Do you have a shed just sitting there in your backyard, with nothing but trash inside? How about you convert the entire shed into a fun playhouse! This will be an easy plan for someone who does not have expertise in building backyard projects, but still wants to take up on one.
Getting rid of the mold is easy. You can make windows with supplies from a local store, fix broken wooden planks, add a fresh layer of paint, et voilà! Your basic backyard playhouse is ready to use.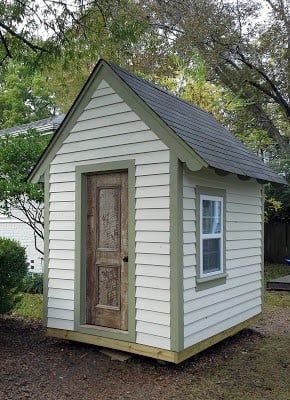 More details at aplaceimagined.com
The Pallet Playhouse
If you're low on budget and not used to detailed DIY constructions, this playhouse design is perfect for a small scale project. The entire playhouse is built using ready-made or recycled wooden pallets. These wooden pallets are easily available.
You can repurpose and modify the pallets to suit your own design. You can experiment with different shapes, reuse old wood, or use different colors to paint this brilliant playhouse. I do think this house will look prettier with hanging flower pots or vines. Your thoughts?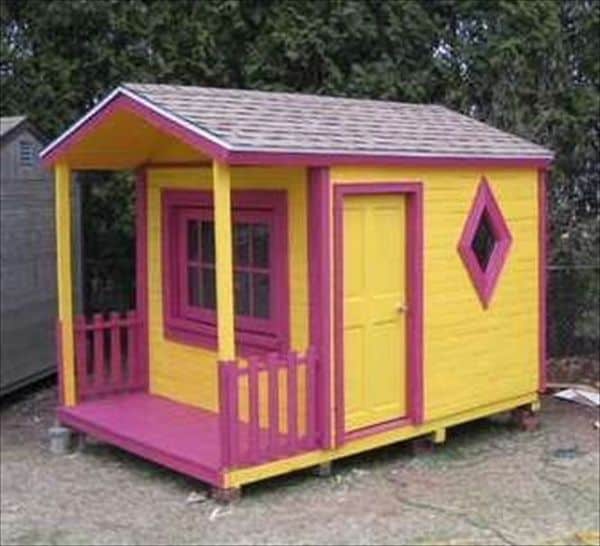 More details at instructables.com
The Old Pallet Playhouse
This playhouse will remind you of your childhood at your grandparents' place in the countryside. It's a simple design looking like it is straight out of the 1950s or 1960s. It's a quaint place with a door and large windows streaming plenty of sunlight.
It's made with wooden pallets so that it won't be as expensive. Give this idea a try, and you may see your kids relive your childhood at your grandparents' place. You can sit by the playhouse and tell them old tales and amaze them.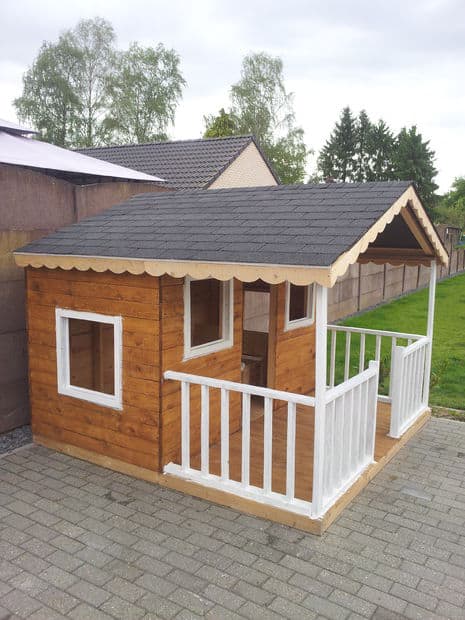 More details at instructables.com
The Rustic Pallet Playhouse
Another easy pallet design for an economic playhouse. This playhouse seems larger in size than the previous one. You can use the rustic theme for your playhouse, with pallet boxes doubling as seats and tables. Fairy lights or warm yellow lamps can give a really good look to the playhouse.
Another great thing about this DIY playhouse is that it can also be used by adults for their backyard parties. An underground shack or a garage theme can look amazing. After all, who doesn't like a minimal worn out ambiance for their garden outhouse?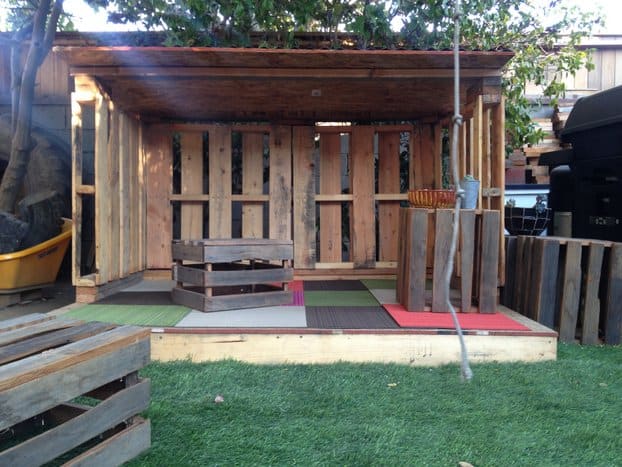 More details at builtbykids.com
The Cob-style Playhouse
You can build a small cob cottage for your little ones with natural raw materials. It just feels like you've been transported somewhere away from the city, and into the woods. The tiny size of this playhouse makes it look like a fairyland house, somewhere the elves might prefer to live.
The grass thatched roof gives it a very aesthetic look. Using soil and stone also regulates the temperature inside the playhouse, so you don't have to worry about your child playing outdoors in the summer heat. If you let vines grow around the house naturally, this playhouse will look mind blowing.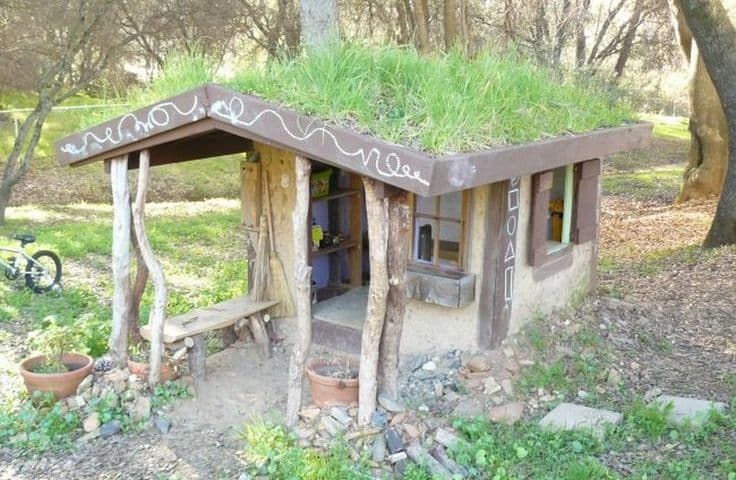 More details at instructables.com
The Log Cabin Playhouse
Do your children love going hiking in the woods and camping in mountain cabins? Now you can build them their own log cabin playhouse that gives them the feeling of camping in the woods. You can use wooden logs instead of planks for a more authentic look. You can also consider building a small pond, or a fire pit nearby.
It's a very economic backyard project if you're running a tight budget. So if your kids insist on having a playhouse, you can give this idea a look.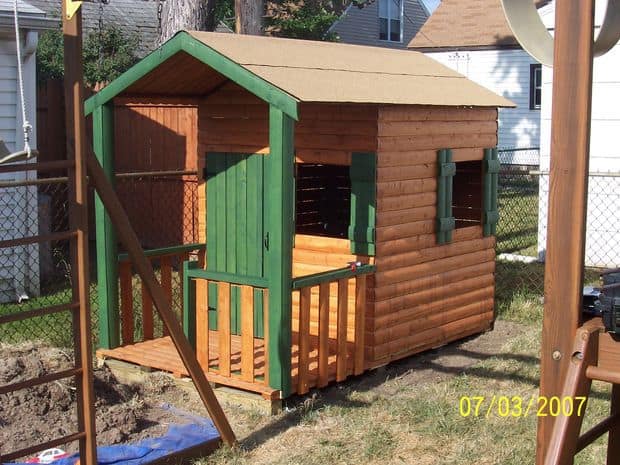 The Cottage Playhouse
This is a very adorable playhouse. It's a small wooden house with the framework of a cottage. It doesn't look too difficult to build with basic tools. You'll need just simple and basic cuts of wood for this playhouse.
It seems small yet comfortable and cozy. Kids can also have a really peaceful nap in there. I imagine it will look really pretty at night when decorated with fairy or Christmas lights.
More details at buildeazy.com
The Malay Style Playhouse
Children love the beach! The sand, the water, and palm trees are so amazing to be around. This playhouse can make your child live the island dream every day. It's a simple playhouse with all the characteristics of a backwater cottage house from tropical islands.
The long window shutters, the designs on their railings, the small steps, and the stilts especially just add to the theme of the house. Grass thatched roof will add a natural look to your playhouse. You can build a small pond underneath the playhouse and install a sandbox nearby to make it look like an actual island.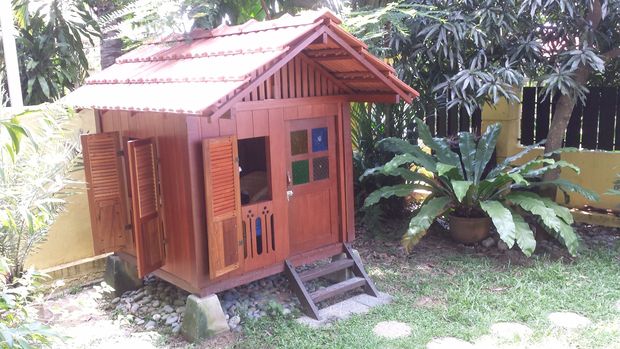 More details at instructables.com
The Outdoor Fort
If you have woods or hills behind your house, this playhouse can be yours. It matches the earthiness of its surroundings. This DIY playhouse looks really pretty because of the abstract shape and the rustic wooded look it has. The glass roof gives it a modern contrast, and if there's a less dense canopy overhead, I imagine the stargazing will be the most fun at nights. The entire supporting wooden frame makes it a sturdy structure so that the playhouse won't buckle under rough use. You can also go a bit more rustic, cast a glance at the log cabin playhouse idea at #11.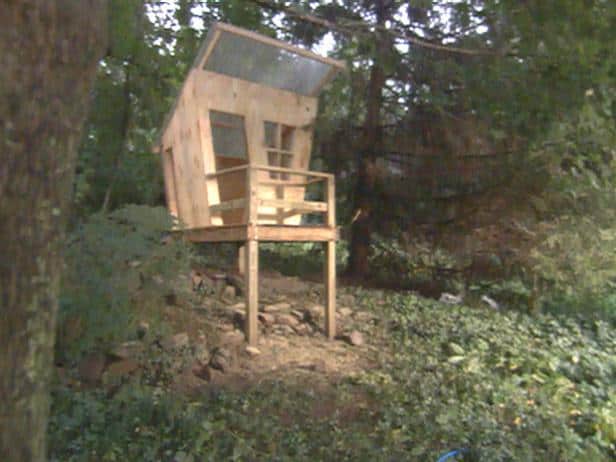 More details at hgtv.com
The Play Fort
This playhouse perfectly complements the castle you build for your kids. It's a double storied fun fort that your knights can run around in, with their flags and swords.
You can alter the décor of the fort into a medieval or a modern theme with drawbridges or camouflage tarps. A few lovely tapestries, synthetic flower bouquets, toy swords, shields and axes, small lamp lights, and mini portraits hung inside will add to the charm and feel of the fort. A tiny portable speaker that plays heroic music and battle sounds will spike up the make belief. You can even dig a long circular moat around the fort to give it an extra aesthetic look.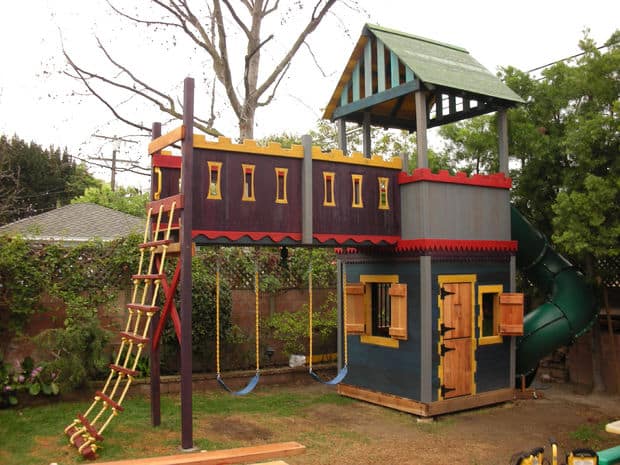 More details at instructables.com
The Princess Playhouse
This miniature princess playhouse can fit perfectly in your backyard. You can decorate it to resemble a castle, adding brass décor for the interiors. You may add a dragon and plush fairy toys for your kids to play with.
It seems like quite a detailed project to undertake, but if you're familiar with the basics, this guide can help you easily. You can simplify this design for a simple construction project. But there's a guarantee your kids will love it nonetheless.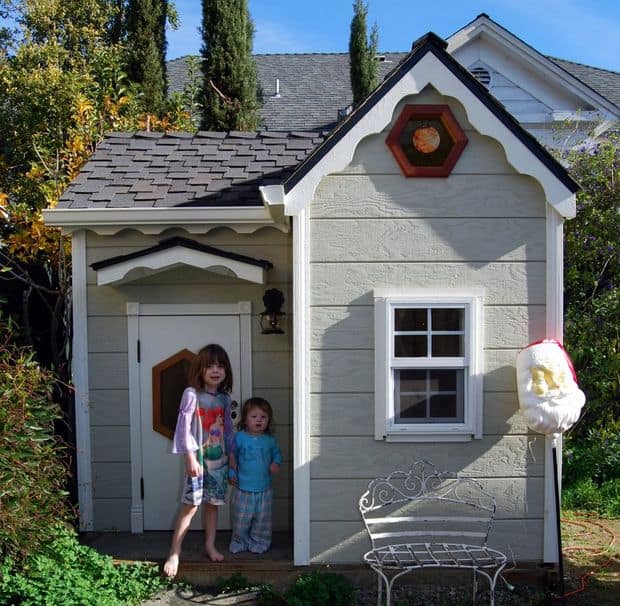 More details at instructables.com
The Playhouse With A Slide
If you don't want to build an elaborate play fort, you can build this playhouse instead. It's a simple outdoor playhouse raised on a platform. You can build steps to the house or a ladder, and attach a slide. You can also attach longer tunnel slide that goes around the playhouse and lands in a sandbox.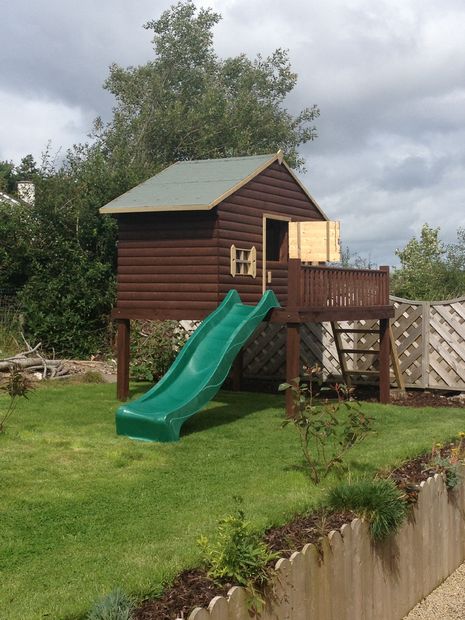 More details at instructables.com
The Playhouse Fort
This play fort comes with obstacles from an obstacle course. You will love this design if you want your kids to pursue some outdoor athletic activities. There are various designs for an obstacle-course playhouse available on the internet to choose from.
You can attach rope ladders, rock climbing walls, pulleys and slides to add charm to your little playhouse. You can even build a small pond as a moat for an extra challenge. See your kids race to the playhouse and have fun doing so.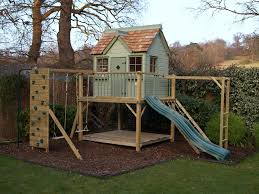 More details at instructables.com
The Fort Playhouse
We have another idea for a play fort in your backyard. It's small and quaint, but it's something kids are sure to love. It's a diy playhouse which can be easily built by someone experienced with tools. It has a small room with three walls. And there's a deck too!
You can decorate the place by storing toys and books inside, or adding chairs. The playhouse will look pretty fun with a slide as an exit. Painting the fort in bright colors will surely attract your child's attention, and your neighbors' too. You can use different railings to add to the charm.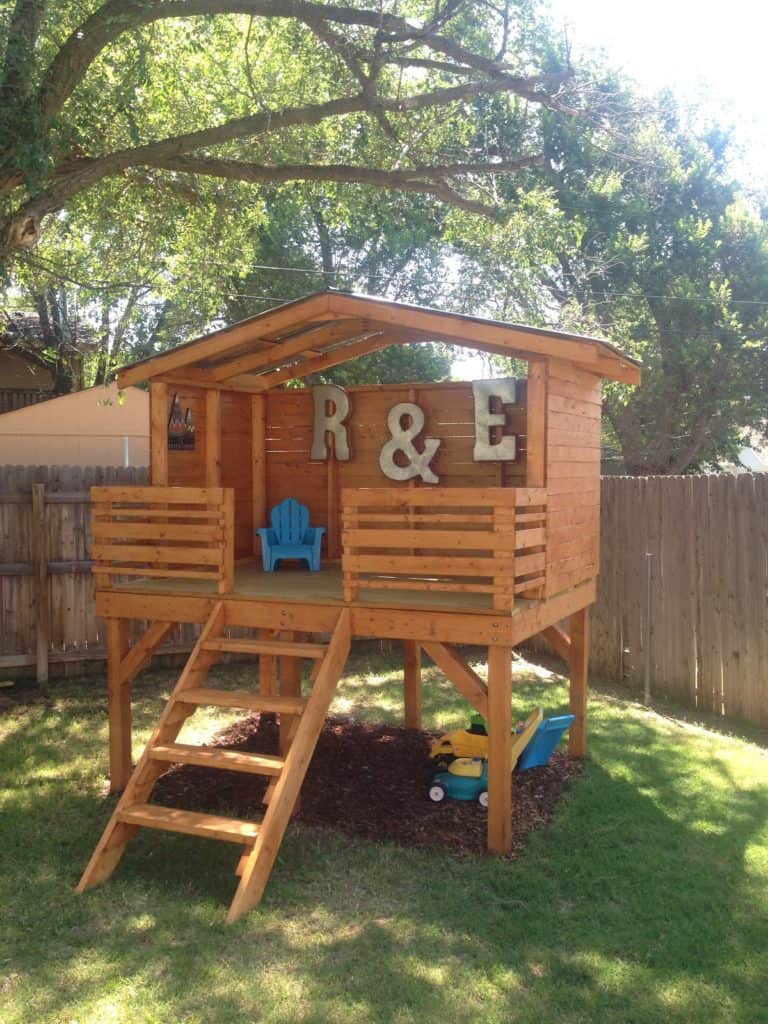 More details at m.imgur.com
The Swing Set Playhouse
Here we have a swing set – clubhouse combination which is easy enough to construct. It's a high deck with railings which is quite effortless to construct. The more challenging part is the attached swing set, but don't worry, it's not impossible.
Painting the deck in pastel colors can take away the otherwise monotonous look of the playhouse. Decorate it with flower pots and keep cushions for more comfort. Since it's just a roofless deck, you might not be able to store toys and books around, but you can modify the design to accommodate a roof.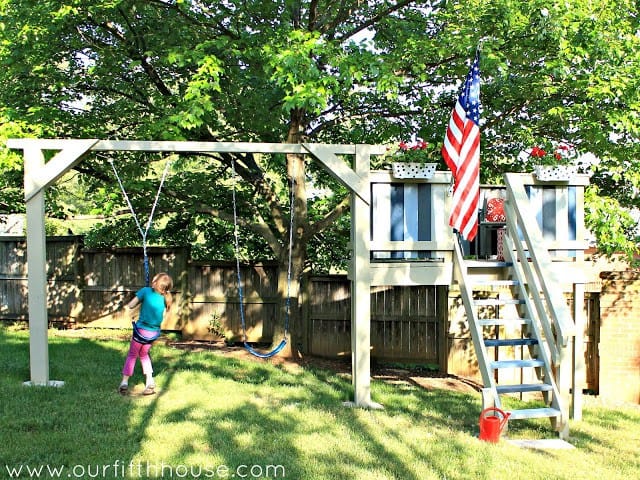 More details at ourfifthhouse.com
DIY Clubhouse Play Set
How about building an entire play set along with a playhouse? Yes, it sounds difficult to build, but trust me, these plans are very simple and comprehensive. It's just an upgraded version of the playhouse mentioned above.
It's a comfortably big playhouse with an attached swing set and a tunnel slide. It is two storied, so children can have fun going up and down the ladder and coming down through the tunnel slide. It has a rock climbing wall too! Check it out: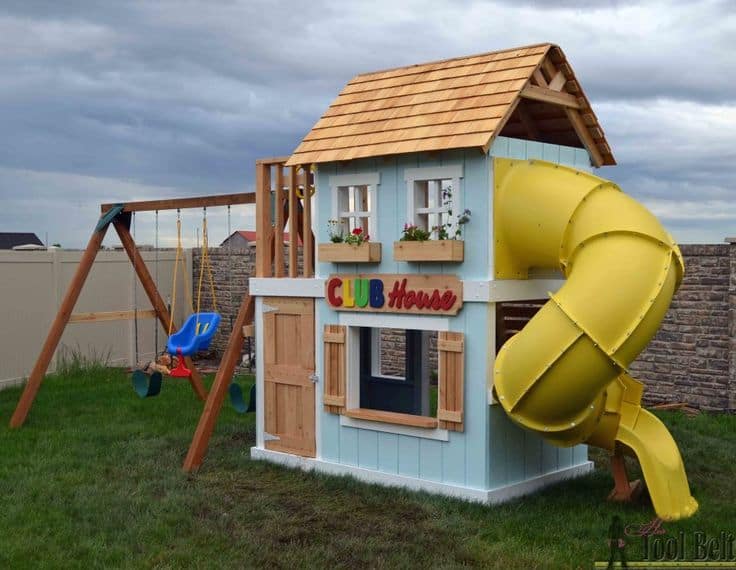 More details at hertoolbelt.com
The Elevated Playhouse
Kids love playing above the ground level for sure, that's why we have so many ideas for elevated playhouses. It is sort of two-storied, with a house on the higher floor, and an empty space on the bottom one. You can add a sandbox there. It's a complicated procedure, but the instructions are easy to understand, and the construction is simple to work on.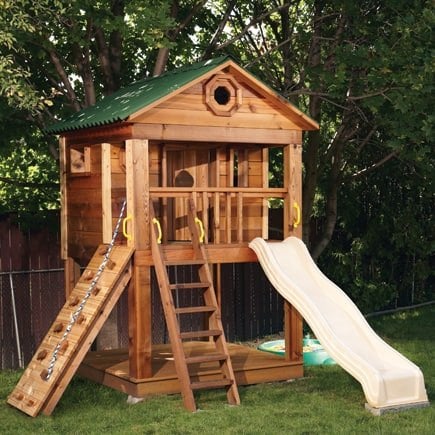 More details at canadianhomeworkshop.com
The Cottage Hideaway
If you're up for a challenging backyard project and don't mind extensive detailing, this cottage edition hideaway is a brilliant idea. It is elevated with a small ladder leading up to it, and a slide for the exit. There's a pretty reading corner inside, made all cozy with cushions and pillows. Under the reading book is the storage of toys and books
There's also a mini kitchen for your kids. The entire décor of the playhouse seems so homely, resembling the cottages from Europe. The best part about this playhouse is, the handmade window shutters which slide.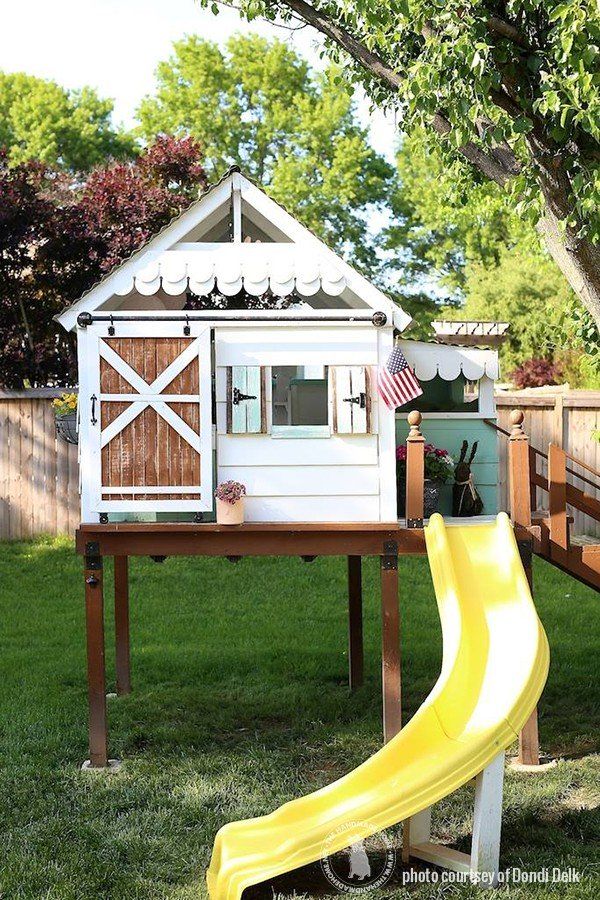 More details at thehandmadehome.net
The High Top Playhouse
We saw some playhouse designs built on high platforms or elevations. This design is similar to those designs, although this follows quite a detailed plan. You can adjust the height and size of the house if required, according to the space available in your backyard.
The platform is huge, and considerably high. You can reduce the risk of children falling off the edge by adding a deck or slides. You can build an adjoined sand box too. All in all, this playhouse is really fun if your kids love playing outdoors and having a bird's view of their surroundings.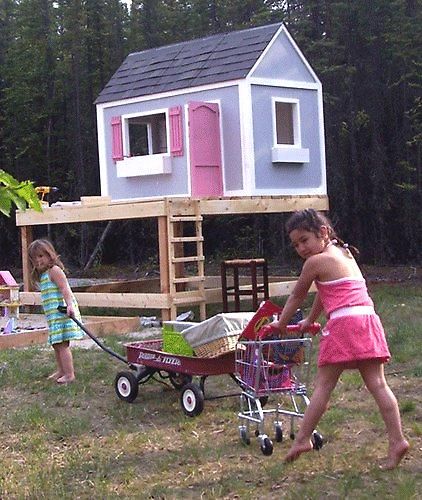 More details at ana-white.com
The Simple Hideaway
This is a simple outdoor playhouse, easy to build and to charm in looks. It has a simple interior decoration, with curtains hanged around the beams, shelves and small chairs. It seems like a place children will like to nap at, or study peacefully. Teenagers will love to spend time alone here, without going away from home.
You can build it on the ground or elevate it on a platform. Although if you choose to build it on a platform, you may consider adding a slide for extra fun.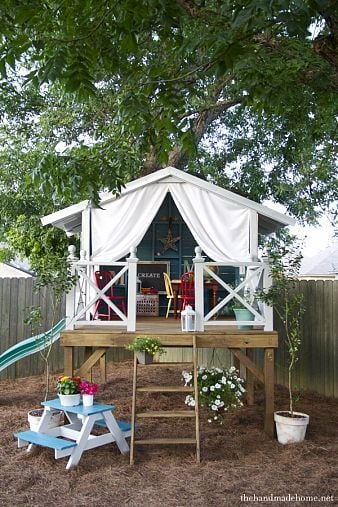 More details at thehandmadehome.net
The Tree Playhouse
How about building a playhouse that's also a treehouse? It's a simple treehouse built on an elevated platform against a tree. It's a low effort project and is quite easily approachable by beginners.
You can decorate the playhouse as you wish, or better yet, give a free reign to your kids and let their imagination run wild. It can be a fun clubhouse, or a treehouse, for the kids to hang out without their friends.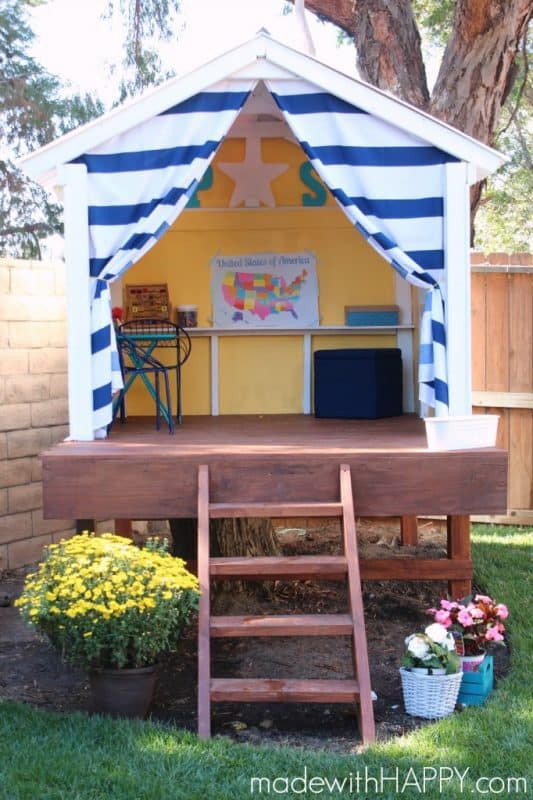 More details at madewithhappy.com
The Stump House
We've seen so many economic and easy to build a DIY playhouse for your backyard. This design is one of them. It's built on an old tree stump, so it's not that high up from the ground. It is made entirely out of repurposed wooden pallets, and it cost around $30 according to the website.
You can add cushions, pillows, and blankets, and use the playhouse as a resting spot for summers. Or you can decorate the place with lights, or install a lamp for late night reading. It feels entirely domestic, and rightfully so.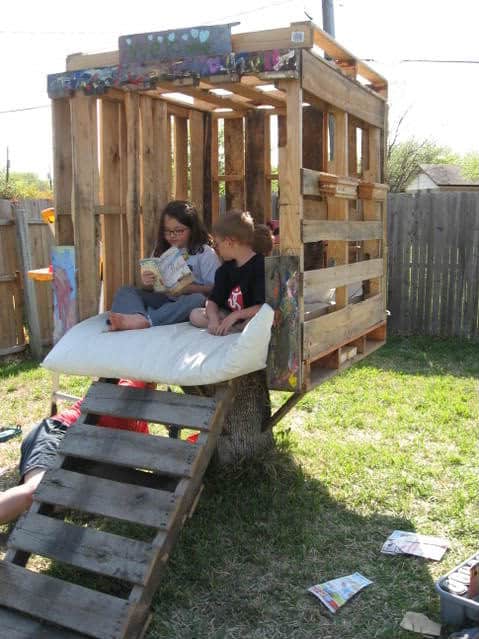 The Indoor Clubhouse
This playhouse acts as a perfect companion to your child's otherwise normal room. It doubles as a playhouse and a bed. The lower level works as a playhouse, and the stairs lead to the bed, saving up a lot of room space. So if you don't have a backyard to build a playhouse in, you can go for this nifty idea.
More details at ikeahackers.net
The Indoor Playhouse
This playhouse is really one of its kind, and quite frankly, really clever. It's a converted closet with a very stylish modified entrance. If you look closely, only the porch has been constructed around the previous existing closet door. So you can decorate the entrance according to any theme you like.
The inside of the closet can be large enough for children to play around. You can store books, toys, and games inside the closet. It's a very nifty idea, and economic too. You don't even need to have a backyard to build your very own playhouse now!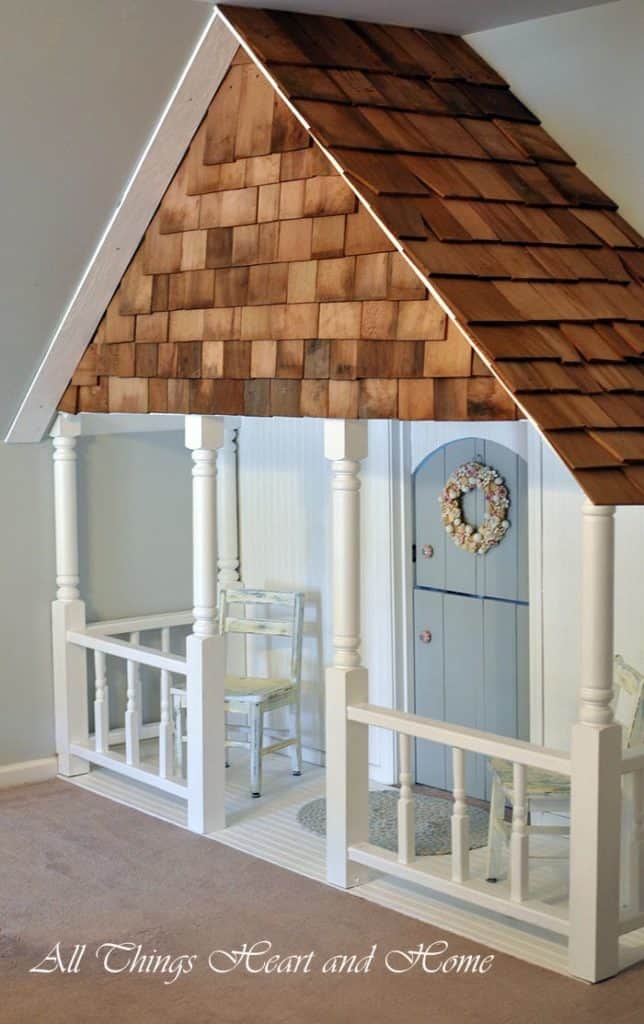 More details at allthingsheartandhome.com
PVC Pipe Fort
This diy playhouse is very easy to assemble and disassemble. It can be suitable for both indoor and outdoor use. This design seems quite easy to put together, and the best part is that it is quite portable.
The frame of the playhouse can be built really easily and in any desirable shape. And you can cover it with whatever unique material you like. The playhouse in this picture is a simple cube covered with curtains of varying colors. You can also try to build it in a shape of a tent.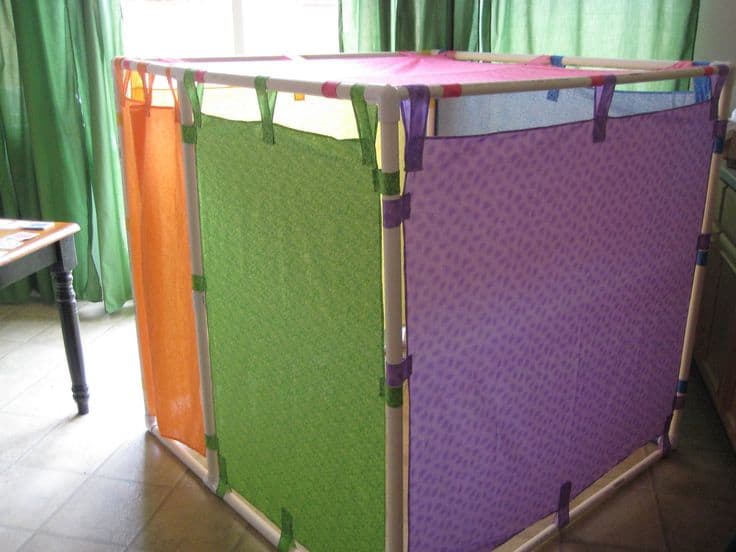 More details at indigoamethyst.blogspot.com
The Reading Nook
Reading in a garden on a breezy summer day seems so dreamy. It's such a soothing and relaxing activity. You can inculcate this habit in your children or encourage your teenager to read more, by building them their own little library in the backyard.
Using an old tent, or hanging curtains on the poles give it a really homely feeling. Adding cushions and blankets inside can make reading a very relaxing experience. Fix shelves into the wall to store your kid's favorites story books or adventure novels, and see them get lost in their world of fantasy.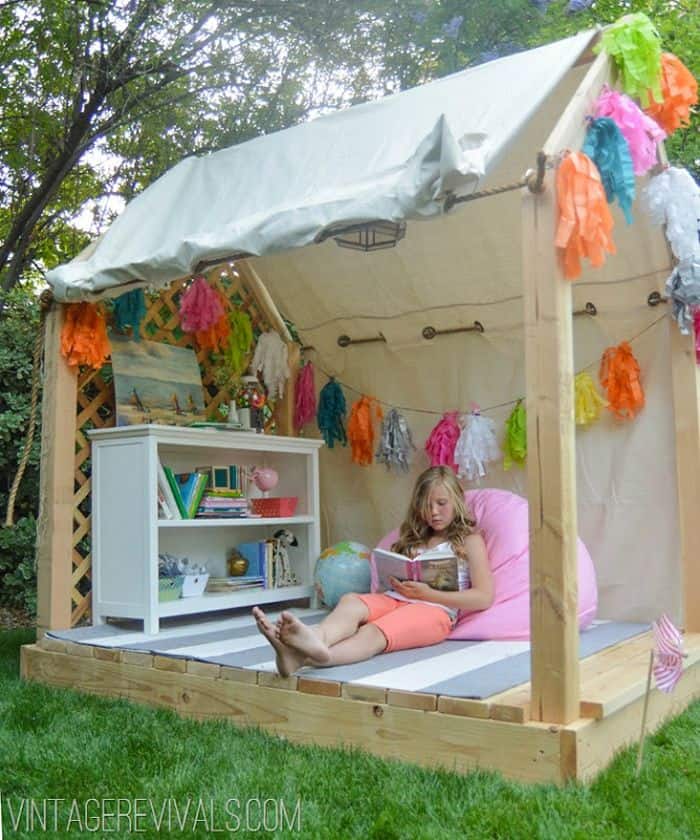 More details at vintagerevivals.com
The Triangular Playhouse
Are you looking for a playhouse design which isn't the same old box-shaped one? Then this unique design is something you're sure to love. Building this playhouse doesn't take many skills, and replicating this project is not a far-fetched idea because the instructions are quite easy to understand.
This playhouse built in a triangular shape is small and quaint, and can fit in a small space. It has a small loft, a play area, storage under the floorboards, and the best part – a foldable roof top. So you can keep the toys inside the playhouse without any worries regarding their damage.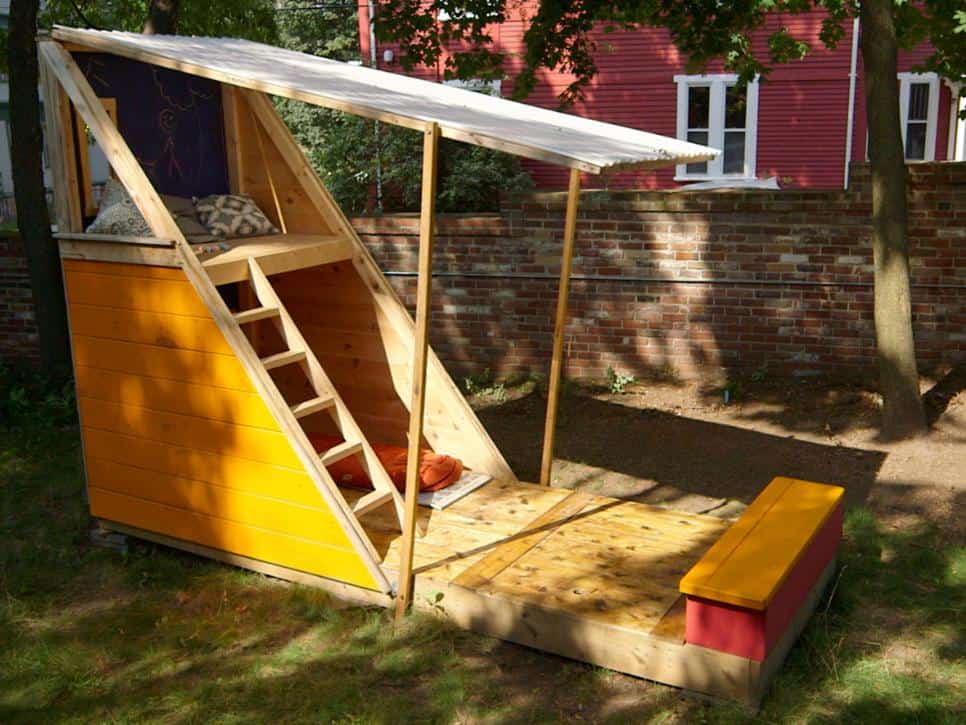 More details at diynetwork.com
The Modern DIY Playhouse
Now, this idea is quite ingenious. The designer came up with it on his own because he didn't like simple playhouses, and he made an instruction guide for anyone who wanted to make a similar playhouse. There's a new trend in carpentry where furniture can be folded and fixed into a corner to save space. This playhouse makes a very opportunistic use of that trend.
It's a small minimalist wooden shack, but really cozy inside. There is a foldable table installed inside the playhouse to save space. The windows are made from plexiglass for protection. There's an adorable picnic table too, right outside the playhouse.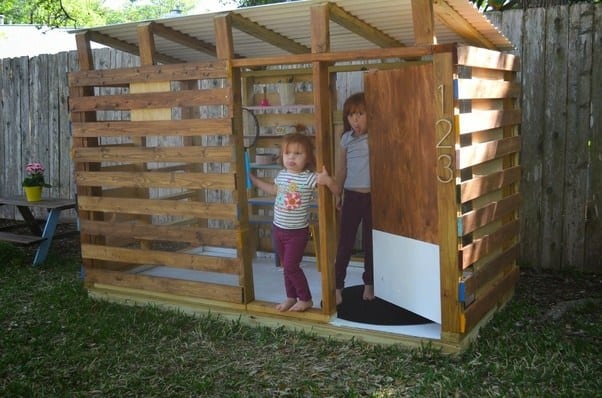 The Repurposed Modern Playhouse
If you don't want a pre-fabricated kit for your kids' playhouse, you can build your own design from scratch. Using repurposed material like wooden planks, corner posts or pipes can reduce your expense on this project.
You may attach a slide and use the area under the DIY playhouse for the sandbox. The interior of this playhouse has been decorated in a way that resembles a modular home. It even has its own mailbox!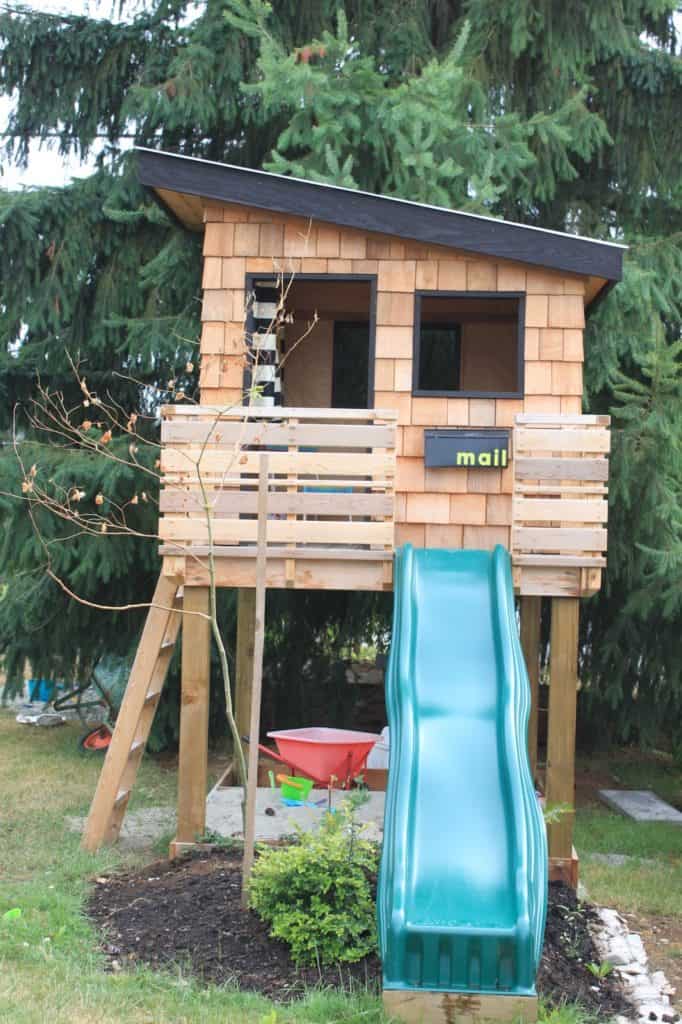 More details at dirtdiggingsisters.blogspot.in
The A-Frame Playhouse
A-Frame Playhouses are one of the traditional playhouse designs that still work today. The best thing about these types of playhouses, is that they can be modified and redesigned easily.
This diy playhouse uses old doors with popping bright colors in the place of wooden panels. These doors can be easily found at a local recycling shop. The already painted colors add to the abstract nature of a freestyle playhouse. It can be made cozy with cushions and blankets, with curtains for covering the doorways.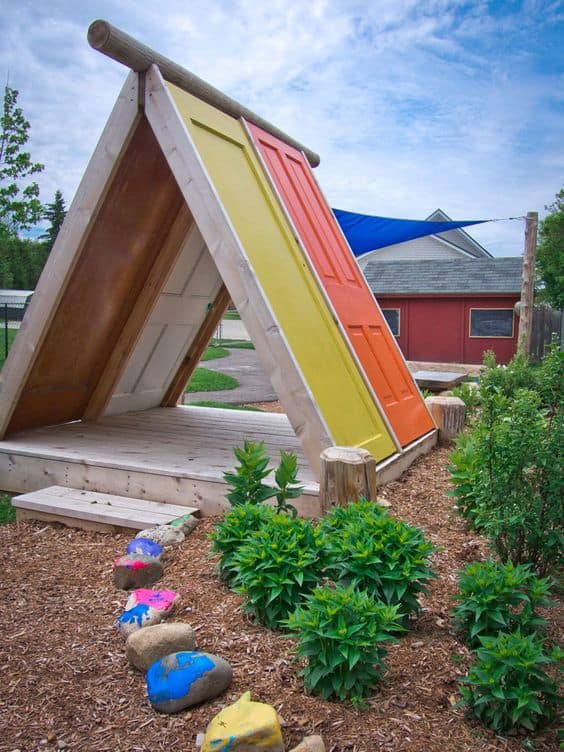 More details at tinyhouseliving.com
The Pirate Playhouse
All hands on the deck! Every kid wants to be a pirate and imagine having adventures across oceans. So build your kids a playhouse which lets them explore their pirate adventures. You can attach a steering wheel to the deck of the ship, unfurl flags on the mast, fight with swords, and release the Kraken!
The plans for this playhouse are quite extensive, so you'd need a bit of experience in construction and carpentry. You can even build a small pond around your pirate playhouse for extra charm.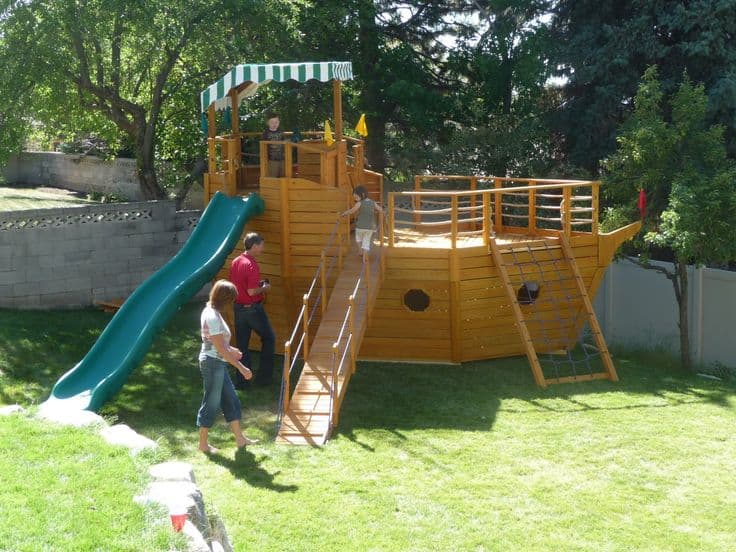 More details at instructables.com
The Saloon Playhouse
All kids love to be cowboys and cowgirls. This playhouse caters to the theme of the wild, wild West. Building this saloon is simple and quick.
You can use old wooden articles to add a dingy look to the playhouse. Cardboard cutouts and picture frames of Yosemite Sam or Wile E. Coyote will fit just brilliantly with the entire theme. Not to forget the iconic swinging saloon door for a cool entrance. Let your imagination run wild.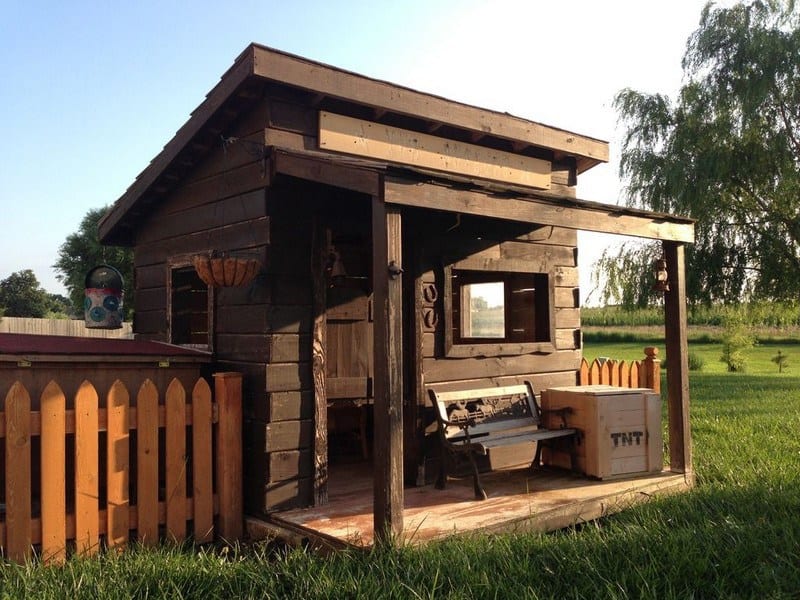 More details at project.theownerbuildernetwork.co
The Gothic Playhouse
This DIY assembly playhouse resembles the medieval gothic architecture from the old times. It has high ceilings with high doors and windows. There's a small porch landing outside the door with picket fence fixed around it. You can decorate the playhouse with different kinds of flower pots, or make a small pavement leading up to the porch with garden pebbles.
More details at southernpine.com
The Rustic Playhouse
Look at this designer yet rustic playhouse! It looks straight out of fancy magazines. The details of this project look amazing. It looks like a house belonging to a wizard from the woods.
It has a small chimney, pretty windows with flower boxes, and tiny benches surrounded by an adorable garden. You can add to the decor of this playhouse by hanging a few portraits inside, some small chairs on the porch for the kids to sit in and a tiny table inside. Kids will feel right at home with this playhouse resembling an actual house.
More details at ronhazelton.com
DIY Hobbit Hole
The Hobbit is one of my favorite books since childhood, as it is for many kids. If your children love to live life, Hobbit style, this playhouse will be perfect for them! It's short, so no adult can enter the pretty hole in the ground and ruin fun time. The nontraditional design is refreshing to see in the backyard, and will make guests and other kids look awed at your little project.
You can pep it up a little more by adding a lot of fun Hobbit related stuff like the famously infamous one ring, copies of the Hobbit and the Lord of the Rings, a few plushies of the characters, and perhaps some Hobbit themed pies as a weekend serving! Installing a small portable speaker inside and playing the whimsical Hobbiton soundtrack will definitely take the kids to Middle-Earth!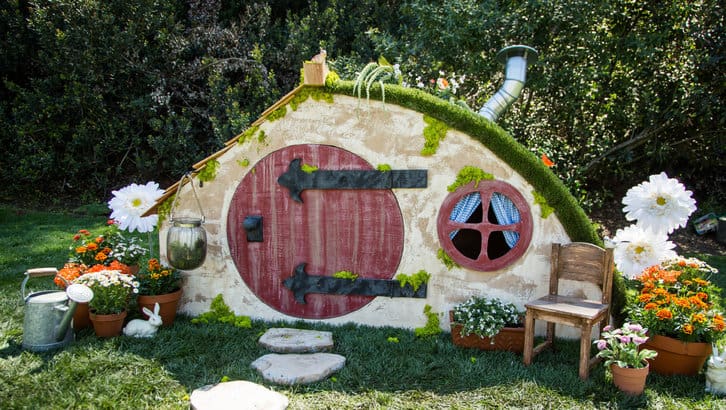 More details at hallmarkchannel.com
The Hip Kyoto House
This product looks like it's straight out of the unique architecture catalogs. It's quite different than most of the modern playhouses we've seen so far, but look wise it's really mesmerizing. You can assemble this stylish playhouse anytime, anywhere.
The abstract polygonal doors and windows make you feel like you're in future, on an alien planet. The windows are covered up with thick glass, so you don't have to worry about your child getting injured by it. Monochromatic light will make the playhouse look like a futuristic spaceship.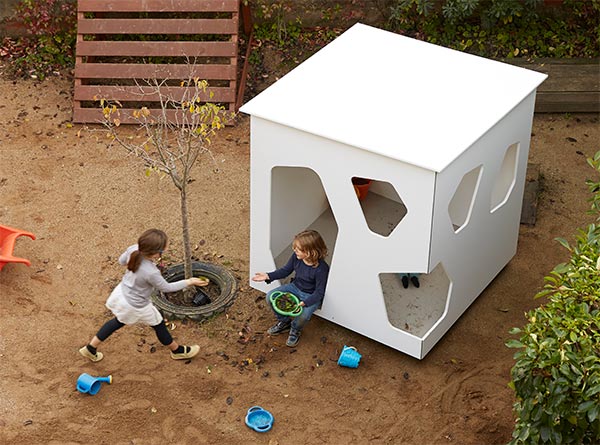 More details at smartplayhouse.com
The Interlocking Puzzle House
If you're interested in getting a portable playhouse design, look no further. Modern architecture has brought to you this simple playhouse which needs no tools or carpentry skills. You can assemble or take it apart in no time. The flat interlocking panels can be easily shipped or carried with you to allow assembly anywhere. So if your little one loves to be in the playhouse a lot, you can carry it with you wherever you go.
Paint the panels in bright colors and see you kids have maximum fun. Hang toys from the windows, or store books inside the playhouse. There are infinite possibilities.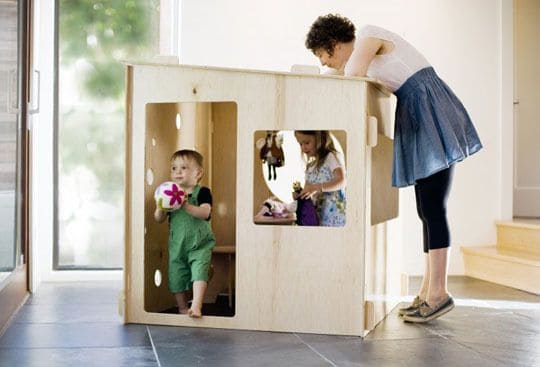 More details at svendnielsendesign.com
The Luxury Playhouse
This playhouse can be used by both kids and adults. The modern and sophisticated look of this playhouse is very stylish. It has two rooms divided by an indoor wall, and curtains can be added as per your requirement. The sliding doors and windows really add to the entire futuristic theme. So if you don't mind spending on a playhouse, you can consider having this unique product in your backyard.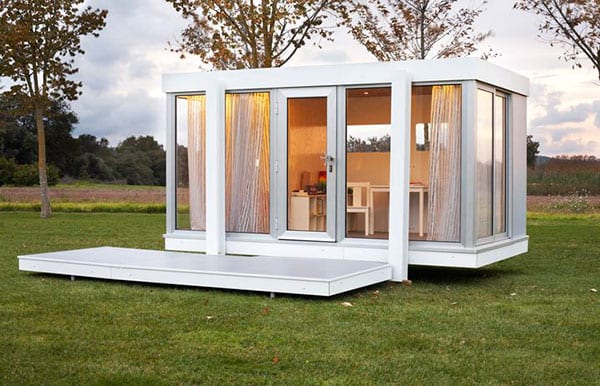 More details at smartplayhouse.com
What do you think of these DIY Playhouse Plans? Find anything unique and likable? Most of them have caught my eye, and I'm sure to try one of these shortly.
What I like most about these designs, is the fact that you can modify them the way you like. You can experiment with absolutely anything: wood, metal, glass, cloth, whatever you can spare. So even if you're tight on budget, you can repurpose old supplies and make something new, something refreshing!
I suppose most of you have pet dogs or cats, or maybe both! So you can build an adjoining kennel too. Kids will surely have a great time playing with their furry friends in their private hideaway.
So get working on your brilliant ideas today, and surprise your little ones with their fun playhouse.