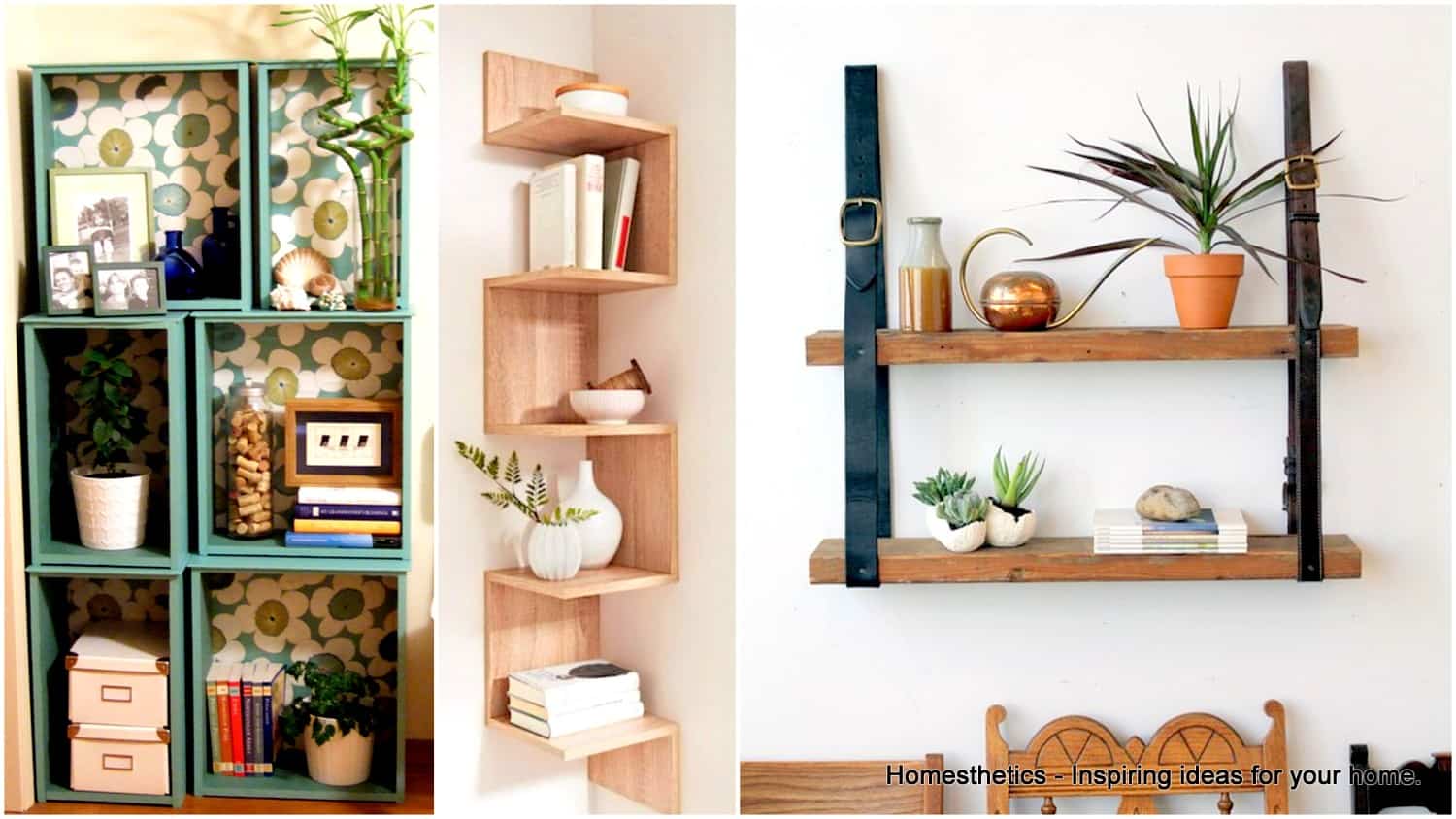 There is absolutely nothing that can be a permanent companion, a friend and sometimes a guide other than a good book! One is never alone in the world of books. It's like an ocean of learning, for the young and the old. The earlier one picks up the habit of reading, the better it is.
If one is fortunate enough to own many of these, a convenient storage place is always a welcome in the house. It's even more exciting if it can be created!
"I have always imagined that Paradise will be a kind of library" Jorge Luis Borges.        
If you`ve found the diy bookshelf plans  below interesting we invite you to check various other free woodworking plans, we have curated lists that will show you how to build a router table, duck house, deer stand, bat house, tiny house, rocket stove, diy tree house, cat tower, garage, fire pit, porch swing, greenhouse, small cabin, farmhouse table, pole barn, rabbit hutch, diy dog bed, a playhouse, a chicken coop, a coffee table or a gazebo.
 DIY Bookshelf Plans and Ideas
1. DIY Bookcase
Considering something super simple to build on your own, that is less time consuming? This one idea won't let you down!
This personal home library requires some basic material such as wooden planks measured and cut depending on the space it needs to display in, and a few supports for the wood used. They could be either wooden (as suggested in the tutorial) or one can utilize any leftover metal pipes or brackets from previous home renovations.
The final product- a contemporary bookshelf, build with a simple apparatus. Do check out the tutorial in the link provided below, for further details.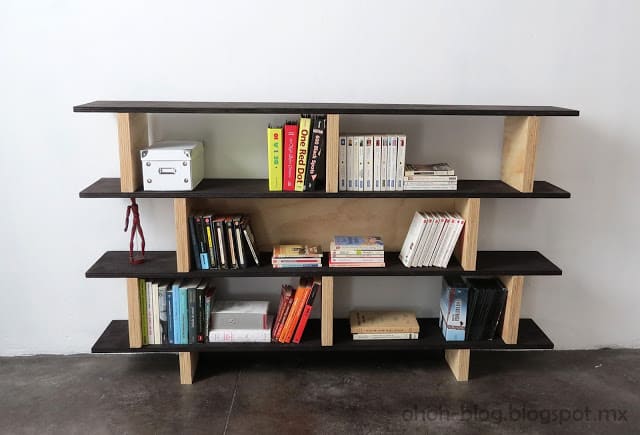 More details at ohohblog.com
2. Twin Storage Headboard Base Plans
Storage can never be enough for a home with children. Especially if the family is midsized to a large one! A headboard with optimum storage space is an ideal solution in children's room to accommodate most of their belongings, so that they can have an easy access to them on a daily basis, and not litter them everywhere. The headboard can be revamped for them, according to their choice of colors and need.
The same can also be replicated for the adults, where they could use it for storing their books, maybe the best architecture books that they must read and daily use; it was made to look sophisticated and modern to suit the room interiors.
The tutorial in the link below will show you how to do it!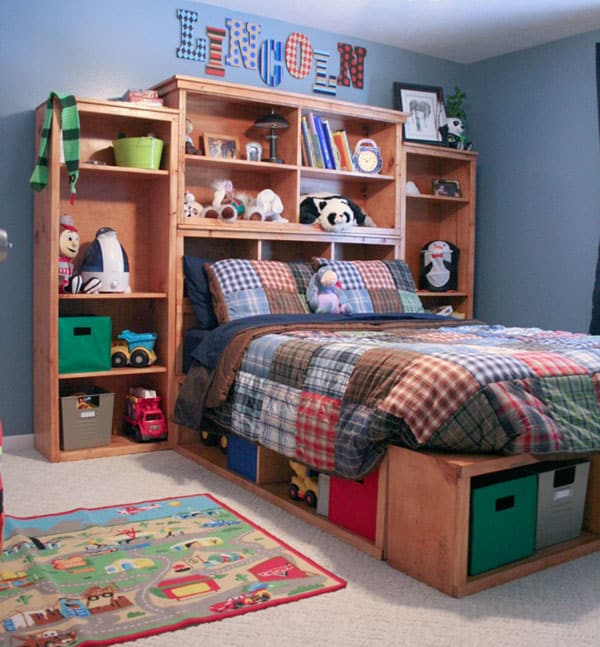 More details at ana-white.com 
3. Life with Fingerprints Bookshelf
A great idea in homes where there is space constraint to have an area dedicated for a bookshelf. Also, if one does have a large place, but doesn't want to put the shelf on the floor due to children around (as they tend to be fidgety with books sometimes!), this one idea shall help you build what you need.
Designed with a barrier on each level, the books don't tend to fall off, when taken in a hurry. It can be easily hung on the wall, without taking up too much space. It's extremely practical and useful.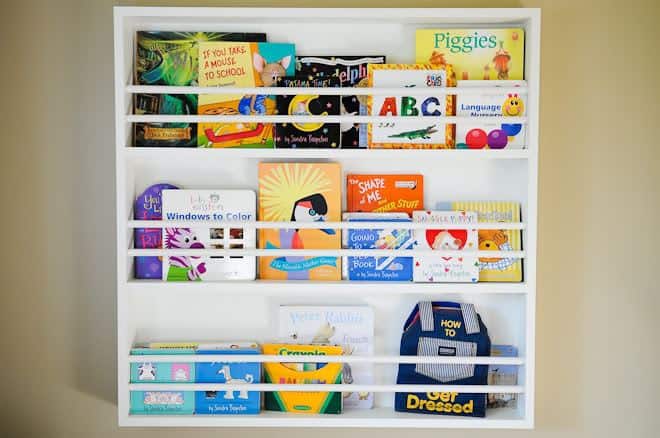 More details at lifewithfingerprints.com 
A fun design, shaped like a tree, which your child and you would love! It will spruce up a dull corner or wall of any room that needs a lift. Can be polished or colored to match the mood of the environment and be a productive solution to store your books.
Building it requires a straight forward step-by step guide, to make the construction of the tree uncomplicated, which could be followed while designing for a child's study or play room, a home-office or your living room- to stock books according to interest.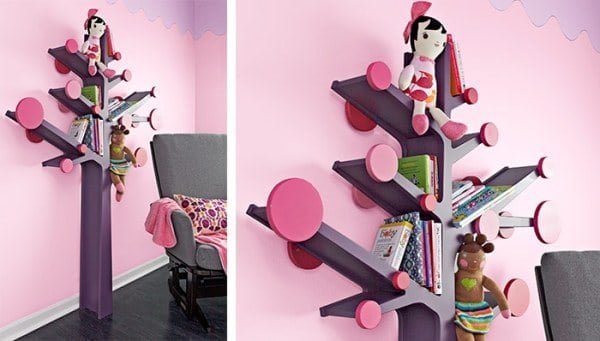 More details at lowes.com 
5. Mounted Shelving Unit
The availability of well designed shelves in any room is a great option! Not only do they solve the purpose of storing decor objects but also daily utility things. Be it a country looking stack of shelves or an industrial one, this unit shall be work for a lot of different things, especially books.
This particular design gives an industrial look which works well with both contemporary and traditional home decors, with an extremely simple assembly. Hang it on a wall or just place it against a suitable wall in your house, it comes very handy.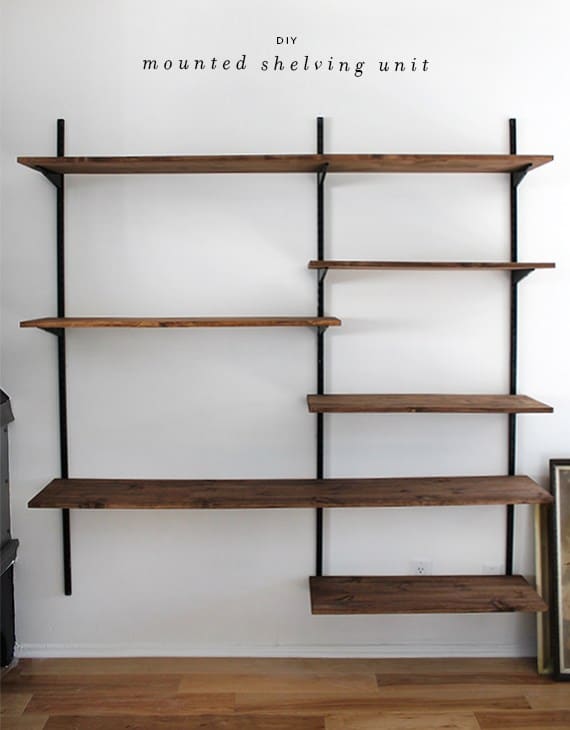 More details at almostmakesperfect.com 
6. Contemporary Bookcase
A classic piece for displaying all things pretty like precious curios, charms, photo frames, tiny trinket boxes and last but not least,  a prized collection of books. A simple yet detailed method to assemble this bookshelf helps the user feel like a pro, with self explanatory images to understand the construction better.
Not only does this design look chic in a house it's also very simple yet eye-catchy. If one doesn't desire to keep it in its natural tone of the wood, it can be simply spray painted into vivid hues to match the interiors or to bring life to a wall.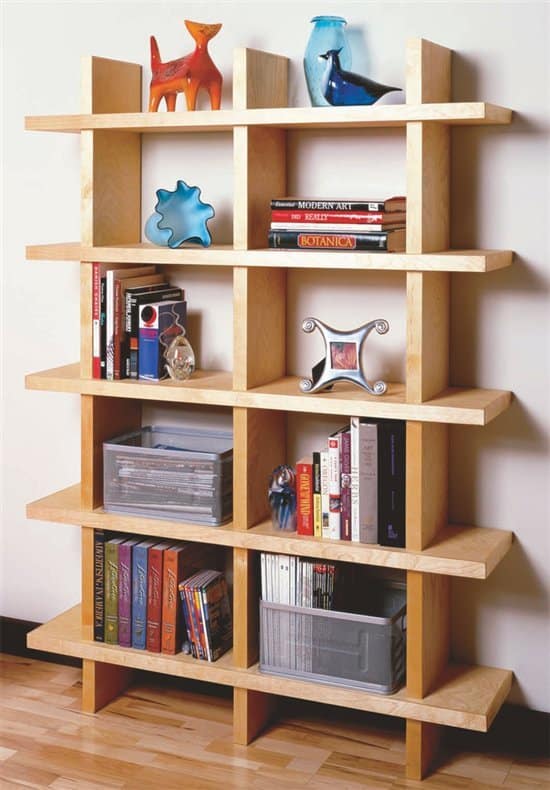 More details at popularwoodworking.com
7. Ironbound Bookcase
When considering something for your home-office or a study room, this design will be a great choice. The combination of metal and wood in this bookshelf gives it a very professional appearance.
A clean design that involves the usage of larger tools for building it that can be used with the help of someone who is experienced in how to operate them, just in case you are not, for the purpose of safety.
With the help of only a few materials required to build this design, it's pretty cost effective yet extremely sturdy! The detailed manual in the link below is very comprehensive in order to help for the desired design.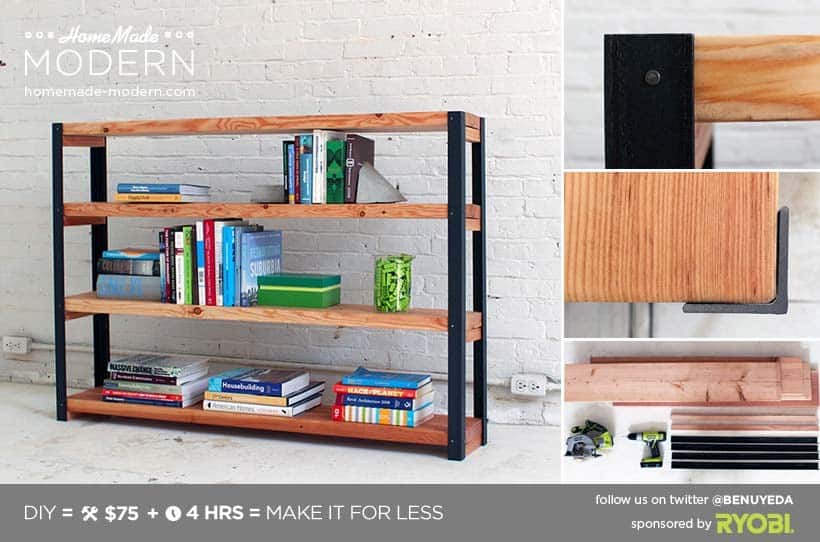 More details at homemade-modern.com
8. DIY Kentwood Bookcase
Looking at a bucolic piece for your home? Then this is the one for you!
Very inexpensive and affordable, this bookcase comes with four wooden shelves placed at a considerable gap, to house large to smaller books, not worrying about if a particular favourite of yours would fit or not!
A simple, easy to build design, primarily introduced by Shanty2Chic- that is run by two DIY-professional- sisters who create attractive yet affordable furniture designs for homes.
The tutorial to built the Kentwood bookcase, comes with detailed images that will step-by-step will help achieve the target, along with a list of places from where the materials required can be bought. What more can one ask for when looking at a DIY project!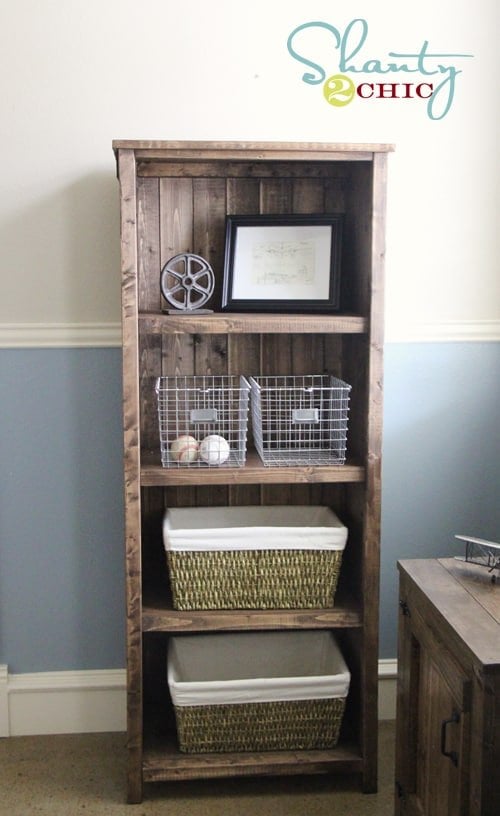 More details at ana-white.com
9. The Six Cube Bookshelf
A stunning modern piece to add a glam quotient to your living or study, this L- shaped design will add an extra oomph to any corner, thereby making it appear classy.
A sectional design that comes with baskets to be fitted in it looks very different from the ones suggested above, unique in its own way.
The baskets could be organised and labelled according to the objects in it, or if one is using it only for books then they could also be sorted according to interest. Another way of doing the books would be the ones with beautiful covers can be stacked together and the worn out ones be kept inside the basket, so that they don't look ugly outside.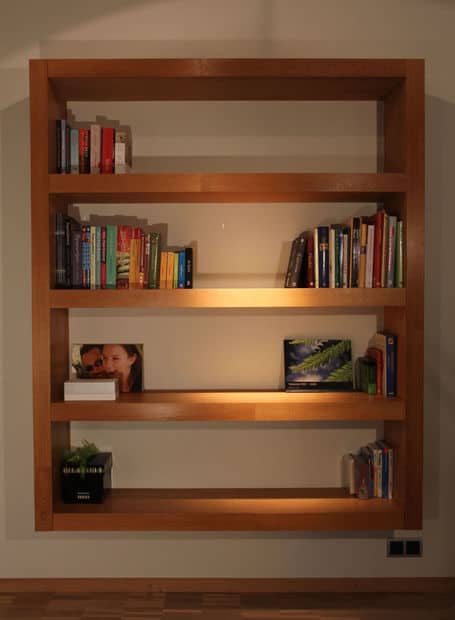 More details at ana-white.com 
10. The Floating Bookshelf
Similar to the children's bookshelf discussed above, this one can be hanged on the wall, taking up very little space that makes it easier to keep it dust free. Due to that it makes it very practical for a small home-office or even a children's room.
The design is very appealing and modern day, and the manual comes with to- the- point notes, that are simple to follow.
The Floating bookshelf is strong enough to take the weight of heavy books or journals, along with adding a touch of art if you please.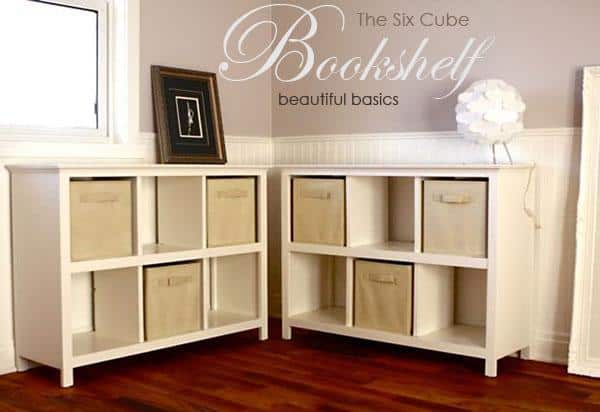 More details at instructables.com 
11. Industrial Bookcase
The looks of this one is very formal when installed in any room, hence, it's suggested to limit it to a living area, a study or your home-office. Comes with an optimum width and height, it doesn't take up too much area, unlike its industrial counterparts.
With a dual toned finish, the bookcase looks particularly elegant, that can be adorned with metal decorative objects along with books, to give a breathing space in between shelves. If stacked with books without any spaces in between them, the design can lose its appeal.
Similar bookcases are often available at high end furniture stores, with a soaring price. The same if replicated at home, at a cost which is not even half as the market price, it becomes self-built- cherished possession.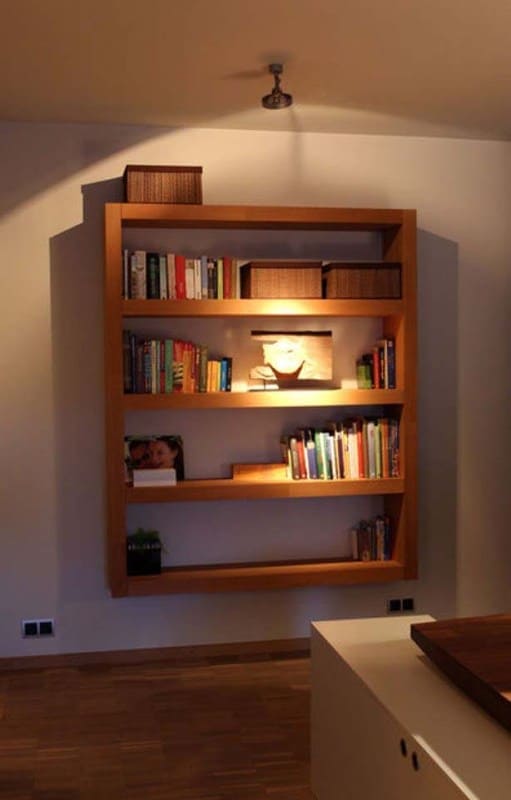 More details at rogueengineer.com 
12. The Classic Bookcase
This bookcase falls in the 'Classic' furniture category that can be accommodated in any style home. A very spacious design, it has a good capacity to house several hard-bound books along with the regular ones. One can even decorate a few miniature house plants such as succulents, to make it look interesting.
Can be constructed using basic plywood, as building the entire piece with hardwood would be expensive, one can even opt to paint it according to the color scheme of the room interiors.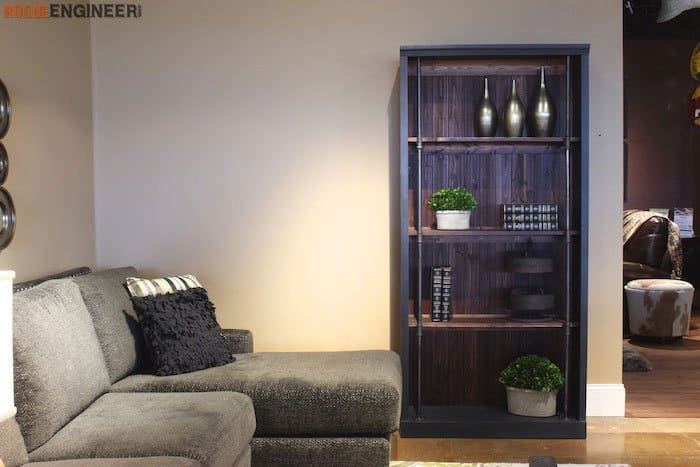 More details at jayscustomcreations.com 
13. The Ladder Bookshelf
If looking for a fun yet productive element for your home, this one will surely appeal to you. A great way to re-use an old piece, in this case a ladder, this one ensures that you make most of what is already available in your house. The result, cost effective and strong!
Due to its rustic appearance, it would look great on a patio or a porch where one can relax, read and unwind. The tutorial that comes with it even shows how to build in a desk within the ladder for better productivity. Enjoy building your own!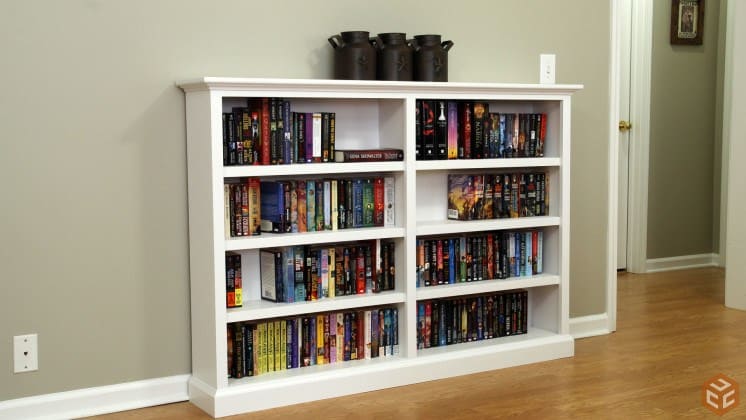 More details at shanty-2-chic.com 
14. The Boat Bookshelf
Very fresh in its design, this is for the ones who absolutely love having all nautical-inspired things in their homes. Also, if you are fortunate enough to be living near a beautiful water body, this design is ideal to be adapted with your surroundings.
An out-of the box design, you may rarely see this in anyone else's home, making it quite unique. Looks great with a smooth finish and a wood color of your choice, and can be combined with materials such as glass rather than going the all-wood way.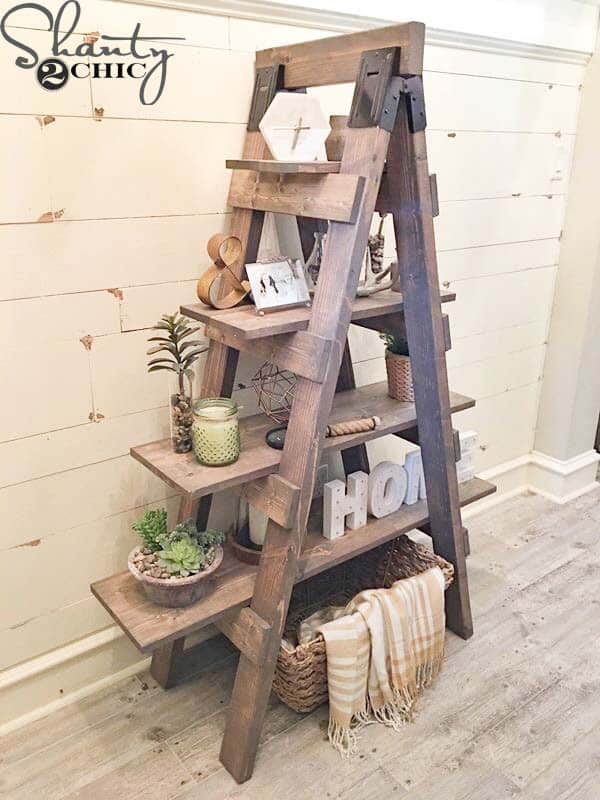 More details at homehardware.ca 
15. The Plumbing Shelving Unit
Works best for large rooms that have ample space on or near the walls to place it, as the design form takes sufficient space, for it to look catchy. As far as the productivity goes, it can house a variety of things, such as decor items, frames, or even tiny storage boxes and most of all books.
An industrial appeal, it can go well with any room interior as long as you're willing to mix and match materials and are not rigid to a follow only one particular theme. Looks great against a light colour wall, it can also be improvised according to choice.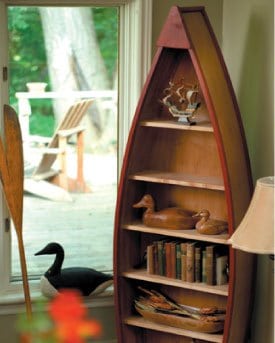 More details at the-brick-house.com 
16. The Simple Bookcase Plan
This bookshelf displays a simple and concise design, which has an equally easy way of building it. Can be considered as one of the classics in furniture, this one holds good amount books due to its sturdy property, once being built with solid wood and not ply.
If your purpose of having a bookshelf is only to display books of your choice and not keep other materials with it, this one is totally for you, due to its measurements. However, those can always be altered but then the same would require more space too.
Designed with legs, it can be easily placed on the floor, without it being wobbly, due to the strength it holds. A fun fact, you can always take help of the younger member in your house to build this up, as it's not too high, and they can easily reach it. Education and fun!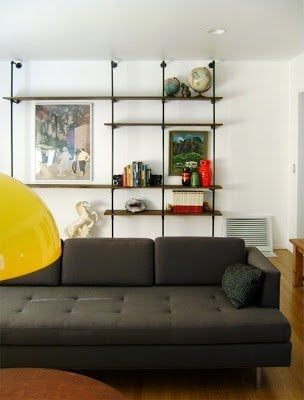 More details at familyhandyman.com 
17. From Kitchen Cabinets to a Bookcase
Another fine example of remodelling furniture and re-using what already exists in the house.  The bookcase involves using your old kitchen cabinets, and building new shelves on top of them. The final product can also be used as an entertainment unit, housing a television, books and things of your interest along with ample storage to keep other utility objects.
Multi-purpose in its design, it can be made to look ultra chic, when in contrast to the colour of the wall it's placed on, along with keeping the upholstery of the room in mind.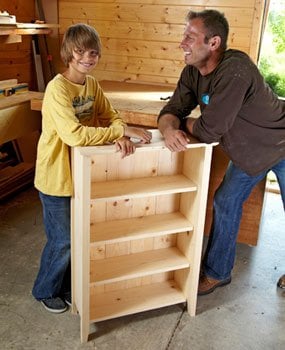 More details at worthingcourtblog.com 
18. The Super Simple DIY Bookshelf
The simplest of all DIY's discussed above; this one can be even made by children themselves with minimal adult help. Also would look great in their room!
All it involves is re-utilizing old crates that have probably been condemned by the storeowner or if you're looking at new ones, a variety is available online from where they can be procured at a good price. Choose the height needed and stack three to four of these, to make a bookcase.
If the basic brown of the crate doesn't appeal, they can spray painted in vivid hues to brighten up the room.
More details at crazylittleprojects.com 
19. DIY Colorful Crates Bookshelf
An interesting project especially if one is a beginner in the DIY field, and a bit wary about taking on a more crafty design, this one will totally grab your attention.
Simply built on a ladder with wooden planks going through each level, it can be made to look cheerful by painting it in a bright color and placing it in a living space. Whether one uses it for stacking books or attractive decor pieces, this one is sure to suit every pocket and space.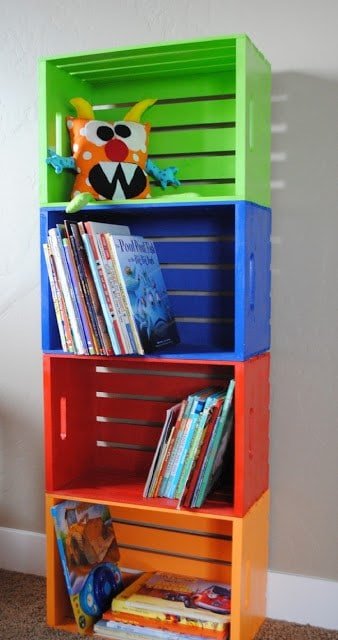 More details at casahaus.blogspot.in 
20. Unique Ladder Table Bookshelf
A perfect fit for a room, where one wants to laze around and relax while grabbing a good read. This design makes for a distinctive coffee table, not worrying about the extra space required to accommodate a separate bookshelf.
With divisions within the round table, books can be easily accessed, making the pleasure of reading more comfortable. Space constraint or sufficient space, there is always room and requirement for a good coffee table. The fun part, it can be easily moved from one room to the other simply by rolling it through the wheels in its design.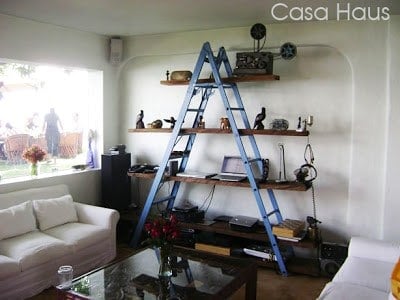 More details at smalltowncraftfair.blogspot.in 
21. The Anthro Bookcase
A box like- portable bookcase, it is very handy, in a way that it can be carried from one room to the other. Though in its actual design it doesn't have the capacity to hold many books, not more than five or six, but it can be customised according to ones need.
One can have their most favourite collection stored in this one, which needs to be read or referred to over and over again. It makes for a great centrepiece on a console table or a side-board.
Discover it yourself and bring it to your home, by following this.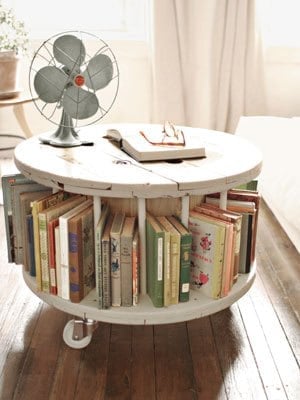 More details at whollykao.com 
22. The Dresser Bookshelf
A combination of two-in-one, this design acts as storage cum bookcase, ideal for an adult or children's bedroom.
A dresser that can be extended by adding shelves on either side to store books, this design can be altered to suit ones book needs, i.e. the larger the book, the deeper is the shelf needed and vice versa. Also acting as a dresser, one can use the storage drawers in it for everyday clothes, thereby making it a dual purpose piece of furniture.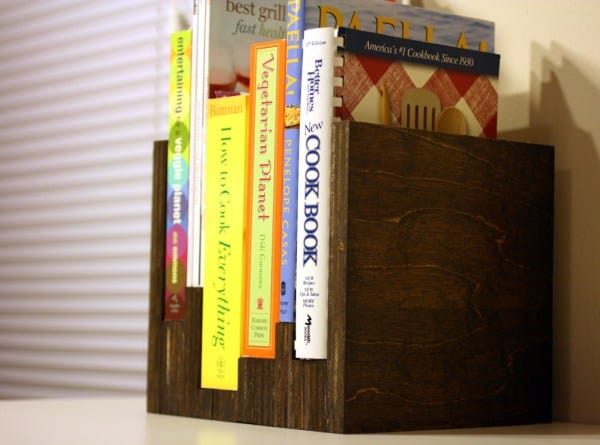 More details at onthebanksofsquawcreek.com 
23. The Salvaged Drawers Bookcase
It is always best to utilise old furniture and refurbish it into something that looks as good as new, rather than discarding it. Especially storage objects that are made of solid hardwood, that doesn't come cheap.
This bookshelf is a perfect example of something like that. It's designed in order to reclaim those old condemned drawers that you think cannot be used in any way. A simple method to do so is by stacking them and arranging them in a way that they don't fall off.
Repaint and enjoy your new bookshelf!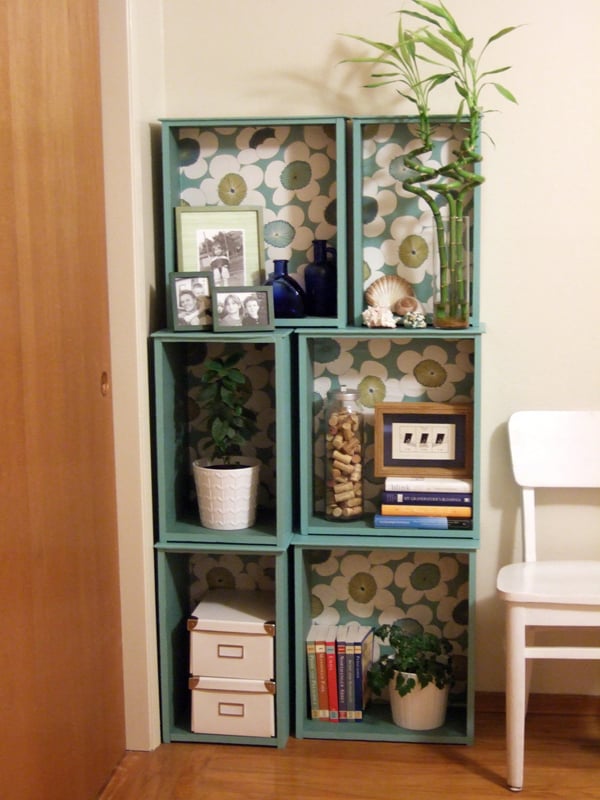 More details at craftynest.com 
24. Cute and Cheap Crate Bookshelves
Most of the ideas discussed earlier use trips to the market, but this one surely takes the place for grabbing something from your storehouse. Drink crates that have been discarded after a house party, can be made to use here.
The crates not only act as book storage shelves but also, take up the bare minimal space when hung on the wall. All you have to do is just cut each crate into half, and there you go! To spruce it up it's important to give a shade of your choice, so that it doesn't look dull and boring hanging there.
No matter how easy this sounds, it's always better to follow the instruction guide for the same.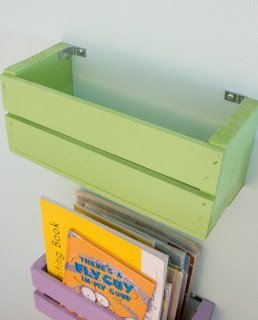 More details at extraordinareality.blogspot.in 
25. 'Knot' Your Typical Shelf
Distinctive in its look, this one looks extremely cute when hung in a child's room. Suspended by ropes on either side for hanging on hooks, it gives a very marine-like look. A great idea for kids who love to swim or just be near the water, this one can be used to display their books along with bright patterned photo frames.
The shelf appears perky yet productive and adds a charming look to the wall it's hung on.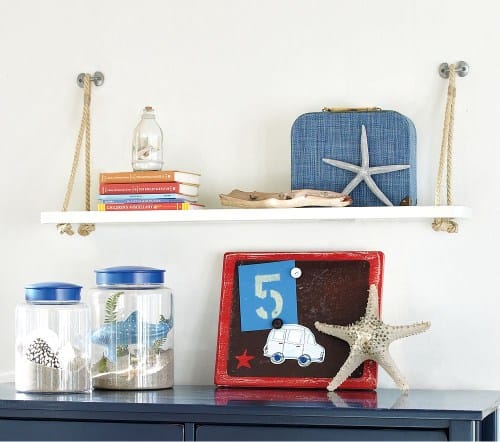 More details at projectnursery.com 
26. Stylish and Easy to Make Bookshelf
If you have a picture of a modern yet advanced kind of design in mind for your bookcase, this DIY will surely grab your attention. This bookshelf comes with plenty of curves that form shelves, giving a lot of storage for all sized books.
Its organic design appears to be an extension of the wall it is fixed on, but in actual it is not. This feature makes the large bookshelf exceptional in its own way, giving the room an ultra-modern feature.
How to build it? It simple yet has to be crafted very carefully.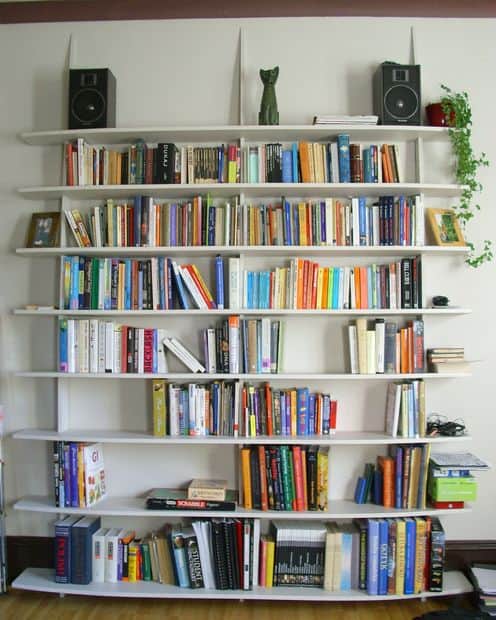 More details at instructables.com 
27. The Custom Kitchen Bookcase
Create shelves within the sides of the kitchen island table, and invent a whole new storage for yourself. This is you end up saving a lot of space to store your books! The kitchen table can house your cookery books, which you may want to refer to during your time in the kitchen.
These compartments could also be used to display colorful pottery in the kitchen, along with the books, to make most of the space designed.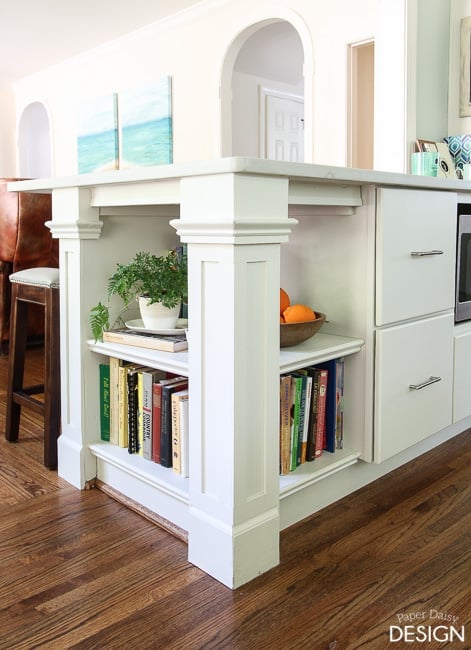 More details at deeplysouthernhome.com 
28. The Secret Door Bookcase
Mysterious yet productive, what a fascinating combination is that!
This bookcase lets you have plenty of storage for your books, without you having to show it openly. With a locking system, light mechanisms and a lot of built in shelves, this design form maybe the most high tech of all the others we have discussed. Many interesting features such as a folding door, leading to another area of the house, which a guest may never know- completely steal the show!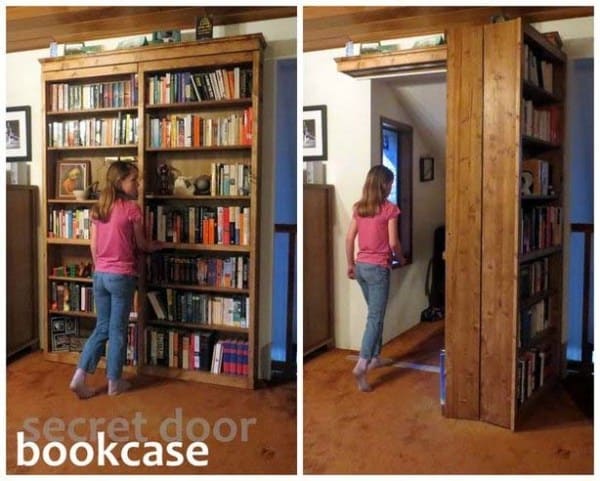 More details at instructables.com 
29. The $60 Bookshelves
A large bookcase that can accommodate plenty of reading material, considering that it is 7 feet tall, this one is dirt cheap at this cost!
The productivity is plenty, not only can you use it only for books but also to stack stationary stands, picture frames and daily use trinkets, along with some house planters- the final product a perky bookshelf.
Try this DIY for your house and you'll love how useful it will be for you. All you need to do is embark a suitable spot for this one, as it'll go taller than you!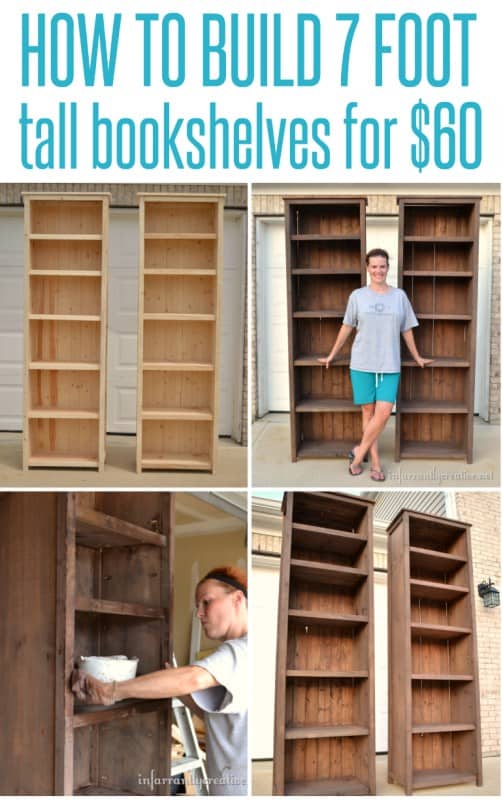 More details at infarrantlycreative.net 
30. Built in Corner Bookshelves
One doesn't need to begin from scratch in this one, but primarily mark out a built-in corner of the house where the placement of shelves could be done. This corner could be below the staircase or the corner of a living room that hasn't been used in a productive fashion.
Only by adding a few layers in this built in corner, one can convert it into an attractive bookshelf that's way more appealing than leaving that area bare.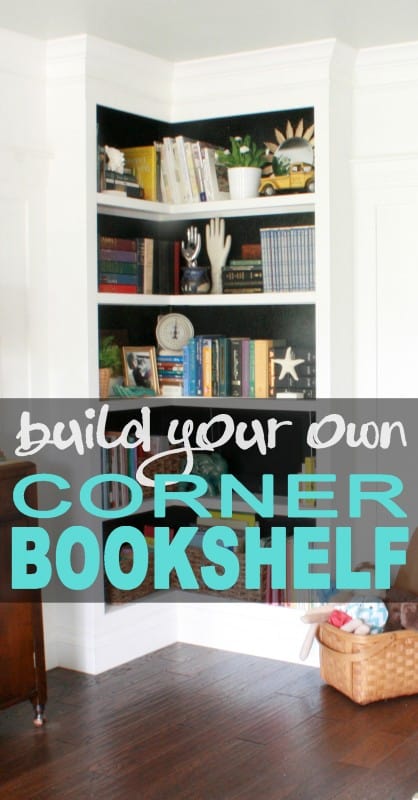 More details at remodelaholic.com 
31. Built-in Book Cases
Looks very opulent especially in a living area where the family likes to unwind with each other. These book-cases have ample storage space for books, housing shelves at multiple levels for decor items too. The middle portion of the bookcase if left blank can be used as a space for the television unit, serving as a complete entertainment area in the house.
Running from one end of the wall to another, they look extremely classy.
A must have if space allows. The manual for the same shall help you achieve it!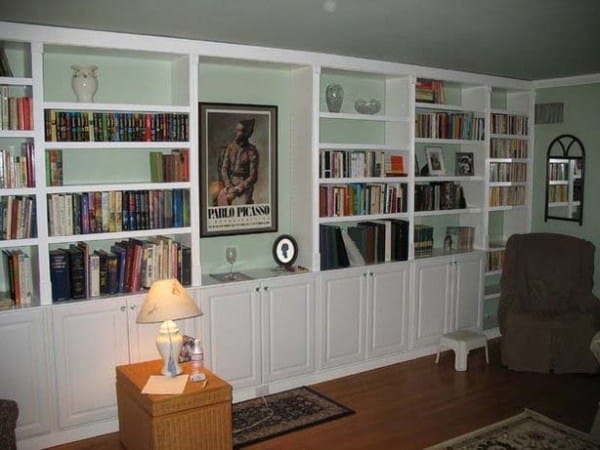 More details at instructables.com
32. Henry Bookshelf
Another marvel primarily originated from the DIY queens, Shanti2Chic, this one comes with wide shelf's to allow a dual stack of books on one  level, or one can store books on one side and a decor object on the other to bring some character.
Looks great in a bedroom or a living area, and can be polished in a color to match the interiors of a room. It gives a very country-furniture appeal, that helps it to gel with modern- contemporary and even traditional setups.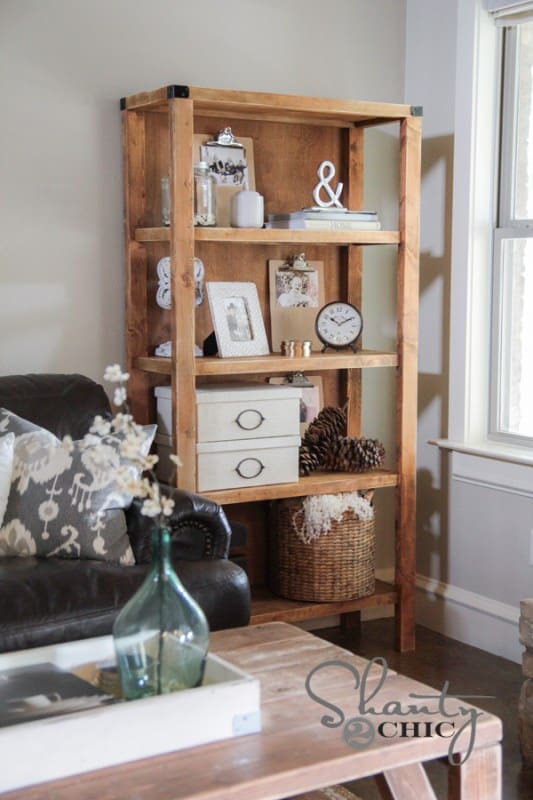 More details at ana-white.com 
33. The Classic Walnut Book Case
Strong and classic, this one finishes really well due to the walnut wood used for making it. The wood is popular for furniture to be handed down to generations, and one can never go wrong while building a piece with this heartwood.
If you do happen to make up your mind to use this wood, be sure that it wouldn't wither away with time! A bankable book case that gels really well with traditional as well as modern furniture, as it has its own distinct appeal.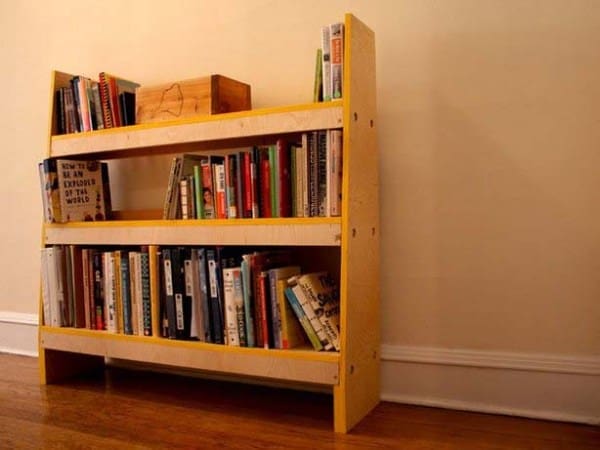 More details at rockler.com 
34. Knock Down Shelves
It's important to take care of your books just the way they continue to entertain and absorb you. With that regard, whether you tend to shift homes or just like to keep re-setting furniture from one room of the house to another, this one will totally work to your advantage.
A non-cumbersome piece, this bookshelf can be easily dissolved if need be, and re-structured accordingly. An extremely portable option, this one involves are really simple building process too!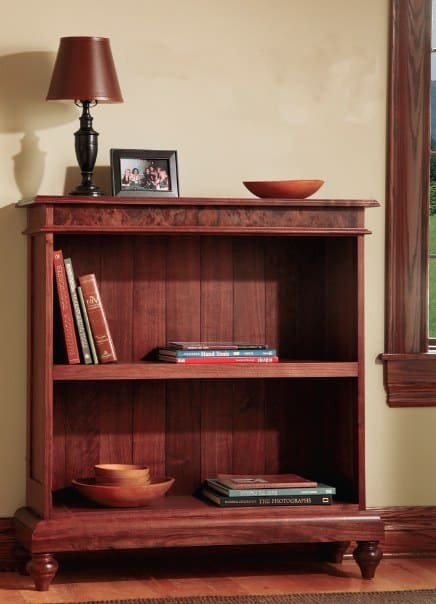 More details at instructables.com 
35.  The IKEA Hack
A tri-sectional bookshelf, with sufficient space to house books or can be used for storage too. Its low level design can be dually used as a bookcase as well as a bench. So, one doesn't need to walk to a bookshelf situated in some area of the house, to grab a book, but can sit on this bench and pull one out from the lower section. How convenient is that!
Can be placed under the staircase or on the front foyer of the house, it would look good almost anywhere.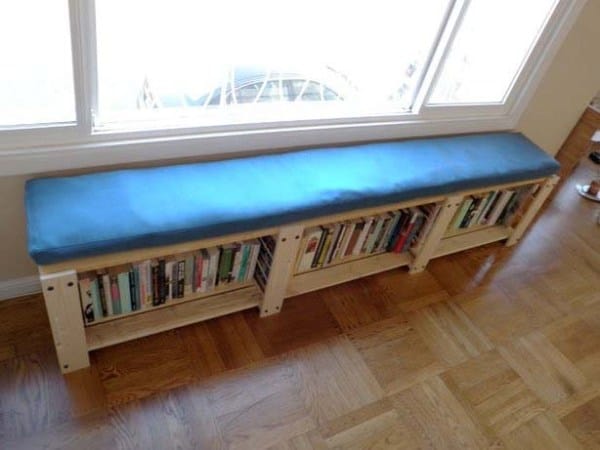 Source Unknown
36. Large Cubby Bookshelf
A large cube with segregated box-like sections, this is a great way to display books along with other prized decor possessions. Right from using it in your home-office to placing it in a hallway, this is bound to grab attention due to its simple yet impactful design.
If working on a budget this shall surely work for you. Apart from having storage capacity within the bookshelf, things could also be displayed on top of it, and the best thing about this design is that the shelves can be adjusted according to the size of the object being stored.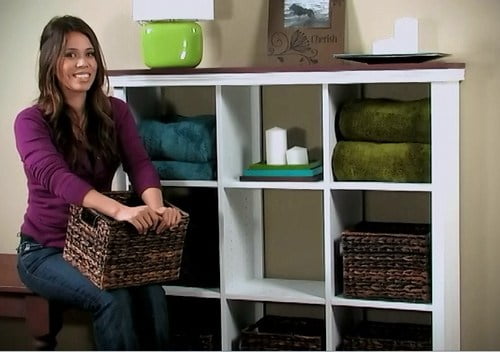 More details at ana-white.com 
37. The Hanging Book Display
Great for little children who love to pull each book out of the book rack in order to see the cover and then decide which one they would really like to hear the story to, as some of them may not read themselves.
This rack is a great craft at home idea that is made of fabric, through which the child can see the picture on the book and pull it out. It can be hung near their bedside, for encouraging night time stories and to get them in the habit of reading later on.
Have children at home? Then you might want to give this a shot.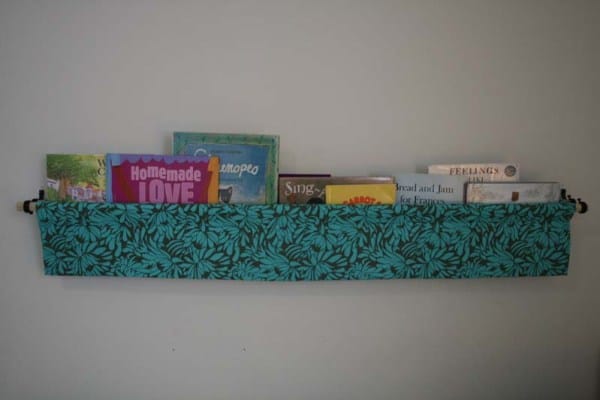 More details at pennycarnival.typepad.com 
38. Tetris Book Shelf
The first look at this bookshelf would take you back to the popular game of Tetris, as the shelves are inspired by it. No shelf appears to be of the same size that makes it a pretty catchy piece. Use this one for your DVD's, books, or for displaying your succulents choice is yours!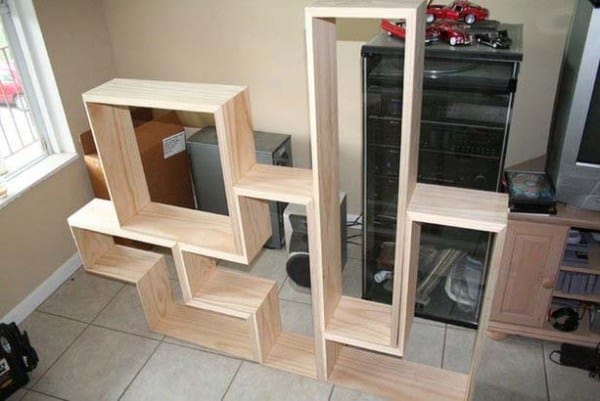 More details at instructables.com 
39. DIY Built in Book Case Tutorial
Have a large bay window or one of those fresh-inspired doors that have only bare walls on either side? Then you might need to face lift that wall! Hanging a picture or a painting on each side, wouldn't really do justice to the place, instead, built a bookcase that would completely spruce up the style quotient of the room.
Go through this tutorial to learn how to do that, which will not only help you with instructions but also exhibit plenty of images for understanding the construction better.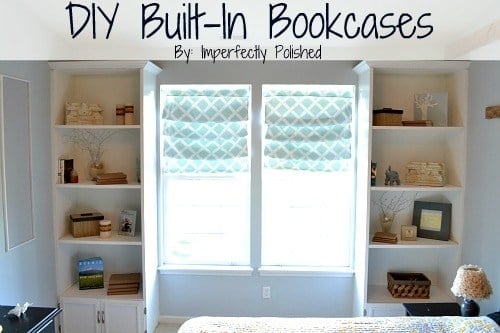 More details at imperfectlypolished.com
40. The Low-Waste Bookshelf
It is an extremely simple, low cost design involving only 1% wastage of the material being used. Due to its basic design form, this can be kept in almost any room to gel with the existing interiors.
The same can also be modified to suit your convenience, and can be made portable by attaching wheels instead of legs.
Hope you enjoy building yours.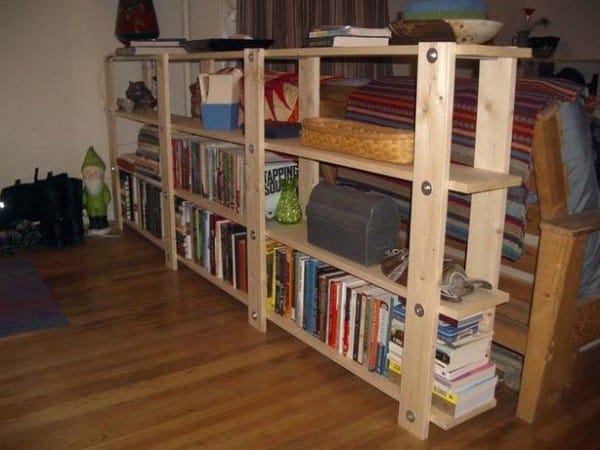 More details at instructables.com
41. Rain Gutter Bookshelves
Ideal for a children's room, where their books need a compartment, but not a heavily projected one, this one is a hit for such areas. They can be easily hooked on the wall, and hence require absolutely no floor space.
Made of vinyl rain gutters, this is probably the cheapest of most bookshelves discussed above. Easy on pocket and even easier to install, it is a great way to add a little happy reading element to your kid's room.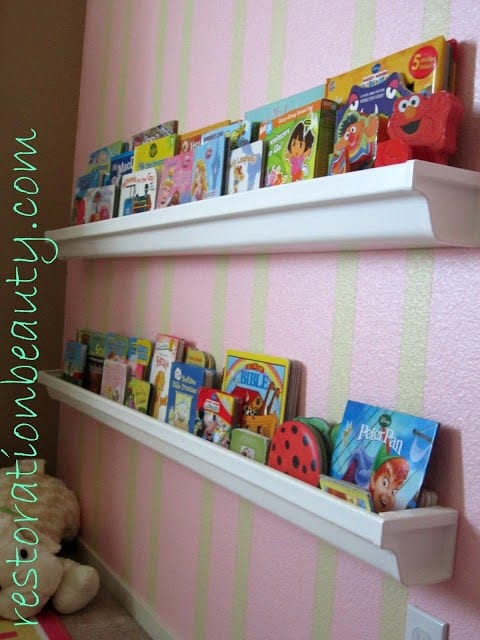 More details at restorationbeauty.com 
42. Recycled Leather and Wood Shelf
Either you purchase some worn out leather belts or restore your old used ones that have been condemned for some reason, this one is surely going to grab anyone's attention if hanging in your home.
With a combination of wooden shelves and two leather belts, it's a simple hooking the bookshelf onto the wall that comes into play to build this one. Leather gives it a classy look whereas the wood adds an organic touch to the entire look.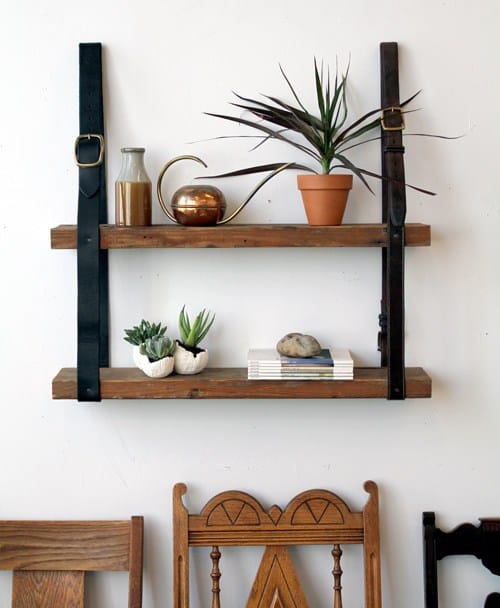 More details at designsponge.com 
43. Wall to Wall Book Case and Desk
Due to the wall-to-wall feature in its design, it looks fantastic for a home-office or a study in your house. The first look gives the room a very regal feel, as it comes with a built in writing desk! So, if you're someone who loves to pen down each day due to work or personal enjoyment, this one is totally for you!
With ample amount of shelves, your books have a great home in this bookcase, along with which you can always be creative to mix and match objects.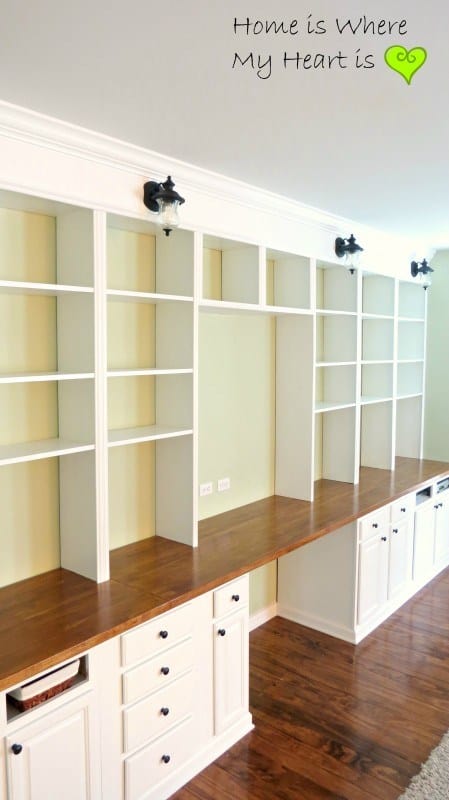 More details at remodelaholic.com 
44. Skateboard Bookshelf
It's another great way to use the old skateboards lying around your house, and convert them into a bookshelf! The teenagers in your family would this idea, especially boys, who would make use of them for stacking their books.
See the tutorial that comes with a lot of images to make you built this.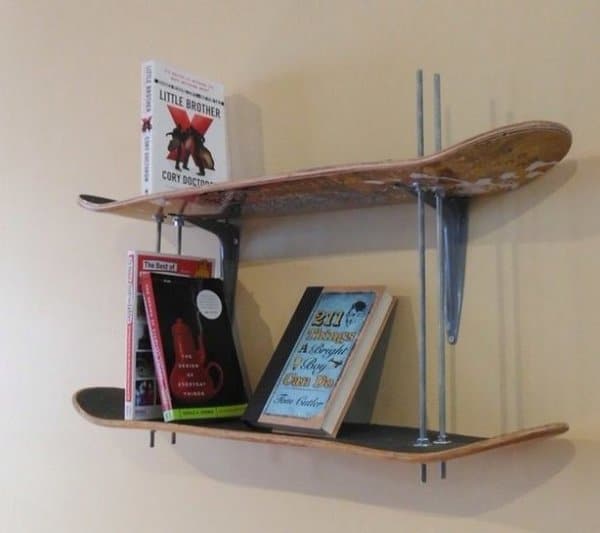 More details at instructables.com 
45. The Inverted Book Shelf
If you're bored of the classic bookshelves this one is just for you! The books are made to look as if hanging from the bookshelf, since its inverted design is quite distinct in its own way.
All we one needs to do is get hold of some really stretchable elastic, and you're good to go. Though it cannot store many books, but it still is a very concise design for few books displayed together.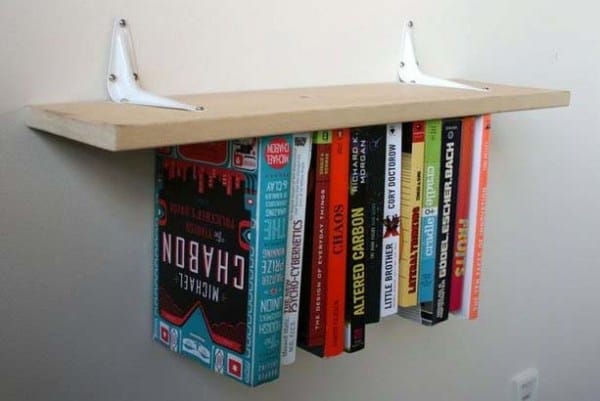 More details at instructables.com 
46. The DIY Book Case
A very modern yet classy design for your home, where you require a large enough space for collectibles and books; this one is something you will love! Another fine example of the built-in bookcase, it surely lists to be one of the eye-catchy elements in a room.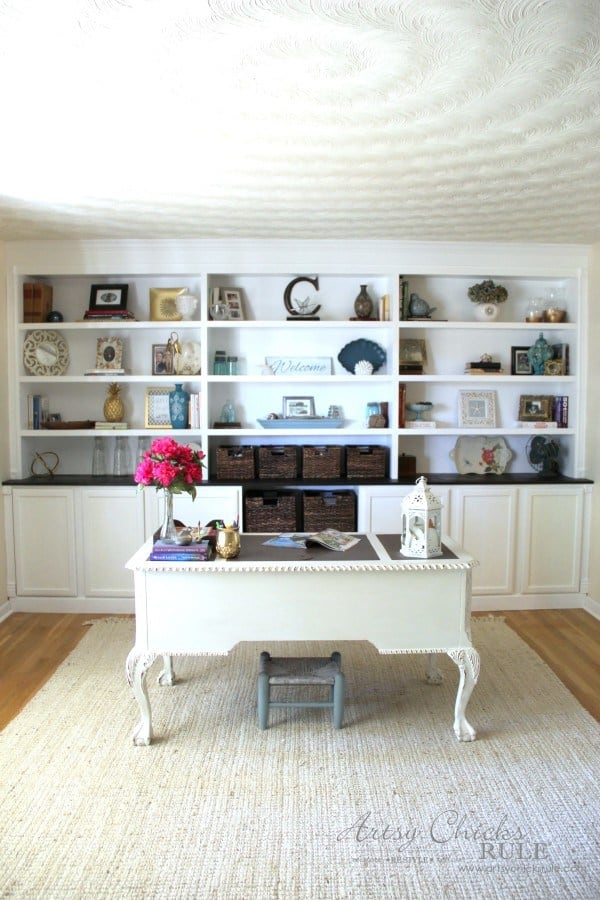 More details at artsychicksrule.com 
47. The Book Shelf Chair
Interesting looking, cosy design, that enables you to just warm up and grab a great read from within the shelves placed at the bottom of this chair. This one is very convenient for home libraries, adding a twist to a regular looking room.
Upholster it with a fabric of your choice and you're ready to make the most of it!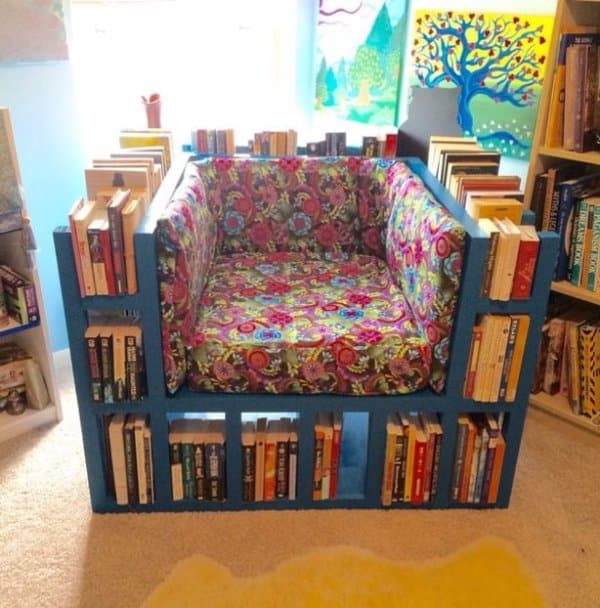 More details at instructables.com 
48. Invisible Book Shelf
Your books will be casually resting on a metal hook without anyone knowing about it. It may seem that they are stuck to the wall, but they really would be not. This bookshelf takes zilch space in the room, and very little on the wall it's placed on.
You surely would want to experiment with this one!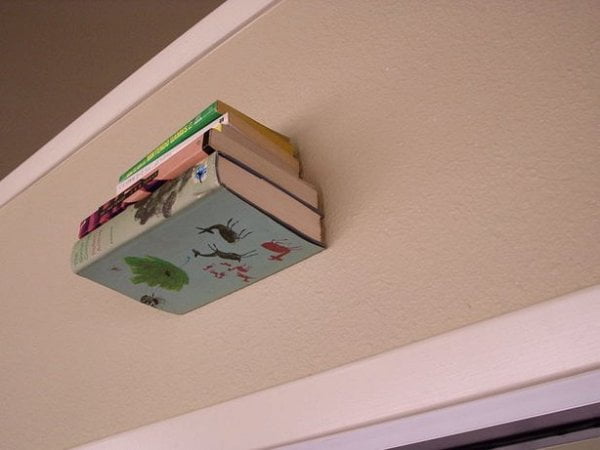 More details at instructables.com 
49. Nautilus Book Shelf
This design appears to be snail-like when housed in a room. It does tend to hold couple of books, but not a very large amount. If you're looking at a twist in furniture appearance for a particular space of your house, then you might want to consider it.
Though the instructions in the manual are pretty easy to follow, it would still be better if one seeks carpentry help to construct this due to safety.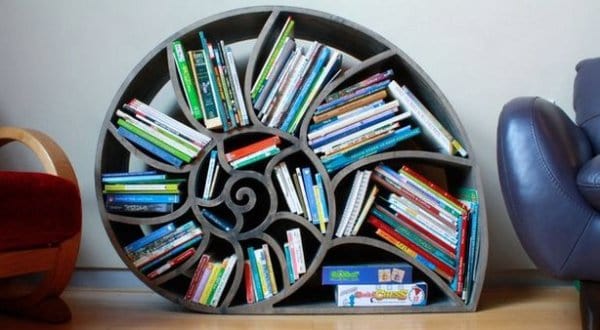 More details at instructables.com 
50. Tree Bookshelf
The design gives an impression of being bought from a really high-end furniture store, due to its appealing features. A clean yet stylish looking bookshelf, it can be standing pretty next to any wall of your house.
Easy to build and super fun to install, you must keep this one in mind for your home.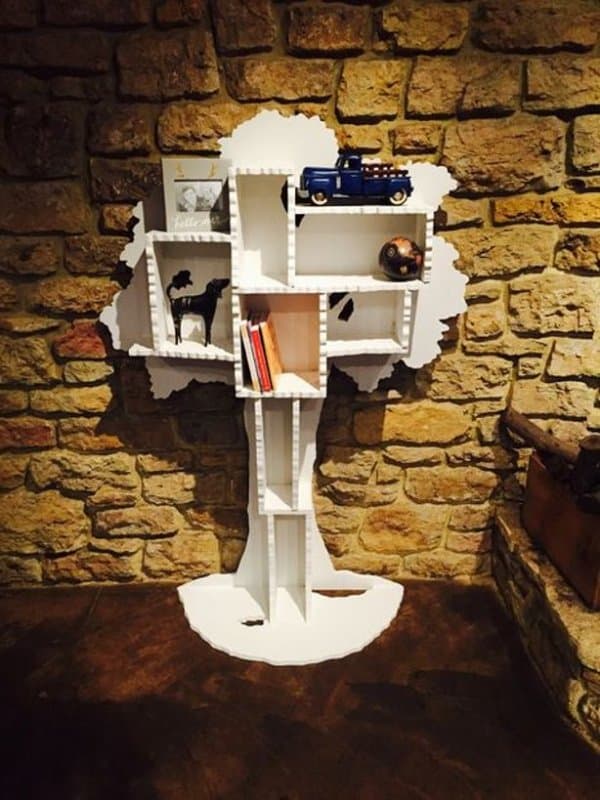 More details at instructables.com 
51. Rope Bridge Bookshelf
Though this design will look great, while hanging on the wall, and might also catch the attention of your guests, it wouldn't be very practical to install this for a large number of books. However, you could use this in the children's or your bedroom, in case you're looking for something to support your night time reading needs.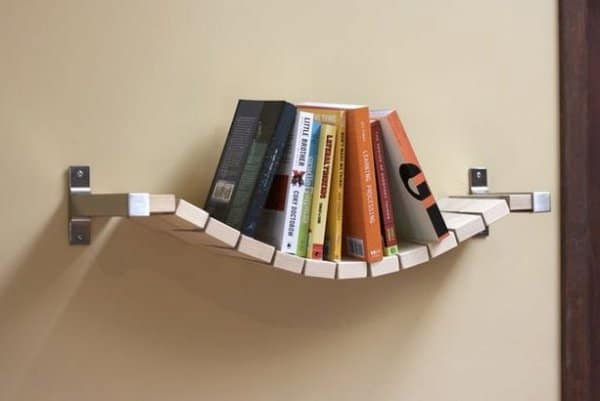 More details at instructables.com 
52. The Guitar Bookcase
If you have an old guitar lying in your house that you just don't want to let go of, due to an emotional attachment, here is a great way of re-using it, by converting it into a bookcase. Whether you hang it in your living room or in your courtyard, it looks really attractive, housing your favourite reads. If one can arrange for a hammock, the entire setting of your courtyard will look splendid!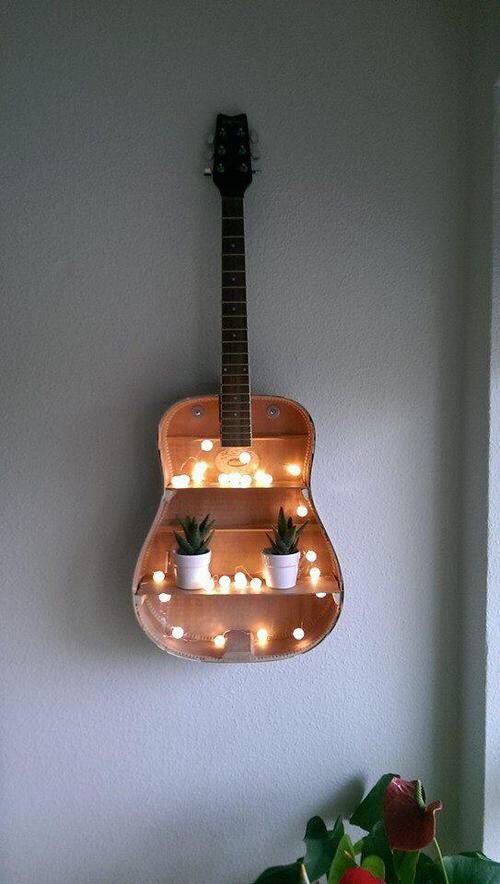 More details at refurbished-ideas.com 
53. Triangle Bookshelf
It can be best described as a very chic and simple DIY project that requires little help if you're not so hands on with woodcutting. It can be made to use in a girls room, to add that feminine touch for the space. Easy installation and neatly cut shelves add that extra edge.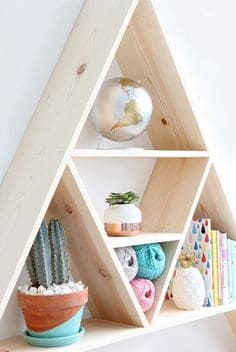 More details at poppytalk.com
54. Mandela Bookshelf
This one can easily work as a mural for your living room! The design is so impressive and productive that it can house several books at one time. All one needs – a few simple square shelves, cleverly placed in a Mandela design. Representing a circle, this design has spiritual origins.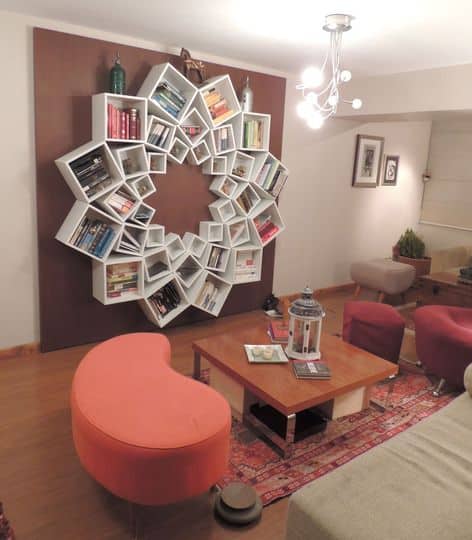 More details at grosgrainfab.com
55.The Diagonal Bookcase
This is undoubtedly one of the most unique and functional bookshelf ideas you can replicate easily. Representing a diamond shelved design; it gels perfectly with modern interiors. Run it from the ceiling to the floor or just confine it to half a wall, it looks magnificent.
The cubes in it, can house various books or brochures and goes really well in an office or the living area of the house.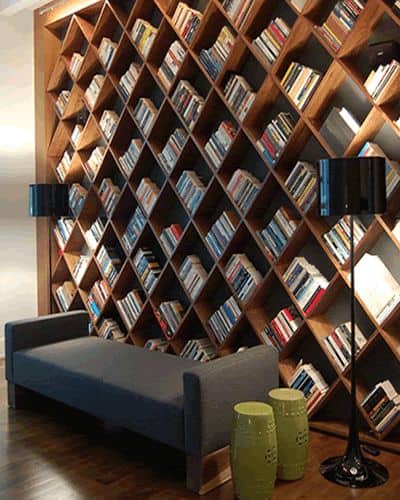 More details at community.homedepot.com 
56. Cloud Bookshelf Ledges
A fun idea for your kids' bedroom, this design can be made by using a simple cloud design. The shelf looks delightful being placed on a bare wall, and if you're able to design many such clouds to be places at a distance from each other, the wall would appear to be a mini sky!
A great way to encourage reading in children, the simple apparatus would help you achieve it.

More details at howtonestforless.com 
57. Corner Bookshelf
This DIY project requires you to install plywood on the corner walls using a few pocket screws. But, its completely on your individual imagination, how you want to pattern them, as that's what finally takes shape into something visually appealing and a great way to beautify those awkward corners.
What you think about these DIY Bookshelf Plans and Ideas? We would love to hear from you !
Happy crafting and happy reading!
Related Articles
8 Best Cartooning Books For Artists Today
11 Best Perspective Books Right Now
21 Best Manga Drawing Books to Check Out Right Now
16 Best Maya Books for Beginners & Professionals Alike
22 Best Drawing Books for Beginners 
11 Best Adult Coloring Books That Will Color Your Mood
11 Best Color Theory Books for Artists Everywhere
8 Best Cartooning Books For Artists Today
Best Watercolor Painting Books Everywhere | Beginner to Expert Grade
30 Portable Chicken Coop Plans You Can Easily Move
Barndominium 101 | Floor Plans, Pricing Guide & Pictures
57 DIY Chicken Coop Plans in Easy to Build Tutorials – 100% FREE
47 Free DIY Swing Set Plans for a Happy Playing Area in Your Backyard
49 FREE DIY Router Table Plans For an Epic Home Workshop
43 DIY Duck Houses Plans and Duck Coop Plans to Build Now
43 Ingeniously Creative DIY End Table For Your Home
163 Free DIY Pole Barn Plans and Designs That You Can Build Easily
37 Free DIY Tiny House Plans for a Happy & Peaceful Life In Nature
27 Insanely Cool DIY Rocket Stove Plans for Cooking With Wood
39 FREE DIY Bat House Plans to Shelter the Natural Pest Control
19 Adorable Free Cat Tower Plans For Your Furry Friend
23 Awesome Free Deer Stand Plans You Can Start Right Now
23 FREE Detailed DIY Garage Plans With Instructions To Actually Build
13 Epic Free Rabbit Hutch Plans You Can Download & Build Today
101 Simple Free DIY Coffee Table Plans
Sale
Bestseller No. 1
Bestseller No. 2
Bestseller No. 3