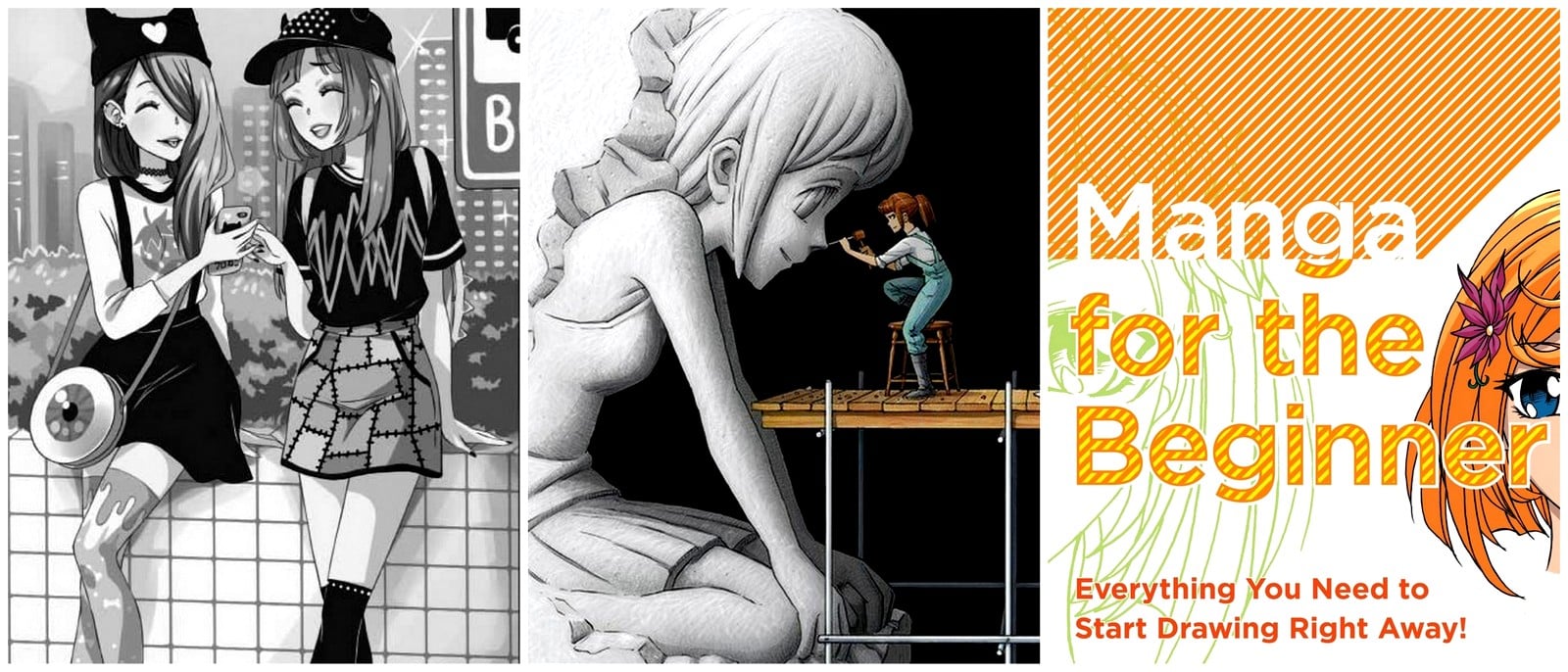 Drawing manga is one of the most challenging and rewarding experiences for an artist.
If you are not familiar with manga, it is the comic book version of Japanese anime. So why should you take up drawing manga?
The Japanese manga market is already worth billions of dollars today, while international markets are seeing a steady rise in popularity of manga comics. Now is as good a time as ever for manga enthusiasts and beginners to take it up professionally. 
Having the right drawing books can help you overcome the somewhat steep learning curve of this art form.
We have shortlisted 21 books that will help you learn everything you need to know to get started with this exciting and immensely creative art form.
Best Manga Books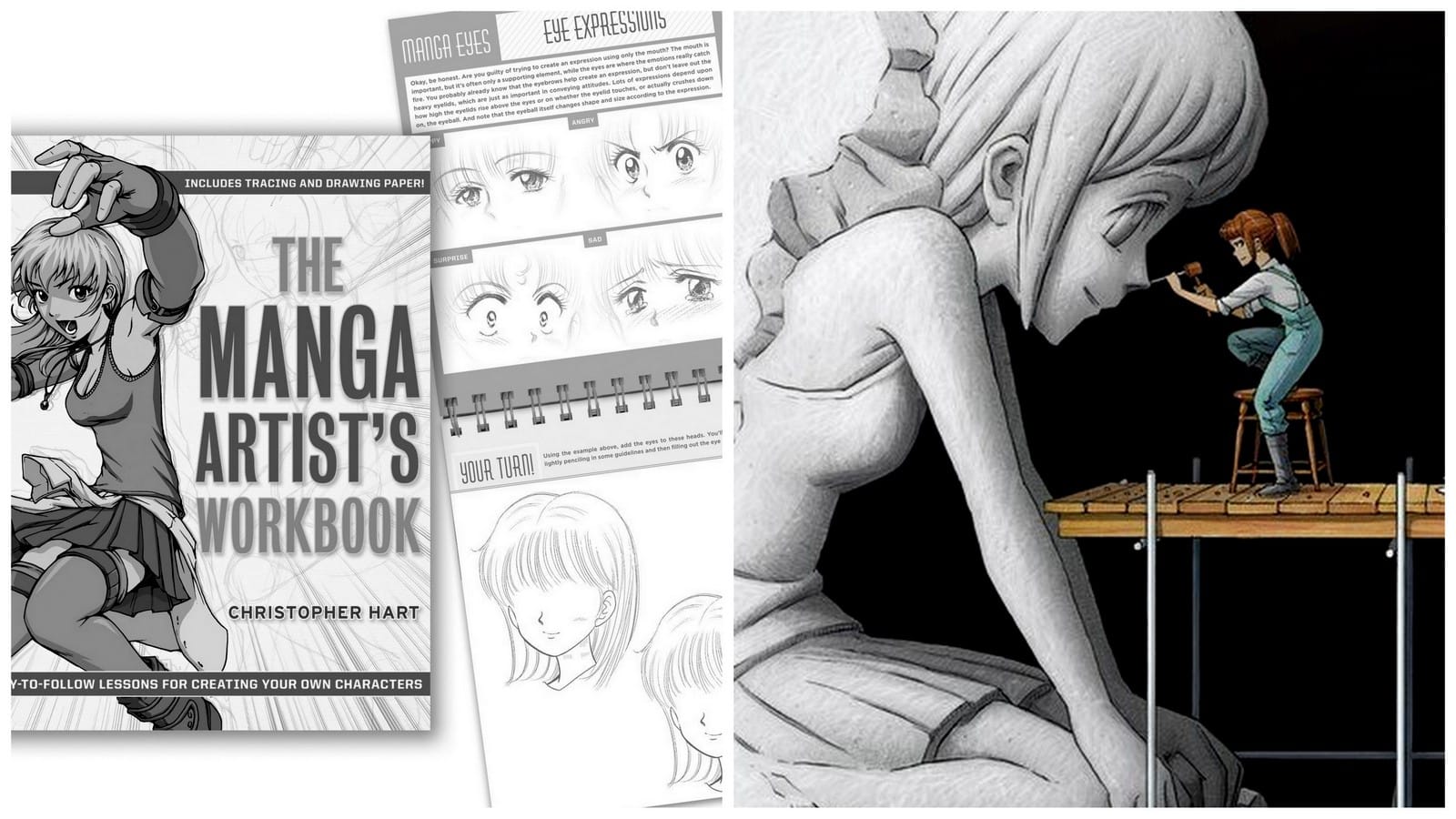 Without further ado, let's get straight to our top recommendations for Manga drawing books today.
Christopher Hart is a bestselling how-to-draw author who is well-known amongst Manga artists. It is only fair that the numero uno spot on our recommendations list should be one of his books. It is the first book in a series of three; you will find the other two books as well on this list.
This book gives you valuable insight into drawing six popular anime-type characters – schoolboys, schoolgirls, preteens, humorous personalities, fantasy figures, and vengeful bad guys. We especially like the thoughtful inclusion of templates along with a diverse range of options for head, body, accessories, and outfits for each of these six characters.
The detailed, step-by-step illustrations and exercises will ensure that you can create original characters by the time you finish this book. Irrespective of your age and manga skill level, you can learn something from this book. And did we mention that it has exceptional print quality too!
The next manga drawing book we want to recommend comes from Christopher Hart again. As the name suggests, it is a book that has been specially designed for beginners. If you can hold a pencil, you can start drawing manga with the help of this book.
The author uses his signature style involving step-by-step illustrations and instructions to explain how to draw the basic body, head, eyes, hair, and more. It is a comprehensive book consisting of 192 pages of everything you need to know to begin your manga journey.
Unlike other books for manga beginners, it goes a step further beyond the basics by covering special effects, perspective, dynamic action poses, light, and shading. You will get an overall understanding of what goes into creating excellent manga art. Moreover, you get to explore some popular types of manga characters, including anthros, animals, shoujo, and shounen.
It is available in paperback, library binding, and kindle versions.
Mark Crilley is one of YouTube's most renowned art instructors and graphic novelists. This drawing book will work best for people who have a basic understanding of manga art. It can help you create original webcomics or graphic novels.
It contains 30 step-by-step illustrations and detailed instructions about drawing figures and faces for various ages and types of body. You will not run out of content anytime soon as it features a comprehensive gallery. It consists of 50 ways to draw hands, 101 eyes, 12 common expressions, 40 hairstyles, 30 classic poses, and so on.
If that wasn't enough, you could even find some advanced lessons in this book dealing with inking, backgrounds, layout options, and sequencing. We especially liked the easy-to-follow tutorials for creating several realistic settings.
This book is available in paperback as well as kindle versions. You can rest assured that your manga skills will improve significantly with it.
Andrew Harnes has written this book as a comprehensive guide for all things manga! At 90 pages, it is one of the shortest books included in our recommendations list. It consists of over 90 colorful drawings and hand-held, step-by-step illustrations with instructions.
You should get this book if you want to understand the fundamentals of manga art, starting from the materials to use and going to the process of drawing characters from different angles. There are specific chapters that focus on various aspects like eyes, hair, nose, ears, and facial expressions. The author goes on to explain different character poses and actions.
With the help of the information in this book, you can learn to draw fantastic manga illustrations in negligible time. It was published in 2015 and is available in paperback and Kindle versions at affordable prices.
We are down to our fifth recommendation, and it is another book from Christopher Hart (third time's a charm). If you have compared American comics to manga, you would have probably noticed that the faces of manga characters are quite different. But did you know that the bodies of those characters are also different?
As it turns out, they are. Who better than Christopher Hart to break it down for you! In this book, you get easy-to-follow, step-by-step illustrations and instructions, anatomical information and charts, and before-after comparisons. All this will help you understand the unique aesthetics of Japanese characters in manga.
Perfecting the anatomical features of manga characters cannot happen overnight. This book does not have all the information you can find on anatomy but includes enough content in its 160 pages to get you started. It is available in kindle and paperback versions.
The Manga Artist's Workbook is an easy-to-understand book for anybody interested in manga. It will help you perceive the fundamentals of manga characters, including the face, figure, eyes, hairstyles, costumes. By the time you are done with this book, you will be able to create unique manga characters.
Unlike the majority of drawing books on this list, it is a complete workbook of 160 pages consisting of grid lines and tracing paper. The purpose of this book is to get you to practice and perfect each lesson. It comes with detailed instructions that ensure a sufficient learning experience for you.
We especially liked its small size, which makes it easy to carry and will allow you to draw on the go. It is available in paperback and spiral-bound versions. And did we mention that the supremely talented Christopher Hart has written this book?
3DTotal offers some excellent books. It would be impossible to complete our list of recommended manga drawing books without including their Beginner's Guide to Creating Manga Art. This book contains the work of various artists, including industry legends like Steven Cummings and Gonzalo Ordoñez.
As this book is written by various authors, each being an established artist, you get an exciting array of techniques, perspectives, and lessons. It is a comprehensive book containing 240 pages of tutorials covering anatomy, features, clothing, expressions, poses, and more. You can also learn how to color characters using traditional as well as digital tools.
We recommend this book to beginners and hobbyists who want to get an overview of all the different aspects of manga art. If you are an expert who is looking for a book that deals with one of the elements in detail, you should check out the other recommendations on this list.
Mina Petrovic is a famous YouTube artist, more commonly known by "Mistiqarts." She has authored an excellent manga book for beginners titled "Manga Crash Course." This book promises to teach you all you need to know to start drawing manga.
It contains over 25 step-by-step examples to help you create each body part of the characters. You will have adequate material with more than 130 lessons covering poses, accessories, clothing, facial anatomy, emotions, and hairstyles. This book is carefully designed to start with simple techniques and steadily progress to more challenging lessons.
We especially liked the included character invention game as it helps readers create unique manga stories and characters. This crash course for manga drawing consists of 128 pages. It was published in 2015 and is available in kindle and paperback versions.
If you are looking for a practical guide to anime and manga-style art for beginners, you should get this excellent book written by Li Shen. It is a short book consisting of 60 pages only. You can choose to get it as a paperback or Kindle version, as per your convenience.
What sold this book to us are its easy-to-follow lessons. You can use this book even if you have zero experience in manga-style drawing. In fact, even if you have never tried drawing anything at all, you can still use this book. So it is a "Practical Guide for Beginners," in every sense of the phrase.
You can learn to draw a handsome boy (Bishonen) or a lovely girl (Bishojo) with the help of illustrations and step-by-step instructions. It is a perfect starting guide for anybody interested in getting into drawing unusual, original manga characters.
As a follow up to the book that bagged the first rank on our recommendations list, Christopher Hart's "The Master Guide to Drawing Anime: Amazing Girls" was published in 2017. Unlike the first book in the Master Guide series, this one deals specifically with drawing female anime characters.
With this book, you will learn to draw manga heroines, fantasy characters, and schoolgirls. The book is thoughtfully divided into basic templates and tutorials. The templates will help you draw body proportions, head, clothing, hairstyle, and so on for your female characters. The tutorials will allow you to create entire scenes and master the art of manga.
This book has 144 pages of rich manga content for you to enjoy. It is available in paperback version only. This book is better suited for people who have a basic understanding of manga art rather than absolute beginners.
It's time for the third book in the Master Guide series by Christopher Hart. It was published in 2022 and is available in paperback version only. Irrespective of whether you are a beginner or an established artist in the manga field, you can learn a lot from this book.
The author delves into each aspect of manga art, especially the specifics of drawing anime scenes and characters. You will learn the secrets of a complete picture with the help of some topics which are rarely covered by manga artists. We especially liked the new tutorials that deal with drawing feet and hands in several gestures.
Being the final book in the series, it seems like the perfect last stroke on a piece of art. Christopher Hart has discussed more than 100 essential techniques in 144 pages to help you hone your manga drawing skills.
Mark Crilley's "Mastering Manga" was such a resounding success with manga artists that its follow-up was inevitable. The second part of the Mastering Manga series not only lives up to but also exceeds the standard set by its predecessor.
Irrespective of your skill level, you can learn a lot from this book. It contains over 30 step-by-step illustrations to help you draw manga art like a pro in no time. This book has lessons covering various aspects of manga such as proportion, clothing, body language, environments, useful poses, and anatomy of a manga panel.
We especially liked the thoughtful inclusion of lessons on perspective and background, which will help you create entire manga scenes. This book has 128 pages of top-notch, easy-to-follow lessons and instructions. It is available in kindle and paperback versions.
This next book is hands down the most comprehensive guide to learn how to draw manga faces. Author Hosoi Aya has included over 900 sample illustrations in this book to ensure that you gain a good understanding of the key elements to capture emotions and facial expressions.
This book is capable of making you a pro at drawing manga faces. And seeing how that is an area where new artists tend to struggle the most, we had to include it on this list. We especially liked the way this book deals with positive expressions and negative expressions separately in dedicated chapters.
You can use this book to draw basic as well as specific manga character faces with immense ease. It has 176 pages of fun content for you and is available in paperback version only.
If you want a book to help you improve specific skills for drawing characters and stylish outfits, go for Christopher Hart's "The Manga Fashion Bible." The author goes into full-on "manga chic" mode in this book to explain the unique fashion style of Japanese characters.
What sets this book apart is its dedicated troubleshooting guide dealing with grey areas that often confuse beginners. From drawing patterned fabrics to capturing fold and creases on clothing, this book simplifies it all. You get a glimpse of traditional outfits worn by classic manga characters as well as the newest fashion trends.
One hundred forty-four pages of exciting manga content are sure to keep you hooked. This book was published in 2016 and is available in paperback version only. It does justice to its name – "Fashion Bible" – by covering fashion trends and styles for all kinds of characters and all seasons.
After the Mastering Manga series, Mark Crilley got "Manga Art" published in 2017. This book is a bit different from the others we have shortlisted today, in the sense that it is meant to inspire and motivate budding manga artists.
You will get access to more than one hundred never-before-seen, original pieces of artwork created by the author. Chapters include the artworks with a list of the materials used and a summary of the inspiration behind them. The author has used various materials to create these artworks, including colored pencils, pens, pencils, ink, and digital tools.
Mark Crilley wants the readers to understand that the possibilities are endless when it comes to manga. This exceptional book has 176 pages of stunning manga art. It is available in both paperback and Kindle versions.
The next recommendation we have is a bit different from the others, in the sense that it is not a hardcore drawing book. Hirohiko Araki, the author of fan-favorite "JoJo's Bizarre Adventure," has shared the craft of creating manga through this book.
If you haven't heard of JoJo's Bizarre Adventure, it is one of the most popular and longest-running manga yet. You are guaranteed to benefit from the concrete examples of his work included in this book. There can be no better way to learn manga than going through lessons penned down by one of the industry legends!
If you are a fan of Hirohiko's work, you will get more than a glimpse of how he creates manga, including his famous "golden ratio" for drawing. It is a detailed guide consisting of 280 pages covering a plethora of manga-related information. You can buy this book in either Kindle or hardcover version.
Manga art should not be restricted only to adults. For all the tweenagers out there who are interested in manga, Samantha Whitten's "How to Draw Manga Chibis & Cute Critters" is an excellent book. Manga chibis and critters attract people of all ages, thanks to their soft squishy cheeks and big sparkling eyes.
This book consists of thoughtfully designed, step-by-step projects that will teach you to draw a furry bunny, a panda cub, a chibi princess, and a ninja. You also get instructions about ways to add color with watercolors or markers. We especially liked the chapter that explains how to "chibify" any person or animal.
This book contains 128 pages that have handy templates and fun practice exercises. It was published in 2012 and is available in paperback version only.
By now, you know that Christopher Hart is one of the best manga artists and the bestselling author of many manga drawing books. Here is another fabulous book that bears his name. "The Manga for the Beginner: Midnight Monsters" is the ideal book for people who are intrigued by the occult and want to draw dark manga characters.
This book is full of expert tips to help you draw vampires, zombies, Goths, werewolves, sorcerers, witches, and other dark, mischievous creatures. Unlike most of our other recommendations, this one caters to a specific part of manga art that may not appeal to everybody.
If you like spooky creatures and want to learn how to draw them in manga style, this book will not disappoint you. You can choose to get either the kindle or the paperback version of this book. It consists of 176 pages of bone-chilling fun!
If you are a fan of the shoujo manga (a wide-eyed, beautiful girl) and want to learn how to draw it, you should get the "Pop Manga." It is a stunning book co-written by Camilla d'Errico and Stephen W. Martin. Camilla is an expert when it comes to shoujo manga, and she has revealed the techniques she uses for creating her characters, which have become fan favorites.
This book is written in a simple yet effective way to ensure that you learn in the best possible way. You will find easy-to-follow lessons on how to draw basic body features, capture action, create animals, and much more.
It serves as a comprehensive guide for anybody interested in shoujo manga. It consists of 192 pages of fun content you do not want to miss. You can get it in kindle and paperback versions.
The penultimate recommendation we have for you is yet another book from renowned artist Christopher Hart. It is one of the most comprehensive books on this list, having 256 pages of manga content. It was published in 2009 by Watson-Guptill as a collection of hart's four best-selling kids drawing books.
Manga is extremely popular with kids, and this book is meant for them. Young artists will have the time of their lives with this book. Clear steps and instructions are included for each character drawing, so kids will not face any problems following along.
Seeing how much content this book has, its affordable price makes it a must-buy for your kids. You can get its kindle version for less than ten bucks, while the paperback version costs around 18 dollars only.
The final book in this comprehensive list deals with some of the most loved aspects of manga. If you want to learn how to draw animals, chibis and other cute creatures, this is the ideal choice for you. We recommend this book to anybody who wants to master chibi art.
It is probably the only book on this list that works well with kids as well as adults. It has 160 pages worth of fun lessons having step-by-step instructions that will guide you through the process of drawing eyes, faces, and entire animals and chibis.
As good as this book is, it does not cater to beginners looking for overall manga guidance. As it deals with chibi art specifically, only a niche audience will benefit from it.
Final Thoughts
Finding the perfect manga book is only half the battle won! One of the essential prerequisites for mastering the art of manga is consistent practice. Irrespective of which book appeals to you the most from our comprehensive list of recommendations, do not expect to see a drastic improvement in your skills overnight.
We can say without the shadow of a doubt that these books can take you from beginner to pro. Even if you are an experienced manga artist, our recommendations will help you grow by leaps and bounds.
Till next time, keep practicing!
Related Articles
12 Best Art History Books Right Now
12 Best Branding Books Right Now
39 Best Books On Creativity Right Now
17 Best Books On Minimalism to Consider
111 Best, Fun and Cool Things to Draw
8 Best Cartooning Books For Artists Today
11 Best Drafting Pencils Right Now Reviewed
7 Best Mechanical Pencil for Architects & Artists Today 
11 Best Perspective Books Right Now
16 Best Maya Books for Beginners & Professionals Alike
25 Best Concept Art Books for Artists Everywhere
22 Best Drawing Books for Beginners
5 Best Hand Drawing Reference Photo Sources
11 Best Adult Coloring Books That Will Color Your Mood
11 Best Color Theory Books for Artists Everywhere
8 Best Cartooning Books For Artists Today
Best Watercolor Painting Books Everywhere | Beginner to Expert Grade