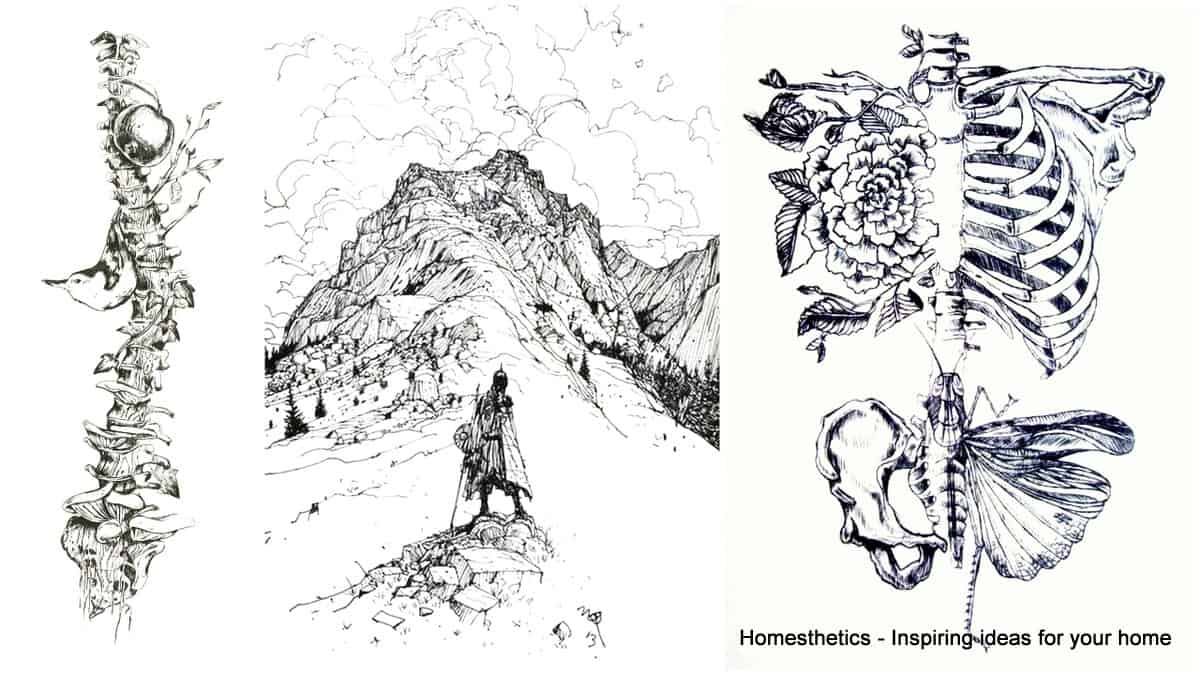 There are many hobbies one can take up to fill up spare time, some go fishing or hiking whilst others embrace the arts, in the form of singing, dancing, writing or randomly building awesome wooden plane models. One of the most accessible and creative act is drawing though, unlike playing an instrument or skiing which presume a certain investment and context for exercising your hobby, drawing only requires a blank sheet of paper and a pencil, for beginners at least. Those who have some experience can go a step further, buy some brushes, a palette and colors and embrace painting. Drawing or sketching are activities that start with simple concepts that are easy to grasp and after a few attempts things will start to feel natural. Start with the basics, you'll find inspiring cool things to draw all over, epic drawing ideas worth a shot; and here is where our selection comes in! In the section below numerous free step by step drawing tutorials have surfaced, all meant to encourage you to take on artistic endeavors.
For those of you who are in the beginning, we have prepared some easy to draw, lovely ideas and we hope the examples in this article will give you fresh inspiration for upcoming projects, cast a glance.
Fun and Cool Things to Draw
Abstract
1. Infinite underground world as refuge
Drawing is perhaps the best way to communicate our thoughts and imagination, along with music, sculpture or dancing. But, out of all the arts, drawing is perhaps the most accessible. All you need is a sheet of paper and a pen. Don't hesitate and give it a try yourself!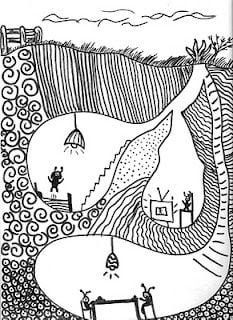 via northoakviewart.blogspot.com
2. Abstract shapes and patterns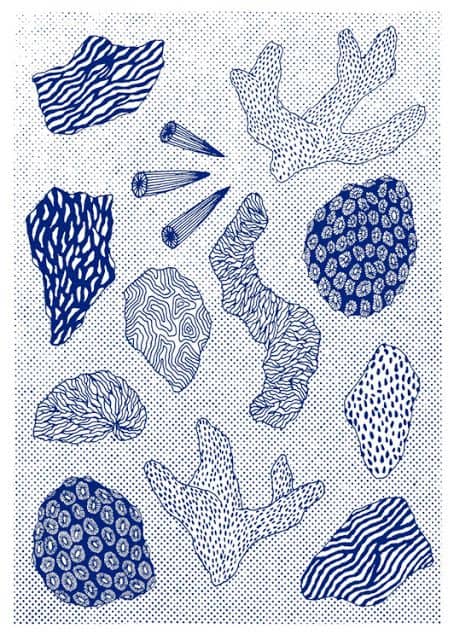 3. Mandala driven by color
To find inspiration for a beautiful drawing like this one, just take a closer look at the nature around you. You'll find beautiful patterns in flowers, leaves and snowflakes.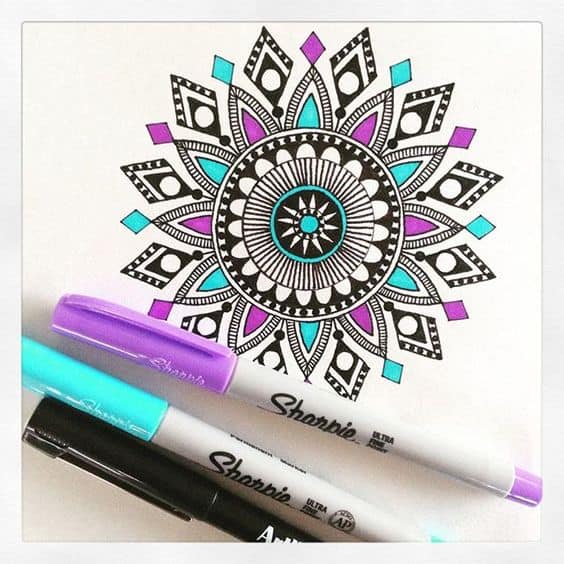 <
via instagram.com
Architecture
4. Swift atmosphere city sketch
Sometimes creative drawing ideas can be support techniques and illustrations over an image. A camera can express reality with perfect accuracy. An artist might feel the need to challenge his imagination to create something new.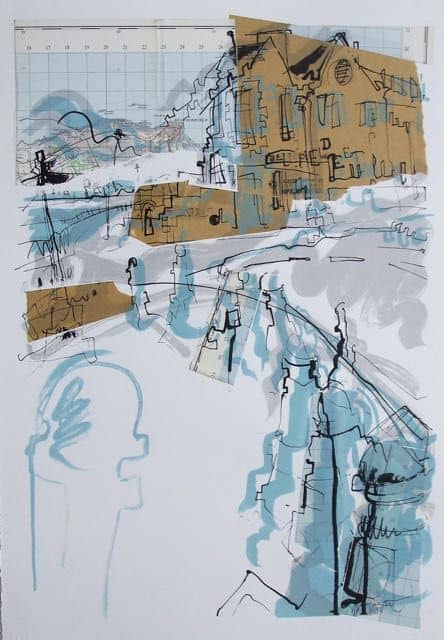 via lucyjonesart.com1
5. Urban silhouette sketch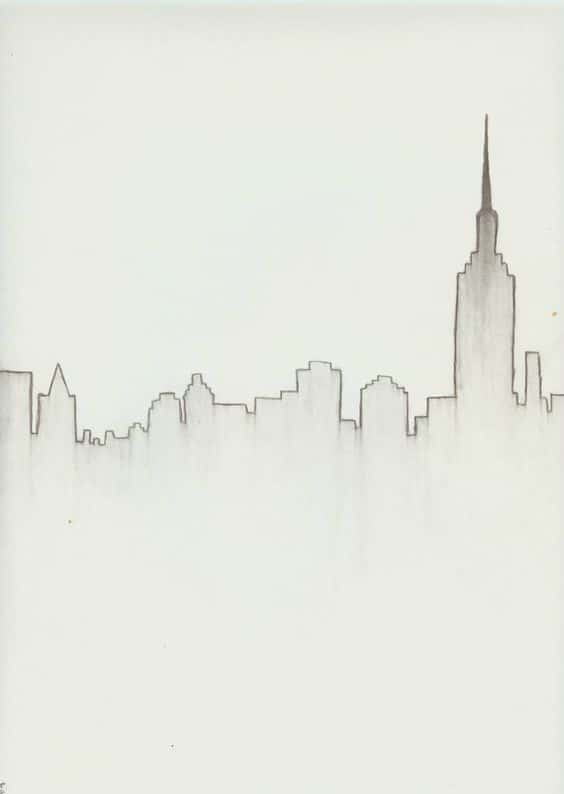 via etsy.com
6. Dreaming of the perfect city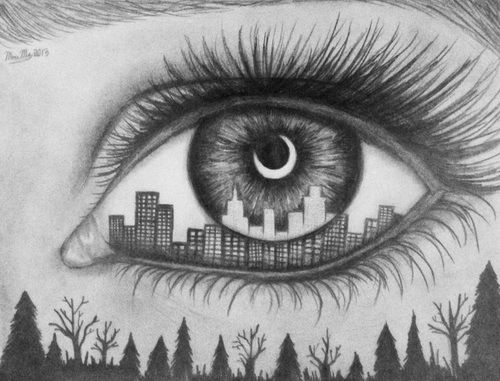 via weheartit.com
7. Small traditional homes sketched
via vectorstock.com
8. The Big Ben Tower sketched
Some type of drawings, especially architectural ones require just enough information to express an idea, a place or a landscape. The viewers mind can fill in the gaps.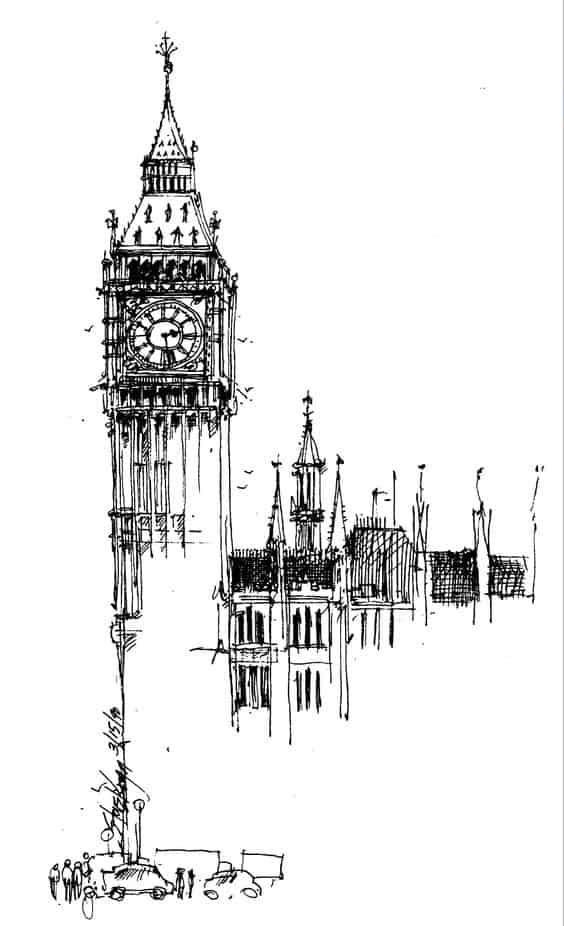 via Pinterest
9. City sketch defined depth perspective
The world around us is different from the image that our brain creates. We perceive it through a process that altera shapes and colors known as perspective. If it where any other way, we wouldn't be able to perceive distance and make the difference between two objects miles apart from each other. This is the first step to make a landscape realistic.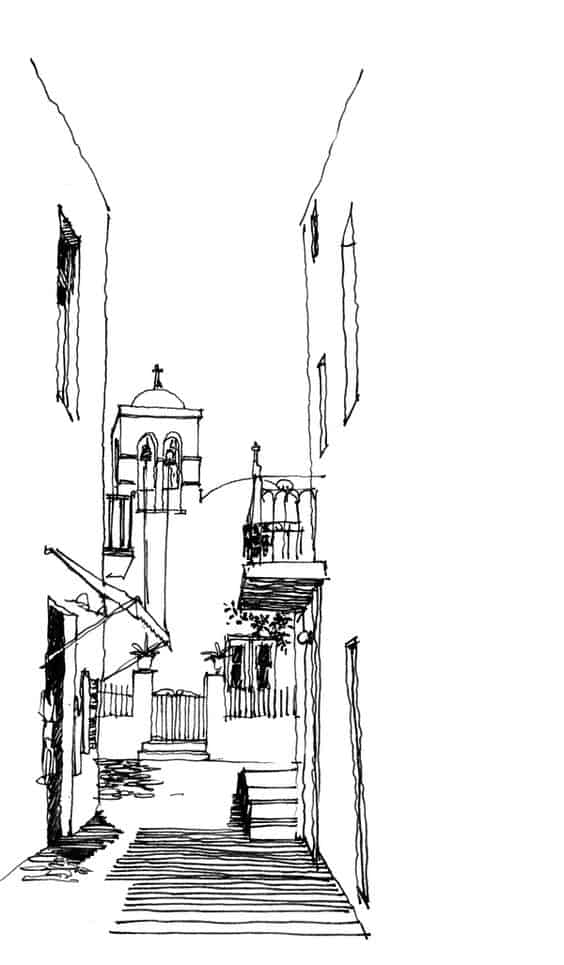 via behance
10. Inspiring shopfronts illustrated creatively
Looks so easy! Give it a go yourself and see how talented you are, miniature homes make great drawing ideas. Don't worry about straight lines or perfect angles, your hand drawing is defined by your line, it has personality, unlike a straight line that anyone can do with tools.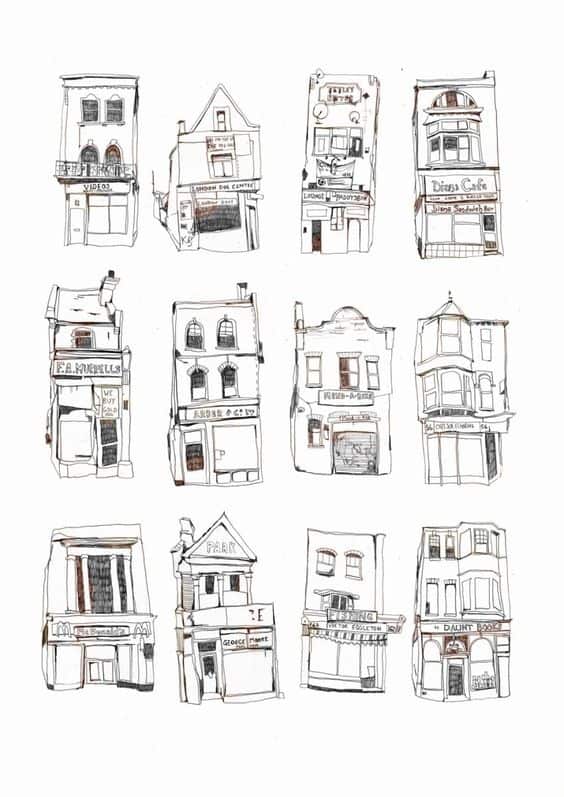 via serensara
11. Urban atmosphere sketch portraying European city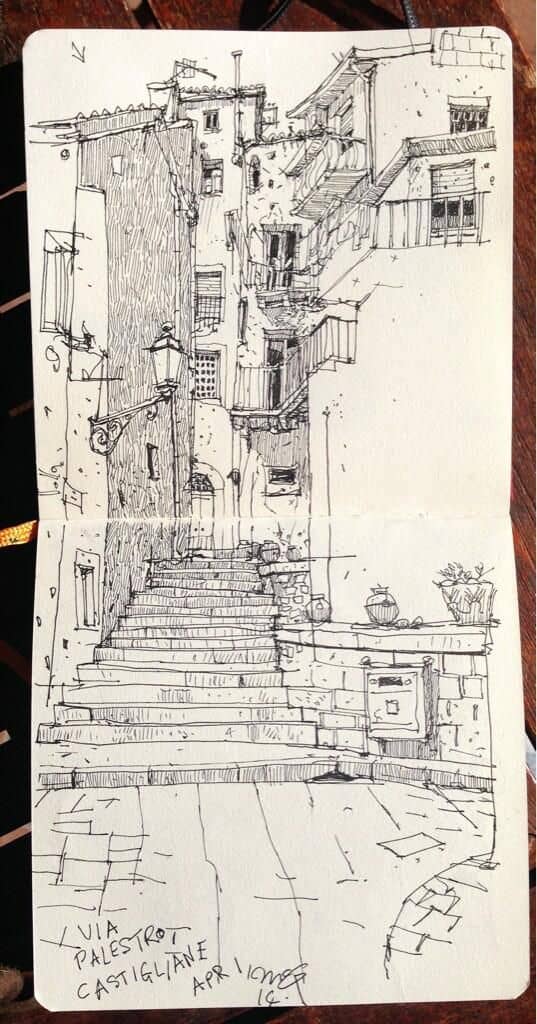 via  Ian Mcque
Animals
12. Jellyfishes swimming around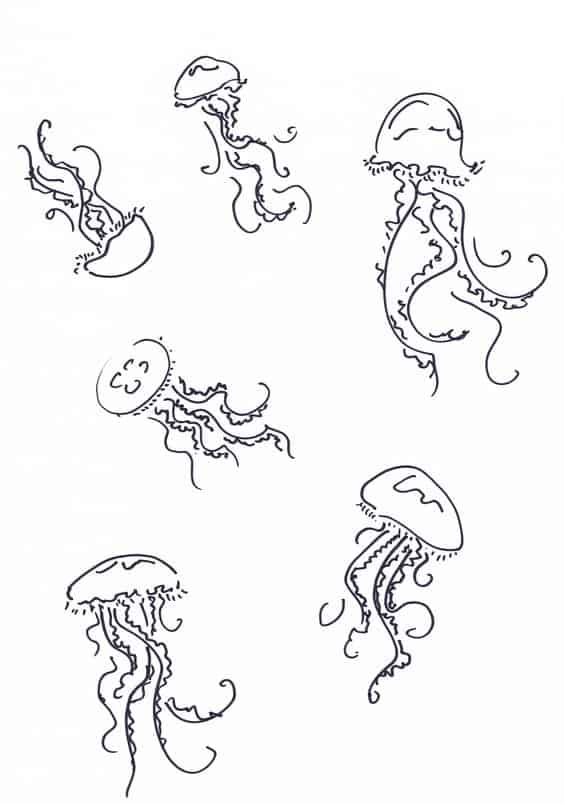 via lauraillustrated.wordpress.com
13. Fluffy baby penguin smiling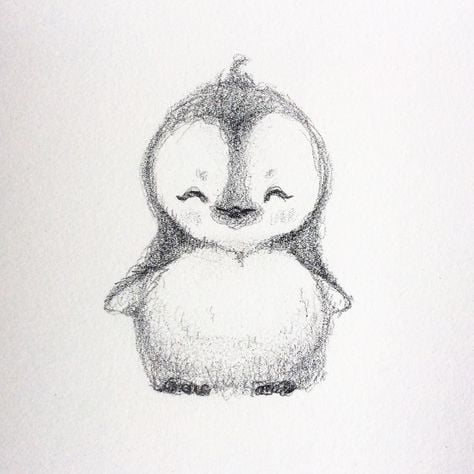 via instagram
14. Cartoon-like alligator sketch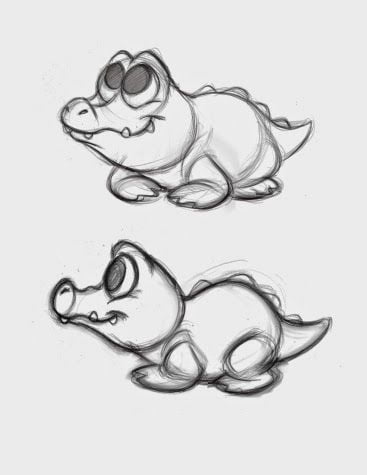 15. The majestic playfulness of a fox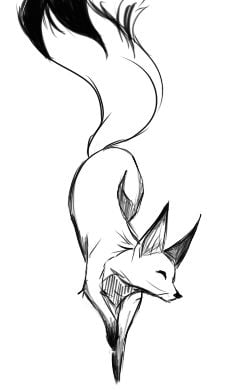 via duitang.com
16. Small bird in pine tree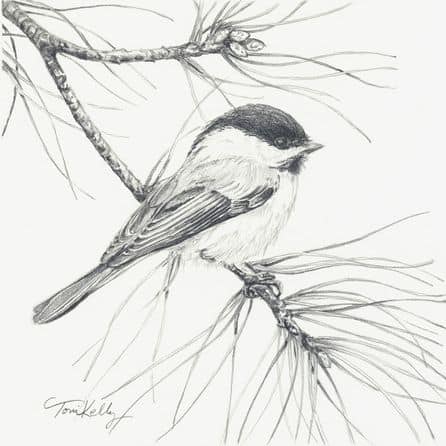 via Toni Kelly
17. Realistic Giraffe portrait
The wrinkles in the giraffe's face are basically defining its shape, without them, it wouldn't be so distinctive. How to draw them though, that's the catch. It takes a lot of practice to master it, drawing skills are earned through hard work and a lot of practice. The point is that our brains perceive the difference between shadow and light, thus creating a mental image of what we see, this contrast creates depth . Same thing happens in nature. This is only a mean of representing a tri-dimensional shape on a sheet of paper.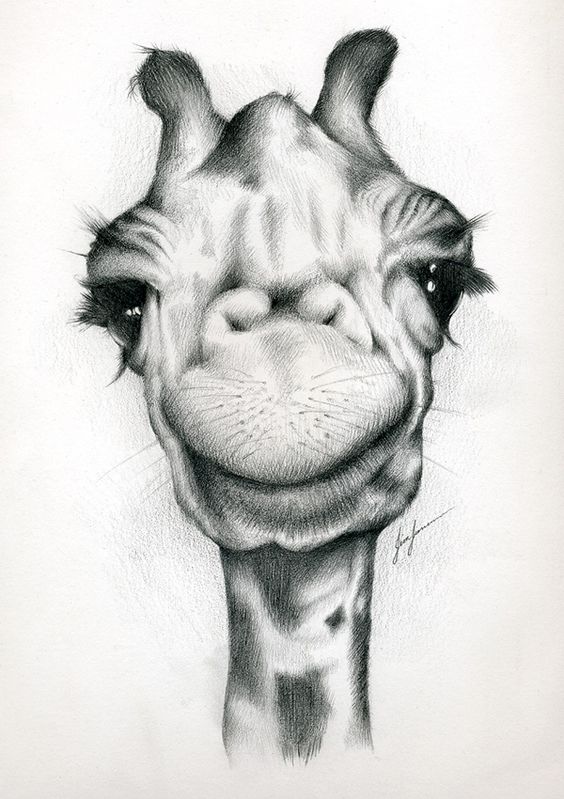 via Cherie Jenkins
18. Watercolor owl portrait
Even though it's hard too match colors, you will definitely succeeded in choosing the right ones. It might not look easy but once you decide which road to go for, you'll see how everything becomes an easy-playful task.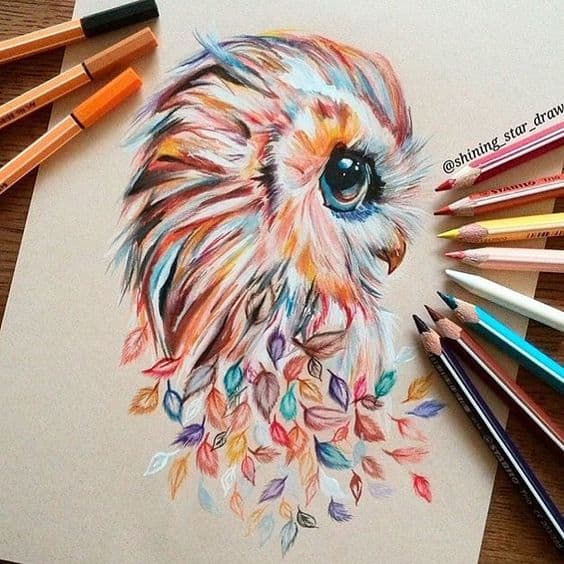 via instagram
19. Animals portraits simplified to one line
They are simple and very expressive, they transmit a lot of information through minimum effort and time.

via behance.net
20. Small critter showing emotion
We communicate 90% of our emotions and thoughts through our body language and only 10% through speech. Learning how to represent them in a drawing involves understanding how us humans express ourselves by shaping our lips, eyebrows or nose. That's why emoticons are so popular. They can relate, though on a very superficial level, with how we feel our what we desire to say,  simple but impactful idea that can inspire our favorite thousands of drawing ideas: just add emotion to anything that you love to draw.

via duitang.com
21. Beautiful floral whale drawing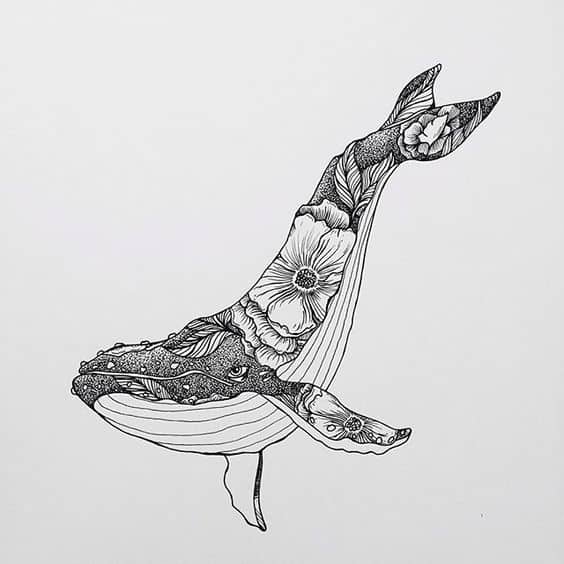 via instagram
22. Adorable little mouse drawing idea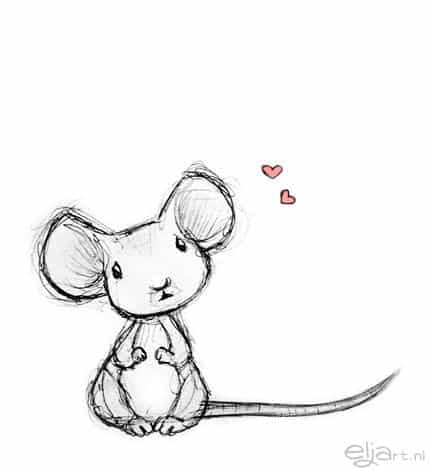 via eljart.nl
23. Realistic elephant pencil drawing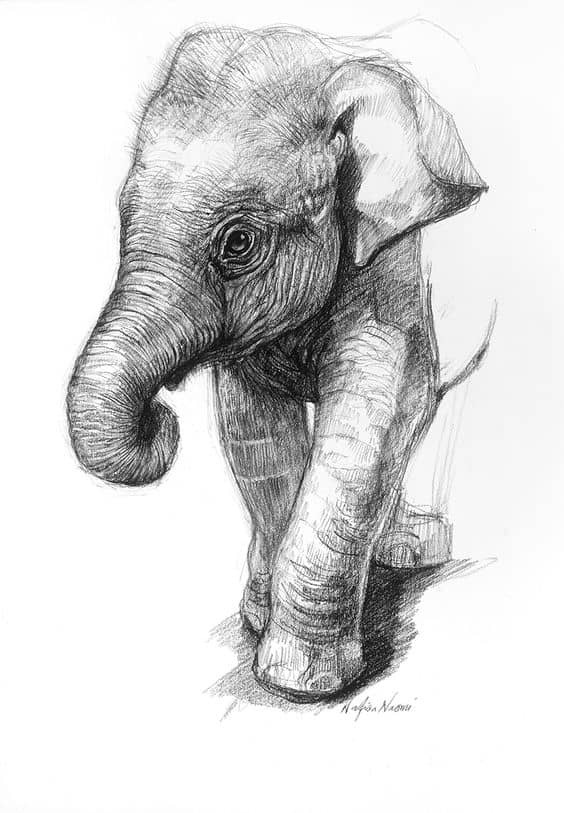 via imgkid
24. Cute graphite fox drawing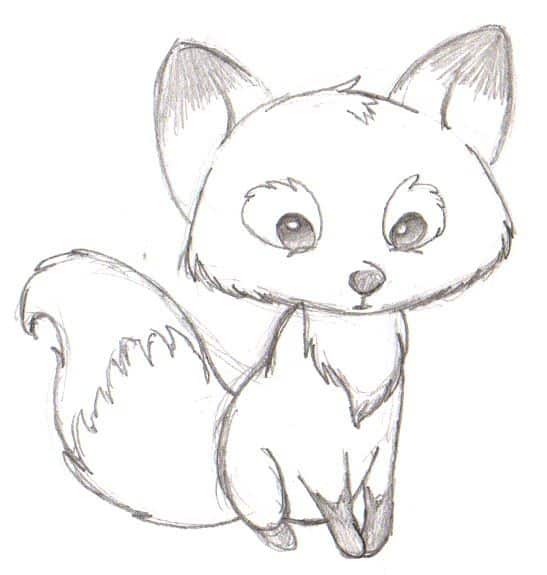 via thefurryfox2.deviantart.com
25. Seashells fast sketches
These images of a snail were drawn while the artist kept his eyes closed. This goes to prove how much the relationship between the brain and the hands can develop through a lot of practice, try and find things to draw that inspire you enough and you'll never feel like you are "working" on your skill but simply, exercising your skill.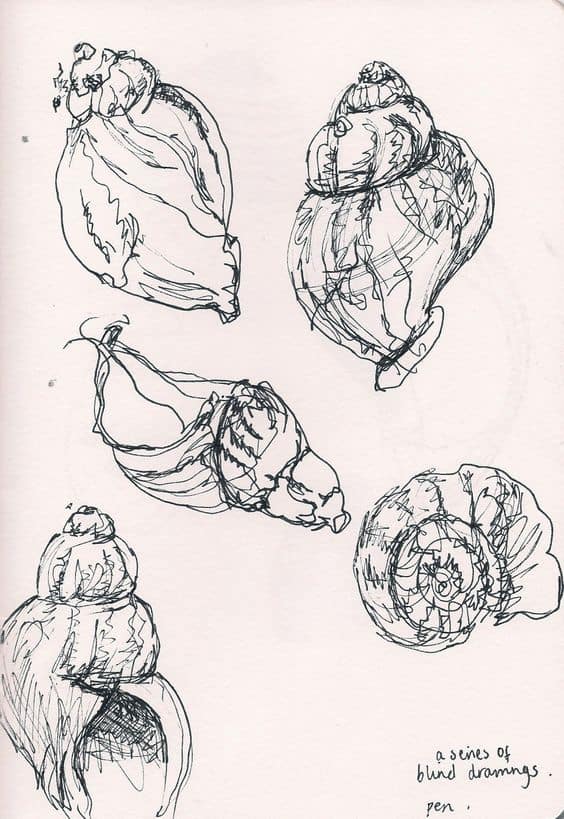 via Shannon Hunter
26. Stunning bird tattoo drawing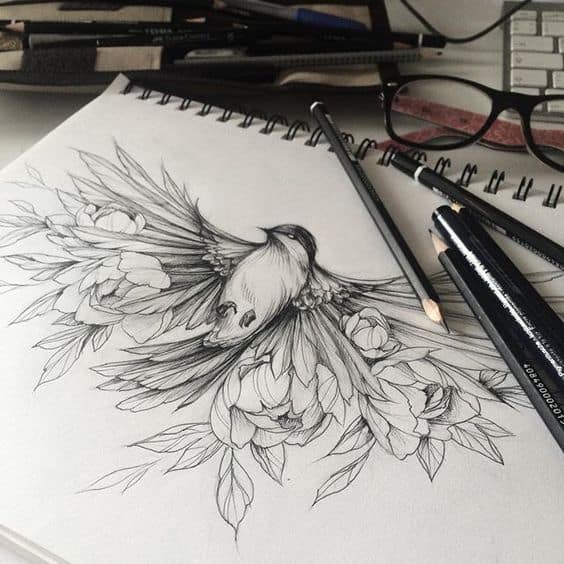 via instagram
27. Delicate humming-bird drawing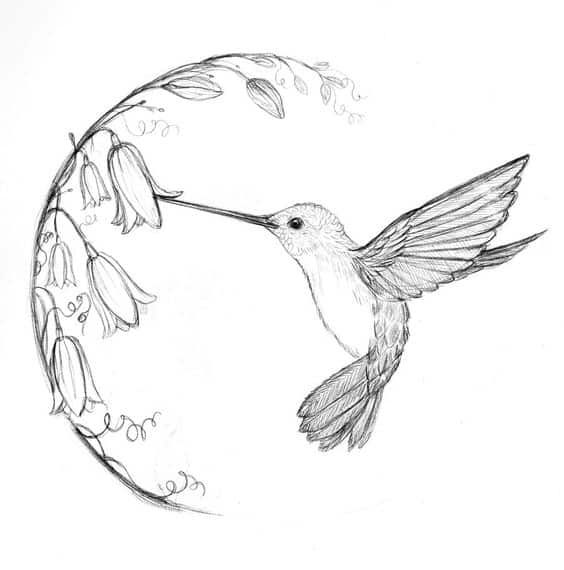 via theodysseyonline
28. Sculpting animals out of geometry
After mastering the art of drawing, try to create your own distinctive style. There are no limits in art and anything that looks good is applauded.



via kerbyrosanes.deviantart.com
29. Nature inspired animal shaped trees
I love the way the artist has perceived the natural world. Shaping trees as animals reveals a great amount of talent that comes from the heart.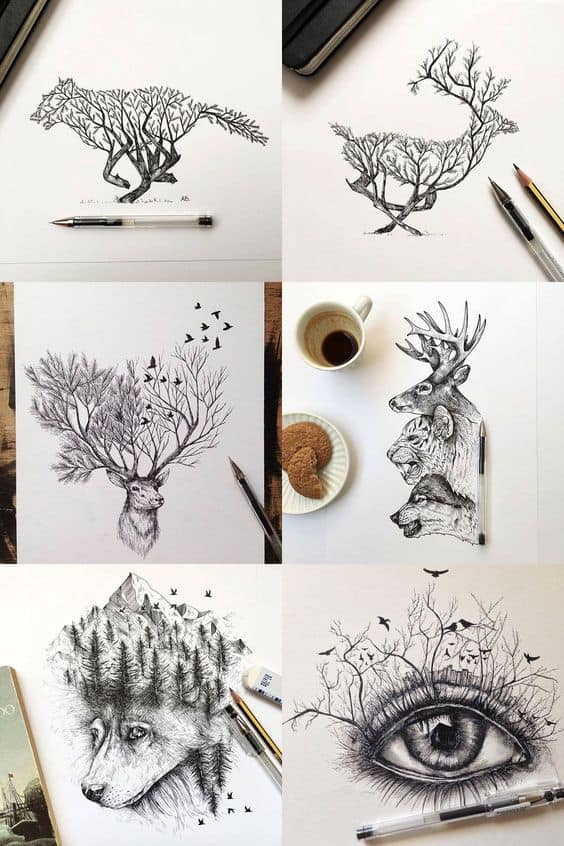 People
30. Woman showcasing the perfect dress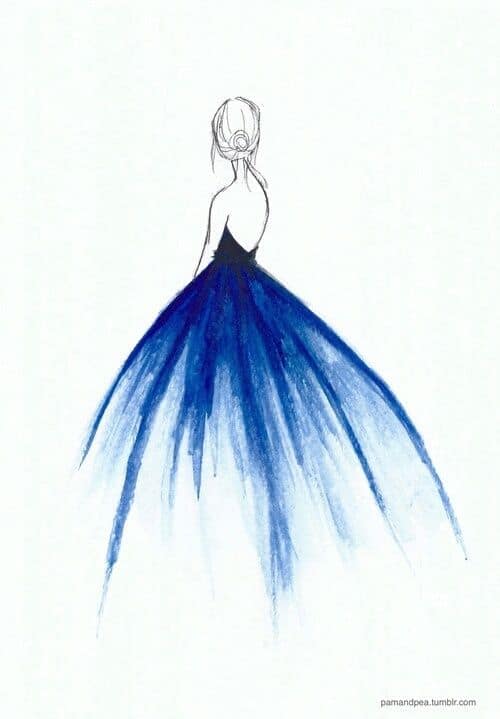 via pamandpea.tumblr.com
31. Shape iconic cartoon characters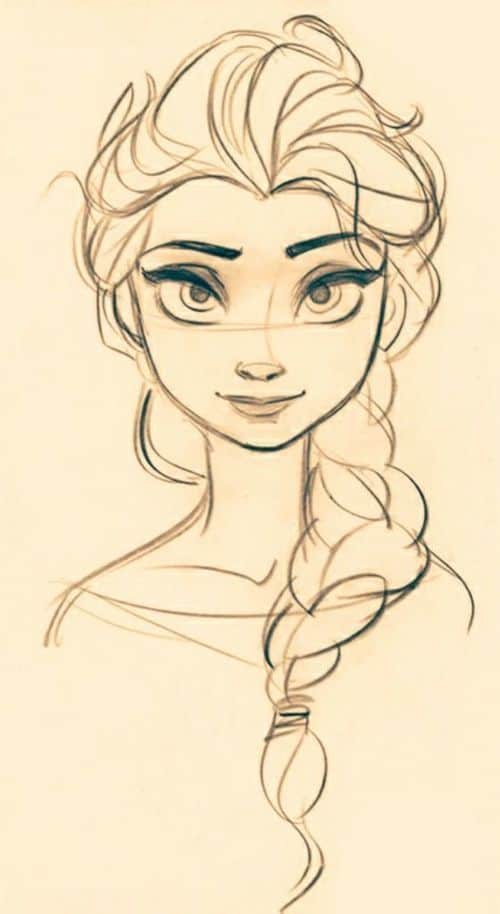 via weheartit.com
32. The essence of a woman's body
Our minds are designed to approximate and use memories to fill in the gaps. That's why a simple curves line can in fact mean much more than you'd think at the first glance.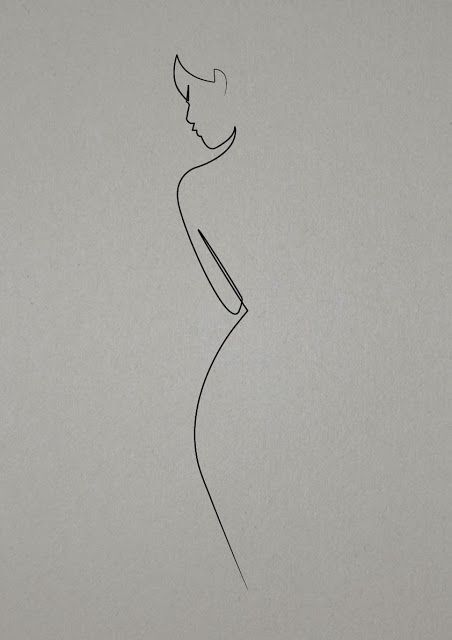 33. Simple and expressive woman outline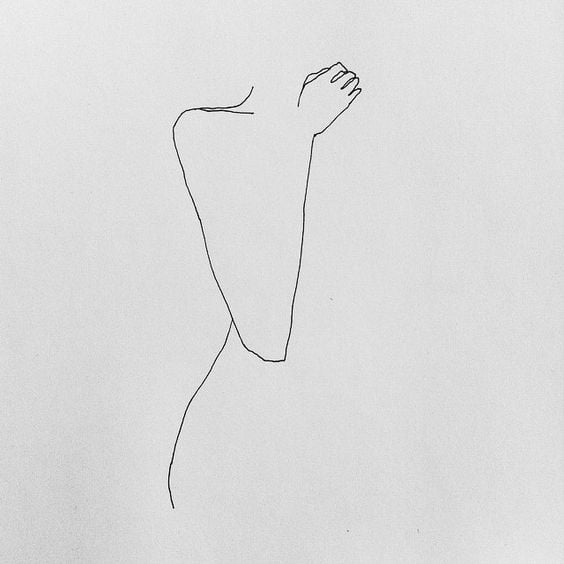 via instagram
34. Two one-line portraits kissing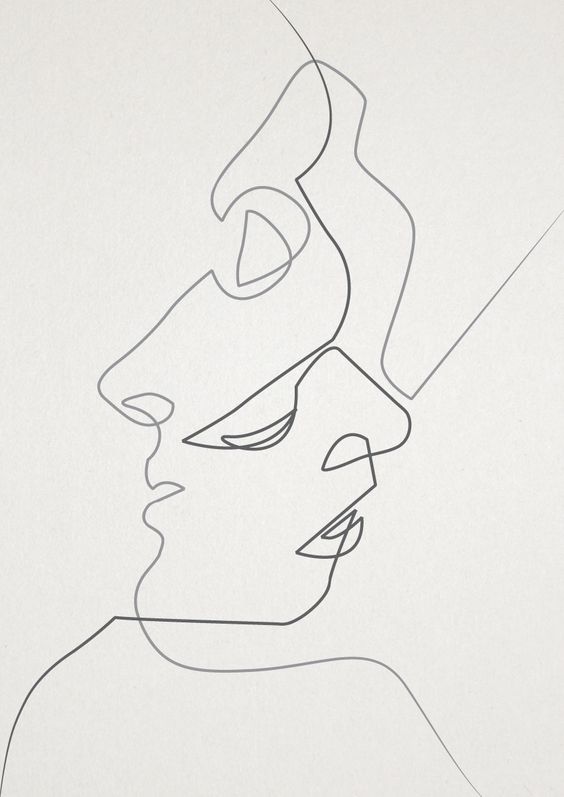 via society6.com
35. Graphite face continuous drawing 
You might think you've seen better representations of the human body but try to do it with a single line and you will surely see it as a challenge.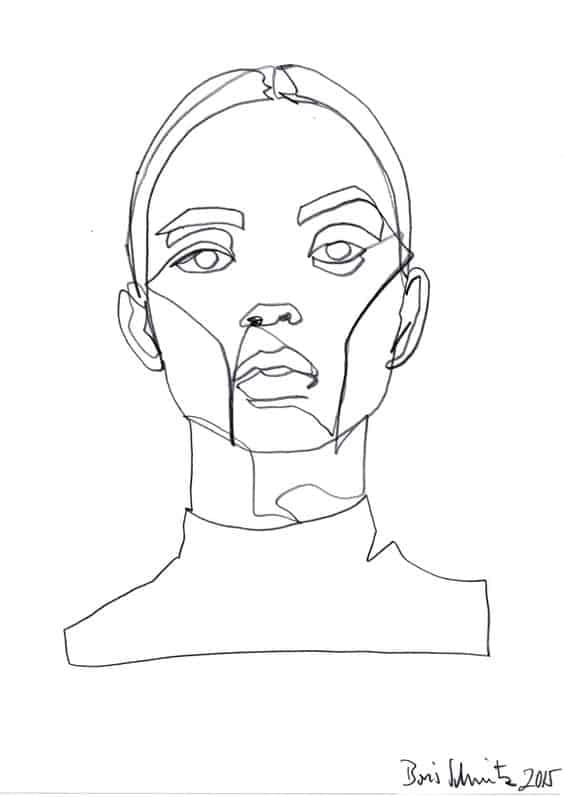 36. Hatch in pencil brings white volume forward
Use any means to shape the elements you wish to draw. Do not limit yourself to conventional methods and see the potential in any concept.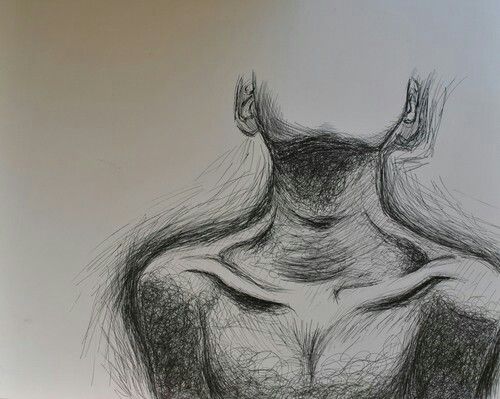 via weheartit.com
37. Girl on a swing remembering childhood
Bright colors suggest a scene full of life and happiness. Pastel and darker colors like this one suggest a rather sad setting, meant to express some powerful feelings.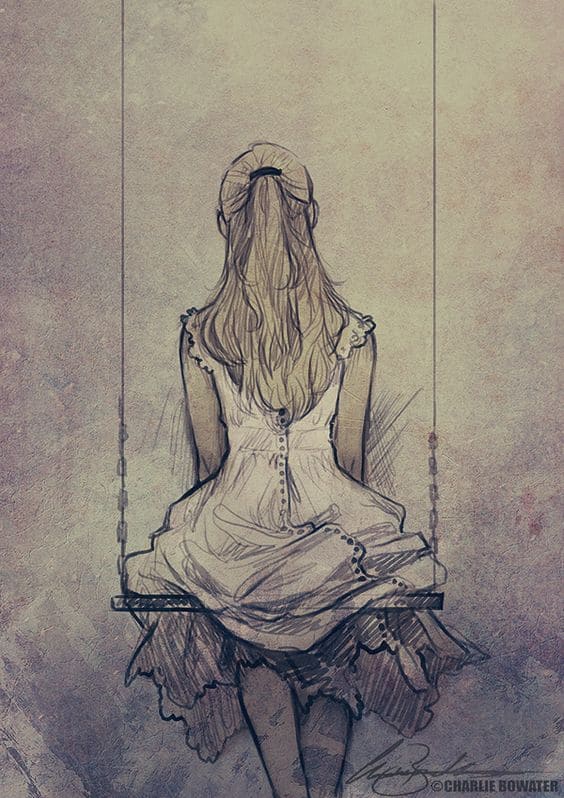 38. Perfect woman portrait created through shade only
The difference between a drawing and the real world is that what surrounds us is not shaped by lines. You don't see them in a photo either. Use only gradients and colors to create a more photo realistic image.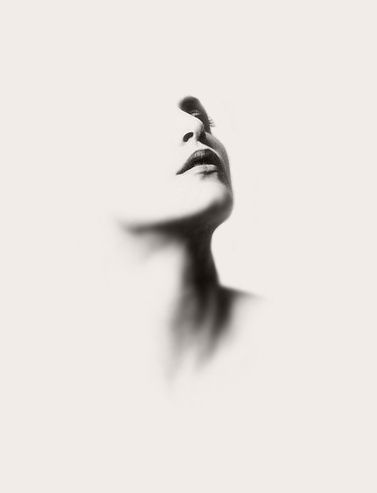 via Shelby White
39. The photo realistic incomplete portrait of a girl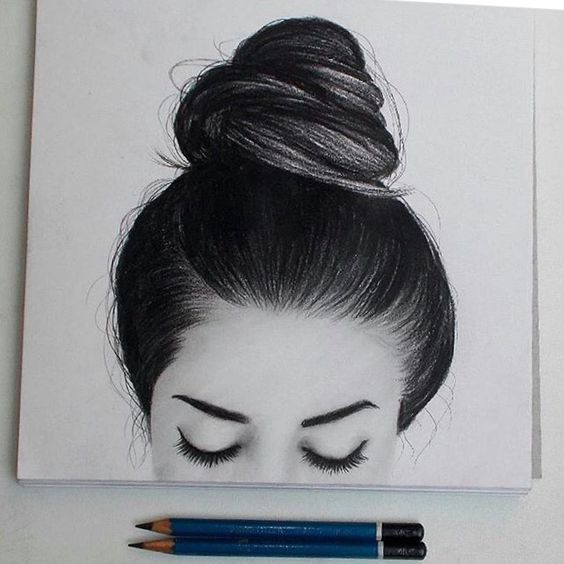 via instagram
40. Human eye embraced by mystical design motifs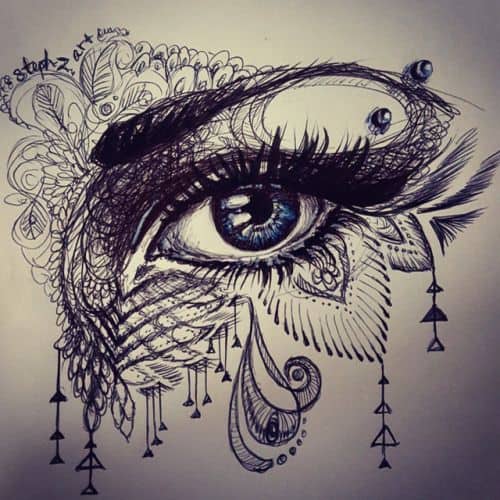 41. Delicate hatch shapes female portrait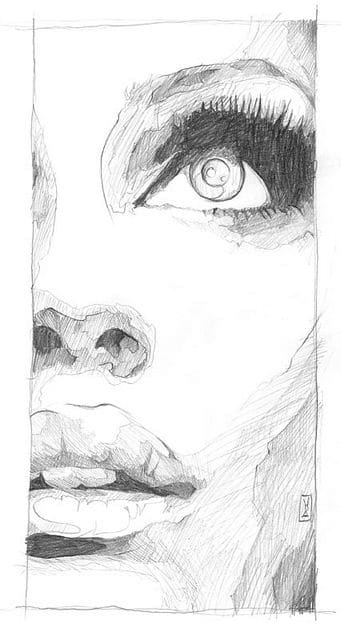 via flickr
42. Charming pen drawn eye and patterns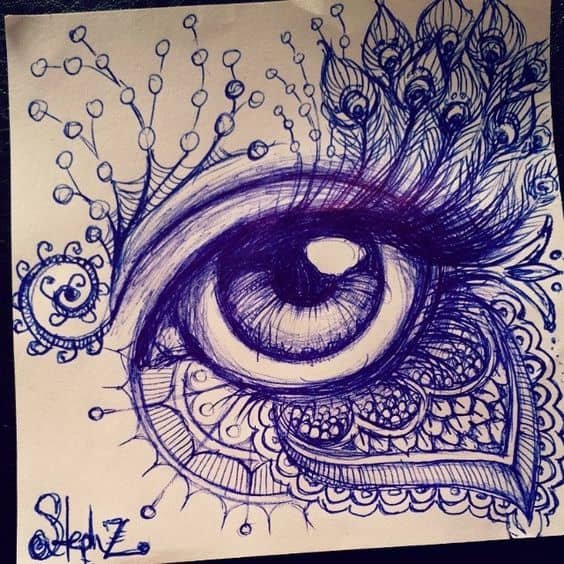 via instagram.com
43.  Explore the beauty of the human body
Just like any other occupation, drawing requires skill and talent but through careful studying and understanding the process, anyone can master it and create wonderful images, drawing skills can be earned through practice and thoughtful practice.

via fortags.com
44. Human silhouette behind a matte glass surface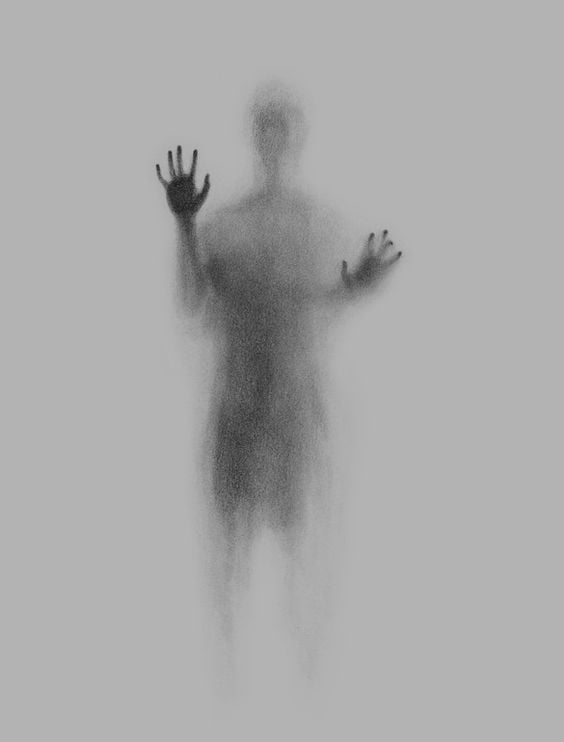 45. Woman sculpted by an endless line 
Nowadays artists try to find the most unusual methods of expressing their thoughts. Some ideas are very original and stand out between conventional methods.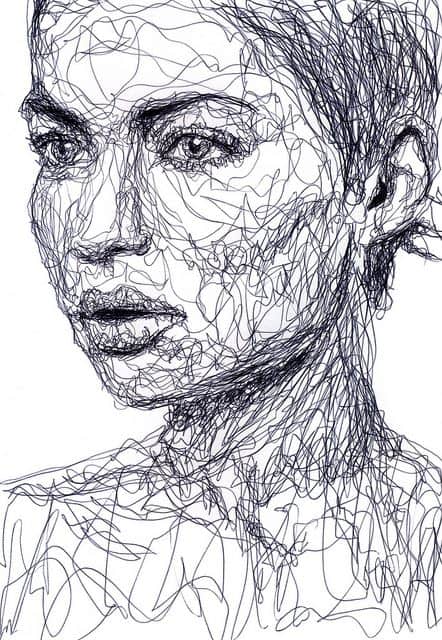 via flickrcom
46. Sketchy holding hands drawing
Draw with your heart, not your mind and the result will be much more original and personal. Keep in mind though that everything in nature is based on math and has a logic behind it.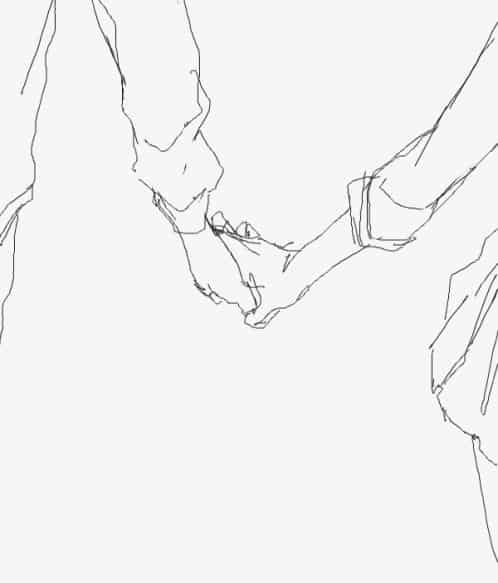 >
via weddingswithzsazsa.tumblr.com
47. Expressing emotions through the human body is an art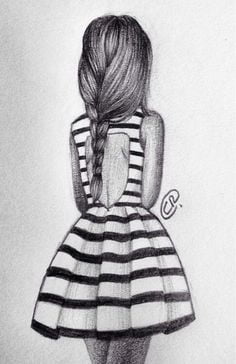 48. Simple and easy girls sketch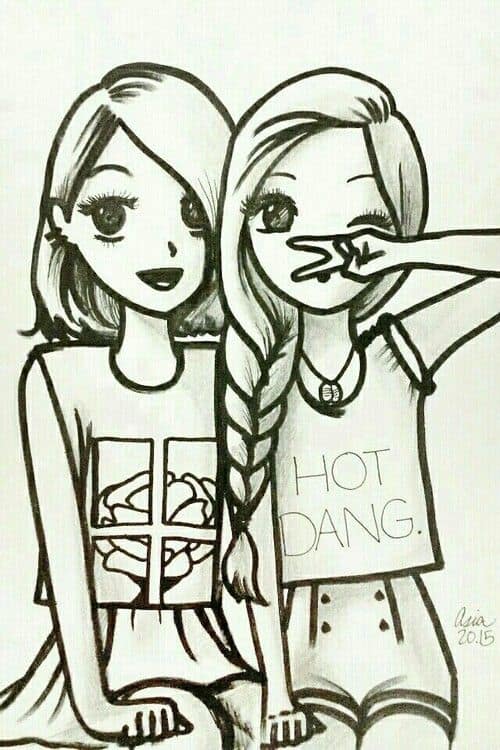 via Riley Griffith
49. Splendid girl in a feather dress
The beautiful may reside in the unknown, it may find refuge in the little things, the feathers on the dress and the butterfly in her hair are not just details, they make the design.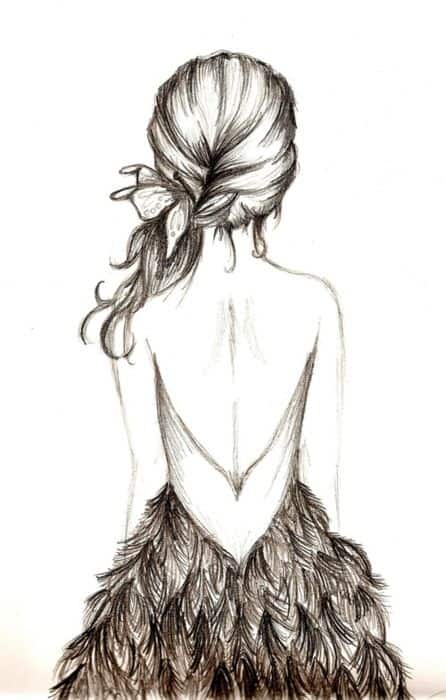 via tumblr
Plants
50. Love is in the little things 
Even the simplest drawings evoke memories and feelings. It's not the detailing that counts but it transmits to the viewer.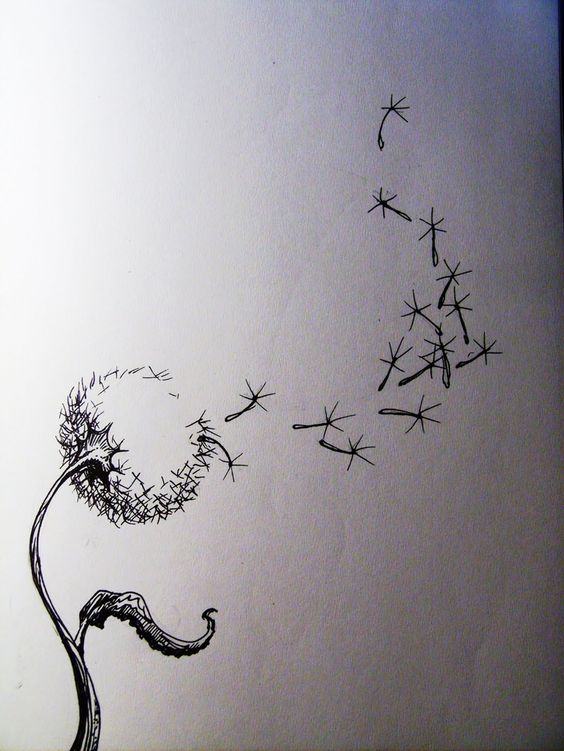 via indulgy.com
51. Drawing a dandelion is easy and playful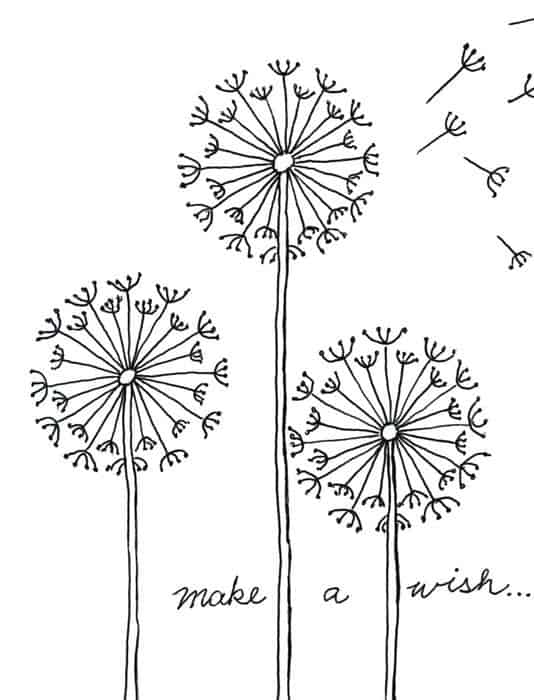 52. Fantastic fast sketching with elements for decoration

53. Leaf doodles showcasing nature's diversity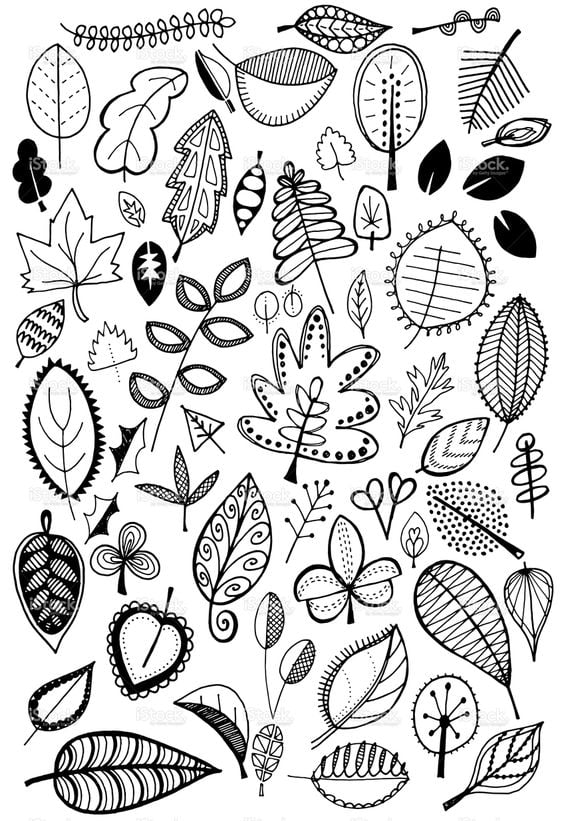 via istockphoto.com
54. Finding inspiration in fantasy fairy tales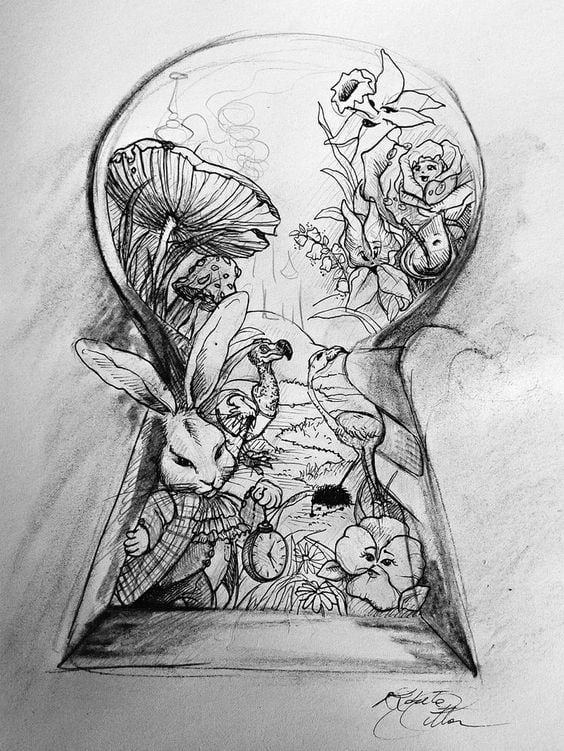 via pinterest.com
55. Use geometric shapes to portray potted plants
I would say this is becoming a trend. And a very appealing one. Creativity knows no boundaries.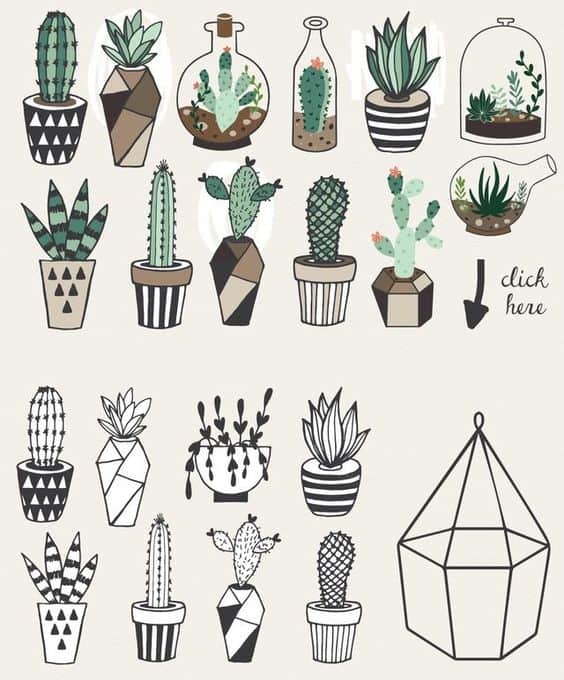 56. Splendid poppy flowers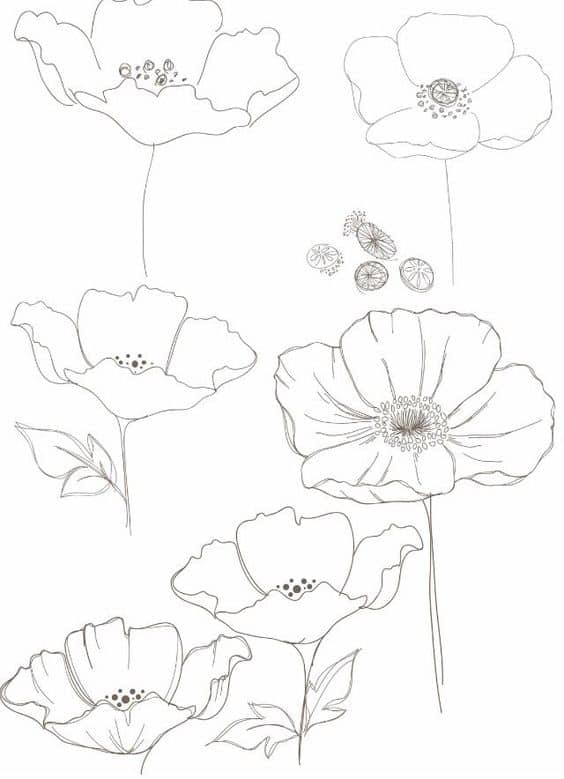 via pinterly.com
57. Watercolor tree spring blossoms
Apart from the beautiful and expressive shapes the artist has created, the color shape a great ambiance, beautiful balance, a stunning image. Pay attention to color combinations and saturation. If you struggle to find the right ratio, seek inspiration in nature. It never fails.

via duitang.com
58. Pretty sketchy dandelions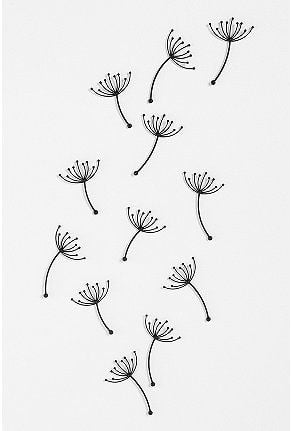 59. Charming strings of leaves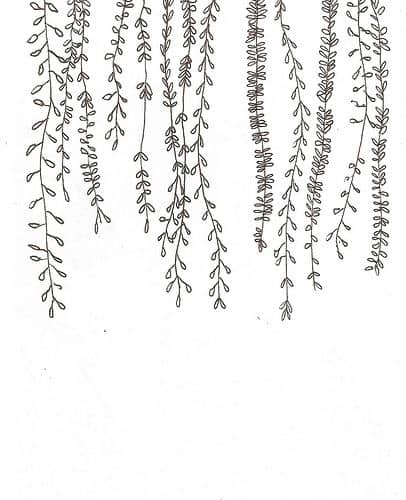 60. Lily flower showing symmetry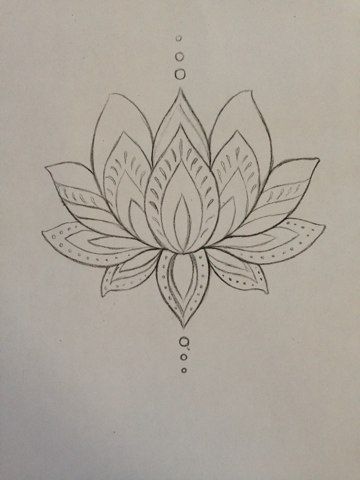 via capriciousflaw1.tumblr.com
61. Splendid flowers drawn in coal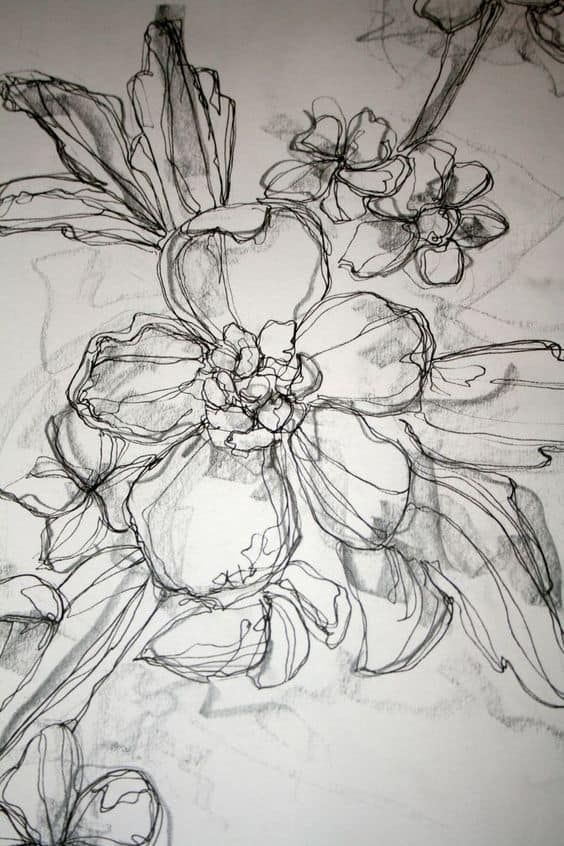 62. Floral themed line design
There are a variety of methods to define a shape. This example uses only lines that change their curvature according to the form and orientation of every leaf.
 

via Marina Ávila
63. Black and white poppy flowers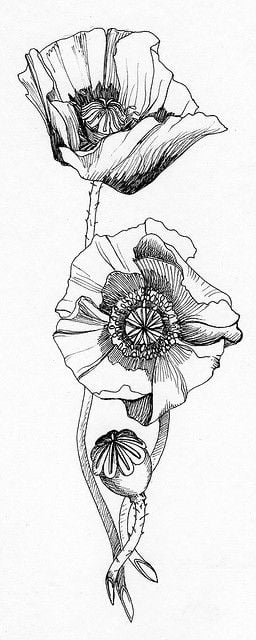 via flickr
64. Simple dandelion illustration
Seeking inspiration in nature is always a good advice for beginners and people who want to exercise their drawing skills. Once your hand will be used to draw what it sees, it will be much easier for you to express your thoughts and imagination.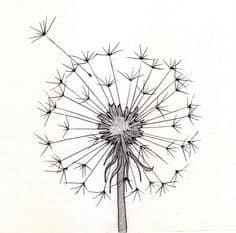 via pixgood.com
65. Dandelion flower study illustration
One flower is surely beautiful but imagine a dozen. It takes quite a lot of work but the result will most likely be worth hanging on the wall.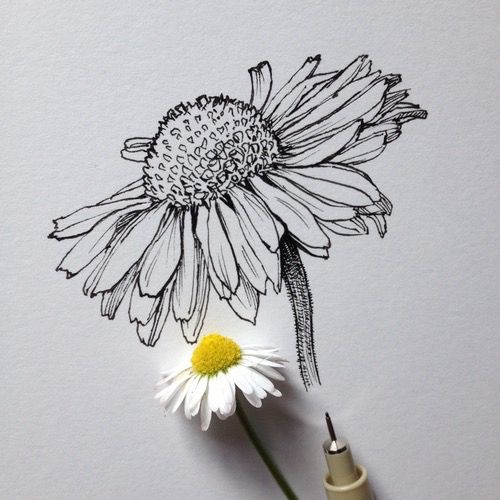 via  © Alfred Basha Mais
66. Cherry blossom studies through drawing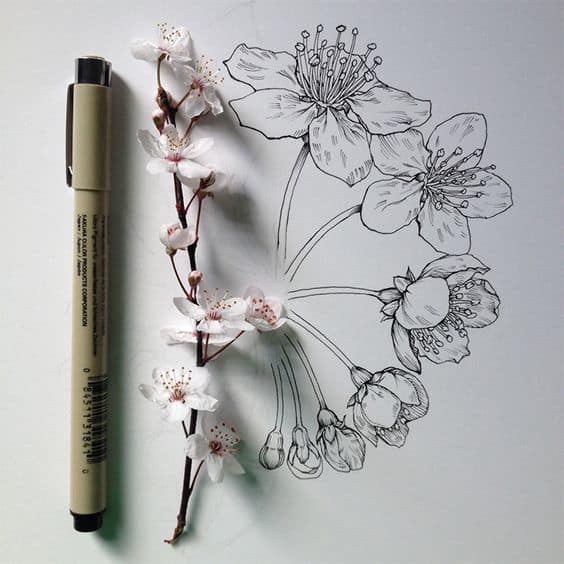 via © Alfred Basha Mais
67. Draw a rose
Especially if you're a beginner, don't go for the end result right away. Do some contouring first and then learn to enrich them with shades and colors.

How-To's
68. Movement studies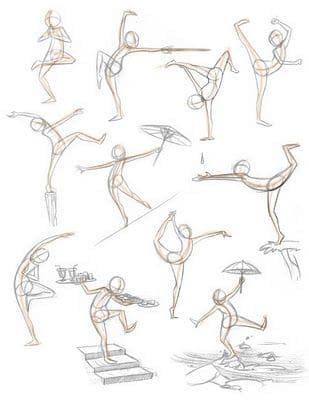 69. Sculptural natural black and white body movement studies 
If the shape you chose to draw is too complicated, divide it into smaller and easier to manage shapes and you'll definitely succeed.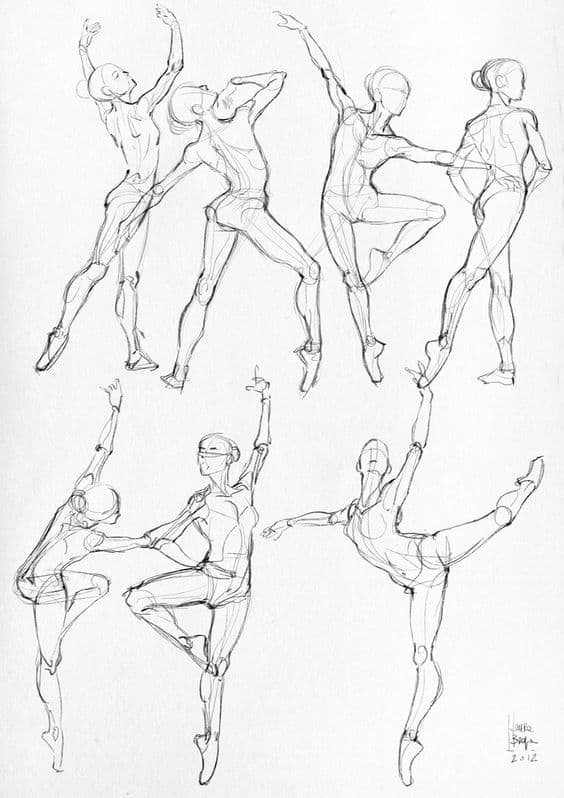 via laurabragasketch.blogspot.hk
70. The process of constructing a human face 
Almost any shape can be reduced to simple geometric forms like spheres and cubes. Start by dividing the object into clear simple parts and then add the details.

71. Cat proportions and movement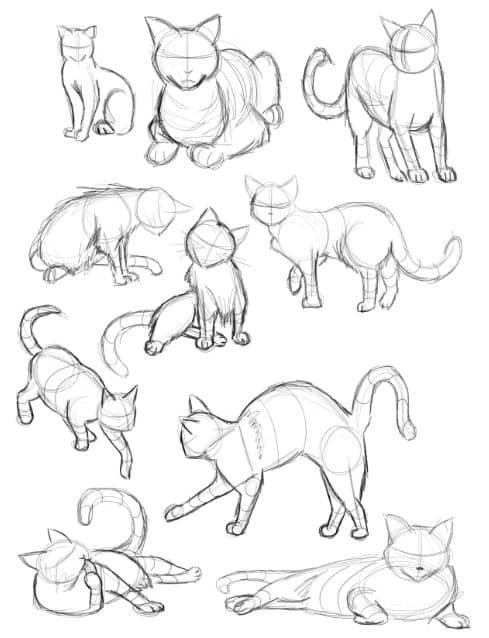 via saraneth672.deviantart.com
72. Drawing an eye step by step
The most accessible way of drawing a complex shape is to firstly create a set of boundaries that define the general shape. Then, step by step, you get closer to fine details and rendering.

via theartallaround.blogspot.com
73. Lips drawing step by step
It all starts with some basic contours. Artist rarely go straight to the fine detailing. Moreover, each part of the human body can be defined geometrically or it can at least be constrained to a geometric shape that is easier to draw. Afterwards, it's all about imagination and talent.

via rapidfireart.com
74. Anime inspired designs
The anime style has definitely established itself as a particular and special drawing style that is loved by people of all ages.

via picmia.com
75. Basic anatomical studies of a ballerina
via laurabragasketch.blogspot.com.es
Inspiration Seeds
76. Alluring monochromatic mini landscapes
Carefully arranged, these amazing drawings would create a beautiful collection to beautify a wall or a nightstand. Either way, the artist has succeeded in creating very detailed images with simple means, through passion.

Source Unknown
77. Impressive rainbow feather
If you can create awesome line designs, then start working on your color skills. A good sketch is always going to impress. Keep it simple and love drawing, with sufficient patience and practice you will do wonders on paper.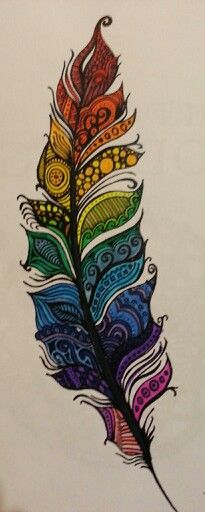 78. Playing with rainbow colors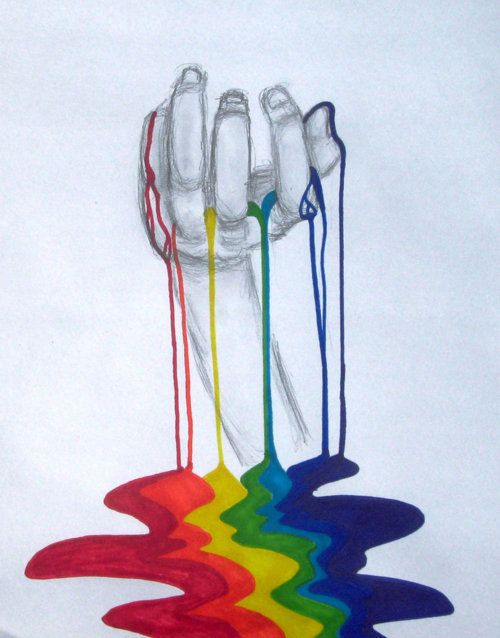 via tumblr.com
79. Time themed intriguing drawing 
A result like this is definitely something personal. Nature isn't mimicked but rather used to create something that only that drawer can imagine.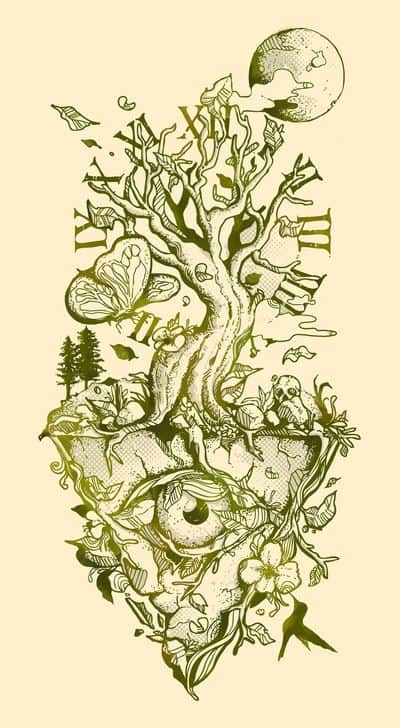 via society6.com
80. Using contrast to create a nighttime landscape
If you look around you'll notice that objects around us are not defined by straight or curved lines. Instead, what gives them shape are colors, textures and shadows. Our eyes perceive the difference between an illuminated surface and a shaded one.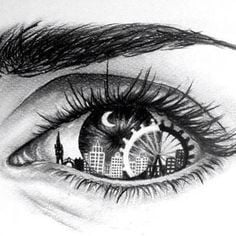 81. Find inspiration in the little things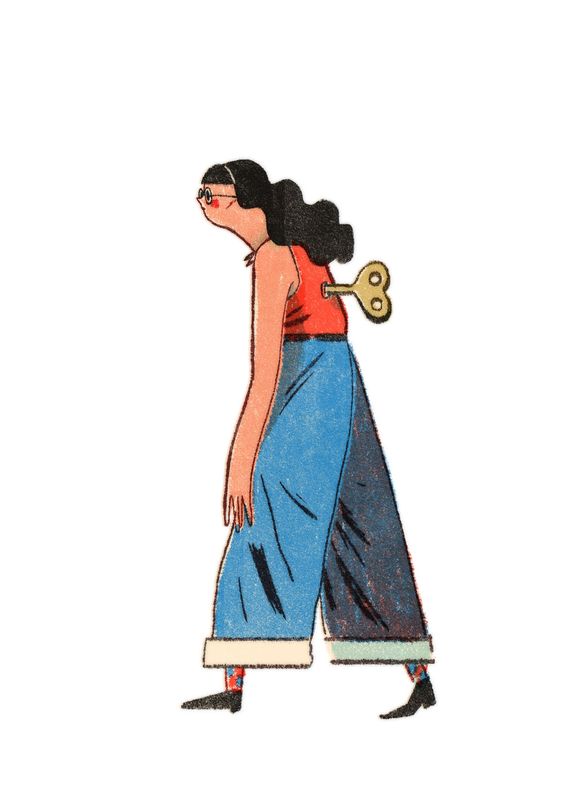 via liskfeng.com
82. Flowered skull rebirth
Some artists create paintings unlike anything else, creative juices flowing through their paper and canvas. The more unusual they are, the harder it is to see what they wanted to express. Any viewer will look twice to try to understand its meaning.
via Keithey Love
83. Mermaid resting on a rock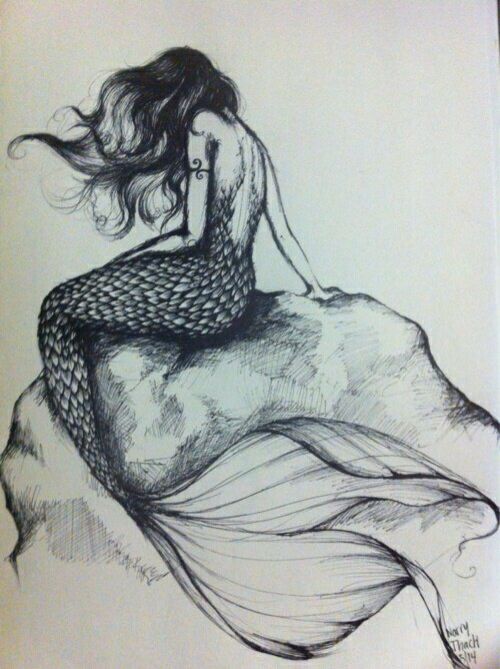 84. Candle drawing where white is negative
You can almost feel the heat of the flame right? That's thanks to the contrast between the flame and the background. Find inspiration around you and always keep your pencil at hand for quick sketches.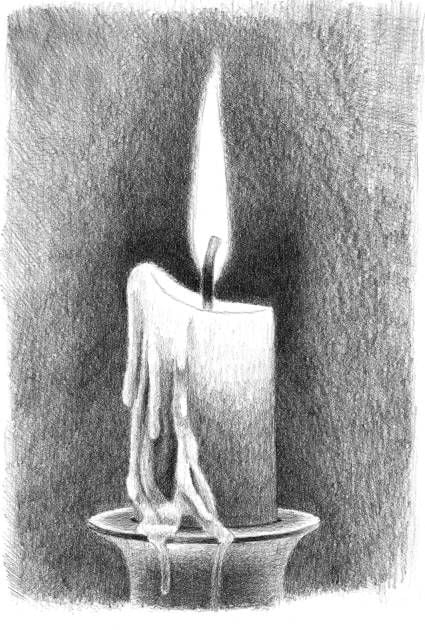 via idiotsguides.com
85. Heart nurturing flowers and trees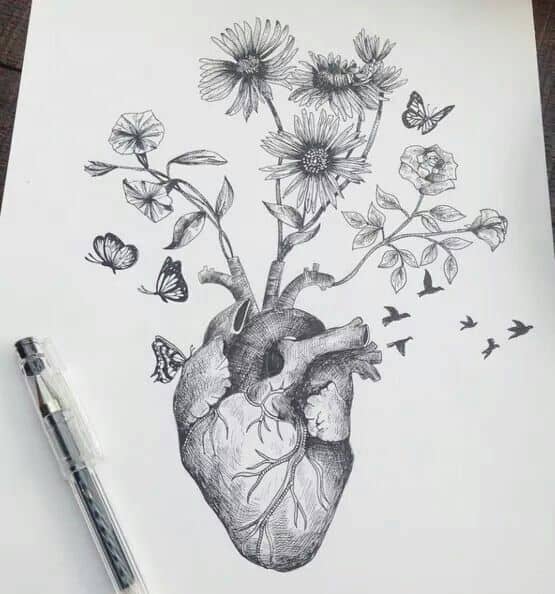 A splendid creative idea that looks like nothing else, from the heart, blossoms and life. A pure drawing idea that inspires and invites the one that loves drawing to create, to let creative juices flowing.
via Renae Keatley
86. The rebirth of a rib-cage into nature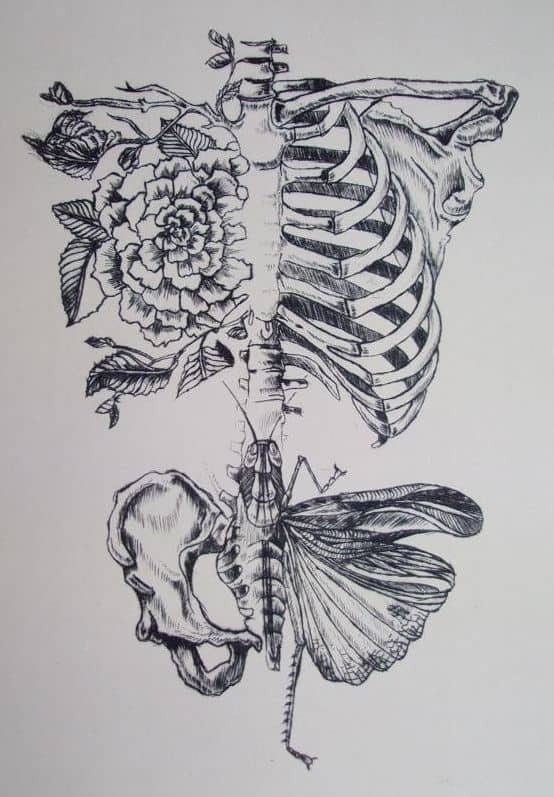 via etsy.com
87. Forest trees shaping a female portrait
An artist surges inspiration from everything and unusual ideas, beautiful concepts, surface. A common drawing will not raise too many eyebrows but an exceptional concept will make everybody curious.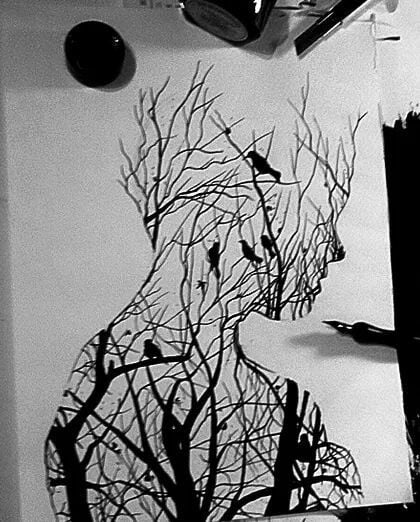 via facebook
88. Light-bulb containing a sea universe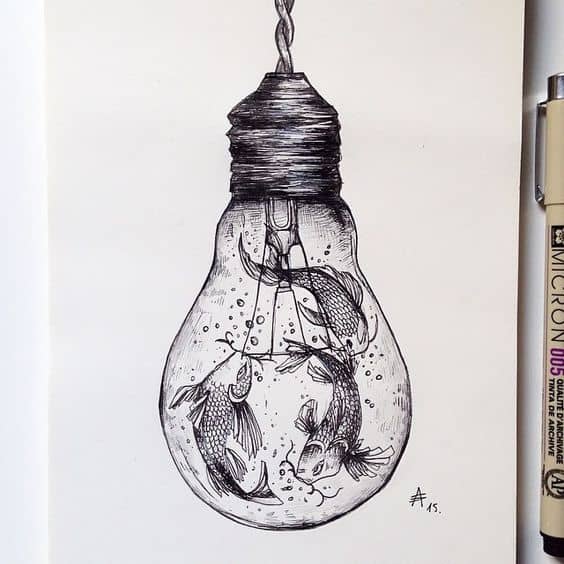 via abduzeedo.com
89. Sea world fairy-tale on paper
via © Alfred Basha Mais
90. The spirit of adventure in a coffee mug
It looks so good I almost wish it was real! Grandma's cookies are all that's missing.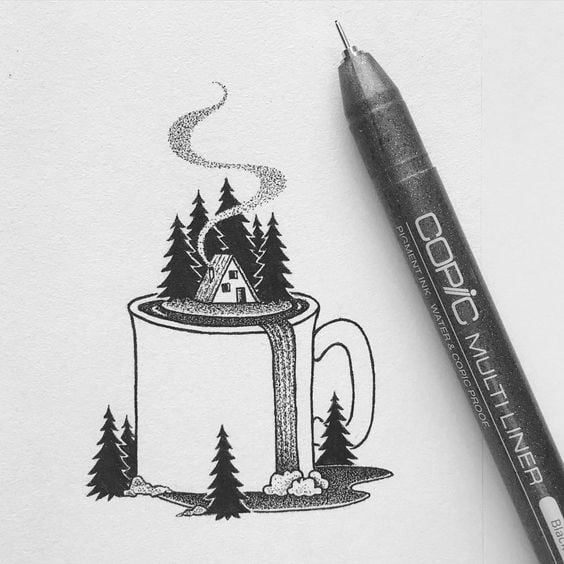 via instagram
91. Earth's nature nurturing us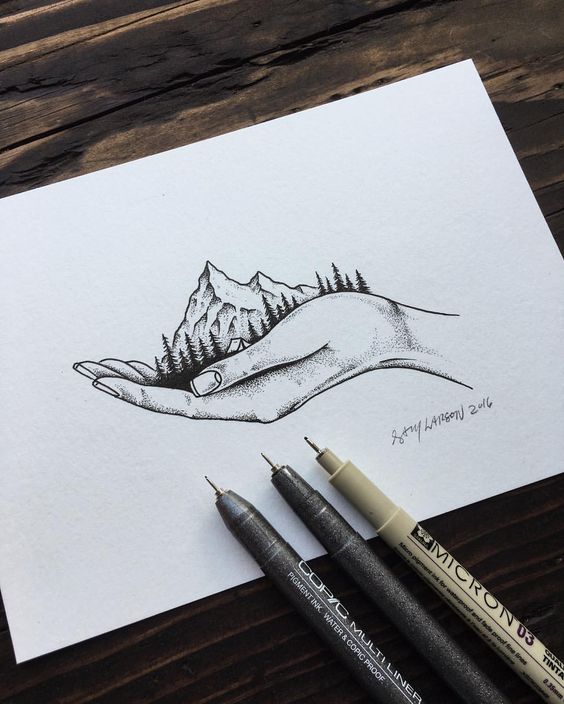 via instagram.com
92. All lines rock drawing
There's a secret to representing any shape. Choose the one that fits your style the best and start practicing.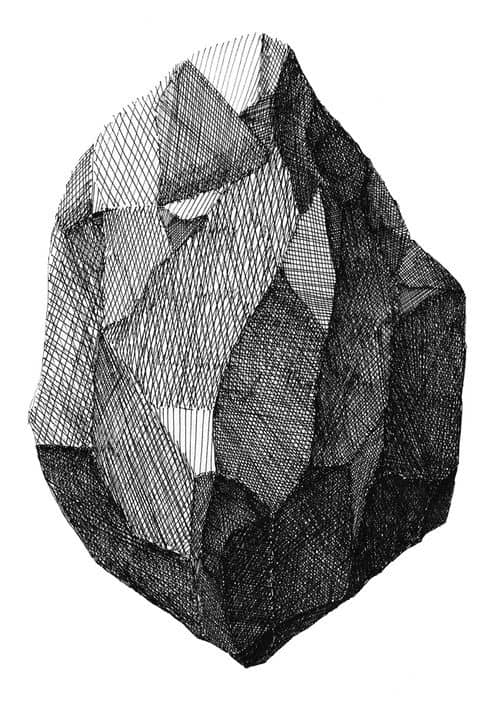 via ak47.tumblr.com
93. Creating small and cute drawings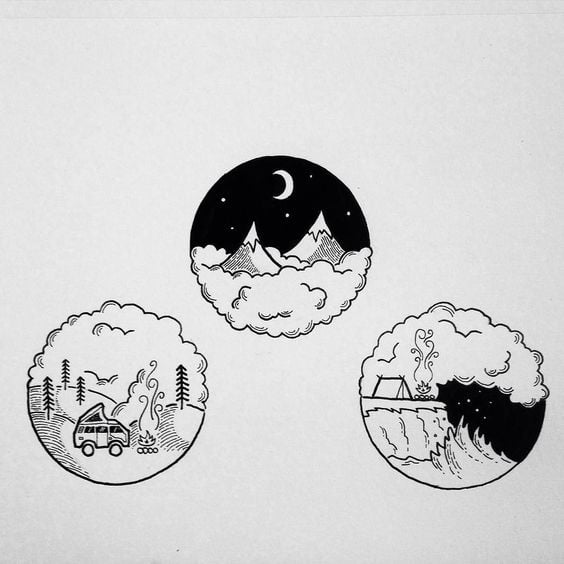 via instagram
94. Find inspiration in your personality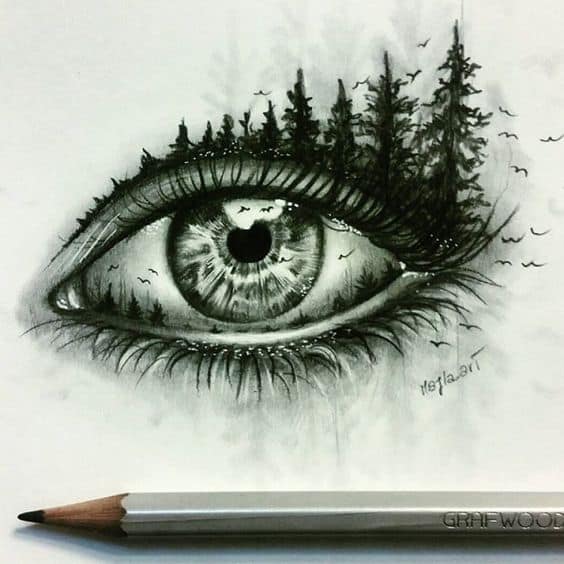 95. Urban medieval city sketch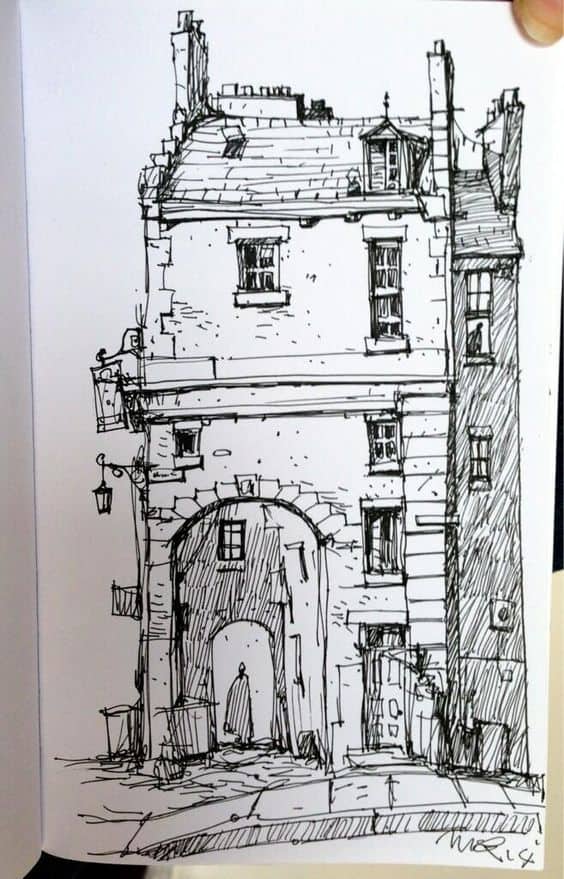 via twitter.com
96. Cute girly designs for your spare time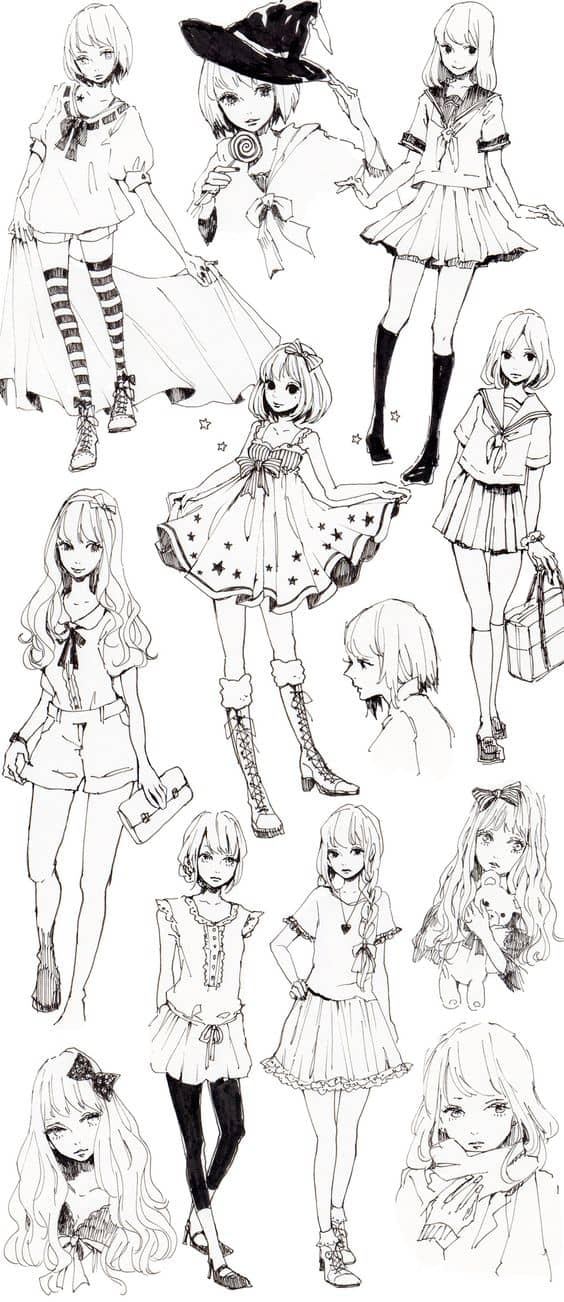 via pixiv.net
97. Turning a sketch into a detailed shape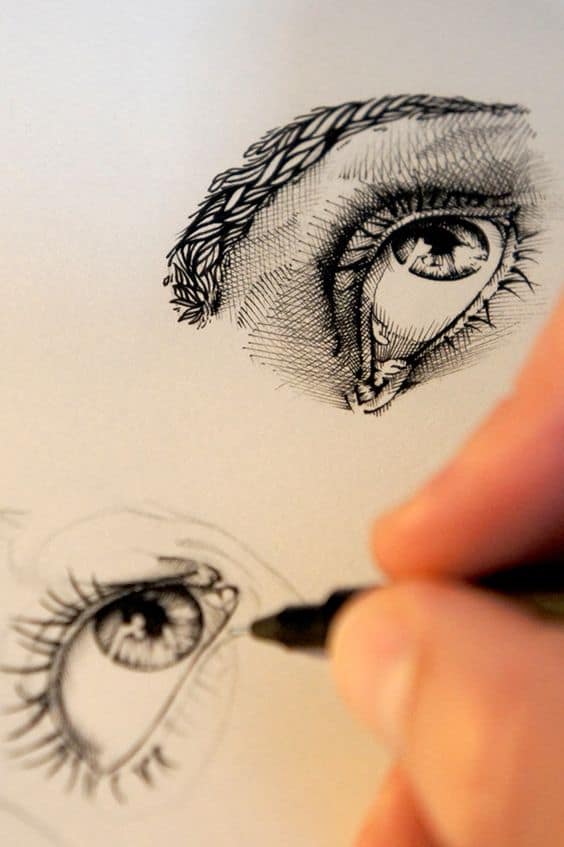 via behance.net
98. Small volkswagen camper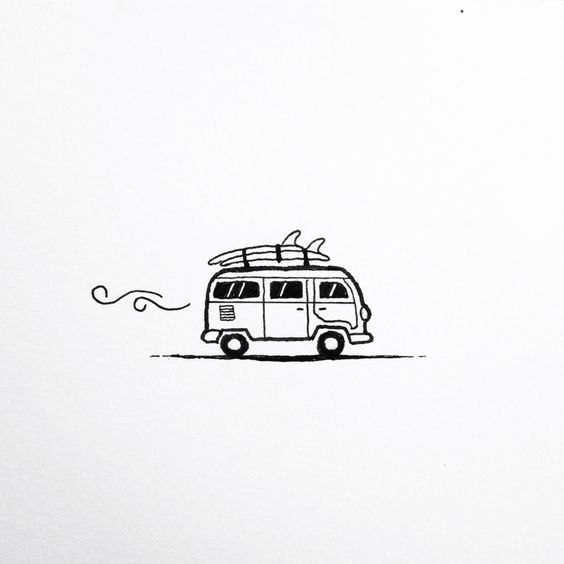 99. Keep it simple, adventurer's font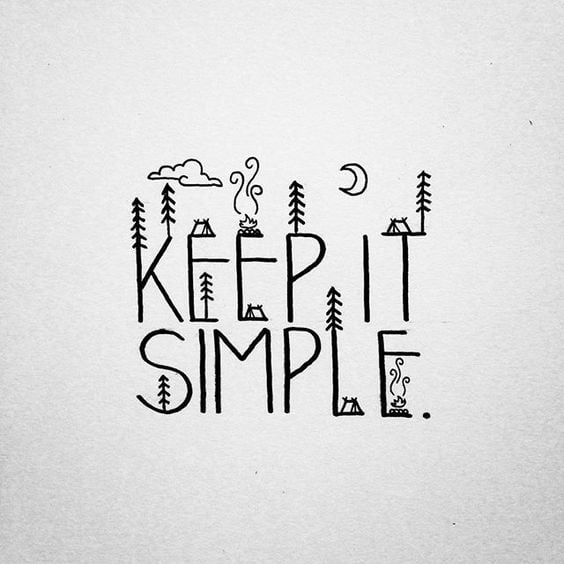 via instagram
100. Wonderful mountain mini landscape drawing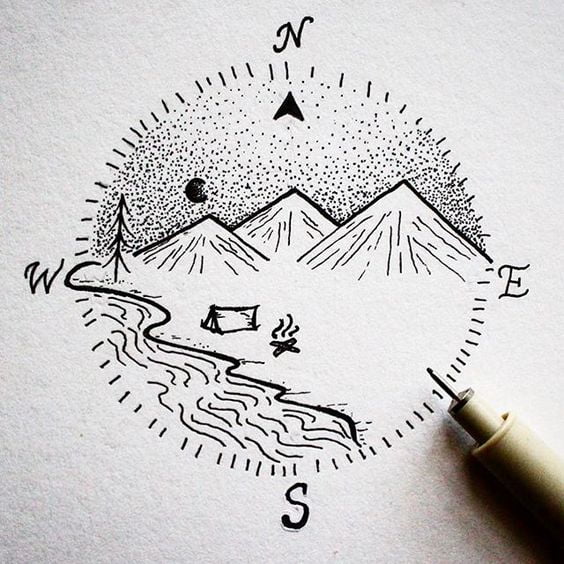 via instagram
101. Stunning adventure letter design
Use this type of sketches for logo designs and commercials. By replacing some letters with symbols, the word gains a vibrant expression.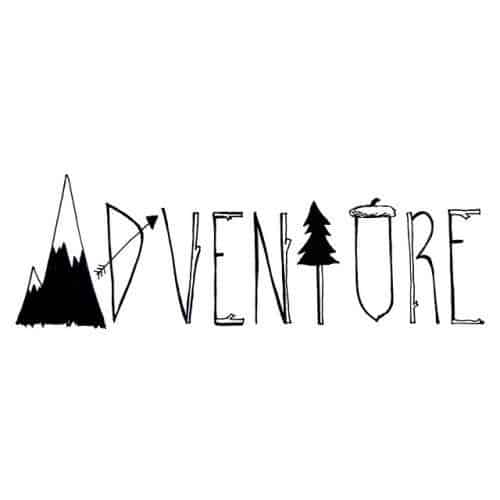 via instagram
102. One tent and one pine tree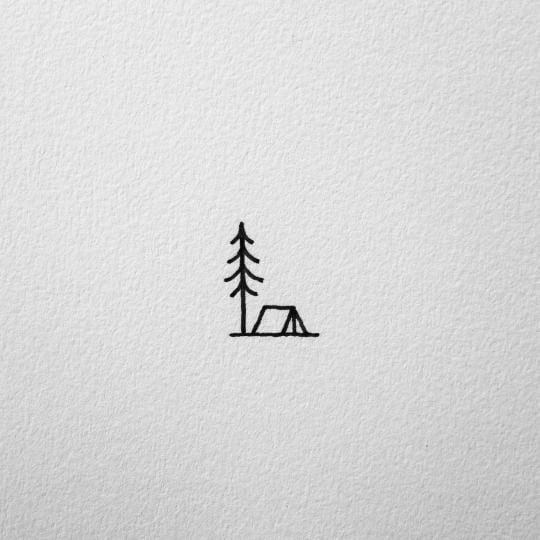 103. Small fineliner camping sketch 
Even a small sketch like this one holds enough information to help you imagine the place wish you were there.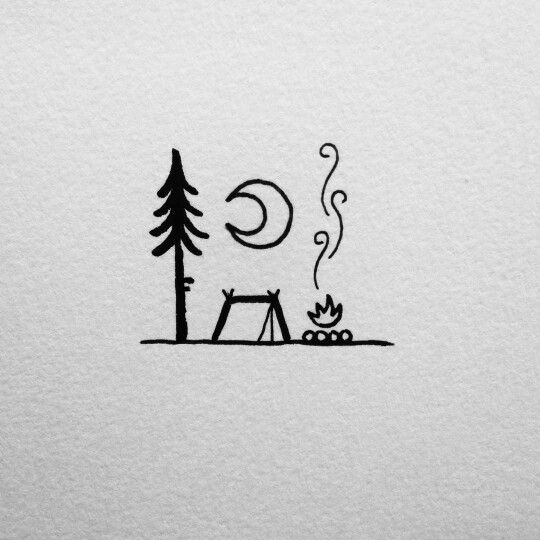 via instagram.com
104. Hands holding the universe and earth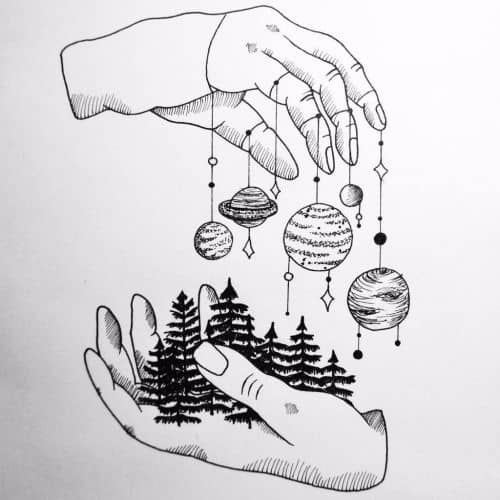 105. Doodle scrabble collection
Simple drawings are not always easy to create. You have to be able to see the essence in every object to be able to represent it without details.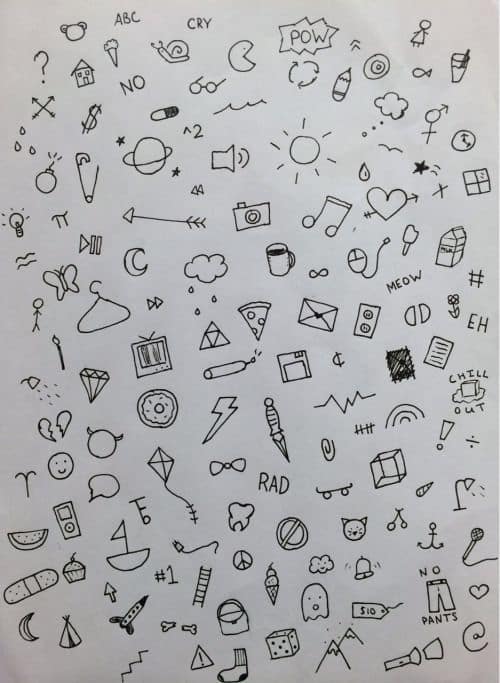 via favim.com
106. Tree house graphic illustration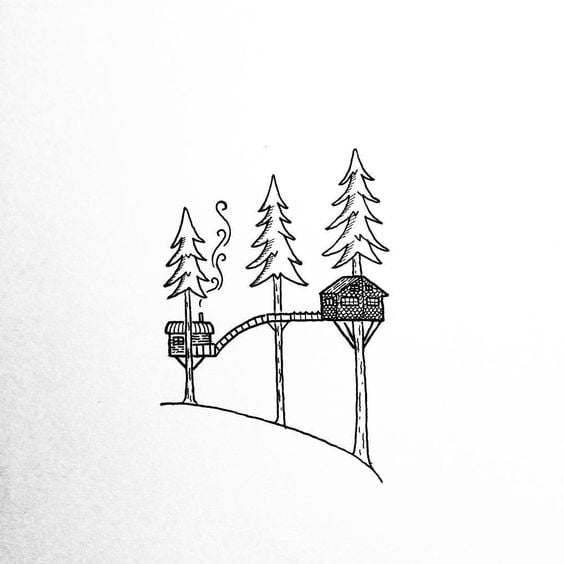 via instagram
107. Portray an emphasized moon
An artist must always be ready to create! Inspiration can come at any moment and it's imperative that he takes advantage and lay's down his ideas. Either that or he might stumble upon a wonderful landscape or image of a city that he wants to capture. Being able to draw on the spot requires practice and the ability to focus in any situation.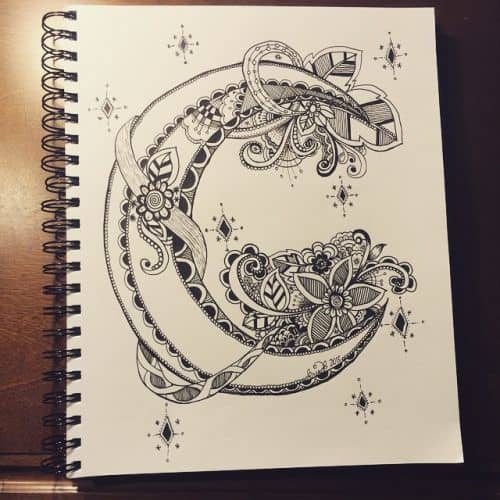 108. Lovely Nightime landscape drawing  
109. Traveling the mountains on foot
A sketch is sometimes worth more than a carefully drawn landscape. And, you only need a pen and a notebook.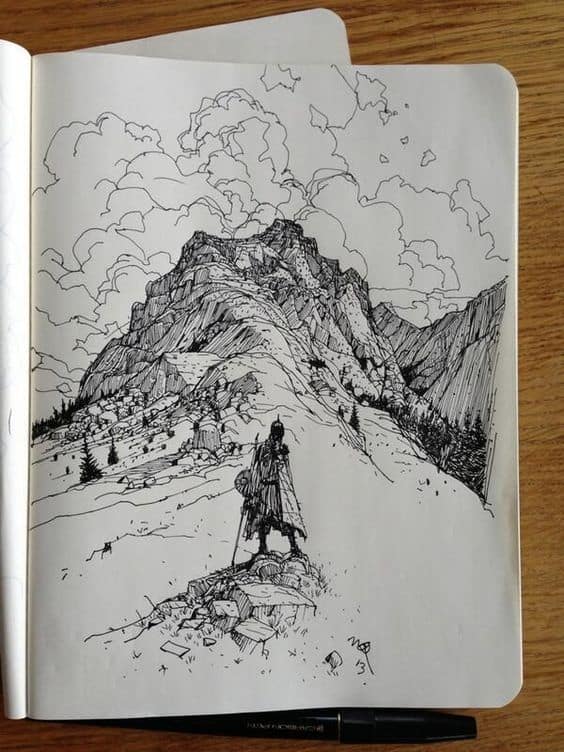 via myvinchy.com
110. Eyeball candle drawing burning life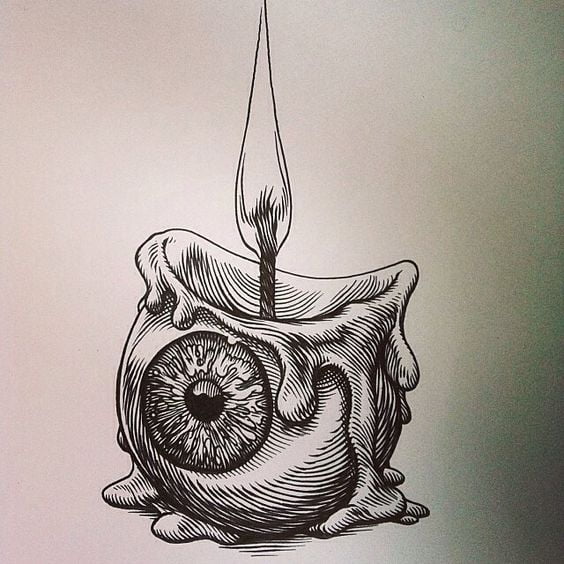 via instagram
111. REBIRTH – Fruitful Spine Nestling, Nurturing and Nourishing Nature

via somosinstantes96.tumblr.com
The artistic world simply carries humanity forwards, in art we find refuge, in art we find balance. A simple line, a drop of ink, a brush swing, all parts of a greater effort that simply changes the world, in increments. It shapes an universe in which everything is possible, one in which color, line and texture are infinitely valuable and powerful.
Step in this realm and surge inspiration from this collection of drawing ideas.
Pick up your pencil and simply, draw.
Related Articles
8 Best Cartooning Books For Artists Today
31 Best Free Maya Rigs | Legendary Creativity Collection
5 Best Hand Drawing Reference Photo Sources