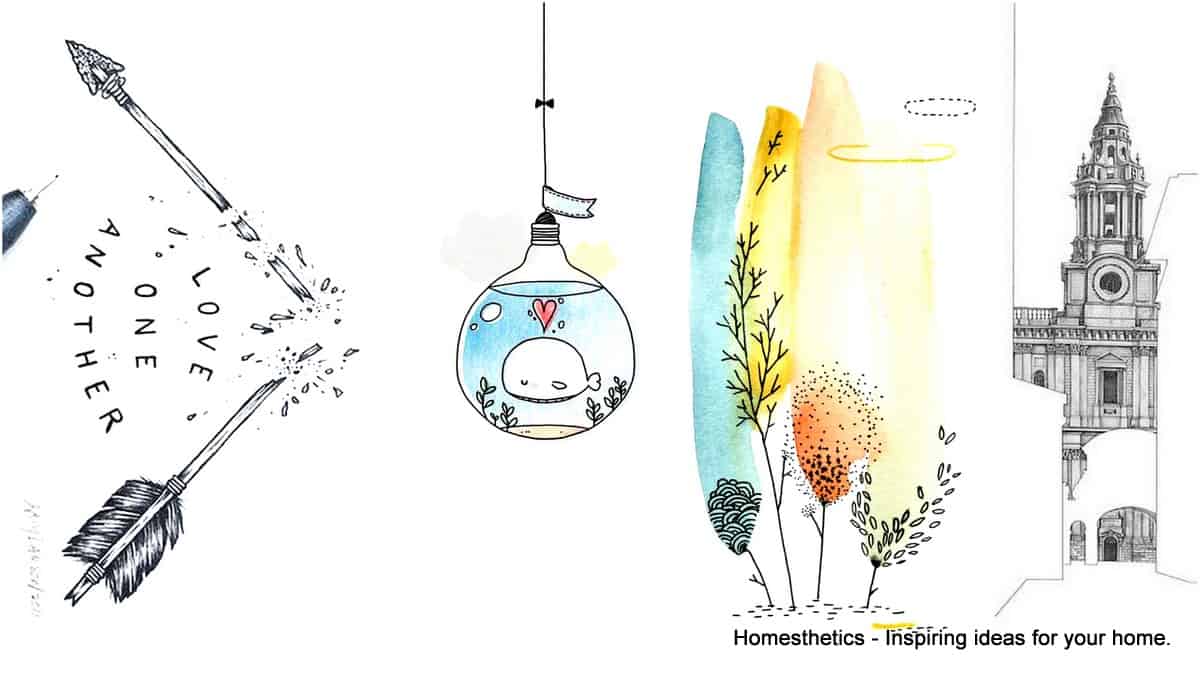 Are you having trouble coming up with subjects to sketch in your journal? You might wonder what to draw next as you stare at a blank page in your sketchbook.
We have 75 easy drawing ideas to help you start drawing if you want cool and simple drawing ideas.
You can sketch one picture daily, going through the list in sequence, or skipping to the ones you like best! The only way to advance is to master and keep practicing the basics.
It cannot be easy to develop original drawing ideas constantly, whether you need a creative break during the day, a weekend activity, or more drawing ideas to fill the pages.
We've put together an inventory of easy drawing ideas and a to-do list of each inspiration to help you get your creative juices flowing. So grab your supplies, and get to work!
75 Easy Drawing Ideas You Can Do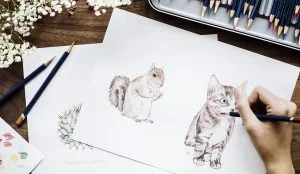 Here are the 75 easy drawing ideas you can try!
1. Islet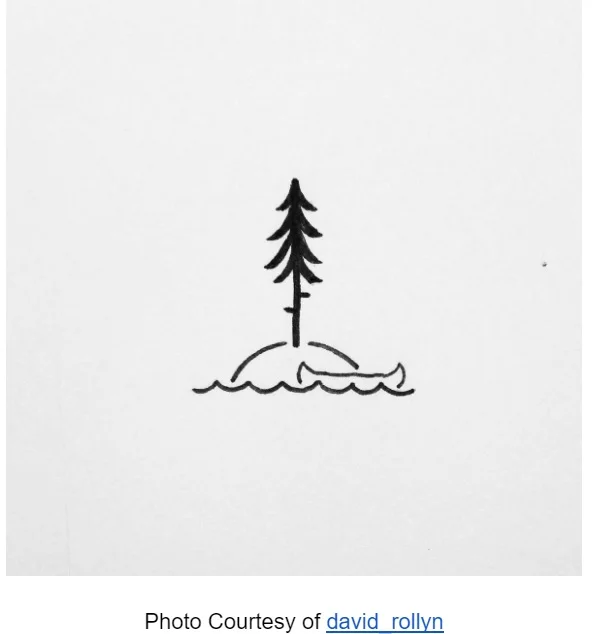 It is a very easy drawing idea by the illustrator/art designer David Rollyn Powell. The image shows an islet with a tree and boat on the shore.
An islet, by definition, is a small island. By the looks of it, it's truly easy to draw. You can start by drawing the waves first, and then next is the crescent-shaped boat.
You can directly draw a half circle for the islet and then draw the tree. It should be simple if you know how to make a Christmas tree (since it resembles one!)
2. Trees With Quotes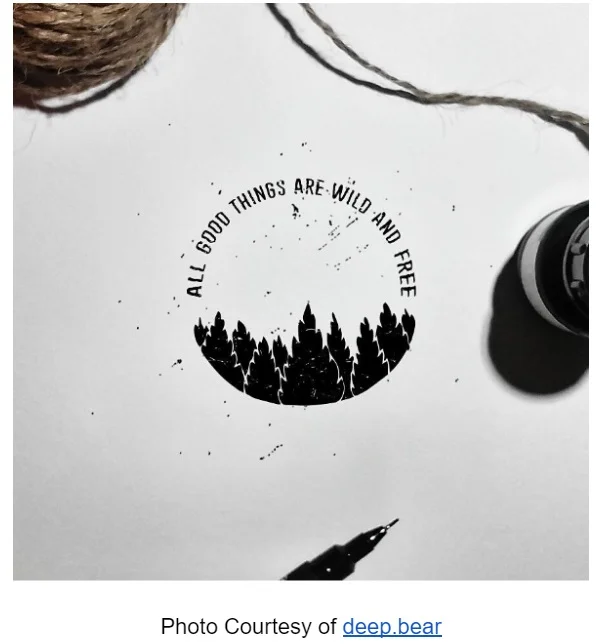 A branding and art design studio, Deep Bear, made this logo design. You can start drawing this minimalist logo with a faint circle using paper and pencil (you don't want the shape to be seen!)
Think of a quote or a line from your favorite song that you can put on top, and then draw some trees (maybe a Christmas tree) at the bottom part of the circle, and that's it!
Check out this selection of the best mechanical pencils for drawing if you're looking for the ideal tool for the job.
3. Dandelion and Mountains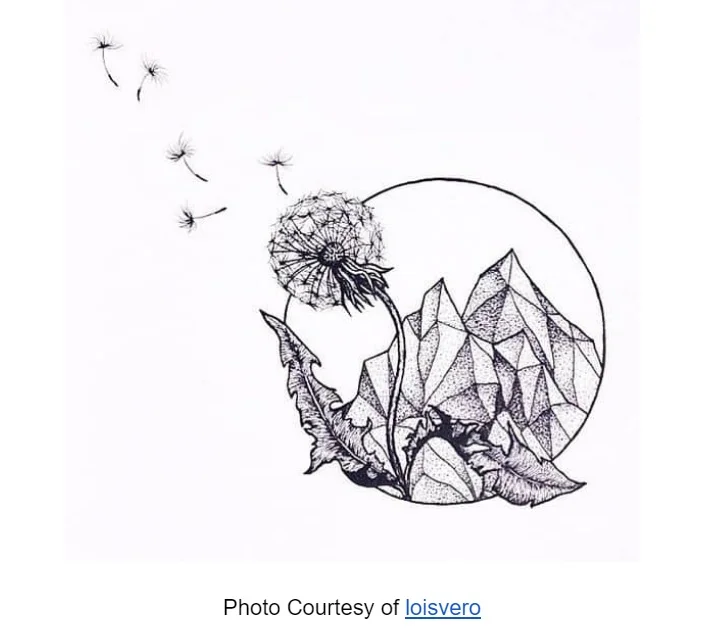 Loïs Vero, a visual artist, designed this easy drawing idea as a tattoo design. The image shows a dandelion flower with mountains at the back.
On a piece of paper, you can start drawing the dandelion and a big circle at the back. Draw the geometric-shaped mountains inside the circle.
Here are some other tattoo drawing ideas for your upcoming tattoo.
4. Building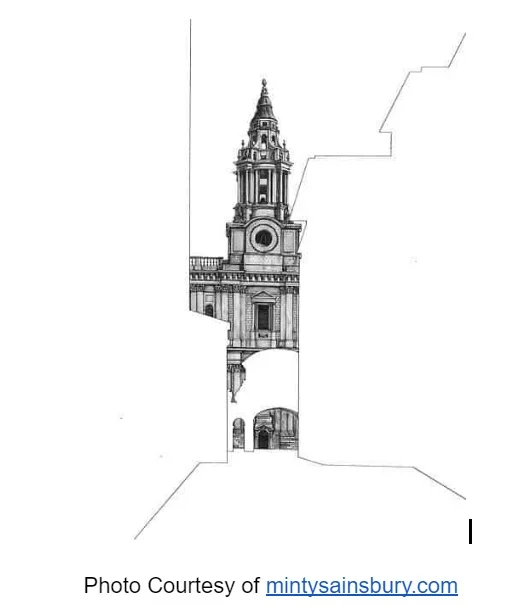 Minty Sainsbury is a London-based artist who created this drawing. Her intricate, instantly recognizable stylized architectural pencil drawings are what she is best known for.
When you generate a few poor sketches that are out of proportion and appear a little strange, it is simple to become discouraged.
Don't worry; you must persevere and understand that discovering your rhythm may take some time.
5. Potion Bottle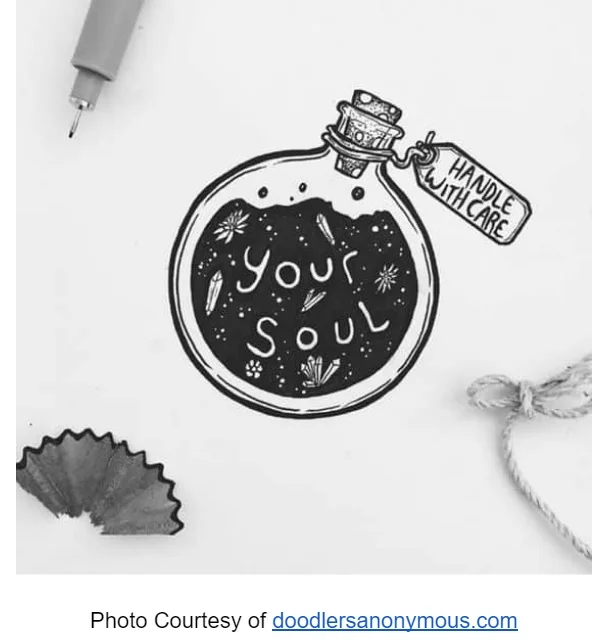 We immediately fell in love with Eli Klemmeck's artwork, also known as "people," who is a daily doodler and star fanatic.
Whether a simple doodle or something more intricate, they're skillfully done and have a magical, cosmic vibe.
Beyond the intricate linework and lovely look of her work, the still life of her drawings will compel you to ponder carefully. Find a list of inspirations for drawing subjects.
6. Bulb With Antlers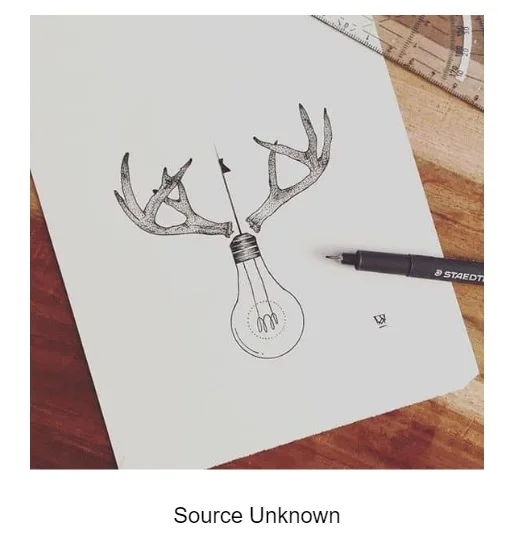 It is from an unknown artist, but this easy drawing idea is doable. You draw a bulb first. Create a rough sketch of the light bulb and refine the outline immediately.
When drawing the antlers, draw a smooth line in the same position. Draw the spike and add more shapes for creativity to complete it.
You can use a pencil to fill the dotted lines on the antlers.
7. Starry Sky and Mountains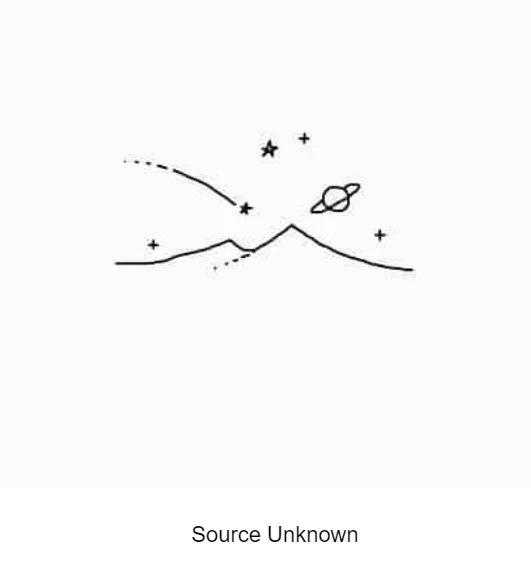 It is also from an unknown artist. It is a minimalist drawing inspiration and can be used as a tattoo design.
On a piece of paper, draw the mountains and then the stars and planets in outer space. Use your wide imagination and add more details. You can complete this in less than 5 minutes!
8. Broken Arrow With Quotes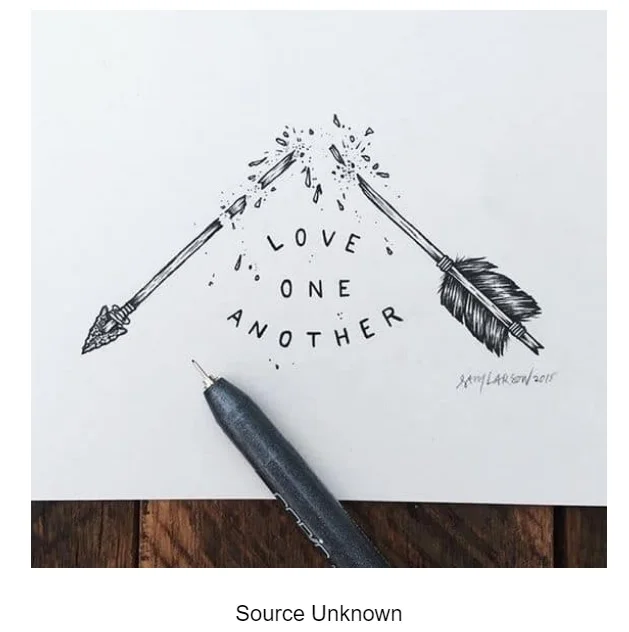 It is from another unknown artist. To start, think of a nice quote or a line from your favorite song to write at the center, and then draw the broken lines for the arrow.
For the broken arrow effect, draw some pieces on the text. It can also make a good tattoo design.
9. Moon + Cloud + Anchor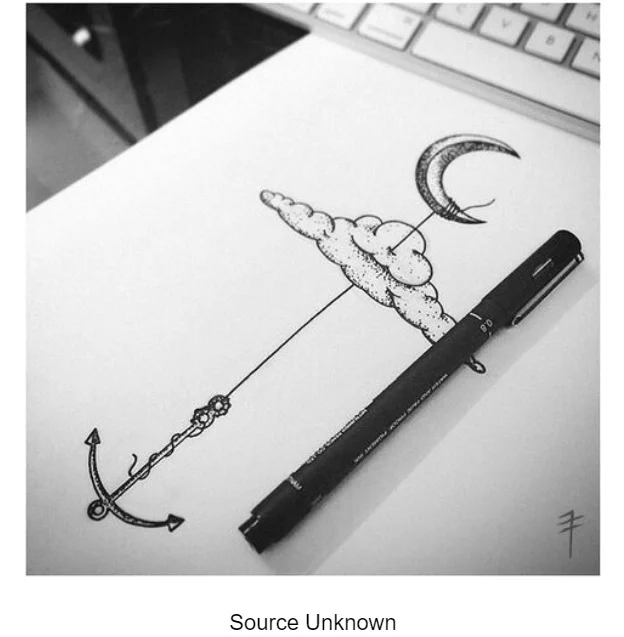 It is another artwork from an unknown artist. As you can see, it looks like a tattoo design. It might have a deeper meaning, but unfortunately, we don't have an explanation.
Tattoo designs are mostly minimalist, so drawing some of them is easy. With this one, you can start by drawing the crescent moon and the cloud below.
On a piece of paper, draw a line through the cloud (for the tie), sketch an anchor, and draw a tie. That simple!
10. Mountain + Trees + Sun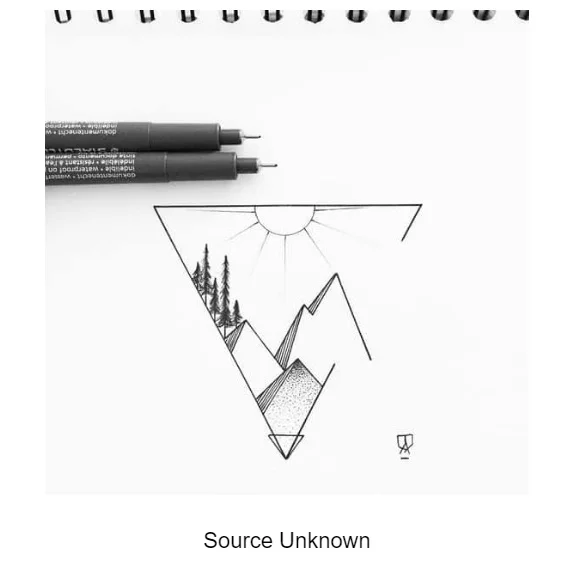 This artwork is from another unknown artist. It is called line art. Line art is a type of illustration that combines negative space and simple line drawings to produce works of art.
In this one, you can see an inverted triangle with a mountain view. You can draw the triangle first and proceed with the sun, the mountain, and the trees.
It is also a good tattoo design!
11. River by the Mountain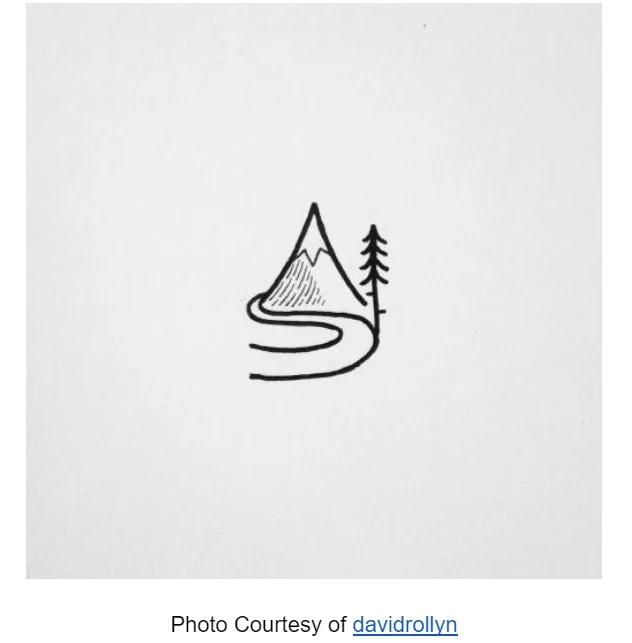 It is another artwork by the illustrator/graphic art designer David Rollyn. He calls this great drawing idea a "river runs through it."
This drawing shows a mountain with a river running through it and a simple tree at the side. It is just one of his minimalist drawing ideas that beginners can sketch!
Consider these beginner drawing ideas if you're starting.
12. Flowers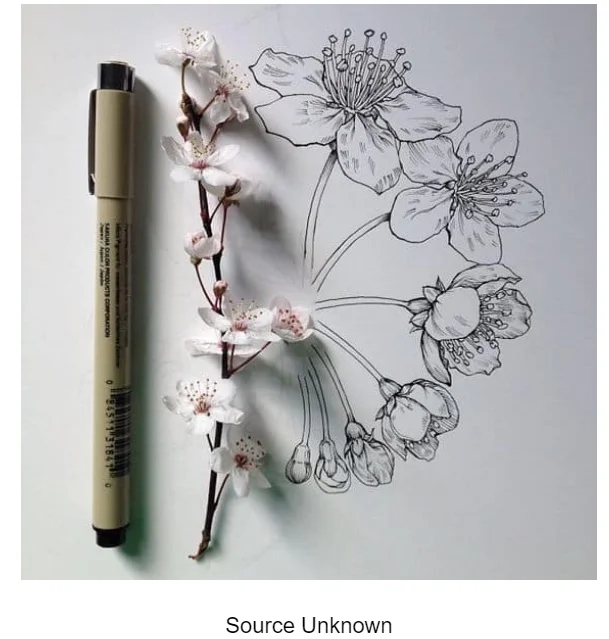 It is from another unknown source. We'll now look at the necessities for drawing or painting a successful, detailed flower.
At first, it could appear a little difficult, but if you follow the instructions, you can draw flowers easily and accurately without encountering difficulties.
Create an outline first so you can do some trial and error. Finalize the design and erase unnecessary lines. Use these sketching tips to master the art of drawing lovely flowers.
13. Stargazing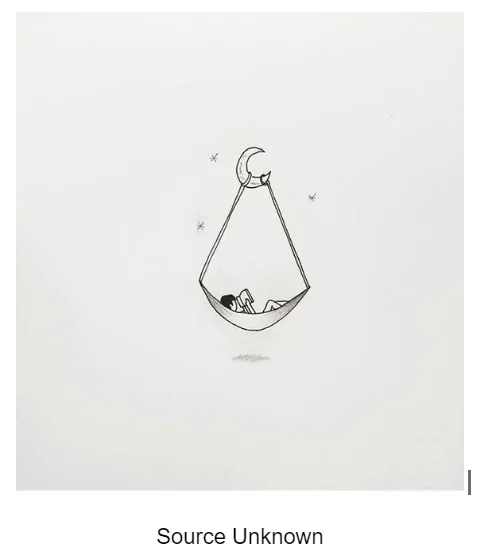 The image shows a boy stargazing. It is just another minimalistic drawing, so it should be easy to copy.
You can start by drawing the crescent moon and then draw a line for the tie of the cradle that the boy is lying on. To finish it off, draw some little stars.
14. Hand on Chin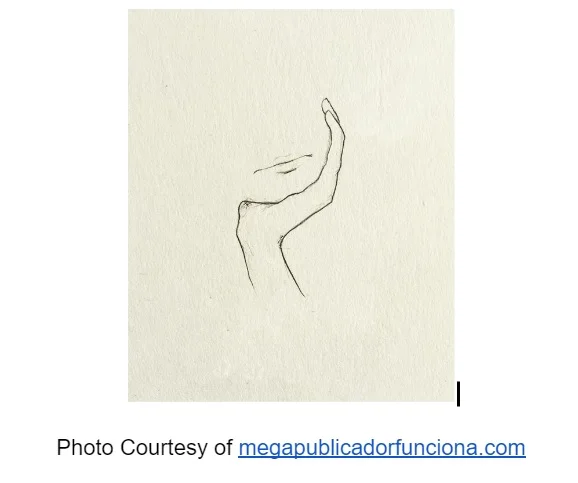 Drawing or painting a human figure can be a real challenge. In this image, this is a woman with a hand on her chin.
Remember one thing before you start: it takes a lot of practice to become a great comic book artist, so don't expect to become one immediately.
An excellent approach to loosening up your hand is to sketch a face. Also, since a sketch is not a final drawing, you're less stressed and more likely to have fun drawing.
15. Campfire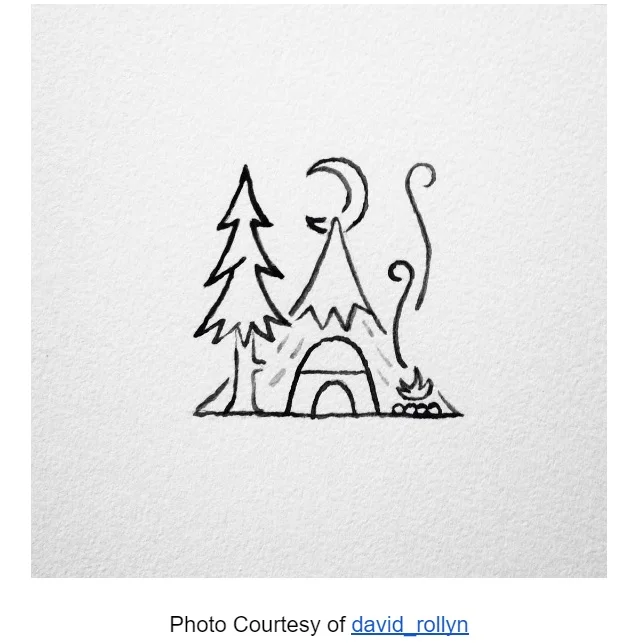 Another simple illustration from the artist David Rollyn Powell. He draws a lot of camping vibes sketches, and it's super easy to do!
You need to draw four elements: the crescent moon, the tent, the tree, and the bonfire. You can personalize it by adding quotes.
16. Treehouse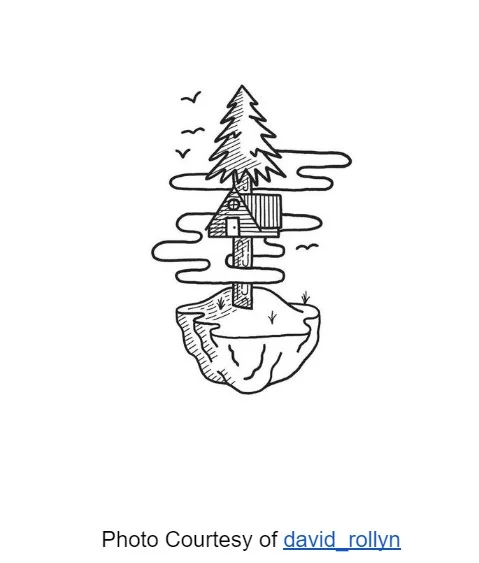 The artist called this "a treehouse on a floating island in the sky." It might not look very easy, but this one is super easy to draw!
You can start by drawing the floating island and the tree's body. Draw the house in the middle of the tree and add some clouds for creativity.
17. Cardinal Bird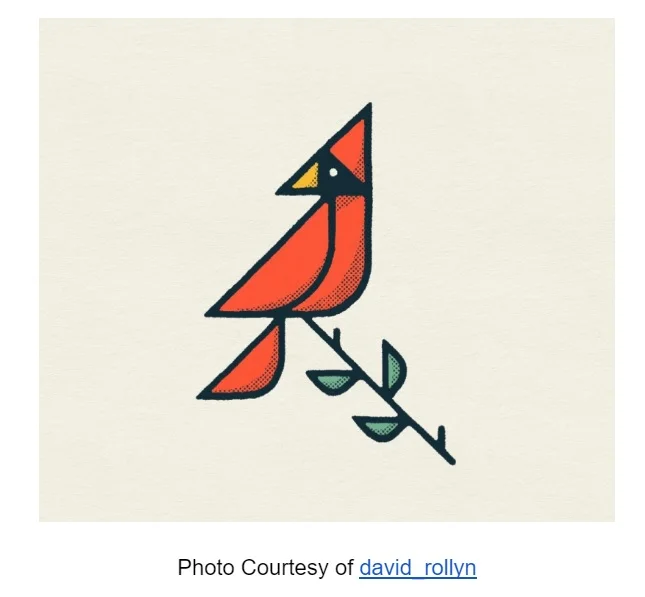 The illustrator described this as a male cardinal bird. With this drawing, you can now use your coloring materials.
It just looks like 3 right-angled triangles. Create a rough sketch of the bird's body and then do the tree branch. After finishing the outline, you can do the coloring.
Consider purchasing an iPad with the appropriate specifications to have the greatest drawing/painting experience.
18. Touching Hands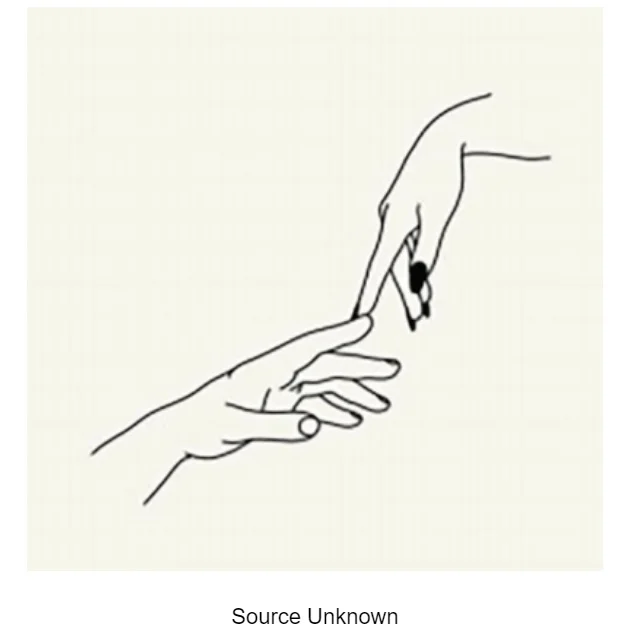 Drawing hands is difficult since so many types of formation need to be rendered in perspective.
Each finger consists of several cylinders, and the main form's box must also be drawn in perspective.
To avoid needless irritation while you learn, attempt to practice more basic hand motions before moving on to more sophisticated ones.
19. Rose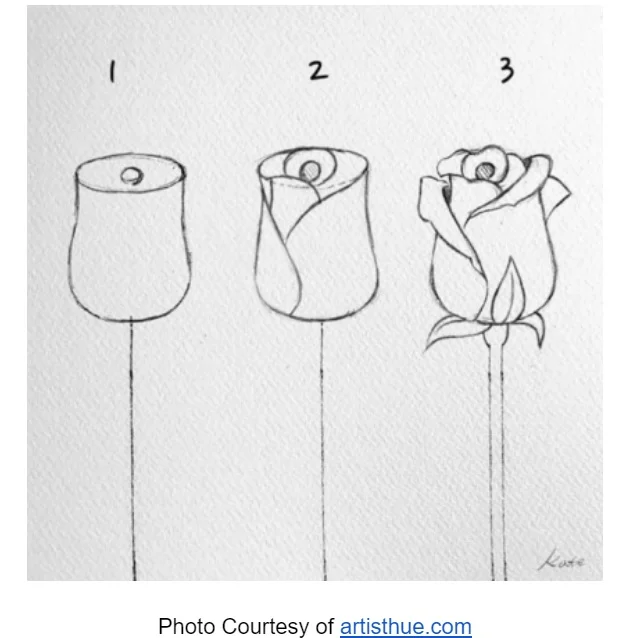 Although they make beautiful drawing ideas, roses can be difficult to draw. Fortunately, you will discover the best drawing techniques for drawing roses for beginners today.
Make the flower's outline in rough detail. Place the flower's front-end petals exactly where they need to be to begin.
To achieve the most authentic appearance, give the edges a little bit of roughness.
20. Flower on a Heart Vase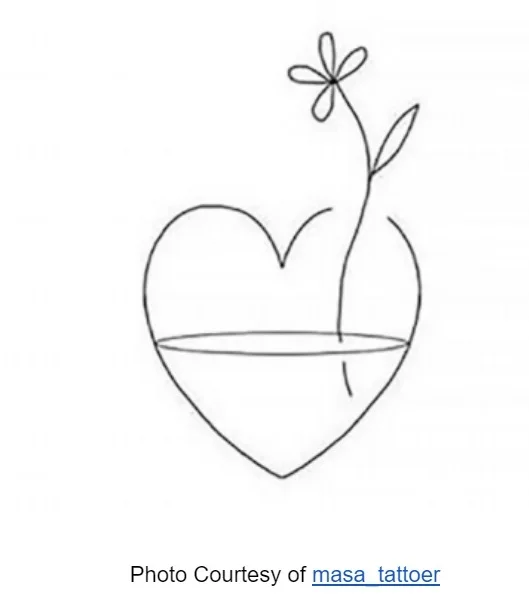 It was drawn by a Korean tattoo artist named Masa. This illustration is for a minimalist tattoo. It shows a heart-shaped vase with a flower inside.
Drawing a heart and a flower requires less effort. Anyone can do this in less than a minute!
21. Bulb With Flowers Inside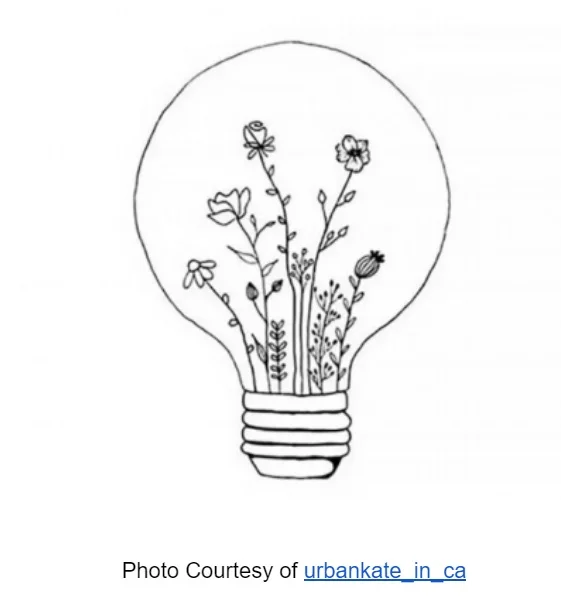 This drawing was created by a Korean illustrator/author in Los Angeles named Kate Kyehyun Park. She usually draws and paints beautiful flowers.
This illustration shows a light bulb with flowers inside it. Just sketch the bulb first and then do the flowers next. Finalize it by putting more details inside the bulb.
22. Human Face Flower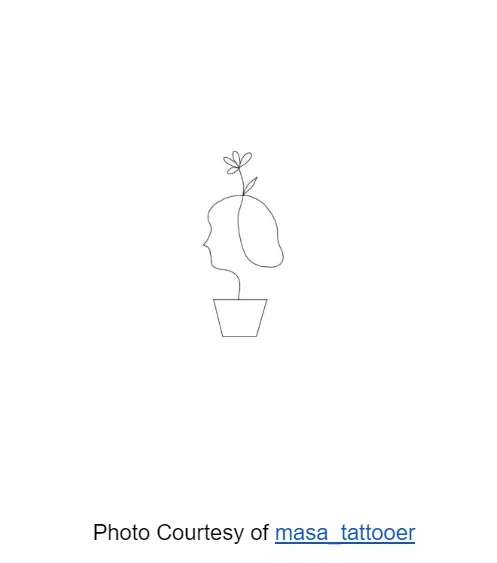 It is another minimalist tattoo design by the Korean artist Masa. It is another very simple illustration that you can do in just minutes.
Draw the pot first and then outline a human face through the flower's stem, and that's it!
23. Galaxy in a Human Head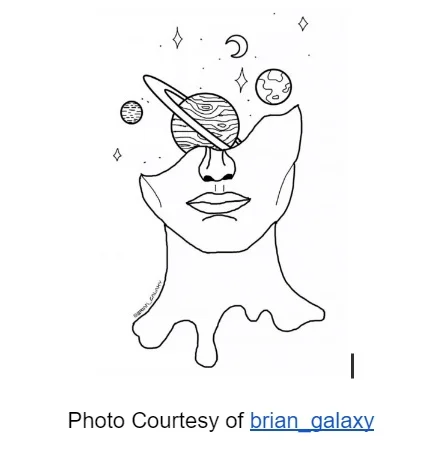 A Korean designer named Brian Lay illustrated a human dome with a galaxy in outer space. A few of our favorite artists have duplicated this artwork already.
You can draw the lower part of the face first and then finish off with the celestial bodies at the top. You can add your preferred colors to it. Look into girl-oriented drawing ideas here.
24. Head in the Clouds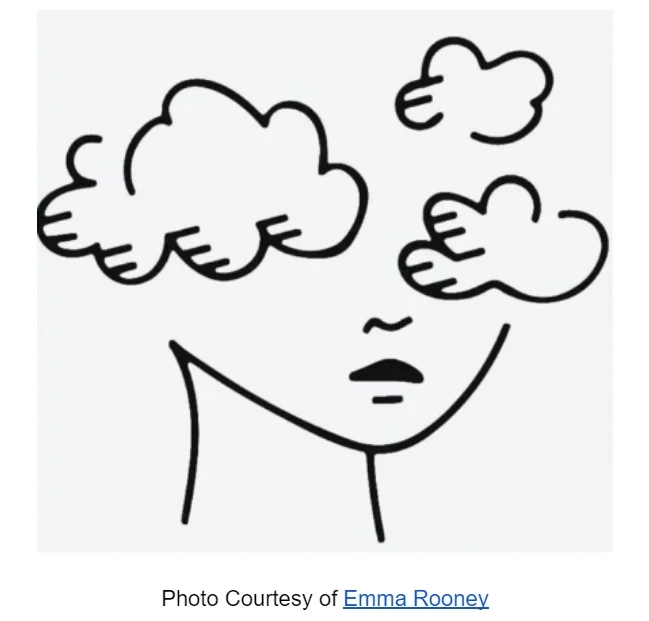 This artwork was designed by an artist named Emma Rooney. It is originally made as a tattoo design. I bet anyone can draw this one because of its simplicity.
You can start by drawing the lower part of the face and then proceed with the clouds at the top, and that's it!
25. Inverted Umbrella and Flowers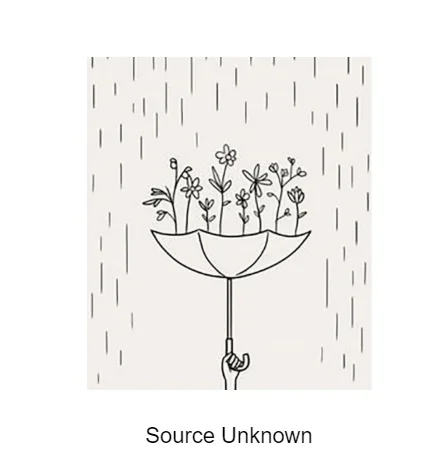 Pretty flowers grow in an umbrella turned upside down in a delicate and simple pattern—symbolizing development in unique or challenging circumstances.
Start with the inverted umbrella and flowers and do the human hand immediately. Finish it off with some broken line pattern (for the raindrops).
26. Heart-Shaped Waves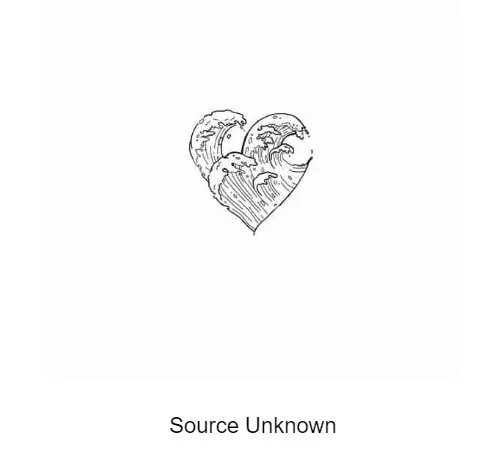 It is one of the most common tattoo designs for people who love the ocean. You, too, can make it!
Just start drawing a heart shape and start forming the waves. Outline the waves and erase the sketches you did.
27. Box of Flowers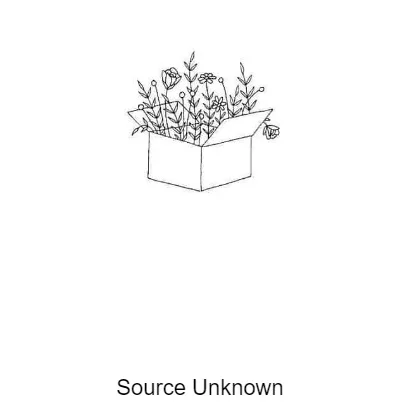 Drawing a box is very simple since we all learned it in grade school. It is also one of the drawings you can do in less than 5 minutes.
Start drawing the box first and then the flowers. Make it more realistic by adding more details.
28. Whale in a Bulb Aquarium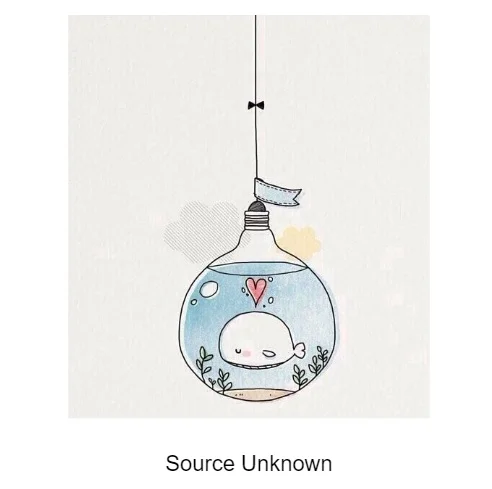 It is another bulb drawing that you can try. In this drawing, these everyday objects are really simple to do. Although you see, there's a lot; it doesn't require details.
Draw the hanging bulb first and then the sand at the bottom. Draw small plants on the sand and then the whale. Lastly, put a heart on top of the whale.
Complete the drawing with other details, and add color to it. This drawing idea resembles a snow globe. Use your imagination and try other things you can draw inside the bulb!
29. Animals Holding Heart Balloons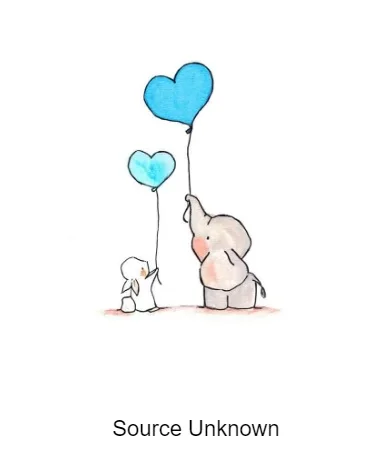 You can do a very cute drawing/painting with kids! You can also have your kids try it themselves.
Draw an elephant and a bunny holding their heart balloons. We suggest you use coloring materials and add a rainbow/rainbows for this drawing to make it more attractive.
Use these creative ideas to draw your favorite animals.
30. Big-Eyed Turtle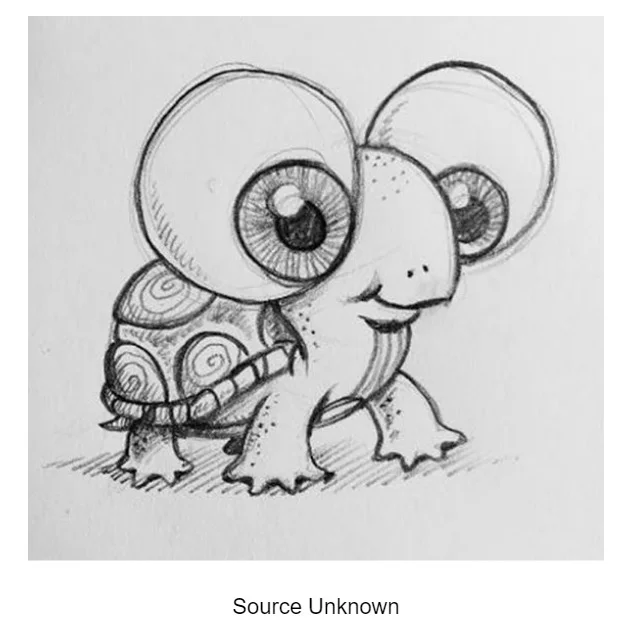 The drawing shows this cute turtle with big eyes. Kids can also try to draw this one since it is a cartoon-like character, and kids will love drawing it!
Start by drawing the turtle's body, and do the eyeballs last. You can easily outline the eyeballs since the eyes are very effortless to draw. Use your colored pencils on this one!
To get inspiration for cartoon drawings, find your favorite cartoon characters here.
31. Woman's Eyes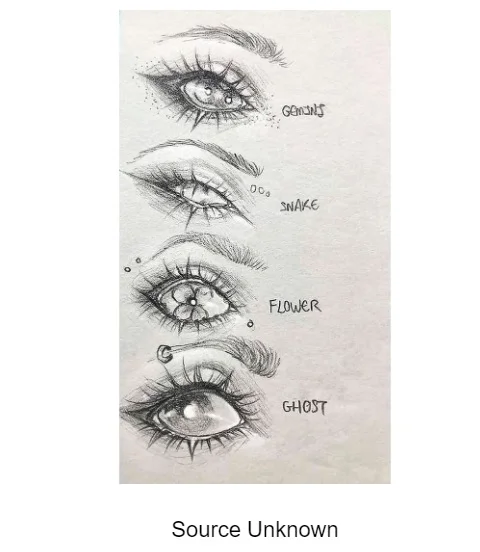 Because still-life female eyes have distinctive features and forms, drawing them can be difficult.
Fortunately, this implies that you may personalize your drawing so that it seems natural as long as you adhere to some fundamental rules.
Drawing the eye and brow outline first can help you get started. Then, while adding highlights, shade in the eye with a blending stump and kneaded eraser.
32. Random Things Inside a Bulb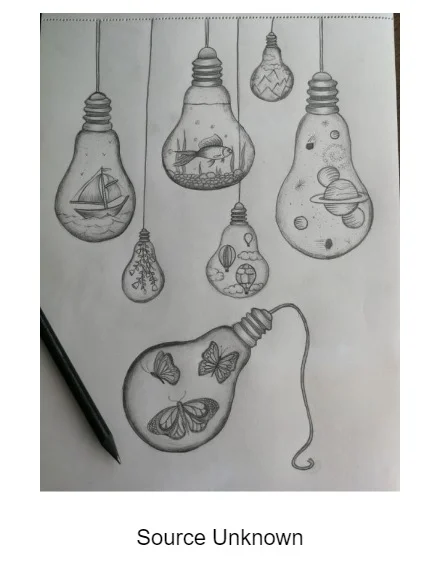 These are other hanging bulb drawing ideas that you can try. In the image, you can see many hanging bulbs with random things inside them.
You can also customize and make your favorite things to draw inside the bulbs.
33. Kissing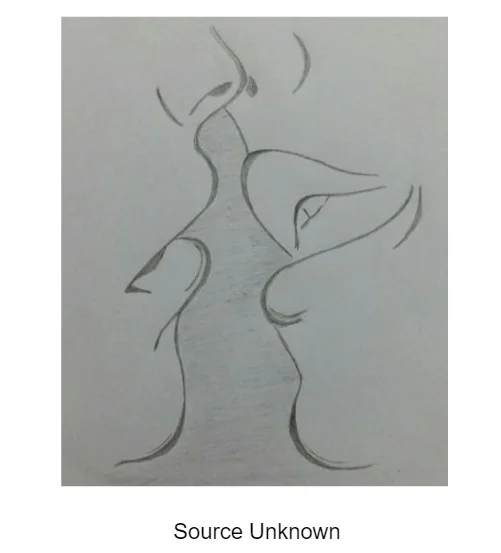 Do you enjoy love stories or romantic comedies? A kiss can be a very difficult act to draw!
Look for tutorials that will show you how to arrange characters for a soft kiss, which is helpful for your sketchbook, love illustrations, and comic books.
34. Icecream + Cone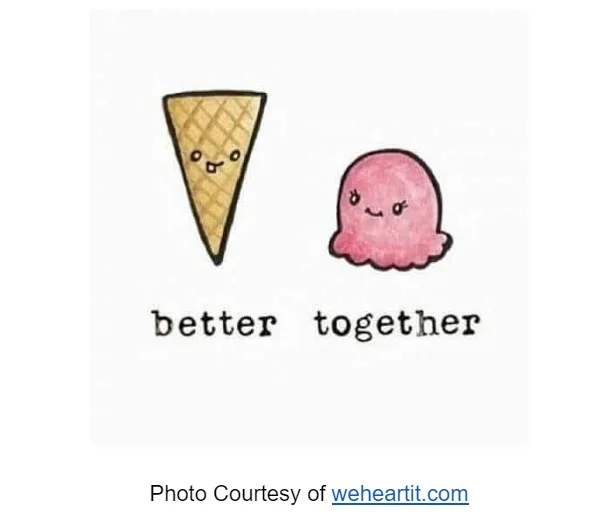 It is a straightforward illustration of two subjects: a cone and an ice cream. Both objects are simple to draw, adding smiley faces to them. Kids will have fun making this one!
Make use of your coloring materials to add more beauty to the characters.
35. Lips and Lollipops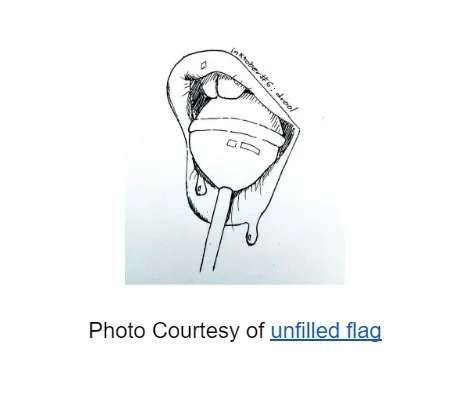 A digital artist's unfilled flag makes this a cool illustration. The subject was originally a tattoo design, and it is called "drool." These two subjects are easy to do.
Knowing how to draw lips is a useful talent, particularly if you have fun creating self-portraits. You may learn to draw lips using simple instructions in tutorials.
36. Lungs and Flowers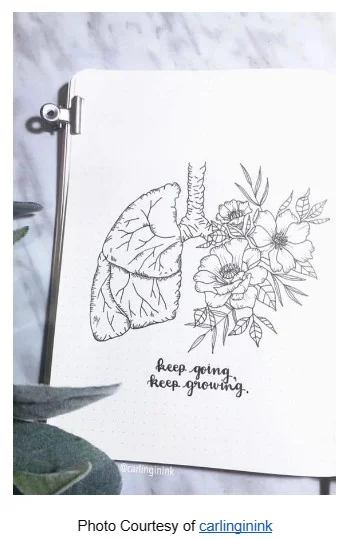 This cool drawing is done by an artist named carling from Vancouver. She does a lot of bullet journals.
This drawing is challenging because it requires details. When it comes to intricate drawings, always do the free-hand sketching first until you get the right thing.
37. Elephant With a Big Balloon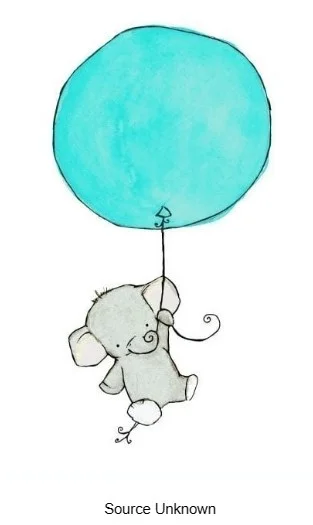 It is a perfect drawing for your children's nursery or baby room. The subject is easy to draw since the elephant's body has no complicated details.
Make use of your coloring materials on this one!
38. Flower Girl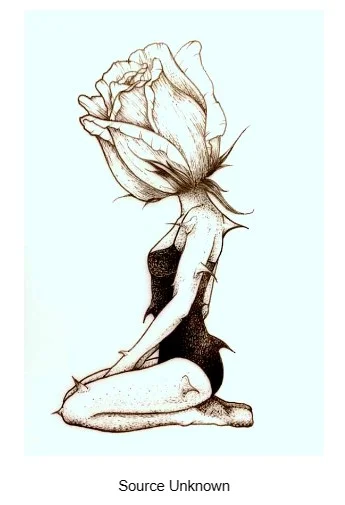 It is a creative piece of art that you can also copy. It might have some intricate details at first glance, but it should be easy through practice.
Its symbolic meaning is that the rose symbolizes her beauty while her thorny body keeps people away because she's blocked off due to some tragedy in her life.
39. Animals Playing With Bubbles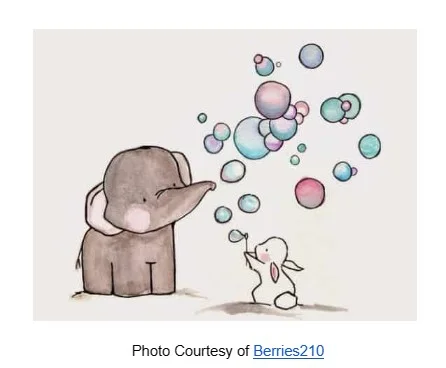 It is another baby room art that you can draw. Since you have already practiced drawing animals, it should be easy this time!
The objects don't have intricate parts on them. Don't forget to use your colored pencils on this one! You might also want to add a friendly dragon to this image.
Find out which Android drawing applications are the finest.
40. Heart in a Flower Vase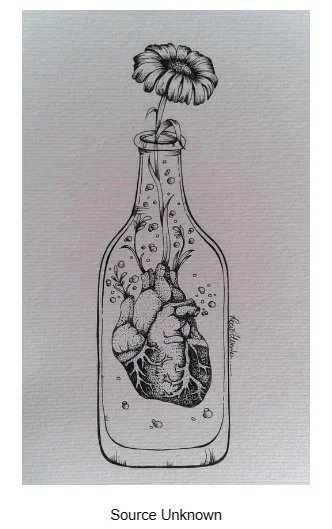 Although your heart certainly puts in a lot of effort, drawing it doesn't have to be difficult. It's simpler than you might imagine drawing a human heart.
Using a step-by-step online course, you can quickly draw and shade a realistic heart. Furthermore, you never know what you might discover along the way.
Therefore, grab a pencil and a sketchbook because we need to draw a heart!
41. Dandelion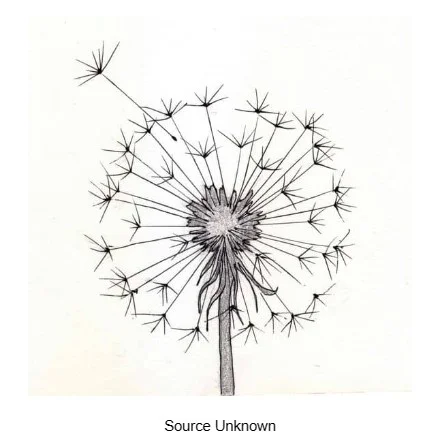 Drawing a dandelion can be difficult for many individuals due to the flower's unusual shape.
But for a newbie artist, learning to draw a dandelion isn't challenging, especially after comprehending the flower's anatomy. It's a fantastic chance to enhance your drawing abilities.
42. Trapped Shadow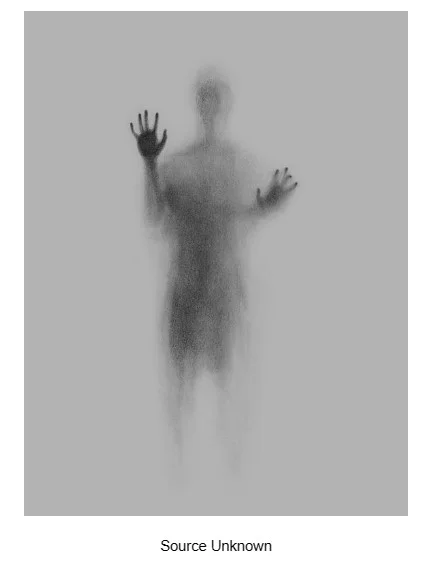 An artist can draw either a natural shadow or an artificial shadow, the two forms of shadow. Learn how to draw them and discover the differences between the two.
With this one, you can do some smudging to finish it and then add light areas on the parts facing the light source.
43. Spaceship and Pizza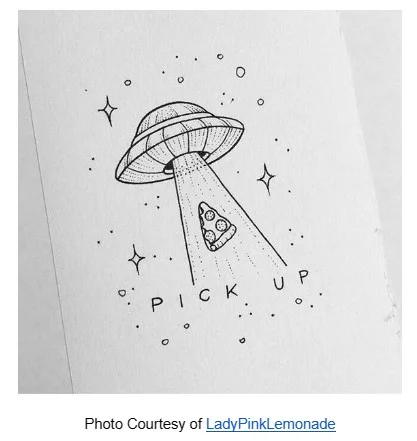 This creative illustration shows a nice cartoon spaceship and a slice of pizza. It sure is an amusing one to make!
You will not have to draw an aircraft with multiple sections. A simple spaceship or rocket ship with a strange character (like this pizza slice) in it will be fine!
Use these easy drawing ideas to explore the expanse of outer space.
44. Skull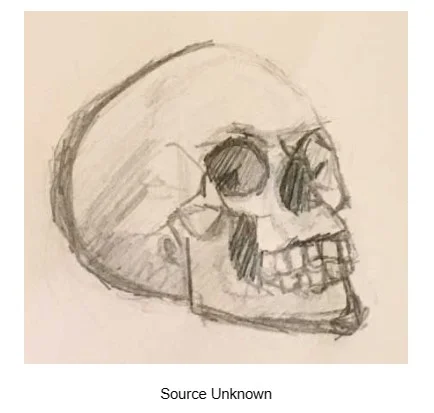 It can be hard to draw a skull without some research. With a reference image and an outline as a starting point, become familiar with the fundamental anatomy of the human head.
Make your own aesthetic, tackle any skull—tough-looking crossbones, eerie Halloween decor, vibrant sugar skulls for the Day of the Dead, a haunted house, and more.
Here are some more suggestions for sketching skulls.
45. Short-Haired Girl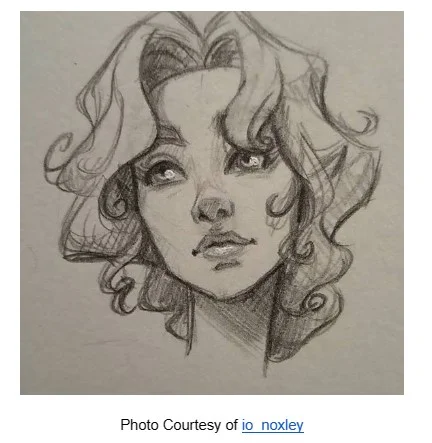 This still-life portrait was created by an artist named Alice Embruch. About drawing or painting, planning comes first.
It will be quite beneficial to spend only ten minutes drawing rough ideas.
To choose between several stances and how to position the crown on the page, you should experiment with a few samples.
46. Three Bunnies Hiding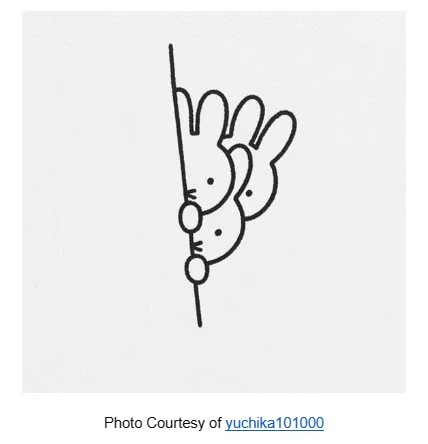 It is one of the easy drawing ideas you can try for your kid's nursery room. Drawing a bunny is now easier than ever with step-by-step drawing tutorials online.
You may also want to use an eraser to correct mistakes, and crayons, colored pencils, markers, or paints to fill the shade of your finished drawing.
47. Baymax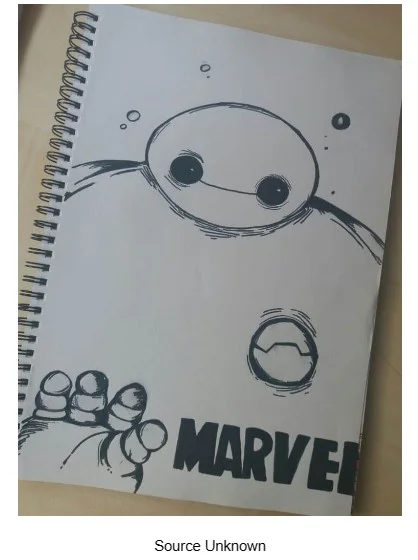 Baymax is the robot from Walt Disney's Big Hero 6. Many of your kids might find this character cute because of his fluffy appearance.
Start by drawing a small circle near the top of the page. It's just a guide for the first part of Baymax's head.
Baymax is a great character, so leave plenty of room under the dome for the body. Dragon/Dragons are mythical creatures and are another popular subject for kids to draw.
48. Woman With Leaves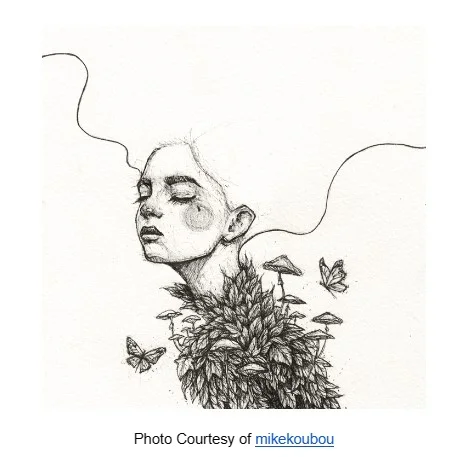 This wonderful work of art was made by an artist named Mike Koubou. It shows a girl with leaves on her body. The artist titled this artwork "overgrown."
Make sure the body outlines of your female models are proportionate if you wish to advance your drawing.
After you've drawn the basic outline of a woman's body, you can add facial characteristics, draw clothing, or even color the figure.
49. Humanoid Robot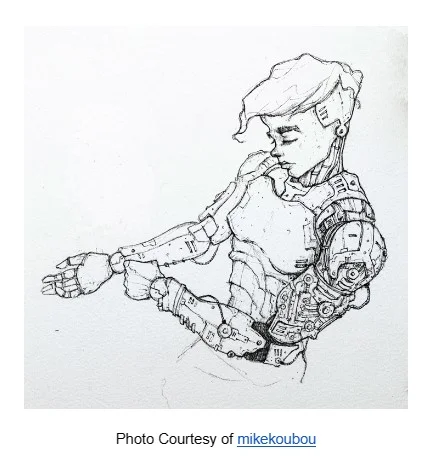 Another creative artwork from the artist Mike Koubou. It shows a humanoid robot which the artist titled "robogirl."
There are numerous different types of robots. Thus it can be challenging to draw one. The procedure is rather straightforward.
To illustrate the robot's shape and attitude, draw the wireframe. Draw the necessary body parts using three-dimensional shapes like circles, cylinders, and box shapes.
50. Skull and Butterfly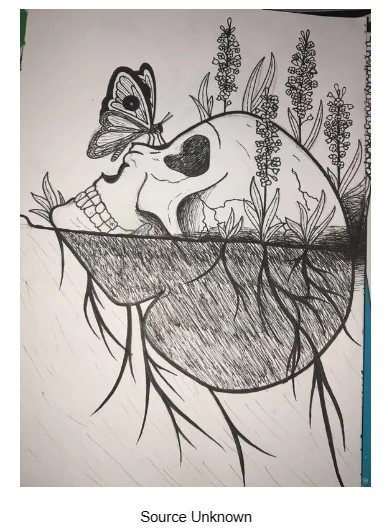 Skull drawing is fun and simple to learn. A pencil and paper are all you need. A pen, marker, crayon, or any different types of drawing tools you may have are also acceptable.
Knowing more about a butterfly's wing structure before drawing one is incredibly beneficial. It will assist you in organizing the intricate patterning and coloration.
Check out our list of inexpensive drawing tablets if you want a high-quality drawing tablet without breaking the bank.
51. Depressed Person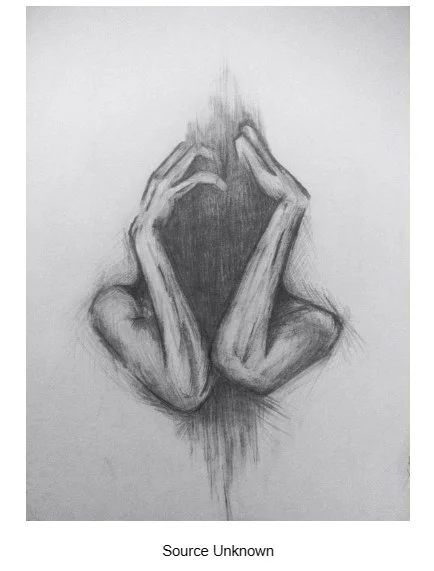 One of an artist's hardest and most rewarding experiences might be capturing depression in a drawing.
We've discovered that it can also be a therapeutic method to face inner demons and process difficult emotions.
52. Vampire's Mouth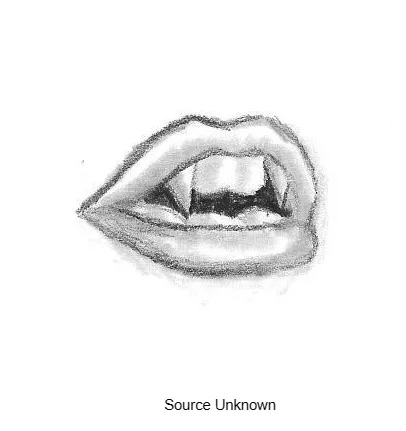 A beginner-friendly step-by-step online course will make it simple to make vampire's lips. It's extremely simple to follow this illustration of a vampire's lips.
Make a horizontal line to serve as the lips' guide, and then make a vertical line as the mouth. Draw the fangs after you've drawn the teeth.
53. Women's Facial Shapes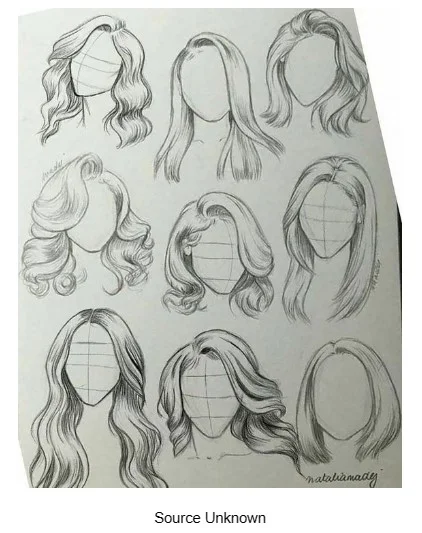 Depending on their origin, age, the number of ears, etc., all faces appear slightly different, not to mention how each artist draws them.
Practice is quite beneficial when dealing with a task as difficult as the self-portrait of a girl.
54. Emotions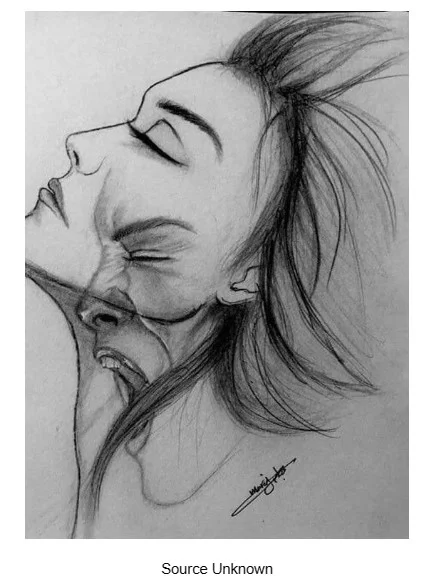 One of the many difficult aspects of drawing is that to learn how to draw a face, there are many different things you need to understand.
It is so because no two faces expressing the same emotion will ever appear alike.
The facial muscles can express almost endless expressions as they contract or relax. There are subtle and forceful expressions.
55. Face Features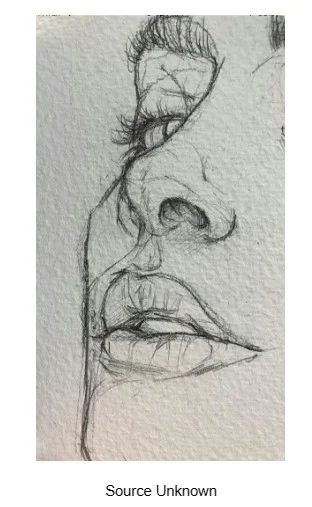 Knowing how to draw facial characteristics is crucial to create convincing portraits.
Before drawing a face as a whole, you must first master how to sketch each facial feature separately.
You can only grasp the anatomy thoroughly and comprehend what to look for and what to depict in your drawing by focusing on one feature at a time.
56. Ballerina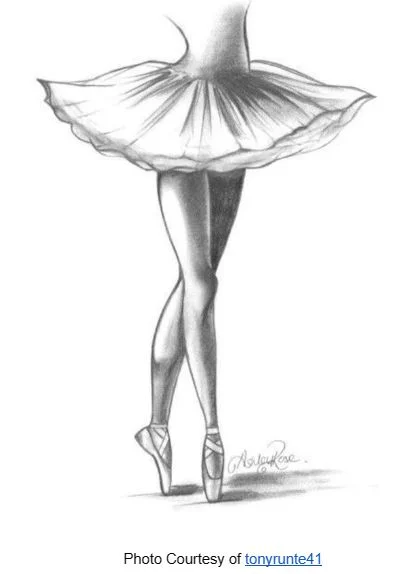 The steps to the graceful position are broken down into manageable chunks in step-by-step instructions that may be found online to assist beginners in drawing a ballerina.
Practice is necessary to sketch the body accurately with the right proportions and the muscular curves in the proper locations.
57. Cow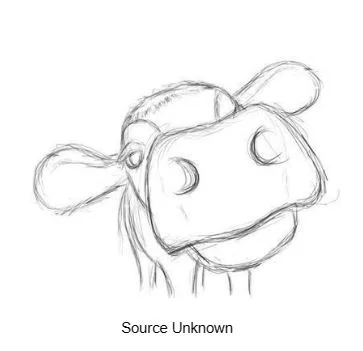 Even though the shapes are quite basic, they combine to create a cow face that is both adorable and convincing.
The shapes first take up most of the paper and are straightforward and symmetrical. You have a body on one side and a lovely cow image!
58. Rope Handcuffs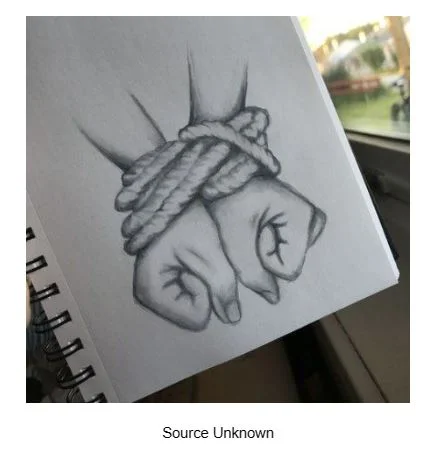 Drawing handcuffs need not be difficult, especially if they are empty. Please choose whether you want to draw them closed or open, then begin using your method.
Each hand is distinctive. You won't be able to learn how to draw hands in an hour; we won't lie to you about that. Not even in a day or a week, perhaps. You'll need to put in a lot of practice.
59. Sad Boy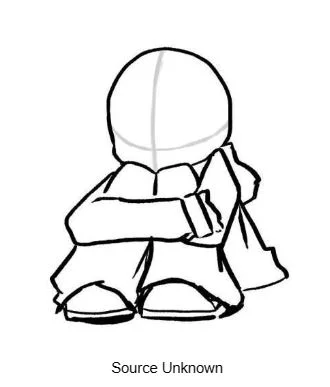 It is an illustration of a sad boy sitting alone. The details are not that complex, so it's considered one of the easiest drawing ideas anyone can make.
Knowing how to draw a boy might be useful, whether you're making your comic strip or creating a short story.
60. Spongebob and Patrick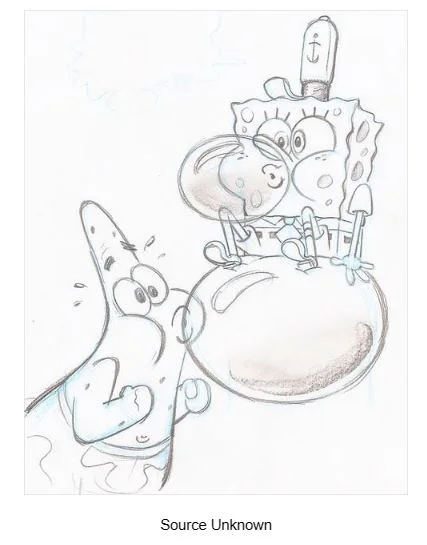 With the help of his silly but adorable friend Patrick Star, SpongeBob SquarePants frequently finds himself in sticky circumstances.
You may learn how to draw them in a few easy steps from several internet tutorials.
61. Heart-Formed Hands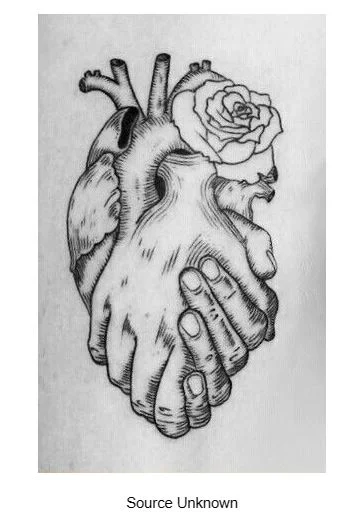 This creative drawing might be complicated because of the details. It shows two holding hands formed as a human heart and a flower on top.
Sketching before you do the final outline is a good idea.
62. Eyeball Candle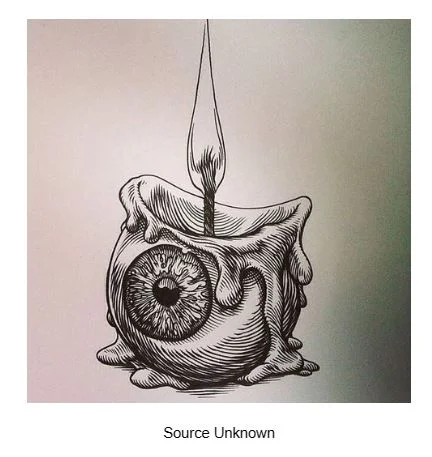 It is a creative drawing of a candle made from an eyeball. You can start sketching the eyeball and then the wick of a candle.
Do some outlines using a pencil and erase the unnecessary marks. Add some melting effects and more details on the eyeball to make it more real-life.
63. Penguin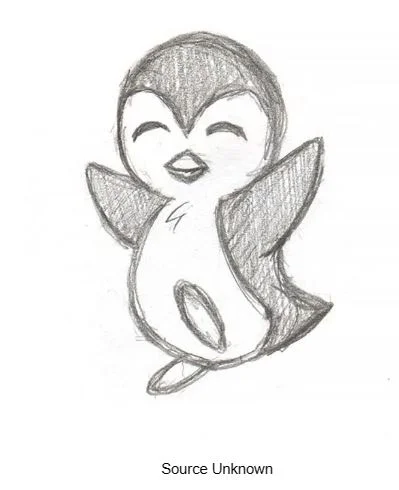 Penguins are stunning aquatic birds that can be found throughout the Southern Hemisphere.
The well-known emperor penguin is a fantastic species to start with if you wish to sketch a penguin.
Whatever kind of penguin you choose to draw, the procedure is straightforward once you divide it into manageable sections.
64. Winnie the Pooh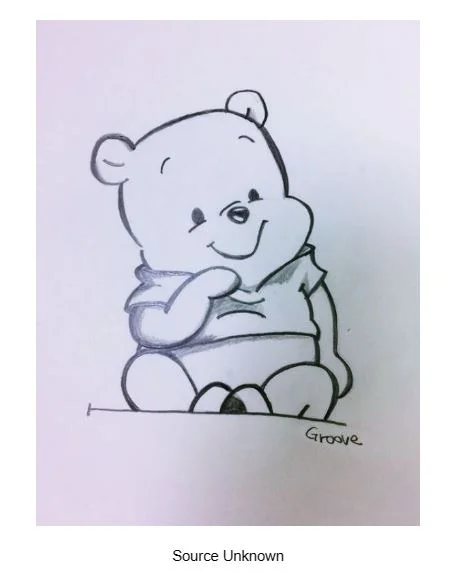 People of all ages still adore Winnie the Pooh, who is still regarded as an iconic cartoon figure.
The demand for a drawing tutorial has skyrocketed due to Winnie the Pooh's popularity. You can create your scene from your favorite book. Have fun and express yourself creatively!
65. Finger Heart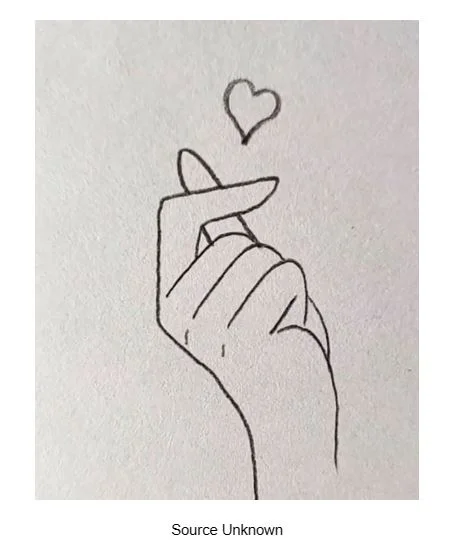 It's possible to express your feelings for someone by using your hands. Making this image of a heart with your fingers and delivering it as a gift to someone is one technique.
The shape of a heart can also be made with your hands. Even if you are far away, this gesture can convey your affection to someone.
66. Eyeball Head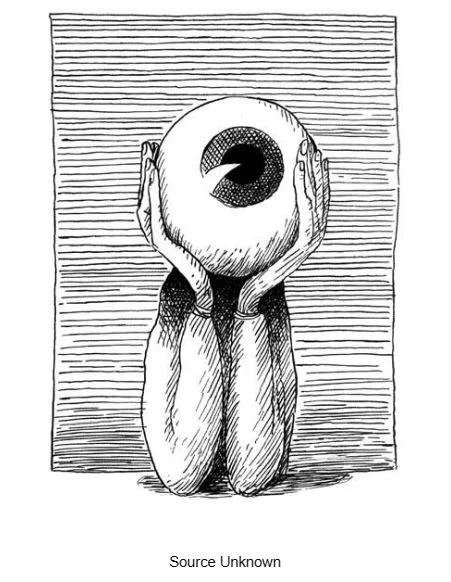 The expression "window to the soul" refers to the eye. Sometimes, all we need to see are someone's eyes to recognize them instantly.
The procedure is simple to follow. You must learn to be patient if reality is your goal.
67. Penguin Playing Hula Hoop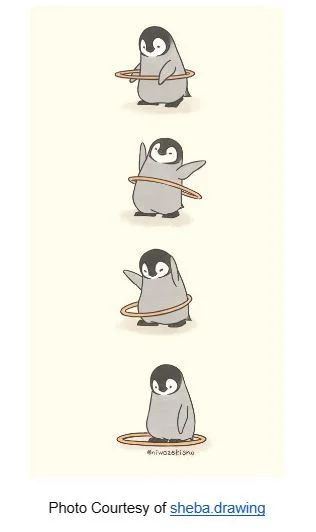 It is a creative illustration made by a bird lover artist named sheba.drawing. His illustrations are mostly penguins. At this point, you already know how to make a cartoon penguin.
In this drawing, you must create four positions of the penguin playing the hula hoop.
68. Worm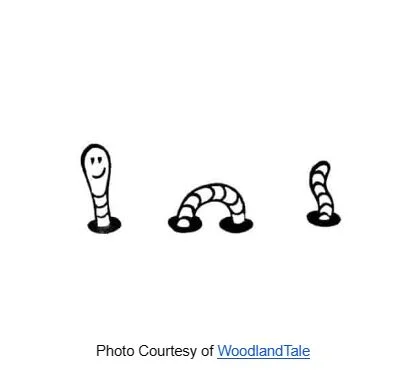 Start by sketching the body's lower half. Keep in mind that worms are long, slender, and capable of multiple bends as you draw two lines.
To make your worm look realistic, add a small amount of detail. In the body, add the extra details. These grooves, sometimes known as "furrows," divide the worm's several segments.
You can also create a game board out of this.
69. Alice in Wonderland Rabbit Hole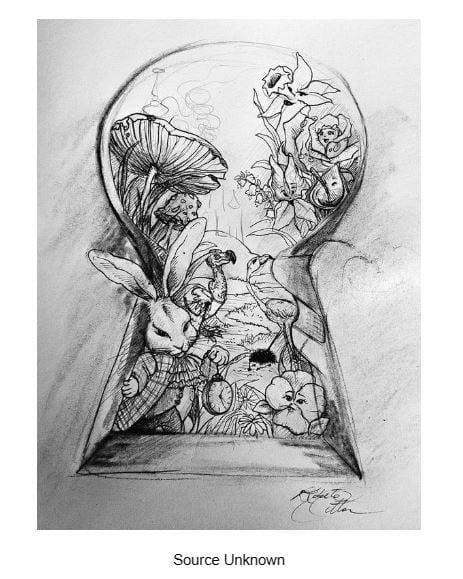 This creative artwork is a bit complex because there are a lot of objects. This scene is from our favorite fairy tale, Alice in Wonderland, which Chronicle Books published.
The hole resembles a keyhole. You can start by outlining the keyhole and proceed with the characters inside it. You can also use colored pencils on this one.
You can also try to make one from your favorite book.
70. Human Inside a Water Bottle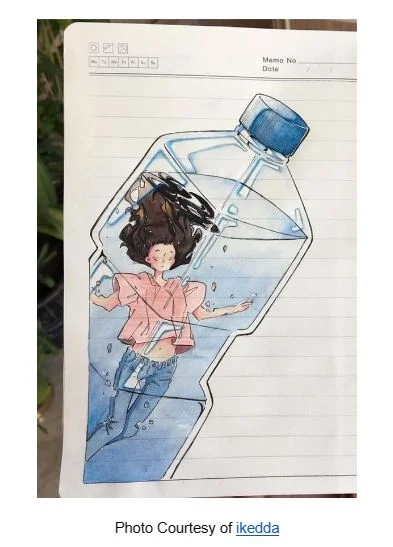 A Japanese illustrator makes this unique art style. He noted in this drawing that "the cooler the weather gets, the more I consume water."
It might not look very easy, but you will eventually get this creative idea through practice.
71. Bart Simpson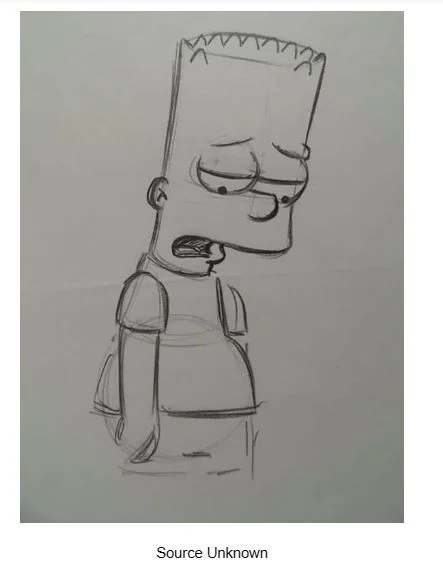 A member of one of the most well-known cartoon families in history is Bart Simpson. Although he is rather mischievous and disobedient, he occasionally lends a hand to others.
If you follow the straightforward instructions online, drawing him might come naturally to you!
72. Anime Schoolboy Character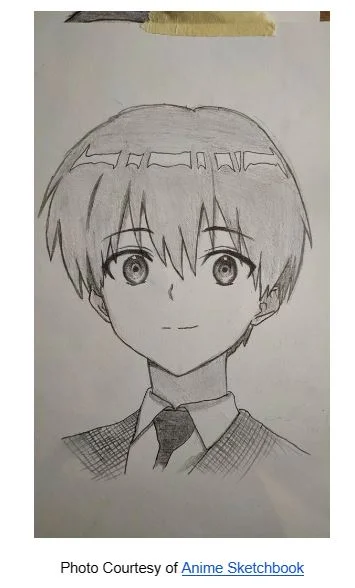 Popular Japanese animation and comic book genres with unique visual aesthetics include anime and manga.
Start with drawing their body so you may sketch what they seem like if you want to draw your favorite character or create one on your own.
Make cute artwork using these anime drawing ideas.
73. Mushroom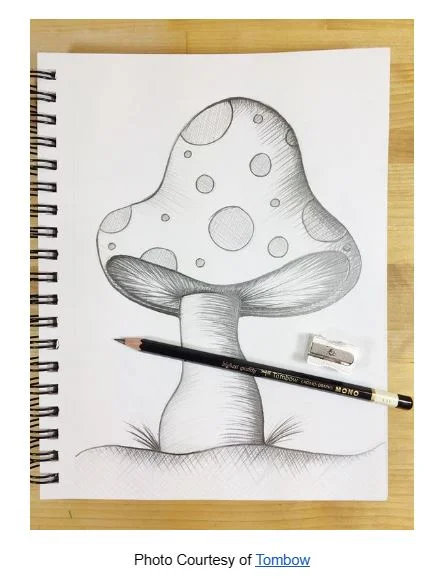 It's simple to understand why so many people's fantasies have turned a cute mushroom into a little dwelling for fantastical animals.
They appear to be made for that duty, with their strong umbrella-like structure. Using this example, your children can learn how to draw a mushroom.
74. Harley Quinn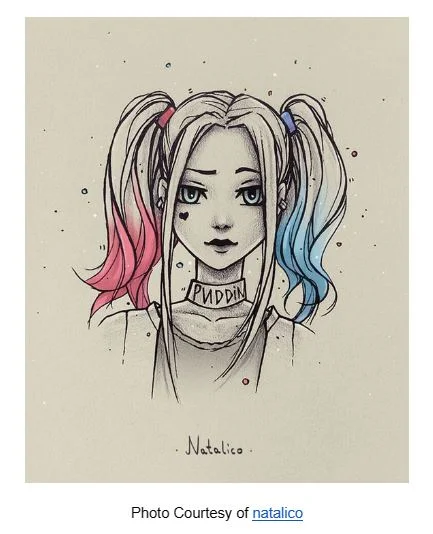 Harley Quinn is a female supervillain or antihero from the DC Comics universe. She debuted in 1992's Batman: The Animated Series.
Would you like to illustrate the evil Harley Quinn? Paper and a writing instrument of your choice are all that is required. You could also wish to give your finished product some color.
75. Skull and Butterflies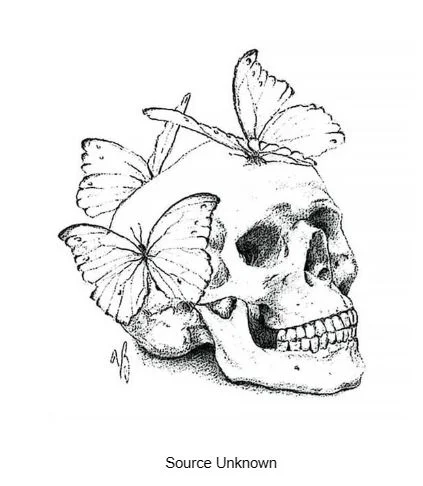 Create a circle for the dome guidance since we will start with the skull. Next, start outlining the structure of the skull form using the circle as a reference.
Complete the skull's details before drawing the three butterflies on its head, as shown here.
What Are Good Drawing Techniques to Use When Filling Your Sketchbook?
Here are our top 5 drawing techniques for getting past the sketchbook initial overwhelm.
1. Create a "Collection" Page With Quotes From the News
It's much easier to get past your inner critic, feeling overwhelmed, or lacking inspiration by focusing on the minutiae rather than the broad picture.
Fill a blank page with little fragments rather than attempting to fill it with drawing prompts. You can devise a collection of easy things to draw or do throughout the day.
The meals you consume each day and the clothing you wear. From the pantry, ten items. Things scattered about the house.
The entire mess you cleared out in one day. Nothing is lost. These bits together create a fantastic and fun visual tale.
2. Search for Details in a Bigger Scene
Finding a tiny portion of the scene to draw first may make drawing the entire scene less scary.
How can one depict a beach? First, sketch a few shells. Draw just one flower, a few overlapping leaves, or the empty area between the fence posts to depict your garden.
3. Do Not Overthink Your Drawing
What should I draw? The solution can be found in simple items like your keys, wallet, bag contents, or favorite coffee mug.
These seemingly little details are incredibly intimate and reveal a small portion of your narrative.
If the drawing subject has meaning, don't worry about it. You give it meaning by drawing it.
4. Delay Doing Anything Other Than Creating Art
Rather than clearing the mess, draw it. Please take a seat, study it for a while, and then sketch it.
Take your crayons and draw the soiled dishes before washing them while seated next to the sink. The ingredients for the dish you're about to make should all be painted.
Draw your desk before opening your email inbox. Rather than washing your car, draw it. When you go to the store, your shopping list will be much more fun if you draw every item.
5. Don't Be Too Stingy With Your Blank Sketchbook
There are numerous pages in a sketchbook, so don't be too particular about them. You could sometimes be reluctant to do drawing prompts because you fear making mistakes.
When I feel that way, I remind myself that any drawing I produce will always be superior to one I don't produce.
Furthermore, you would have missed out on the joyful process of drawing, which is much more significant. Turn the page if you don't like the outcome. The next drawing is up!
Why Should You Use Your Drawing Skills?
There are many good reasons to start this wonderful activity, but these are the top 5:
1. Drawing and Sketching Are Excellent Ways to Develop Creativity and Boost Imagination.
You can see via art that most problems can be solved in more than one manner.
Open-ended thinking and creativity are fostered through the arts. These can be quite beneficial for problem-solving and personal growth.
You can use the drawing skills you get via sketching in many other aspects of your life.
2. Creating Drawings Stimulates a Variety of Brain Regions.
You improve your concentration and attention span, which can be highly helpful in your personal and professional life.
Additionally, it improves hand-eye coordination, making it easier for you to complete daily chores. However, it also fosters strategic thinking, a skill everyone should have to some degree.
3. Your Overall Health May Even Be Improved by Sketching.
You develop self-esteem and confidence through your artwork and sketches, which improve as you practice.
You'll start to feel accomplished and proud of your art, and you'll carry that confidence with you for the rest of your life.
Whatever your line of work, having confidence in it is tremendously helpful.
4. One of the Key Benefits of Drawing as a Hobby Is Rest.
When you sketch, you may relax and work at your own pace.
You can draw anything you want and have fun doing it because there are no rules, and no one instructs you what to do.
5. You Can Enhance Your Communication Skills by Sketching.
Since drawing ideas lack words, the artist must find alternative means to convey their message to the viewer.
Understanding your feelings and emotions better without using words can help you develop your other communication abilities.
Drawing Ideas FAQ
The following questions concerning drawing inspiration are addressed below:
No. Adults with the necessary time, perseverance, and consistent practice can learn to draw. The fundamentals of drawing are covered in innumerable videos, courses, and books.
With the right work ethic, anyone may advance their talent and become a better artist.
Can I Learn Drawing In 1 Year?
You can learn the talent in one to a half years if you practice for 30 to 60 minutes daily. 
You can easily shorten that period to a few months or a year if you practice drawing for 4-6 hours each day. Mastering the art of drawing depends on your capacity for fast strokes. 
Is It Good to Draw All Day?
If you wish to, you can draw each day. However, there is no need to worry about drawing every day if your goal is to improve your artistic abilities. 
What Are Life-Drawing Ideas?
It represents the human form, usually done while the subject is still life and naked. Still-life examples would be fruit or vegetable, old pair of shoes, a window, and more. 
What Are Some Cool Drawing Ideas?
Some of the cool drawing ideas you can try are the following: cityscapes, landscapes., cartoon characters, vehicles, 3D forms, a window, a pair of shoes, ghosts, horses, and butterflies.
Conclusion On Drawing Ideas
We sincerely hope you have liked reading this list of 75 drawing inspirations. Feel free to post your works on social media platforms so others can get cool drawing ideas.
Some of these drawing ideas can be made by kids too. So next time your child feels creative juices, try one of these easy drawing ideas.
Also, we hope you discover a few small, inspired doodles to brighten your day, whether you're bored or attempting to improve your sketching abilities.
Please feel free to enjoy it and spread the word to your friends.
Related Articles
111 Best, Fun and Cool Things to Draw
8 Best Cartooning Books For Artists
7 Best Mechanical Pencil for Architects & Artists 
21 Best Manga Drawing Books to Check Out
16 Best Maya Books for Beginners & Professionals Alike
25 Best Concept Art Books for Artists
22 Best Drawing Books for Beginners
11 Best Adult Coloring Books That Will Color Your Mood
11 Best Color Theory Books for Artists
8 Best Cartooning Books For Artists