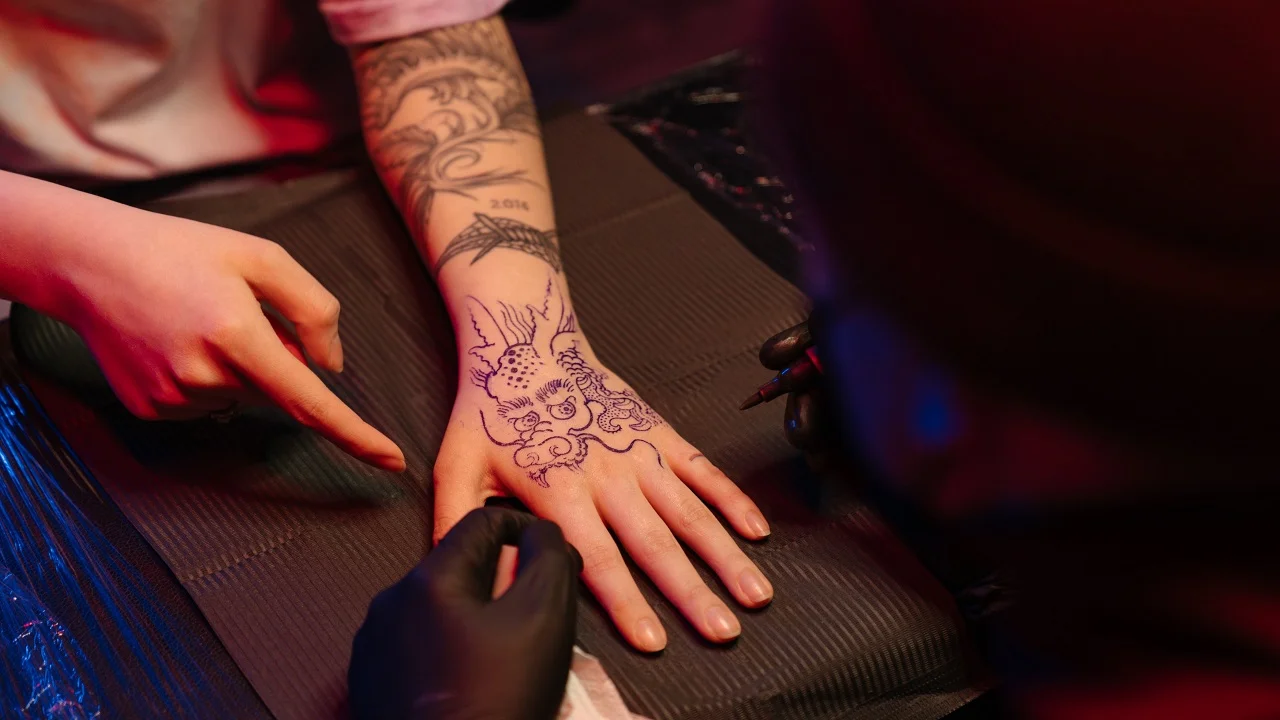 Tattoo drawing is one of the first creative works of humanity. It has been around for ages and has evolved from simple primitive drawings to intricate works of art.
With the help of technology, you can get inked for just about any tattoo design on your body these days. You're only limited by your imagination and the ink you are willing to take!
But how can you choose which ones to have in this vast world of drawings?
If you're a new tattoo artist looking for inspiration or someone considering getting inked, you've come to the right place.
Take a look at these 74 popular tattoo drawing ideas. You might find one you'll be dying to get!
74 Popular Designs for Tattoo Drawings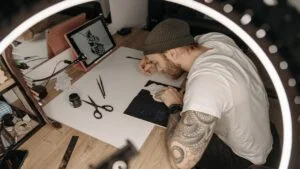 There is no one template on how tattoo drawings should be. Hone your creative side with these drawing ideas.
Tattoos are artistic expressions of one's emotions, memories, beliefs, and values. You will often find flora, fauna, a famous scene, life, death, words, and symbols a common theme.
Tattoo drawings differ in shape, size, and concept. They can also be made up of defined lines and shading and often use black ink as the primary color option.
Here are 74 popular tattoo drawings to consider:
1. Crow Tattoo Designs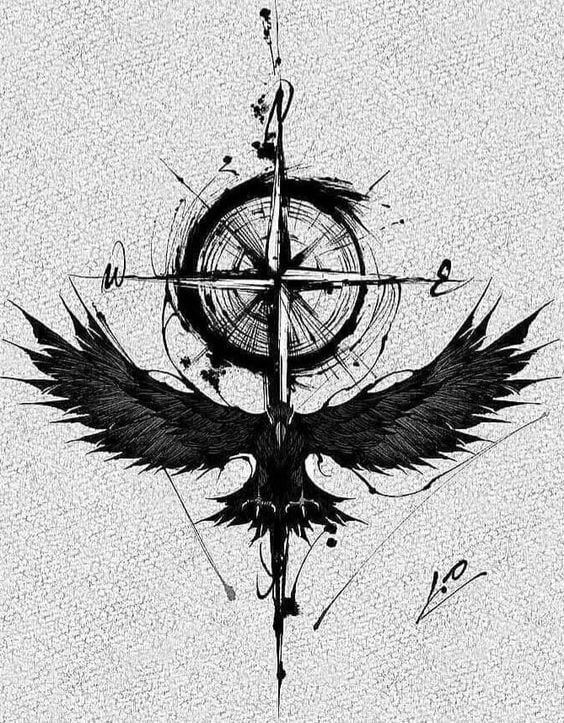 Source: TattoosBoyGirl
Crows are clever birds known for their wits and resourcefulness. Many also see them as a symbol of strength, power, and versatility. With that said, people often get crow designs as a statement of masculinity.
This drawing's fairly complex, so you and your tattoo artist need to practice getting it right. To avoid using too much paper, try a cheap drawing tablet!
2. Tree Tattoo Design Draw Up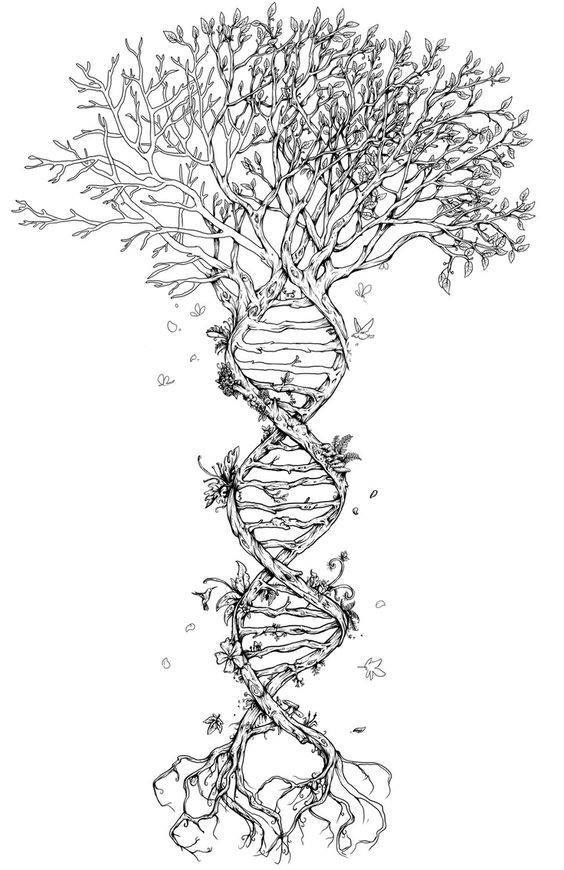 Source: TattoosBoyGirl
Tree tattoos are perfect for those who want to remember the beauty of nature. These tree designs can be simple or detailed, depending on your style.
This one, in particular, has its roots shaped like a double helix signifying family oneness. It uniquely plays with the idea of a family tree.
3. Skull and Flowers Tattoo Design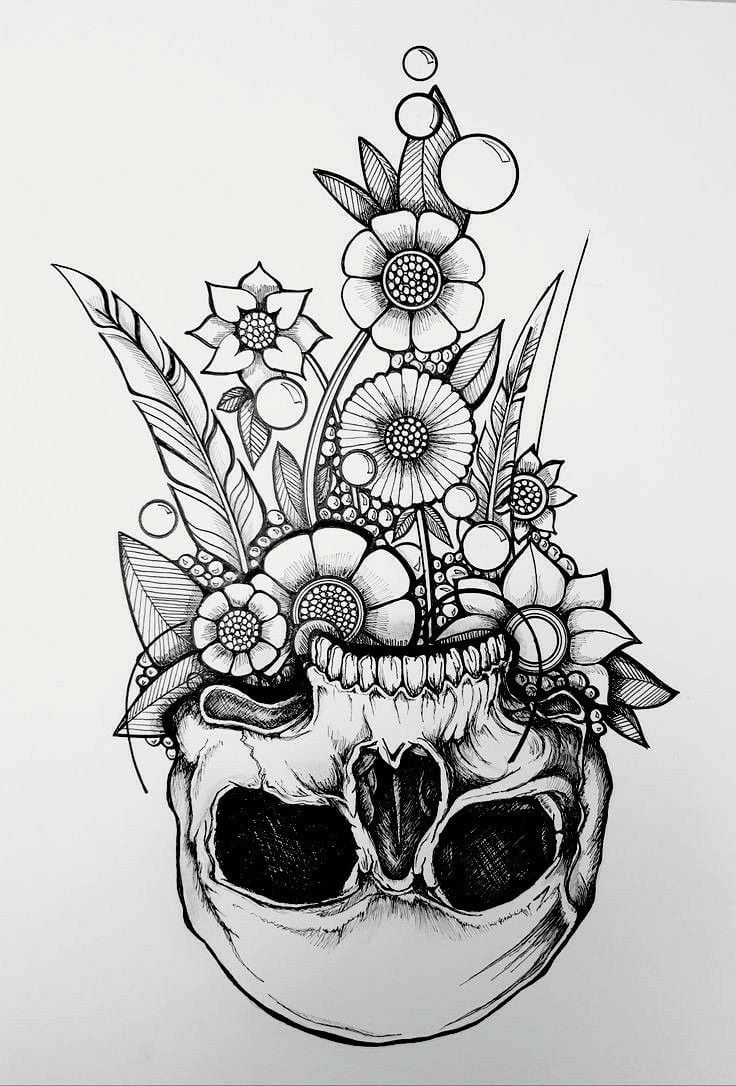 Source: Sandra Dee Matthews
Many artists explore their creativity by combining opposing components like intricacy and the dark side.
This results in a beautiful drawing worthy of being inked on the skin. This design screams, "Beauty can bloom even in adversity."
4. Celestial Tattoo Drawings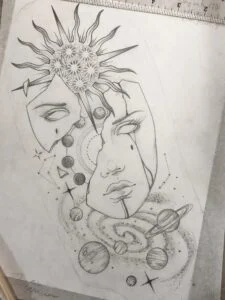 Source: u/iovulca
If you're into cosmology and numerology, celestial-inspired tattoos are perfect!
This design entitled "The Creation of the Universe" showcases planets, stars, galaxies, the moon, and the sun at the centermost in a beautiful bohemian way.
5. Anchor Tattoo Drawings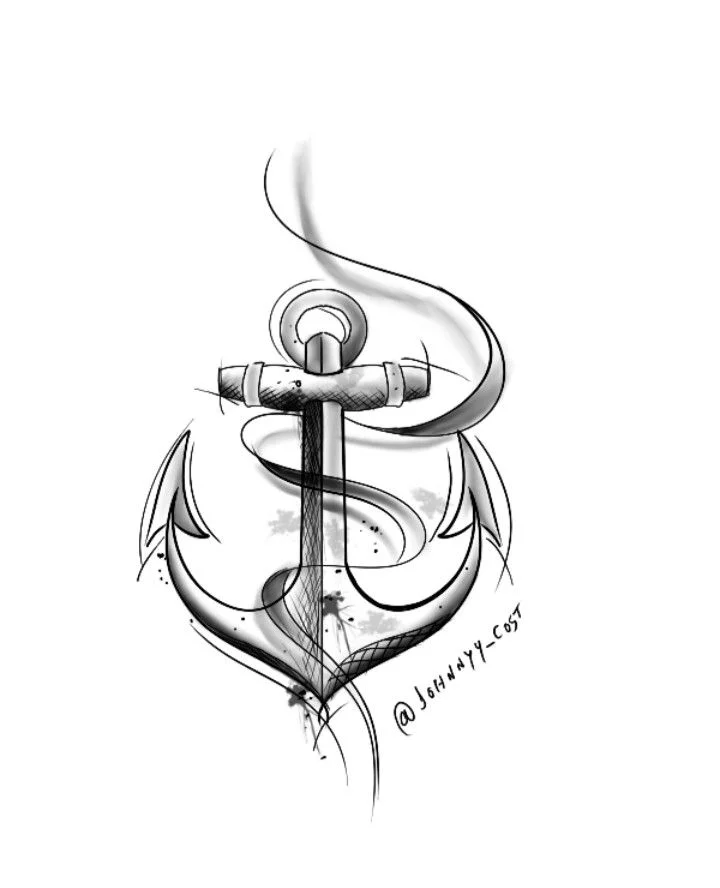 Source: Johnnyy_cost
You'll find one too many anchor tattoos inked among men. It's one of the oldest designs ever! Anchors symbolize stability, given that they keep a ship grounded.
For anybody wanting to remain strong and afloat in difficult times, an anchor tattoo is for you.
6. Gypsy Girl Tattoos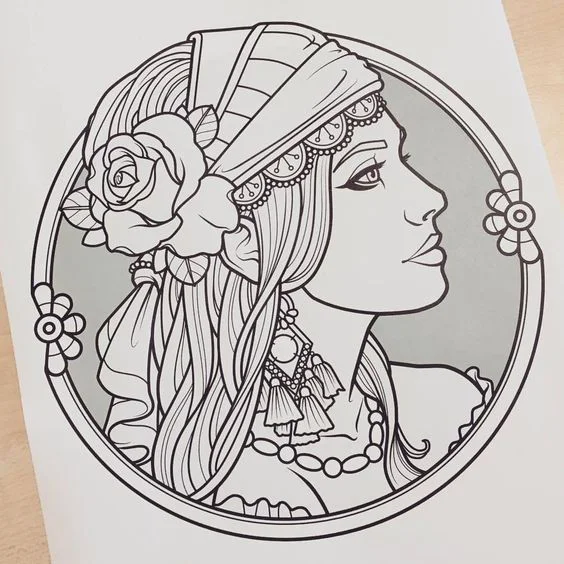 Source: samphilipsdesign.tumblr.com
A favorite among women is the gypsy girl tattoo. These tattoos depict a beautiful woman with nice flowing hair dressed in ornate clothes and accessories.
This beautiful drawing signifies a strong and independent woman. It's the go-to feminine-themed design.
7. Dragon Tattoo Design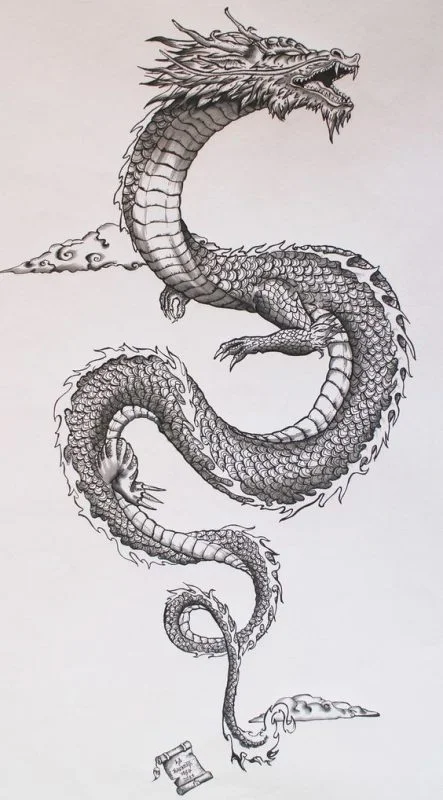 Source: Astuces de filles
A dragon is a legendary creature born in the ancient world. Popular dragon designs are often of Chinese dragons.
These traditionally symbolize power and strength as these dragons are known to have control over water, rainfall, typhoons, and floods.
8. Cobra Tattoo Designs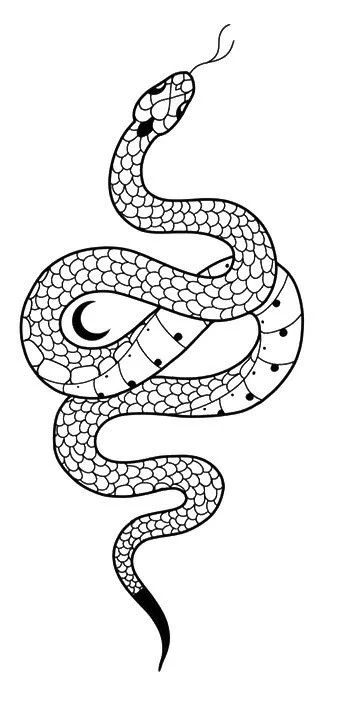 Source: Joaquimpassos
Among snake tattoos, cobra tattoo design drawings are the most common. Cobras symbolize wisdom, power, and protection. If you want safety and control, consider a cobra design.
9. Snake Skull Tattoo Drawing Design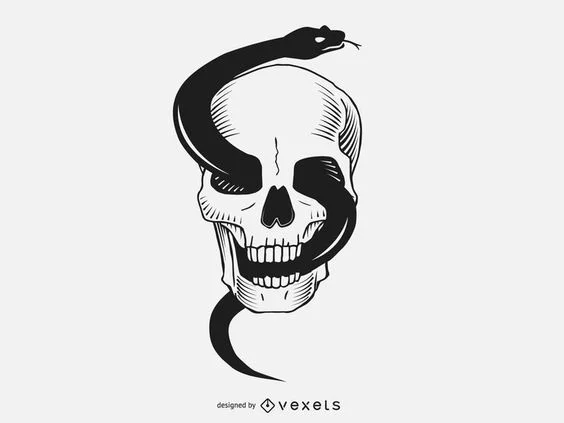 Source: Vexels
A snake skull tattoo is a symbol of transformation and rebirth. The snake winding around the skull gives off the feeling of power and danger. It can also be a symbol of death and the underworld.
This drawing is a nice suggestion if you want a dark and dangerous design.
10. Snake Tattoo Drawing Ideas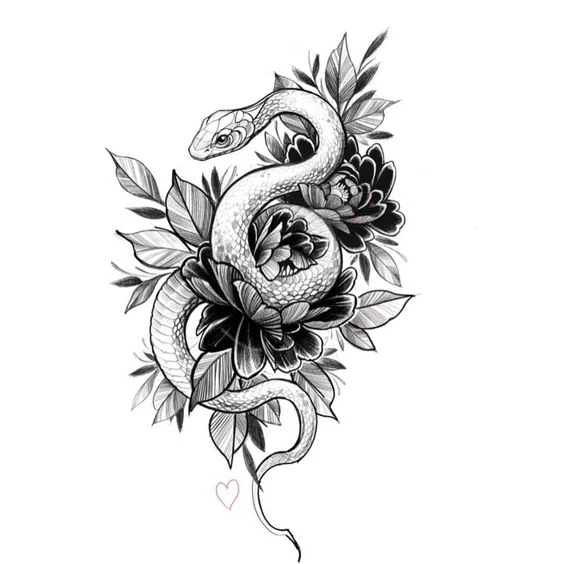 Source: PetPress
We're not done with snakes! A snake tattoo is a popular design because snakes are powerful, evocative creatures.
There are a ton of snake drawing ideas out there that will make your design research a breeze!
11. Mushroom Tattoo Drawing Ideas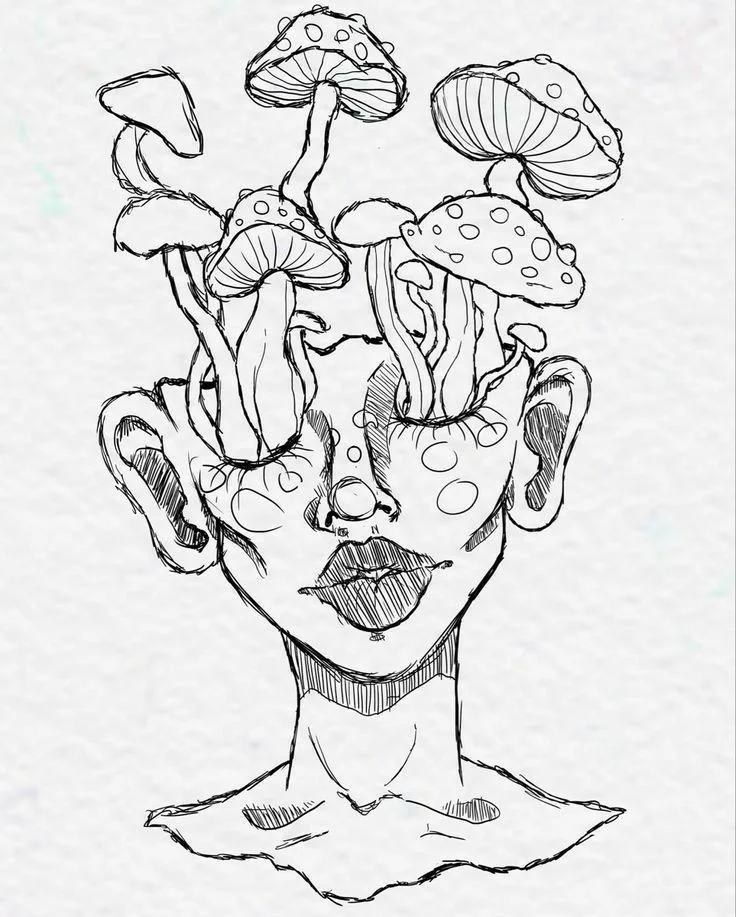 Source: qecbalis
Mushrooms are mysterious and magical organisms. They can also symbolize fairytales and fantasies. This trippy design has mushrooms growing out of eye sockets.
It's one of those unique drawing ideas that attracts hippies.
12. Octopus Tattoo Design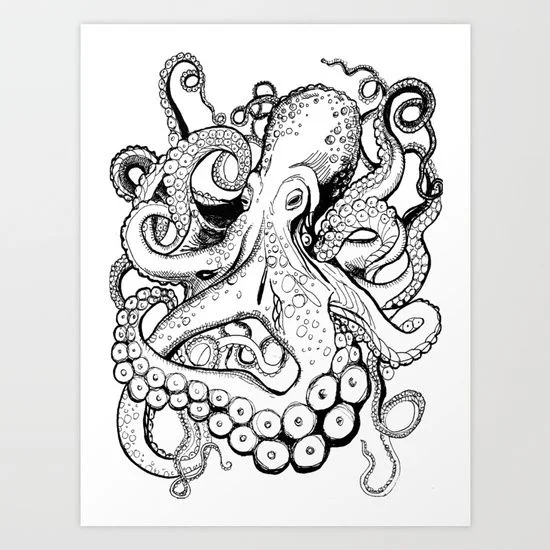 Source: Aeron Brown
An octopus tattoo can mean many things, such as illusion, mystery, and intricacy. It is also a symbol of the ocean and water.
If you want an animal-themed design, this sea creature has much potential for artistic interpretation.
13. Owl Tattoo Designs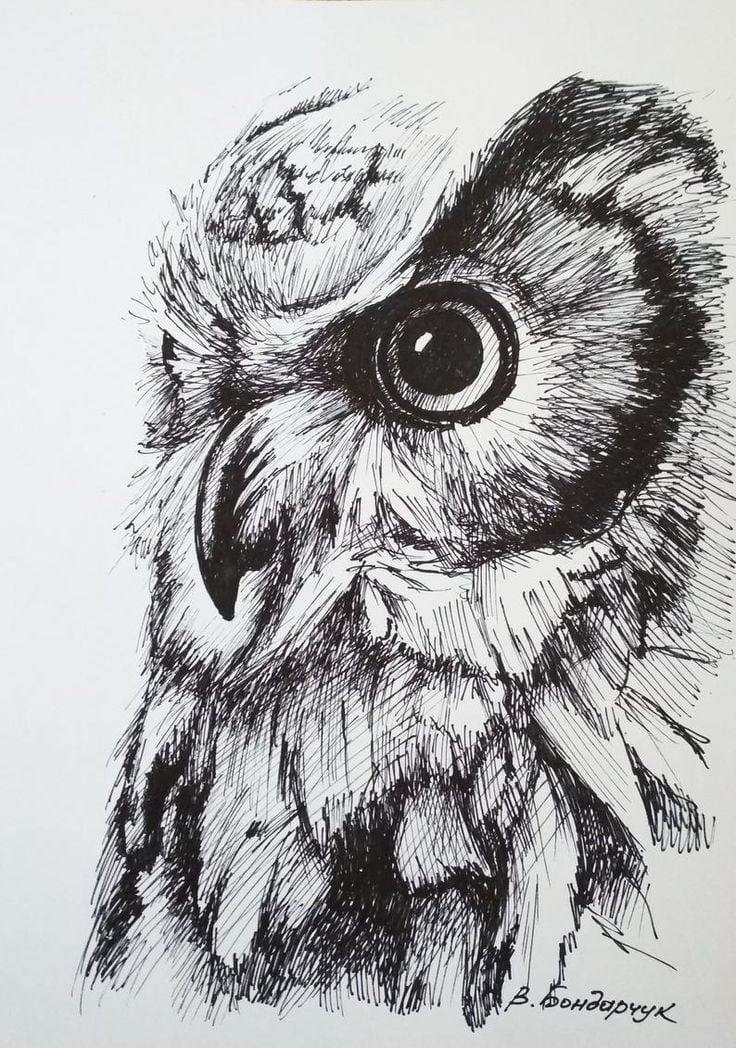 Source: Victor Bondarchuk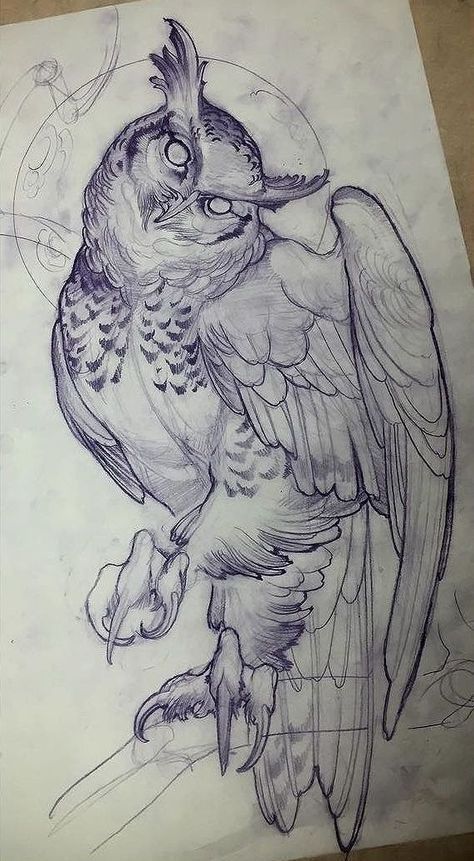 Source: Unknown
This sketch of an owl beautifully showcases its eyes which are famous for their ability to see in the dark. Owls represent wisdom, knowledge, and protection. As nocturnal creatures, they are also associated with the moon.
An owl is a good idea if you want a deep spiritual tattoo!
14. Melting Clock Tattoo Design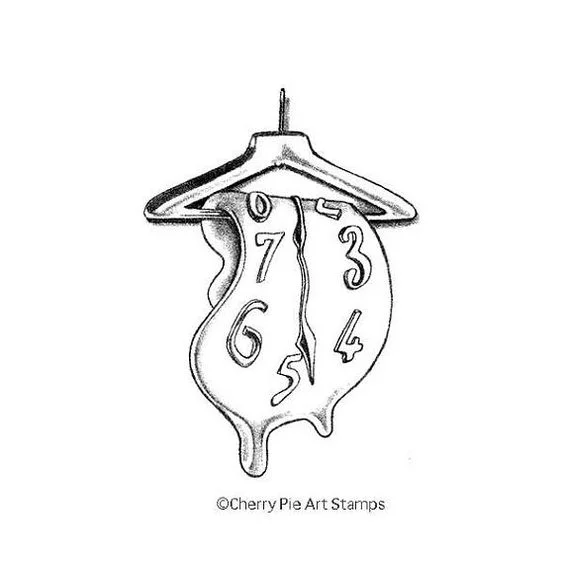 Source: Cherry Pie Art Stamps
A melting clock tattoo is one of the more popular philosophical drawings you can find. It represents someone's fear of the future.
If you are somebody who wishes to express their anxiety for the future, this tattoo design does not disappoint!
15. Pocket Watch and Compass Tattoo Designs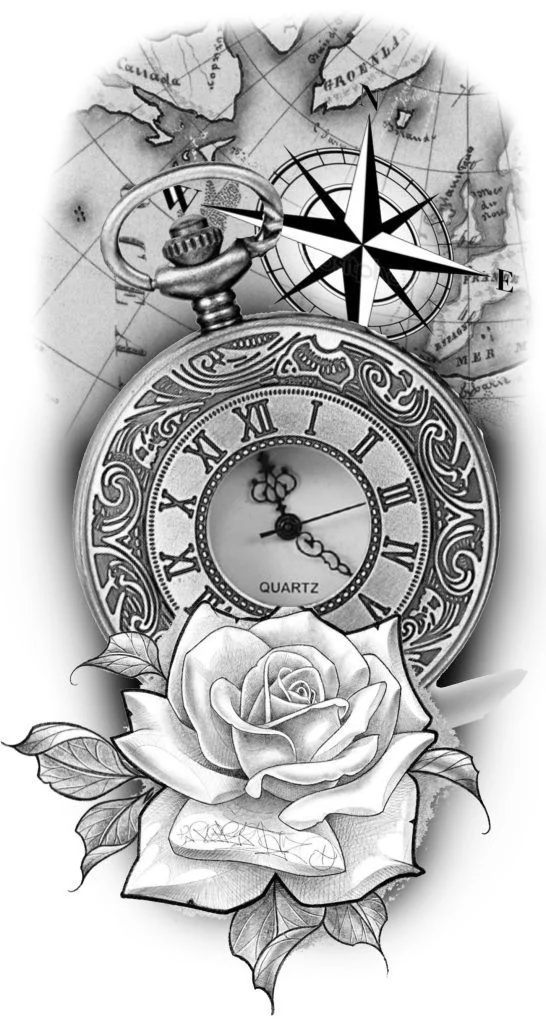 Source: TattoosBoyGirl
A pocket watch and compass tattoo are popular for people fascinated with the unknown. These two items also symbolize magic and spells.
16. Samurai Tattoo Designs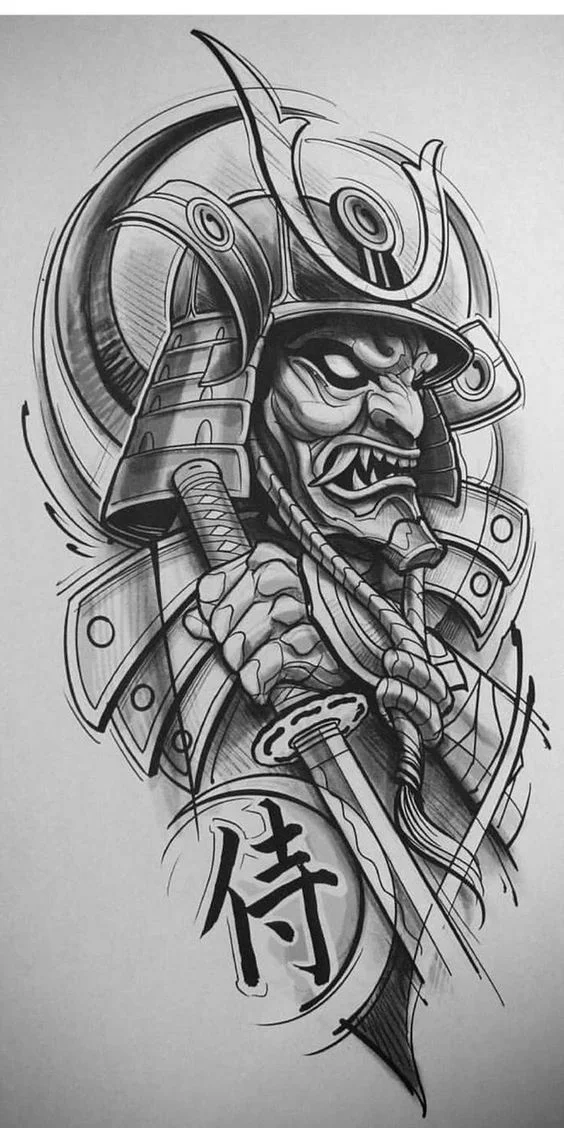 Source: Mungfali.com
Samurais are Japanese warriors devoted to protecting the lives of their people. Samurais are known for their courage, strength, and discipline.
A samurai tattoo drawing is perfect for those who want to show off their samurai values and warrior spirit literally on their sleeves.
17. Minimalist Geometric Tattoo Drawing Ideas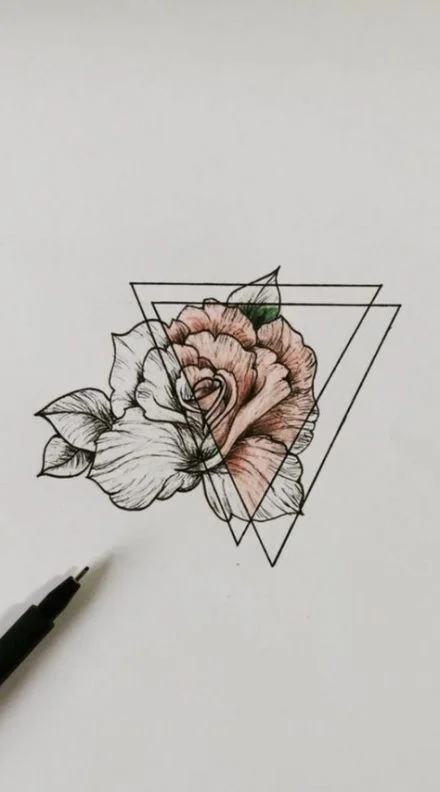 Source: BeWhoYouAre
Many tattoo shops specialize in minimalistic geometric drawing ideas. These designs are good ways to kick-start your career for any beginner artist.
They are simple yet elegant. And because of its pure nature, it's common for people to get multiple tattoos inked in one session.
18. Leo's Head Tattoo Designs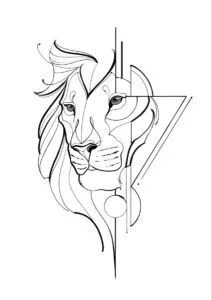 Source: Alessandro Pikeno
Lions are on top of the food chain for a reason. They are brave and powerful—a lion tattoo designed for anybody who wants to wear their pride and masculinity on their sleeve.
19. Elements of Nature Tattoo Drawing Ideas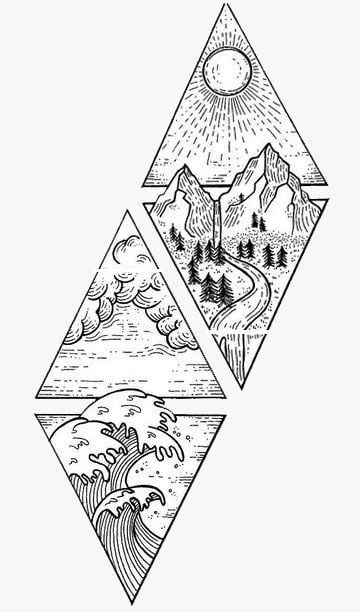 Source: freddy3698
Here's another nature-inspired design!
This one beautifully encapsulates the four elements of nature, fire, earth, air, and water. Its clean, distinct lines make this work of art even more elegant and stunning.
20. Aries Tattoo Designs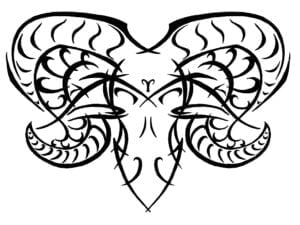 Source: Tattoosforyou
Many tattoo artists take inspiration from zodiac signs. A Ram represents the Aries. People with the Aries sign are thought to be independent, impulsive, energetic, ambitious, and passionate.
If this is your zodiac sign, getting tattooed for it would be nice.
21. Japanese Koi Fish Tattoo Drawing Design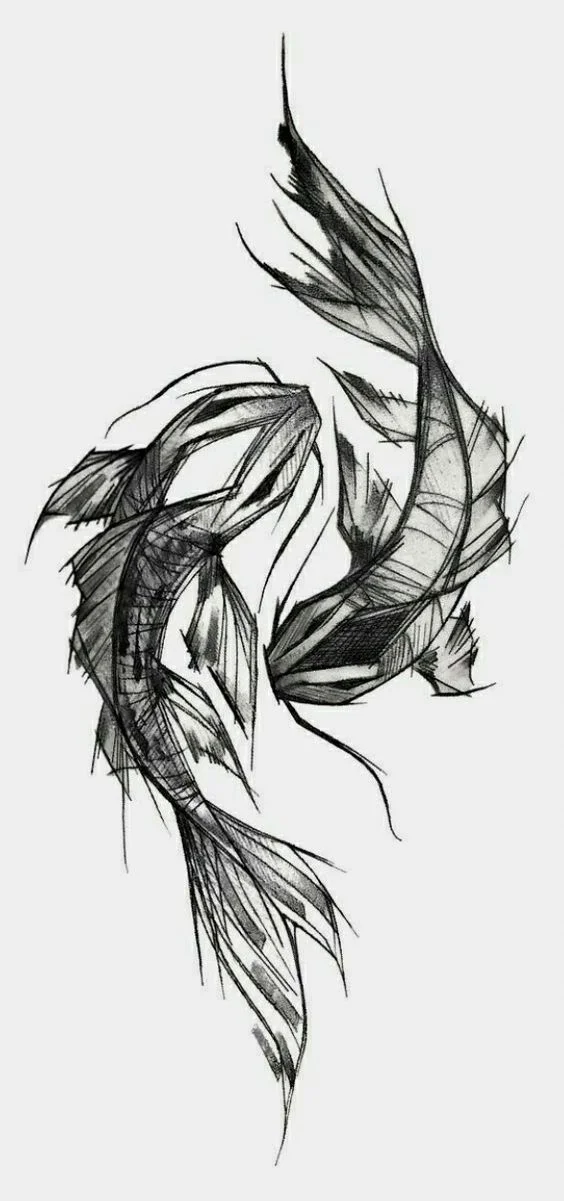 Source: Nomadic Canadian
Koi fish swim against the current, making them a relevant symbol for anybody bracing and overcoming difficulties. Koi fish in Japanese culture represents strength, power, and determination.
If you want to be reminded of these beliefs, you better start sketching some koi!
22. Flowers Tattoo Designs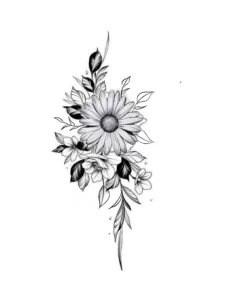 Source: Marco Brandao
A lot of women go for delicate floral designs. They're easy on the eyes and bring great joy to anybody who sees your tattoo.
For a light-hearted design, these daisies do just the trick! Learn to draw beautiful flowers with these drawing ideas.
23. Angel Tattoo Drawings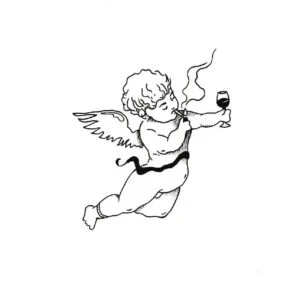 Source: Elisabeth Brekke
An angel is derived from the Latin word "angelus," meaning the "messenger of God." Most people get angel tattoo drawing ideas to represent their faith. Angels also serve as a reminder that you are protected.
Angel tattoos like this can be simple, elaborate, or even comedic.
24. Feathers Tattoo Drawings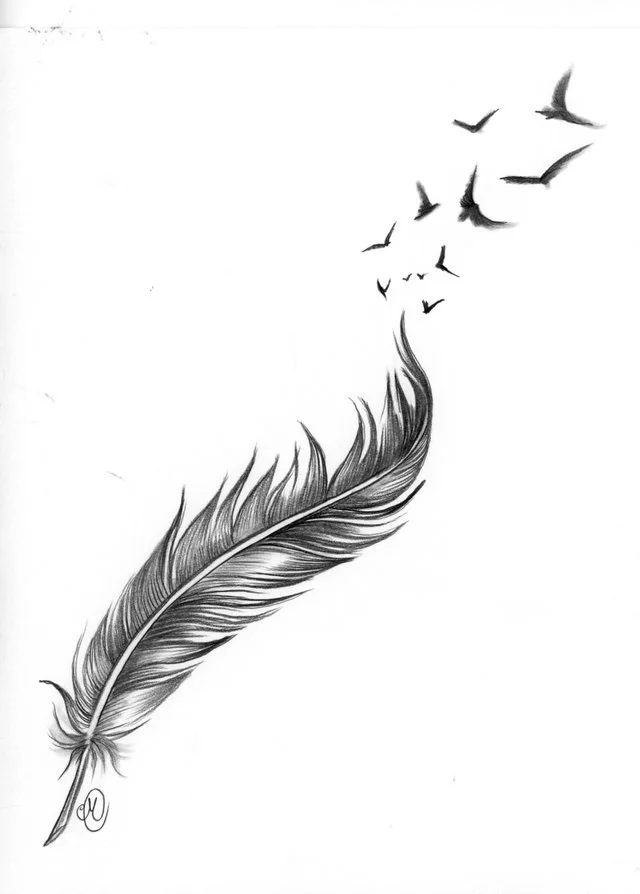 Source: mcgrafite
Many get feathers and birds to symbolize their free-spiritedness, bravery, and strength. Its spiritual meaning comes from its Native American roots.
Feathers are popular designs for those who believe in themselves no matter the circumstance.
25. Rose and Dagger Tattoo Designs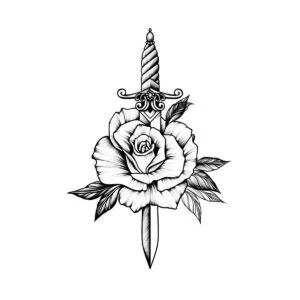 Source: Kayla Rae
Rose drawings are one of the most popular tattoos for men and women. A rose and dagger tattoo drawing represents life's harshness, playing with the phrase, "Life is no bed of roses."
It's one of those sketch tattoos that never go out of style.
26. Rose and Snake Tattoo Designs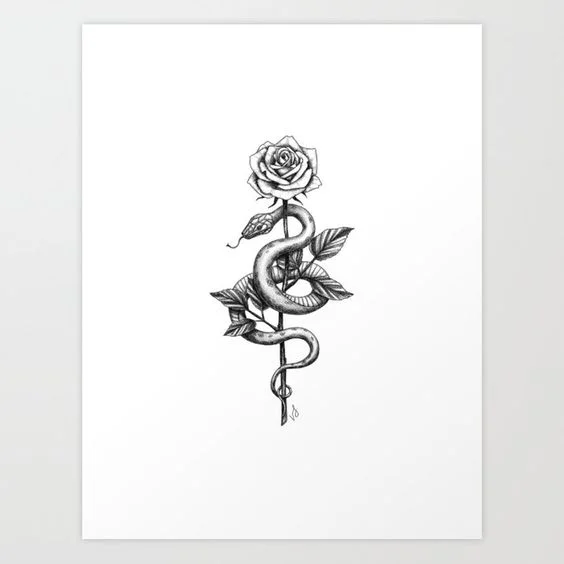 Source: vicink
Here is another rose tattoo drawing, but this time with a snake winding around its stem. The snake is fierce, while the rose is elegant. This combination represents love so strong that it has lost its innocence.
27. Rose and Skull Tattoo Designs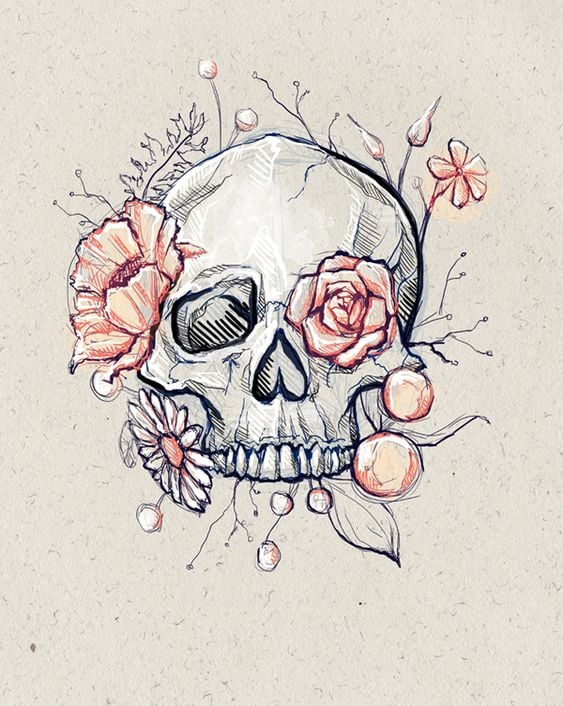 Source: Chelsea Peters illustration
This rose, and skull drawing carries the meaning of rebirth after facing adversity. A skull symbolizes death and darkness, while a rose symbolizes hope. These beautiful sketches are easy to build with more color, depending on your taste.
28. Tiger Tattoo Ideas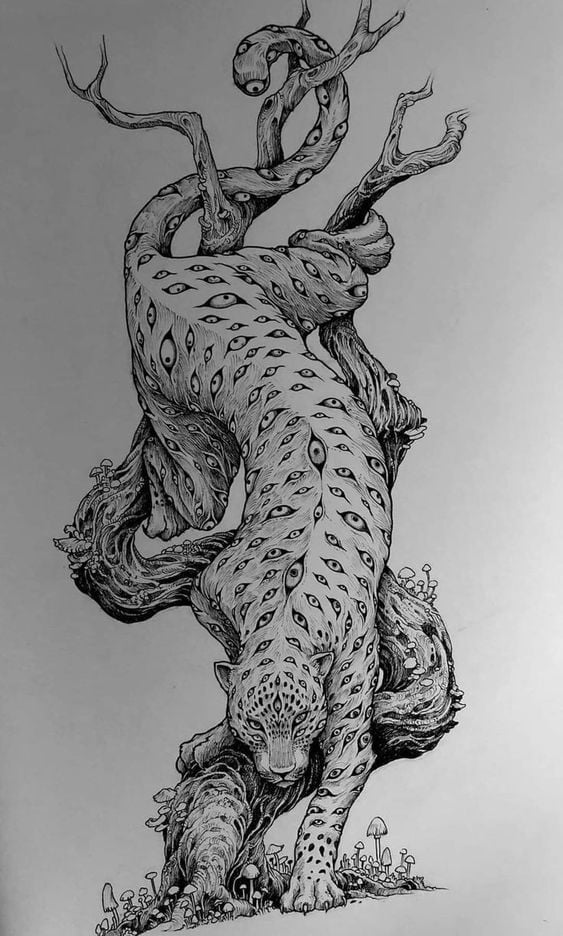 Source: xgtfyh
The tiger is well-known as a powerful beast. This tiger drawing can easily fill up your whole sleeve and represent strength.
29. Butterfly Tattoo Drawings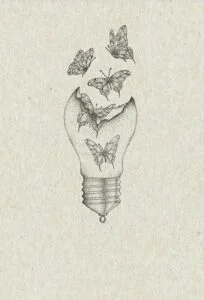 Source: Lilly
Butterflies as a tattoo on someone's body is always a beautiful sight to see! Butterflies are symbols of new beginnings and transformation. It's a great tattoo drawing for anyone going through a major change.
30. Eagle Tattoo Drawings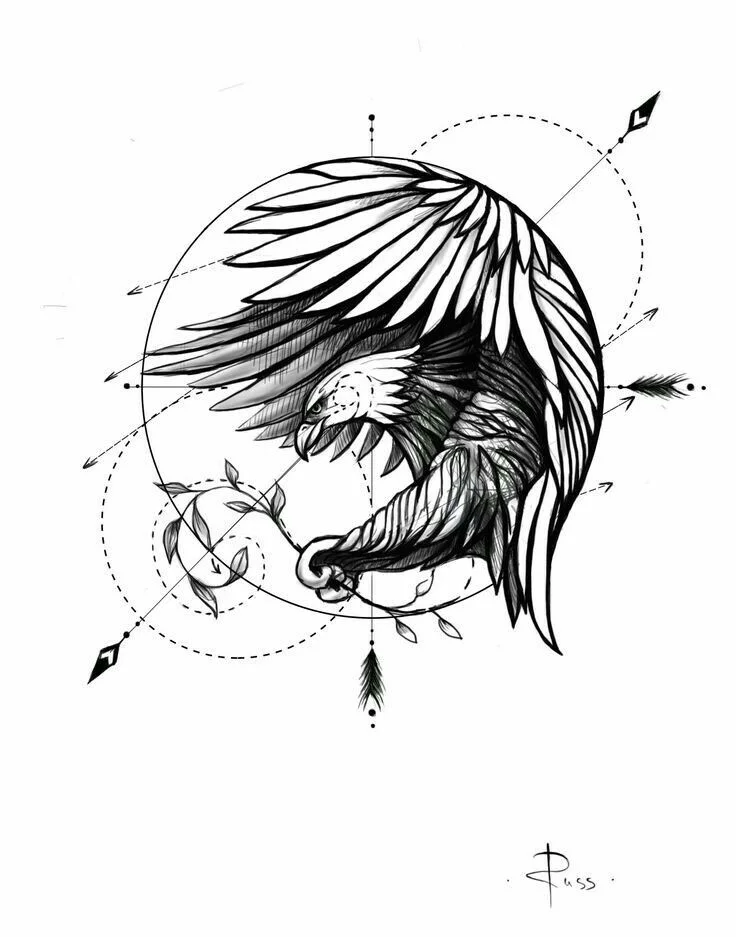 Source: Russ
An eagle tattoo drawing is associated with wisdom, power, and spirituality. They can also mean freedom and independence.
Many people get an eagle tattoo to represent their patriotism and warrior spirit.
31. Tribal-inspired Tattoo Drawings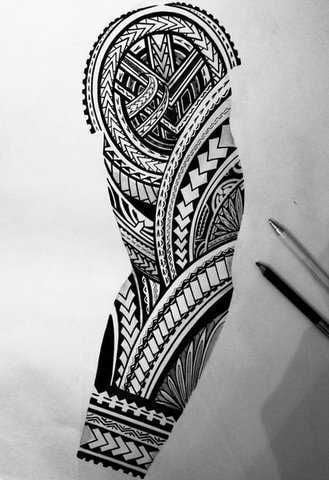 Source: Mungfali.com
In many cultures and tribes, only certain members receive tattoos to symbolize their courage, leadership, and loyalty.
Tribal tattoos vary in shape and patterns and have ethnic origins. Undoubtedly, any tribal tattoo will make you look fierce and brave.
32. Birds, Arrow, and Skull Tattoo Drawings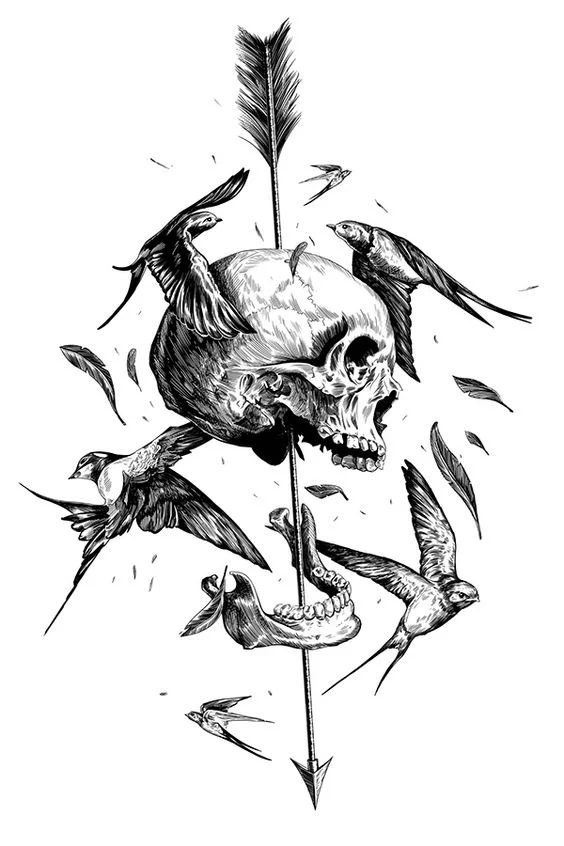 Source: Nikita Sergushkin
Any skull tattoo drawing on the body will represent some adversity experienced in the past or present.
This powerful combination of a skull, arrow, and bird means you can rise again from these troubles.
33. Sword in Horned Skull Tattoo Design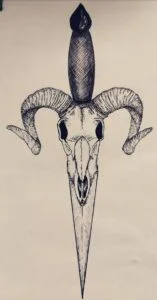 Source: Dominika Bulka
A sword in a horned skull is the perfect design for anybody who wants a dangerous tattoo. Naturally, both the skull and blade represent fighting to the death.
This blade in a horned skull drawing also symbolizes your willingness to fight for what you believe in.
34. Tribal Wolf Tattoo Drawings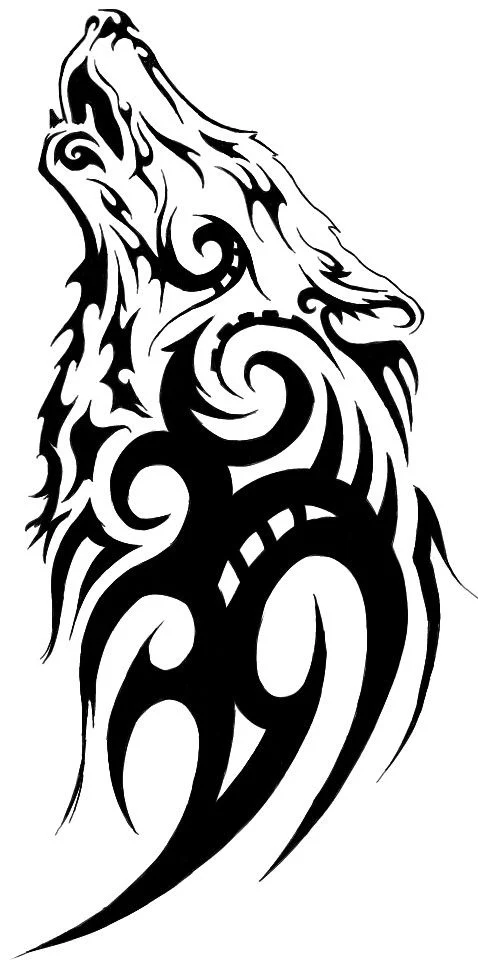 Source: justsmoke5358
Wolves are considered noble warriors, great leaders, and family protectors. Native American warriors get tribal wolf tattoos to represent their loyalty to the tribe and willingness to protect their own people.
35. Mandala-inspired Tattoo Drawings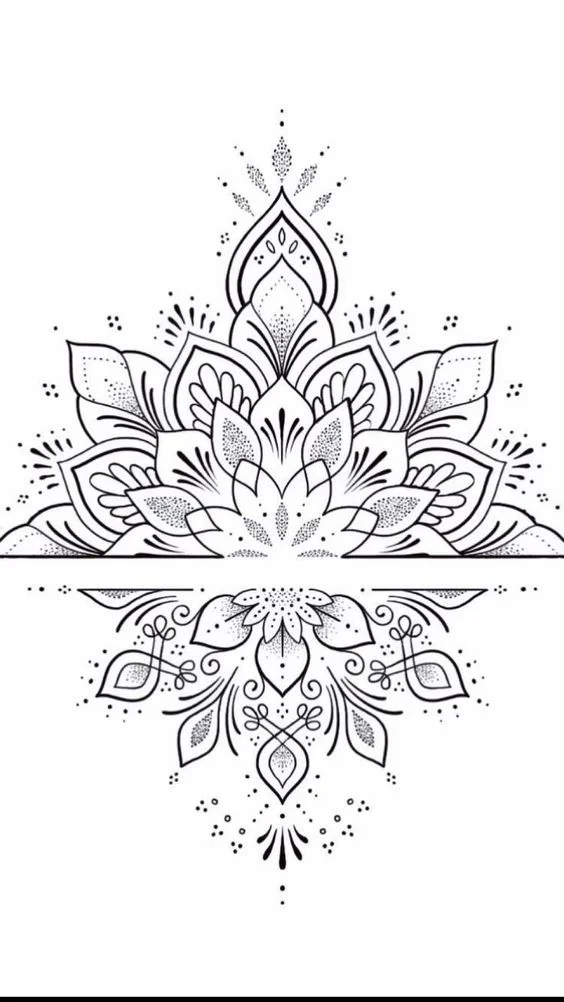 Source: Tiare kalehua Alconcel
Mandala tattoos are popular drawing ideas today. They are not the easiest to sketch or tattoo on the body, but they can be worth it! Mandala tattoos represent eternity and perfection, given their intricate and seemingly endless patterns.
36. Ornamental-inspired Tattoo Drawings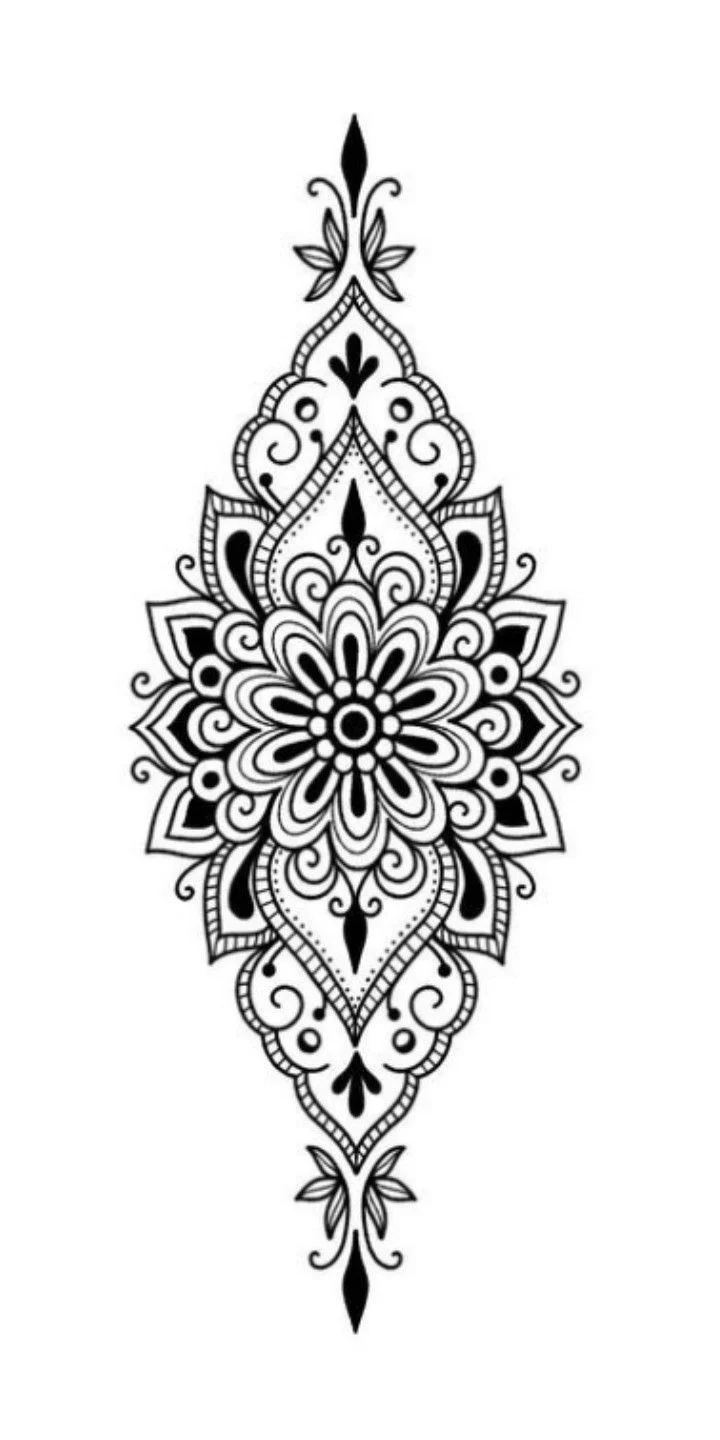 Source: Nurul Islam
Ornamental tattoos may look simple. But don't be fooled. These tattoo drawing ideas are not that easy to sketch. Ornamental tattoos have to be perfectly symmetrical. A steady hand will do the trick!
37. Judgment Chain Tattoo Design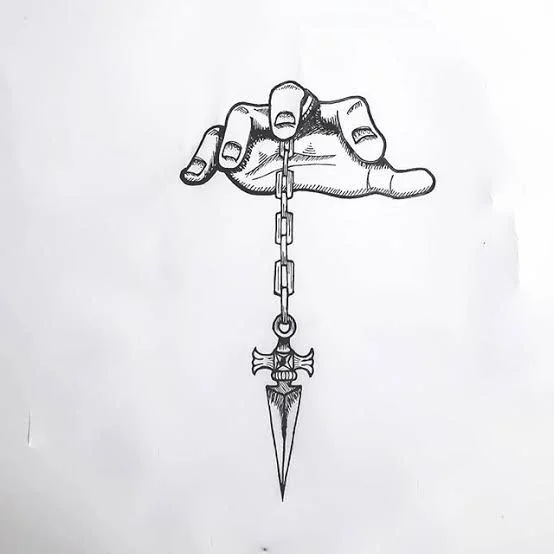 Source: Nana
If you are interested in anime, you'll love this! Most artists draw inspiration from shows, cartoons, and characters too.
This tattoo drawing, in particular, has a Hunter x Hunter reference. It's the perfect tattoo drawing for Japanese manga fans!
Cartoon drawings are another great option if you're looking for a more whimsical style.
38. Landscape Tattoo Drawing Ideas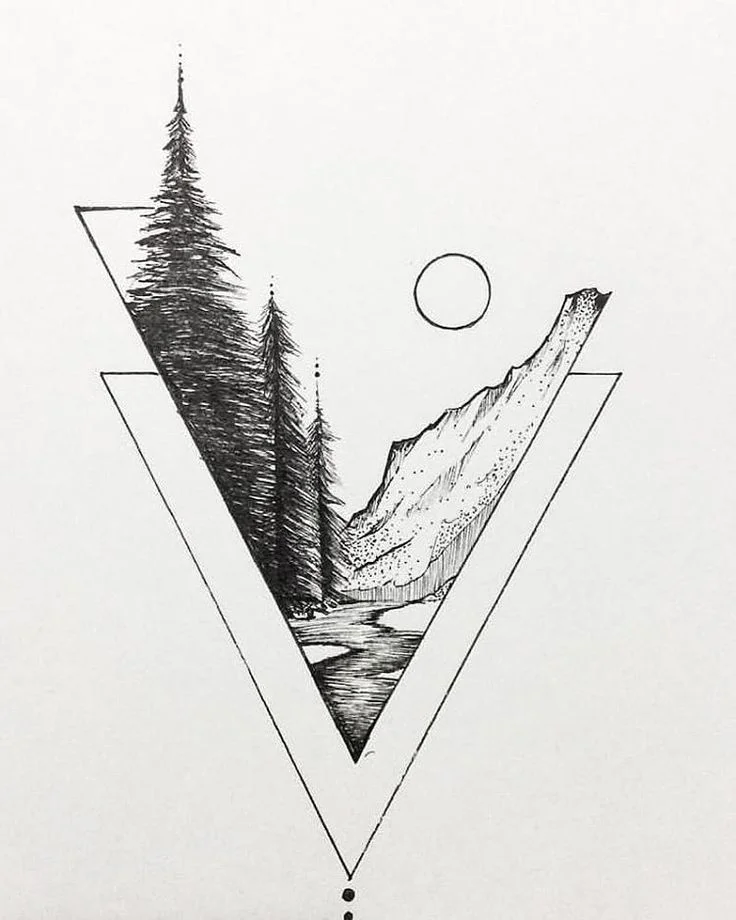 Source: Diyhaustiere
Landscape and scenery tattoo drawing ideas are the perfect designs for someone who wants to be reminded of certain memories of places.
It can represent a recent trip, where you grew up, where you first met a lover – the design possibilities are endless!
39. Hand, Skeleton, Butterflies Tattoo Drawing Ideas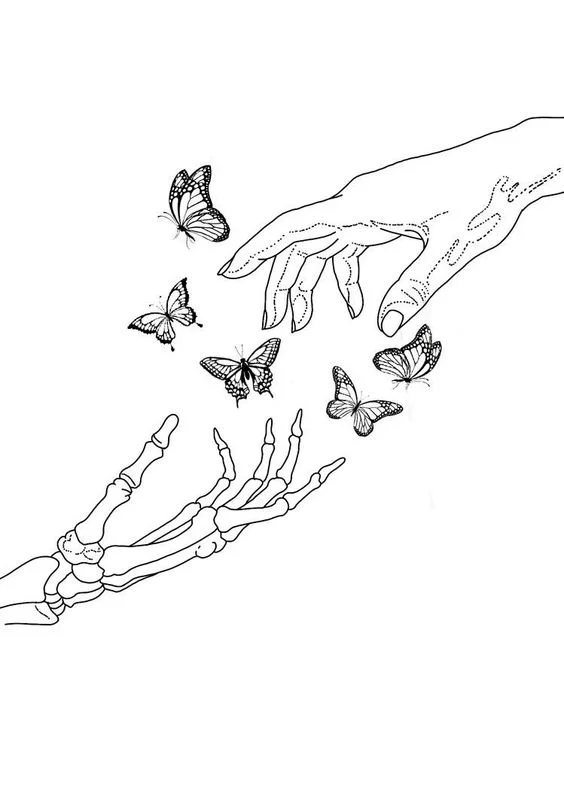 Source: Daniel_malin
Source: ash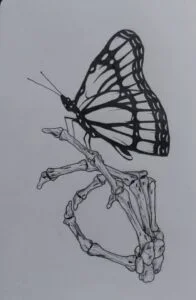 Source: Madina
This minimalistic sketch of a hand, skeleton, and butterflies is a work of art! These simple yet impactful tattoos are easy on the eye. This tattoo, in particular, represents the beautiful fleeting moments of living.
40. Skeleton, Butterfly, Flowers Tattoo Drawing Ideas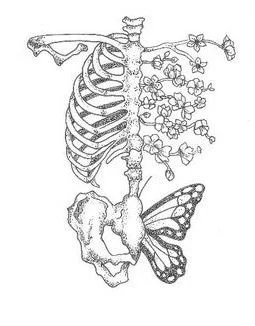 Source: Oona Dole
Now it's not just a skull; it's the whole rib cage! This skeleton, butterfly, and flower tattoo drawing is a unique play on life's relationship with death. It is symbolic of the circle of life.
41. Emotional Intelligence Tattoo Drawing Ideas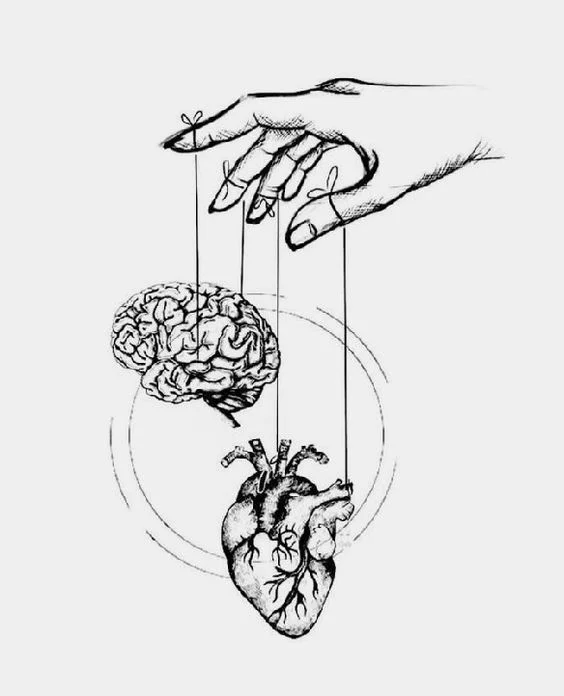 Source: Mind Help
This tattoo of a hand-playing puppet with the mind and heart works on overcoming difficulties in decision-making. What prevails, emotions or logic? This sketch is a beautiful piece that represents emotional intelligence.
42. Elephant Tattoo Drawing Ideas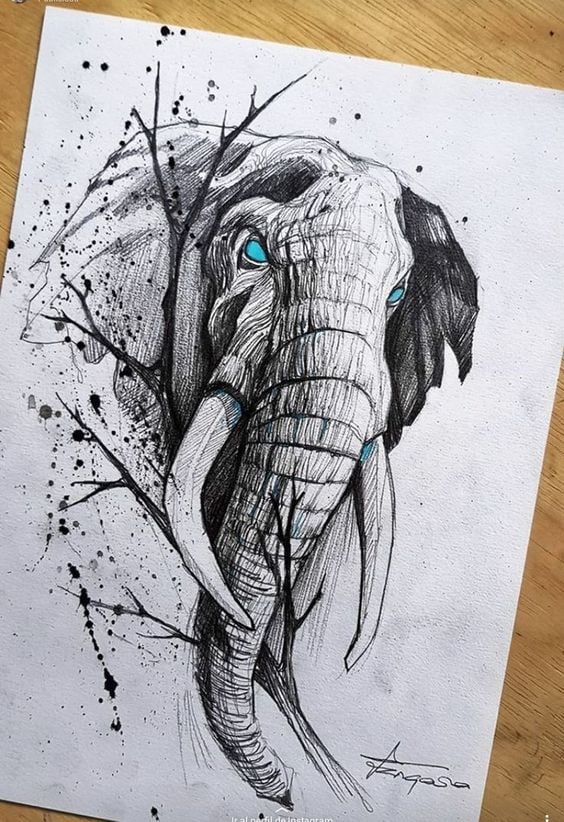 Source: Greg
In the animal kingdom, elephants represent strength, loyalty, divinity, and good luck. These sketch drawings can be simple or intricate, with shading to look as realistic as possible. It's up to you!
43. Cat Tattoo Drawing Ideas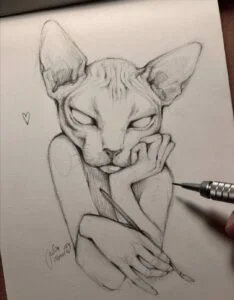 Source: Mits
Many people like to have an immemorial keepsake of their pets. If you have or have a cat, getting a tattoo drawing of them would be a great idea!
It's up to you how you want to remember them. This sassy sphinx is almost human-like.
44. Dreamy Tattoo Drawing Ideas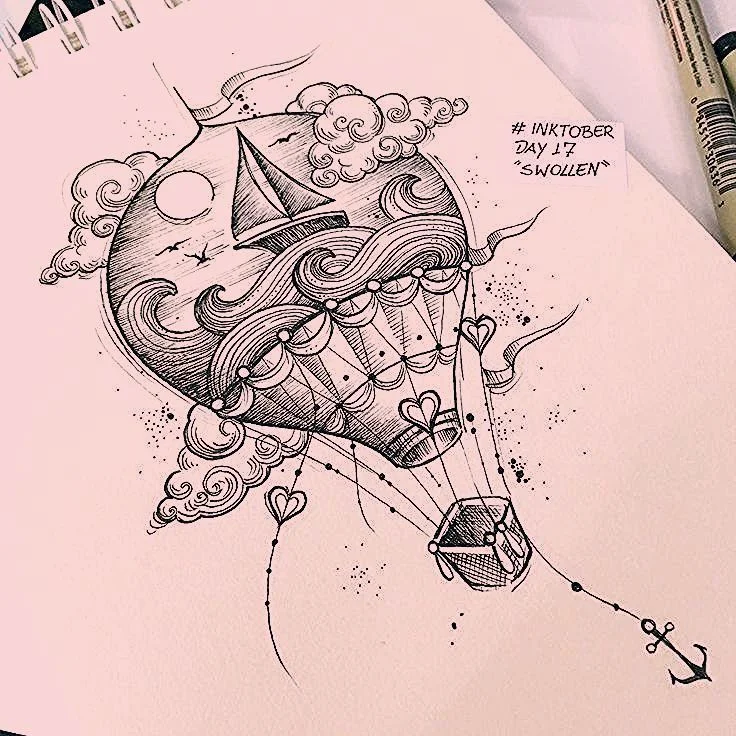 Source: Arlene Banks
Let your imaginations run wild and free! Get creative with your drawings. This dreamy hot air balloon, sailboat, and ocean drawing look like they came off a fairytale page!  
45. Wings Tattoo Drawing Ideas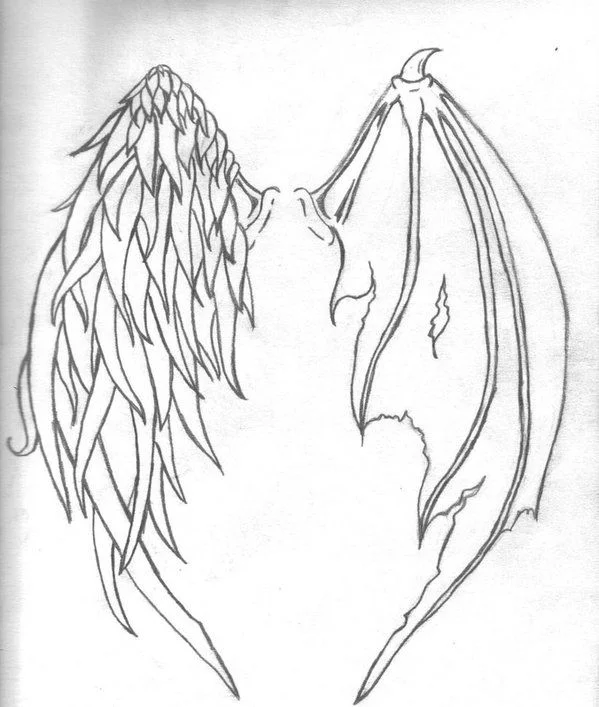 Source: Debra Perkins-Thoroughman
Tattoo drawings of wings can fill up your whole torso or back or can be whatever size you want them to be.
They symbolize freedom, dreams, and faith. As wings are an essential part of angels, they usually have religious or mythological origins.
46. Wolf with Lily and Arrow Drawing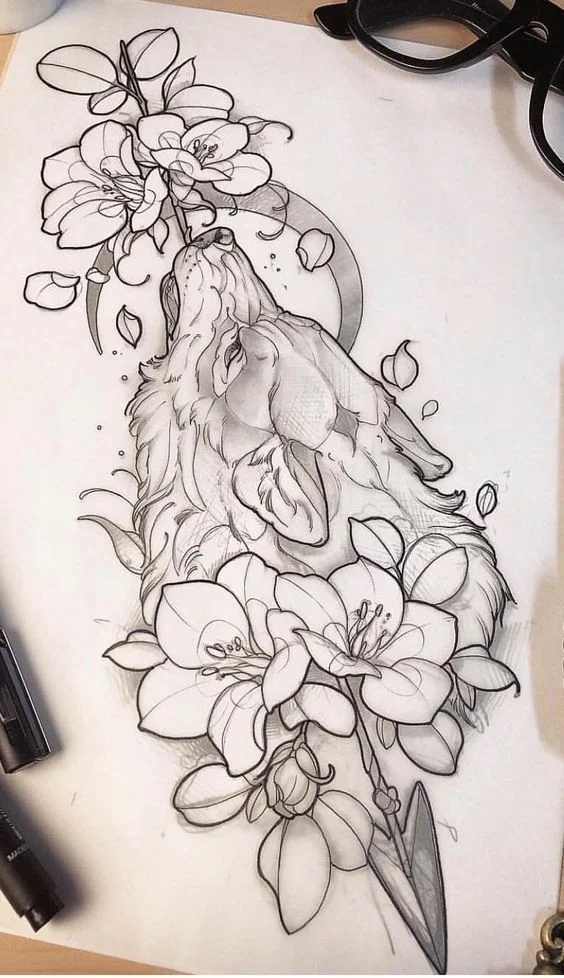 Source: tattoodesign
The three elements have strong and deep symbolism. The wolf represents loyalty, love, and integrity. The lily represents purity and innocence. The arrow represents struggle and triumph.
47. Skull with Smoke/Wind Drawing Design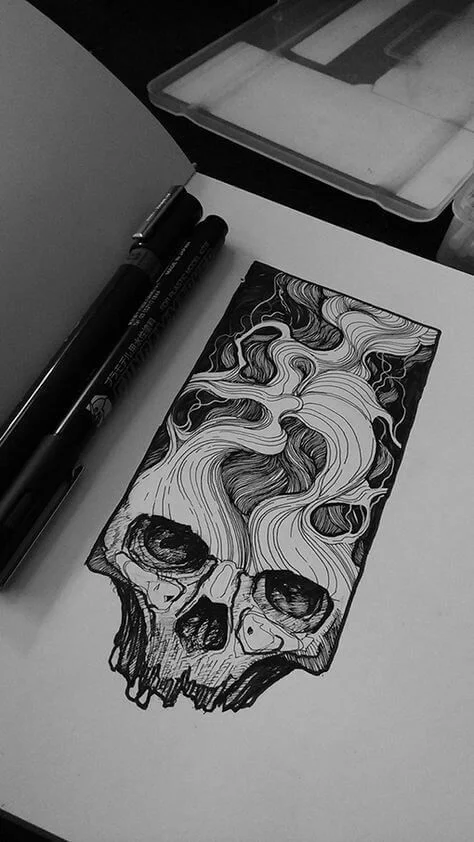 Source: Cool Tattoo Ideas
Skull tattoos are very visually striking. This is a unique take on the popular and classic smoking skull tattoo designs. It is a symbol of the working class and a humble beginning.
48. Ghost Mushroom Tattoo Drawing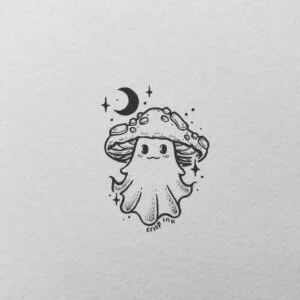 Source: Amuleto Tattoo
In many cultures, mushrooms represent good luck. They also symbolize magic and mystery. This ghost mushroom will make a cute little addition to your tattoo count!
49. Bird Skull with Crystals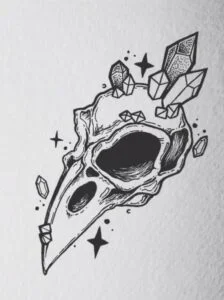 Source: Sarah Winiarski
This bird skull and crystal tattoo look both creepy and cool. Bird skulls often mean courage and the power to rise again from trouble. Crystals growing from that could mean a beautiful triumph.
50. Diseased Tongue with Eyes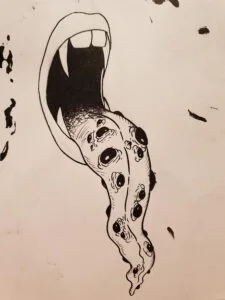 Source: u/spooky_tricks
There is no limit to your imagination when it comes to spooky tattoos! This creepy fanged mouth with a diseased tongue has Halloween all over it.
51. Skull with Mushrooms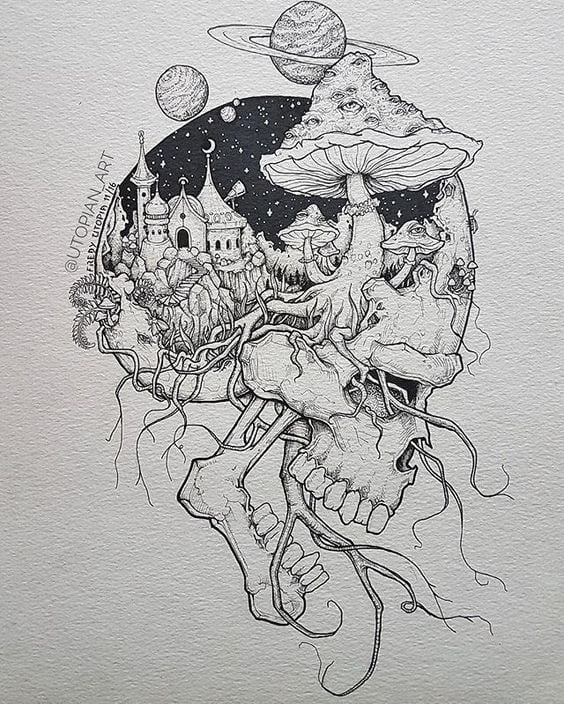 Source: Unknown
There is no limit to your imagination when it comes to spooky tattoos! This creepy fanged mouth with a diseased tongue has Halloween all over it.
52. Moon with Mushrooms Tattoo Design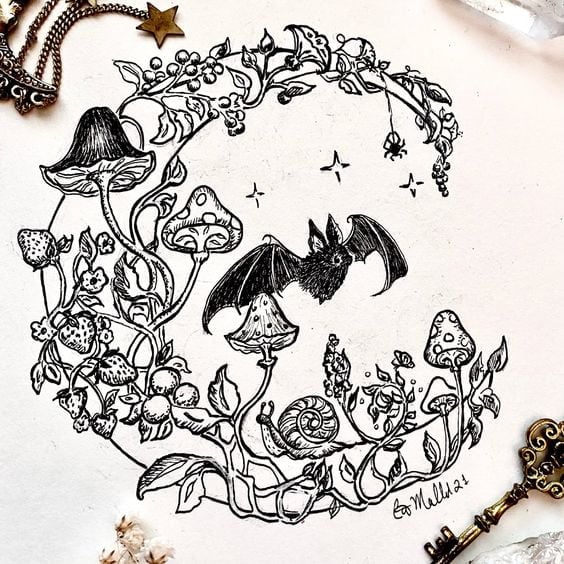 Source: Cat Mallard
If you are into magic and fairytales, this is a pretty design. This crescent moon tangled with mushrooms and strawberries is a feminine design you can easily have on your arm.
53. Beast Woman Drawing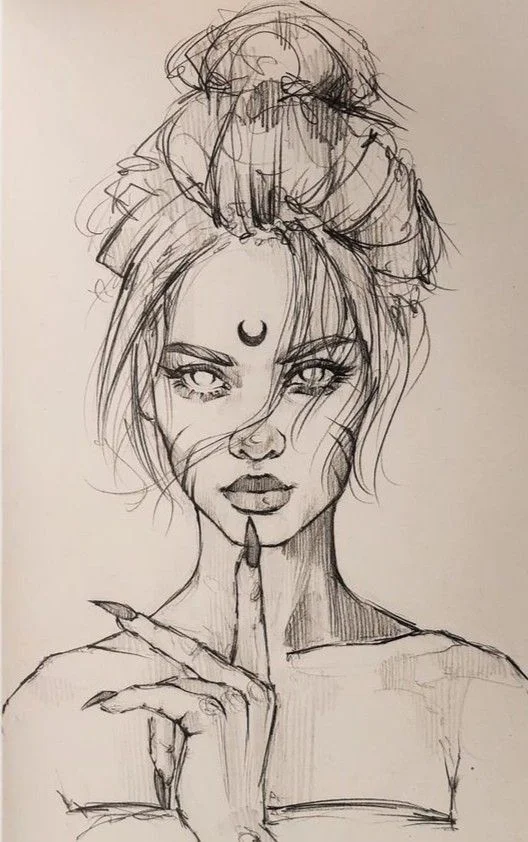 Source: Euphoria
This beast woman can mean power and independence. It can also represent your ambition and ferocity. Some people also get these tattoos when they feel devilish or ruthless.
54. Animal Woman with Flower Crown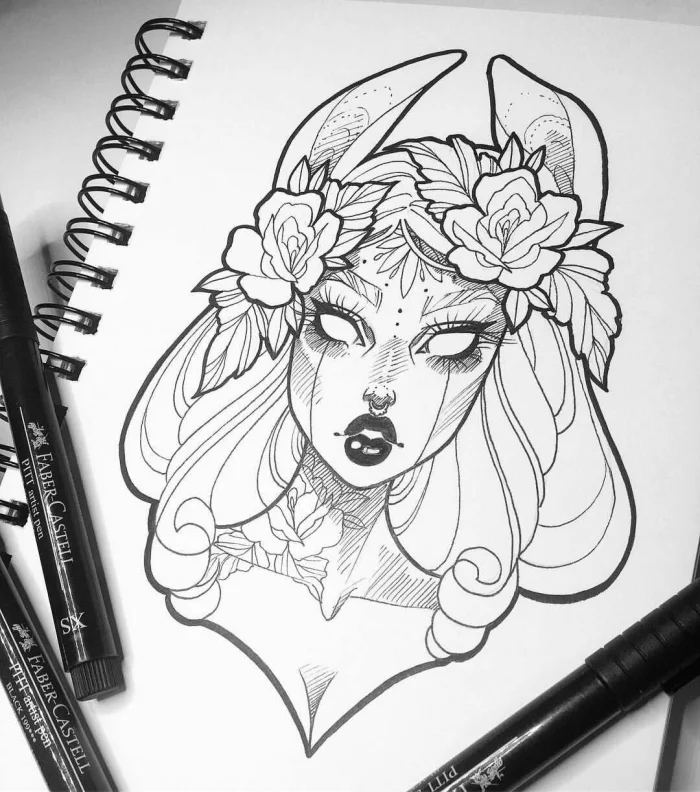 Source: Archzine.net
This animal or fairy-looking women's tattoos are drawn with beautiful, distinct lines. They're great for feminine-themed tattoos that also give that mythical and magical vibe.
55. Mushrooms and Crystals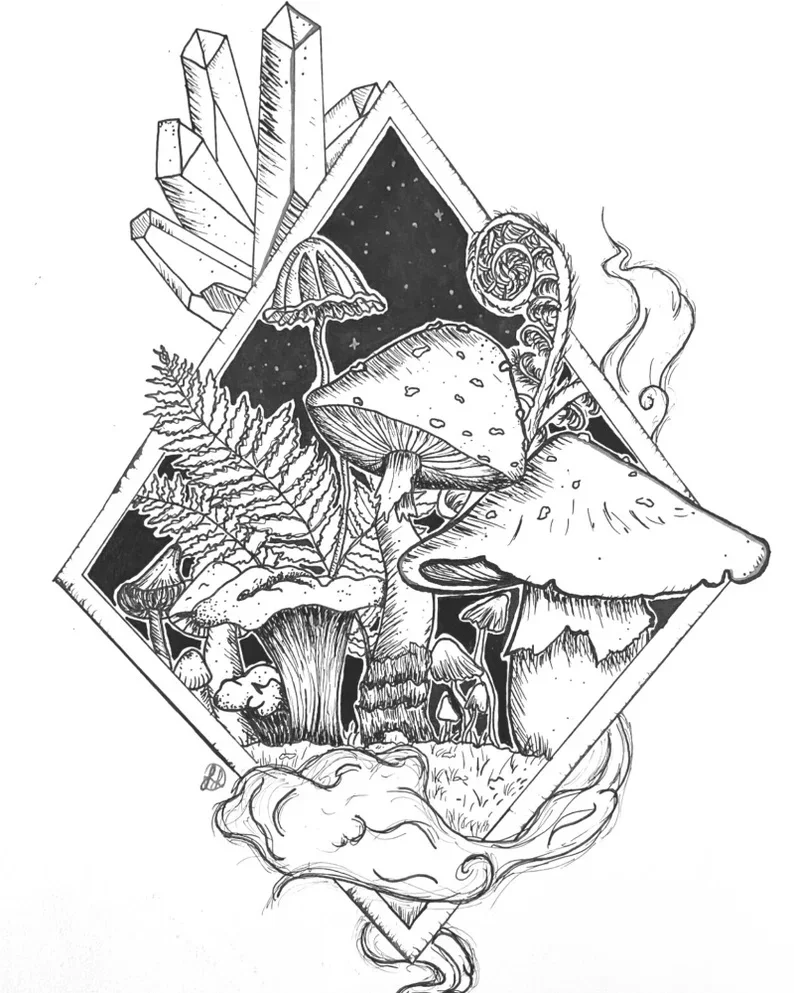 Source: LLArtisticDesigns
People with crystal tattoos are often seen as firm and strong-willed. Matched with the mushroom drawing representing good luck, it's all positive energies for this tattoo drawing of choice!
56. Floral Face
Source: Omar Faruq Rijibi
This tattoo with distinct deep eyes almost seems to look into your soul. This unique play with floral designs makes this tattoo drawing very visually striking.
57. Thoughts Shape Reality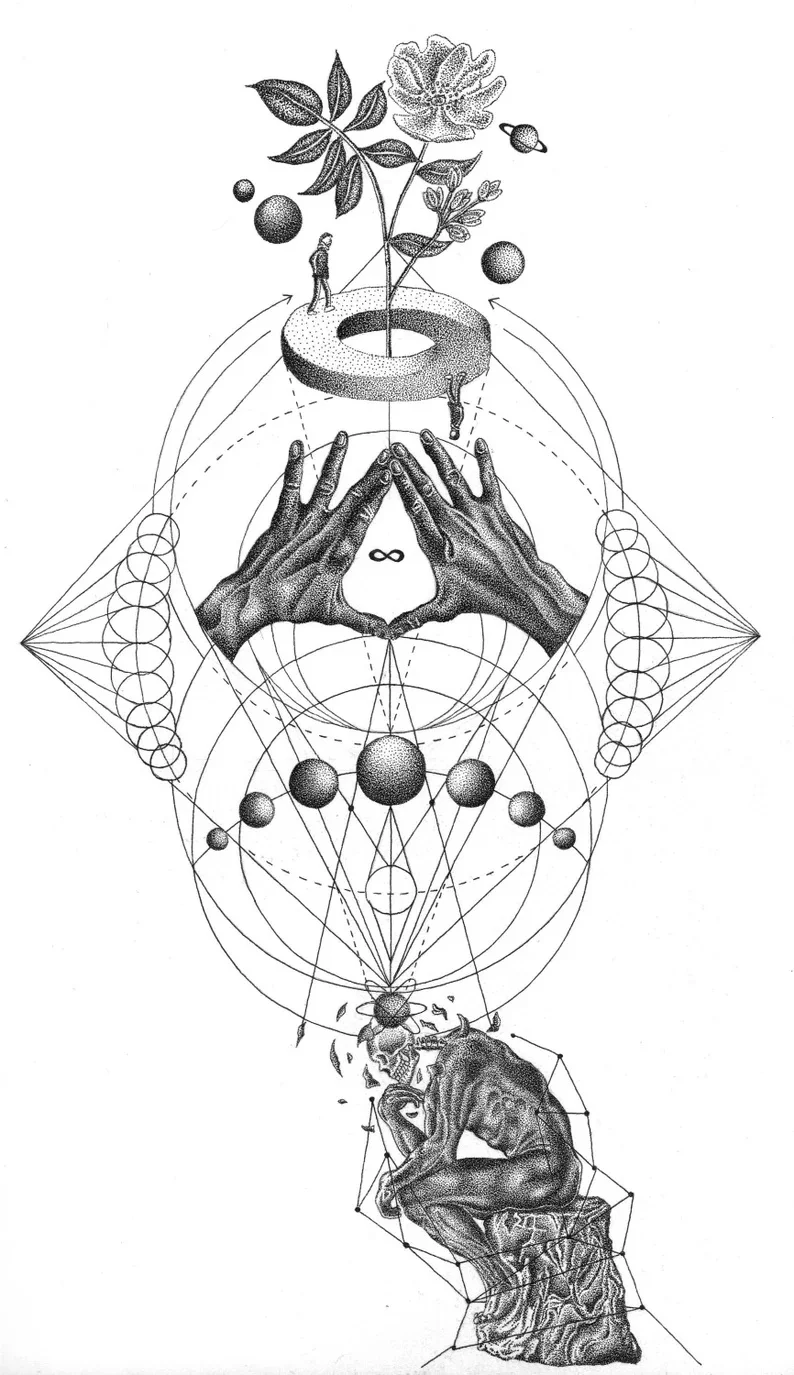 Source: DantesDots
This detailed tattoo drawing is very intriguing. Different elements that represent math and sciences growing out of the figure of a thinking man could mean these are the thoughts that consume him and shape his reality.
58. Intricate Geometric Tattoo Drawing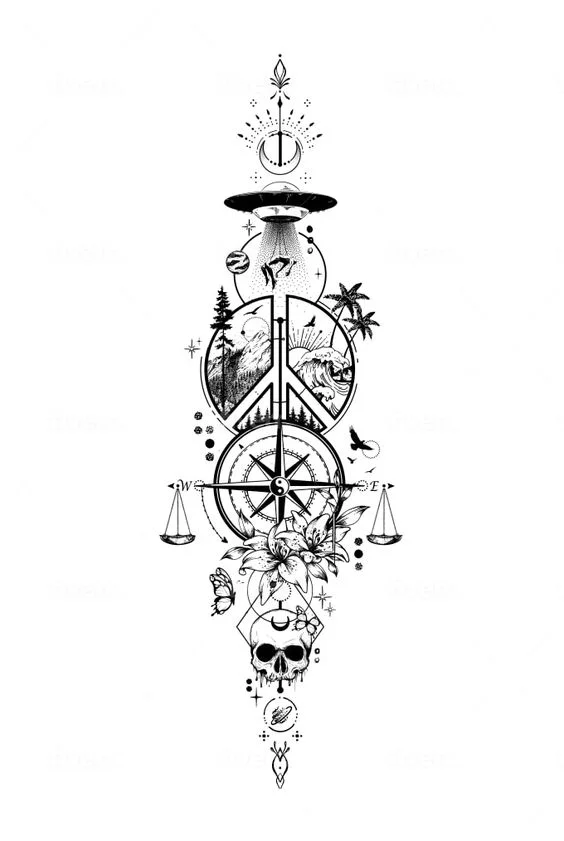 Source: Soufanielfanany
This intricate geometric tattoo has symmetry all over it. It is also composed of various elements that represent all living things and nature. It could seem religious or scientific to get a tattoo design like this.
59. Double Helix Geometric Tattoo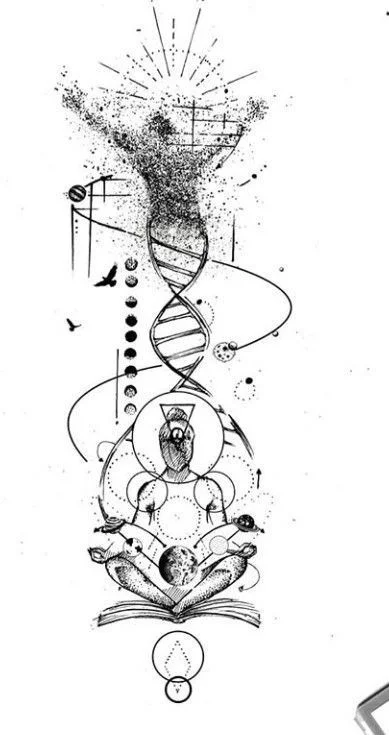 Source: Mara Dann
This tattoo that involves a meditating human and a double helix could be interpreted in many ways. But all in all, the theme is about living and balance.
60. Twin Faces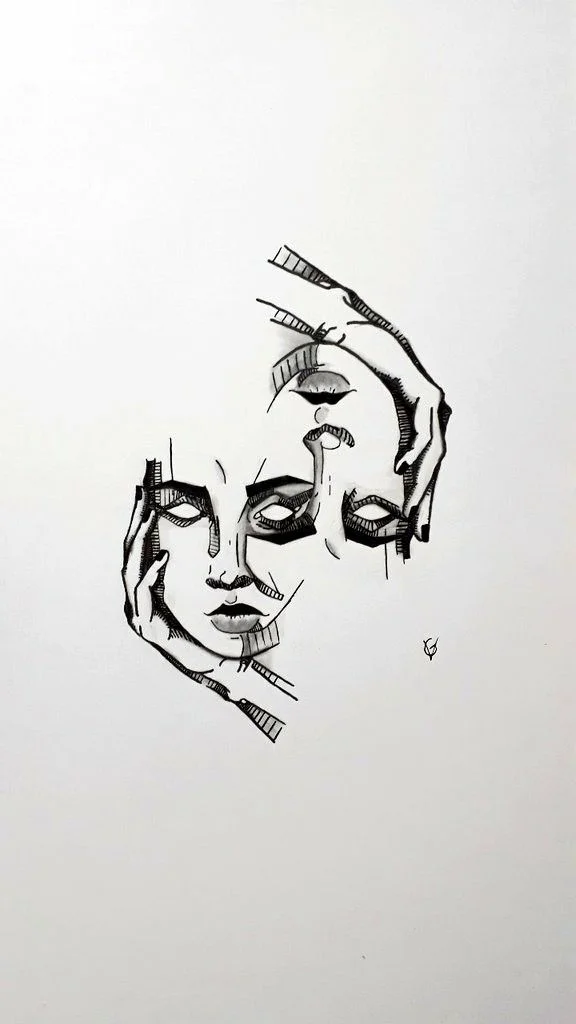 Source: Pedro Alonso
The two-face tattoo symbolizes the balance of good and bad in one's eyes. Humans face many circumstances that shape themselves into meaning and purpose. This is a good tattoo if you're working on what nature throws at you.
61. Bleeding Eye and Cloudy Moon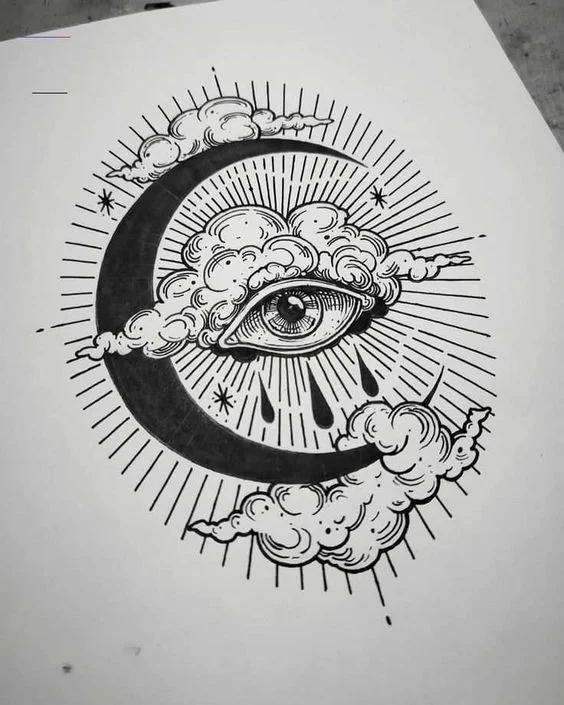 Source: Akvector
A popular interpretation of this tattoo is the omnipresent eye of god watching over you from above. It is a symbol of providence and guidance from the divine. It's a good tattoo design to represent your faith.
62. Blindfolded Woman Tattoo Drawing Ideas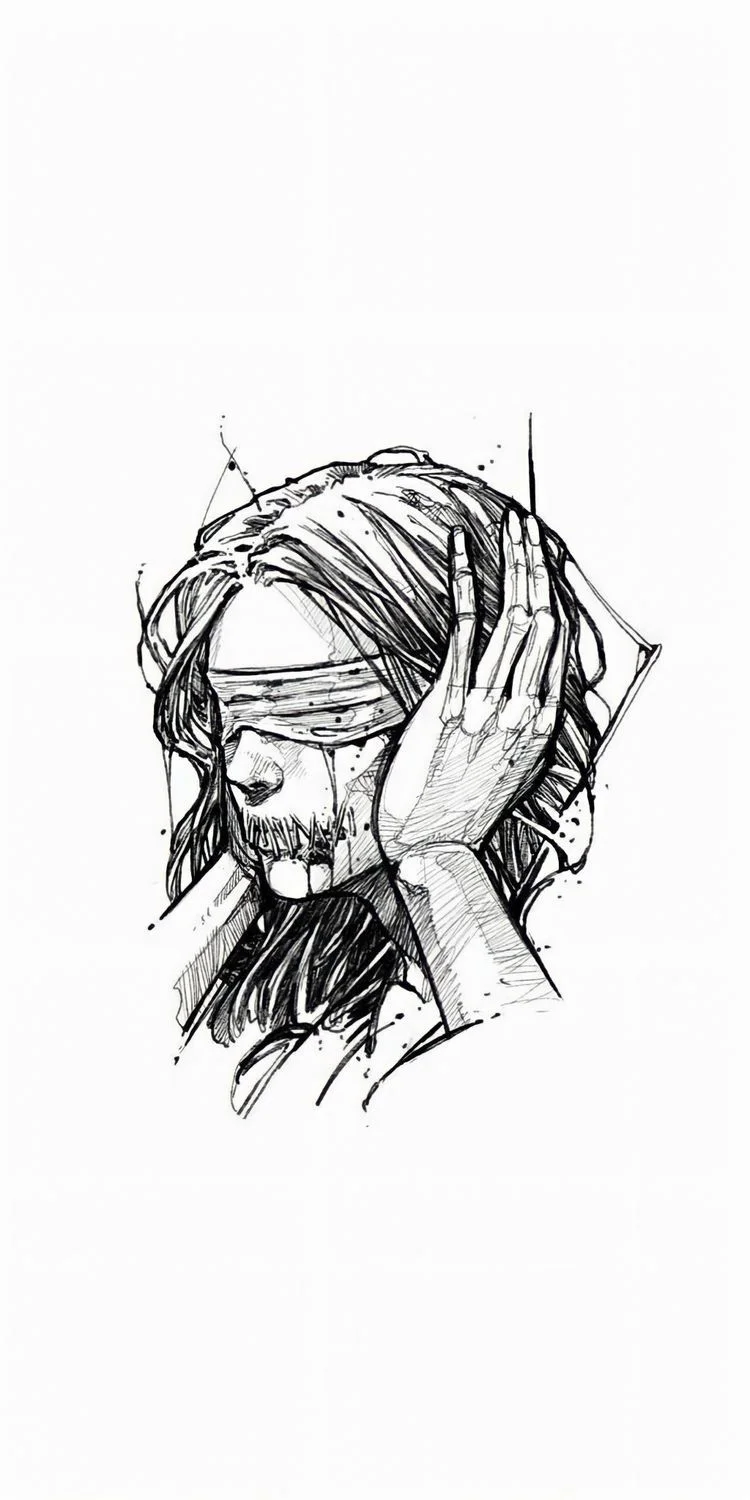 Source: Sh Albinali
A blindfolded woman could mean Lady Justice. This is a good tattoo design if you fight for justice and equal rights.
63. Grasped Hands with Planets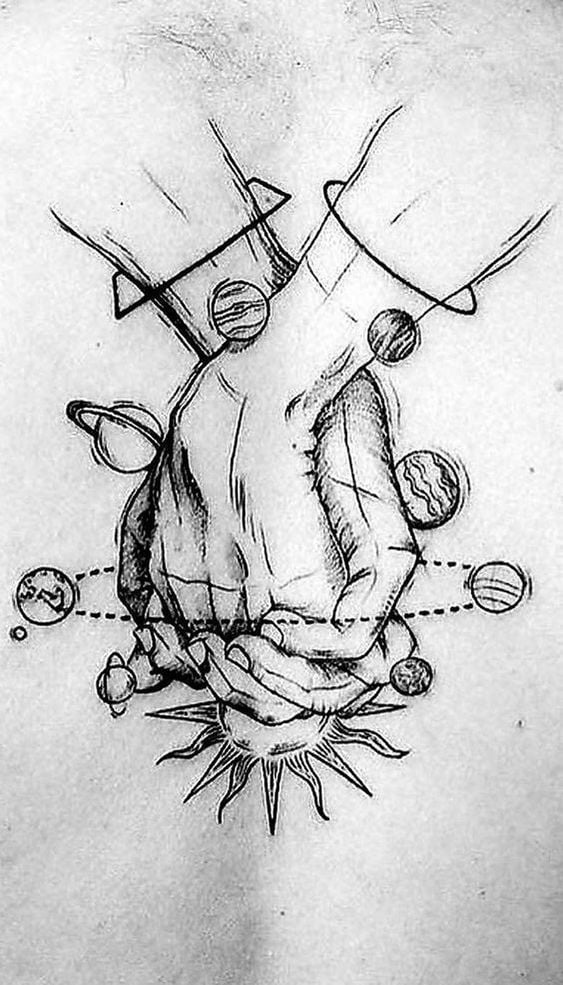 Source: Twism
Grasped hands tattoo designs could represent two people committing to each other. This tattoo with the planets and the sun surrounding the grasped hands could play with the thought of "us against the universe."
64. Comedy and Tragedy Tattoo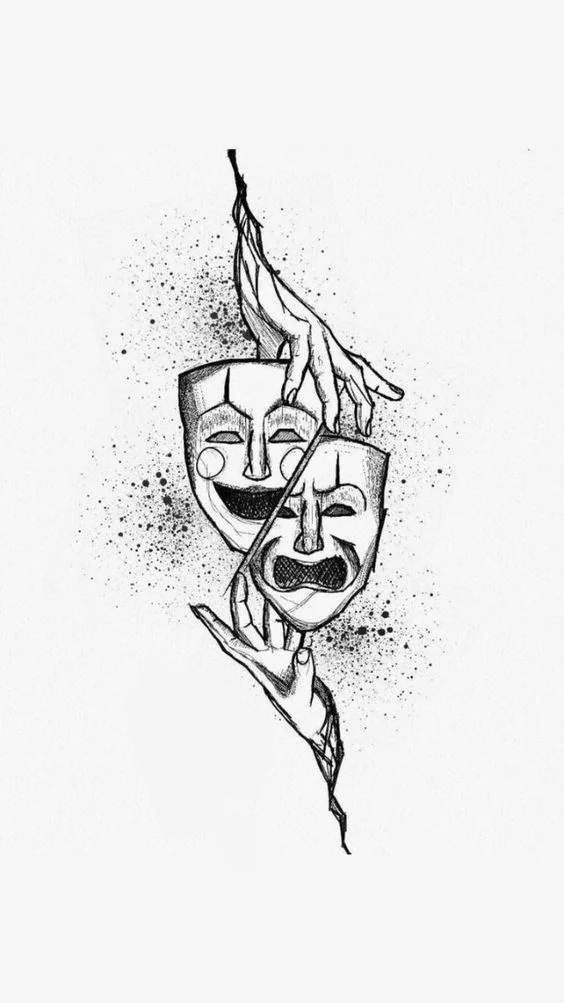 Source: Unknown
This two-face design is an artistic interpretation of the line, "Laugh now, cry later."
It is a popular expression to remind us that there are always good and bad times in our lives. Stay positive even when times are tough.
65. Skull On Butterfly Wing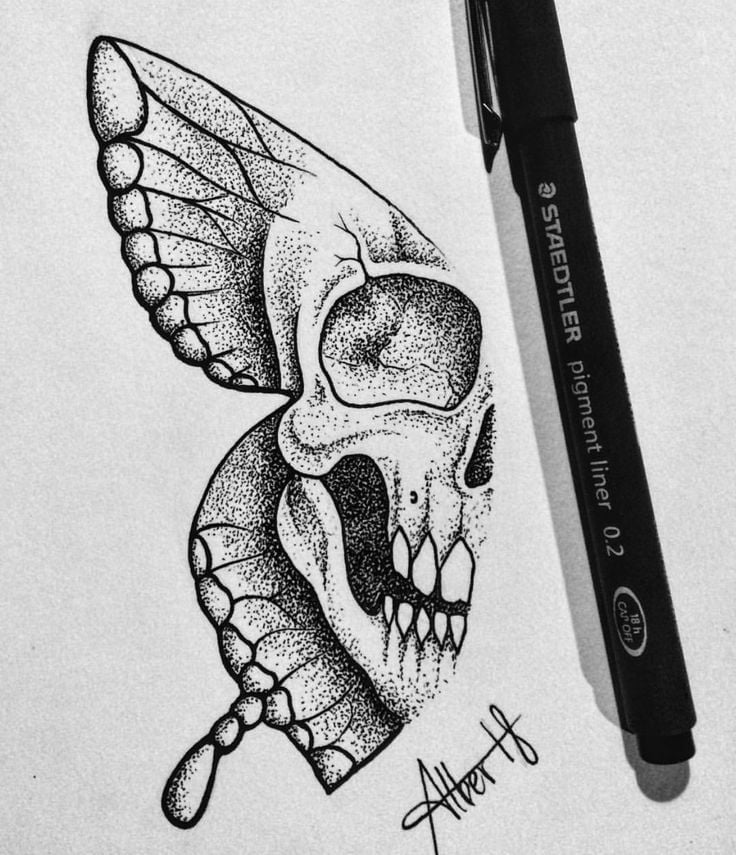 Source: wakia
As skull tattoos remind us that death is inevitable, and butterfly tattoos signify rebirth and change, this unique combination can remind us of accepting fate and living in the present.
66. Damaged Love Doll Tattoo Design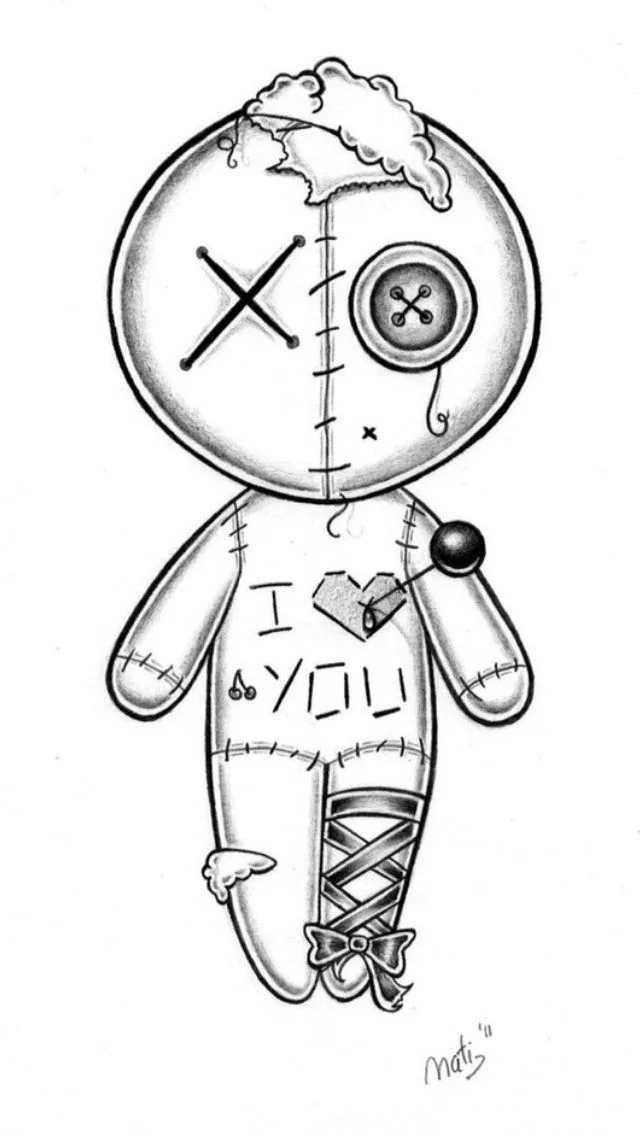 Source: Unknown
Voodoo dolls are used to manipulate people they are associated with through witchcraft and black magic.
This damaged voodoo doll design could represent your heartbreak and the pain it has cost you.
67. Heart Potions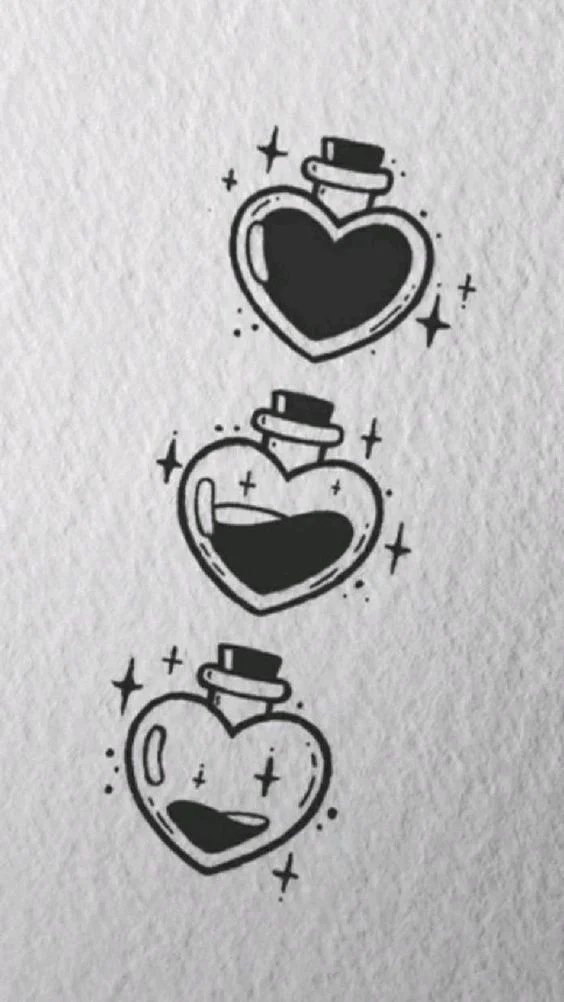 Source: Unknown
This tattoo is a clear representation of love potions in heart-shaped bottles. It could mean love is bottled up for safekeeping.
This design is bright and bubbly. It brings a smile to those who see it.
68. Hummingbird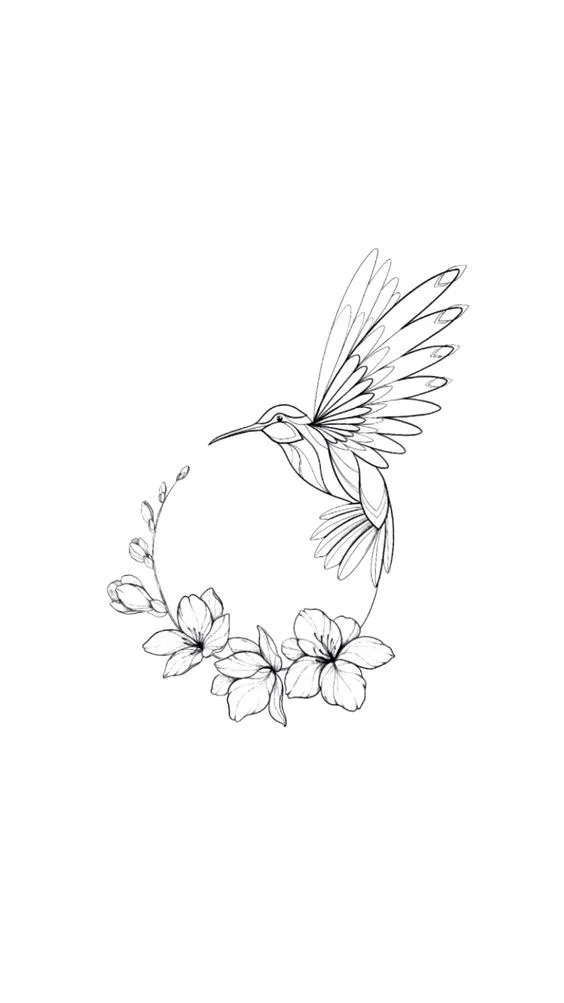 Source: Westend Tattoo & Piercing Budapest
Hummingbirds with a floral theme are very popular designs among women.
This design symbolizes lightness, vulnerability, purity, and grace. It's a way for girls to showcase their sensuality and tenderness.
69. Woman Emerging from Split Skull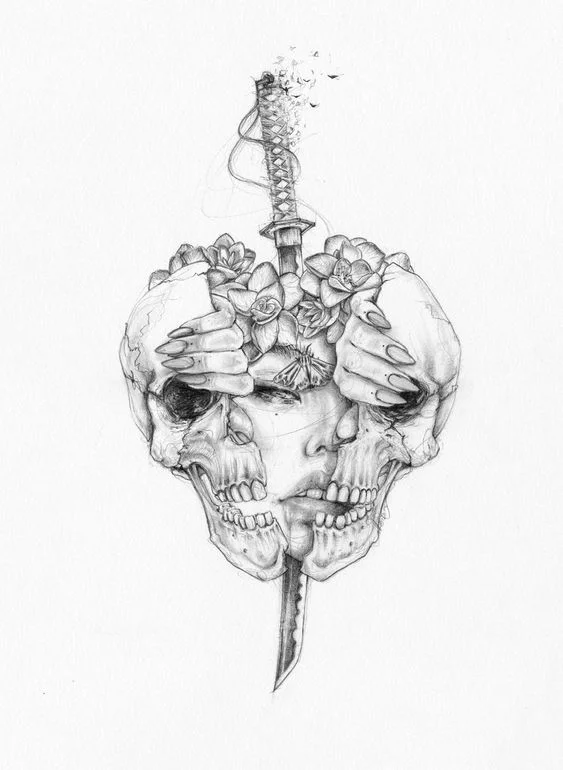 Source: Doriana Popa
The skull with a sword between it symbolizes any trouble you might have experienced.
The woman with a flower crown emerging from it could metaphorically mean triumph after bracing through a tough time.
70. Valkyrie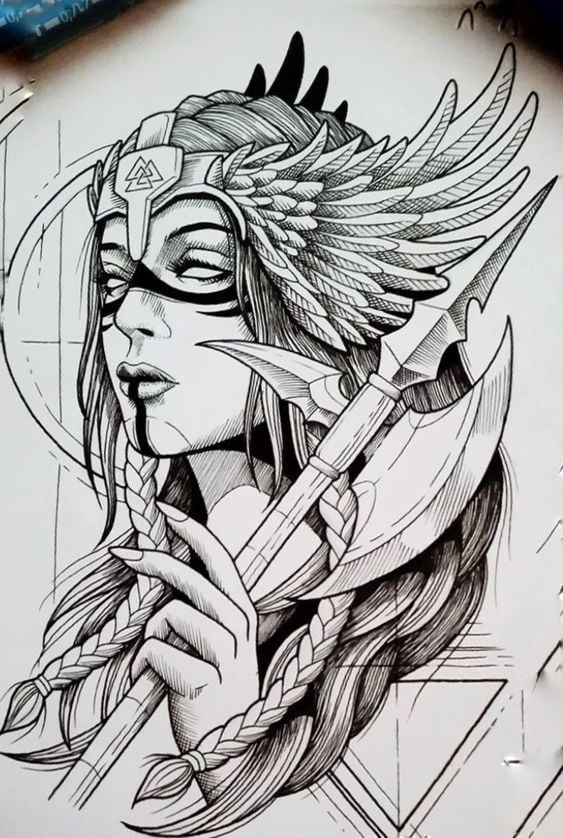 Source: Simbolos y su Significado
In Norse mythology, Valkyrie means the "chooser of the slain." These are a group of maidens sent to battlefields to choose the slain worthy of Valhalla, the "hall of the fallen." Valkyrie is an image of female domination, power, and prestige.
71. Woman Framed by Flowers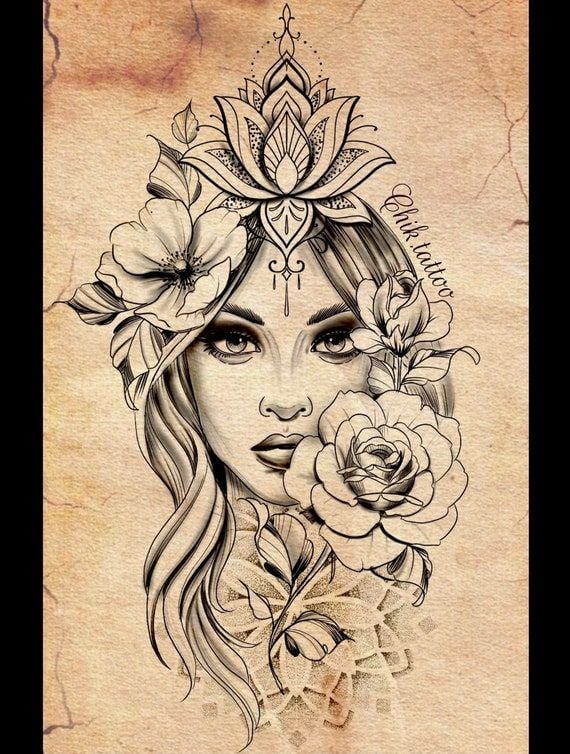 Source: Chiktattoo
Beautiful girls adorned with floral designs are popular tattoo drawing designs for those who want to show off their sensuality and vulnerability.
The complexity of the design can vary depending on your taste. Some like to add colors too.
Realistic females aren't the only kind of feminine drawings you can create! Here are some more drawing ideas for girls.
72. Deer Skull With Crescent Moon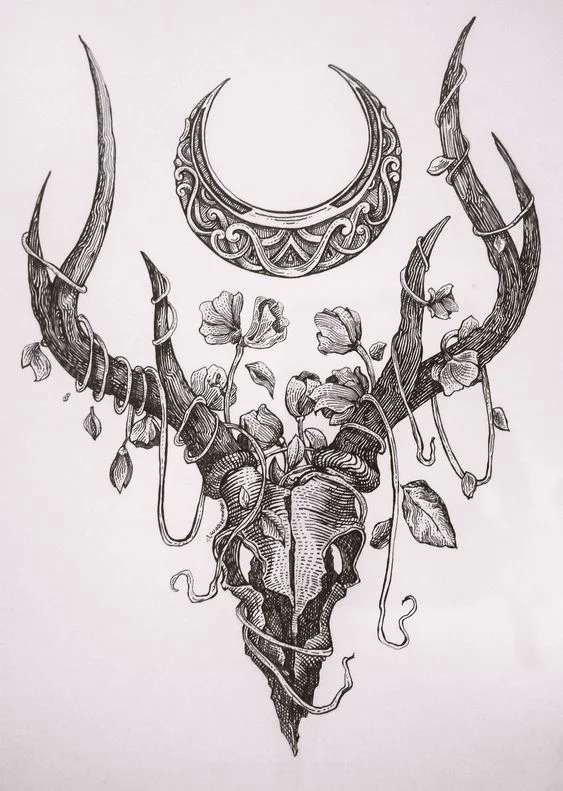 Source: Wasi Kendedes
A deer skull represents re-growth, rebirth, protection, and balance. Crescent moons represent wealth and good luck. Combining these two elements in this tattoo generally means protection against negativity.
73. Ruined Church Skull Tattoo Drawing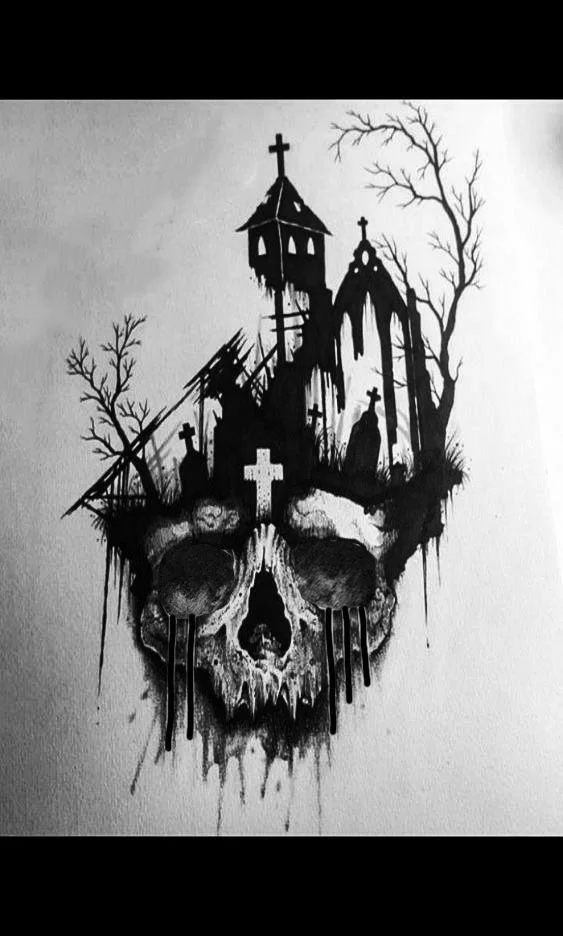 Source: Sa Brina
This dark and scary tattoo could be interpreted as a person leaving behind a certain chapter in their past and is about to start their life anew. This could be in terms of religious beliefs or a way of living.
74. Frog with Toadstool Hat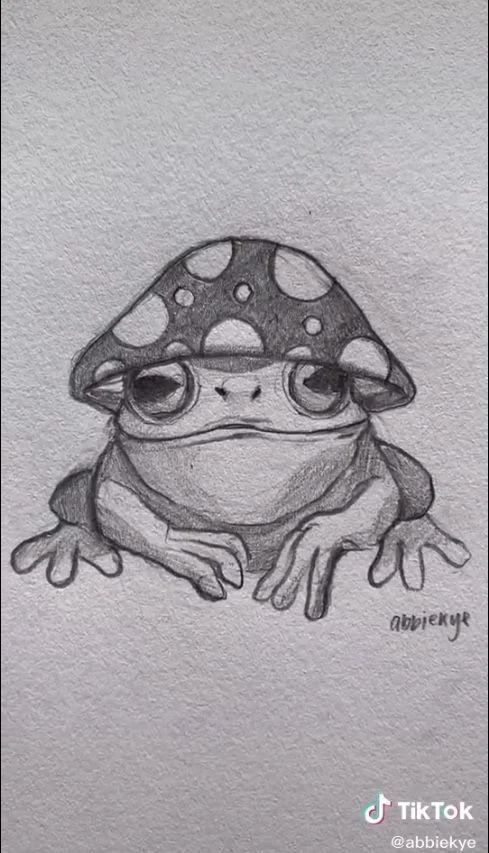 Source: laura
Frog tattoos differ in meaning from person to person. But generally, a frog tattoo symbolizes wisdom, transformation, growth, and abundance.
In Japanese culture, they are also believed to carry good luck and protection. Have this design inked to carry luck everywhere with you!
Tips for Beginner Tattoo Artists
Tattooing skin isn't easy. You must have strong artistic skills and a good hand with the technical stuff.
Admittedly, there's no such thing as "the perfect design." One design might be better than the other based on the eyes of fellow tattoo artists.
However, any criticism should only help you better create your style and push you harder to pursue this artistic passion!
If you are a beginner tattoo artist, here are a few tips to help you develop your craft:
Practice Drawing
A successful tattoo artist needs to have strong sketching skills. Designs will vary per client, so you better be equipped to fulfill their requests.
These tattoo drawings may be as basic as lines, geometric shapes, and patterns. But they can also be as detailed, intricate, and realistic-looking as a full-bodied dragon on a full sleeve!
If you're just getting started, consider these drawing ideas for beginners.
Drawing is difficult to master. But your drawings should look better daily as long as you put in the work hours.
Experiment with the Tools
Before tattooing real skin, you must practice using tools and machinery on the affected skin.
This will help prevent clients from making expensive and embarrassing mistakes on clients. If you're not ready to practice on fake skin, consider making digital drawings on an iPad instead.
Build a Portfolio
Every tattoo artist should create a strong portfolio for future clients to believe in and buy into their craft. Make sure to showcase your best works.
If you're still new, start working on a portfolio now!
Apply for an Apprenticeship
Find yourself a mentor, or look for tattoo shops that accept interns.
In the tattoo industry, it is crucial to learn and be amongst the masters of the craft to be successful.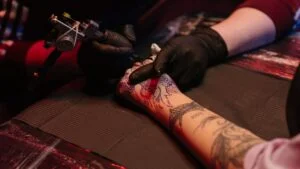 How to Make Your Own Tattoo Drawings
Designing your own tattoos will make the experience even more meaningful!
Remember, tattoos are amazing works of art that permanently stay on the body. So get creative and make it personal!
If you don't know where to start, here are some great tips:
Consider the Placement of the Tattoo
Before considering what tattoo drawing to get, consider where you want your tattoo to be inked.
Do you want to show off your tattoo to the whole world? Or do you prefer it to be more discrete?
Draw Inspiration From Tattoo Magazines
Consider a theme, belief, or message that you live by. Or perhaps an image that reminds you of a significant someone, something, or event in your past.
Look up relevant keywords on Google or gather ideas from art books and tattoo magazines. Discover a list of ideas for things to draw.
The best works of top-notch tattoo artists get showcased in these magazines. No doubt, you'll find something that will catch your eye!
Start Sketching
If you have the talent, sketch your tattoo design. If you have a lot of ideas in mind, jot them out on paper and brainstorm on incorporating them into your tattoo design.
If you want color on your tattoo, that's fine. But do consider the need for ink touch-ups in the future since colored tattoos require more maintenance.
Most people will choose a monochromatic tattoo design because it also looks cleaner. Other options include glow-in-the-dark and white ink.
If you're sketching a black-and-white tattoo, try using mechanical pencils to avoid the hassle of sharpening.
Find the Right Tattoo Artist
After coming up with your desired tattoo design, look for an artist to bring it to life. Ideally, you want someone professional and licensed to ensure the job is done correctly.
Examining their portfolios is the best way to determine if they're the perfect fit for you. Some tattooists may even give you valuable suggestions that can take your idea to a new level.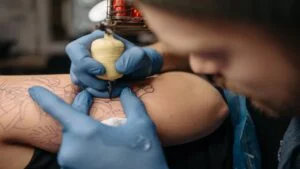 Tattoo Drawing Ideas Conclusion
Tattoo artists and tattoo enthusiasts, your opportunities are limitless!
Creating beautiful and meaningful designs is at the tip of your pencils and, eventually, at the end of a needle.
Whether your tattoo is an eagle for strength, a flower for femininity, or a skull for death, every tattoo should be memorable and worth permanently marking on the skin.
We hope this article stoked your creativity and helped you choose your tattoo design!