Drawing is often an escape or a hobby most people like to do, especially during their free time to have fun.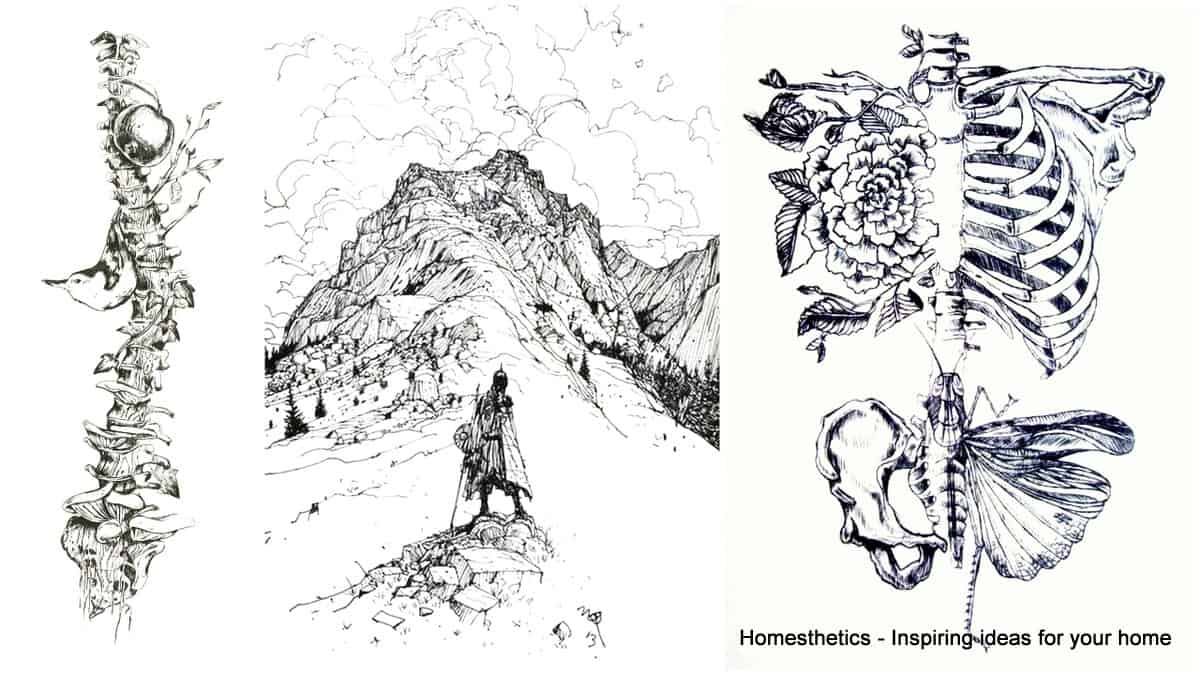 The only problem is most people aren't good at drawing, so most of the things they draw are just plain and simple drawings.
If you are bored or want to make the most of the time, instead of doing nothing, we'll be sharing some easy things to draw for you to have something to go about your day.
We will share some cool and great drawing ideas with you. Below is the list of the best 50 easy things to draw.
66 Easy Things to Draw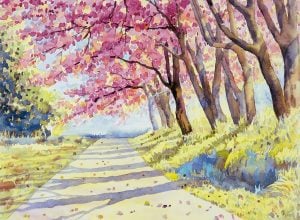 That being said, creating new ideas can be overwhelming and difficult, so we've listed some easy things to draw for you to start.
1. The Spirit of Adventure in a Coffee Mug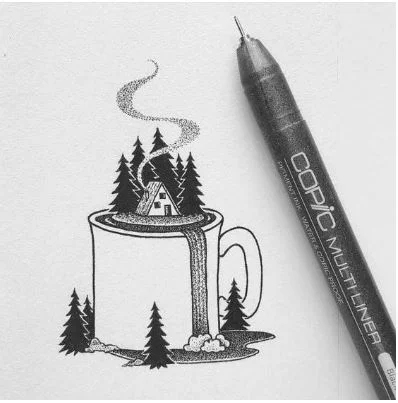 Source: Instagram
Who doesn't like sipping a hot cup of coffee in cool weather? More often than not, we often get ideas on what we liked the most. This picture sums it all up.
Tall pine trees, perfect weather, and a sip of hot coffee might go down as one of the best combinations we could ever experience in our lifetime.
Our dream vacation is to be secluded in a place of solitude, peace, and tranquility. To top it off, a great-tasting coffee and perfect weather are the icing on top.
2. Adorable Little Mouse Drawing Idea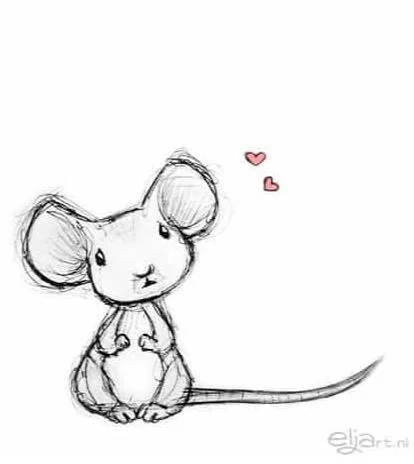 Source:  eljart.nl
We love drawing a mouse! The step-by-step process isn't usually complicated, and you'll have a good one with simple steps to draw.
Even a seasoned artist loves drawing creative things like animals. For your next art project, a simple mouse drawing idea is one of the easiest things to draw.
3. Leaf Doodles Showcasing Nature's Diversity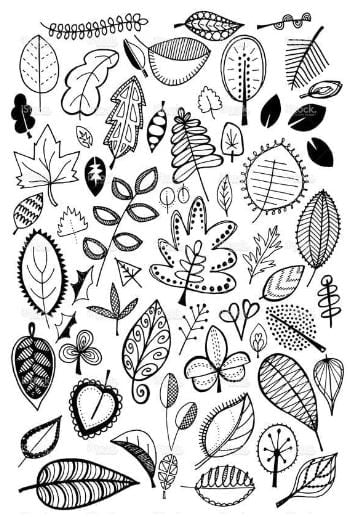 Source:  istockphoto.com
There's all the rage about doodles in recent years, and leaf doodles are one of the easiest things to draw, in our opinion, from basic shapes like oval shapes, circles, diagonal, and more.
Nevertheless, it is a beautiful drawing that showcases nature's diversity in all walks of life. It's just a simple drawing, but it can spark your art skills.
Draw this to showcase your love for nature!
4. A Pretty Sketchy Dandelion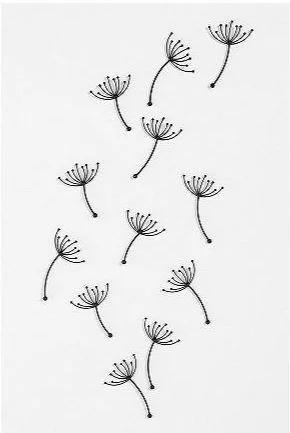 Source: urbanoutfitters.com
Undoubtedly, dandelions are one of the easiest things to draw; even beginners can do it.
From straight lines, curved edges, and many more. It doesn't require you to be professional to make it look cool—one of the more common easy drawing ideas.
If you are starting to draw, here are some great drawing ideas for beginners!
5. Charming Strings of Leaves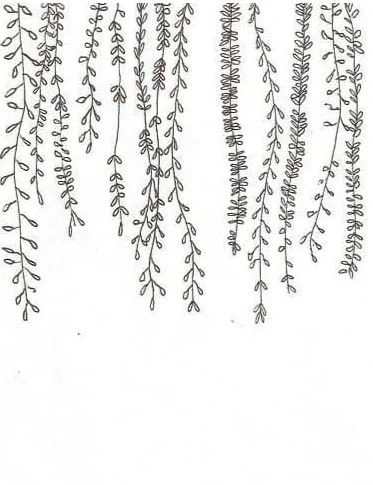 Source: Adriana Lozano
Trees and leaves are some easy drawings you can do to spark your artistic ability. It doesn't involve any complex and intricate ideas.
You must draw straight lines, circles, and simple shapes and connect them. The fun thing is you don't need to draw these cute things using colored pencils.
6. A Lily Flower Showing Symmetry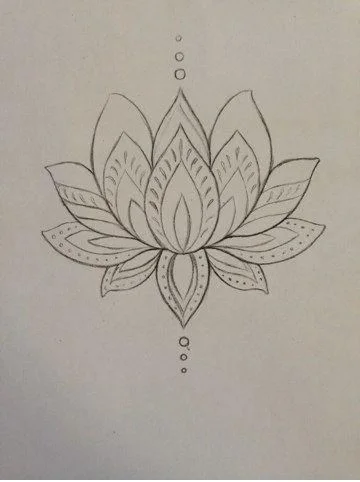 Source: @capriciousflaw1
Flowers are easily one of the easiest things to draw, especially the lily flower or your favorite flower like the daisy flower.
It's a fun drawing experience as you don't need intermediate skills to draw one.
All you have to do is to practice drawing different shapes and combine them seamlessly to create a lily. This finished drawing should give you plenty of ideas moving forward.
Discover several amazing tattoo ideas with these!
7. Lips Drawing Step by Step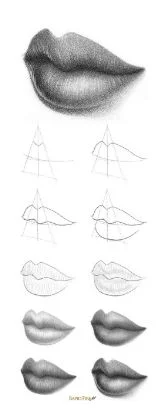 Source: Rapidfireart.com
Lips are one of the easiest things to draw regarding facial features. It all starts with basic contours and curvatures.
Moreover, most facial expressions can be defined through geometric shapes, which makes it easier to draw. After that, your creativity, skills, and imagination should round it up.
8. A Tree House Graphic Illustration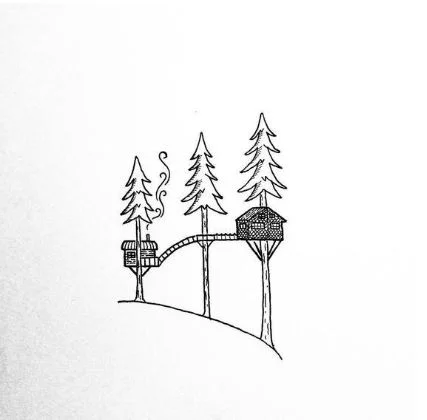 Source: Instagram
Pine trees and tree houses are creative things you can easily draw without mastering the art of sketching. It doesn't involve intricate details and is often constrained to simple shapes and sizes.
It is also fun to describe or draw some of the things you missed during childhood, as this can only serve as a memory these days.
9. Doodle Scrabble Collection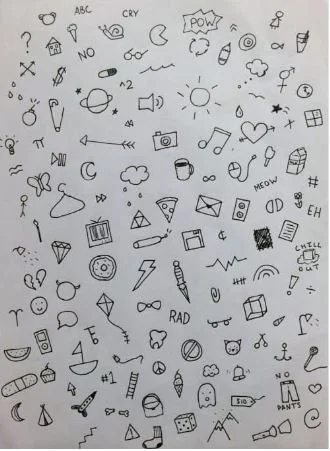 Source: Favim2.com
Doodles are fun designs you can sketch and draw without having no skills at all. Draw doodles are a creative way of drawing simple shapes and cute things.
It's a quick drawing idea you will most likely learn to love and like without having your creative juices flowing inside your head.
10. A Small Fine Liner Camping Sketch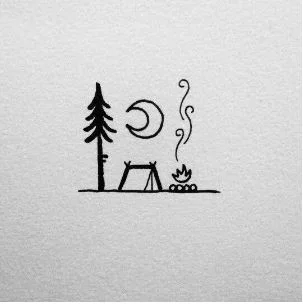 Source: David Rollyn Powell
Camping is where the fun usually starts outside the hustle and bustle of urban life. With simple shapes and sketches, it makes the element of camping one of the easiest things to draw.
Drawing the moon, night sky, pine trees, and even the bonfire are all perfectly drawn figures contained in one. It also shows us to be thankful for nature itself.
11. Stunning Adventure Letter Design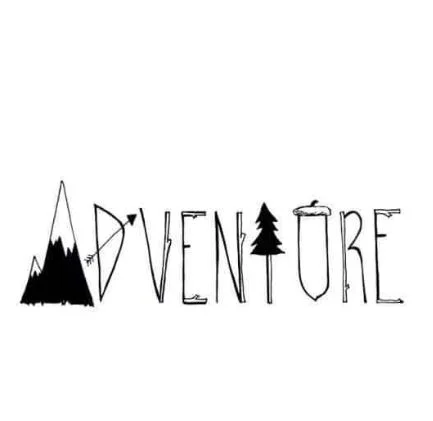 Source: Instagram
Drawing portraits, cartoon characters, and even your favorite animal is hard for some people. Often, all you need is to practice drawing letters and take it from there.
This example is pretty much something a beginner can do and how well they can incorporate different concepts and imaginations into just letterings alone.
12. A Wonderful Mountain Mini Landscape Drawing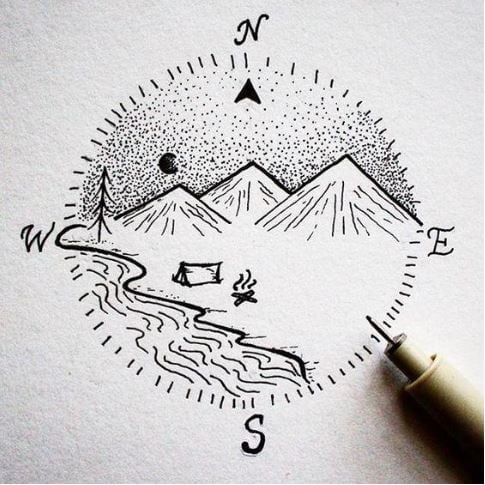 Source: Osman Mansaray
Mountains, night skies, moon, flowing water, fire, and many more are some things to draw that can spark your imagination.
You don't need to sketch unique figures and lines to create this amazing piece, which is why drawing nature is one of the cool things we enjoy the most.
13. Keep It Simple, Adventurer's Font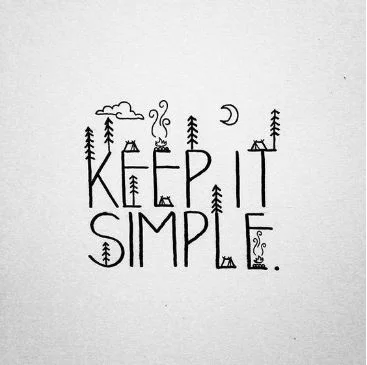 Source: David Rollyn Powell
As we've mentioned, lettering and nature can always go hand in hand when drawing cool things. As the saying goes, simplicity is beauty.
However, the letter can gravitate toward something even greater if you put in some sceneries and nature-inspired drawn figures like trees, clouds, and the moon.
14. Small Volkswagen Camper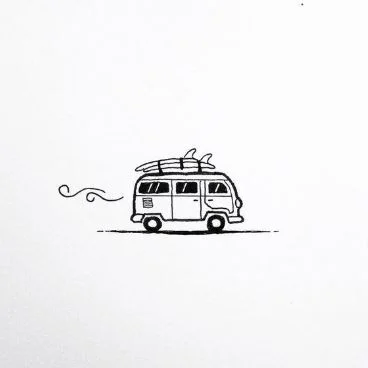 Source: David Rollyn
The easiest things to draw are action figures, cartoon characters, and even cool things. We often visualize things we see in public and envision them through sketching or drawing.
This Small Volkswagen Camper is a great start if you want things to draw for an art project. It only involves shapes like circles, squares, straight lines, and ovals.
15. Candle Drawing Where White Is Negative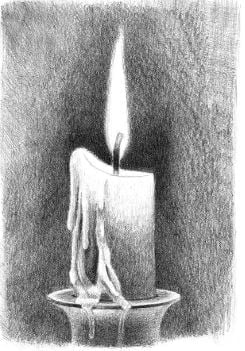 Source: Idiotsguide.com
There are so many emotions that can spark what a candle represents. It can be the passing of a loved one, light from darkness, and many more.
Candles are easy drawing ideas and some things to draw that can easily spark the imagination. It doesn't need much; you only need a pencil or a blending stump.
16. Cat Proportions and Movement
Source: saraneth672
Drawing the entire cat requires professional drawing skills. However, outlining a cat's body is one of the better drawing concepts you can do without being too challenging.
Quick sketches of its head are even achievable by a beginner, and it doesn't usually need a real artist to outline its body.
If you want to draw other animals from the animal kingdom, you can check some animal ideas for drawing here! We also suggest you start outlining their body and take it from there.
17. Use Geometric Shapes to Portray Potted Plants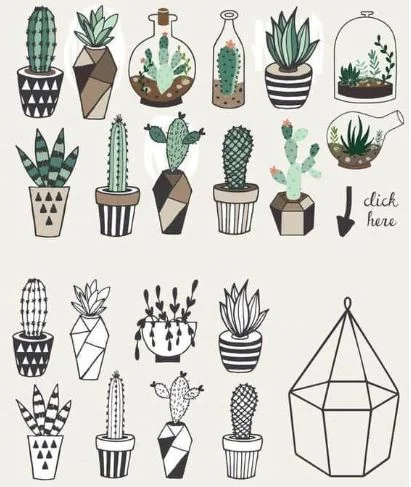 Source: jessyratfink
Geometrics is the easiest way to draw different kinds of things, like, for this one, a portrait of potted plants. Cactuses aren't hard to sketch, and including a vase or table isn't hard either.
But if you want to give it a new life, art supplies and creative things like colored pencils are the best way to spark new life in your imagination.
18. Fantastic Fast Sketching With Elements for Decoration

Source: MooBeer
Decorations can give you bright and fun concepts on the things to draw outside of your normal sketching routine. Plants, vases, and cactuses are fantastic and fun arts to improve your drawing skills.
19. Drawing a Dandelion Is Easy and Playful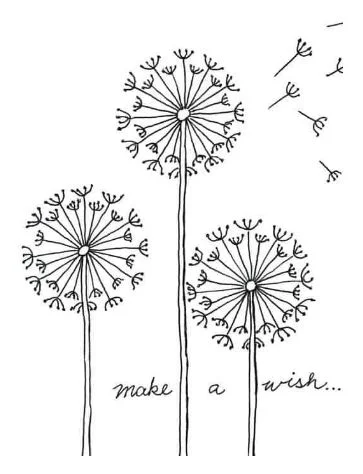 Source: artprojetforkids.com
Dandelions are among the simple drawings artists could ever make. It's a wonderful plant that you can draw when you practice drawing.
The drawing trick always starts with the correct proportion and shapes, like pencil marks.
This could be the next masterpiece that will hone you if you are just a beginner, as it's easy to draw and make quick sketches your way.
Dandelions are not just among the easy drawings; you can put them in your journal to create a soft vibe and make pages more imaginative.
20. Jellyfishes Swimming Around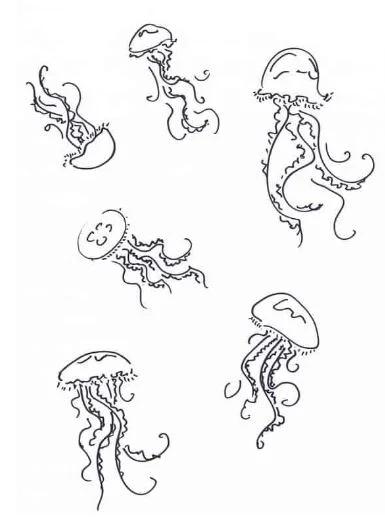 Source: drawesomeillus
You would probably agree that Jellyfish may look unusual and funny to draw.
However, when you learn how to draw a jellyfish craft in your art project, you may easily depict the cute things in the underwater world and create art, such as jellyfish pictures.
21. Small Critter Showing Emotion

Source: duitang.com
Drawing an emoticon is fun and a great addition to texts and messages. They help convey our feelings, which we can put into art.
This activity involves painting and drawing for kids, as emoticons are easy to draw to enhance their imagination, artistic skills, and creativity.
22. Seashells Fast Sketches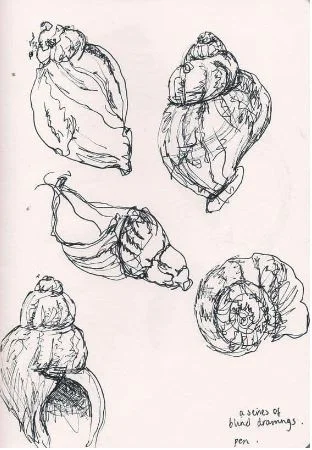 Source:  Unknown
Seashell drawing comes with distinct and intricate patterns. With so many unique seashells, the sketch is pretty easy and has iridescent colors when polishing.
It's easy to draw because it comprises simple lines and basic shapes.
You may add shading and highlights to draw fairly quickly on the surface - you need to do a pencil and a page to create and enhance your drawing skills.
23. Cute Graphite Fox Drawing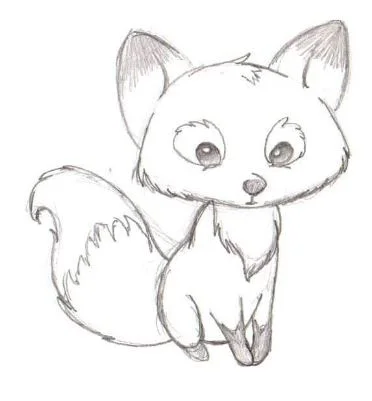 Source: Thefurryfox2
Drawing animals such as foxes can be quite a task. But when you create a graphite fox drawing, you'll realize it's just a piece of cake.
This art is very smooth and tidy, and it doesn't mean that the lines should be as perfect.
In creating graphite, you only need a pencil, and you will see that lines will be smoother and the entire drawing becomes more fluid.
24. Shape Iconic Cartoon Characters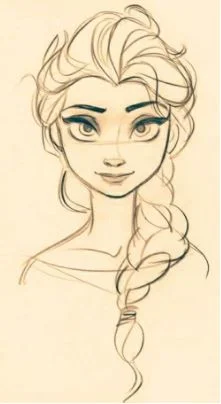 Source: SakuraBelle
All iconic cartoon character drawings, art, and designs can be broken down into basic and simple shapes. As you see, Elsa, the main character of Frozen, is a fun choice.
You will only focus on her face and the hairline on her shaped braids. Adding details on the braid and different hair sections on top is one of the easiest things to draw.
For creative anime ideas, you can follow these for more.
25. The Essence of a Woman's Body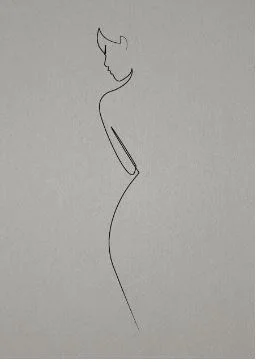 Source: rbeeme.tumblr.com
Do you agree that we envision and draw creative things and use our minds to fill the gaps?
A woman's body is an example of line art. It's one of the easy things to draw; that's why it's the most popular line art today.
26. Two One-line Portraits of Kissing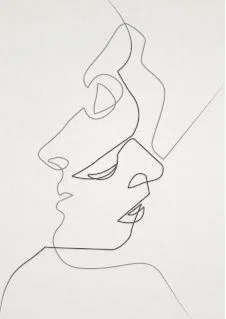 Source: Society6.com
Kissing couples' line drawing style is a kind of art made in just one line.
This art is a way to make complex things simple, especially the world around us.
The one-line kissing portrait will create cute décor in the bathroom because of its chic and minimalist design.
27. Simple and Expressive Woman Outline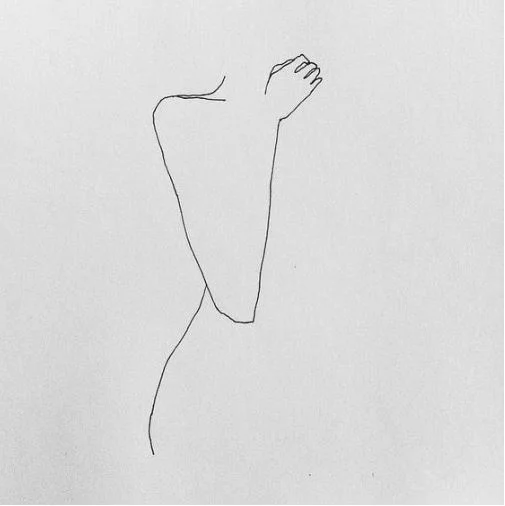 Source: Sakura Belle
Simple art is golden, just like this expressive woman outline.
This art may look bare, like a sketch, and not literal - but it can be more abstract and fun in the minds of curious viewers.
We want this art because it's one of the easy things to draw, even if it's drawn very simply.
28. Urban Silhouette Sketch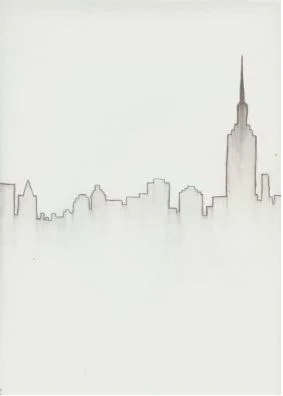 Source: Etsy.com
In urban silhouettes, sketches, drawings, and paint are done in black and white or the other way around. Silhouettes of an urban area create ensembles more than just individual buildings.
The picture creates a solid plain image against a bright background. The design concerns towns, suburbs, and cities' appearance, arrangement, and function.
29. Splendid Poppy Flowers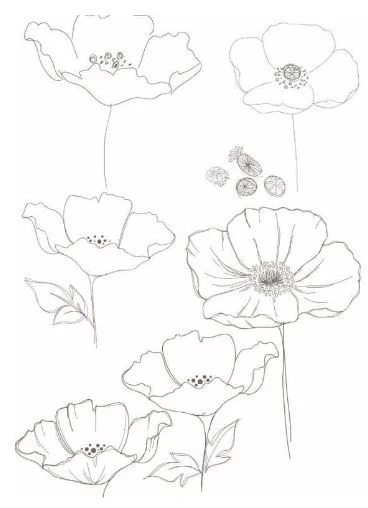 Source: pinterly.com
The luminescent red poppy flowers are a kind of art and are among the easy things to draw. It symbolizes the blood of the fallen and a reminder of life's beauty despite the wars.
We have the First World War as an inspiration or Poppy Flower sketch art to remember the war, as the corn poppy is its symbol. It symbolizes peace and remembrance to have a peaceful future.
30. Strings of Leaves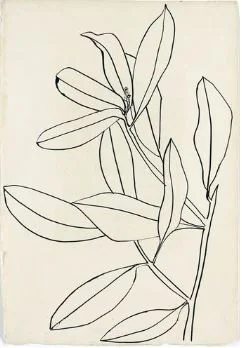 Source: Ellsworth Kelly
Leaves string art is a kind of art for mental stimulation. We want something that will let the artist create their own process and which they are forced to make decisions.
The strings of leaves drawings have a lot of meaning in different cultures. But the most common symbolism it has relates to hope, fertility, abundance, peace, growth, death, victory, and rebirth.
Get some additional flower ideas with these!
31. A Rose

Source: artistsnetwork.com
Flowers come in various astonishing forms. The rose flower art is a good way to find your style when exploring and practicing cool things to draw.
It's a good start, especially for beginners and children. They can create beautiful flower drawings regardless of what medium they use.
32. Creating Small and Cute Drawings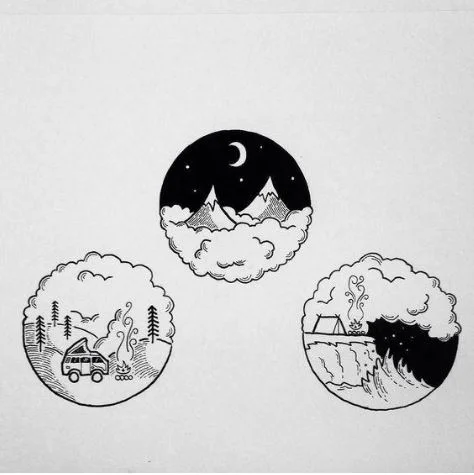 Source: Instagram
This cute and small drawing art is by far the best and perfect way to improve your drawing skills, and it is only a part of many things to draw in your sketchbook!
This picture can give you a feeling of stillness when you draw cute things using your style and are always eager to try something new.
As you see, all three round shape drawings are the same size. That is why the outcome of the art remains stagnant. Draw circles and shapes and lead where it gets you.
33. Small Volkswagen Camper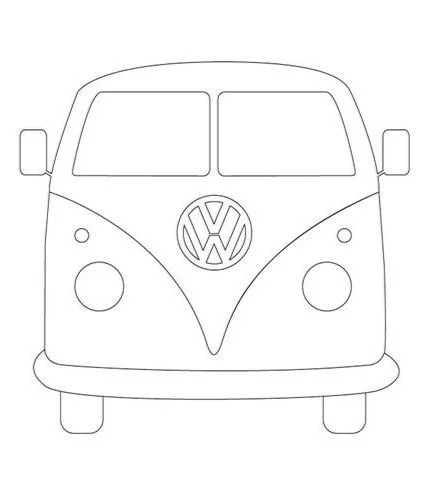 Source: jamiewillmott.tumblr.com
This unique Volkswagen camper van art is one of the best things to draw if you're an adventurer and spend most of your time outdoors.
It's an inspiration to sit back, relax, and strip away the stress of everyday life and reveal the fun and surprising beauty of the outside world.
34. Sketchy Holding Hands Drawing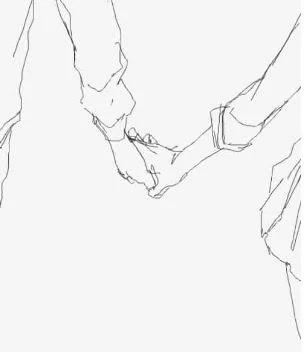 Source: weddingswithzsazsa.tumblr.com
This sketch drawing of a couple holding hands shows the real logic behind it.
It's one of the easy things to draw that will make us, or other viewers, think outside the box, which makes it one of the cool things every artist could ever draw.
Holding hands drawing does not only have that romantic connotation, but it's also associated with solidarity, support, friendship, affection, and reconciliation that we need to instill in our daily lives.
35. Woman Sculpted by an Endless Line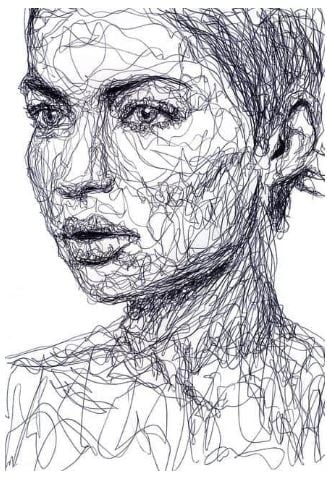 Source: flickr.com
Artists tend to go for unusual things to draw and express their thoughts to show the originality of their art.
One example is the endless line in the sculpture of a woman. It shows minimal lines that create an interesting, ambitious, and perhaps challenging sculpture today.
Explore and be amazed by ideas centered around girls.
36. A Human Silhouette Behind a Matte Glass Surface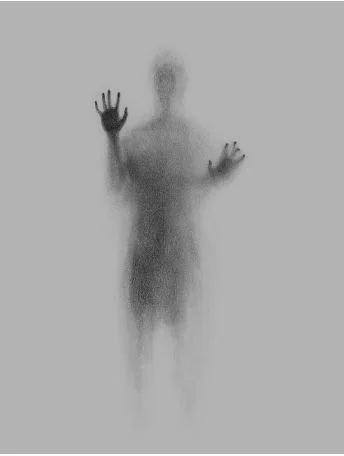 Source: saatchionline.com
This shadow blur of a man behind the matte glass shows the art of a reflection of a silhouette through the light and is not a bad idea when thinking of things to draw.
We think this is just a personal preference, but most artists agree that it's one of the best things to draw as it represents religious and social standards.
There's more to it than that, as it indicates our cultural values and symbolizes beauty when we find the inspiration for the drawing.
37. A Hatch in Pencil Brings White Volume Forward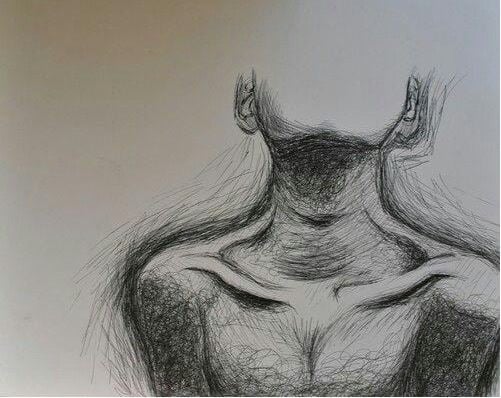 Source: weheartit.com
This art will use any means of shaping the elements we always want to draw. In life, we want something that even a sketch will give a sense of believable form.
Hatched-in pencil arts always give any drawing a sense of depth and realistic volume. It's when the light and shadow show the details of the subject.
38. A Woman Showcasing the Perfect Dress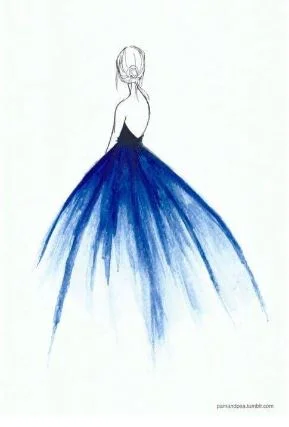 Source: pamandpea.tumblr.com
Women have always been a symbol of life. Since the beginning, women have held the world on their shoulders.
Like any one of us, women can be both powerful and soft - that could make a good exploration in the eyes of a man.
We consider this art as one of the creative things to draw about women, for she showcases her blue dress to express the true symbolism of a woman. That despite everything in life turns to blue, women can still shine no matter what.
39. Small Traditional Homes Sketched
Source: vectorstock.com
The house sketch is such art because of the rough drawing that the artist notes. The sketch drawing is the preliminary idea for a house design that will eventually become a reality.
The home's sketch is one of the creative things wherein artists will realize greater precision and excellent details.
Usually, the drawing of a house is the start of developing new imaginations to be used later before the actual building takes place.
40. A Fluffy Baby Penguin Smiling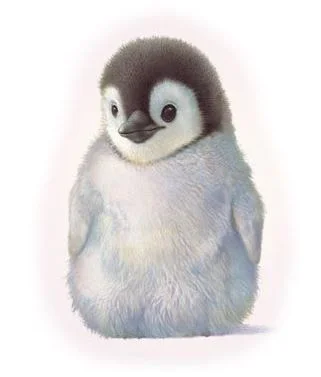 Source: Yahoo Life
Penguins symbolize resilience and hope. It's probably one of the best creative things about art anyone can make. That's why this drawing is always a way to go.
The penguin drawing is associated with fortune and good luck. Of course, they should always look fluffy, as their downy fluff is what they are usually known for.
41. Cartoon-like Alligator Sketch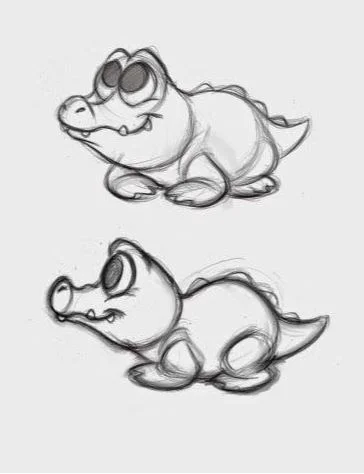 Source: weheartit.com
Drawing dinosaurs can be complicated; that's why there are few easy things to draw animals, like alligators.
Alligators are mouth-eating creatures that are close to the dinosaurs. They have that distinct head and mouth shapes, and it would be easier to depict them when we want to draw a beautiful cartoon alligator.
42. Graphite Face Continuous Drawing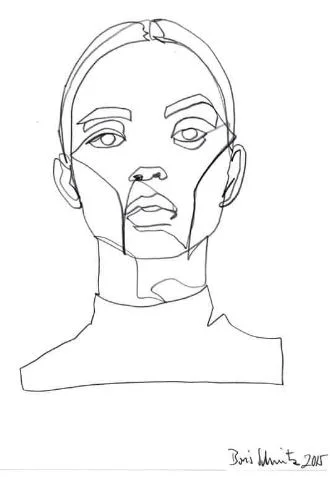 Source: Houndeye.tumblr.com
We always think we've seen enough better drawings and representations of the human face and body.
But we haven't seen or witnessed anyone draw with single lines, as these things to draw might be challenging. With this drawing, you can see how simple lines create a better outcome.
43. Mickey Mouse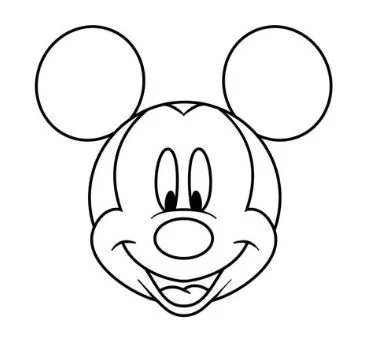 Source: sketchite.com
Mickey Mouse easily finds if you want fun and easy things to draw, like cartoon characters.
Its face is full of symmetrical drawings. This amazing character is a no-brainer for beginners. As we all love Mickey, he also loves to make people happy and brings families together.
44. A Love Letter Picture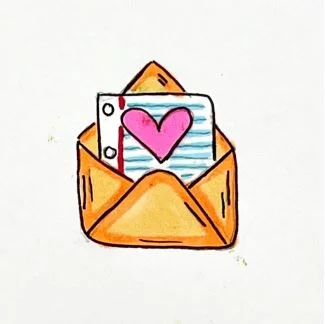 Source: Unknown
Writing or drawing a love letter is one of the sweetest things you can do for your loved ones.
You can add a heart shape or a few parting words, and it'll be good to go.
45. A Paper Plane Art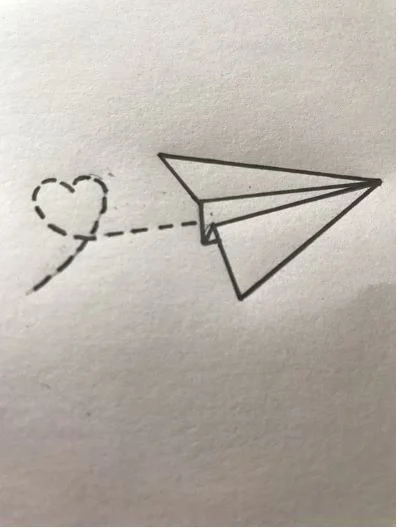 Source: Simple Life of a Lady
Draw a paper plane art as it's a quick and easy drawing. When you're bored, you can draw and doodle it out on a piece of paper.
46. The Solar System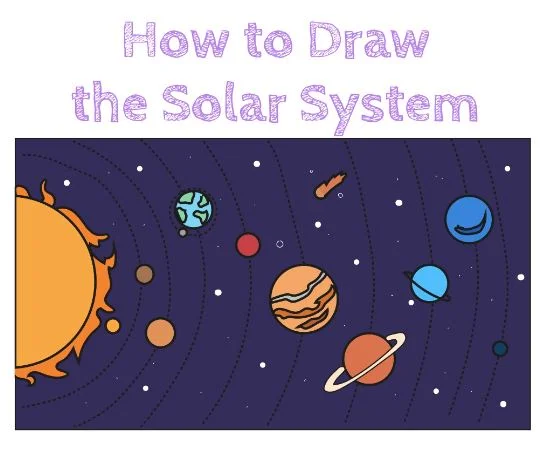 Source: LifeFamilyFun
Nothing is more appealing to the eyes than drawing the entire solar system.
Start with a few ones, and then it might be possible to draw the entire solar system to make it more complete and colorful if you plan on coloring it.
Draw the world's space with these drawing ideas!
47. A Mouth Eating a Lollipop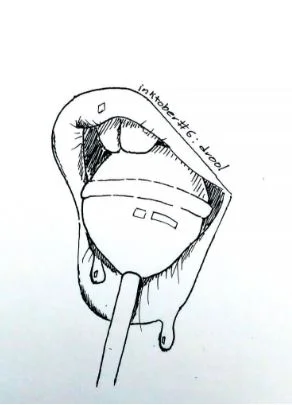 Source: Unfilled Flag
This fun and creative drawing lets you imitate some fun things to do, especially under the sun's heat.
It's one of the entries for Inktober, and it is one of the better and easy things to draw if you're starting. These are some easy drawing ideas to do during your free time.
48. An Abstract or Self Portrait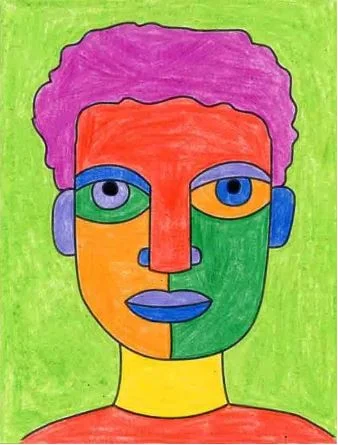 Source: Art Project for Kids
If you're drawing a portrait of yourself or a family member, one of the easy things to do when you start is through abstract shapes.
While this can be difficult, there are many tutorials only you can look for online.
49. Among Us Ghost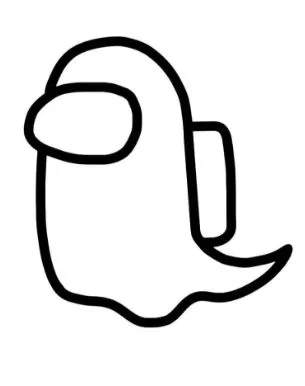 Source: ColoringHome
One of the most popular games ever created, "Among Us," it's one of the more easy things to draw.
Here is some cool ghost drawing you can draw. To top it off, color it according to the game to make it more fun and amazing.
50. A Unicorn Horn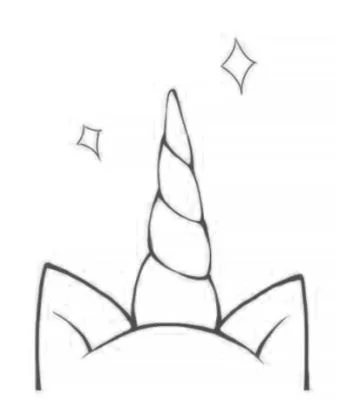 Source: Prada Porter
Unicorns are favorite drawing ideas among kids, which is why we opted to include them because it's one of the easiest things to draw.
This design was an actual t-shirt design made by Prada Porter. An amazing design not only for shirts but for drawing as well.
51. An Alien Head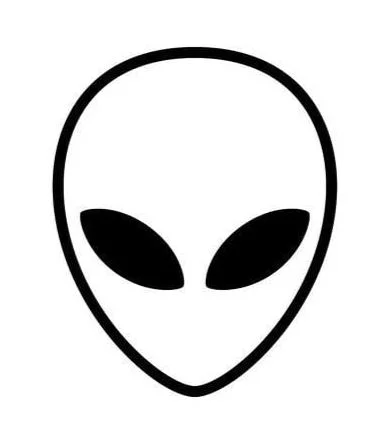 Source: 123RF
There can be a lot of ways to draw an alien head. However, this is by far the easiest one to draw.
Perhaps, you can draw additional features like ears, nose, and even hair! As long as it continues to look like an alien, draw more!
52. Bart Simpson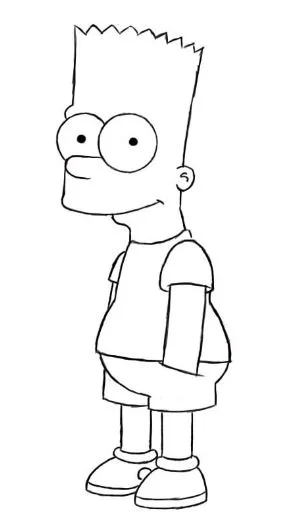 Source: Picsart AI Photo Editor, Video
If you're a fan of the Simpsons, why not draw Bart himself? You can draw him using geometric and simple shapes without difficulty.
Once you're good at it, you can also draw some Simpsons members like Homer or Lisa!
53. A Skull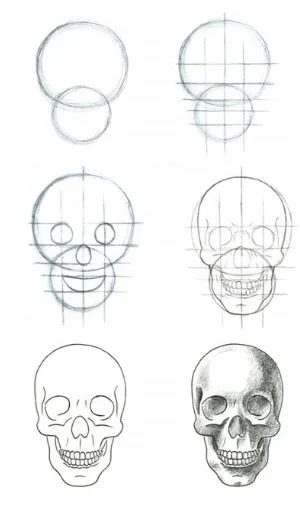 Source: weheartit.com
Most people don't know how to draw a skull. They didn't know how easy it was to draw one. Here are some skull drawing ideas to draw during your free time.
54. A Penguin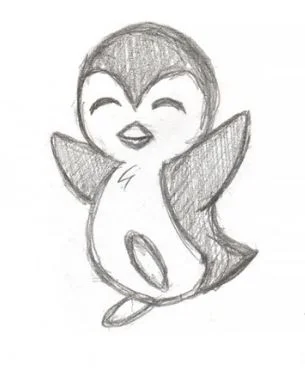 Source: weheartit
Penguins are jolly and friendly creatures. What makes them great is they're easy to draw and are great for beginners.
If you like this drawing, you can find some cartoon drawing ideas here.
55. Scooby Doo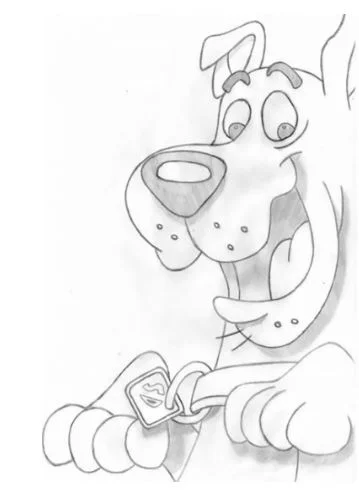 Source: weheartit.com
Scooby doo is by far one of the most popular dogs. It doesn't take much to draw him. While he might be known for his cowardly nature, he is courageous enough when needed.
Draw simple lines and shapes, and you'll know why he is one of the easiest dogs to draw on the planet!
56. Pluto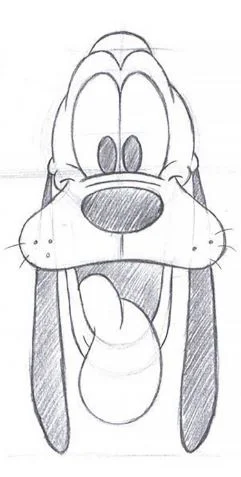 Source: weheartit
Aside from Scooby, Pluto is another famous dog to draw. He is a cartoon character from way back and is one of the inspirations behind Scooby.
57. Hand Signs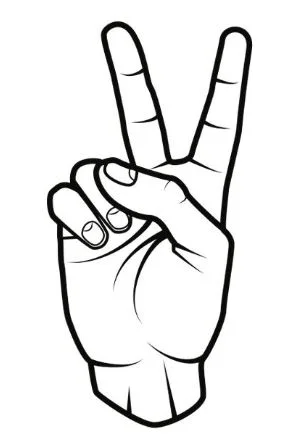 Source: Free SVG
One of the coolest and easiest things you can draw are hand signs. Draw this hand sign or any body part as you please.
You draw the nails first, then the fingers. If you are good enough, you can also draw additional body parts to your liking.
58. Groot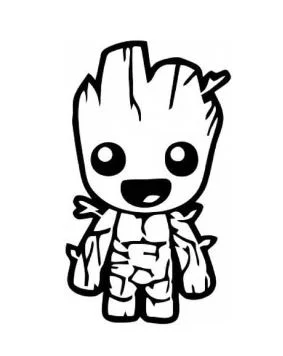 Source: gallery5150.com
Groot is one of the most popular characters in the Marvel Universe. Draw this cute baby Groot from the famous movie, Guardians of the Galaxy.
Once you're good enough, you can also draw other characters like Gamora, Star-Lord, and even Rocket Racoon!
59. Planets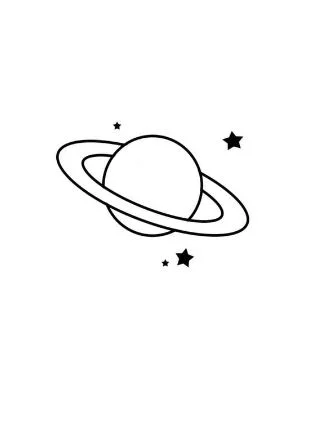 Source: Society6
Planets like Jupiter, Saturn, and even Earth are easy planets to draw. There are a lot of planets, and you can draw them with the distinct features that separate them.
60. Social Media Icons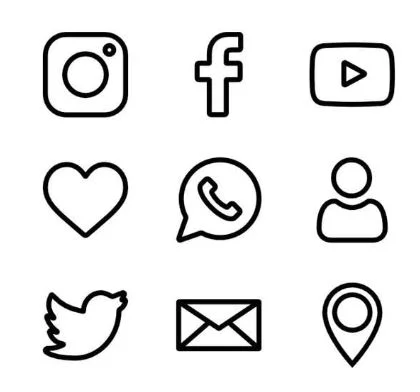 Source: Flaticon
Social media icons are almost etched in our heads, which makes them one of the easiest things to draw. As you can see, they are easy things to draw involving simple shapes.
61. EKG Heartbeat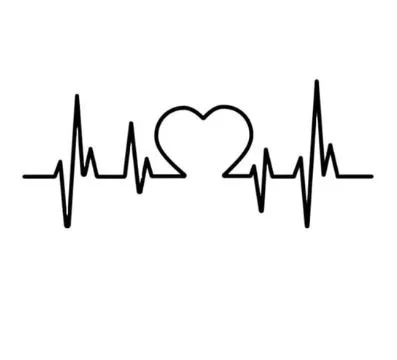 Source: Picsart AI Photo Editor, Video
This concept might not be the heartbreak you most commonly see in romantic movies, but this can be a picture that is easy to draw. The electrocardiogram concept is one of the most popular designs to draw.
62. Suns and Waves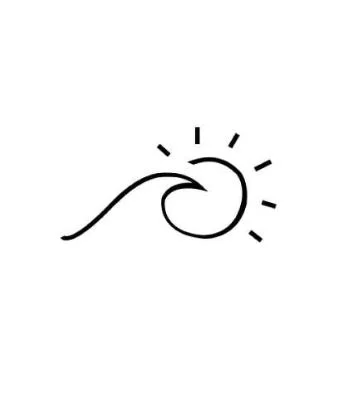 Source: etsy.com
The sun and waves go hand in hand when going to the beach. You can draw this portrait requiring only a few strokes to get it done. You can also draw the sand and people to make it more appealing.
63. The Genie from Aladdin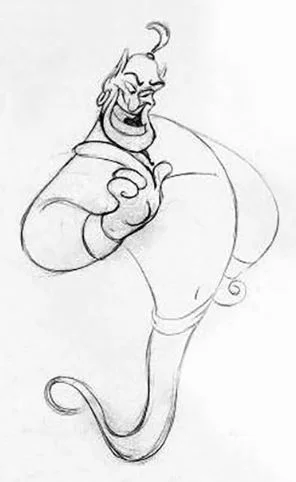 Source: weheartit
You can draw the Genie from Aladdin with just a few sketches and shading. It doesn't need much to draw this version of the Genie.
64. A Bunny Rabbit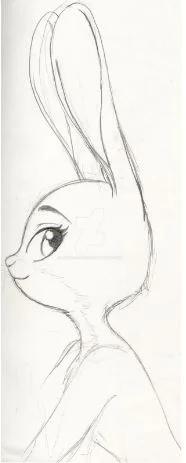 Source: Ashura Ou
Bugs bunny is a character most kids like to draw. If you compare it to a traditional rabbit, it can be hard to draw. However, with this plain rabbit, it can be easy to draw their facial features, including his long and puffy ears.
65. Flower Inside Shapes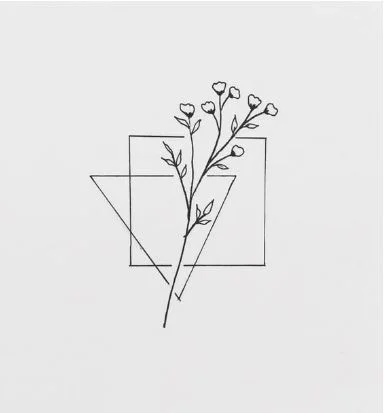 Source: m.vk.com
Flower portraits and styles are fascinating things to draw. It doesn't require amazing skills to draw them. All you need to do is visualize flower patterns and let the imagination take over.
66. A Falling Cat
Source: society6.com
An image of a falling cat in your head is hard to fathom. However, this design allows you to draw a falling cat with simple shapes and lines.
You can even draw additional features like ladders and chairs where they usually fall.
What Are Some Drawing Skills You Should Master?
If you want to be an amazing artist, there are many things that you should master.
Besides, drawing is not just a form of art for fun and escape; mastering this craft can go a long way to achieve greater things.
Draw From Imagination
If you can draw from your imagination, the sky is your limit. A lot of artists struggle to turn their imagination into artwork.
One reason behind this is their unfamiliarity with constructive drawing. Some of the most experienced artists draw from what they can envision.
However, like most skills, they can be mastered through experience and longevity with the craft.
Design
Design is the concept of making your outcome look good. Although it might be one of the uncertain ways to say it, believe us, it's all there is to it.
Ask questions like "How can I make my art visually appealing?" or How can I improve the balance overall? Design and imagination are where creativity plays a major role.
You will soon realize that there's an endless possibility of what you can do if you're going to base it on design alone. Mastering the art of designing takes years and experience to master.
Construction
For any artist, construction is the most important drawing skill to master. It usually involves mastering 2 to 3-dimensional figures and shapes and taking it from there.
If you master the concept of constructing to start your pieces, then some easy things to draw become easier for you to handle, and the harder ones become even more achievable.
How Do You Keep the Creative Juices Flowing?
More often than not, artists lack the inspiration to draw for many particular reasons. It can be burning out to draw things, lack of things to draw, and many more.
Worry not; it happens to the best of us!
Two of the more common reasons why our creative juices stop can be losing the motivation to draw or the inspiration behind our drawings isn't the same anymore.
Sure, it can be frustrating; however, there are many ways to avoid this. We need to remove this feeling because as we spend time on these things, it will only grow bigger and bigger.
In addition, when you try to force things, it will make it harder for you.
We'll make some ways to keep those inspirations and motivations flowing with these simple step-by-step tips, so they can jumpstart the engine that fuels the desire to draw creative things easily.
Go Outside
Nothing beats the feeling of going outside and feeling that cold wind breeze. Listening to the birds' sounds and the wind blowing can easily help calm you down far from your worries and anxieties.
If you want to draw, walking outside can draw out plenty of inspiration; you never know what you can stumble upon.
In addition, walking gets your blood flowing, meaning you get plenty of oxygen to your brain.
As a result, I get you plenty of ideas and things to draw when you've finally come back home.
Losing the motivation for things to draw is a common occurrence among artists, which is why we recommend stepping out into the open.
Listen to Chill Music
For some, music has been a great outlet and source of motivation. Listening to music can take you to places only your mind can go.
Instead of looking for some easy things to draw on the internet just for the sake of it, leave your pencil and sketch pad behind and grab your headphones and listen to songs that you are most comfortable with.
Often, listening to music can spark creative ideas in a good way. It can be either a memory of the past or a present memory that made you smile.
Although we all have different tastes when it comes to music if you want your creative juices flowing, listening to music is one of the best things if you want inspiration to draw.
We recommend you listen to " free-flowing " music; this type of music can be more interpretative, like soul, jazz, and even blues. These types calm the mind and let those juices come into your head.
Free Doodling
Free doodling is one of those easy drawing activities that can result in a finished artwork. Sometimes, drawing marks, lines, shapes, and objects can jumpstart you into doing creative things like drawing.
You'll always have things to draw when doodling. You must grab your pen, pencil, and paper and draw weird figures, shapes, and many more.
Sometimes, doodling releases pressure on the top of our heads that we place on ourselves.
When you doodle, there's no pressure to make a masterpiece because you only draw "just to draw."
Experiment
Most of the time, artists go into an artistic "rut" because what they do has become repetitive. What this scenario implies is to broaden your horizon and experiment.
Often, artists are so caught up in their medium that it has caused them to lack motivation in the drawing.
As we've mentioned, stepping out of your comfort zone would be better when something goes repetitive.
Go and experiment in a way that can help you spark another sense of inspiration or motivation for the things to draw.
While we're not saying you abandon your "first love," what we're trying to do here is to add another dimension to your skills.
Drawing can sometimes be dragging, but incorporating new things can be a breeding ground for new ideas.
Using new mediums is like going on a new trip; you never know what will come, but it can be an eventful time to discover and replenish yourself with the things you are missing.
For some, going on these experiences can set your artistic desire ablaze with newfound ideologies. Don't limit yourself; experiment!
No Pressure
One of the most common things that can kill your creativity is putting pressure on your head.
This scenario is especially true if you need more things to draw or motivation for drawing.
It's quite easy to think that the things to draw are infinite; however, if we place this kind of mindset in our heads, it can breed pressure, and this pressure limits our creativity on things to draw.
While some thrive in pressure, some find it no fun at all. More often than not, it can simply suck the life out of you if you let it overwhelm you.
Meditate
Everyday activities and worries can easily build up clutter in our heads. We often find ourselves overwhelmed with the things we do.
Paying bills, sending kids to school, washing the dishes, and looking for things to draw can easily drain you, which is why you should step out of your comfort zone, meditate, and let life flow within you.
One of the reasons why meditation is great when doing creative things like drawing is it removes unnecessary thoughts that creep into your head.
It's a good idea to help your mind relax and ease off of the day-to-day activities you are doing.
Take a few moments each day to be alone, sit back and relax, and release these troubling thoughts that bother you. This way, it can allow creative things and thoughts to enter your mind.
Draw, Draw, and More Draw!
Like most artists, practice makes perfect! It is why we recommend you draw every time you have the time.
Practice drawing during your free time or any time of the day. Whether it's one of the easiest things to draw or the hardest, you must ensure you are at your peak performance when it's about time to draw.
This way, creative things will soon pop out from here and there as you will always have things to draw as different concepts and designs come rushing into your head.
Drawing on different platforms helps! If you use an iPad for drawing, you can check the best drawing apps for iPad to see what caters to your needs the best.
Easy Things To Draw FAQ
You might find your answers below if you have additional questions regarding easy things to draw or drawing.

What Are Good Art Supplies to Use When Drawing?

Here are some great supplies you can use when drawing:
Drawing Pencils
Colored Pencil
Pastel Colors Crayons
Sketchpad
Pen or Colored Pens
Paper
Here are just some of the things you need if you want to draw. If you want more, you can always add more.

If you want to become a digital artist and want to know what supplies to get, check out some of the best iPad for drawing, the best cheap drawing tablets, and the best mechanical pencils for drawing here!

Is It Too Late to Start Drawing?

There's never a "too late" thing to draw. Even some elderlies beyond their 80s and 90s are capable of drawing.

The only problem is when it's "too late to draw" if these elderlies are experiencing age-related diseases like arthritis, osteoporosis, and many more.

On the flip side, there's never too young or too late if you want to start drawing. Any age is a good age to start drawing.

This time and age have taught us there's never a perfect time to learn something new. It is because today or tomorrow is the best time to do it.

So, regardless of age, any age is appropriate if you want to draw. Only your imagination can hold you back.

As we've mentioned, the only way to go is up! Draw, draw, draw, and more draw to ensure you get the desired result.

Most people draw because it is their way of setting their mood for something. For some, they draw because they want to steer away from the day-to-day activities that cause them stress.

Releasing stress through drawing is one of the best ways to alleviate it. Look for some easy things to draw, and don't look for hard ones, or you will be stressed again.

Fortunately, there are plenty of creative things to do during your free time, and drawing has become synonymous with it.

If you're sad, draw. If you're happy, draw. If you're stressed, draw. If you're depressed, draw. Most of the time, we don't need much to declutter our heads, and for the most part, drawing can help you with those things.

Just grab your pen or pencil and a piece of paper, and you'll go about your drawing without minding all the stressors in the world.
Conclusion
We have our own way to space from life's stressors; for the most part, finding some easy things to draw is one of them.
Whether they are weird shapes, sizes, lines, and the like, drawing has become an escape for most of us.
Fortunately, there are quite a few million things to draw. It's fun, thrilling, exciting, and, most importantly, relieves anxiety and stress.
This article should give you plenty of ideas to draw whenever you have free time!
Related Articles
8 Best Cartooning Books For Artists Today
5 Best Hand Drawing Reference Photo Sources