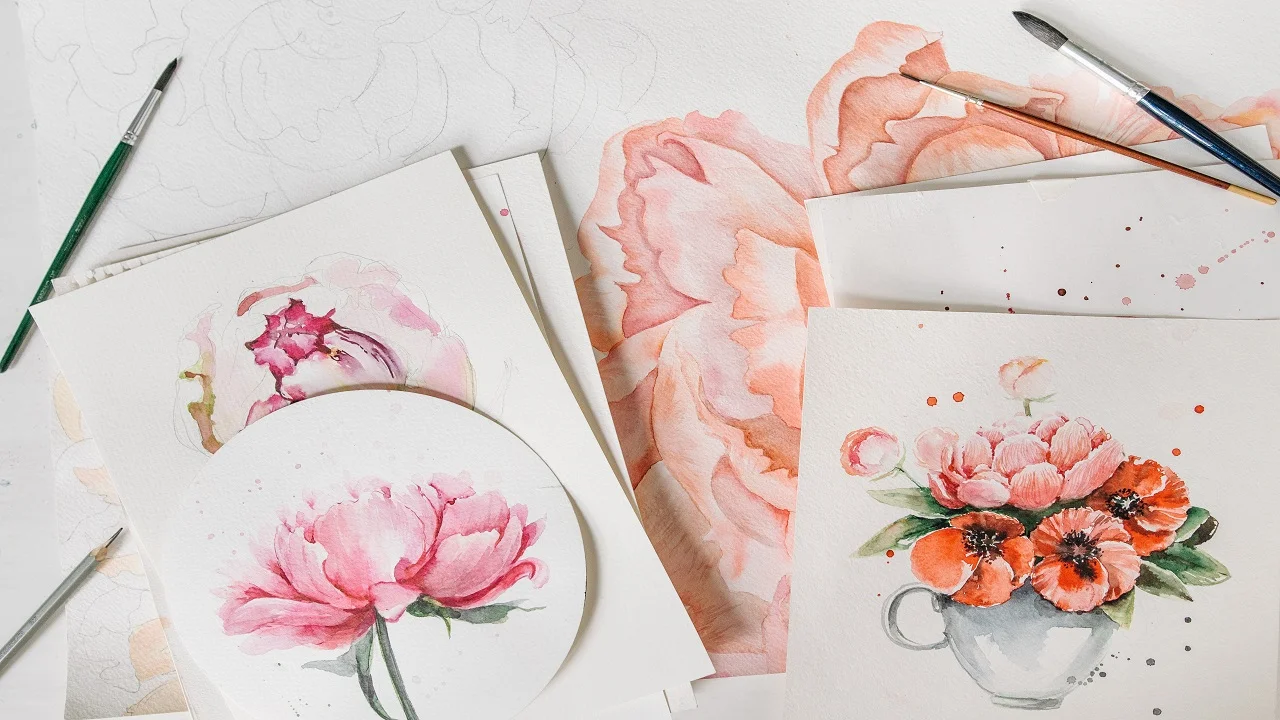 Flowers are a good starting point whether you're a boy or girl looking for drawing ideas.
That's because drawing flowers feels very therapeutic. It's a roller coaster of good emotions that can lift our spirits.
You can make as many flower drawings as you want, whether they're from the figment of your imagination or not. Be as creative and fun as you want with your creations!
Unleash your creativity when you draw flowers, and enjoy the process.
Today, we've listed different flower drawing ideas to get your creative juices running.
45 Flower Drawing Ideas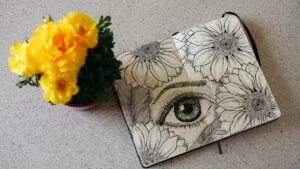 Is your mind starting to draw blanks? Do you need more things to draw? We've got some flower ideas for you to draw!
Whether you're an amateur or professional artist, these easy flower drawing ideas can put your skills to the test.
1. Draw Lotus Flower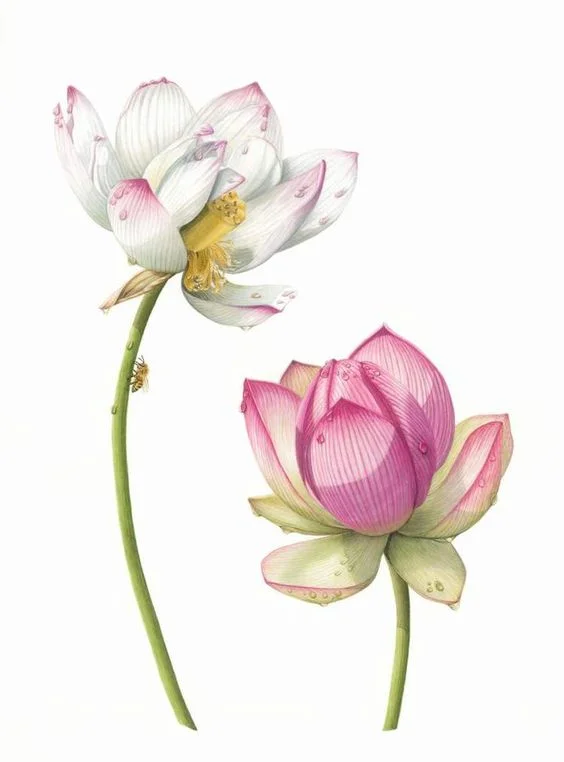 Source: Denise Ramsay Artist
A lotus flower symbolizes purity, strength, and birth. The lotus flower is a rare beauty amidst dark and murky water.
Lotus flowers are fun to draw because they're both easy and intricate at the same time. The beautiful shades of pink and white of the lotus flower make it a great flower drawing idea.
If you want to learn how to draw lotus flower, there is a video tutorial to help you get started.
2. Draw a Rose Like a Pro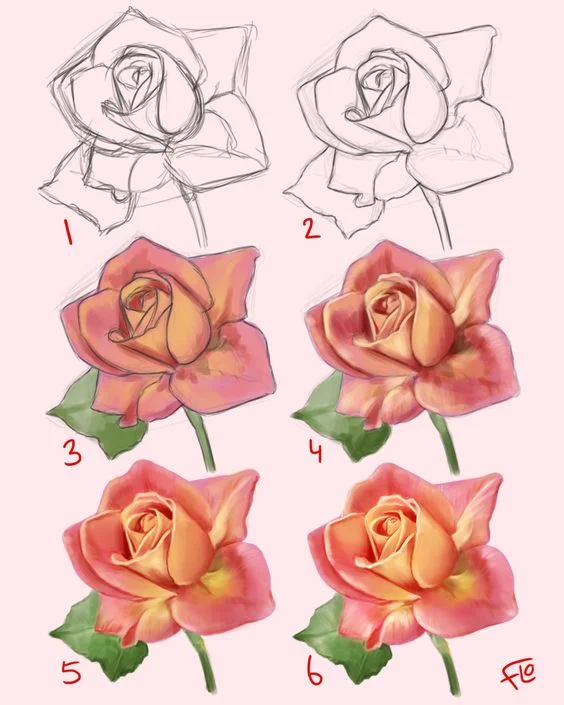 Source: Art with Flo
Beginners always attempt to draw a rose.
There's no right and wrong way to draw it, and we all know a rose drawing only needs a stem and petals.
Drawing roses is a fun and easy way for beginners to master their skills. They can draw a rose in full bloom or as a bud.
There are many drawing tutorials today that have a step-by-step guide on how to draw roses.
3. Springtime Tulips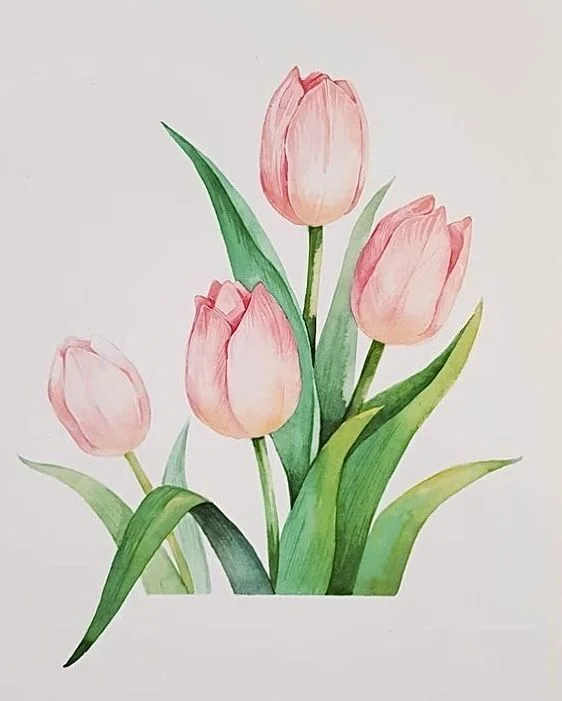 Source: Ruth Josephson
Besides roses, tulips are the best type of flowers to draw. We highly recommend tulips if you want love-inspired flower drawing ideas.
They symbolize perfect love, perfect for your loved one. Tulips come in different colors, ranging from light to dark shades.
It's perfect for beginners because it doesn't require too many intricacies. Not just that, but you don't always have to perfect the shape.
4. Beautiful Peruvian Lily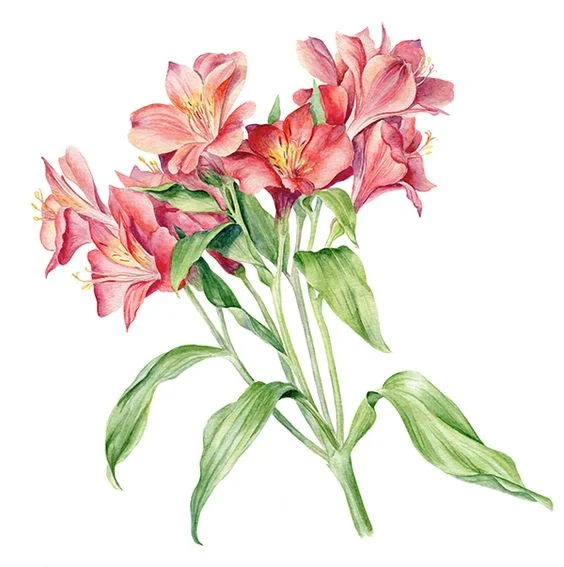 Source: Anna Supruneko
Peruvian lilies (also known as alstroemeria) are super cute small flowers. Admittedly, the whole process it takes to draw this flower might not be for beginners.
It's hard because of the shape and different styles of shading needed. Nonetheless, these flowers are so beautiful one can't help but attempt to draw this.
You can check out different flower drawing tutorials to help you draw tulips.
5. Colorful Calla Lily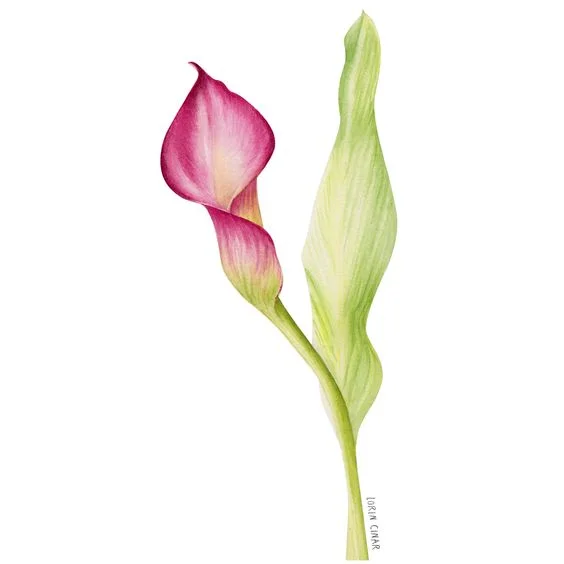 Source: Lorin Cinar
Calla lilies are just as beautiful as a rose, or maybe even more! They are relatively easy to draw because they don't require different types of shading.
As long as you get the general details of the calla lily, you'll be able to draw this flower in no time.
It's the perfect simple flower drawing idea for spring because of its bright and fun colors.
6. Forget Me Not Flower Drawing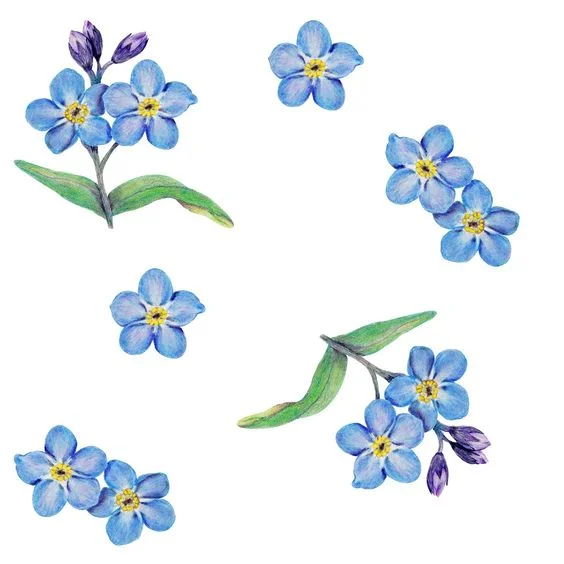 Source: CasmahCreations
Because of its striking deep blue petals, you can never forget the "forget me not" flower. It looks regal, especially if it lies on luscious green grass.
No wonder a lot of people attempt this flower drawing. It's simple and striking at the same time!
We highly recommend watching a tutorial to perfect this flower drawing. You can master how to draw and color the petals in no time.
7. Evening Primrose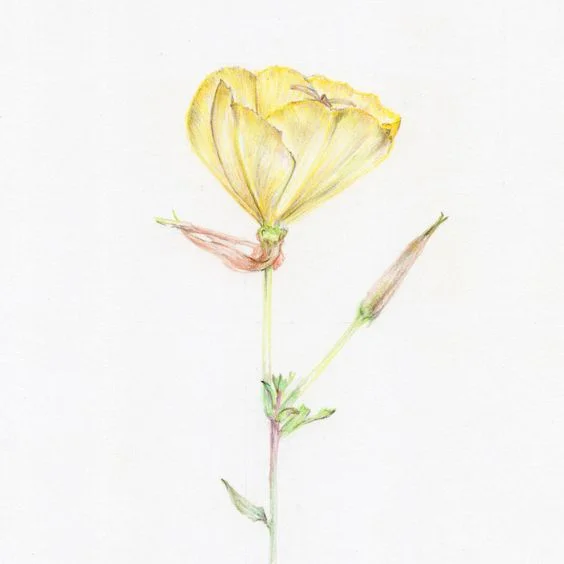 Source: Carmen Hui Illustrations
The evening primrose is a unique flower because of how it blooms. The flower begins to bloom at sunset, revealing its beautiful bright-colored petals.
But once daybreak comes, the flower closes itself, waiting for the next sunset.
Draw flowers as unique as the evening primrose! You can watch a tutorial to help you capture the intricacies of this unique flower.
8. Coneflower Flower Drawings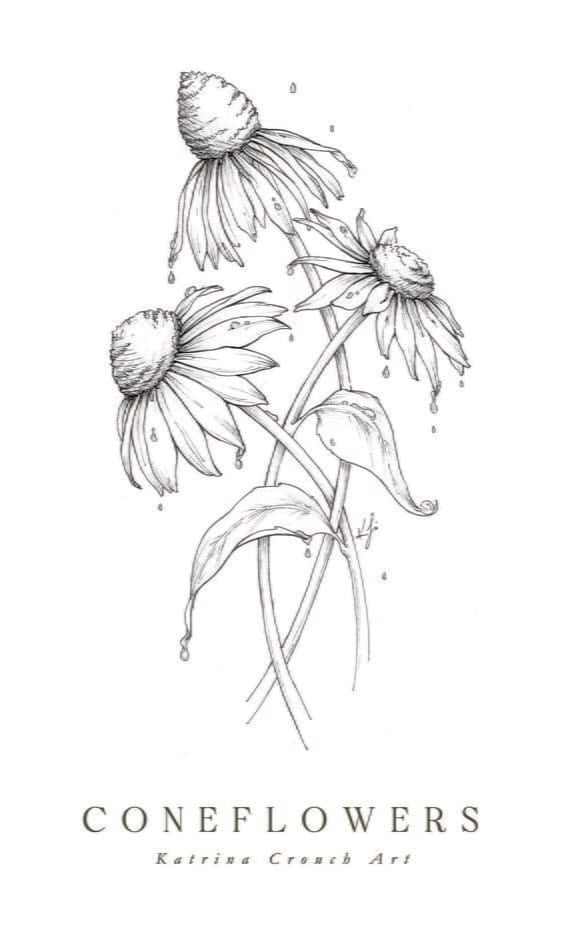 Source: Katrina Crouch
The coneflower stands as high as five feet high. On top is a beautiful, large flower with shades of orange, purple, and even red.
This plant is striking in many ways, including its big and spiny dome in the center. You can easily capture the essence of this flower thanks to its distinct features.
Watching flower drawing tutorials may even help you master drawing the coneflower.
9. Wall Climbing Clematis Flower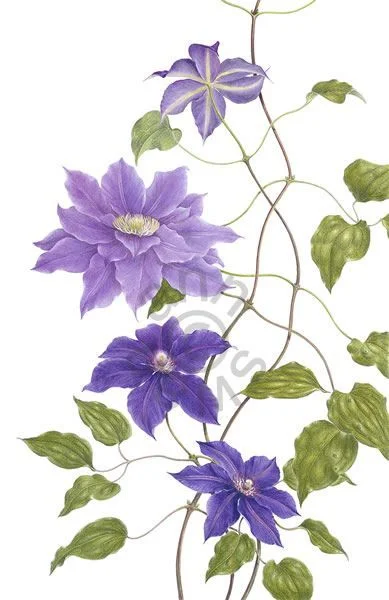 Source: Ann Swan
Who doesn't love clematis flowers? You can transform and decorate your wall with this simple plant!
It can climb on walls and can reach as high as five feet. Given a chance to grow the clematis on your wall, you'll have a beautiful-looking wall in no time.
Capturing every detail of this flower will be easy, especially if you already have a plant nearby. Grab a pencil, and draw flowers as beautiful as this one.
10. Rosy Camellia Flower Drawing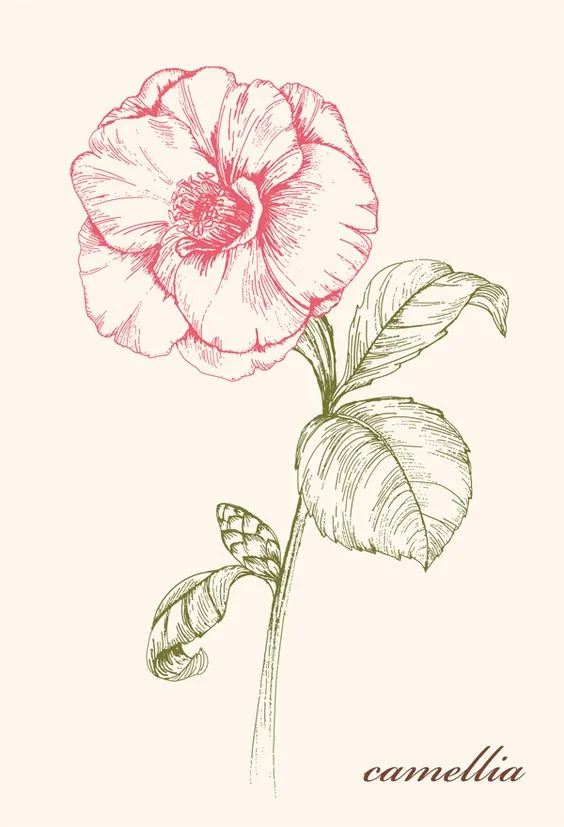 Source: Jung Soo Chae
We recommend the camellia if you want to draw a flower as striking as a rose or hibiscus. This flower looks soft with its white, pink, and even yellow hues.
It's a symbol of love and affection that can convey the message to your loved ones. This might even be better than a rose!
This flower drawing will give you some plus points to whoever you give it to.
11. A Bouquet of Flowers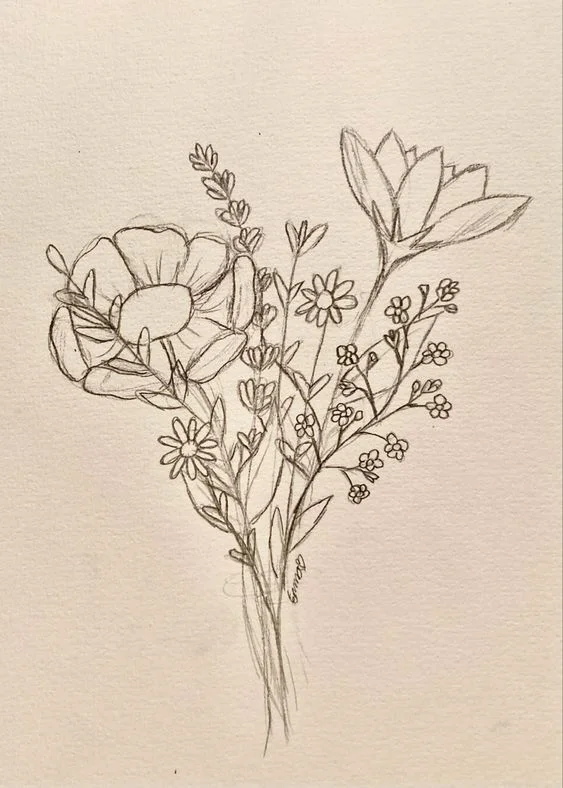 Source: Emma Bjork
Why draw a single flower when you can draw a bouquet of them? Once you've mastered how to draw flowers of different kinds, you can start exploring drawing them all together.
Whether you're a beginner or not, this drawing idea is worth trying.
You can check out flower drawing tutorials to give you a boost.
12. Draw Flowers as Unique as an Anemone
Source: Katrina Couch
The anemone is a unique flower because it blossoms only in the morning. Once the flower has fully bloomed, you're greeted by a beautiful colored flower.
At night, it closes itself up and waits for the sun to rise again! It's only there for a fleeting moment while the light is still alive.
If you want to draw flowers with a symbolic meaning behind them, the anemone is the one to choose. You can use it to send messages of anticipation and even secrets.
It's time to replace the usual rose drawings.
13. Foxglove Flower Drawing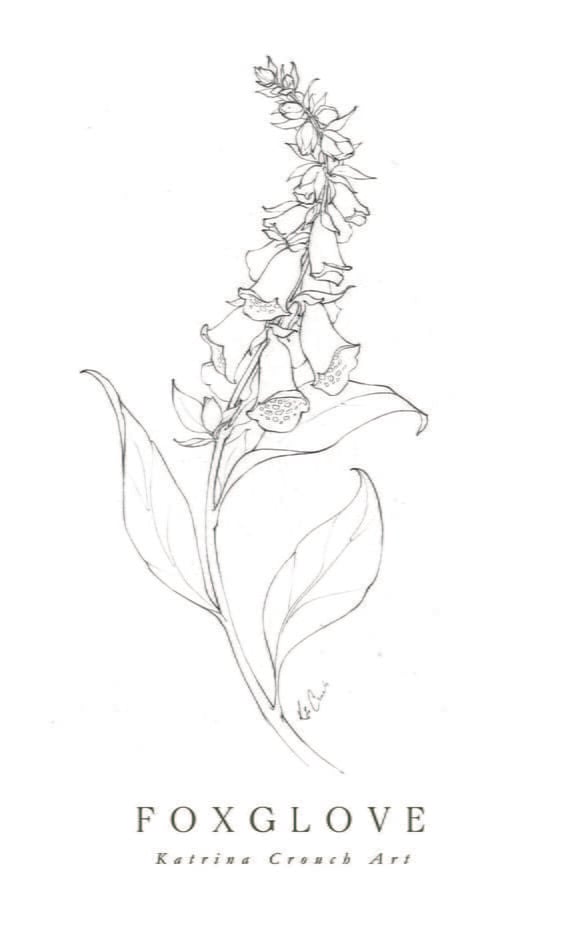 Source: Katrina Couch
Bees and hummingbirds love foxglove flowers, and we're sure you'll love them too. This flower sports a unique bell shape, all pointing downwards.
One branch is crowded with many flowers, and they all look like they're towering over each other.
You can learn to draw flowers like this by watching a tutorial or visiting a blog post to help you out.
14. Sunny Forsythia Flower Drawing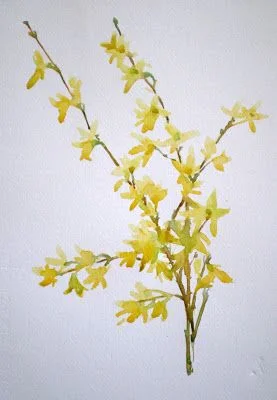 Source: Laura's Watercolors
The forsythia flower can easily be spotted from a mile away because of its sun-colored petals. This flower blooms and welcomes the spring season, which is why many people love this plant.
Start your spring right, and draw flowers as beautiful as the forsythia! It's a fun and relaxing way to lift your spirits after a cold winter.
Load a tutorial and learn how to draw this amazing plant.
15. Citrusy Fressias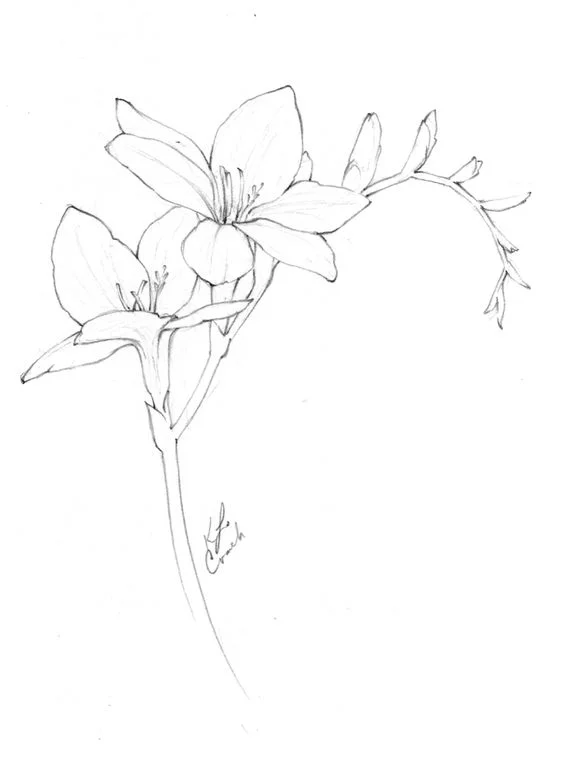 Source: Katrina Crouch
Freesias have a distinct sweet and citrusy scent, fitting for its yellow, orange, and often pink shades.
You can draw flowers as simple as freesias to boost your creativity. It's simple and easy to do, and all you need are its pictures to inspire you.
Put on some paint on your drawing, and watch it come alive.
16. Gladiolus Flower Drawing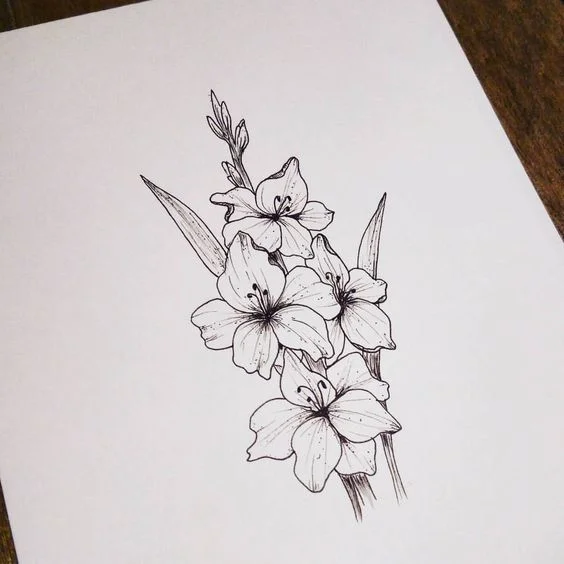 Source: Chelsea Harper
The gladiolus sports a beautiful towering flower on top of each other. Once all the petals have bloomed, you have a branch lined with flowers.
Most of the time, the gladiolus is mistaken for delphiniums because the flowers for both crowds in one spot.
Undoubtedly, drawing gladiolus is a lot of fun because of the challenge it gives you. Make sure to check out a tutorial before you start.
17. Hellebore Flower Drawing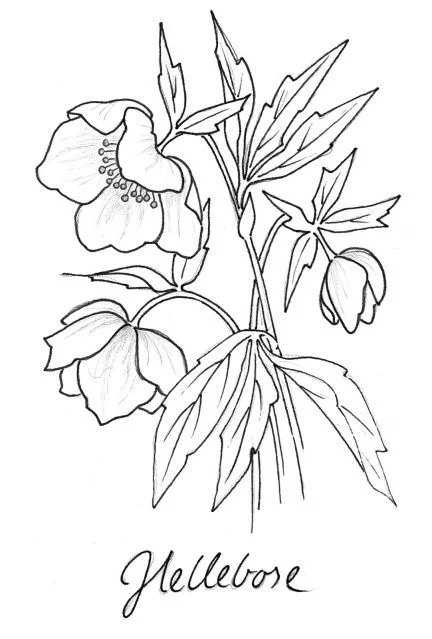 Source: Eva Shorey
If you want to draw flowers that give you peace and serenity, we recommend hellebore flowers.
Hellebore represents tranquility and beauty thanks to its calming color – white, pink, and yellow.
Drawing a hellebore is as easy as like when you draw a rose. The petals are easy to master, and so is the stem. You'll hardly need a tutorial for this one.
18. Refreshing Hibiscus Flower Drawing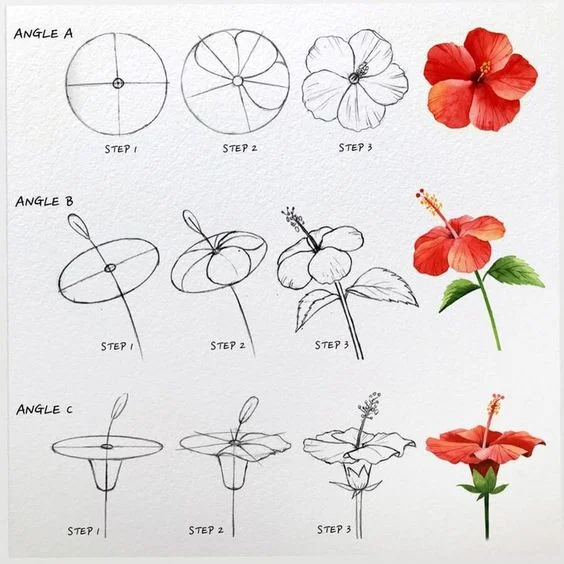 Source: @urbankate_in_ca
Hibiscus flowers rarely grow in cold areas and are better grown in tropical countries.
Drawing a hibiscus and making it look realistic might be hard. You need to master how to perfect each shade.
Is it light enough? Or do you need to darken some areas? If you're unsure, you can watch a tutorial on how to draw flowers like this one.
19. Colorful Hydrangea Flowers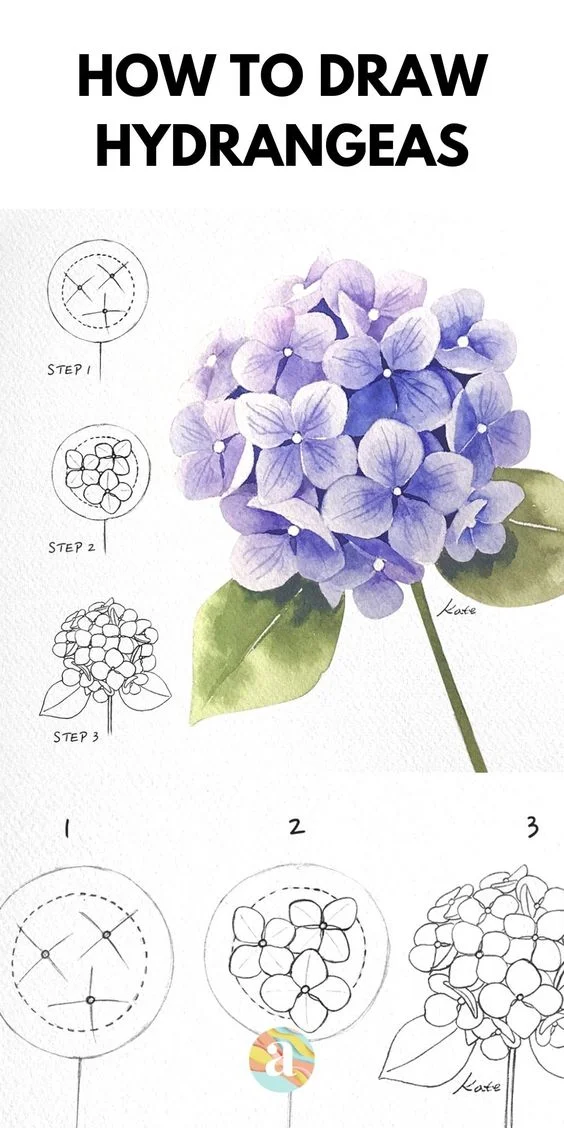 Source: @urbankate_in_ca
Another household favorite is hydrangeas. You can spot them in almost every garden and your favorite outdoor plants.
In theory, drawing hydrangeas is easy. But if you want your artwork to look realistic, watching a tutorial can help you out.
You can learn how to master sketching the flower and how to paint it after.
20. Jasmine Flower Drawings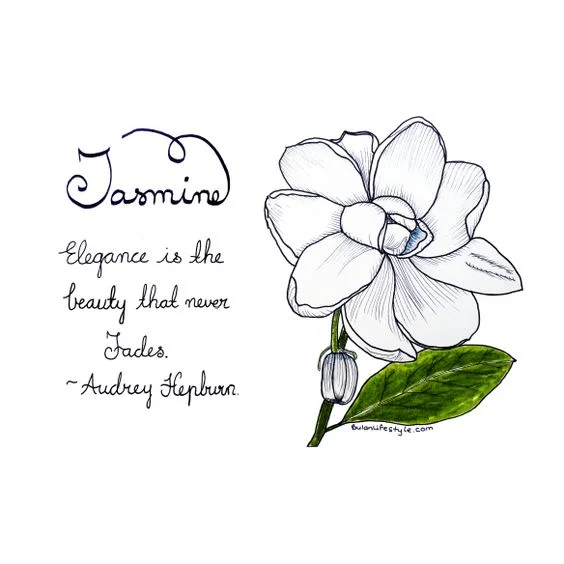 Source: BulanLifestyle
Love, innocence, and purity. That's everything the jasmine flower represents. No wonder many people draw flowers like this one for brides and brides-to-be.
Also, jasmine flowers have a distinct scent people love using as a perfume worldwide!
21. Flowering Lilac Flower Drawings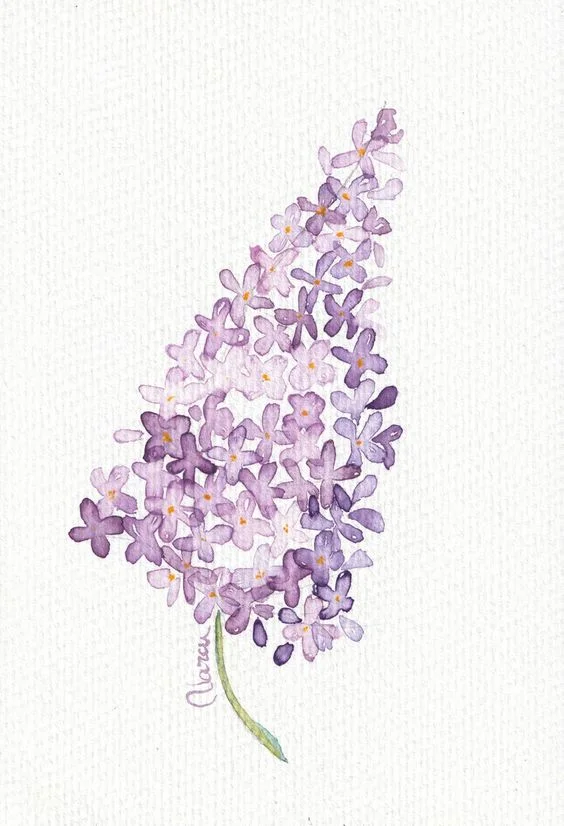 Source: Anamaria
Lilacs are always a great addition to your garden favorites. This tubular flower can spruce up any space in no time.
The beauty of lilac flower drawing tutorials is that they're always easy to follow. After all, you only need to get the small oblong petals right.
22. Christmas Favorite Poinsettias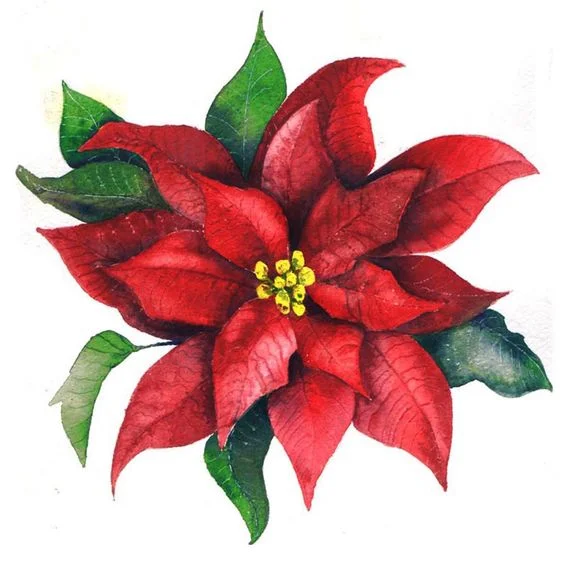 Source: Martha Lever
There can never be a Christmas without poinsettias. For many years this plant has become a Christmas symbol. We can't live without it anymore.
A thoughtful present you can give to your friends and family is a personalized poinsettia drawing.
We're sure they'll love this thoughtful gesture.
23. Delicate Queen Anne's Lace Flowers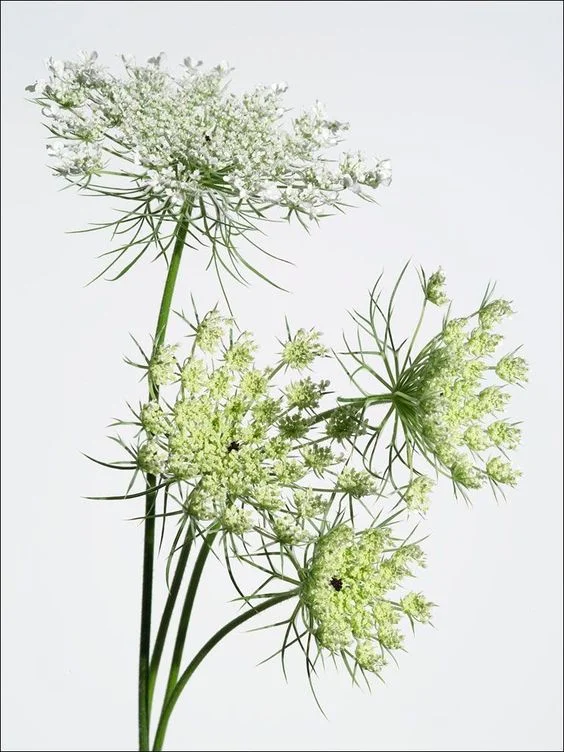 Source: Nicole Brunner
Drawing Queen Anne's lace flowers is tricky because of their size. This flower is so small and delicate that capturing every detail can be challenging.
But if you're ready to level up your skill and want to draw flowers that are challenging, this one's for you.
We recommend watching tutorials to help make your drawing realistic in the end.
24. Sea of Salmon Pink Rhododendron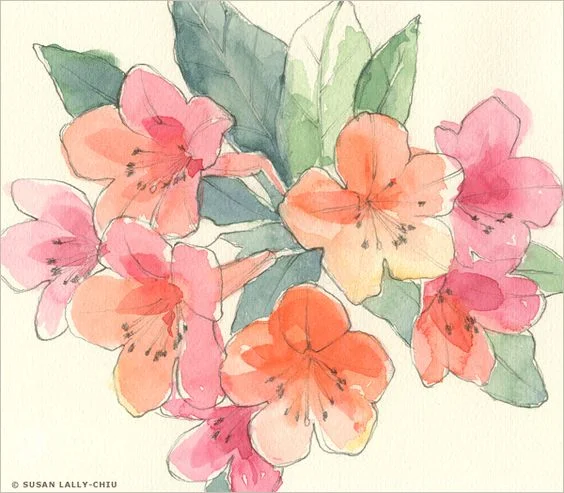 Source: Susan Lally Chiu
Rhododendron flowers come in beautiful shades of salmon pink, yellow, white, purple, and red.
They look striking even from afar, and one can't simply resist drawing flowers as beautiful as this one.
There are several drawing tutorials out there that can help you draw flowers such as this one with ease.
With enough practice, your drawing can start looking realistic in no time.
25. Ranunculus Flower Drawings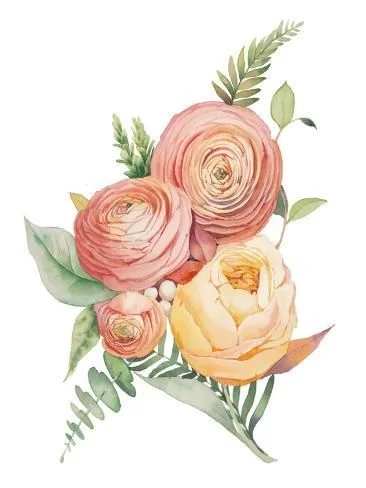 Source: Eisfrei
Ranunculus flowers scream elegance and majesty. They look like flowers from a fairytale because of their soft and voluminous petals.
One look at this flower is enough to get you out of a creative block. Grab your pencil and start drawing!
Consider the Ranunculus flower if you want to draw a flower that can get your imagination rolling. You can learn how to draw this flower by watching drawing tutorials to get started.
26. Petunia Flower Drawings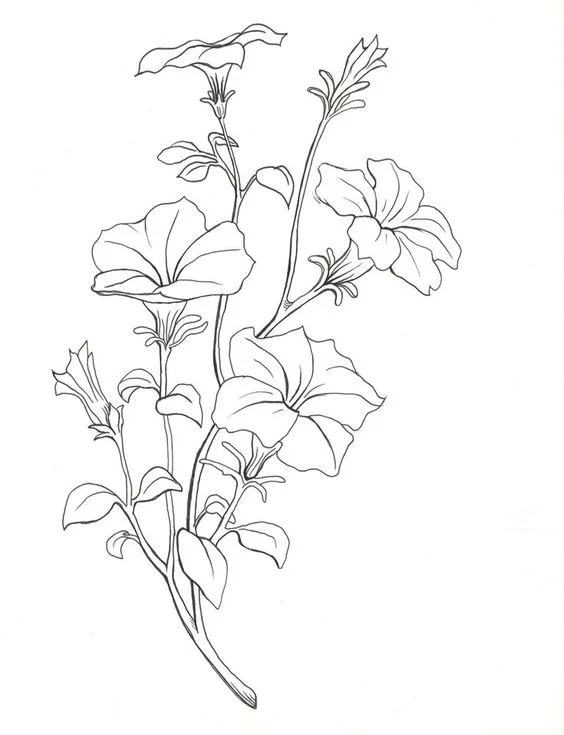 Source: Jamie
Petunia flowers grow so easily, and you can plant them almost anywhere. This is why it doesn't come as a surprise that you can find them almost anywhere in your afternoon walk.
It's not surprising, either, that many artists use this bright-colored petunia as a muse to draw flowers.
They look beautiful on paper, especially right after you've colored the petals.
27. Bright and Fragrant Daffodils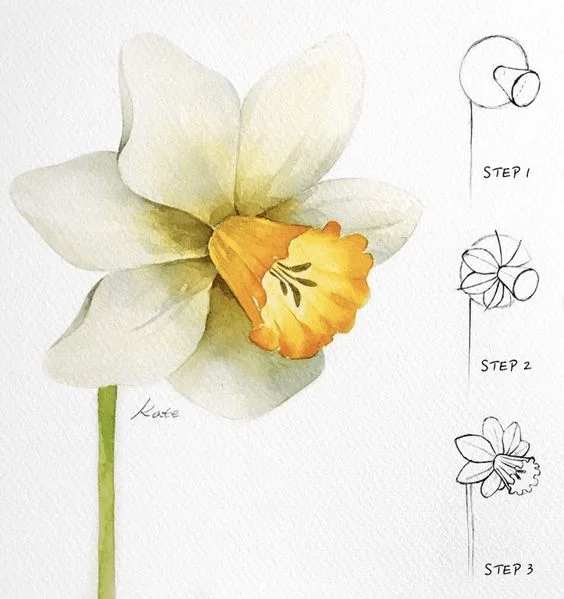 Source: @urbankate_in_ca
Another spring flower you can draw is the daffodil. This two-in-one flower has an all-white petal and a bright yellow trumpet.
They're easy to draw on paper and don't require too much effort. You can create as many daffodil drawings as you want until you've mastered every aspect.
28. Black Eyed Susan Flower Drawing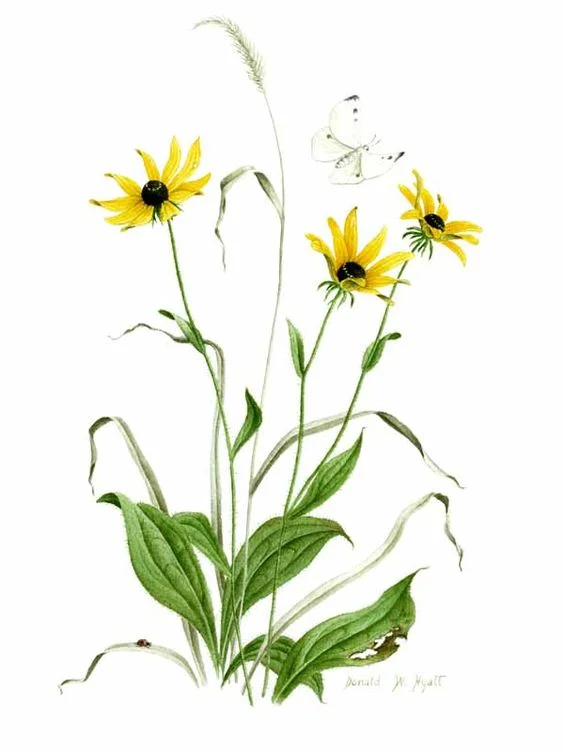 Source: Donald Hyatt
From afar, it's easy to mistake the black-eyed Susan for a sunflower. After all, both share the same bright yellow petals and brownish-black center. Not to mention, both can grow to exceptional heights.
But make no mistake thinking the two are the same. The petals on a sunflower are thicker and have a round curve.
Once you've mastered drawing a sunflower, we're sure you won't have a hard time with the black-eyed Susan.
29. Crocus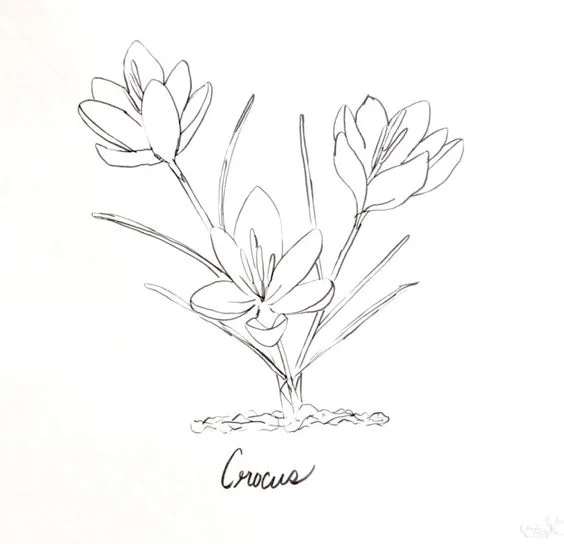 Source: Jennifer Rizzo
Crocus flowers are often overshadowed by other flowers because of their small size. This flower blooms right when spring is about to come.
It marks a new season and a time for new beginnings to create more memories. Doodling crocus in a bullet journal is one of the best ways to practice your skills in drawing flowers.
This flower doesn't have many intricacies, making it a good easy flower drawing idea.
30. Popping Poppy Flowers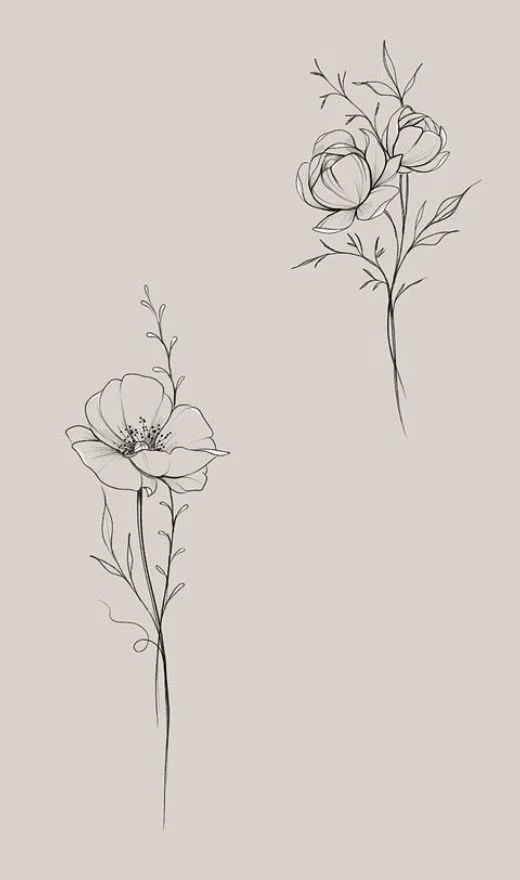 Source: sumoval
Add a splash of color to your bullet journal by drawing some poppy flowers. Its bright red color is enough to give your masterpiece a pop.
Poppy flowers are best known for symbolizing hope and peace, which can uplift any fallen spirits. Share the love and create poppy flower drawings for a friend in need.
We're sure it'll boost their mood in no time.
31. Peculiar Iris Flowers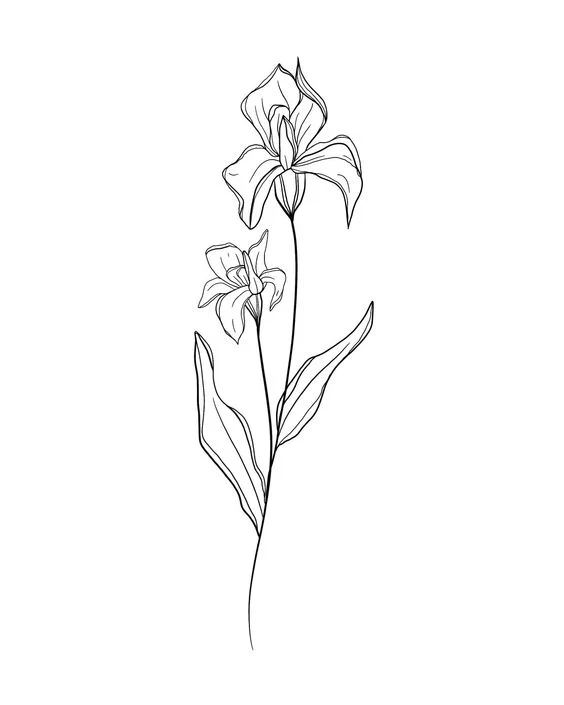 Source: Kaitlin Cremer
An iris flower drawing can often be mistaken for wilting flowers. After all, the petals on this flower don't all stand straight. Some slope down as if they were wilting.
But the iris flower is very much alive, and its striking purple petals are enough to convince you.
If you want to capture this flower's intricacies, we highly recommend watching drawing tutorials to get started. This can help you add other details you might have missed the first time.
32. Summer Favorite Lavender Flowers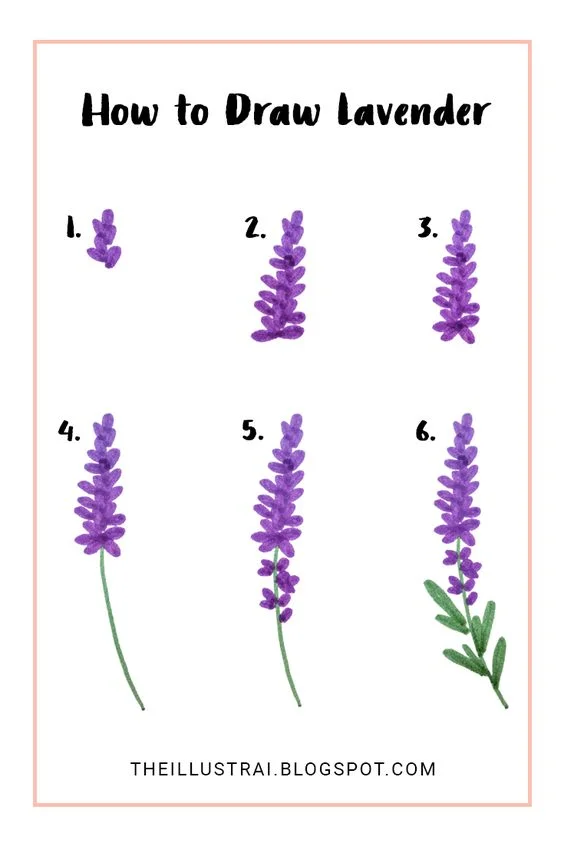 Source: theillustrai.blogspot.com
Lavenders are a crowd favorite because of their familiar and soothing scent. Even bees and butterflies cannot get enough of this beautiful flower!
Drawing and painting flowers like lavender are easy. You can get lost drawing its patterns and coloring its petals.
All you have to do is create small oblongs and fill them with a blue-purple color. This flower will look beautiful on paper.
But if you want to draw it as close to reality as possible, watching a tutorial will help.
33. Long Delphinium Flowers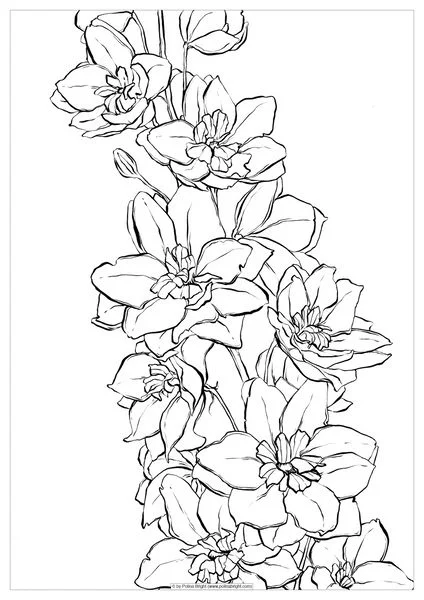 Source: Polina Bright
Delphinium flowers must grow in the right place to bloom and survive — preferably somewhere cool and not humid.
You can spot delphinium flowers from a mile away because of how unique the flowers grow.
The flowers are stacked on top of each other, creating a beautiful sea of lavender and purple amidst the grass.
34. Garden Geranium Flowers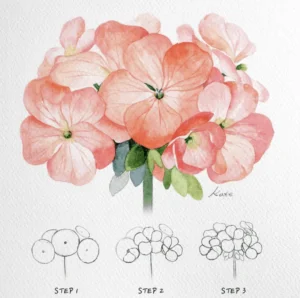 Source: @urbankate_in_ca
Geraniums are flowers of our childhood. We can find them almost everywhere, especially in our backyard garden.
Even with your eyes closed, you can picture geraniums with full clarity.
You can draw flowers like geranium within minutes because they're so easy to draw. You only have to master the petals, and that's it!
35. Dramatic Chrysanthemum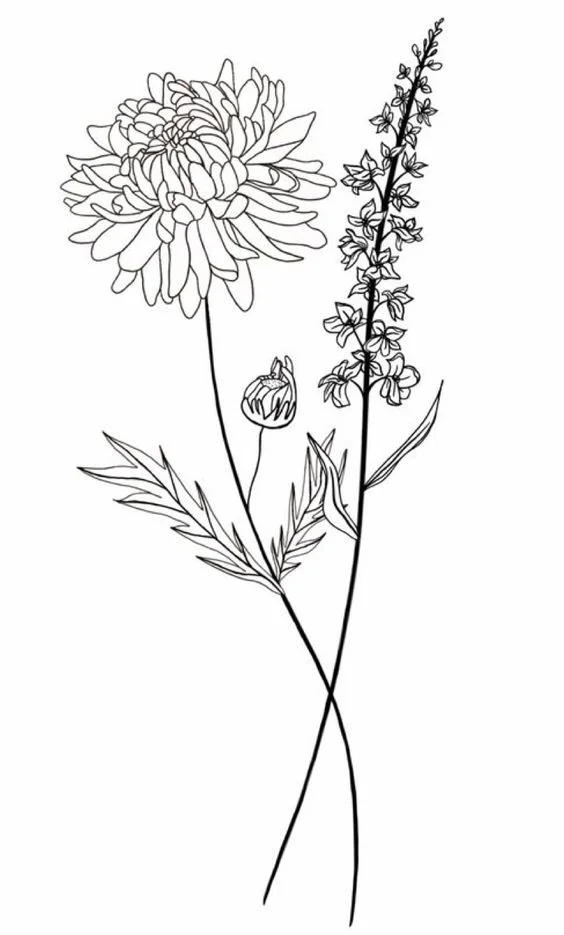 Source: Megan Wilbur
Who doesn't love receiving a bouquet of chrysanthemum flowers? They're beautiful and familiar and can put a smile on anyone's face.
Consider giving your loved one a flower drawing of a chrysanthemum. If you'd ask us, its dramatic petals and beautiful hues can compete with a rose.
We highly recommend watching a video tutorial if you want to draw a flower like a chrysanthemum.
36. Small Buttercup Flowers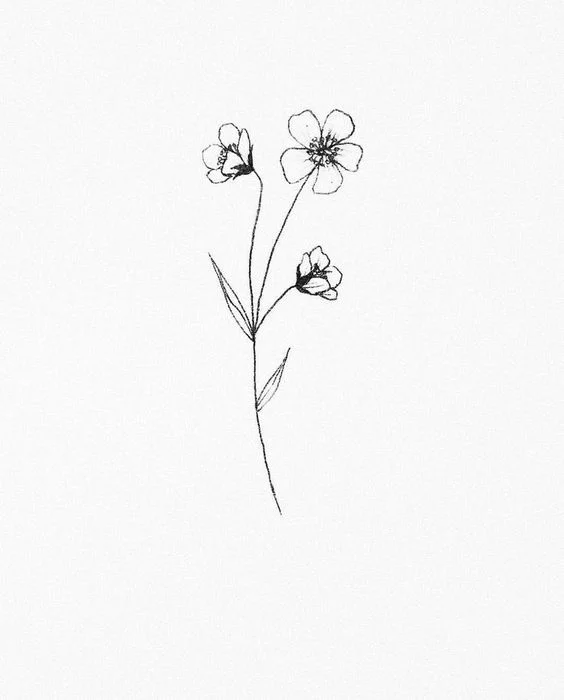 Source: Maru Da Silva
Among the beautiful flowers that bloom during spring is the buttercup. Buttercup flowers symbolize happiness, youth, and friendship, fitting for the spring season.
This flower is often overlooked because of its size. Only a few can appreciate its beauty.
Buttercup flowers are easy to draw — you can doodle them on your bullet journal without much practice.
37. Fiery Azalea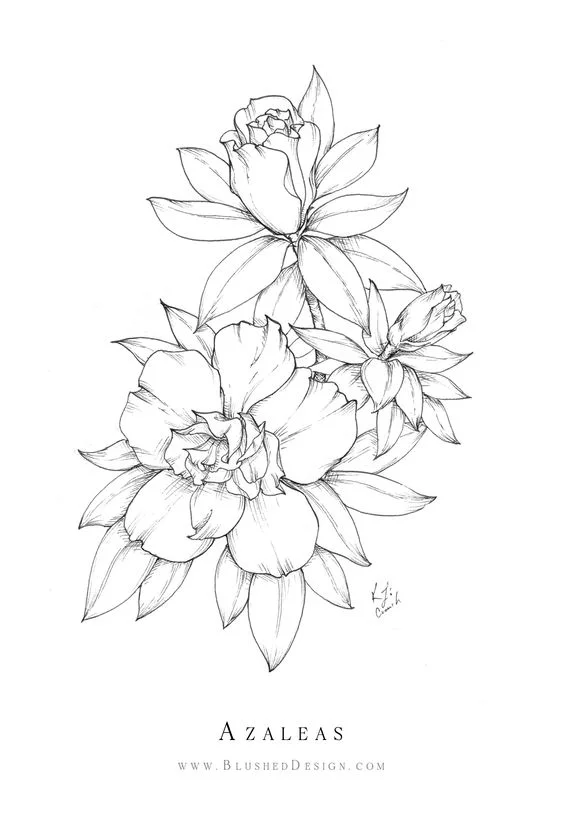 Source: Katrina Crouch
The azalea flower is characterized by its fiery shades of red and pink, and you can spot them from a mile away. This flower symbolizes beauty, purity, and femininity — a perfect muse for women artists.
They look picture-perfect, especially if they're in full bloom.
Azalea flowers are super easy to draw. You can learn how to draw an azalea with the help of a drawing video tutorial!
38. Fall Time Aster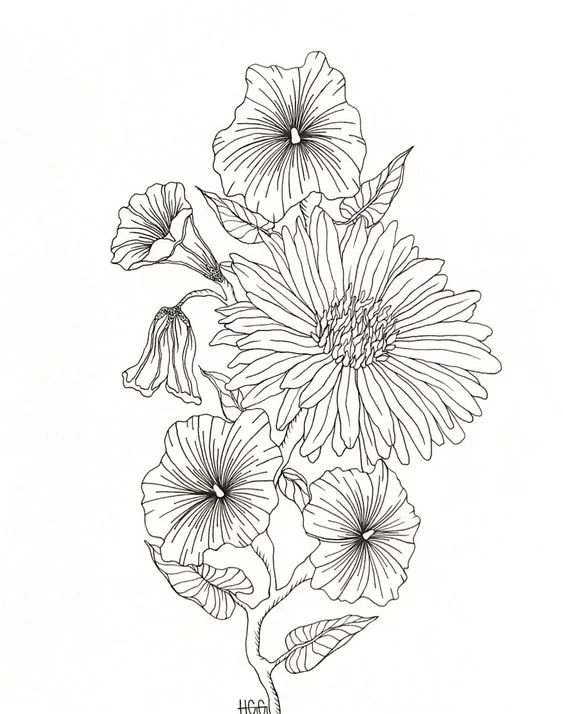 Source: Ashanti
When we think of fall, we imagine lawns covered in sunset-colored leaves. But besides the beautiful shades of orange, there are other colors we associate with fall.
Aster flowers typically grow right before fall hits. They come in different colors, such as blue, pink, and purple, with a bright yellow center.
They almost look like a sunflower and a smaller version of a daisy! They're perfect to doodle on a bullet journal.
39. Radiating Marigold Flowers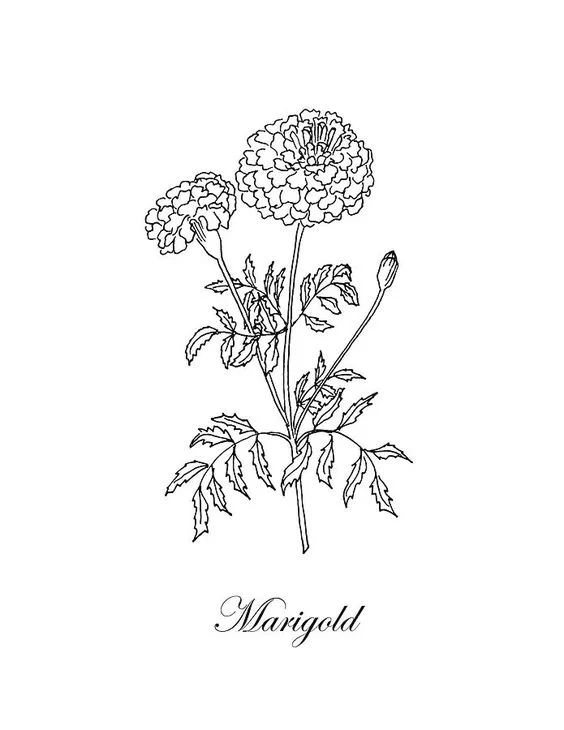 Source: Masha Batkova
Marigolds are easy on the eyes because of their beautiful yellow and orange petals. This flower drawing is notorious for its ruffled petals, and you can't tell where to start.
Drawing a marigold flower is fun and easy to draw. You don't need to capture every detail. This simple flower drawing might seem tricky to some beginners, but the results will be worth it.
Add color to make your drawing pop and create a beautiful and simple masterpiece.
40. Towering Dahlia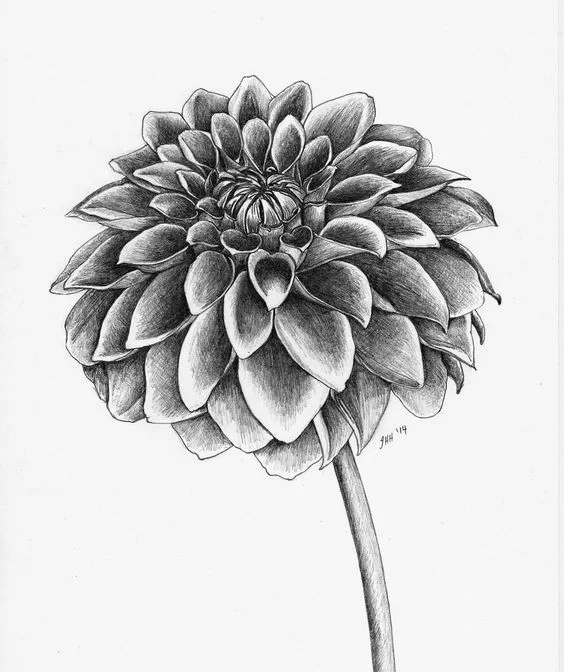 Source: Jenny Marples
If you're ready to level up your skill and want to start with hard flower drawing ideas, we highly recommend going with dahlias.
A dahlia flower is characterized by its towering height, reaching as high as four to five feet. You won't need a bouquet with this one.
The skill required to draw a dahlia can range from beginners to experts.
There are a lot of shading techniques involved, especially if you want to capture all the intricacies of this flower drawing.
41. Early Morning Peonies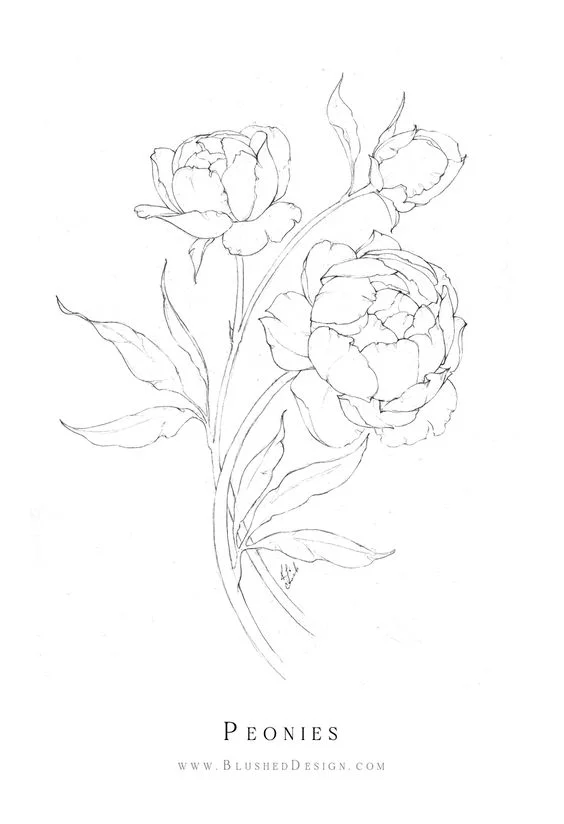 Source: Katrina Crouch
There's something about peonies that make them so charming and beautiful. This flower symbolizes love and honor, perfect for the valentines season.
This is another awesome spring season flower to draw because of its beautiful blossoming ruffled petals.
A peony flower drawing may be complicated, especially if you only rely on pictures. As such, we highly recommend watching a video tutorial, especially for beginners.
42. Elegant Orchids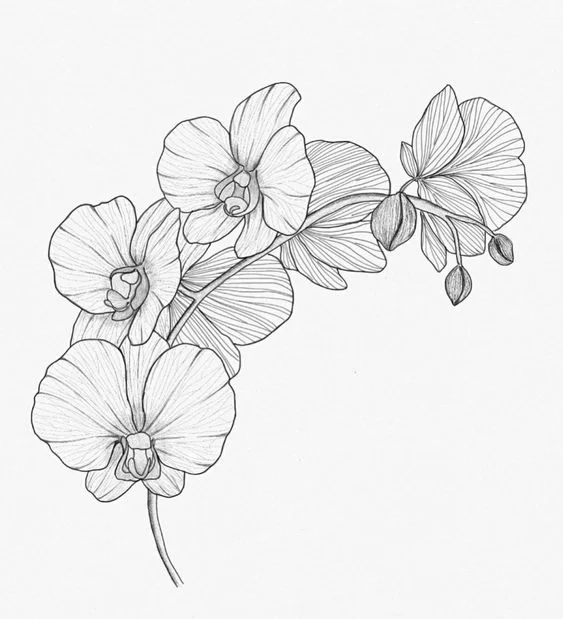 Source: Eve Adamson
Another beautiful flower drawing is orchids. They symbolize love, elegance, and purity, to name a few!
The flowers make a great gift suggestion because of the meaning behind them. Level up your gift-giving and give them a drawing instead.
It'll show your dedication, considering the time and effort you dedicate to drawing an orchid.
43. Enchanting Carnations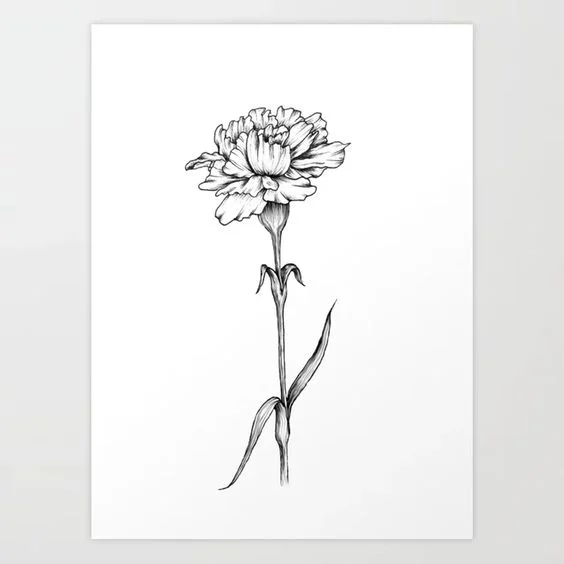 Source: Dash Blossoms
Petals, petals, petals! That's everything you need to know about carnations. Consider drawing a carnation if you want to learn how to draw petals.
This vibrant flower requires a lot of details if you want to make it realistic. It has a lot of intricacies, which beginners might be intimidated by.
But once you've mastered this beautiful flower drawing, drawing petals on other flowers will be easy.
44. Fragrant Gardenias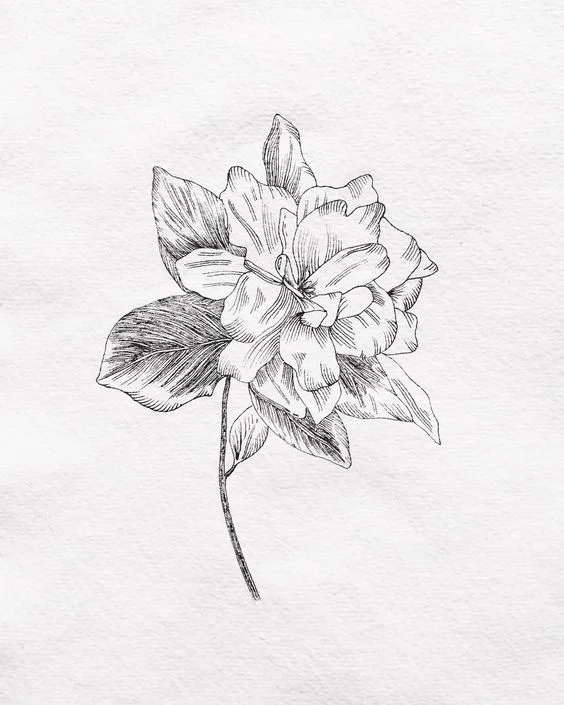 Source: Claire Leach
Gardenias have an irregular shape. There's no single way of drawing the petals, so you don't have to worry about perfecting it the first time.
You can check out other gardenia drawing tutorials to understand how this fragrant flower can be drawn.
Overall, it's super easy and perfect for beginners!
45. Springtime Daisy Flowers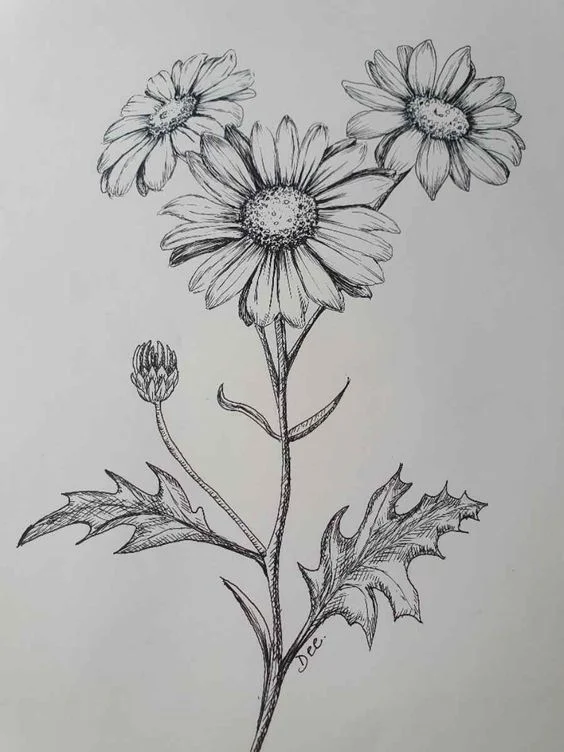 Source: artsydee
Another easy flower drawing idea is a daisy. They look like a small sunflower because of their characteristic yellow center.
Daisies always remain in the spring season because of their beautiful and bright colors – white, yellow, and lavender.
They're fun to draw and color. It's easy, and you can doodle them on your bullet journal.
What Supplies Will You Need for Your Flower Drawing Ideas?
Before you can start to draw flowers, you need to get your art supplies.
There are many art supplies on the market — and you can use just about anything to make your art come to life.
We've listed some of the supplies you want to check out to get you started with your flower drawing journey:
Sketchbook
Nearly all of us started with sketchbooks to create our masterpieces. Sketchbooks are like time capsules of our creativity — from the moment we started until we started developing our art skills.
It witnessed the growth of many artists, from beginners to pros.
Sketchbooks might not mean much to the average person, but it's where everything started for an artist.
It's our gallery that only we can understand — what we want to draw, the feeling we're trying to convey, and the moment we want to portray.
There are several sketchbooks you can use to draw flowers. It comes in different paper thicknesses, depending on the material you'll use to draw.
PRO TIP: Use thick paper if you use watercolors or paint.
Bullet Journal
Bullet journaling has become one of the best trends to happen. Not only is it therapeutic, but it lets you stay on top of your schedule.
You can buy a bullet journal almost anywhere. It doesn't have to look fancy and artsy at first because you're the one who's in charge of that process.
It's always fun to carry a bullet journal around because it's an easy way to sketch your idea wherever you are.
Pencil
You can either use a traditional wood pencil or a mechanical pencil.
Artists know the power of having a good mechanical pencil for drawing. Your sketching and drawing experience will be much better since you no longer have to sharpen.
The lead always stays sharp — perfect for drawing even the most intricate details on a flower. It's also perfect for shading that can create amazing illusions.
The textured grip on the pencil feels very comfortable on the hand, and you can draw for hours on end without fail.
And the best part of it all is you don't need to replace your mechanical pencils often — at least when you have a reliable one. All you need to worry about is the lead.
If you want to stick with a traditional pencil, that should be fine. With the different types of pencils out there for drawing, you can achieve your masterpiece in no time.
The only downside is you need to constantly sharpen your pencil all the time. 
Eraser
Pencils and erasers always come hand in hand. You can only have a pencil with an eraser, especially if you're prone to making several mistakes.
Most pencils have an eraser at the end, but it's not enough — not if you're drawing non-stop.
Never underestimate the power of a good eraser. A good eraser won't leave traces of your mistakes. More importantly, it won't tear your paper.
This is a common problem with different erasers. Either it leaves traces behind, or you must use too much friction.
Crayons
Who doesn't love crayons? The smell alone is enough to bring us back to our childhood. Crayons are probably one of the first things we held as a child and used to create our first very art.
To this day, crayons remain a favorite art supply for both beginners and professionals alike. It comes in many colors that can bring your flower drawings to life.
It's easily accessible, and they're pretty affordable! The only trouble we have with crayons is that they break so easily.
And let's not forget the tips need to be sharpened if you want your coloring to be precise.
But other than that, this nostalgic art supply is always a great addition to your collection.
Colored Pencils
A step up from crayons is colored pencils. It's perfect for coloring small details, and the pencils are very easy to sharpen.
We especially love water-colored pencils because of their versatility. We can draw, color, and paint at the same time.
Similar to pencils, there's a variety of colored pencils out there that can match your artistic needs. Some can come in vibrant colors that make your flower drawing come to life.
Drawing Tablet
Thanks to technology, all you need is a drawing tablet to draw, color, and paint. The beauty of using drawing tablets is you can bring them wherever you go.
You don't need to bring all your art supplies anymore because everything you need is on a single device.
Regardless of your budget, there's a drawing tablet for you. You'd be surprised to know that there are many affordable drawing tablets perfect for beginners or the budget conscious.
But if you're already a professional artist and want to unlock more skills, we highly recommend investing in a good iPad.
iPads come with great value for money and versatility.
You can draw flowers wherever you are and even print your art immediately!
What Are Some Related Drawing Ideas You Can Try Out?
Besides the usual rose drawing, we'd love to share several other ideas related to flower-drawing with you. They're also connected to nature and the environment and use beautiful vibrant colors.
Tree Drawings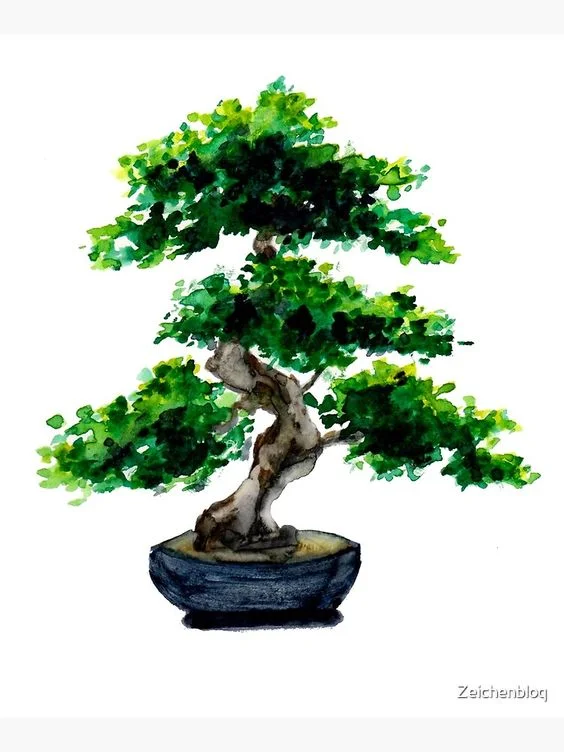 Source: zeichenblog
Consider drawing a tree if you don't want to draw flowers anymore.
Trees are easy to draw, and there are only two parts: the trunk and the leaves.
How to draw the tree is entirely up to you! You don't have to stick to the usual green and brown colors when coloring them.
You can draw inspiration from the four seasons or create your fantasy-inspired trees!
Apple Drawings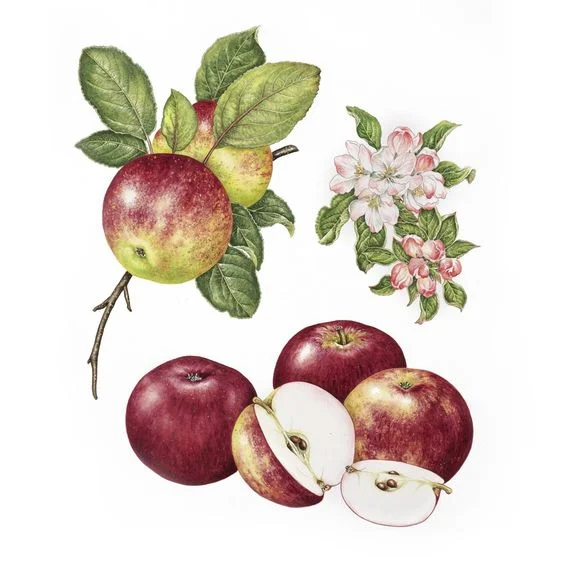 Source: Elisabeth Dowle
Apples make a good starting point for beginners to draw.
It's the quintessential drawing for beginners because it's super easy to draw. Beginners don't have to perfect drawing their apples on their first try.
Not to mention, beginners can use apples to try out different styles and techniques for drawings. They could use it as a baseline for their drawing improvement.
Earth Drawings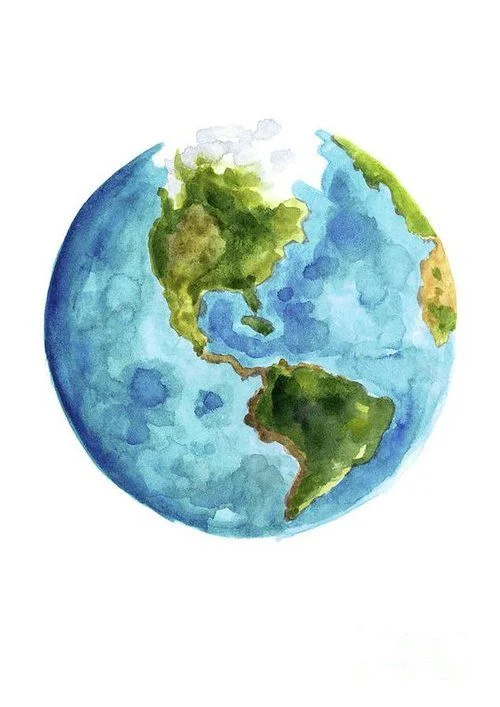 Source: makingroomforpeace
Every artist has a general idea of how to draw the earth. It's simple and only requires a few colors.
How to make your earth drawing stand out is entirely up to you. You don't have to stick to the usual illustrations! Try to draw it from different angles.
Sunflower Drawings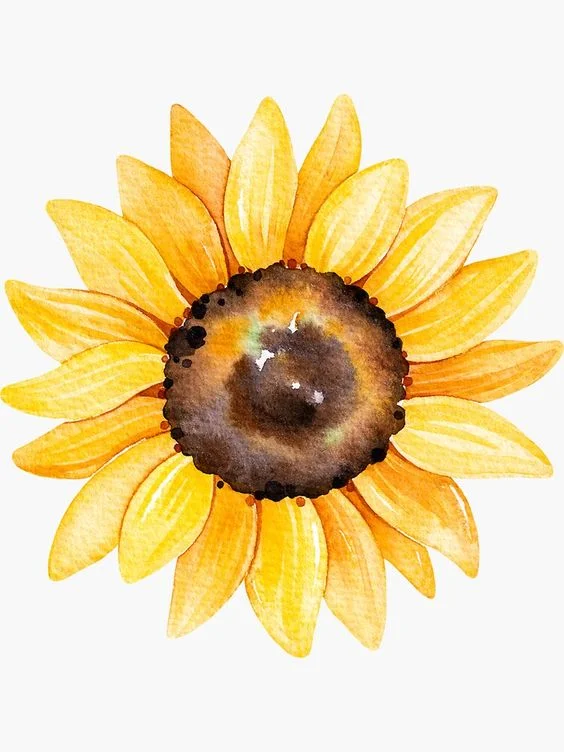 Source: SouthPrints
Sunflowers are so beautiful, and we love drawing them. Its bright yellow petals are enough to make us feel better.
What we love about sunflower drawings is that every picture is different. Each artist has their way of making this simple flower drawing look spectacular.
Test your drawing skills when you draw sunflowers! You can master the different shading and shadow techniques while you're at it.
Pumpkin Drawings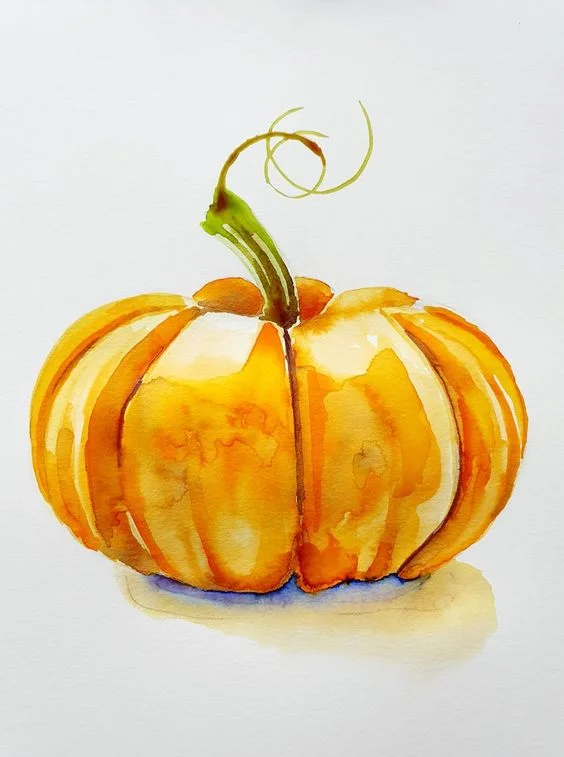 Source: Celia Trembulak
Pumpkins might be a little tricky to draw, especially because of their irregular shape.
But that's exactly what makes it a good idea to draw. You don't have to worry about perfecting each corner and getting the details right.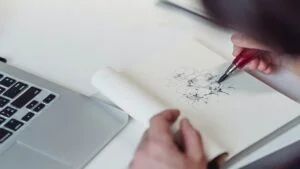 Flower Drawing Ideas Conclusion
Consider drawing flowers if you want a breather from a complicated art piece you're working on. They're simple and therapeutic, and you can use them to draw inspiration for your next pieces.
You can also check out your favorite flower drawings tutorial videos to understand how to create your masterpiece.
We hope you've found your new favorite flower to draw.