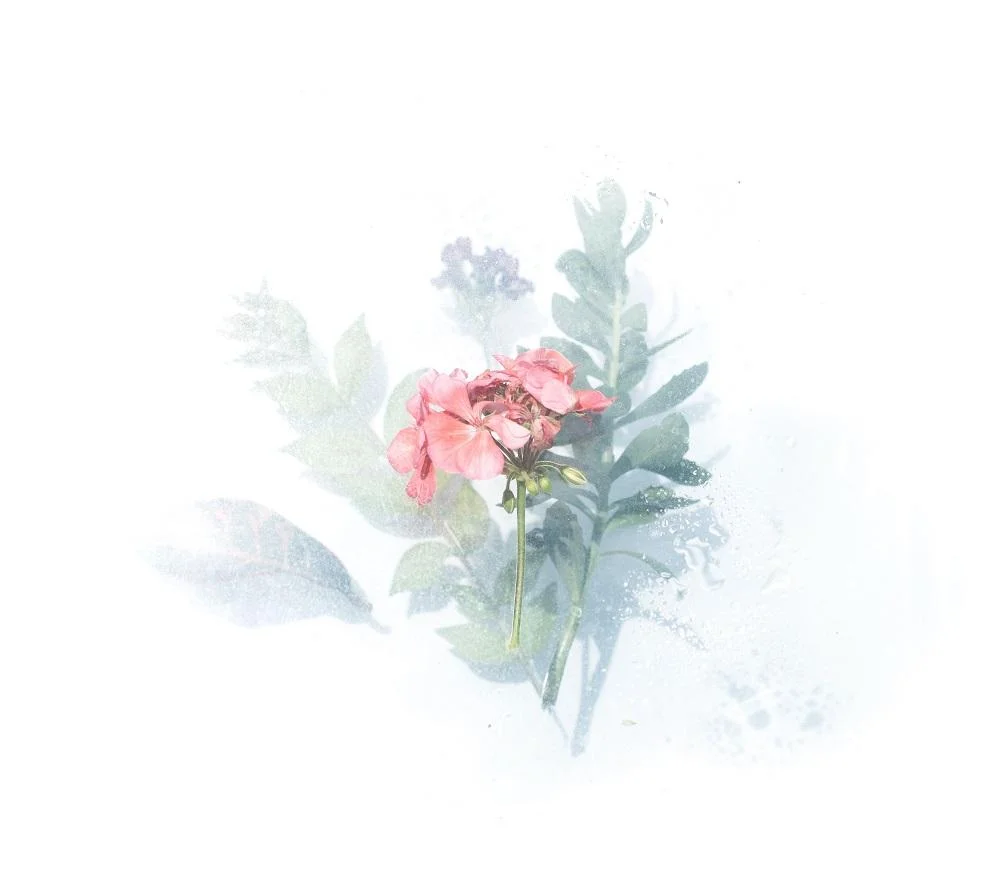 If you like blending colors and playing with different gradients, you will love pastel colors. They tend to color very easily, and you can find distinct shades too. 
Being very easy to smudge, you can use them on smooth as well as rough surfaces. That's not all! Play with different colored papers too, and you can create wonders on it. The white, lemon yellow and the grey color looks amazing on a black paper. 
What's more, simple items like cotton and rough paper can be used to blend the colors. But before you can get started, we have a list of 61 pastel drawing ideas to inspire you. 
So, without further ado, let's start exploring. 
Pastel Drawing Ideas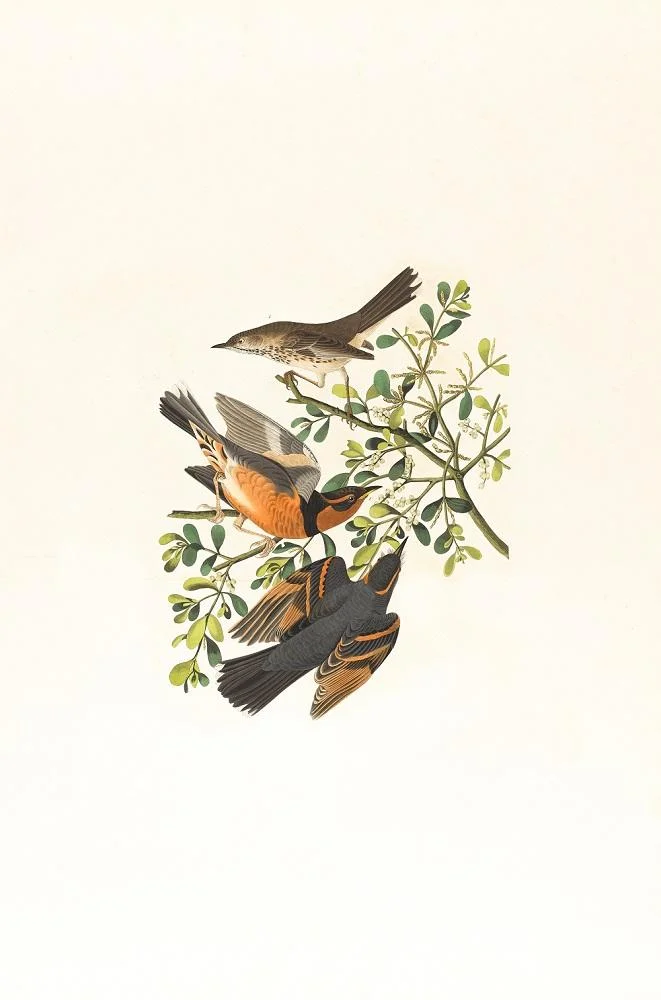 Day And Night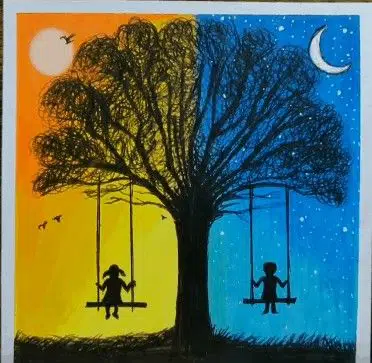 This is a beautiful way of representing day and night in the same frame. Divide your paper into two and color each side differently. You can stick a paper tape in the middle to ensure the colors do not overlap. Once you are done, take the tape off, and you will have clear boundaries. 
The Doorway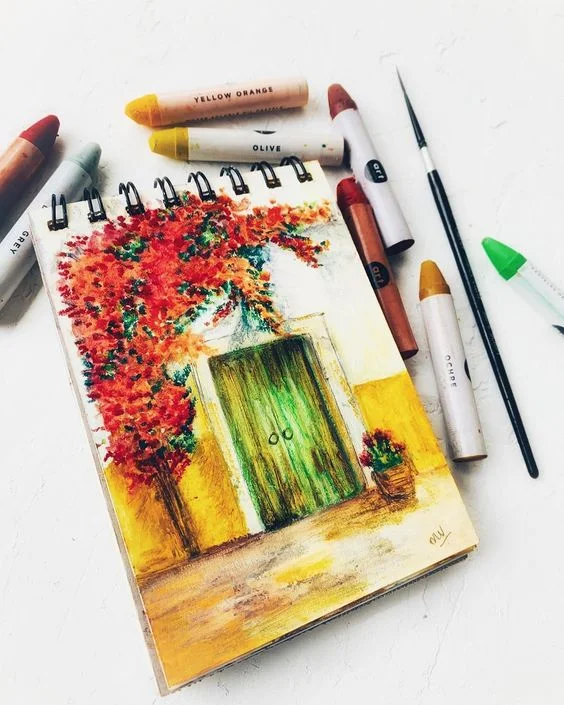 We love the lovely summer hues in this picture, and you can paint this style with any door. Draw a door that you relate with and pair it up with orange branches and colors of the day.  
Birds On A Branch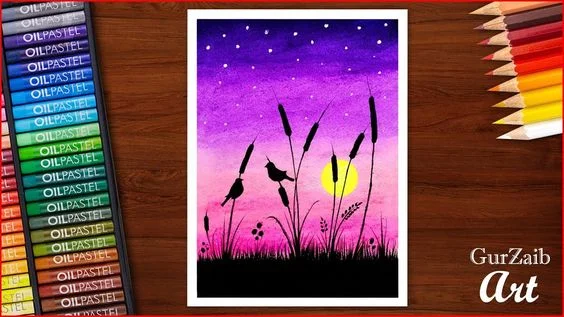 If you like this design, draw the birds and branches beforehand and then color the background. You can use tools to blend it properly. Once done, use a black marker or sketch pens to draw the birds and branches. 
Parrot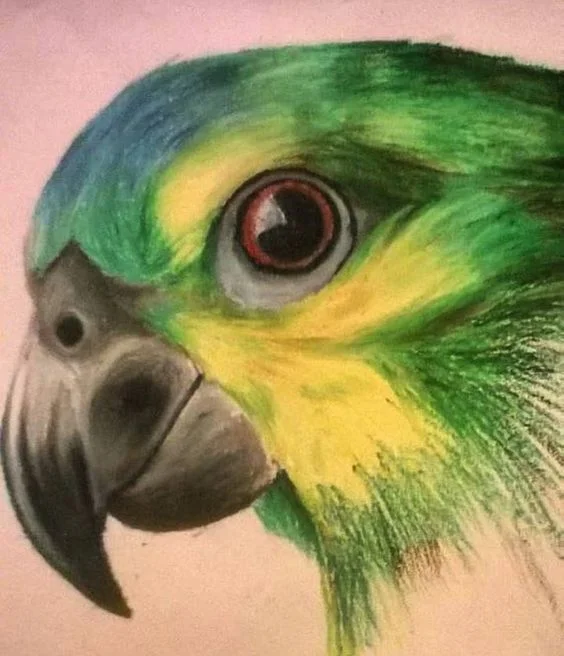 Bird lovers can opt for this beautiful picture of a parrot's head. It is colored in shades of green and yellow, and we loved the detailing. Add some white to the eye for the shine, and you will have a masterpiece. 
Sunflower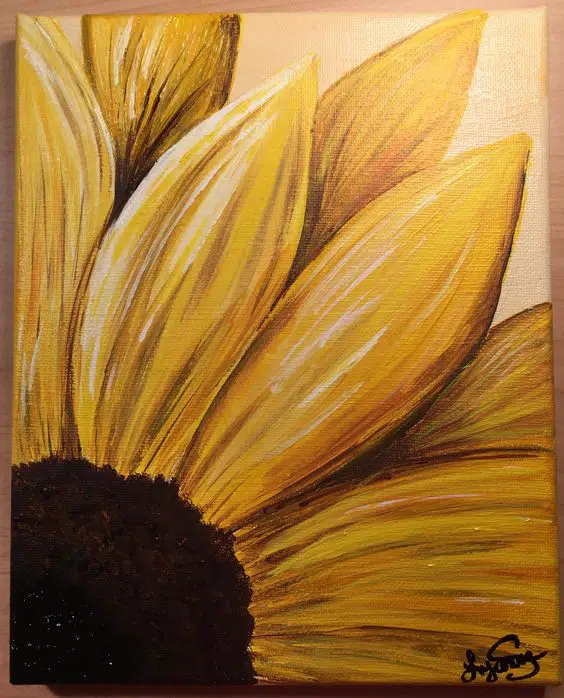 Painted on handmade paper, this is a simple and beautiful drawing of a sunflower. The rough texture adds to the beauty, and you can use yellow and peach with brown to color it. 
Story Of A Dusk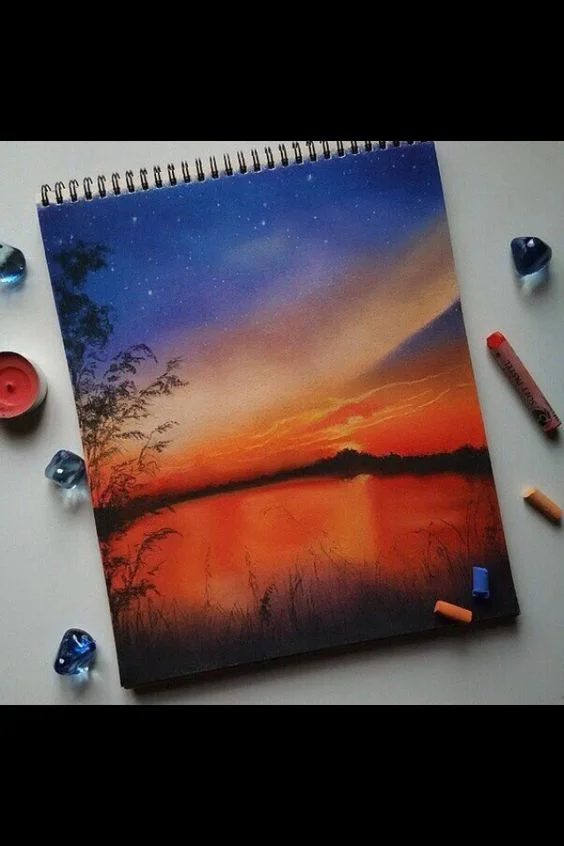 This is a beautiful picture of dusk with the sun setting behind a pond and the light reflecting on it. It is not very difficult to draw and you should remember to color the trees and stars in the end.
Burning Candle
A burning candle against a dark backdrop is something that is easy to draw and looks beautiful. Pay attention to the shadows here and the color gradient that has been used. 
Green Valleys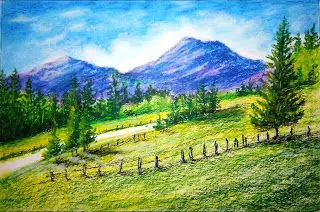 How many of you love open valleys and blue skies? This is a very appealing drawing of the countryside with a lot of green and blue. 
Woman Potrait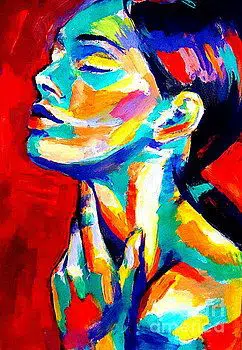 If you like contemporary art, this is something that will please you. It is a picture of a woman which is painted in a very unconventional way. Look at all the colors that have been used to paint her skin while she stands against a red background. 
Snowfall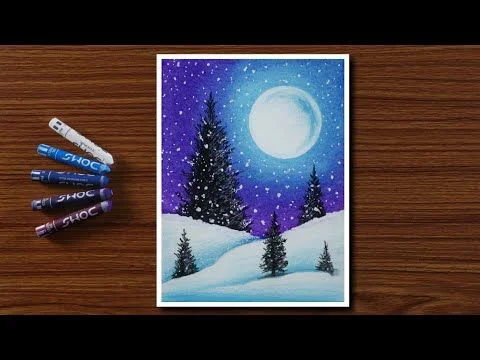 Do you love winters? Then you will love this scenery of a snowy winter night. The moon shines bright behind and it looks mystical. Shades of blue and white have been mostly used for this drawing. 
Vibrant Face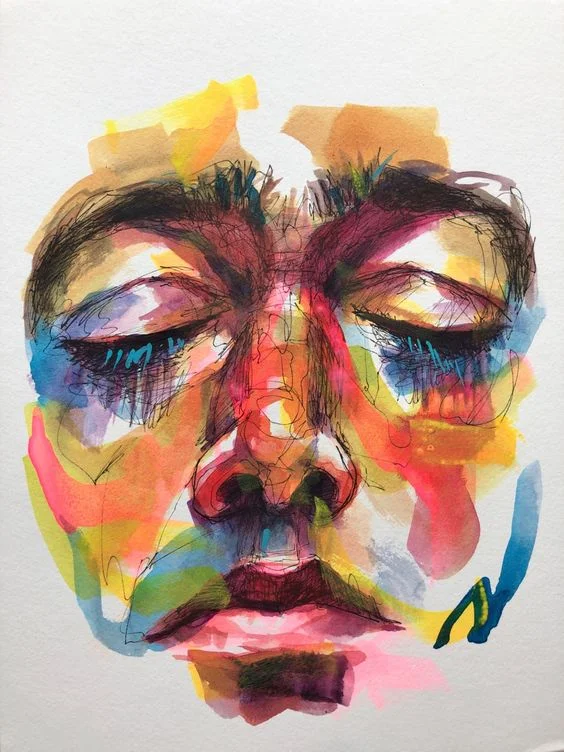 We have another drawing of a face here where the colors stand out. Use different color shades to color the face while using a grey and black pastel to make the eyebrows, lips, and nose. 
Pastel Lines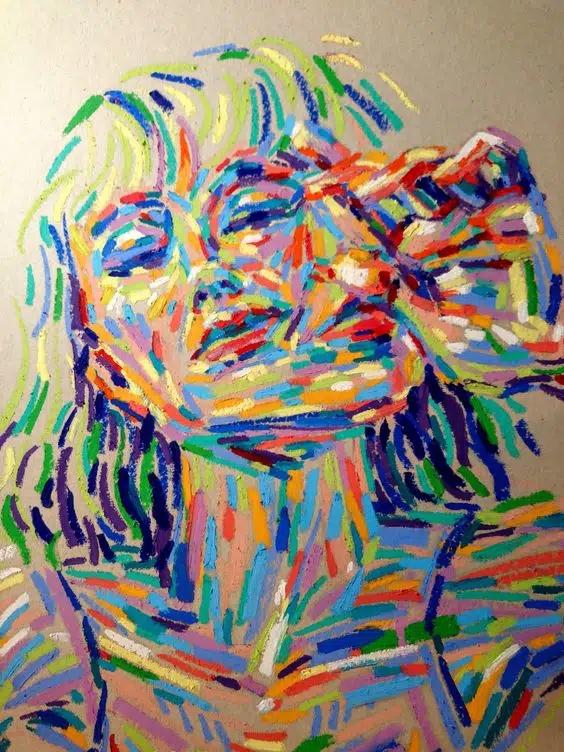 If you want to paint something unique, this is an idea which you can try out. This picture has been drawn only with multi-colored lines that bring out the beauty of it. 
Donut Oil Pastel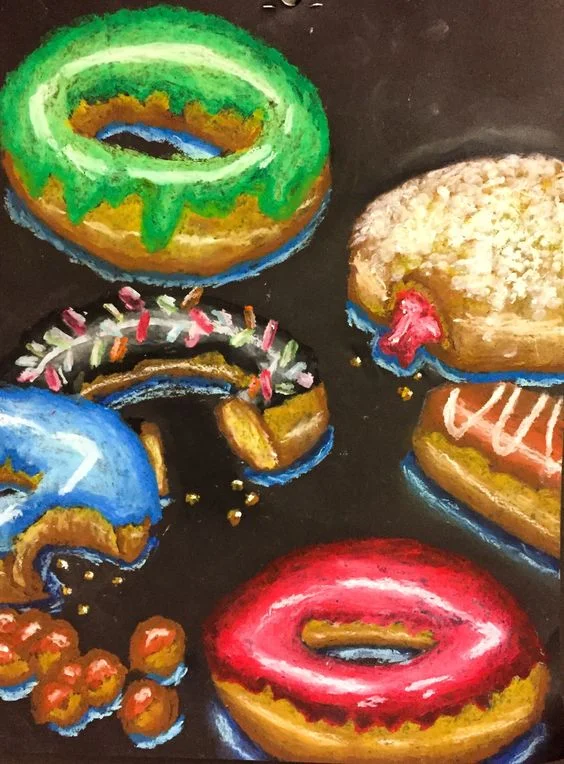 What about drawing your favorite dessert? Here is a plate of donuts that have been painted. One even has pink cream oozing out of it. We love the detailed work that the artist has created. 
Girl In The Moonlight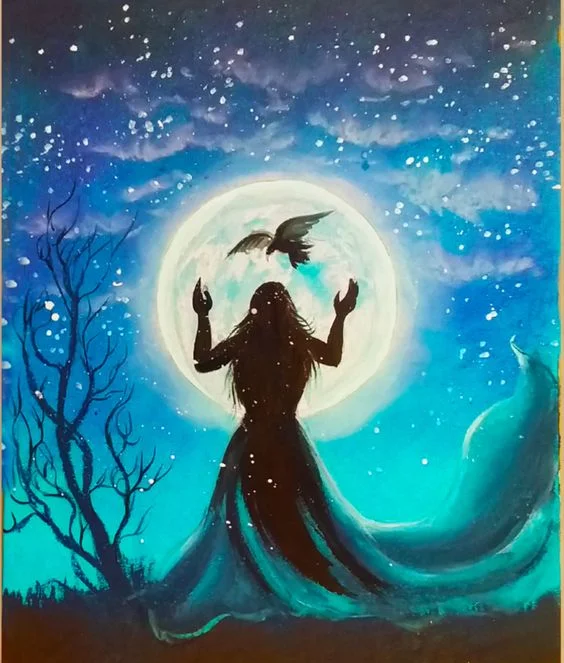 This is a beautiful picture of a girl standing in front of a moon with a bird on top. The blue hues are beautifully blended and this giant moon takes a lot of the attention. 
Owl And The Moon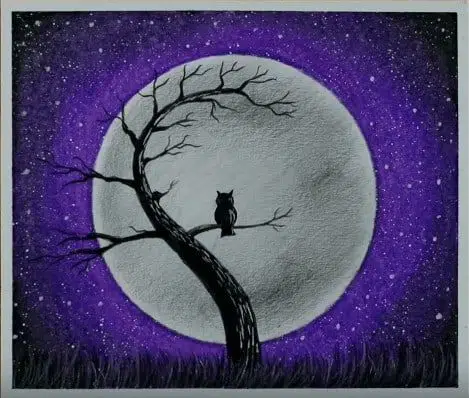 We have another picture with the moon but here, there is an owl in front and the sky is painted purple. This looks mystical and you can easily create it with shades of purple and black. 
Girl In Blue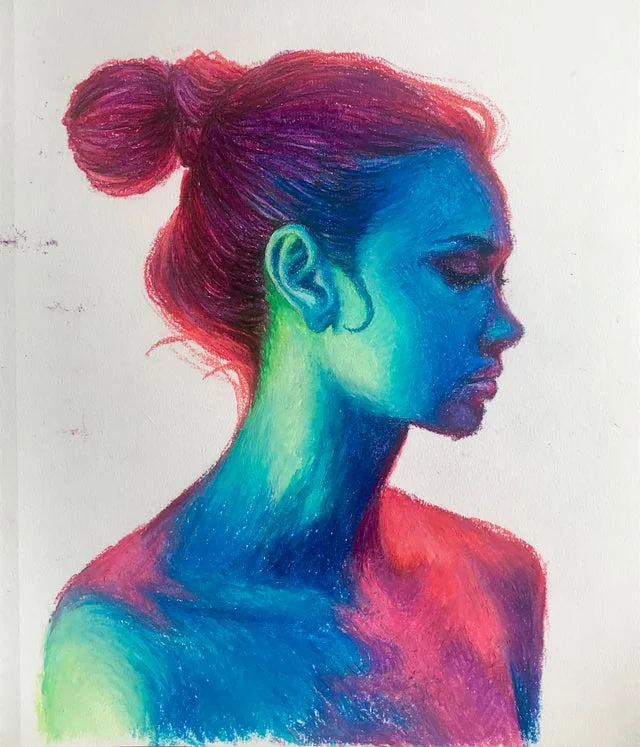 Up next is a beautiful image of a girl colored in shades of blue. Her skin stands out and matches very well with the contrasting red and brown shades of her hair. The shadow effect is truly commendable. 
Oil Pastel Portrait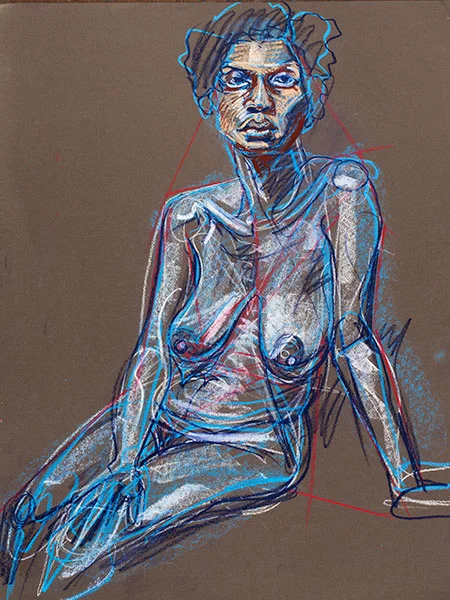 Have you ever thought of painting a picture with lines? The artist has done a brilliant work in representing an entire figure with the help of blue, orange and red lines. We would recommend first drawing it out with a pencil. 
Man In Bed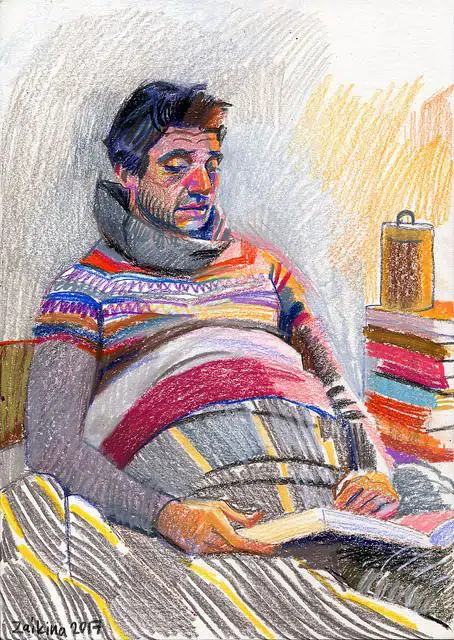 What stands out in this picture is the play with lights. Look at how the light falls and the shading that has been done on this man's face. Also, the bright colors used make this drawing very vibrant. 
Fairy In The Night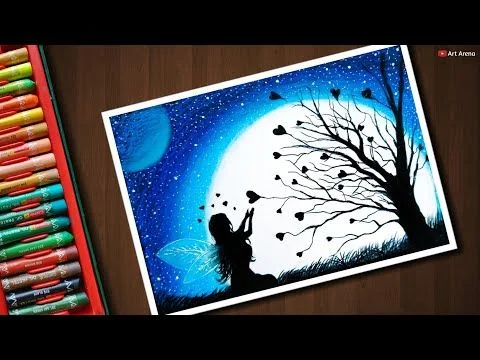 This is another mystical image of a fairy against the night sky. You can only see a silhouette which stands against the big moon and the tree beside adds to this enchanting scenery. Add some white stars in the blue background and you will have a masterpiece. 
Morning Coffee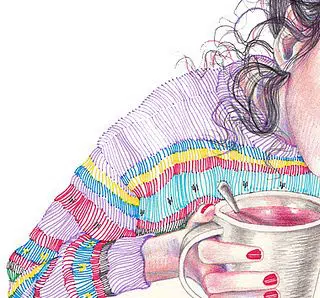 Here we have a girl holding a cup of coffee. The entire picture has a reddish tone and you will see that a lot of warm colors have been used. The placement of the face and her hair is something to notice. 
Lazy Afternoon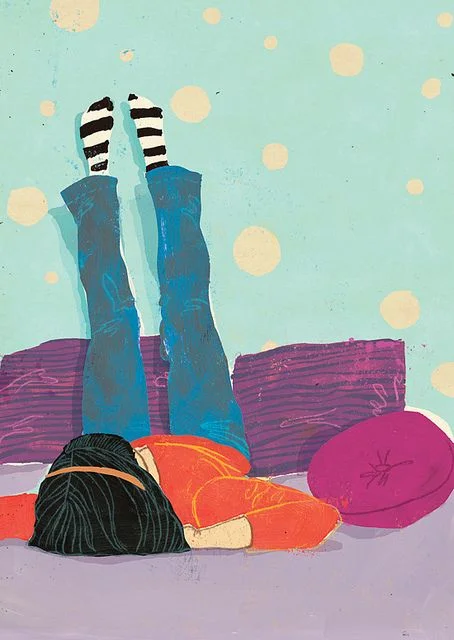 Paint a picture of a lazy afternoon without actually showing the sun. This girl has her legs up on the wall with a pretty wallpaper behind. The pink and purple pillows compliment the blue wall and her pants. 
Girl With The Book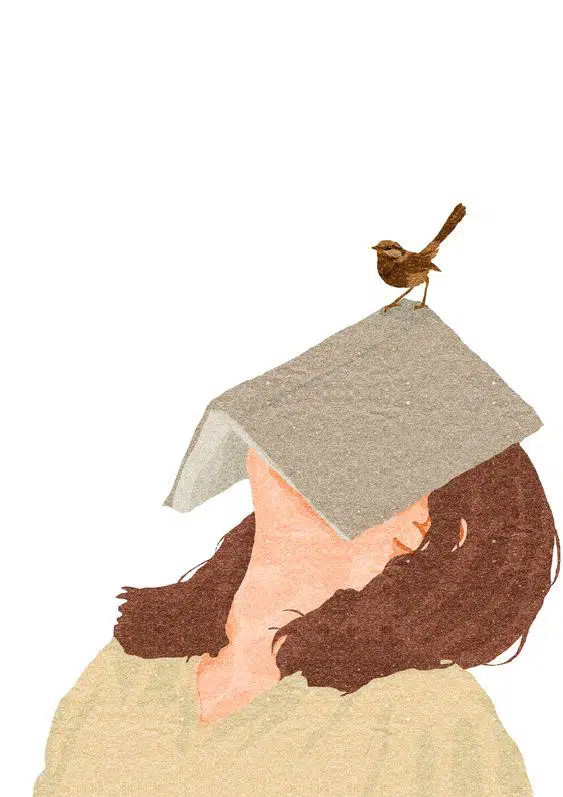 This is a picture of a spring morning with a girl whose face is hidden by a book. The strategic placement of the bird makes this picture prettier to look at. 
Modern Art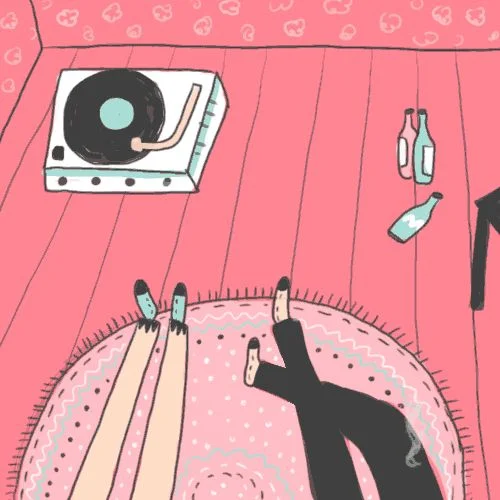 How about a minimalist art piece like this one which only shows two pairs of legs with a few wine bottles and a vinyl tape. This is very attractive and will work as a framed image that you can put up in your room. 
Greenery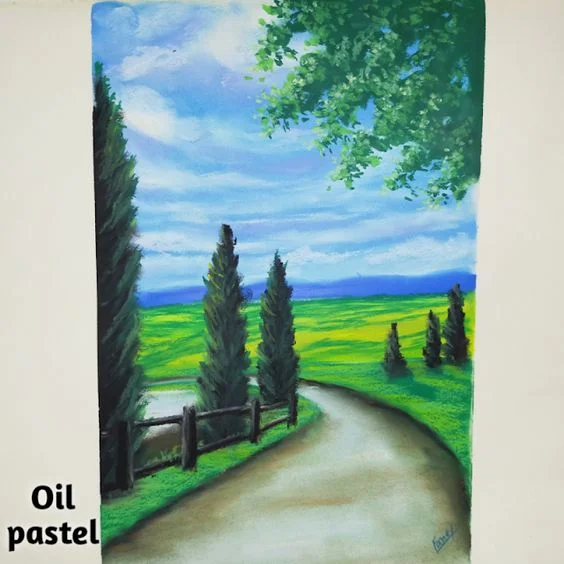 Remember the green meadows and countrysides where your favorite bunch of kids from Enid Blyton books would be roaming around? This is a picture that you can draw in remembrance of those happy times. 
White Flowers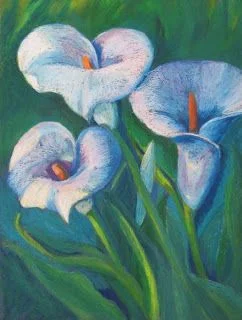 These white flowers look very pretty and neat against the green background. The flowers have been colored with white and blue to show the light and shadow effect. We love the orange in the middle which is highlighted in this picture well. 
Candle Against Painted Glass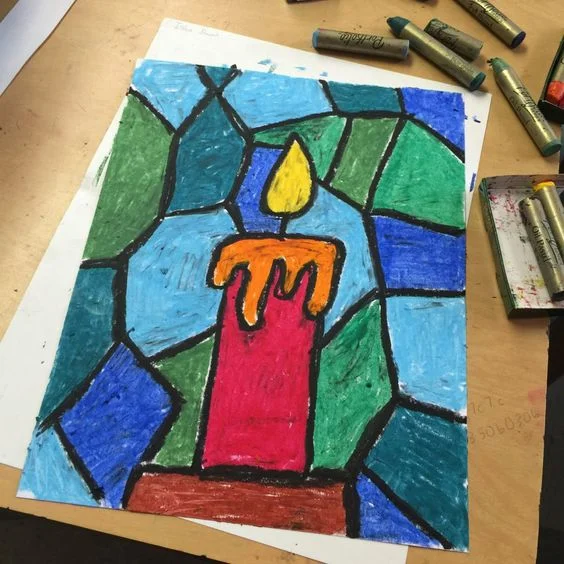 If you want an idea to get your kids started with oil pastels, then this can be a great source of inspiration. You will find a simple candle with boxes behind. It will help them learn to color within boundary lines and decide on which color fits with what. 
Morning Scenery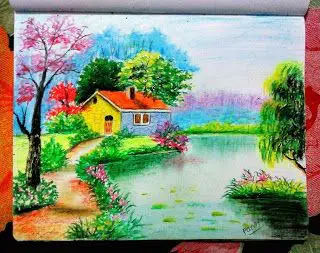 This is a scenery that will immediately lift up your mood. It has a beautiful red roofed house with colorful plants all around .The brook adds to the ambiance and makes it prettier. You can give your kids this piece to recreate. 
Desert and Camel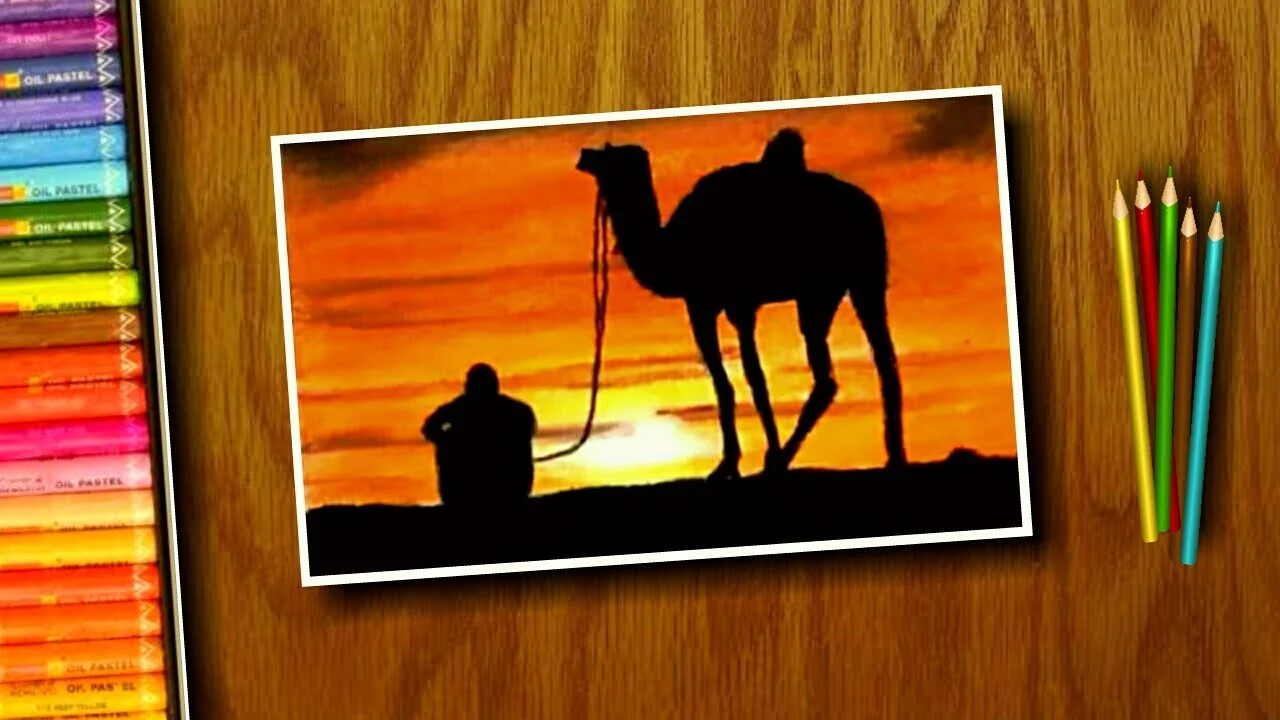 A sunset in the desert is already something beautiful. Imagine coloring that along with a silhouette of a camel in front. Pay attention to the color blending and tones that have been used. 
Electric Wire Line Drawing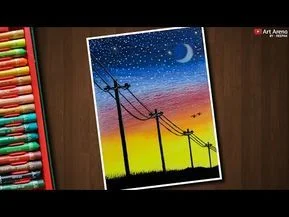 We have chosen this picture especially because of the beautiful backdrop that it has. The black silhouettes of these electric lines go very well with the blue, pink and yellow sky. 
Magical Moonlight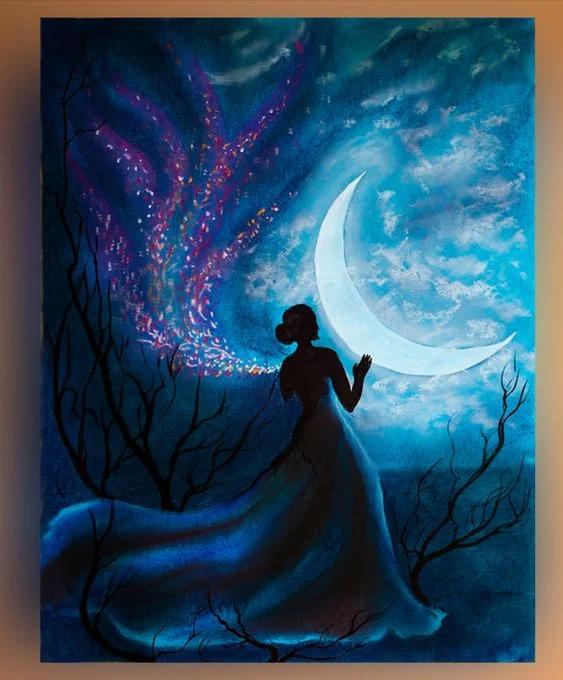 Up next is an enchanting image of a girl performing magic. The sparkling fog with a pink undertone stands in contrast with the dark blue sky. 
Flamenco Dancer Art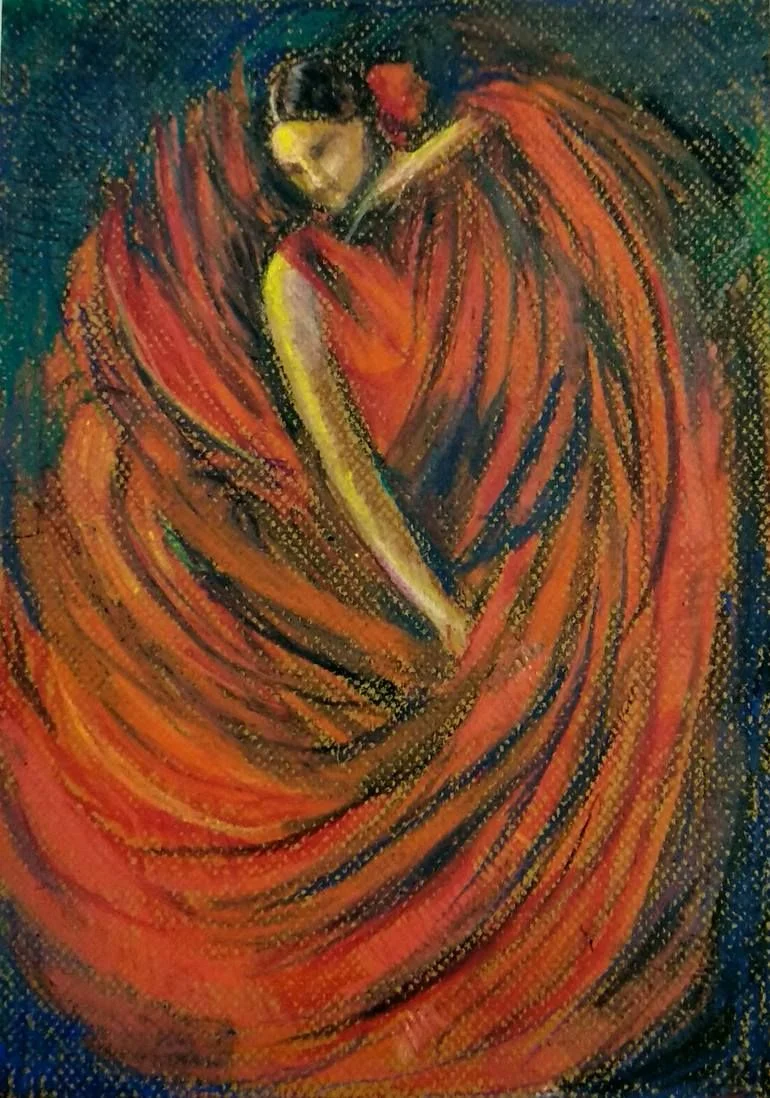 This is a drawing that represents a girl dancing. You can see her in motion and that has been shown with the help of vertical lines. The yellow and blue lines look beautiful and enhance the red saree that this woman is wearing. 
A Mystic Poster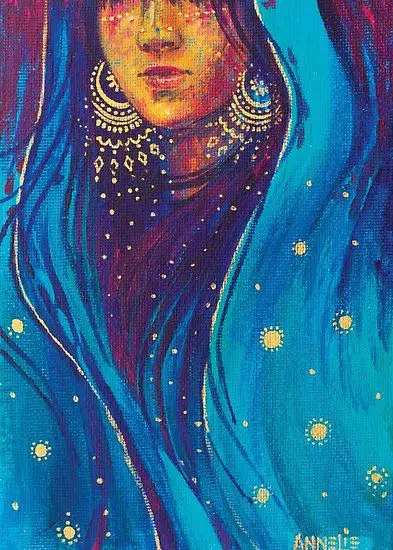 Here is another artwork of a woman. The entire face is not visible and the attention is caught not by her face but by her blue veil. The shades are beautiful and are complemented by Afghani earrings that are drawn in a detailed manner. 
Girl's Face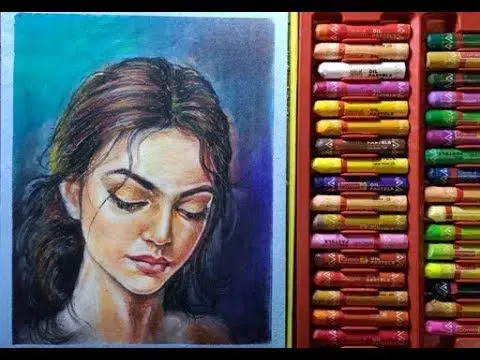 If you want to learn how to draw a basic human face, this could help you out. The texture of the hair and skin is something to notice and learn from. 
Wine And Fruits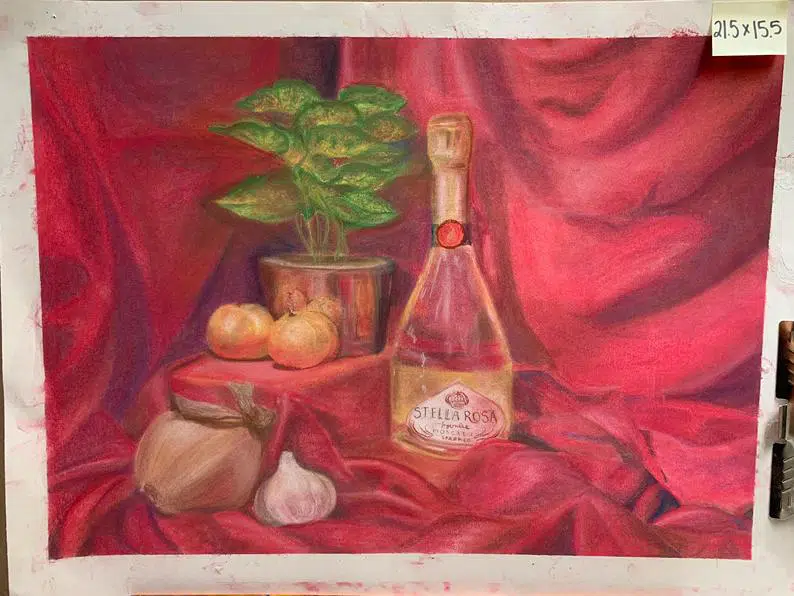 Do you want to practise shadow effects? This one will help you do so. The cloth behind along with the edibles on it are colored with proper shadows behind them. Learn about how the light reflects on opaque and semi-transparent surfaces. 
Sundae School Ice Cream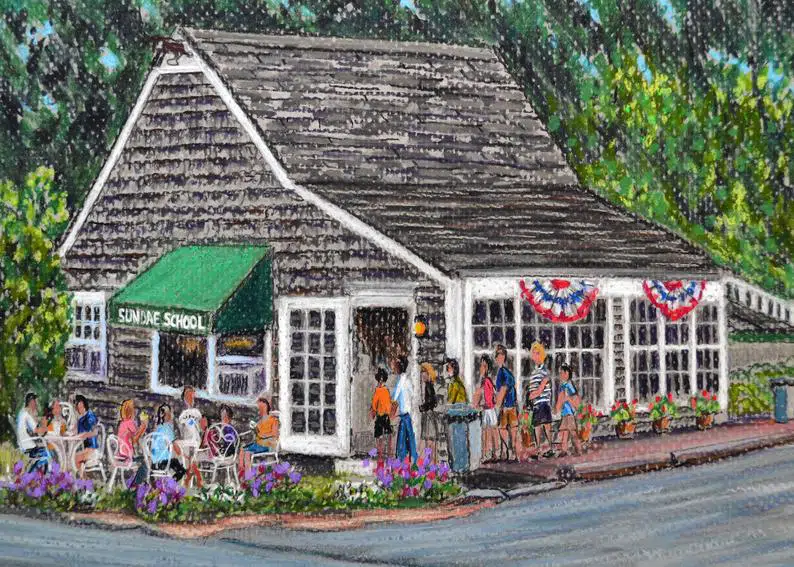 This is a beautiful picture that will make you remember your childhood days. The brick house with large windows has been colored to perfection. This picture shows how you can add tiny details with pastel colors. 
Eastern Bluebird – Giclee Print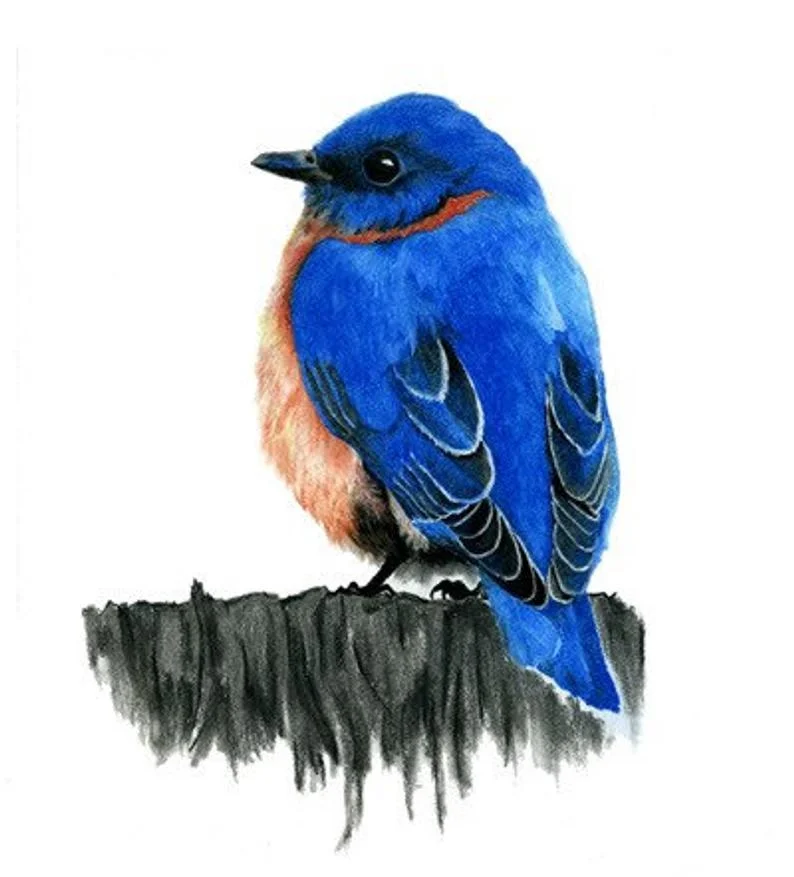 If you are a bird watcher, this is something that will please you. The Eastern Bluebird is drawn on a white background and colored to perfection.
The Most Beautiful Place On Earth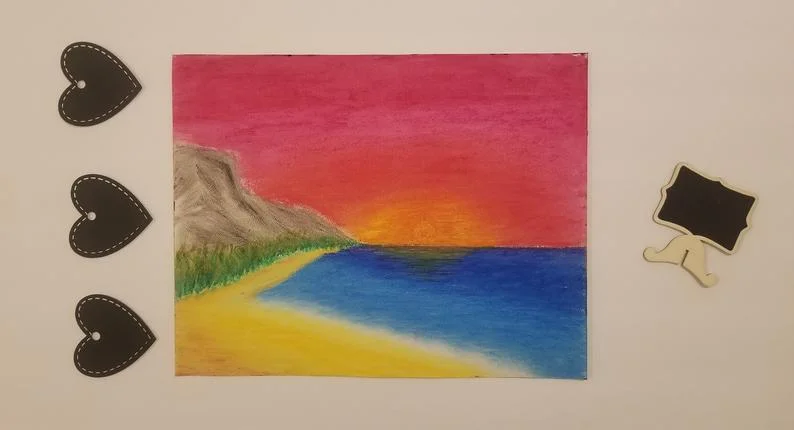 What are the few things that can please anyone? A bright sky, the ocean ahead with mountains behind. Yes, it sounds perfect and now you can draw it too. This picture will be very inspiring in this case. 
Original Pastel Painting Of The Lowcountry River By Kellie Jacobs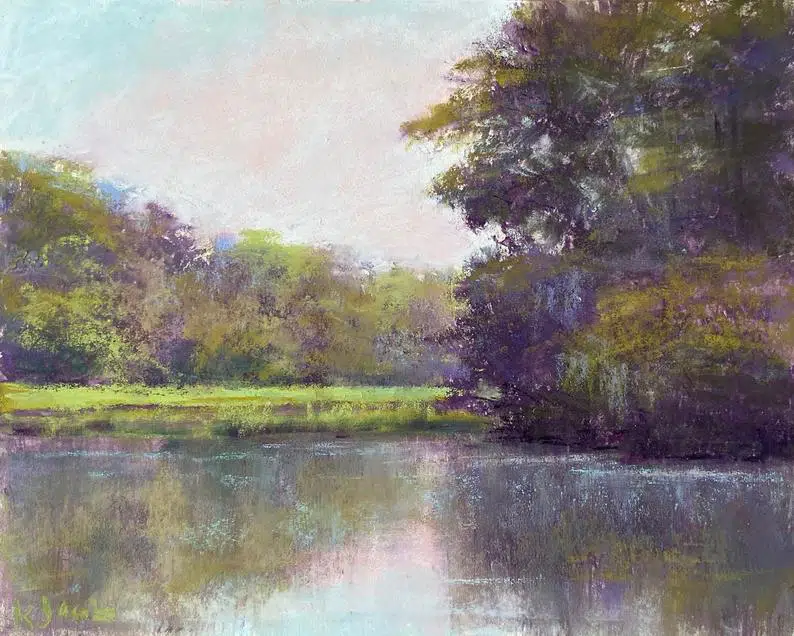 This countryside image with a river flowing in between can be extremely inspiring to draw. Check out the subtle shades that have used to give the painting a very autumn vibe. 
Postman Joseph Roulin, After Van Gogh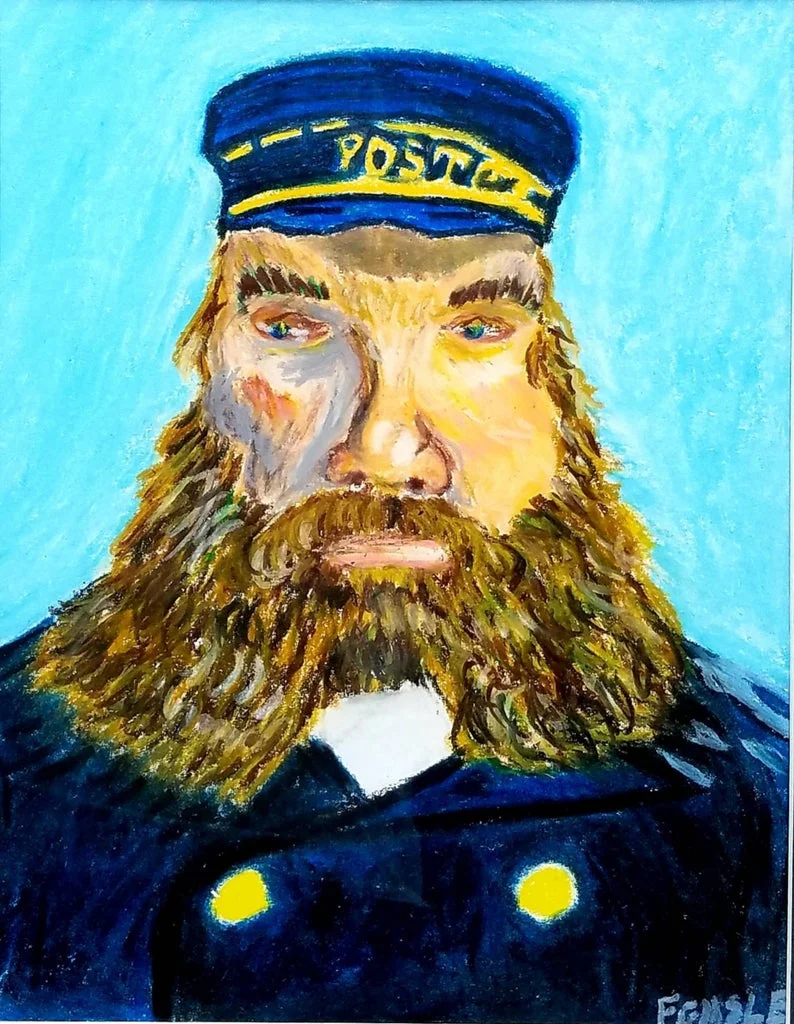 Have you been interested in caricature drawing? This could be a great inspiration to begin with but you have to pay attention to the details .The beard plays a major role in making it look out of the box. 
Sunset Drawing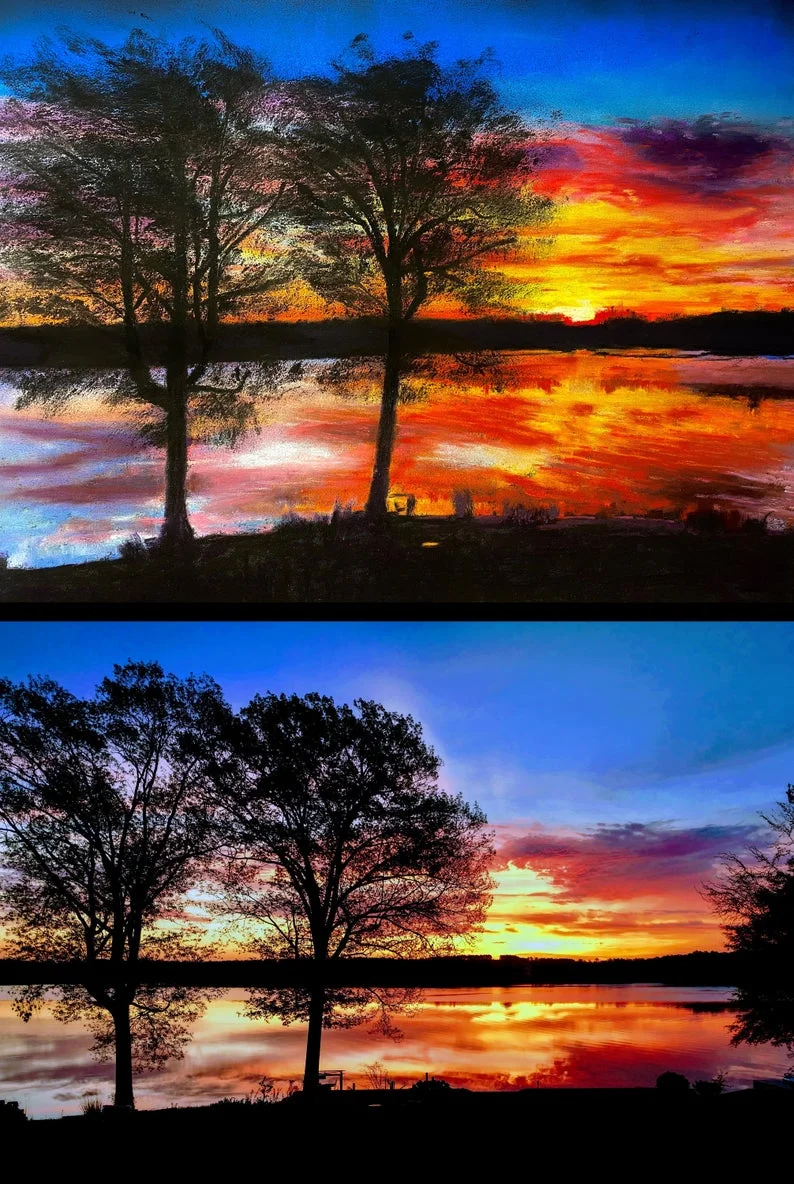 What about a drawing with the typical sunset and silhouettes of trees in front? Yes, it looks breathtaking and you can recreate it yourself. Use a cloth or a sponge to blend the background and you should have a great picture. 
Brown Dog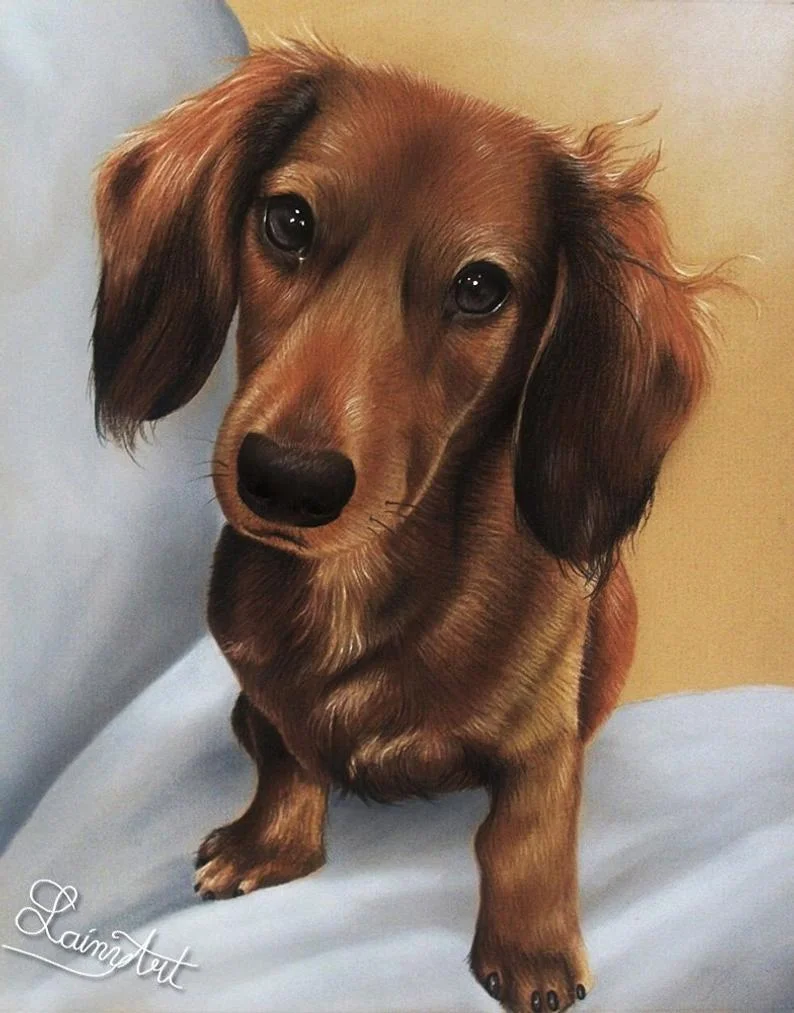 If you have a pet, you can create a picture of it. Draw your own dog and then color it taking inspiration from this picture. Look at how the shadows fall and how the fur stands out. 
Landscape Marine Pastel Drawing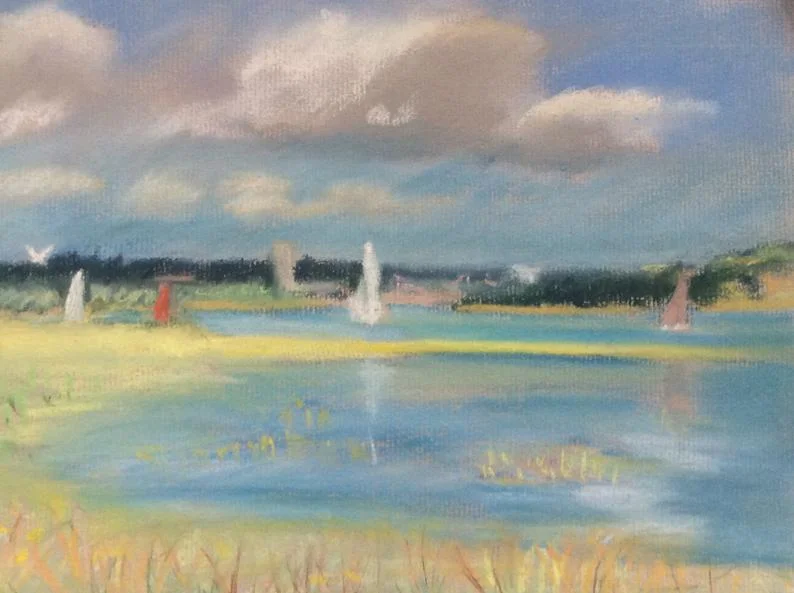 Up next we have a blurry image of the sea with a bright sky and people. The image was not meant to be clear and hence here, details are not important. What you need to focus on are the colors and you got to get the color and their positioning right. 
Wine Country Oregon Wineries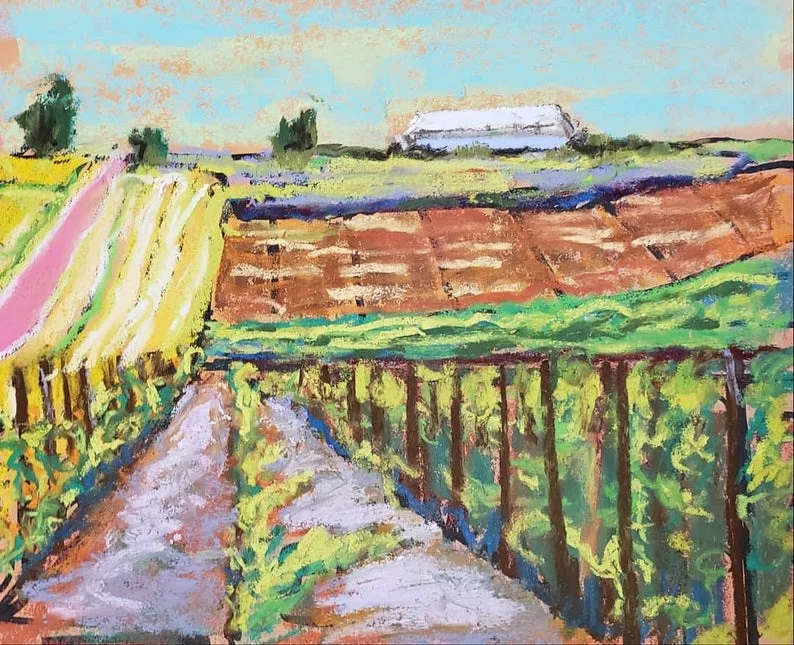 This is a drawing of a winery that spreads over a large area. It is more drawn in an abstract form and is not very detailed. This will be easy to follow for beginners. 
Do What- From Artist Wendy Leedy's Mule Collection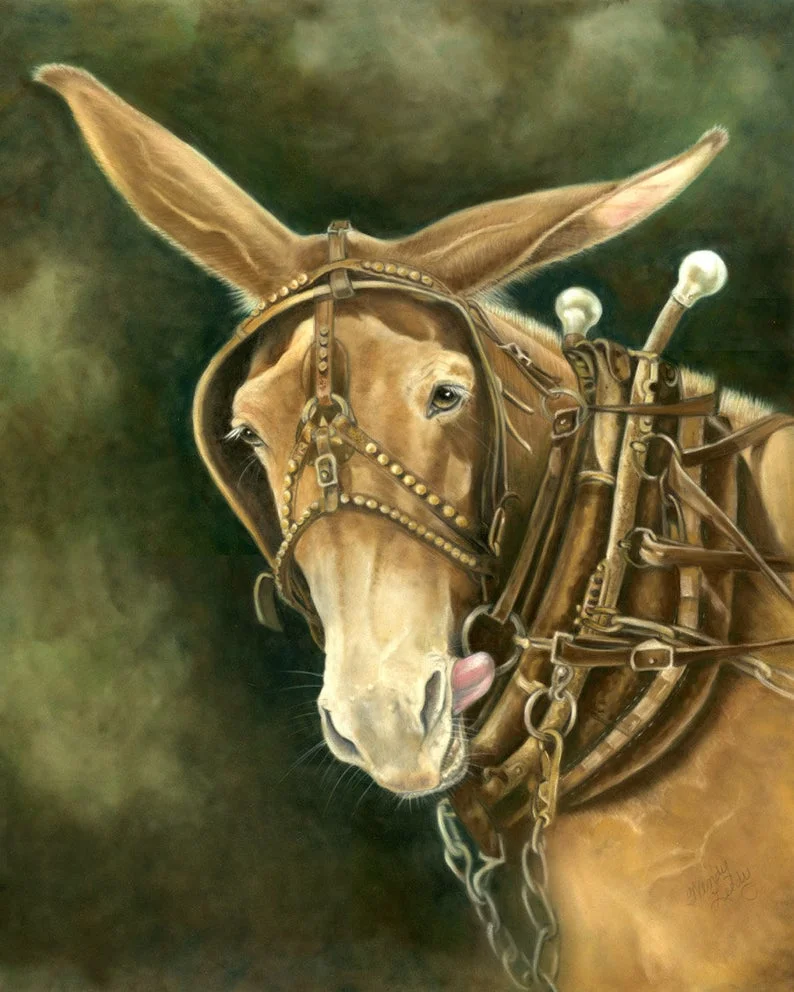 Here, we have a horse going to war.Notice these color tones that have been used which signifies that the picture is of the past. 
Daenerys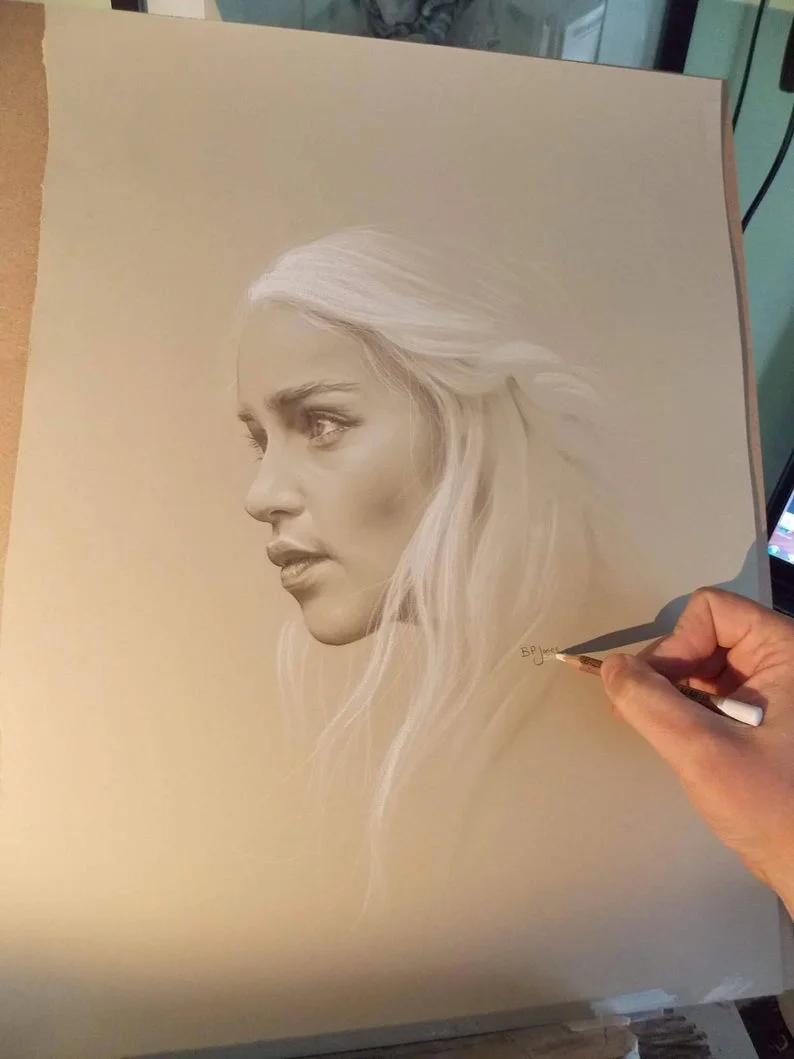 If you are a fan of Game of Thrones, you will know the dragon queen, Daenerys. We love how white pastels have been used to make the hair. It is best to take an off white or a grey sheet to draw this. 
Girl With An Umbrella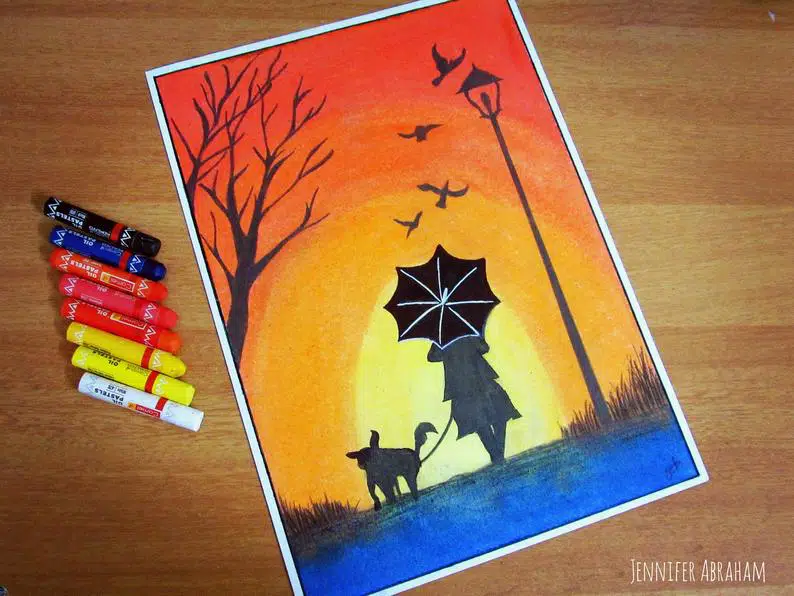 Here, we have a beautiful image of a girl walking her dog with an umbrella. You can see the silhouette against the brilliant bright sky. The background needs to be painted well to achieve the effect. 
Vintage Abstract Expressionist Pastel Portrait
Next is a portrait of a woman who seems to be exhausted. It is a vintage picture and you will have to use subdued tones to achieve the effect. 
Charleston SC City Scene Downtown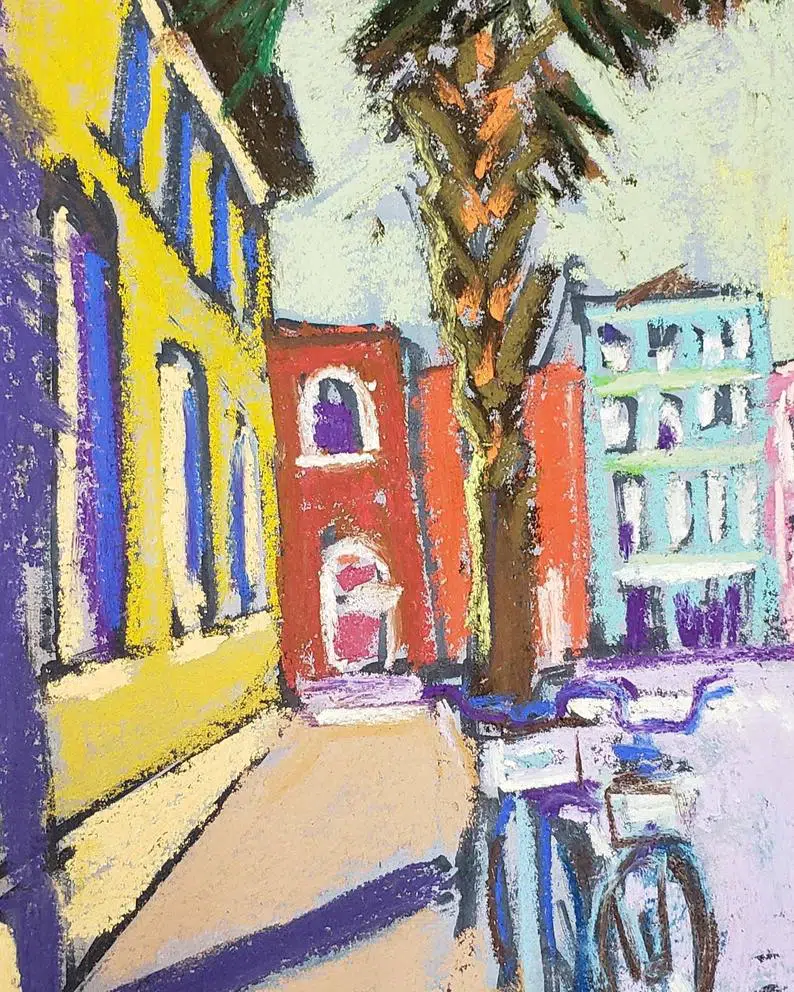 A balmy day in the middle of summer, that is what this picture reminds us of. Look at the brightly colored building and the cycles in front. This could be a great inspiration for beginners.
Sunflower Oil Pastel Drawing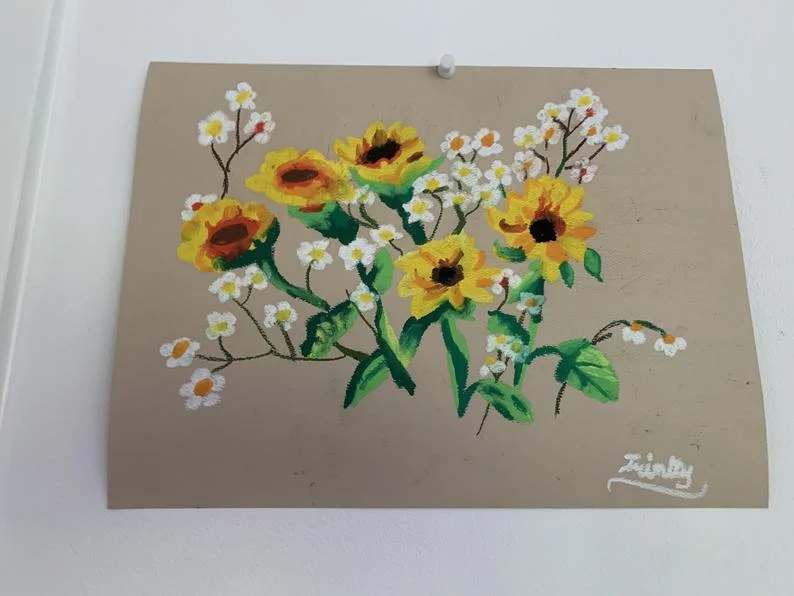 Do you want a floral pattern that can be put up in your room? This bunch of sunflowers and white flowers look pretty and will add to the ambiance of any room. 
Dumbo Pink Elephants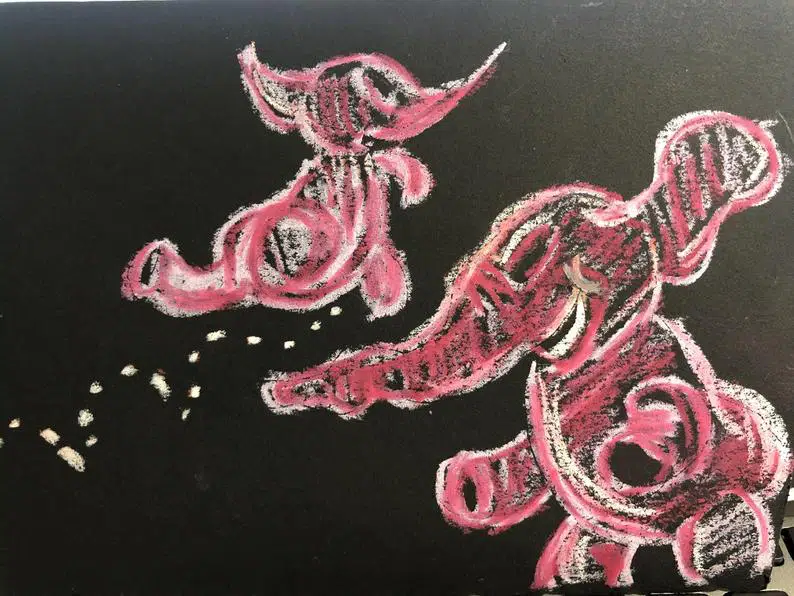 This is a unique piece that is made on black paper. Use bright colors to draw the elephants and color it up with strokes instead of blending.
Custom Pastel Cat Drawing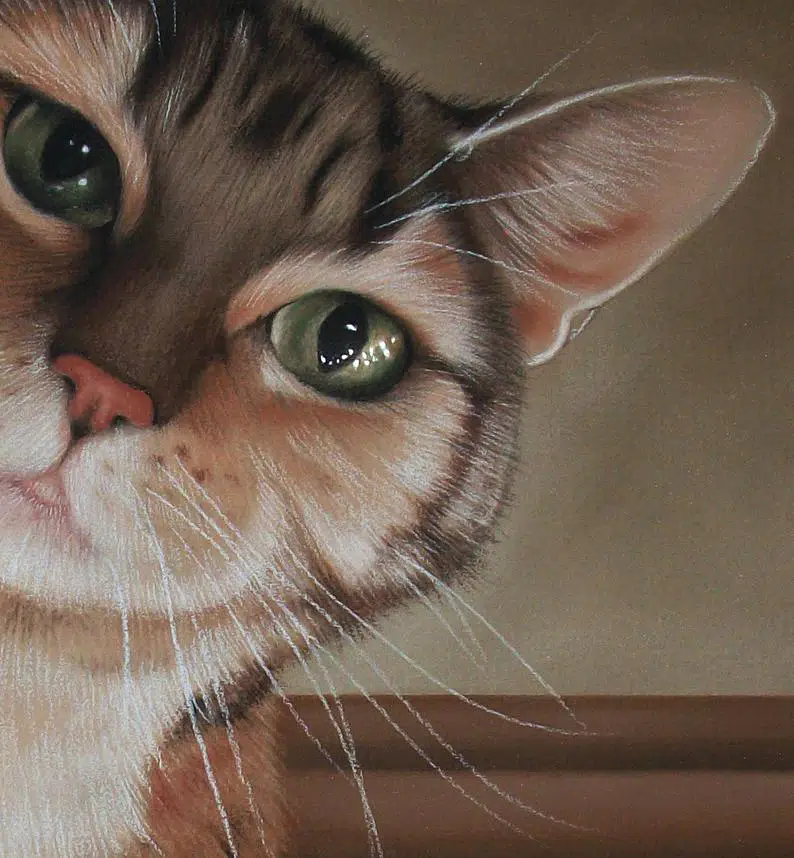 Next we have another realistic drawing of a cat. Look at how realistic it looks with its eye painted to perfection. You can use oil paints and pastels to achieve this effect. 
Abstract Wildflowers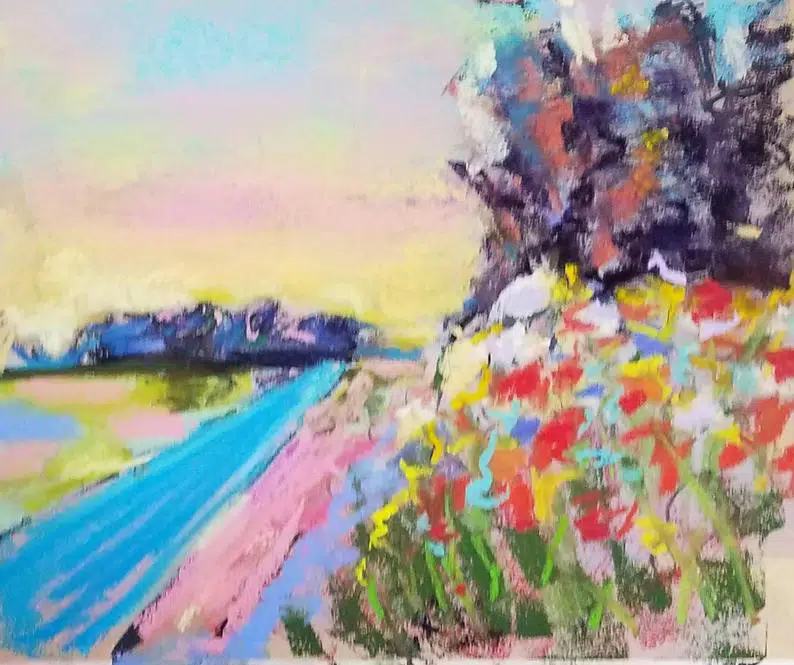 If abstract art pleases you, this is something that you can use as an inspiration. You will be able to see a number of colorful wildflowers growing and a faint view of a water body behind. The sky is beautifully colored and blended to achieve the shades of dusk. 
Fruit Still Life Pastel Drawing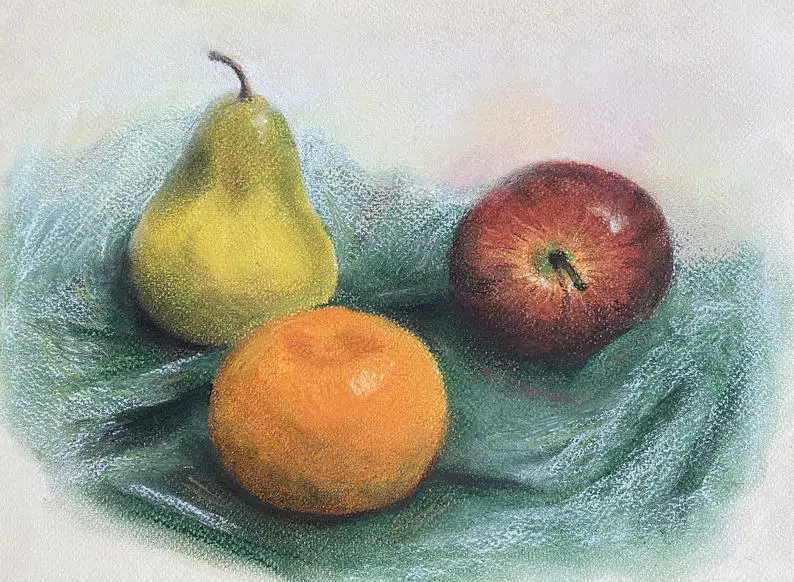 A palate of fruits is a great place to begin learning the light and shadow effect. Observe carefully how the shadow effect has been incorporated. The background cloth also has folds that have been highlighted. 
Pet Drawing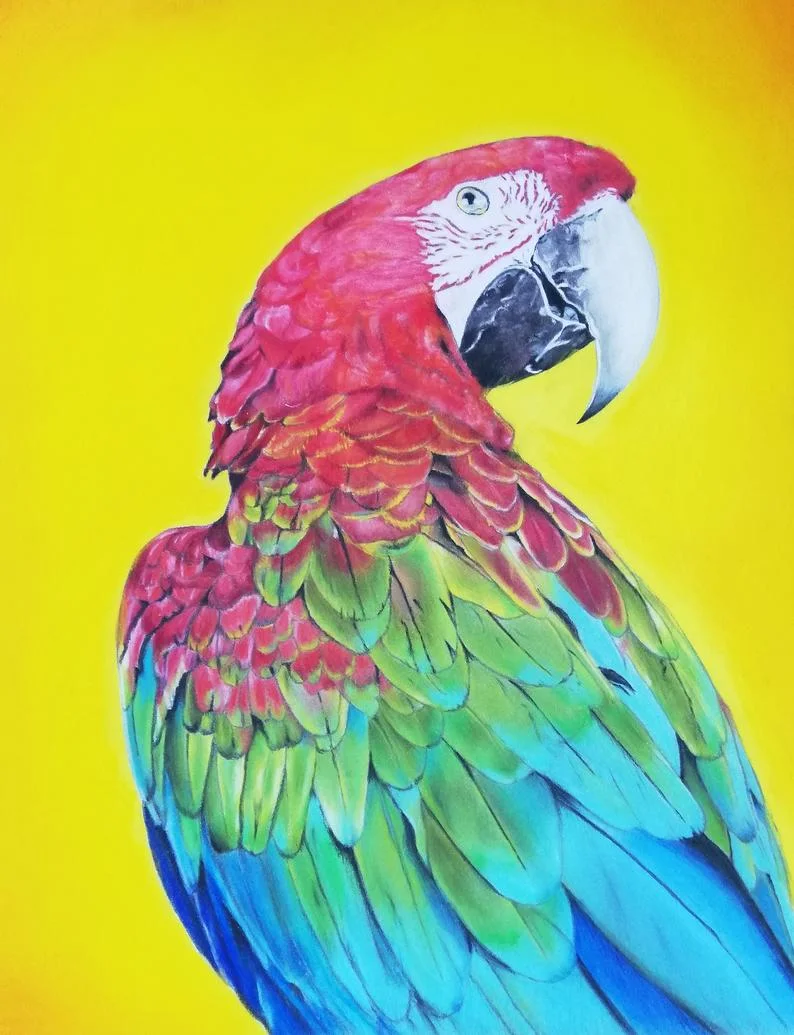 How would you like a parrot painted in different shades. Pay attention to the feathers and make sure they are distinct. Using dark and lighter shades of the same color, you can achieve the perfect effect. 
Alpine Painting Austrian Mountain Art
This is a beautiful example of a winter landscape with snow and trees. Since you are working with white, make sure that you get the shadows correct. Otherwise the snow slopes wouldn't be distinguishable. 
Expressive Portrait Art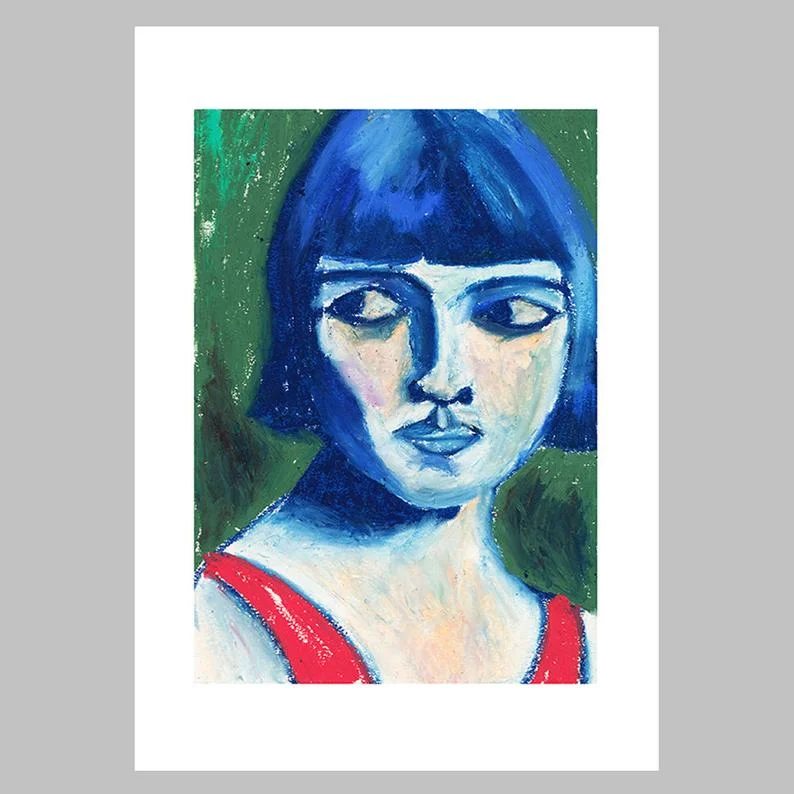 This piece is focused on the face and the expression on it. Blue has been used instead of the typical black to draw the face and hair. 
Pink Roses Soft Pastels Painting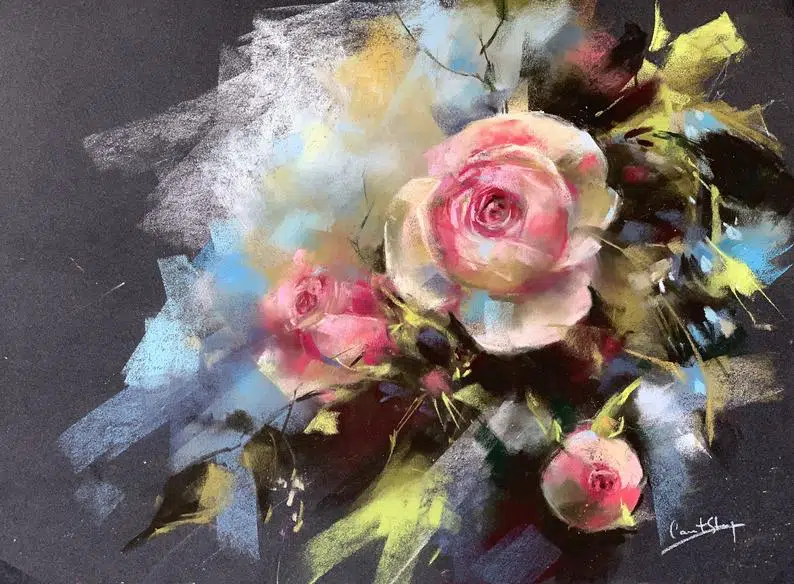 This is a beautiful picture of a bunch of flowers. Pink, yellow, and blue are the dominating shades that stand in contrast with the dark background. Black has been used to provide proper shadows. 
Vintage Artist Pastel Drawing of Laguna Beach California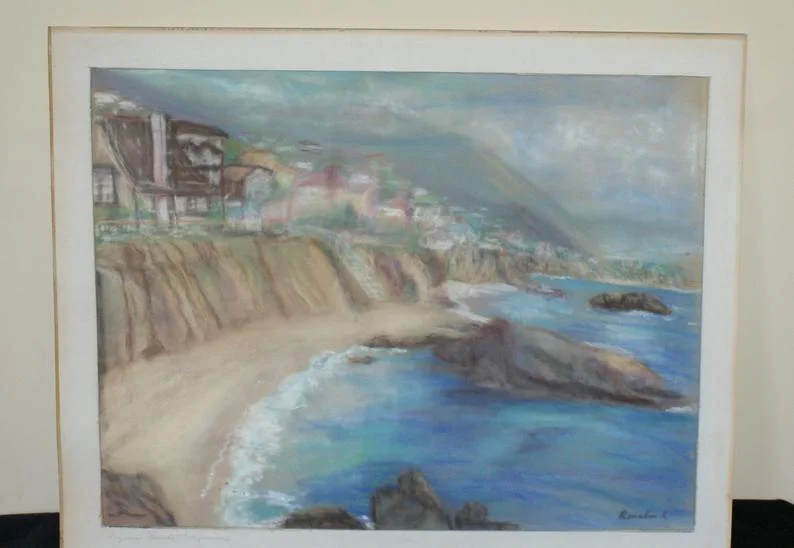 How pretty is this view of houses by the mountain on a cliff. This is a vintage picture of a day with subtle shades being used to preserve the vintage effect. 
Women Selling Fish Art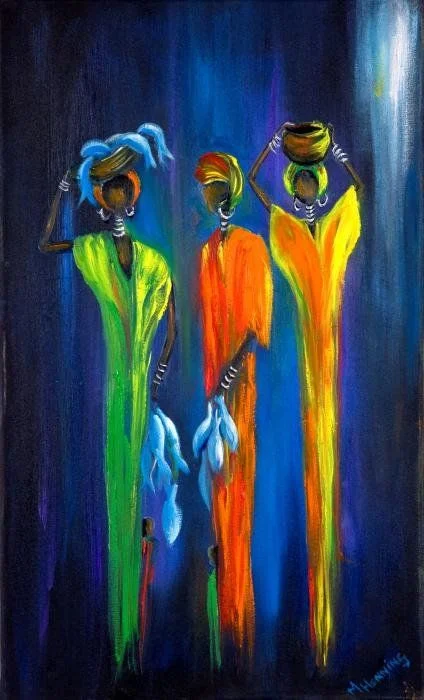 This is yet another vibrant picture of women with colorful saris selling fish. It is drawn against a midnight blue background and the yellow and bright green stands out. 
Prima Ballerina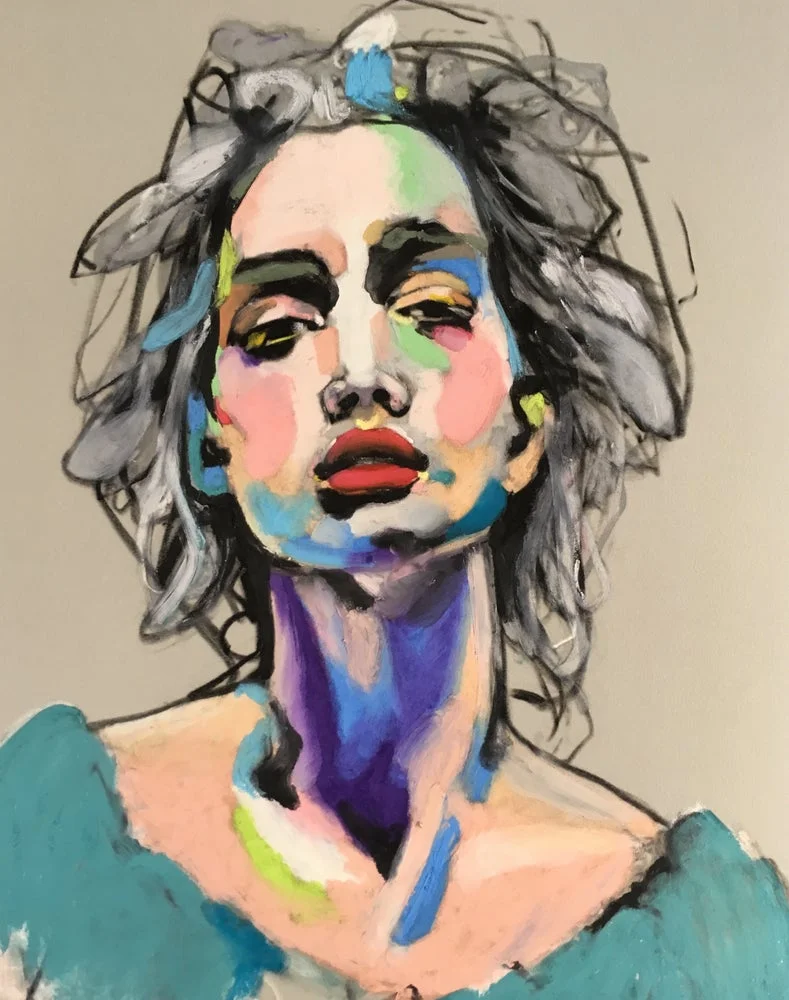 Made on Velour art paper, this is an oil pastel portrait to inspire. We love the expression and the use of various colors to highlight the face. The colors match the aqua green of her dress. 
Bamboo Landscape Drawing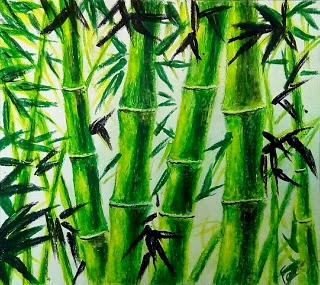 This is a closeup drawing of some bamboo plants growing together. If you want to keep a view of nature in your homes, this is going to be a great addition. The shades of green will go with almost all decor.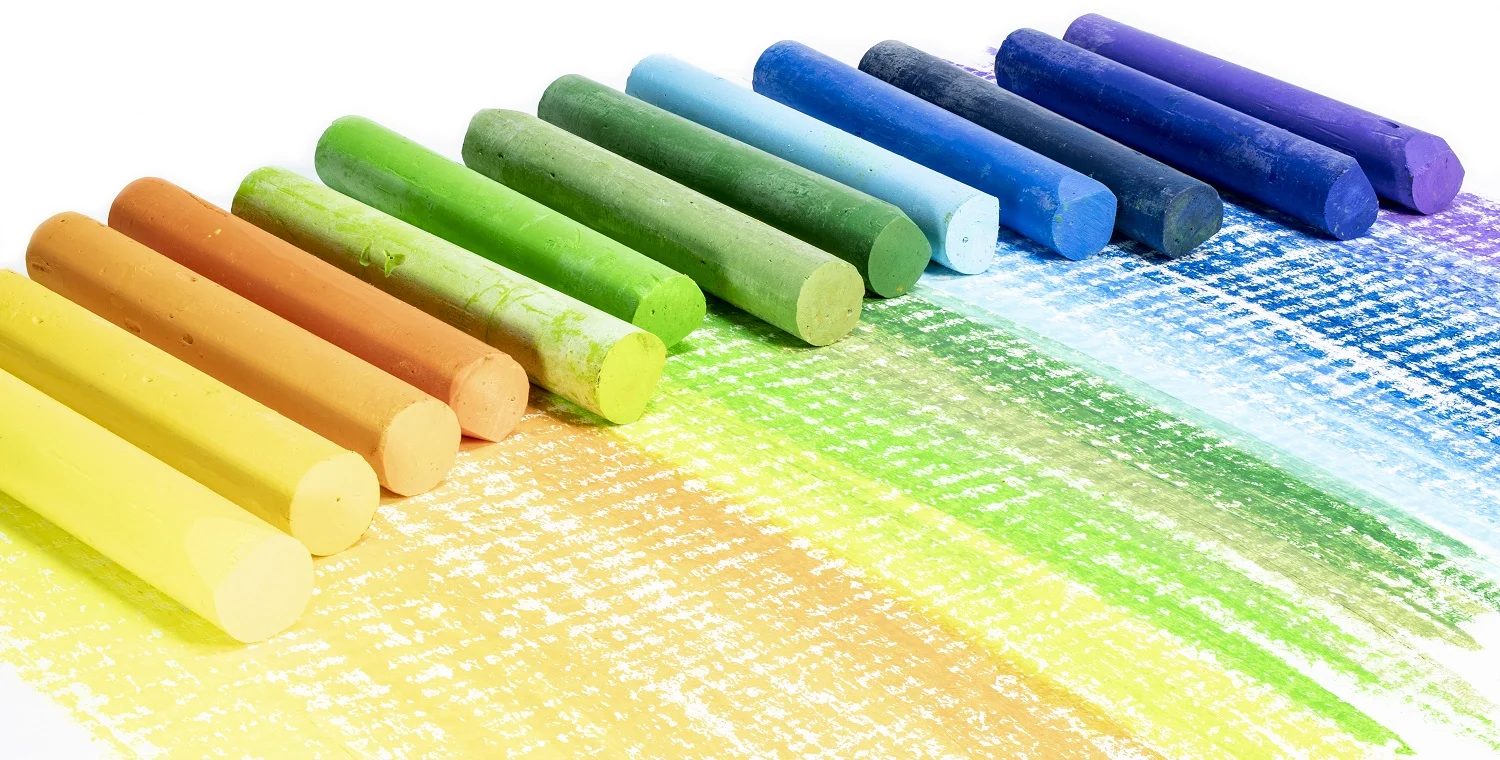 Final Words
Now that you have a set of 61 pastel drawing ideas for inspiration, you can finally sit with pastels and paper and begin coloring. Remember to add shadows and shades of the same color wherever needed. Blend well and use a rough cloth or cotton piece for it. 
Some prefer to use textured paper, and that brings out a different kind of effect all together. We feel that you should try out different textures and shades before finding the ones you like. And please remember to let us know your favorites in the comment section below. 
Until next time!
Related Articles
26 Oil Pastel Techniques & Tips to Enhance Your Painting Right Now
Soft Pastels Vs. Oil Pastels Vs. Pan Pastels vs. Pastel Pencils | Pastels 101
Oil Pastel Tutorials That Will Enhance Your Skills Easily