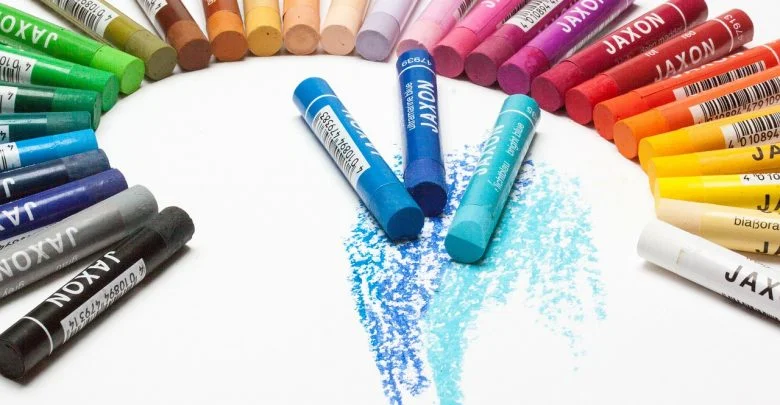 Oil pastels are one of the easiest mediums to work with since they don't require extra work to get started. 
If we think about paint mediums that are great for a number of surfaces, oil pastels are one of them. With good preparation on a fine platform, these mediums can give any surface a colorful and rich appealing look regardless you are using canvas or other heavy-weight papers. 
And in the case of paper surfaces, oil pastels give out exceptional results even though it depends on the type and quality of the paper. 
Finding the best paper surface for oil pastels artwork can be tricky especially when you're a beginner and not certain which one will best meet your expectations. 
There are many good brands out there that offer a wide range of papers for oil paints. Speaking of which, we have a list of 11 paper surfaces that we personally find to be the best in the market. 
Best Paper for Oil Pastels
Whether you're a beginner or a professional, our list of the top 9 best paper for oil pastels will help you create stunning artwork with ease. So, without further ado, here's the list of the 9 best papers for oil pastels.
Strathmore is a brand that has been around for 100 years and above and is very popular among students. It would be a rare case if any dedicated art student has not heard of the brand before. Their products are available in most art stores. 
The reason they are widely used by students and art schools is the price of their products – and it's no exception with the Assorted Pastel Paper Pad as well. 
Sale
Experience
One might think that because the price is reduced, the quality is also compromised. No doubt, it would drop by a certain extent since the price is meant to be affordable for students. But the fact stands that these pastels still produce amazing pieces. 
We find the availability of these pastel pads in almost every local art store very convenient. 
First of all, it saves the artist a lot of time from hunting for decent papers all over, especially if it's someone with a tight schedule. 
Secondly, we don't personally prefer to buy art supplies online because then we get to inspect the products firsthand before purchasing unless, of course, the items are not available anywhere else besides online. 
This is because sometimes the products you expect are nowhere near the real ones. So, we find the Strathmore pastel pads to be very useful for artists with similar preferences. 
Besides the availability, these pads are also wallet-friendly and great for artists who like to try out papers with other colors for their artwork. The colors of the papers inside this pad are medium brown, green, blue, pink, cream, and white. 
The feature we love most about paper pads is their versatility. Although they work wonders with oil pastels, they are also great for other mediums such as soft pastels, chalk pastels, and even crayons. 
Besides that, they can take some liquid paints too except for heavy watercolor projects since these papers are more on the lightweight side. 
They are also available in three different sizes, which leaves us with more options to choose from. 
But given these are light paper pads, we find there is only a little amount of tooth. Nonetheless, there are many artists who prefer light teeth when working with a few layers of oil pastels. 
All in all, the Strathmore 400 Series pastel papers are great for archival purposes because they are acid-free. 
Pros
Easily available in many local art stores as well as easy to work with

The price of the pads is meant for students, therefore, is very affordable

Versatile to work with other pastel mediums
Cons
There is not enough tooth on the surface of the paper for creating thick layers
Paper Weight: 80 lb | Texture: Medium | Acid-Free: Yes | Size Options: 9 x 12 inches, 11 x 14 inches, 18 x 24 inches
In the world of art, any form of creativity is always welcomed. And today we have the Faber-Castell Black Paper Pad which as the name suggests, is black in color. 
This may not seem like the traditional paper one would look for but with the thought of getting totally different results, you might just love the idea of having this in your collection of oil pastel surfaces. 
Sale
Experience
First off, this is perfect for all those bright colors we've always kept aside for a long time. The black background just enhances those shades which would normally go unnoticed on regular white paper. 
Although it totally depends on your preferred techniques, this truly brings out the unique appeal which you don't get with bright-colored papers. 
We also noticed that this paper is quite versatile with other mediums besides pastels because of its thickness and color itself. Media such as crayons, gel sticks, and metallic pencils can be used on this surface. Even when it comes to papers for crafts, this also makes a great pick for fancy DIY projects. 
We would recommend keeping liquid mediums away from them as much as possible. Since they are meant for oil pastels, it is not expected that they can't take any kind of liquid paint. However, through research and experiments, we found these papers can take acrylic paints given that they are not too watery. 
But overall, we like that the papers are not that expensive which means they are great for students and artists who are on a budget. Not only that, but they are also ideal for young artists and children to practice on. 
Since it is a black paper pad, it is already obvious that it will not highlight dark colors as it does with bright colors. However, we can say that the only setback we found with this paper is that it has a very shallow tooth which is not ideal when working on effects and textures. 
But keeping that aside, the paper's quality is amazing for archival purposes. 
Pros
Perfect for use with bright shades and other dry mediums  

Quality is very high and enough to suffice for archival properties

Affordable price, great for students, budget artists, and children 
Cons
Paper has a very little tooth which makes creating effects tough
Paper Weight: N/A | Texture: Smooth | Acid-Free: Yes | Size Options: 9 x 12 inches
Similar to Strathmore, U. S. Art Supply is a brand that is easily available mostly everywhere. From its great quality and high-performance products to its affordable prices, the brand has become very popular among students and learning artists. 
Their Premium Pastel Paper Pad in Natural Tone Colors is great for both professionals and beginners because it is easy to use and delivers good-quality artwork. 
Experience
We will first look into the natural tones of the papers. They include light beige, cream white, beige grey, and eggshell white.
We find every single color perfect for doing beautiful landscape pieces. All these colored papers make great backgrounds for such portraits. Apart from that, they also work well with other preferred concepts.
The quality of these papers is smooth, yet still, has enough thickness in terms of mixing paint mediums. They can actually accept mixed mediums in case the artist wants to try out different effects.
You can tell from the touch of the sheet how much moisture it can accept because if the paint is too runny, it can cripple and damage the paper. We would suggest having a separate page for testing the consistency if you are unsure while using mixed mediums. 
Keep in mind that liquid mediums such as acrylic paints can be used while watercolors can pose a risk to the paper. 
As we have mentioned earlier, the paper has a perfect combination of texture/tooth and smoothness which makes it easy and pleasurable to use throughout the painting.
But the papers require the use of fixatives if we plan to keep the pieces in the long run.
Overall, the sheets are very affordable and great for self-taught beginners and art students.  
Pros
Perfect balance of smoothness and tooth for creating exceptional pieces

Thickness of the paper makes it receptive to mixed media

Inexpensive papers which are good for students and beginners
Cons
Papers require fixatives so the paints will stay on for a longer period of time
Paper Weight: 80 lb | Texture: Medium | Acid-Free: Yes | Size Options: 9 x 12 inches
Being one of the popular brands which produce quality art supplies, Canson is a name that we're sure everyone in the art world knows. 
Because they have been focusing on this line for about 450 years now, you can be sure the pastel sketchpad too is of the best quality. 
It not only serves oil pastels but markers, soft pastels, colored pencils, charcoal, and crayons as well. 
Sale
Experience
We can't help but appreciate the versatile feature of this paper. Unlike other oil pastel papers, with this one, we can actually venture into using a wider range of mediums. Because it is made from cotton with just the right level of thickness, it also receives liquid paints such as oils and watercolors.
This helps save the artist a few bucks to purchase surfaces for each and every media they own. In fact, they can use this with almost any kind of paint medium.
Furthermore, what sets this sketchpad apart from the rest is the papers that come in delicate colors such as moonstone, buff, champagne, eggshell white, light blue, and steel gray.
In addition to its wide versatility, we can also use these colored papers for our DIY crafts which saves us time looking for some. 
From a lot of reviews and research, this paper earns a gold standard in quality and performance when working with oil pastels. 
We hardly need to rely on the paints because this paper is truly magnificent in highlighting and enhancing even the most average mediums.
With a more than enough deep tooth, the artist can manipulate the effects as much as they want with no unnecessary concerns about the pigments wearing off too soon or the binder popping up to the surface.
Working with oil pastels, we always tend to focus on layering bit by bit. And with a tooth like this, there is no problem adding multiple layers to our piece.
Coming to a very similar feature, the paper excels in providing texture as well. On one side of the sheet, we have a rough texture while on the other, a fine one.
This is an aspect that most of the other papers don't offer. If you want to work on different surfaces every now and then, this would be a great choice since this and many other features are included.
They are also available in two different sizes which gives us a choice to pick out one that best suits our requirements. Besides, we can always cut them into our preferred sizes.
And the best part of this pad is that it contains sheets with 50 different tones so you can choose the one that is best for the artwork every time.
Finally, the papers are available for purchase both in a pad and individually. This way, if you ever run out of your favorite tone, there is no need to buy the whole pad anymore instead, you pay only for the desired one.
It would be no surprise if the price of this sketchpad costs more than most of the other pads out there given its variety of great features. However, we would recommend this if you are looking for a worthy investment.
Pros
Highly versatile for use with both dry and wet mediums other than oil pastels

Contains 50 papers with different tones for a wide selection of preferred colors

Sheets are available both individually and on a pad

Each sheet has a rough and fine texture on the opposite sides
Cons
The price of this sketchpad is quite higher than the normal range
Paper Weight: 98 lb | Texture: Medium | Acid-Free: Yes | Size Options: 9 x 12 inches, 12 x 16 inches, 16 x 20 inches
Here is a paper that is crafted in Germany. 
The Hahnemuhle Bugra Pastel Paper is dual-sided and is entirely made up of alpha-cellulose. Similar to the Mi-Teintes Pad, this sheet also has one side with a rough texture and a fine one on the other. 
Although it is made of color charcoal and pastels, it also works pretty well with graphite, pencils, and other dry mediums. 
Experience
We like that these sheets are highly lightfast because most of the time, papers with poor composition face degradation as years pass by.
The good news is these papers contain pigments that resist UV light for a long period of time. Therefore, our paintings remain good as new for years to come.
Along with that, we can say these papers aim to last for a very long time because they are acid-free as well. There is no need to worry about discoloration or brittles as long as the papers are assured to have a normal pH balance.
We also find the size to be pretty much convenient for normal-sized artwork with just the right thickness to use oil pastels.
The amount of tooth and fine binder makes the process of creating effects very simple and easy. Other artists find that they have more control over the texture.
One downside would be that the surface is not able to hold the paints for long without the help of both workable and final fixatives.
All in all, we would highly recommend this for oil pastels if you're searching for long-lasting papers.
Pros
Surface of the paper allows the artist to have more control over the texture and effects while painting

Paper is ideal for the long-term preservation of artworks because of its high lightfastness and acid-free features 
Cons
Requires fixatives to prevent the paints from cracking in the future
Paper Weight: 130 gsm | Texture: Medium | Acid-Free: Yes | Size Options: 33 x 41 inches
Sennelier is a French-based high-end brand that produces one of the best art supplies. From research, we found that many famous artists like Picasso and Van Gogh used art products by Sennelier. 
And coming to pastel papers, we know exactly the kind of quality we expect from them. 
The Sennelier Oil Pastel Card Pads is a perfect substitute for the Canson Mi-Teintes except that it's more expensive. 
Sale
Experience
We can list down many reasons why this paper is favored by artists all over.
First of all, the sheets come in 4 different sizes to meet the normal requirements of the artist. This already provides us with more options than most papers would.
Before we move further, the pad only contains 12 sheets in white color which are too less compared to the price tag.
But keeping those aside, there are more advantages to these sheets. For instance, the pad is not glued but spiral bound which is good to preserve for future use.
With glue, there is always a chance of the chemicals or acids interfering with the quality of the paper in the long run, but that is not the case with spiral binding. Another advantage of this particular binding is that they are relatively strong.
But the best part about the pad is the glassine paper. If you have not heard of it before, it is a glossy and smooth paper sheet that is used by laying it on the artwork to prevent pigments from transferring to the immediate sheet while the work is paused.
Glassine also acts as an alternative protection layer to fixatives whose price is much higher.
To sum it up, all the paper's features – from the spiral binding to the glassine – are made to serve the artist who loves to work and travel. Also, the papers are thick enough to resist wear and tear while hitting the road.
Pros
Papers are available in 4 different sizes for a wider selection

Pad is spiral bound to prolong shelf life and reduce paper damage

Comes with glassine sheets for preventing unfinished work from transferring to the immediate sheets
Cons
12 sheets in the pad, the price can be too expensive for students and budget artists
Paper Weight: 160 lb | Texture: Medium | Acid-Free: Yes | Size Options: 11.75 x 15 inches
Art Spectrum is an Australian brand whose product quality is very similar to that of UArt, which we shall review in a minute. 
This is a sanded paper which is good for both beginners and intermediates since the price of each sheet is only $2.69. Along with that, they also provide discounts for purchasing in bulk. 
Experience
With their inexpensive price tag and high-quality sheets, we would absolutely recommend these for any artist who is looking for a steal deal.
There are 20 sheets in total, each with a different tone. Although the colors seem less than other papers we reviewed, we find that they complement any kind of desired artwork with the right application of oil pastels. And the results this pad delivers are excellent and stunning.
Since Art Spectrum uses high-quality binders, the papers have a strong grip over the oil pastels, as well as they are acid-free. We love this aspect because it is perfect for archival purposes, allowing the piece to stay fresh for years to come without any yellowing issues.
One of the most preferable features of these papers is that they are sanded in medium-coarse grit type. This is the reason why oil pastels can stay on paper for a long time without cracking.
These are available in two sizes: 9" x 12" and 5" x 27.5". For normal pieces, these two will work out perfectly, otherwise, we would suggest looking at other brands for larger sizes.
We find that the tooth is fine and deep enough to allow the artist to manipulate the outcome as much as possible. While layering can be tough with other inferior-quality binders, these papers make the process seem simple and easy.
Most importantly, both intermediate artists and beginners love using these papers because they meet all the requirements one has while learning the art of oil pastel work. But rather than buying one sheet after another, it is better to get them in bulk quantities since the price would be lesser.
Pros
Pad contains high-quality binders which are perfect for creating desired effects

Highly affordable price meant for both beginners and intermediate artists

Includes papers with unique tones that suit any kind of intended artwork
Cons
Only 20 sheets of paper within the pad
Paper Weight: 140 lb | Texture: Coarse | Acid-Free: Yes | Size Options: 9 x 12 inches
Within the period of time spent searching for the best oil pastel surfaces, we found that UArt is one of the most highly-rated companies which produce art supplies. 
Among many of their endless list of products is the Premium Sanded Paper. 
Experience
This is another sanded paper that we find perfect for oil pastel artworks because of its ability to cover all the requirements that we look for in our oil pastel surface.
But the first thing worth mentioning is that out of all the other papers we have seen, UArt offers its papers in 6 different sizes. That is more than enough options to match our basic intentions.
On top of this, every paper has unique grit options which make these papers even better when it comes to versatility. If our artworks call for a moderate or a fine grit size, we can choose any one of these papers without any hassle.
However, the only setback is that the papers come only in two colors: dark and natural. Although the natural tone will undoubtedly go with any art concept, it still won't serve artists who like to explore other creative ideas for their pieces.
On the other hand, the dark-tone paper will be perfect when working with bright oil pastels since it serves as a perfect background.
But what most artists usually would look for in an oil paper surface is its texture or tooth. With this paper, we are not even a tad worried about the tooth since it is deep enough to let the artist work smoothly and has full control over the effects.
Therefore, if you are looking for a fine tooth that can grab the paints tightly without having to worry about them flaking or peeling off, we would recommend going for this option and not getting disappointed.
Pros
6 unique sizes which can meet any kind of intended artwork

Each paper is available in different grit options for achieving desired effects

Tooth is deep and flexible which is ideal for working with oil pastels
Cons
Only two tones are available and may not meet every artist's need
Paper Weight: 400 lb | Texture: Coarse | Acid-Free: Yes | Size Options: 9 x 12 inches
So far, we only discussed surfaces that are made for oil pastels purposes.
But like the Arches Watercolor 300lb Hot-Press Paper, there are many surfaces out there that are not meant for this sole purpose but surprisingly fill the position very well. 
Hence, we find this paper to be highly versatile and we are sure you will too. 
Sale
Experience
As the name suggests, these are originally made for watercolor projects but we cannot deny that it works magic when it comes to oil pastels as well.
In case you're wondering about its versatility, this paper can be used for printmaking, calligraphy, and digital printing as well. It is a multipurpose paper and it saves us from spending money.
The reason we find this perfect for oil pastels is because of so many reasons. Firstly, besides the multipurpose aspect, the papers come with the most amount of surfaces, grits, and textures on this list.
If you do not like the idea of having to look for other brands frequently in order to find the right paper size or texture, then this is the best pick we found.
Secondly, knowing that they are also acid-free ensures that our artworks will stay safe and fresh for a very long time, and not worry about the improper aging process.
Since this is not an oil pastel paper surface, we're not surprised if it does not include all the features of oil pastels. One of them being the paper is only available in the color 'Natural White' which limits the artist to work with only suitable projects.
But if you want to save a decent sum of money and look for an inexpensive oil pastel as well as a multipurpose paper, we would suggest giving the Arches Watercolor 300lb Hot-Press Paper a try.
Pros
Multipurpose usage besides oil pastels or watercolor projects

Offers different sizes, textures, and grit sizes as well

Price is relatively inexpensive
Cons
Does not include other tones besides Natural White
Paper Weight: 140 lb | Texture: Smooth | Acid-Free: Yes | Size Options: 9 x 12 inches
Best Papers For Oil Pastel Comparison Table
Buying Guide For The Best Paper for Oil Pastels
Before getting oil pastel paper surfaces, there are a few things that require some considerations to ensure the surface is right for you and your artwork. 
Tones
The tone is nothing different from the wash you create with liquid paints – it highlights the painting. So, always make sure the tone you get will go along well with any concept, or find one which is perfect for your piece. 
Type of Paper Surfaces
For oil pastels, papers are available in the form of pads, sheets, or sanded. 
Because papers can come either as an individual or a pad, you would want to purchase them in bulk quantity so that you can get a lot of discount with it. 
Sanded paper, on the other hand, is harder and stronger than the two. A single unit will also cost higher. But we still recommend buying them in bulk for a pretty good discount. 
Texture and Tooth
As we have stated, the top features most artists would first look for is the tooth or texture of the paper. The final look of the piece depends on how much control the artist has over it. 
Also keep in mind that with a fine or deep tooth, the paint will stay firmly onto it, preventing them from cracking. But most importantly, artists get to create different effects and textures with a good tooth. 
Versatility
If you're on a tight budget, finding versatile papers can really help. Although it does not have to be as versatile as the Arches Hot-Pressed paper (unless you own a printing studio as well), one that works for other mediums is more than enough. 
Interestingly, we find that the thickness or weight of a paper is pretty responsible for making it versatile. For example, if the paper is too thin, it will not work with wet mediums. So, we advise looking for one that is about 160 gsm. 
Papers For Oil Pastels
Can you use regular paper for oil pastels?
Technically, you can use regular paper for oil pastels, but it's not recommended. Regular paper is not designed to handle the thickness and texture of oil pastels, which can cause smudging and tearing. Using a paper specifically designed for oil pastels is best to get the best results.
What is the difference between sanded paper and pastel paper?
Sanded paper has a rough, gritty texture that helps to hold the pastel in place and create a more vibrant color. On the other hand, pastel paper has a smoother surface that allows for more blending and layering of colors.
Can you use watercolor paper for oil pastels?
Yes, watercolor paper can be used for oil pastels. However, it may not hold the pastel in place as well as other types of paper, which can result in smudging and blending. Choosing a watercolor paper with a heavier weight and rough texture is important for the best results.
How do you choose the right paper for oil pastels?
When choosing a paper for oil pastels, consider factors such as texture, weight, and color. Look for a paper with a rough texture to help hold the pastel in place, a heavier weight to prevent tearing, and a neutral or complementary color to enhance the vibrancy of the pastels.
Can you use acrylic paint on oil pastel paper?
Yes, you can use acrylic paint on oil pastel paper. In fact, many artists use a combination of oil pastels and acrylic paint to create mixed-media artwork. Just be sure to let the oil pastels dry completely before painting with acrylics.
How do you prevent oil pastels from smudging on paper?
To prevent oil pastels from smudging on paper, try using a fixative spray once your artwork is complete. You can also try using textured paper or layering the pastels lightly to avoid overloading the paper with pigment. Additionally, you can wear gloves or use a barrier cream to prevent the oils from your skin from smudging the pastels.
Conclusion
Thank you for taking the time to explore our comprehensive article on some of the best papers for oil pastels. We are confident that you found the information valuable, and now have a better understanding of what to look for when purchasing oil pastel papers. Now that you're equipped with this valuable knowledge, you're ready to create beautiful masterpieces with your favorite oil pastels.
Out of these 9 best papers for oil pastel, here are our top three recommendations:
Strathmore Assorted Pastel Paper Pad is an ideal option for artists on a budget in search of a versatile and easily available paper. It works well with different mediums, offering convenience and variety.
Faber-Castell Black Oil Paper Pad is a good option for artists looking to highlight bright colors and experiment with unconventional backgrounds. This affordable paper works best with dry mediums and can be effectively used for fancy DIY projects.
U. S. Art Supply Premium Oil Pastel Paper Pad is the right choice for those who appreciate a perfect balance of smoothness and tooth in their pastel paper. It works well with mixed media and is suitable for students and beginners.
With these recommendations, we trust that you will have an exciting and exhilarating time creating vibrant and unique artwork on your chosen oil pastel papers. So, go ahead, unleash your creativity, and let your imagination soar with every stroke of oil pastel on these incredible papers. Happy painting!