Colored pencils are some of the most under-appreciated mediums of artistry. They are easy to use, inexpensive, versatile, and can make some of the finest pieces of art. 
Some artists think that colored pencil is an immature medium that is only meant for kids. This distaste might be because erasing any colored pencil drawing is simpler than other types of paintings or drawings. But that is certainly not the case. 
Many professional artists have created some of the best works of their life using these handy pencils. And while there are certainly inexpensive colored pencils for the casual, the market is also saturated with professional-grade pencils. 
So, today, in this discussion we are going to highlight some of our top picks of colored pencils for artists everywhere in the world – both professional and beginners alike. 
So, without any further adieu, go ahead and give it a read! 
Best Colored Pencils for Art
Here is the list of the 11 best colored pencils that you can use to create incredible artworks.
By far, one of the most popular brands in the world of colored pencils is Prismacolor. The reason behind their popularity is their price-to-performance value, even if some consider them to be on the pricier side. And with flexible size options, varying from 12 to 150 different colors in a single set, we absolutely fell in love with them!
Experience
Even though these are wax-based colored pencils, like many others on this list, the performance is astoundingly good. The set that we used in our testing is one of the basic sets, but there are many other options to choose from as well.
The lead has a fairly high pigment count and even though these are wax-based pencils, the colors are significantly softer and blend more evenly than the other wax-based pencils we have used.
The colors are also very vibrant and no matter what color we used from the set, it looked attractive and gave results that are very close to something we'd expect from a professional-grade pencil.
But even though the pencils have an excellent performance, arguably the best among all the other brands of wax-based colored pencils, we'd still not recommend it for professional use. Due to the lack of any lightfast rating, we don't trust its permanence.
Overall, the pencils are a great value for money, with each color costing roughly $0.60, for any casual beginner or even intermediate artist.
Pros
Great value-for-money option for beginners

Arguably the best wax-based colored pencil in terms of performance

Versatile set sizes ranging from 12 to 150 colors in a set
Cons
Not meant for professional use 
Point Type: Fine | Color: Multicolor | Quantity (Per Set): 72 | Dimensions: 8.15″ x 1.15″ x 10.25″
Derwent's ColourSoft colored pencils perform remarkably well, which honestly surprised us. With its soft core lead and vibrant colors, these pencils are so good that they can steal the heart of a professional.
While there are a few objectively better brands of colored pencils that professionals abide by, the value these pencils offer for the price is seriously astounding.
Experience
The colors are incredibly lightfast and you can get the exact information of each color with the attractive color chart that is included in the box.
The lead is extremely soft and produces some of the most vibrant colors we have seen when a pencil is put on paper. And the soft nature of the core also makes it excellent at blending and shading.
Some of us were worried that the soft core of the pencils would break often and would chip while sharpening but, fortunately enough, the lead is extremely resistant to breaking, and there was no case where it broke off unexpectedly when we put pressure.
The lead, however, is a little on the thicker side – roughly, 4mm. While that is a problem for detailed work – because you'd need to constantly sharpen it, it proved excellent for blending and filling out the larger parts of the painting.
Overall, these pencils are excellent for professional-grade use, and they come at a fairly reasonable price, unlike some other brands of similar quality and performance.
Pros
Incredibly attractive colors and great lightfastness

Soft leads that are great for blending

A durable core that won't break easily

Great value-for-money options for professional artists
Cons
Off-brand blenders don't suit the pigments 
Point Type: Fine | Color: Multicolor | Quantity (Per Set): 72 | Dimensions: 13.95″ x 1.02″ x 7.8″
Sale
Tombow Irojiten is a Japanese company that manufactures some of the most unique art products that we have had our hands on. Their products have stolen the hearts of many artists since 1913 because of their impeccable quality, and their quality of standing out in the market. And these colored pencils also stay faithful to their formula.
Experience
The colors are vibrant, and the pigments are soft and produce an even tone, which is great for blending.
As for lightfastness and permanence, it seems to be excellent in that regard. But the sources we've used are not very reliable.
And these unique colors are packaged according to the palette instead of size. Because of that, you get sets like Cool Grey, Seascape, Woodlands, etc. And all of these sets have a different number of colors as well.
We found this on the favorable side because you can just buy colors on the basis of the piece you are doing. If you are doing an art piece with Earth shades, then you can just go ahead and buy only those.
But this argument becomes a little redundant because the pencils are also sold individually but at an extra charge.
They also have many unfamiliar shades and colors that we hadn't experienced before. So, if you are looking to bring some newness to your artworks, then you have found your match!
Pros
Unique palette of colors, providing 90 colors in total

Can be bought in sets on the basis of colors

Can also be purchased individually

Incredibly good performance and vibrant colors
Point Type: N/A | Color: Multicolor | Quantity (Per Set): 90 | Dimensions: 9.7″ x 8.3″ x 3.6″
Sale
Koh-I-Noor Progresso Woodless Colored Pencils redefine the fundamentals of a pencil at an extremely inexpensive price point. And yes, you heard that right! These pencils are indeed made without wood. These are just leads that are wrapped in lacquer. The result of which is positively interesting.
Experience
Since the pencils are all-lead, you can toggle between fine lines and broad strokes with just a slight movement making them extremely flexible to use. Filling out large areas also becomes way easier.
In our experience, we couldn't help but draw parallels between brushes and these pencils. And don't worry, the lacquer covering is great at preventing the colors from spreading and making it all messy.
In terms of performance as well these pencils do remarkably well. The colors are vibrant and the pigment density is enough to provide softness to the colors, which is great for blending purposes.
There are two gripes that we have with this color set though. One is the lack of color charts and lightfast ratings and another is the inability to be bought individually.
But when each pencil costs about only $0.58, we couldn't hold any grudges against it.
Overall, these pencils have a unique feature that we haven't witnessed in other brands before. And although we would not deem it fit for professional work, we consider it an excellent product for any other use case.
Pros
Unique woodless pencils that are great to use

Extremely affordable pricing with each pencil costing about $0.58

Great colors and performance in terms of vibrancy and softness

A huge variety of possible strokes due to its woodless nature
Cons
Not fit for any professional use

Not sold individually
Point Type: Flat | Color: Multicolor | Quantity (Per Set): 24 | Dimensions: 7″ x 4″ x 0.91″
Sale
Faber-Castell is a company that needs no introduction to the art community. They make some of the best quality art products that artists all around the globe abide by.
Their oil-based Polychromos colored pencils constitute one of those fine specimens. These pencils check all the boxes of an excellent colored pencil set and offer interesting advantages over other wax-based colored pencils.
Experience
These are oil-based pencils and these are extremely reminiscent of oil pastels or oil colors in terms of flow and how the colors behave. So, it's way smoother than wax-based colored pencils which makes it better at blending.
Oil-based colored pencils are not that common – as evident from the abundance of wax-based pencils on our list as well. Other than being better at blending, these pencils are also resistant to water, and since oil is a stronger binder, the lead is way less prone to breaking or chipping.
As for the performance of these pencils specifically, the colors are well-saturated and behave consistently. And the lightfastness is absolutely amazing! Hence, we deem it fit for professional use.
The pencils also have a thicker core – about 3.8 mm – so, you get a wider range of strokes capable of both detailing and blunt blending.
Overall, these are excellent oil-based pencils that are great for almost any kind of artist, even though the slick feeling is a departure from more popular wax-based colored pencils. And if you are unsatisfied with wax-based pencils, then surely give these a try!
Pros
Oil-based colored pencils that are great for blending

Incredibly lightfast and great permanence

A thick core that is capable of providing a wide range of strokes

Great performance in terms of color vibrancy

Great for professional use as well
Cons
Can be considered to be on the pricier side 
Point Type: N/A | Color: Multicolor | Quantity (Per Set): 120 | Dimensions: 3.94″ x 1.97″ x 7.87″
There are some brands in the art supplies industry that represent the state of the art. These brands don't care about compromises for a smaller price tag. All they aim to do is to make the best product possible to cater to the needs of professionals all around the world. Caran d'Ache is one of those companies, and their colored pencils exhibit that commitment as well.
Experience
These pencils are at the top of the ladder. The finest pencils a professional can lay a hand on.
The pencils feature thick 8 mm lead cores that can be sharpened to the finest tip possible, and they'd still not break or chip. Of course, this provides a wide variety of strokes that'd not be otherwise possible.
They also surpass any other colored pencils in terms of lightfastness and permanence. Over 80% of their pencils belong to class I of lightfastness, which means they will remain unhindered for over 100 years. And the remaining colors belong to class II, meaning they will maintain their luster for 50 to 100 years.
The colors are also impeccably good-looking and the pencils flow smoothly no matter what kind of paper we used. And blending is also jaw-droppingly graceful.
Of course, the best of the bests will also be valued at a similar price point but that would never be a problem for a professional who is making a living from the quality of these pencils.
And you can get these pencils in 5 different set sizes.
Pros
Impeccable performance, barely rivaled by any other colored pencil brand

Impeccable durability of colors in terms of lightfastness

A balanced palette and immensely beautiful colors

Intended for serious professional use
Cons
It's one of the most expensive pencil sets we've ever used 
Point Type: Fine | Color: Multicolor | Quantity (Per Set): 76 | Dimensions: 5″ x 1″ x 1″
Sale
A fair competition to Faber-Castell Polychromos colored pencils set is LYRA Rembrandt Polycolor Art Pencils. These are also oil-based colored pencils but these offer a different set of pros & cons compared to the aforementioned brand.
But that doesn't change the fact that these pencils are of excellent quality as well, and hence, they are worthy of competition.
Experience
Like the Polychromos, these pencils also flow incredibly smooth and blend effortlessly as well. The colors also perform outstandingly in terms of vibrancy and vividity. The pigments can also be manipulated with turpentine or any odorless mineral spirit.
The purchase options for these pencils are also very lucrative. You can buy these in 5 different size options – 12, 24, 36, 72, and 105. But the best part is that you can buy any pencil individually, which is great news for professional artists.
What's not so great though is that the pencils don't come with a color chart and that's not suitable for many professionals.
When compared to Polychromos, these pencils are indeed a little more affordable but still fall on the expensive side of the spectrum with each pencil costing roughly $1.33 when bought in a set of 24.
Some artists have complained online that the lead chips and breaks but we never had such an experience. Hence, we also recommend using manual sharpeners with these pencils instead of electric ones.
Pros
Incredibly smooth oil-based pencils

Great performance in terms of color vibrancy and consistency

Various size options are available and can also be bought individually
Point Type: Bold | Color: Multicolor | Quantity (Per Set): 72 | Dimensions: 13.19″ x 0.83″ x 7.36″
Sale
All of the colors we have talked about until now were either wax-based or oil-based colors. But we wanted to vary this list with an entry from Stabilo CarbOthello. These pencils are chalk-pastel, and they bring a fairly unique experience to the table, fundamentally different from all the other entries on this list.
Experience
Chalk-pastel colored pencils are significantly different in experience from conventional colored pencils based on wax or oil. The powdery nature of the colors makes blending way more fun.
These pencils belong to the premium category, and hence, are followed by a matching price tag.
The pigments are of top-notch quality, and they are smooth and vibrant. The colors blend together extremely well and with a mix and match of different kinds of paper, you might just witness a unique artwork that'd not have been possible with any other brand of pencils.
As for lightfastness, these colors are extremely resistant to fading due to light and it defines the premium nature of these pencils. So, we think that if you love the experience, and the results you get from these pencils, then don't be afraid to use it for professional artwork.
The pigments are also partially aquarellable, meaning that you can use these pencils with brush and water, and the contours of your artwork will remain intact. And the range of colors in the set is quite satisfactory too with 60 different colors.
Pros
Premium quality chalk-pastel colored pencils that have a unique experience

Extremely enjoyable blending because the colors are smudgeable

Top-notch quality of pigments. Vibrant and consistent colors

Can be used with brush and water to a certain extent
Cons
Falls on the expensive side of the spectrum 
Point Type: N/A | Color: Multicolor | Quantity (Per Set): 60 | Dimensions: 13.25″ x 8.05″ x 1.35″
Sale
An extremely unique way to use colored pencils is by using them in a combination with other mediums, especially, watercolors. For those who are looking for colored pencils capable of such artistry, we have brought you Creative Art's Materials colored pencils.
Experience
While we have had some other oil-based pencils on this list like Polychromos and Lyra, these pencils are better for mixed media because they are significantly softer and silkier than other oil-based colored pencils.
Hence, the pigments latch onto the paper better, and the result is more vibrant colors and expressiveness when used alongside other mediums like watercolor.
Other than that, this set of colored pencils behaves pretty much similar to any other oil-based colored pencil. Its feeling is silky, and the blends are more realistic than the ones created with waxed-based colors.
The durability of the lead is also better than wax-based pencils because oil is a stronger binder. There will be no chipping or breaking after sharpening.
Along with all these redeeming features, the lead is also sufficiently thick. This allows a wider range of strokes.
And the colors are fairly lightfast as well, which makes it capable of being used in a professional project.
Overall, it's an outstanding colored pencil set like its other oil-based siblings. And its soft lead also makes it the best choice for mixed media.
Pros
Excellent oil-based pencils of incredible quality

Outstanding performance in terms of saturation and consistency

Superbly durable with no possibility of chipping or breaking

Incredibly lightfast and resistant to fading

Softer and silkier lead that is perfect for mixed media
Cons
Like other oil-based colored pencils, these are also very expensive 
Point Type: Fine | Color: Multicolor | Quantity (Per Set): 40 | Dimensions: N/A
Holbein Artist Colored Pencils is one of the most elaborate sets of colored pencils that we have seen that comes at an affordable price point. Even though the 150 different shades of colors steal the show, the pencils themselves are of remarkable quality and perform quite magnificently.
Experience
The number of colors that you get in a box can be quite overwhelming. When you get 150 different shades of colors stacked in two layers of a box, you don't really have room to complain.
We deem it the most comprehensive set of colors for a beginner and casual artist. As for performance, the colors are quite excellent as the pigments are saturated and blend excellently.
The lightfastness and the permanence of the colors are also quite satisfactory. Although, we don't recommend this to professional artists who need it to be pitch-perfect.
We'll rate these colors well above average in terms of performance, meaning that it's superb enough to deal with the needs of most artists until it's some serious business.
One thing that was pleasing for us to note, was the thickness of the lead. It's 3.8 mm, and since it's on the thicker side, you get a wider range of strokes.
Overall, it's an excellent colored pencil set for casual beginner and even intermediate artists. But unfortunately, the lightfastness of these colors makes them fall short of any professional use.
Pros
A huge number of colors with 150 colors in a single set

Great performance in terms of vibrancy and blending ability

Adequate lightfastness and permanence

An excellent comprehensive option for beginners
Cons
Not meant for professional use 
Point Type: Medium | Color: Multicolor | Quantity (Per Set): 150 | Dimensions: 7.9″ x 2″ x 18.1″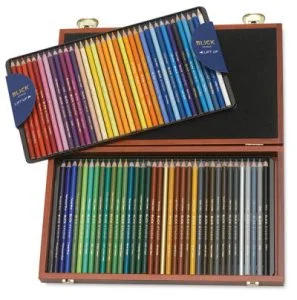 Blick is one of the most beloved brands in this industry. They have found a perfect balance of price-to-performance that seems to please a lot of artists all around the world. And to no surprise, Blick does it again with their colored pencils as well.
These are the perfect middle-of-the-ground pencils that are priced in a beginner-friendly fashion but perform like a professional-grade tool.
Experience
Right off the bat, the performance matches and even rivals some of the professional-grade pencils that are way more expensive than these ones.
The colors are vibrant, and they blend extremely easily. The pigment density is also high.
And the best part is that your artworks will maintain their luster for years to come because the colors are incredibly lightfast. Nothing about the performance felt short, especially, when considering the price.
And the purchase options are incredibly flexible too. First, there are 5 different sizes you can buy – 12, 24, 36, 48, and 72. If that doesn't suit you, you can also buy them in thematic sets called Greys, Landscape, and Portrait. And if that doesn't feel right to you, then you can also purchase them individually!
So, if you are looking to move on from rudimentary colored pencils and get into some serious works of art, there is no better option than this. And once you do move on, you won't change soon because these are nearly gems.
Pros
Great price to performance and impeccable quality

Amazingly vibrant and attractive colors

Good quality pigments for great blending

Incredibly lightfast and great permanence

Huge variety of purchase options. Can be bought individually as well
Cons
May not suit artists who need super-premium pencils 
Point Type: N/A | Color: Multicolor | Quantity (Per Set): 72 | Dimensions: 13.10″ x 8″ x 1.40″
Best Colored Pencil Set Comparison Table
Buying Guide For The Best Colored Pencil Set
By now, you must have realized that there are a number of color pencil options on the market and that choosing one can be difficult. In this section, we will discuss the factors that can help you purchase the right set of colored pencils.
Type of Pencil Set
Today, most colored pencils are wax-based, which provides a smooth texture. The pigment flows well, and you can create many layers on the paper. There is no need to worry about adhesion or smearing, and the layers will be clearly visible. 
The only issue is that you may see wax bloom, which may give a splotchy look to the picture. However, you can wipe the excess colors with a cloth to perfect the sketch. 
Next, there are oil-based pencils that have some wax in them. These have a different consistency, and they do not cause a wax bloom. They are firmer than wax pencils but will provide a smooth finish. Also, the lead does not break easily, and the pencils last longer. 
But oil-based colors can be harder to remove, and they smear easily. 
Then, there are watercolor pencils where the binder is water-soluble, and the pigments can mix with water. They contain a dry watercolor pigment, which can be used along with water and brushes. 
Another type to mention is chalk-pastel pencils, which are perfect for blending. These have a chalky texture, and you can use your fingers or cotton to blend them together. 
Experience Level with Colored Pencil Art
If you have used pencil colors before, then you must have noticed that some are easier to use than others. The ones available for schoolchildren have a harder lead, and they do not break easily. They are easier to sketch with and have less blending capacity. 
On the other hand, for advanced painters, there are more delicate and fragile pencils. These have better blending capacity and a soft lead. Also, if you are using watercolor pencils, then the colors could react with the slightest amount of water and help you blend well across surfaces. 
These artist-grade colors can be more expensive as they contain more pigment and are of higher quality. 
Durability
With normal use, colored pencils can easily last for two to five years at a stretch. But, if you keep them in a cool dark place in appropriate boxes, then they can easily last for a longer time. Artists who use colors regularly have even used color pencils after 25 years of storing them. 
Today, there are woodless colored pencils that can last for 100 years. But, please remember that the colors are susceptible to breaking or chipping in the long run. This is especially true for thin wooden pencils. So, make sure that you keep them properly and do not drop them off often. 
If you are teaching your kids how to use these colors, it is best to sit on the floor and work to prevent the pencils from dropping from a higher surface. For school use, purchase pencil colors that are thicker to prevent easy breakage. 
Lightfastness Quality
Lightfastness rating helps one understand how resistant the color pigment is to fading. If you are just purchasing colored pencils to practice and do not plan to preserve your work, then this is not going to be an essential factor. 
However, if you are planning to sell your work or frame them, then the colors have to be resistant to fading. Most professional-grade color pencils available today are not prone to fading. 
Colored Pencils for Art FAQs
What kind of paper should I use with colored pencils?
Heavyweight, acid-free paper with a slight texture is recommended for colored pencil art. The texture provides tooth for the pigment to adhere to, while the acid-free quality ensures long-lasting artwork without yellowing or deterioration.
Do I need to use fixative when working with colored pencils?
Fixative is not always necessary for colored pencil art, but it can help prevent smudging, reduce wax bloom, and protect the artwork. However, it may alter the overall appearance of colors, so testing the fixative on a small sample is recommended.
Can I blend colors with colored pencils?
Yes, colored pencils can be blended using various techniques like layering, burnishing, and solvents. These techniques help create smooth transitions, gradients, and more depth in your art.
What is lightfastness in colored pencils?
Lightfastness refers to a colored pencil's resistance to fading when exposed to light. Pencils with higher lightfastness ratings will retain their colors better over time, allowing the artwork to remain vibrant and colorful.
Are artist-grade colored pencils better than student-grade ones?
Artist-grade colored pencils typically have higher pigment concentration and better lightfastness than student-grade alternatives, which can result in more vibrant, long-lasting artwork. However, they are usually more expensive, so the choice depends on your budget and needs.
What are some techniques used for creating art with colored pencils
Can I sharpen my colored pencils with a regular pencil sharpener?
While you can use a regular pencil sharpener for colored pencils, specialized colored pencil sharpeners are better suited for the task. They have less aggressive blades that prevent the fragile colored cores from breaking or crumbling during sharpening.
Conclusion
Finding the best colored pencils for your artistic needs can be a challenge, as the options on the market are varied in terms of price, performance, and suitability for beginners or professionals. However, our thorough review has made it easier for you to choose the best product based on your requirements.
From the above 11 best colored pencils, here are the top three expert recommendations:
For casual beginners, the Prismacolor Colored Pencils and Sets are an ideal option. With a high pigment count, soft colors, and excellent blending capabilities, casual artists could fall in love with these pencils.
Professional artists looking for value should consider the Derwent Colored Pencils ColourSoft. With lightfast and vibrant colors, a soft lead that is great for blending, and excellent durability, these pencils are an impressive choice.
If you're looking for unique palettes, the Tombow Irojiten Color Pencils are the right choice. Featuring vibrant colors, great blending capabilities, and unique palette options, these pencils can help you explore new artistic possibilities.
Regardless of your artistic experience or preferences, our expert recommendations can help guide you to the best colored pencil product for your unique needs. So, go ahead and unleash your creative potential with these exceptional colored pencil options.
Related Articles
15 Best Electric Pencil Sharpeners
13 Best Sharpener For Colored Pencils
7 Best Electric Pencil Sharpener For Colored Pencils
10 Best Paper For Colored Pencils
Learn How to Shade With Colored Pencils
12 Colored Pencil Tips & Tricks
Learn How To Use Colored Pencils
6 Best Erasable Colored Pencils
You Won't Believe What Colored Pencils Are Made Of!
Learn How To Blend Colored Pencils