Colored pencils are simple mediums that can produce extraordinary artworks.
However, unlike regular lead pencils, these are very fragile and soft. This is because of their core composition. 
Most good-quality colored pencils contain wax or oil in their composition that can help make their pigments vibrant. Moreover, they are also much more expensive than graphite pencils. Therefore, it's important to take good care when using colored pencils. And one of the best ways to care for them is by using a good sharpener.
Using a good sharpener can go a long way than just keeping your pencils sharp. So, in the following, we have 13 of the best sharpeners that are highly preferred by artists everywhere. Check them out.
Best Sharpener for Colored Pencils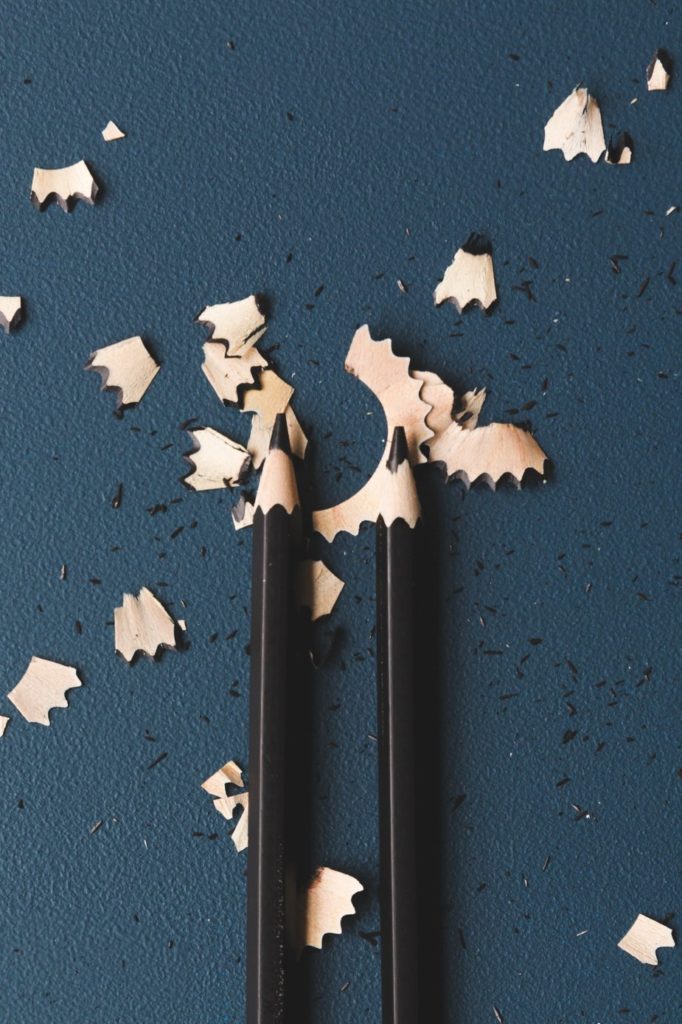 Staedtler is a German company that has been around for almost 200 years now. It is one of the most respected brands when it comes to stationery supplies. 
And we have here metal sharpeners, each with dual sharpening holes to serve two purposes. If you want a pointy tip on your colored pencil, use the 8.2 mm hole, while if you're planning to draw wider lines, then the 10.2 mm hole will be perfect. 
Experience
The sharpener is ideal for working with a piece where you can use your pencil for many different textures since it offers two sizes for the tip.
We love that there are two high-quality pieces within the pack, so we can take one out for plein air projects and keep one as a back-up or for using at home. They can also sharpen soft oil-based pencils without breaking them in the process. 
For their use and durability, we think the price is very reasonable. It's worth investing in a sharpener that won't malfunction soon as regular ones do after a certain period of usage.
However, the sharpener is not designed to be safe for children as it is fully constructed from metal and there are no outer plastic covers to prevent possible cuts. It is also very small so we don't suggest giving it to younger kids. 
And since the pencils don't come with a shell, you must have a trash can by your side all the time to prevent creating a mess. 
But nonetheless, the sharpener is great for those who are in search of quality and reliability since it has already withstood the test of time. 
Pros
The sharpener has dual holes and can be used to sharpen tips in two different sizes

It is highly durable and has withstood the test of time

Besides durability, the sharpener offers great-quality sharpening that will take good care of colored pencils
Cons
Without any outer cover, this sharpener is not suitable for kids
Blick is a name that is very popular among artists for its high-quality and affordable art supplies. And this sharpener is one of them. 
It comes in a very sleek and interesting design and has one sharpening chamber. 

Experience
The first thing one would notice about this sharpener is its beautiful and sophisticated design. 
The shavings will stay inside the enclosed plastic cover until you discard them. This makes the sharpener ideal for everyone, especially children. Because of its shape, the inner compartment can also be cleaned easily. 
But with only one chamber, users have no pick over their pencil's tip size. This means they have to stick with a particular size for all their colored pencils and artworks.
Keeping aside the aesthetics, the sharpener is an ideal pick to carry when traveling or simply going plein air since it's tightly secured at both ends, leaving no chance for the shavings to escape.
The quality of the sharpener can be gauged when working with colored pencils as it doesn't damage the core. 
It is also a good pick if you want to draw a piece somewhere where trash cans aren't available to discard shavings. 
All in all, if you want a sharpener that doesn't consume a lot of space inside your pencil bag, this is the perfect option to go with because of its size and portability. It's also a great gift for someone who loves sketching as much as you do. 
Pros
The sharpener is small, stylish, and won't take a lot of space inside a stationary bag

It is ideal for traveling or sketching portraits outside.

With its secured plastic covers, one can use it to sharpen pencils anywhere without creating a mess
Cons
Only one chamber is available which limits the choice of pencil tip sizes
Here is another sharpener from Staedtler. This one comes in a very simple, yet attractive design which also happens to be child-friendly and portable.
It's also one of the cheapest sharpeners on the list, but that doesn't compromise its functionality. 
Experience
Those who are starting out with colored pencils as a coloring medium will find this sharpener very handy and suitable to carry around. 
We personally love that a high-quality sharpener from a renowned name such as this comes at a very reasonable price. Its sharp blades allow for clean and pointy tips. 
You can use it for both graphite and colored pencils. But the reason we included it on this list is that it takes good care of your colored pencils by keeping them fine and pointy at all times.
While the quality is good, the only limitation is it does not have dual holes for sharpening. For advanced artists, this might not be preferable when working with more than one tip size. 
However, it's a perfect sharpener to carry around for outdoor drawings since it has a secured plastic cover to hold the shavings inside. It's also a good pick for kids since the cover hides away the sharp blade.
So, if you want a good, reasonably priced sharpener for kids, give this one a try. It also comes in different colors! 
Pros
It has sharp blades with good performance, yet comes at a very cheap price

The sharpener is available in multiple colors so it's perfect for children too

It is small and portable

Keeps your colored pencils sharp and in clean shape all the time
Cons
There is only one chamber for sharpening and that limits pencil tip size
Bostitch is a name that has won the Teachers Choice Award of 2022. 
The sharpener is made to meet both classroom and industrial requirements. It can be used for graphite pencils, but it works excellently with colored pencils too.
It has a blade which can easily be removed while using in case the oil/wax binder gets stuck inside and prevents the pencil from sharpening. 
Sale
Experience
Many artists love this sharpener for many reasons. First of all, unlike other sharpeners, the blade on this electric sharpener can be removed for easy cleaning if the wax ever gets clogged inside while sharpening colored pencils. 
On top of that, the blade is very sharp and is always able to produce pointy tips in every single use without damaging the outer wood casing as cheap sharpeners do.
We love the design as it is sturdy and compact. It adds to the overall high-quality performance. Moreover, it is also soundproof which even makes it more desirable. Unlike sharpeners from older days, this one creates very little sound which eliminates distractions. 
Besides its removable blades, the sharpener has 6 chambers meant for different pencil shapes and tip sizes. So if you're using round or triangular-shaped pencils, this is the perfect pick.
And if you are looking for a more reliable or long-lasting option, this one would be a pretty good investment.
Although the price of this sharpener is much higher than that of other more popular sharpeners from the same brand, we are very satisfied with the quality and multiple features it offers.
All in all, we recommend investing in this sharpener as it lasts long and you can buy separate replacement blades. Moreover, it can be used by both adults and children.
Pros
The sharpener has 6 sharpeners suitable for any common pencil shape and tip size

Blades can be removed, easily cleaned, and also be bought separately if you lose one

It is soundproof to prevent distractions
It is ideal for professionals, beginners, as well as children
Cons
Compared to other sharpeners from the same brand, this one comes at a higher price
There are a lot of reasons to love this sharpener from Maped. 
One of the main reasons is because of its very low price for only $1.79 for a double chamber and $0.79 for a single chamber. 
We included this one on our list solely because it comes at an inexpensive price, but still performs as other high-end sharpeners do. 
Experience
If you're planning to buy a sharpener that will last for a very long time, we recommend the Maped Hand-Held Sharpener. Not only is it cheap but it is also highly durable.
This metal sharpener is suitable for professionals and it has a rating of 4.8 on the Blick art supplies website. All of this is a reason for its multiple features. 
It has perfect grip on both of its sides for precise pencil sharpening. The double-chambered unit has one large hole which can be used for graphite pencils, colored pencils, and even pastels or charcoal. And it works incredibly well with all of them. 
Because it accepts more than one coloring medium, artists find this sharpener to be more convenient than other ridiculously-priced high-end units out there which only serve one purpose. Rather than buying multiple sharpeners to meet different requirements, this one already serves 4 coloring mediums. 
We can say that the only setback is that it is not suitable for kids even though it comes at a very cheap price. Because it also has sharp blades, you'll also want to store it in a place where kids won't find it. 
But other than that, this sharpener is one of the cheapest options that comes with amazing features you'll find in the market.
Pros
Inexpensive price

Suitable for mediums such as graphite pencils, colored pencils, pastels, and charcoal

Will last for a very long time
Cons
Not recommended for children to use
Alvin is a US-based brand which is gaining popularity each day for its art supplies. Their product designs are one which catches the eyes of artists everywhere. And that is the same case with their Brass Bullet Pencil Sharpener. 
This little sharpener contains one chamber with an incredibly sharp blade that will turn any dull pencil tip extra pointy. 
Experience
We all have experienced how sharpening our pencils with a cheap sharpener requires a lot of effort and caution so that the tip won't break and the casing won't get damaged. 
Then most of the time, we end up getting just what we avoided – a pencil with a distorted casing and a broken tip – and resorting to knives and blades for sharpening them can be pretty annoying .
Luckily, we have here the Alvin Brass Bullet Pencil Sharpener which does just the opposite of what we dislike, and that is to keep your pencil neat and pointy at all times. The reason we don't need to put a lot of effort and energy into sharpening while using this is because of its sharp blade and compact shape. 
Also, the blade is from the renowned German-based company, Mobius & Ruppert, which makes the sharpener more reliable.
Besides us, there are tons of professionals out there who love this sharpener as it's ideal for both studio use and traveling. Even with its small size, we enjoy using this sharpener for its perfect grip to ensure neat shaving.
Another great feature about it is the price. Because it comes at a cost under $10, it falls under the cheapest options on this list.
However, since it has no cover for shavings or safety, it's only ideal for professional and adult use. It also has only one chamber which restricts tip size selection.
But overall, the sharpener is of high-quality and is very popular among professional artists.
Pros
The sharpener comes at a very low price including multiple features

Sharp blade from Mobius & Ruppert allows effortless sharpening of both lead and colored pencils
It comes with a good grip on both sides for clean cutting
Cons
Does not have safety/shaving cover and is not suitable for little children
The electric pencil sharpener from TripWorthy is perfect for carrying around or traveling. It has all the features any artist would look for in a sharpener. It is suitable for outdoor projects as well. 
It needs 4 AA batteries to operate and it's small enough to fit inside your accessory bag. 
Experience
We are surprised to know that this sharpener is from a startup, yet it still has most of the features similar to those from high end brands. It's good for children and adults, as well as professionals. 
The sharpener is suitable for both hard and soft lead or even colored pencils.
While going online for reviews, many users said that it works excellently with many colored pencils, as well as their water-color pencils.
But if we have to point out one drawback, it would be that it comes with only one chamber. This limits the choice for professionals who would like to select between a wide or fine tip. 
Nevertheless, the sharpener is a good pick for those who want to own only a single unit for multiple pencils. It also has a secured plastic cover to collects all the shavings for you to discard later. 
Pros
Suitable for professionals, beginners, as well as children

Sharpener has a cover to collect shavings without making a mess

You can use it for multiple pencils such as watercolor, graphite, and of course, colored pencils
Cons
It has only one chamber, not allowing users to choose between wider or finer pencil tips
We have here another electric pencil sharpener. Duet has come up with this electric pencil sharpener which operates on two batteries and has manual settings.
The innovative idea by Duet for this sharpener allows users to have control over the size of the pencil tip by tuning it. 
Experience
We love how colored pencils can be sharpened effortlessly. The only time you need to pay undivided attention to it is when you have to choose a tip size for your pencil, right before the sharpening is complete.
It also falls under the inexpensive sharpeners on this list which is around $7 and may be highly favored by users on a tight budget. It has most of the features one would look for in an electric pencil sharpener. Moreover, it is perfect to take along for outdoor projects. So, investing in it will be a pretty good idea. 
However, some users reported that when keeping it on battery mode, it has a tendency to lag or stop. Other than that, the manual option works pretty well. 
For what it's worth, this will be a good pick for those who are looking forward to having control over the pencil tip.
Pros
The pencil sharpener only needs 2 AA batteries to operate

It comes at a very inexpensive price of around $7 each

This is perfect for both studio and outdoor use
It has a casing to save shavings and is safe for children to use
Cons
Sometimes, going on battery mode can cause lagging or stopping
Prismacolor is a brand name which is respected for its high-quality pencils that come at affordable prices. For this reason, they came up with a sharpener which works well with their colored pencils, but we don't doubt it is excellent for other colored pencils too. 
Sale
Experience
If you have been around the world of colored pencils for some time, you'll know Prismacolor is a very trusted brand. So, when they introduced the colored pencil sharpener, we knew it was going to be nothing short of a good-quality product. 
And as we expected, their sharpener performs very much like the other high-end ones. It has a large casing which allows us to store the shavings when working outdoors. There are also two chambers – one for a wider tip and another for a finer tip. 
One thing to keep in mind is that this sharpener is only meant for colored pencils. Although it might work well for graphite pencils too, we recommend sticking only to the intended purpose as the blade is not replaceable. 
As we have seen from many online reviews, users said the sharpener is more than enough for those who daily work with colored pencils. They found that the price is worth its performance.
If you always use Prismacolor colored pencils, this would be the perfect sharpener for all your projects. But we also urge you to try it for other colored pencils as well since it has everything you might be expecting from a colored pencil sharpener.
Pros
The sharpener comes at a reasonable price

It has a casing which can be used to store shavings as long as the user is outdoors

There are two chambers to let the user select either a wide or fine tip
Cons
It is only suitable for use with colored pencils and not for other media
X-ACTO is a brand known for producing some of the sharpest knives and razors universally. And now, they introduced this electric sharpener for multipurpose uses.
It can be used for colored and graphite pencils. The blade is incredibly sharp which allows users to cut pencils easily.
Experience
We love that this sharpener keeps our pencils pointy all the time until they become too short to use. Besides graphite and colored pencils, it can also be used for either soft or hard leads, and triangular pencils too. Therefore, this increases its versatility. 
Like most of the options we mentioned before, this one too is suitable for children and adults to use, as well as for taking it outdoors. 
However, what sets it apart from the rest is that it comes with a warranty of 10 years. This hints that the sharpener is of very high-quality. We take this as an opportunity to get the most performance from the sharpener. Rest assured, it is incredibly durable.
Another feature we must include is that the blades can be removed for cleaning. In case we lose them, there are replacement blades that are available online. 
Expect to find the blades dull after a long while of using which means there is a need to change them.  
Besides artists, professionals who are looking for a heavy-duty sharpener to carry to their work site found this sharpener very handy. 
Pros
Sharpener can be used for certain media such as hard or soft leads, graphite, triangular, and colored pencils

Can be used by everyone including children, adults, and even professionals

Its blades can be removed and replaced when needed
Cons
The blades can become dull and blunt after a while of using, which they will then require to be changed
In our review of the Alvin Brass Bullet Pencil Sharpener, we mentioned that the blade it utilizes is from this particular brand. 
Mobius & Ruppert is a company making stationery which has been around for more than a hundred years now. All of the products are known for their premium quality, and that's the same case with this sharpener. 
Experience
As the name suggests, the Brass Round Double Hole Sharpener has double chambers – for wide and fine sharpening. It comes at a very affordable price, so students as well as artists with a restricted budget can use it. 
The round body is made entirely of brass. It is one of the smallest sharpeners on our list. Although its shape is round, we can still get a good grip for smooth sharpening, all thanks to the side grooves.
The blades on this sharpener can be removed as well as replaced with new ones in which you can find on any online stationery-selling platforms.
Many artists who have used this sharpener for a while now said that it is durable and still functions pretty well.
Since it is an open-blade sharpener, it means that it is not designed to have a casing. Therefore, its usage is restricted only to adults, and not children. 
Pros
Sharpener comes at an incredibly low price for everyone to be able to afford it
Blades can be removed and replaced to ensure clean cutting
It has two chambers and lasts for a long time
Cons
The open-blade design exposing sharp blades might not be suitable for little children to use
The Dahle Professional Pencil Sharpener is used for sharpening a variety of coloring mediums such as watercolor pencils, pastels, colored pencils, and also charcoal.
One important feature about it is that it has the looks of a crank sharpener but functions as a modern one. 
Experience
This sharpener is one of the best that we have reviewed. 
What we truly love about it is that it allows us to choose the right tip size simply by tuning the adjustment lever. Moreover, it contains a chamber opening which is large enough for any pencil size to fit inside. It has a small casing to save unwanted shavings. 
The benefit you'll get from manually tuning the tip is if the art piece requires patches and lines of different sizes, which the sharpener can easily provide. You will also have more control over the outcome of the piece. 
We also like that it is inexpensive so that everybody can have access to it. We can use it both in the studio or outdoor too. 
One drawback is that unlike automatic or even hand-held sharpeners, you need to actually turn the handle for sharpening, and this requires more time and effort. 
But apart from that, this would be a good pick for your studio or if you want accurate tip size.
Pros
The sharpener allows its users to choose the tip size according to their preferences

It comes at an inexpensive price

It is ideal for both outdoor and studio use
Cons
Can take time to sharpen pencils by turning the handle
Another manually-operated crank sharpener is the Derwent Super Point Manual Helical Pencil sharpener. It can be used for pencils of different sizes. 
Its features include having helical blades to ensure long point sharpening and many more. 
Sale
Experience
We love this sharpener because of the multiple features it includes. It is ideal for pencils with a size that reaches up to 8mm.  
First of all, the secured metal casing is one feature which assures us that the sharpener will last for a long time.
Although you have to turn the lever, it automatically stops when the cutting process is done. The sharpener will slack and that's when you know it's ready. There is no need to hold the sharpener with your hand since it comes with a clamp that can be attached to a desk or work table.
The blades are easily reachable for cleaning since all you have to do is pull out the reservoir tray.
This is a professional grade sharpener, hence, it falls under the expensive options on this list. It may not be suitable if you're either on a tight budget or just looking to sharpen your colored pencils with a cheaper alternative. 
Overall, the sharpener produces amazing extra long and extra pointy pencils. 
Pros
Auto-stop feature to make sure you don't waste your precious colored pencils

Comes with a clamp which can be attached to various surfaces such as a desk, work table or chair

Blades are easily accessible for proper cleaning
Cons
The price can be expensive for students and budgeted artists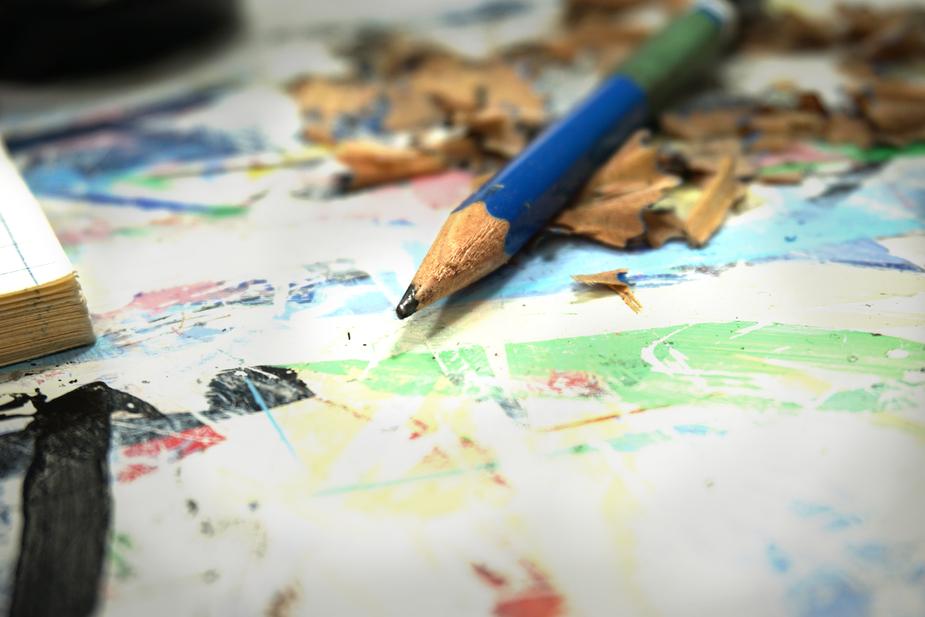 Conclusion
When choosing a sharpener, make sure it has what you're looking for. For example, whether it's manually or battery operated, how many chambers it contains, and if the blades are removable or not. Finding the right unit will save you time and money.
We hope you enjoyed and found this review helpful. We'll see you again soon!
All the best!
Related Articles
15 Best Electric Pencil Sharpeners 
11 Best Colored Pencils for Beginners & Professional Artists
33 Best Art Supplies for Kids and Why You Need Them
11 Best Adult Coloring Books That Will Color Your Mood
7 Best Electric Pencil Sharpener For Colored Pencils 
10 Best Paper For Colored Pencils in 2022 Reviewed
Learn How to Shade With Colored Pencils Swiftly & Correctly
12 Colored Pencil Tips & Tricks to Enhance Your Skill
Learn How To Use Colored Pencils | 12 Brilliant Beginner Techniques
6 Best Erasable Colored Pencils Right Now
You Won't Believe What Colored Pencils Are Made Of!
10 Colored Pencil Techniques to Enhance Your Drawings Swiftly
Learn How To Blend Colored Pencils Correctly Fast