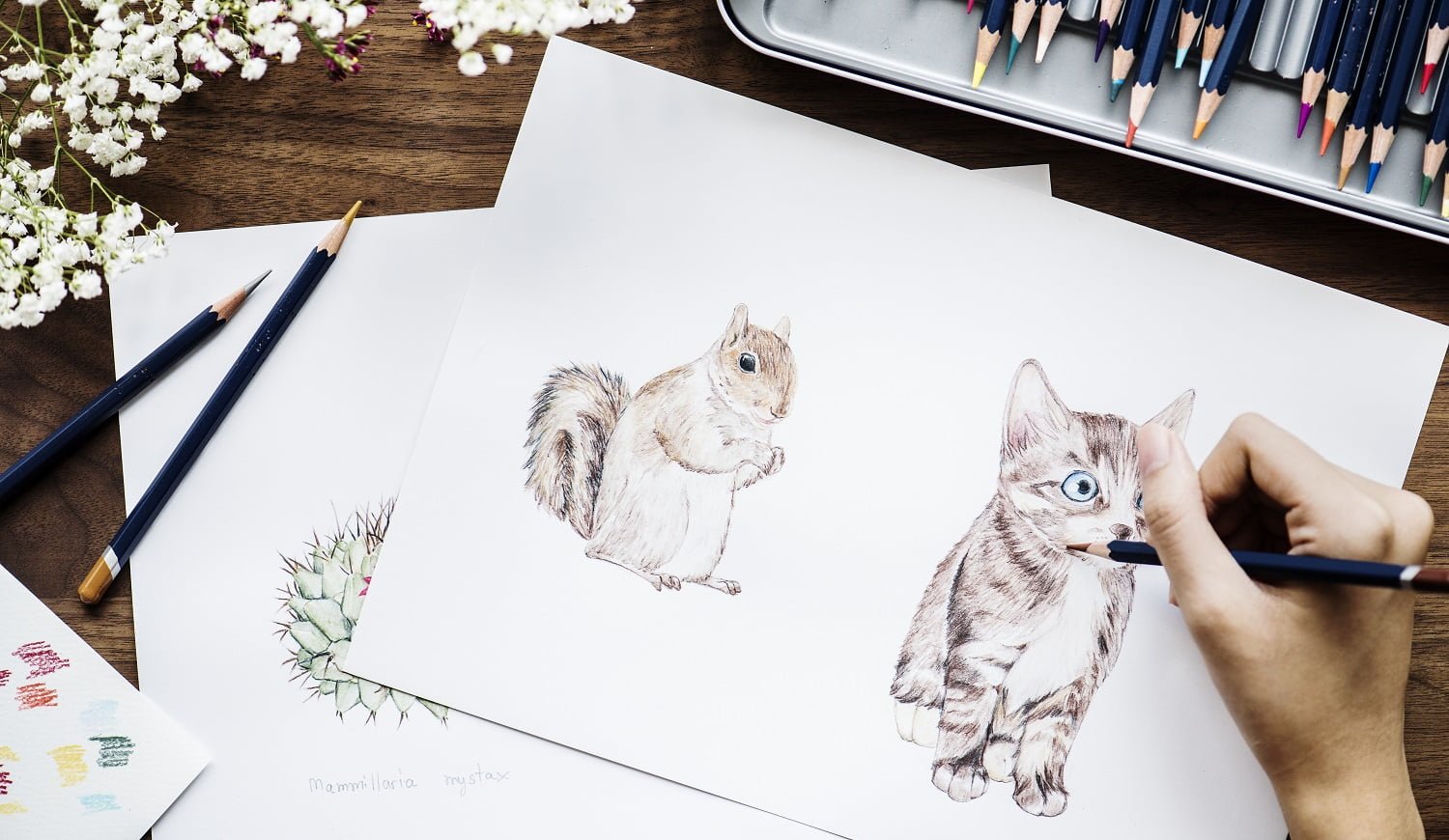 Colored pencils are an excellent medium to use. If you are a novice, this is the medium to begin your art journey with. 
Unlike oil and watercolors, this will not smudge or roll down your canvas. It is almost like using a pen. The only difference is that they are colorful and smoother. You can use cotton or cloth to blend the colors, and an eraser can be used to rub it off. 
So, yes, there is a space to correct your mistakes. These colors can be used for layering, and you will be able to create stunning pieces with well-blended shades. 
Now we know how important inspiration is, and without the right motivation, it isn't easy to begin drawing. To help you out, we have listed 57 colored pencil drawing ideas. 
Read on to know all about them. 
Colored Pencil Drawing Ideas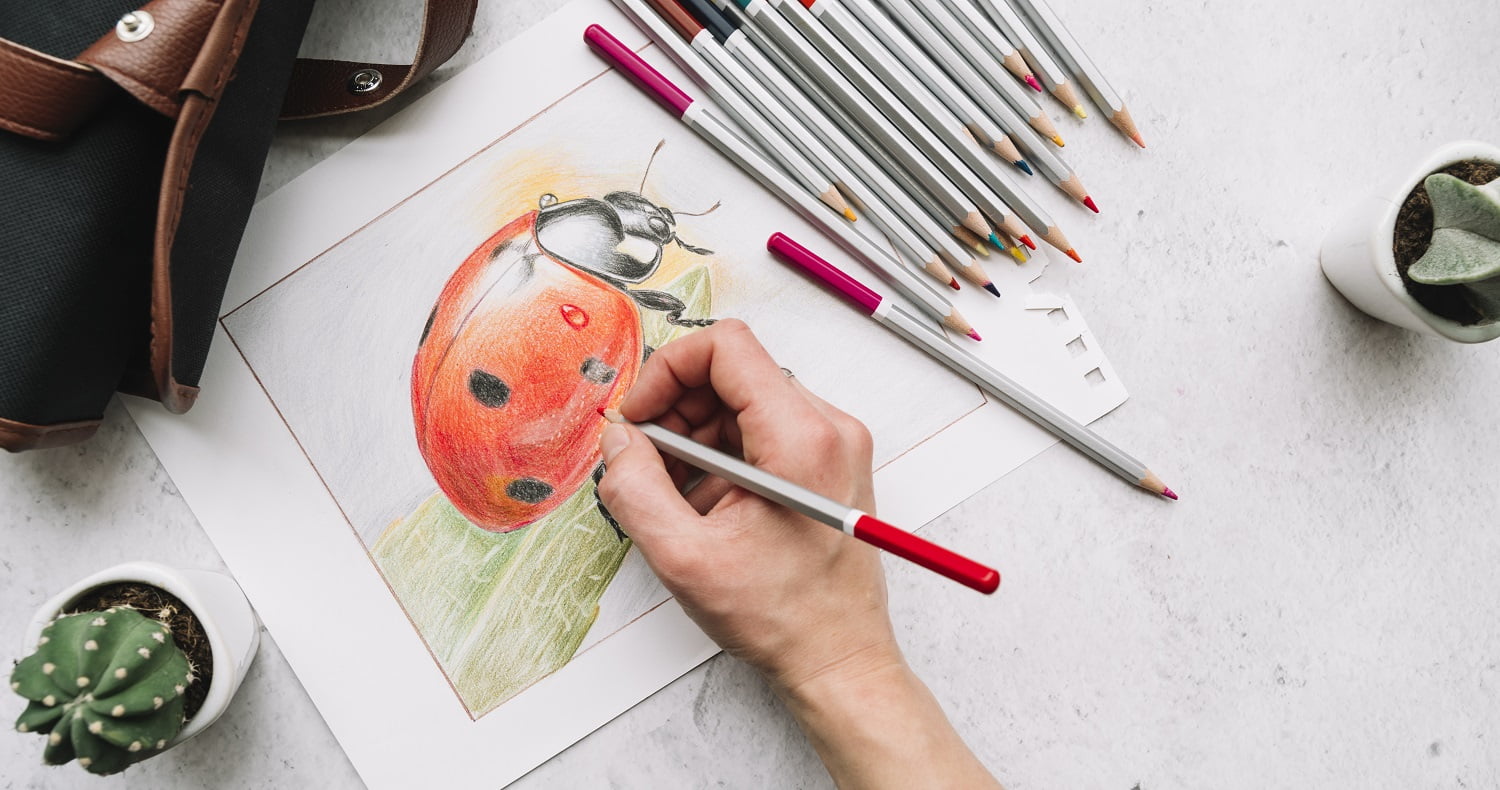 Drawing Dory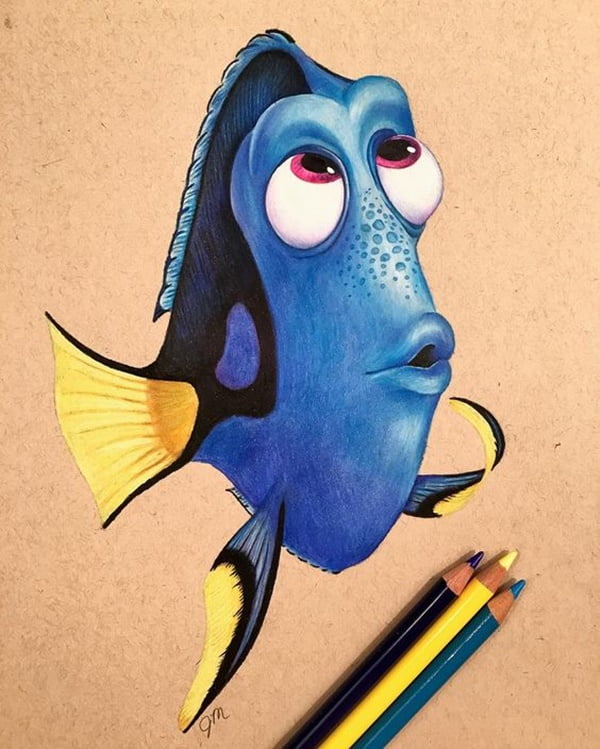 This is an adorable picture of Dory from 'Finding Nemo,' the popular fish that everybody loves. Look how they have blended the different shades of blue to create the body. The background has been made slightly dull to have the fish standing out. 
Spiderman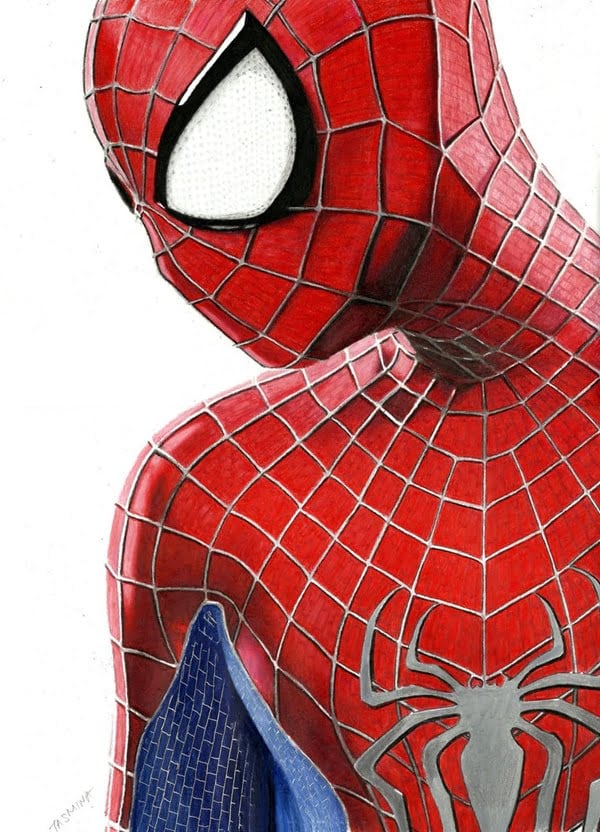 Have you been a spiderman fan for ages now? Yes, it involves an intricate design and many colors, but that is the beauty of it. Pay attention to how the color white has been used to show the reflection of light. 
Baby Groot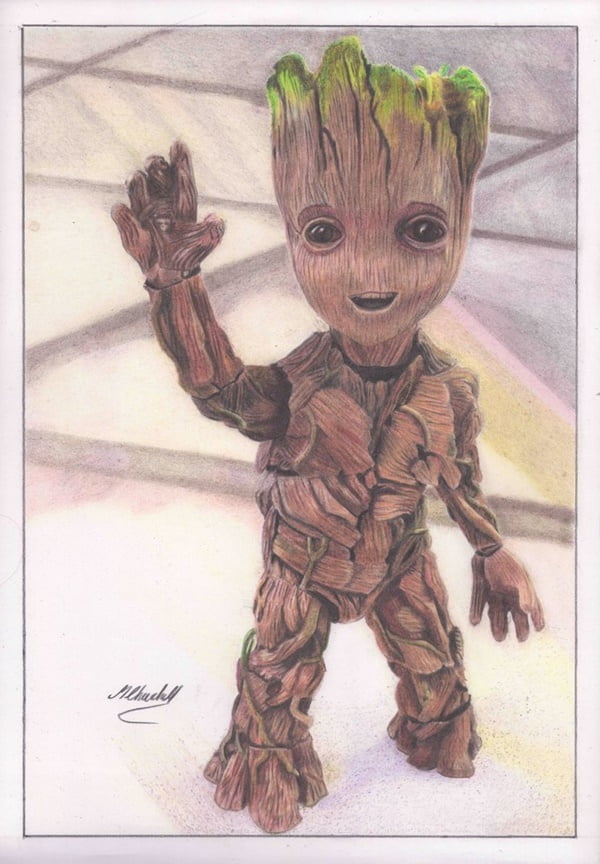 This is an excellent example of a simple drawing that will look very creative. First, use a pencil to draw spiral lines and a U shaped head, and then go on to use brown and green to color it. 
Girl With An Umbrella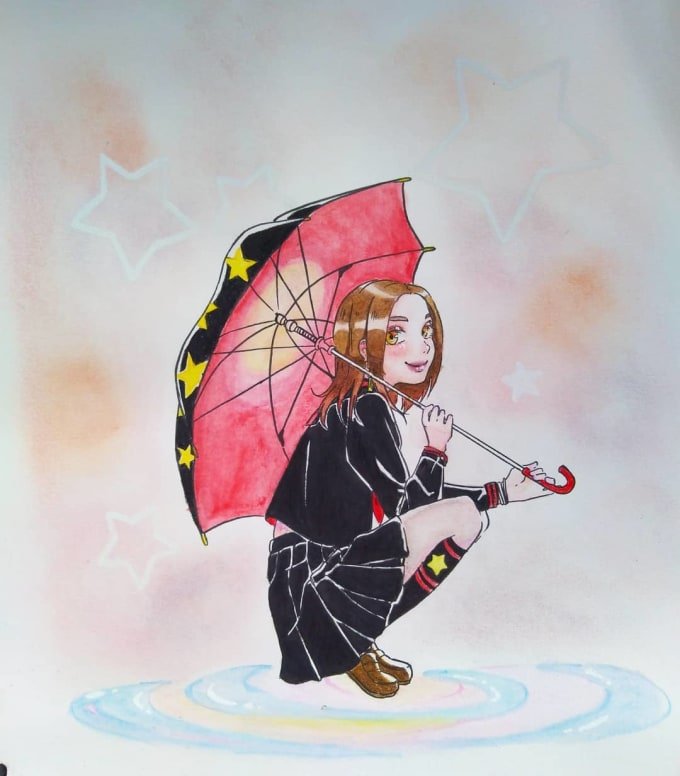 This is indeed a very thoughtful drawing, and we love the artwork. The girl has been painted black while the colorful umbrella stands in contrast with it. This will not be very difficult and can be attempted by beginners. 
Bright Patterned Yin Yang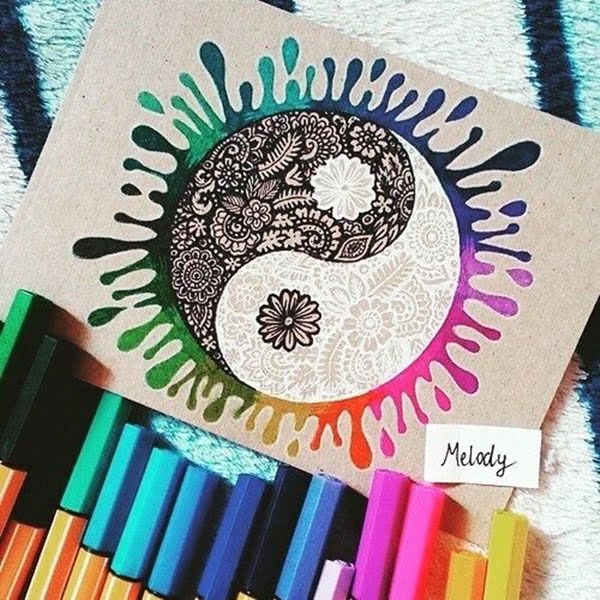 Looking at it, you are reminded of Yin Yang, but it is entirely different. The complete design has floral patterns on it and is surrounded by a splash of vibrant colors. 
Colored Yin-Yang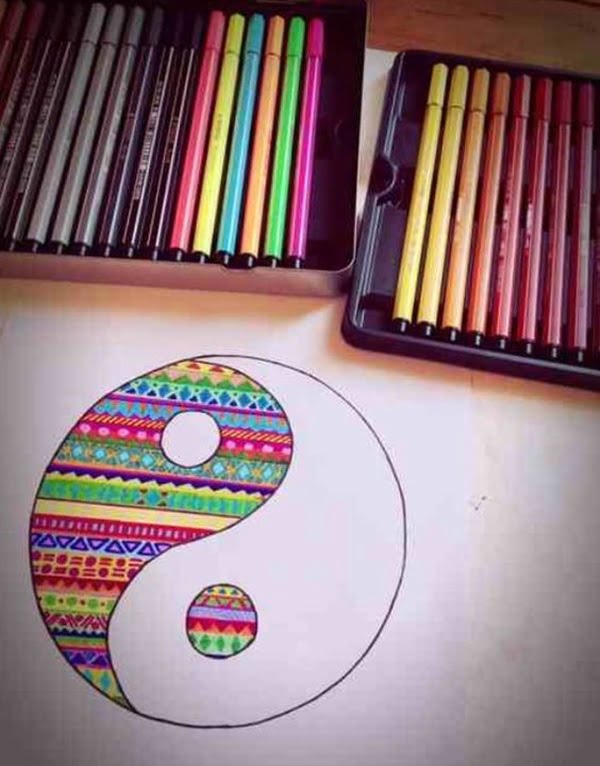 This is indeed a very creative version of the popular Yin Yang symbol. Painted in a multitude of colors, this stands out for the bright patterns on one side. You can refer to the patterns in the picture or create your own. 
Colorful Balloons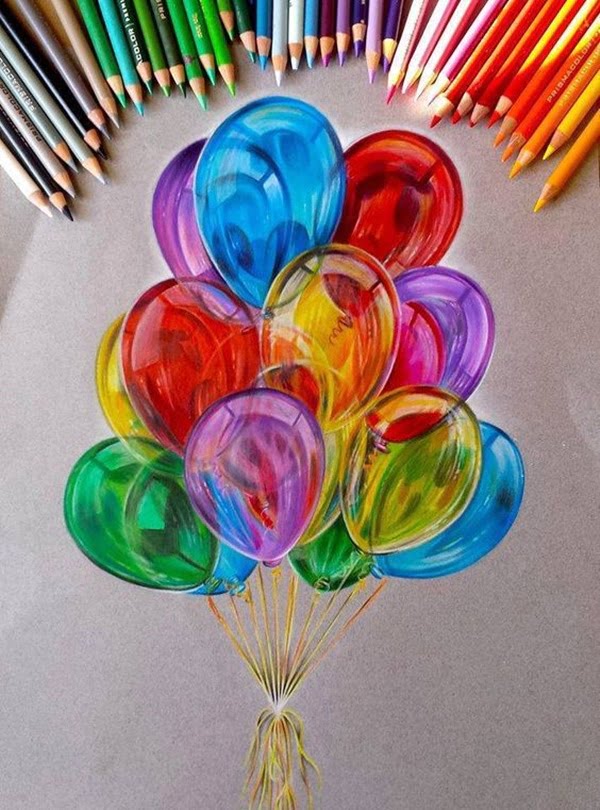 This is one drawing that can be attempted by people of all ages. A set of balloons can be drawn and shaded in various ways. Use your imagination to be creative with the balloons. You can make them transparent and mix the colors to provide for a more realistic effect. 
Best Friends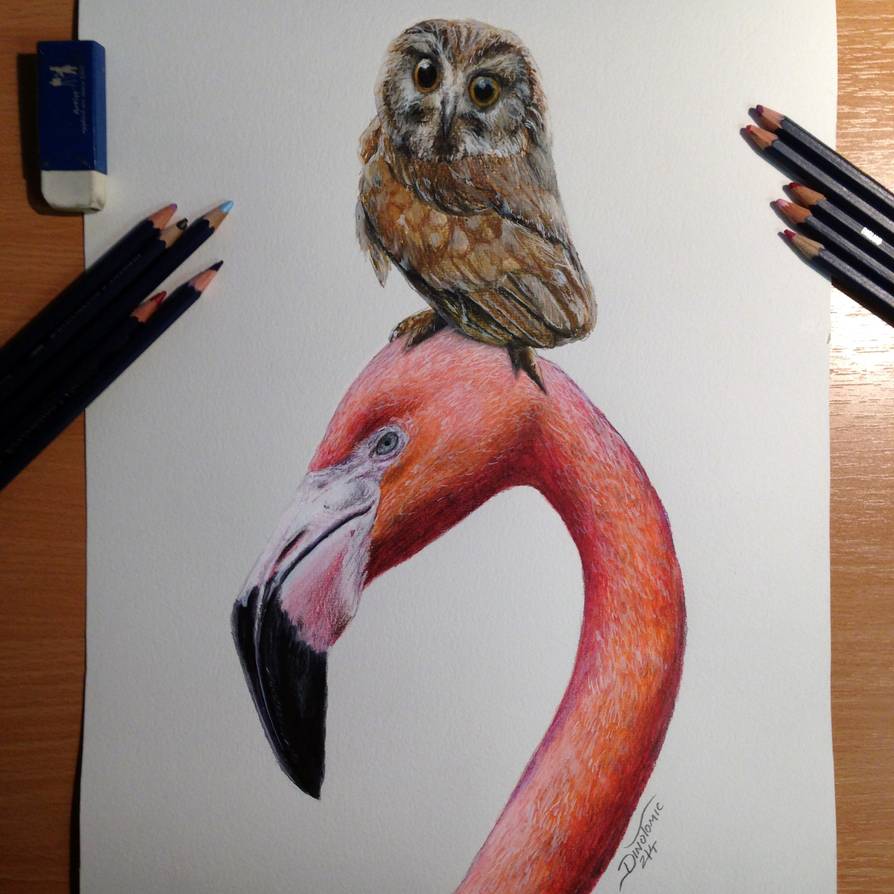 Are you an animal lover? Draw this unique friendship between an owl and a flamingo. The colors stand out and the artist has been very detailed. Notice the owl and his feathers and how beautifully they have been layered.
Hanging Frog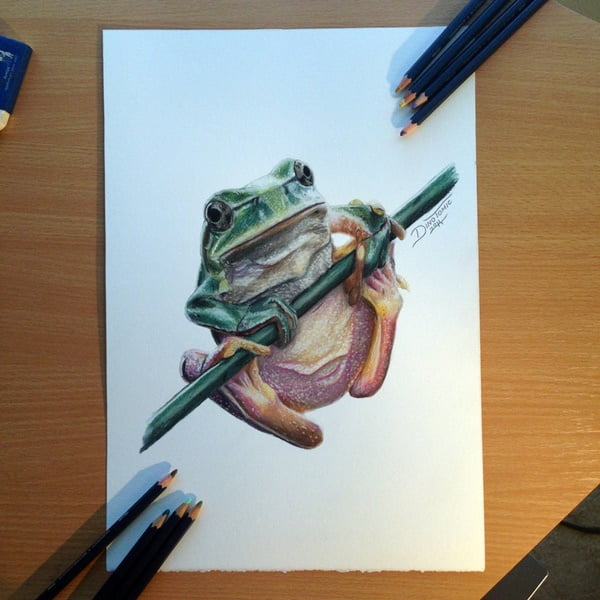 This is another work that animal lovers will like. A frog seems easy but look at how the picture has been colored. The green blends so well with the brown and red with subtle orange shades. 
Colorful Eye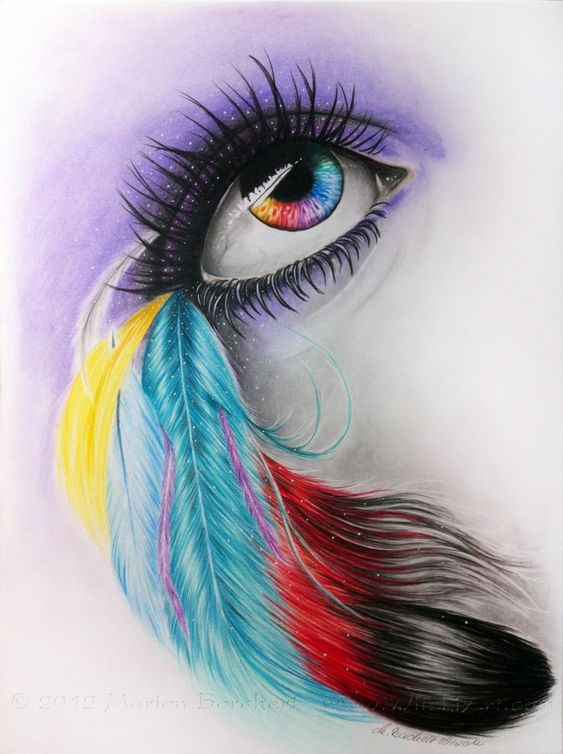 Do you want to make something unique? This is a great idea which can be incorporated in your drawings. You can see an eye which has been drawn to look real with multi colored feathers under it. The feathers below add to the aesthetic of this image. 
Face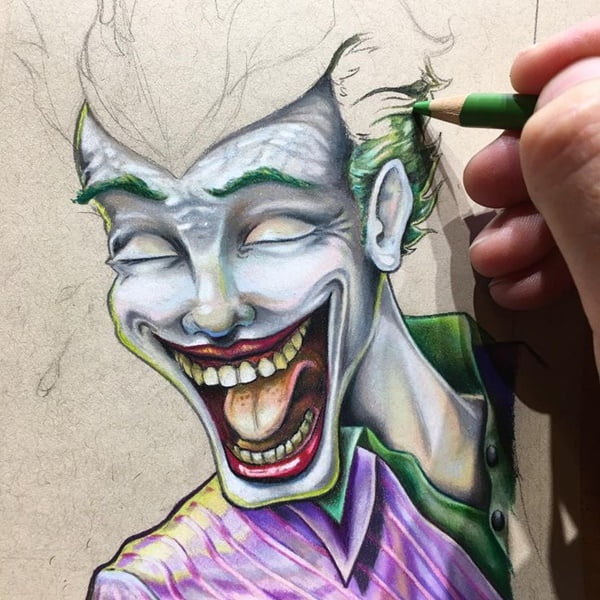 Cartoon fans will love this artwork but you will need to have some prior experience to draw this. The face has to be drawn first and then you can go on to color it. It has a lot of detailing and shades to show the curves. 
Baby Ironman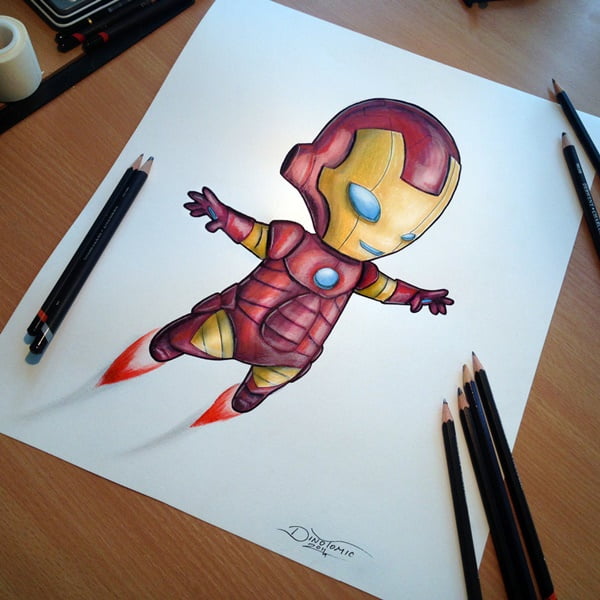 We found this to be a very cute addition to this list. What if Ironman was a baby? Yes, you can draw this character easily and outline it with black. The shades are absolutely perfect but you need to be careful with it while coloring. 
Eyes And Lips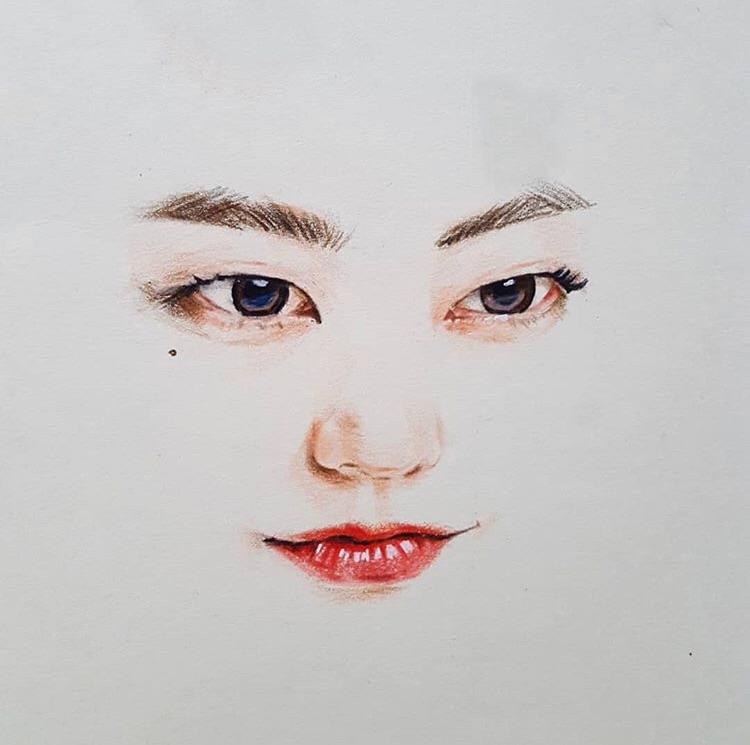 This is a rather unique example of coloring. You can only see a pair of eyes and a fading nose below. The lips are drawn with great detailing but that is it. Pay attention to the details to get it right! 
Maleficent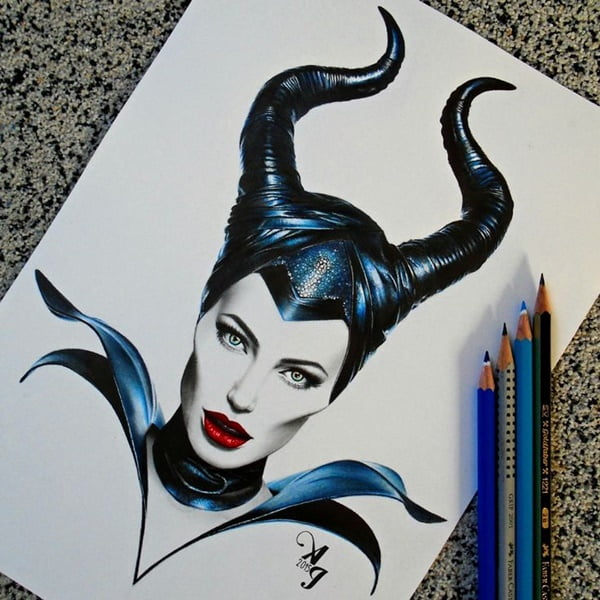 Are you a fan of Maleficent? You could draw this beautiful image using blue and black. Add red lips and they will stand out. We loved how they left the face blank and yet managed to make this beautiful piece of art look exactly like the character. 
Chameleon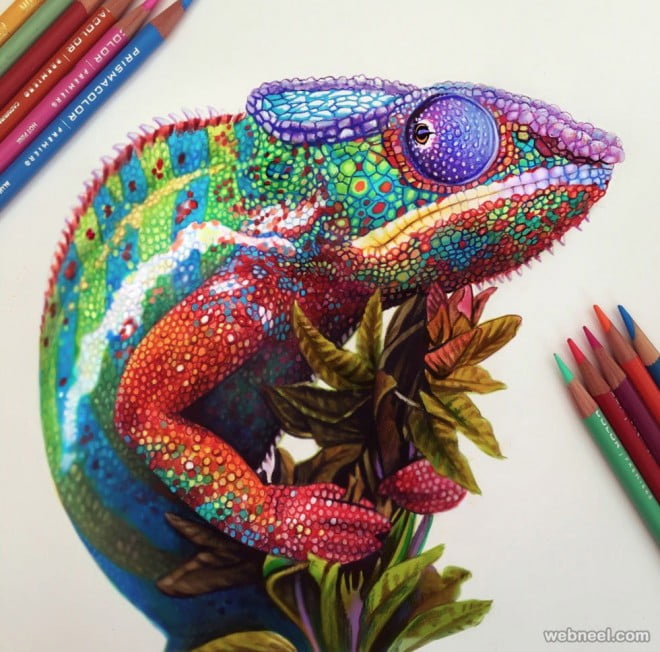 Up next is probably the most beautiful chameleon that we have ever seen. This involves a variety of colors, and it will need time and dedication to draw. But the result is going to be eye-catching for sure. 
Colorful Girl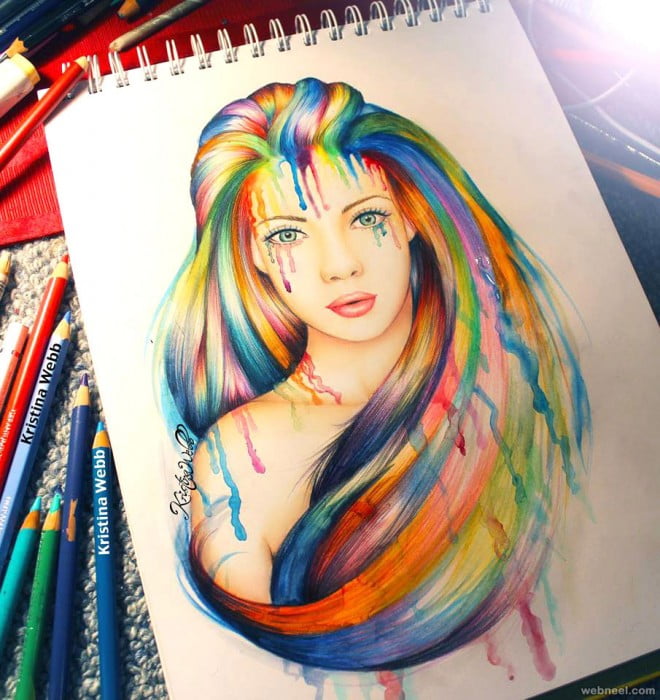 This is pretty innovative with the face of a girl who has colorful hair. Her hair is colored in shades of a rainbow with the shades melting and falling into the face. We loved the artist's imagination here. 
The Eye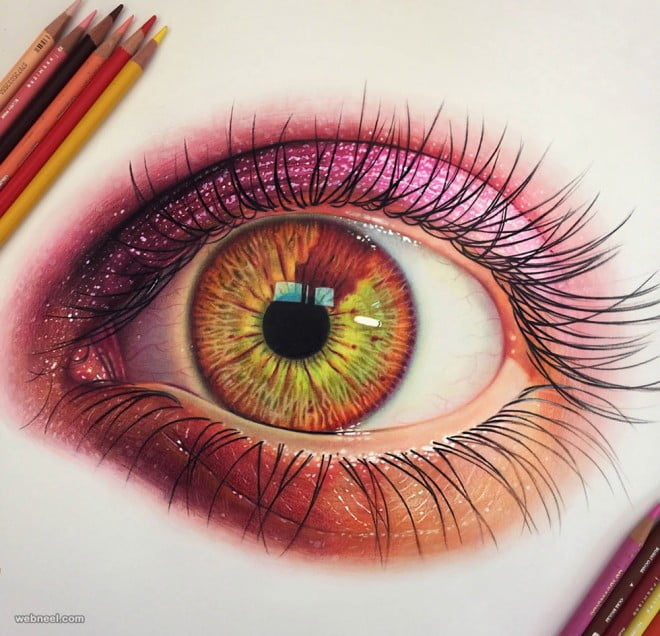 This looks like a real eye from every angle. Drawn to perfection, this is the work of a professional. You must pay attention to the tiny details and those lines on the skin. We love the reflecting light in the eye. 
Preying Bird
We have another fantastic creation right here which features this bird looking straight ahead. The blending of the colors is really good and we love how these blue and yellow shades have been paired with pink. 
Animal Friends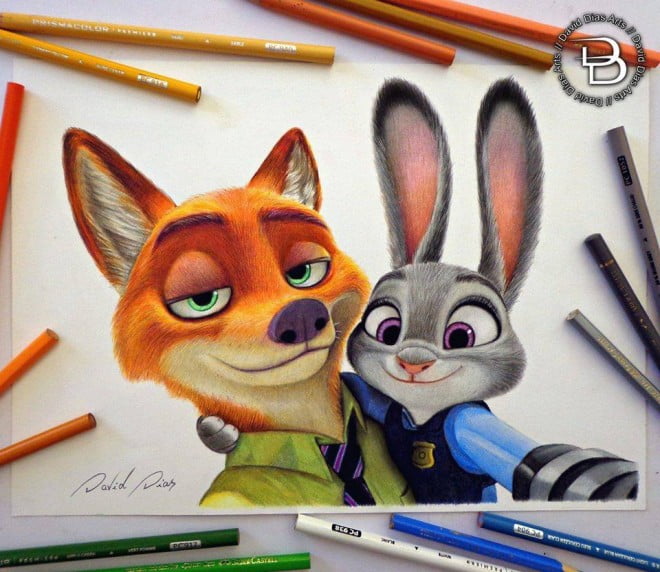 If you are drawing for kids or to hang it in a kids room, this is a great idea. This fox and a rabbit are characters that many know about. Look at how the fur has been colored. It is the most important part of this drawing. 
Girl With The Shades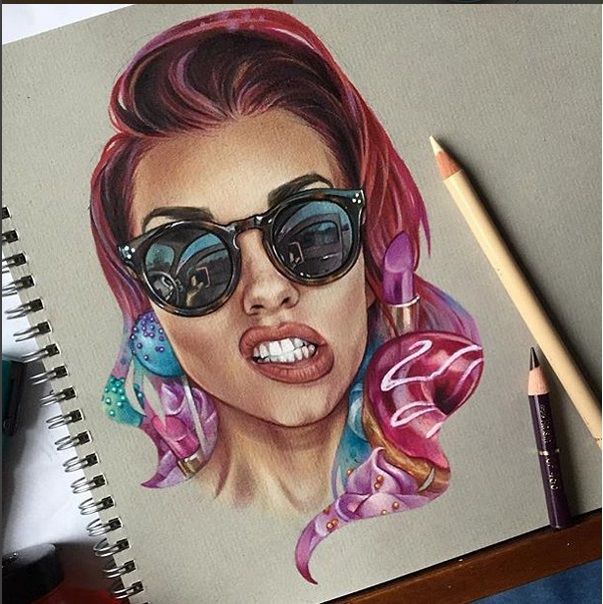 Do you want to draw something modern? Here is a girl with beautiful red hair driving a car. Her shades reflect the driving wheel and we love her earrings.The lips are designed to catch your attention too. 
Ruffled Hair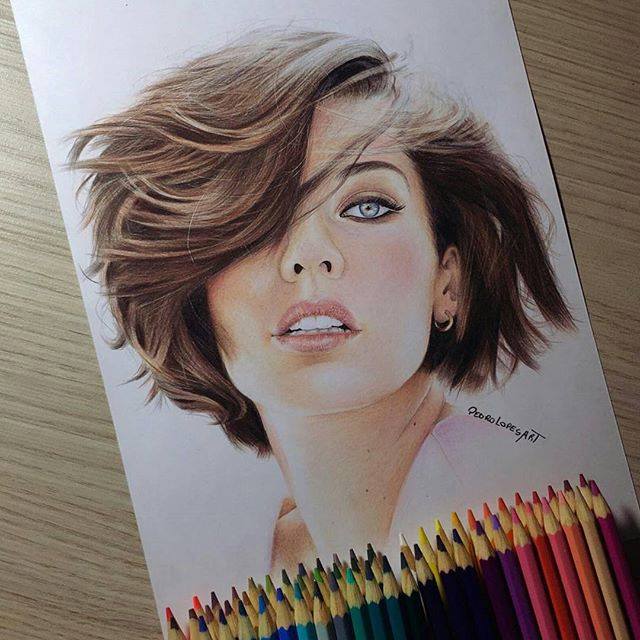 Hair is something which takes a lot of time to master. You can however begin practising with this. Take your time and see the strokes and shades carefully before trying to recreate it. 
Playing With Colors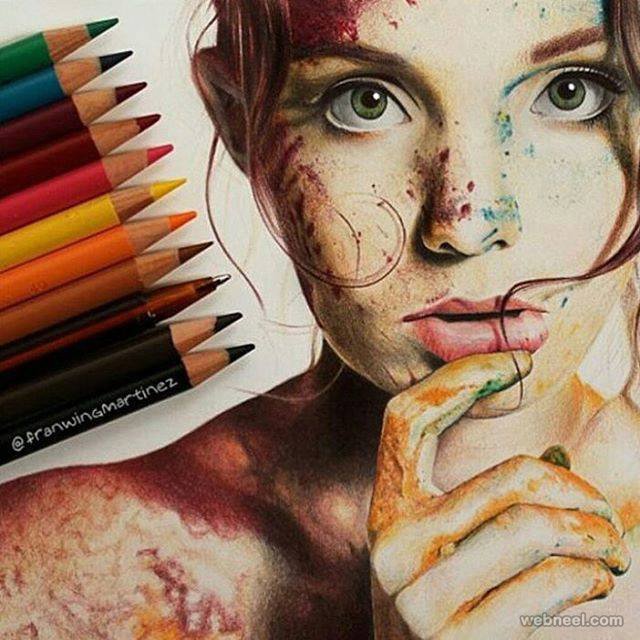 This is another fantastic and realistic drawing and it has the face of a woman with colors on it. There are splashes of red, yellow and green and it looks very aesthetically spread across. 
Peacock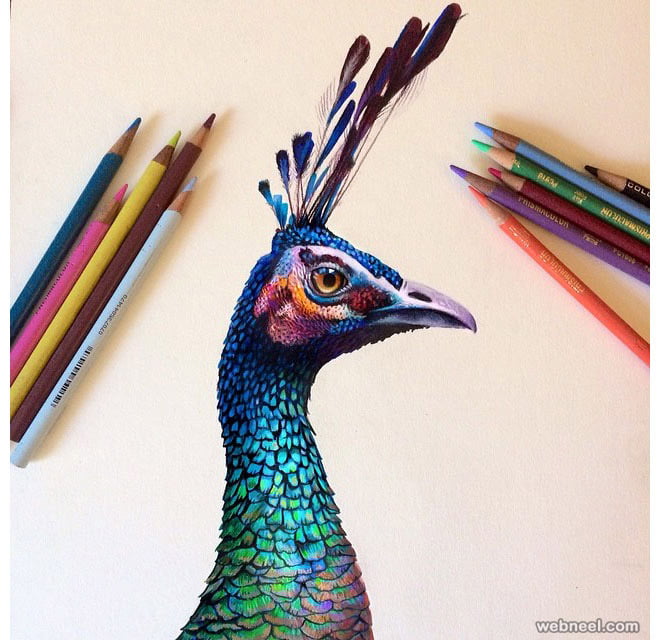 If you want to work with shades of blue and green, this peacock is a great idea. The scales are colored beautifully and every detail is clearly visible. If you decide to use this as an inspiration, look at the shadows too. 
Apple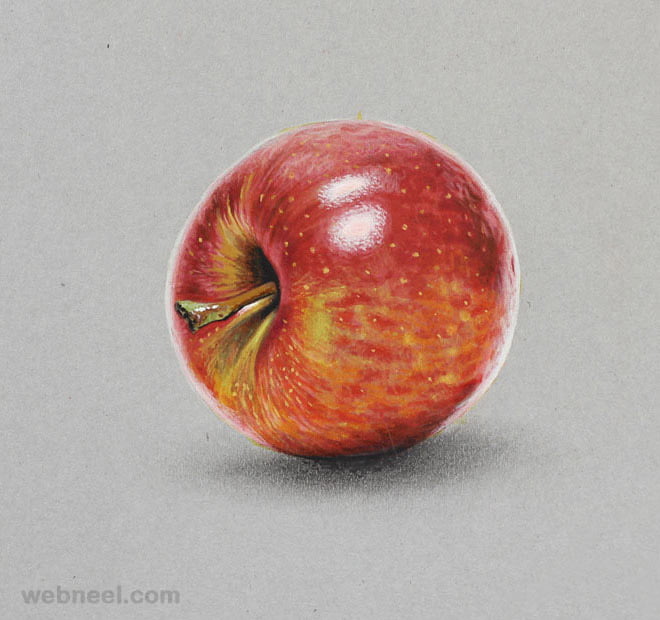 What about drawing a fruit in summer shades of red, orange and yellow. Yes, this is a very vibrant fruit that has been colored to look like a photograph. Please pay attention to the shadow underneath. 
Unique hair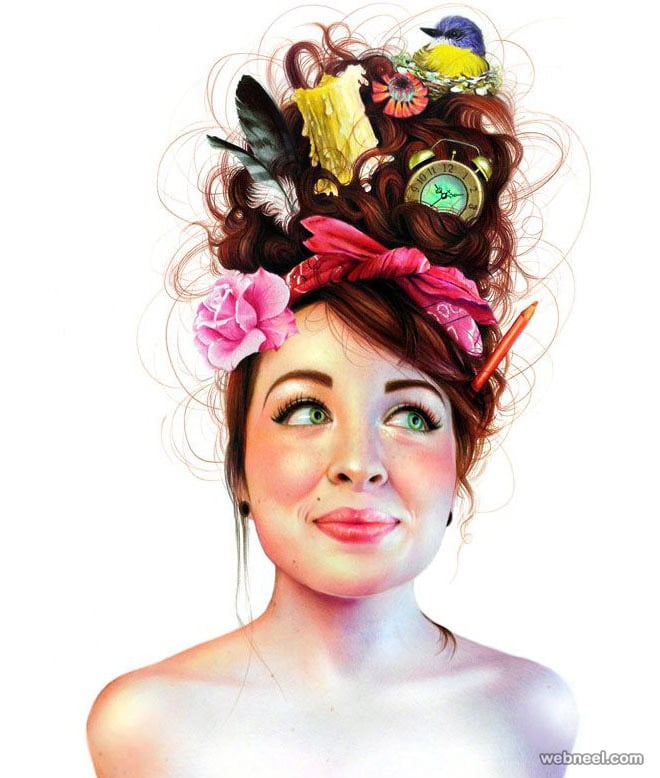 Do you want to look at something creative? Check the image out and look at the hair! You will find a strange array of things in it which together look aesthetic. 
Realistic Drawing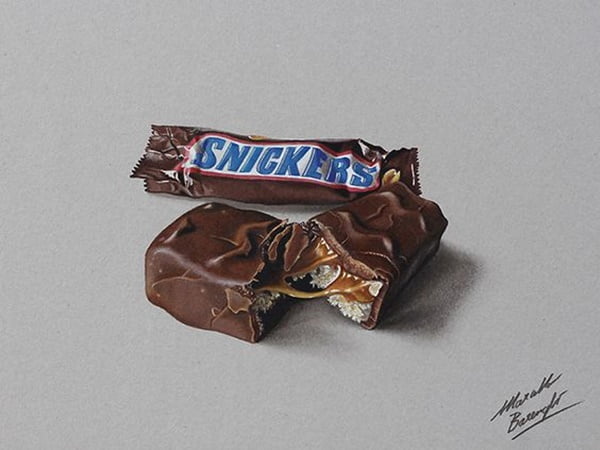 This is another complex piece of drawing where the picture looks like a real snickers bar kept on a white sheet. It has innumerable details and is colored in the right shades to make it look real. You can practice with real objects for this type of drawing. 
Bird Colored Pencil Drawing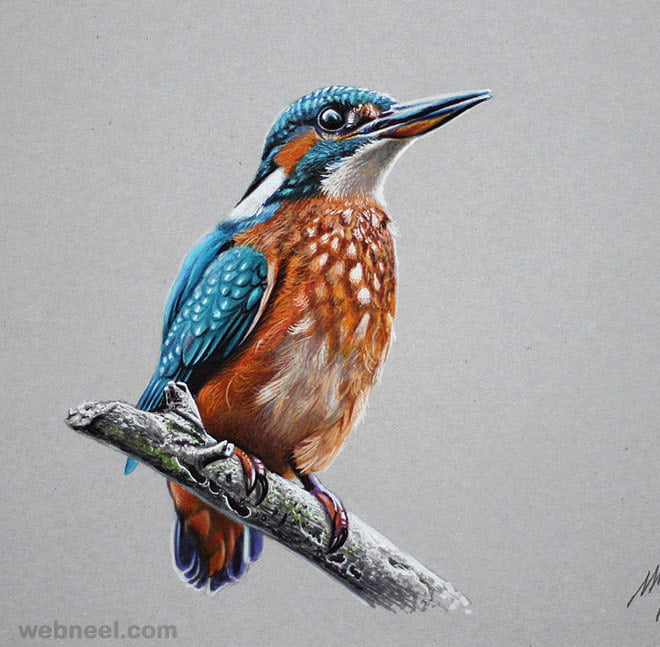 If you want to focus more on the colors than the pencil drawing, this is a great source of inspiration. The artist has used blue and orange and has shaded the bird perfectly. You can see the eyes glistening and the feathers have been painted very distinctly. 
Colorful Deer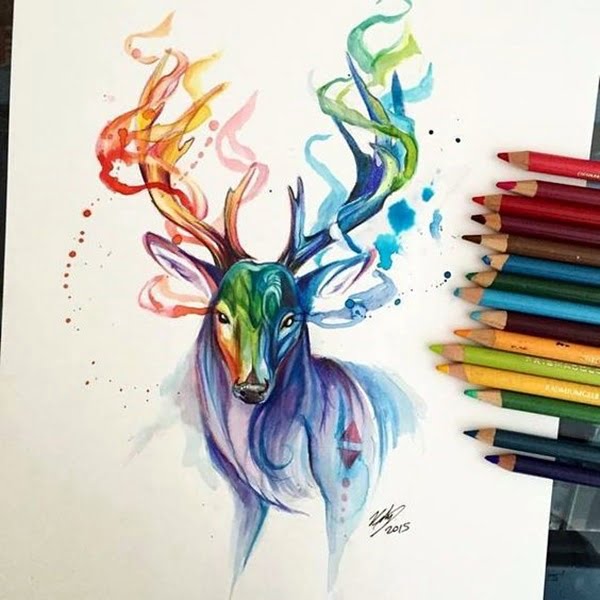 Have you ever imagined a deer so beautiful? The artist has drawn a deer and then colored it with the shades of a rainbow. The color feels like water paint which is flowing down from the picture. 
Human Face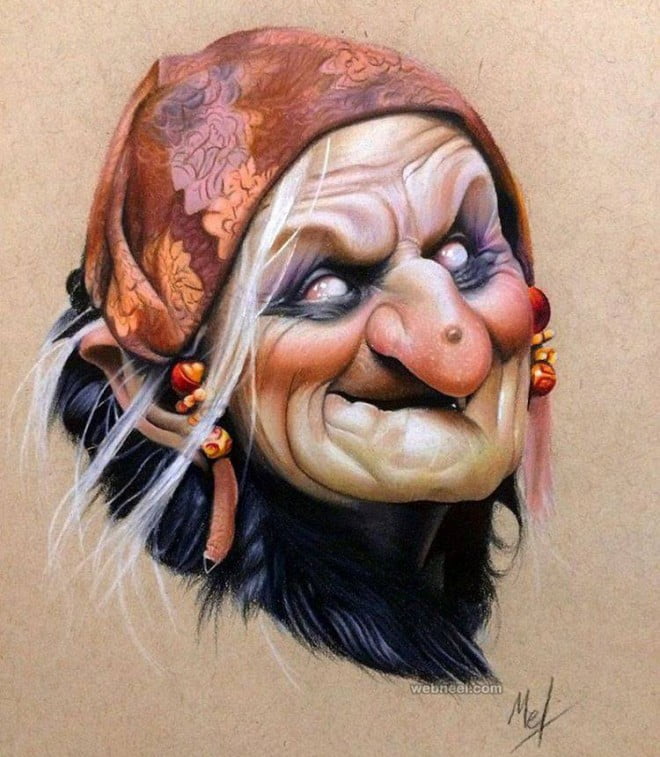 Do you like drawing human faces? This could be an innovative way to go about it. The artist has not added any eye-balls to make it look spooky!
Bird Friends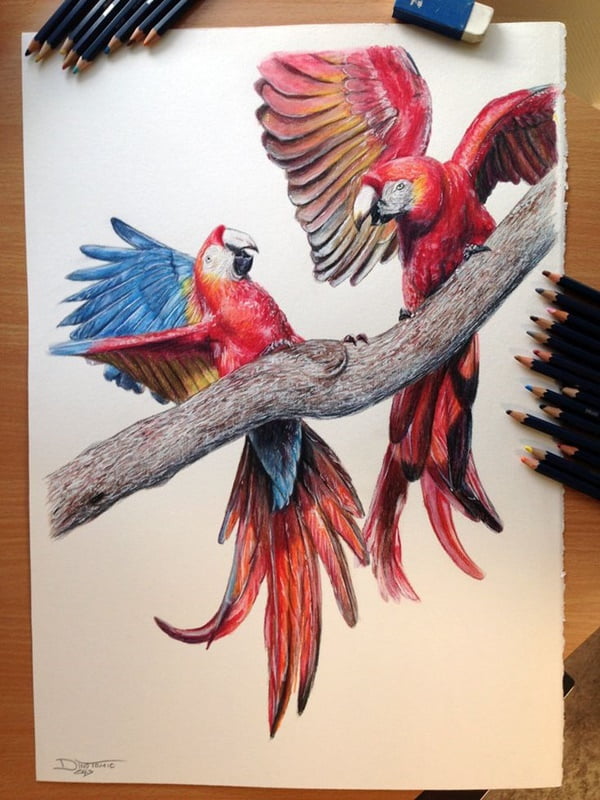 If the jungle book was your favorite as a kid, you might love to draw something like this. The red and blue stands out to make this picture of the 2 friends impeccably beautiful. 
Rose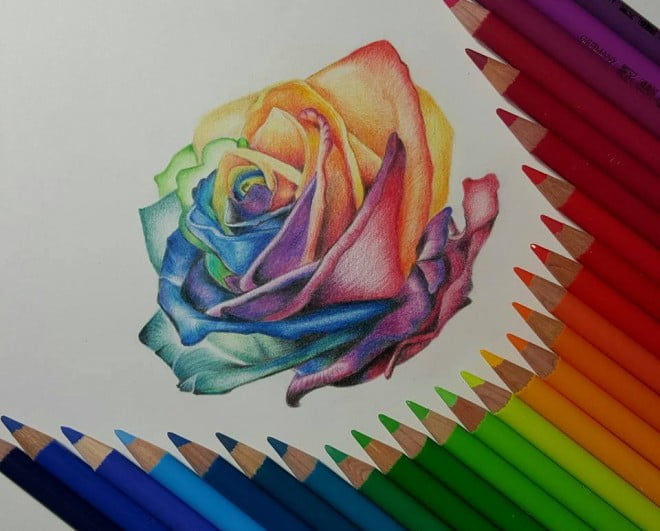 What about a multi-colored rose? You can draw a typical rose and then color it using multiple colors. Blend them well to create this piece of beauty. 
Seahorse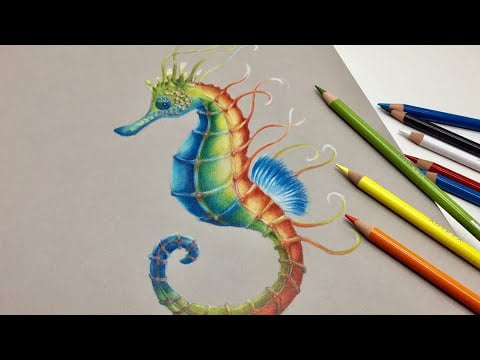 Next we have a gorgeous seahorse colored with blue and pink. The hues are subtle but when painted on a offwhite sheet of paper, stands out a lot. Look at the detailing and the precision with which it has been drawn. 
Dripping Lips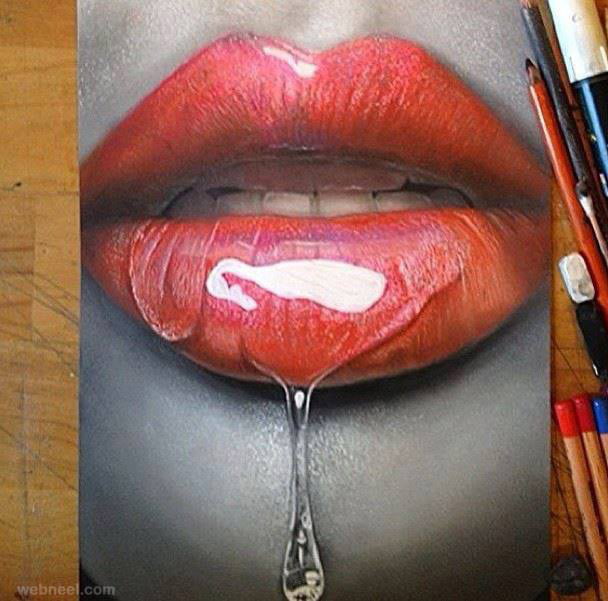 This uses a very different color combination. The skin is painted in white and black while the lips stand out in bright red. You can see the liquid clearly on the lips because of this coloring effect. 
Pack Of Feathers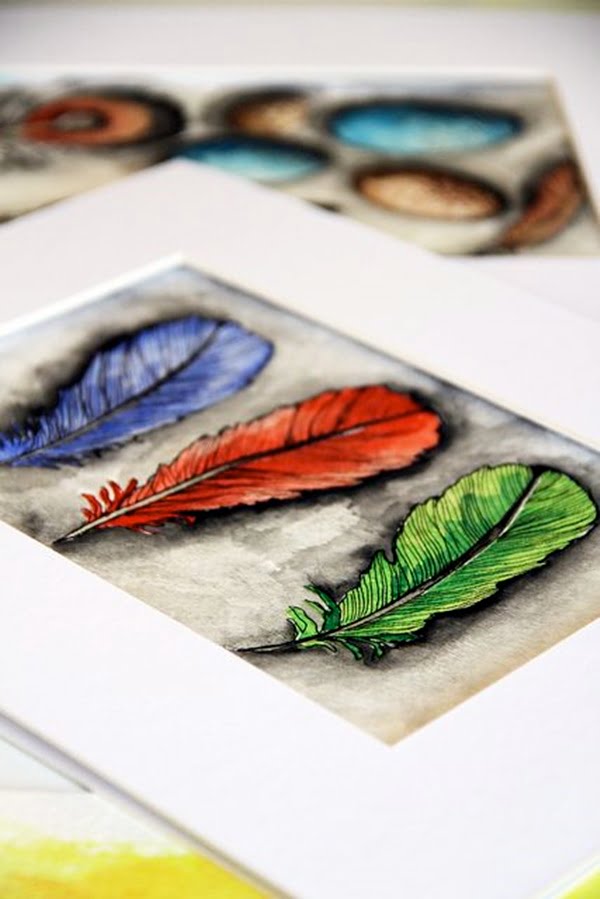 Feathers are a great way to begin drawing. You can first use a pencil to draw it out and then fill in accordingly. This is a great inspiration for beginners. 
Rainbow Feather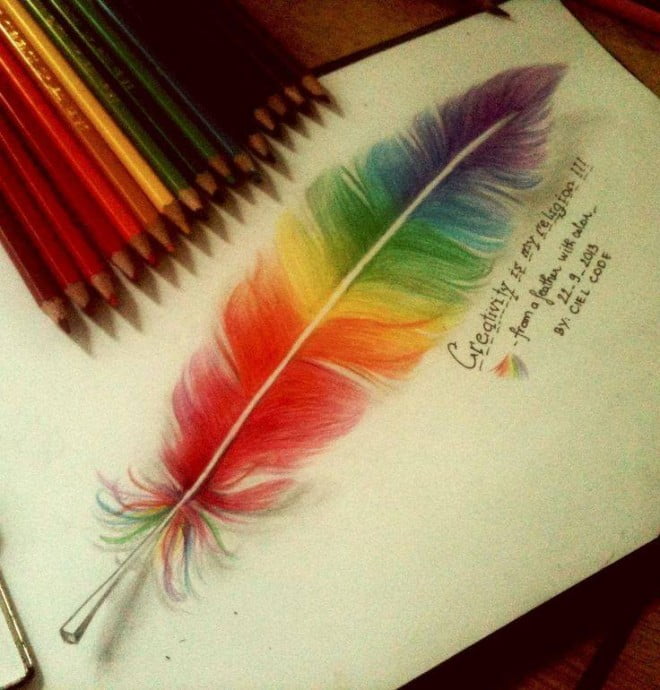 This is another feather option but this time, it has rainbow colors on it. You can use this as a reference and color a feather with your choice of colors. 
Cupcakes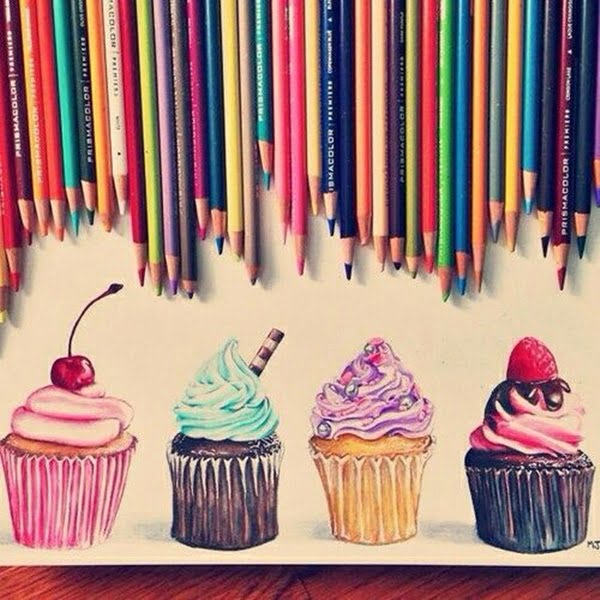 What could be sweeter than drawing a bunch of pretty cupcakes. This is pleasing to the eye as well as the heart. Color them in your favorite colors and add decorations on top to make them look palatable. 
Realistic Baby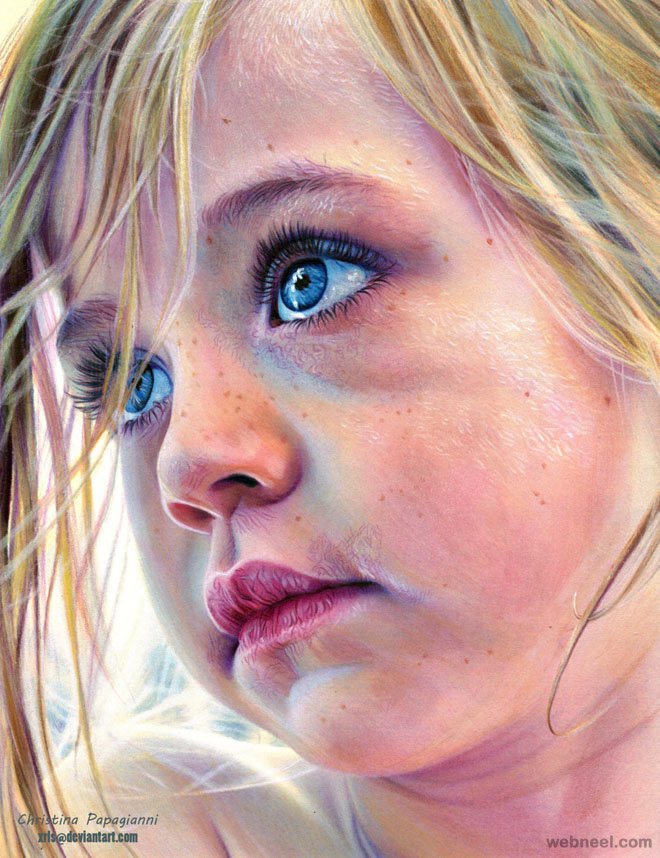 This is a brilliant piece of inspiration that you can use to create faces. We were amazed by the fine work and you will be needing a lot of practice to make this happen. The freckles and the texture of her skin is absolutely on point. 
Demon Woman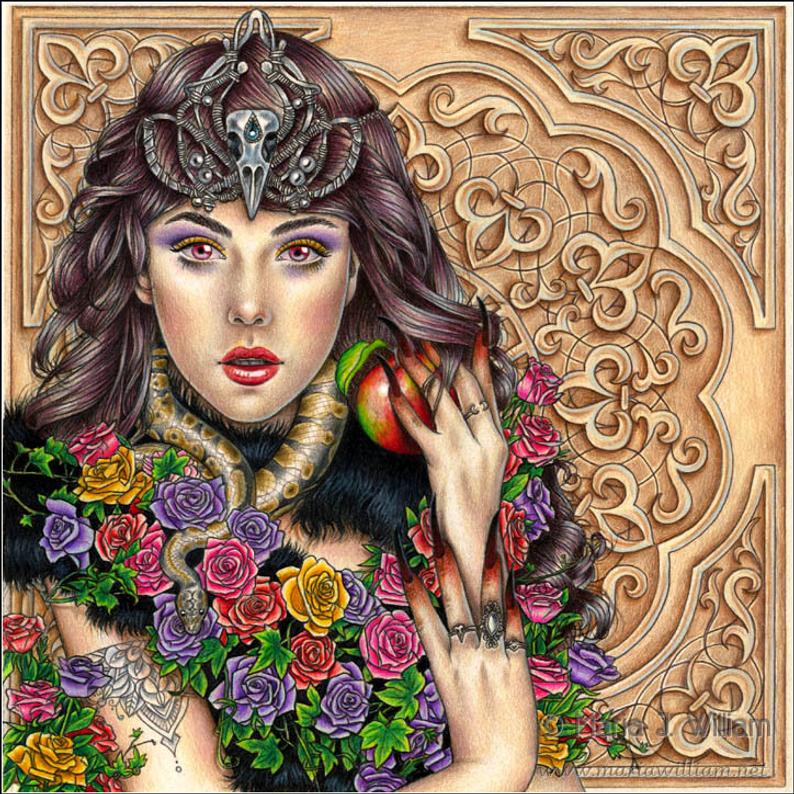 Do you like mysteries? This is a picture of a mysterious demon woman looking straight ahead. She seems to be standing among flowers with a brightly colored background. The rainbow flowers bring out the beauty. 
Girl In A Jacket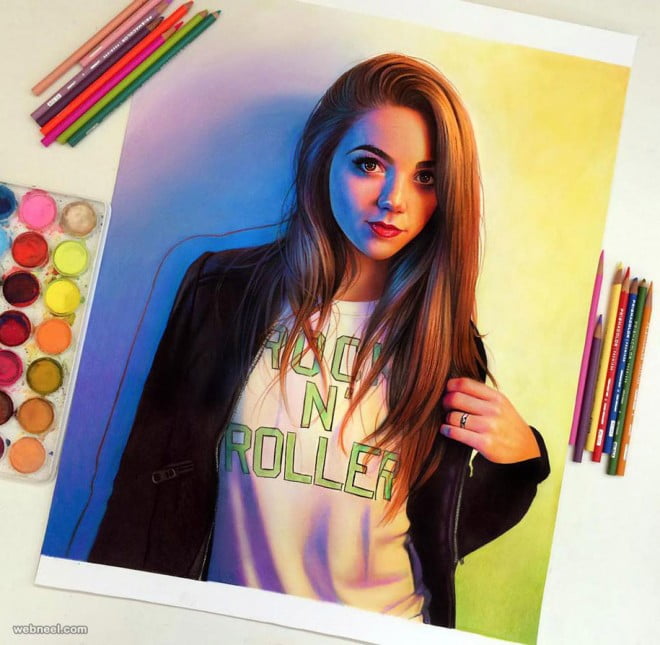 What about painting shadows in colors? Try this one out and explore human drawing using multiple colors. You can use paint too along with pencil colors to achieve the desired effect. 
Cartoon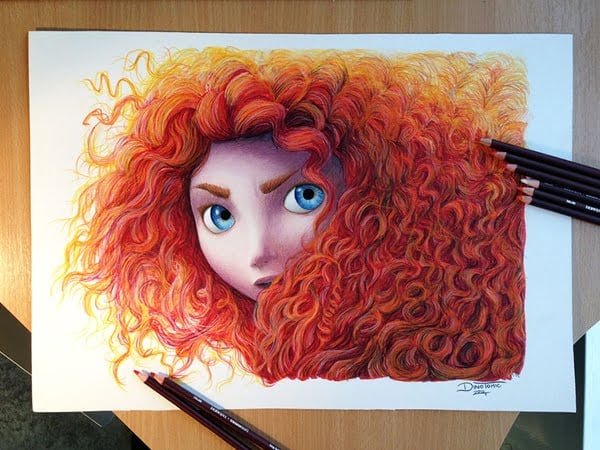 This is another great example of drawing hair. Look at the precision with which it has been drawn. Start with the lightest color and then move towards the deep ones. Make sure that the shadow is on point. 
Pink Skull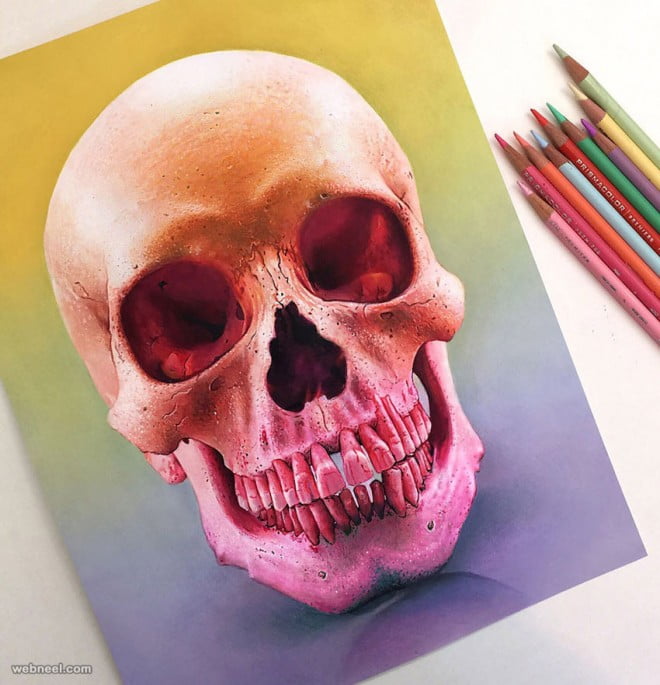 This is a pretty awesome skull painted in pink and red. Who would have thought that you can make a skull look aesthetically pleasing with the right colors. 
Grapes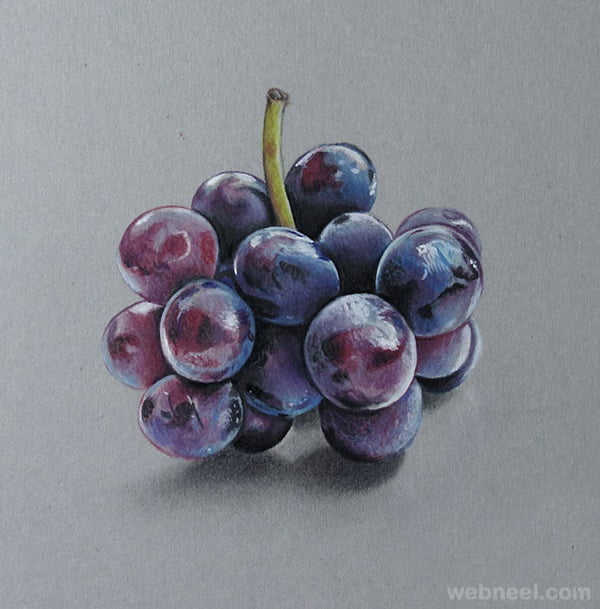 If you like drawing,this is something you can work on. Drawing these grapes will help you perfect your shading skills. Pay attention to the light reflection on each of the grapes. 
Set Of Books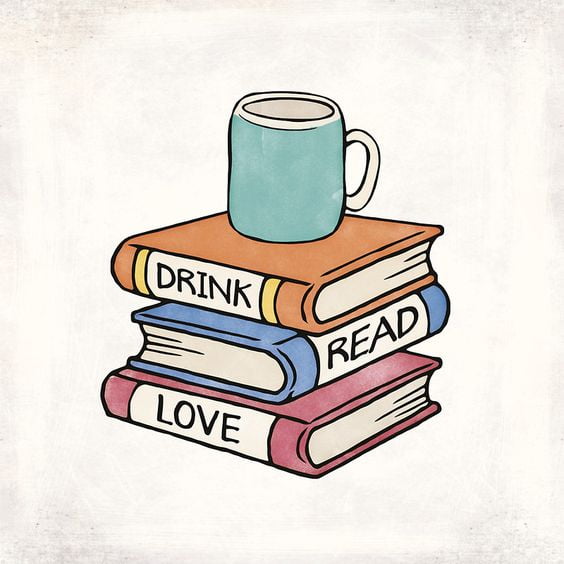 This is a great idea for beginners. Use a sketch pen to make the black lines and then fill it up. It will not need much expertise with shading and you can get your kids to make it too. 
Parrot On A Swing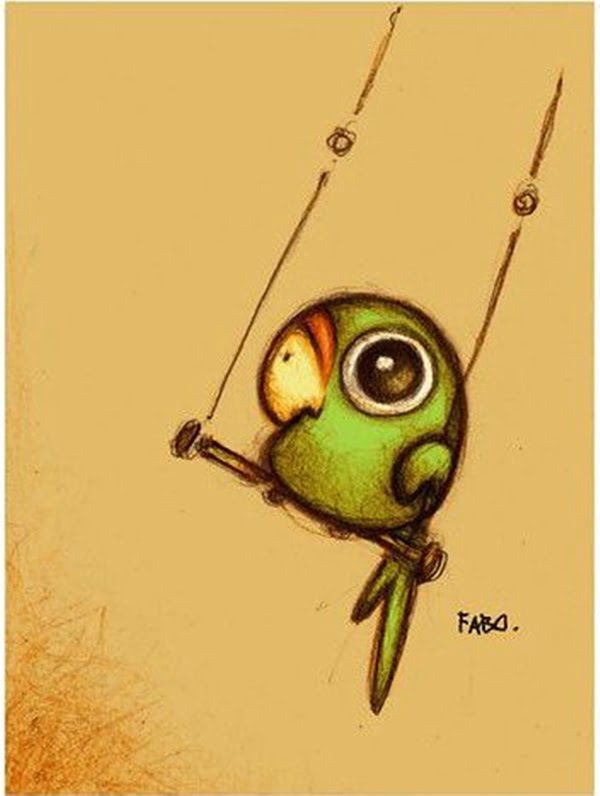 If you are teaching your kids to draw, this will be a great starting inspiration. It is an image of a cute parrot on a swing which is fairly easy to color. 
Colorful Hair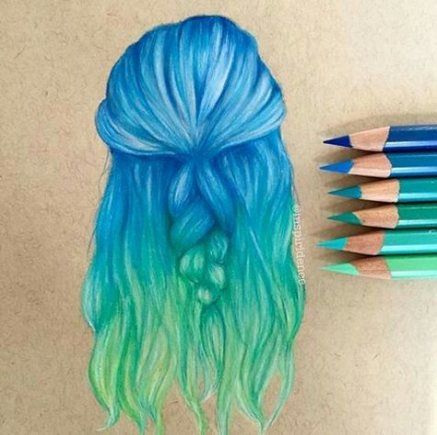 While we have spoken about different hair patterns before, this one has a beautiful color. Pay attention to how the blue shade has been used to enhance the image. 
Line Drawing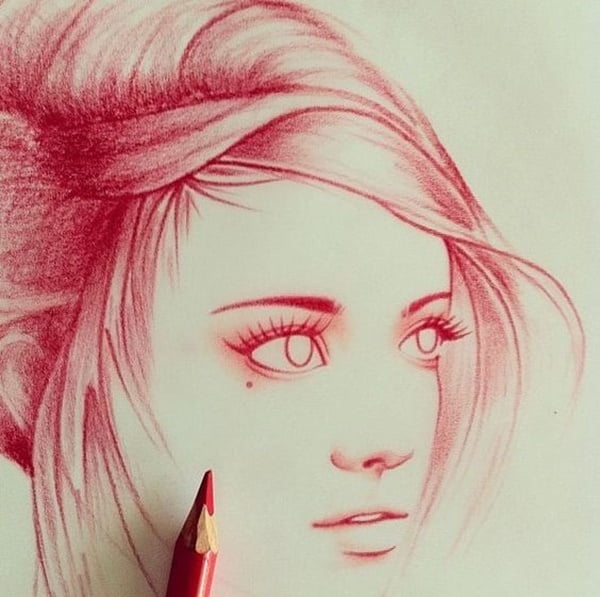 Up next is a different kind of drawing made with colored pencils. You can use a colored pencil instead of a normal pencil to draw. Add shadows with the same color and you will come up with a unique piece. 
Tribal Kid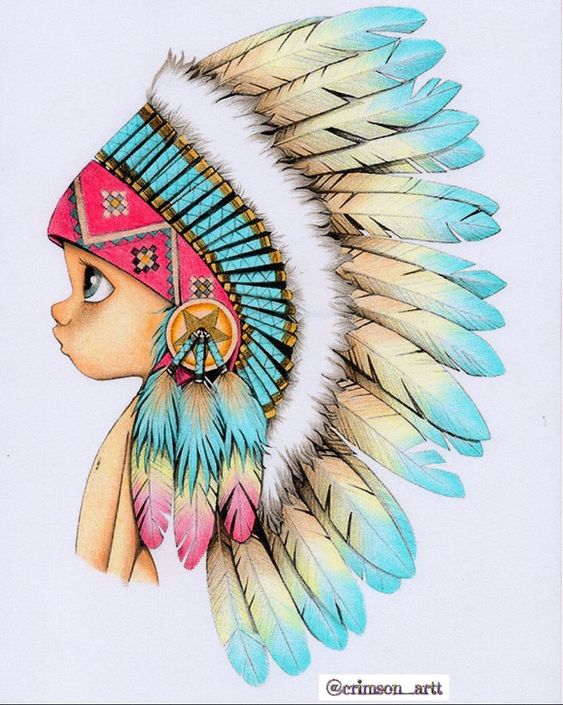 How about painting a tribal kid with a head gear full of feathers? This image is very cute and uses pastel shades to enhance the head gear. Pay attention to the shadow under the eye which enhances his cheeks.
Dismayed Frog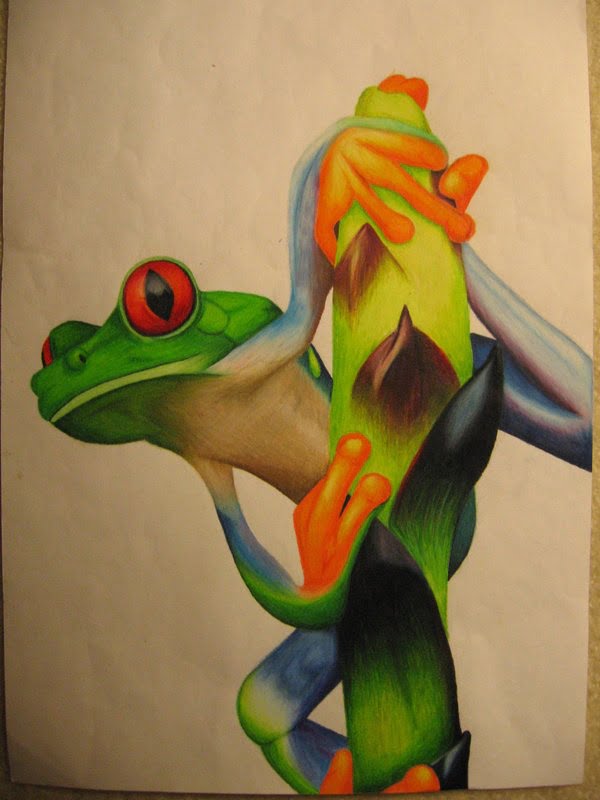 This may just be a drawing of a frog but it is cartoonized and seems to be staring out of the paper. We loved the beautiful colors that have been used to make the image vibrant. 
Rainbow String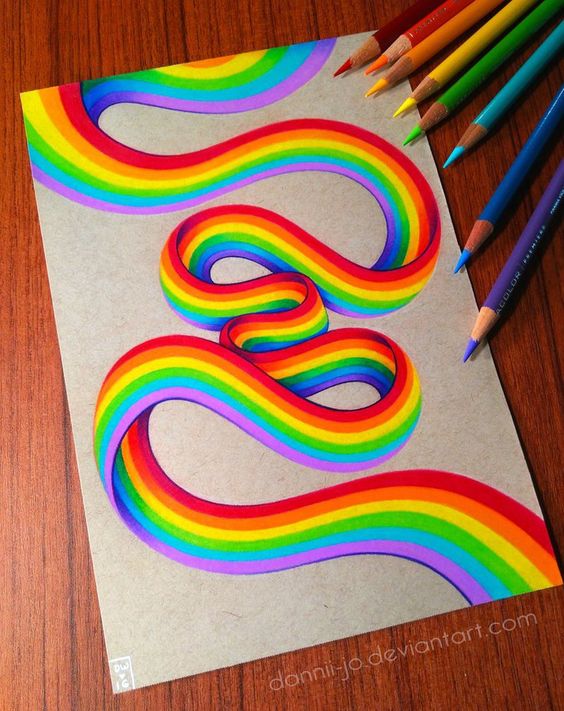 Have you been a fan of those chewable sour rainbow candies? This is a beautiful work that looks a lot like that. You will not be needing a pencil and you can directly start working with colors. 
Ironman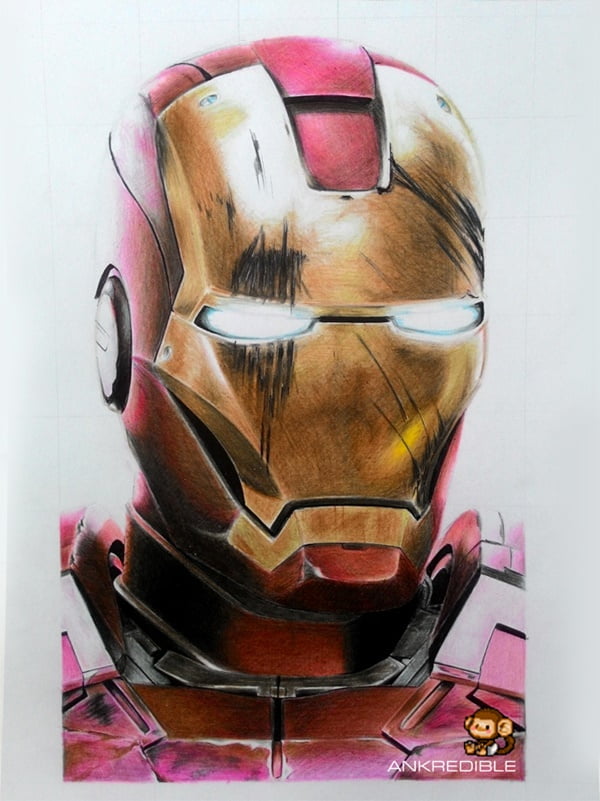 Are you an Ironman fan? Then this could be a great starting point. Yes, it will need a lot of dedication and you should take your time while coloring it. Look at the shadow around the neck and color accordingly. 
Bunny With A Carrot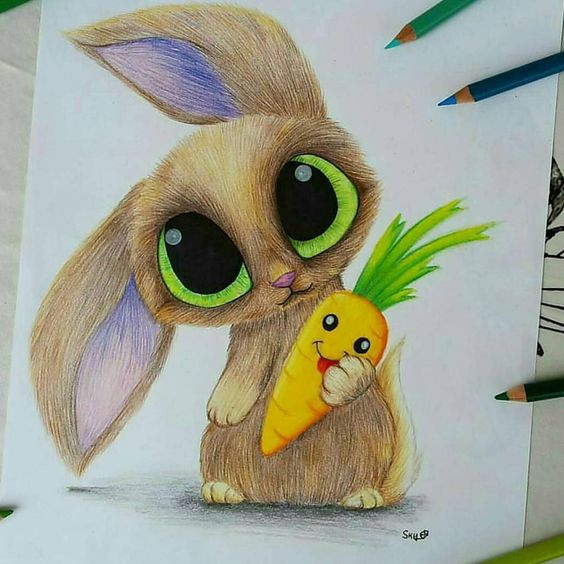 If you are designing a book for kids, this can be a great addition. This cute little rabbit has giant green eyes which are colored very well. The carrot stands in a contrasting color with its tongue out. It's leaves match the color of the rabbit's eyes.
Blue Flower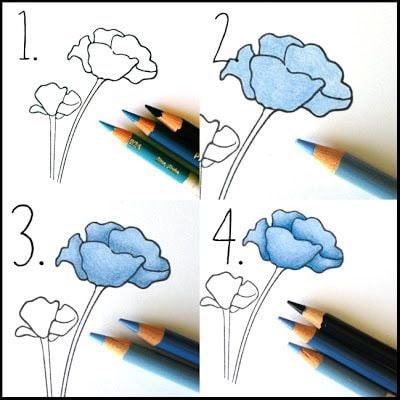 We have another beginner's work for you where the steps to drawing a flower have been shown. You can follow it to ensure that the colors and shades are on point. The end result is a beautiful blue flower. 
Orange flowers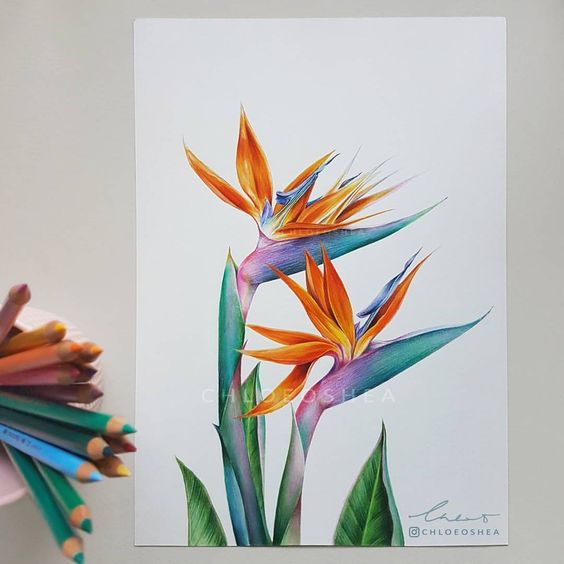 Once you have learnt the art of coloring flowers, it is time to move onto more difficult ones. This involves a lot of shading and you can practise your skills with this. 
Pokemon Mewtwo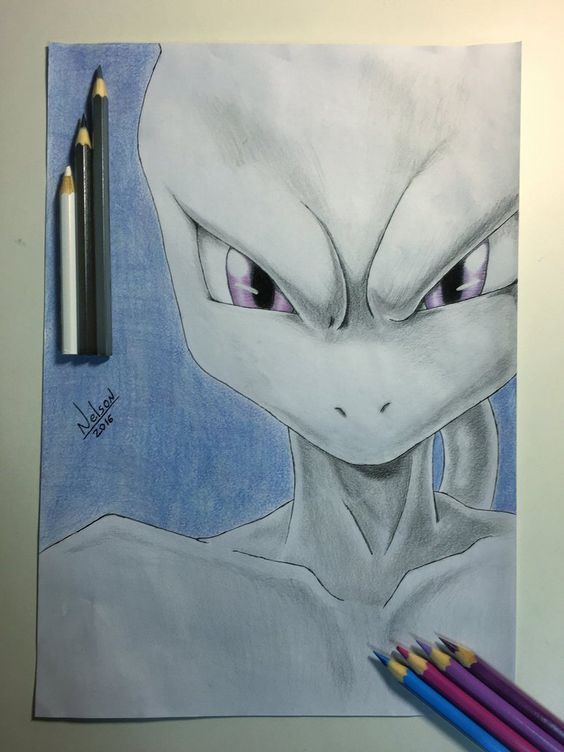 If you are a pokemon fan, this is a fabulous idea and you will love it. Color your favorite pokemon using different shades. You can also use their real animated pictures for reference. 
Onions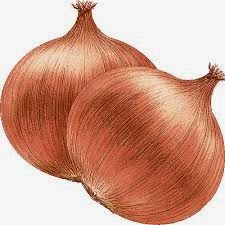 How real do these onions look? They are colored perfectly using the right strokes. Watch the strokes carefully and ensure that they are in one direction to achieve perfection. 
Baby Bird And A Frog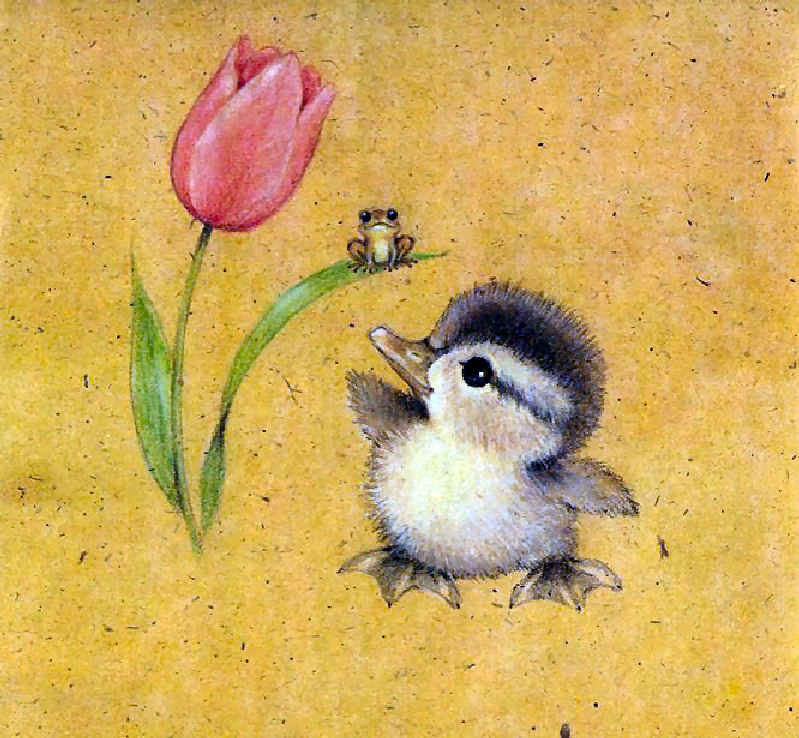 Look at this cute little bird and a tiny frog on top. Use an art handmade paper and then color with pencils to achieve this effect. You can also paint the handmade paper in a mustard shade before you begin coloring. 
Baby Hippo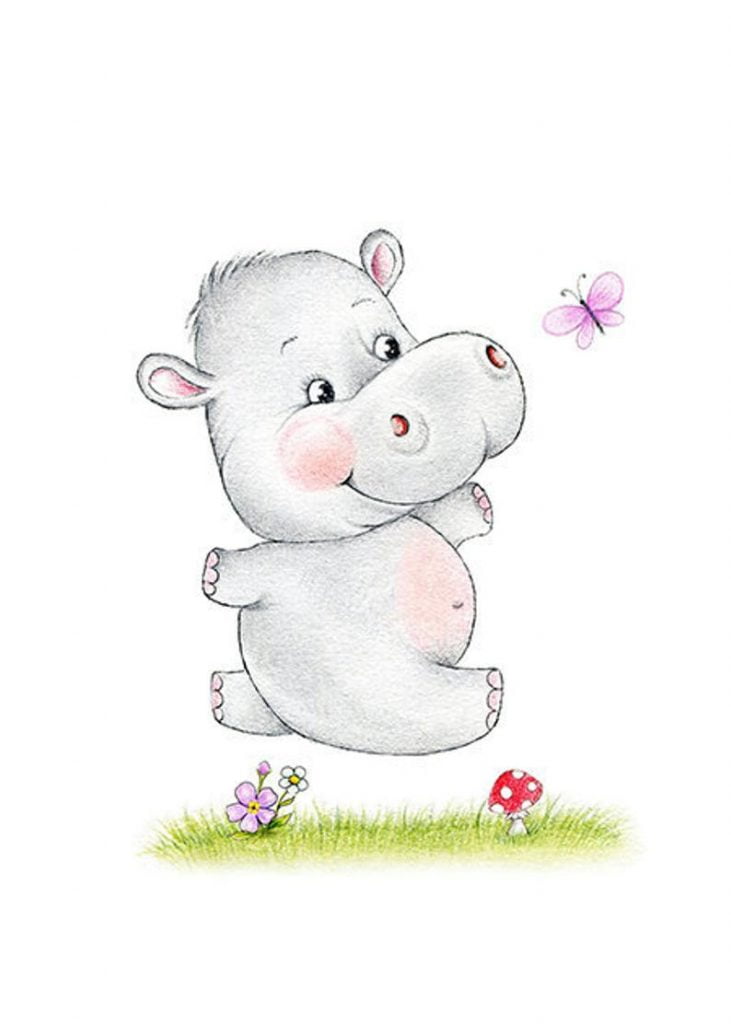 This is another very adorable cartoon that kids will love to color. You can use this as an inspiration and get your kids to color in a similar pattern. Look at how the cheeks are red and so is the tummy and ears.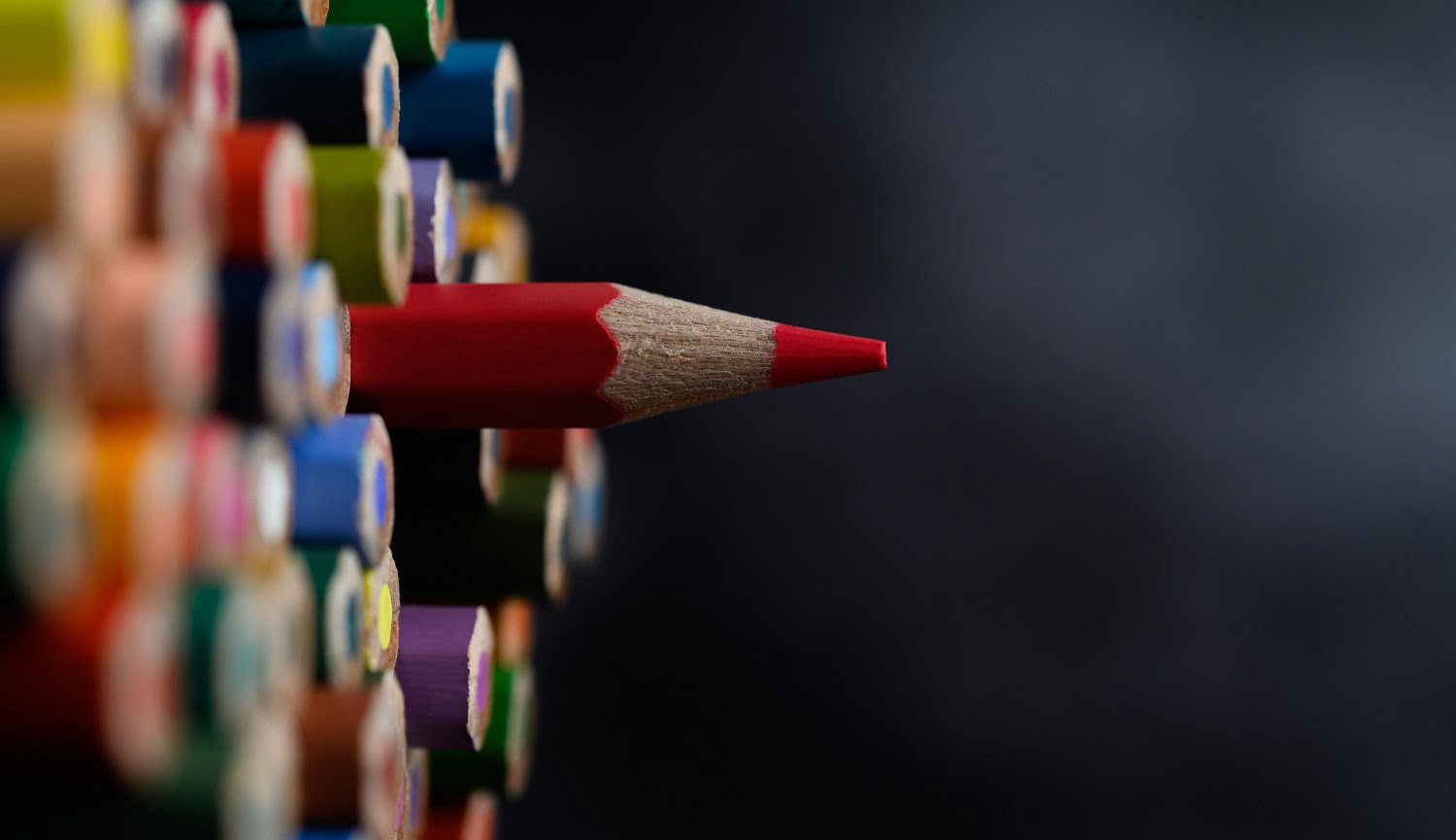 Final Word
We will give you a moment to absorb the giant list that you just went through. This stunning collection will provide you enough food for thought. But remember one thing about drawing, the more you practise, the more perfect you get. 
The artists who drew the realistic images that were part of this list needed years of dedication and hard work to get to this point. Give it your best and we are sure that you will succeed. 
Also, another great inspiration could be objects around you. Anything from a pair of pears to the blue sky and fluffy clouds could be a source of inspiration. 
With this, we have come to an end. Use your resources well and cultivate this hobby and we are sure you will do very well. 
Until next time. 
Related Articles
99 Insanely Smart, Easy and Cool Drawing Ideas
7 Best Electric Pencil Sharpener For Colored Pencils
10 Best Paper For Colored Pencils
11 Best Colored Pencils for Beginners & Professional Artists
13 Best Sharpener For Colored Pencils
6 Best Erasable Colored Pencils Right Now
Learn How to Shade With Colored Pencils Swiftly & Correctly
12 Colored Pencil Tips & Tricks to Enhance Your Skill
Learn How To Use Colored Pencils
You Won't Believe What Colored Pencils Are Made Of!
10 Colored Pencil Techniques to Enhance Your Drawings Swiftly
Learn How To Blend Colored Pencils Correctly Fast
13 Best Watercolor Pencils and Water Soluble Art Supplies Today
49 Super Cool Things To Draw On A Whiteboard