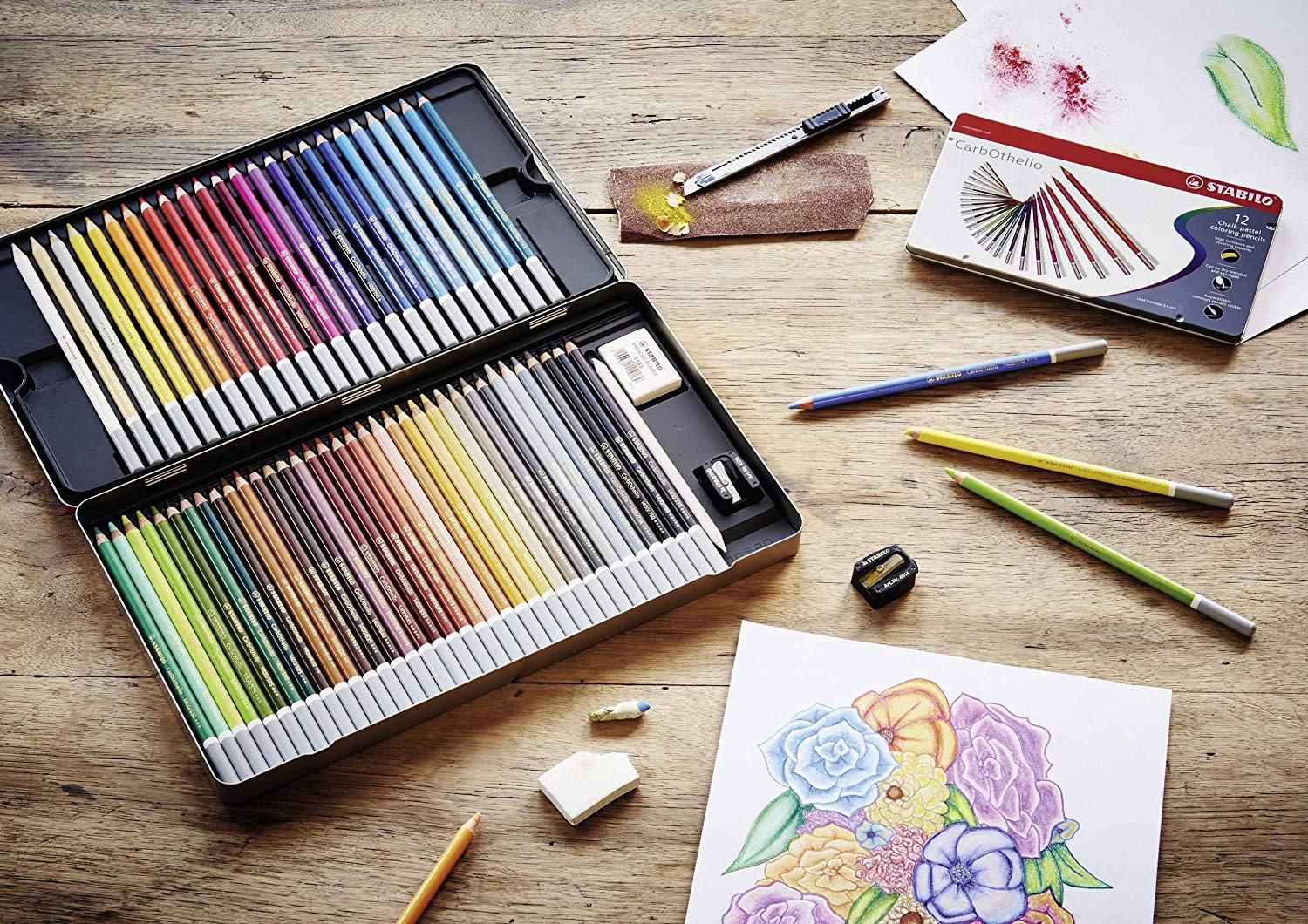 Pastel pencils are just amazing when it comes to producing artworks which are not only vibrant but have an amazing color depth to them as well. 
They might be one of the newer forms of coloring mediums in the market, but definitely not the least sought after. 
At A Glance: Our Top 5 Picks for Pastel Pencils
Their ease of use and vibrancy makes them one of the most popular coloring mediums today. 
However, with so many brands and models in the market, it can be rather difficult to pick the right pastel pencil set that can fit your needs and budget the best. 
So if you too are struggling with your choices, then to help you out we have brought our top 7 list along with a helpful guide. 
We are confident that our article today will be able to solve all your pastel pencil related problems. 
Best Pastel Pencils
IMAGE
PRODUCT
DETAILS

Our Top Pick

Our Top Pick

Stabilo CarbOthello Pastel Pencils

Comes with their own lightfastness rating on the barrel
Affordable
4.4mm width lead

VIEW LATEST PRICE →

General's Pastel Pencils

One of the cheapest pastel pencils sets on our list today
Extremely amateur-friendly
Durable lead

VIEW LATEST PRICE →

Faber-Castell Pitt Pastel Pencils

One of the most versatile pastel pencil sets
Perfect for both detailed works and larger arts
Has a professional grade consistency

VIEW LATEST PRICE →

Derwent Pastel Pencils

Perfect for beginners
72 different colors
Portability ensures that the pencils are perfect for plein air painting

VIEW LATEST PRICE →

Koh-i-Noor Gioconda Pastel Pencils

Comes with its very own color chart
3.8mm lead width
Perfect for students and beginner users

VIEW LATEST PRICE →

Conté à Paris Pastel Pencils

Rich, buttery texture
5.0mm tip
Durable lead tip

VIEW LATEST PRICE →

Caran D'ache Pastel Pencils

Has one of the best texture and lightfastness ratings
Comes with 84 colors
Easy to use

VIEW LATEST PRICE →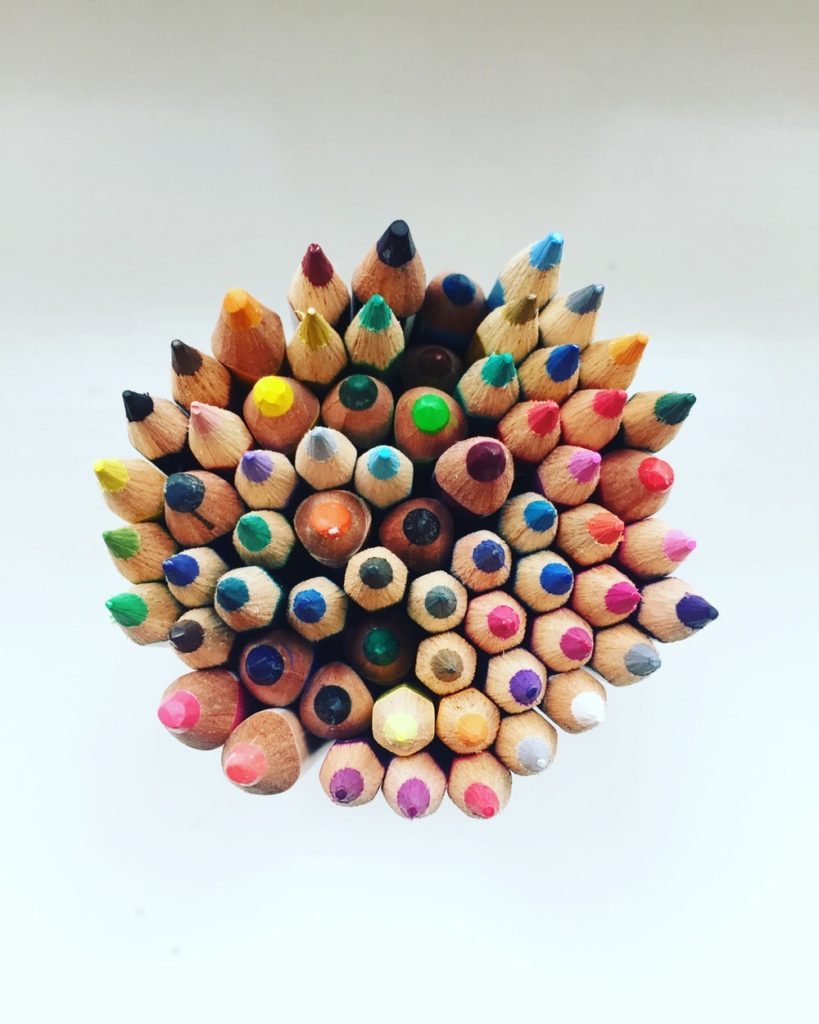 The Stabilo CarbOthello range of Pastel pencils is perhaps one of the most popular models out there in today's market. They are extremely easy to use and can be utilized effortlessly by amateurs and student artists alike. They are quite affordable as well and comes in five different set ranges to fit a wider variety of needs and purposes. 
Experience
One unique aspect of the Stabilo CarbOthello pastel pencils is that they come with their own lightfastness rating, which not many of the other standard models come with. The Stabilo CarbOthello pencils have a star on the barrel that indicates their individual ratings, which really comes in handy when creating detailed artworks. 
And more importantly, you can purchase these pencils individually as well. So if you're out of a particular shade, then you can go ahead and purchase that color without having to invest in a complete set. 
The lead diameter of the Stabilo CarbOthello is 4.4mm in width, which makes these pencils just perfect for both smaller more detailed, along with larger more colorful artworks. And even though these pencils might have a lot of vibrancy to their shades, they are indeed very affordable and will come in handy for both professional users and student painters. 
However, the variety of colors that the Stabilo CarbOthello sets provide can feel inadequate for many users. Their largest set comes with just 60 colors, which may not be the best for attempting the most vibrant art pieces. 
Pros
Comes with their own lightfastness rating on the barrel

Affordable and can fit both amateurs and professionals alike

4.4mm width lead, perfect for both detailed and large scale artworks

Easy to use and can be purchased separately
Cons
The amount of color variety may feel inadequate for many
Sale
General's has been known to be one of the best charcoal pencil manufacturers for some years now. And their range of pastel pencil sets is made specifically with the beginner users and amateur artists in mind. The sets are quite cheap with easy to use and easy to apply features, thereby making them a fan favorite among student artists. 
Experience 
What we absolutely loved about the General's set is that these pencils are sturdy; incredibly sturdy to be precise. You can sharpen them to a point and not have to worry about the lead crumbling even during rough use and constant sketching exercises.
They are extremely smooth on the roughest of paper surfaces as well and will help you to easily make large scale artworks that do not require much detailing.
All in all, we will be recommending the General's Pastel pencils more for the beginners than the professionals really. As their lead width is on the thicker side; control may be an issue and producing smaller and more detailed artwork with them may just be very difficult.
But on the plus side, these pencils are perfect for large scale works where detail is not really a factor. Using them is relatively easy as well, and it won't take much to get used to these pencils.
However, you cannot buy these pencils individually, so if you're out of a particular shave, you will have to invest in a whole set.
Pros
One of the cheapest pastel pencils sets on our list today

Extremely amateur-friendly, as these pencils are very easy to get used to

Durable lead which can glide over the roughest of papers

Perfect for large scale paintings and sketching
Cons
Not recommended for detailing and precise art

The shades are not sold individually
Sale
Established in 1761, Faber-Castell has been one of the worlds biggest and well-known manufacturer of art supplies for centuries now. Their latest in-line Pitt Pastel Pencils are one of the most versatile models which along with being budget-friendly have a really good light fastness and performance as well. 
Experience 
As a middle of the road pastel pencil set, the Faber-Castell Pitt is something that both the amateurs and professionals seek out for their art pieces. And though in terms of price and set range, they might feel like an average to standard pastel set, however, that is not the case with their performance. 
When it comes to consistency, the Pitt pastel has a sort of light, buttery smoothness to them which not even some of the more high-end brands are able to produce. 
Moreover, these pencils have a water solvent binding to them as well. Hence, if you're looking to turn those pastel shades into a nice rich watercolor, then you will be very easily able to do that with the help of a damp brush or even a wet sponge. 
For the professional painters, Faber-Castell tries to help them out by providing a convenient color chart on their website. This helps them to get an idea of the color variants they want if they are planning to do detailed artworks. 
However, their largest set just comes with 60 different colors, which again like the Stabilo CarbOthello set might not be adequate for the most vibrant of artworks. 
Pros
One of the most versatile pastel pencil sets

Perfect for both detailed works and larger arts

Has a professional grade consistency but comes at a very affordable price tag

The Faber-Castell website has a color chart that gives an idea of the color variations
Cons
Not enough shades for the most vibrant of art pieces
Sale
The Derwent brand has been in the art supply industry for years now. They have designed and produced a wide variety of quality art tools from charcoal pencils, to student-friendly watercolor pencils along with synthetic water brushes. They love to make their products for the newer users and beginners, and their pastel pencils are definitely not alien that fact. 
Experience 
The largest Derwent set comes with 72 different color variants all wrapped neatly inside a tin and wooden box. So not only will they allow you to effortlessly make vibrant and unique artworks, but you can also carry these pencils around wherever you go. 
The Derwent set is just perfect for all forms of plein air painting. You never know when inspiration might strike, hence the portability of this set is what makes it so very popular among globe-trotting artists and outdoor student painters alike. 
Professional artists love the Derwent set for their amazing vibrancy and consistent performance across all types of surfaces. Each of the pencils come with a product number on the barrel as well, so that if you're out of a shade, you will be easily able to purchase it separately. 
However, one gripe that we do have with the Derwent model is with durability. The lead of these pencils are prone to crumbling is subjected to rough use for a considerable amount of time. So if you are using the pencils on finer details for a small-scale pastel piece, then it's important to keep this aspect of the pencils in mind. 
Pros
Perfect for beginners and for those new to using pastel pencils

72 different colors allow a great amount of vibrancy

Portability ensures that the pencils are perfect for plein air painting
Cons
The lead tends to crumble during detailed works
Another pastel pencil set that's built specifically for the beginners. The Koh-i-Noor Gioconda has 48 different color varieties in them, which may not seem like much, but the amount of detail that they can provide is truly astounding. 
Made in the Czech Republic, the Koh-i-Noor Gioconda pencils can be just what you're searching for are pinning to go from a brand outside of the US. 
Experience 
Something which is not typically found in a student set but Koh-i-Noor provides is a color chart. Now you might just be wondering, what significance will a color chart bring in a pastel set that's made for the beginners.
Well, the Koh-i-Noor Gioconda pencils have a lead width diameter of 3.8mm, which is going to be one of the smallest on our list today. What a thinner lead provides, is an amazing amount of detail to every art piece and this is where the color chart comes in.
Even though this is a student level set, it will still allow you to make incredibly detailed works without too many problems. The pencils even come with a lightfastness rating along the barrel, which again is of great help for detailing purposes.
However, with just 48 colors, vibrancy can indeed be an issue. And none of the shades are sold separately, so if you do run out of one color, be prepared to invest in an entire set.
But, all in all, this student grade pastel pencil set is a great contender to all the other high-end brands out there.
Pros
Comes with its very own color chart

The 3.8mm lead width is just perfect for detailed artworks

Has it's very own lightfastness rating on the barrel

Perfect for students and beginner users
Cons
Not enough color variation

The pencils are not sold separately
Sale
As one of the best options for a complimentary medium for soft pastel pieces, the Conté à Paris pencils are just amazing when it comes to producing reliable, clean lines on larger artworks. They have the quality of soft pastels and have quite a buttery texture and consistency which blends rather well with all the other mediums. 
Experience 
What we find to be so very unique about the Conté à Paris pastel pencil set is their led diameter. Unlike the other pastel pencil sets on our list today, the lead width of the Conté à Paris is not at all narrow.
They have gone the opposite way and provided their pencils with a lead diameter of 5.0mm which is quite a lot. So, what these pencils will allow you to do is to help you to create reliably clean outlines for any soft pastel piece without having the fear of the stick crumbling.
These pencils also blend exceptionally well with the soft pastel colors, as they have a very rich texture and a buttery consistency allowing them to provide rich tones and shades on paper.
The pencils shades are also sold individually, so investing in an entire set again is also out of the question. But, their set only comes with 48 different colors which can be rather small for certain vibrant pieces. And doing really detailed artwork with a 5.0mm lead diameter can be incredibly difficult as well.
Pros
Rich, buttery texture that blends well with soft pastels

The 5.0mm tip is incredibly useful for creating outlines for soft pastels

Durable lead tip leaves no crumbles behind during use

Pencil shades are sold separately
Cons
Comes with only 48 different colors

Detailing will be an issue with the 5.0mm tip
When people generally think of Caran D'ache and their range of art supplies, 'expensive' is probably the first word that comes to their mind. Well, we wouldn't blame them for thinking that really, as most of their products, especially the high-end models come at a fortune and are specifically aimed towards professionals who do a lot of commissioned work. 
Experience 
The Caran D'ache Pastel Pencils may be expensive, but when it comes to quality not many models will be able to compete with what these are able to bring to the table. 
The Caran D'ache comes with the widest color range out of all the other models on our list today. It will provide you with a fantastic 84 color variation so that you can achieve the most vibrant of artworks as effectively as possible. 
All the pencils have some of the best lightfastness as well, and a lot of them can go up to 100 years without showing any signs of fading. They also provide a color chart with each set which not only displays the whole line-up but also the separate pigments that are used in making each pencil. 
In terms of lead diameter, the Caran D'ache pencils are on the smaller side. With a 3.0mm width, they are perfect for finer detailing work and making intricate patterns which a lot of the professional artists generally do. 
Hence, if you really don't mind the pocket-emptying expenses of the Caran D'ache pencils, then they will the best you can ever hope for. 
Pros
Has one of the best texture and lightfastness ratings

Comes with 84 colors for making the most vibrant and vivid artwork

Easy to use and comes with a color chart

The 3.0mm tip is perfect for detailing work
Cons
Extremely expensive, and out of reach for average customers

Somethings to keep in mind when using Pastel Pencils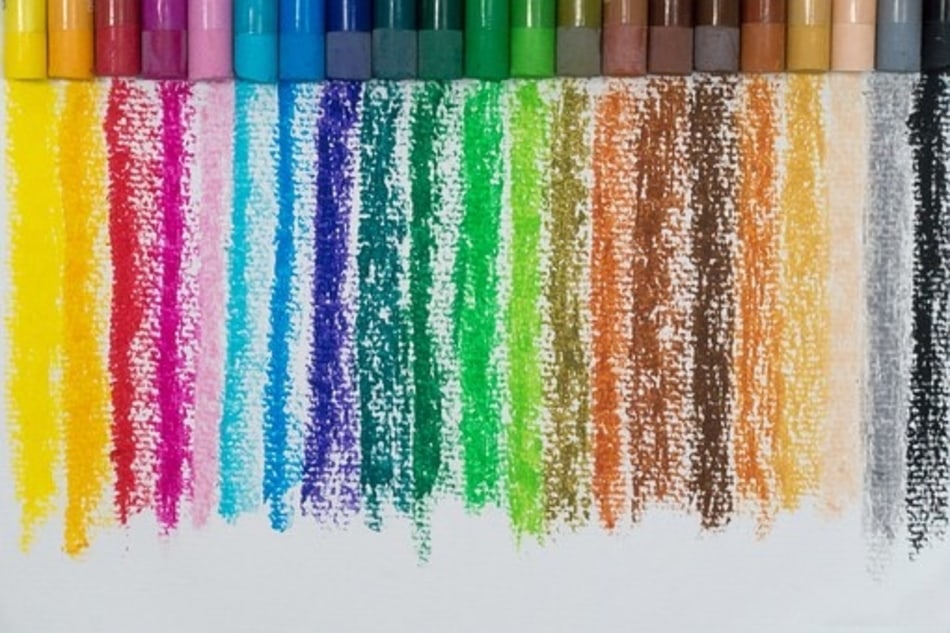 Guide for the Right Pastel Pencils 
Before investing your money on any art material, it's important to look out for the features that it's providing and seeing if they will adequately fit your requirements or not. And this habit should be maintained for picking pastel pencils as well.
So if you're getting your pencils from the local art supply store or from an online retailer then make sure to keep the following points in mind.
The Budget
Unless you're a professional painter, you will rarely want a pastel pencil set that will put a hole through your hard earned savings. Hence, the price you pay is always essential when deciding on new art materials.
There are a lot of money-grabbing art supply manufacturing companies out there that you should look out for. They create substandard products that promise a lot, deliver very little but come at a really steep price.
So, keep a realistic budget, and find reliable companies through customer review and select the ones who have the best value for money pencil sets.
You can try going for hi-end pastel pencil sets as well, but these ones can be quite expensive and fit professional needs better.
For beginner painters or for those who haven't used pastel pencils before, going for a cheaper set is the wiser choice. But cheap here shouldn't necessarily mean low quality. Just be on the lookout for standard sets which are budget-friendly.
Variety in Purchase options
Not everyone looking for pastel pencils want to purchase a complete set. There are a lot of users who want to pick a few particular shades separately and not invest in a whole bunch of colors which they will never use.
So make sure to use the pencils of a brand that will allow you to buy the shades you want separately. Because if you're using a brand that doesn't sell shades separately then after using up a particular color buying them from another brand may bring inconsistencies in your artwork.
Certain companies like General Pastel pencils and Koh-i-noor Gioconda Pastel Pencils provide colors separately, and will really come in handy for large scale artworks.
However, on the other hand, if you're into smaller art pieces and like using a lot of color shades, then a complete pastel pencil set might be the way to go.
The Available Colors
Pastel pencils are just amazing when it comes to blending with each and creating different color shades and contrasts. And more the variety of colors present in a set the more vivid and colorful can the resulting artwork can get.
However, unlike soft pastels which host up to 400 different colors, pastel pencils, on the other hand, are quite limited when it comes to variety.
Caran D'ache is probably the only company that comes close to a 100 different shades while the rest (like Derwent and Koh-i-Noor) near about average at the 60 mark.
The Diameter of the Lead
Not a lot of people are aware of the importance of the diameter of the lead of a pastel pencil. In our opinion, it is perhaps one of the most important features of these pencils alongside color shade and color variety.
The diameter of the lead of any pastel pencil determines the amount of control that you have over that coloring medium. An artist, may he/she be a professional or an amateur needs to have complete control over the medium that he/she is using.
Precision and finesse are key when it comes to creating pieces that house a lot of intricate detailing and vividness. So, if you're working on one such concept, then it's best to go for pastel pencils that support a narrower diameter.
The bigger the diameter, the lesser will you be able to control the medium; however, you will be able to color faster and speed up the task with them. Hence, for large artworks that don't need a lot of detailing, or even for some abstract Avant-garde paintings, pastel pencils with bigger diameters will suit the purposes just fine.
Additionally, another thing which you should take note of is that the pencils with bigger diameter barrels are a bit more expensive than the narrowers ones.
And if you are not certain which diameter lead will suit your needs the best, then you can always opt for a middle range one which can give you a basic idea on what you're looking for. 
The Difference Between professional Grade and Student Grade Pastel Pencils
Not just pastel pencils but any form of art supply comes in two particular variants: professional and student.
There was a time when professional grade art supplies were out of reach for the more amateur painters. However, the recent advancements in technology have bridged the gap considerably, but that's not to say that commercial grade pastel pencils are cheap.
And, on the other hand, it will also be wrong to think of student level pencils to be products which are of low quality. There are a lot of brands that sell great quality pastel pencils but at a very affordable rate.
Moreover, today, the biggest difference that you will spot between these two categories will be with lightfastness ratings, pigment purity and general composition.
The student grade pastel pencils are perfect for those who are still new to using this type of drawing medium. Or if you're planning to try out new techniques and new styles of painting, then the student grade pencils will be able to help you achieve that without breaking the bank.
However, if you do a lot of commissioned pieces and try to make your art as vivid and colorful as possible, then the professional pastel pencils might be the best choice for you.
Additionally, there are a lot of companies who provide color charts with their professional-grade pencils. This will help you to compare each pencil individually and make it significantly easier to chart out color schemes for your next piece.
Just pastel or watercolor as well?
There are a lot of pastel pencils in today's market that comes with a water solvent binding. This allows the already existing color strokes to act as a source of watercolor with just the use of a slightly wet and damp brush.
This makes these sort of pastel quite similar to watercolor pencils, but their tones and shades are richer and much more vibrant. So if you're having issues with your existing soft pastel piece, then you can get these variants of pencils and jazz up your artwork a bit. But they are a bit on the expensive and be out of reach for a lot of average customers, and we shall not be recommending them for beginner users as well.
Portability
Not all companies provide their pastel pencils with nice little boxes so that you can carry them around everywhere. So if you love to do a lot of plein air painting or just like to travel everywhere with your art kit, then it's always more preferable to go with a set of portable pastel pencils. 
Best Pastel Pencils
Should you just work with pastel pencils?
Initially, when you're starting out with this medium, it's better to work with nothing but the pencils until you familiarize yourself with them. And once when you start to grow in confidence, then you branch off to other sections such as fixatives, which deal primarily with preservation, along with blending stump. 
Tools such as a blending stump or even a tortillon can be a fantastic way of getting more even gradients in your artwork while employing newer techniques and sketching methods. 
How would you sharpen your pastel pencil?
Unlike your normal color pencils and watercolor pencils, sharpening a pastel pencil can indeed be very tricky. 
If you're using a traditional pencil sharpener,  you will notice that after bringing the pastel pencil to a fine point, the lead will inevitably break. This can be rather annoying if you're doing a lot of detailing work or using pencils which are quite expensive and don't sell separately. 
As an effective alternative to the traditional pencil sharpener, a sanding block can be a valid option. But if you don't mind spending a bit to keep the sharpness and durability of your pencils in check, then you can buy those special pastel pencil sharpeners which a lot of brands like Derwent manufacture and sell. 
Which type of paper suits pastel pencils the best?
If you are new to the pastel pencil scene, then the mixed media paper will be your best bet. 
But for professional users, we will recommend the specially made oil pastel papers which have a stark surface contrast from other traditional drawing papers. 
These papers have a set tooth which is much deeper and will allow the pastel shades to effortlessly latch onto the surface and immediately blend into it. 
Mixed paper media, on the other hand, will help the pastel to latch on but blending and layering is quite inferior in comparison. 
Pastel pencils vs. regular chalk pastels
Pastel pencils are like a 'medium-soft pastel encased in wood,' whereas the chalk pastel, on the other hand, have a firmer body which is easier to work with. 
The major differences between these two medium lie in pigment concentration and binder ratio. The chalk pastels have a higher concentration of binder, which is what makes them firmer and perfect for line work. 
From where to purchase pastel pencils online
Though there are a lot of art supply stores online which sell these products at discounted and non-discounted prices, in our opinion Blick and Amazon are the best out of them. 
But this is only true for the US; if you live in some other country and planning to get one of the above set there, then it's best to first look up which retailers provide the best service there and plan accordingly.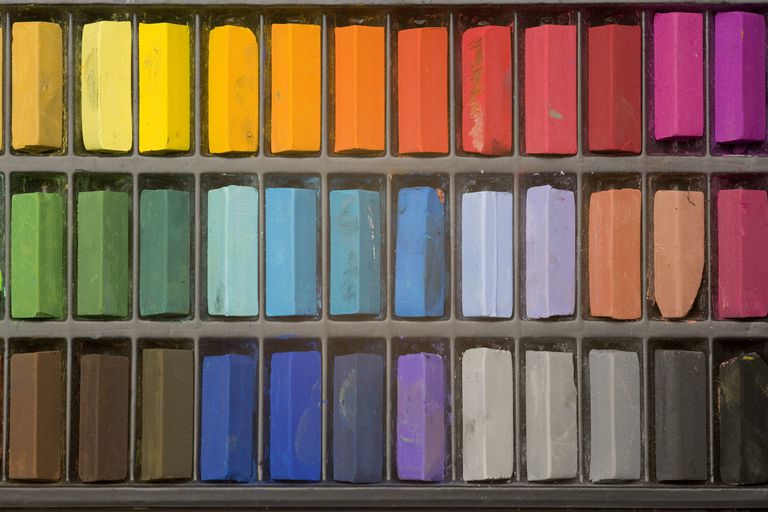 Happy Coloring!
Pastel pencils come in various shades, lightfastness ratings, and price tags. So, we know how complicated it can get to pick the one that can fit your artistic style and needs the best. 
But, we hope that our list and guide today was able to help you with your decisions. 
Till next time!