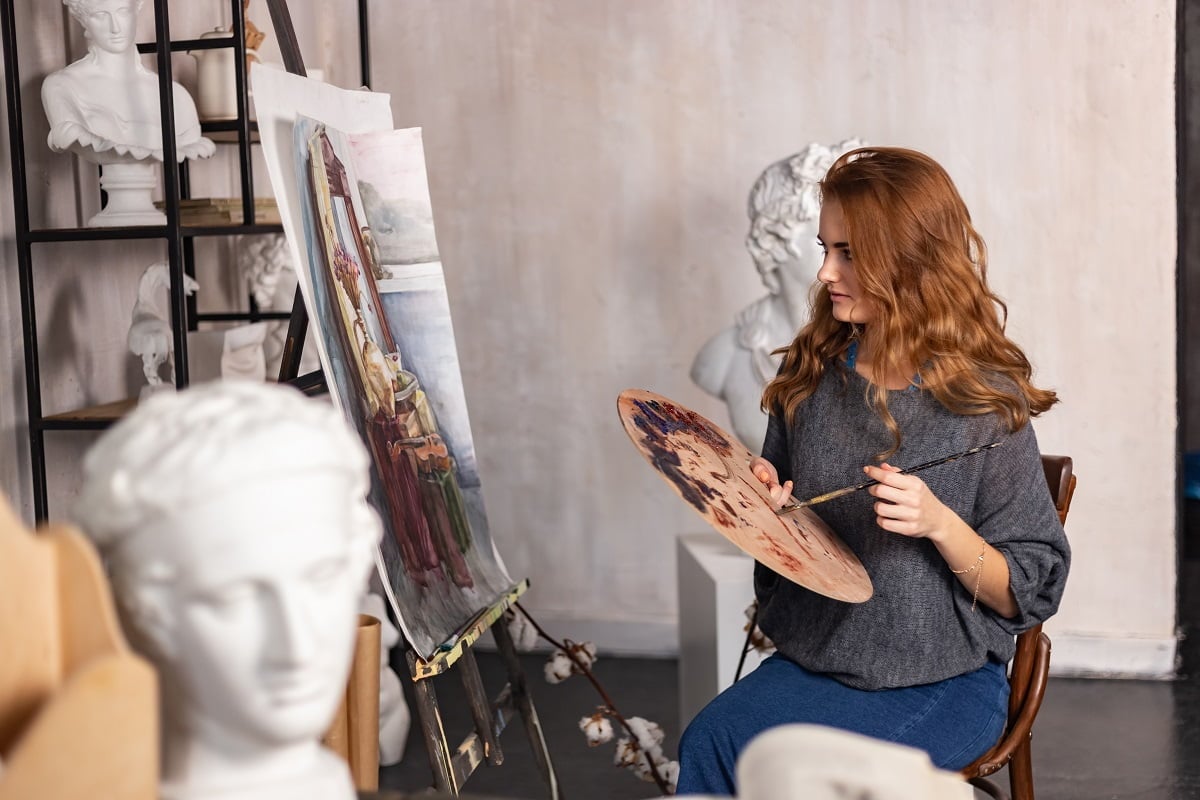 Oil painting is a versatile art medium that has attracted painters since the time of the Renaissance. From Monet to Van Gogh, it's for the masters. 
The slow-drying quality of oil paints makes them an instant favorite among artists as they can take their sweet time while mixing the colors. Consisting of pigment particles that remain suspended in oil, preferably linseed oil, you can mix the paints with different media to change their consistency. 
Whether you're an amateur or a professional painter, it's only natural to try your hands at oil painting to uncover new horizons of the art world. But, the daunting question is – which oil paint to choose when you have tons of options? We're here to talk about the best oil paint brands and review the ten best oil paints to help you make the right choice. 
QUICK COMPARISON: Top Oil Paints For Beginners & Professionals
Before we begin, we want you to know, one of the most astonishing things about oil paint is you can paint it over other types of paints, including acrylic paints. To know in detail we have an excellent article to guide you through to paint oil over acrylic paints. 
So, without any further ado, let's get our palettes ready! 
Best Oil Paints for Beginners & Professionals Artists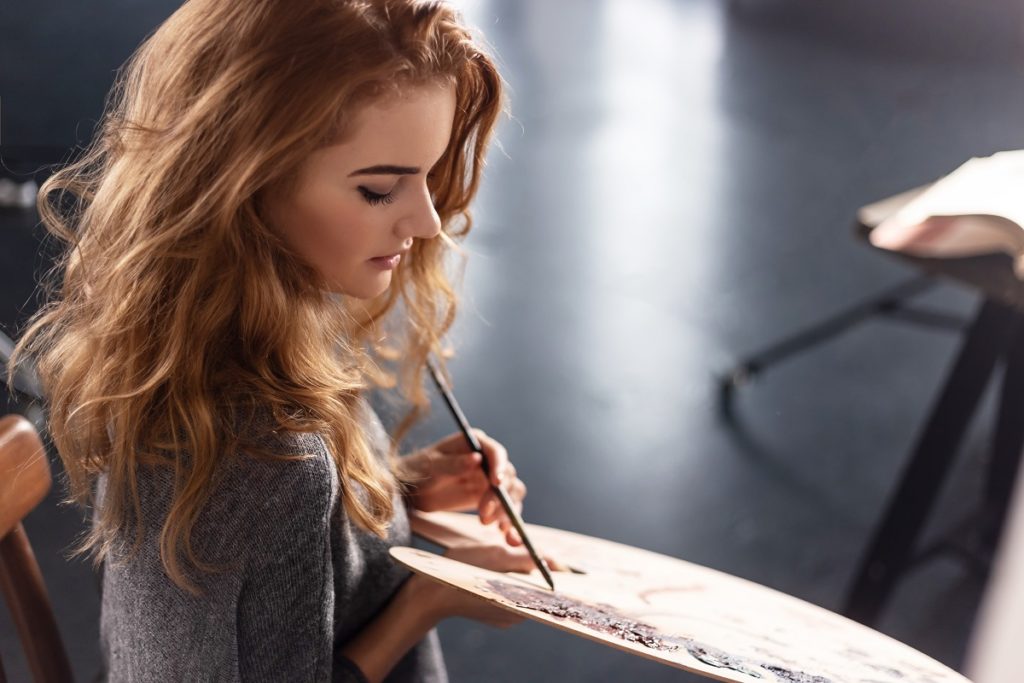 The first product on our list is the 24-color oil paint set from Castle Art Supplies that'll take you on an enjoyable ride into the world of oil painting. It is one of the best student-grade oil paints that come with a five-stage tutorial to help you get started on your oil paint journey. 
Why Did We Like It?
The oil paints from Castle Art Supplies come in resealable and airtight tubes that ensure a long shelf life of these paints. Arranged neatly in two separate rows, these 24 alluring shades of oil paint are there to inspire you to create innovative artwork. The consistent and smooth texture of the paints is expertly formulated using the perfect balance of pigments and oil. 
On top of this, the vibrant shades of the paint speak volumes about the product's professional quality. They are super easy to use and work beautifully on canvas. You can use a brush or palette knife, whatever you want, to apply the oil paint and create a masterpiece. 
And why just stick to the canvas when you can apply the paints on different substrates? The paint works on all surfaces: plastic, wood, board, metal, or paper. Don't shy away from experimenting and creating different textural effects using this oil paint. 
What Could've Been Better?
Generally, it's natural for oil paints to take a few days or a week to dry up completely due to their slow-drying quality. However, the oil paints from Castle Art Supplies can take up to three weeks or even more to dry up, which can be a bit of a letdown. 
Pros
Easy to use oil paint tubes

Airtight and resealable tubes

Multiple applications

Tutorial guide available
Sale
Next we bring you the Winsor-Newton Winton oil color paint set that can easily compete with any top artist-grade oil paint due to its rich colors and high pigment load. If you are planning to step into the oil painting world, this paint set might be just what you need. 
Why Did We Like It?
Professional-grade oil paints can be quite expensive, but you can get professional quality paints at an affordable price with Winton oil paints. The brand uses moderately priced pure pigment for formulating its oil paints to maintain quality and affordability. 
Plus, the extremely high pigment load of this oil paint set offers excellent tinting strength and covering power without compromising the color performance. The Winton range also has a smooth consistency that's far superior to other oil paint brands. It's slightly stiffer and delivers superb color retention when applying palette knife or brush strokes. 
You can mix this oil paint set with different oil paint brands without losing the texture or intensity of the color. If you already own some old oil paints, you can mix them up with this new set to create an eye-catching glossy texture due to their smooth consistency. 
What Could've Been Better?
While the brand offers a high-quality paint set for your paintings to shine through, the packaging can be a massive inconvenience. Many customers have complained that some of the paints started to leak out from their tubes due to the busted packaging. Hence, the packaging is not the strongest quality of this oil paint brand. 
Pros
Excellent texture and consistency

High pigmentation level

Individually formulated colors

Intermixable with other brands
Sale
The Ohuhu oil paint set is one of the best student-grade paints that we came across while curating our list. It's excellent for beginners who are new to the oil painting world and want to explore this art medium. Also, the 24 different paint shades in this set allow beginners to play around and experiment with the colors. 
Why Did We Like It?
It is one of the top oil paints that offer premium-quality oil paints for beginners due to their excellent consistency that allows the paint to roll onto the surface. 
The 24 vibrant color options offer endless opportunities for you to try out new painting techniques while taking on an oil painting project. From the refreshing lemon yellow to the bold crimson red, your oil painting journey is bound to be exciting and colorful with this paint set. It's perfect for painting landscapes, sceneries, portraits, or whatever your heart desires. 
On top of this, the portable color tubes allow you to capture anything that inspires you on canvas. Planning a day out on the bench? Take the color set with you and paint away. The best part is that the Ohuhu oil paints are completely non-toxic, unlike most oil paints, making them completely safe for children, adults, novices, and master painters. 
What Could've Been Better?
If you are a professional artist and looking for artist-grade paints, this paint set might not be the best choice for you. While it's excellent for beginners who are just getting started with oil painting, it doesn't offer the intensity, variety, or depth of colors required by professional oil painters. 
Pros
Rich color pigments

Wide range of colors

Portable color tubes

Non-toxic oil paints
Cons
Might not be suitable for professionals
Sale
Next up, we bring you the eco-friendly oil paints from ZenART supplies that are known for their artist-grade quality. Made from non-toxic pigments and cold-pressed linseed oil, these oil paints can offer you the ultimate professional oil painting experience. The uniform consistency of these paints is ideal for effortless color mixing and creating gorgeous oil paintings. 
Why Did We Like It?
The professional quality of these oil paints can make them compete quite easily with top oil paint brands, such as Sennelier oil paints or Michael Harding oil paints. By using these few essential colors and their rich textures, you can create an entire color palette that suits your needs. 
This Portrait palette includes earth colors to develop realistic skin tones while coloring portraits or figurative paintings. But the artistic opportunities are not just limited to portraits as these extra-fine oil paints are ideal for wet-on-wet painting and creating rich color texture on canvas. Their buttery consistency also allows you to apply the paints in very thin layers effortlessly. 
These handmade paints are carefully formulated by experienced artists so that they can be lightfast and have a high pigment load. The colors are also 100% toxin-free and eco-friendly as they contain no synthetic pigments or harmful chemicals. Hence, they are completely safe to use for both amateurs and professionals. 
What Could've Been Better? 
These handmade oil colors from ZenART supplies only contain refined linseed oil and no water-mixable oils, so the paints are not soluble in water. They might not be the best choice if you want to create an artwork using mixed media painting techniques by combining oil paints with acrylic paints or watercolor paints. 
Pros
Professional-grade oil paints

High load of traditional pigments

Excellent for wet-on-wet oil painting

Toxin-free and eco-friendly
This professional oil paint set from the U.S. Art Supply comes with 36 stunning oil colors that can attract professional artists and aspiring beginners. These high-intensity oil colors contain premium-quality pigments to create perfect blends for your paintings. You can paint whatever you want, from portraits to landscapes, with these excellent oil colors. 
Why Did We Like It?
With 36 stunning and vibrant oil-based colors, the U.S. Art Supply professional paint set allows you to create extraordinary artworks whether you are a beginner or a professional. The paints contain premium-quality pigments that offer tremendous depth and glaze to the colors. 
These colors have a smooth buttery consistency, allowing artists to paint for as long as they need. Because of their slow-drying quality, you can blend and apply colors without feeling rushed. 
While we're talking about blending colors, how can we not like the color mixing wheel that comes with the set? If you're a beginner, this color wheel will act as the Holy Grail to help you master the technique of mixing oil paints. It's an educational color tool that's essential for all budding artists. 
Another excellent quality of these oil-based colors is that they are completely acid-free and non-toxic. So, whether you are teaching oil painting to kids or creating your artwork, these paints are 100% safe and don't cause any allergic reactions. 
What Could've Been Better?
If you are just getting started with oil paintings, mixing these oil colors can be tricky compared to other oil paints. It takes some time to get acquainted with the blending techniques. You can use a palette knife, which will make it easier to blend the colors without creating a mess or wasting too much paint. 
Pros
High-quality, vivid colors

Smooth consistency

Comes with a color mixing wheel

Non-toxic and acid-free
Cons
Mixing the paints can be tricky
Sale
The oil paints from MyArtscape are specially formulated to offer rich depths to create stunning and vivid paintings. You can skillfully develop different color textures with these oil paints because of their uniform consistency. Also, the paints are completely non-toxic and safe to use. 
Why Did We Like It?
The strong and rich colors of this oil paint set are vibrant enough to attract anyone to them. They are carefully formulated by using high-quality pigments to make the colors look luxuriously heavy and vivid. On top of this, the colors offer a traditional lustrous glossy finish to create extraordinary portraits. 
You can also make the oil paints last for a long time on canvas without fading, thanks to their consistent formulation. While most oil paintings are sensitive to direct sunlight and ultraviolet rays, you can keep the glossy finish of your portrait intact by using these highly pigmented, lightfast colors. 
Along with providing a traditional luster, the high pigment load makes it quite easy to blend the colors. This extends your work time so that you don't have to rush through the entire color mixing process. 
If you are not satisfied with the product, the manufacturer offers a 1-year replacement guarantee. Thus, don't hesitate to try out this paint set, and if you don't like it, you can always replace it within a year. 
What Could've Been Better?
Even though the paint set offers a wide range of colors with 48 different oil paints, it's missing some essential shades, such as crimson red. So, if you are a professional painter, you might find the color range a bit underwhelming. 
Pros
Lightfast colors

Easy to blend

High pigment load

Attractive glossy finish
Cons
Doesn't have some essential colors
The MEEDEN paint set offers 24 rich and vibrant oil colors that can give life to your painting and make it stand out. It offers superb performance at an affordable price and can satisfy the artistic needs of every oil painter, from beginners and students to master artists. Hence, it can be a perfect addition to your usual art supplies. 
Why Did We Like It?
These oil paints from MEEDEN are available in exciting modern colors that'll help to paint away your imagination and bring your creative ideas to life. The colors have a thick and heavy texture and are excellent for painting over clay surfaces. So, now you decorate your living room with colorful and stunning DIY clay art projects.
Also, the paints are made from premium-quality modern pigments and are ideal for all artists. Hence, you can easily use them even if you're a beginning oil painter or an experienced professional artist. Whether you want to learn about oil paints or experiment with different colors, this paint set has got your back. 
You can also take your time while blending and experimenting with these colors because of their long drying time. So, no need to rush as you can slow down and enjoy the experience. Plus, the lightfast quality of these colors ensures that your oil paint artwork won't fade over time due to prolonged exposure to light. 
What Could've Been Better?
You might find it a bit difficult to use these oil paints on your canvas because they are not suitable for canvas. These paints are quite thick and are meant for painting over clay surfaces. So, if you try to use them on canvas, you'll experience poor color coverage, which can be a letdown. 
Pros
Vibrant colors

Slow-drying time

Lightfast quality

Sealed aluminum tubes
Sale
Want to play with some metallic oil colors? The Magicfly professional paint set of 40 colors includes some stunning metallic colors, such as metallic gold and silver. It also comes with two extra white tubes so that you never run out of my colors and can let your imaginations fly. 
Why Did We Like It?
The gorgeous metallic finish of these Magicfly oil colors is an instant attraction and makes them clearly stand out from other oil paints. Your paintings are bound to have a stunning metallic glaze if you choose to use these colors. 
While talking about paintings, it's necessary to mention the superb blending quality of these Magicfly oil paints. They thin out quite nicely, and their texture is excellent for trying your hands on some wet-on-wet painting techniques. Also, thanks to their opacity and high pigment load, these colors offer excellent coverage on canvas. 
Other than this, the oil colors are quite durable and long-lasting because of their lightfast quality. Hence, your artwork will retain its high-sheen metallic finish and stay fresh for a long time. You can use these Magicfly paints to create wall arts, portraits, and landscapes without worrying about the colors fading away with time. 
What Could've Been Better?
It's a known fact that oil paints take longer to dry than any acrylic paint or watercolor paint. However, the drying time of these Magicfly oil colors is even longer than most other top oil paints. So, you might need to apply a gel medium if you want these oil paints to dry up faster. 
Pros
Long-lasting colors

Excellent coverage

Gorgeous metallic finish

Non-toxic oil colors
The Bob Ross oil paints are specially formulated for creating gorgeous landscapes using rich and heavy colors. However, the oil colors are not just limited to painting landscapes. In fact, the buttery consistency and uniform texture of the paints allow you to experiment with them and blend them to develop unique color palettes. 
Why Did We Like It?
Alla Prima, or the wet-on-wet technique, is a unique painting technique that allows you to apply a new layer of oil paint over a wet layer without waiting for the previous layer to dry. It's an excellent technique for creating multiple color textures in a single painting. And these Bob Ross oil paints are perfect for the wet-on-wet coloring technique. 
The smooth and uniform consistency of the colors allows you to apply them on a substrate in thin layers. You can easily cover each layer with different colors to create stunning color combinations. The colors are stiff enough to hold their texture while you are layering them up on any substrate. 
On top of this, the highly pigmented rich colors offer excellent depth and intensity to your artworks and paintings. The glossy finish of the colors also makes your paintings instantly attractive. Furthermore, these oil paints are easily washable, so you can get as messy as you want without worrying about leaving any permanent stains on the workstation. 
What Could've Been Better?
Most customers have complained about receiving leaky coloring tubes that created a huge mess. The busted tubes resulted from poor packaging, leading to the unnecessary wastage of perfectly good colors. It also affected the texture and consistency of the oil colors as they became hard and brittle due to leakage and exposure to air. 
Pros
Washable oil colors

Excellent for wet-on-wet painting

Attractive gloss finish

Highly pigmented colors
Cons
Leaky tubes and bad packaging
As we come to the end of our list of best oil paints, we have the oil paints from Cool Bank that are perfect for artists of all ages. The 24 vibrant and eye-catching colors allow you to create extraordinary masterpieces by expanding your painting skills. So, let your creative juices flow and bring your ideas to life with this affordable paint set. 
Why Did We Like It?
These 24 stunning oil colors come in airtight and resealable tubes that you can store for a long time without worrying about the paints going bad. The richness and depth of the colors are obviously eye-catching and can make your artworks stand out among the crowd. 
Made from long-lasting pigments, these strong oil paints come with a lightfast quality and won't dull or fade over time. The paints are also quite easy to use and perfect for all professional and budding artists. You can even mix different colors to get a thick consistency and excellent coverage. 
When we are talking about the applications of these oil colors, it's only fair to mention that they can offer you endless opportunities. Whether you use them for portraits, landscapes, or sceneries, it's all up to you. 
What Could've Been Better?
When it comes to oil paints, bad texture is a deal-breaker. Even though the Cool Bank oil paints have wide applications, their texture is not as smooth or consistent as other top oil paints. They have a chalky texture, giving the paints a dull matte finish instead of the gorgeous high-sheen finish you expect from premium-quality oil paints. 
Pros
Vibrant oil-based colors

Rich and long-lasting pigments

ASTM D4236 and EN71 approved safety standards

Wide applications
Best Oil Paints Buyer's Guide
When choosing the best oil paints for your art project, it's best to consider certain criteria. So, we will discuss some key factors that'll help you make a well-informed purchase decision for choosing the right oil color. 
1. Consistency And Texture
Oil painting is all about mixing and blending colors to create unique color combinations for your art piece. The texture and consistency of your oil paints will primarily determine how well they can blend together. 
Premium-quality oil paint will have a smooth, buttery, and uniform consistency with a stiff texture. The smoothness of the oil color will allow you to mix it easily without other colors to create your own color palette. 
Furthermore, the right consistency and texture of the oil colors will offer maximum coverage in a single brush stroke. You can easily apply the colors using a brush or a palette knife directly from the tubes without any hassle. 
2. Pigment Load of Classic Oil Colors
Oil paints are known for their rich colors that offer great depth and intensity to your artworks. But if you think about it, it all comes down to the pigment particles. Premium-quality oil colors are so vibrant because of their high pigment load. The more the pigment, the more vivid the colors. 
In addition to this, high pigment content makes it easier to blend oil colors without any pigment separation. It's safe to say that the consistency of oil paints greatly depends on the pigments. Also, a high pigment load ensures the durability of your oil colors to prevent them from fading early. Hence, it's always a good idea to check the pigment content of oil paint before purchasing it. 
3. Non-Toxic Quality
While selecting the best oil paints, make sure to check their non-toxic quality to avoid any health hazards. Some old varieties of old paints contain lead as their base, which can be highly toxic if you ingest or inhale it. If the oil colors contain lead, it'll be mentioned in the safety instructions on the coloring tubes. 
However, it's best to avoid such toxic colors altogether and go for non-toxic and eco-friendly paints. Several top oil paint brands, like Ohuhu and ZenArt Supplies, produce toxic-free oil paints that are 100% safe to use for artists of all ages. So, read the product description carefully to determine the non-toxic quality of the oil colors before buying. 
4. Lightfastness of Professional Oil Paints
As you know, direct sunlight and oil colors are not the best of friends. Your oil colors will fade away soon if you are not careful and expose them to sunlight. But, if you choose oil paints with a high lightfast rating, it can prevent your colors from fading early.  
The lightfast quality of oil paints acts as the UV screen to shield the colors from the ultraviolet rays to keep them fresh and vibrant for a long time. So, if you choose to paint with lightfast oil colors, your painting can retain its vivid color textures over the years without needing any art restoration. 
You can check the lightfast rating of the oil colors by going through the product information provided on the coloring tubes. 
5. Airtight Tubes
Oil paints must always be stored under airtight conditions to prevent them from getting hard and brittle. If you have loose paints, you need to store them in airtight containers. But, if you purchase painting tubes, check whether they are airtight and resealable. 
Most modern oil colors come in metal tubes that are airtight and resealable so that you can use them for years without worrying about their shelf life. These metal tubes allow you to use as much color as you want and seal the remaining color and store them properly in an airtight environment. 
6. Affordability
Generally, oil paints are more expensive than acrylic or watercolor paints. On top of that, artist-grade oil paints are more costly than student-grade oil paints due to their high-quality pigments. 
As a beginner, it's best to go for a moderately priced paint set without wasting your entire savings. But, if you are a professional artist having an established career in oil painting, you can go for artist-grade paints. So, it essentially comes down to your needs and available budget. 
Best Oil Paint
How long do the top oil paints last?
Oil paints have a long shelf life and can easily last over a decade if you store them correctly. Ideally, a good oil paint should last up to 30 years under the right storage conditions. If you look closely, oil painting tubes do not have a fixed expiration date, unlike watercolor or acrylic paints. 
However, oil paints expire over time as the oils start to separate from the pigment particles. By storing the paints properly, you can extend their lifespan and prevent paint separation. To sum it up, take care of your oil paints, and you can use them for years without worrying about replacing them any time soon. 
What oils are used in formulating oil paints?
Linseed oil is the commonly used oil for formulating oil colors. However, other vegetable oils, like poppy oil and safflower oil, work better to extend the drying time of oil paints. 
Safflower oil is entirely non-toxic and used as a binder in oil paints to increase the flow and drying time of the colors. If you are working on a big painting project, you might consider using safflower oil as a medium to increase the work time. 
On the other hand, the poppy seed oils slow down the yellowing of the oil paints over time, which can be a problem if you're using linseed oil. They also lengthen the drying time of fast pigments to avoid early shrinkage of the oil colors. Hence, many paint manufacturers prefer using safflower oil or poppy oil to linseed oil. 
How to store oil paints properly?
Oil paints are sensitive to air, moisture, high temperatures, and direct sunlight. When they are exposed to air and moisture, they tend to harden up and become brittle. At the same time, if the paints are kept under direct sunlight, the colors will start to fade with time. 
However, you can easily protect the oil colors by storing them in a dark, dry, and cold place inside an airtight container. Modern oil paints mostly come in airtight and resealable metal tubes that make storing the colors much easier. 
What is the best surface for oil painting?
Surface selection is an important aspect of oil painting because oil-based colors do not work well on alkaline substrates like stones, bricks, or cement. The alkaline conditions make the paints dry up and crack eventually.
When it comes to oil painting, the canvas is probably the best surface choice. You can go for either linen or cotton canvases. However, art restoration can be a bit tricky with a cotton canvas. It's best to choose canvases made from natural jute or hemp for your oil painting.
What is the lightfast rating of oil colors?
As we mentioned earlier, oil paints are sensitive to direct sunlight. The ultraviolet rays can burn the color and make them dull over time. However, oil colors with a high lightfast rating are more resistant to UV light than regular oil paints. 
Lightfast rating essentially highlights the ability of oil colors to screen out and withstand UV rays. Hence, if you choose lightfast oil colors, they'll last for a long time and won't fade away any time soon, even when they are exposed to direct sunlight. 
Best Oil Paints for Artists Conclusion
Choosing the best oil paint that meets your artistic needs can be a daunting task and requires extensive research. But, after going through our reviews, we hope we've made the task a bit easier for you. We're certain that you can find a suitable oil paint on our list whether you're a professional or an amateur. 
If you want our recommendation for professional artist-grade oil paints, we suggest you start with the Castle Art Supplies Oil Paint Set. The rich colors and their uniform consistency won't disappoint you. You can experiment with 24 vibrant colors and learn the basics of oil painting using the tutorial guide. 
However, it's just the tip of the iceberg because you have the entire art world to explore to know more about oil paints. You can always take your time and do some more research by referring to the oil paints buyer's guide before selecting the best oil colors. 
So, don't forget to stay creative. Until next time! 
Related Articles
10 Best Canvases for Oil Painting
Learn What is the Best Surface for Oil Painting
How Long It Will Take Oil Paint To Dry  & How to Speed It Up
Oil Painting for Beginners Basics & How to Use Oil Paints
Learn How To Dry Oil Paint Faster
Learn How to Clean Oil Paint Brushes
12 Oil Painting Supplies That Every Oil Painter Needs
11 Best Palettes for Oil Painting
Learn How to Clean Oil Paint Brushes Without Paint Thinner
5 Things You Should Know Before Painting Oil Paint on Glass