It is common knowledge that oil painting commenced centuries before acrylic painting was even invented. After all, famous paintings like the Mona Lisa were done using oil paint and the procedure of mixing small amounts of color to bring about the desired effect.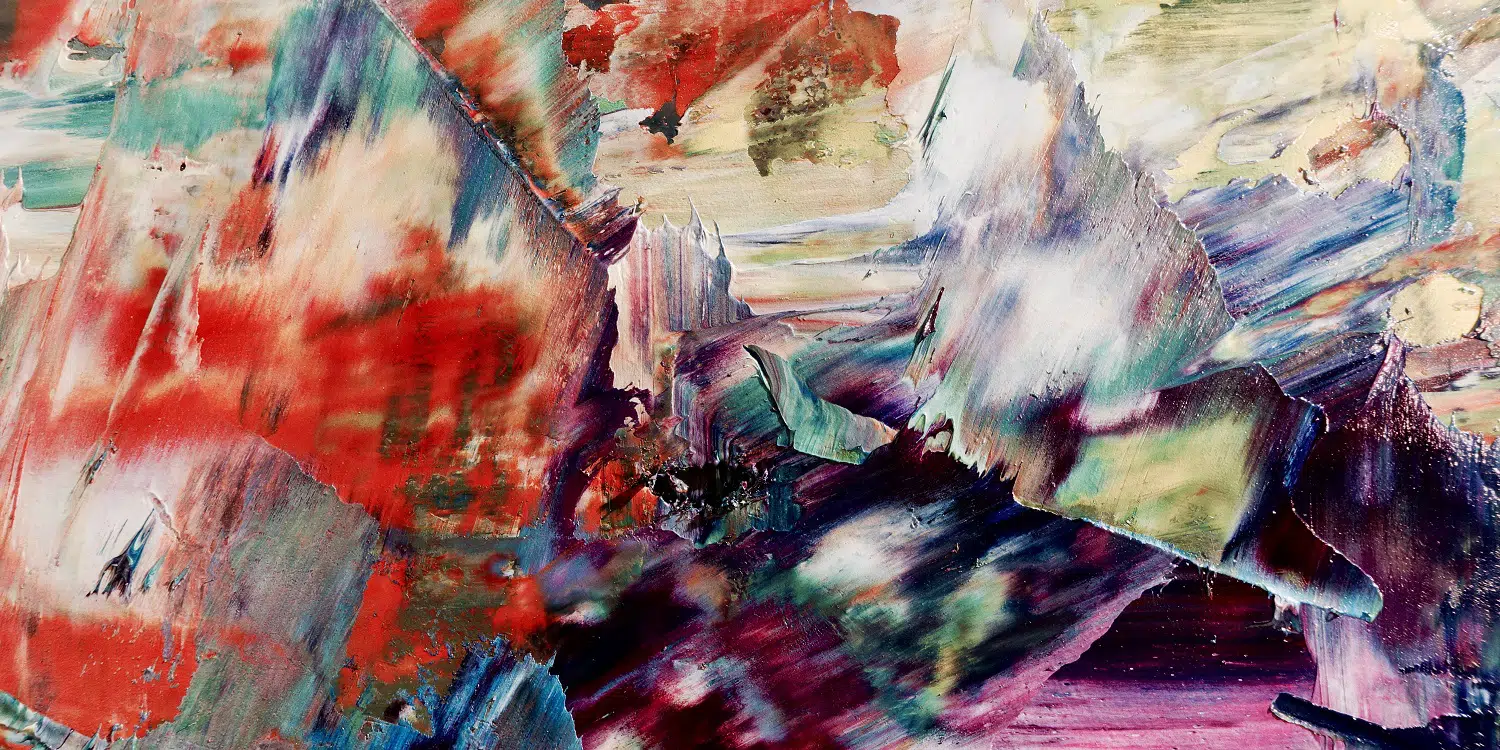 Acrylic painting according to history did not begin until the early 1940s and is basically a water-based paint that is preferred by many amateur painters because it can take as little as 15 minutes to dry, whereas oil paintings can take as long as weeks because it is thicker, is totally combustible and should be used in a well-ventilated area ensuring also to keep kids at bay.
One of the good things about working with water-based paints like acrylic is that they can be thinned, unlike oil paints which cannot. It is however possible to use acrylic paint in an oil painting as well as an undertone. It's similar to painting a house, where one has to use a primer before applying the last coat of paint. In the same manner, acrylic paint can serve as a primer for an oil painting to give it a more enhanced finish.
It is also imperative, as a beginner artist, to find the appropriate materials needed for painting, the best brushes for oil painting and the best brushes for acrylic painting should accompany proper paper for acrylics, and of course, the best paints for canvas painting both oil and acrylic, best overall acrylic paints and best budget acrylics paints too!
As oil paintings did come first, and made history, today we are going to enjoy some oil paintings today as inspiration, cast a glance and do let us know below which you've enjoyed the most!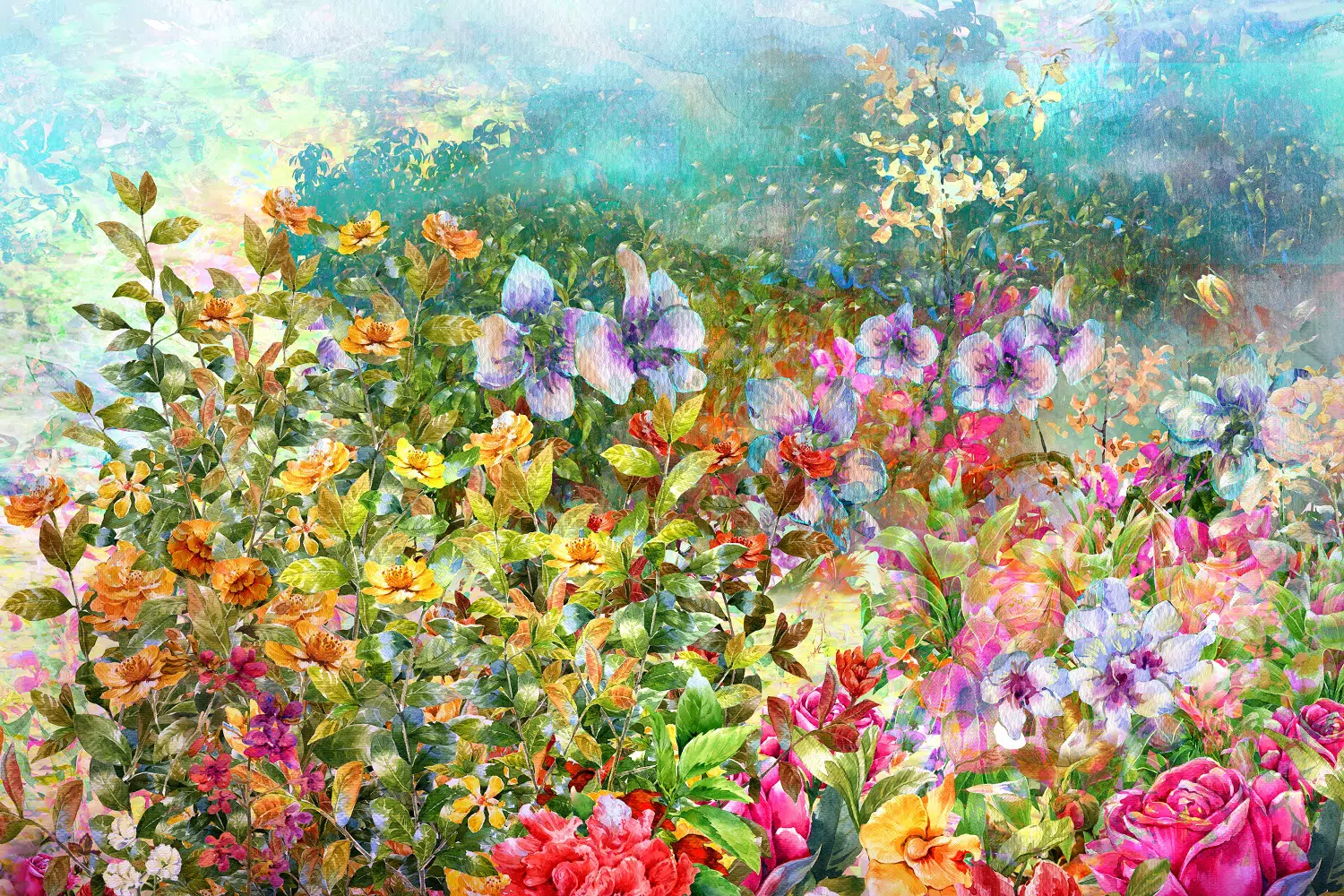 Oil Painting Photo Action Designs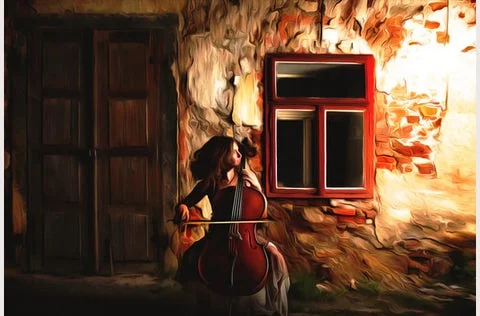 This portrays a woman playing a musical instrument. The picture shows a person in action, and this looks truly gorgeous. You can settle for 4-5 color types and play with them throughout. 
Modern Oil Painting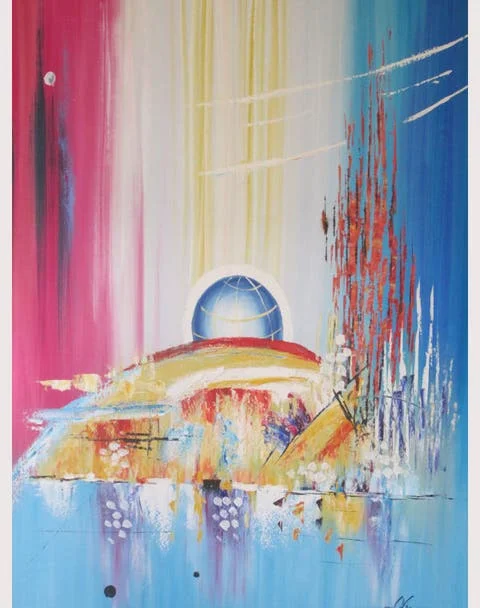 If you are looking for a modern design, this one will fit the bill. It has a blue doorway-like structure in the middle, followed by an abstract background. There are a number of colors used to make it very vibrant. 
Dirigible – Oil Painting Design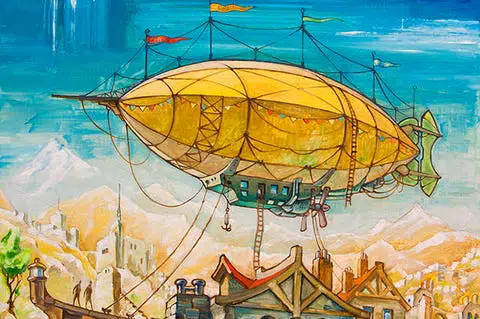 This has an oil painting that has a giant airship along with buildings in the background. It looks like a fantasy image set in ancient times. 
Oil Painted Background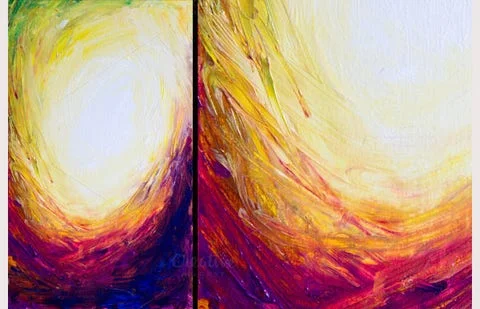 Up next is a beautiful picture with a light-colored center and dark swirls around it. One can decipher it as the end of a tunnel where light is pouring in. It gives off a very positive vibe and will look great with a yellow or white-toned wall. 
Rooster Dance Oil Painting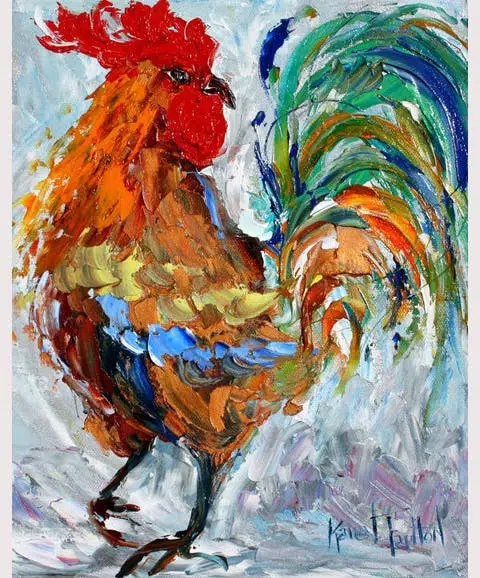 If an impressionistic, modern, whimsical art piece is on your mind, try this rooster out. It is a printed piece originally created by Karen Tarlton and you can use this as an inspiration to create something as vibrant and beautiful. 
Klimt The Kiss Oil Painting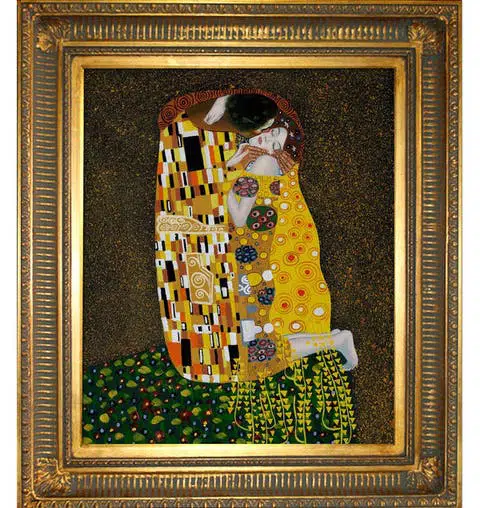 This is known to be one of the most romantic paintings ever painted. It had been originally created between 1907 and 1908 and still stands as a beautiful and innovative creation. 
Portrait of A Girl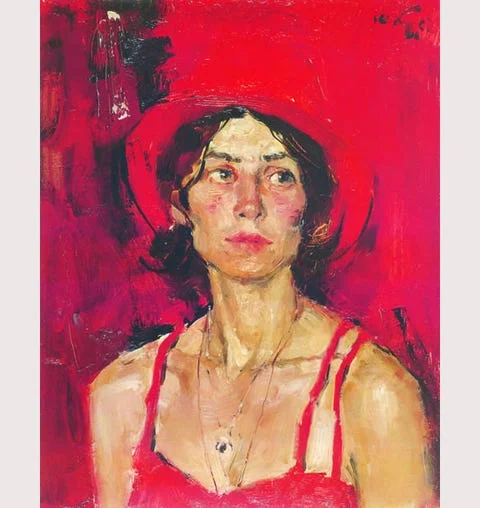 If you want to stick to painting humans, this is a great idea. The artist has used only 3 colors, red, black, and peach, and played around with these tones. This resulted in a gorgeous and vibrant picture of a woman in red. 
Black Light Forest Oil Painting Poster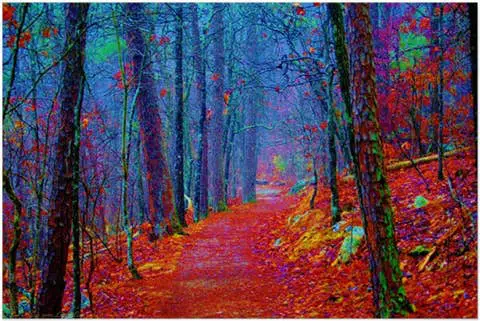 The walls of the house reflect your personality and hence you can put up a vibrant picture if that matches. Paint this scenery of a forest on a quiet autumn afternoon and you will cherish it for a long time. 
Dancing Girl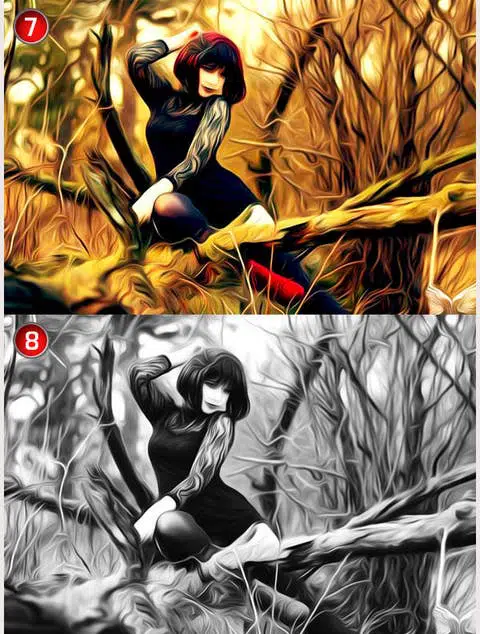 Do you want a human figure in your portrait? You can try this beautiful picture of a girl dancing in the woods. The main colors that have been used are shades of yellow and black. A splash of red in the middle enhances the picture. 
Nature Canvas Painting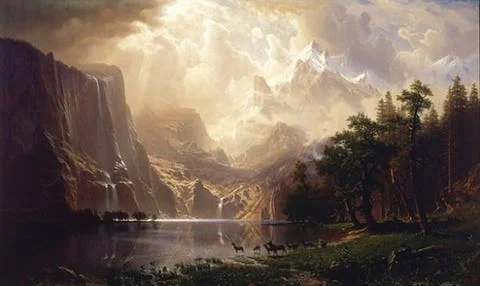 If the hills bring you peace, you can choose this remarkable painting of mountains and a river flowing in between. The sky is painted with clouds and the sun-rays come from in between them.
Girl With Flowers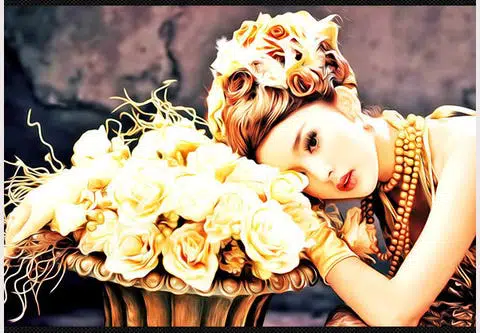 If you find bright colors to be attractive, this is going to be a great option. You can paint a woman with a basket of roses in a yellow hue. The color makes the picture stand out and it shows impeccable shading work. 
Freedom – Acrylic Oil Painting on Canvas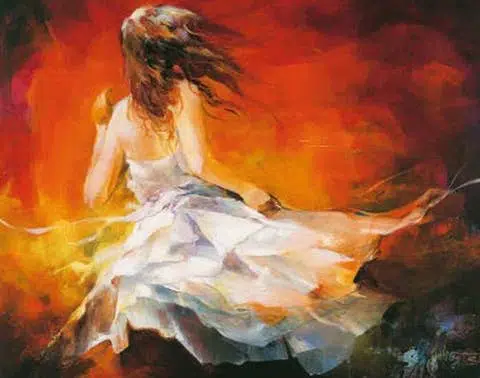 This art piece is an exact depiction of freedom with a girl running away toward the light. It shows hope, and paired with a beautiful white dress, the picture catches the eye immediately. 
Oil Paint Effect Package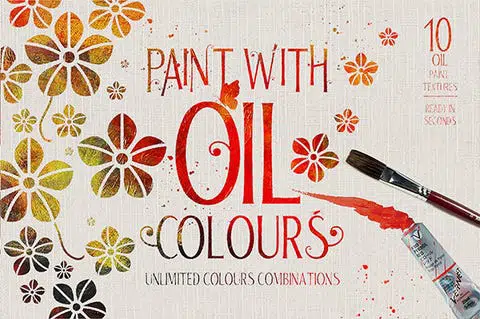 Do you want to work on digital painting but use oil paintbrushes? This package allows you to paint letters and shapes with oil paint texture. You can play around with objects, layers, shades, and colors to create your own unique pieces. 
Reproduction by Picasso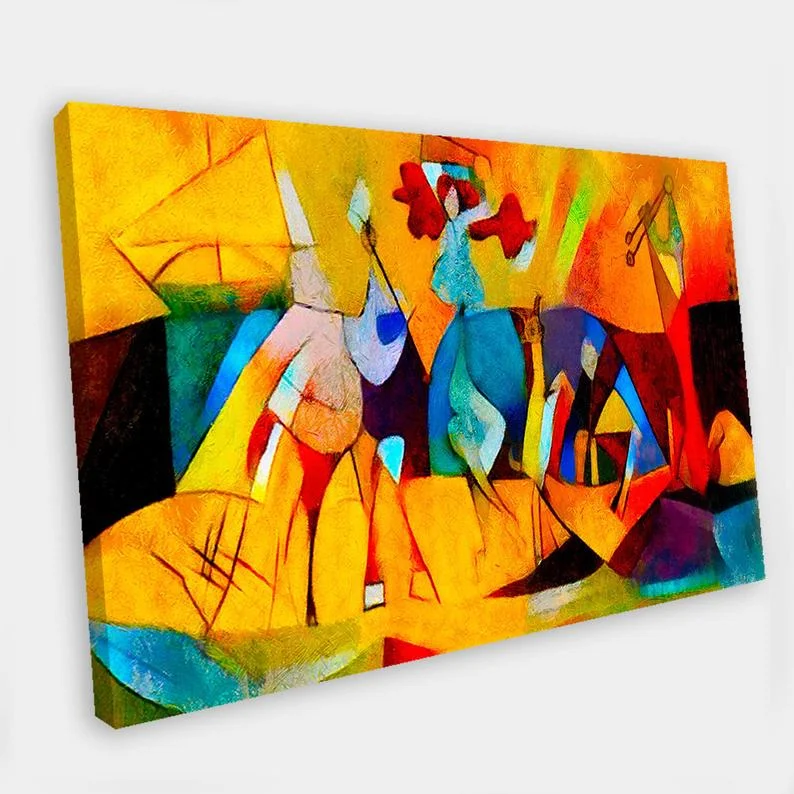 If you think canvas art is your forte, this is a beautiful example of a colorful abstract painting. It has a number of colors and is very vibrant. 
Abstract Background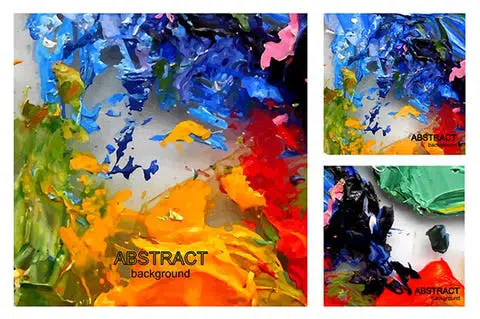 If you are a fan of abstract artwork this one can be a great inspiration. It seems a number of colors and it looks like they have been splashed across the canvas. A vibrant and contemporary work, this design goes well with 21st-century houses. 
Nature Walk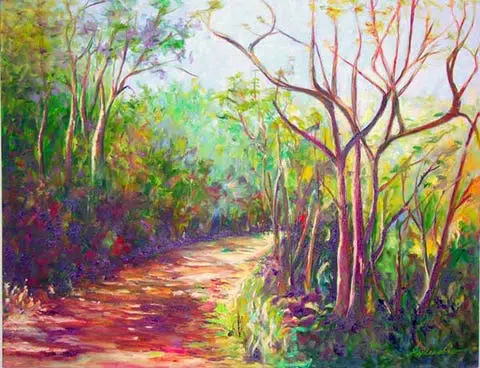 Love nature and forest trails? This is another example of a forest scenery where a path leads on. It is empty but looks extremely tempting. The colors are bright and the picture seems very optimistic. 
Elegance – Hand-Painted Artwork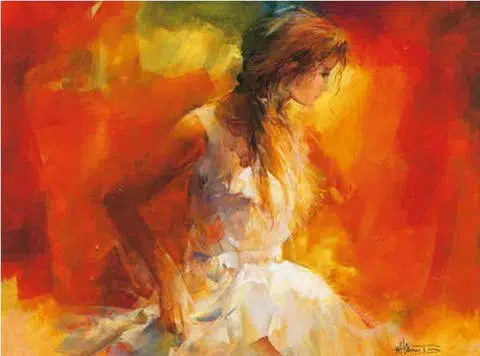 We loved the color play in this picture. A girl stands in a fog of colors and she looks beautiful in a white dress. Red color complements the white and the dark brown of her hair stands out. 
Minimalist Modern Painting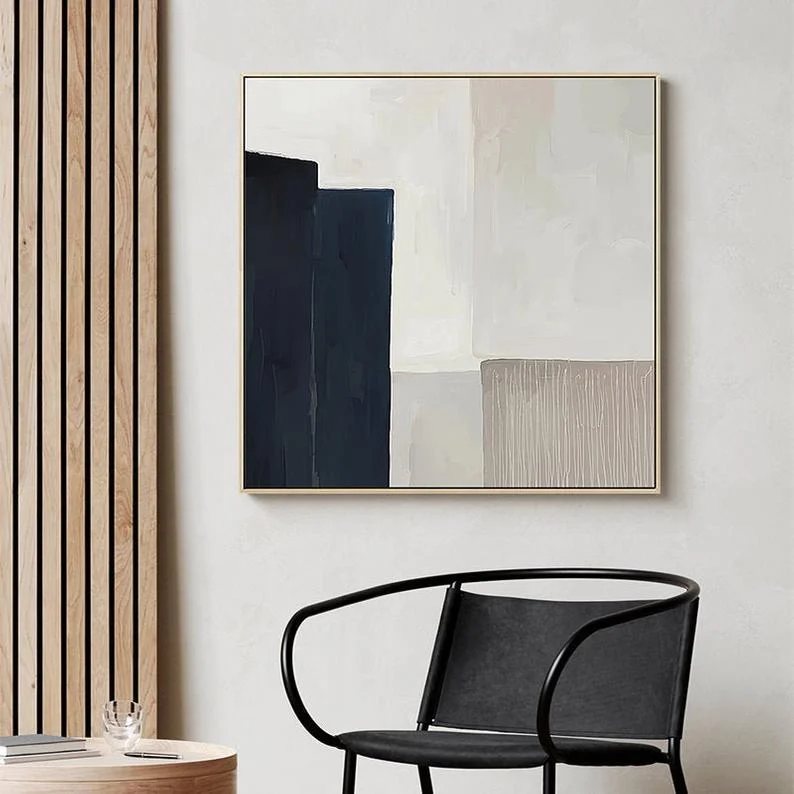 Do you find shapes attractive? Then this is a modern art piece that will look appealing with stripes of blue, grey, and white. The blue stands out from the rest and is very easy to paint. 
Greenwood Painting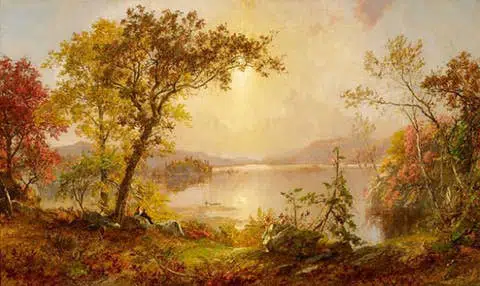 If you have a mid-century designed home, this painting will look great in it. It has an old-world charm and the colors that are used are subdued to provide the effect. 
Painting Hummingbird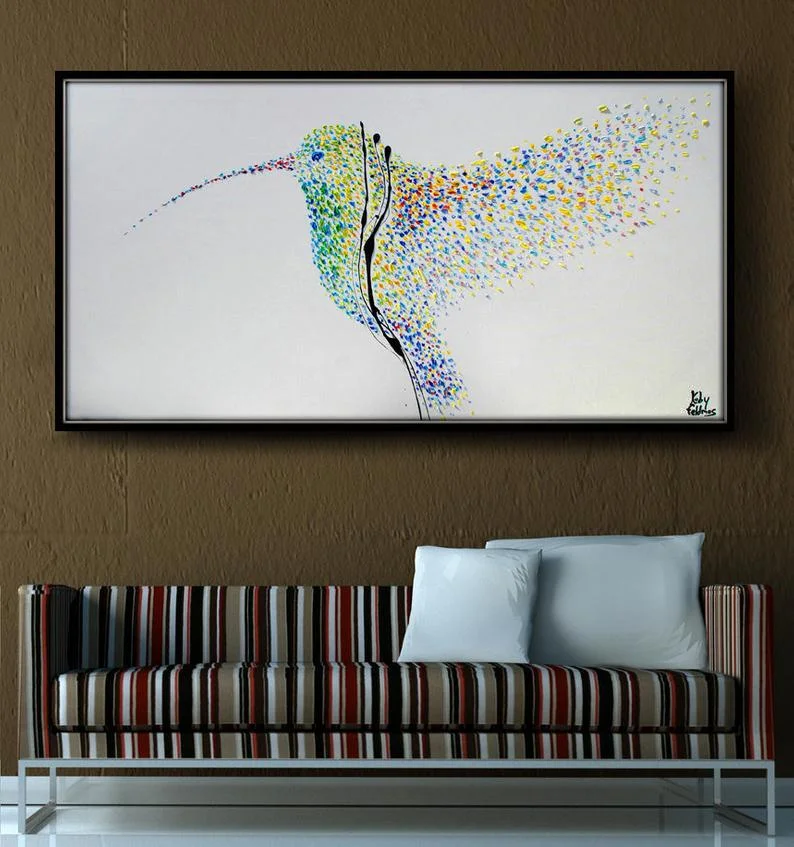 This is a painting of a hummingbird which is made mostly with dots. It has a number of colors but none of them overpower the white background. We feel that it will work very well with minimalist decor. 
Pro Oil Painting Action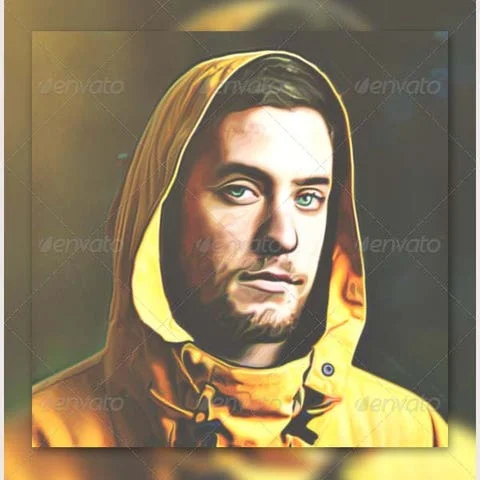 Do you want an oil-painted image but do not have the patience or the expertise to create one? This is a great way to transform your images into oil-painted ones within seconds in Photoshop. 
Abstract Art-Original Painting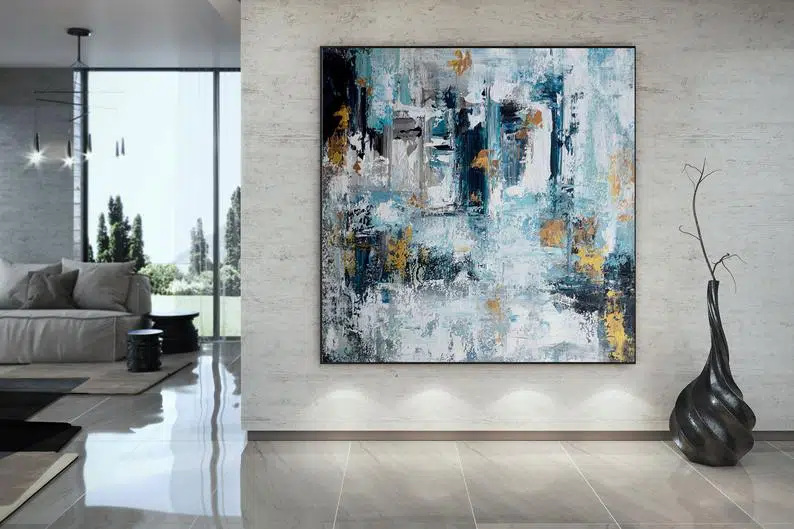 This is a gorgeous example of blue, mustard, and white put together. It has splashes of all colors and is painted to match well with minimalist decor. 
Oil Painting Abstract Art On Canvas Heavy Texture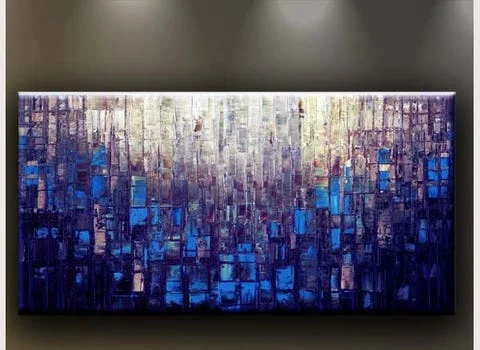 If you are enchanted by the color blue, this is a painting that you will like. Made with umpteen shades of blue, it looks very attractive and can be an accent piece on a statement wall. 
Painting Of A Woman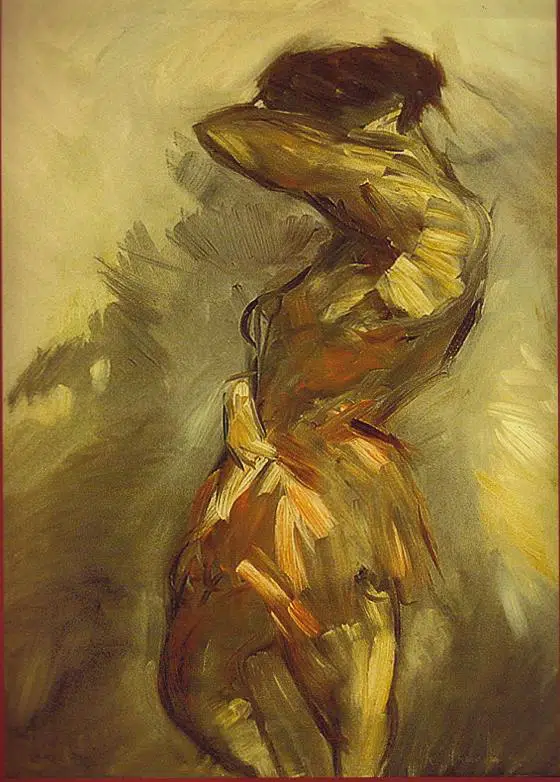 The light and shadow effect is perfectly done in this picture of a woman. The lovely shades of yellow and brown are painted with utter finesse. Also, it is not very vibrant and will be a classic addition to your walls. 
Original Gray Painting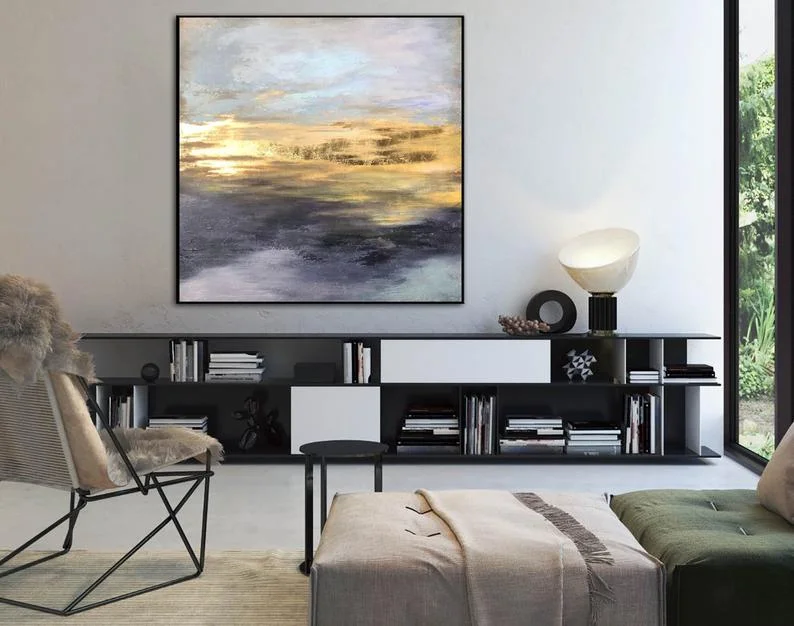 Up next is a mystical creation with shades of yellow and grey. The colors fade into each other, providing an enchanting abstract painting for you to enjoy. 
Oil Paint: Spiderman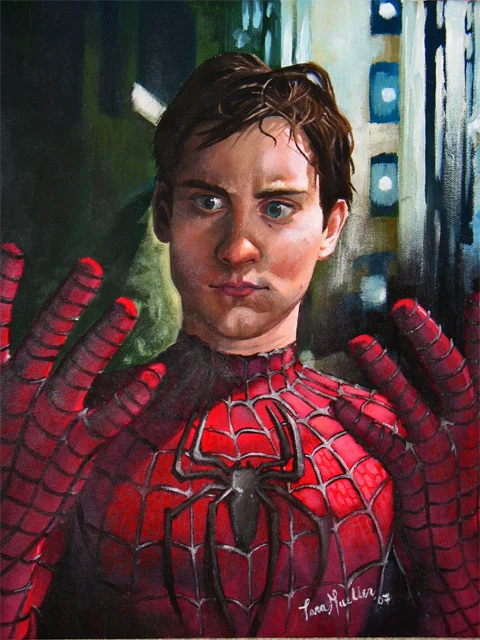 If you have a spiderman obsession like some of us, then you will really like this design. It has an image of spiderman with a shadow play in the picture. 
Yellow flowers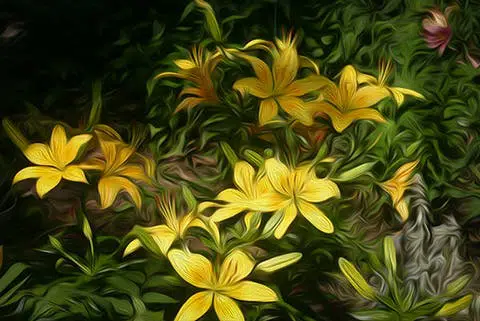 This piece of artwork can be created on Photoshop cc. You will have to take an original picture and edit it with an oil paint effect to get this result. A quick and easy way to turn a beautiful picture into a painted one. 
New York Rain Textured Oil Paint Work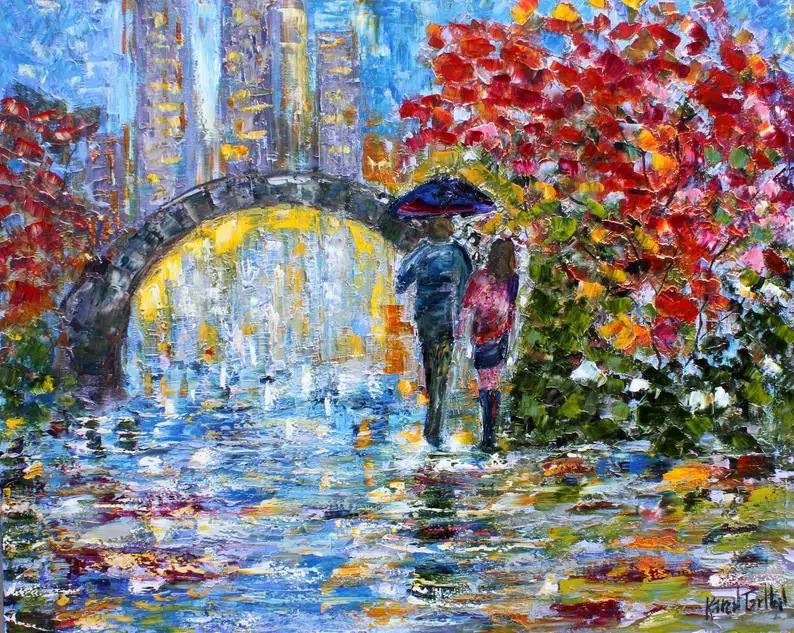 This is a beautiful scenery that can be painted on canvas. It is a moment captured from Central Park and painted in a number of colors. 
Beach Sunset Painting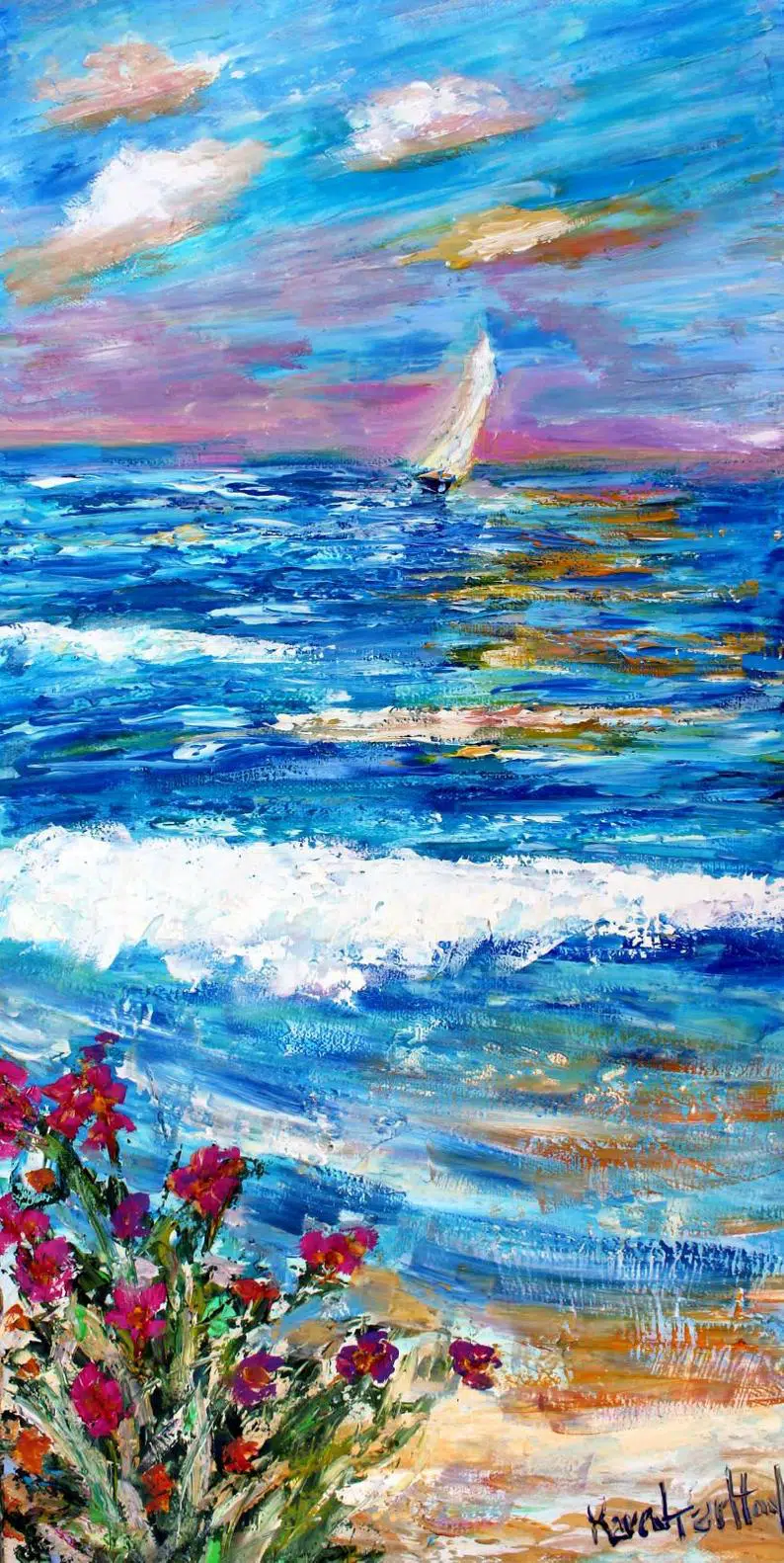 The vibrant blue of the ocean and the sky looks very attractive in this picture. It brilliantly captures the heart's desire to be on a beach, by the sea. A bunch of red flowers stands in contrast while adding to the scene. 
Black & White Oil Paint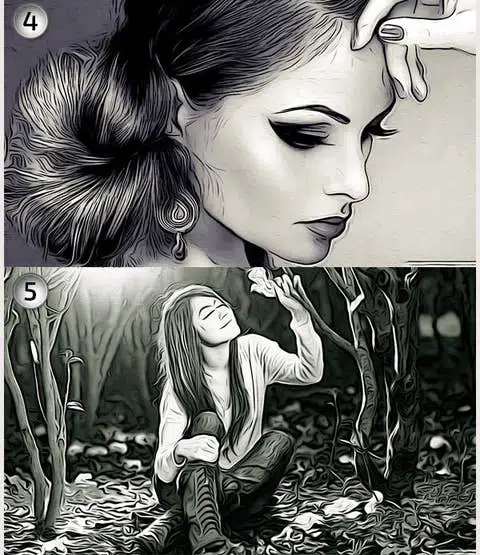 There are 2 ways to go about this painting. You can create it with the help of Photoshop CS6-CC or you can paint it from scratch. If you want to recreate it on photoshop, remember to choose a picture with distinct lines. A low quality image will not work. 
Hiding: Oil Painting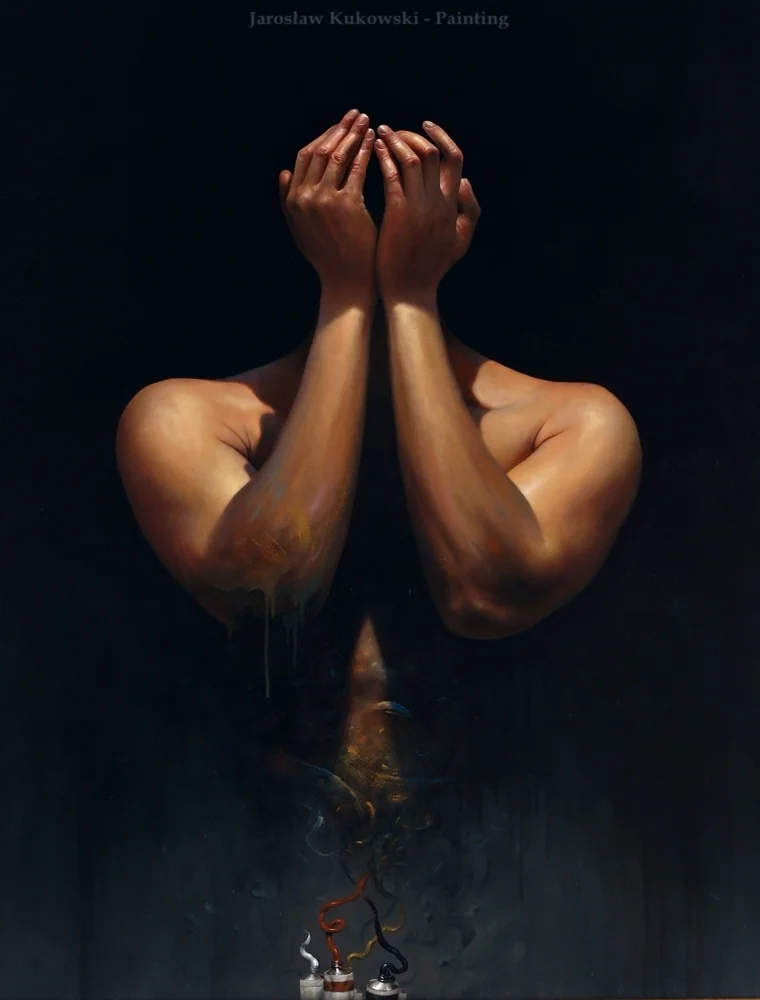 Do you love realistic paintings? If so, this is going to be a great option to get inspired from. The shadow falls beautifully and the placement of the hands is brilliant. You can see the subtle shine of oil colors helping in achieving perfection here. 
Abstract Art Mixed Colors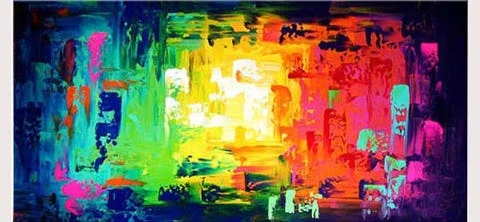 If you want an abstract painting with colors that match your decor, this is a great idea. It has a brilliant color mix and if you plan to recreate it, you can use different shades but remember to blend them well at the edges. 
Portrait Of A Face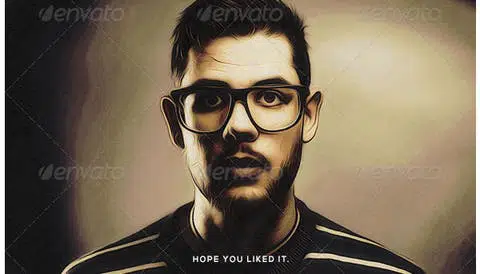 This is another way of creating an oil-painted image in photoshop. It is for digital enthusiasts and you can create eye-catching old oil paint pictures within a few minutes. 
Oil Painting On Canvas Fabiano Millani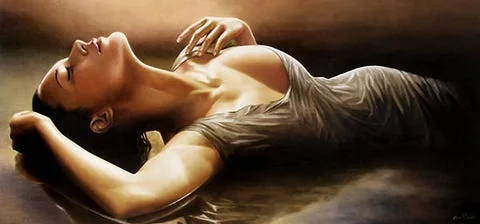 Up next is a sensuous piece painted so carefully that it almost looks like a real image. Look at the detailing and the shadows that this artist has created. This picture could be a great inspiration if figures are to be drawn. 
Nasmyth Alexander Artistic Painting Canvas Oil
Are you looking for a mystic scenery of the mountains with a house on top? This has a very picturesque scenery made with subdued shades. We were immediately reminded of summer afternoons by the creek. 
Oil Paint Stratagem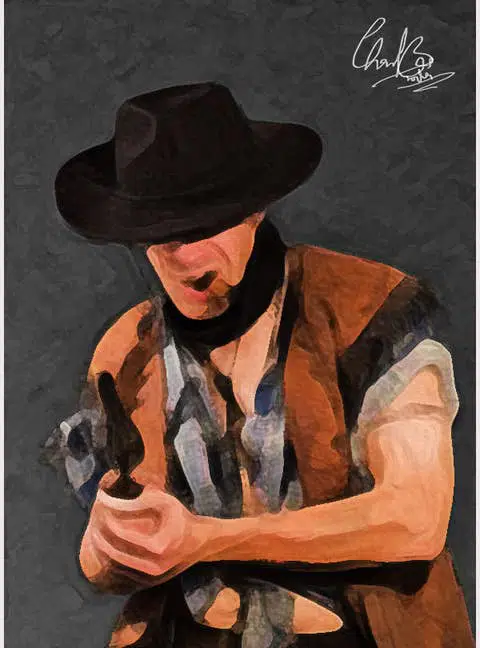 If you want to work with the old-world charm, this can be a great art piece design to hang in your living room. It has a man with a cowboy hat and gun which reminds us of the old countryside. 
Intimate Engagement – Beautiful Oil Painting On Canvas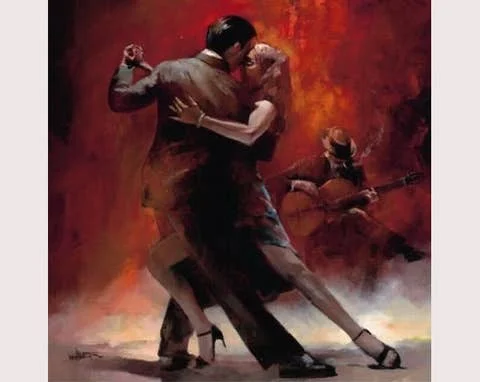 This is a beautiful picture of a couple dancing with a musician behind. If you want to frame a romantic moment from your life, this is going to be a great source of inspiration. 
Fine Art Print Beach Babes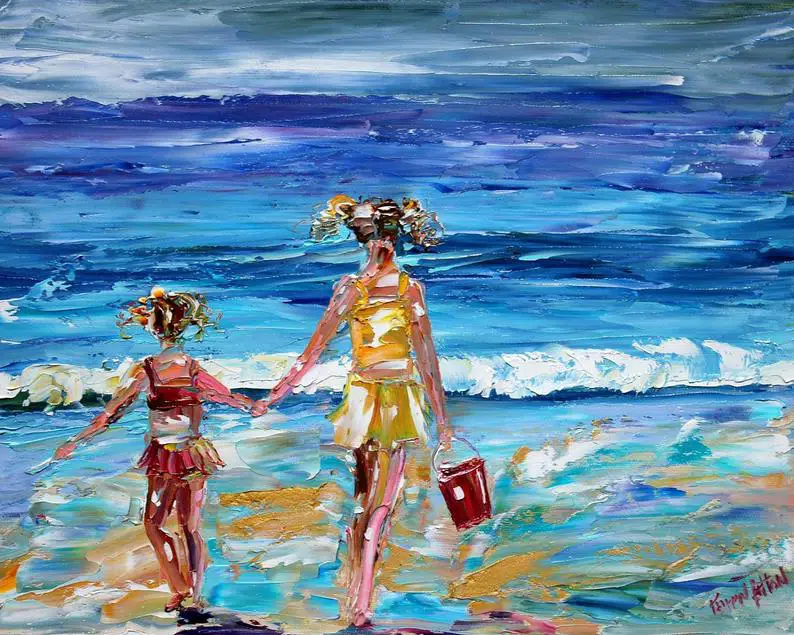 Love the beach? A great way to show your love is to keep a painting of the beach. Multiple shades of blue with traces of white and yellow have been used to bring this scene to life. 
Love Lost – Hand-Painted Oil Painting on Canvas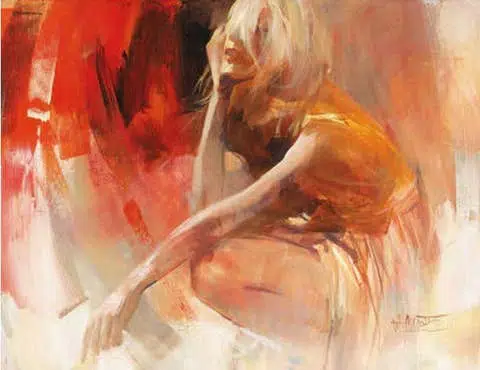 We loved the surrealistic vibe that this painting has. It is made from shades of yellow and red and makes for a beautiful art piece. It will match well with white minimalist decor. 
Gold Leaf Silver Leaf Fall painting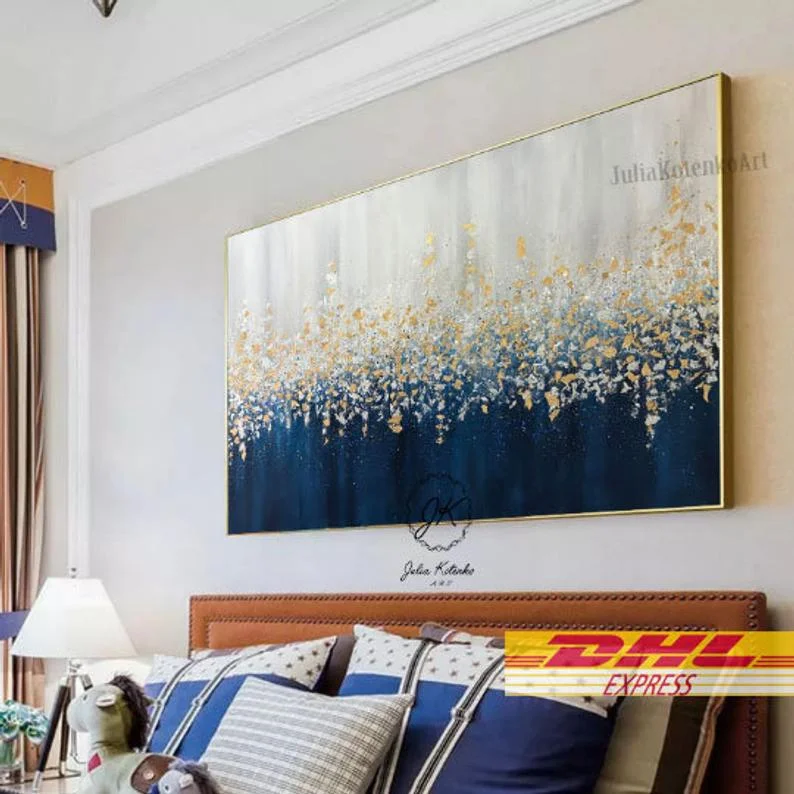 How would you like golden leaves painted against a midnight blue background? Yes, it evokes royalty and sophistication and the white and grey compliments them well. 
Modern Figurative Oil Painting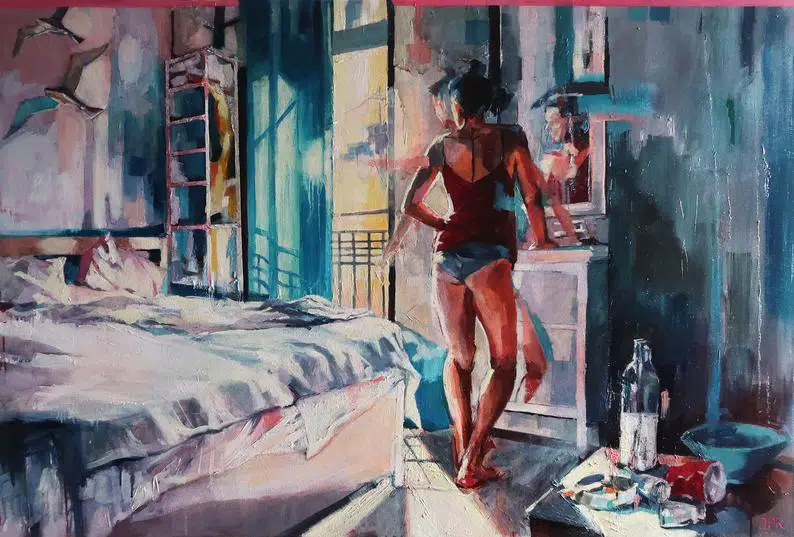 Do you want a painting that will fit well with modern decor? This oil painting has a woman standing in front of a dresser with her bedroom in the background. It is modern and chic and the overall blue hue creates a dreamlike appearance. 
Custom Dog Portrait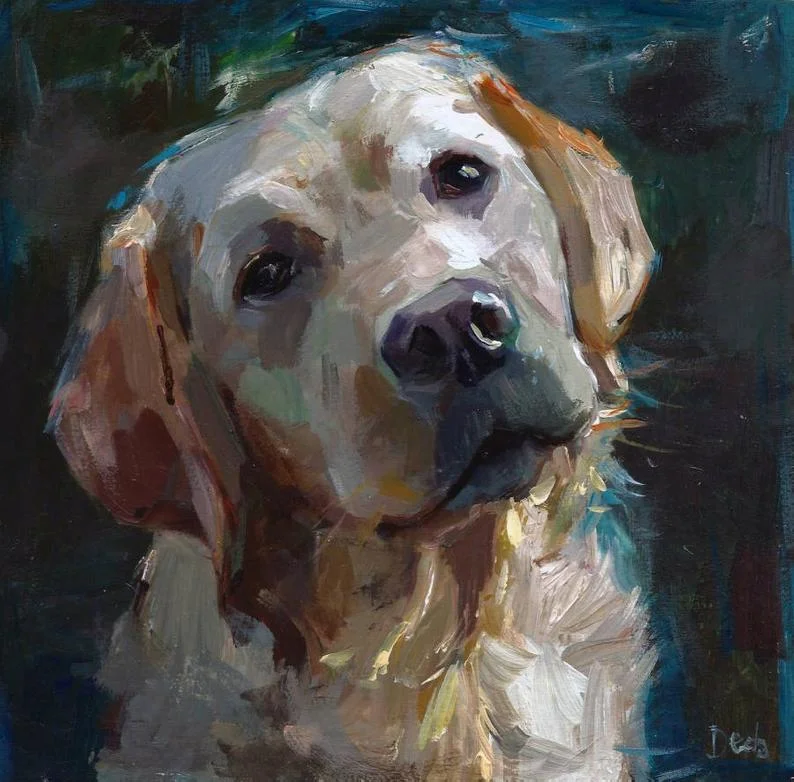 Are you a dog lover? If so, this is a realistic dog portrait that you will love. Painted against a dark background, the face stands out and we loved the expression. 
Abstract Original Oil Painting On Canvas
Here we have another example of abstract art with 2 humans in it. Painted to give you good vibes, it has layers of yellow and depicts a romantic scene. 
Mediterranean Evening Harbor: Korean Fine Art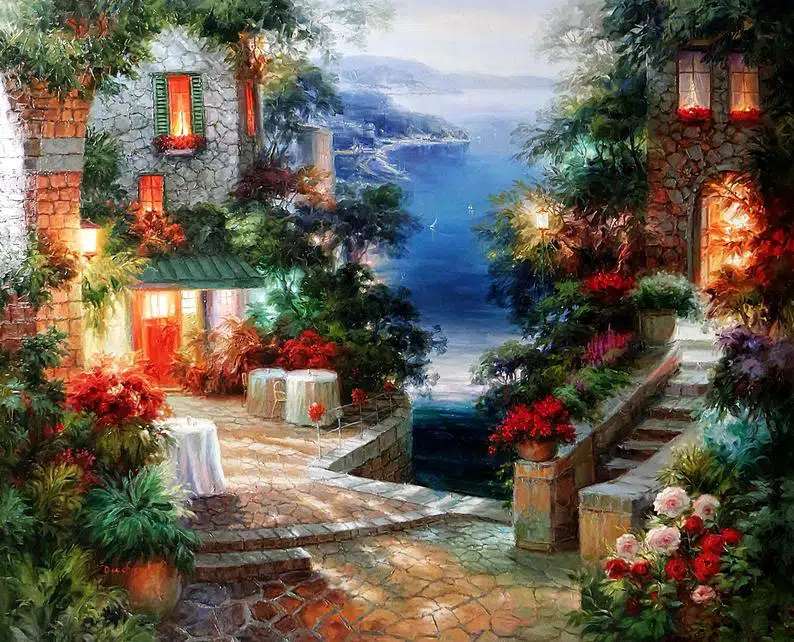 Next, we have one of our favorite hand-painted art pieces of a gorgeous Mediterranean evening with pretty cottages, greenery, and a harbor too with warm lighting at different places. It is pleasant to look at and seems to be a dream-like scenario. 
Original Fruit Still Life Oil Painting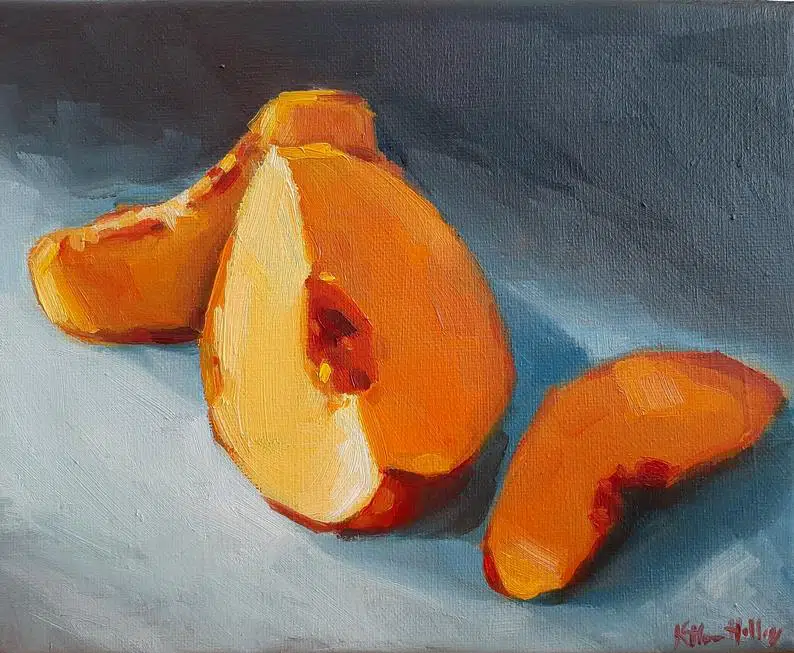 What about a bright yellow peach painted in summer colors? It is painted on Blick cotton duck canvas and high-quality Grumbacher oils are used. You will love the realistic picture and the details that are present in it.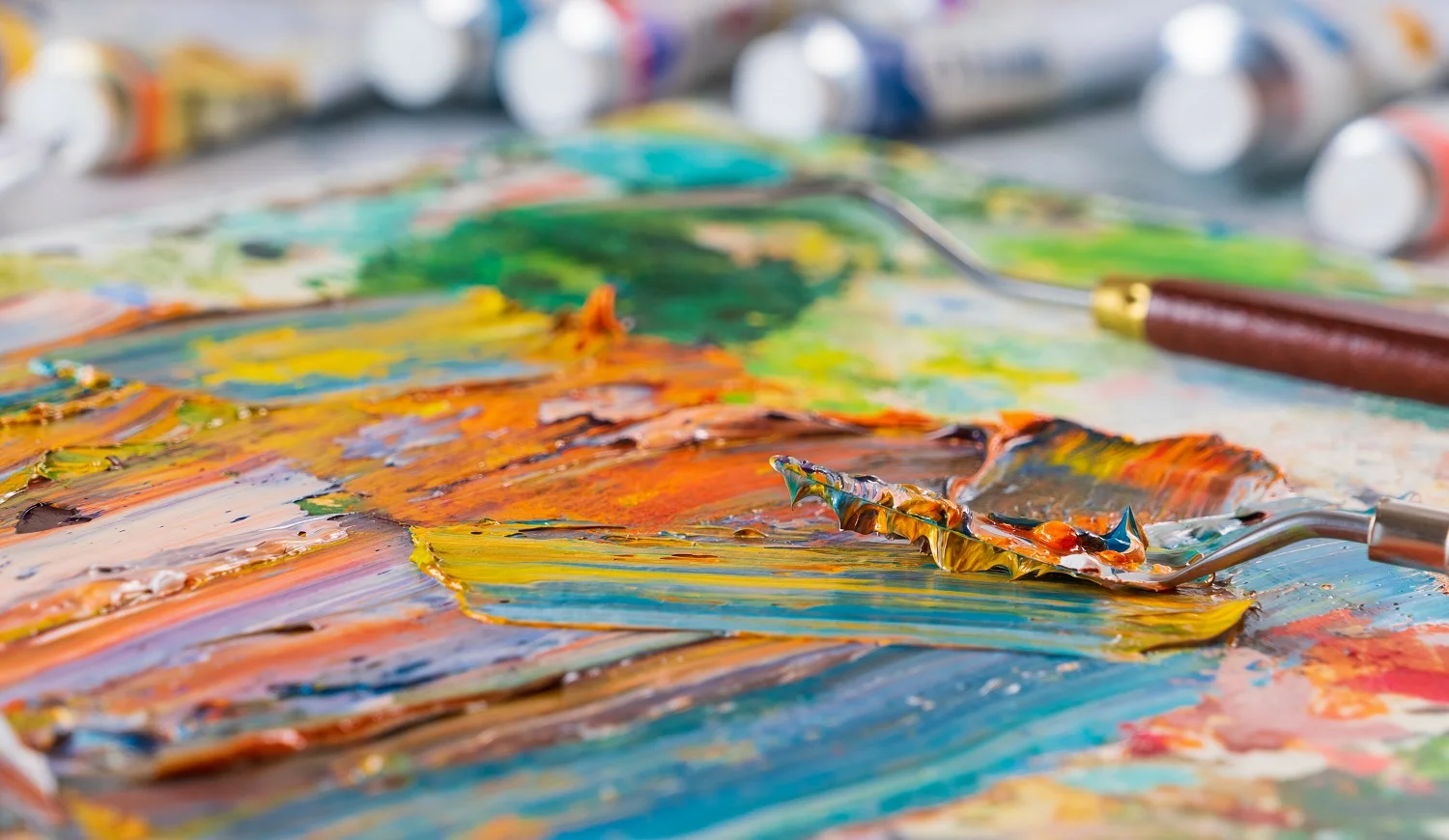 Final Words
Bright colors catch the attention of people more while subdued and pastel shades will create a relaxing ambiance. Remember this while you decide on the kind of oil painting that you wish to have. Also, pair it up well with the surroundings and it will stand out for sure.
If you are going for pop colors, a minimalist or light-color-themed room will match well. However, in case you're looking at paintings made with white or pastel shades, these can be good additions to a cozy room.
With this, we come to the end of our discussion. Let us know about your favorite ideas in the comment section below.
Until next time!
Related Articles
83 Best Watercolor Painting Ideas
103 Best Acrylic Painting Ideas
10 Best Paper for Acrylic Paint in 
10 Best Canvases for Acrylic Painting | Student & Artist Grade
8 Best Palettes For Acrylic Paint & How to Choose What You Need
Learn How To Make An Acrylic Painting Waterproof Right Now
Acrylic Painting Materials That You Really Need In The Studio
13 Best Acrylic Paints for Beginners & Professionals Reviewed
10 Best Acrylic Paint Brushes for Artists & Students Reviewed
Learn How To Get Dried Acrylic Paint Out Of Brushes Successfully
Cold Press vs. Hot Press vs. Rough Watercolor Paper Compared
Best Watercolor Painting Books Everywhere | Beginner to Expert Grade
9 Best Water Brushes for Beginners, Professionals & Calligraphy
9 Best Watercolor Markers With Legendary Results for Artists Everywhere
10 Best Watercolor Palettes for Beginners & Professionals Everywhere
13 Best Watercolor Pencils and Water Soluble Art Supplies Today
Best Watercolor Paper of 2022 |Top Brands Reviewed + Plein Air
12 Must-Know Watercolor Tips for Beginners & Pros Everywhere
Why and How to Use Watercolor Mediums to Enhance Your Painting Game
Learn How to Use Watercolor on Wood | Professional Tips & Tricks
13 Best Watercolor Sketchbook for Creatives Everywhere
11 Best Watercolor Brushes for Beginners & Professionals Reviewed
15 Must-Have Watercolor Supplies for Beginners & Artists Everywhere
Stretching Watercolor Paper & How To Keep Watercolor Paper From Warping
Learn How to Paint Watercolor on Canvas Easily & Successfully
16 Must-Know Painting En Plein Air With Watercolors Tips & Tricks
Learn The Basic Watercolor Painting Techniques For Beginners – Ideas And Projects
Expand Your Knowledge With Watercolor Painting Ideas
19 Incredibly Beautiful Watercolor Painting Ideas
10 Best Canvases for Oil Painting | Beginner & Artist Grades Reviewed
11 Best Oil Paints for Beginners & Professionals Artists Alike
Learn What is the Best Surface for Oil Painting Right Now
How Long It Will Take Oil Paint To Dry  & How to Speed It Up
Oil Painting for Beginners Basics & How to Use Oil Paints
Learn How To Dry Oil Paint Faster Overnight
12 Oil Painting Supplies That Every Oil Painter Needs in the Studio
5 Things You Should Know Before Painting Oil Paint on Glass
Learn How to Make Oil Paints Dry Faster