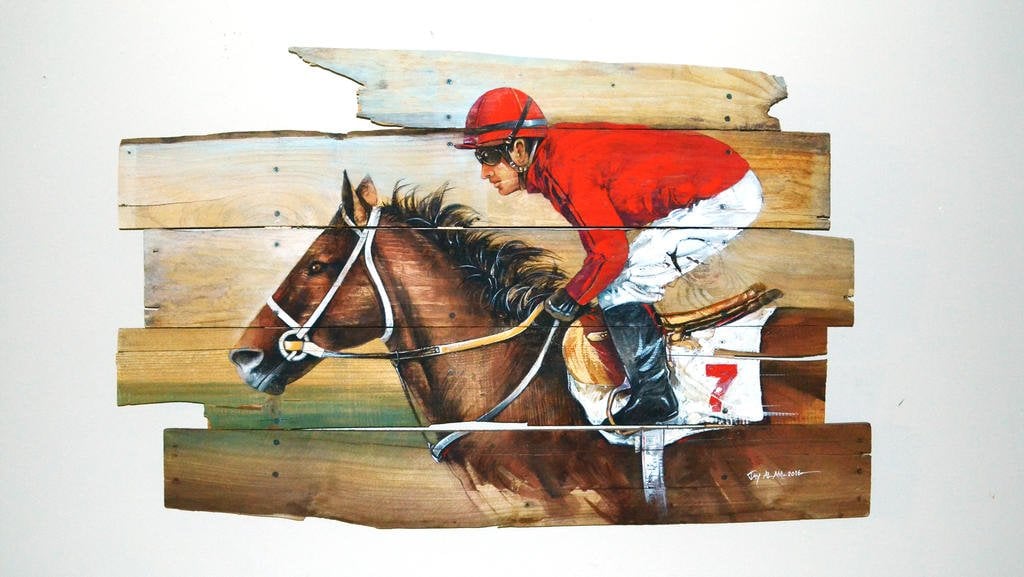 Did you see beautiful watercolor paintings done on wood which make you want to try one yourself?
Great! If you are looking forward to learning this art, then you have come to the right place!
A lot of seasoned artists had to go through years of practice to master painting on wood. They had to discover what to do and what not to do in order to create magnificent slabs of wood art.
There are a number of things which every artist has to consider before starting with a project like this. But here is what you need to know:
Wood is indeed a distinctive surface to paint on. It produces results which are very different from what we normally see on other painting surfaces. The sight of colors on wood may be the reason behind its astounding beauty.
Featured Painting by Abstractmusiq
Also, wood paintings give any decor an elegant and polished look.
However, trying out watercolors on wood can get a little complicated. If we just apply the paint on to the slab of wood directly, we won't get the results as desired. This failure is a result of bad absorption of colors due to the lack of wood preparation.
Not to worry; because today, we will take you through the steps to successfully create beautiful watercolor paintings on wood.
Let's jump right into it!
How to Use Watercolor on Wood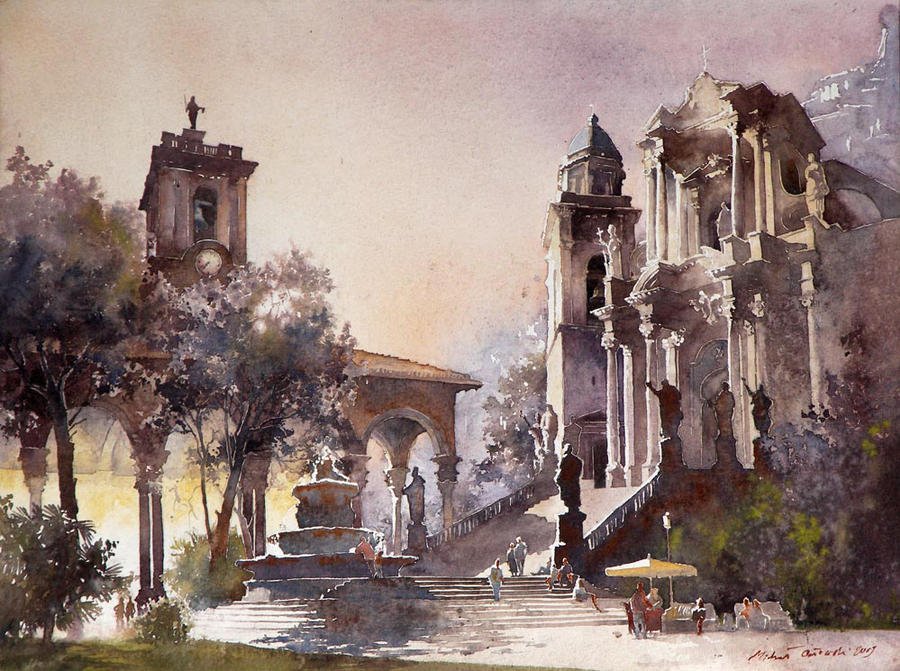 Painting by micorl
Prepare the wood
As we have mentioned earlier about lacking preparation, you understand that wood prepping is necessary for watercolor painting.
And to begin this process, you first need to know what kind of wood you'll be using for painting. Some types need lesser prepping than others.
However, the following steps can be applied to any kind of wood:
First, you need to get a slab of wood either online or from a local art store. But if you already have one at home, be sure that it is suitable to use watercolors on it.
Clean the surface before sanding it. Most of the time, we find that the wood we take out of our garage/storage room tends to be dusty and not even. So we first wash the slab and leave it to dry. After that, we reshape it as we like and then dust it off with a dry cloth.
Right after this, we go ahead with sanding it.
For sanding the wood, we would suggest using sandpapers with grit size of about 360 or finer and not anything below than that.
If we use finer sandpapers, the surface has more tooth which is good for creating textures and holding the paints better. At the same time, it also will not make the surface too harsh for brushes.
Here's a quick health tip you need to know while sanding:
Always wear a mask to protect yourself and your eyes during this process. We also recommend to sand the wood in a properly ventilated space so that it prevents possible respiratory problems.
After you are done with the process of sanding the wood, you'll notice a lot of dust has accumulated on the surface of the wood; painting right away would be a very bad idea. That will just result in a lot of wood make clumps gathering up and disrupting the flow of your painting.
Therefore, be sure to clean up the surface thoroughly. There are some steps we'd like to suggest for doing this step properly.
Dusting off the surface
This is probably the quickest way to clean out your surface. All you need to do is remove all the wood make using a cleaning tool. You can do this either with a clean and dry cloth or you can take a dry brush and start brushing the surface.
You can also do both. First, brush off as much dust as you can from the surface and then wipe it with a dry cloth until you're sure that it is clean.
It might be the easiest way to clean but that does not make it a quick job; it will take you a few minutes until you're sure there's no more dust on the surface.
Compressed air
For a much faster way, use air compressor which you normally do for cleaning keyboards and other electronics. This will clean up even the smallest areas where the dust has accumulated in a matter of seconds.
But then again, if you don't have one, that means you need to spend a few bucks to get one of these.
Vacuuming
Here is another device which you might have to buy.
Attach a brush onto the vacuum and start cleaning right away. However, we suggest buying this only if you are dedicated to painting on wood for a long while.
This cleaning option delivers the best results when done.
Painting by Abstractmusiq
The final step in wood prepping would be priming it.
Although the first two steps are enough to start off with painting, however, they may not be enough if you want the quality of your painting to really stand out.
To ensure that the end result is satisfactory, use a primer for the background. This will make the paint pop out rather than getting absorbed by the wood surface.
We would like to suggest two best-preferred primers which all good artists use to prime their painting surfaces.
You probably have heard about gesso before and today we're going to show you why using gesso for your artworks is a great idea.
Many artists have tried using this primer on many surfaces ranging from canvas (which it works best on) to glass, and it always gets a lot of good reviews.
That is the best thing about this primer – it works on almost any kind of surface.
Now, wood's absorption of liquid is so much stronger if compared with other painting surfaces. That is why using gesso will prevent wastage of watercolors.
What gesso does is it prevents paints from getting absorbed by these surfaces. Moreover, it provides texture on the surface so that the paintings will come out beautifully. Even the brush strokes become smoother with this primer on.
However, most artists paint on wood because they love the natural texture that it delivers, but if we use gesso on a sanded wood slab, it will cover the grain which is responsible for providing this texture.
But if applied in a light layer, the grain will still be visible a little. This is why many artists still choose to use gesso on wood.
One hack that artists find useful is to sand the surface of gesso when it's dry so that it provides enough texture. Although this is not close to the actual grain, it is worth a shot.
Before gesso only came in a plain white color, but now there is a transparent version as well which is commonly known as "clear gesso". So you can choose whichever suits your needs best.
Here is another primer which is not as common as gesso but it works pretty well for priming surfaces. It is available in six colors, and 'transparent' is one of them.
This primer also performs exceptionally on wood. We think the color 'iridescent gold' is the most suitable primer option for wood.
The reason for this is that the color blends with the natural wood tone and for this reason, it still reveals a lot of the wood grain, hence, making your painting look all genuine.
Moreover, this primer can be used on other surfaces as well.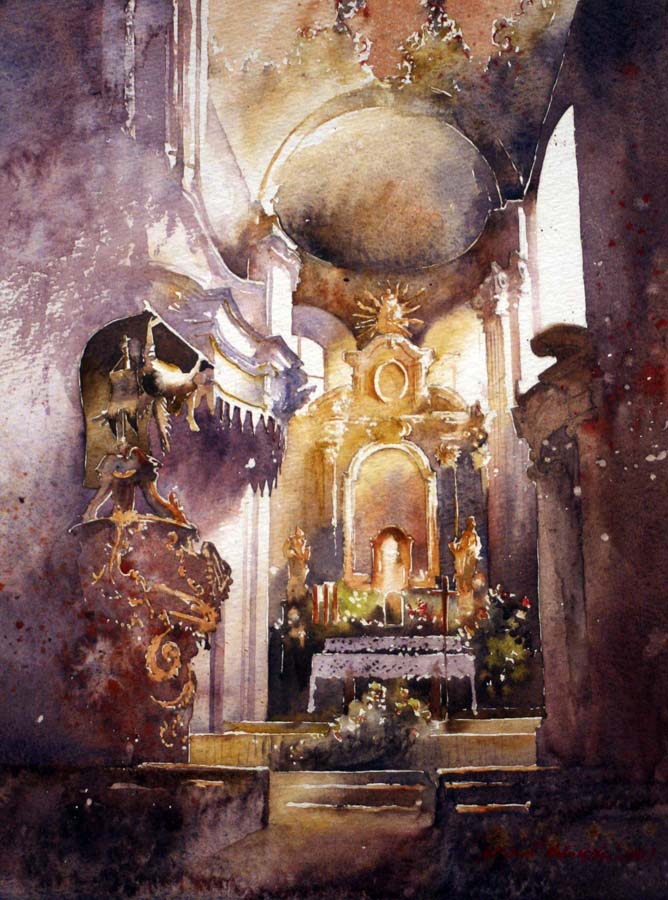 Painting by micorl
Painting Watercolor on Wood 
A flat wood surface is much preferable to many artists out there, although this completely depends on the consistency of the watercolor paints.
Not only that, painting on wood requires some amount of skill and experience. For this reason, we'd like to suggest you take one step at a time and practice with simple, affordable colors first.
So, here are the basics which you need to know for painting with watercolors on wood:
The purpose of using varnishes is to conserve a painting for a very long period of time.
What varnishes do is protect the painting from the effects of the elements, especially in places where humidity is very high.
A varnish is highly preferable for pieces which are meant for archival or commissioned purposes. It is also perfect for pieces which you want to display in your own home.
There are a lot of artists who do not resort to varnishes when painting on paper if they are framed or protected. However, we cannot frame wood except for lamination, which is expensive and time-taking. So that's why using a coat of varnish is much easier in this case.
Yet, there are some varnishes in the market which are frail and brittle when dry. They can damage your painting. Therefore we think you should pay close attention when buying a varnish.
If you want tips on choosing the best varnish, we would suggest looking for one which not only preserves the quality of the painting but also dries quickly and prevents your piece from developing any kind of discoloration. It should also allow the painting to age well in years to come.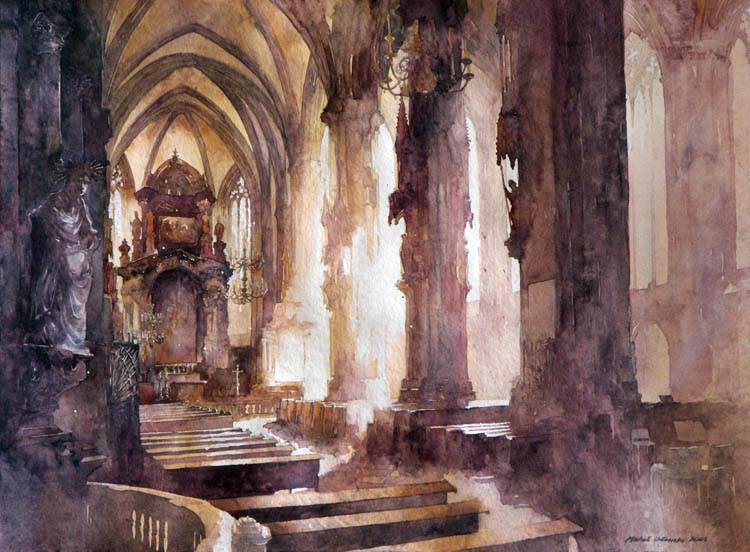 Painting by micorl
Wood Alternative Surfaces for Watercolor
There is an alternate surface to replace wood – and that is a textured clay, such as the Aquaboard clay slab.
The clay's surface is as hard as that of actual wood, although it does not provide the same grain or texture.
This option is ideal for artists who want to explore new surfaces and for learners too.
If you are a beginner, this surface is good for practice because firstly, the features are very similar to that of a wood slab, and second of all, it does not require a lot of prepping work as wood does.
Besides, if you try watercolor painting on textured clay, you will notice that it absorbs the paints well enough to produce unique artworks.
Prepare the tools and materials
Before you start the project, be sure you have all the necessary tools and materials ready.
Here is a list of tools you will need for practicing wood watercolor painting:
An affordable set of good watercolor paints
A few good brushes, we suggest choosing brushes with natural bristles over synthetic hair brushes because the latter ones do not absorb watercolor paints well

A water jar that's big enough to store a large amount of water so you don't have to change it every now and then.

A slab of wood or any other wood piece of your choice

Some paper towels for dabbing wet brushes
When you have gathered all the essential materials, dip a brush into the water jar and spray some water on the paints so they easily stick to the bristles when working.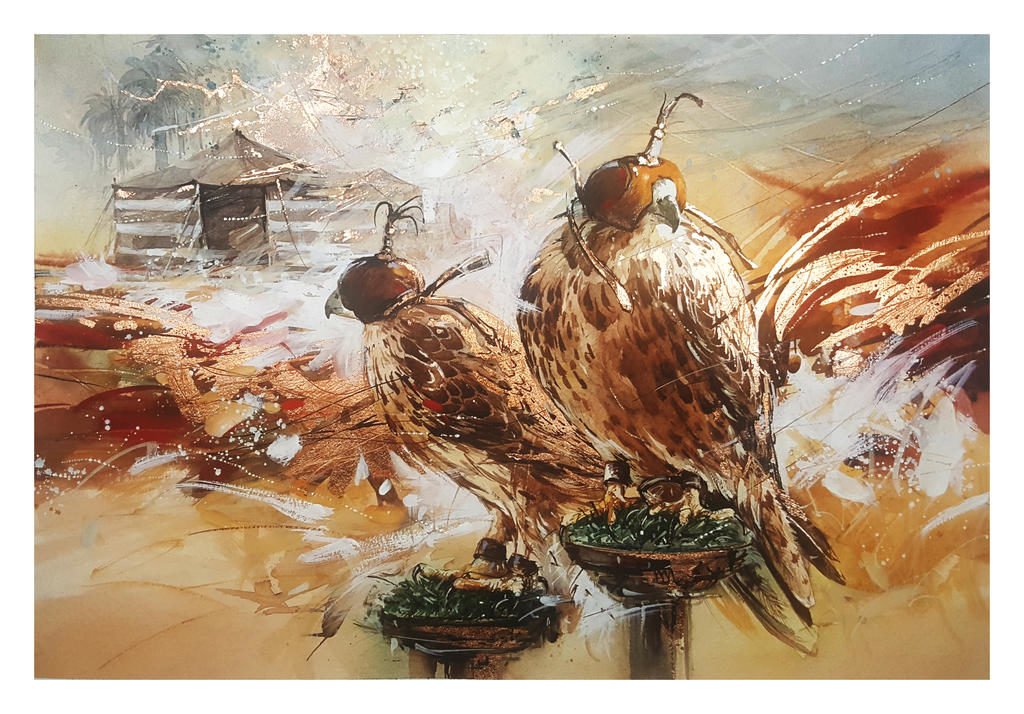 Painting by Abstractmusiq
There are times when the colors in the paint set don't meet your painting's requirements. However, that is nothing to be worried about since mixing them is pretty easy.
Get those watercolors and start mixing them to start creating desired shades.
Always remember to use different brushes for transporting the colors from a pan to the palette. Even if you're using one brush, make sure to clean it every time you have to add a different color to the mix.
For a lighter effect, add more water to the mix. Otherwise, squeeze off all the water from the brush if you need the pigments to be thicker.
For layering: If you want to create layering effects or just to darken some parts of the painting, wait till it is dry and then add more paint on it.
Another option is to thicken the paints by using lesser amount of water.
Let's move on to the painting process.
Unlike painting on paper, wood does not warp at the touch of watercolor paints. However, the colors can scatter around if the wood is not sanded or primed, hence, making the painting look like a colorful mess.
To make the paint stay in one place, make it very thick by adding only a little amount of water. Otherwise, you can just engrave each section where the colors are different.
Another method is to use as little amount of paint as possible and spread it over the area. Wait until it is dry and add another layer of paint over it till you get the desired color consistency. This method, however, needs patience and steady hands.
Finally, using effects on your piece makes it look more natural and beautiful. This is a much advanced step to take if you're a beginner but it's a great way to learn.
Here's what you can do:
Blending
If you want to create shadow effects, blending is the best way to get there.
Use light and dark shades of the same color for better results. Start off with any shade and while that paint is still runny, add the other shade and start blending the two gently.
Ombre effect
Ombre is another blending technique which uses different colors. It is an easy-to-achieve effect with watercolor paints.
Before creating an ombre, brush the wood surface with water and then add paint. This makes mixing much easier.
However, choosing colors to create an ombre effect depends on your preferences for the particular piece.
Gouache
Gouache is a more opaque effect of watercolor paints.
It is the same as using lighter watercolors except the paint is thicker and it requires more layering. This particular effect is perfect for creating solid colors in different parts of the painting.
Conclusion
The methods and steps we shared with you today are useful if you are an artist-in-training. They are simple to understand and easy to execute.
To put everything together, all you have to do is properly prepare the wood before you start off with the painting process. Also, don't forget to have a set of good watercolor paints beside you. Low-quality paints can make all your prepping process go to waste.
All the best on your painting journey!
Related Articles
Cold Press vs. Hot Press vs. Rough Watercolor Paper Compared
What is Watercolor Paper & How is Different From Other Papers
Best Watercolor Painting Books Everywhere | Beginner to Expert Grade
9 Best Water Brushes for Beginners, Professionals & Calligraphy
9 Best Watercolor Markers With Legendary Results for Artists Everywhere
10 Best Watercolor Palettes for Beginners & Professionals Everywhere
13 Best Watercolor Pencils and Water Soluble Art Supplies Today
15 Best Watercolor Paints in 2022 | Students & Artist Grades
Best Watercolor Paper of 2022 |Top Brands Reviewed + Plein Air
12 Must-Know Watercolor Tips for Beginners & Pros Everywhere
Why and How to Use Watercolor Mediums to Enhance Your Painting Game
13 Best Watercolor Sketchbook for Creatives Everywhere
11 Best Watercolor Brushes for Beginners & Professionals Reviewed
15 Must-Have Watercolor Supplies for Beginners & Artists Everywhere
Stretching Watercolor Paper & How To Keep Watercolor Paper From Warping
Learn How to Paint Watercolor on Canvas Easily & Successfully
16 Must-Know Painting En Plein Air With Watercolors Tips & Tricks
Learn The Basic Watercolor Painting Techniques For Beginners – Ideas And Projects
Expand Your Knowledge With Watercolor Painting Ideas
19 Incredibly Beautiful Watercolor Painting Ideas