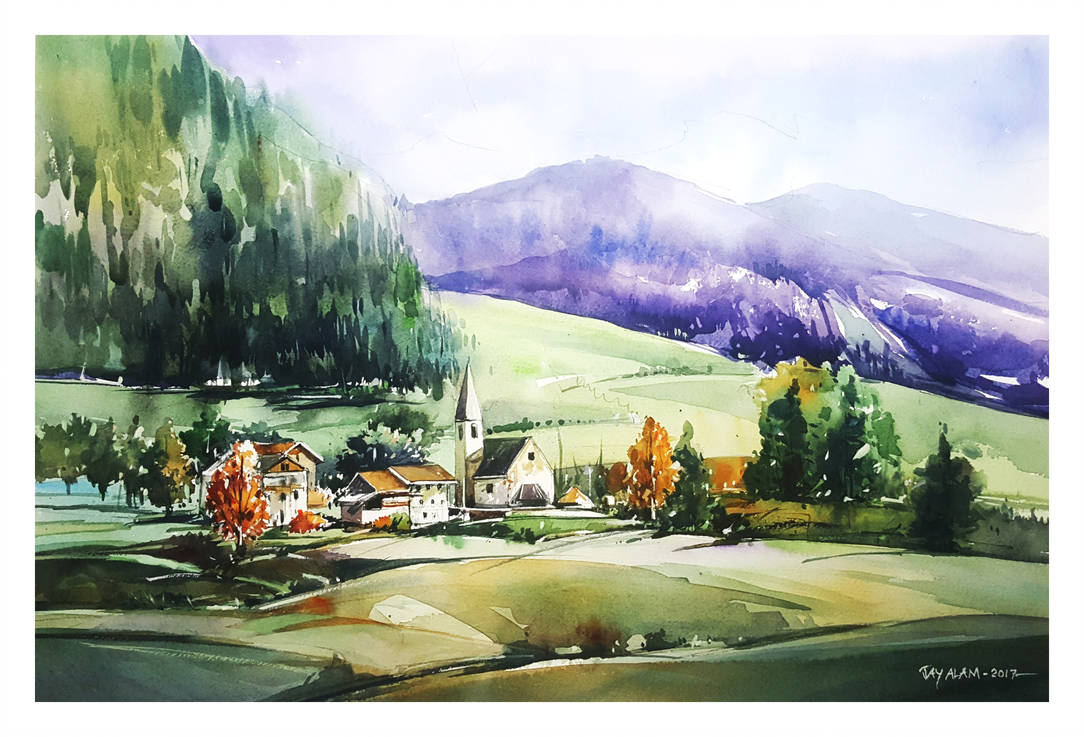 Also known as additives, watercolor mediums are paste or liquid solutions used for modifying watercolor paints.
With mediums, we are able to make paint become more transparent, glossy or matte, and even produce more texture in paintings. 
Mediums are much more popular with paints such as oil and acrylic, and not so much with watercolors. However, using them with watercolor paints is very helpful when trying out various painting methods. 
Using a medium or an additive requires caution as too much of it can damage the whole painting. So if you are a beginner, we would recommend checking the medium carefully before getting one. We also suggest testing it before mixing it with paints. 
Featured Painting by Abstractmusiq
The best thing about mediums is that they are highly affordable, which is good news for artists on a budget. Other plus points include being versatile, easy to use, and easy to clean as well. 
In this article, we will take you through 8 different mediums and explain why each of them is good for watercolor paints: 
So without further ado, let's take a look! 
Types Of Watercolor Mediums and Additives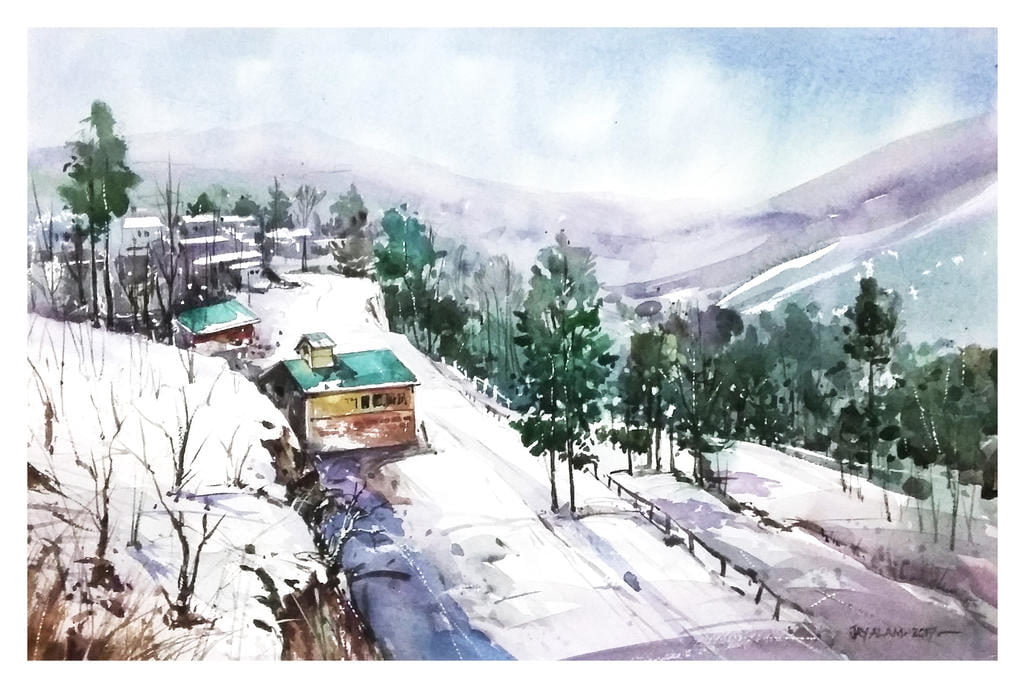 Painting by Abstractmusiq
There are some mediums and additives which you can add to the mixing water so they become suitable to use with pan and tube paints. On the other hand, some have to be mixed with the colors directly.
Gum Arabic is a paste-like solution which you can mix directly with the paints or add it to the mixing water. With this medium, you can get a glossy effect or make your paints have more transparency. 
Normally, gum arabic comes as a binder along with watercolors. However, you can also get it as an individual product if you wish. 
We recommend this for both beginners and advanced artists, and here's why: 
Using the paste will make erasing errors easier because it provides the watercolors with higher solubility. At the same time, it also enhances the paints' pigments. 
However, we have to remember to use a tiny amount of this medium every time. This additive is very thick and too much of it can spoil the glossy effect and cause the paints to quickly dry out and crack. But if applied in small quantity, it will deliver astounding results. 
What you'll like about the gum arabic is that it can also be applied directly to your painting's surface rather than having to mix it with the paints. But whichever way you choose to use it, only a couple of swabs will be enough. 
It also holds the paints firmly in place, not allowing them to spread outside their intended spots. And that is what makes the painting look more vibrant. 
Last but not least, since gum arabic is a thick medium, it allows the painting to dry at a much slower pace. Therefore, if you have to make little changes or correct tiny mistakes, it will be a very easy task.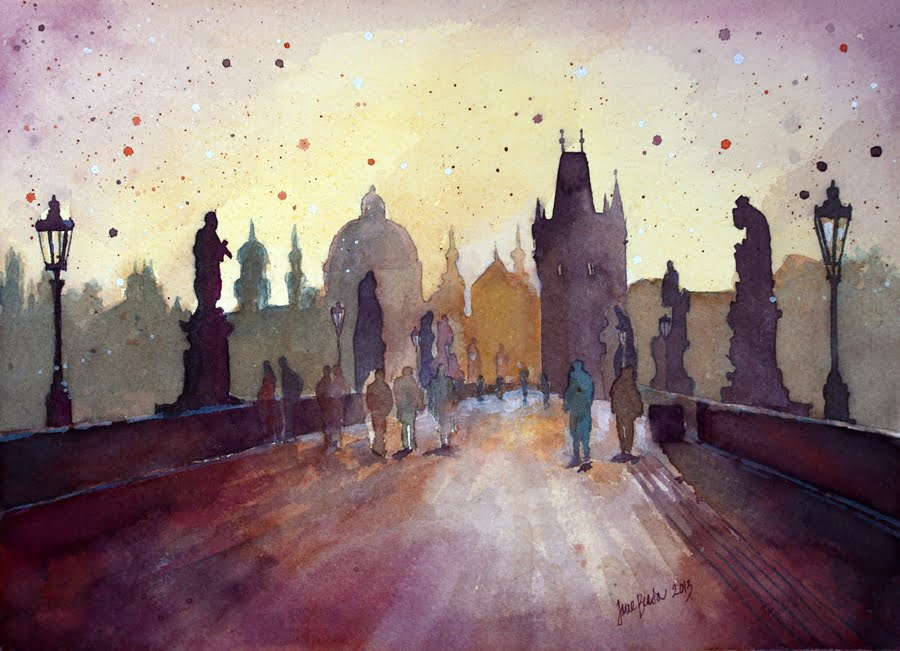 Painting by jane-beata
The process of granulation automatically happens whenever earth tones and blue pigments come to the surface after they have dried. This helps create a texture similar to tiny particles or grains.
Normally, artists make use of this process when they paint subjects such as landscapes.
However, if you want to create a similar texture with other colors, use the granulation medium in certain quantities, depending on the consistency of your desired effects.
What the Ox Gall medium does to your painting is enhancing the smoothness so you can paint and blend with ease.
As the name suggests, Ox Gall is a liquid substance obtained from oxen's gallbladders, which is then mixed with alcohol.
You probably have seen how watercolors mixed only with water can sometimes spread unevenly and you have to blend or add more pigments.
The perfect example of this is heavyweight papers. They tend to resist washes, causing an amount of color to stay in one place. Not only that but they also dry out pretty quickly.
But this medium offers them more fluidity, allow you to have more control over the paints. You will also notice that your washes are much more balanced.
One more good thing about this medium is that it quickens the setting speed of the paints on the surface. And for this reason, many artists prefer this additive when they want to focus more on layering a few shades because they do not spread to other areas.
Ox Gall can be added directly to the mixing water or applied to the painting surface. Both ways are beneficial. Applying it on to the painting surface will increase the paper's receptibility to colors and adding it to the water will make blending and mixing paints easier.
Remember not to add too much of it as it can mess up the finishing by making it look bland and flat.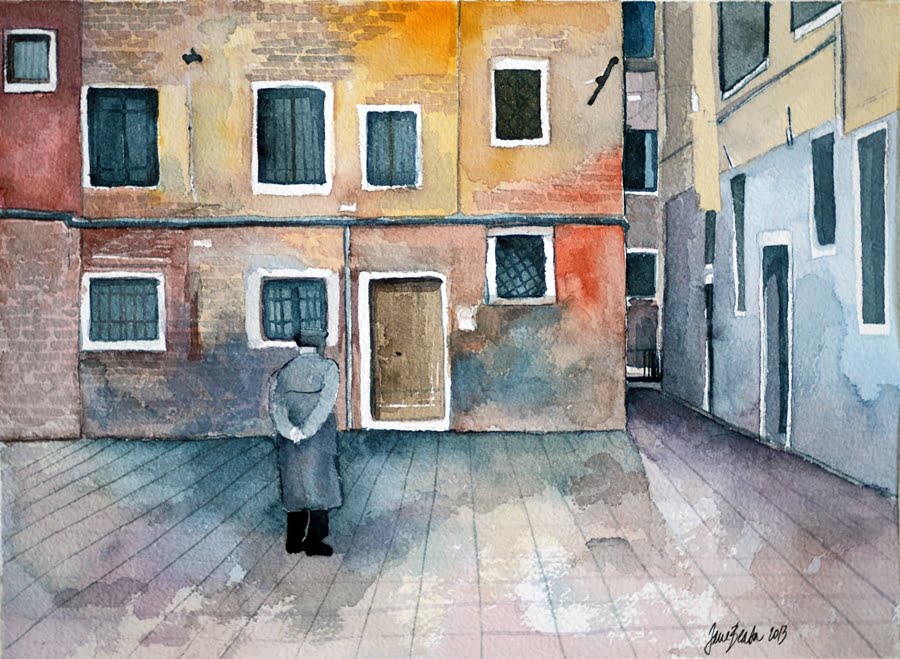 Painting by jane-beata
Sale
The impasto and aquapasto gels are transparent mediums which can be used for direct painting once they are mixed with paints (usually, tube paints).
The main purpose of using these gels is to enhance the dull effect of watercolor paintings, making them look more colorful.
They are simple to use so we would recommend them if you are an artist who is new to mediums.
Remember that when dried, these gels can become too stubborn to remove and they will give you a difficult time if you forgot to wash your brushes as soon as you've finished using. We also recommend keeping unused paints separately from these gels as they can harden them.
Before you ask, we want to tell you that this is an actual name of a medium which is specifically made for watercolors. 
This medium is like a byproduct of the Ox Gall and the gum arabic. It offers the same kind of effects as those of the two. So if you are looking for a medium that increases paint flow and at the same time produces high-quality glossy effects, then this option is the right one for you. 
And as we have mentioned with the previous ones, using too much medium can damage the painting. So the same rules apply here. 
Using this medium will help your painting dry at a slower pace so that you can make changes if required. It will also help cover the piece with a glossy finish while simultaneously setting the paints in place. 
The medium's purpose is to provide more than one effects. And because of the many features which that this medium holds, it has become very popular among watercolorists. 
You can either use this medium for a direct application on the painting or you can add it to the mixing water.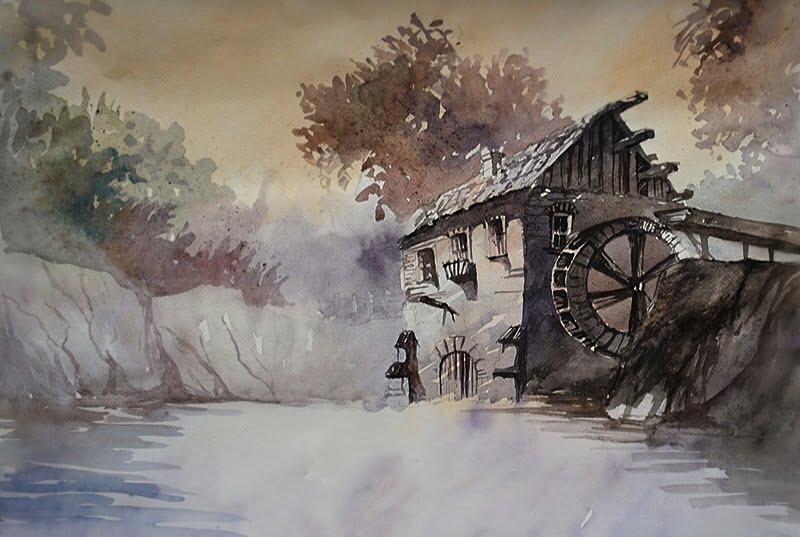 Painting by gorzkaczekoladka
Here is a kind of medium that functions in a completely different manner from the ones we have mentioned. 
The masking medium is not for mixing with watercolors, mixing water or for applying directly to the painting. Instead, it resists any kind of liquid! 
Now, you may be wondering what the point is to use such a medium if it's not for mixing with paints. 
The answer is that this particular medium is used for protecting patches on the painting from liquid colors for multiple reasons. 
An example is when you need to paint a white item among other colorful subjects, say, a glass of milk. 
If this particular subject is big, you can just take extra caution and not let any other surrounding color touch it. But if it's small and watercolor is runny, chances are, some paints will spread on to that area. And we know it is hard to come back from a situation like that using watercolors. 
But luckily, that's when masking mediums come to the rescue! 
What you need to do is take a required amount of the medium on a brush and apply it on to the areas you want to leave blank and wait a couple of minutes for it to set. Then, you can carry on with the rest of the painting from there. 
If you ever wondered how some landscape watercolor paintings have such perfect little white stars, well, now you know the secret. 
But the medium shouldn't stay on the painting forever. Remember that if you leave it on for too long, it will become too hard to remove. 
So once you're done and the paints have dried out, gently scrape them off from their corners using your fingers or any kind of sharp tool. You will notice that they leave blank figures exactly as desired, with no sign of paints touching them. 
Unlike any other medium, this is actually a must-have for any artist as it will always be useful.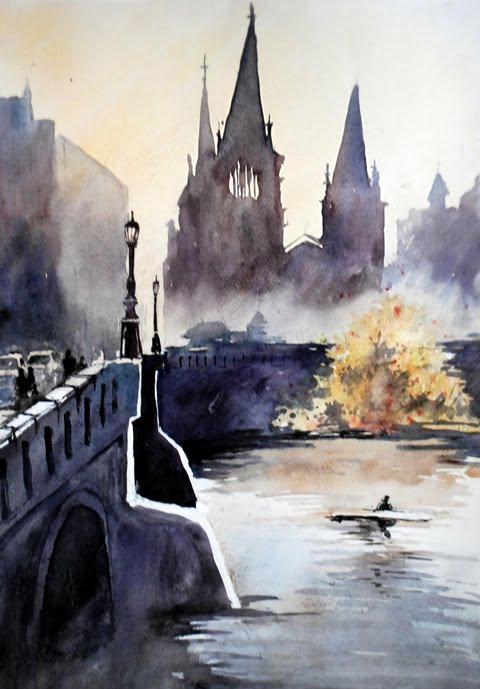 Painting by gorzkaczekoladka
Next up is the modeling texture medium. 
With watercolors alone, it is difficult to mold different textures. Therafore, by using this medium, you are able to create various kinds of textures. This is because the texture medium is mixed with small particles to help the artist achieve multiple effects. 
Moreover, it is versatile in the sense that you can try mixing other tiny matters with this, such as sawdust, to produce your desired designs. 
Last on the list, we have the iridescent medium which is used to produce a lustrous effect which resembles that of a pearl.
Not every artist would prefer this as it serves only one purpose – to make the paints luminous.
However, that doesn't mean it should be ignored completely. It can used as a highlighting agent or more, depending on one's creative mind.
Keep in mind not to let it touch your paint sets as it can spoil all the colors which are meant for further use.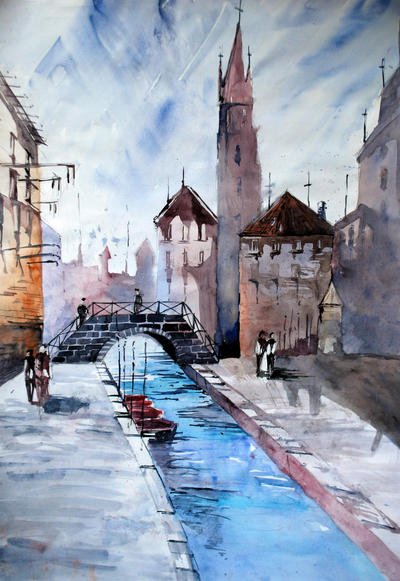 Painting by gorzkaczekoladka
Watercolor Mediums Conclusion
Among tonnes of variations, these are a few necessary mediums good for watercolor painting which any artist will find useful when creating different types of effects. Make sure to get ones which most suit your requirements. 
And that is it! We hope you enjoyed reading this article as much as we enjoyed sharing it with you! 
See you again soon! All the best! 
Related Articles
Cold Press vs. Hot Press vs. Rough Watercolor Paper Compared
What is Watercolor Paper & How is Different From Other Papers
Best Watercolor Painting Books Everywhere | Beginner to Expert Grade
9 Best Water Brushes for Beginners, Professionals & Calligraphy
9 Best Watercolor Markers With Legendary Results for Artists Everywhere
10 Best Watercolor Palettes for Beginners & Professionals Everywhere
13 Best Watercolor Pencils and Water Soluble Art Supplies Today
15 Best Watercolor Paints | Students & Artist Grades
Best Watercolor Paper |Top Brands Reviewed + Plein Air
12 Must-Know Watercolor Tips for Beginners & Pros Everywhere
Learn How to Use Watercolor on Wood | Professional Tips & Tricks
13 Best Watercolor Sketchbook for Creatives Everywhere
11 Best Watercolor Brushes for Beginners & Professionals Reviewed
15 Must-Have Watercolor Supplies for Beginners & Artists Everywhere
Stretching Watercolor Paper & How To Keep Watercolor Paper From Warping
Learn How to Paint Watercolor on Canvas Easily & Successfully
16 Must-Know Painting En Plein Air With Watercolors Tips & Tricks
Learn The Basic Watercolor Painting Techniques For Beginners – Ideas And Projects
Expand Your Knowledge With Watercolor Painting Ideas
19 Incredibly Beautiful Watercolor Painting Ideas