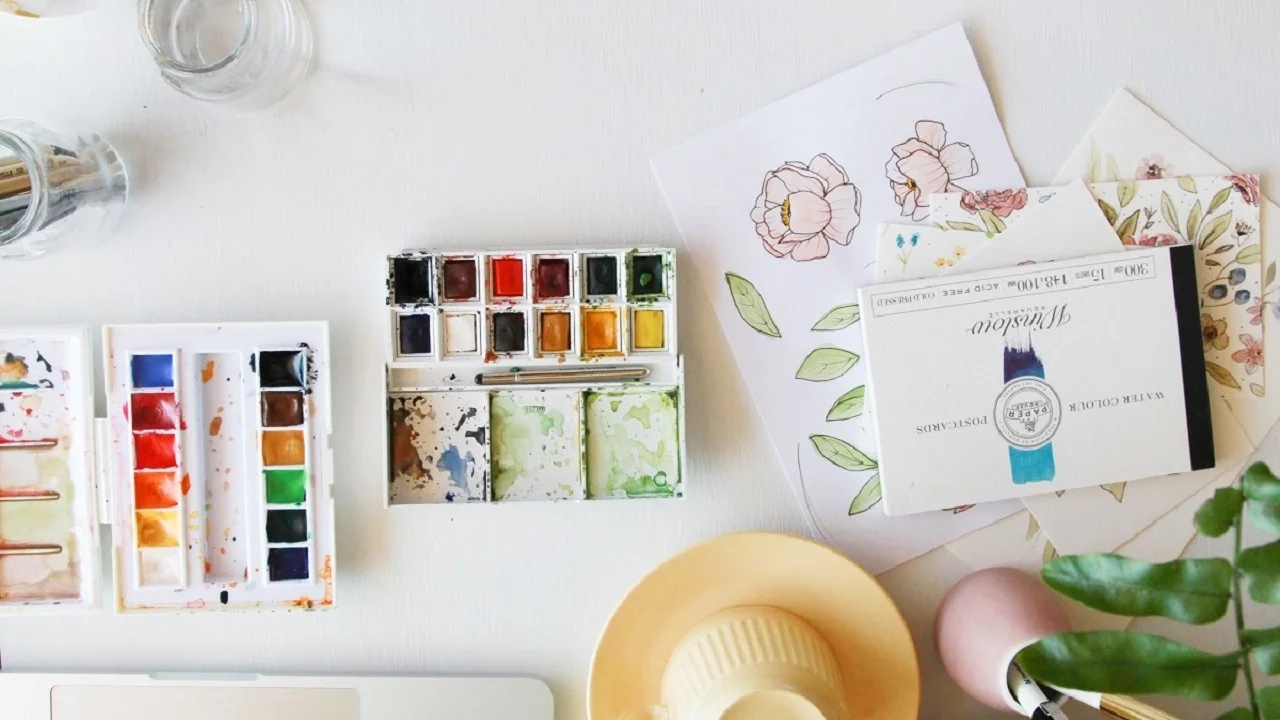 A good watercolor palette significantly improves your artwork and painting experience, and my top choice, the GenCrafts paint palette, does just that. Additionally, Falling in Art and MYARTOOL's watercolor palette ticks all the right boxes with their durability, spaciousness, and portability.
Watercolor paint is very popular among professional and budding artists due to its fluidity and ease of blending. Moreover, they come in various types and specifications, including tube paints (creamy), chalky paint cakes, and solid watercolor in a mixing palette. And you can use a variety of watercolor mediums, such as gum arabic, glycerin, watercolor gel, etc., to wet the paints before use.
A good quality watercolor palette (painting) is the simplest way to get started in this painting medium since it eliminates the need to buy paint wells and a mixing tray separately. So, let's look at the best palette options out there.
11 Best Watercolor Palettes
Sale
What I like
All-in-one watercolor paint set

Movable half-pans

Wide mixing space

Additional water brushes and watercolor pad

Easy portability
This plastic palette from GenCrafts is quite comprehensive, containing 48 highly-pigmented watercolor paints in individual half-pans for a mess-free painting. These pigments allow an easy color mixing and blending, much like gouache, making it ideal for "en plein air" painting. 
Moreover, you can move around the paint pans to create more mixing space, so you can finish a huge chunk of studio work in one go. The GenCrafts Watercolor Paint plastic palettes also come with two refillable water brushes with flexible nylon tips that allow you to experiment with different art styles. And with the additional paper pad containing 15 high-quality watercolor paper sheets, you can immediately start making your art. 
Its easy portability due to the convenient storage case is another quality that makes it a compact and efficient watercolor paint set. Furthermore, the brand claims to maintain an active customer service line and query desk that responds to your problems within 24 hours and also provides exchange services.
Material: Plastic | Color Capacity: 48 | Palette Color: White | Style: Modern (with full or half-pans) | Weight: 1.5 pounds
What I like
Sloping paint pans

Leak-proof

Foldable body 

Transparent rubber hermetic seal

Large mixing tray
What I don't like
Less capacity for watercolor paint
With 24 sloped paint wells, these aluminum and plastic watercolor palettes from Falling in Art ensure there's no paint leakage, even if you're not balancing it properly. A watercolor artist will benefit from the removable paint panel and wide mixing area, which will aid in mixing vibrant colors without worrying about a lack of space. 
Moreover, this mixing watercolor palette has a foldable tin flap with a transparent sealing rubber ring that prevents your paints from leaking. Art classes and professional artists prefer a folding palette since it's handy, and the rounded paint pans are easy-to-clean since they don't have pesky corners that hold onto residues. 
What's more, the watercolor paints can stay well for much longer in their deep, rounded half-pans, and you can conveniently close the lid to keep dust away. This folding palette is also compatible with oil-based, acrylic paint as well as tube paint. And you can use the additional sponge to create exciting textures!
Material: Plastic-tin palette | Color Capacity: 24 | Palette Color: White, steel | Style: Modern | Weight: 1.04 pounds
What I like
Tin-plated iron material

Internal metal buckle

Bottom ring buckle

Transfer-proof

Foldable
Made from tin-plated iron material, this metal palette is incredibly durable due to its sturdy construction, internal metal buckle, and can slide, which doesn't incur a single dent after falling. 
There are 12 half-pans and four fold-out spaces for blending and mixing colors – and if you remove the built-in tray, you'll find an extra mixing area. And these half-pans are quite deep, therefore, it's a perfect palette for oil painting since it ensures the colors don't transfer.
Unlike plastic palettes, the half-pans will stay inside the folding palette while you customize your watercolor paints and color sequence. Besides, the corners of the half-pans are smooth and rounded, so you won't hurt your hands while cleaning the watercolor palette. You can also use the tin lid for mixing paints if you're out of the mixing area. 
And unlike ceramic palettes, it is very lightweight and will not break even if it slips out of your hold – that's why I recommend this palette to children and beginners. The durability and portability of these metal palettes make them good for painting "en plein air."
Material: Tin-plated iron, plastic | Color Capacity: 12, 24, 48 | Palette Color: Steel, white, black | Style: Modern | Weight: 0.02 pounds
What I like
Air-tight watercolor palette lid

Keeps the watercolor paint moist

Removable tray/ organizer

High-quality plastic material

Lightweight
This artist quality palette consists of 18 empty pans for individual and mixed paints and two large mixing spaces, which makes it quite a huge palette. Made from high-quality white plastic, this palette has an airtight lid that keeps the paint from watercolor tubes moist and ready to use. A professional artist can shift between different studio work without worrying about the paints drying – and it gives you vibrant colors and hue every time!
I've tested this mixing palette with the Daniel Smith watercolor set and Winsor & Newton oil-based paints, and the palette worked well with both. Moreover, its removable tray comes in handy, especially when you need extra room to mix colors. And its flat surface also helps in organizing the colors and keeping your palette set tidy. 
What's more, it is much more lightweight compared to ceramic and porcelain palettes, making it an excellent watercolor palette for children and budding artists. I've traveled with the palette a couple of times, and it hasn't leaked any color, and the paints were all in their place when I opened it to paint en plein air.
Material: Plastic | Color Capacity: 18 | Palette Color: White, Gray | Style: Mixing Palette | Weight: 0.56 pounds
What I like
Anti-spill tin palette

Pans with two ml capacity

Automatic lock system

Portable

Fully refundable
What I don't like
Very thin metal protection
Suitable for traveling and studio work, FCLUB's empty palette contains 48 watercolor half-pans with rounded corners to facilitate easy cleaning and usage. This aluminum watercolor palette comes with a lid that sits tight and prevents spilling and drying paint. 
Moreover, the studio palette has two fold-out mixing areas and extra space for mixing colors if you remove the additional tray. This tray also prevents the pans from jostling about, keeping your organized palette in place.
And each half-pan has a two-milliliter capacity, and they automatically lock into place, which makes organizing your pan palette much easier. Additionally, you can use the half-pans inside the mixing palette to repackage a solid watercolor paint set or simply solidify tube paints. Kickstart your watercolor painting by adding the full and half-pans into the larger palette and filling them with paint.
FCLUB also promises 100% customer satisfaction – if you're not satisfied with the watercolor palette, you can email them, and they'll initiate a full refund to the bank account. So, you don't have to worry about not getting your money back, which is helpful since it takes away the risk factor from the purchase.
Material: Metal, plastic | Color Capacity: 48 | Palette Color: Black, white | Style: Foldable, modern | Weight: 0.78 pounds
What I like
Transparent mixing tray

Affordable price

Compact metal case

Airtight and leak-proof

Silicone packing
What I don't like
Limited palette with a few pans
Ideal for a small art desk, this plastic palette from Mijello has 18 paint wells and enough mixing area in its compact metal case. What's more, it has a transparent mixing tray that you can remove to make more room for your paint. 
Its transparency ensures you precisely use the watercolor paint on canvas, Yupo paper, and other art supplies. This is because it reduces the difference between the color pay-off on the painting surface and palette.
You can also use this tray to store different color swatches for your next artwork. I mixed yellow, orange, and red to create a color blend on the tray and left it there for 24 hours. Surprisingly, it stayed in place and did not dry up. And talking about drying watercolor paint, this small yet good-quality watercolor palette is completely airtight, so you can freely travel with it and create a plein-air painting. 
Moreover, the silicone packing around the edges of the folding palette prevents the curing and leaking of acrylic and oil paints. The best watercolor palettes for plein air paintings are durable, leak-proof, compact, and easy to use – and Mijello's 18-Well Fuchsia palette ticks all those boxes.
Material: Metal, plastic | Color Capacity: 18 | Palette Color: Fuchsia | Style: Art Deco | Weight: 0.52 pounds
What I like
Five large mixing wells

Paintbrush and thumb holes

Convenient for one-hand use

Airtight lid

Easy to clean
Made from lightweight and toxin-free plastic, Shappy's folding watercolor palette has 28 paint pans and five large mixing areas, which is very convenient for artists who work in bulk. It also comes with designated holes for five paintbrushes of different sizes and another one for your thumb for better leverage. 
So, you can create beautiful paintings on a canvas while holding this palette with one hand, thus, improving your productivity and overall convenience. 
Moreover, it has an airtight lid that helps contain the moisture in your watercolor paints and prevents them from drying out. However, this lid is quite difficult to close, so you have to be very careful while folding it. Much like a porcelain or ceramic palette, it is quite susceptible to breakage and dents, but it should last longer when properly handled. 
Plus, the smooth plastic wells are easy to clean – simply use a damp paper towel to remove the paint residue. This watercolor paint set is also ideal for children and beginner artists who are beginning to explore the world of watercolor painting.
Material: Plastic | Color Capacity: 28 | Palette Color: White | Style: Folding, Modern | Weight: 0.26 pounds
What I like
Tin-plated metal construction

Deep paint wells

Easy to clean

Removable full pans

Two fold-out mixing areas
What I don't like
Paint pans don't lock into place
Made with tin-plated metal, LOONENG has palettes designed with a white enamel interior and a black enamel exterior to make them rust-proof, sturdy and professional. Moreover, this palette features 14 full paint pans with a 3.6 ml capacity, which is sufficient for entire paint tubes. 
And it's easy to clean – a cleaning sponge or cloth will smoothly glide over the even metal surface of the palette and remove all the watercolor paint in just a few swipes. Plus, each of the pans is removable, so you can switch out the paints to your liking and create a custom color palette catering to the subject of the painting. 
Besides the full pans, there are sloping half-pans that aid in creating new hues and shades by blending the original colors. Ideal for painting en plein air, this watercolor palette comes with two broad fold-out mixing areas that also act as convenient organizers that keep the moisture intact.
Unlike a porcelain palette, its sturdy tin material prevents any breakage and paint leaks, so you can simply slip it into your art bag while traveling.
Material: Enamel metal | Color Capacity: 14 | Palette Color: Black, white | Style: Foldable paint case | Weight: 0.85 pounds
What I like
Compatible with various media

40 large and deep compartments

Soft, airtight lid

Bonus paintbrush and mixing area

Affordable
Ideal for different paint media, including acrylic, gouache, watercolor, and oil paints, Transon's palette is designed after the traditional prototype with deep wells and a flat surface. It includes 36 deep compartments and four larger wells to store paints that you use more frequently. Moreover, it features a soft flippable lid that acts as a mixing area with a large surface area, allowing you to experiment and create unique colors without running out of space.
The lower surface of the lid has grooved lines that fit perfectly into each pan to prevent the paints from mixing, and since it's airtight, the paints don't dry out. However, it's important to note that this palette is not leak-proof – I've noticed several instances of paint leaks with this palette, so you'll have to carry it upright. 
Lastly, the brand includes an additional thin paintbrush and an oval-shaped palette for mixing color, making this product a classic watercolor paint set.
Material: Plastic, silicone | Color Capacity: 40 | Palette Color: White, navy blue | Style: Classic | Weight: 1.06 pounds
What I like
Five spacious mixing areas

Designated holes for paintbrush and thumb

Environment-friendly material

Odorless

Easy to clean
With 28 paint half-pans and five different mixing areas, this watercolor paint palette from Mifuner is also practical and convenient for acrylic, gouache, and oil painting. Moreover, it has five different-sized holes for paintbrushes and a separate area for your thumb, which offers better support during painting. 
And you need not worry about safety concerns while mixing vibrant colors since it is made from environment-friendly and toxin-free materials. Besides being sturdy, this palette features a slick body and smooth texture that allows you to clean any color residue without hurting your fingers. 
What's more, it is completely odorless, unlike other new palettes, which give off a strong smell that many people, especially children, don't appreciate. The Mifuner brand also has a good customer support line in place, and you can reach out to them if you're not satisfied with their products.
Material: Plastic | Color Capacity: 28 | Palette Color: White | Style: Modern | Weight: 0.31 pounds
What I like
Shock-proof material

Large mixing areas

Well-structured organization

Precise colors

Moisture-extracting lid
Made of shock-proof and bulletproof white glass metal, Mijello's new palette is designed for increased efficiency since it allows artists to view each color exactly as they appear on paper. This glass-like surface includes 38 paint wells, among which 36 are half-pans, and the other two are large capacity wells to hold a sufficient amount of primary colors. 
And besides the four mixing areas, the brand also provides a separate mixing tray that locks into place and prevents the paints from moving around. Moreover, this palette has a unique steel-colored lid with textured edges that allows you to remove extra moisture from your brush for vibrant colors. 
This convenient feature, coupled with its durable, bulletproof material that is made to last, makes it a terrific palette for en plein air painting. What's more, Mijello has thoughtfully organized the 38 wells and four mixing areas in a convenient way for both right and left-handed artists.
However, it's a little heavy on the pocket and requires you to scrub it with a sponge or cloth to remove the color residue, especially from the textured lid.
Material: Bulletproof glass, plastic fiber | Color Capacity: 38 | Palette Color: Steel, white | Style: Modern | Weight: 0.99 pounds
Quick Comparisons Of Watercolor Palettes
| Watercolor Palettes | Material | Color Capacity | Palette Color | Style | Weight |
| --- | --- | --- | --- | --- | --- |
| GenCrafts Watercolor Paint Palette with Bonus Paper Pad | Plastic | 48 | White | Modern (with full or half-pans) | 1.5 lb. |
| Falling in Art Airtight Leak-Proof Watercolor Palette | Plastic-tin palette | 24 | White, steel | Modern | 1.04 lb. |
| MYARTOOL Empty Watercolor Palette | Tin-plated iron, plastic | 12, 24, 48 | Steel, white, black | Modern | 0.02 lb. |
| Mr. Pen Airtight Watercolor Palette | Plastic | 18 | White, Gray | Mixing Palette | 0.56 lb. |
| FCLUB Empty Watercolor Tins Palette Paint Case | Metal, plastic | 48 | Black, white | Foldable, modern | 0.78 lb. |
| Mijello Airtight Watercolor 18-Well Fuchsia Palette | Metal, plastic | 18 | Fuchsia | Art Deco | 0.52 lb. |
| Shappy Watercolor Palette Folding Paint Tray | Plastic | 28 | White | Folding, Modern | 0.26 lb. |
| LOONENG Empty Watercolor Palette | Enamel metal | 14 | Black, white | Foldable paint case | 0.85 lb. |
| Transon Paint Palette Box 36 Deep Wells | Plastic, silicone | 40 | White, navy blue | Classic | 1.06 lb. |
| Mifuner Artist Portable White Watercolor Paint Palette | Plastic | 28 | White | Modern | 0.31 lb. |
| New Mijello Bulletproof Palette for Watercolor 36 Colors | Bulletproof glass, plastic fiber | 38 | Steel, white | Modern | 0.99 lb. |
Factors To Consider While Purchasing A Watercolor Palette
1. Airtight Capacity
To get a good color payoff and prevent the watercolor paints from being damaged, they must be protected from direct light and humidity. And an airtight lid or closure prevents the paints from drying out while you take a break from your painting. 
Look for a silicone lid or a rubber seal – they hold the paint wells securely and don't let the moisture from your paints evaporate. This feature also makes your palette spill-proof, so you can carry it around in an art bag.
2. Portability
A folding palette or paint case that is lightweight and easy to carry is the most preferred palette type among budding and professional artists. You can carry around such palettes to look for inspiration and paint plein air without worrying about spilling or drying out your paints.
3. Good Amount of Paint Pans
You'll require multiple colors – individual or different hues of the same color – to create beautiful gradients and blend colors to achieve your vision. So, an ideal palette should have at least 10-12 pans (the more, the better).
Moreover, you should look for large (and multiple) mixing areas to mix and experiment with colors freely. Some brands even include a detachable mixing tray without any paint wells to give you a bigger surface area to mix colors in.
4. Anti-Stain Mixing Areas
Most plastic palettes are prone to be stained by darker pigments, so they get dirty after the first few uses. That's why many artists prefer to invest in a ceramic or porcelain palette since they don't stain and are durable and weighty compared to flimsy plastic ones.
Another reason why professional artists don't prefer low-grade plastic palettes is due to the phenomenon called "beading," where the paints form tiny beads instead of blending with each other. Of course, certain brands have created high-quality watercolor paint sets (for example, the Winsor & Newton Cotman paint set), but ceramic or porcelain palettes totally prevent beading.
5. Sufficient Space Between Each Compartment
Whether you purchase a big or small palette, there should be sufficient gaps or high walls between two mixing areas to prevent unwanted color mixing. Working hard to create unique hues and then finding out that they've mixed into each other is incredibly frustrating. 
But, you'll save a lot of effort with a well-spaced palette – and you won't need to worry about colors splashing even if they're a little watery. 
FAQs Related To Watercolor Palettes
What are watercolor palettes?
Palettes are the most widely used art supplies, even topping the highly popular watercolor paper. A tray of sorts, a watercolor palette, is used by artists for mixing and blending colors before they paint on their preferred medium. It helps you understand how a color (original or blended) will look on paper, canvas, and other textiles.
Artists organize the different colors in their palette in keeping with their preferred art style, painting subject, or specific artwork. 
What are the different types of watercolor palettes?
Based on their portability, watercolor palettes are categorized into two types: folding and open palette. You can easily close a folding palette using its lid, making it ideal for en plein air painting and traveling.
Based on the materials, palettes can also be divided into three other categories, which include plastic, tin, and ceramic palettes. The first two are affordable options, but the tin palette (usually made from aluminum) is comparatively sturdier. And even though the ceramic palette is expensive and not travel-friendly, they last significantly longer.
How do you choose the right watercolor palette?
As discussed in the buyer's guide, you should consider five key factors while purchasing a palette for your watercolor painting. Look for the information in the product specifications, and be more careful about the material, durability, number of paint pans, airtight capacity, etc. 
Moreover, additional abilities like spill-proof, transfer-proof, and anti-stain features will improve the overall painting experience. You might have to invest a little more for these features, but they're worth it.
How do you maintain your watercolor palette?
Remember to wash your palette after you're done with it immediately – this will prevent darker stains from forming in the corners and surfaces. Plus, dried watercolor paints are quite difficult to clean and require too much scrubbing.
If there are color splatters all over your palette, simply dip an old toothbrush or coarse sponge in dish soap and scrub them away. When it is completely clean, remove the excess water with a cloth or towel, and you're good to go. 
How to assemble or create your own watercolor palette?
First, you must decide on the illustration or painting you want to create and envision a suitable color scheme. Then, based on that color family, pick your preferred colors from your existing watercolor set or tubes. After picking out the colors, it is time to assemble your palette.
If you have a watercolor paint set with removable cakes, simply place the preferred color cakes into the palette, leaving some space for mixing them. In the case of tube paint, squeeze a little of each color into the half-pans, and arrange them according to the color family they belong to.
Final Thoughts
The best watercolor palettes help you create unique shades and hues and get a better understanding of each color to get a precise color payoff.
Among the products I've reviewed, my top pick is the GenCrafts Watercolor Palette due to its higher number of paint pans, durability, wide mixing areas, and excellent customer service. The Falling in Art Leak-Proof palette comes to a close second with its unique sloping wells and leak-proof tin lid for easy traveling. 
And if you're looking for extra durability, I recommend my third choice – the MYARTOOL empty metal palette, which can endure a free fall without incurring a single dent.
That's all for today's review of the best watercolor palettes. If you liked reading this informational article, check out my step-by-step guide, "How to Paint A Sea Using Watercolor?"
See you next time!
Related Articles
Cold Press vs. Hot Press vs. Rough Watercolor Paper
Best Watercolor Painting Books
9 Best Water Brushes for Beginners, Professionals & Calligraphy
9 Best Watercolor Markers With Legendary Results for Artists
13 Best Watercolor Pencils and Water Soluble Art Supplies
12 Must-Know Watercolor Tips for Beginners & Pros
Why and How to Use Watercolor Mediums to Enhance Your Painting Game
Learn How to Use Watercolor on Wood
13 Best Watercolor Sketchbook for Creatives
11 Best Watercolor Brushes for Beginners & Professionals
15 Must-Have Watercolor Supplies for Beginners & Artists
Stretching Watercolor Paper & How To Keep Watercolor Paper From Warping
Learn How to Paint Watercolor on Canvas Easily & Successfully
16 Must-Know Painting En Plein Air With Watercolors Tips & Tricks
Learn The Basic Watercolor Painting Techniques For Beginners
Expand Your Knowledge With Watercolor Painting