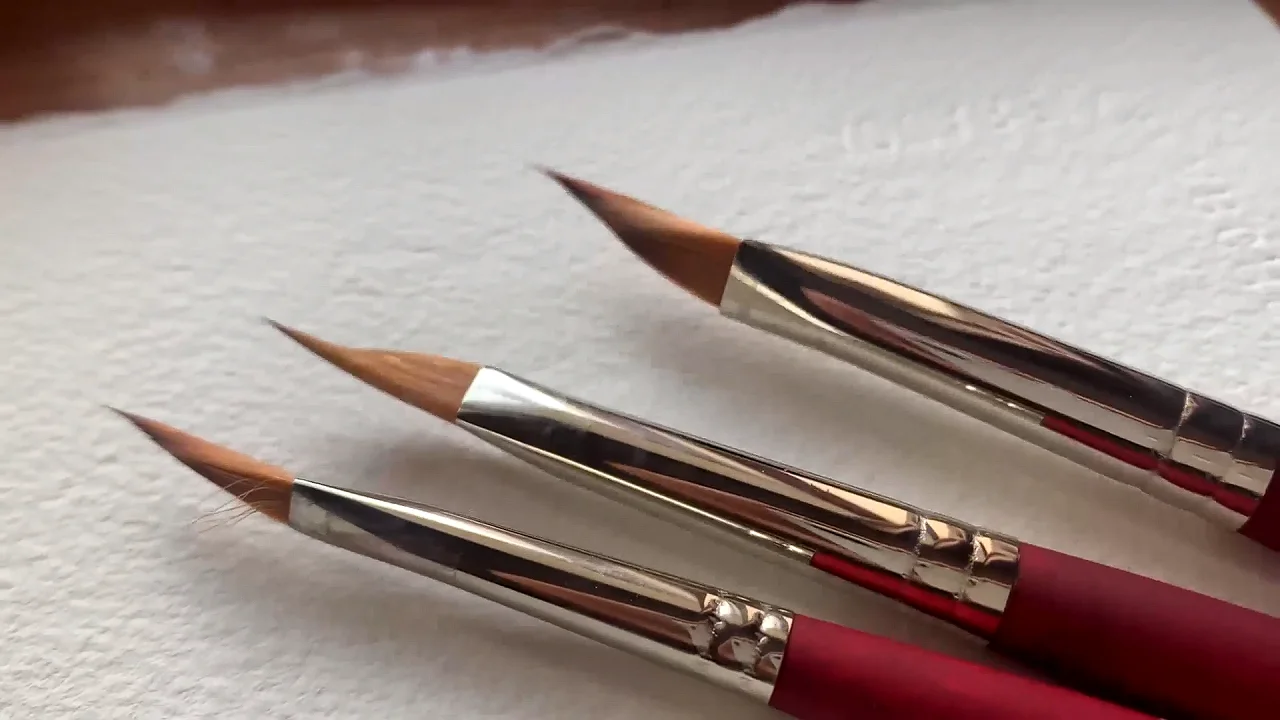 The Winsor and Newton Short Handle Brush features a synthetic fiber bristle, nickel-plated brass ferrules, and is available in a pack of four brushes. Similarly, the Fuumuui Watercolor Brush comes with natural sable hair bristles and has a 2-year warranty.
Watercolor art has remained one of the most popular forms of art since the very beginning but has undergone several changes. New types of paints and painting surfaces have been used, so specific brushes for different types of watercolor art have also been developed.
In this guide, I'll be reviewing the best watercolor brushes currently available to help you select the right one.
9 Best Watercolor Brushes
Sale
What I like
High-quality construction

Affordable

Easy to maintain

Suitable for professionals
What I don't like
Not the best for large paintings
Winsor and Newton is one of the leading brands in the art industry, known for its high-quality art tools and supplies, such as this short-handle brush with synthetic fibers. It comes in a pack of four brushes, and each brush is constructed using high-quality blended synthetic fibers. These fibers ensure that the painting process is smooth and the paint is applied uniformly on the canvas.
In addition, the filaments of this brush are extremely soft, which allows you to control the flow more easily. Another advantage of these filaments is that the color-holding capacity of the brush is enhanced. So you won't need to add more paint frequently and can work more quickly. 
The ferrules of the Winsor and Newton brush are made from nickel-plated brass, which helps prevent the clogging of hairs and makes the brush resistant to corrosion. This high-quality construction provides it with a high amount of resilience and makes it incredibly durable. So, it is an excellent investment that won't need replacing anytime soon.
Additionally, the superb construction makes cleaning and maintaining the brush easy. As for the contents of the pack, you get one round 1 brush, a round 4 brush, one round 6 brush, and one stroke ⅜ brush. 
At the low cost at which these brushes are available, this is easily one of the top brush packs I would recommend.
Material: Synthetic | Size: 4-pack | Paint type: Watercolor | Bristle Type: Synthetic
What I like
Durable construction

Smooth performance

Versatile

Two-year warranty
What I don't like
Brush tubes are not reusable
If you're looking for the best watercolor brushes with natural hair, then this option from Fuumuui might be ideal. This versatile brush is available in nine different sizes for students, artists, professionals, and even kids. Since it is constructed from natural sable hair, the capacity of this brush to hold paint is unparalleled.
The brush can retain its shape very well thanks to the nice spring that the sable hair provides it with. This means you do not need to worry about the brush getting damaged quickly. These sable hairs also provide a smooth and soft touch when painting, allowing you to blend colors quickly and easily. 
Being an incredibly versatile natural hair brush, it can be used for several types of artwork. You can use it with acrylic paints, watercolor paintings, oil paintings, and even gouache to get impressive results. Moreover, the round shape makes them useful for filling in paintings, adding details, etc. 
Another noteworthy feature about these brushes is that they have nickel-plated copper ferrules, which make them sturdy enough to withstand rigorous painting processes. These brushes are further double-crimped to the handle to prevent any wobbling while they are being used. The handle is constructed using polished birch so it cannot be easily broken or bent.  
Finally, you get a two-year warranty on these brushes and a 90-day money-back option that adds to the customer satisfaction.
Material: Animal hair | Size: Multiple | Paint type: Watercolor, gouache, acrylic, tempera | Bristle Type: Round, pointed bristle
What I like
Good quality construction

Multifunctional brushes

Sustainable

Comfortable to use
Another excellent set of watercolor brushes comes from the Princeton Artist Brush Company, which specializes in the manufacture of natural and synthetic brushes and tools for various media. This is a set of four brushes that can be used for watercolor painting and gouache, oil, and acrylic projects. 
The brushes are created using high-quality synthetic hair with several filaments that enhance their color-holding capacity. Additionally, the brush fibers make it easy to work with great precision and allow the paint to be managed easily. Because of this, these brushes are suitable for beginners, students, hobbyists, and even professional artists.
I was especially impressed by the Velvetouch handles of these brushes, which is the standout feature of this set. The handles are constructed using FSC wood, ensuring better control and making the brushes comfortable to hold, while being more robust and affordable.
And since these are synthetic brushes, you can rest assured no animals were harmed during manufacturing. While this pack contains four brushes, they are available in multiple sizes and shapes for different painting requirements. There are 18 mixed media brushes in total to choose from, which is a much larger selection than most competing options.
Also, if you are unhappy with the brushes, the brand will provide a solution, so you just need to contact them and let them know about the problem.
Material: Wood | Size: Set of 4 | Paint type: Oil, watercolor, acrylic | Bristle Type: Synthetic
What I like
High-quality construction

Flagged bristle

Budget-friendly

Versatile
Made in France using the highest quality sable hair, the Raphael watercolor brush is next on my list. This brush is an excellent choice for detailed work thanks to its fine point and springy bristle. It features nickel-plated brass ferrules that provide durability, ensuring it will last a long time. 
Additionally, the bristles are made using extra fine sable hair, making this round brush ideal for precision artwork, while its varnished handle makes it very easy to hold. Since the brush comes with a flagged bristle, it makes the painting process easier when working on the finer details.
It is also slimmer than many competing options, which adds to the comfort. Moreover, the handle length is quite short, so you can get in close for detailing tasks. 
The length of the bristles is such that it allows you to hold a good amount of paint for greater convenience. This round brush also comes with a cap that helps protect the bristles and makes storage easier. 
It has been designed to ensure it retains its shape and does not get damaged easily. Despite such an outstanding build quality and design, this is one of the most affordable round brushes with natural sable hair. You can use the Raphael Kolinsky sable brush for artworks such as acrylic paintings, gouache, and watercolors, considering it is a very versatile option.
Material: Animal hair | Size: No. 1 | Paint type: Watercolor | Bristle Type: Flagged bristle
Sale
What I like
Wide variety of shapes and sizes

Affordable

Animal-friendly

Suitable for all skill levels 
One of the most popular watercolor brushes comes from the Princeton Artist Brush Company. This brush is made using synthetic Kolinsky hair bristles that deliver a great painting experience. One of the key features of this brush is that it can hold a large amount of water and release it uniformly, providing an even flow of paint.
It helps ensure that your painting looks clean without spending a lot of time spreading the paint. Also, I noticed that even though this brush comes with synthetic Kolinsky hair, the high-quality hair makes it hard to differentiate from natural sable hair.
This is even apparent in the performance the brush delivers, as it moves smoothly over surface, helping the paint flow properly. And being a synthetic brush, it is an animal-friendly option that is good for the planet. 
Another advantage is that the price is quite affordable, especially when compared to natural hair brushes.  
The Princeton Artist Brush Company watercolor brush is available in various sizes and shapes, including rigging brushes, angle shaders, mottlers, oval washers, and more. So, you can easily pick and choose the right one depending on the type of artwork.
You can get this brush in a set of four, which includes a size 2 round brush, a size 8 Filbert brush, a size ten flat brush, and a size four bright brush. All brushes come with long handles for comfortable use.
Material: Synthetic | Size: Multiple | Paint type: Oil, acrylic, watercolor | Bristle Type: Flagged bristle
What I like
Wide selection of shapes and sizes

Both natural and synthetic options

Easy to clean

Affordable
Like the previous option, this one is another one of the best watercolor brushes from the Princeton Artist Company. Available in 46 different brush sets, this brush comes in several different shapes and sizes and long and short-handled styles. 
This makes it very easy to select the most suitable option depending on your personal preferences and the types of art projects to be done. I was pleased to know that combination brushes are also available besides natural hair and synthetic brushes. These contain both natural and synthetic hair and offer the advantages of both. 
Additionally, the bristles have a sharp point and edge that makes detailed work easy, and the brush has a natural snap for quick and smooth strokes. Also, the large water-retaining capacity of this brush is another highlight and helps reduce the need for frequent application of paint.
The brush is extremely durable as well and won't break down easily even with extreme pressure. Similarly, the bristles will retain their shape even after the most rigorous use. And cleaning and maintaining the brush is quite easy, so you won't need to spend too much time or effort on that.  
Being an all-purpose brush, you can use this Princeton Artist Company watercolor brush for watercolor paintings, oil paintings, staining, and more. And despite its high quality, it is priced reasonably, making it one of the most affordable brushes in the segment and ideal for beginners.
Material: Acrylic | Size: Set of 4 | Paint type: Oil, acrylic, watercolor, tempera | Bristle Type: Flagged bristle
What I like
Sophisticated design

Premium construction

Easy to use

Balanced softness and firmness
Next up, I bring you the black velvet brush set from Silver Brush Limited, a leading supplier of art supplies in the United States known for its premium quality offerings. Designed especially for watercolor artists, this brush set has been manufactured using black synthetic fiber and natural squirrel hair. 
This blend of natural and synthetic material makes the brushes in this set adequately soft for applying color but firm enough to lift pigments when required. Thanks to this, making alterations and adjustments to your artwork is pretty easy. 
Each brush has also been designed to hold plenty of paint at one time, which can help save time spent on adding more paint to the brush. And these are professional-grade brushes, so they are durable and won't need replacements quickly. 
Besides that, each brush has a short handle with a black lacquer finish that provides a sophisticated appearance. The handle has been crafted to make it easy to hold even for long periods without discomfort, which is a feature I really like.
In this brush kit, you get the round black brush in sizes 6 and 12 and a black velvet square wash in size 2. These brushes are ideal for scrollwork, linework, and painting backgrounds but can even be used for details and deliver great results. And the manufacturer even provides instructions on how to care for the brushes on the website and on the packaging.
Material: Synthetic, velvet | Size: Set of 3 | Paint type: Watercolor | Bristle Type: Flagged bristle
What I like
Sturdy build

Versatile

Value for money

Multiple size and style options
One of the highest-rated watercolor brushes in the United States is this brush from Winsor and Newton, available in multiple sizes and styles and made using natural hog hair. This brush uses Chinese hog bristles and corrosion-resistant ferrules, making it an extremely durable natural hair brush. 
The hog bristles provide the brush with natural flexibility, allowing smoother, softer strokes and uniform paint application. These bristles are also thinner than what you usually find on most watercolor brushes, making the brush well-suited for paintings with many details.  
While it has been designed to be used with oil paints, you can even get some fantastic results when using the brush with acrylics, making it a reasonably versatile option. It is ideal for creating textures and can also be used for blending purposes. 
Another major advantage is the brush retains its shape even after extreme use, and its bristles do not wear out quickly. As for the handle, this is protected by a green-stained natural wood finish on top of which four layers of lacquer have been applied. Because of this, it is among the sturdiest watercolor brushes I've come across and is sure to last a long time.
But despite the high-quality construction, this brush has been priced reasonably, so you can get some impressive artwork done without breaking the bank. Those looking for a basic brush that gets the job done efficiently will find this option very suitable.      
Material: Hog | Size: No. 5 | Paint type: Oil, acrylic | Bristle Type: Natural
What I like
Durable construction

Comfortable to use

Value for money

Sustainable option
With its European style shaping and an extra sharp point, this Kolinsky sable hair brush from Da Vinci Brushes, named after Leonardo Da Vinci, is another excellent choice. It is constructed using hair from the red sable found in Siberia. This hair is of the highest quality, which is why this is the first choice of many when it comes to sable brushes.
What I like most about this brush is that it is manufactured by hand by skilled artisans, which makes it a premium option in this segment. The brush has a high capacity for holding color due to the long red Kolinsky sable hair, making it flexible and springy.
Additionally, the sharp point of the brush allows working quickly without worrying about the paint smudging or smearing across the surface. And you can use the brush for watercolor painting, rendering, and even illustrations, and it can retain its shape after each use.
The handle of this brush is constructed with sustainable wood sourced from Germany, making it an eco-friendly option. And it has been designed to ensure maximum comfort while holding so you can work for longer periods. Then, there are the rust-resistant ferrules made from nickel or gold-plated brass that secure the bristles to the brush handle and add durability.
Lastly, this watercolor brush from Da Vinci Brushes is reasonably priced, making it a great value-for-money option for all.
Material: Sable | Size: No. 6 | Paint type: Watercolor, gouache | Bristle Type: Flagged bristle
Comparing The Top Watercolor Brushes Available
| Top Watercolor Brushes | Material | Size | Paint type | Bristle Type |
| --- | --- | --- | --- | --- |
| Winsor And Newton Short Handle Brush | Synthetic | 4-pack | Watercolor | Synthetic |
| Fuumuui Watercolor Brush | Animal hair | Multiple | Watercolor, gouache, acrylic, tempera | Round, pointed bristle |
| Princeton Artist Brush Company Mixed Media Brushes | Wood | Set of 4 | Oil, watercolor, acrylic | Synthetic |
| Raphael Watercolor Brush | Animal hair | No. 1 | Watercolor | Flagged bristle |
| Princeton Artist Brush Company Watercolor Brush | Synthetic | Multiple | Oil, acrylic, watercolor | Flagged bristle |
| Princeton Artist Company Watercolor Brush | Acrylic | Set of 4 | Oil, acrylic, watercolor, tempera | Flagged bristle |
| Silver Brush Limited Watercolor Brush Set | Synthetic, velvet | Set of 3 | Watercolor | Flagged bristle |
| Winsor And Newton Watercolor Brush | Hog | No. 5 | Oil, acrylic | Natural |
| Da Vinci Brushes Watercolor Brush | Sable | No. 6 | Watercolor, gouache | Flagged bristle |
Buying Guide
Now that I've told you about the best watercolor brushes worth considering, it is time to look at the factors to consider when choosing between them. 
1. Brush Hair Type
Watercolor brushes can be made using natural hair or fur from certain animals and synthetic hair created using chemical substances like polyester or nylon fibers. Both have advantages and disadvantages, which you need to pay attention to when selecting the right brush. 
A. Natural Brushes
Natural brushes may be manufactured using sable, squirrel, hog, goat, pig, ox, and camel hair. The best natural hair watercolor brushes are made from Kolinsky sable hair and have a good snap but can be costly. Squirrel hair brushes are softer and ideal for mop brushes, while hog hair brushes are stiffer and more suitable for flat brushes.
Goat hair is used for calligraphy in China, and ox hair brushes are best for textures. Keep in mind that synthetic brushes generally cannot provide results similar to natural hair brushes, but they are manufactured without causing any harm to animals. 
B. Synthetic Brushes
These brushes are more affordable than natural hair brushes but may not be able to hold a large amount of color at one time. Also, they do not last as long, even with the best care and maintenance. However, they can retain their snap and spring even when soaked and can be designed to hold a point better than natural hair options. 
2. Shape
You can find watercolor brushes in various shapes, including round, flat, dagger, mop, and more. Round brushes are the most versatile and can be used for various purposes, while flat brushes are used for washes. Dagger brushes have a sharp edge for details, while mop brushes have a fine point with a thicker base. 
The type of artwork you are working on will determine which brush shapes would be most suitable.
3. Size 
Watercolor brushes are available in several sizes, ranging from 0000 to 50. You can select larger brushes for bold washes and strokes, while smaller ones are better for details. Medium-size brushes are generally versatile and can be used for several purposes.
I recommend having a few different-sized brushes that can be used in most types of paintings.  
4. Brand
While many brands manufacture watercolor brushes, a few have managed to build up a remarkable reputation. They are known for their exceptional product quality, wide range, and good customer service. Some of the best include Winsor and Newton, Raphael, Da Vinci, and others. 
However, when buying from these brands, you may find the prices a bit higher than those from relatively new brands, though that isn't always the case. 
FAQs Related To Watercolor Brushes
What makes a good watercolor brush?
The best watercolor brushes have certain features that set them apart. These include a sturdy build quality that helps them last longer, a good snap and flexibility, the ability to hold color, and the ability to retain their shape. The bristle hairs should also not splay and be able to hold a point. 
What are the most common types of brushes used for watercolor painting?
Detail brush, fan brush, rigger brush, dagger brush or sword liner, bamboo brush, hake brush, flat brush, mop brush, and round brush are some of the most common watercolor brushes. A detail brush is used for detailing, a fan brush is used for textures, and rigger and dagger brushes are used for effects.
Bamboo brushes are used for crisp edges, hake brushes for removing dirt and dust, while flat and mop brushes are used for paint washes. Flat brushes are also suitable for edges, and round ones are multipurpose brushes.
How can you take care of watercolor brushes to help them last longer? 
To maintain your watercolor brushes properly, wash the brushes in warm water using soap after every use. After the paint has been removed, dry the brushes by rolling them on a soft paper towel or cloth. Once dry, store them in a jar with the handle pointing downward. 
Can you use the same brush for different watercolor techniques, or do you need different brushes?
While a few brushes can be used for multiple techniques, I advise using separate brushes for each technique. Generally, round brushes are the most versatile and can be used for several techniques, but the same cannot be said for others. Using a brush specifically designed for a certain technique will always give you better results. 
Is it a good idea for beginners to invest in a cheaper brush and upgrade to a costlier one later? 
Investing in something temporary that won't last is not a great idea. Also, while it may not be true in every case, generally, cheaper brushes are of inferior quality. So, beginners will have a harder time using such brushes. That is why it is better to invest in higher quality brushes, even if they are costlier, as they will last longer and provide a better experience. 
Verdict
The options I've mentioned here are suitable for beginners, hobbyists, professionals, and artists. However, it is vital to consider the type of watercolor artwork you will be working on before choosing the type of brush. 
If you're still having difficulty choosing an option, I recommend the Winsor and Newton Small Handle Brush. It comes with high-quality synthetic fiber bristles and has a high color-holding capacity. Another excellent option is the Fuumuui Natural Hair Brush, made from sable hair that features a sturdy construction and comes with a 2-year warranty.
Related Articles
Cold Press vs Hot Press vs Rough Watercolor Paper
Best Watercolor Painting Books
13 Best Watercolor Pencils and Water Soluble Art Supplies
Why and How to Use Watercolor Mediums to Enhance Your Painting Game
Learn How to Use Watercolor on Wood
13 Best Watercolor Sketchbook for Creatives
15 Must-Have Watercolor Supplies for Beginners & Artists
Stretching Watercolor Paper & How To Keep Watercolor Paper From Warping
Learn How to Paint Watercolor on Canvas Easily & Successfully
16 Must-Know Painting En Plein Air With Watercolors Tips & Tricks
Learn The Basic Watercolor Painting Techniques For Beginners
Expand Your Knowledge With Watercolor Painting