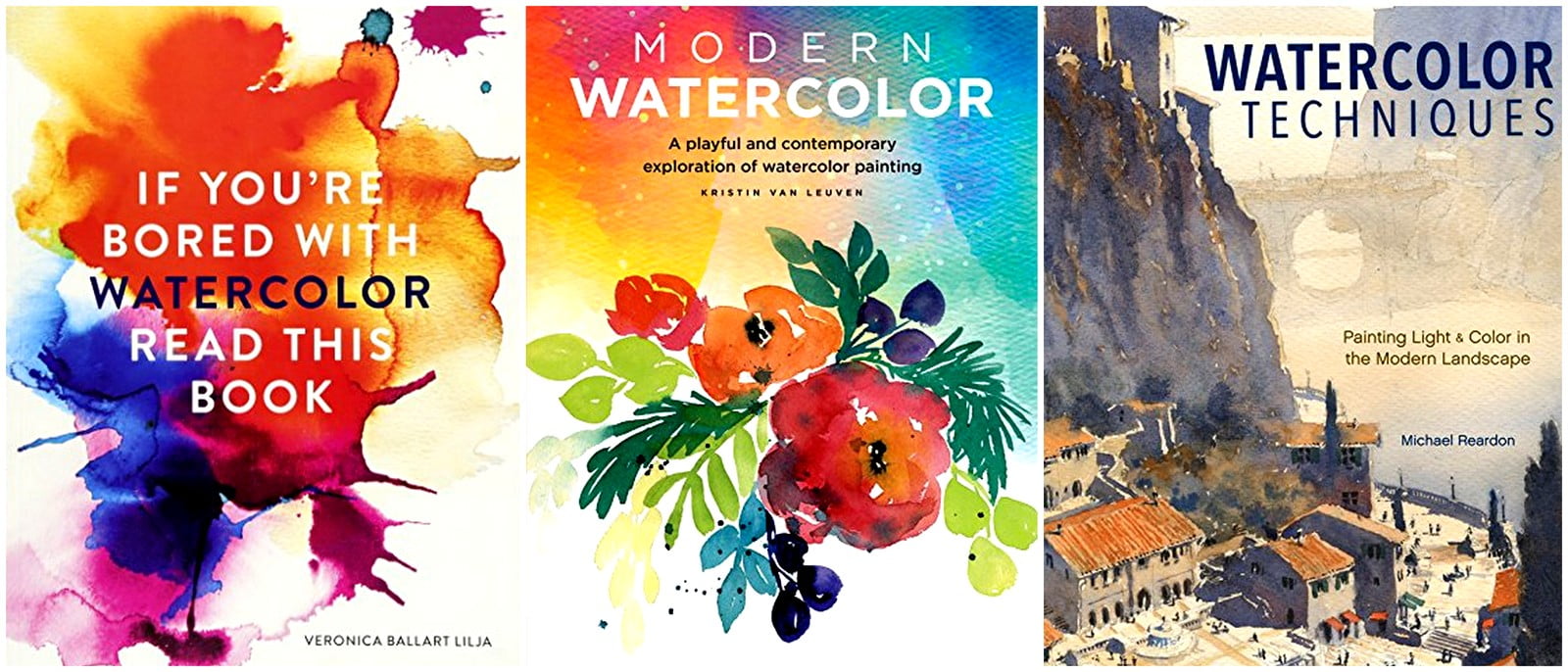 Watercolors act as an excellent tool for expressing the works of an artist's creative mind. 
Some painters who are just starting out choose to explore the scopes of watercolors using their own techniques – a splendid approach that nurtures creativity. 
On the other hand, some want to learn what has already worked for others. This is also a great way to start because then they will know what and what not to do at a much faster pace. 
First of all, it is highly essential that one must learn the basics of a subject before they can become a master at it. The same thing applies to watercoloring as well. 
There are many sources out there that one can go to for guidance. 
Reading a book is comparatively better because you can easily stop, think, and re-engage whenever you want to. Another reason to read a book is that it strategically describes all the small and minute details that other sources fail to do. 
And in today's article, we have picked out the most useful and highly recommended watercolor painting books which one needs to learn.
Best Watercolor Painting Books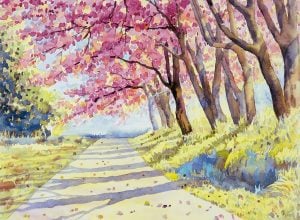 Besides the fact that these books have worked for many artists, they also contain specific techniques and instructions that will introduce the amateur artist to a whole different level of watercoloring, while recommending useful skills to the experienced one. 
And with that in mind, let's begin! 
With 128 pages and numerous instructions about watercoloring, this book by Matthew Palmer is a must-have for beginners. 
Inside this book, there are 12 outlines for drawing, 6 fascinating projects as well as hundreds of demonstrations to help a beginner out in producing an exceptional piece of watercolor painting. 
Experience
We find this book to be extra helpful for artists who are new to watercoloring and still not sure where to begin, as well as for those who are concerned with outlining or sketching before actually getting into the painting process. 
Most developing artists find the book to be rather helpful when understanding the complications of watercolor as a painting medium. 
This book contains everything a beginner needs to know about watercoloring, hence, it has saved us a lot of money which we could have paid for an expensive art class. 
Moreover, we like that throughout the whole book, there are recommendations for using particular painting materials like certain brushes and paints, which we find really suitable. 
While the book tells us about simple and elementary color mixing, it does not stress much about how some colors work well together, however. But keeping that aside, this is an incredible, complete beginner's guide to watercoloring. 
Pros
Provides detailed descriptions about the different techniques and methods of watercoloring

It offers recommendations of using particular painting materials that work well for various instances

Contains up to 12 outlines and 6 projects
Cons
Includes simple illustrations for color mixing but lacks information about better color balance
Here is another book which consists of 128 instructional pages. 
Judging by its name, this book by Veronica Lilja may appear to be oriented towards those who have reached expert levels and slowly starting to get tired of using watercolors. 
However, the name is somewhat misleading because the book contains guidelines for beginners to follow as well. 
Experience
What we love about this book is that it includes a set of techniques and color-mixing guides which serve both beginners and experts. And apart from that, it offers suggestions to use different types of supplies and papers for watercolors. 
We also get to explore various topics such as the comparison between warm and cool tones, color wheels, and many other aspects of watercolors. 
Another good thing about this guide is that it is flexible.
Unlike other tutorials which require completion of a task before a given time period or that need us to follow certain guides strictly, this book allows us to experiment with watercolors while getting guidance at the same time.
Pros
It contains a number of strategies for beginners to take on, as well as innovative and non-traditional techniques for the experienced artist

Allows readers and watercolorists to see the extent to which watercolors can go and experiment with it 
Cons
The title of the book is confusing as it seems to target only seasoned artists
This book is for artists who have had a lot of experience with watercolor paintings and want to try something new. What it includes are state-of-the-art techniques and suggestions to make watercoloring more enticing.
The author, Ray Henderson, is an esteemed watercolor artist whose artworks reflect his brilliant, ingenious mind. Through his book, you'll be able to see his unique methods for creating outstanding watercolor art.
Experience
First of all, we find this book to be very easy to follow because it breaks down complicated instructions into much simpler ones. 
For instance, within the book, there are a number of full-sized pictures and right beside them are specific portions of the image which the author keeps aside to explain what type of technique he used for achieving that kind of effect. 
Secondly, it teaches and provides complete details on how to create amazing textures in watercolor paintings. And since textures are almost always required for producing exceptional paintings, we think this guide is a must-have for both an advanced beginner and a watercolor expert. 
However, the paperback version does not contain high-quality pictures, and we have to settle for the hardcover version which comes at a slightly higher price. 
And if you are one of those artists who are really concerned about the quality of a painting, this book will be just what you need. 
Pros
The book provides amazing illustrations when it comes to texture techniques with watercolors

It thoroughly explains how to achieve a particular effect most easily 
Cons
The paperback version of this book contains low-quality images, and one has to settle for a higher priced hardcover
Sale
Kristin Van Leuven wrote this book which is so much different from the rest of other guides.
The reason is that there are two parts to it. One section focuses on the essentials of colors and supplies while the other section focuses on exploring resist art (a technique where several layers are used to highlight a design with the use of a medium such as tape) and concentrating on common painting subjects such as flowers, landscapes, animals, etc.
Experience
When we struggle with the process of watercoloring, we tend to lose focus on what we need to do for achieving great painting results. And this book really helps when it comes to situations like this.
The best thing about this book is that the author chose to use a simple language for communication rather than highly technical terms which might be difficult for a beginner to understand.
The 8-pages techniques which inform us how to achieve the desired effect using multiple methods are quite enlightening. For example, we learn to add the necessary amount of water to mix with the right amount of colors for various painting effects.
Then, we also learn about the resist technique in 12 pages which provides detailed explanations on how to use them properly.
Another great thing about this book is that it provides knowledge about the world of watercolor painting as no other book does. Therefore, if you want to go from a complete beginner to a much more experienced artist, then this book is for you.
The book is only intended solely for beginners because it provides only basic information and is not for artists of the intermediate level. Painters who are already familiar with the basics may not find this book to be helpful although they are still learning how to paint with watercolors.
Pros
Introduces all the ins and outs of watercoloring to the absolute beginner
The book contains simple terms which anybody can understand
Cons
The guides provided by this book are only for beginners and not for artists of intermediate level
Sale
This book by Gordon MacKenzie allows the artist to explore endless watercolor scopes and ideas through the use of delightful and easy instructions.
It leads both beginners and seasoned artists to the world of watercolors using light, casual structures to successfully come up with a great piece of art.
Experience
Rather than using guidelines, the book itself takes the reader for a ride through the whole creation process.
The reason we chose to include this book on this list is that it is entirely different from other guides by letting learners see the step-by-step, non-traditional journey for creating an exceptional piece of painting.
This process is effective because we feel that we're in the author's shoes, scrutinizing each step carefully.
Even with the informal style of guidance one gets from this book, we are still able to produce remarkable paintings.
Another great thing about this book is that we get both The Watercolorist's Essential Notebook and The Watercolorist's Essential Notebook: Landscapes in one place.
However, the book's whole explanation concept is lengthy at times and might not work for everyone, especially those who like to follow single sentence instructions.
Pros
This book delivers a guide for both beginners and experts in an informal way, allowing them to observe each and every step carefully

It also includes two North Light watercolor guides that are essential for any creative artist

For the price of two different guides, this book is highly affordable
Cons
The book's concept of explanation might not work for those who choose to follow short and crisp guides
In this 142-page guide, you will be able to see the fantastic life-like artworks on cityscapes and landscapes achieved by using multiple creative steps and techniques.
This guide leans more towards bettering the advanced artist whose aim is to improve their paintings on both landscapes and cityscapes.
However, the steps provided by the author are so easy that a learner can also follow if they choose to take on this wonderful journey.
Experience
To experienced watercolorists, this book brings new ideas and demonstrations which enhance their present styles of painting by using the author's approaches.
We liked that in one way, this book covers all the basics of watercoloring in minute details which beginners would find helpful since every explanation is a byproduct of answering frequently asked questions about watercolor paintings. 
While at the same time, it helps a seasoned artist to see the extent that watercolors could go to by following the suggested techniques.
Besides that, we gain a lot of insights into the struggles and successes experienced and shared by the author.
But because the book clearly focuses only on producing great landscape art, it might not be useful for artists who want to learn the different subject matters of watercolor paintings.
Pros
A large section of the book's guidance is based on questions raised by artists every now and then, making it more relatable and reliable
It includes many instances encountered by the author so that it helps readers, especially beginners, in knowing what to expect
Cons
As good as the book is, the demonstrations are only limited to those of landscape and cityscape paintings
Sale
This next book by Cathy Johnson is a good option for the absolute beginner.
Inside this 128-page guide, there are full-sized pictures in each page along with brief and very clear demonstrations about them.
Besides being quite simple in explanation, the author also uses simple terms and language to convey the methods to her audience so that anybody can easily get the idea.
Experience
This guide provides a complete guide to using different tools and materials for painting and proper color mixing that makes the process of learning come easily to a beginner.
There are times when we think that teaching ourselves the art of watercolor painting is pretty hard to achieve immediately. But that's not the case with this guide; everything we read is available in a simple form and everything we have to follow is broken down into the easiest manners possible. 
With a guide as such, we can start painting with watercolors efficiently within a few days.
Moreover, the paintings we are able to achieve with this guide are remarkable and realistic to the eye of any beholder.
The ebook version of this guide contains poor-quality images. Therefore, we do not recommend buying it.
Pros
This book offers the determined beginner a number of easy ways to learn how painting with watercolor works
The tricks available in this book help deliver realistic and exceptional watercolor artworks
Cons
The ebook version contains images which do not produce good-quality images when zoomed in for a better view
Shirley Trevana in her book Breaking The Rules of Watercolour adds 10 watercolor paintings followed by revealing her thoughts while creating them.
With this process, we not only see what's genuine narration but we get to learn the do's and don'ts of watercolor artworks using her techniques.
In this book, you'll see how the author creates amazing artworks by continuously looking for alternative ways to make the best use of watercolors.
Experience
To put it out there first, this book is not a guide for beginners because the kind of illustration which the author used leans more towards those who already have enough knowledge of this medium.
That being said, the book shows us personal methods which the author used to create these 10 paintings.
We get to see the way Shirley was able to come up with extraordinary paintings is by using her unique methods. These methods include her own style of creating textures, different perspectives, and most importantly, her way of combining colors to get the best results out of them.
Moreover, the features of these 10 paintings used in the book are very clear and of high quality so that the reader can observe all the textures carefully.  
Pros
The whole guide is based on using the author's unique methods of taking watercolors to their highest level
All the pictures in the book are enhanced so that the reader can closely watch each attribute and brushstroke
Cons
The demonstrations in this book seem to be intended only for knowledgeable artists, hence, beginners will find it hard to understand the guide
Sale
Here is a book that will work pretty well for anyone who likes to paint for fun. Anybody who reads this book will find it to be pleasing and entertaining rather than serious and descriptive.
The book covers almost all the basics about watercoloring, and is therefore great for learners.
Experience
We like that this book provides short and crisp guides which are very easy to understand for anybody. With a brief guide, you can jump from one step to another step pretty easily.
What we like about this book is that it has fun and fascinating guides that make us look forward to what's in store for us on the next day.
We find the concept to be constructive because unlike other guides which you read once a while, this one actually helps form a habit for us.
The guide helps us learn and practice one new step every day, ensuring better and quicker learning. So, if you are determined to learn about watercolor paintings, this book might be the best choice for you.
However, the problem with the short guides is that they don't answer or clarify doubts. If you need a better explanation, you won't be able to find it here.
Pros
The book contains short and crisp ideas that any reader would understand and easily follow
The guide's concept is entertaining, which makes it fun to read
Cons
These steps are meant only for giving ideas/techniques and not to provide extra information or to clarify any doubts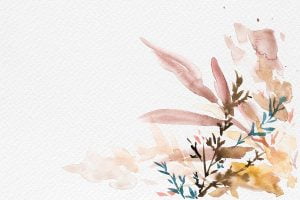 Watercolor Painting Books Conclusion
Well, that's it, folks! Those are the best watercolors painting books which we have chosen specifically for you. We hope you found this article helpful enough and you enjoyed reading it!
Checkout our other article on best watercolor painting books for kids to know more on this topic.
See you soon. Good luck!
Related Articles
Cold Press vs. Hot Press vs. Rough Watercolor Paper
9 Best Watercolor Markers With Legendary Results for Artists
10 Best Watercolor Palettes for Beginners & Professionals
13 Best Watercolor Pencils and Water Soluble Art Supplies
12 Must-Know Watercolor Tips for Beginners & Pros
Why and How to Use Watercolor Mediums to Enhance Your Painting Game
Learn How to Use Watercolor on Wood
13 Best Watercolor Sketchbook for Creatives
11 Best Watercolor Brushes for Beginners & Professionals
15 Must-Have Watercolor Supplies for Beginners & Artists
Stretching Watercolor Paper & How To Keep Watercolor Paper From Warping
Learn How to Paint Watercolor on Canvas Easily & Successfully
16 Must-Know Painting En Plein Air With Watercolors Tips & Tricks
Learn The Basic Watercolor Painting Techniques For Beginners
Expand Your Knowledge With Watercolor Painting
19 Incredibly Beautiful Watercolor Painting