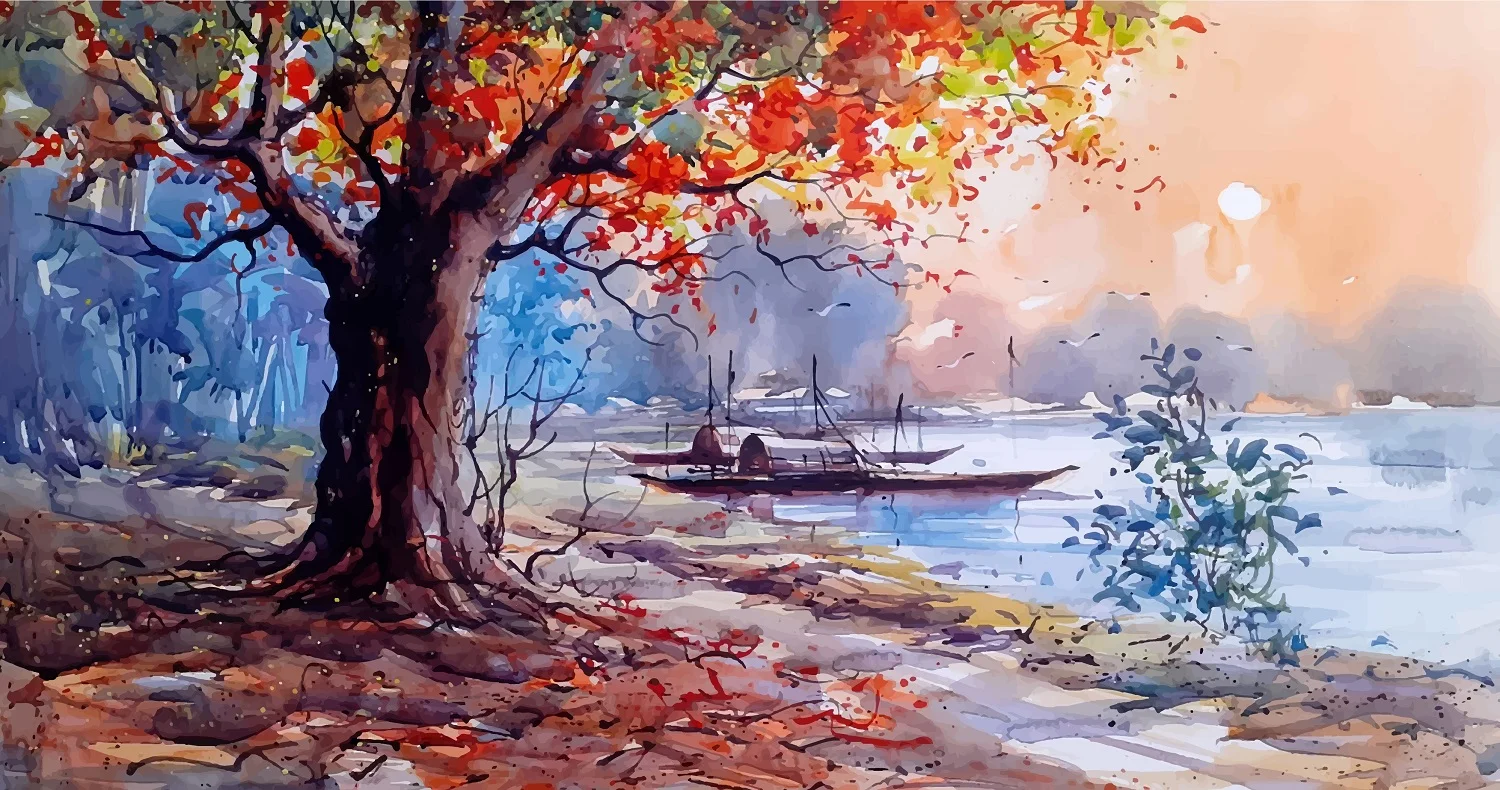 Watercolors are a simple yet challenging medium to work on. Practicing various painting techniques with watercolors can help you master it. 
Artists are generally thought of as expressive and emotive – at least when it comes to their canvas. Painting is therapeutic, and even if you don't consider yourself an expert, experimenting with watercolors can be exhilarating. 
As it was rightly said by famous painter Bob Ross, "There are no mistakes, only happy accidents." When it comes to learning a new technique, the best way to do it is by picking up the brush, dipping it in paints, and creating magic on the canvas. 
Do you paint as a hobby, or are new to the world of watercolors? Well, this guide has been created for anyone who is looking for watercolor painting ideas and inspiration. 
So without further ado, let's bring out our paints and get started! 
Watercolor Painting Ideas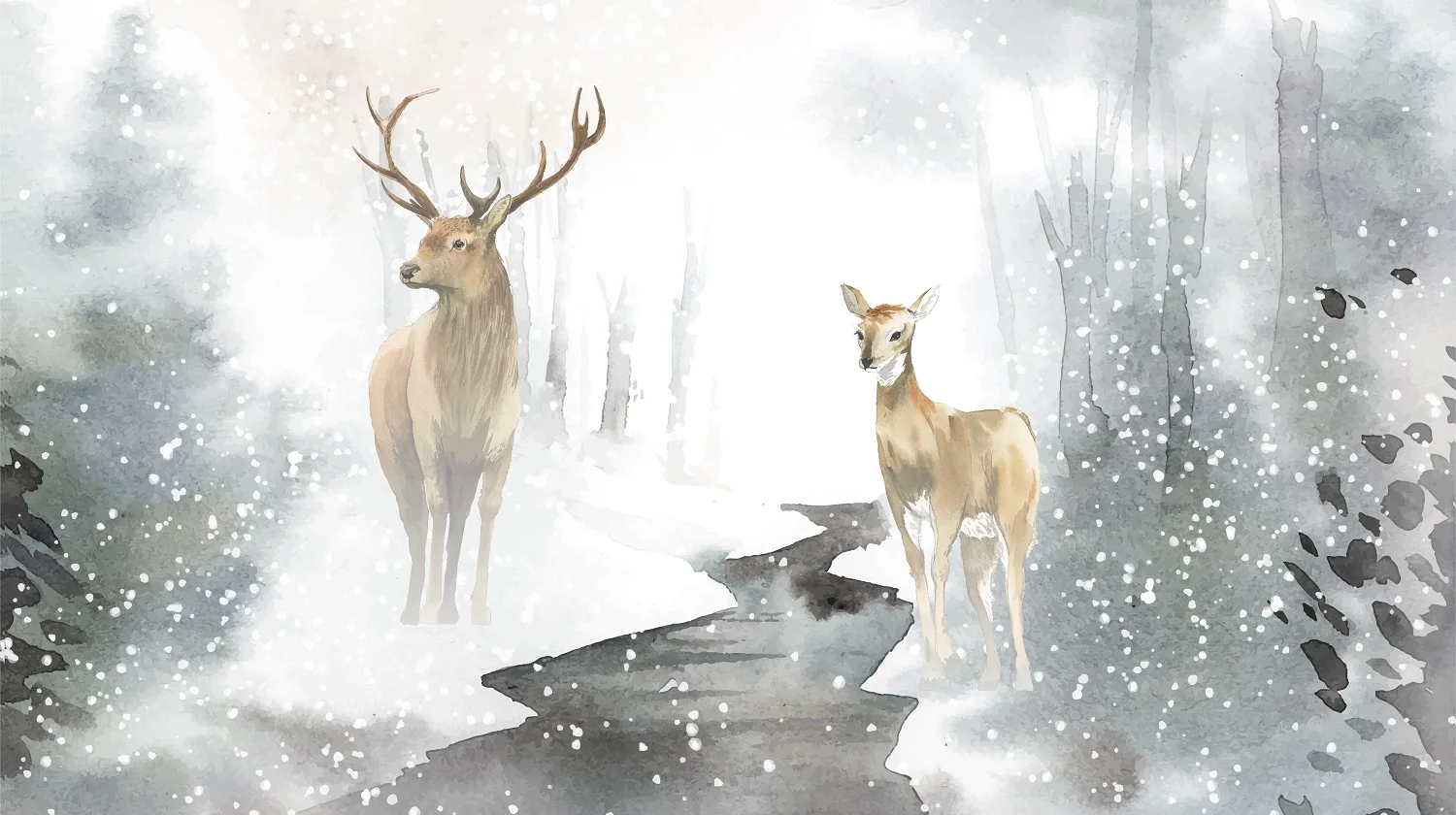 Colorful Balloons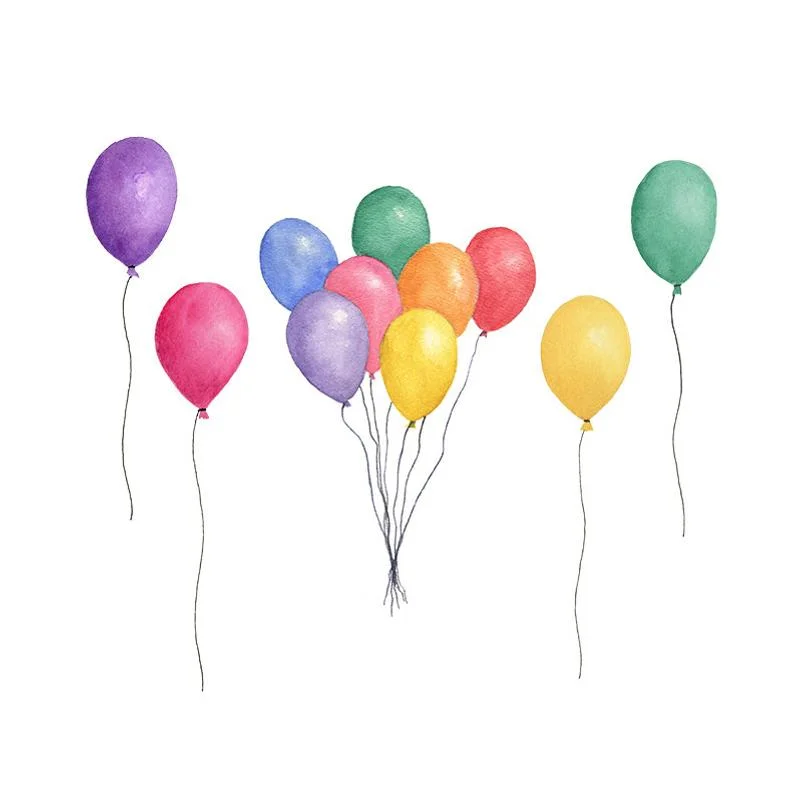 One of the first watercolor painting ideas to try out is a simplistic, colorful balloon painting. Wet your watercolor paper and use any light color to create a soft background – maybe a sky or splash pattern. Use bright colors to make two inverted-egg shaped balloons and add a string. 
Balancing Zen Stones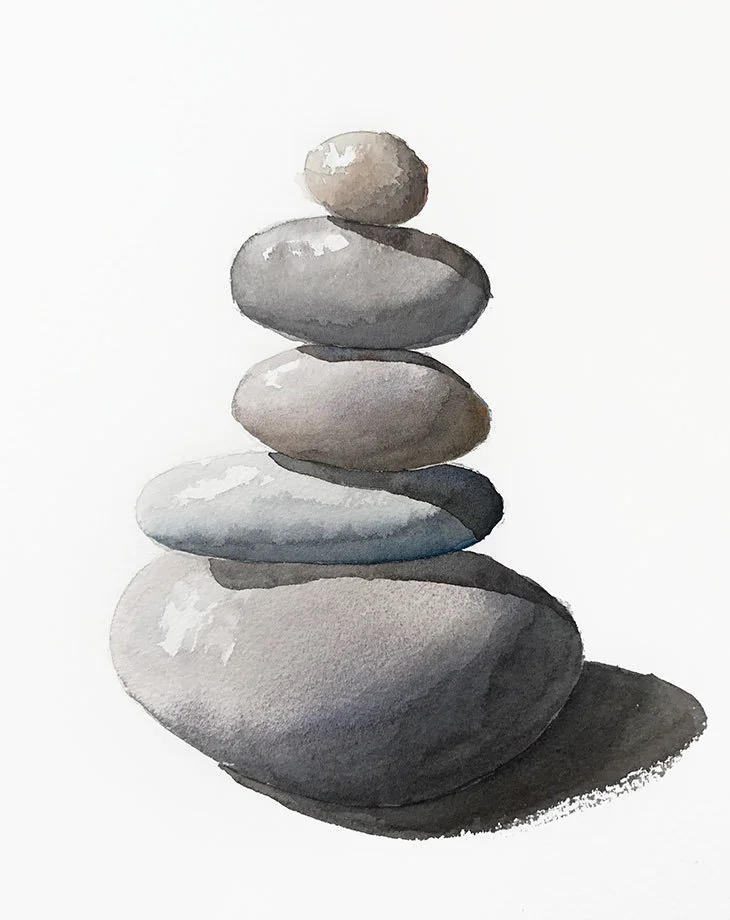 Try creating balancing stones to tune in to your inner Zen. Begin by outlining, then use gray, white, and shades of black to add delicate details. Don't forget to add the shadow! You can use this reference image for tips. 
Sea Of Poppies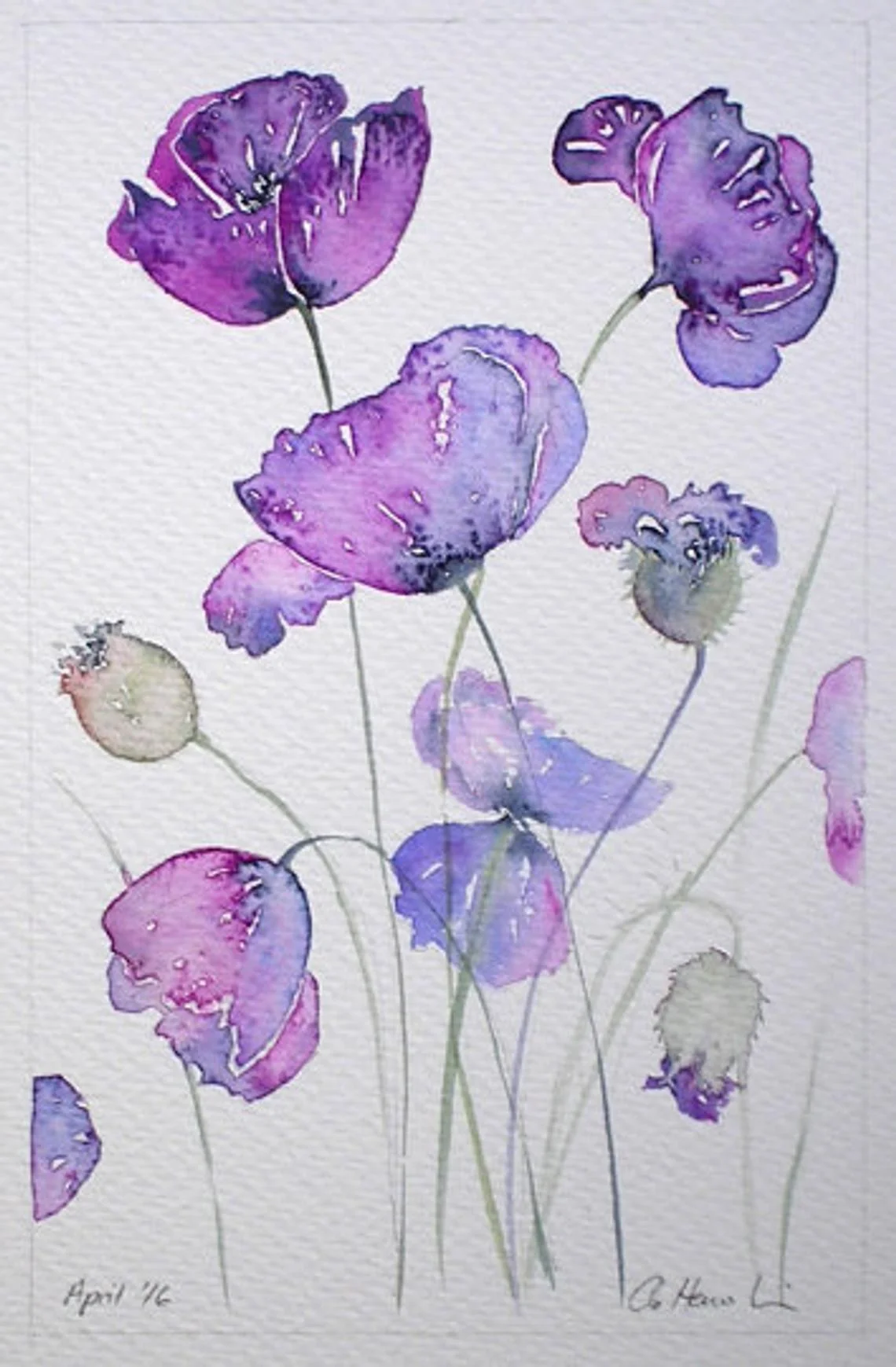 Create a splotchy watercolor background by dropping paint water on your wet canvas or watercolor paper. Once dry, add beautiful purple poppies using rounded strokes and a long stem. 
Mountain Scenery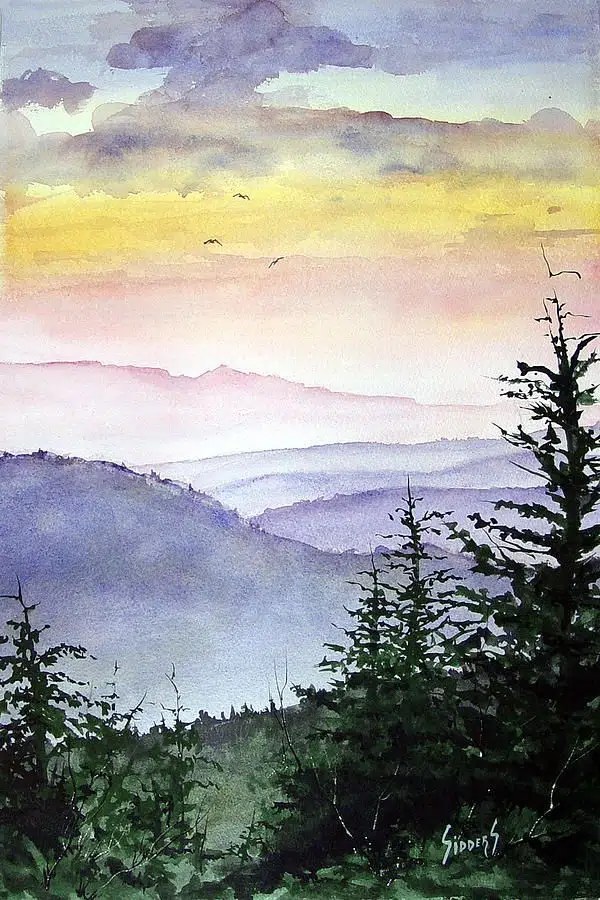 Painting mountains with watercolors is easier than it looks. Use a simple layering technique with light shades to create the mountain background. Check if it is completely dry, then add dark-colored trees.
Abstract Art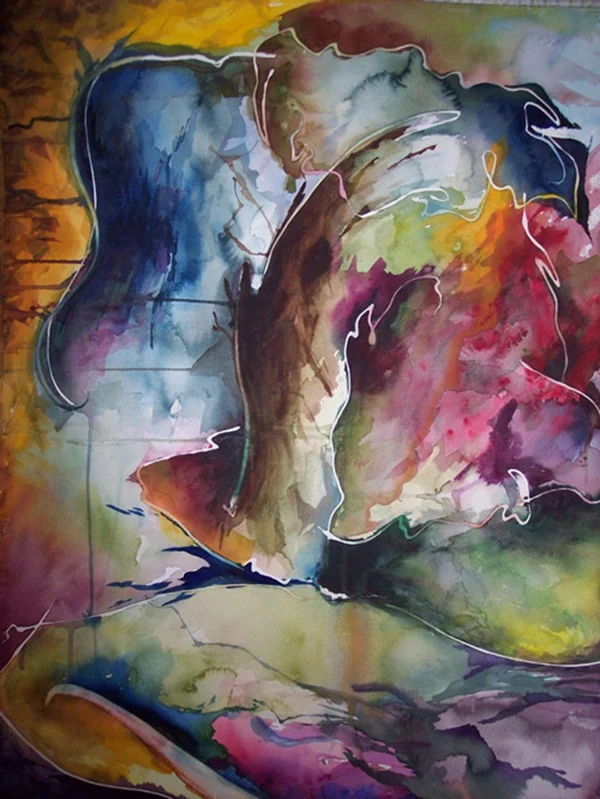 Let your imagination run wild! Create abstract designs and shapes using whichever color you wish to express your emotions for the day. Abstract art is one of the most fulfilling ways of letting your paints do the talking for you. 
Dusk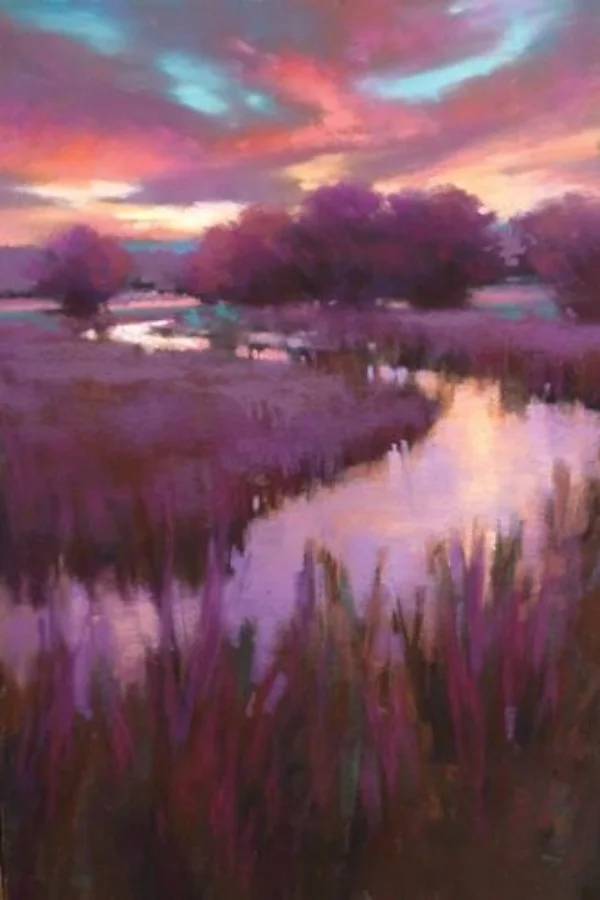 Painting dusk sceneries can be challenging, but there are always online tutorials to help. Opt for darker pastels and create a scenery at dusk for this one. Start with lighter shades and build up to darker ones.
Bird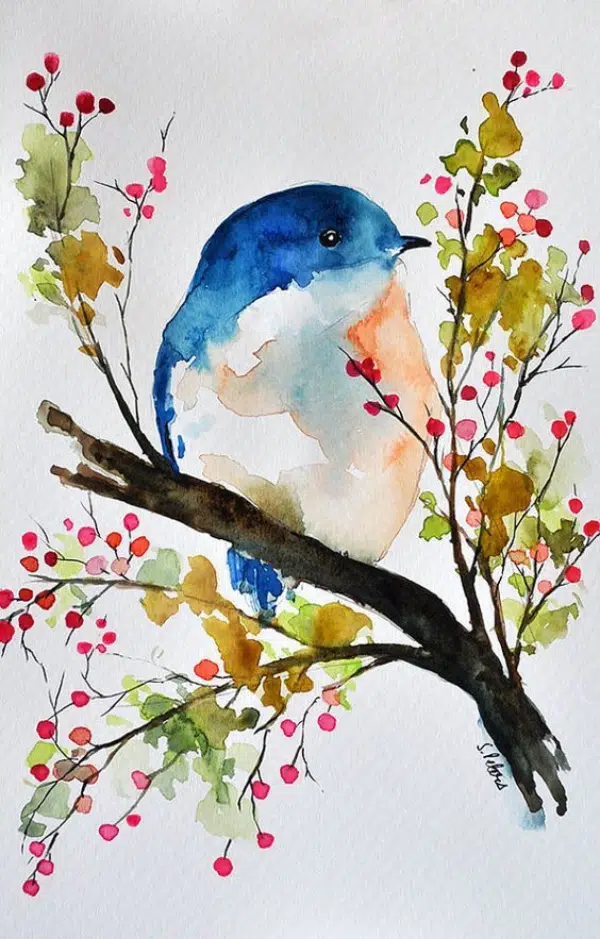 Draw an outline of a bird and fill it in with bright watercolors. Add some branches and fruits to complete your painting. Don't forget to include a small beak and a white gleam in its eye for the reflection of light. 
Farmhouse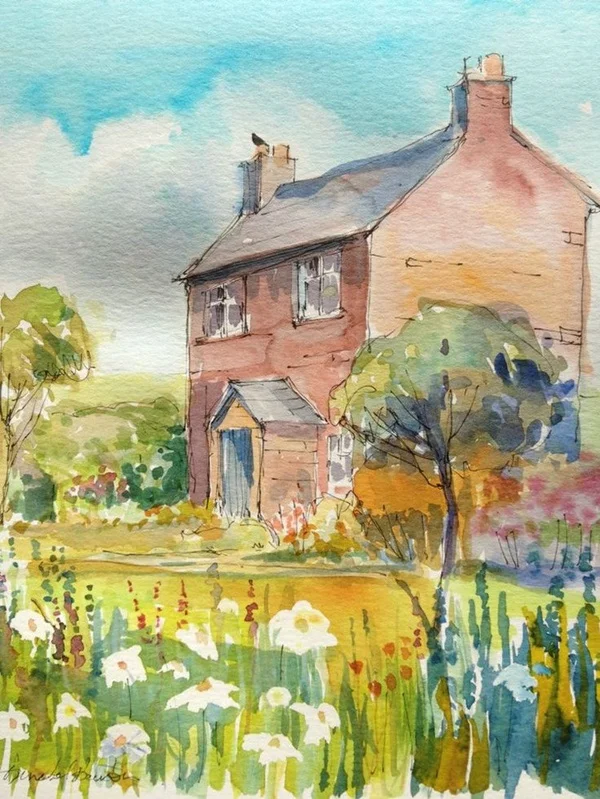 Paint this beautiful farmhouse, complete with trees, flowers and the sky. This can take a couple of days to complete, but once it's done, you can sell it. Trust us, it's so thrilling to see once it's complete. 
Half Sunflower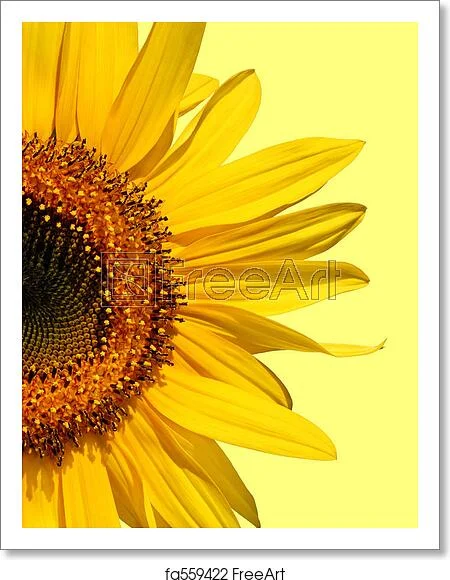 Not confident enough to paint a full sunflower? Try painting half! Opt for bright yellow and orange shades and use black for detailing. Tune in to your inner Van Gogh with this one. 
Lighthouse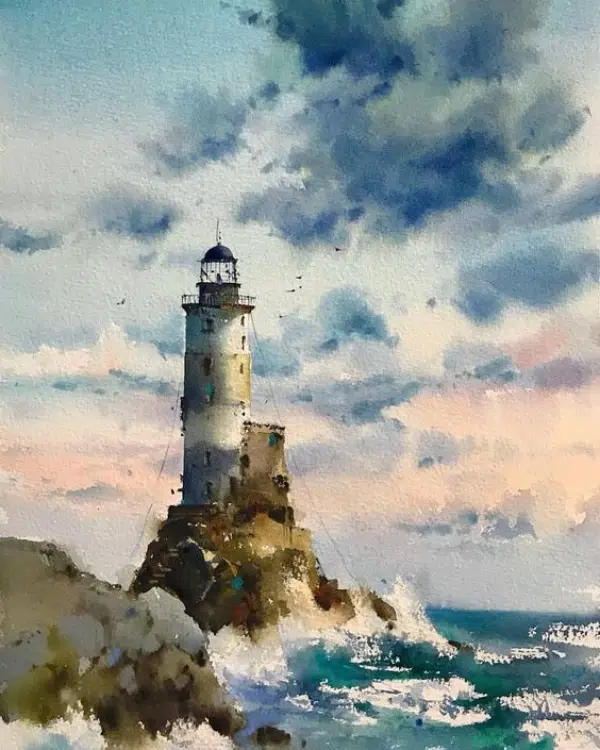 While this watercolor painting does require some skill and patience, the end result is stunning. Use a template to create the structure if you need help. Remember to add a background to complete it.
Abstract Trees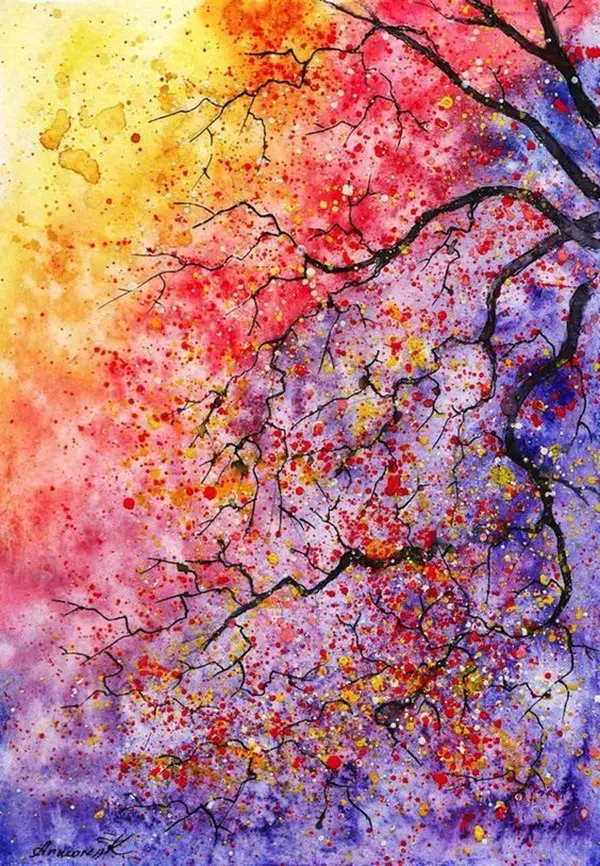 The background for this painting idea is astounding – create a colorful transition using different shades. Add the silhouette of a tree and branches, and finish off by dropping splotches of colored paint. 
Cup Of Tea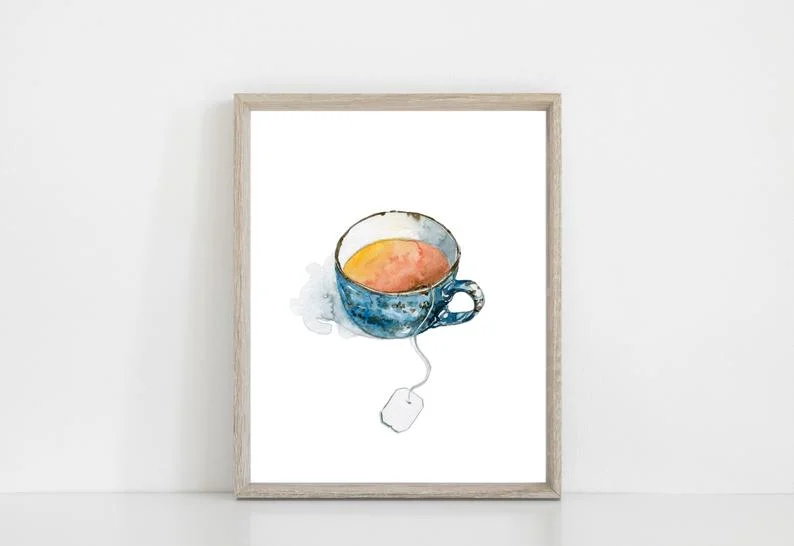 Fancy a cup of tea? Why not paint it using brown and red watercolor shades? Add the teabag in for a unique effect. Creating shadows will give the painting a realistic appeal.
Fall tree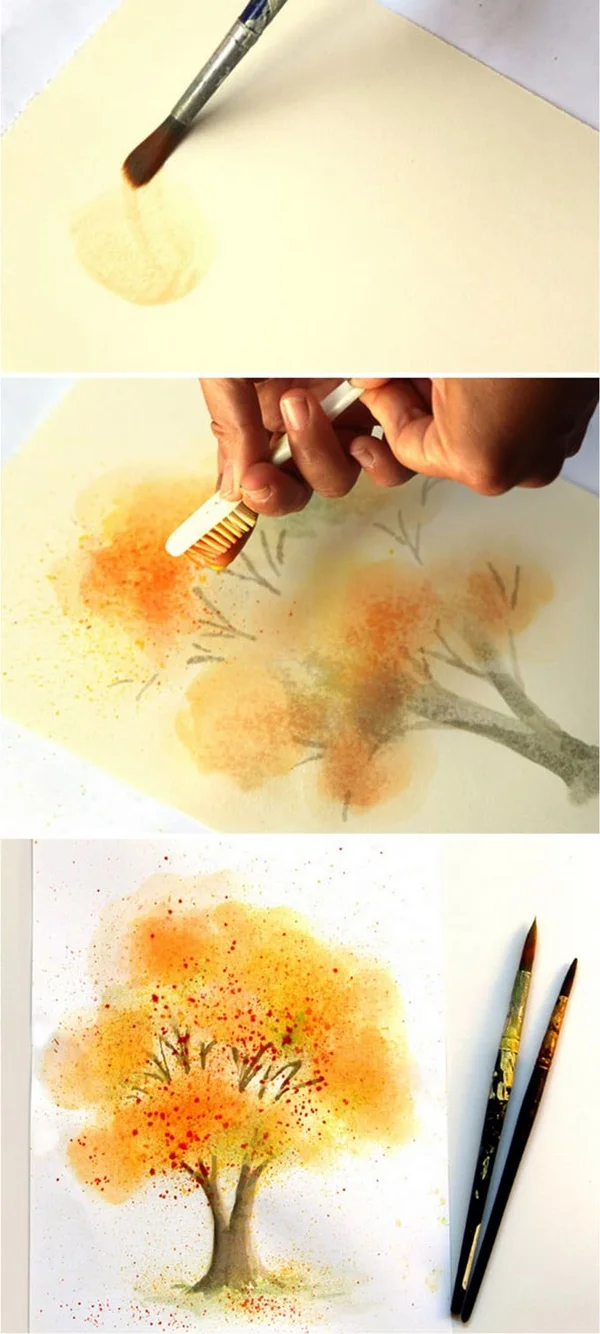 Fall trees remind you of the warm sun, pumpkin patches and shades of orange. Use a wet toothbrush dipped in paint to create the effect of flowers. Try a wet on wet technique with watercolors for the orange leaves. 
Flamingo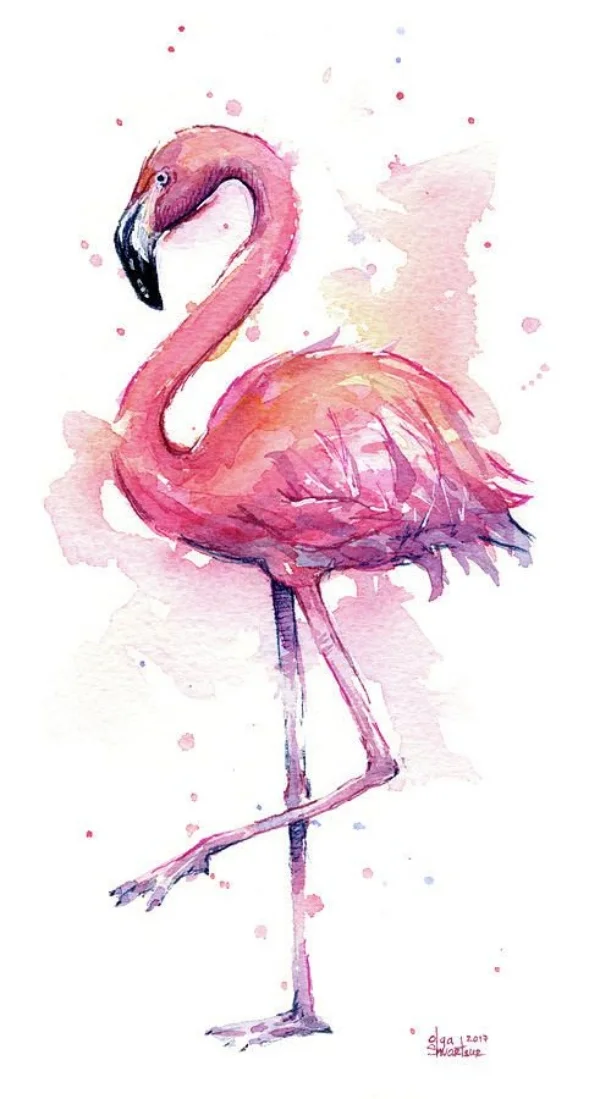 A favorite subject amongst most painters – the majestic flamingo! Draw the outline first, filling it in slowly with shades of pink, red and white. Add a splash watercolor effect at the back for a mesmerizing end result. 
Rainbow Trees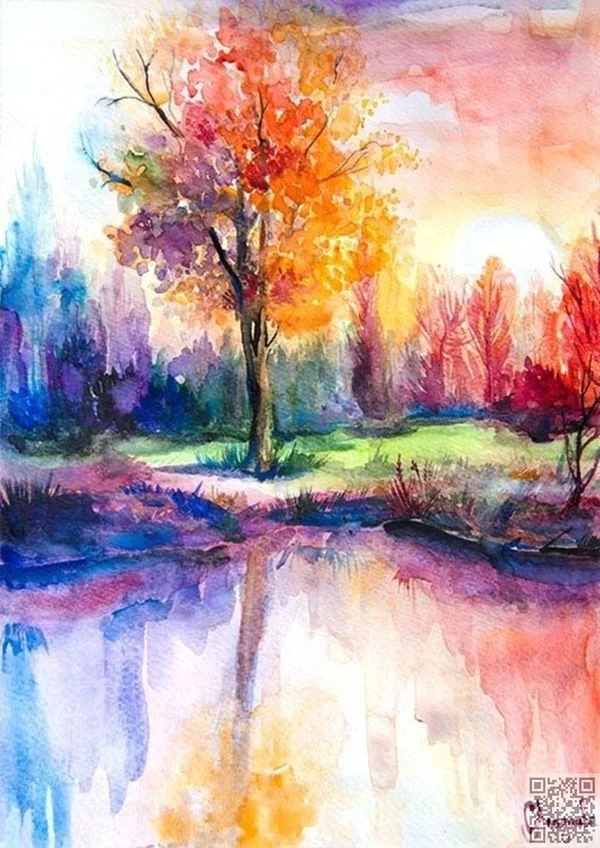 Ditch the monotone trees and try creating rainbow colored ones instead! Use all the colors on your watercolor palette and add black for detailing work. Let your creativity run wild with this one. 
Bright Flowers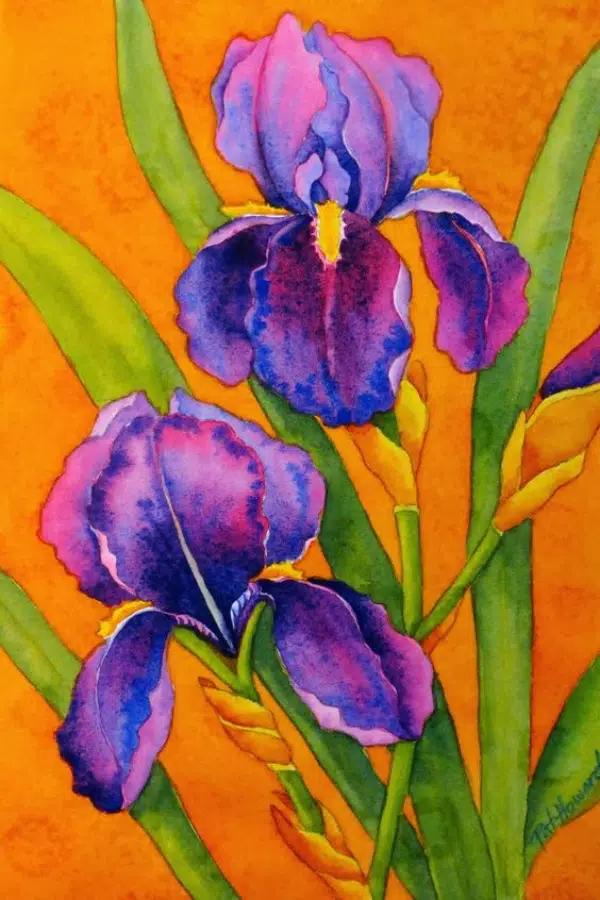 Paint brightly colored flowers using a wet-on-wet technique for this watercolor painting idea. Remember to add a bright, contrasting background for a special effect. Use different size brushes for the flowers.
Pastel Roses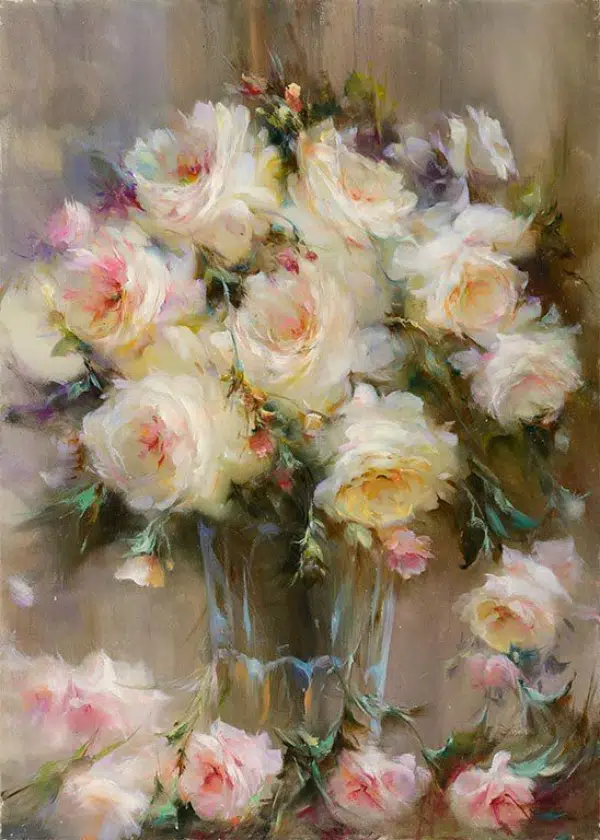 Using a dry-on-dry technique for this watercolor painting, paint with undiluted soft shades to create roses. Add a vase and some dark green ferns to complete it. Once done, you can use this as a postcard for loved ones. 
Lavender Trees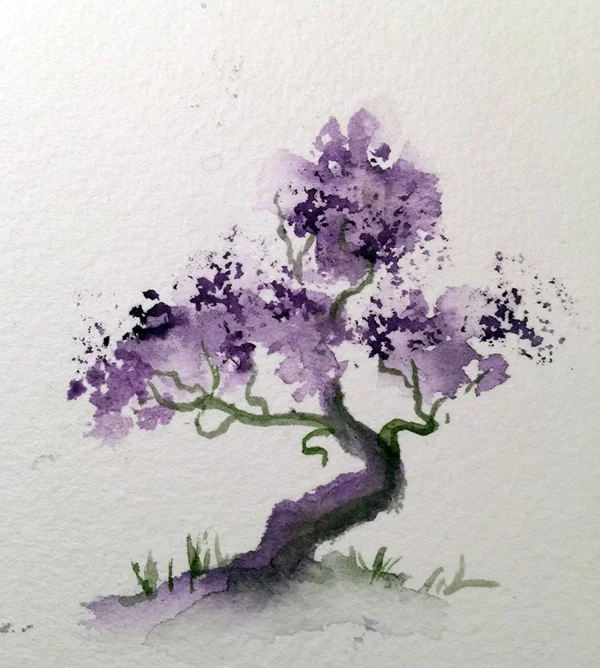 Start by creating the curved tree trunk and branches. Add the lavender leaves and flowers using both wet-on-wet and wet-on-dry techniques for added details. Create a bright purple shade by adding some pink to your lavender paint.
Seahorse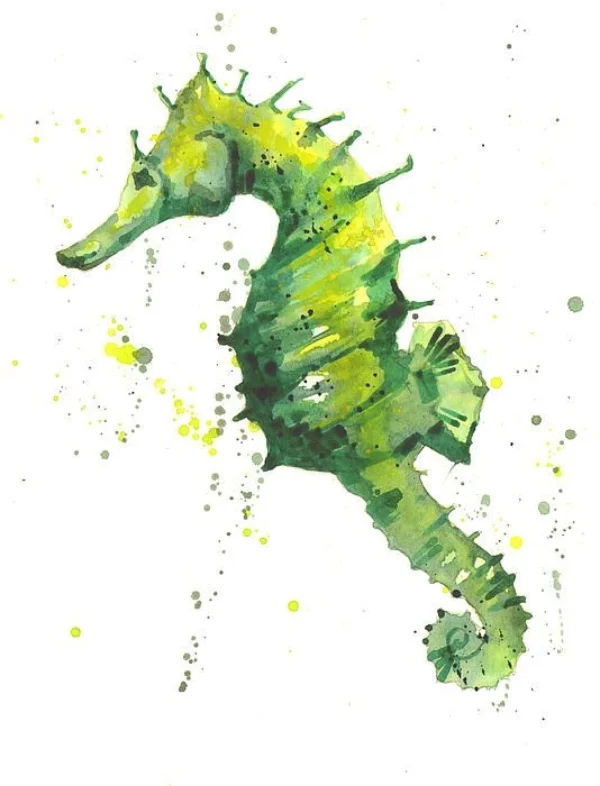 Create an emerald seahorse with this watercolor painting inspiration. Use the wet toothbrush technique to add colored bubbles in the background, giving it an underwater effect. Cover the seahorse with a piece of paper if you don't want to add the colored splotches on it.
Misty Waters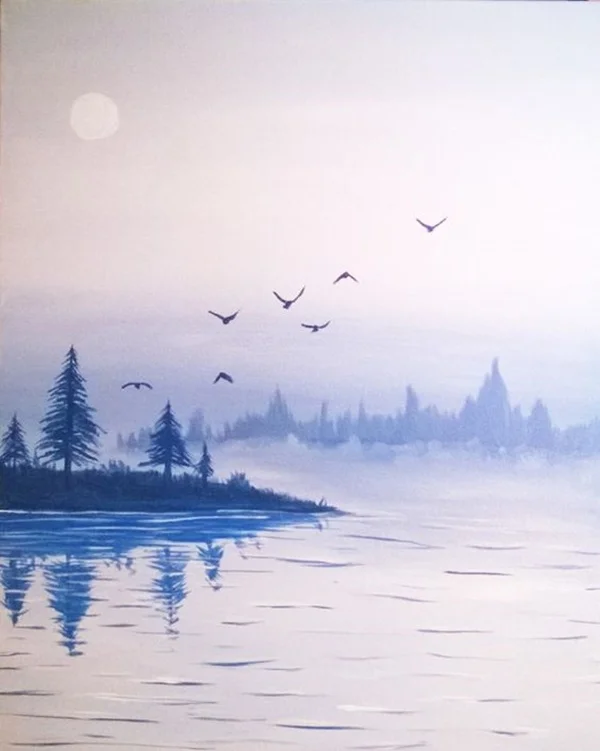 A soft but mesmerizing watercolor landscape. Use lighter blue shades to create the misty waters, keeping lots of white space for effect. The negative space will enhance the appeal of this watercolor painting.
Hibiscus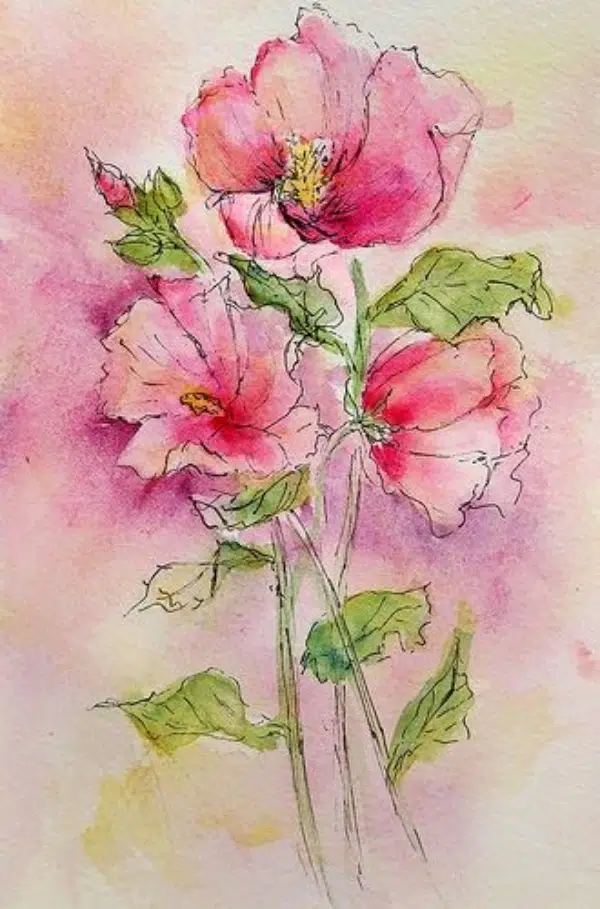 Created using a 'wash technique' with watercolors, this hibiscus is an excellent way to practice your watercolor techniques. Use shades of red and white to create it. Add green stems and black detailing work. 
Sunset Cacti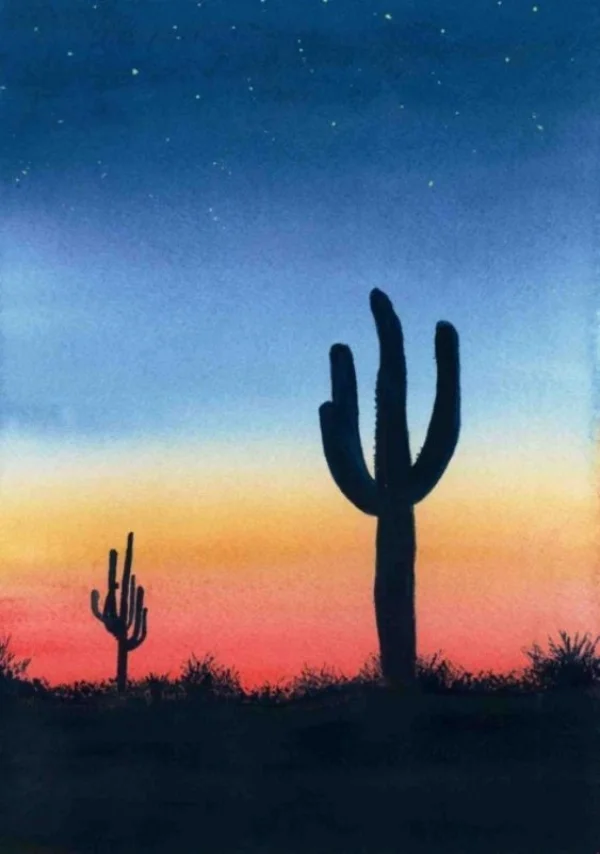 Using beautiful shades of navy, orange and yellow, create a gradient background for this watercolor painting. Then, use black paint to make the cacti silhouette, and add some details for bushes. 
Simple Flower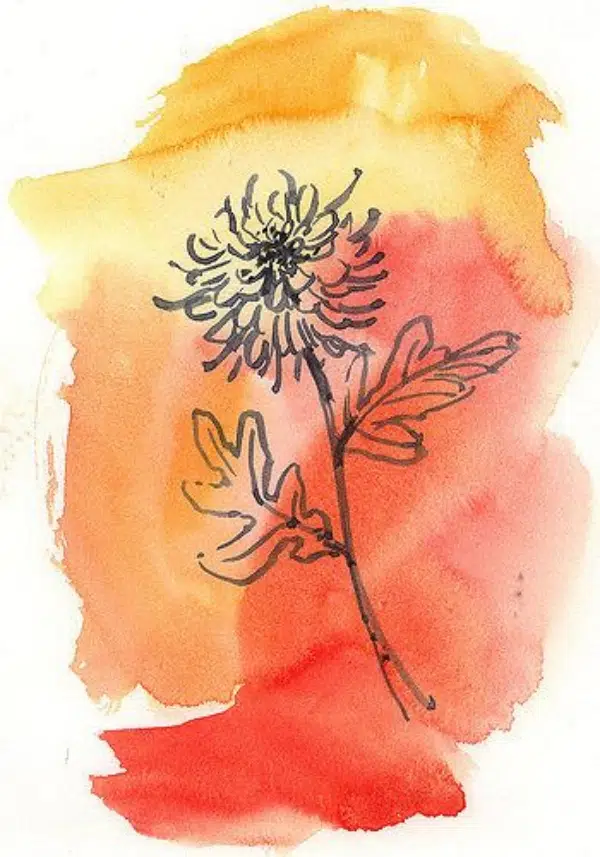 An extremely simple watercolor technique to practice for beginners. Use a wet on wet technique to make a watery background effect, picking any colors you wish. Once it is dry, add a minimalistic flower, and you're done!
Roses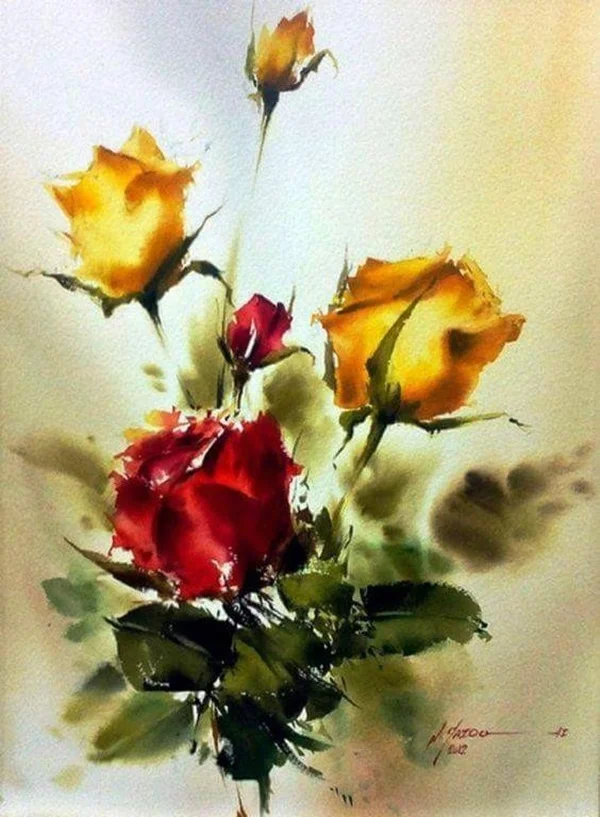 Roses are some of the most beautiful concepts to paint using watercolor. Since they're found in a variety of colors, experiment with your watercolor palette and use wet on wet techniques to create a bunch of colorful roses. 
Splatter Painting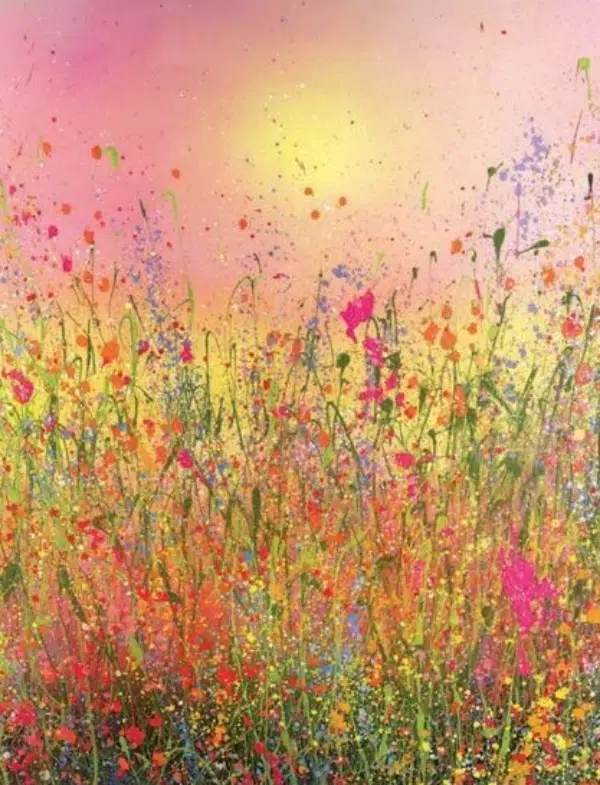 Splatter paintings are not only easy but also fun to create. Dip a paint brush or toothbrush into different watercolor paints and spray them on your canvas. Create shapes and designs as creatively as you can. 
Flying Egret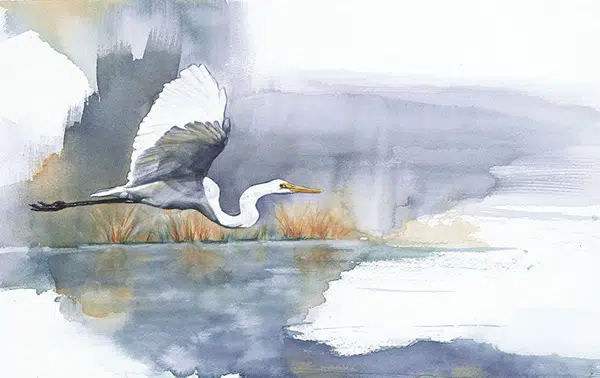 This beautiful, white bird with an orange beak is challenging yet impressive. Try your hand at painting this in watercolor using soft white and grey shades and blue for the background. Of course, feel free to use a template or reference to create the bird.
Layered Leaves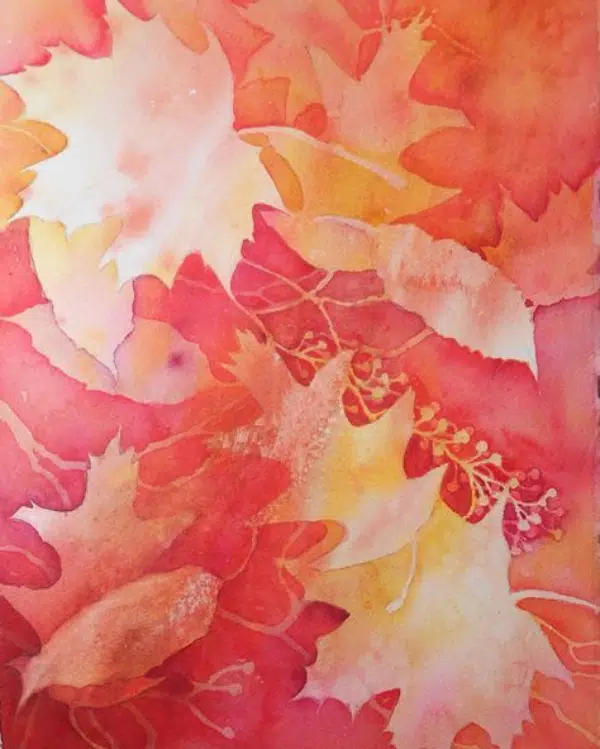 Layering watercolors can create stunning textures that look like they've been made by expert painters! Try it yourself by layering different watercolors over one another. Remember to let one layer dry before painting on the next. 
Lone Boat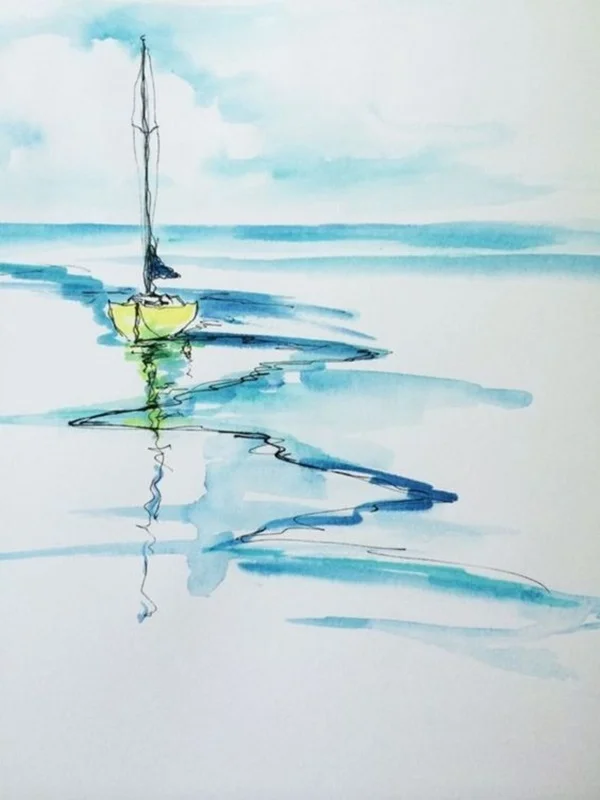 Paint a solitary but determined little boat using simple watercolor painting techniques. Try the wet on wet technique for creating water ripples and the dry on dry technique for the boat. Remember to use line work for detailing. 
Sponge Clouds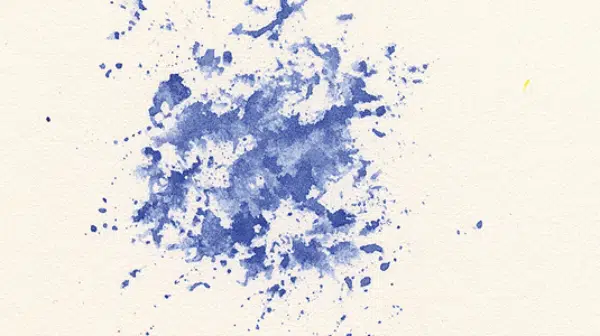 Love the look of fluffy clouds? Why not try painting them using a sponge? Dip a dry sponge into watercolors and blot it on a watercolor paper to create dreamy clouds. Choose any watercolor shade you like for this one. 
Red Radish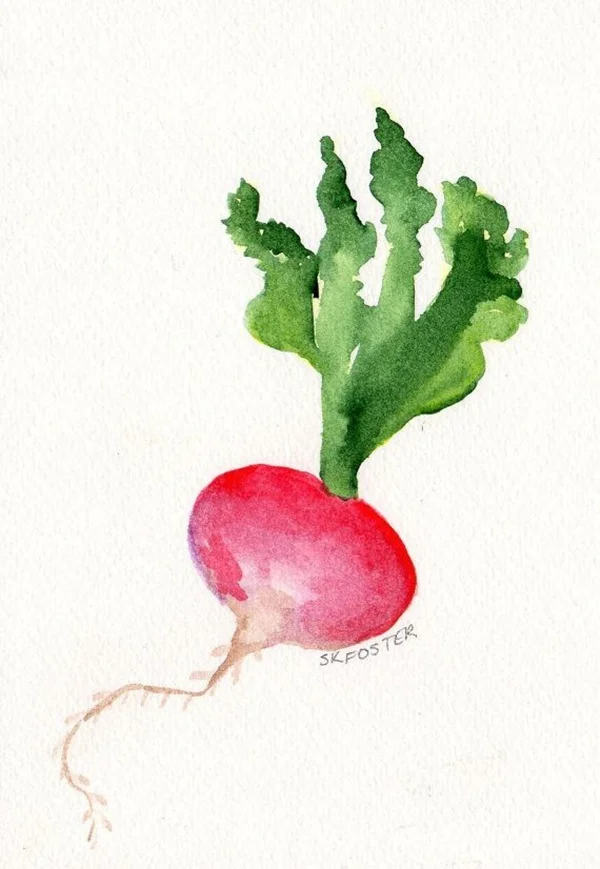 Painting vegetables can be fun. Paint this red radish using red and pink and a thin brush to create the roots in beige. Add the green leaves on its crown to finish. You can use a real vegetable in front of you to make this into a still life painting.
Night Sky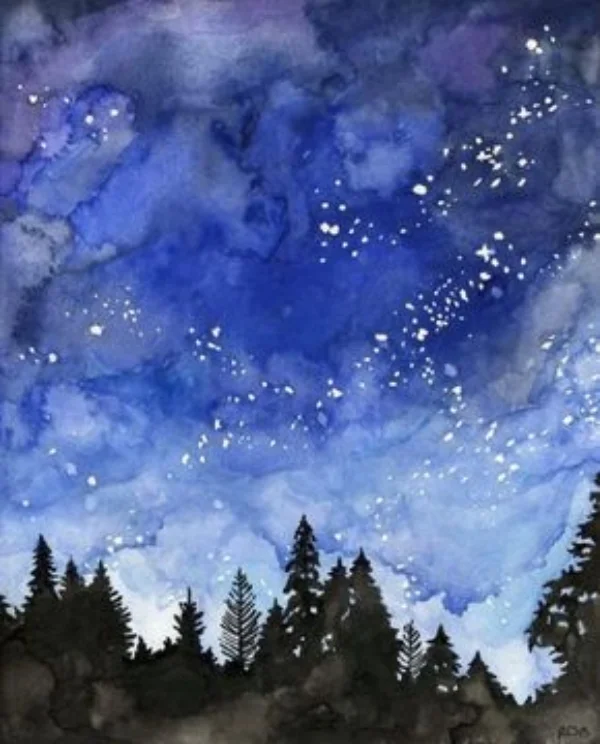 Create a night sky watercolor painting using shades of blue and black. Add white stars and black trees to make the painting pop. Try different effects to create the background. 
Bicycle Basket With Flowers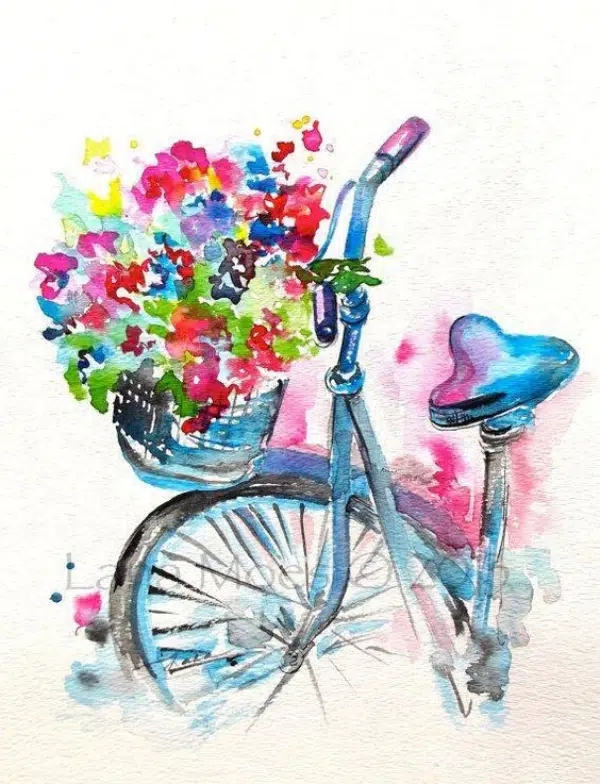 This watercolor painting looks extremely attractive because of its use of bright colors. Paint the bicycle in whichever color you wish and add colorful flowers to complete. You don't need to paint the entire cycle if you don't wish to.
Lavender Fields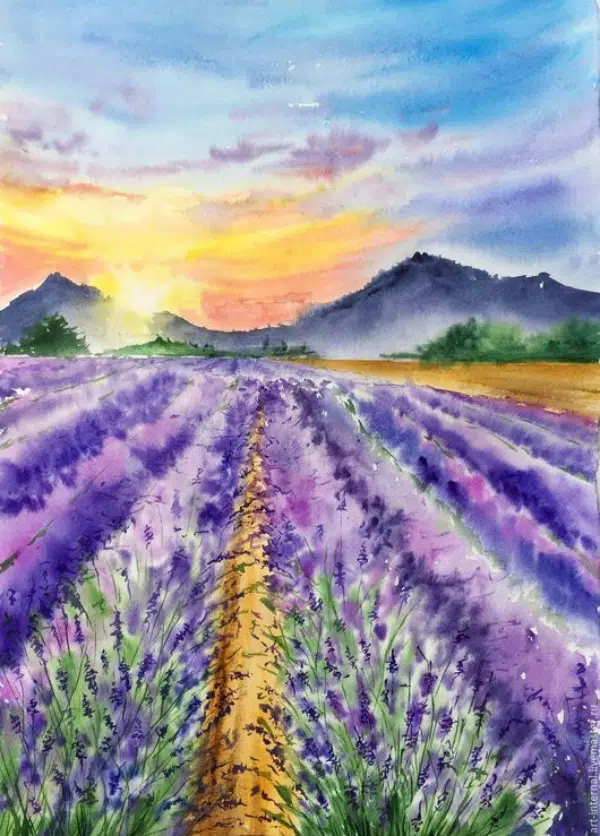 Lavender fields look striking, especially against a sunny background. Pick a vivid purple color for the fields and add a bright sun for this one. Add a splash effect to make it pop. 
Rainbow Giraffe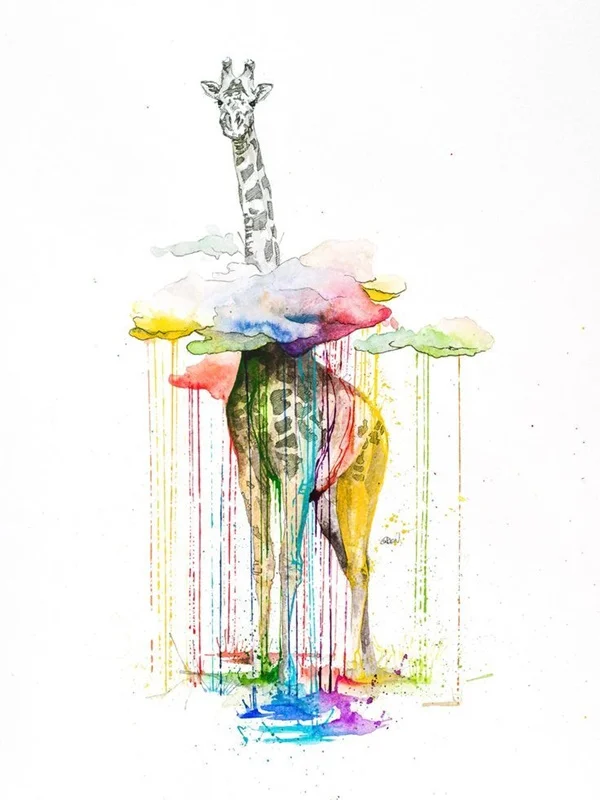 A colorful, rainbow idea to jazz up a monotone giraffe painting. Add clouds and pouring, colorful rain for effects. Take the help of a reference image to draw the giraffe. 
Dreamcatcher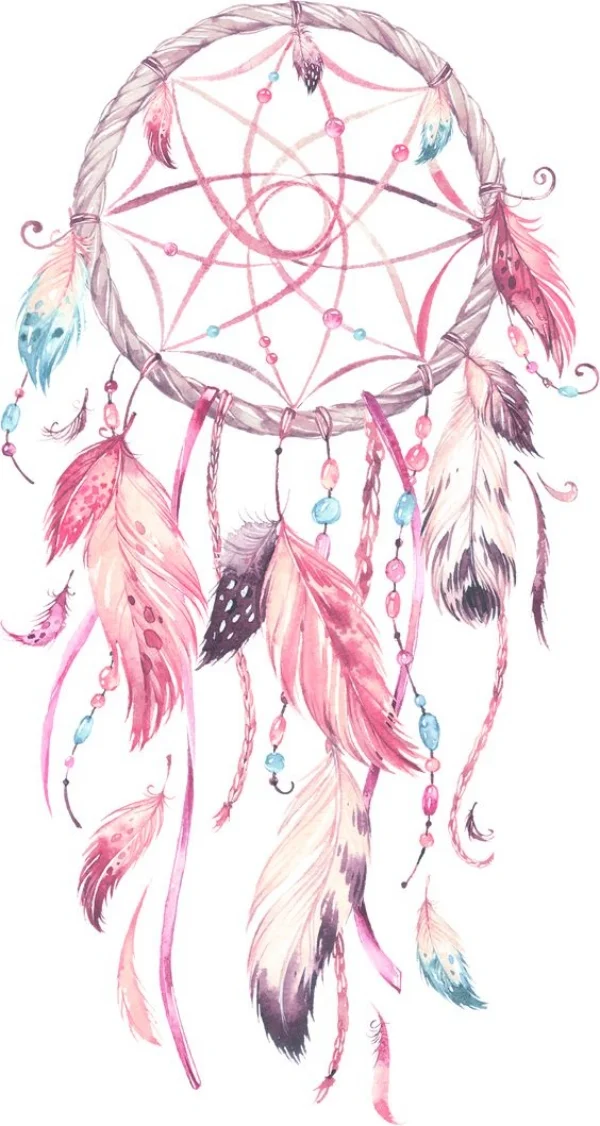 Dreamcatchers are meant to catch your deepest, innermost dreams and desires. Make your dreamcatcher come to life by painting it with vibrant watercolors. 
Dandelions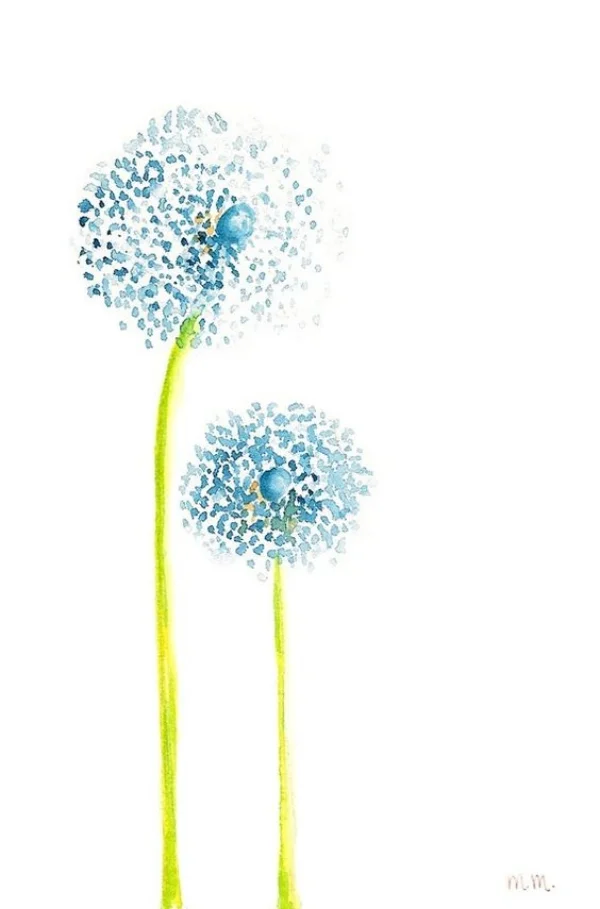 Another popular idea for watercolor painters – the dandelion. Paint a couple using unique colors like blue, green or your favorite watercolor shades. Add any background effects you wish to experiment with. 
Happy Orangutan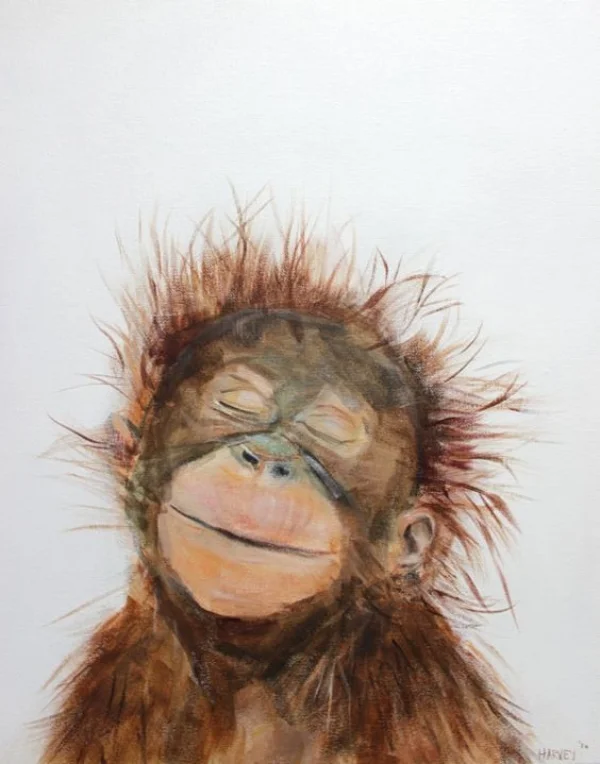 Paint a happy baby orangutan using shades of brown, orange and white. Don't forget to add a big, dreamy smile! 
Solitary Dandelion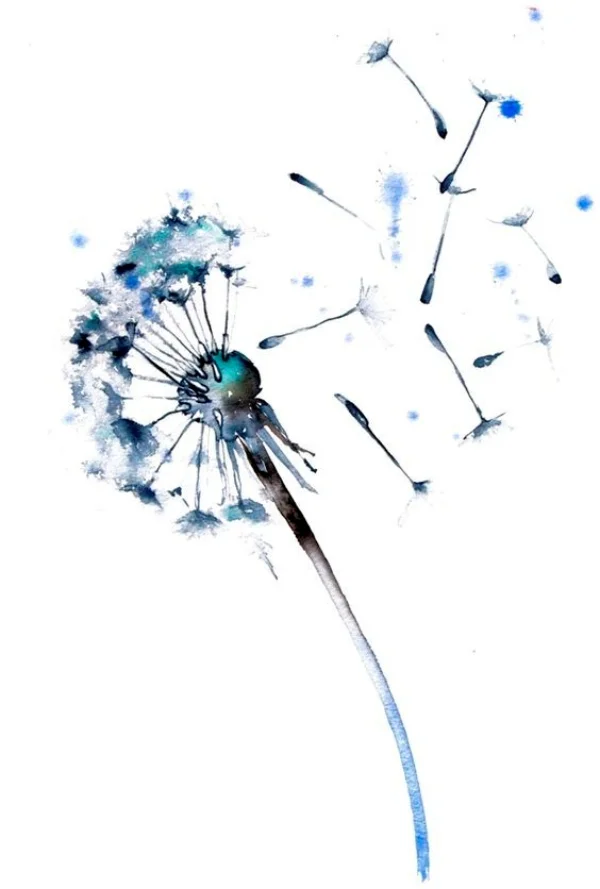 How about painting a solitary dandelion for a change? You can see a blue one in this image, but feel free to add any other color for your artwork. 
Fuschia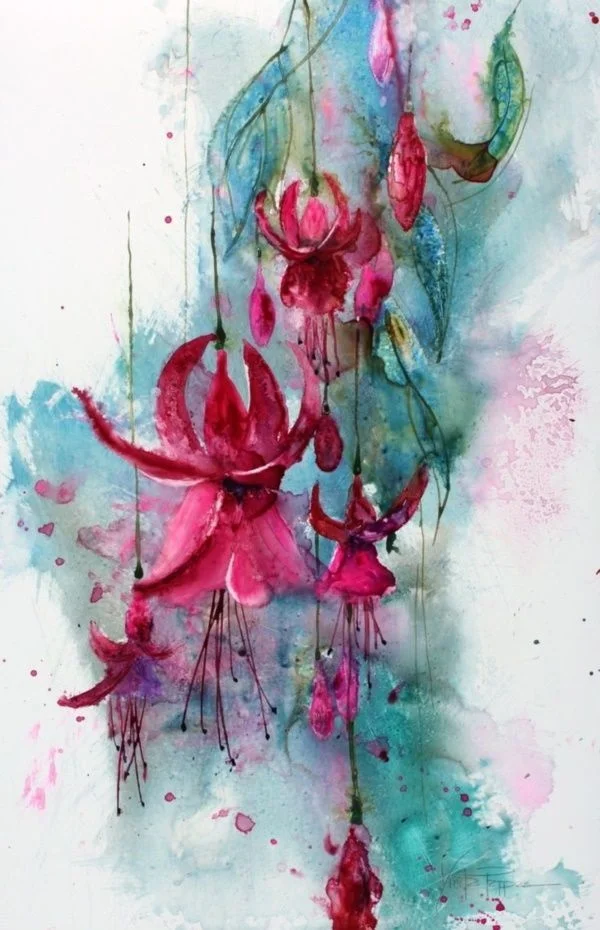 Attempt these magnificent fuschia flowers using a mixture of colors to create the exact shade. Opt for a splash effect for the background. 
Geometric Flower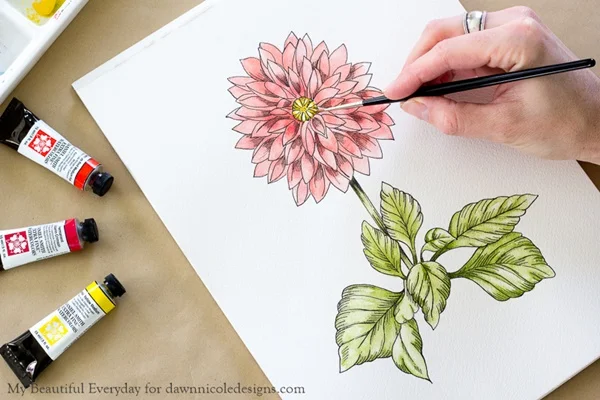 The beauty in this watercolor painting lies in its tasteful shading. Try layering techniques to create this shaded effect for your flower. 
Crossing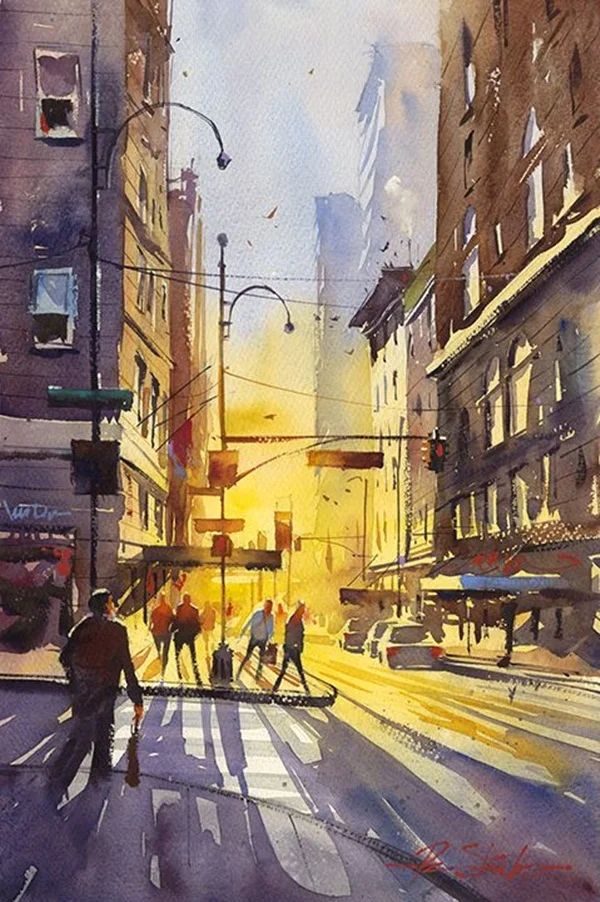 Paint a busy street with a zebra crossing using advanced watercolor techniques. Take a photograph for reference to get the shading right. 
Doors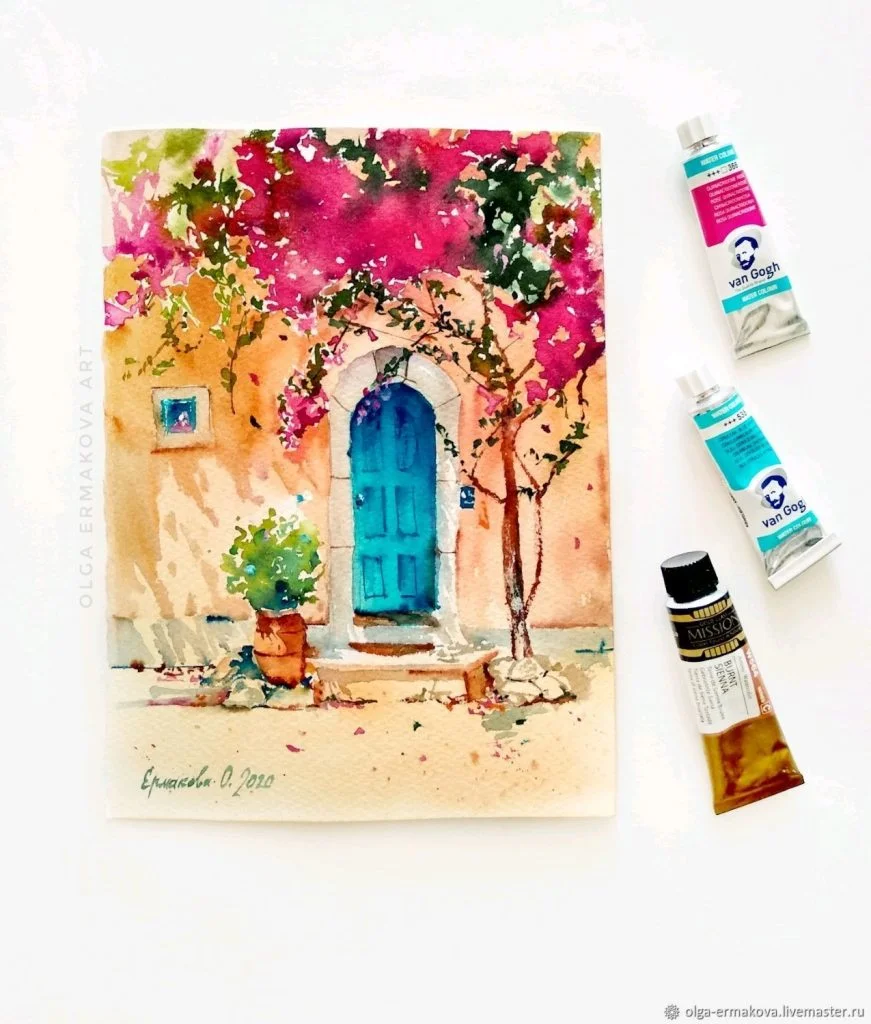 Remaking door paintings have been popular for generations. Create your own using watercolors and add bright flowers for effect. 
Flowers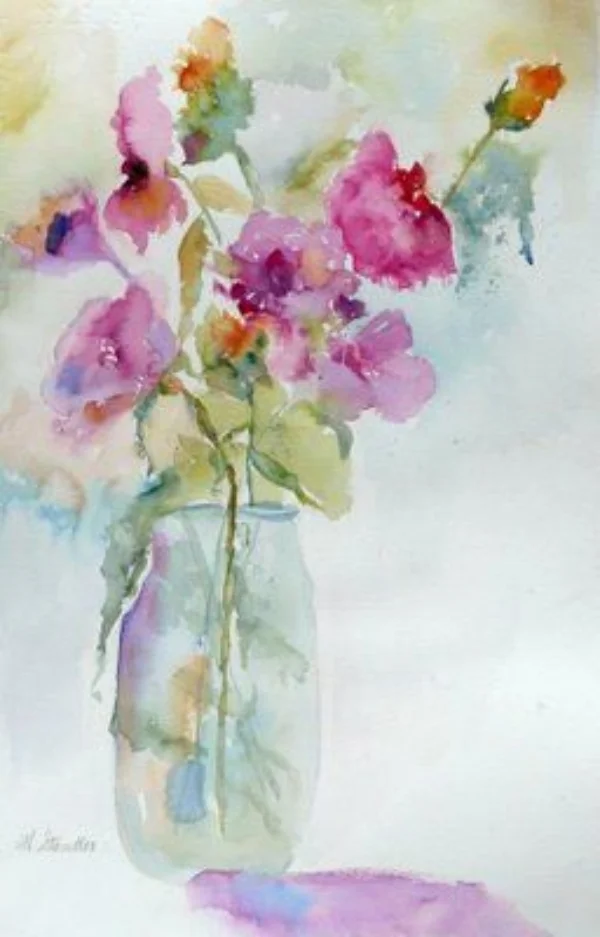 Yet another idea for watercolor flowers – try painting them in a clear glass pitcher. Add some shaded shadows below for effect. 
Bird Study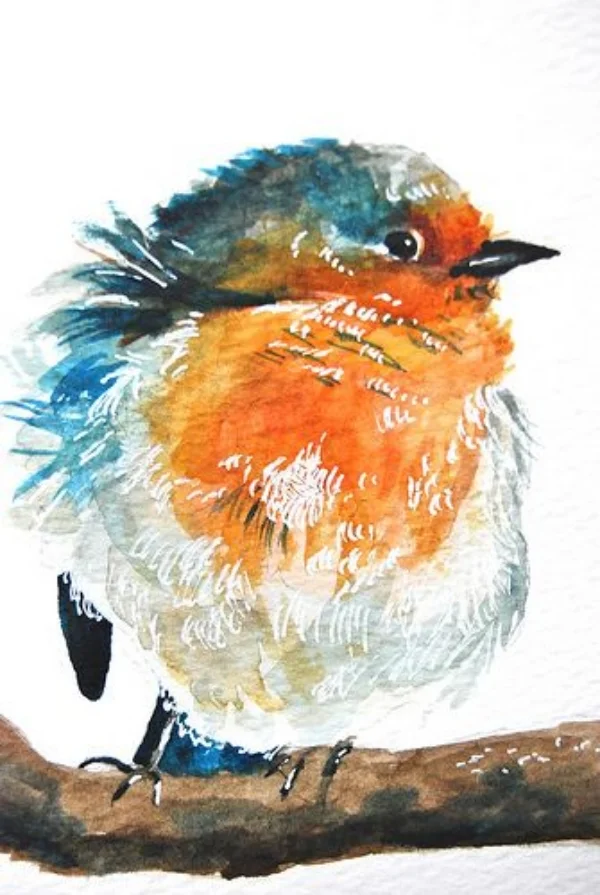 This cute, fluffy bird is worth spending a few days painting. Add a spot of white to its beady black eyes to make the pop. 
Church Door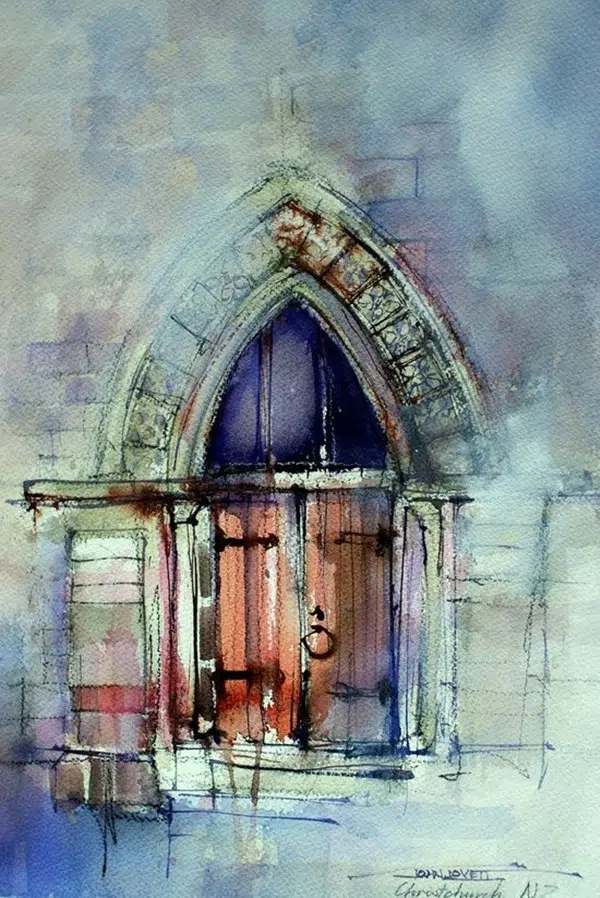 Instead of traditional doors, how about painting a watercolor church door this time? Add black details with a pen. 
Trees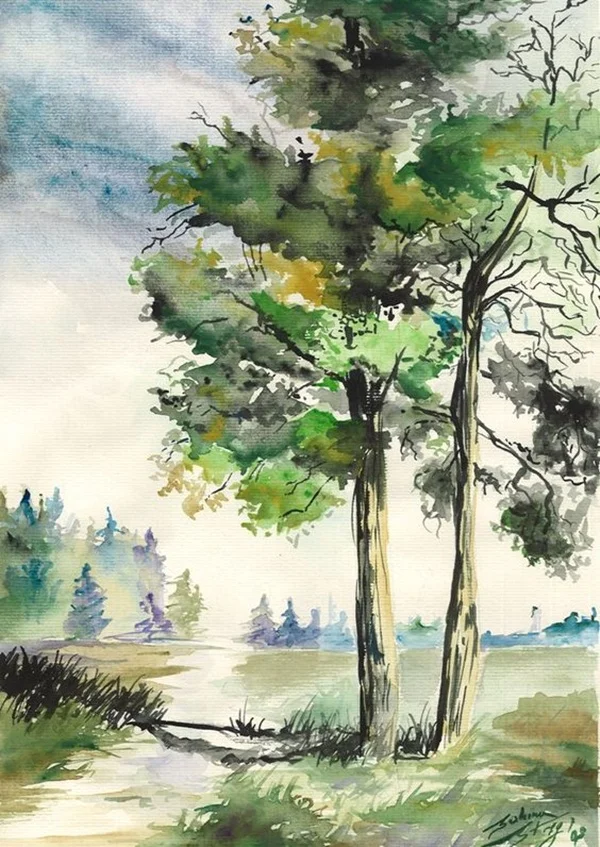 Try painting semi-realistic trees using shades of green, yellow, brown, blue and hints of purple. It takes time, but the end effect is stunning. 
Sparrow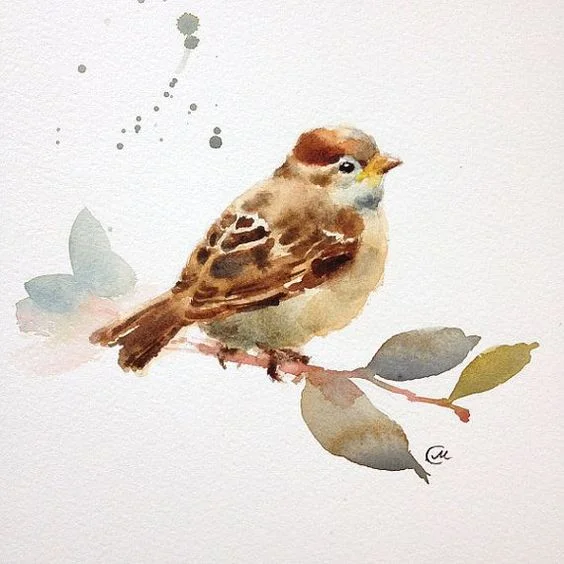 This watercolor painting features a tiny sparrow on cherry blossom branches. Use your imagination to create a colorful background. 
Colorful Dreamcatcher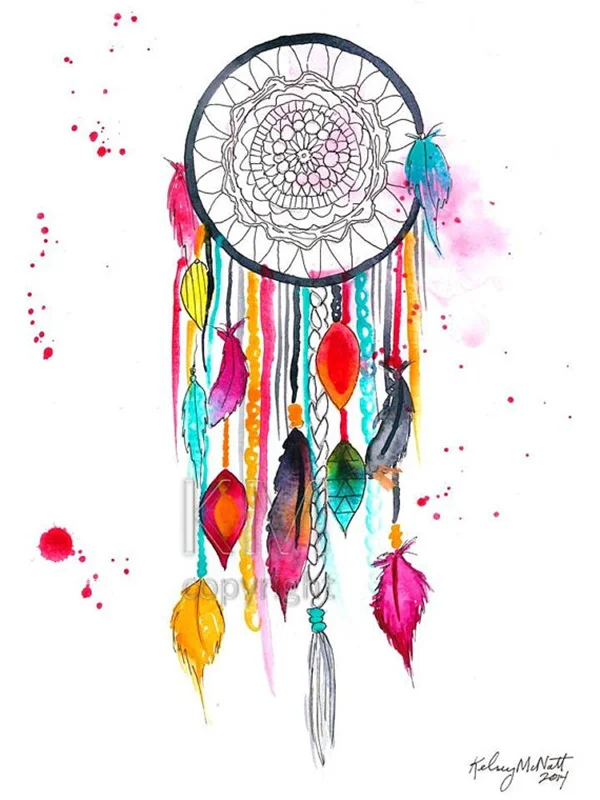 Similar to the previous dreamcatcher on our list, this one has a cleaner backdrop but more vivid feathers. 
Skull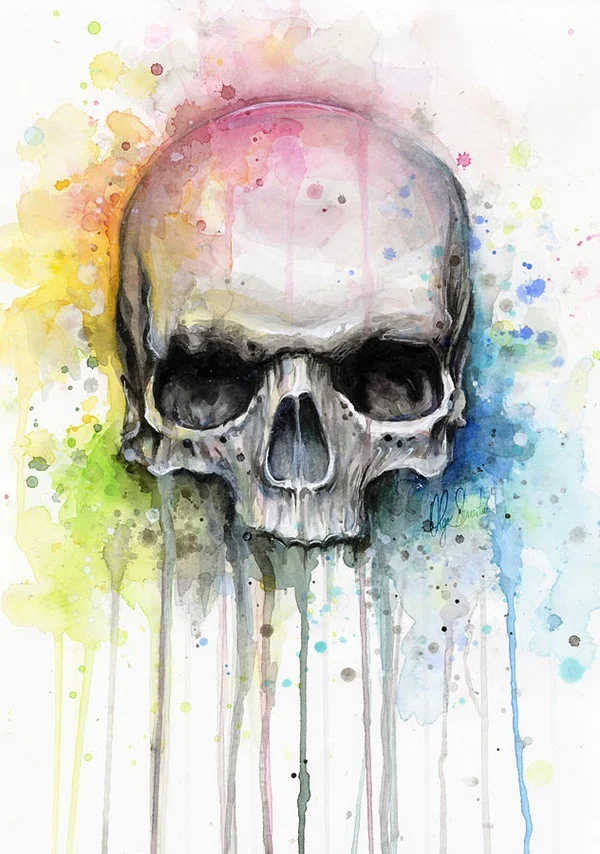 Begin by drawing a rough skull, then fill it up with black, grey and white watercolors. Add a drip effect with rainbow colors for the background. 
Lotus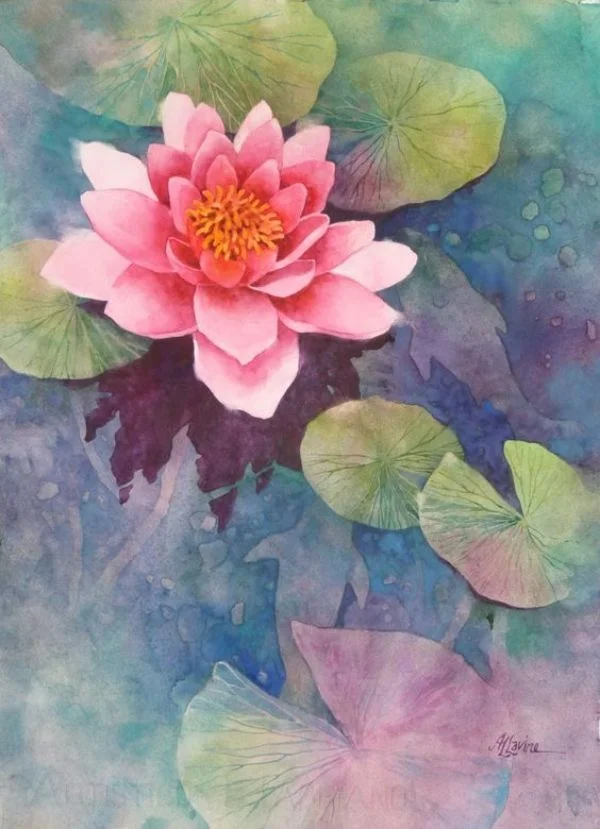 A lotus in its pond is fun to paint with its beautiful color options. Add some translucent fishes underwater for better effects. 
Autorickshaw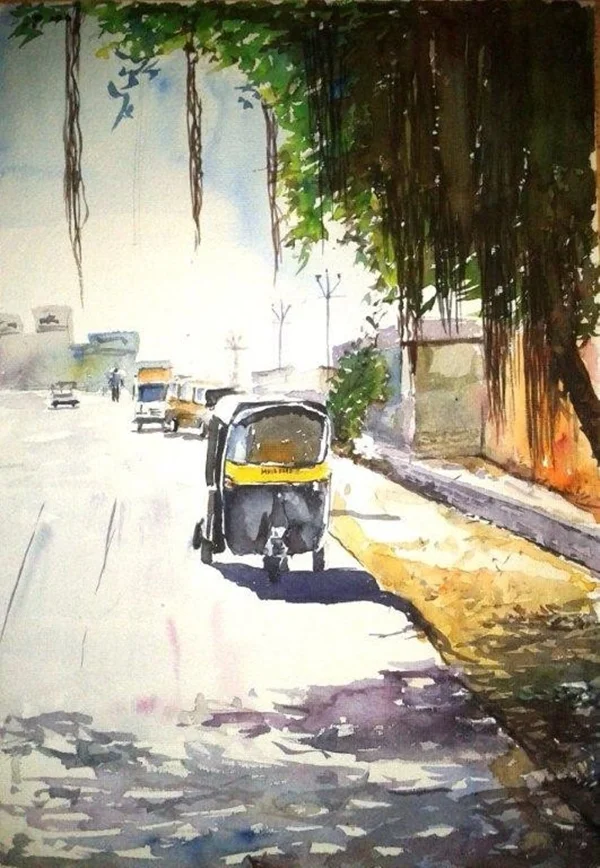 Found commonly on Southeast Asian roads, the autorickshaw can be an interesting subject to paint. Keep the background minimalistic for this one. 
Purple Flowers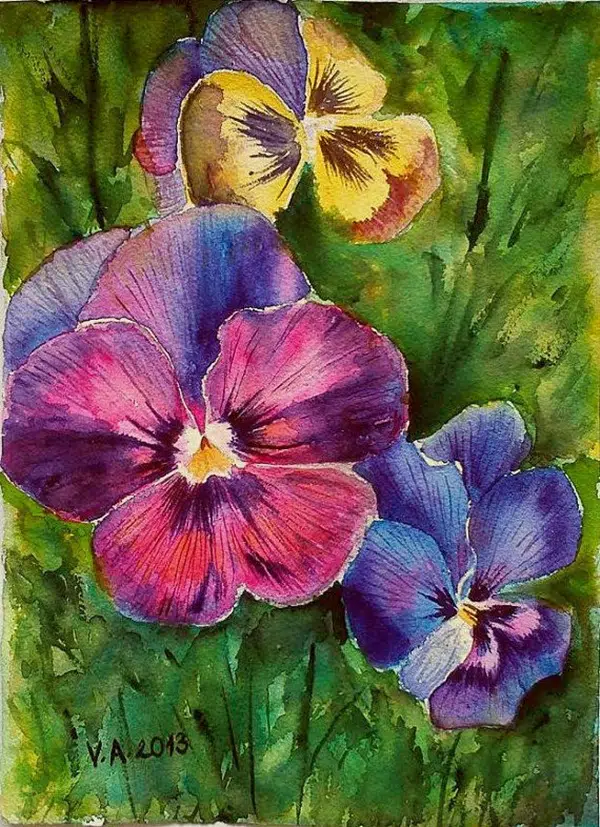 Purple and pink are lively colors to opt for. Paint watercolor flowers using various shades of these colors and add a green contrast. Use different techniques for this painting, mixing wet on wet and wet on dry methods. 
Simple Vase Flowers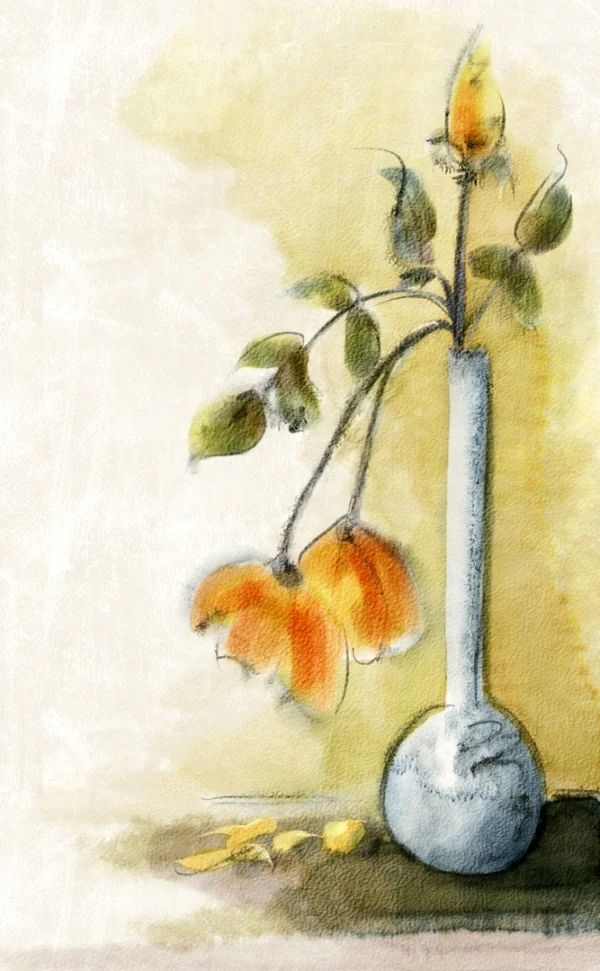 Sketch a long neck, thin vase with flowers, and use watercolors to paint them in your own creative style. Keep the background simple to make the flowers pop. Add a table or window in the background if you wish to. 
Pink Roses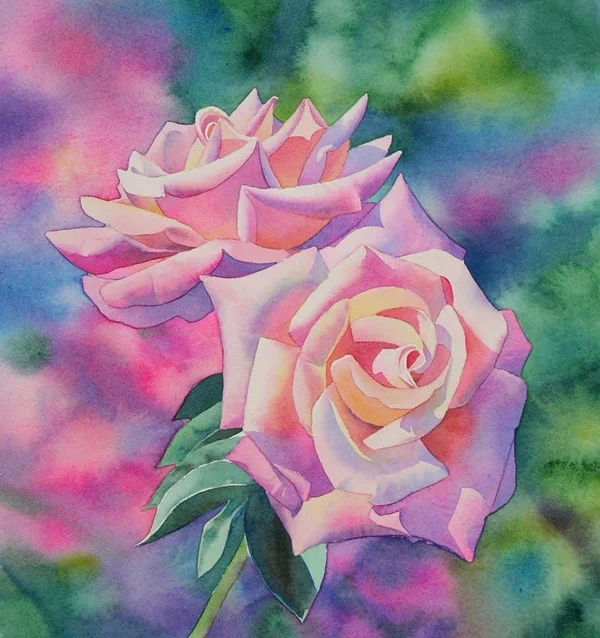 The best part about this pink rose painting is its colorful background. Let your creative juices flow with this one! Don't be fussy about the paint, instead, let it flow and create its own masterpiece. 
Simple Trees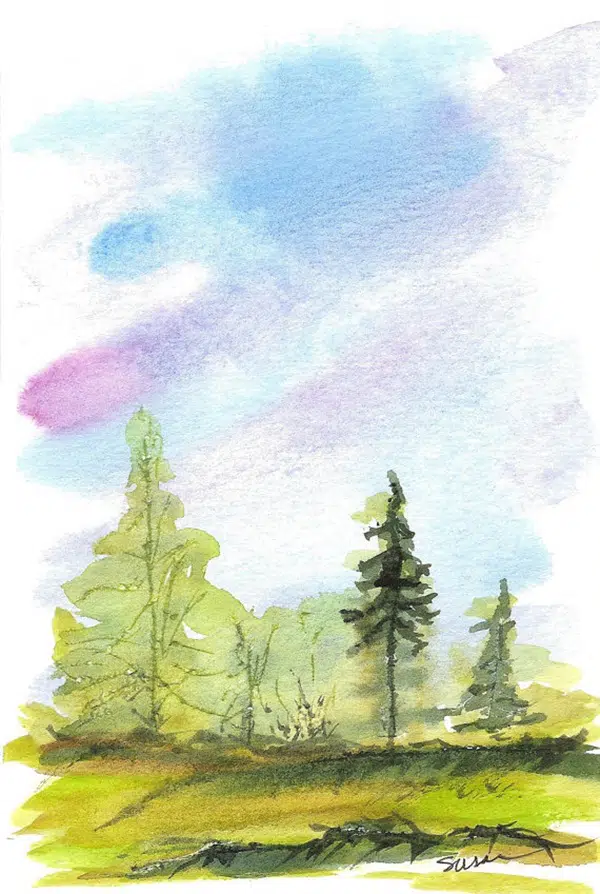 Paint simple trees by adding splotches of greens and yellow, and some black pen work for detailing. Don't forget a colorful background! 
Lord Krishna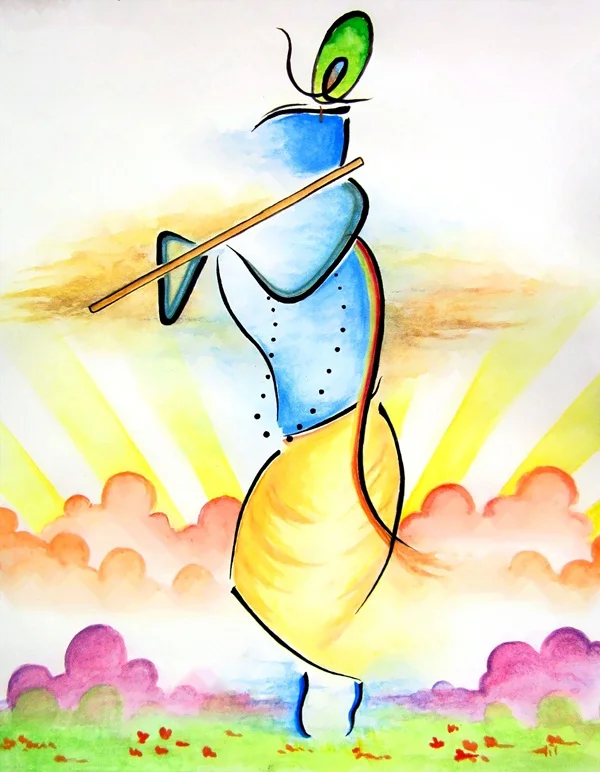 A classic Indian God, Krishna, painted in a minimalistic style. This idea is great for those who want to practice making watercolor figures. Use any reference image for this one, picking a bright, dark blue for the figure. 
Autumn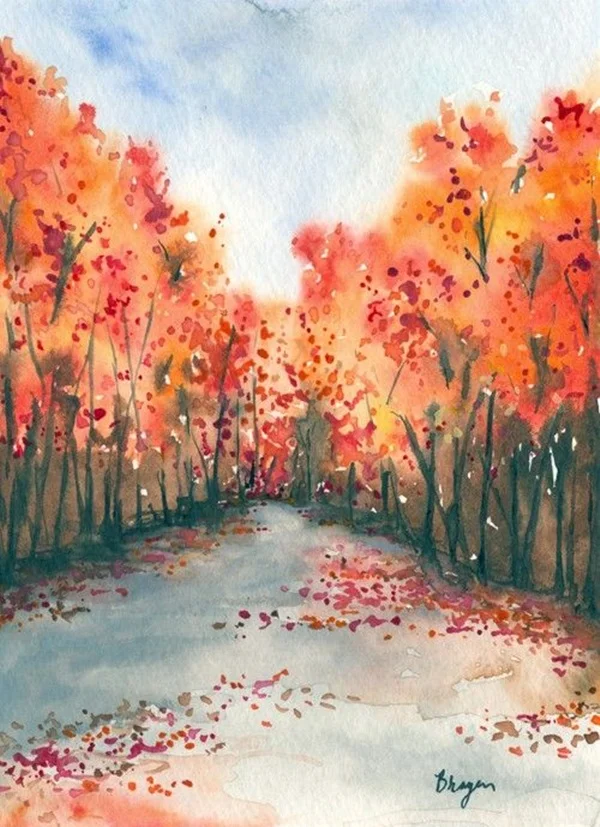 Embrace autumn with this rich, orange and red tree painting. Scatter some leaves on the floor to make it more realistic. Remember to let the paint dry first, before adding the leaves on the floor. 
Seaside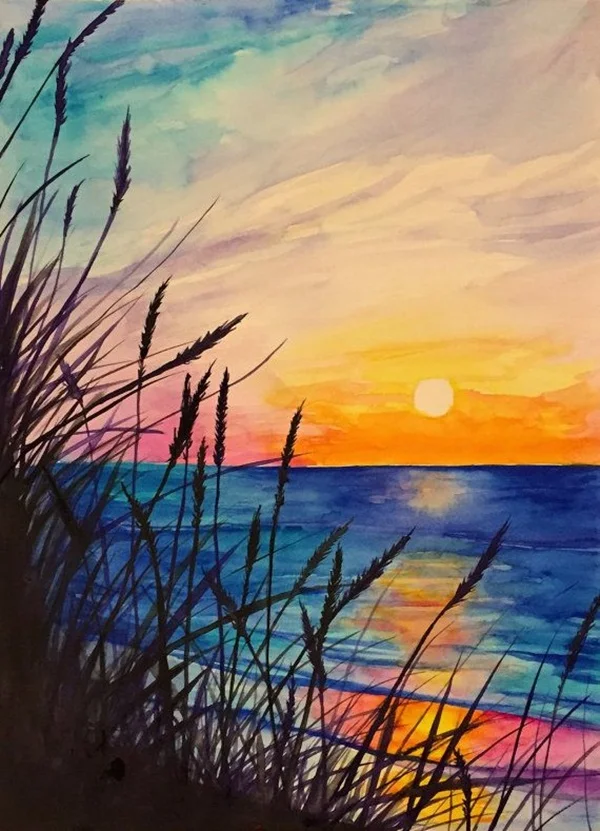 A unique seaside painting complete with long stemmed plants painted in black silhouette. Add a bright sun and its reflection on the blue water. Use a wet on wet technique for the watery effect. 
Lake & Trees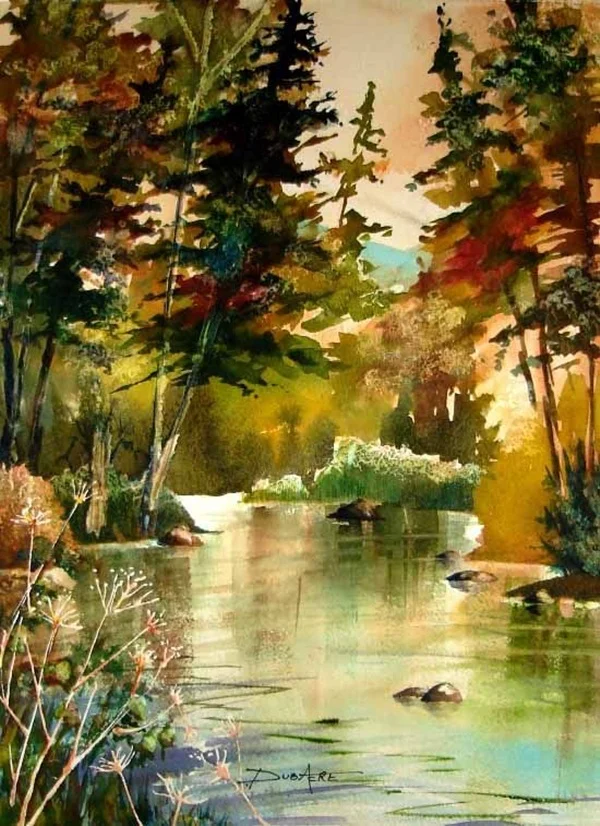 Honestly, this one looks like a Bob Ross painting. It does require some skill, but attempting it is so much fun! Watch a tutorial for more guidance, or simply use this reference image as your guide.
Cone Flower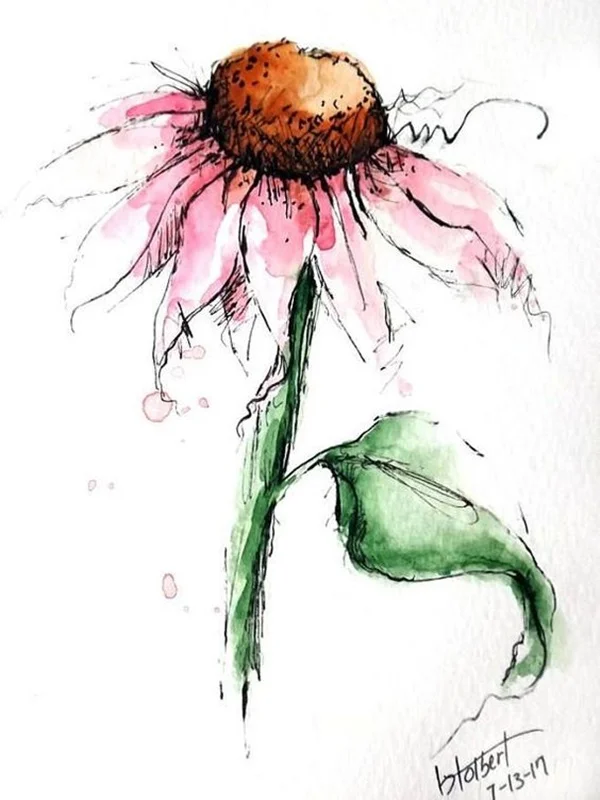 Although it looks minimalistic, it's actually quite challenging to make this cone flower. Use a fine tip black marker to add finer details. Don't be a perfectionist – let the paints flow freely for this one. 
Hummingbird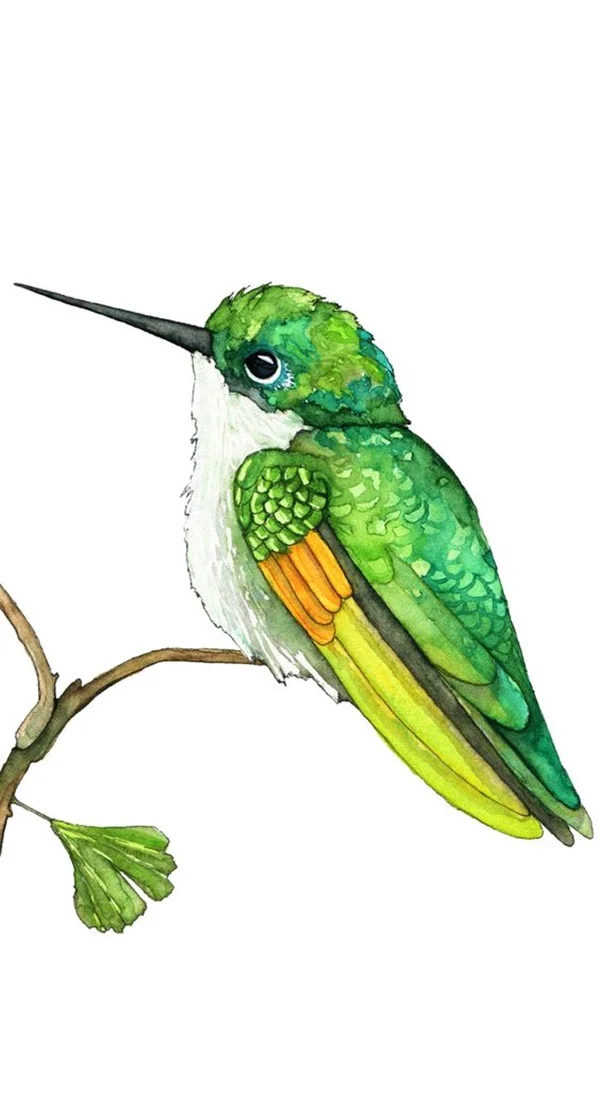 Draw a hummingbird and fill it in with bright, green watercolors. Add a long, black beak and a branch for it to perch on! Remember to paint a long, dark beak to complete it. 
Abstract Landscape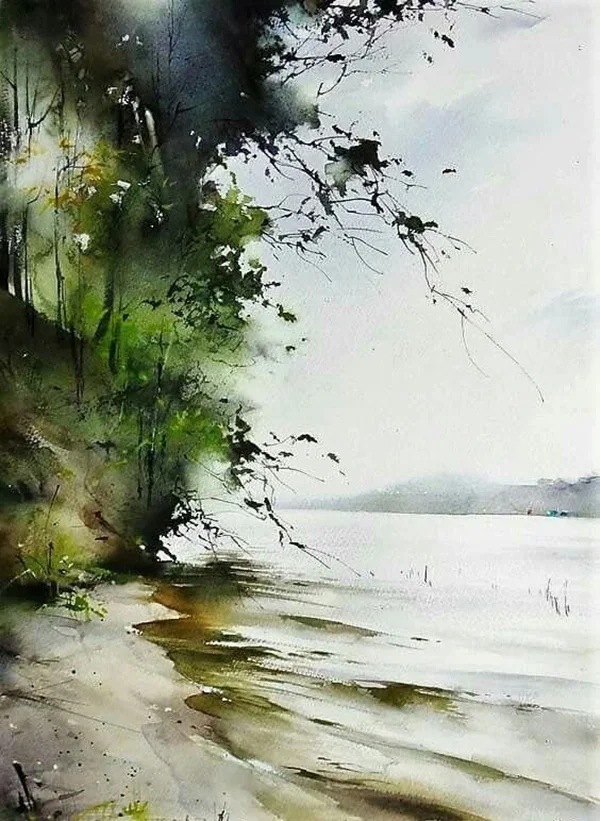 Painting abstract landscapes can be a great way to practice different watercolor painting techniques. Try experimenting with wet on wet, dry brush, gradient and wash techniques when making these paintings. 
Abstract Christmas Tree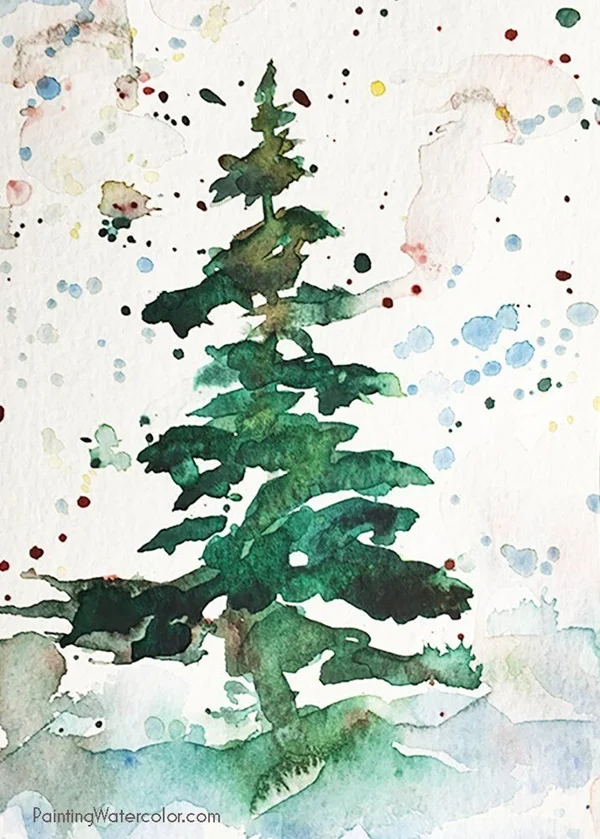 Christmas trees are always fun to paint, but how about trying an abstract one this time? Create fluid brush strokes with dark and light green and use paint splotches for the background. 
Superman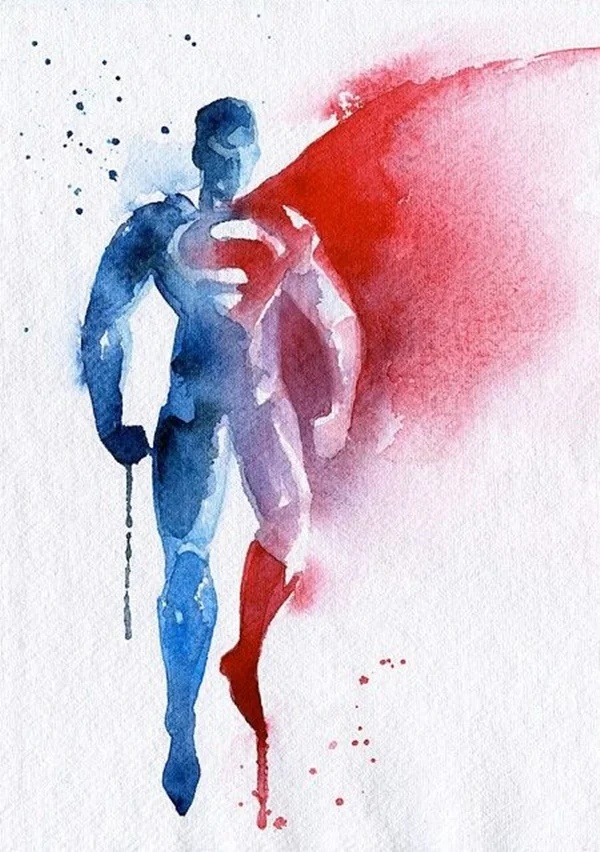 Who doesn't love Superman, right? Try your hand at this watercolor Superman painting by using red and blue. Keep light brush strokes and diluted watercolors for the effect. Create a drip effect using a wet brush for this one. 
Paint Brushes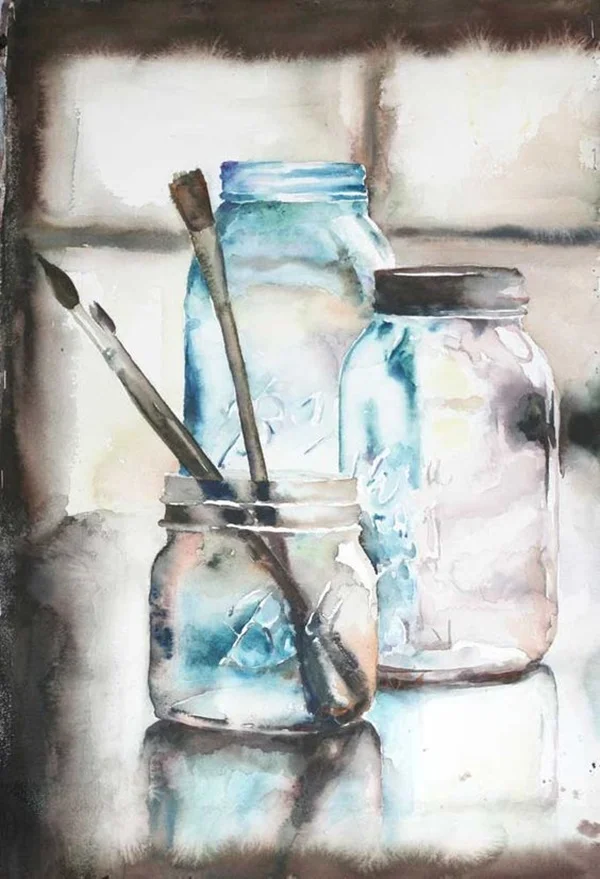 Painting still life can be one of the best ways to practice any art technique. Place your paint brushes in a glass jar or mug, keep it on a table, and start painting! Inspiration is right in front of you.
Tulips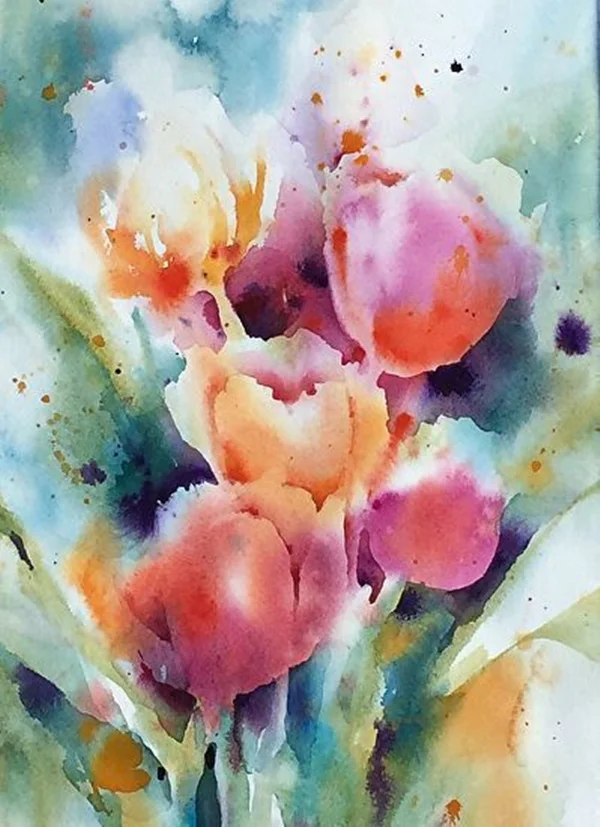 Practice painting watercolor flowers by choosing different species as inspiration. This time, paint some watercolor tulips in bright, vibrant colors. Flower paintings are a great way to practice different watercolor techniques.
Flying Hummingbird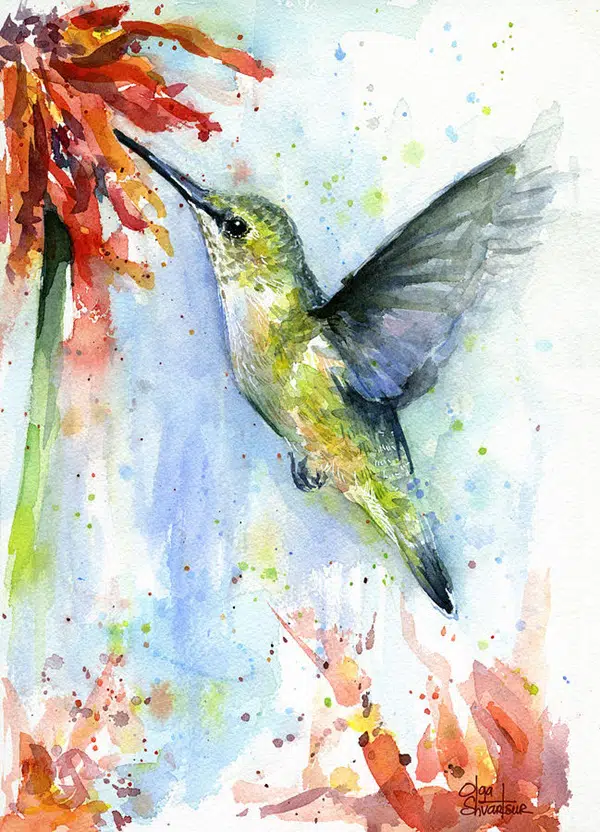 If you've already painted the sitting hummingbird, you're probably up for a new challenge. Try painting a flying hummingbird, complete with a beautiful flower and vibrant background. 
Colorful Lighthouse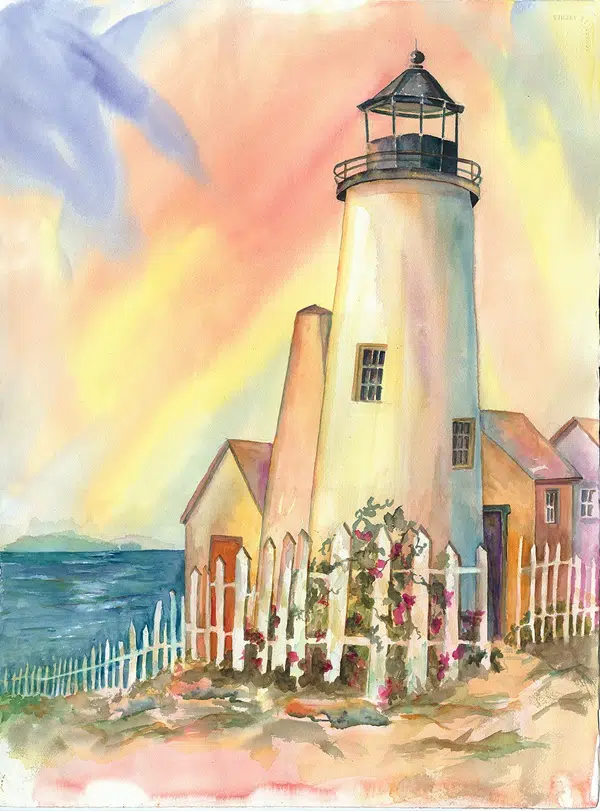 Coming back to lighthouses, why not pop in a splash of color for this one? Look at a reference image and draw a lighthouse. Complete it by adding vivid watercolors and a brilliant sky. 
Portrait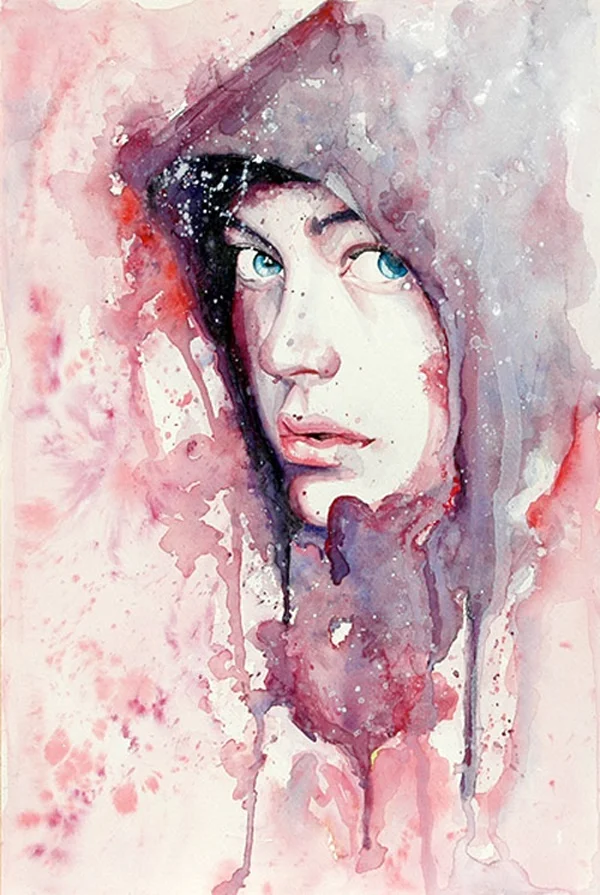 Painting portraits is challenging. Opt for this abstract girl portrait with dream-like blue eyes. Choose a fun backdrop to blend it in. You can replace the girl image for a boy if you wish to experiment further. 
Flower Vase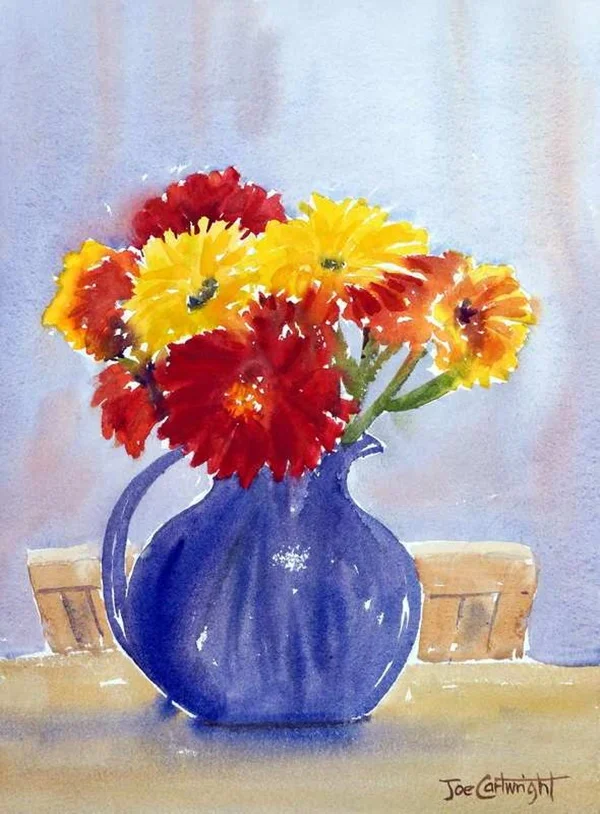 Why are flowers so popular amongst watercolor artists? Maybe because they're so much fun to paint! Well, how about this brightly colored bunch of flowers in a beautiful, blue vase? Make the flowers brightly colored or monotone, as you wish.
Enchanted Woods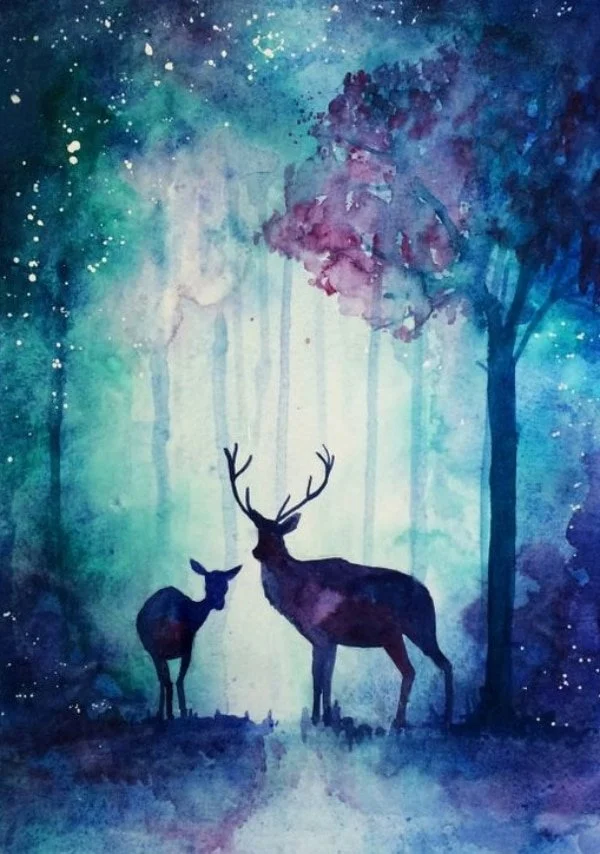 Once you learn the wet on wet watercolor technique, use mystical shades of blue, purple, black and a pop of pink to create this enchanted woods painting. Complete it by adding a deer silhouette. 
Catching Stars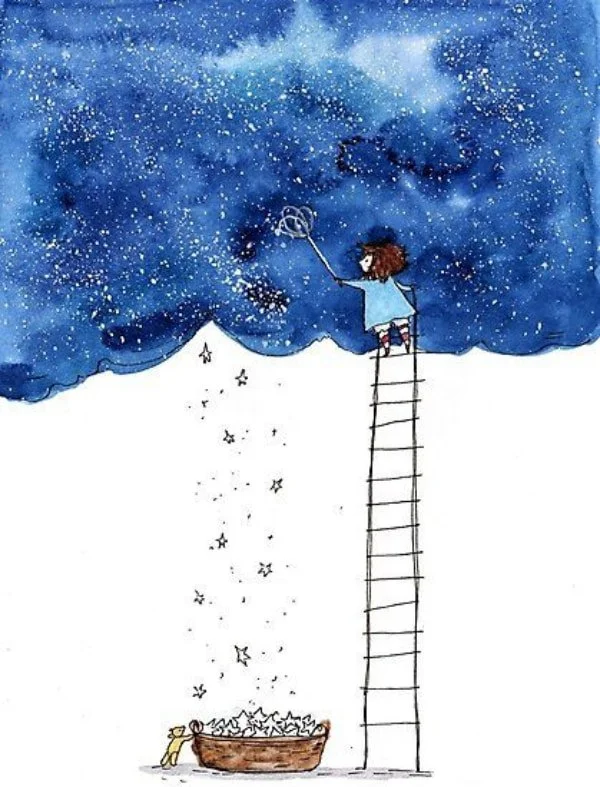 Create this beautiful concept painting of a little girl on a ladder trying to catch stars. You might need a reference photo which you can find online, but painting it should be super fun! 
Mountains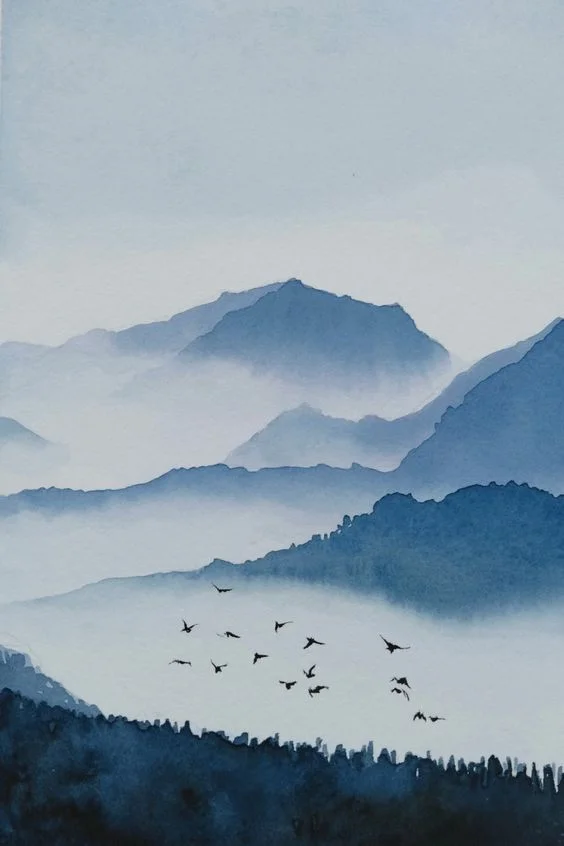 Instead of scaling the mountains, how about painting them? Use gradients and soft shading to create this mountain landscape painting. Remember to use a layering technique to create the effect of mountains at the back.
Pine Cone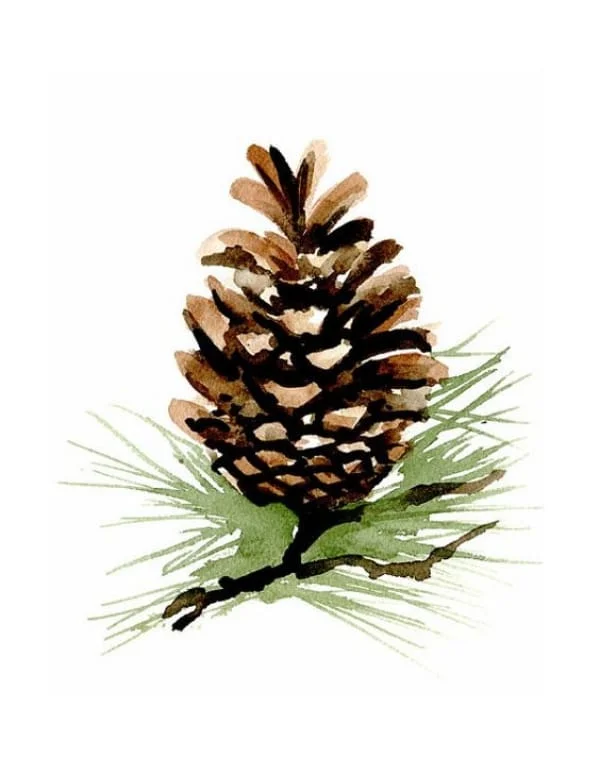 You can take this as a still life painting by actually getting a pine cone, or simply take this reference image to paint it. It's quite a fun watercolor exercise to try! Keep the background simple so the focus remains on the pine cone.
Blue Jay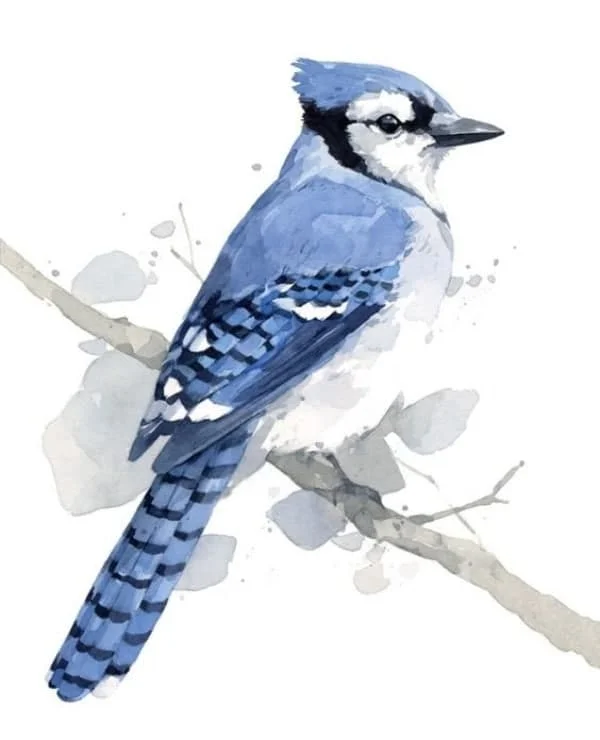 Paint this wonderful Blue Jay using your best blue and gray watercolor shades. Remember to draw a pretty branch for your Blue Jay to sit on. Draw the bird first, so you have a reference of how much to paint. 
Waterscape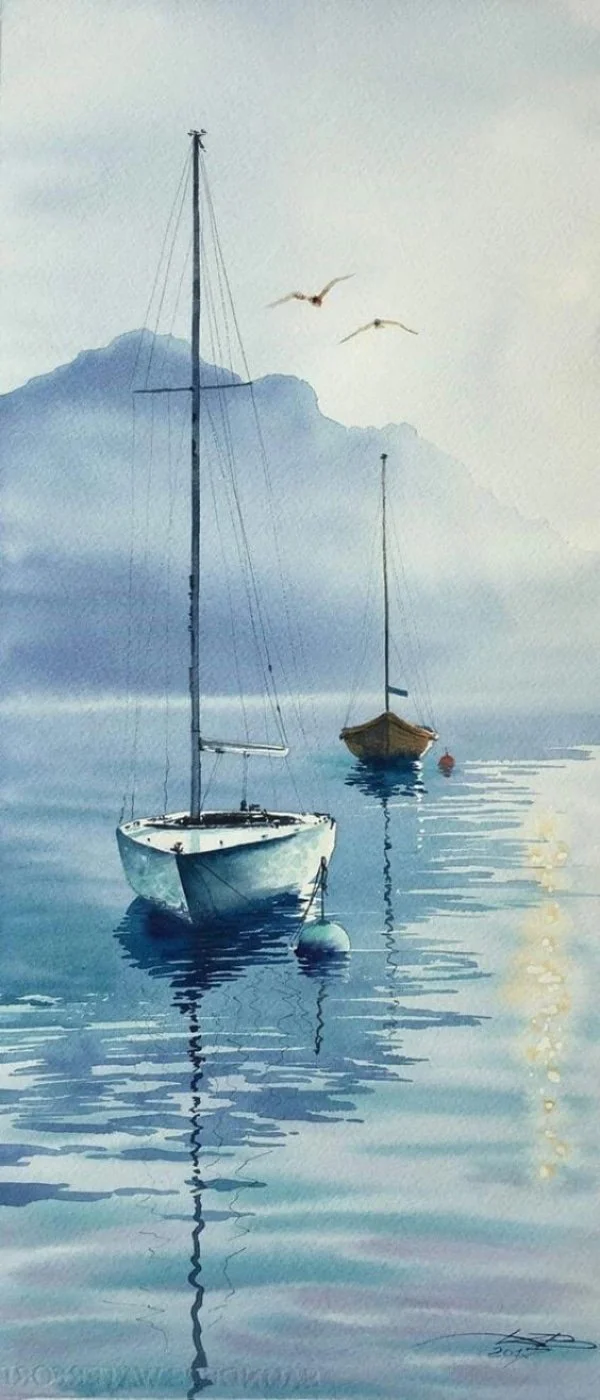 A perfect postcard image of two boats on the water. This watercolor painting might require some skill, especially for the water effect, but it's fun to try out nonetheless. Try using a wet on wet technique for the 'water ripples' effect. 
Owl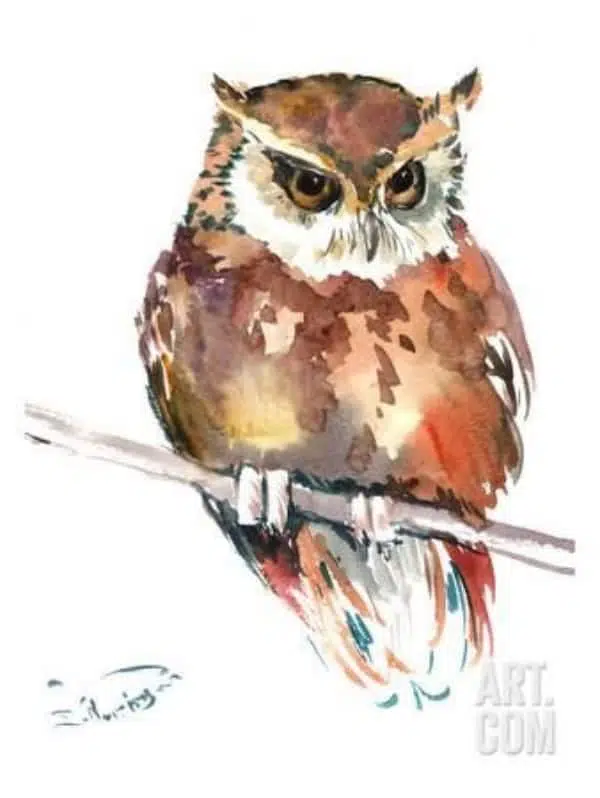 Try painting the wise owl using your watercolor shades of browns and oranges. This is a fluffy bird, so make sure you add lots of feathers. Add a few lines of blue on its underside, just to make a shadow effect. 
Poppies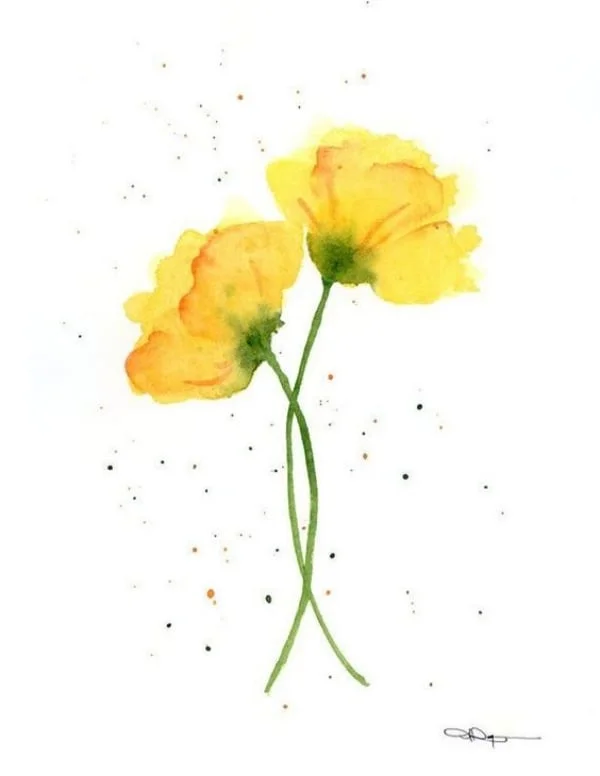 You can never paint enough flowers. This time round, try painting these beautiful yellow poppies as your next watercolor painting inspiration. Intertwine the stems to create a unique effect, and don't forget to add a background. 
Day & Night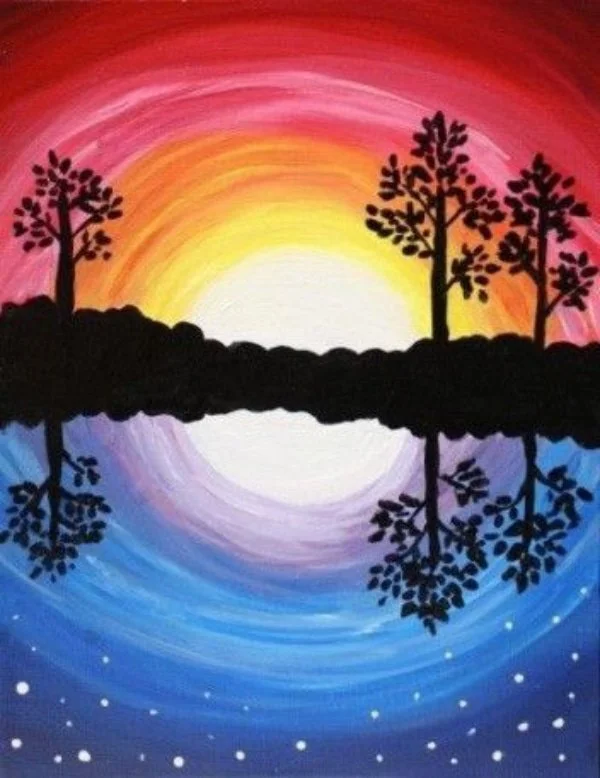 This is a brilliant concept of a day and night painting on one single canvas. Paint a day scenery on the top, and a nightscape at the bottom. Flip the painting to show off both styles of art. 
Midnight Sky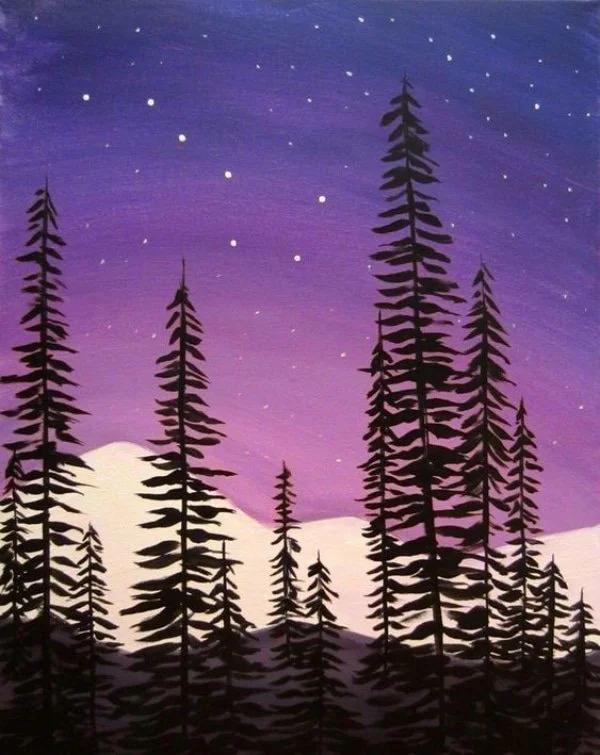 Skies are always super fun to paint. It allows you to use various effects like gradient, splash, textures, etc. Paint this midnight sky by opting for darker shades of blue and purple. Add the silhouette of trees to finish. 
Rainbow Elephant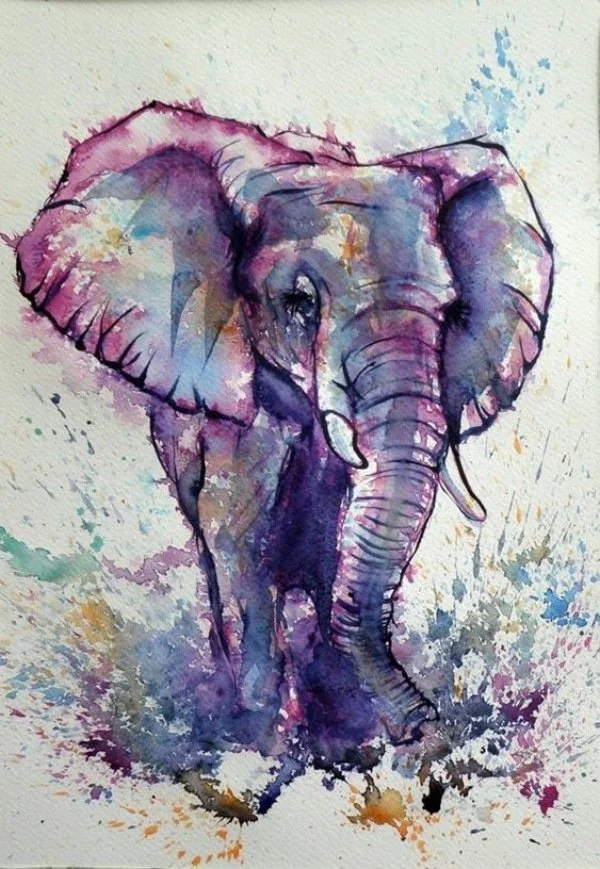 Painting animals with watercolor is an exhilarating project. The elephant especially is fun to paint. This gentle giant has been painted in shades of purple, pink and navy. It seems like it has stepped into a puddle of rainbow colors, which is a great effect to recreate.
Wish Dandelion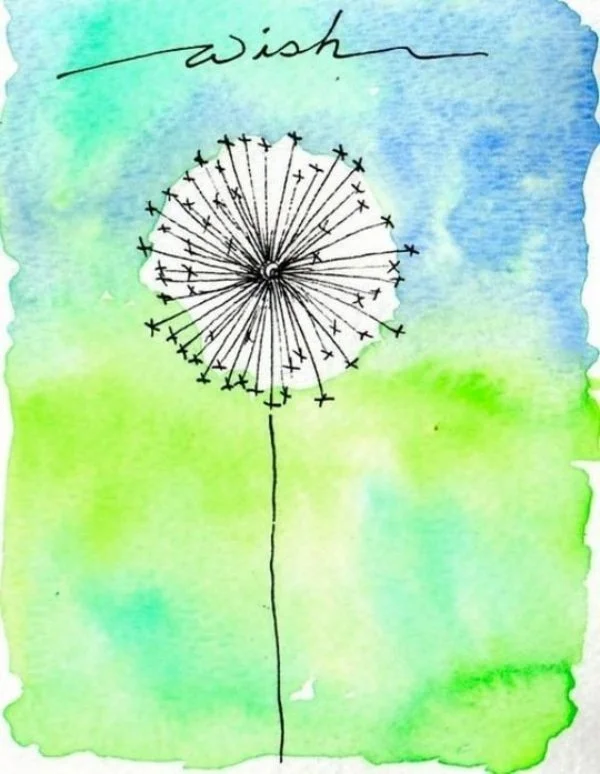 Although this is another dandelion watercolor, it's gradient background gives it a unique vibe. Keep the center of the dandelion white, while painting the rest of the background in vivid colors of your choice. Add details with markers and write 'Wish' in cursive at the top for a special effect. 
Florals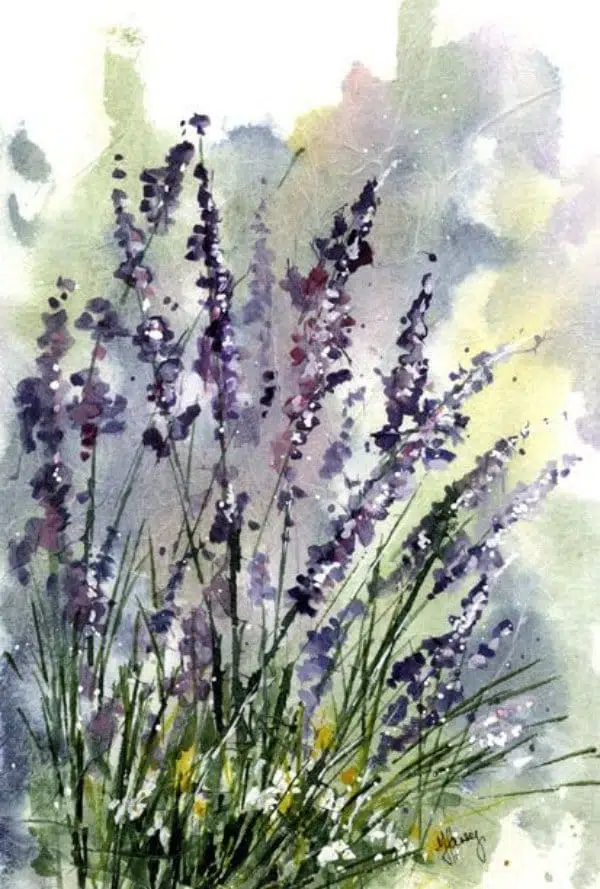 To end with, we are adding another beautiful floral watercolor painting. Although it looks abstract, a great deal of detailing work has gone into this one. Start with a colorful background using the wet on wet technique, and let it dry completely before making the flowers.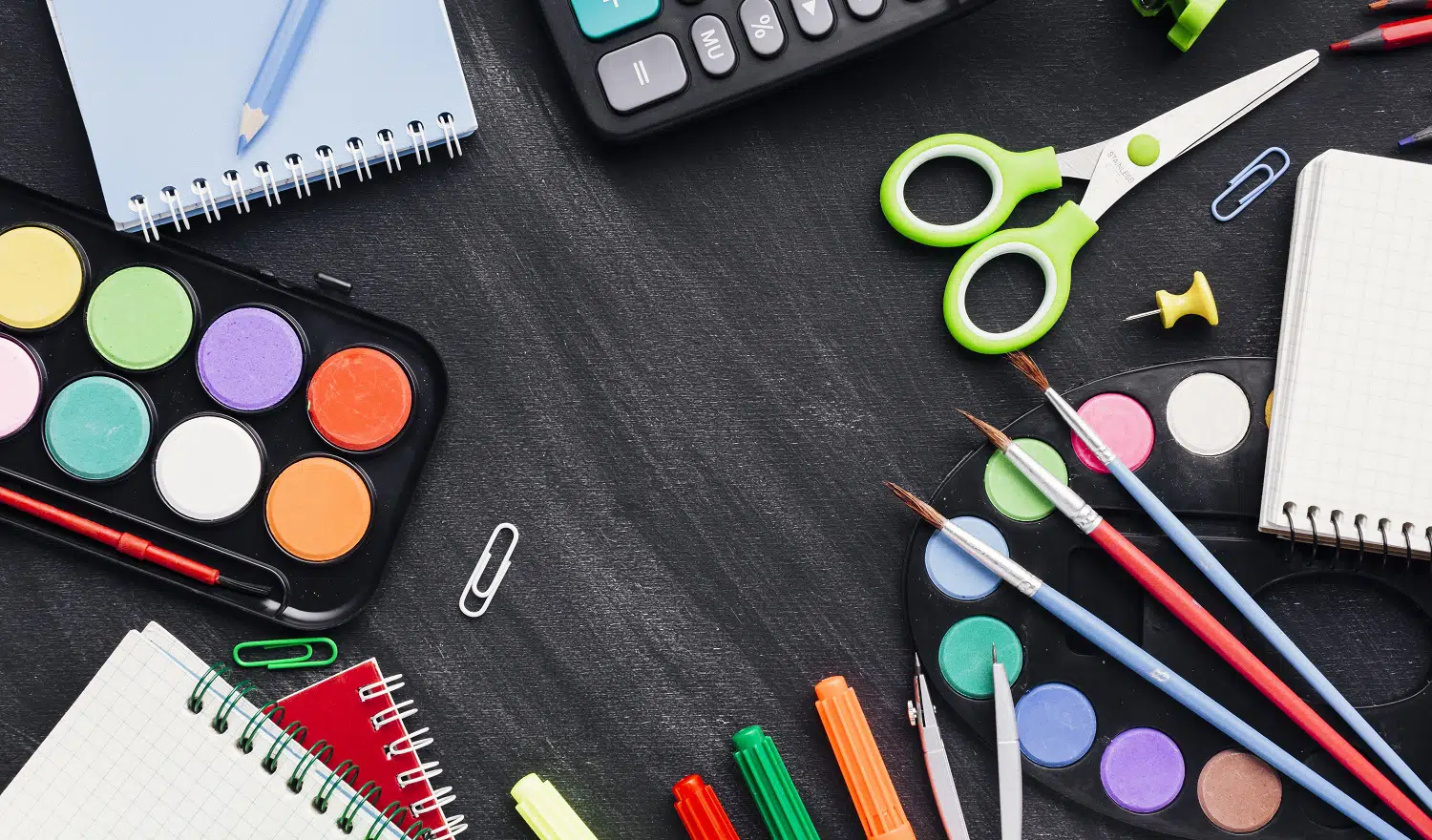 Final Words
With that, we have come to the end of our massive list of watercolor painting ideas! 
Learning anything new requires patience and effort. When it comes to watercolors, the challenge is different. Watercolors are notorious for having a mind of their own. Remember one thing about learning this technique – it is best to let the colors flow freely and see where it takes you. 
The mistake beginners make with watercolors is trying to control its flow. Instead of doing that, just let the colors blend into each other, creating their own mesmerizing textures and patterns. As with anything, it takes some practice to get comfortable with watercolors. So don't hesitate. Pick up your brushes and start painting. 
Let the little Picasso in you shine! 
Related Articles
45 Best Oil Painting Ideas [Reviewed]
103 Best Acrylic Painting Ideas
10 Best Paper for Acrylic Paint in 
10 Best Canvases for Acrylic Painting | Student & Artist Grade
8 Best Palettes For Acrylic Paint & How to Choose What You Need
Learn How To Make An Acrylic Painting Waterproof Right Now
Acrylic Painting Materials That You Really Need In The Studio
13 Best Acrylic Paints for Beginners & Professionals Reviewed
10 Best Acrylic Paint Brushes for Artists & Students Reviewed
Learn How To Get Dried Acrylic Paint Out Of Brushes Successfully
Cold Press vs. Hot Press vs. Rough Watercolor Paper Compared
Best Watercolor Painting Books Everywhere | Beginner to Expert Grade
9 Best Water Brushes for Beginners, Professionals & Calligraphy
9 Best Watercolor Markers With Legendary Results for Artists Everywhere
10 Best Watercolor Palettes for Beginners & Professionals Everywhere
13 Best Watercolor Pencils and Water Soluble Art Supplies Today
Best Watercolor Paper |Top Brands Reviewed + Plein Air
12 Must-Know Watercolor Tips for Beginners & Pros Everywhere
Why and How to Use Watercolor Mediums to Enhance Your Painting Game
Learn How to Use Watercolor on Wood | Professional Tips & Tricks
13 Best Watercolor Sketchbook for Creatives Everywhere
11 Best Watercolor Brushes for Beginners & Professionals Reviewed
15 Must-Have Watercolor Supplies for Beginners & Artists Everywhere
Stretching Watercolor Paper & How To Keep Watercolor Paper From Warping
Learn How to Paint Watercolor on Canvas Easily & Successfully
16 Must-Know Painting En Plein Air With Watercolors Tips & Tricks
Learn The Basic Watercolor Painting Techniques For Beginners – Ideas And Projects
Expand Your Knowledge With Watercolor Painting Ideas
19 Incredibly Beautiful Watercolor Painting Ideas
10 Best Canvases for Oil Painting | Beginner & Artist Grades Reviewed
11 Best Oil Paints for Beginners & Professionals Artists Alike
Learn What is the Best Surface for Oil Painting Right Now
How Long It Will Take Oil Paint To Dry  & How to Speed It Up
Oil Painting for Beginners Basics & How to Use Oil Paints
Learn How To Dry Oil Paint Faster Overnight
12 Oil Painting Supplies That Every Oil Painter Needs in the Studio
5 Things You Should Know Before Painting Oil Paint on Glass
Learn How to Make Oil Paints Dry Faster