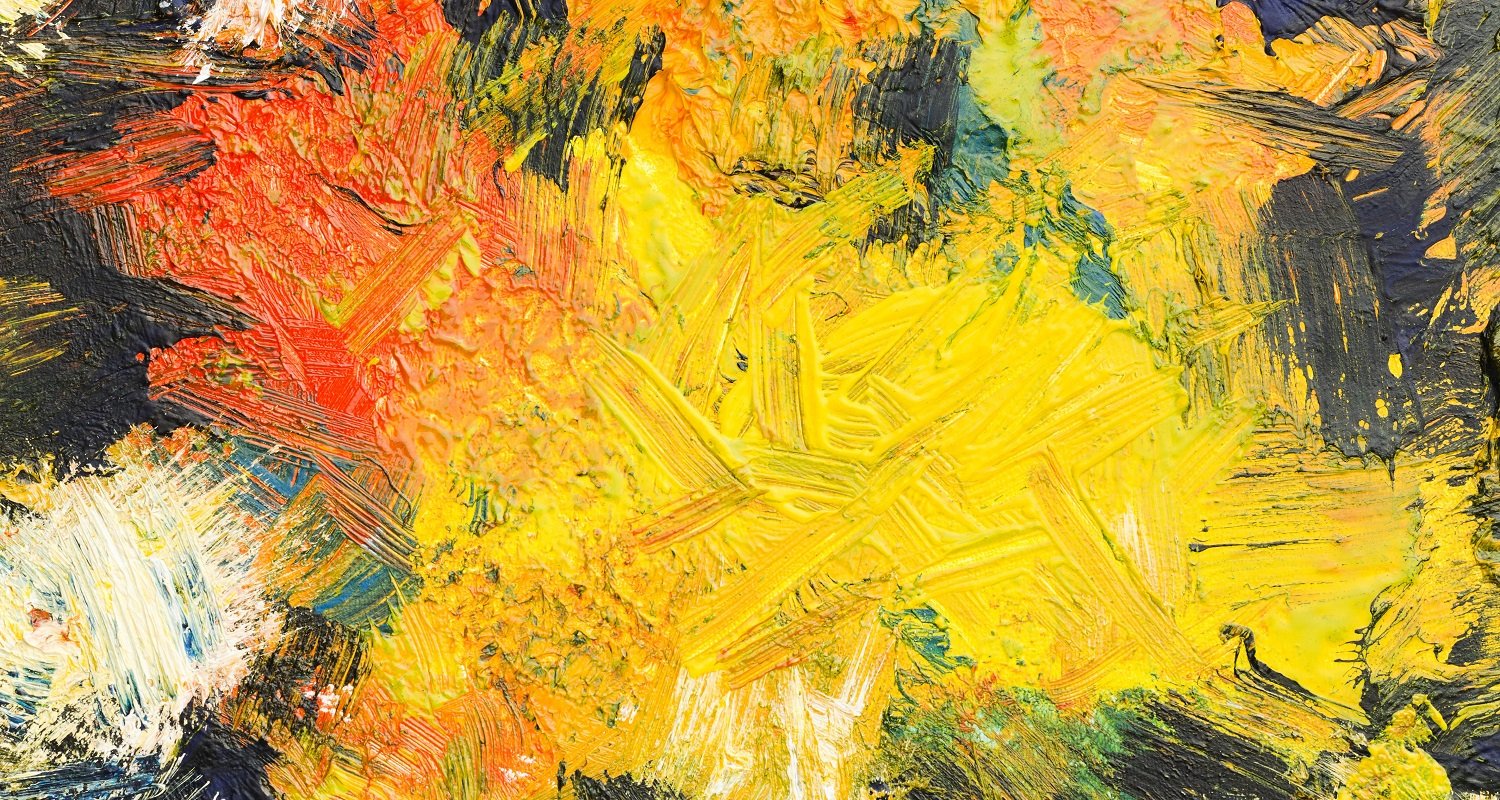 Even the best painters need inspiration from time to time. If you need acrylic painting ideas, look no further. 
For some, inspiration can strike at any time. For others, a little prodding is required. Whether you're new to the world of acrylics or you're simply looking for new ideas, don't worry. In this guide, you will find 103 acrylic painting ideas to get inspired. 
Acrylics are often a painter's favorite medium. It's easy to use, dries quickly, and can be manipulated easily with water. Moreover, acrylics on canvas tend to look vivid and, honestly, quite stunning. 
So if you're ready with your paints and brushes, let us take you through this list of 103 acrylic painting ideas. 
Let's begin, shall we?
103 Acrylic Painting Ideas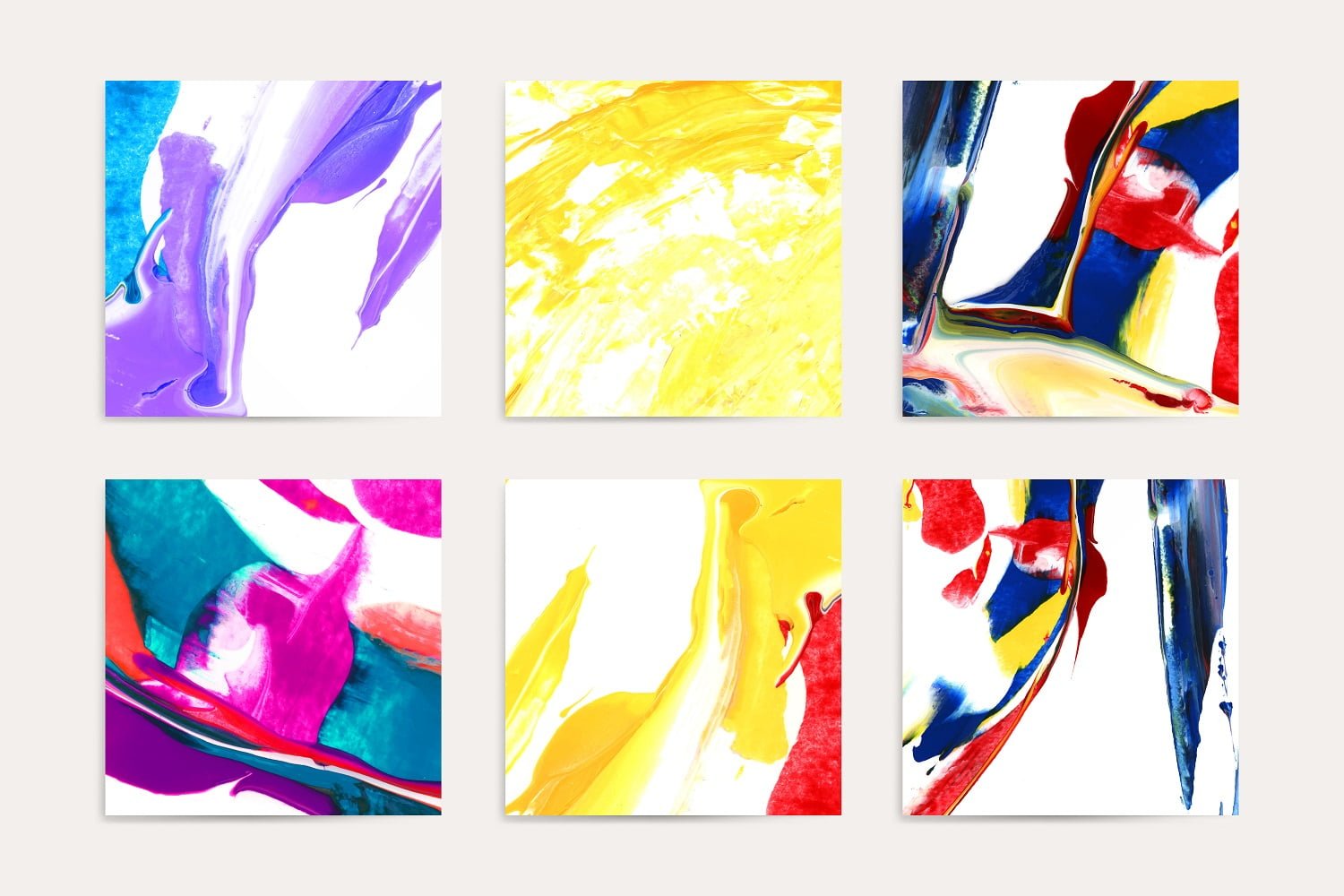 Rainy Day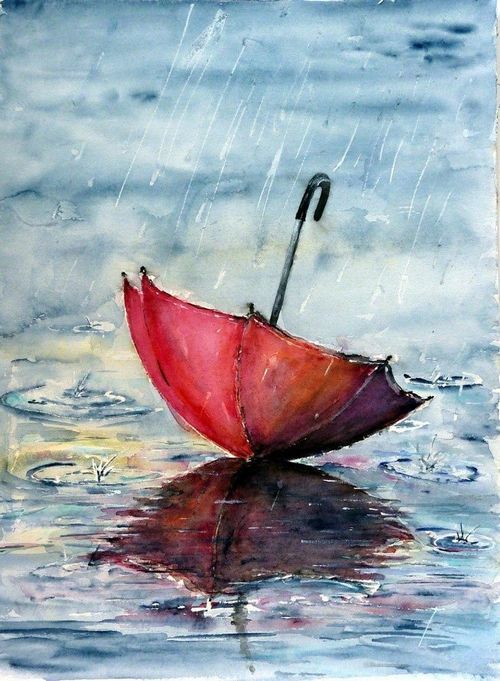 A simple yet meaningful acrylic painting featuring an upturned umbrella in the rain. This painting is excellent for beginners to practice. Draw the umbrella and then start filling in the background with blue and white. Then, color the umbrella in your favorite bright shade. 
Forest 
This simple forest can be painted using finger painting techniques. Pick a few shades of green for the trees and dip your fingers in the paint to create the texture of leaves. Use your brush to create the road, and voila! 
Country Roads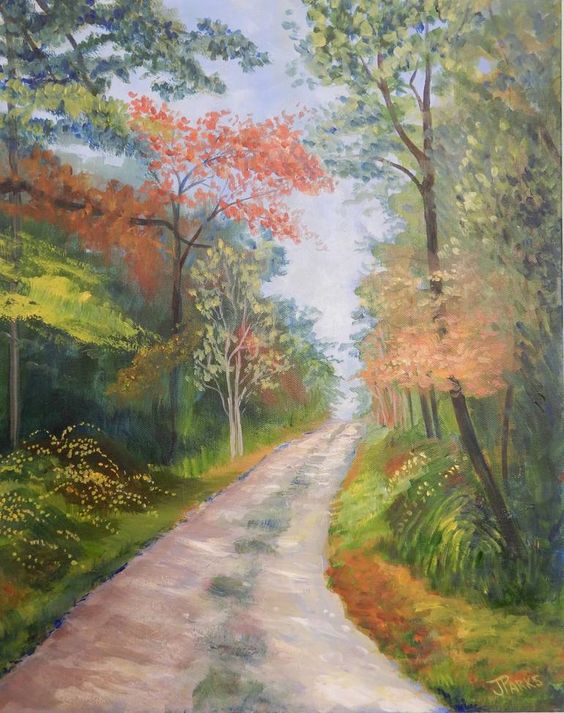 Create a road with greenery and bright orange and yellow trees in the background for this acrylic painting idea. Add some dark-colored mountains at the back, and don't forget a simple blue sky. 
Picasso Inspired Girl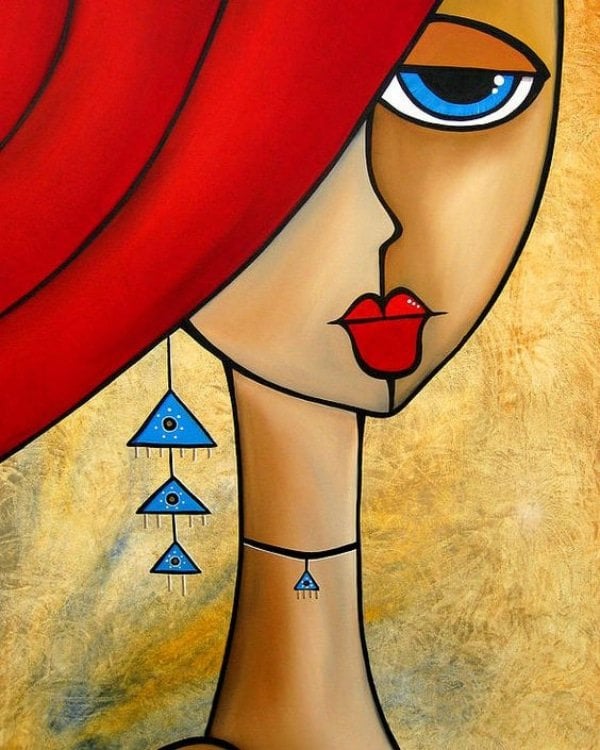 How about painting a Picasso inspired girl in this painting idea? Use bright, block colors and outline with black for a bold look. Add a vivid red color for the hair and pale blue eyes as a contrast. 
Rusty Rose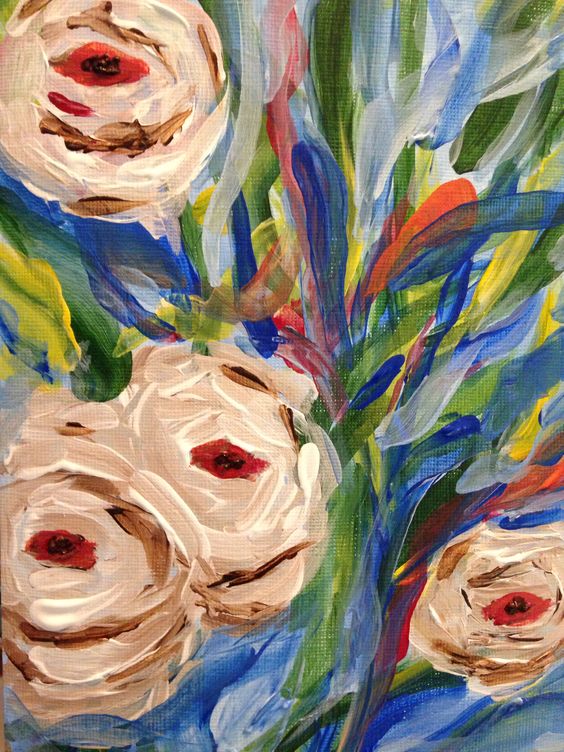 An interesting concept of a brownish beige rose, with an abstract background. Experimenting with this acrylic painting idea can lead to you creating a mini-masterpiece of your own!
Gold Sailboat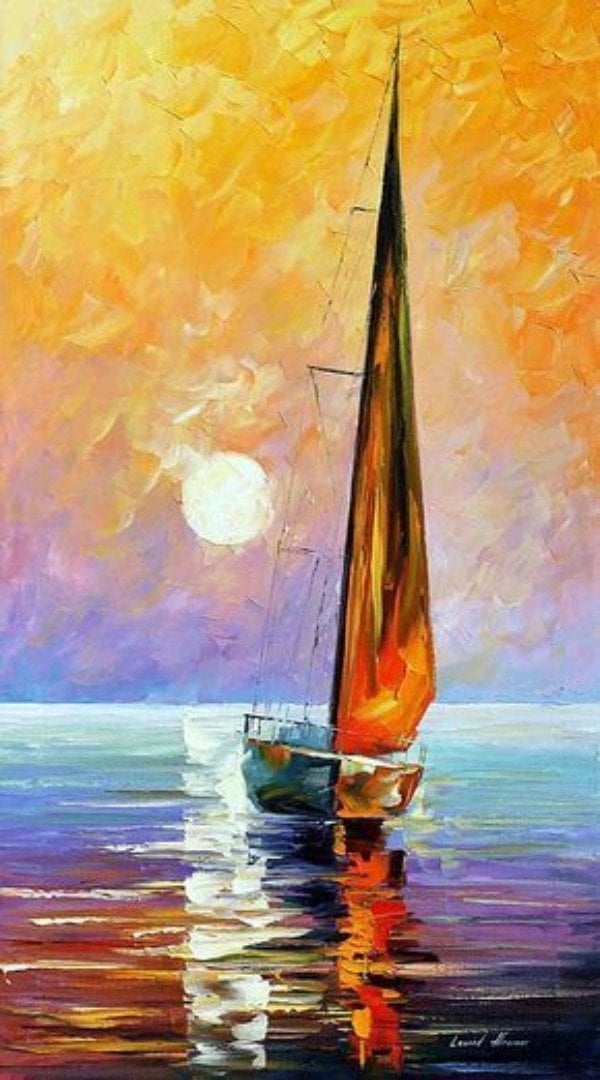 Experiment with using a palette knife and a variety of bright acrylics for the Gold Sailboat painting. The use of different colors blended in so artistically makes this painting stand out amongst the rest. 
Wise Owl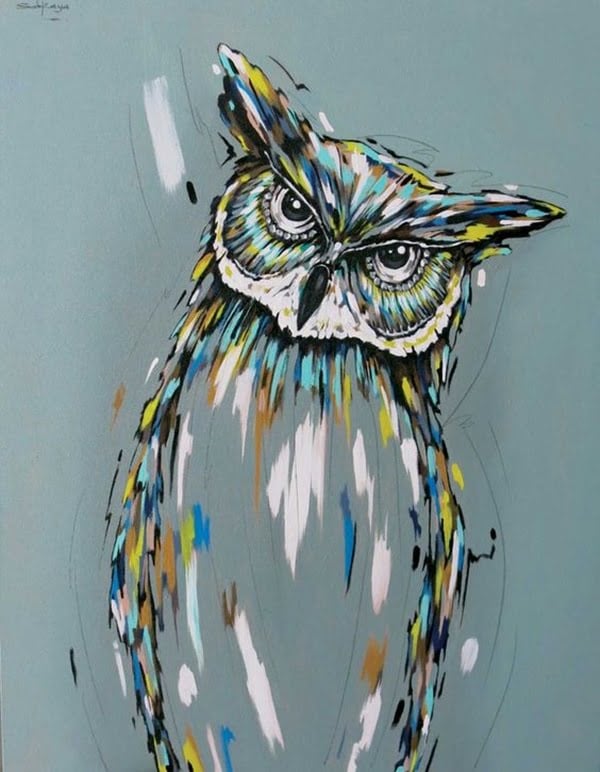 This owl painting has been made using minimalistic tones of blue. A few warm tones have been added to make the details pop. Try painting this yourself using a thin line brush. 
Lavenders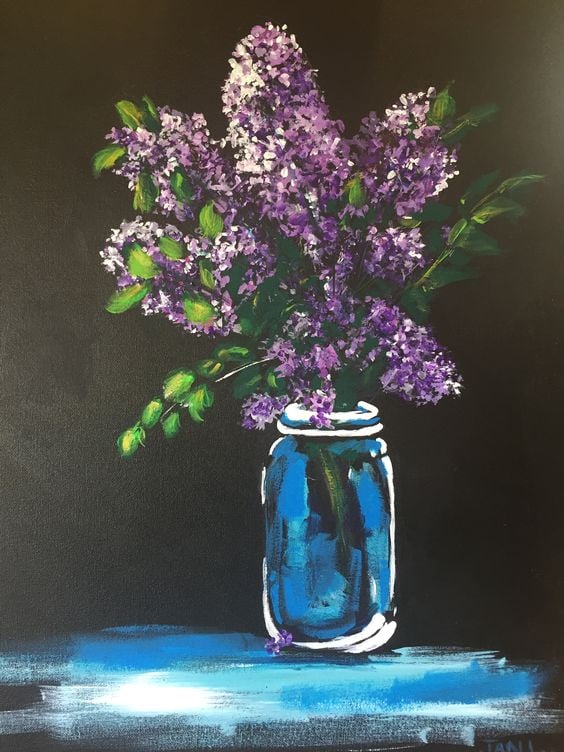 A striking acrylic painting of a bunch of lavender flowers in a glass jar. Make the lavenders pop out by adding lighter shades of purple and strategically placing white paint where the light falls. 
Wolf Howling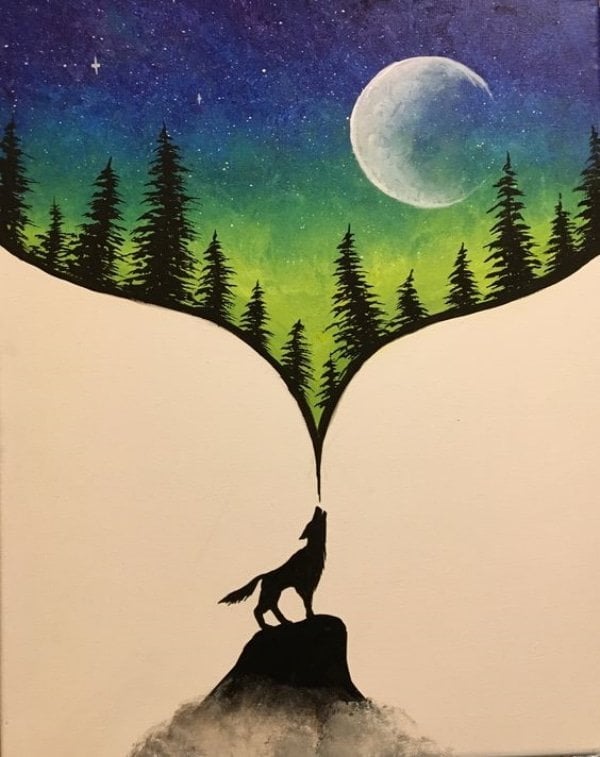 This is a unique concept featuring the silhouette of a wolf howling and the beautiful scenery of the night sky. Use a reference image to create the wolf, and add shades of blue and green to make the night sky. Don't forget to add the moon. 
Firefly Mason Jar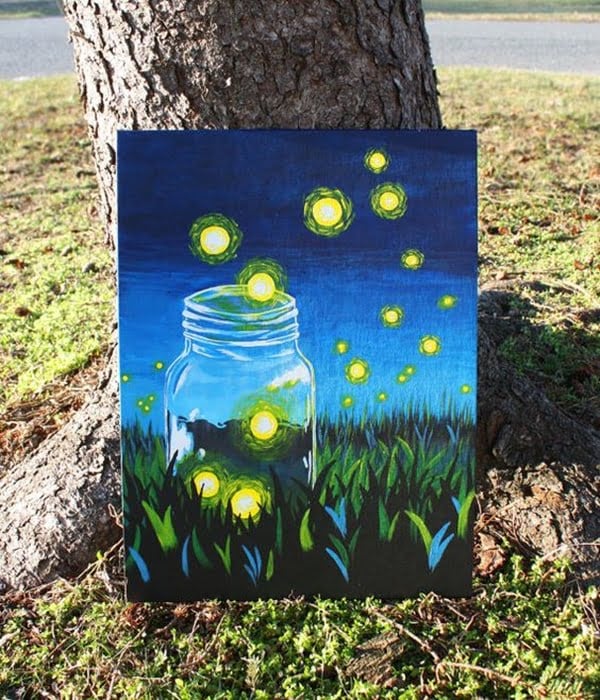 Practice painting spots of light with this Firefly Mason Jar acrylic painting concept. Tune in to your inner Van Gogh to create the night sky and glowing fireflies. Add white spots in the middle to make it look luminescent.
Impasto Flowers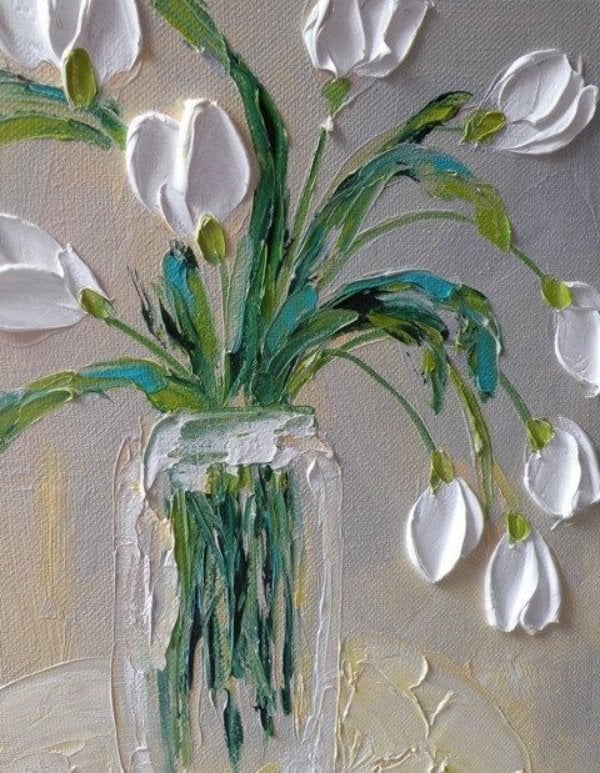 Master the Impasto technique of acrylic painting with this simple flower painting idea. Use thick coats of acrylic paint, don't be afraid of wasting it. The end result is a 3D painting which is breathtaking. 
Sunset Trees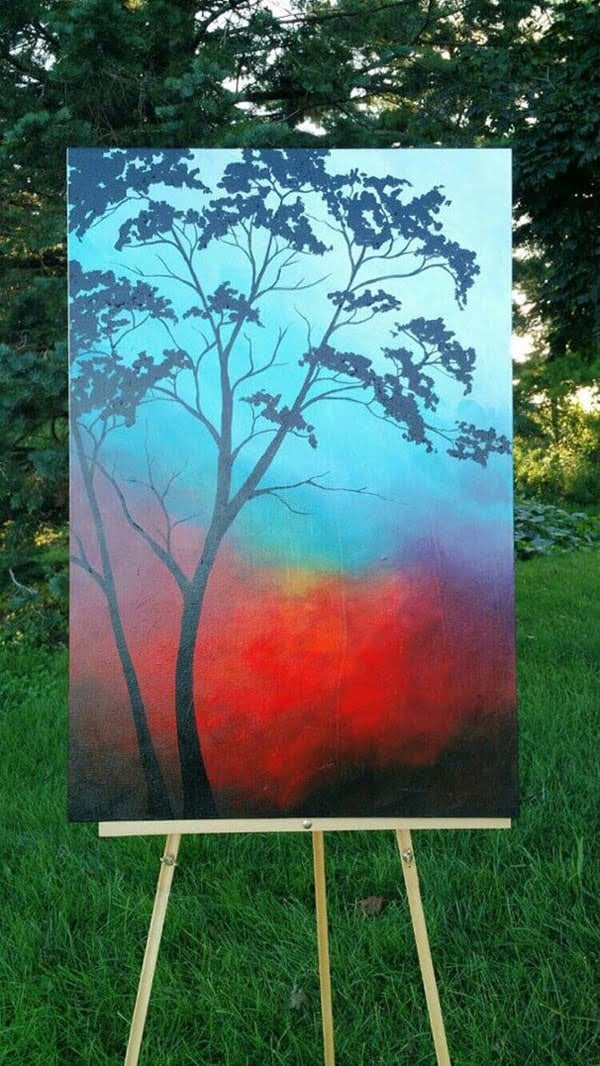 Paint the sky in blue as you normally would. When you reach the bottom, add angry shades of red and orange to represent the sunset. Once it's dry, add the silhouette of a tree to finish this painting. 
Woman In Red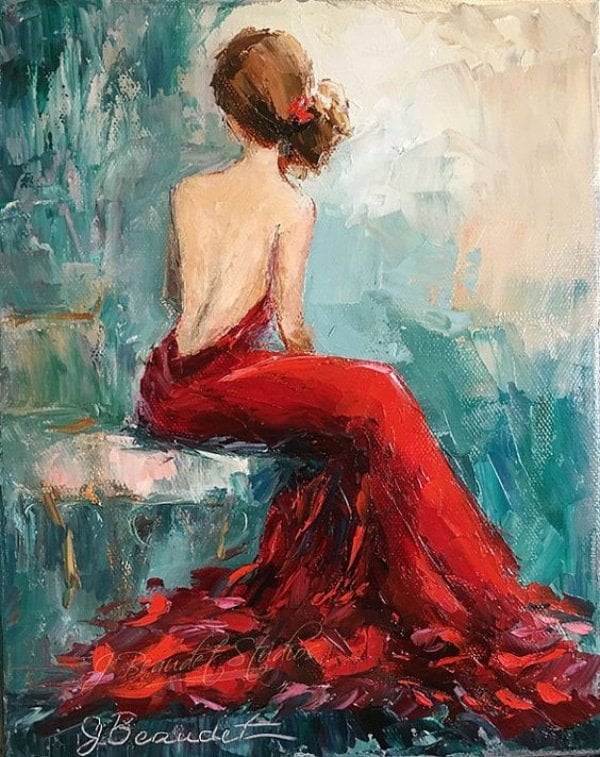 Perfect the art of painting a woman with this inspiration. Her glamorously red ballroom gown is easy to paint, while the blue abstract background adds depth to the painting. Remember to add shades of white in areas where the light falls. 
Angry Birds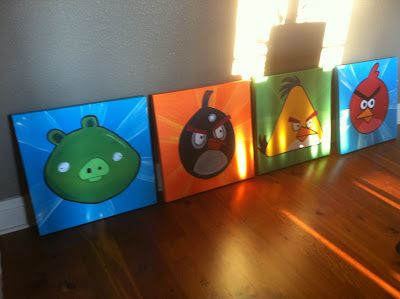 Remember the classic game 'Angry Birds'? Create this Angry Birds inspired painting by dipping into your acrylic color palette and going wild. Add a little white on the beaks for effect.
Lovers In The Rain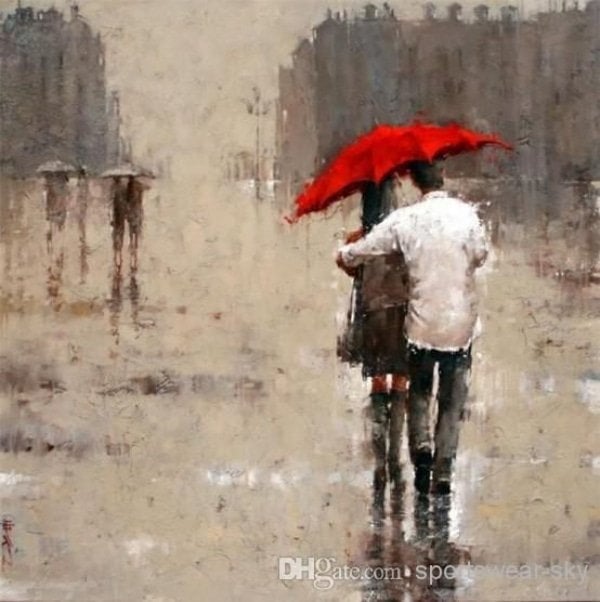 Try your hand at this incredibly romantic concept by painting two lovers under an umbrella in the rainy streets. Create a misty effect by using a shading technique and showing reflections on the road. 
Night Sky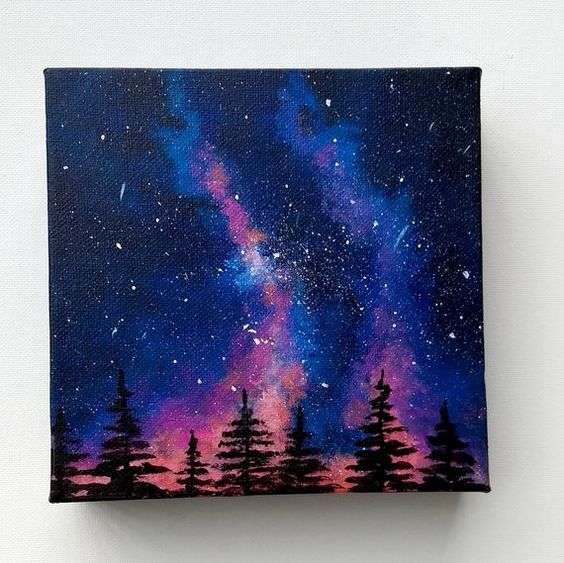 Painting the night sky can be challenging yet fun for any artist. Attempt this version of the night sky by using purples and blues in a wavy pattern. Do the same for the ground, and finally add the trees. 
Abstract Nude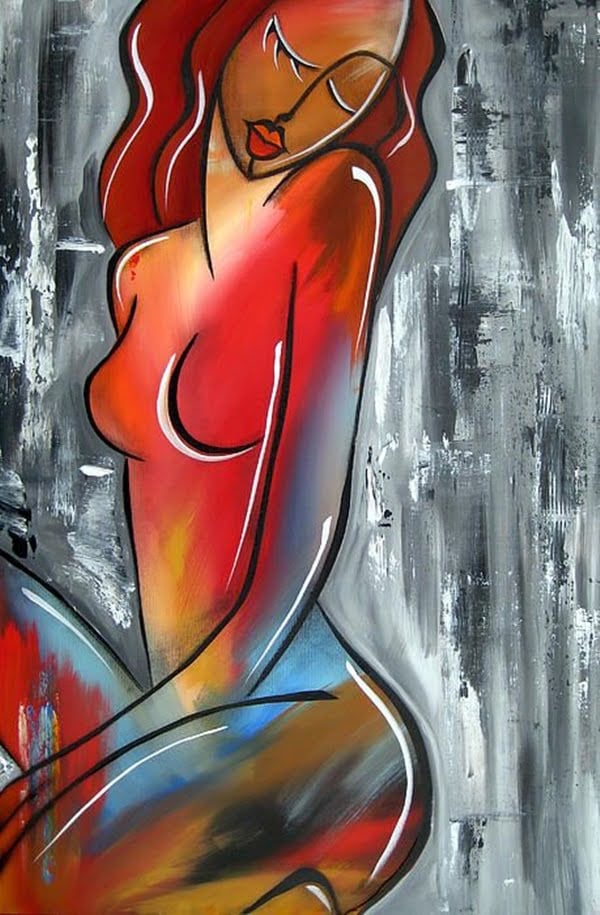 This abstract nude woman has been painted in earthy tones, giving the painting a vintage appeal. Keep the background in a grey monotone to draw more attention to the woman in the frame. 
Cute Owl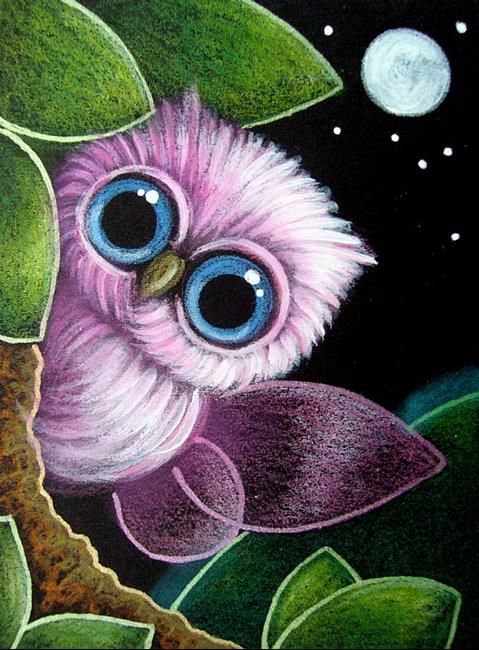 Ditch the Wise Owl and go for a cuter version with this acrylic painting inspiration. Add big, googly eyes to enhance the effect of 'Cute Owl'. You can use either wet-on-dry or dry-on-dry techniques for this one. 
Mystical Tulips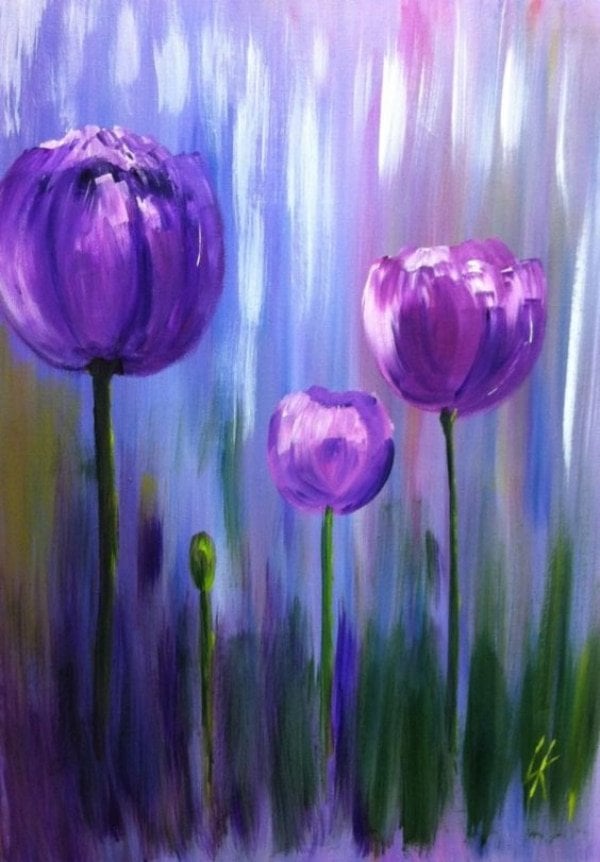 Tulips are fun to paint. Attempt the 'Mystical Tulip' painting using bright purple acrylics and the same shades for the background. Keep the painting slightly abstract without much detailing work. 
Rainy Day In Hong Kong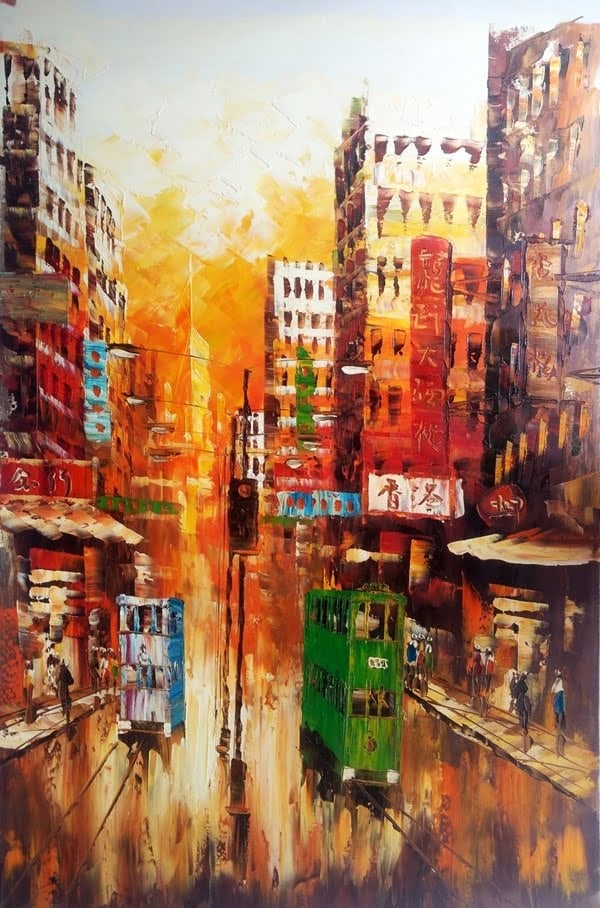 Once you're more comfortable with acrylics, try painting this 'Rainy Day in Hong Kong'. The best part about this painting is the blurred effect created solely with a dry brush technique and acrylic paints. 
White Blooms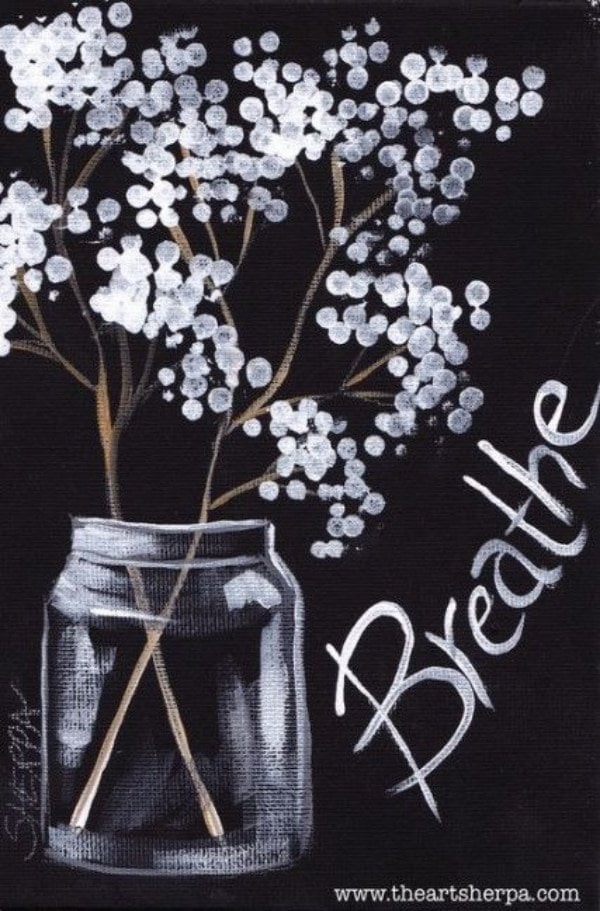 Create this painting using the 'stippling' technique. Dip a paint brush or any object with a small, rounded tip into white paint. Dot the paint on your canvas to create the stippled effect and a mesmerizing end result. 
Cityscape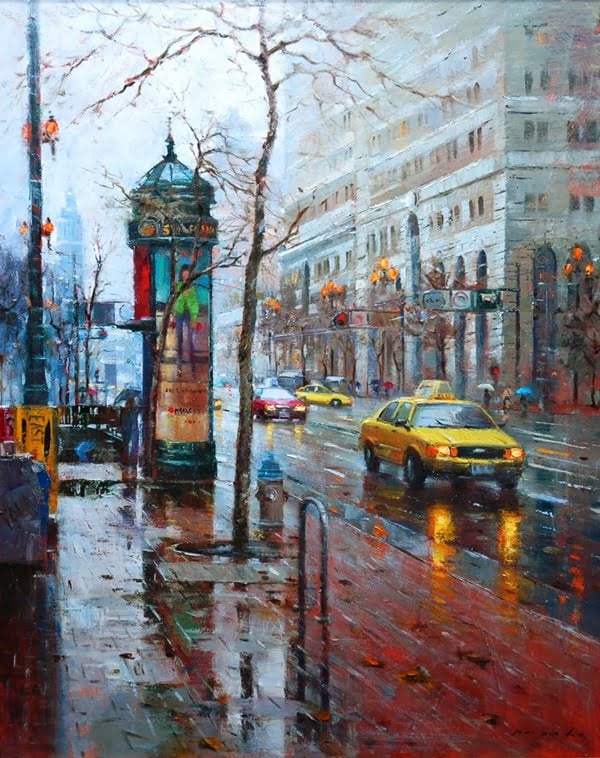 Use a cityscape inspiration to create a contemporary painting for this next idea. Using impressionist techniques, try matching the rainy foreground in this cityscape composition. 
Horse Love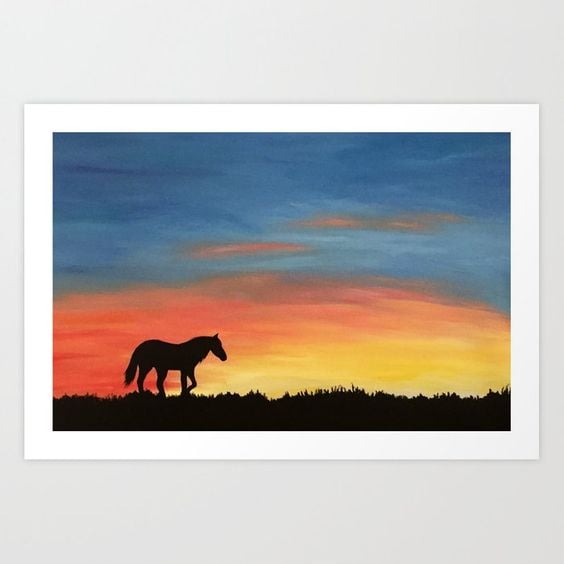 If you know a horse lover, paint them this beautiful masterpiece of a lone horse. Create the background first using gradient colors, and once dry, paint the silhouette of the horse to complete it. 
Textured Trees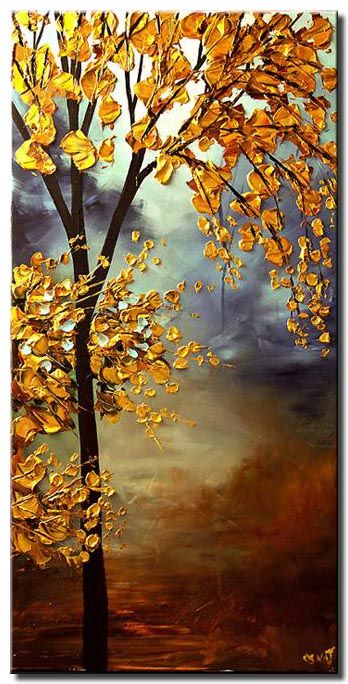 Next up, try your hand at texture painting techniques using your yellow acrylics and some tools. You can use a palette knife for this one, or any other tool you want to experiment with. Create rounded textures for the trees and keep a simple background. 
Love Birds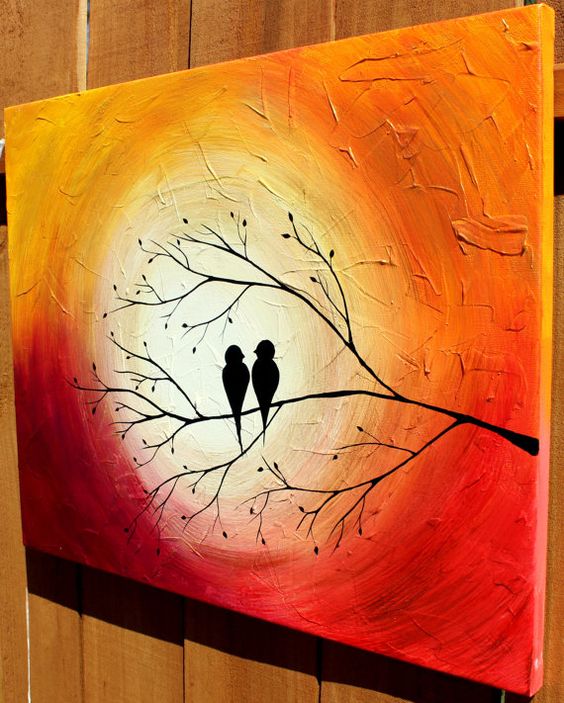 Although it seems like the love birds are the main part of this painting, it's actually the background too. Using a dry on dry painting technique. Paint with rounded strokes for the sky, and finally, the love birds in the middle. 
Waterfall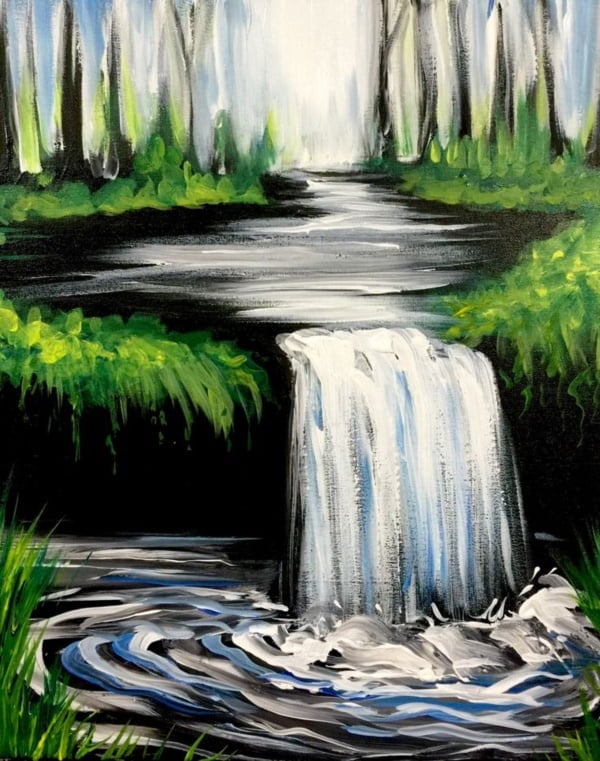 Waterfalls are inherently mesmerizing. Paint one using the right shades of black, white, gray and blue for the water. Add some green in the background to create the completed image. 
Lonely Walk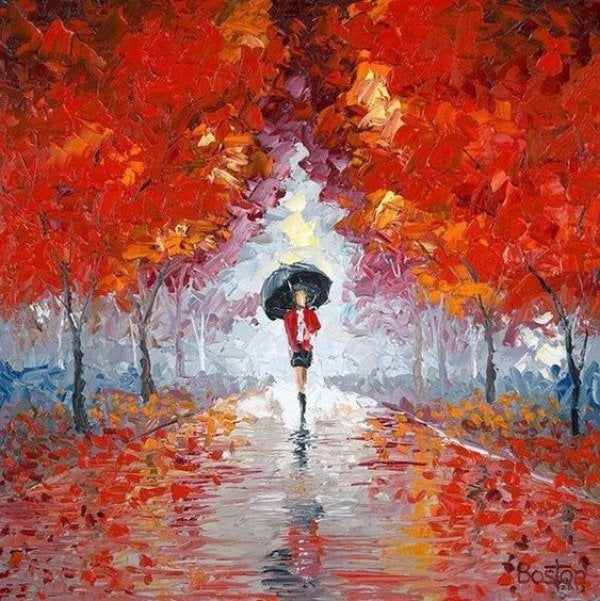 Featuring a girl walking under an umbrella alone – this acrylic painting is thought-provoking. Use the reference image for inspiration to create this one, using different painting techniques. 
Water Ripples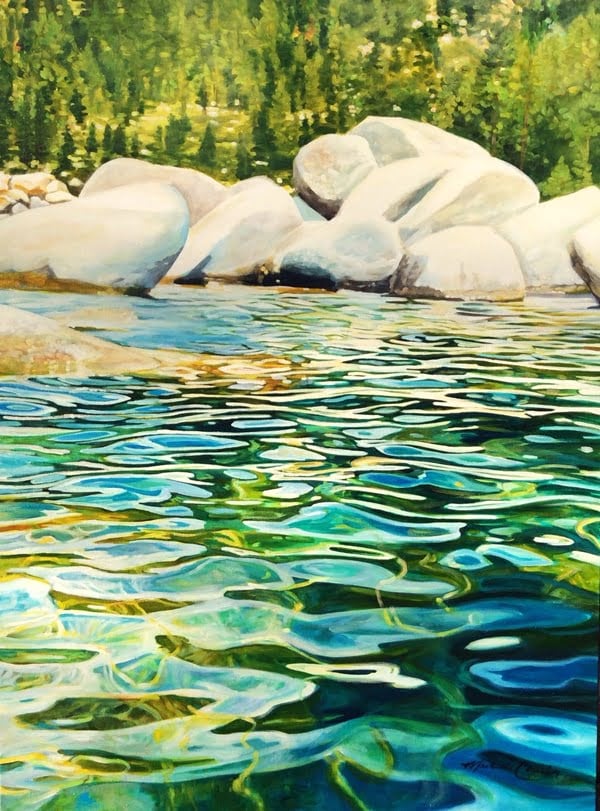 Water ripples can be hard to recreate on a canvas. Practice making ripples with acrylic paint using this image for inspiration for your next masterpiece. Add an aesthetic background for special effects. 
Underwater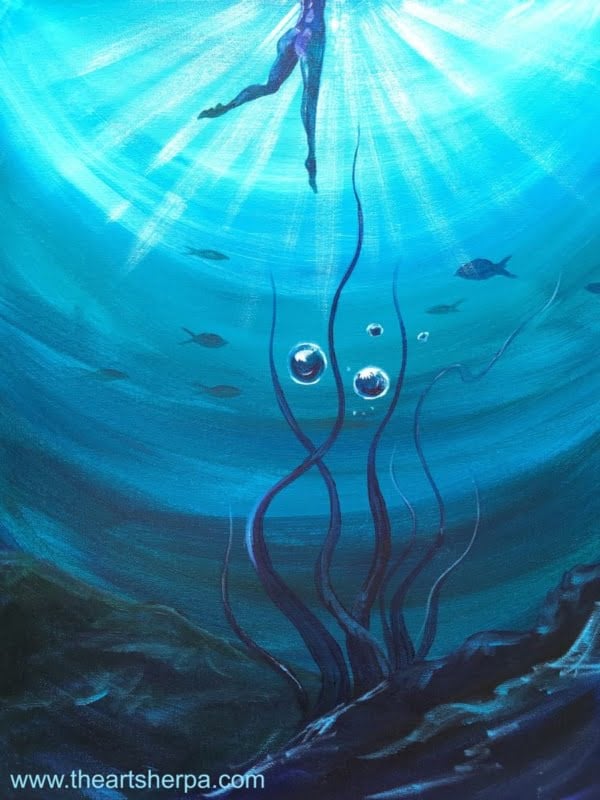 This underwater acrylic painting features flora and fauna found deep down in the sea. Play with various shades of blue and black for this one. Add a swimmer at the top for a more realistic effect. 
Geometrics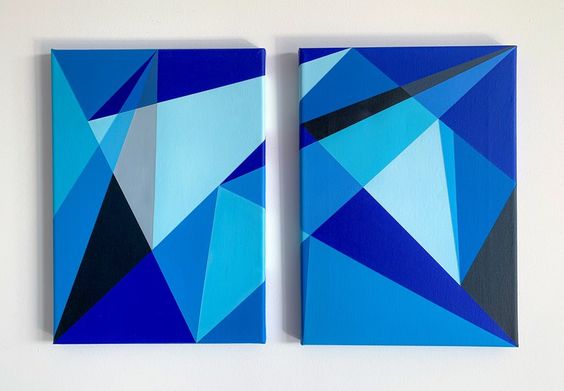 A simple, repetitive geometric pattern can look absolutely stunning against a plain background. Create this using a simple diamond pattern and shades of blue and white. Don't overthink this one.
Abstract Ripples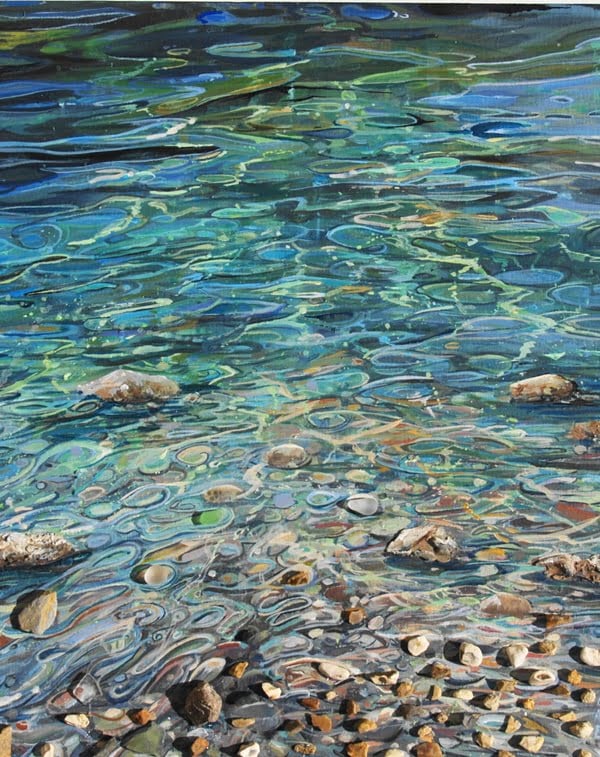 Experiment with the abstract style of painting using water ripples as an inspiration. Create rocks and water, using lighter shades of acrylic paint to create the water ripples as naturally as possible. 
Roses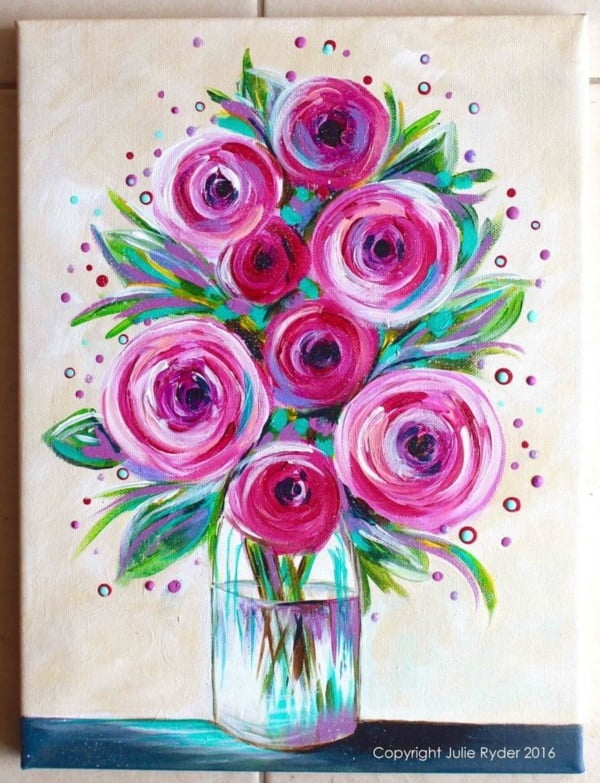 Try a different take on the traditional rose painting with this acrylic painting idea. Paint the pink roses facing you and add an interesting background using a mixture of the same shades. 
Bee and Flowers
A beautiful painting of a bee taking nectar from flowers – the very essence of life. This painting is bright and colorful, so recreate it using different shades from your acrylic paint palette. 
Florals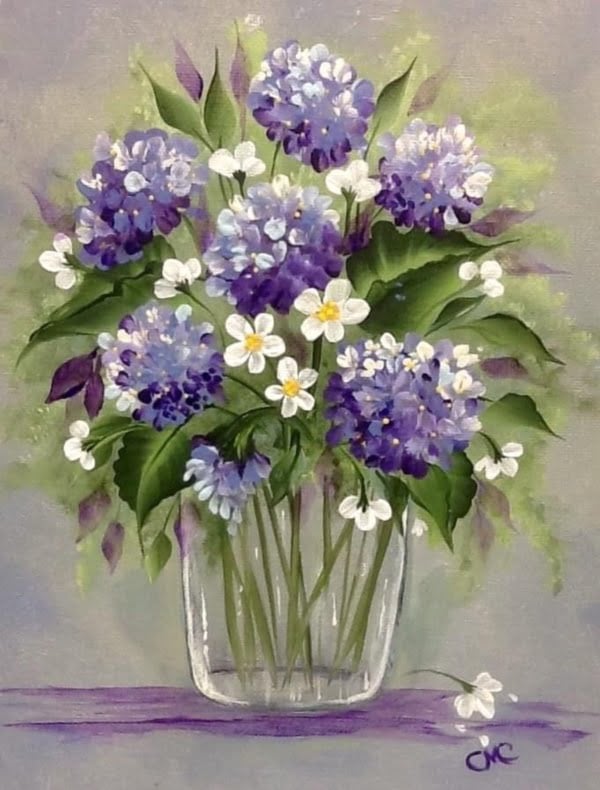 Florals are always fun to paint and give you immense room for creativity. Paint a vase of lavender and white flowers using your acrylic paints and a mix of techniques like dry on dry and wet on dry. 
Colored Patterns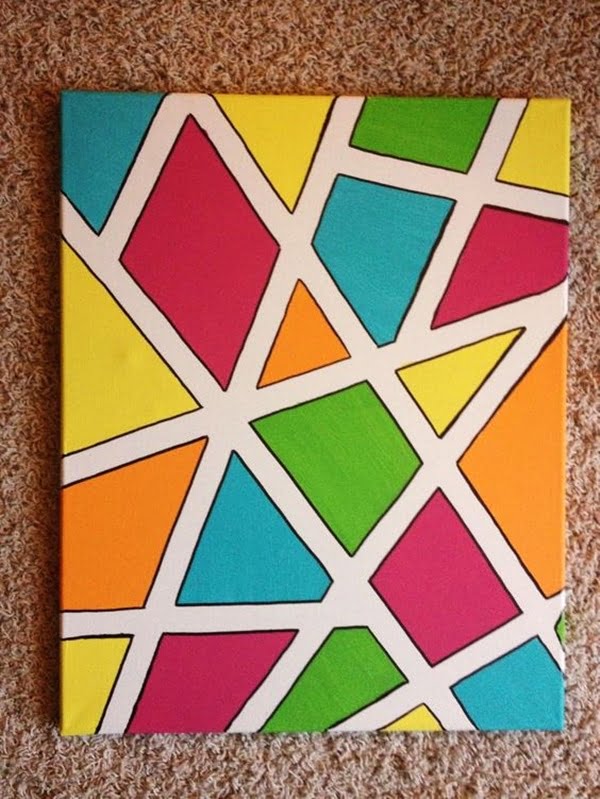 An interesting concept where you can use tape to seal off certain portions from your canvas. Stick the tape in geometric designs and paint the leftover canvas area with various shades from your palette to create this one. 
Fresh Trees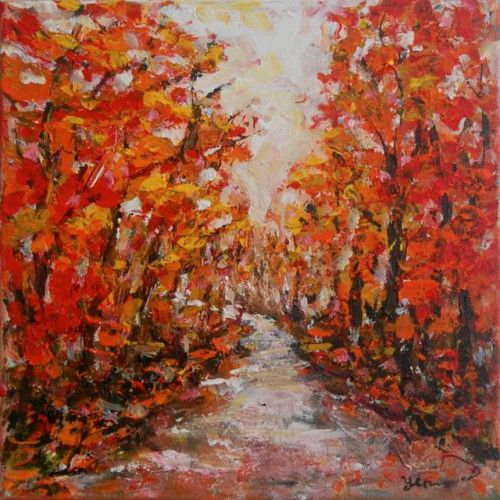 A pretty landscape of bright yellow and green trees, with leaves scattered on the floor. Create this acrylic painting using a palette knife and paint brush. Experiment with Impasto for different effects. 
Wishful Dandelion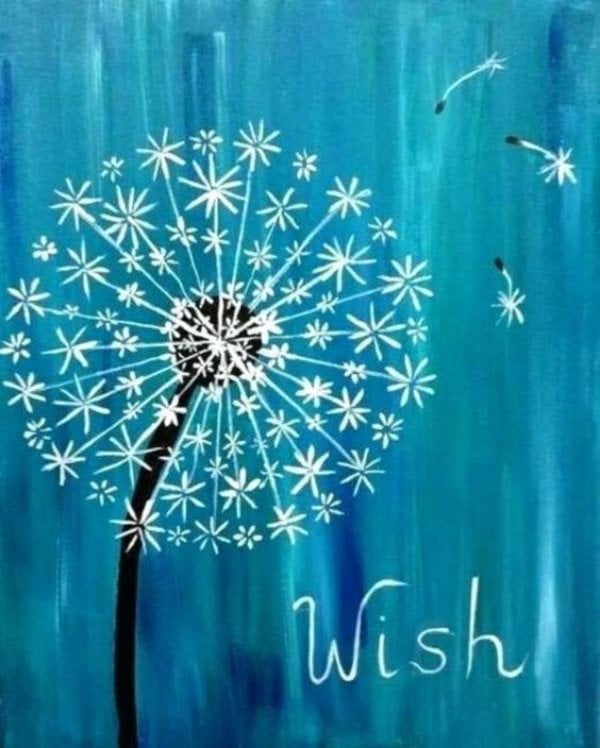 This is a simple acrylic painting you can recreate at home using your palette. Paint a simple blue background, add the black stem of the dandelion, and once dry, start adding the white. The end effect is outstanding. 
Gradient Triangles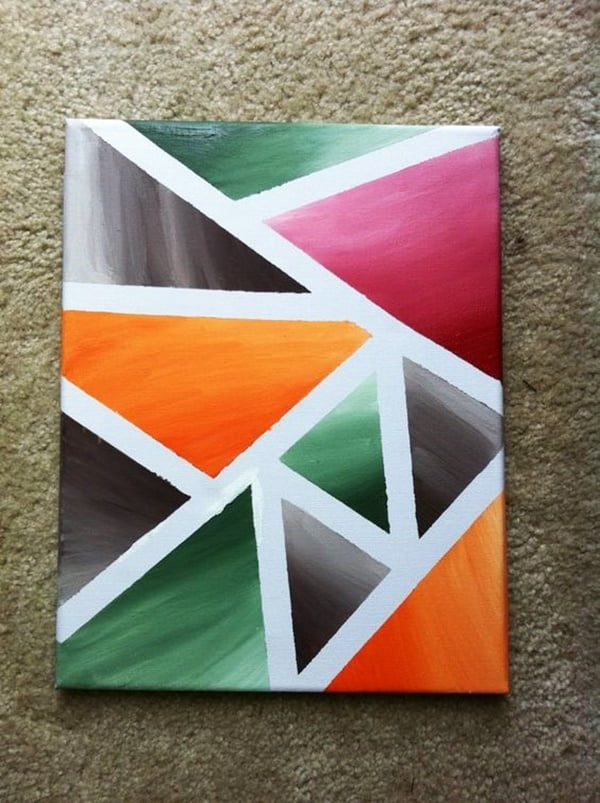 Try creating gradient triangles using the same taping off method as we mentioned earlier. This time instead of choosing block colors, create a gradient effect by using a combination of acrylics. 
Still Life Flowers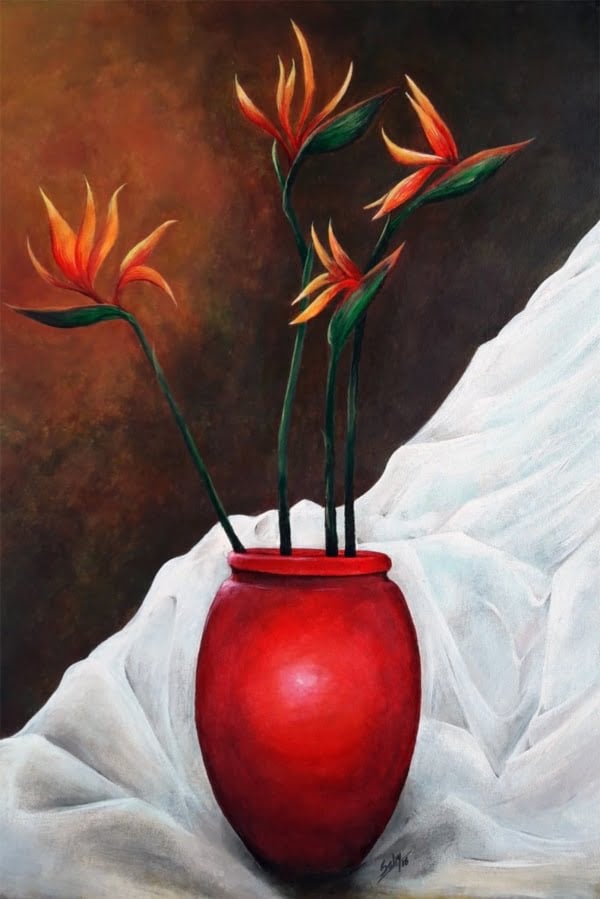 Painting still life can be a wonderful way to practice your acrylic painting techniques. Opt for a simple pot with flowers against a soft background, and paint it taking all the time you need. The end result can be captivating. 
Tree Painting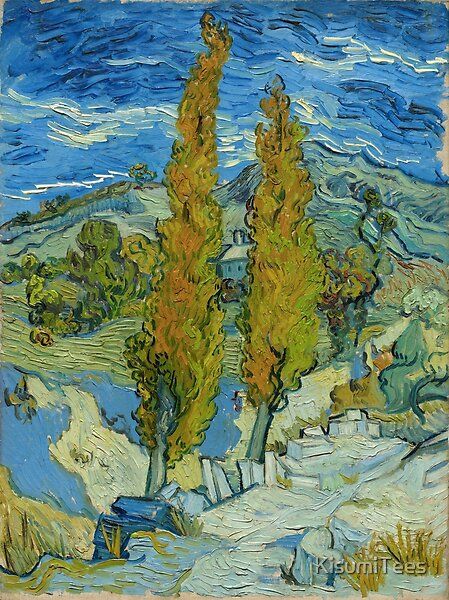 Honestly, you can never paint enough trees, in our opinion. Here is yet another rendition of a tree painted against a bright yellow and blue background. The painting style is a classic Van Gogh. 
Easy Beach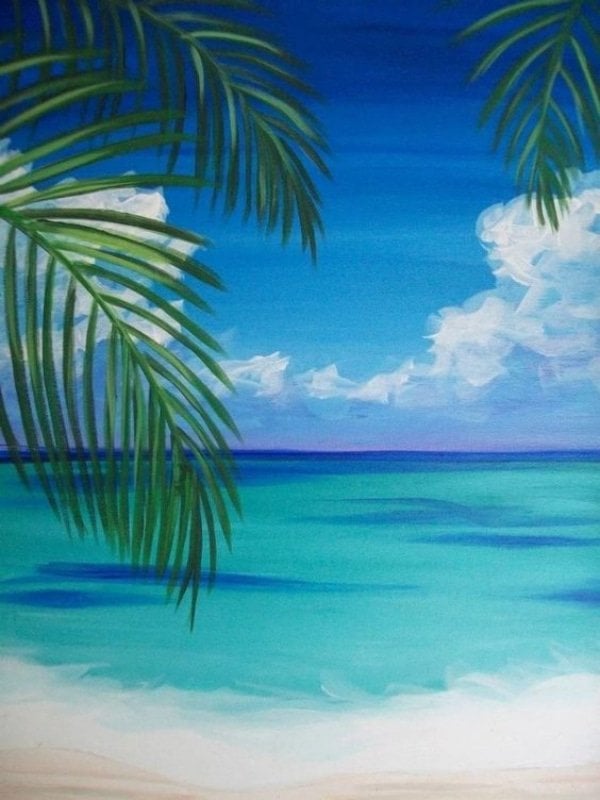 Painting a beach scenery isn't easy – but this easy beach painting is perfect for beginners. Using simple brush techniques, paint this beach and sky scenery. Add some palm trees to make it a perfect scene. 
Sunset Skies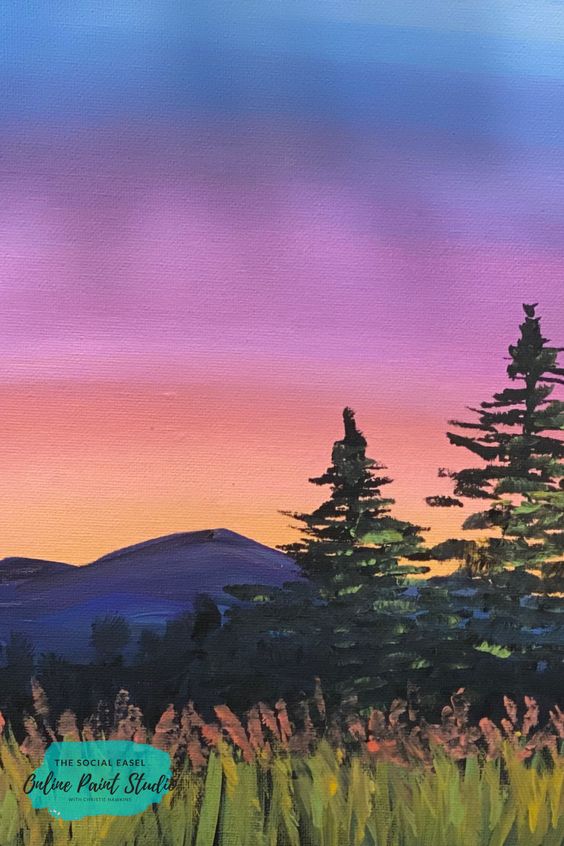 This acrylic painting featuring sunset skies is not only aesthetically pleasing, but also fun to recreate. Using various warm and cool shades from your palette to create the vivid evening sky for this acrylic painting idea. 
Subtle Sparkle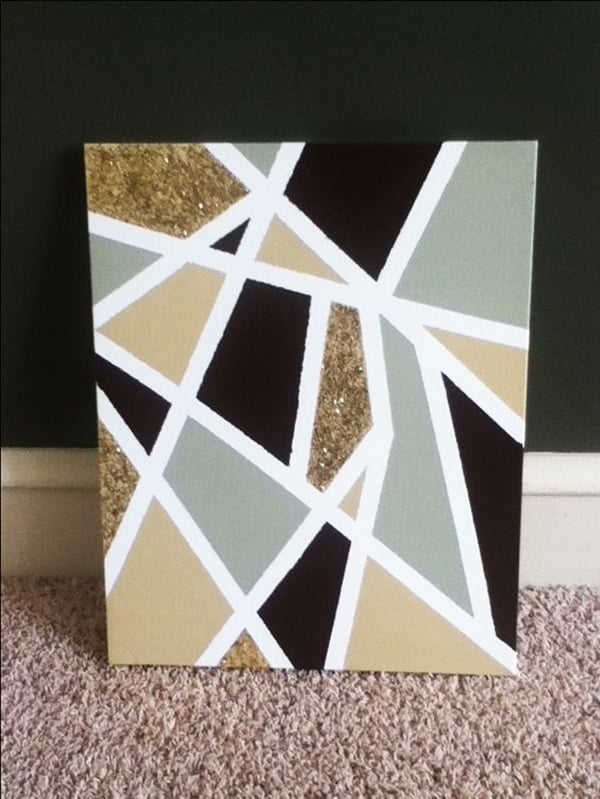 Although this geometric pattern uses subtle shades of beige, gray and black, it has a little sparkle. This is the eye-catching part about this painting. Make it yourself by using golden sparkles for filling some of the geometric shapes. 
Horizon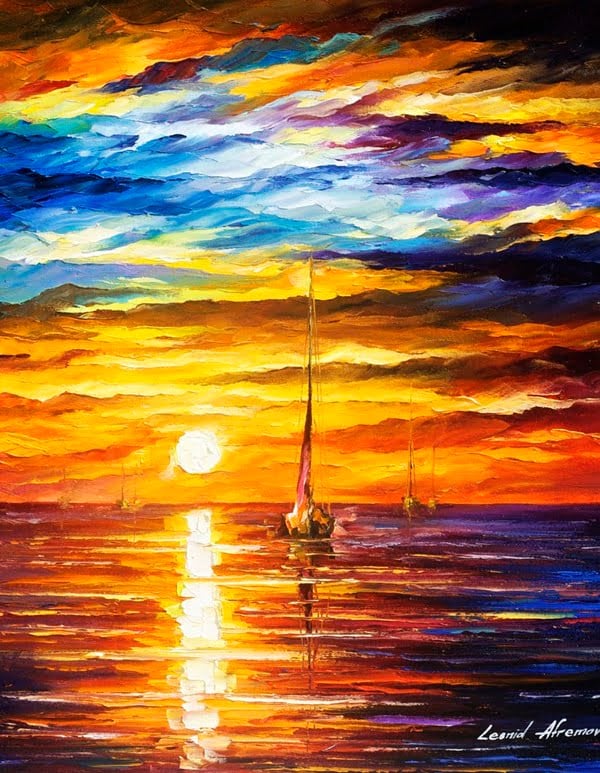 Paint a bright horizon using impressionist techniques for this painting. Add a little boat in the right center of the canvas to create a more realistic effect of the sunset horizon. Add a few other boats nearer to the horizon on a smaller scale. 
Sunrise Swing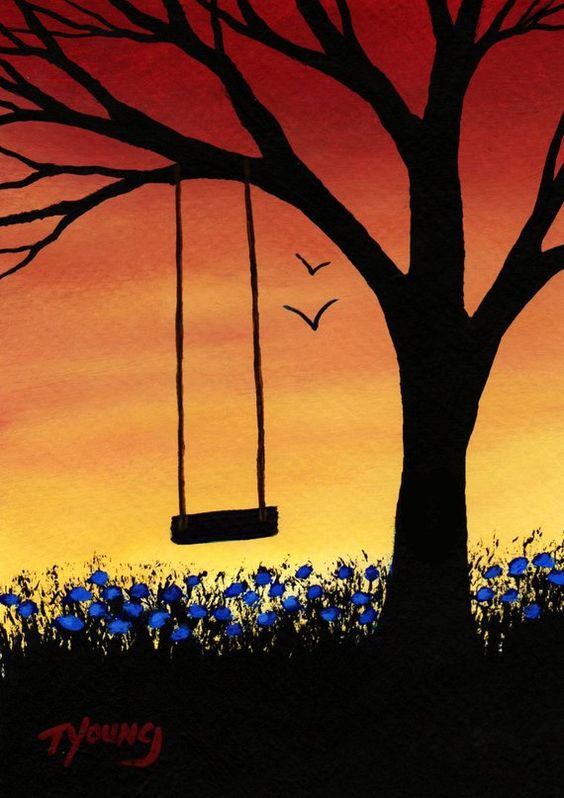 A simple acrylic painting idea which you can easily recreate on your own. Make the beautiful bright skies using the gradient technique first. Once dry, add the silhouette of the swing, and finally, some flowers.
Lantern Blossom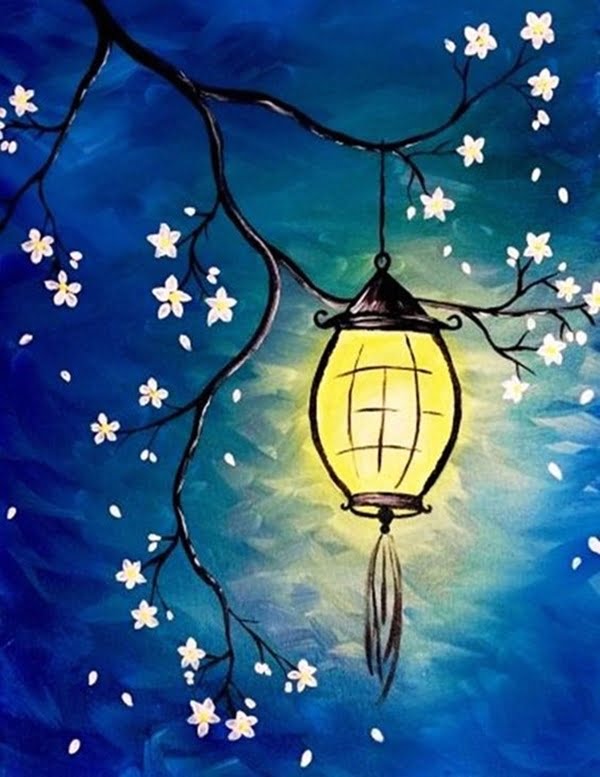 This creative painting features a cherry blossom tree, famous in Japan, and a lantern hanging from its branches. Try painting the dark background first, then moving your way into the middle of the painting and finally making the cherry blossoms in white. 
Happy Cat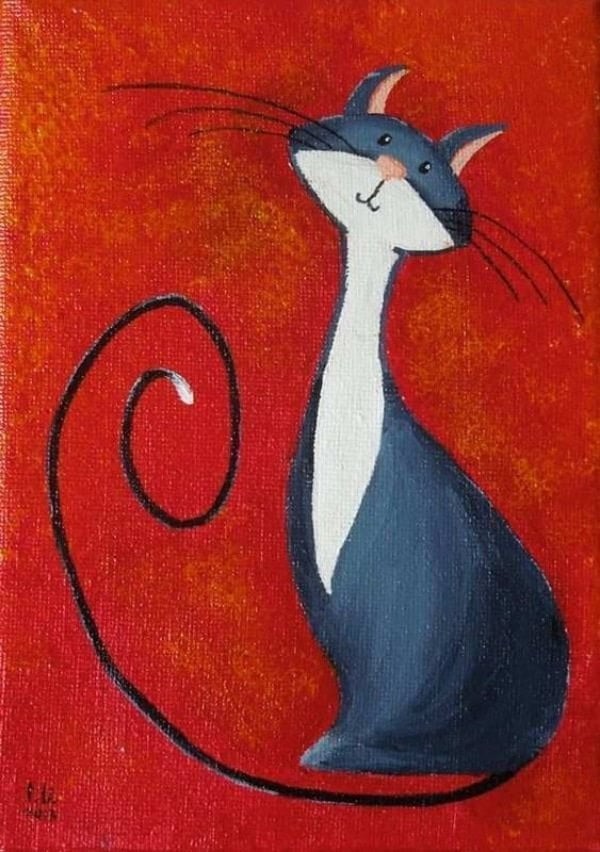 Paint this whimsical, happy cat with a big smile on its face. The red background enhances the look of the happy cat. Don't forget to draw a long, curved tail to add to its whimsical nature. 
Guitar & Wine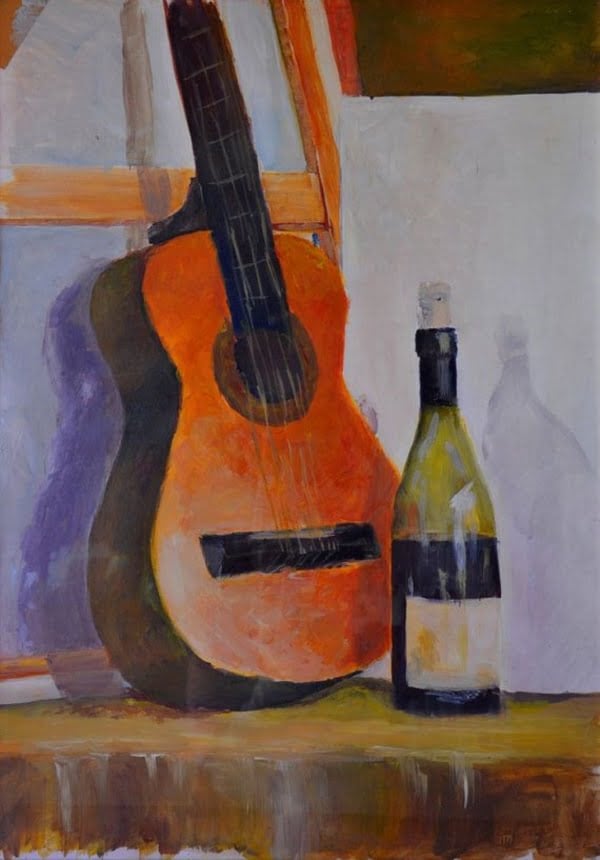 Another example of a still life painting – attempt an acrylic painting idea to remind yourself of good music and good wine. If you don't have either item at your disposal, then simply use this reference image to paint your own rendition. 
Waves Crashing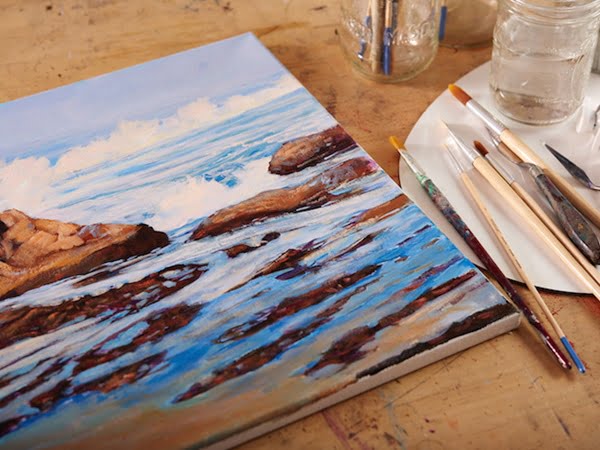 Recreating this acrylic painting might take a bit of skill, but it is fun to attempt nonetheless. This beautiful painting of waves crashing on rocks looks almost realistic. You can paint it by using lots of white paint for the foamy waves. 
Trippy Flowers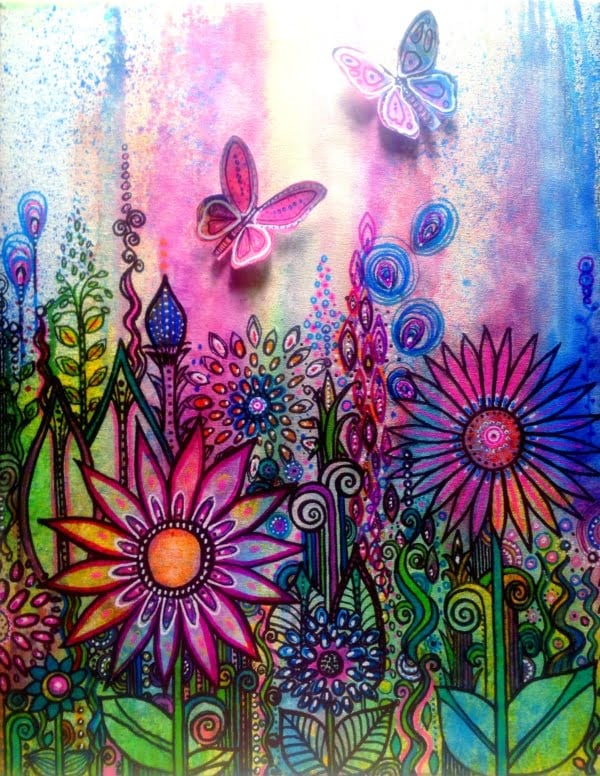 When we think of 'trippy flowers' we immediately envision psychedelic colors and floral designs. Attempt your own version of this painting by using bright colors for the background. Finish up with a marker or black paint for the floral designs. 
Sunset On Water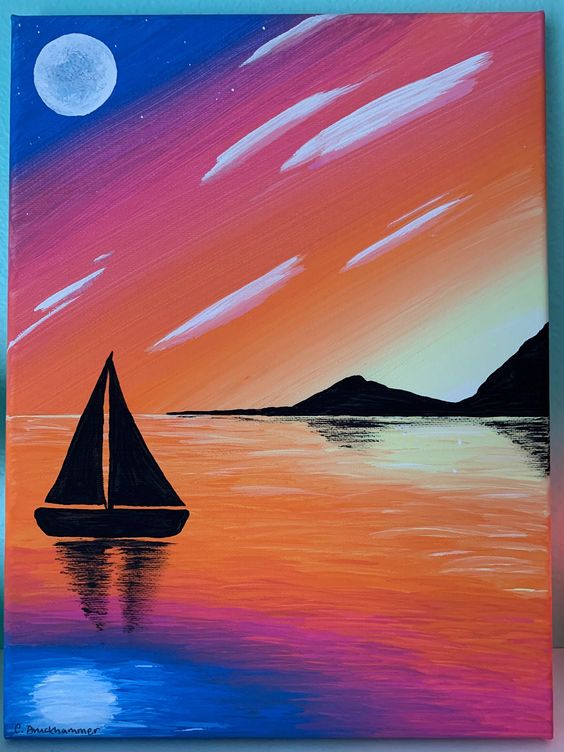 As you can see, sunsets are a pretty popular inspiration for most painters. Try this 'Sunset on Water' acrylic painting idea by using bright colors for the background, and black to create the silhouette of the boat.
Fireworks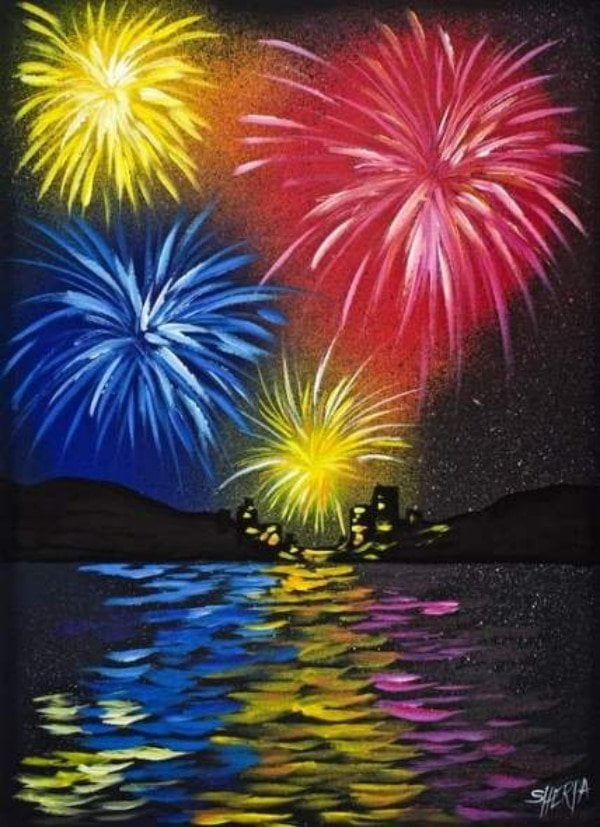 This painting is easy to recreate – use a dark shade for the background and bright acrylic paints for the fireworks. Make the reflection of the lights on the water in a softer version of the same shades. 
Blue Nature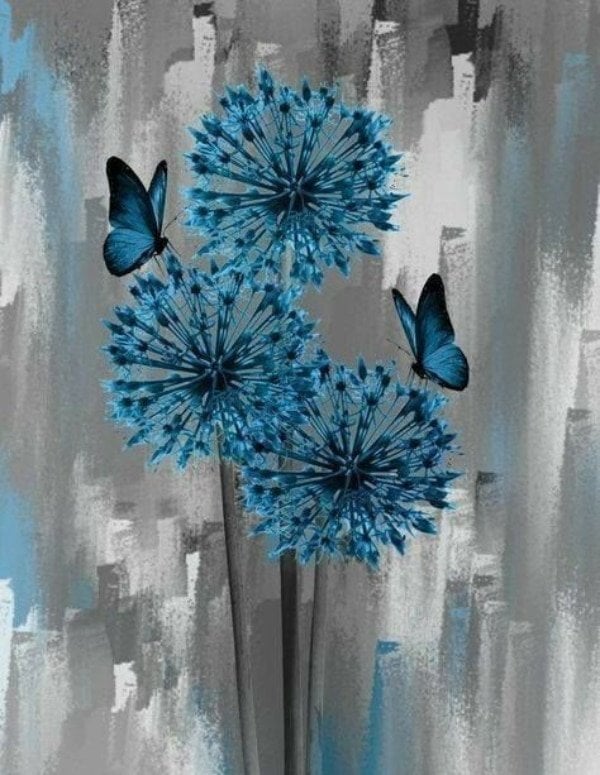 Although this painting is relatively simple and fun to recreate, the end result is riveting. Create a gray background and make dandelions and butterflies using dark shades of blue and black.
Whale Family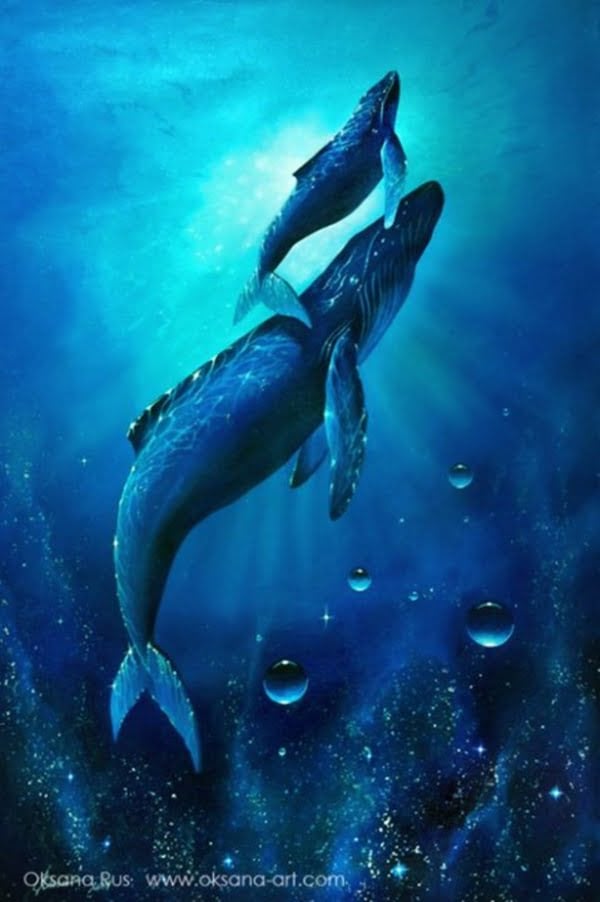 Whales are large, majestic mammals and are exciting to paint. For this acrylic painting idea, create a starry effect underwater and add bubbles using white, dry paint. This works best using a dry on dry technique. 
Girl Swinging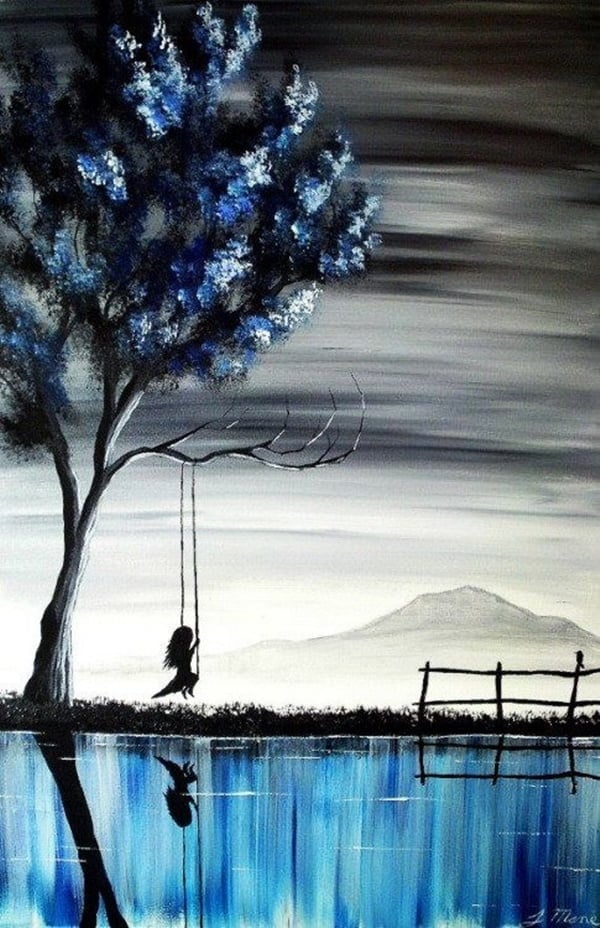 The monotone of this painting is broken by adding the beautiful blue waters underneath. Paint the swinging girl under the tree and a bench at the corner. Don't forget to paint the girl's reflection in the water to complete it. 
Dancing Girl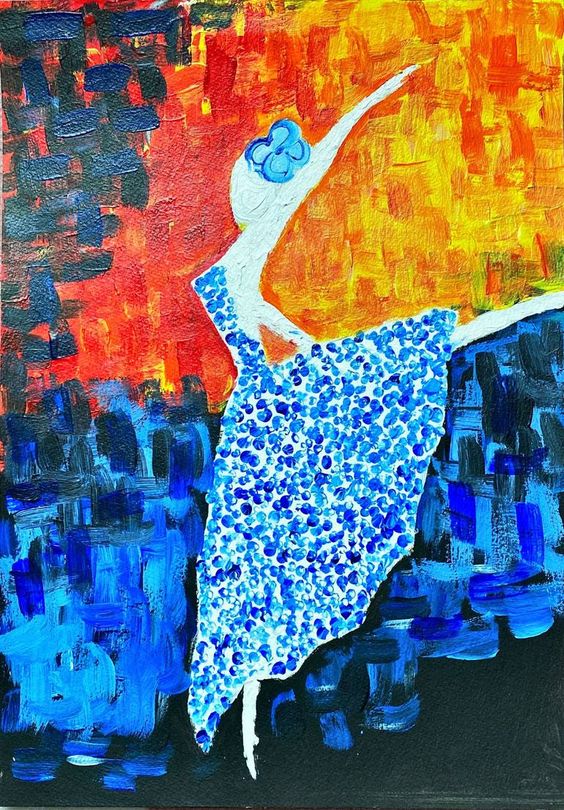 The beauty of this acrylic painting lies in the girl's skirt. Create a gradient background to begin with, and add the dancing girl silhouette in white. Using a toothpick, place little dots of color to make the girls skirt in an easy but stunning technique. 
Dot Mandala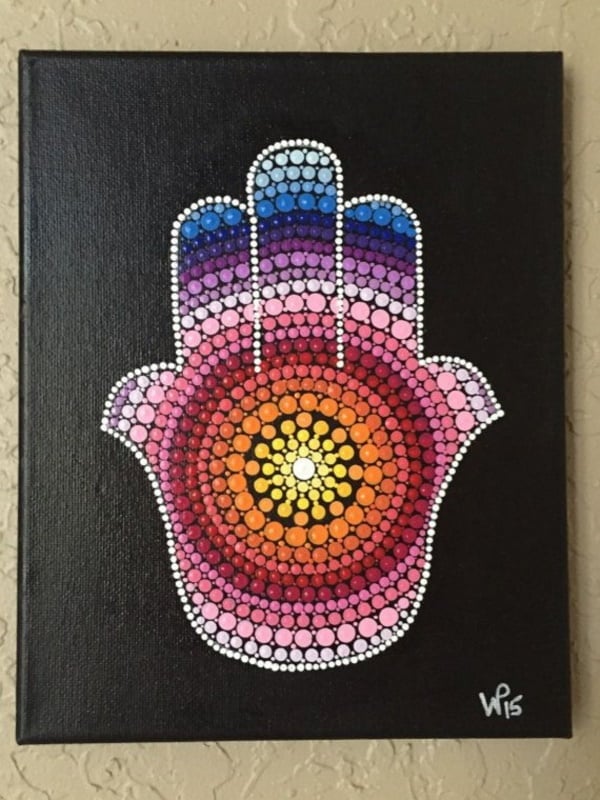 Mandala paintings have become increasingly popular recently. Try out your own version of a Hamsa, the palm-shaped amulet complete with mandala dot work using acrylic paints. Experiment with different colors and sizes of dots using various tools to create it. 
Lighted Bridge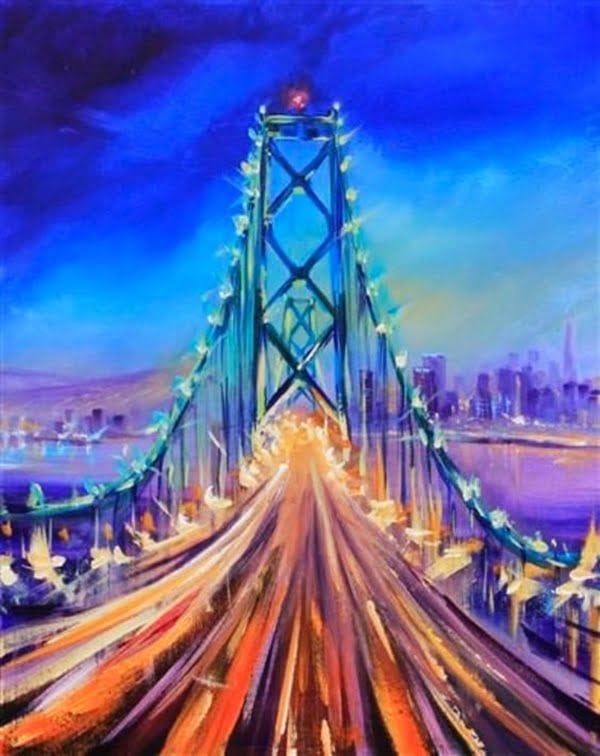 Try a perspective painting with this Lighted Bridge inspired artwork. Keep the shapes as loose and blurred as possible to create an effect of motion. Use bright colors for the foreground and keep a darker shade at the back. 
Seaside Inspired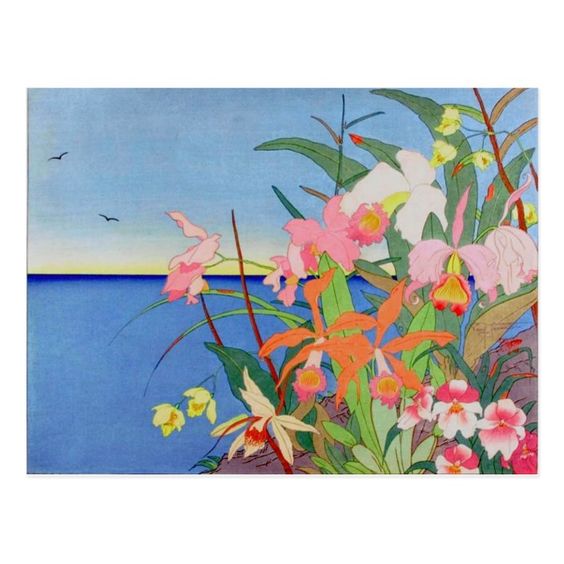 Here is a seaside inspired painting with bold shades of blue and pretty pink and red flowers to add a contrast. Paint the seaside in the background to complete the effect of this painting. 
Musical Dotwork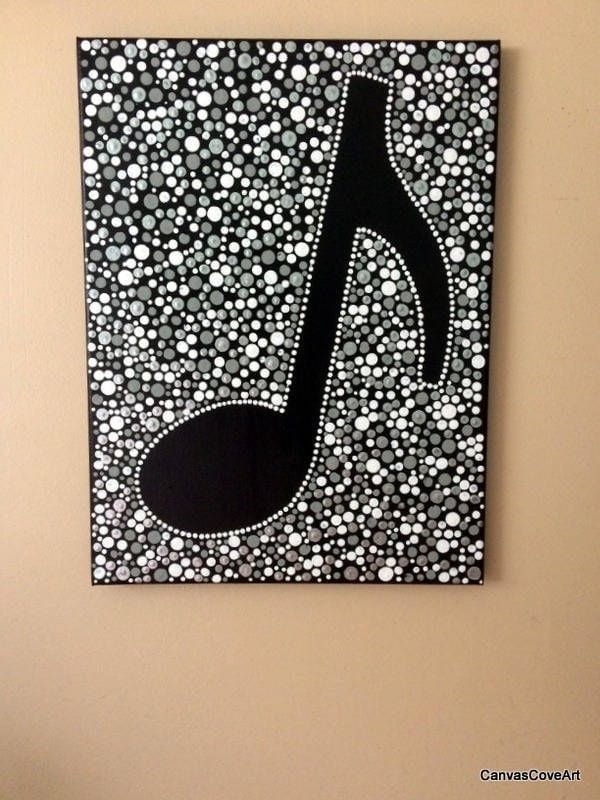 For the musically inspired artist, this music note painting idea is a great option. Opt for a black canvas for this one, and create a white and gray dotwork for the background. Keep the musical note plain and black for a bolder effect. 
Burst Of Sun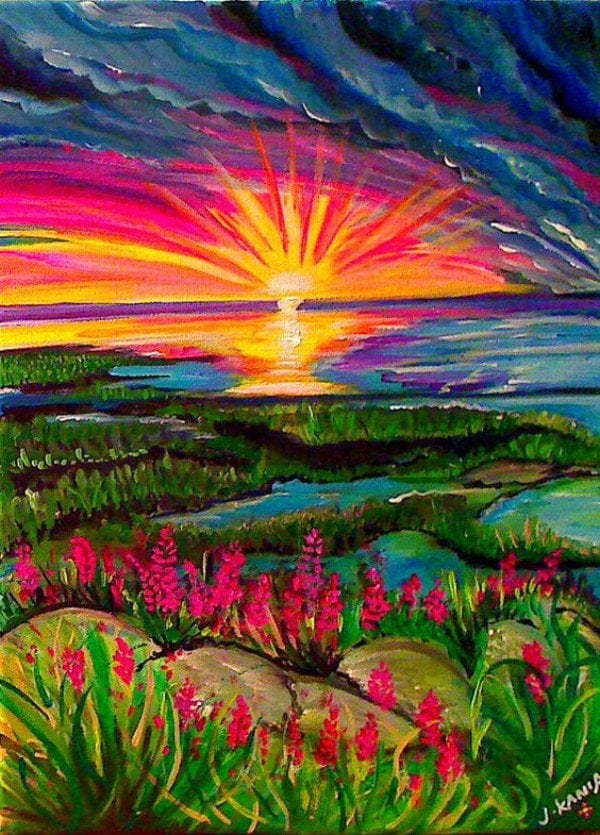 Everything about this painting is so bright and colorful, that it gives you an excellent opportunity to experiment with the colors on your palette. Don't be shy with the greens and pinks to add grass, flowers and water to your painting. 
Elephant Trunk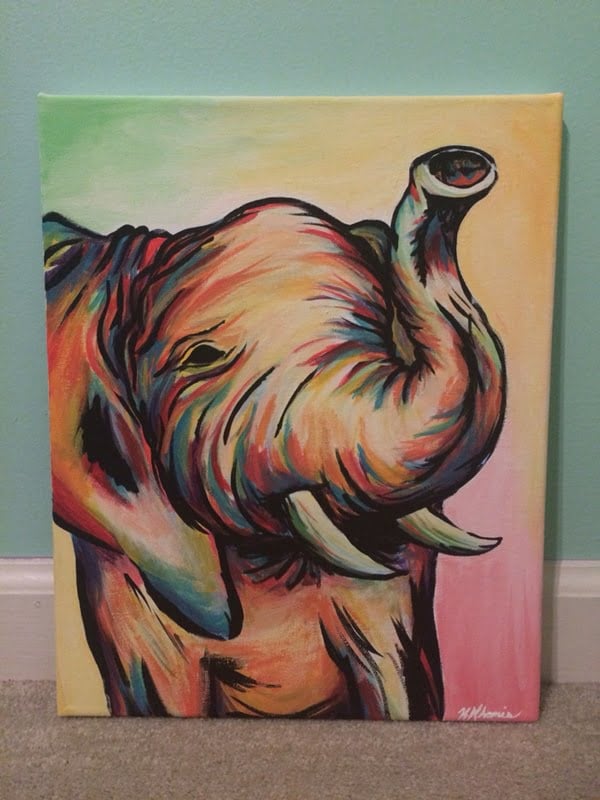 Another elephant inspired acrylic painting coming your way! This one is a fun and interesting take on the traditional elephant painting. Pick your favorite shade and go wild, creating a masterpiece of your own. 
Girl With Cats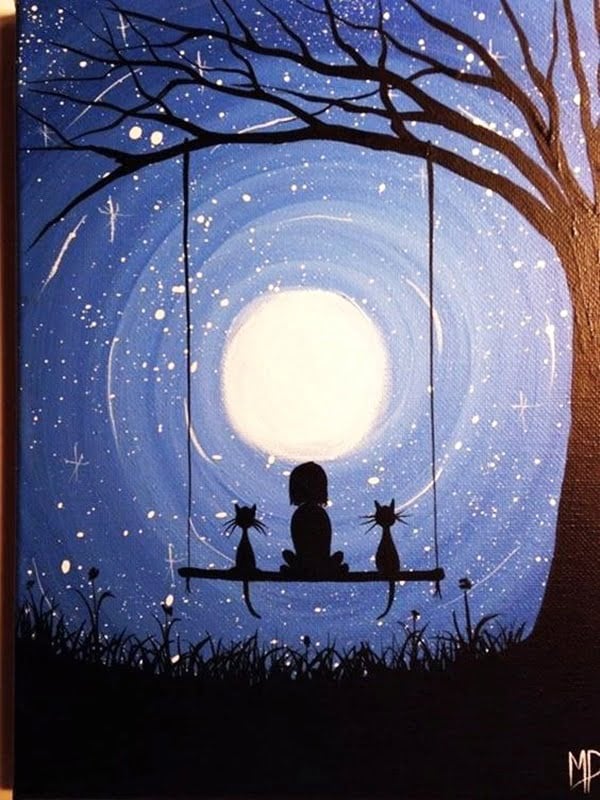 This acrylic painting idea merges the night sky painting with the girl on swings. Add two cats sitting beside the girl to create a beautiful, artistic concept painting. Using white paint, add stars and a bright moon. Lastly, add the tree trunk and grass blades.
Leaf Dot Painting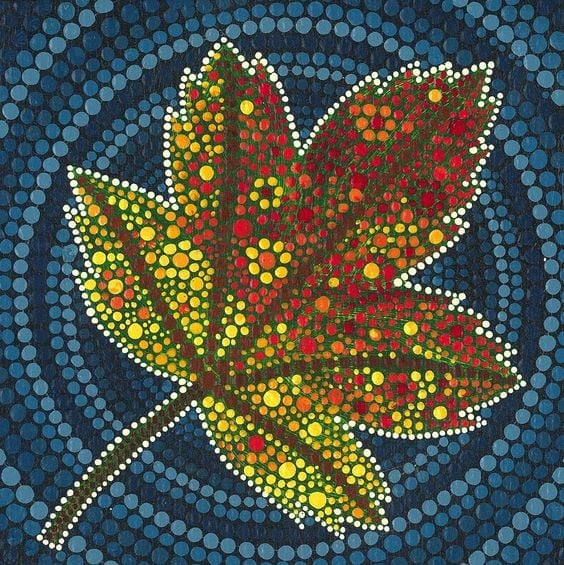 Yet another dot painting idea to perfect your technique – a leaf dot design. Begin by making a leaf outline, and start slowly filling it using the dot work technique. Don't stick to just green. Experiment with other colors too for this painting technique. 
The Dancer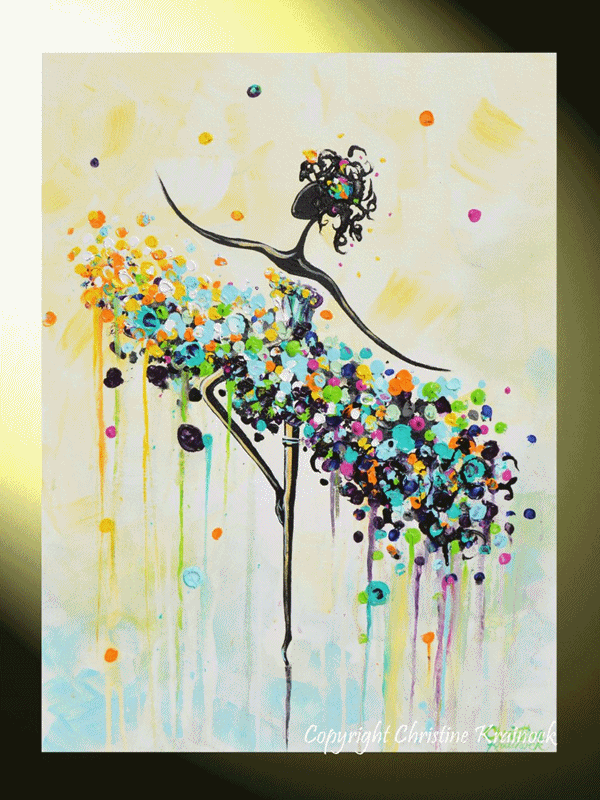 This dancer girl painting is similar to the previous one on our list. However, this one uses a different shade of colors and a drip effect for the dancer's skirt. Add wild, curly hair in black for a better effect. 
Waiting Boat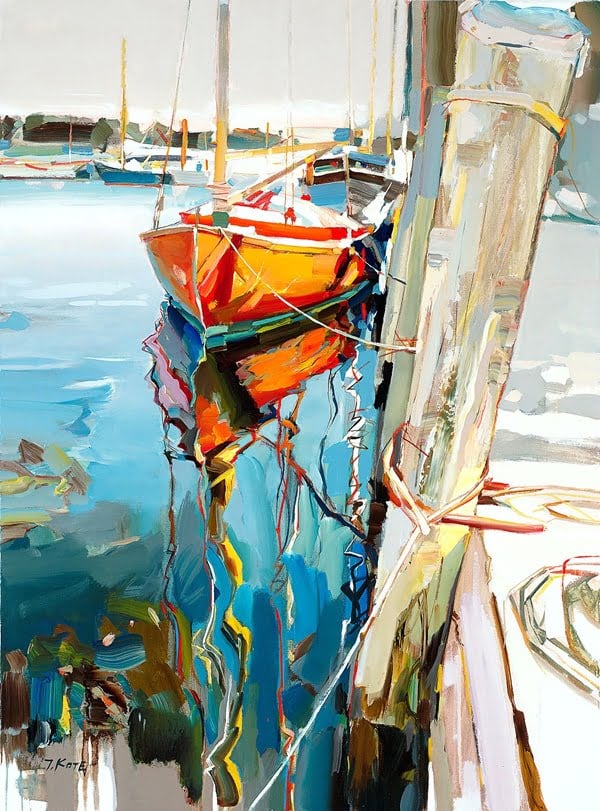 Although this acrylic painting looks challenging to recreate, it's actually fun. Take help of the reference image and just have fun while painting this one. Add a mixture of colors to make the scene pop and look vibrant. 
Sun And Moon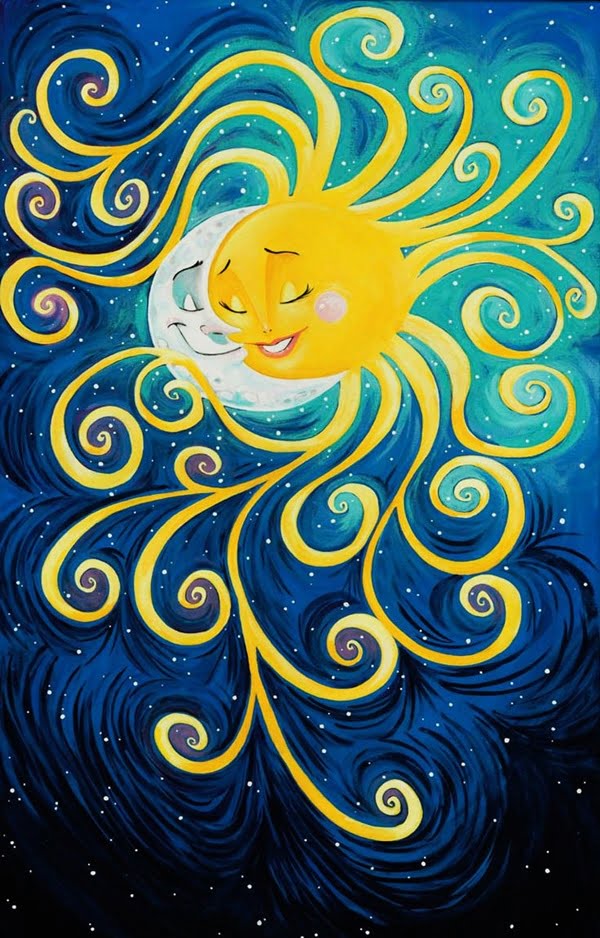 A favorite concept among painters is the sun and moon inspiration. For this painting, try creating loose curls for the sun's rays, and adding a face on both the sun and moon. Place some bright, white stars in the background for a finishing touch. 
Peacock Feather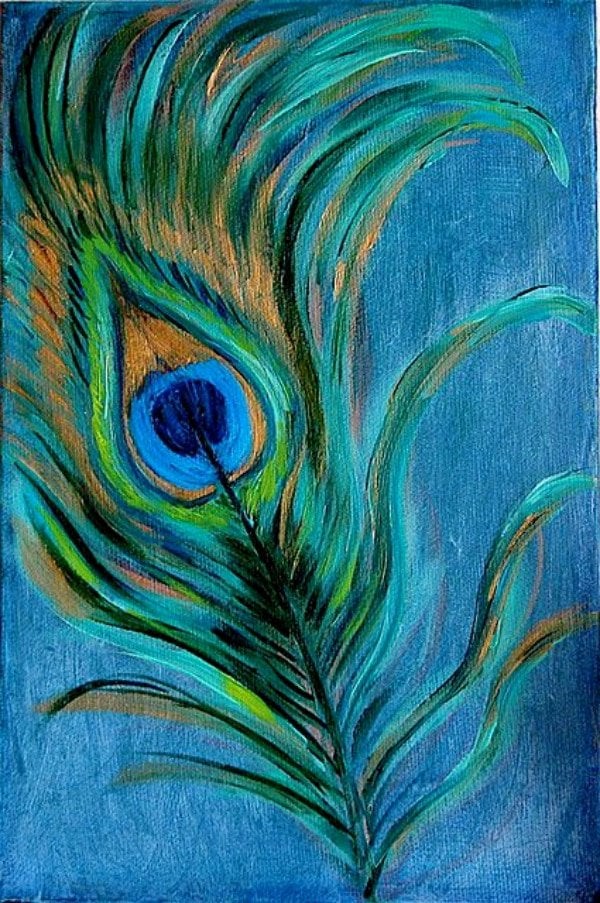 Inherently beautiful and artistic, a peacock feather can be a fun project to paint. It helps to take help from a reference photo for this one. Stick to cool shades, adding just one or two warm tones in this. 
Dancing Girls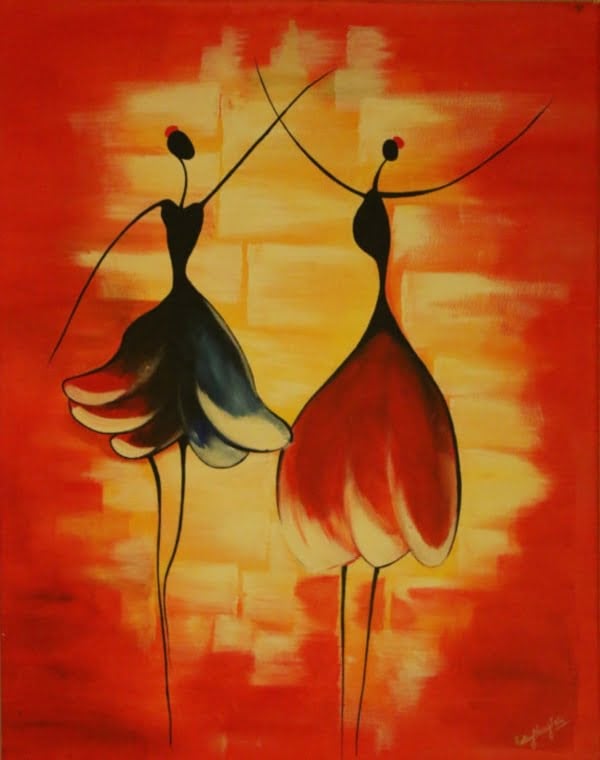 This painting of two dancing girls gives a rustic, Spanish charm due to the use of sunset tones and a salsa costume. The girls' are made with minimalistic features so that the eye falls on the background and the skirts. 
Lone Cat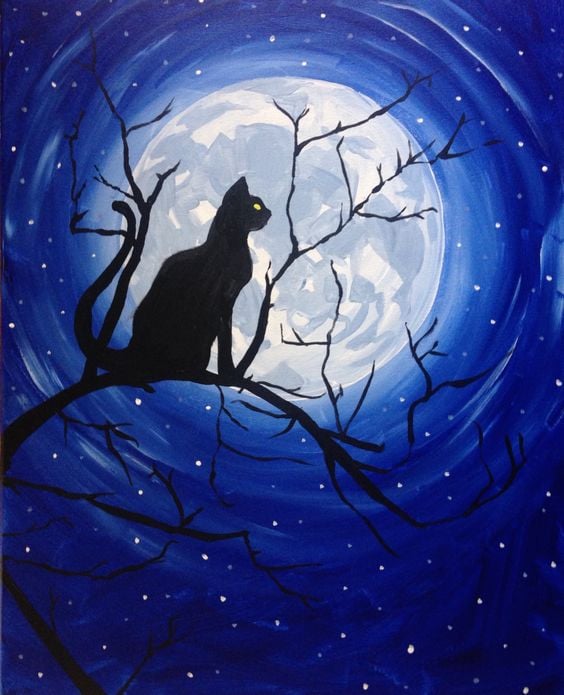 Using a similar concept of the night sky and moon, create the background in dark shades, keeping the moon very bright. When it's dry, add the tree and a lone cat on its branches. 
Fall Tree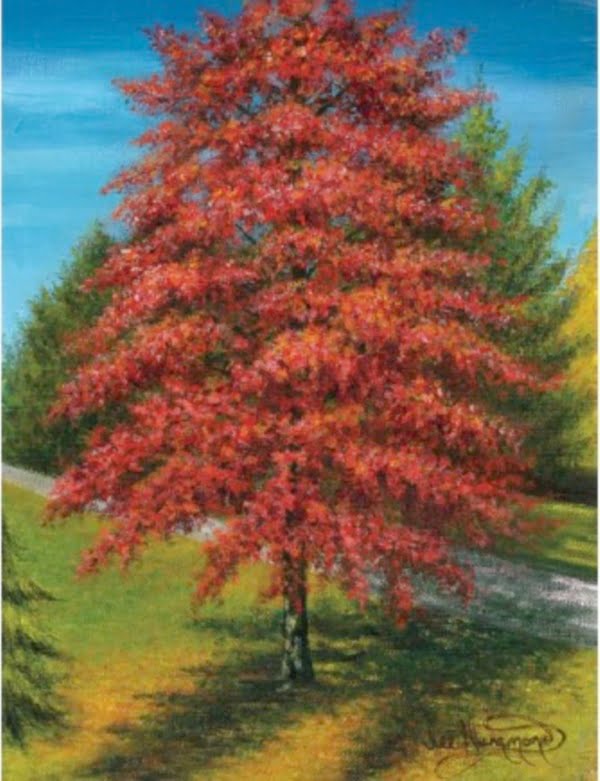 Orange and red fall trees look beautiful and are fun to paint. Opt for warm tones for this painting, using cool tones for the background for a contrasting effect. 
Octopus Concept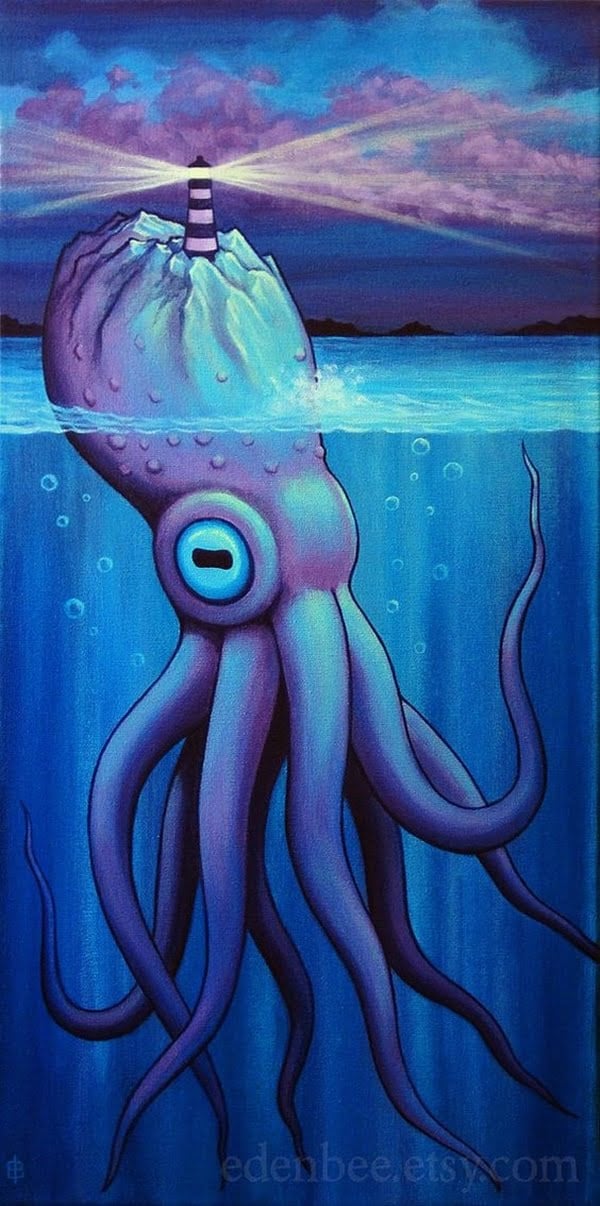 A unique take on the traditional octopus paintings – this one is a creative concept which represents the top of the octopus's head as a structure. A lighthouse emerges from this structure, making the piece open to interpretation. 
Textured Landscape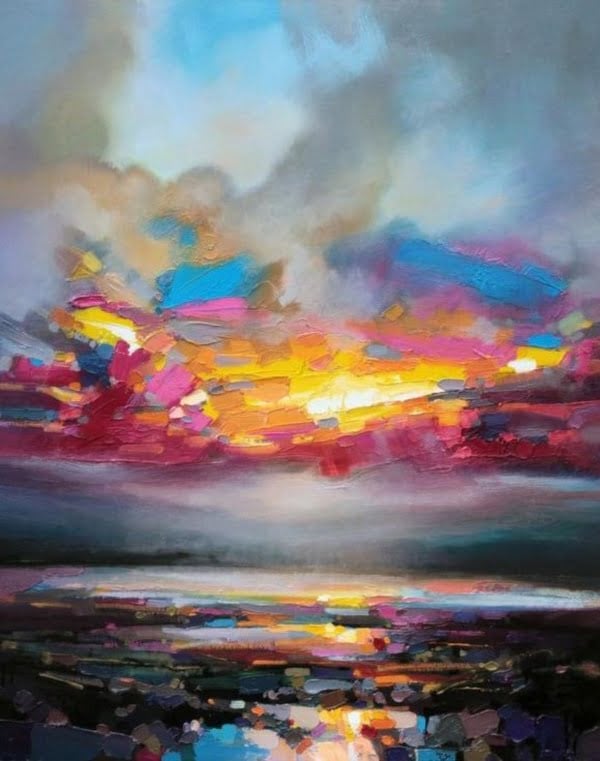 Using a dabbing technique, paint this textured landscape with a paper towel or sponge as a tool. This method creates beautiful textures which are difficult to recreate using a paint brush. Use bright yellow and white shades to make the sun.
Ladybug On Flower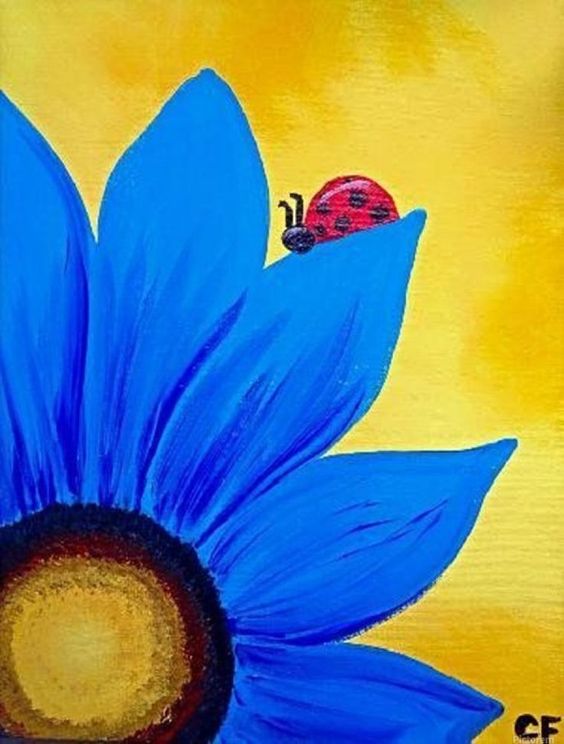 Who doesn't love ladybugs? Create a beautiful half flower in a bright, blue and purple shade for this painting. Add a tiny ladybug on one of its petals to finish it. Remember to keep the background in a bright, contrasting shade. 
Happy Cactus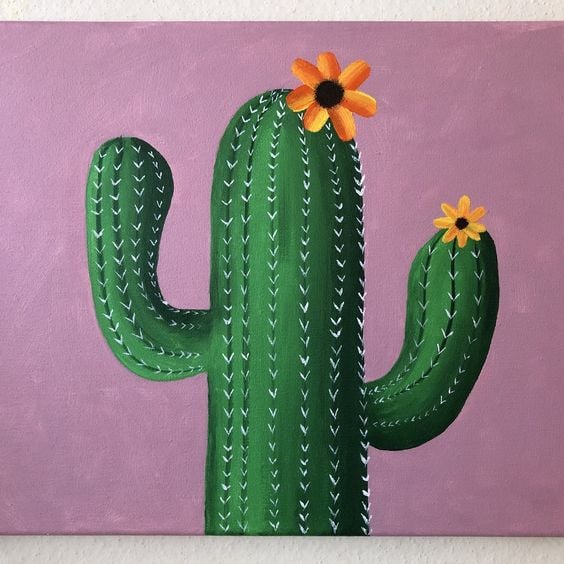 Over a dusty pink background, paint a large cactus plant. Add its white spines, and to finish off, a beautiful, bright flower on its crown. 
Eiffel Towel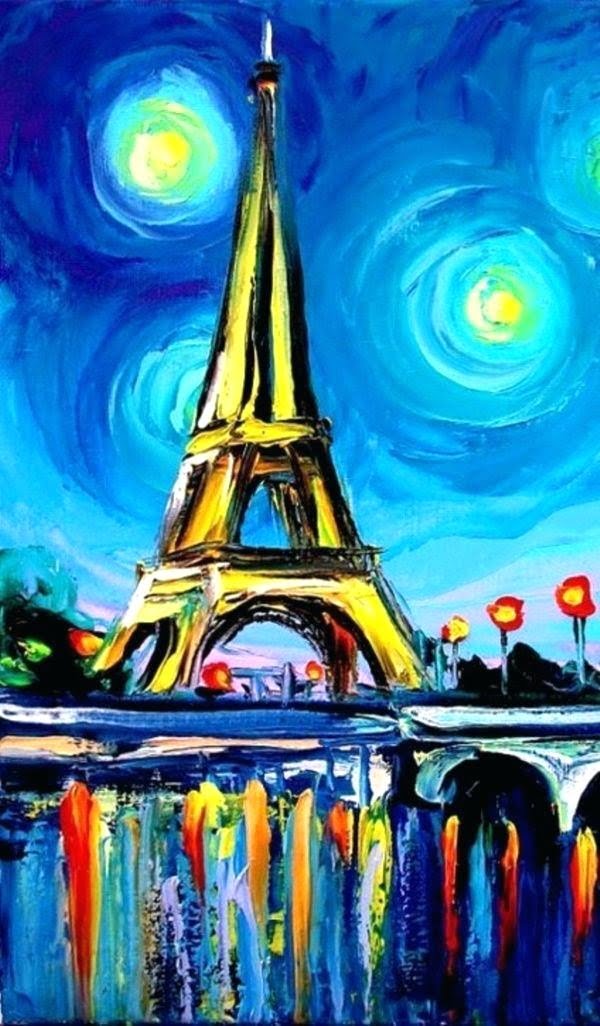 Painting the Eiffel Tower can be a dreamy inspiration for many artists. You can always experiment with your own rendition of it. In this painting, create a Van Gogh inspired night sky and the bright, lighted Eiffel Tower in the center. 
Majestic Mountains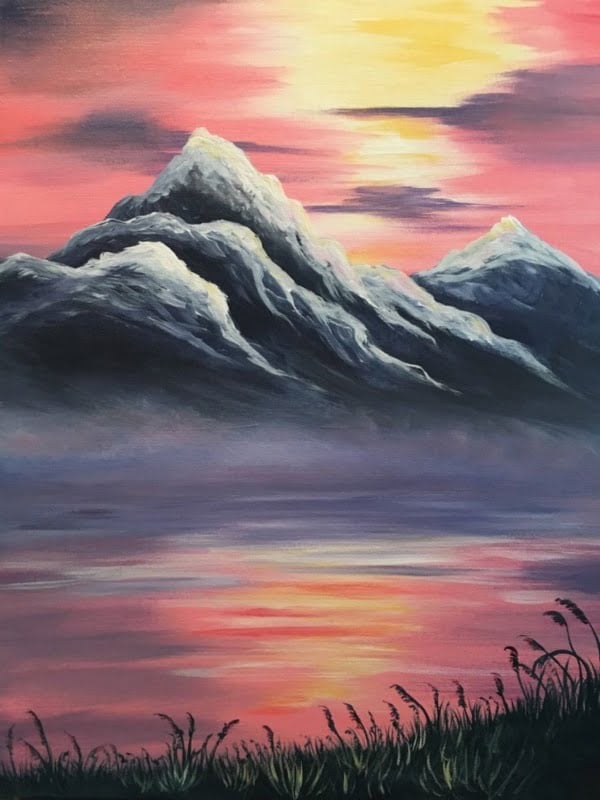 If you're suddenly craving the mountains, how about painting this instead? Create a warm, sunset sky and paint the grand mountains right at the center of your canvas. Use lots of shading techniques for this one. 
Bright Jellyfish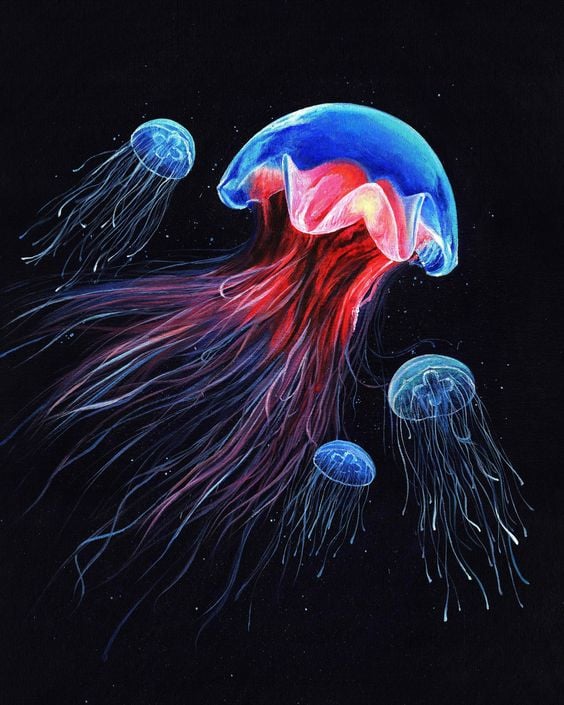 Painting these bright, colorful jellyfish can be great fun. Start by painting the water in the back. Use dollops of bright colors for the jellyfish. Take a thin paint brush and create wavy texture for the tentacles of the jellyfish. 
Cats In Love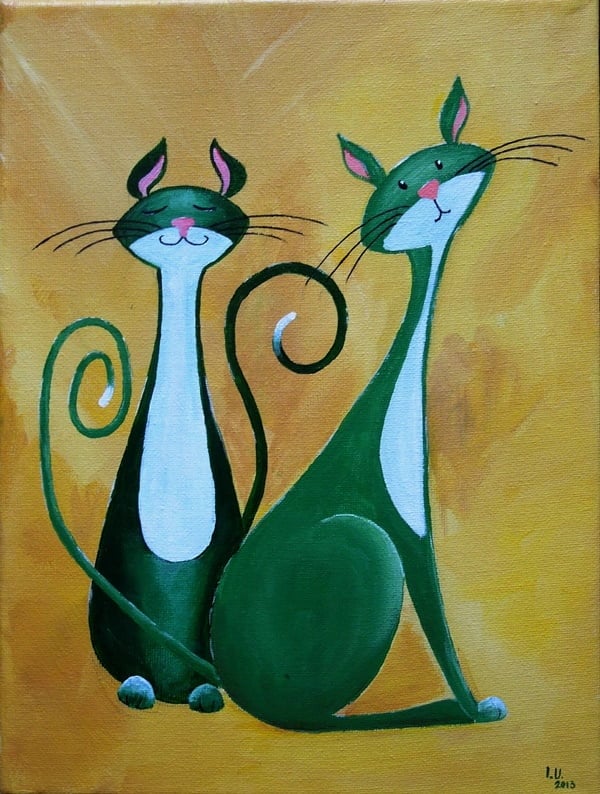 These two happy cats look deep in love in this acrylic painting idea. Use a yellow ochre background and a shade of sap green and bottle green for the two cats. Paint two big smiles on their faces to represent their state of love! 
Morticia Addams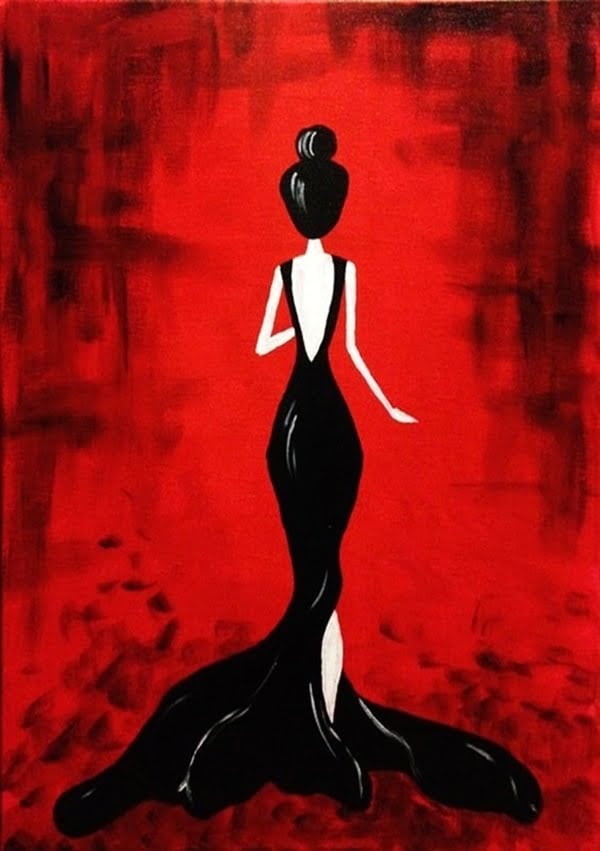 Inspired by The Addams Family, this painting of a woman from the back closely resembles Morticia Addams. The red background, pale white skin and black, plunging dress add to the appeal of the character.
Cherry Blossoms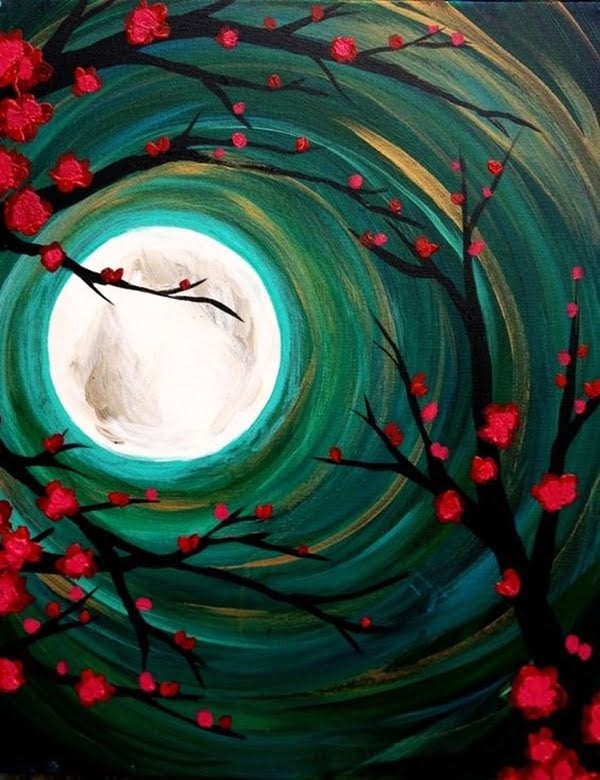 The green hues used for the night sky in this painting are striking, especially against the brightly colored Cherry Blossoms. Paint a large, white moon at the centre and merge black, green and yellow colors to create the mystical sky. Add the Cherry Blossoms in the end.
Window & Flowers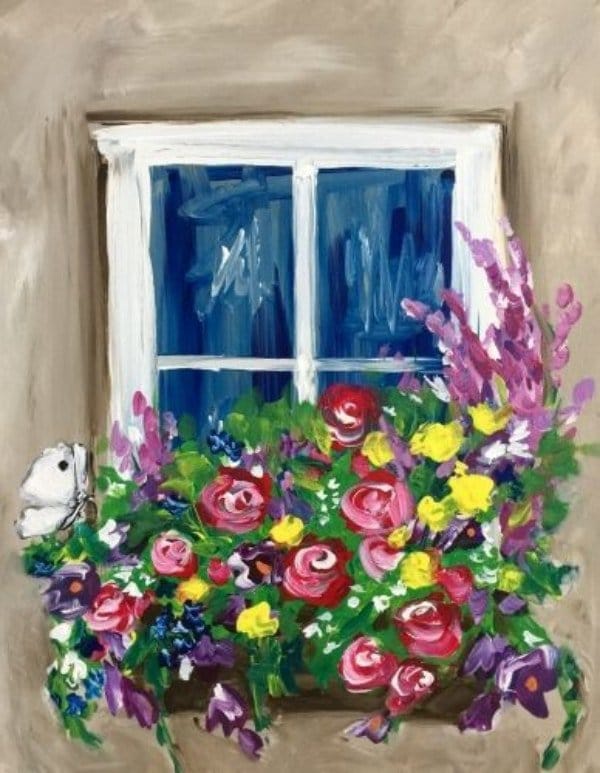 Paint a clean, white window adorned with colorful flowers for this painting idea. Add a little butterfly on one of the flowers for a special effect. Keep the background wall as simple as possible, attracting attention to the flowers. 
Umbrella Flowers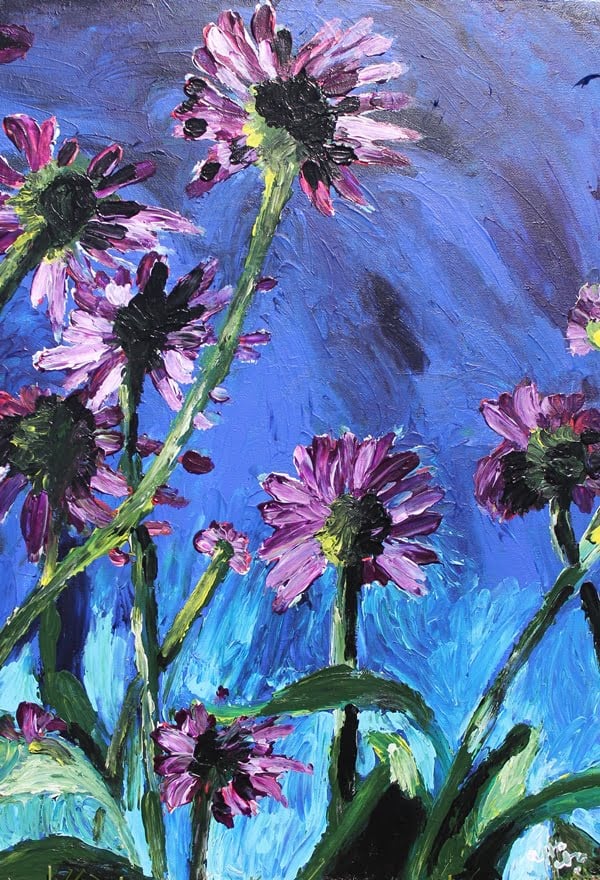 With loose brush strokes and and a heavy use of acrylic paint, these Umbrella Flowers create a stunning effect on any canvas. Don't be afraid of picking up excess paint on your brush for this one. 
Romantic Window With Flowers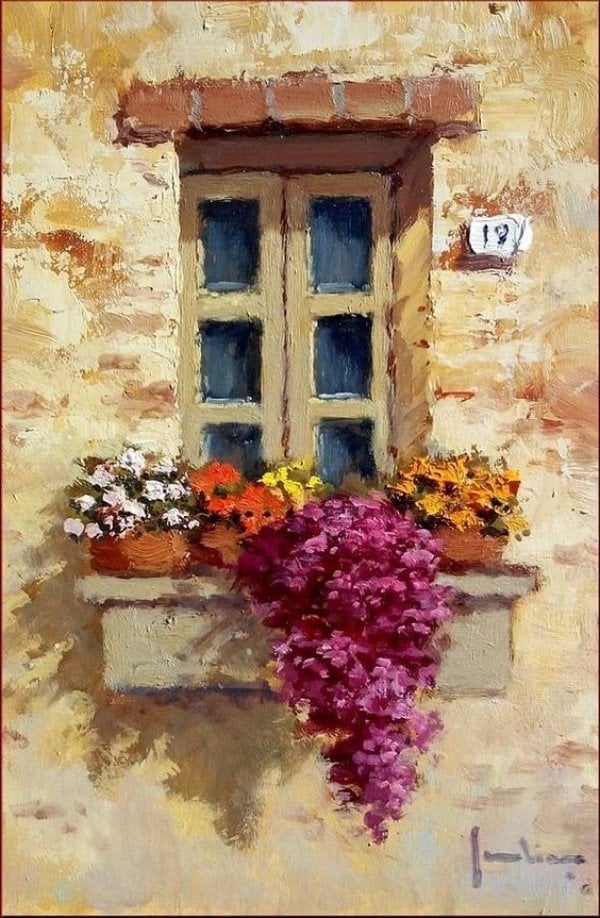 Similar to a previous painting on our list, this one uses shades of brown and rust to create a brick wall. Add beautiful, pink flowers for a romantic effect. 
Soft Florals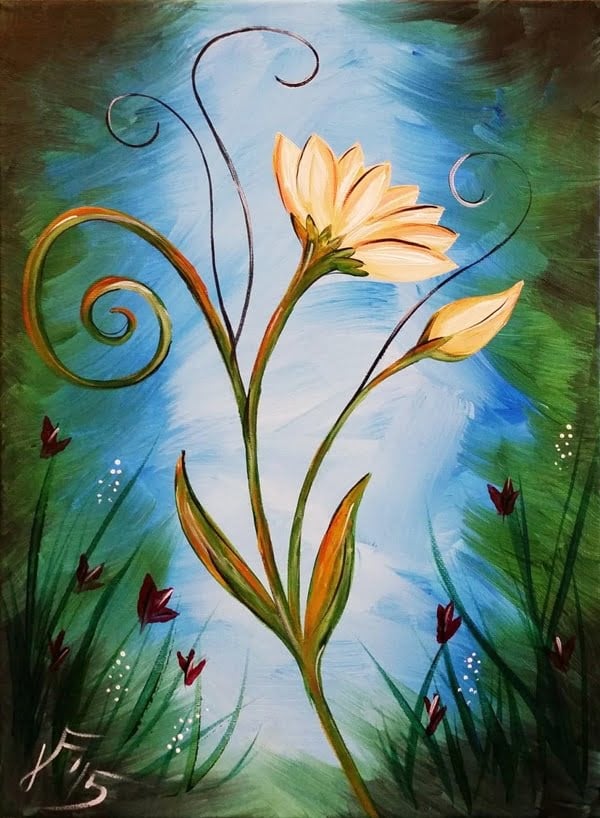 Practice your floral painting technique with this soft floral design. Add smaller, dark flowers at both sides of the painting a white center to create depth. 
Portrait Of A Girl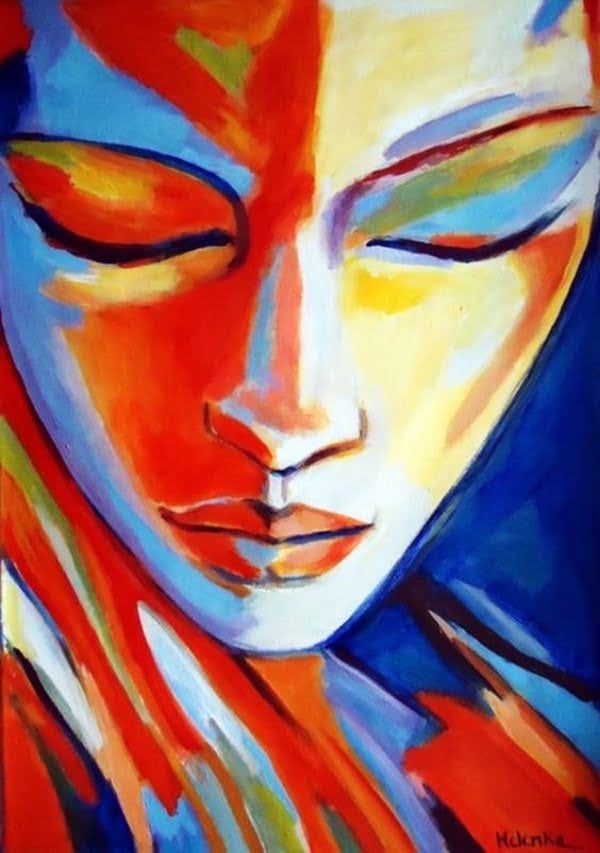 Portraits can be difficult to paint. However, in this rendition, feel free to use your creativity as you add a variety of colors to the girl's face. From orange shading to blue hair, this portrait is a fun practice with paints. 
Still Life Structure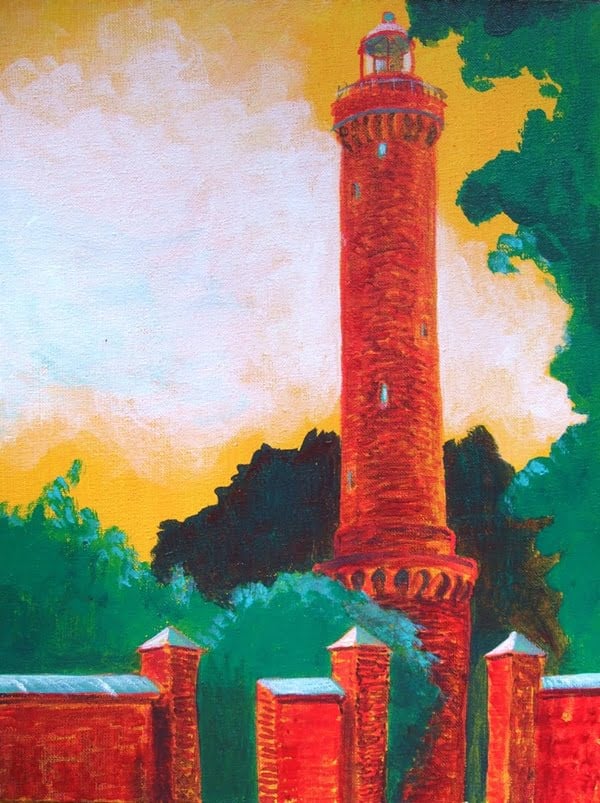 Don't limit yourself to practicing still life at home. Use this acrylic painting idea to paint still life minarets, buildings or other structures round on the streets. 
Village Houses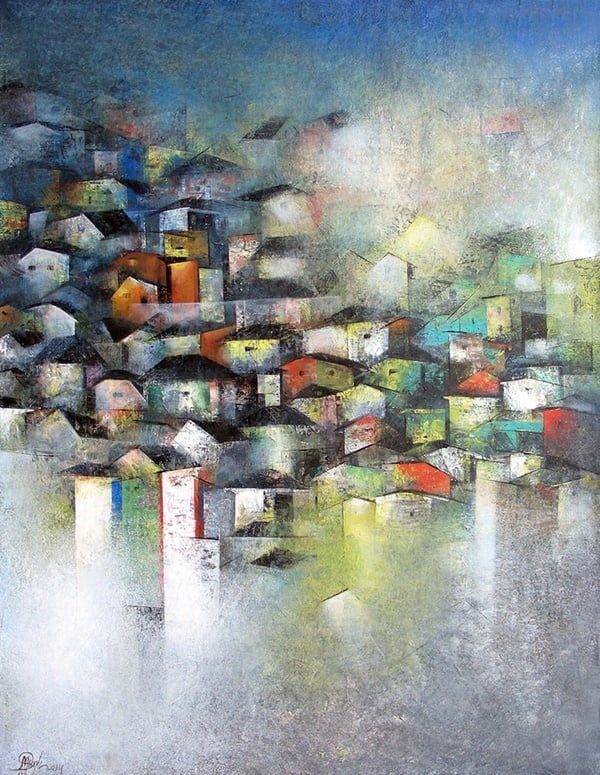 An abstract concept of village houses can be painted using darker tones of your acrylic palette. Don't worry about perfectionism with this one – simply draw the structures of the houses and start painting. 
Bird Of Paradise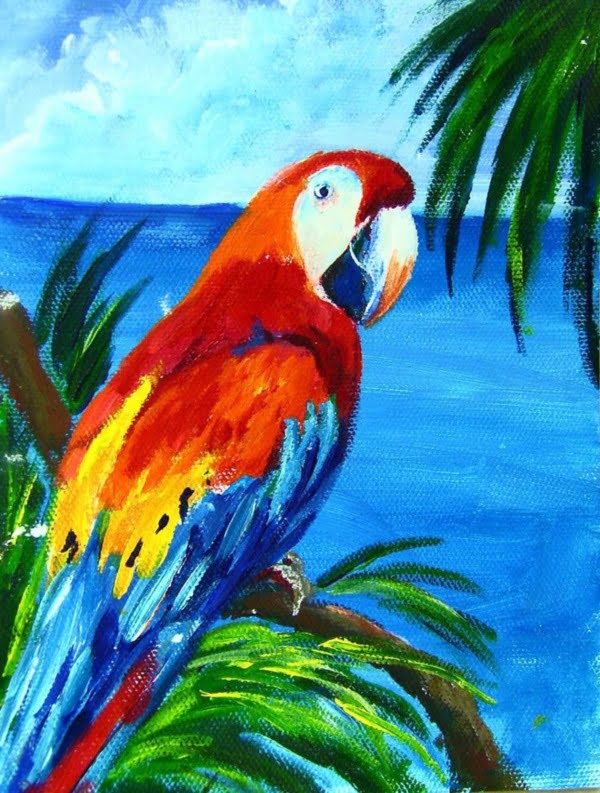 Have fun painting this lovely parrot sitting near the seaside. Experiment with different techniques of painting for this one. Don't forget to paint the palm trees!
Ganesha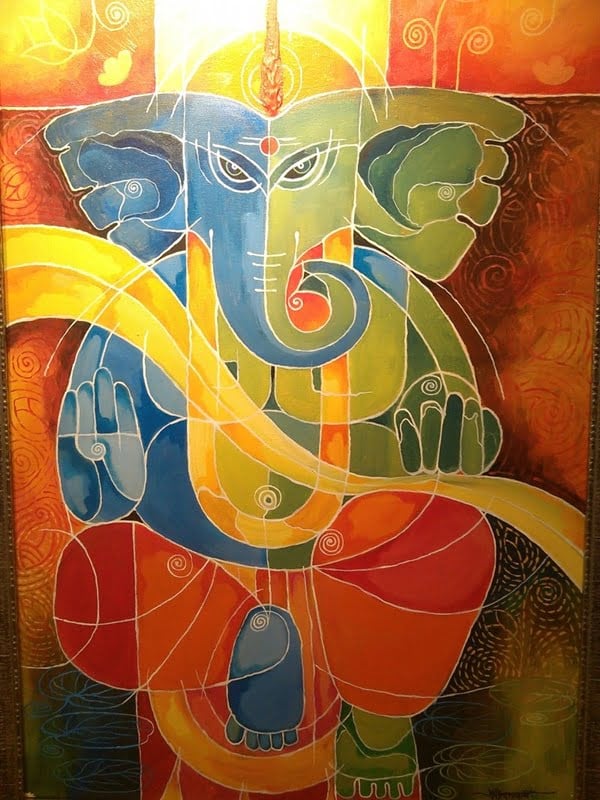 In this acrylic painting idea, paint the Hindu God Ganesha using a variety of colors. Blue, green and orange have been used as the primary shades for this creative artwork. 
Waltz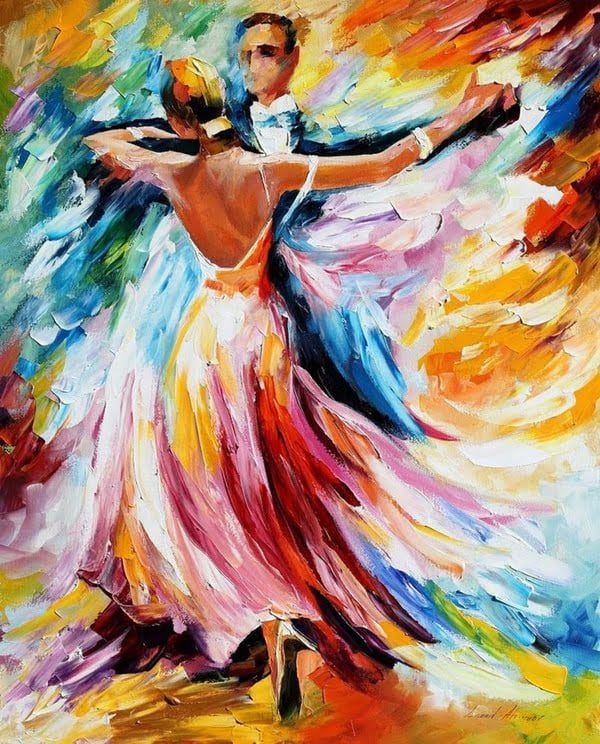 Using a palette knife and bright, beautiful colors, these Waltz dancers have been painted with tremendous artistic care. Let your creative juices flow with this painting idea. 
Ballet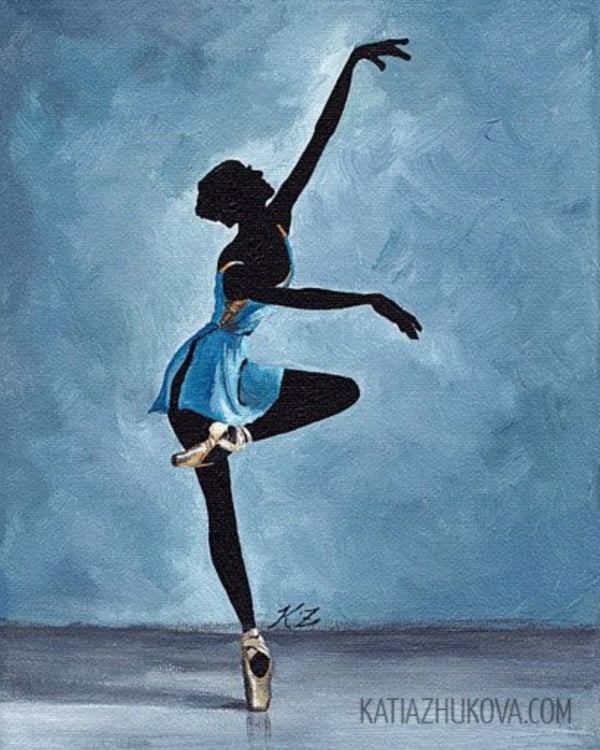 Now that you've painted Salsa and Waltz dancers, how about moving on to Ballet? Keep the colors simple with this painting idea. Opt for blues, grays and blacks, but make the Ballet shoes a shiny gold for added effect. 
Lovers Meet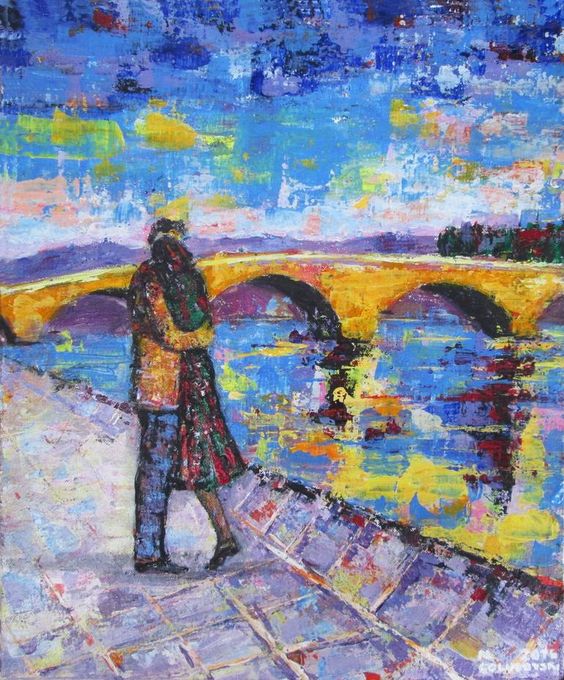 Lovers meet in the middle of a bridge in this beautiful painting idea. Add a blue water and impressionist style brush strokes for a complete look. 
Shooting Stars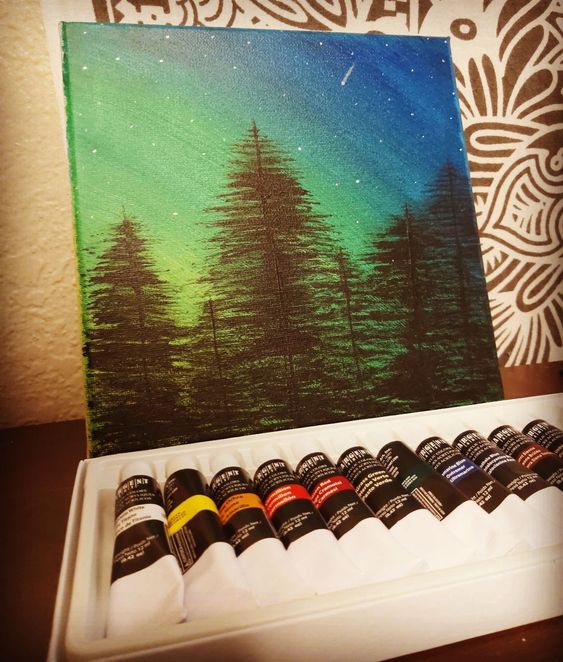 This mesmerizing, colorful sky painting is exciting to create with a variety of colors. Add white, snowy mountains and finally the dark pine trees.
Birds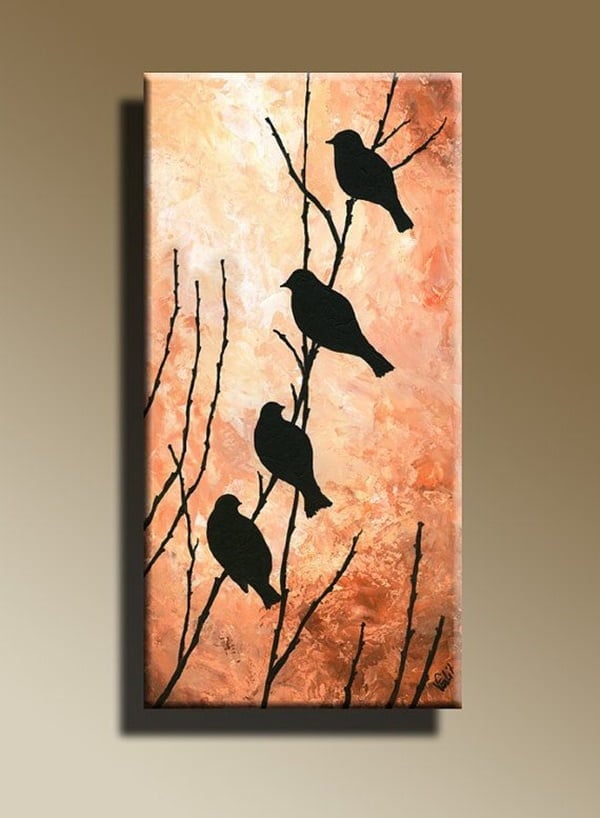 Painted against a subtle, gold sky, this row of birds is perched on a branch. This painting idea is easy to recreate and can be made effortlessly. 
Free Girl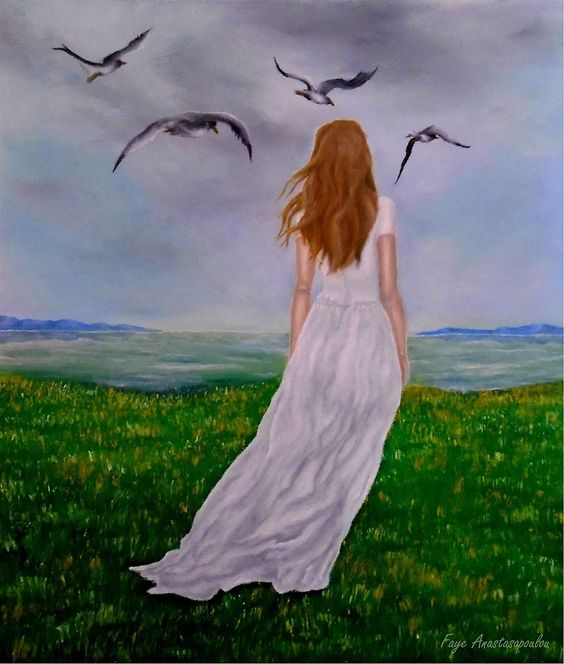 This painting inspiration gives you another chance at painting figures and portraits. The soft, whtie dress of this girl adds to the innocence of this painting. 
Secluded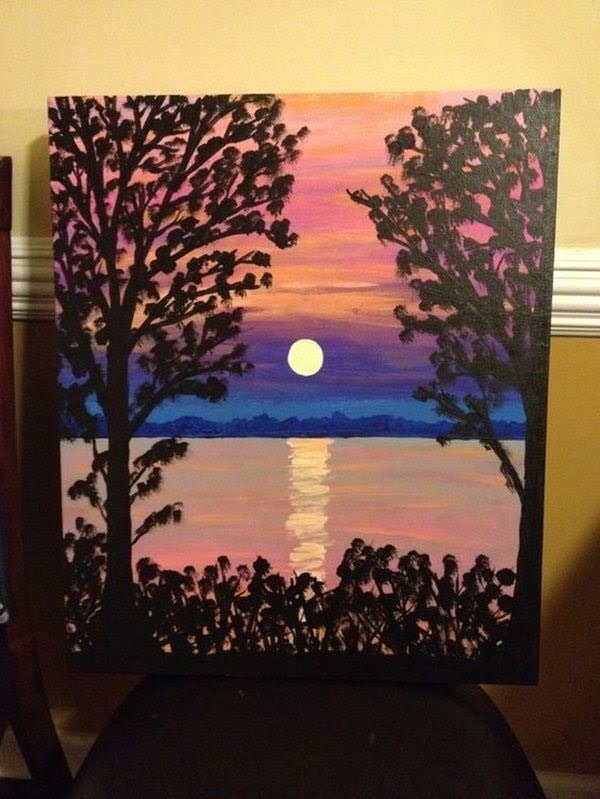 Use a combination of warm and cool tones to create the sky for this painting. Add water and the reflection of the setting sun. Finally, add the dark silhouette of trees. 
Elk & Mountains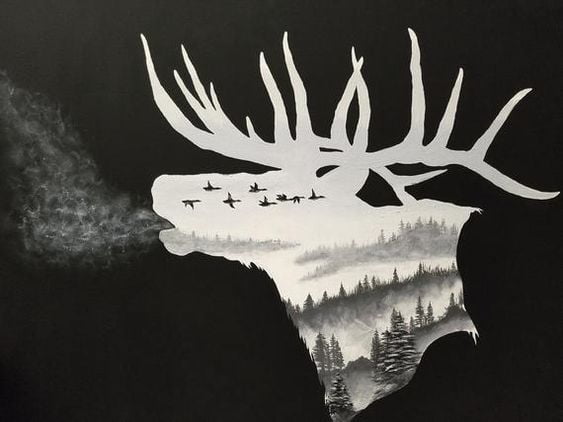 Another unique concept painting for you to try out. Keep a bold, black background and trace the portrait of an elk. Inside it, paint a beautiful mountain scenery. 
Tree Silhouette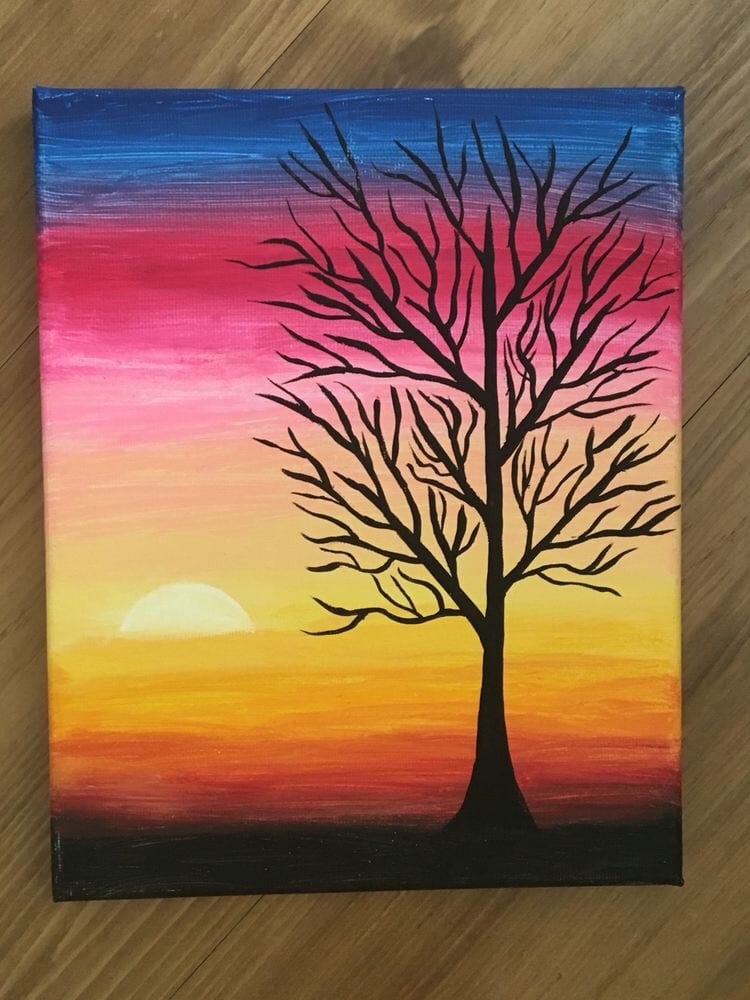 Start by painting a gradient sky, and let it dry completely. Paint the tree silhouette with multiple branches using a thin brush and black paint. 
Purple Serenity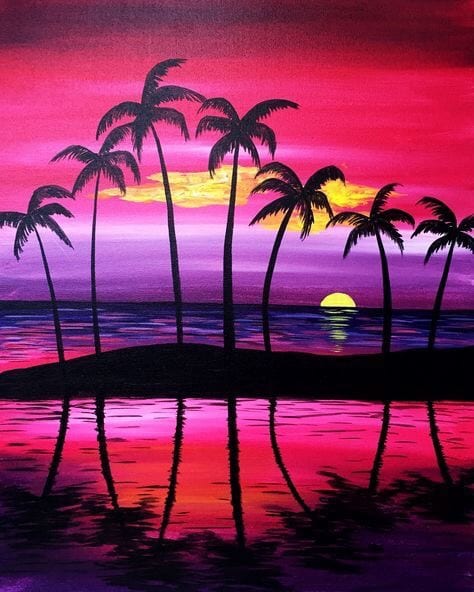 A magnificent purple beachside painting, complete with palm trees swaying in the breeze. Add a yellow setting sun and some yellow clouds for a better effect. 
Night Woods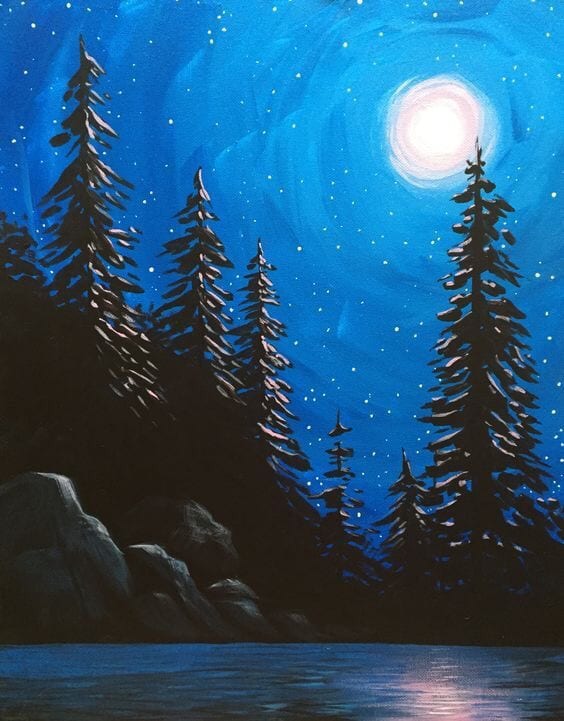 Experiment with your night sky painting skills with this acrylic painting idea. Add the white moon and some trees, with white shading representing the moonlight. 
Starry Dreamcatcher
Begin by painting a traditional starry night sky. Once dry, add the dreamcatcher using just white paint – creating a striking effect. 
Northern Lights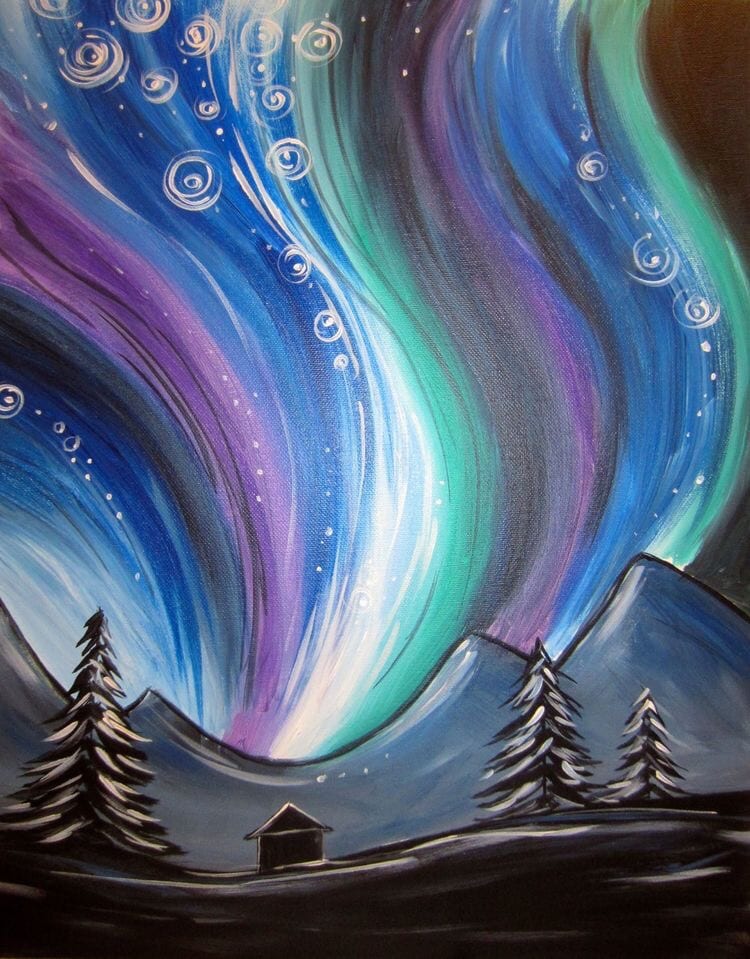 Using bright colors against the dark sky, paint the Northern Lights in this painting inspiration. Use the dry on dry technique to get the right effect.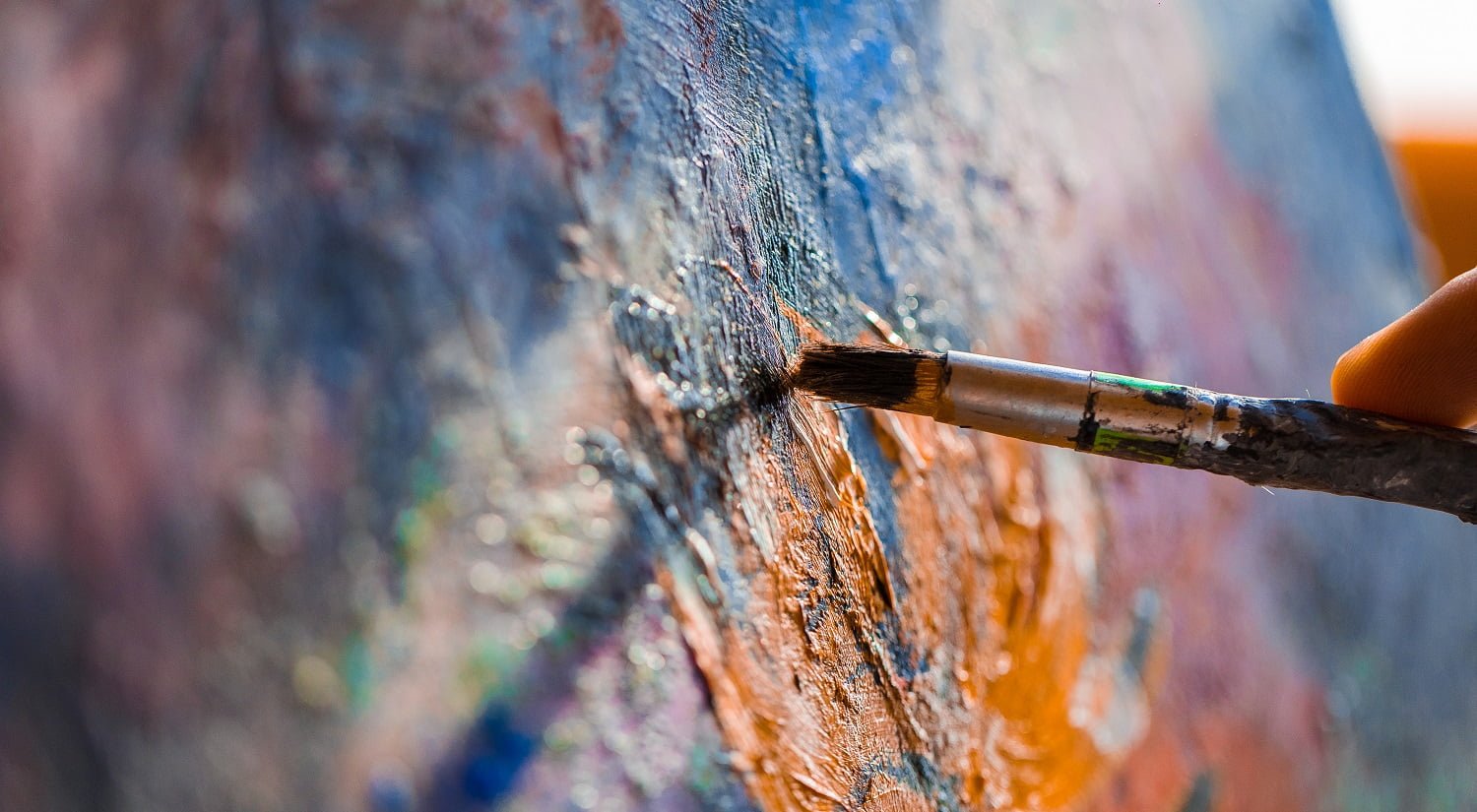 Final Words
With that, we've finally come to the end of our extensive guide. 
When it comes to art, you shouldn't worry too much about perfection. Pick up your brush, paints and canvas, and start creating. Don't wait around for inspiration to strike. If you're looking for ideas, then this comprehensive list must've provided you with several.
Acrylic paints are a great medium to experiment with. The variety of colors you can find is exciting, and you can always mix a few colors to create a completely new one. You won't know till you try, so go ahead. And do feel free to share our acrylic painting ideas with your friends and fellow painters. 
Most importantly, keep painting!
Related Articles
45 Best Oil Painting Ideas [Reviewed]
83 Best Watercolor Painting Ideas
10 Best Paper for Acrylic Paint in 
Best Canvas for Acrylic Painting | Student & Artist Grade
8 Best Palettes For Acrylic Paint & How to Choose What You Need
Learn How To Make An Acrylic Painting Waterproof Right Now
Acrylic Painting Materials That You Really Need In The Studio
Learn How To Use Acrylic Paint Correctly as a Beginner
13 Best Acrylic Paints for Beginners & Professionals Reviewed
10 Best Acrylic Paint Brushes for Artists & Students Reviewed
Learn How To Get Dried Acrylic Paint Out Of Brushes Successfully
Cold Press vs. Hot Press vs. Rough Watercolor Paper Compared
What is Watercolor Paper & How is Different From Other Papers
Best Watercolor Painting Books Everywhere | Beginner to Expert Grade
9 Best Water Brushes for Beginners, Professionals & Calligraphy
9 Best Watercolor Markers With Legendary Results for Artists Everywhere
10 Best Watercolor Palettes for Beginners & Professionals Everywhere
13 Best Watercolor Pencils and Water Soluble Art Supplies Today
Best Watercolor Paper of 2022 |Top Brands Reviewed + Plein Air
12 Must-Know Watercolor Tips for Beginners & Pros Everywhere
Why and How to Use Watercolor Mediums to Enhance Your Painting Game
Learn How to Use Watercolor on Wood | Professional Tips & Tricks
13 Best Watercolor Sketchbook for Creatives Everywhere
11 Best Watercolor Brushes for Beginners & Professionals Reviewed
15 Must-Have Watercolor Supplies for Beginners & Artists Everywhere
Stretching Watercolor Paper & How To Keep Watercolor Paper From Warping
Learn How to Paint Watercolor on Canvas Easily & Successfully
16 Must-Know Painting En Plein Air With Watercolors Tips & Tricks
Learn The Basic Watercolor Painting Techniques For Beginners – Ideas And Projects
Expand Your Knowledge With Watercolor Painting Ideas
19 Incredibly Beautiful Watercolor Painting Ideas
10 Best Canvases for Oil Painting | Beginner & Artist Grades Reviewed
11 Best Oil Paints for Beginners & Professionals Artists Alike
Learn What is the Best Surface for Oil Painting Right Now
How Long It Will Take Oil Paint To Dry  & How to Speed It Up
Oil Painting for Beginners Basics & How to Use Oil Paints
Learn How To Dry Oil Paint Faster Overnight
Learn How to Clean Oil Paint Brushes Successfully
12 Oil Painting Supplies That Every Oil Painter Needs in the Studio
Learn How to Clean Oil Paint Brushes Without Paint Thinner
5 Things You Should Know Before Painting Oil Paint on Glass
Learn How to Make Oil Paints Dry Faster