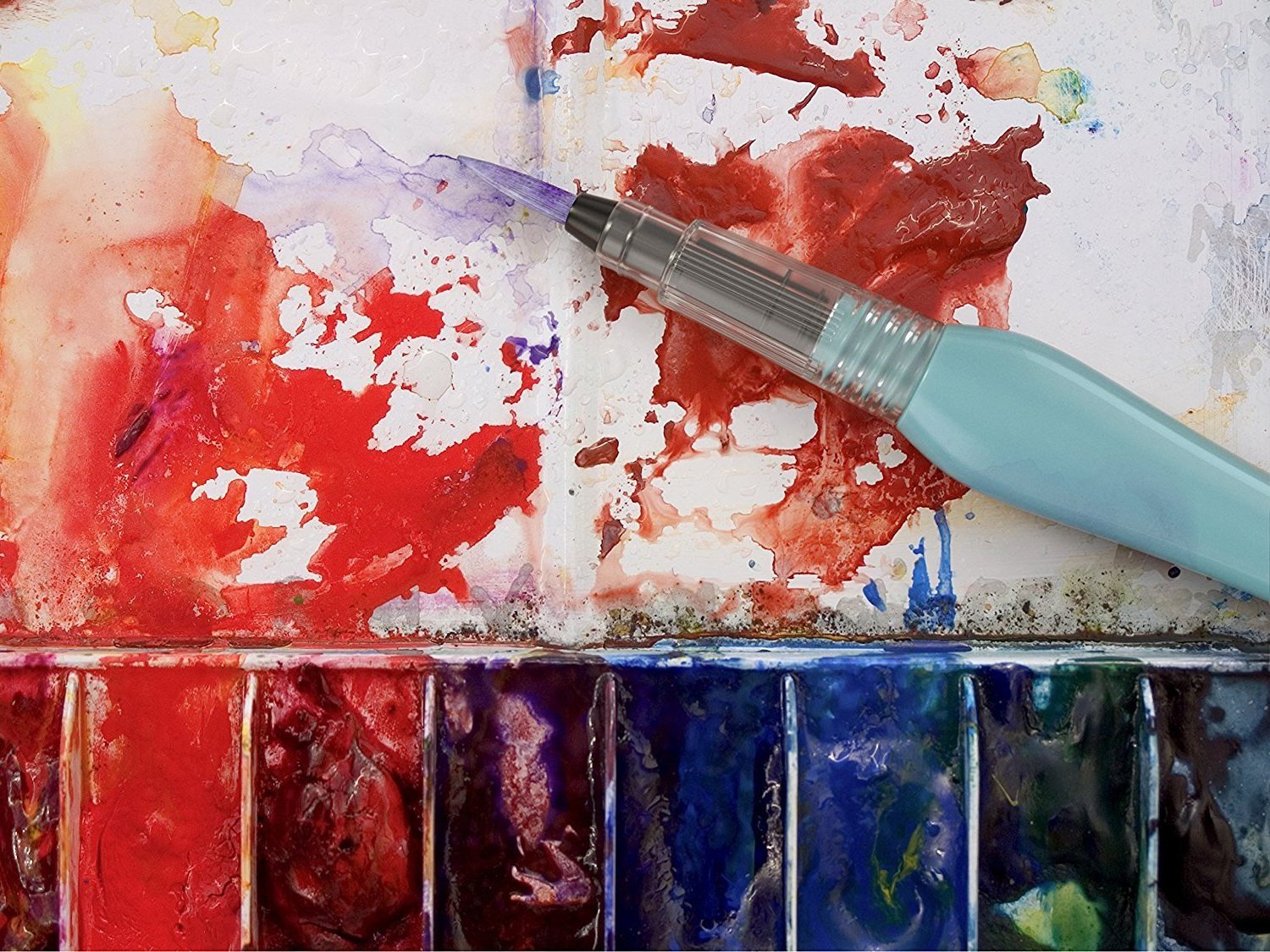 Perhaps you're tired of using the same brushes you've used ever since you started painting. 
Or you saw a video on YouTube or an Instagram post on your favorite art hashtags using this pen-looking contraption. 
At A Glance: Our Top 5 Picks for Water Brushes
In any case, you're in the right place – water brushes are what's new and what's good in the world of art. 
The watercolor brush has been around since literally forever in the world of art. And for years, the "if it ain't broke, don't fix it" dogma has been present in the art arena. 
Until now-now that the water brush finds its way into portable art kits and backpacks worldwide. Today, we intend to review the nine best water brushes that are on the market. Without much ado, let's begin. 
Best Water Brushes Calligraphy & Painting
Coming from the familiar Sakura Koi brand of art supplies, the Sakura Koi Water Brush is a brilliant product for the price. In fact, it delivers an astonishing price-to-usability ratio. Thus, the whole narrative about new art supplies being out of reach of students and hobbyists is no longer valid. It's also wonderful for going to the wide unknown and exploring the scenery while painting.
Experience
This particular water brush comes in with a number of features which make it particularly attractive for first-time water brush users. The brush tips are available in multiple sizes as per requirements, and the water container is kept separate from the brush to facilitate painting and portability. The reservoirs are much smaller than regular brushes at 4 ml and 9 ml.
This could cause you to get up very often just to refill and break the flow you're in. An easy way around this problem is to get multiple brushes and carry on with your job with the next full brush. This is unlikely to get finished too in a single painting session. If you want to head plein air, then this also makes a lot of sense – it's light, portable and splits into two so water doesn't spill.
There are a few problems with this brush, however. These problems include managing the water flow while painting (a common problem with entry level water brushes). Another problem is that you don't get tips as standard with this brush – you have to buy the tips as per your size choice by yourself. Outside of these problems, you really should be alright with the Sakura Koi.
Pros
Comes with a two-piece design, best for traveling
Very reasonably priced for the painting quality that comes out when you use these brushes
Available in a number of water capacities as per specification
Cons
Does not ship with brushes, have to buy them according to usage

The water container is far too small for the professionals
Sale
With the Derwent Waterbrush, you get a number of benefits – it's similar to the Pentel Aquash brushes, but not quite. Especially to be noted is the anti-roll design, which is nothing short of a revolution as far as water brushes are concerned. Hence, this waterbrush is worth a look at least if you're looking for a no-nonsense, highly reliable water brush.
Experience
To get water into the brush tips, you need only gently press the body from the sides. This is similar to what a few others have done in terms of water brush design. You can expect to get three different types of tips with the brush: Small and medium, which are rounded from the top; as well as a chiseled tip. You can safely use these brushes for calligraphy as well.
The construction of the Derwent water brush is such that you can come to expect a steady, controlled stream of water or ink from the brush. You can expect the output of your work and predict the performance of the brushes to a large extent. Now, we'll come to why the anti-roll design of the brush is such a huge deal.
The problem with other brushes is that whenever you're dealing with uneven surfaces, your brush typically just rolls off at the point of unevenness. This is dealt away with when it comes to this brush – the anti-roll feature avoids rolling off virtuously. No matter you're painting in a small cafe or out next to a river, you'll get a flawless painting experience anyway.
Pros
Comes in at a reasonable price point

Anti-roll design is revolutionary

Good build quality
Cons
Only three brush tips to choose from
Sale
This is one of the most popular brushes on the market as of date. And why wouldn't it be? The versatility, agility, and quality of the end product that comes when you use these brushes are beyond reproach. Compared to other brushes, the capacity is a slightly voluminous 6 mL. Hence, you can expect this pen to last a while before it gets finished up – more focus time!
Experience
With this pen, you're treated to one of the best experiences in the market today. The brush tips, for example, are nothing short of exemplary. There are four such tips available, and while the first three listed out are best suited for painters – and the last one hits the mark when it comes with calligraphy and other fine work. With this brush, you get the following:
A fine round brush tip

A medium round brush tip

A small round brush tip

A flat brush tip
You can either get all these pens as a standalone pen or in sets (which often is a much better deal). With just the right amount of pressure on the water brush, you can get the exact amount of water to the paint and paper. The versatility of these brushes is also among the best you can get in this class of water brushes.
These brushes can be chucked into the dishwasher right after use, so you can rest assured of their cleanliness. The barrel design approach makes for a slightly leakier water brush than those that come with more sophisticated restrictor-valve based designs. All in all, it makes for a wonderful brush at a great price point taking into account the quality of the brush.
Pros
Design makes the design experience desirable and accessible

Brush tips are worth writing home about; they're that good

Can be put right into the dishwasher after use
Cons
Susceptible to the odd leak or two
A few brushes come by every once in a while which radically change the way you think about water brushes and watercolors in general. One of these brushes is the Caran d'Arche Aquarelle, which seems to tick every box when it comes to high-quality water brush standards. With a revolutionary button which regulates water flow, you get total control over your art.
Experience
With a literal small tank in your water brush, you can expect to last multiple painting sessions without having to refill – this makes for a huge difference when you're in the painting flow. Once you remove small interruptions in your workflow, your focus improves drastically. (Multiple credible sources cite research to support this.)
This also comes with a number of brush tips, as would be expected of a premium water brush. One of the fine tips actually functions akin to a marker than an actual paintbrush, which gives you a better variety of strokes you can employ while working. It is also worth mentioning at this juncture that the refill mechanism is similar to the AQUAnaut reviewed above.
You can get this water brush in either a brush tip (synthetic) or a fiber tip. You can rest assured about cleaning because this brush can be cleaned rather simply with just a flush of water through the tip. The plunger, however, sticks out of the pen when using it at full capacity. Besides this, it makes for a wonderful companion to your art journey.  
Pros
Button-based water pushing design creates a considerable difference in your painting style

Largest water content of any water brush tested by at least 2x

Syringe-based water/ink is very easy to use, also comes with a cap
Cons
Plunger sticks out of the water brush
The Japanese are known to be fussy and fastidious about… basically, anything that they do. This Water Brush pen by Kuretake has a number of advantages which make it a serious contender in the water brush space. Kuretake has been in the market for around a century, with their calligraphy pens considered near the best in the market.
Experience
There are three kinds of sizes on offer: small, medium and large. All of them are rounded at the top and give a stellar performance when it comes to watercolor painting. Even calligraphy is dealt with virtuously – those of you with more literary inclinations should take note of this pen. These pens have synthetic based brushes. These tend to work out better for shorter washes.
This is because the rate at which water exits the barrel of the brush is lesser than what you'd expect of a water brush such as the Pentel. Hence, you could use the Pentel when you intend to work for larger projects, simply because it spits out more water when you ask it to. However, if it's control you're after, the Kuretade gives you unprecedented amounts of it.
You can use this as a calligraphy brush or a simple watercolor brush. The one thing which clinches the argument of choosing this brush over any other is that it is extremely value-for-money. You will get years of trouble-free service out of these brushes compared to others which will give in in less than half the time. A solid recommendation!
Pros
Brushes are very high quality and manufactured to a fault

Gives you superb control over the amount of water and pressure you apply

Great for calligraphy and painting both
Cons
Does not perform well for larger loads, small reservoir capacity
The last item on our list comes with artistic pedigree: since the mid 1950s, Yasutomo has been associated with the highest quality of ink wash painting tools and items. Another Japanese name comes into the picture, this one all the way from Southern California (appearances are indeed deceptive).  Their product designs are, however, as close to Japan as it gets.
Experience
With this brush, you get four different brush tips and two sizes of brushes – the brushes can be had in either a Mini or a standard size, and the standard size further has small, medium, large and flat brush tips for better control over your art. The Mini size holds around 5.5 mL of water while the regular one holds around 7 mL of water.
There is little to no bleeding, and the spring is considerably better than most other brushes on the market. To release water, you can simply press on the sides – it's a very gentle brush, and as such deserves good treatment. The water flow on these is good enough for a relatively effortless painting experience. This product is geared more towards experienced artists and professionals.
The only detrimental factor while considering the brush is the price. It's pricier than other offerings, but you do get a much better all-round experience in return.
Pros
High quality of brushes and tips

Mini brush is very useful for painting plein air

Reservoirs are quite large – even the mini reservoir is larger than average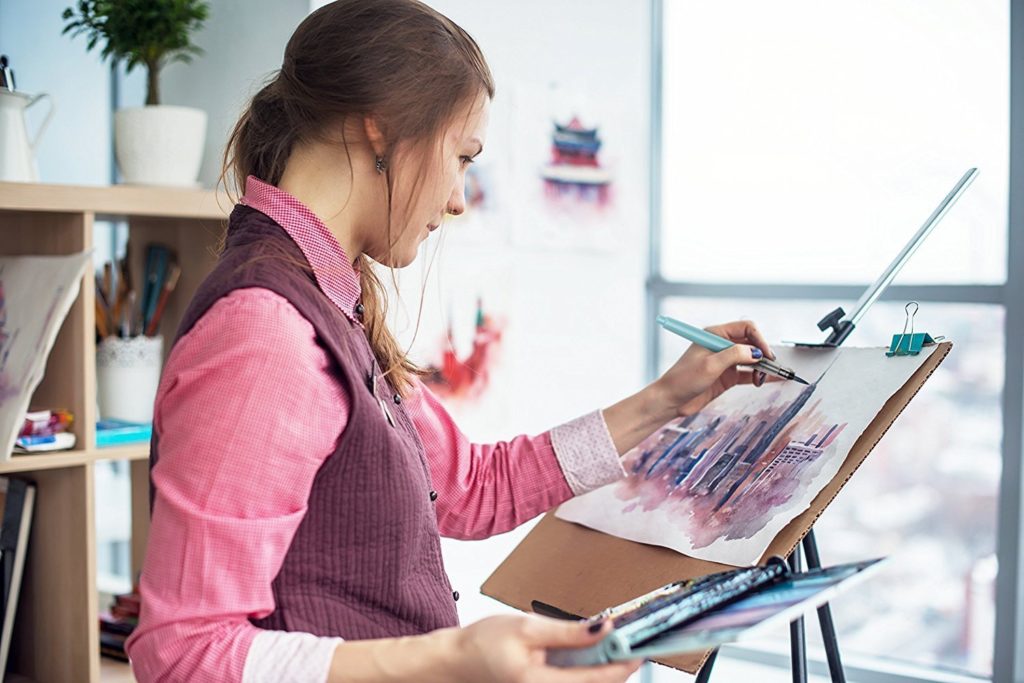 Water Brushes Bringing It All Together
With this, we wrap up our reviews of the nine best water brushes on the market today. Each of them comes with their own set of value propositions, and it's up to you to decide which mix of economy, efficiency and painting experience suits your particular applications in the best possible manner.
The nine brushes are in no way an exhaustive list, but our review methodology should be good enough to be extended to other brushes on sale. This new and exciting method of painting is making waves worldwide – and we hope you have fun using it to the best possible extent.
Have fun painting!
Related Articles
Cold Press vs. Hot Press vs. Rough Watercolor Paper Compared
What is Watercolor Paper & How is Different From Other Papers
Best Watercolor Painting Books Everywhere | Beginner to Expert Grade
9 Best Watercolor Markers With Legendary Results for Artists
10 Best Watercolor Palettes for Beginners & Professionals
13 Best Watercolor Pencils and Water Soluble Art Supplies
15 Best Watercolor Paints  | Students & Artist Grades
12 Must-Know Watercolor Tips for Beginners & Pros
Why and How to Use Watercolor Mediums to Enhance Your Painting Game
Learn How to Use Watercolor on Wood
13 Best Watercolor Sketchbook for Creatives Everywhere
11 Best Watercolor Brushes for Beginners & Professionals
15 Must-Have Watercolor Supplies for Beginners & Artists Everywhere
Stretching Watercolor Paper & How To Keep Watercolor Paper From Warping
Learn How to Paint Watercolor on Canvas Easily & Successfully
16 Must-Know Painting En Plein Air With Watercolors Tips & Tricks
Learn The Basic Watercolor Painting Techniques For Beginners – Ideas And Projects
Expand Your Knowledge With Watercolor Painting Ideas