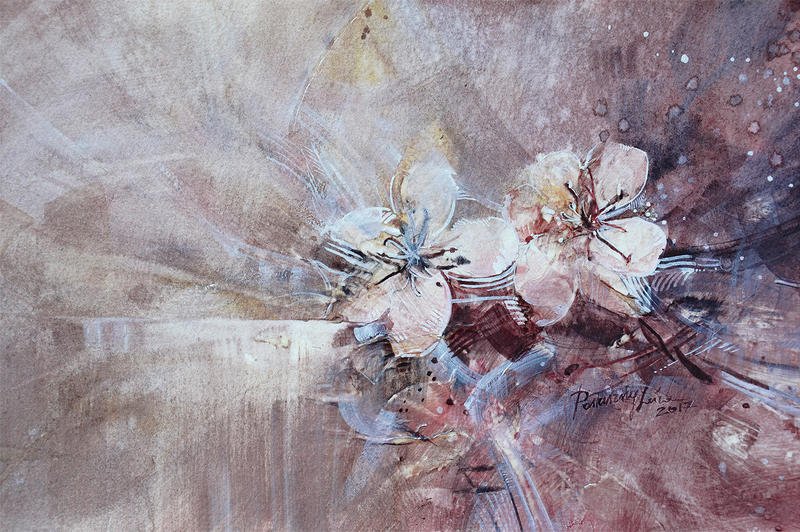 Modern-day sketchbooks come in various shapes, sizes, paper textures, and quality.
While one would suit acrylic paint better than most, another might be designed specifically for mixed media or even for oil-based paints.
So when picking the right watercolor sketchbook that will be able to correctly represent your ideas and themes, a lot of things need to be kept in mind.
But ultimately, the sketchpad you choose will reflect the type of painting you will create on it.
Featured Painting by by your-confusion
And to help you out on your artist's journey today, we have brought a review on some of the most popular sketchbook models in the current market. All 13 of them are some of our absolute favorites, and we are confident that they will be able to help you out with all the types of artwork that you wish to represent.
So sit back, and read along.
Best Watercolor Sketchbook

Painting by by RafaCM
Sale
Let us start off our list today with a watercolor sketchbook which is just perfect for amateurs and budding student artists who are still new to the field of drawing and painting. If you love to spend a lot of time doodling, then this notebook will fit your interests perfectly.
Experience 
What makes the Bellofy Notebook so very amazing for new artists is how easily you can draw on it. The sheets of this sketchpad are made from recycled material and are acid-free, the pages are somewhat heavy as well, they don't allow the colors to spread and is suitable for all forms of mixed media, even printing media
The Bellofy Notebook is all about teaching the amateur artist how to draw. It's essential in allowing one to develop and nurture their painting interests, by giving them a much needed creative space to express their ideas and inspirations in.
This notebook is kind of like a jack of all trades; therefore it doesn't specialize in any particular style of drawing or watercolor paint. This is one of the reasons why we won't recommend it for professional use. The pages are also not textured as well, which can be somewhat disappointing to some.
Pros
Thick heavy pages don't allow the colors to spread or run off

Perfect for mixed media and even printing media

Both sides of the pages can be used as it absorbs color rather well

Very amateur friendly and easy to work with
Cons
Doesn't specialize in any single drawing style and material

The pages are not textured
The Global Art Materials Travelogue Watercolor Book can be an excellent travel companion for those artist cum globetrotters who love to take a stroll through nature while at the same time putting their thoughts and ideas to paper. 
Experience 
What we love the most about this sketchbook is how elegantly designed, and light-weight it is. And this is precisely what makes it such an amazing friend to have through all your travels. The overall build of the sketchbook is extremely ergonomic as well; it's very easy to draw on and carrying it around with you at all times will not be an issue no matter where you're planning to go. 
The book comes with 60 sheets, which is not too much, nor too little for a portable travelogue, and will not be weighing you down under any situation. The pages are acid-free and environment-friendly as well; they are heavy enough to minimize the color spread and can fit the needs of both professionals and amateurs equally. 
However, as the sketchbook is bound by linen, the cover may be long-lasting, but the overall construction is not as durable as we would have liked it to be. Hence rough use is not recommended. 
Pros
Lightweight and easy to carry around

Drawing and sketching on it is easy as well

Fits the needs of both professionals and amateurs equally

Elegant design comes with environmental-friendly pages
Cons
Not as durable as some other books of its category
Sale
Not all watercolor sketchbooks can boast excellent performances with mixed media. But, the XL Canson Pads are one of the very few models which are specifically designed for working with mixed media.
Experience
What attracts us the most towards the Canson Pads is the fantastic texture that it's able to provide. This is precisely what allows these pages to be versatile enough for use with paints like acrylic, watercolor, watercolor pencils and simple sketch pens.
If we were to recommend a particular painting style and format for this sketchbook, then we would pick oil-based artworks any time of the day. The Canson is excellent for oil painting; the texture of the pages are so amazing that they are able to give oil-based paints a whole new dimension altogether.
These Canson pages are easy to use and clean as well, and even though they are thick enough to soak up oil-based paints and acrylic in a matter of minutes, the sheets are micro-perforated which makes them surprisingly lightweight as well.
But what disappoints us about the Canson is the number of pages that it provides. 60 feels a lot less for the amount of money one pays for this book.
Pros
Micro-perforated sheets make the sketchbook lightweight

Thick sheets absorb all forms of paint to improve the drying process

Comes with a fantastic texture, perfect for mixed and printing media

Provides one of the best pages for oil-based works
Cons
Only 60 pages, which is too less for the price
Sale
When it comes to professional grade, premium quality art journals, then the Leda Art Supply 160 Pages Softbound Cover Sketchbook, in our opinion, is one of the best models in that category. This 160-page sketchbook boasts one of the best page textures and quality and is perhaps one of the most durable models in our list today.
Experience
The Leda comes with a very soft texture which improves the overall quality of your painting, irrespective of the type of paint or drawing style that you are willing to employ. It soaks up water and oil paints relatively quicker than the standard sketchbooks and will help your painting breathe and dry up very easily.
It provides double the number of pages that a standard sketchbook generally does, and the 8.5 x 12 inches dimensions provide enough space for an artist to express themselves in whichever way they choose.
May it be watercolor, graphite sketches or acrylic, you will not have a problem in putting your ideas to the Leda canvas. However, the larger size of the pages comprises a lot on its portability, the pages are thicker as well, and not ideal for carrying around.
Pros
Soft page texture soaks up all forms of paint very quickly

High-quality pages are perfect for professional artists

Large page area provides ample space for any type of artwork

Comes with 160 pages
Cons
Not as portable as we would have liked
Sale
If you love, or rather, primarily deal with watercolor artworks, then the Pentalic AF Aqua Journal might be exactly what you're looking for. This manufacturer uses specific variants of art papers (which comes straight from the European mills) that particularly absorbs and enhances watercolor paint rather splendidly.
Experiences
Let us first mention that the Pentalic Aqua Journal is one of the more aesthetically pleasing sketchbooks on our list today. It's picture perfect, to say the least, and comes with a tasteful ribbon marker that adds a lot to its overall appeal.
The Aqua Journal is bound in such a way that you will be able to hook your paintbrush inside it and take it along with you wherever you go. The build is lightweight as well, quiet portable in our opinion, and has an elastic holder at the top that keeps the book safe and durable.
Moreover, it also comes bound in a landscape format with six signatures, and you will be able to represent your ideas on it with watercolor without many problems.
However, the Pentalic only provides 48 pages which is much lesser than what a standard sketchbook gives.
Pros
Beautifully designed and attractive body comes with a ribbon

Will be able to hold your paintbrush or even your sketch pens

Paper texture is perfect for watercolors

Bound in a landscape format
Sale
This sketchbook model from Bellofy is explicitly dedicated to Watercolor painting. May it be dissolvable watercolor pencils or even oil-based watercolor paints, this sketchbook absorb them really well and help significantly in the drying process.
Experience 
The pages of the Bellofy Watercolor Paper Pad are incredibly durable. They are made with fully recycled non-toxic materials and are bound together by glue that will allow you to detach and reattach them whenever you feel.
This attachable and detachable property of the sketchbook is what makes this sketchbook model from Bellofy such a fan favorite.
Moreover, the company is so confident about their product that they are providing a 90-day cash back policy for it. They are certain that the unique design and paper texture of their watercolor paper pad will be able to protect your art and save it from getting damaged at all costs.
However, what falls short of our expectations about this sketchbook is the lack of versatility. They may ideally fit watercolors, but are not all that good with mixed media.
Pros
One of the best when it comes to drying and representing watercolor paint

Provides a 90-day cash back policy

Made with non-toxic materials and is not harmful to the environment

The pages can be detached and attached whenever required
Cons
Doesn't do all that well with mixed media
The Watercolor Sketchbook series from Global Art Materials comes in 5 different varieties and formats: Large Landscape, Large Portrait, Square, Grand Portrait and Pocket Panorama. This opens up a whole new variety of options in terms of painting styles for artists, thereby making this series of sketchbooks one of the most versatile in the market today.
Experiences
Not all budding artists prefer the same sketching and painting style when it comes to putting their ideas to canvas. That is precisely why it's important for a sketchbook series to be versatile with their modes of use and this series from Global Art Materials provides just that.
If you love drawing beautiful sceneries and landscapes, then the Pocket Panorama will be able to fit you perfectly. But if you love to sketch out towering buildings and city skyscrapers, then the Large Portrait will indeed be perfect for the job.
These sketchbooks though come with excellent paper quality and textures, are not as elegantly designed as the rest on the list. And the pages do tend to bulk up when they get wet, which can indeed compromise a lot on their portability.
Pros
Comes with a variety of options for different painting styles

High-quality paper with excellent absorbency

Texture is perfect for all forms of painting and sketching

Each sketchbook is priced differently
Cons
Not elegantly designed

Wet wash can make it rather heavy
Unlike the other brands on our list today (who have been in the market for years), the art supply manufacturing company Moleskine are relatively the newer 'kid on the block'. But that doesn't mean that their products lack in quality in any way; their watercolor sketchbook series is highly revered by both amateur and professional artists alike, as they support an incredibly smart design and paper texture.
Experience 
What we absolutely adore about the Moleskine Watercolor Sketchbook is its amazing build. Its design is able to adequately support both durability and practicality at the same time, while its 200 gsm provides it with the much-needed portability to be carried around anywhere the artist pleases.
The sketchbook is designed with a spine which can be completely laid out flat, thereby allowing you to concentrate on your art piece than constantly worrying about a sketchpad which always wants to close shut.
However, even though the pages of the Moleskine have a nice texture to them and can represent watercolor paint very well, their color absorbency is not all that great. Any form of painting on them will take hours to dry, and we will not be recommending these lightweight pages for oil-based paints or even the thicker forms of acrylic.
Pros
Light build easy to carry around

Spine flexibility allows the pad to be laid flat

Comes with a pouch that is affixed to the back cover, to carry supplies

Great paper texture for watercolor paint
Cons
Color absorbency is not all that great
Sale
The Strathmore Art Supply brand have been supplying new artists and students with high-quality and easy to use art tools for many years now. And their products have grown to be so popular that they have become a staple to the art world for over a century now. The 400 series Watercolor Journal is indeed one of the best sketchbooks in their lineup which is bound to fit the needs of beginner painters perfectly. 
Experiences 
When using the Strathmore 400 series Watercolor Sketchbook, what we immediately realized was how easy to use and beginner-friendly it was. 
The paper texture and thickness is really good, and the pages are versatile enough to adequately support and represent any form of artwork that you choose to use it for. May it be watercolors, oil-based paints, acrylic or even graphite sketches, the paper will be able to adequately represent all forms of artistic styles. 
However, these pages do not specialize in one particular style; hence it's not ideal for any form of professional use. And even though advertised that the book contains 48 pages, it actually comes with only 24 sheets. 
Pros
Acid -free pages will not discolor over time

Flexible spine will allow you to lay the pad out flat

Very beginner-friendly and easy to draw on

Will adequately represent all art styles adequately
Cons
Comes with only 24 sheets

Doesn't specialize in any particular art style.
Any standard journal will help you to note down your day to day activities and thoughts rather well, but documenting visual experiences optimally is a whole other ball game altogether. The artist's journal from Winsor and Newton is an invaluable visual recorder for all those who use it, and it can truly be your favorite companion through every aspect of life. 
Experience 
The paper quality of the Winsor and Newton Professional Watercolor Journal is one of the best that you will find in the market. It has an extremely high-grade texture, and the thickness of the pages doesn't allow color spread or run-off and your artwork will not get ruined due to water damage or even overtime discoloration. 
The pages of this absolutely beautiful wire-bound journal contain sheets of the finest mold-made 100% cotton watercolor paper. The pages are cold pressed, acid-free and designed to withstand color saturation rather well and hold its shape under any condition. 
However, this journal is rather expensive and comes with only 15 sheets which are rather disappointing compared to the amount of money that one pays for it. 
Pros
Paper quality is very high with an amazing texture

Doesn't allow color saturation or run-off

Cold-pressed pages are acid-free and hence will not discolor over time

Lightweight with great portability
Cons
Steep price

Comes with only 15 sheets which is a lot less than what a standard sketchbook provides.
Sale
The thread sewn Fabriano Hardcover Watercolor journal is a lot similar to utility, paper cotton content, color and feel to the Moleskine watercolor journal. But the differences lie in the paper texture, the number of sheets provided and the stylistic cover that the Fabriano comes in. 
Experiences 
It's the cover of this watercolor journal that we love the most about this product. The cover comes with a print which is quite reminiscent of the Venetian mosaic patterns from the Piazza San Marco, while the Ingres flyleaf print shows the Fabriano watermarks which have grown and changed over the centuries.
The papers of this journal are quite nice and sturdy; they hardly ever bulk under a wet wash, but it does tend to dry a bit flat when compared to the other sketchbooks on our list today. The journal also comes with a red Bordeaux linen binding along with a satin ribbon bookmark that provides it with a lot of aesthetic appeal.
However, the journal doesn't quite open flat, the pages will tend to close itself every now and then, but with some use the spine will loosen, and it will start to open out completely.
Pros
Elegantly designed hardbound cover is very aesthetically pleasing

Red Bordeaux linen binding and bookmark gives the journal a traditional feel

Paper has a nice texture to it

Pages will not bulk even under a wet wash
Cons
Journal doesn't open flat right away

Color soaks up a bit flatter than usual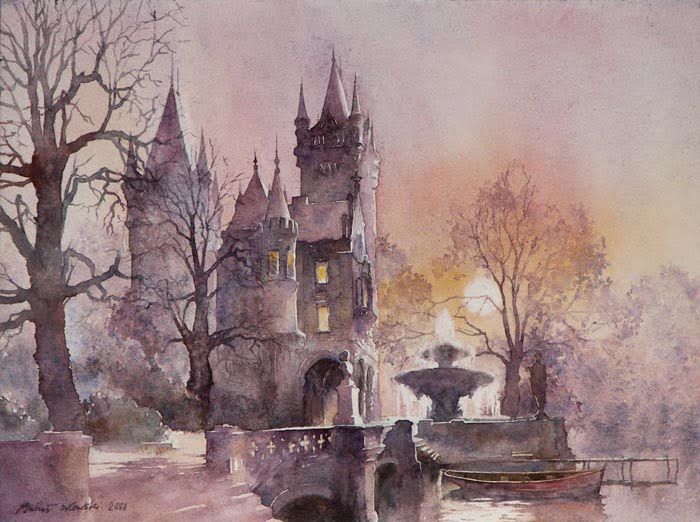 Painting by micorl
Final Thoughts On Watercolor Sketchbook
There are a lot of watercolor sketchbooks in the market today. With recent advances in technology, it has never been more difficult to pick one that fits your needs and artistic style the best. But we hope that our review and the products we have listed today was able to help you out. 
Till next time! 
Related Articles
Cold Press vs. Hot Press vs. Rough Watercolor Paper Compared
What is Watercolor Paper & How is Different From Other Papers
Best Watercolor Painting Books Everywhere | Beginner to Expert Grade
9 Best Water Brushes for Beginners, Professionals & Calligraphy
9 Best Watercolor Markers With Legendary Results for Artists
10 Best Watercolor Palettes for Beginners & Professionals
13 Best Watercolor Pencils and Water Soluble Art Supplies
15 Best Watercolor Paints in 2023 | Students & Artist Grades
Best Watercolor Paper of 2023 |Top Brands Reviewed + Plein Air
12 Must-Know Watercolor Tips for Beginners & Pros
Why and How to Use Watercolor Mediums to Enhance Your Painting Game
Learn How to Use Watercolor on Wood | Professional Tips & Tricks
11 Best Watercolor Brushes for Beginners & Professionals
15 Must-Have Watercolor Supplies for Beginners & Artists
Stretching Watercolor Paper & How To Keep Watercolor Paper From Warping
Learn How to Paint Watercolor on Canvas Easily & Successfully
16 Must-Know Painting En Plein Air With Watercolors Tips & Tricks
Learn The Basic Watercolor Painting Techniques For Beginners – Ideas And Projects
Expand Your Knowledge With Watercolor Painting Ideas