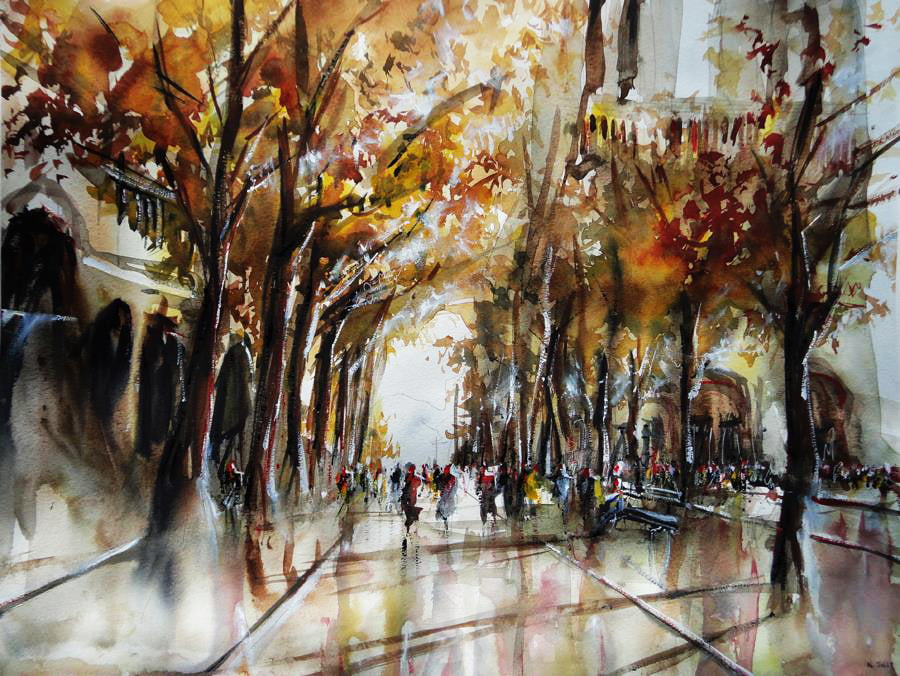 Watercolor painting is one of the most widespread forms of painting out there.
That's because of the versatility it offers. Watercolor painting flows on the surface of the paper, and you can manipulate any want according to your artistic taste.
You can choose to layer up colors and create a hyper-realistic painting, or you can make broad, loose strokes and create a minimalist one. Watercolor is all about controlled complexity.
But the reason watercolor is so popular is that it is an excellent medium for beginners and professionals alike. Beginners love the variety of options offered by watercolor painting, especially the fact that they can create a simple painting very easily and then gradually move up to more complicated ones as they grow more confident.
Featured Painting by nicolasjolly
Professionals love the fluidity of the paint and how they can create wavy, abstract pieces where all the colors and pigments blend together in a marvelous mixture.
Here are a few handy tips for everyone to make your life just a little easier.
Must-Know Watercolor Tips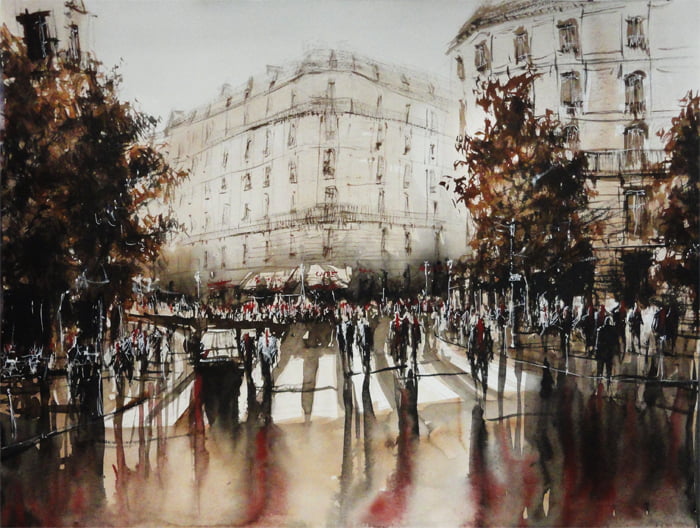 Painting by nicolasjolly
You Don't Need Much To Get Started
You just need a few colors and a few brushes to get started. So don't go on a shopping spree before you even begin.
When it comes to buying colors, you would definitely need a high-quality coloring set. Cheaper brands have colors which don't mix well and might get really watery when you put in the water. So make sure you go with a reputed brand for your first set of colors.
Watercolor tubes offer more intensity in color; however, color cakes are much more portable, and you can buy a whole set of color cakes all at once.
Next, you have to get brushes. There is a huge variety of brushes available, but you don't need to worry about all of them. Natural brushes have better quality fibers but are really expensive. For a beginner, high-quality synthetic brushes will do just fine.
You only need a pair of large flat brushes for washing and layering and a few round brushes of different sizes for adding details. For your round brushes, we would suggest getting a  No. 12, a No. 10 and a No. 6 round. A couple of flat 1-inch brushes would do just fine for layering.
You can't just start water-coloring on any type of paper. The paper has to be rough, and the paper has to be thick. Cold press papers are the most popular, and they are rough yet smooth enough to let the colors flow freely. Rough paper is even better and is excellent for absorbing color quickly. However, they are more expensive than cold press papers.
A common metric associated with Watercolor paper is the weight. The heavier the weight is, the thicker the paper will be. Make sure you get papers with the rating 140 lb or above. If you get a thin paper, it will not hold up to the huge amounts of water you'll need to use on the paper. This will cause buckling and cause the paper to warp in the middle creating small puddles of color. 300 lb is the heaviest and the easiest to work with.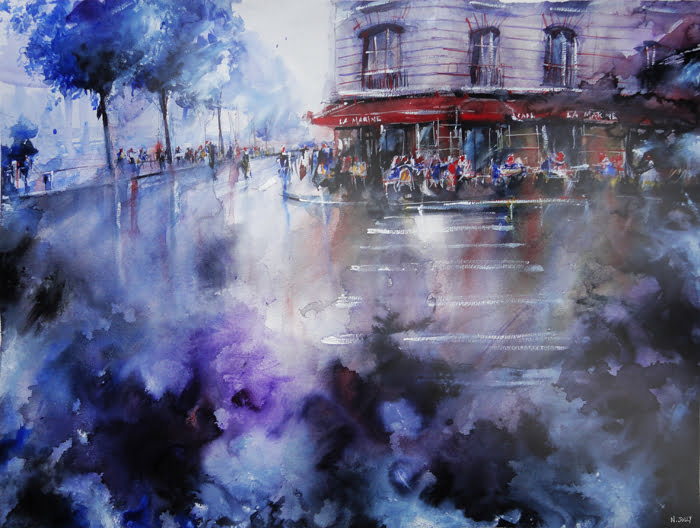 Painting by nicolasjolly
Stretching refers to the process of safeguarding your watercolor papers from warping. It ensures the paper stays taught and even while you paint on it and also improves the absorbency of the paper.
If you get a very heavy watercolor paper, you won't need to stretch it. You can also buy papers in blocks instead of pads or sheets. These watercolor blocks are pre-stretched, and you don't need to worry about them warping.
Lighter papers do need to be stretched though. Just dip the papers in a bath of water and let the paper get wet as evenly as possible. After that, just stretch it out and stick it on a hardboard like plywood. Use tape at the edges of the paper to adhere it to the plyboard or your material of choice. Paint with the paper still attached to the board.
Painting by nicolasjolly
Make Light Pencil Sketches or Make an Underpainting
Plenty of beginning artists like to use a graphite pencil to sketch out the composition and shapes of the painting before they start with the color. When you do this, the graphite will show through in the final painting.
While you may not have a problem with this, some people prefer to have the graphite not shown at all. So instead of graphite, you can make an underpainting of faint color like blue or purple and then put on additional layers on top as you progress with your painting.
For your painting purposes, we would suggest HB pencils. Softer pencils like 2B or 4B can produce very dark lines, whereas harder ones like 2H and 4H might create grooves on the top of your paper and it'll be hard to apply paint over that later on.
Limit Your Color Choices
It might be tempting to use all the colors on your palette to make as colorful a picture as possible. However, when painting a picture, one must always keep in mind color theory and all its implications. Your goal is to make a picture which is aesthetically soothing and full of harmony.
When choosing your colors wisely, they should fulfill one of these three purposes – the colors complement each other or the colors are analogous to each other, or they simplify the colors that are instantly visible to the naked eye. Watercolor is meant to be soothing, not jarring.
Be Mindful When Mixing Paint
When it comes to mixing paint, beginners tend to only use a small amount of the two colors while mixing. Hence when they are making broad strokes on their brush, they run out of the mixed color. As a result, they have to go back and remix the same two colors. This becomes frustrating after a while. If you mix large amounts of paint initially, you won't have this problem.
You can even become overzealous and mix too many colors at the same time. This will only result in a brown, muddy gloop. Remember you can always add more layers on top of the paint once it has dried. This is known as 'wet-on-dry' where you put on a wet layer over an already dried layer, or you can even add another color to an already wet surface by simply touching your brush to the wet spot. This is known as 'wet-on-wet.' It is a fairly advanced technique and requires quite a bit of practice.
Paint always looks lighter once it has dried. Thus keep another piece of paper near you, so you can test your colors out on that surface before you apply them to the painting.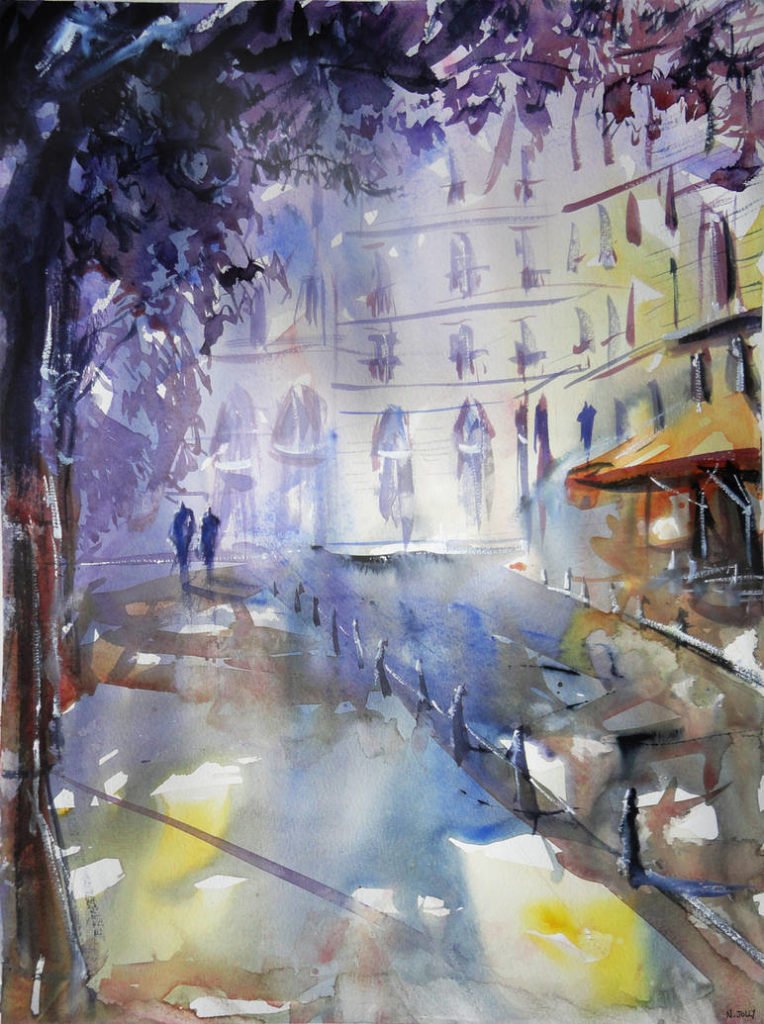 Painting by nicolasjolly
Plan Out Your White Spaces Beforehand
Watercolor painting is always about painting from light to dark shades of colors, where the greatest white is the color of the paper itself. Thus it's best to plan out which areas should remain blank beforehand.
Once you know which spaces to keep white, you can carefully avoid it while painting, or you can use masking fluid. Masking fluid is generally latex-based and can protect areas on your sheet from receiving watercolor applications. Since preserving the white on the paper can be of such vital importance, masking fluid can be one of the most important tools in your watercolor arsenal.
Masking fluid can easily be applied by a brush and removed by rubbing with your fingers when it has dried out. Use an old brush for applying masking fluid though, as it has an unfortunate tendency of ruining brushes.
Let The Light Bring Out The Different Layers
It's always advised to paint lighter layers at the bottom, and then they can be made more and more intense by applying multiple washes of paint over the lighter layers once they have dried out. Using this technique allows light to pass through all the layers and create a glazing effect. When light passes through your colors, the colors underneath remain visible even through the top-most coats of paint. This transmission of light and reflection of the paper makes for very complex and detailed color schemes.
Remember to use a light touch for every one of your layers. You should also aim to strike an optimal balance between transparency and opacity. For more intensity and less transparency, use less water on all your layers. For maximum transparency, use a lot of water. The kind of painting you want depends totally on you and what you like best.
Use the Full Spectrum of Darks and Lights
The shade of a color, as in how dark or light it is is exceptionally malleable in watercolor paintings and is one of the prime reasons why watercolors are so popular. The shade of color totally determines how we measure form and texture in two-dimensional work. Using different shades creates an impression of depth and also increases contrast in the paintings.
A painter should always aspire to include the complete spectrum of shades in a painting. This means that you should use darker colors just as much as lighter colors. It would be even better if you could use multiple shades of the same color itself.
Plenty of watercolor artists are scared of including darker colors as they might bleed into the rest of the painting or they might overbear all the other colors in the painting. However, to create a picture with depth, it's always preferable to err on the side of darker shades. Ensure that your subject or scene always has both the lightest and the darkest shades of colors.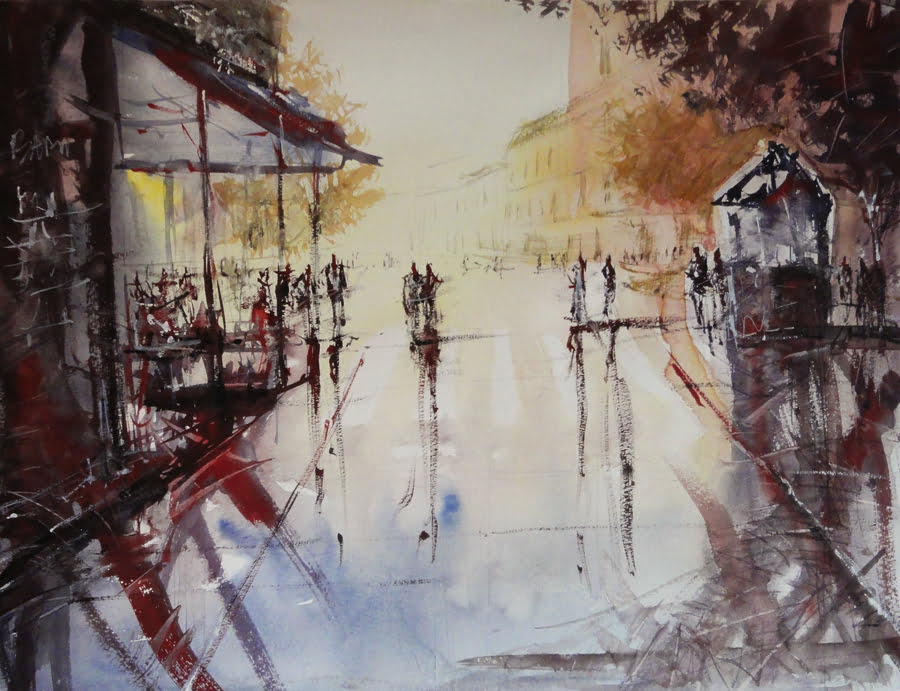 Painting by nicolasjolly
Loosen Up And Don't Worry About Mistakes
This is probably the most critical piece of advice for any watercolor artist. Watercolors by their very nature will have colors that flow and make interesting shapes. Beginners might try to fight against this natural flow, but instead of fighting, you should learn to embrace it.
This feature of watercolor painting lets you paint your subject without drawing every single line on the subject's body. You can use a few lines and shapes to simply imply the subject. After all, a painting isn't an exact reproduction of reality but is used to convey a feeling. Let the colors flow and do their own thing. Watercolors work best when it has more fluidity in the painting and less of total control.
Don't worry if you make mistakes. There is plenty you can do to erase a mistake. In the very least, you can try to blot off the paint with a damp tissue or a sponge. If it's not working, you can add some water and then try to blot off a larger surrounding area along with the spot where you made your mistake.
If that doesn't work, you can change the whole painting dramatically by applying a new, darker layer of paint on top covering your mistake. If all else fails, simply wash it over a running tap.
Know When To Stop Painting
While the hardest thing to do is begin your painting, the second hardest thing definitely has to be knowing when to stop. We often get so caught in trying to create the perfect painting, that the creative juices just won't stop flowing. It's so fun that you don't want to stop. But if you keep on working, the end result will look very different from what you planned originally, and it might seem overworked and full of excessive detail.
Like we have already said before, a painting has to imply rather than show. Everything doesn't always have to be totally spelled out. A good way to know when to stop is this – if you catch yourself thinking, "what more can I do with this painting," then it's probably time to call it a night. At that point, any details you add on will not help enhance the essence of your painting, and you should put down the brush.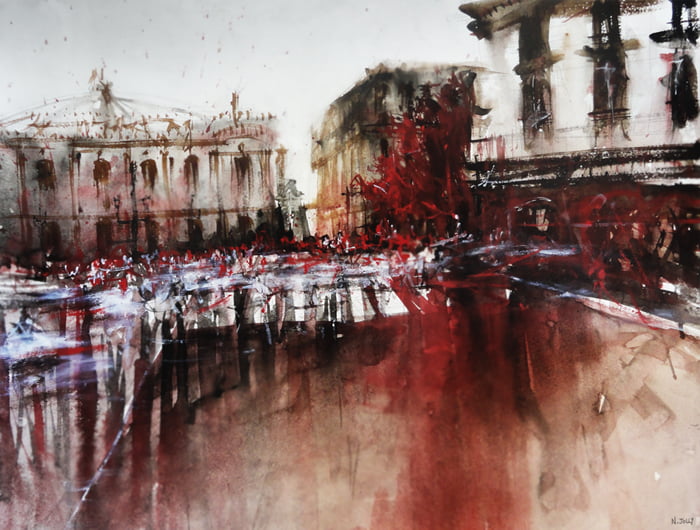 Painting by nicolasjolly
Final Words
Watercolor painting is something that requires practice. Even if you have an innate artistic talent, you still need a lot of practice to figure out the nitty-gritty of watercolor painting. Because with practice, comes confidence, and with confidence, comes greatness.
Well, that's it from us today! Thanks for reading and all the best on your journey.
Related Articles
Cold Press vs. Hot Press vs. Rough Watercolor Paper Compared
What is Watercolor Paper & How is Different From Other Papers
Best Watercolor Painting Books Everywhere | Beginner to Expert Grade
9 Best Water Brushes for Beginners, Professionals & Calligraphy
9 Best Watercolor Markers With Legendary Results for Artists Everywhere
10 Best Watercolor Palettes for Beginners & Professionals Everywhere
13 Best Watercolor Pencils and Water Soluble Art Supplies Today
15 Best Watercolor Paints in 2022 | Students & Artist Grades
Best Watercolor Paper of 2022 |Top Brands Reviewed + Plein Air
Why and How to Use Watercolor Mediums to Enhance Your Painting Game
Learn How to Use Watercolor on Wood | Professional Tips & Tricks
13 Best Watercolor Sketchbook for Creatives Everywhere
11 Best Watercolor Brushes for Beginners & Professionals Reviewed
15 Must-Have Watercolor Supplies for Beginners & Artists Everywhere
Stretching Watercolor Paper & How To Keep Watercolor Paper From Warping
Learn How to Paint Watercolor on Canvas Easily & Successfully
16 Must-Know Painting En Plein Air With Watercolors Tips & Tricks
Learn The Basic Watercolor Painting Techniques For Beginners – Ideas And Projects
Expand Your Knowledge With Watercolor Painting Ideas
19 Incredibly Beautiful Watercolor Painting Ideas