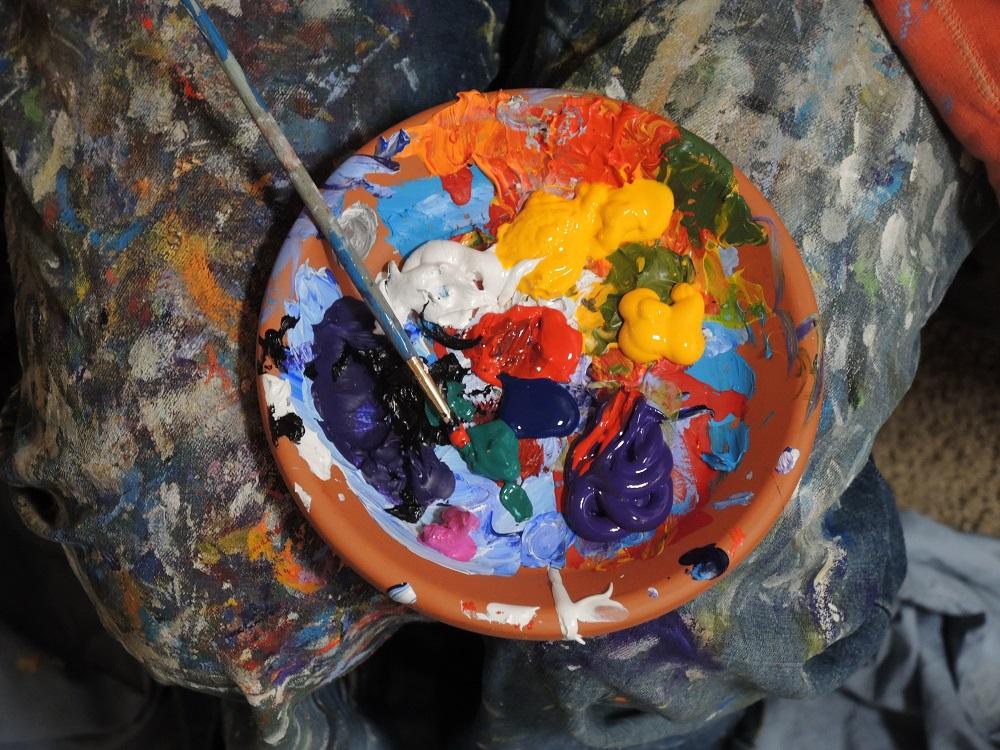 Hands down, acrylic paints are one of the most versatile painting mediums available on the market. 
They are excellent for beginners who want to jump into art and are a popular art supply for students or professional artists because of their ease of use. On top of that, most art brands carry a variety of acrylic paints, including student and professional lines. 
This creates an opportunity for amateur art enthusiasts or students to pick up basic paints to begin their journey as an artist. However, a common problem with student-grade paints is the inferior quality. These paints usually make the artwork look terrible and may demoralize a person from further projects. 
Therefore, we thought of coming up with a list of excellent yet cheap acrylic paints easily accessible to budding artists. Without further ado, let's get started! 
Best Cheap Acrylic Paints
Note that the compositions and color ranges vary based on the product lines of each brand. Some companies even carry different options of cheap acrylic paints with tweaked formulations or packaging. 
So, let's check out which product you should choose for a new project.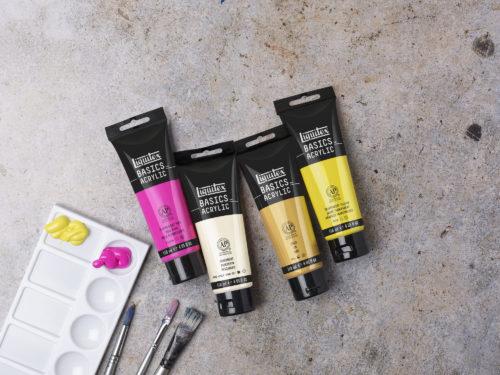 By far, one of the most talked-about lines of cheap acrylic paints is the BASICS line from Liquitex. As you can understand, it's a student-grade acrylic paint, but it's equally popular among professional artists. 
The best thing about these paints is the consistency that's neither too thick nor thin. You can easily spread the paint with a palette knife, and there's no streaking due to the presence of the highest quality fine art pigments in the formula. Moreover, the paints seem to work pretty great with blending and pouring mediums, giving you more versatility while working with them. 
Coming to the color range, Liquitex BASICS are available in 72 options, with the small tubes containing 4 oz of paint, while the biggest pot contains paint worth 32 oz. 
Another widely available but cheap option is the Apple Barrel acrylic paints, mostly known for their versatility. Indeed, you can apply them on different surfaces, including wood, ceramic, plastic, terra cotta, and even plaster. 
This acrylic dries fast, so you won't need to worry about messing up your project.  As this is a water-based formula, the paint glides on any surface without giving you any trouble. And, it doesn't dry streaky, giving your paintings and DIY projects a nice finish. 
Moreover, the Apple Barrel acrylic paint can be found in almost a hundred colors, while the company has recently launched the popular acrylic paint in a gloss finish. This paint line contains kid-friendly products with a non-toxic formula, so you won't have to worry even if your kids get this paint all over them. 
A cheap acrylic paint lineup that has been the talk of the town is from the art supplies brand, Arteza. To be honest, the company has a vast range of acrylic paints, including excellent pouring paints. 
It's easy to blend and layer these Arteza acrylic paints either with a brush or palette knife. What's more, you can use them on paper or canvas, and the best part is that the paints don't crack or chip even if there's any unevenness on the surface. The acrylic paint dries to a glossy finish, leaving your paintings even more appealing. 
These acrylic colors are also lightfast, so your paintings would remain vivid and bright years after you have created them. Additionally, the best way to start using the Arteza acrylic paints is through the 60 colors set, whereby you get 0.74 oz. tubes of individual colors in a box. 
Golden has been a leading name in the art industry for a long time. And even though the company has different lines of acrylic paints, we were drawn to the fluid acrylic paint. As you can understand, these paints are supposed to have low viscosity compared to their heavy-bodied counterparts. 
Moreover, Golden recommends the use of this color for a variety of projects such as dry brush techniques, adding fine details, acrylic pouring, spraying, and even staining. The fluid acrylic paint line also contains some of the best metallic and iridescent colors. Hence, there's no need to add any fillers or extenders, as the color payoff of these paints is pretty consistent. 
Compared to the other student-grade acrylics we mentioned, this will cost you a bit more money, but it still falls under the affordable category. However, what makes the paint truly worthy has to be the lightfastness which is comparable to any artist-grade paint. 
Hearing the name of the brand, Winsor & Newton, may make you think that we are going to mention some expensive acrylic paints, but that's not true. Known mainly for watercolors, Winsor & Newton has released other art supplies like acrylic paints. 
As such, the Galeria acrylic paint line from Winsor & Newton is dedicated to vibrant and fluid paints for a smooth painting experience. This high-quality acrylic paint is currently available in 57 colors, including metallic and transparent shades. 
Even though it's a beginner-friendly range, the Galeria acrylic paints have premium-quality pigments with a high pigment load comparable to the professional range. Additionally, using it is an excellent way to ease yourself into the techniques of using artist-grade paints.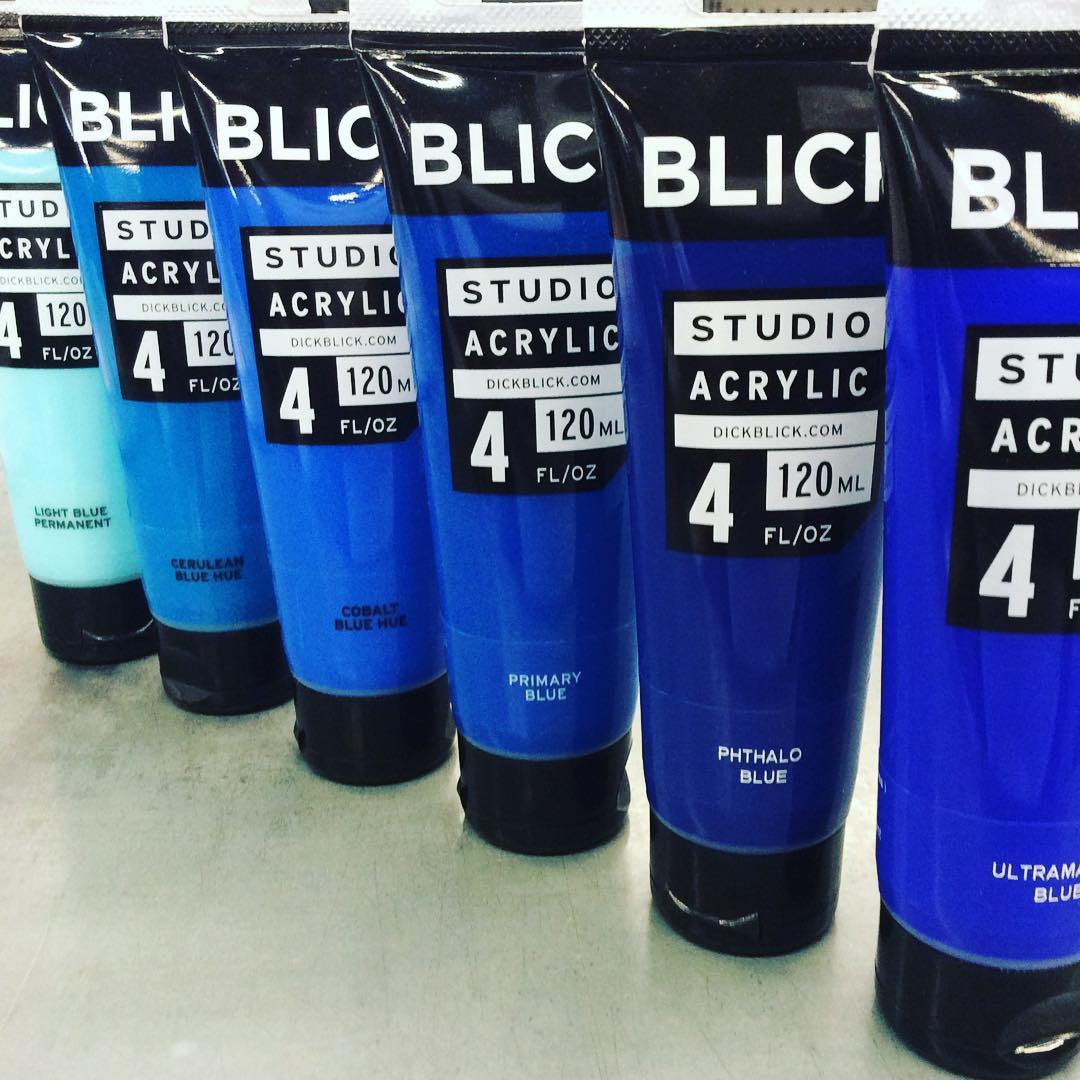 Originally, Blick was a platform for ordering art supplies, and then the company went ahead and launched its own supplies. You'll find that the student-grade acrylics are packaged under the label of Blickrylic and have got some great customer reviews. 
Blick describes the product as a true acrylic paint that has been priced affordably to make it available for most people. Moreover, the paints come in 30 rich and vivid, carefully chosen shades, and you can easily mix them to make new colors. They are even compatible with acrylic paints or mediums from other brands, making them highly versatile. 
What's more, these acrylics can be used on various surfaces like wood, canvas, cardboard, and paper. You can even use it on fabrics and heat-set the paint using an iron to make it waterproof. Naturally, this acrylic paint dries to a permanent semi-gloss finish which looks quite good irrespective of the painting surface.  
Next up, we have the Daler Rowney Graduate acrylic paints that are pretty popular in the art supplies market. Along with being available worldwide, the brand is known for its good quality products available at an affordable price point. 
The Graduate line contains medium-bodied acrylic paints with good pigment strength and high lightfastness. So, even if you're making the paintings in college, you can expect them to look just as attractive after some years. Also, as the formula is water-based and solvent-free, the paint can be easily mixed with art mediums from other brands. 
Moving on, these acrylic paints from Daler Rowney dry with a flexible finish, preventing your paintings from developing cracks. In a nutshell, it's a smooth, fast-drying, easy-to-use paint, so students and amateurs can learn to paint with it. 
Plus, this affordable acrylic can be used on several surfaces, including paper, canvas, wood, and ceramic. 
Moving on, we have the Sennelier Abstract acrylic paints that the brand defines as innovative. Unlike many other cheap acrylic options available on the market, it's a heavy-bodied multimedia paint with a high pigment concentration. 
Coming to the colors, the brand offers you a brilliant range of 60 shades, comprising satin, high-gloss, iridescent, and fluorescent. We especially appreciate the transparent pouch as it lets you see the true color to make the right choice. 
Moreover, apart from the original heavy body range, Sennelier has launched a soft body matte range of 35 vibrant colors in 2 fl oz pouches. The brand describes this paint as creamy-to-thick, making it great for elaborate acrylic paintings on canvases. At the same time, the consistency is perfect for covering a surface like clay or wood. 
Long story short, the potent formula truly brings forth the idea of having an all-purpose acrylic paint for a variety of art projects. 
Are you trying to find acrylic paints available in bulk? If so, you may really like the bigger acrylic color pump bottles from Mont Marte. Even though the paint ends up being exceptionally cheap, we were pretty impressed by their color payoff and quality. 
You will find that the bottles are usually labeled as "school studio acrylic" or as just acrylic color, but both are similar and have the same color options. The pump bottles contain 67.6 fl oz. or half a gallon of paint which is an excellent amount for classrooms or art studios. 
This water-based, fast-drying and non-toxic acrylic paint is also suitable for kids, teens, and amateur artists. Rather than having a very thin or thick consistency, the paint has an in-between creamy viscosity to make it suitable for various art projects. 
Currently, the full Mont Marte acrylic paint range has 100 colors available in various finishes. 
Pébéo is one of the oldest art supply brands that's still dominating the market with great products. We especially picked the Pébéo Studio Acrylics for this list as it's a suitable student-grade heavy body paint. Currently, it is available in 62 attractive colors and offers a beautiful satin finish. 
The brand has crafted the paint for use by professionals and students on canvases, wood, cardboard, and even metal. And despite being a heavy body variant, this acrylic paint is quite pliable, delivering a smooth finish. At the same time, you can use it for textured work as the paint can retain brush or spatula marks. 
Nevertheless, what stood out the most were the colors in the Pébéo Studio Acrylics range. Apart from being richly pigmented, the colors are pretty bright and a dream to work with when mixed with other paints. 
Are you looking to use acrylics for a one-time project? If so, you shouldn't bother about spending a lot of money on them. However, as we don't want you to sacrifice quality, our suggestion would be to opt for the Caliart acrylic paint. 
These paints are priced affordably, but we really like how they glide onto any surface to provide a consistent color payoff. The company even uses premium-quality pigments in these paints to make them appear vibrant. 
Besides, the best feature of this acrylic paint is its formulation that's certified safe and non-toxic. Therefore, you can get the Caliart acrylic paint set (available in a handy set of 24 shades in 2 oz bottles) for your kids as it's safe for all ages. 
Most acrylic paints tend to be quick-drying to make the painting process simpler. That said, some people really enjoy the malleability of paints as it helps in seamless blending. 
Atelier Interactive tries to solve the problem by mixing tradition with innovation to create one of the best artist-grade acrylic paints. These acrylics can be easily used for controlled wet blending to get the desired effect. 
On top of that, the Atelier range has a lot of mediums that can change the texture of the paints. The company even has a special "Unlocking Formula" to keep your paintings wet for a longer time. 
Additionally, the Atelier Interactive acrylic paints are available in 75 colors with seven new pastel shades. 
Holbein is known for producing one of the best heavy body acrylic paints available on the market. Yes, it might cost you a bit more money, but the paints provide a professional finish to your projects. 
However, what makes Holbein heavy body acrylics unique is the vast color range of 113 shades. The company states that these colors have been created from Western and Eastern influences to provide a special palette to artists. Added to that, mixing these acrylics is seamless and effortless. 
Besides the heavy body range, acrylic paints are available in fluid and matte versions. For instance, we even like the acrylic colored gesso as it's perfect for working on canvases. 
Matisse is best known for the Structure Formula paints that are available in 95 vibrant colors on the market. The company describes it as an impasto paint meant to be used with palette knives and brushes to get textured effects. 
Moreover, most of the shades have a lightfastness rating of ASTM I or II, which helps preserve the archival quality of your paintings. And you can even mix these paints with various Matisse mediums to make them more versatile. 
Otherwise, try out the Flow Formula or Fluid Formula if you're looking for low viscosity paints. But irrespective of the viscosity, the color payoff is consistent, and the paint is easy-to-use. 
Reeves has been the way to go for many years when it comes to purchasing affordable art supplies. The acrylic paint from Reeves is vibrant with a high pigment load and is available in 50 beautiful colors. 
Rather than being too flowy or thick, this paint has a buttery consistency that lets you apply it on various surfaces. And, because of the high-quality pigment, there's no streaking. 
We would especially recommend the Reeves acrylic paint to students and amateur artists. You can purchase sets of 24 or 10 colors to get an idea of the shade range and color payoff. 
Amsterdam creates its acrylic paints with high-grade pigments through a total acrylic emulsion process. The most popular product range from Amsterdam is the standard series having 90 colors available in different quantities. We were especially impressed by the pearl and metallic colors. 
These are medium viscosity paints, so you can easily spread them on any surface, a canvas or a wall. And according to regular artists, this product works well for techniques like multi-layering, wet-on-wet, and glazing. 
Moreover, Amsterdam has 18 cheap acrylic paint sets. Some are even based on themes like urban landscape and portrait. The largest acrylic paint set we found had all 90 shades in handy 20 ml tubes. 
An acrylic paint set is often the best place to start for a beginner to get introduced to the new painting medium. However, it can be a challenging task to find the right set with proper colors and quality. Castle Art Supplies have made it easier to pick premium quality acrylic paint sets at an affordable price. 
Currently, the company has options of 12, 24, and 48 piece acrylic paint sets. Along with that, there's an exclusive metallic set with 24 shades. 
The paints are suitable for painters of all skill levels and are convenient to use in the paint. On top of that, these paints are non-toxic and water-based, so you can give the sets to kids.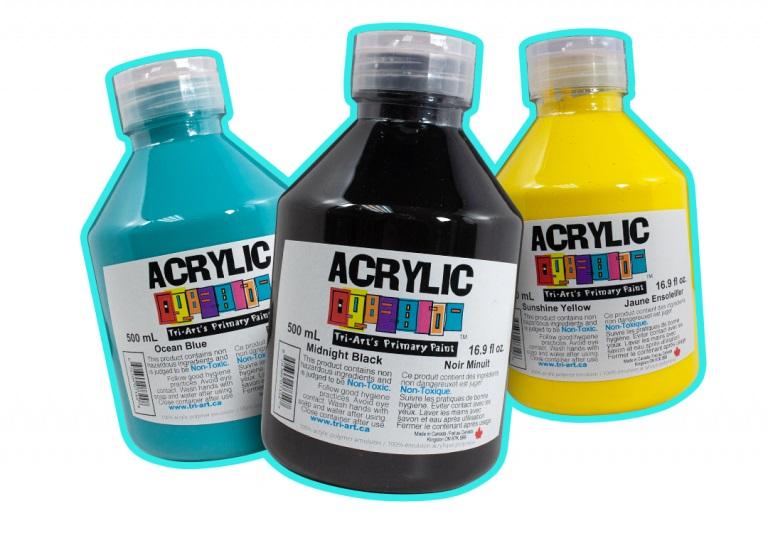 Among all the art supplies companies we check out for this list, Tri-Art has one of the most diverse product lists. Like other brands, it separates the products according to levels of quality but also introduces special items. 
The best selling item from Tri-Art is the high viscosity acrylic paints, and a close second would be the liquid acrylics that have a creamy consistency. Moreover, Tri-Art makes acrylic gouache, full-body acrylic, and even acrylic printing ink. 
For absolute beginners, Tri-Art has introduced the Primary Paint, a liquid acrylic with rich pigments, and this paint is available in ten colors. It has a beautiful matte finish with resistance to cracking and chipping. 
Are you fond of using watercolors? If so, you'll surely like using the acrylic paints made by M. Graham & Co. The company believes in designing the finest paints for artists, so it skips on using inferior fillers and bulking agents. Furthermore, the paints are created in small batches with premium pigments in the highest concentration. 
These artist-grade paints are excellent for adding details to your paintings or even for creating entire washes with a consistent color payoff. As this paint has a gouache-like consistency, it's best for intermediate-level artists. 
Another best cheap acrylic paint option available on the market is the Grumbacher Academy Acrylics. The range contains 48 brilliant colors with an ASTM lightfast rating of 1. These acrylics are AP certified, so they can be used for your schoolwork. 
However, the best thing about these paints has to be their spectacular tinting quality due to the high concentration of pigment used for every shade. If your acrylics seem to dry quickly, go for the Grumbacher metal 90 ml tubes for getting longer usage. 
We think both professional artists and students would like these acrylic paints because of their thick consistency and excellent color payoff. 
Lascaux, the name comes from a prehistoric cave in France that was discovered to have paintings made by ancient human beings. Similarly, the tagline of this brand is "the spirit of colors," which has helped it create excellent high-quality paints. Artists worldwide enjoy using Lascaux acrylic paints because of the variety in colors and textures. 
The Lascaux Artist Metallics are especially popular as the thick body paint has a consistency similar to that of oil paints. At the same time, the Lascaux Artist range contains 54 vibrant colors with outstanding lightfastness, weather resistance, and a beautiful semi-matte finish. 
Let's start by saying that after you have gained some experience working with acrylics, it's a great idea to invest in quality paints. One such brand preferred by professional artists is Old Holland. The company is primarily known for making excellent oil paints, and the New Masters Classic acrylic paint line is based on them. 
There are 168 lightfast opaque, and transparent colors available in this range that dry to a satin gloss finish. Moreover, the paints are made with 100% pure acrylic binder, making your painting last for a long time.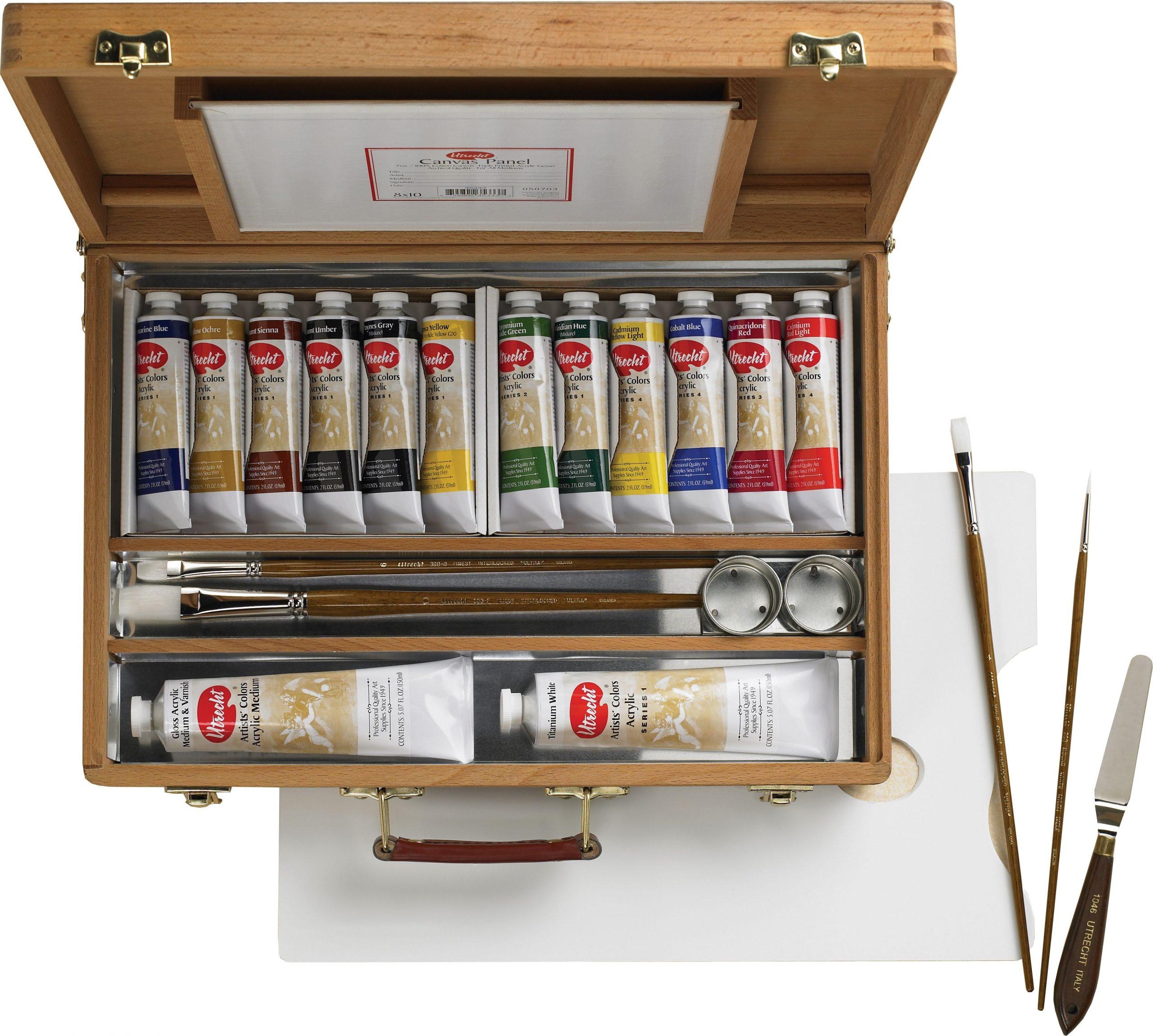 Last but not least, we have the Utrecht Artists' Acrylic, a heavy body paint with a smooth buttery texture. Utrecht uses the finest pure pigments and a 100% pure acrylic polymer to give the paints a premium quality with the highest possible concentration. 
However, if you aren't ready to pay the high price, the Utrecht Studio Series acrylics are just as good and have similar pigments. As it's AP certified and non-toxic, kids can use the paints for schoolwork. 
Both variants are available in several vibrant colors with different opacities. But, only the colors of the Artists' Acrylic come in acrylic paint set options.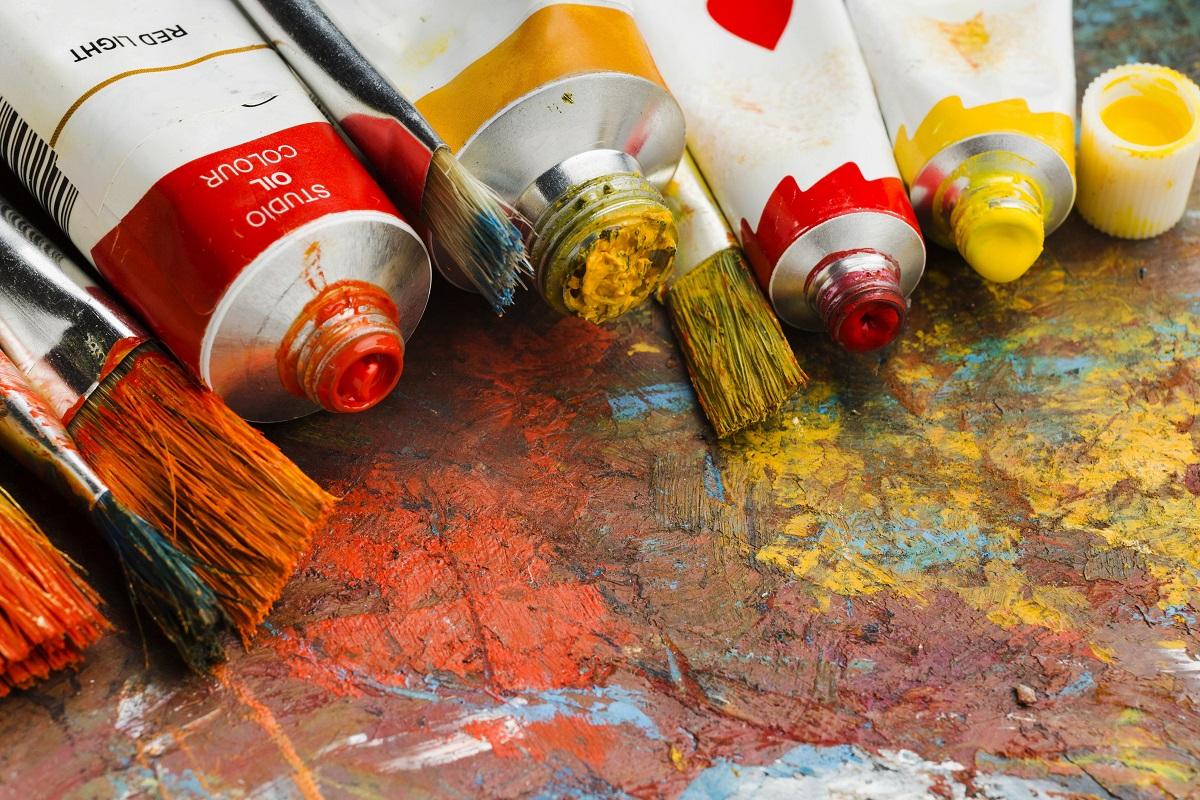 Cheap Acrylic Paints Buying Guide
Are you still a bit confused about picking the best cheap acrylic paint? Don't worry, as we will help you out by providing some of the essential features to look for in any paint. Usually, when thinking about using cheap paint, we expect it to be bad. 
But, keeping a note of these points while picking the paint may lead you to cheap acrylics that perform way better than what's expected from them. We did use these points to shortlist the products mentioned in this article. So, we can give the assurance that none of the acrylics would let you down while painting. 
Now, let's have a look at how to choose great acrylics for yourself at a cheap price. 
A. Color Range
To be honest, you can possibly make various shades using the primary colors along with black and white paints. However, it can quickly get inconvenient if you're working on a large project or want the paints for kids. And we even think that having access to various color options can make you more productive while painting. 
On top of that, acrylic painting calls for vibrant colors, and the brightness might be affected while mixing paints. But, the problem with cheap acrylics is that they typically come with a limited color range. 
Moreover, we found that the options typically lack the right in-between shades. This makes creating color transitions and blending exceptionally challenging while painting. Therefore, if you're someone who uses a lot of colors, always go for brands with a proper color range. 
Furthermore, other factors like transparency and finish matter when it comes to colors. This is especially true for people working with different painting mediums and surfaces. So, whenever you're thinking of getting cheap acrylic paint, check for details like finish, hue, transparency, brightness, iridescence, among other things. 
We highly recommend looking for a proper shade card to check the actual colors. If possible, visit a drawing supply store near you to get hold of the swatches and color charts or order them online. 
B. Overall Quality
It might be too much to expect the best cheap acrylic paint to have a quality similar to artist-grade paints. But, we would definitely want the paint to have an overall good quality. This includes the use of decent pigments to make vibrant colors and proper binders that keep the paint from cracking or separating. 
A typical problem seen in cheap acrylics is the texture being glue-like or too gloopy. This is due to the use of an improper binder or any other additives that ruins the formula of the paint. Moreover, these paints tend to remain tacky even when the painting has been left to dry for days. 
Therefore, even while looking for affordable or student-grade acrylics, go for products that have proven quality. That's why we trust paints produced by known brands like Golden or Liquitex as there's some assurance of quality. 
Having said that, we know that it can be hard for a beginner to assess the quality of a product. In that case, you can either purchase a small tube of the paint or check if a sample is available at the nearest store. If you like how the paint feels, go ahead and order more. 
C. Viscosity
One of the things to understand while using acrylics is the viscosity of paints. Don't worry; it's not a difficult concept, as viscosity stands for how the paint flows. Typically, acrylics are divided into two categories, heavy body, and soft body. 
When you look at the artist-grade paints, most of them tend to have a heavy body. As the viscosity is high, the paints tend to be thick, making it perfect for textured work. So, if you're transitioning from oil paints to acrylics, heavy body paints might suit you better. And they can be used with a palette knife. 
On the other hand, thin body acrylics are creamy and flowy due to their low viscosity. Along with painting, thin body paints are perfect for pouring, glazing, DIY crafts and can be used on various surfaces. 
Nonetheless, acrylics such as Liquitex BASICS are getting more popular that come with a medium viscosity. Therefore, you can use these paints for DIY crafts as well as for elaborate paintings. 
Another thing to note is that thick body paints can be easily thinned by adding mediums to decrease the viscosity. Similarly, pouring mediums can be added to thin body acrylics to give them a more consistent flow. 
D. Lightfastness And Permanence
Have you ever wondered how paintings look great even after decades? It's due to the paints having excellent lightfastness and permanence ratings. 
Lightfastness determines the probability of paint to fade over time when it's exposed to light, especially sunlight. Now, it isn't realistic to forever trap your painting in a dark, flightless room. But, you can always try to use paints that don't fade drastically over time. 
Therefore, while making the purchase, always look for the lightfastness rating of a paint. However, do note that the lightfastness may vary based on colors. So, at times you may need to pick alternatives to increase the archival quality of an acrylic painting. 
Similar to lightfastness is the concept of permanence. This helps you understand how the paint will act over time. Needless to say, cheap acrylics that are loaded with low-quality binders and additives don't last for a long time. If you're looking for acrylics to do commission work, it's best to rely on paints with either AA or A permanence rating. 
Having said that, you should also invest in a high-quality varnish to increase the life of your paintings. Furthermore, the varnish seals the painting to protect it from dust, mites, harmful UV rays, and other harmful forces. 
Final Words On Best Cheap Acrylic Paints
That's everything we had to tell you about purchasing the best cheap acrylic paints available on the market. As you may understand, we have tried to limit your choices by narrowing down only the best products. 
We are absolutely sure that you would have a blast painting with any of our suggested acrylic paints. Having said that, it's crucial to note that every painter has distinct preferences while working with acrylics. In other words, you may need to try a couple of paints before finding the one that suits your style. 
Also, remember to refer to the buying guide when you're unsure about getting any cheap acrylic paint. With that, we have come to the end of this informative piece. 
Until next time, goodbye, and take care! 
Read More on Acrylic Painting
5 of The Best Paint for Canvas
Painting Surfaces For Acrylics
Painting on Paper with Acrylics & 5 Paper-Like Surfaces
20 Oil And Acrylic Painting Ideas For Enthusiastic Beginners
Learn The Basic Acrylic Painting Techniques for Beginners
22+ Delicate Beautiful Acrylic Painting Ideas To Try
Learn How to Use Acrylic Paint as Fabric Paint
Learn How to Thicken Acrylic Paint Correctly
Learn How to Clean Acrylic Paint Brushes Brilliantly
Learn How to Make Acrylic Paint in Your Studio
Learn How To Get Dried Acrylic Paint Out Of Brushes Successfully
Learn How To Use Acrylic Paint Correctly as a Beginner
Acrylic Painting Materials That You Really Need In The Studio
Learn How To Make An Acrylic Painting Waterproof
Acrylic Paint Thinner 101 | How to Thin Your Acrylic Paints Correctly
8 Best Palettes For Acrylic Paint & How to Choose What You Need
Best Canvas for Acrylic Painting
13 Best Acrylic Paints for Beginners & Professionals
10 Best Paper for Acrylic Paint
103 Best Acrylic Painting Ideas