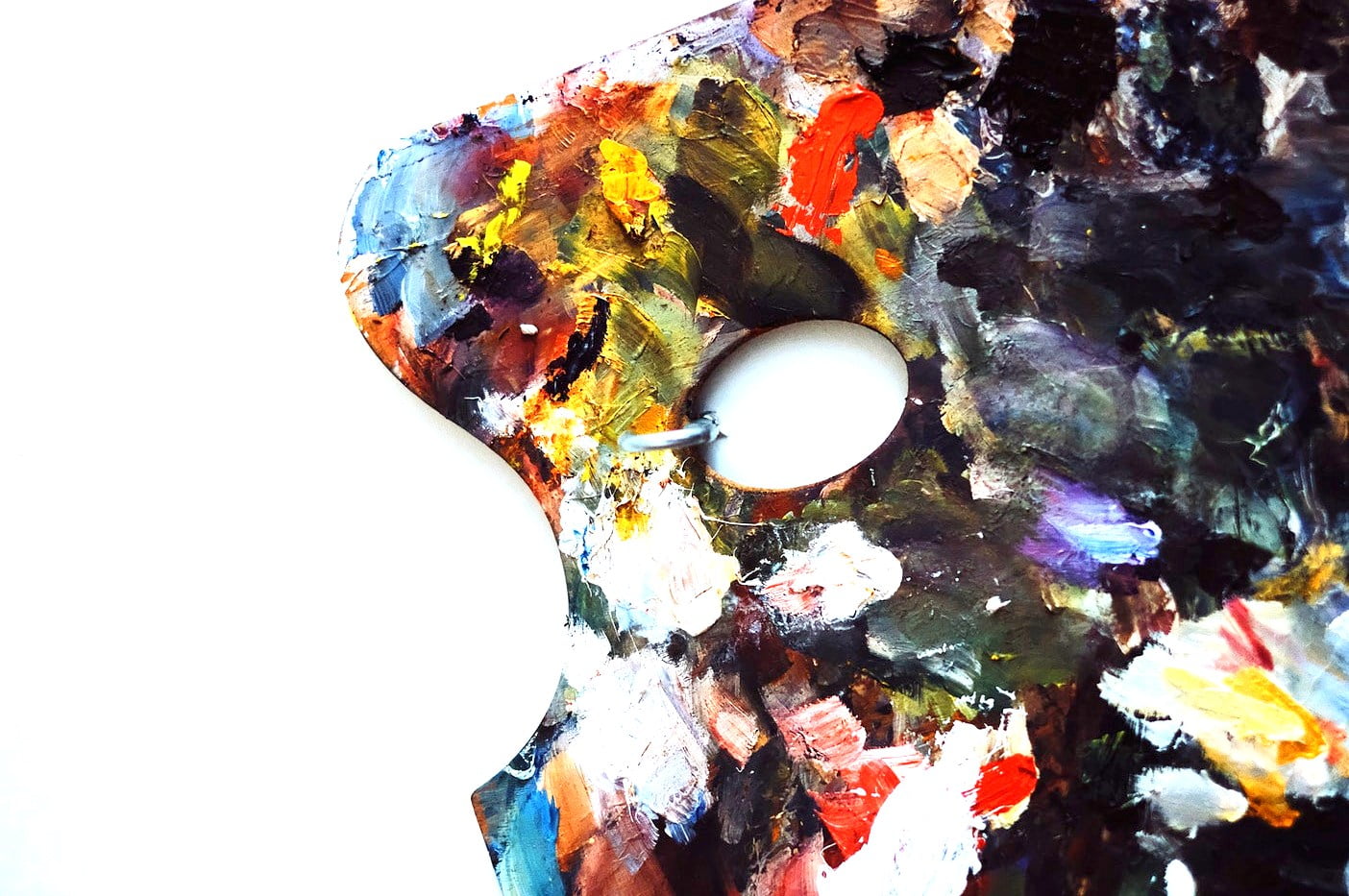 When working with oil painting or other thicker paints, palettes are much more convenient to use.
A palette is a tool that is specifically invented for creative minds.
Rather than constantly using alternatives, getting a palette will make the work easier and more organized. It also gives the artist a sense of completion and professionalism.
At A Glance: Our Top 5 Picks for Palettes for Oil Painting
Anyway, palettes can be of any material including wood, plastic, ceramic, tempered glass, etc.
And, if you're looking for a palette to match with your style and preferences, you have just entered the right place.
In this article, we shall review 11 different palettes for oil painting; and what each one has to offer.
So without any more delay, let's get started!
Best Palettes for Oil Painting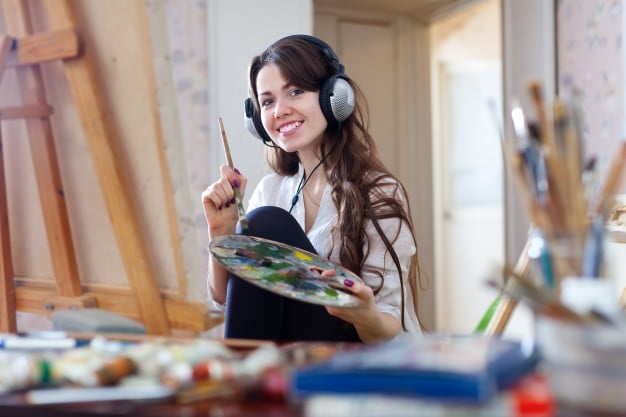 Sale
Our first on the list is a non-stick palette made of dependable plastic. Its surface measures 11 x 15 inches and it weighs 7.2 ounces.
This oval-shaped white palette also has a thumb hole to make handling easy. Besides that, the palette looks pretty simple, yet has a highly professional appeal. 
Experience
The Art Advantage Non-Stick Palette is very small and lightweight, which is good for long hours of work. Working with this palette does not leave your hands feeling deadened later.
We also like that this palette is pretty easy to clean up after working. The smooth plastic surface does not hold any stains.
Whether the leftover paints have dried or still remain wet, removing them only requires water and sponge. And in case of dried up paints, you can just scrape it off with a palette knife and then rinse it.
Although this palette provides ample space (for its size) to mix oil paints, somehow we think that separate allotments would have been better and more organized.
You probably have experienced that some white plastic palettes can face discoloration in the long run, due to long work hours. But with this palette, the sleek plastic surface prevents that from happening.
Pros
The smooth surface makes cleaning pretty easy

It is very light and ideal for long hours of work without stressing your hand 
Cons
This palette does not contain separate allotments to organize the paints better
Sale
This is a palette that's ideal for oil and acrylic paints. It is constructed from highly condensed plastic and that makes it very durable.
On the palette, there are two separated mixing areas: one surrounding the palette and the other is a big oval-shaped area in the center. It also has a medium-sized thumbhole.
Experience
What's great about this palette is that it allows you to peel off the left-over dry paint every single time you finish using it.
It is pretty handy at times when you're busy that you forget to clean up, and you see the paint has dried up. You can just peel it off and this will save you the time you'll spend scraping, washing, and drying it during busy schedules.
The two separated wells are really helpful when you have to mix different paints.
First, they are both large and they offer a lot of space for mixing oil paints. It's great when you have to work with multiple colors. This will save a lot of time spent on changing/pouring color after color.
It is also pretty affordable for its quality and service.
However, every time you have to use the palette again (after it's cleaned), it does not hold paints really well because of its extra slippery surface. And this will create a lot of mess.
Pros
It is a high-quality and really affordable palette

The leftover and dry paints can be peeled off easily to save some time for cleaning and drying 
Cons
The slippery surface can create a lot of mess in every first use
Next is a square-shaped palette which is 14" x 14" wide. It contains 24 small wells, along with 8 larger corner wells and a large paint mixing area in the middle.
The palette comes with a firm lid so that in case you leave wet paint, it'll prevent them from spilling out.
Experience
We love that there are a lot of color plots on this palette. And this helps to sort out colors easily and more precisely.
The mixing pad also has a large space that's perfect for when you need to use multiple colors for your painting, without having to clean it every now and then.
We love that there is a lid that comes along with this palette. The lid has helped to prevent paint spills or any other possible accidents. It's very thoughtful from the manufacturer's side.
However, the palette itself is very thin. So you might have to handle it with care when you're working with it.
Pros
There are plenty of color wells that help with better organizing and sorting out colors

It comes with a secure lid that helps prevent potential spilling of paints 
Cons
The palette's construction is pretty thin, which requires to be handled with care
This palette is made of tempered glass and comes in 3 colors: transparent, grey, and white.
The surface is very wide and allows free mixing of colors. You can rinse off wet paints easily because it is smooth. Otherwise, if it's dry, it can just be peeled off.
All its four edges are covered with safety guards for protection and safety.
Experience
With this palette, cleaning is pretty easy. We can just scrape off dry paint by using a sharp palette knife or a new blade.
We like that the slippery surface receives all types of paints, especially oil and acrylic paints. And blending them becomes pretty easy.
The palette is a bit heavy but it very comfortable to hold because it is flat and sleek. And we think this is one of the best things about this palette.
Moreover, these palettes come in different sizes and weights. So you can get one according to your preferred size.
To make sure that the palette stays in good shape for a long time, putting it in the freezer will help serve this purpose.
However, the price of this palette is expensive and it might not be ideal for an artist who is on a tight budget.
Pros
This palette is very easy to clean with water, solutions, sponges, and palette knives

It is comfortable to hold and is great for long hours of work

The edges are protected with a rubber material to assure safety
Sale
Here is another palette that comes with a secured lid.  The lid of this palette is airtight to prevent paints from drying off quickly. 
It has got 28 paint wells, and this is great when using multiple paint colors. Besides that, it also has a larger rectangular mixing area in the center. 
Experience
Just as the name suggests, the Mijello Multi-Purpose Palette can be used for different kinds of paints.
What we really like about this palette is that it has double shutters on all sides to prevent paints from drying out too soon. This saves a lot of time that you would have spent scraping/cleaning dry paint. It can also prevent wastage of good paints every now and then.
But in the case of leftover dry paints, you can always just peel them right off the smooth surface, followed by rinsing and drying it.
Unlike certain palettes, you can carry this one around because it has a lid on it to protect the paints. So, this is ideal for artists who like to paint outdoors.
Since the palette is heavy, it can numb the arm after long hours of use. So what we think could have made this palette better is if it has a holder (if not necessarily a thumb hole).
Pros
The palette comes with a tight lid to protect liquid paints from drying

It offers a lot of wells to keep multiple paints
Cons
It is heavy and it does not have a holder
Next up is a palette that looks completely different from the regular ones. It's stylish, sleek and made from plexiglass.
The Caran d'Ache Aquarelle Palette is pretty light and sleek. It's ideal for traveling artists and art students.
This palette is smooth on one side while it's textured on the other.
Experience
This palette is fit for carrying around in a bag. It doesn't consume much space, or any space at all for that matter, because it is very thin and also very light. Students and artists who are on the go will likely find this to be very convenient for their work.
We love that the palette offers two purposes; which is a feature that we don't normally find with regular palettes.
On its rough/textured side, we can actually use dry, soluble paints. And so far, it has been really good and has given out terrific results. While on the smooth surface, we mix our normal liquid paints.
On top of that, the palette is also very polished on its smooth side. And this makes it very easy to clean or peel off dry paint.
But apart from being a high-quality palette, it is somewhat small and a leans a little bit to the expensive side.
Pros
This palette is pretty flimsy and different in shape

It is portable which is great for students/artists on the go

It has a smooth and rough side for wet and dry paints mixing
Cons
The palette comes at somewhat of an expensive rate
The New Wave Posh Tabletop Palette is made from maple wood. It is completed with a grey finish which adds to its elegance.
What makes this palette unique is that it is entirely crafted by hand and that sets it apart from other machine-made palettes.
Because it is made from polished wood, that makes it water-resistant and warp-free.
Experience
We admire this palette because it's made of wood and that adds to its grand and luxurious looks.
One might think that wood palettes are restricted to indoor use. However, this palette resists both water and outdoor elements. So it is great for outdoor paintings just as it is with indoor use.
The mixing surface accepts all kinds of paints and is also very easy to clean, especially with a damp cloth.
One thing that this palette lacks is a thumb hole. Because it is large, we think that a thumb hole would have completed it since handling becomes a little difficult. Otherwise, keeping it in place will also work fine if you're working in the comfort of your own home.
Pros
The palette's surface is polished and very smooth, making it water-resistant, dust-resistant, and easy to clean up

It has got a superior, elegant look

Cleaning the palette is pretty easy with a damp/wet cloth
Cons
It lacks a holder/thumb hole which could make it easier to handle
Sale
We have another grand wooden palette — and that is the Jack Richeson Wooden Palette. 
This one is an oval-shaped palette. It accepts all kinds of paints as well because the surface is smoothly polished. 
It is medium-sized and it comes at a fairly affordable and reasonable price. 
Experience
The palette is quite sturdy and robust. It does not easily develop scratches from scraping or scrubbing off dried paints.
On being a wooden palette, we think it's great that it has a thumb hole. It can help reduce numbness caused by handling it for too long.
The surface receives all types of paints beautifully since it is pretty smooth. It can also be cleaned up easily under running water.
Also, the palette shows no signs of damage even after it has dropped a number of times.
However, it can cause them to dry quickly and you have to coat it with oil so that it will prevent the paints from drying faster. This should be done once a while.
Pros
It is a highly condensed, strong palette which prevents scratches and breakage
The surface is very smooth and accepts all paints well, especially oil paints
It has a thumb hole for comfortable handling even during long hours of painting
Cons
Sometimes, it requires you to oil the surface so that the paints do not dry off fast
Sale
So far we have discussed washable and reusable palettes. However, these next ones are disposable palette papers in a pad. 
The Pro Art Oil Palette Pad contains 50 sheets of tearable palette papers. 
These sheets are made of treated papers to make them impenetrable when mixing oil paints. 
Experience
The best thing about these paper palettes is that when you're done, you can just discard them off. There's no need to set aside time for cleaning them as you do with washable palettes.
Also, you can even use them more than once, depending on how you mix your paints and how you clean them.
These are very light and thin sheets. It makes them convenient and easy to take to the studio or to school, in the case of art students.
Besides being light, all the sheets have thumb holes which, in this case, just adds more to the comfort of handling them.
However, because these are paper palettes, they have the tendency to make your paints dry out much faster than they should. And to solve this, you need to spray spritz water on them to maintain the moisture of paints.
Pros
Sheets are both disposable and tearable

They receive oil/acrylic paints well since they are impenetrable
The pad is very lightweight and thin which makes transporting them easy
Cons
Since these are paper palettes, they can cause paints to dry off pretty fast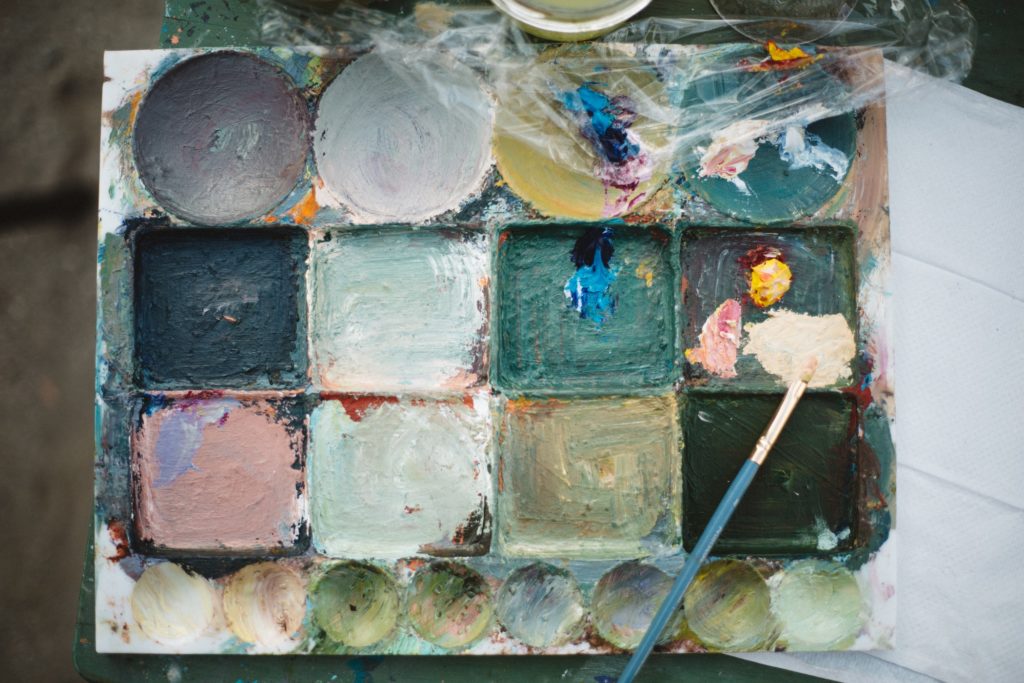 Guide to Buying the Perfect Palette
If you are still wondering which features you should look for in a palette, take a look at our few suggestions:
Smoothness:

A palette that is smooth allows you to mix oil paints really well. Not only that, but they are also very easy to clean up afterward.

Comfortable to hold:

When looking for a palette, make sure you find one that's comfortable to hold. Whether it has a thumb hole or not, a palette should not strain your hand.

Lightweight:

Finally, a good palette should be light. It must be easy to carry around with you. It also shouldn't take up too much space inside your bag.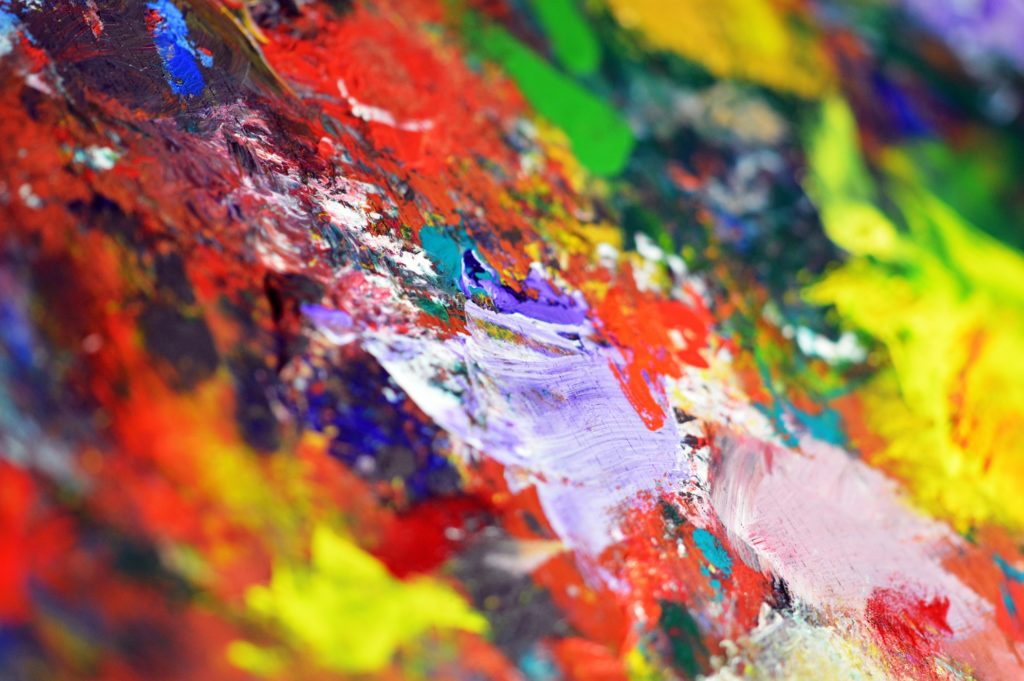 Conclusion On Palettes for Oil Painting
Well, that concludes our reviews of the best palettes for oil painting. We hope you had as much fun reading as we did using these palettes.
So what are you waiting for? Go out there, get one of these palettes and get started on your masterpiece!
Happy Painting!
Related Articles
10 Best Canvases for Oil Painting | Beginner & Artist Grades
8 Best Oil Paint Brushes of 2023
11 Best Oil Paints for Beginners & Professionals Artists Alike
Learn What is the Best Surface for Oil Painting
How Long It Will Take Oil Paint To Dry  & How to Speed It Up
Oil Painting for Beginners Basics & How to Use Oil Paints
Learn How To Dry Oil Paint Faster Overnight
Learn How to Clean Oil Paint Brushes Successfully
12 Oil Painting Supplies That Every Oil Painter Needs in the Studio
Learn How to Clean Oil Paint Brushes Without Paint Thinner
5 Things You Should Know Before Painting Oil Paint on Glass
Learn How to Make Oil Paints Dry Faster