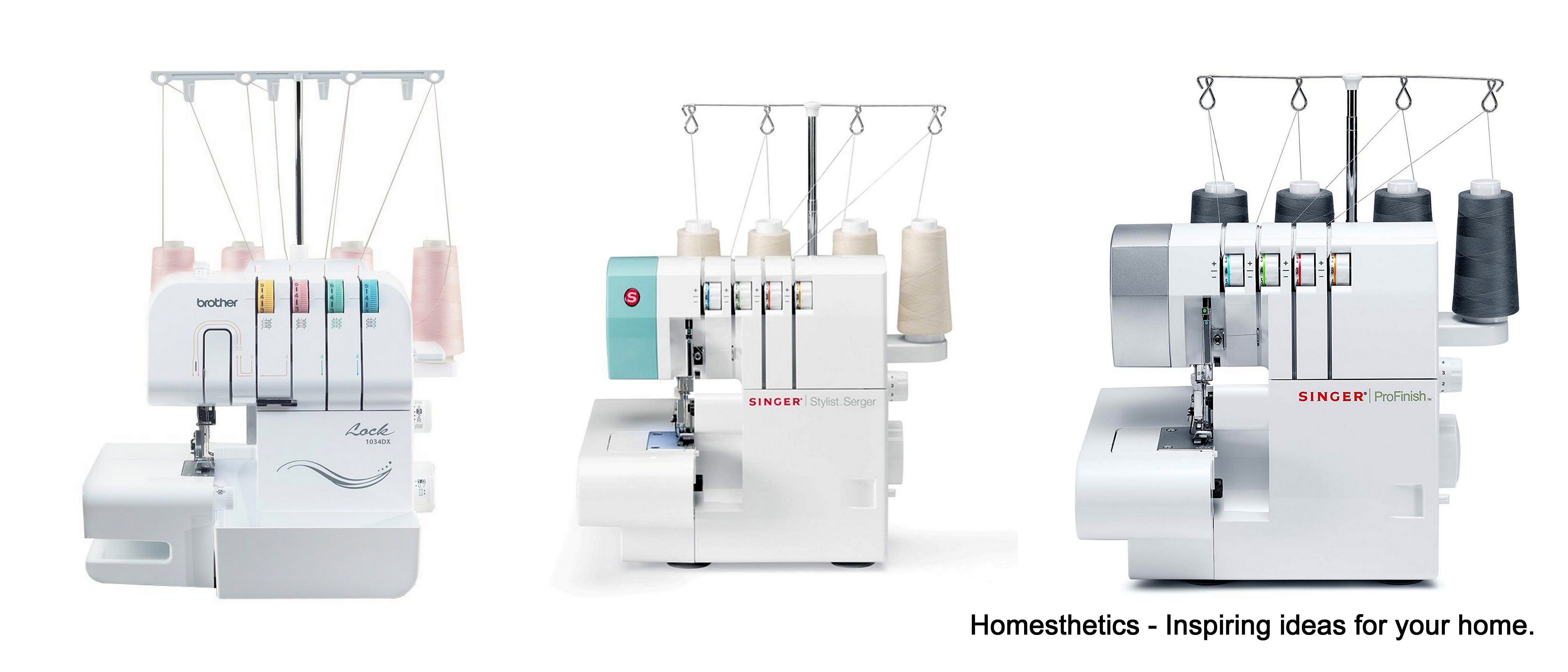 Sergers are an invaluable addition to any seamstress' toolkit – it can do wonders to the finished product of any kind of cloth and today we are going to discuss the best sergers for beginners of 2022!
You will no longer be limited to the work of your sewing machine being the finished product. You can smoothen the edges, make sure there are no frills or stray threads, and so much more!
The longevity of your work will also get a deserved boost with a serger, which is also commonly known as an overlock machine.
Today, we will go through some of the best sergers for beginners currently on the market, followed by a small walkthrough of the most important features that any serger needs to have.
Without further ado, let's start off with the reviews!
Best Sergers for Beginners
Sale
The SINGER 14CG754 Serger machine has a 4-3-2 thread capability that gives you a large number of choices among stitch options, which are different for all types of projects. Regardless of the stitching option, your results will look and feel professional in quality. Seams and hems are dealt with in minimal time, while making sure your finishing is as perfect as you can make it.
Experience
The SINGER 14CG754 is one of the best products on the market as far as beginners are concerned, simply due to the fact that it is light, portable and the installation manual makes setting up a breeze. However, we wish we could say the same for the instructional DVD that comes with the serger, which has been recorded in a rather low resolution.
The machine itself will leave you wanting for little, however. The stitch length and width can be very easily adjusted, and for beginners, the color coded threading methods offer a lot of freedom, and the differential fabric feed goes a long way in helping you out. This comes with a coverstitch, which is not a common addition in the direct competition to the SINGER machine.
As far as the portability is concerned, the SINGER takes another easy win, having been designed to be quite portable. It is lightweight and comes with a handle to make it easy to carry. The accessories that come with this serger are also impressive, both in number and in usability. The SINGER is an obvious choice for both beginners as well as professionals who intend to travel around a lot with their machines.
Verdict
The SINGER machine comes with a number of features and accessories which make finishing up your work a breeze. The machine is easy to operate, and the instruction manual helps you set it up fairly quickly. The speed is around 1300 stitches a minute, with a fabric trimming feature. This is a wonderful addition to any seamstress' working bench!
Pros
Very portable in nature 

Lots of accessories included with the serger 

Performs very well 

Easy to set up and to use  
Cons
Less powerful motor limits possible use cases 
Sale
The Brother 1034D ¾ Thread Serger comes with a number of accessories and is very easy to use and to set up. At this price point, not many machines claim to offer the finishing quality or the features that Brother has managed to bundle up in this powerful and useful serger. It also comes with a 25 year warranty, a testament to the quality and durability of the machine.
Experience
With 22 in built stitching functions for the most varied uses – from full fledged bridal wear to homemade craft items and even home decor, the Brother 1034D does not disappoint when it comes to the features. The thickness of fabric it can deal with, however, is a small cause for concern – those working with a wide variety in the thickness of fabrics they use should probably look elsewhere.
Another factor that goes in the favor of the Brother machine is the number of accessories on offer. There are tweezers, four spool nets,  a set of needles, and a cleaning brush as standard with this serger. Further, you also get a trim trap. Bear in mind, however, that you cannot use the machine as is – you will need to oil the serger before using it for the first time. Also note that this machine does not work in areas which do not have 120V supply.
The width of this device's capabilities is simply outstanding. From knitted material to linens, and even formal attire – nothing is beyond the purview of this serger. You can easily put in ruffles and join laces. Using this device is joy, and setting up does not take more than a few minutes at worst.
Verdict
With an attractive price point, wonderful quality of materials and a brilliant performance for all but the thickest of fabrics thrown at it, this Brother Serger makes it hard not to recommend it. It is incredibly easy to use and to set up, comes with a number of attractive options and features, and Brother's service has always been up to the mark.
Pros
A large number of accessories are on offer 

Delivers results very quickly 

Incredibly easy to operate and to set up  
Cons
Not the best machine for the thickest of fabrics  
This serger comes with a number of features that you'd expect out of a decent serger, and comes in at an attractive price point as well. The various kinds of controls through your feet set this overlock machine apart from the rest. The differential fabric feed option gives you an amazing width of fabrics which can be worked on.
Experience
SINGER gives out another winner here, though it's not the most beginner friendly product out on the market. There is definitely a learning curve associated with this serger, and it might take some time before you get the hang of it. However, once you do, it's smooth sailing from there on out.
The color coded threading feature shines, especially when the workload hits peak and you have to finish up work fast. The quality of results is remarkable, though we've come to expect that out of SINGER for a while now. The differential fabric feed goes from 0.7 to 2.0 ratio with a lot of fabrics being supported.
The width of the stitch is easily adjustable from 3.0mm to 7.0mm, depending on your application. Various types of foot accessories, such as the Piping Foot and the Gathering Foot only add to the accessibility of the machine, provided you get used to it.
Verdict
Besides the learning curve associated with this serger, it performs well as per expectations, and then some. It comes with a decent number of features and a number of accessories which can add greatly to the speed of your workflow – given you get used to them.
Pros
Affordable 

Comes with a number of accessories  

Differential fabric feed makes handling various fabric very easy 

Easy to carry around and travel with 
Cons
Learning curve might be too steep for beginners 

Does not support voltages other than 120V 
Sale
The 14SH6540 brings a number of features to the table, the biggest difference here being it is not simply a serger – it is, in fact, a complete sewing machine which you can use if need be. It comes with all the features you would expect out of a sewing machine and a serger, making it perfect for beginners.
Experience
In our experience, the 14SH6540 turned out to be a wonderful machine, with very little to fault. The 4-3 stitching configuration gives it another dimension of versatility, while the speed of 1300 stitches per minute makes sure you can get things done very quickly.
Coming to the features, the machine comes with two types of needles, which is exactly what you need when you need to add those pesky finishing touches to any project. Further, you can easily go up to six different kinds of stitches with three or four different threads – exactly what the doctor ordered for you to get things done.
The tension of the machine can be easily adjusted, and you can go from a stitch length of 2.0mm to 4.0mm, as well as adjust the stitch width from 3.0mm to 6.7mm. Should you require it, you can move over to free arm stitching. The machine comes with a 25 year standard warranty and a number of accessories.
Verdict
Another winner by SINGER. The company has filled the market full of products which are different, but have the same sense of reliability and offer roughly the same quality of results. The only difference comes in terms of features, and we're happy to report this machine has nothing lacking.
Pros
Easy to set up and start working on 

Comes with a 25 year warranty, standard on SINGER 

Differential fabric feed, and adjustable stitch lengths and widths make life much easier 
Cons
Thicker and heavier fabrics will cause trouble 
JUKI MO644D Portable Serger
2/3/4 Thread serger with automatic rolled hem
Color coded threading breakaway looper adjustment for stitch...
For those who are just beginning their journey with serging, this device comes pretty much at the top of the list as far as usability is concerned. It comes with a number of features, like 2-3-4 stitching capabilities, and fine control over each parameter of the stitch like length and width.
Experience
The JUKI MO644D is one of those machines which won't leave you wanting for anything. Portability? Check. Speed? It can touch up to 1500 stitches per minute with relative ease, leaving other machines in the lurch. Features? With precise control over each stitch and adjustable foot pressure, you will surely be amazed with the capability of this machine.
Coming to the user experience, the lightweight nature and the ease of use are significantly better than the competition. Further, it can deal with thicker fabrics easily, which has been the Achilles heel of a lot of sergers on the market. With the killer combination of ease of use, reliability, features and portability, this one is a definite recommendation from our side.
Verdict
The JUKI MO644D doesn't just deliver results, it does so with a quality and ease which is quite frankly very hard to match by its immediate competitors. While the lack of free arm stitching pinches for some time, it is just as easy to get used to operating this machine and getting your work done.
Pros
The number of features the machine offers is astounding 

You can hit 1500 stitches per minute, which is significantly higher than the other machines 

A whole host of accessories to enhance your experience of using the machine 
Cons
Free arm stitching is simply not an option here  
Far away from the world of accessories, DVDs and a number of cords, sometimes you just want to get stuff done. Some machines don't offer a clutter of accessories, but they themselves pack a powerful punch – and the MO 5E is one of them. With a knife-based control for precision while cutting through fabrics, this is for those who just want to get stuff done.
Experience
The JUKI MO 5E takes a very different approach when compared to the other machines on sale. It does not offer you a whole host of accessories or a travel bag – but it is packed with features and refinements which will definitely make your experience a wonderful one.
It ships with some flagship quality features such as 3-thread flatlock and overlock, three thread narrow overlock, four thread overlock and more. The speed of 1300 stitches per minute makes sure you are not left disappointed about the speed at which the device operates.
The only thing you need to be aware about while operating the serger is that sometimes, when operating the foot, the threader has a tendency to jam up. Otherwise, it's a brilliant device for the money.
Verdict
Taking a very different approach to what a serger is, this machine outpowers its competition on experience and speed while skimping on accessories and such. You get flagship grade features for what is definitely not flagship grade money, and there is very little we could ask of it other than what it already delivers.
Pros
The device comes with a whole host of features as standard 

The knife-based control takes the user experience to a different level 

Differential fabric feed is likely to make your life easier 
Cons
The threader jams up whenever the foot pedal is pressed 
SINGER presents us with yet another overlock machine, which comes with almost the same set of features as the other models featured. Yet, this is one of the most highly reviewed sergers of 2022, and we're going to find out exactly what it does so well that has customers and reviewers singing so many praises (no pun intended).
Experience
On the surface, it appears to be yet another SINGER overlock machine. However, the 5-4-3-2 functionality takes your workflow to unprecedented levels of speed and quality. Also, the sheer number of accessories this device offers is incredible. Multiple foot controllers, tweezers, spreaders, a set of needles, a serging knife, a brush, an oiler… the list doesn't seem to end.
SINGER has had a long time to perfect the machines that they make, and this shows in the quality of this product as well. The machine can deal with pretty much anything that you throw at it except for the thickest and heaviest of fabrics. 1300 stitches per minute will make sure you get your work done as and when you want it.
Verdict
With a whole host of features and SINGER's trustworthy reliability and ease of use, along with the myriad accessories shipping as standard – this machine is one of the best we've used. A solid addition to any seamstress' toolset. Besides the plasticky nature of some components, there are no complaints from our side.
Pros
The number of features and the user experience is outstanding 

Comes with a whole host of accessories 
Cons
The machine works only on 110V/120V voltage 
Sale
The Janome 8002D is another solid machine from Janome – which has been producing machines for a long while, though isn't as well known as SINGER. The threading technique, the robust stitching, incredible precision and a presser foot lifter make this machine worth putting on your shopping list if you're looking for a feature loaded machine.
Experience
Janome is no stranger to producing quality and feature laden products, and this machine is no exception to that. The threading technique is by far the most impressive feature on the product and makes it easier to start working and get results faster without too much set up time.
You can easily get 3-4 thread stitches from the machine, which ensures that all your projects get the professional finishing quality that they deserve. The rolled hem which comes built-in is a joy to use and saves a lot of time. The compactness of the product also leaves us with nothing but praise for the Janome. The sheer variety of stitches this machine can handle make it a winner.
Verdict
This machine makes us wish we'd heard of Janome sooner. Janome gives you a whole host of features, many of which are nowhere to be found on the competition. Using this machine is a joy, setting up takes but little time, and the quality of the work the machine delivers is near enough unquestionable.
Pros
Doesn't skimp on any features as compared to the market 

The rolled hem will make your life much easier 

Threading technique is remarkable 
Cons
Long term reliability and customer service is questionable 
Another winner from SINGER. The brand has been producing quality machines for so long, it's become second nature, and it's become very difficult for the competition to compete – even though they try to offer the same mix of reliability, user experience, and comfort. SINGER outdoes itself with every new machine, and this is no different.
Experience
Our experience with this machine has been nothing short of miraculous. It comes with a whole host of features like automatic tension and the ability to choose from rolled hems, blind hems, flat locking stitches and many more options based on your preferences.
The machine is incredibly easy to set up, given the color coded threading system. Using it is a joy as we've come to expect out of SINGER, delivering a quality experience on hems, stitches, and ruffles. To smoothen out ruffled and uneven surfaces, the differential fabric feed comes in to make your life much easier. The variable stitch length and width ensure a great experience.
Verdict
SINGER does not disappoint even with the last serger reviewed here. Props to SINGER for maintaining quality and the same user experience across the board from the more affordable to the top of the line devices. Most of all, they remain as easy to use and beginner friendly as they had been when they were manual ages ago.
Pros
Portable and extremely easy to move around 

Differential fabric feed makes it very easy to deal with puckered fabric  

The sheer number of accessories which come with SINGER machines is unbeatable 
Cons
Instruction DVD is practically unwatchable on larger TVs 
The Brother Designio is a very useful machine, which comes with the usual features and reliability we've come to expect from Brother. The color coding threading, differential fabric feed, and reliable experience make it an easy recommendation.
Experience
In our time with the product, Brother's expertise in designing a serger showed in many places. The color coded threading makes it so much easier to get started and to keep track of threads. The various kinds of feet controls also make it a wonderful addition to those who are adept at managing work with feet.
Verdict
A wonderful addition to the repertoire of any seamstress.
Pros
Affordable 

Lightweight 

Comes with a number of features 
Cons
Comes with some learning curve, not very intuitive for beginners 
With this, we finish up with the reviews of the best sergers for beginners on the market today. All of these machines have something different to offer as far as features, reliability and user experience is concerned. Knowing how we reviewed the products, you are ready to go out there and begin your hunt for the best serger which suits your needs well.
As always, we recommend having a list of things you desire from your serger of choice ready before you go out there and get a serger. These can range from differential fabric feed, to stitching speed, the length and width of the stitch, and most importantly – determine which kinds of fabric you deal with beforehand. This will ensure that you don't end up getting a machine which is unable to deal with some particular fabrics which you use regularly. Happy hunting!
Related Articles
35 Cute Easy Sewing Projects For The Entire Family
All 17 Online Craft Stores DIY Projects of Any Nature